Sharing a collection of stylish and affordable single-light bathroom sconces that work well in a variety of bathrooms. These light fixtures look great in bathrooms around mirrors as well as other areas of your home as needed!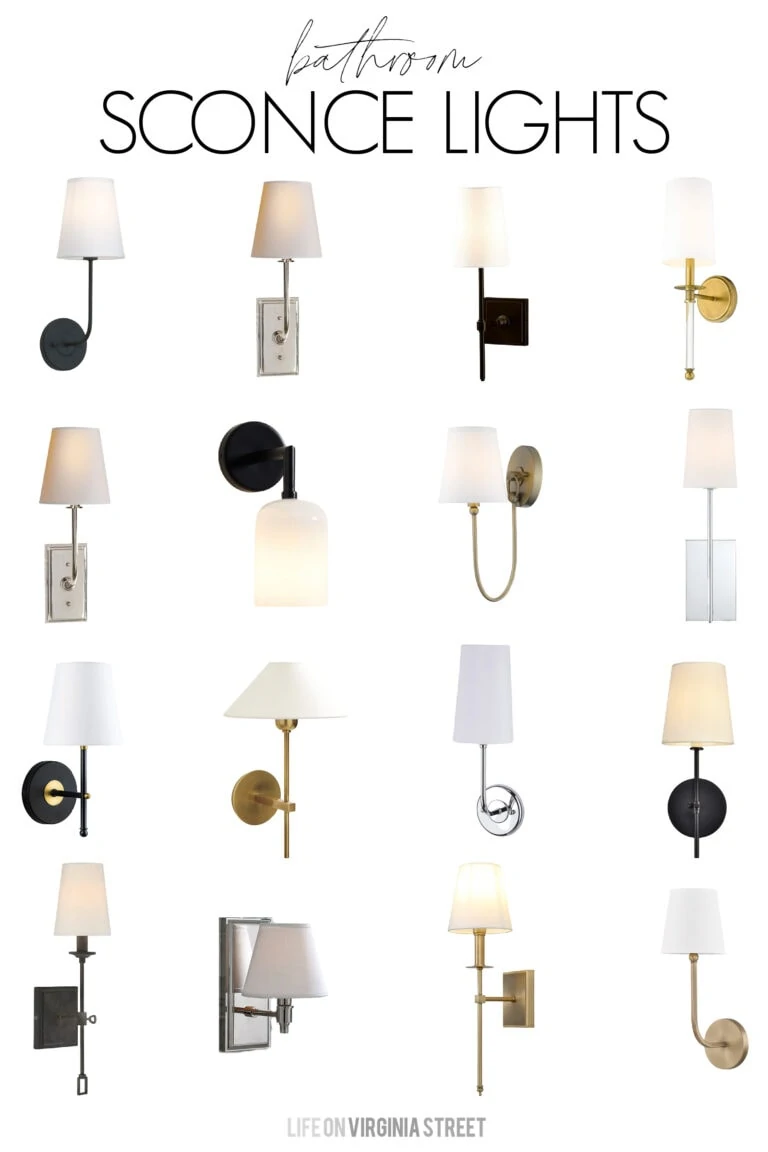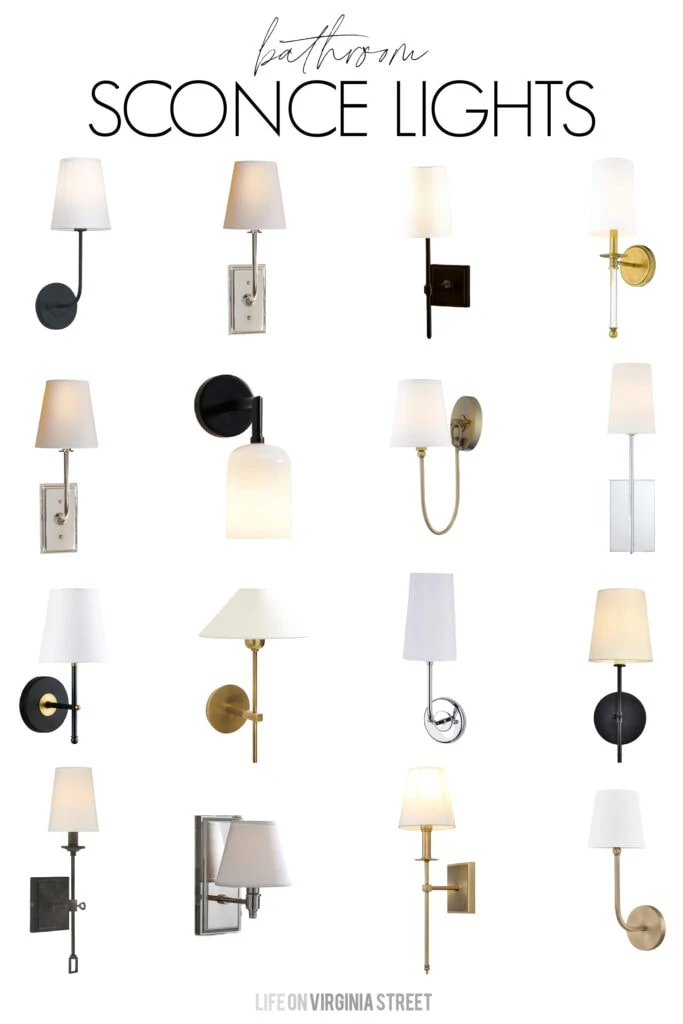 Our bathroom renovations are moving along fairly quickly despite the snow days this week! We initially thought the crew wouldn't start until the end of January, so when they were able to start shortly after the new year, I had to make some really quick decisions on finishes. Today I'm sharing a look at the bathroom sconces I considered as well as some other I found and loved along the way!
This post contains affiliate links for your shopping convenience. Click here to read my full disclosure policy.
Bathroom Sconces
If you haven't seen the plans for the spaces, you can check out our Jack & Jill Bathroom Design Plans as well as our Small Guest Bathroom Design Plans. We're going with a more traditional style overhead light fixture in the Jack & Jill, but with the layout in the small guest bathroom, I quickly needed to find some affordable sconces to use. Since I've written a post on stylish bathroom light fixtures in the past, this particular post will solely focus on single-light sconces. But I encourage you to check out that post from last year if you're looking for even more bathroom lighting ideas!
Although I looked for ones that would work well in bathrooms specifically, most of these would also work in other settings around your home like stairwells, hallways, etc. This pair seems like the best overall value! Excellent reviews, four finishes, and great style. This pair is even more affordable, but only comes in two finishes.
Following are some of my favorite wall sconces I found in my search. I've done a bit of a mix of high and low price points, but the majority are under $100 per sconce. Please note that most of these bathroom sconce lights come in multiple finishes, as well. Click on any of the images below to learn more about each of the bathroom sconces.

As you may have noticed, all the options I picked have shades. This is simply because, when flanking a mirror, I feel like you'll want the light to be filtered rather than full light exposure. This will create a more soft and warm glow around your face versus stark and harsh light.
The Bathroom Sconce Lights We Ordered
We ultimately decided on these sconces. When purchased in a pair and on sale, they ended up being around $75 each! I truly believe light fixtures are an area where you can get a designer look at a much lower price point. It's harder to skimp on things like cabinets and some of the hard fixtures since they're more permanent and not as easy to change out. However, if the other elements in a space are quality, it's pretty easy to add affordable lighting and make it look more luxurious. The quality on these sconces is excellent and I'm so happy I went with them versus the price tag on the designer look I loved!
Here's a peek at some of the finishes in the small guest bathroom. We're excited for the tile to start being set later this week! Side note: I used the polished nickel version of the faucet (rather than chrome) in the image below thinking it wouldn't be that noticeable. Turns out in photos, it's very noticeable 😉 Rest assured I also have a chrome version for this bathroom!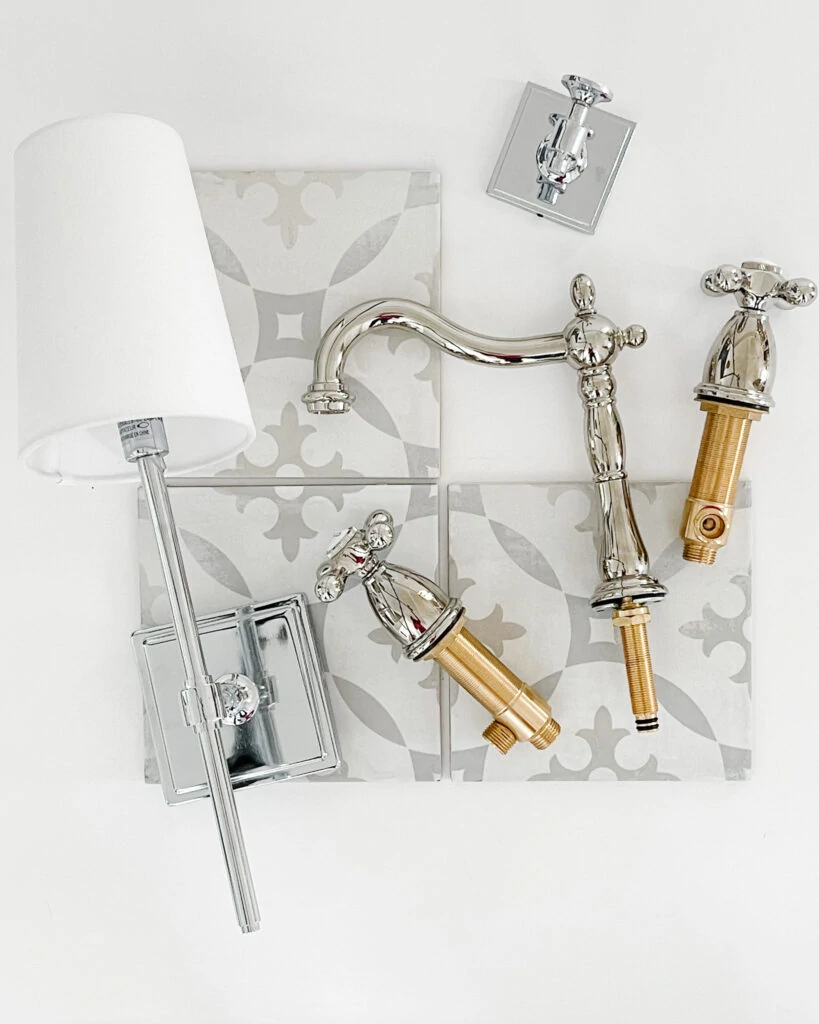 BATHROOM SOURCES: Sconce Light | Tile | Robe/Towel Hook | Faucet
Additional Light Fixture Inspiration
Looking for even more light fixture inspiration? Be sure to check out the following posts. Simply click on the post title below to be taken to the full article.
Additional Bathroom Inspiration
Looking for even more bathroom inspiration? Be sure to check out the following posts. Simply click on the post title below to be taken to the full article.
If you would like to follow along on more of my home decor, DIY, lifestyle, travel and other posts, I'd love to have you follow me on any of the following:
Pinterest | Instagram | Facebook | Twitter
disclosure: some affiliate links used