Today I'm sharing a thorough review of the best knock-off Darlana Pendant lights! Includes real life-photos of several of the lighting options, with up-close looks at the finishes!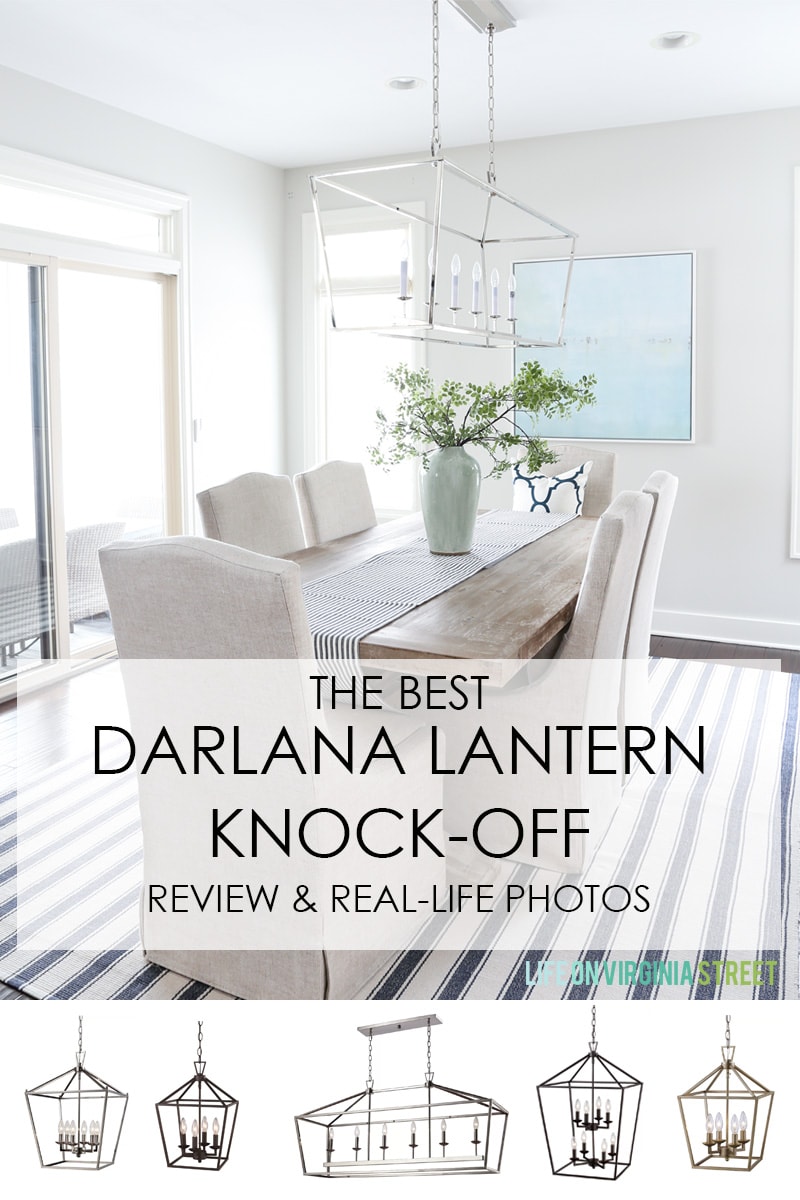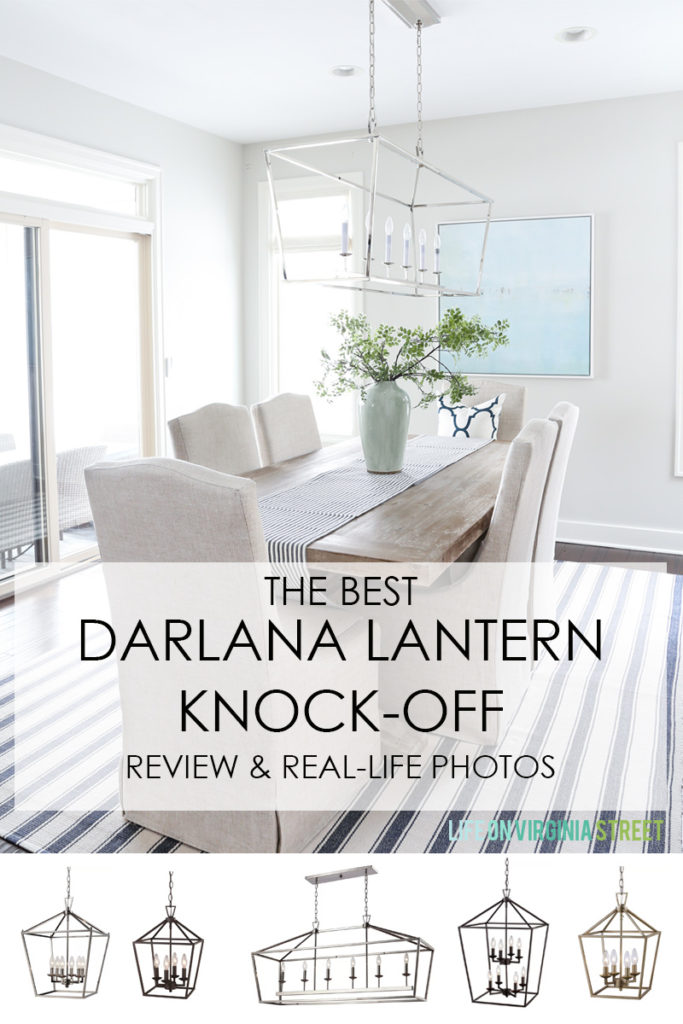 About this time last year, I wrote a post dedicated to Darlana Pendant knock-off options. It included the light fixtures shared in today's post as well as multiple other look for less alternatives! The Darlana linear pendant light fixture is the one we have in our coastal inspired dining room and it's one of the items in our home I get the most questions about. Over this past weekend, I finally saw some of these lights in real life and purchased several so I could finally give you a solid review! Today I'm sharing a review of the best knock-off Darlana Pendant lights that you can find on the market as of today.
This post contains affiliate links for your shopping convenience. Click here to read my full disclosure policy.
Following are the various sizes and finishes I purchased for demonstration purposes. We'll end up using a few in our home and then a few in our rentals!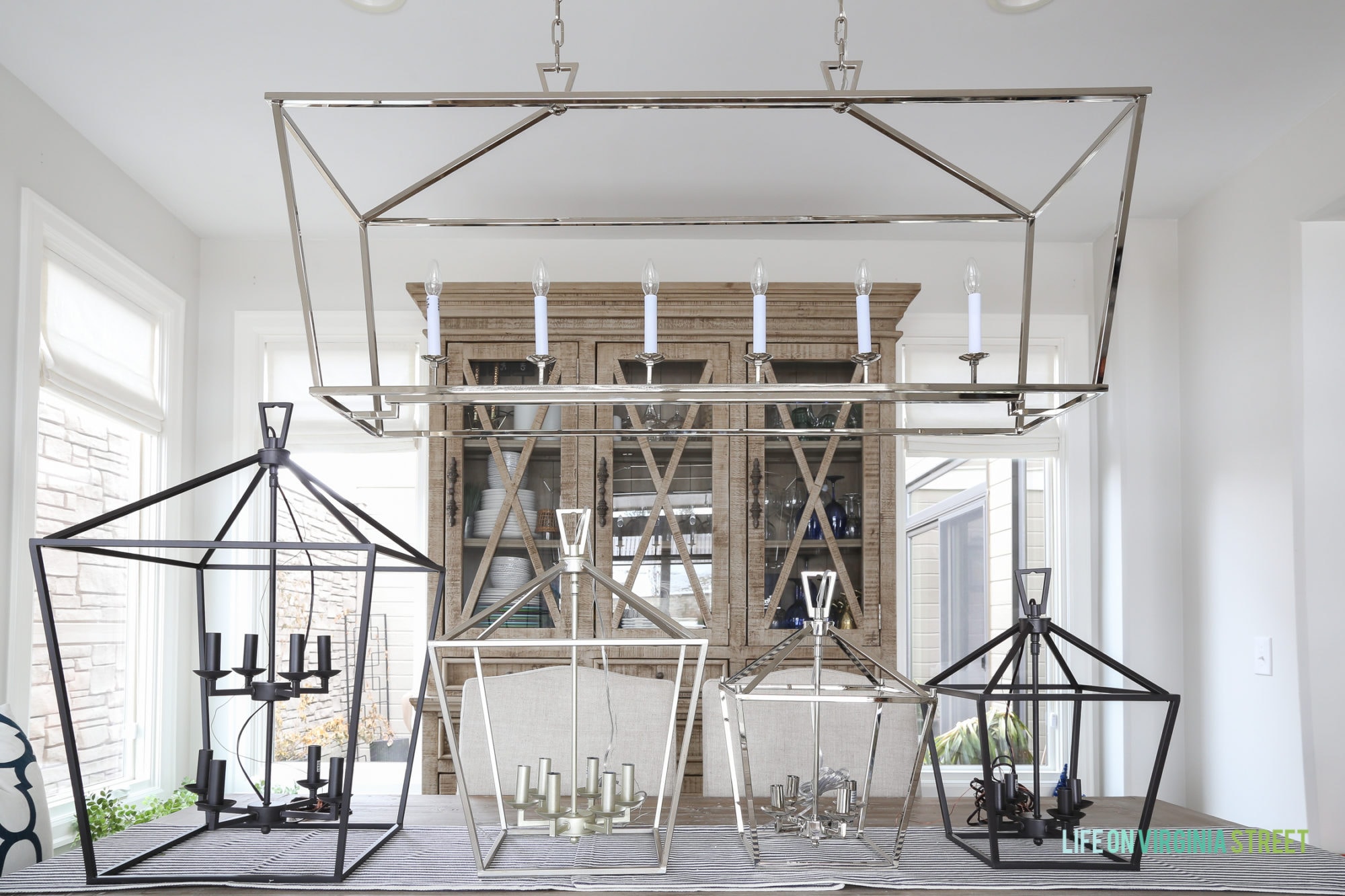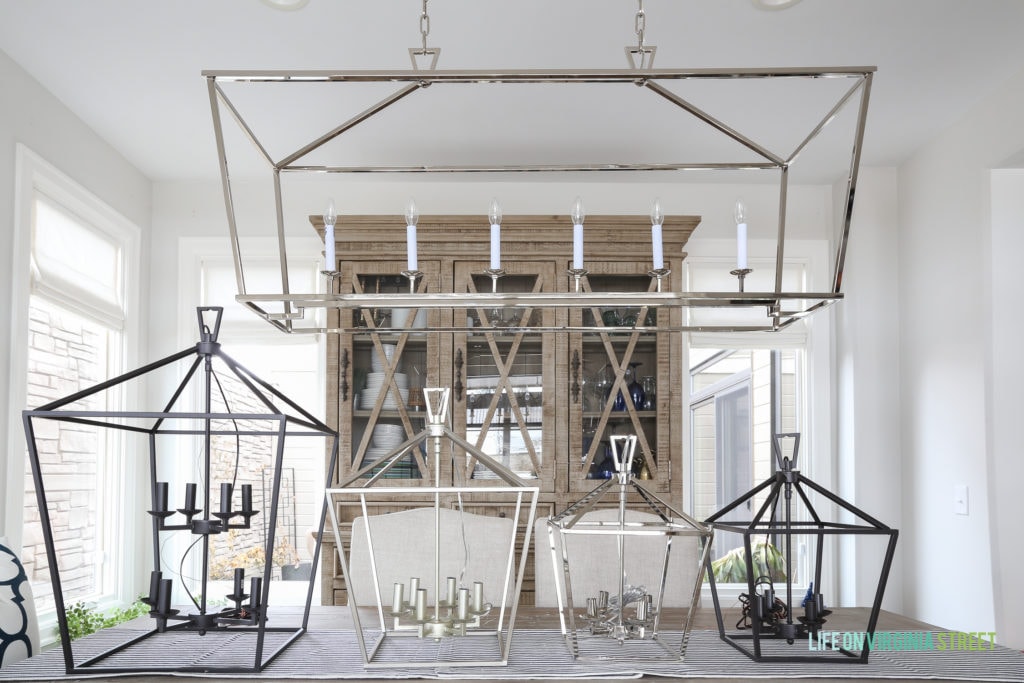 Left to Right: 8-Light Lantern in Oil-Rubbed Bronze | 6-Light Lantern in Antique Silver Leaf | 4-Light Lantern in Chrome | 4- Light Lantern in Oil-Rubbed Bronze | Our chandelier above is the Visual Comfort Darlana Linear Pendant
Things To Note About the Best Look for Less Darlana Light Fixtures
Before digging into the finish and sizes detail, I had a few general things to mention:
With most of these lighting options, you are looking at 70-90% savings from the Visual Comfort Darlana Lantern. For the price, I think these copycats are an excellent choice and look a lot like the real deal. The original lighting fixture happens to be a designer choice and is showing up in all our favorite rooms! Keep in mind, all of the sizes shown come in all four of the available finishes – you aren't limited by what I have shown here.
You can also find the "real" version under the name 19th C. English Openwork Pendant at Restoration Hardware. They sell both the lantern and linear versions as well, but they are the Visual Comfort Darlana branded with the RH name. So this is a great copycat for them as well!
I noticed that the "candlesticks" on several were bent. I have not adjusted them in the photos so you can see how they came from the factory. To be honest, my Visual Comfort version had similar issues. If you are very gentle, you can slowly bend them back to be mostly straight. Side note: the "real" Darlana Lanterns all have white candlesticks. You'll see the knock-off below are colored to match the fixture. This is a super easy fix with spray paint or by buying new sleeves, but honestly, it's a pretty minimal difference in the overall look.
In the images below, I obviously have not added the chains. They are included and look like the chain in the photo (mine are still in their boxes). This is also why you'll see the cords dangling behind the various lanterns. It's a bit hard to photograph when they aren't hanging!
Although the photos seem a bit busy, I purposely wanted to capture the lights under our dining room fixture. Although we have the Visual Comfort Darlana Linear Pendant (the knock-off this version can be found here or here), it shows how well the pendant lights coordinate! Unfortunately at the time I had my heart set on this light fixture, the legit knock-offs didn't exist yet. Believe, me, I looked for months!!
One thing you will notice on the linear knock-off versions is that the biggest structural difference is the addition of two rods to hold the candlestick frame in place. If you look closely at the stock photo you'll see this, whereas, you'll notice mine is connected from below. Thank you to an eagle eyed reader who owns the knock-off version for pointing this out as I didn't notice it at first in the stock photos! If you're wanting to avoid those rods, I would suggest this version.
I'm not going to include dimensions, as those can all be found directly on the vendor's website.
There isn't a gold option, as there is with the Visual Comfort Darlana Lanterns. However, I've had several readers send me images where they spray-painted the frame if it wasn't the exact color they wanted, or have used Rub-n-Buff to make it gold. In all instances, they turned out beautifully! So, keep that in mind if the color combo you want isn't in stock. This frame allows for a pretty quick and simple update with paint! I would also look into this series of lights that have a gold option and are still relatively affordable!
If you prefer to shop at Amazon, you can find the entire line here, sometimes for less money!
Photo Examples of The Finishes on the Best Knock-Off Darlana Pendant Lights
You'll notice that the one finish I did not buy was the black. In my opinion, the black light is the least like the original versions. That is simply because the external portion of the lantern is black (very similar to the ORB finish) but the lighting portion on the inside is chrome. It makes for a pretty finish, but it looks the least like the original option. Basically picture the two lights on the right in the photo above, merged together and that would be a very similar look.
The finish I get asked about most (but never previously had the answer to) was the antique silver leaf. On most websites I've found it, the stock image appear to look very much like a gold finish. However, in real life, I would equate it closer to a pretty satin nickel with a light gold brushing over it. I've tried to capture the detail in the two photos below. The gold is very subtle and mostly just helps to warm up the brushed silver finish, giving it almost a pearlescent glow. If you want a true gold finish, I would look into this gold Darlana pendant knock-off option. This one is also good if you need a larger version!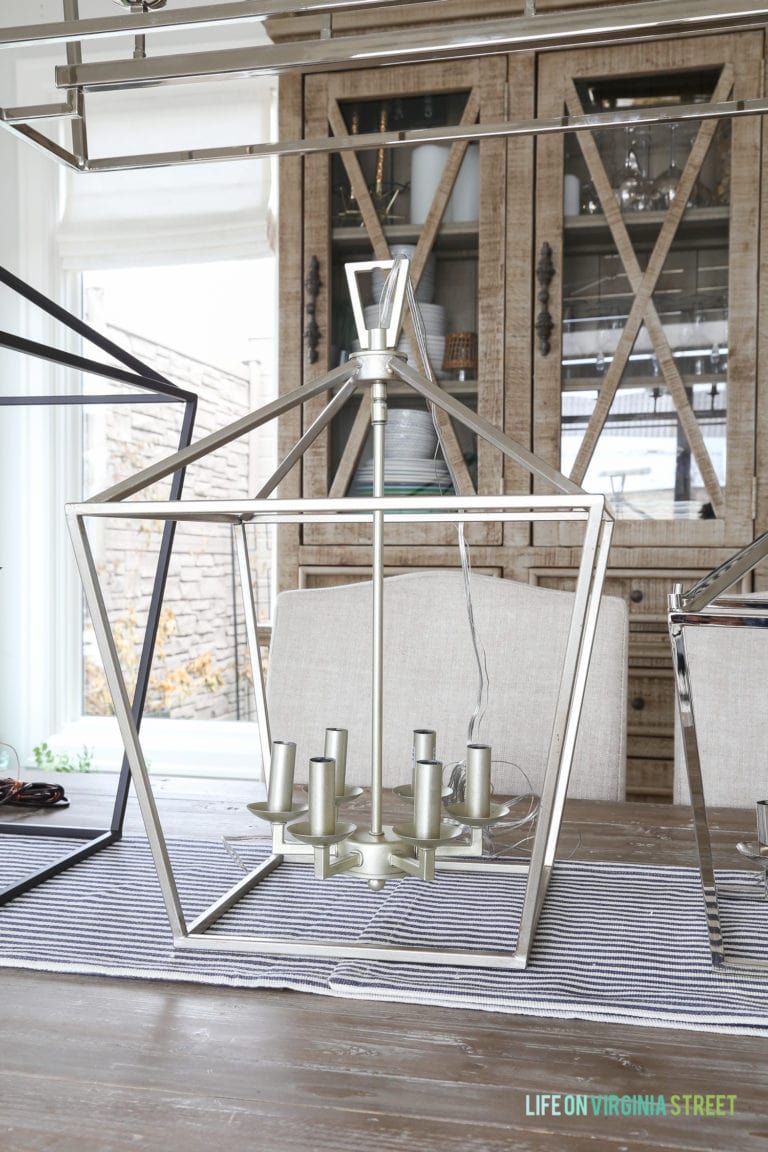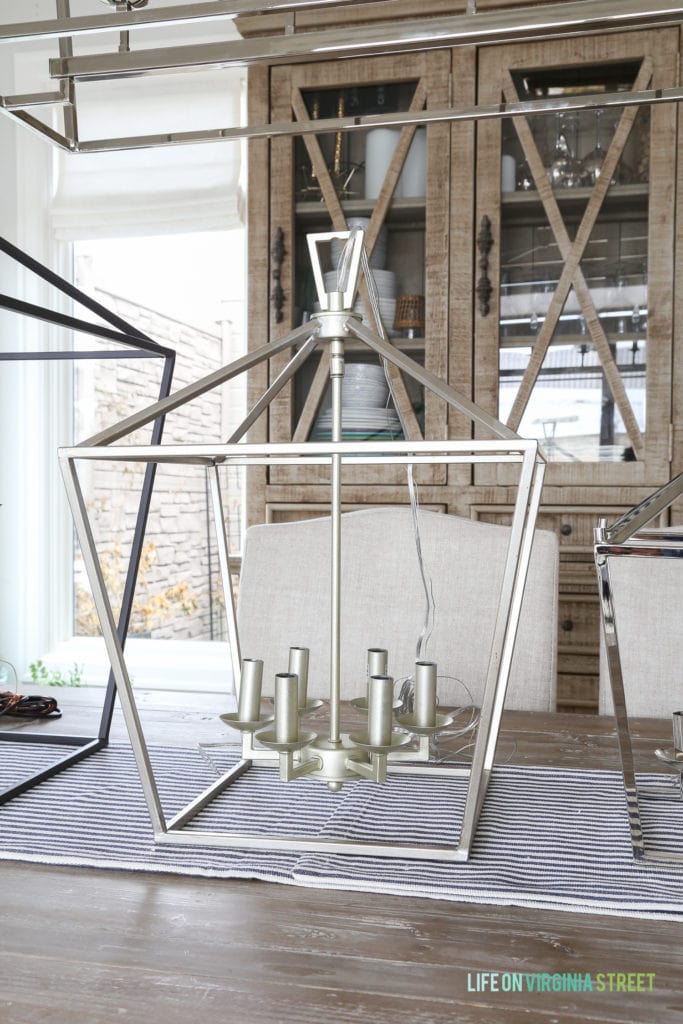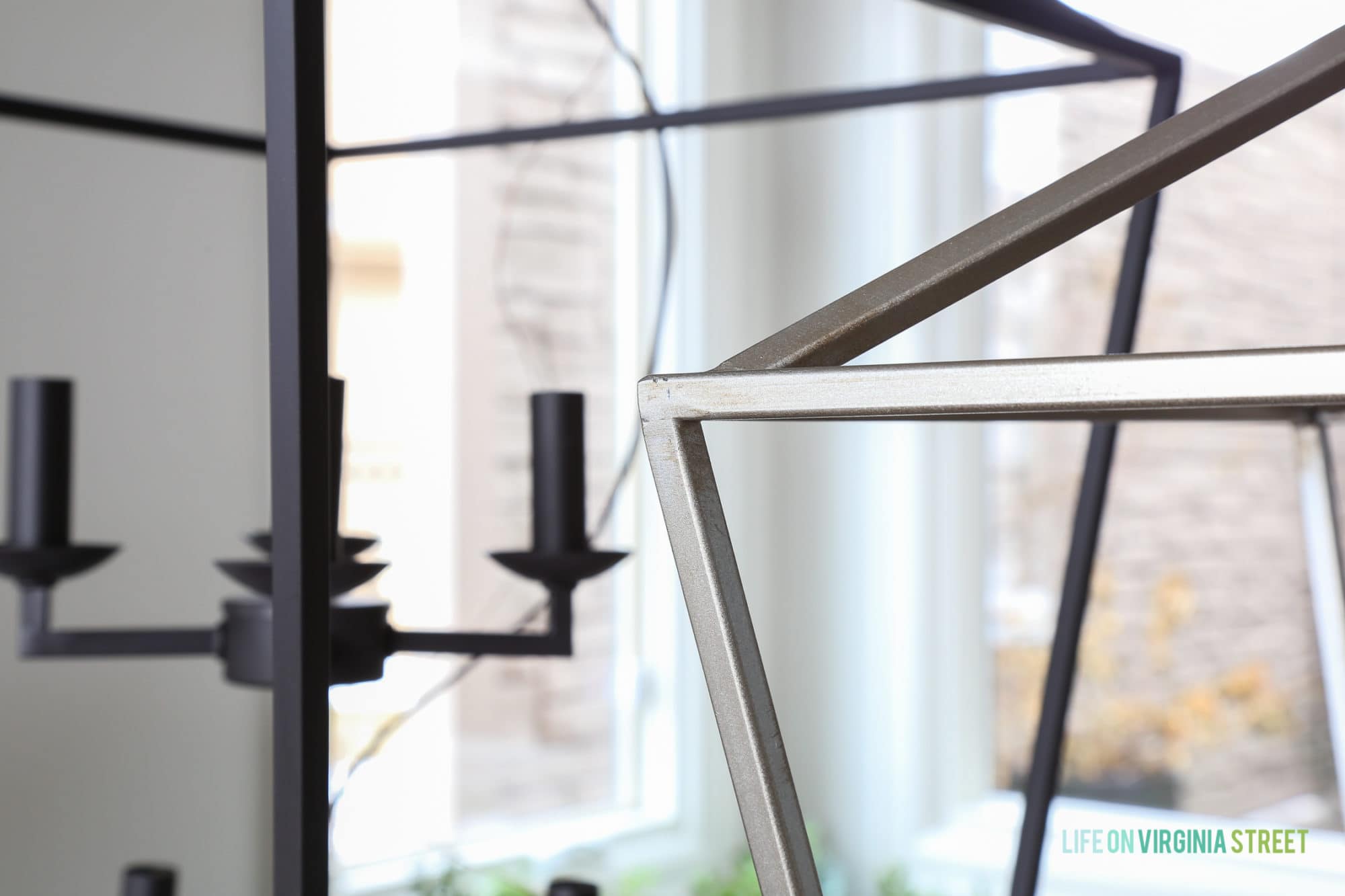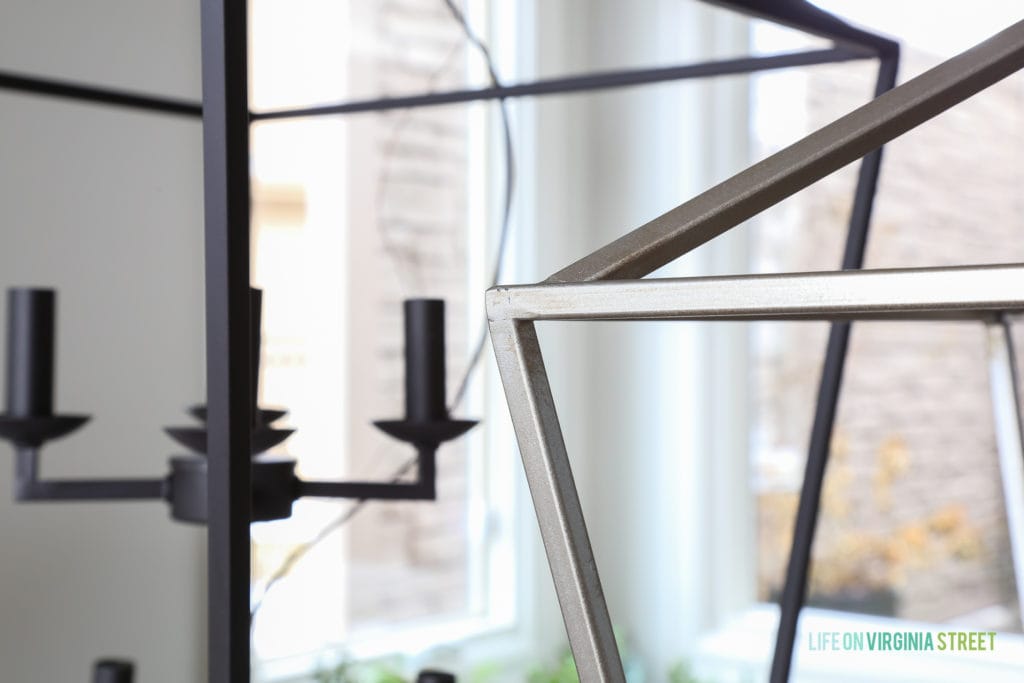 One major difference I noticed on all of the chrome finishes (regardless of size) is the addition of these "nubs" on the four corners. This is not on the original version, and it also isn't on any of the other finishes. Other than that, the color is very similar to the polished nickel version we have in our Darlana linear lantern light in our dining room. Although the 4-light lantern version is a bit smaller, I feel like you get a huge bang for your buck with this one! My sister-in-law bought two for her home a few weeks ago, and then ended up buying two more because she loved them so much! She's using them in her living room, hallway and master closet. They work so well in so many places! I'm likely adding one to our entryway and one to our mudroom, but I first need to confirm if the 4-light or 6-light version is a better fit.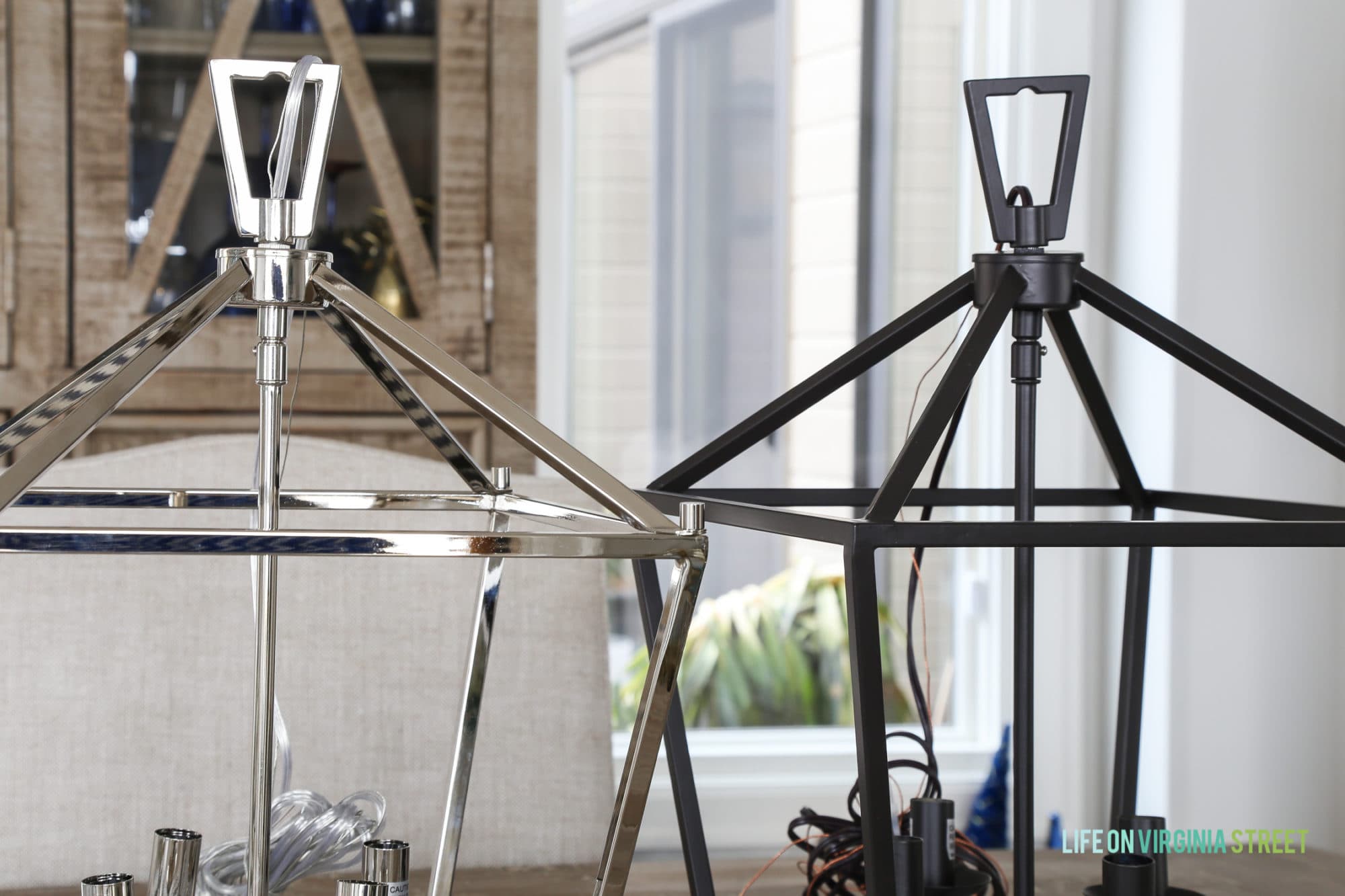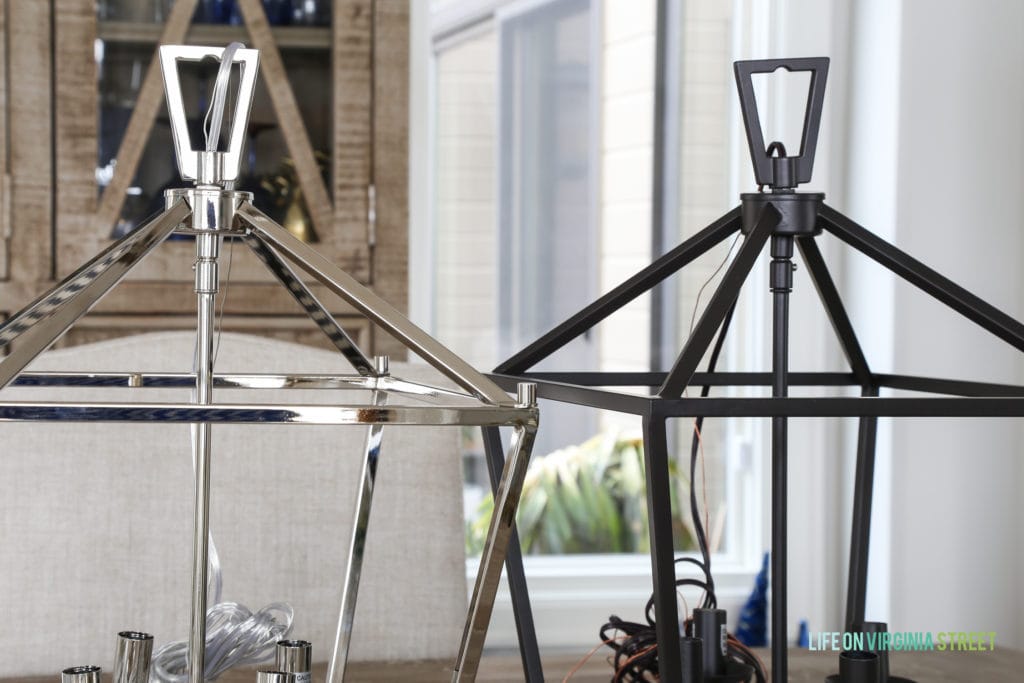 The 8-light lantern is rather stunning in real life. They also offer an even larger version but you would need a huge area for it, as this one is already rather sizable!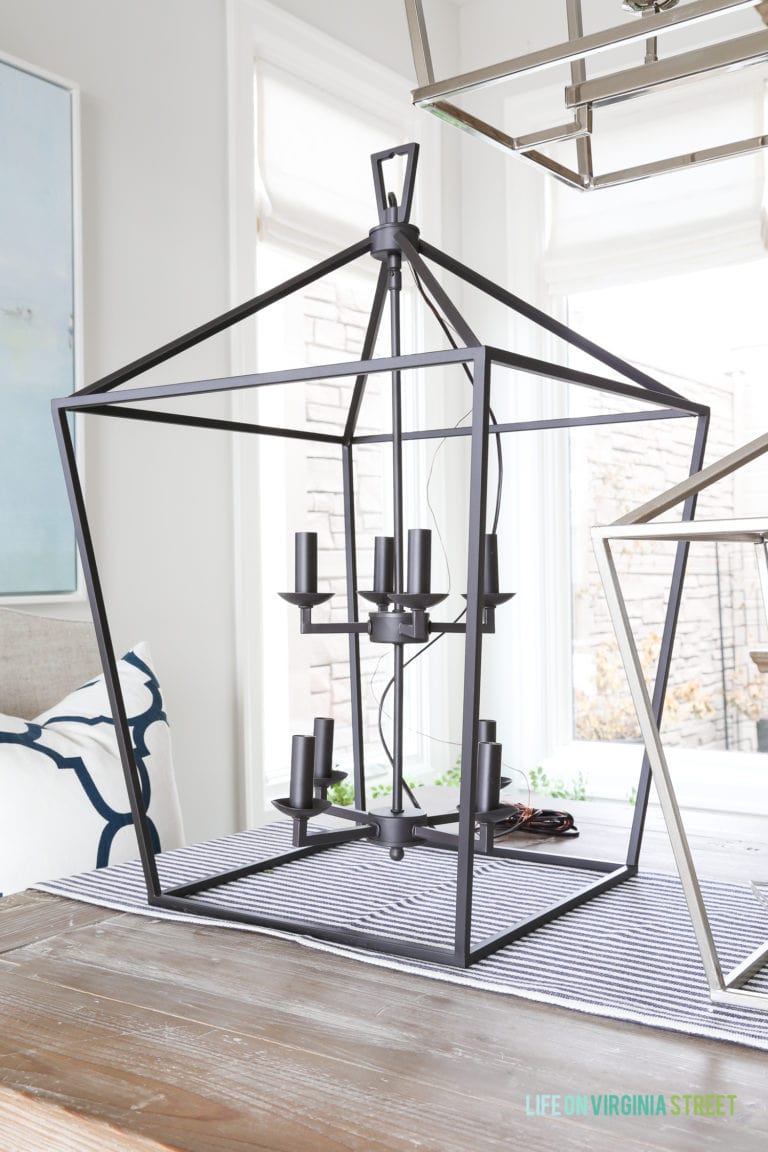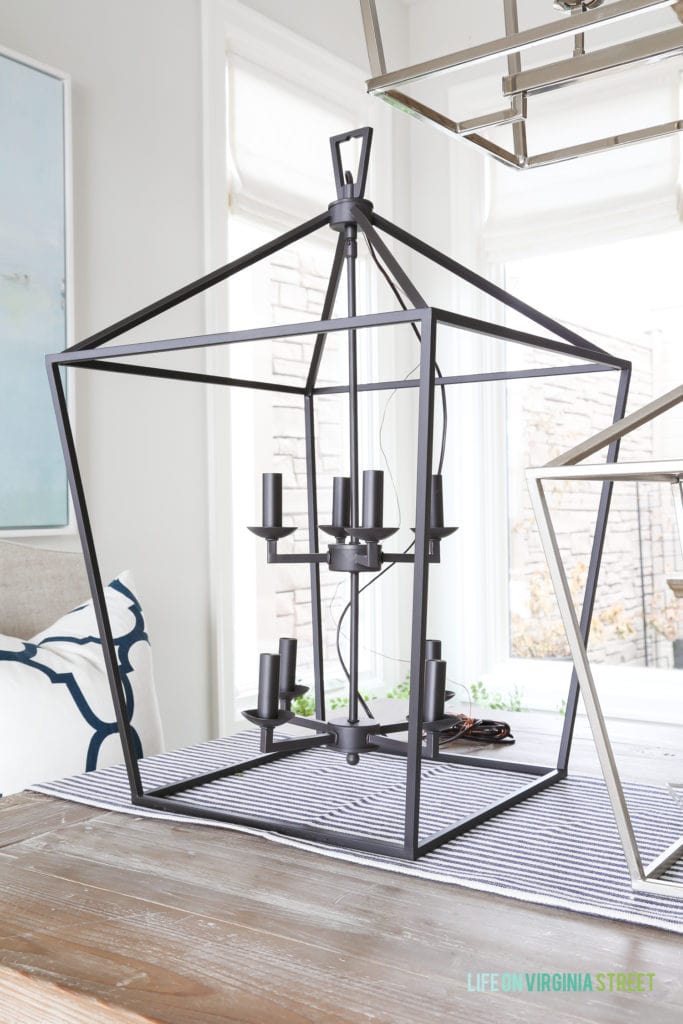 Again, I think these are a really great, affordable lighting options to get the designer look in your own home. If you have any other questions about these fixtures, please feel free to let me know in comments and I'll get them answered ASAP. If it's a common question, I'll also plan to update the post for future reference. OR, if you've already purchased one, I'd love to get your feedback in comments below as well. I know it will definitely come in handy to other readers!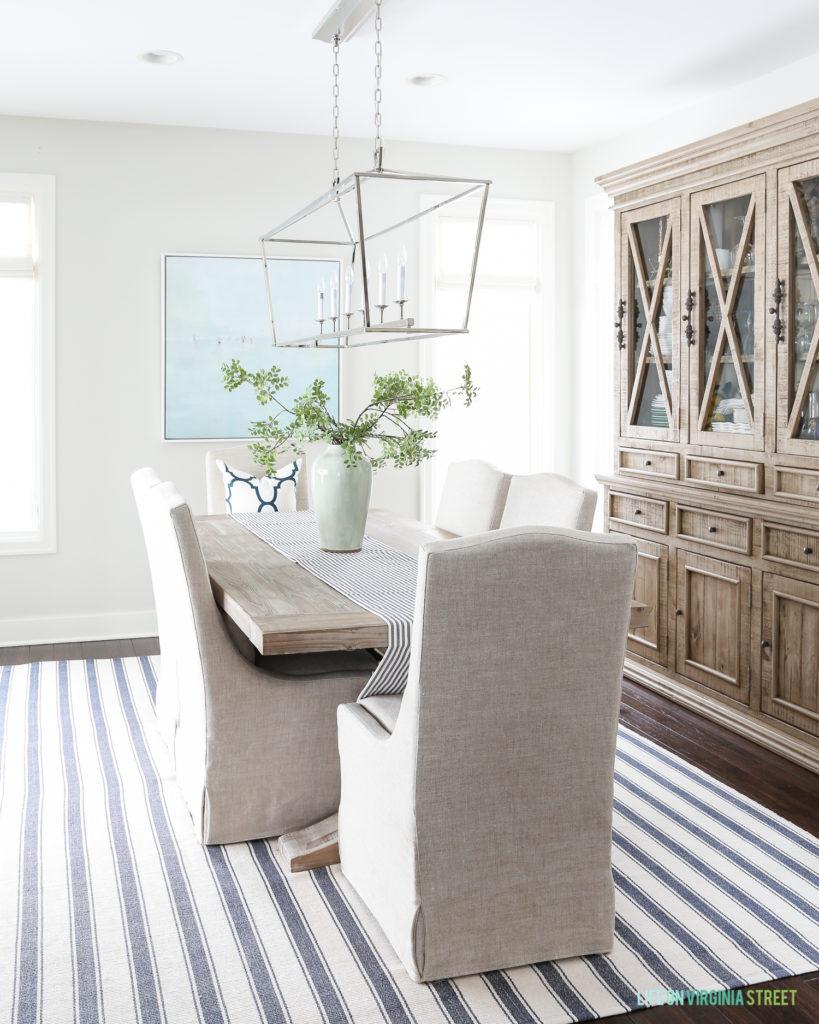 DINING ROOM SOURCES: Linen Dining Chairs | Dining Table | Striped Rug | Visual Comfort Darlana Linear Chandelier | Vase | Faux Greenery | Hutch
Have a great weekend!
If you would like to follow along on more of my home decor, DIY, lifestyle, travel and other posts, I'd love to have you follow me on any of the following:
Pinterest | Instagram | Facebook | Twitter
disclosure: some affiliate links used