Sharing some small bathroom ideas along with our current bathroom situation and tentative changes we'd like to make to the space!
On Monday, I mentioned that things are possibly finally progressing with our guest bathroom makeover. Then, I also talked about the fact that Kurtis found out he is going to be working from home for the next eight or so months minimum, and he suggested we also tackle the small bathroom in "his office". I know I'm kind of all over the board talking about projects around our house (including our actual home office). But, something we've quickly learned over the past seven months is we want our home to work for us, and not have any wasted corners! Especially since we're spending nearly every waking minute inside!
As you can imagine, when he suggested tackling this bathroom in addition to the one we already had planned, I was quickly on board. I'm usually the dreamer and want to tackle all the projects. He vetoes a lot and likes to talk about boring things like budgets. Boo 😉 And although we don't even have bids back on this possible project, which could cancel the project entirely, I thought I'd include you in on the conversation early to talk through our thoughts.
This post contains affiliate links for your shopping convenience. Click here to read my full disclosure policy.
Our Small Bathroom Situation
First I thought I'd share a little history on the bathroom we're talking about, as well as some details on our home. The bathroom in question today is the one adjoining our smaller guest bedroom. The bedroom is also currently doubling as Kurtis' home office for his day job. We don't show that corner because it's definitely not blogworthy 😉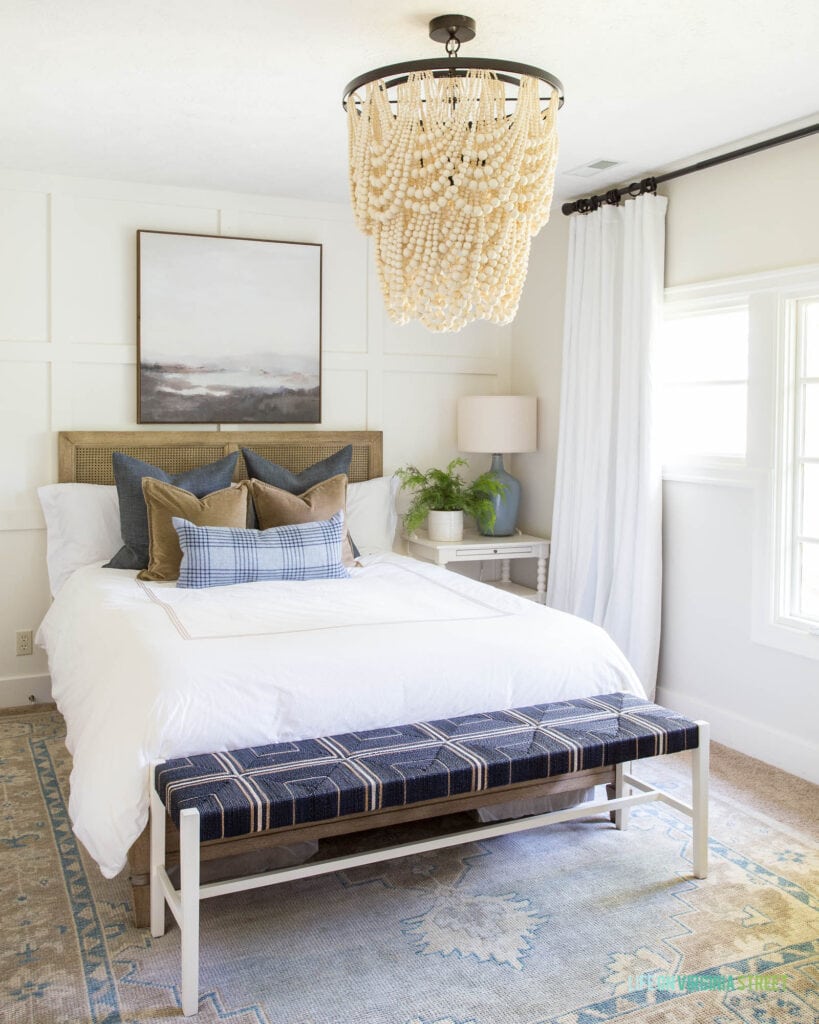 GUEST BEDROOM SOURCES: Wood Cane Bed | Hand-Knotted Rug | Bead Chandelier | Abstract Art | Spindle Nightstand | Belgian Linen Drapes | Iron Curtain Rod | Iron Finials | Iron Curtain Ring Clips | Woven Bench | Linen Pillows | Velvet Pillows | Plaid Lumbar Pillow | Ceramic Lamp | Faux Fern | Hotel Style Duvet Cover
Our house was built in 2008 and we've lived here for nearly eight of those years. We've had to prioritize our makeovers, and our small guest bathroom likely was at the very bottom for most of that time. I rarely talk about about the space and it's only been shown on the blog a handful of times. It's in the smaller of our guest bedroom/bathrooms, and up until the last few years, was honestly rarely ever used. But, after the addition of the pool, the bathroom was used more and more as we'd have a house full of overnight guests for the summer. So priorities have gradually changed.
I know there are far smaller bathrooms out there, but this one has a relatively small footprint and seems easy to tackle. The door opens with about an inch or two of clearance from the vanity, and the toilet and shower stall then quickly follow. As a look back in time, here is how the bathroom looked when we moved in. Completely functional with good amenities, but lacking any personality or design features.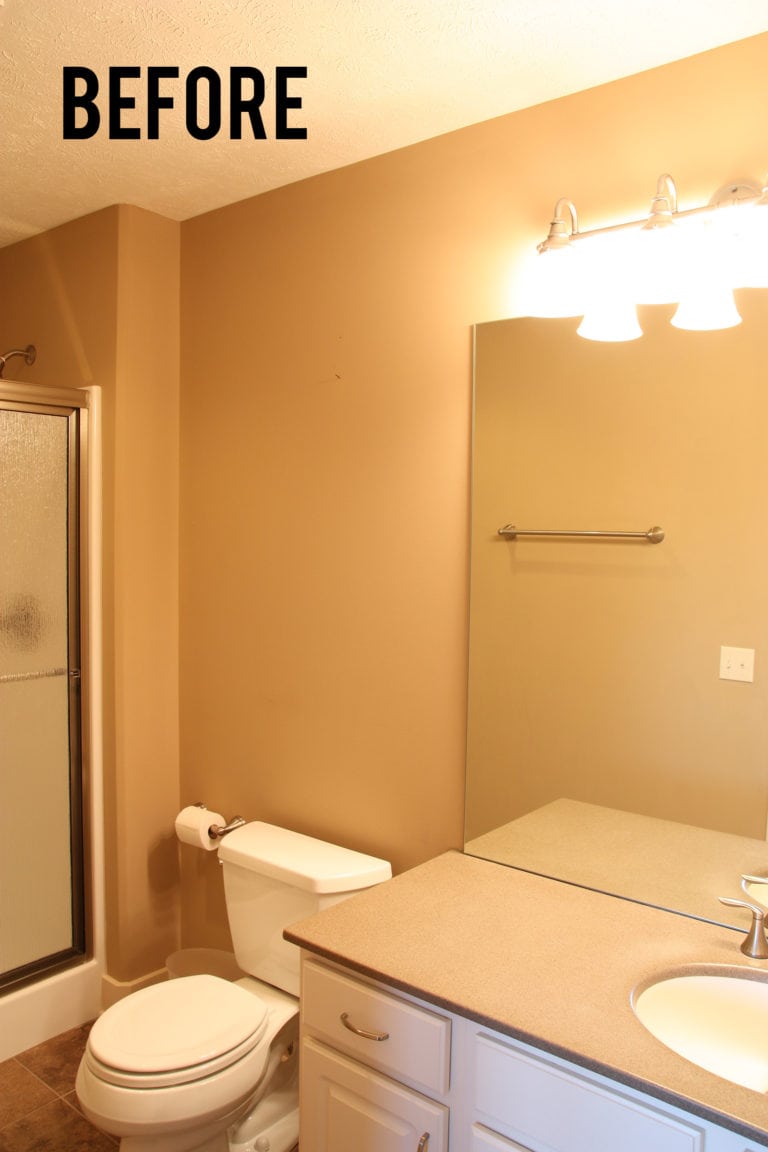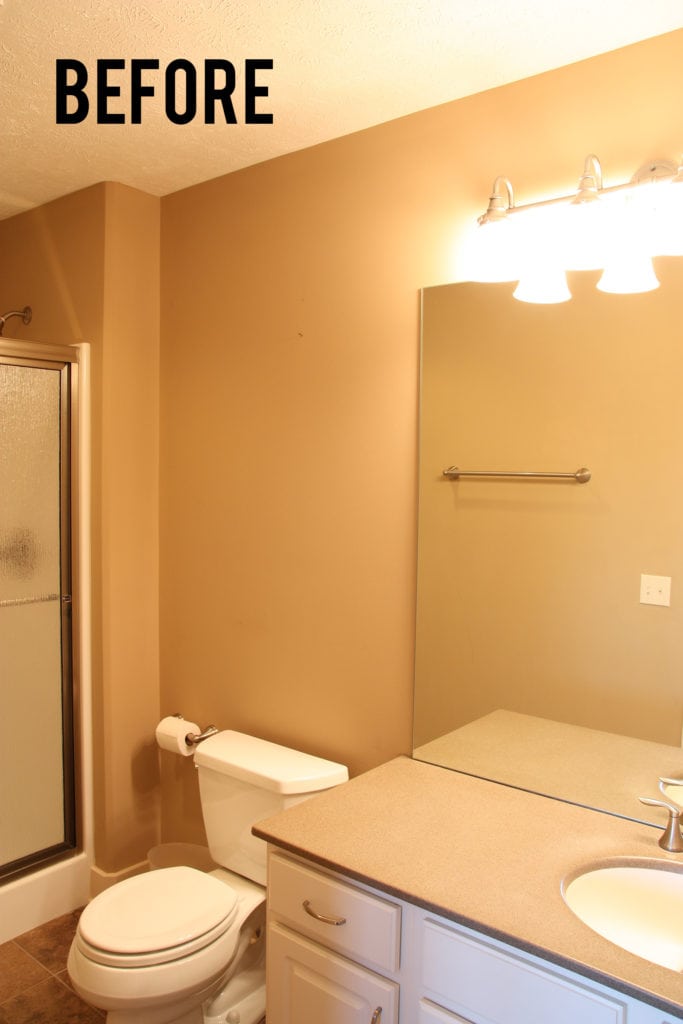 The people that lived here before us had it decorated super cute for their daughter, but once we moved in, it was pretty barren and bland for awhile!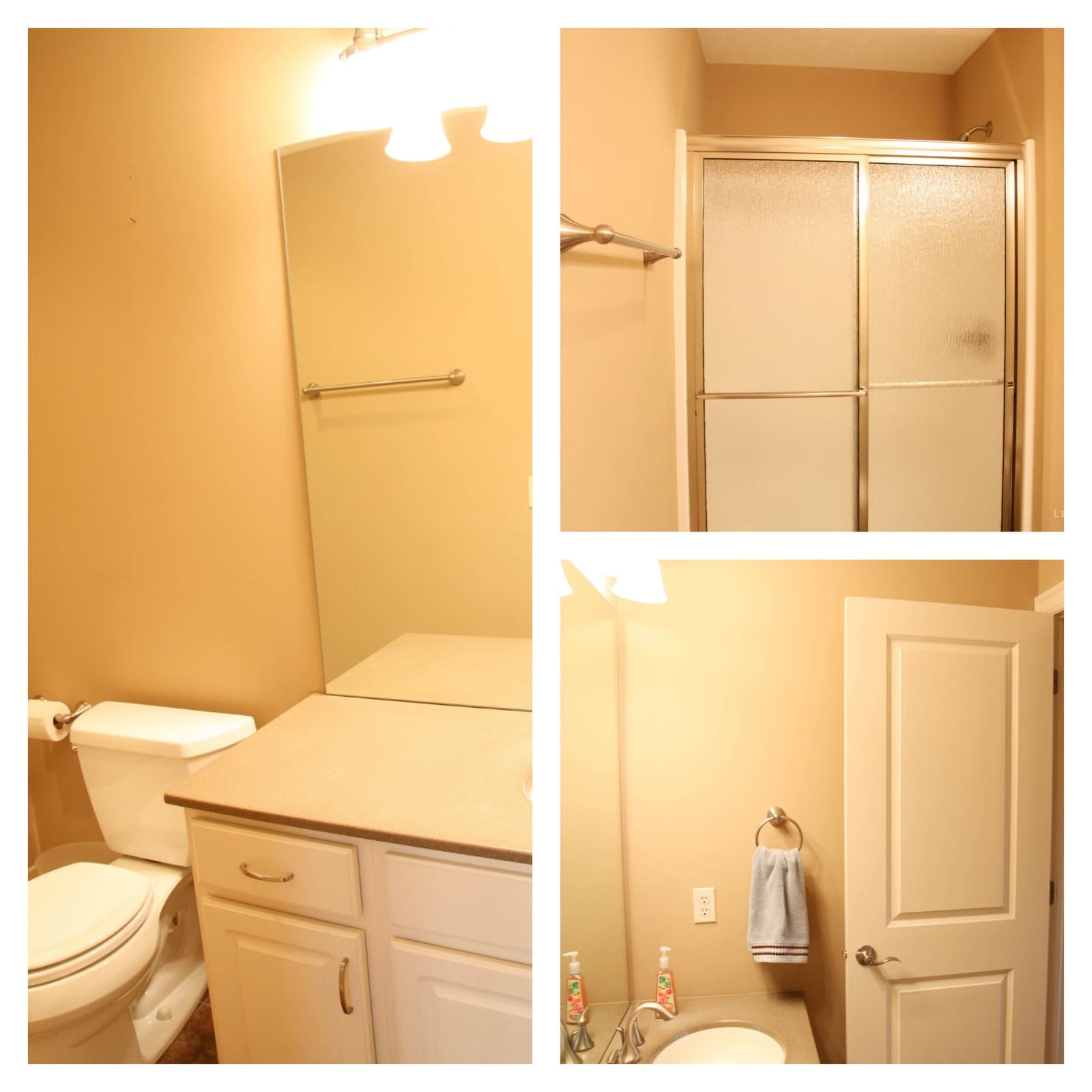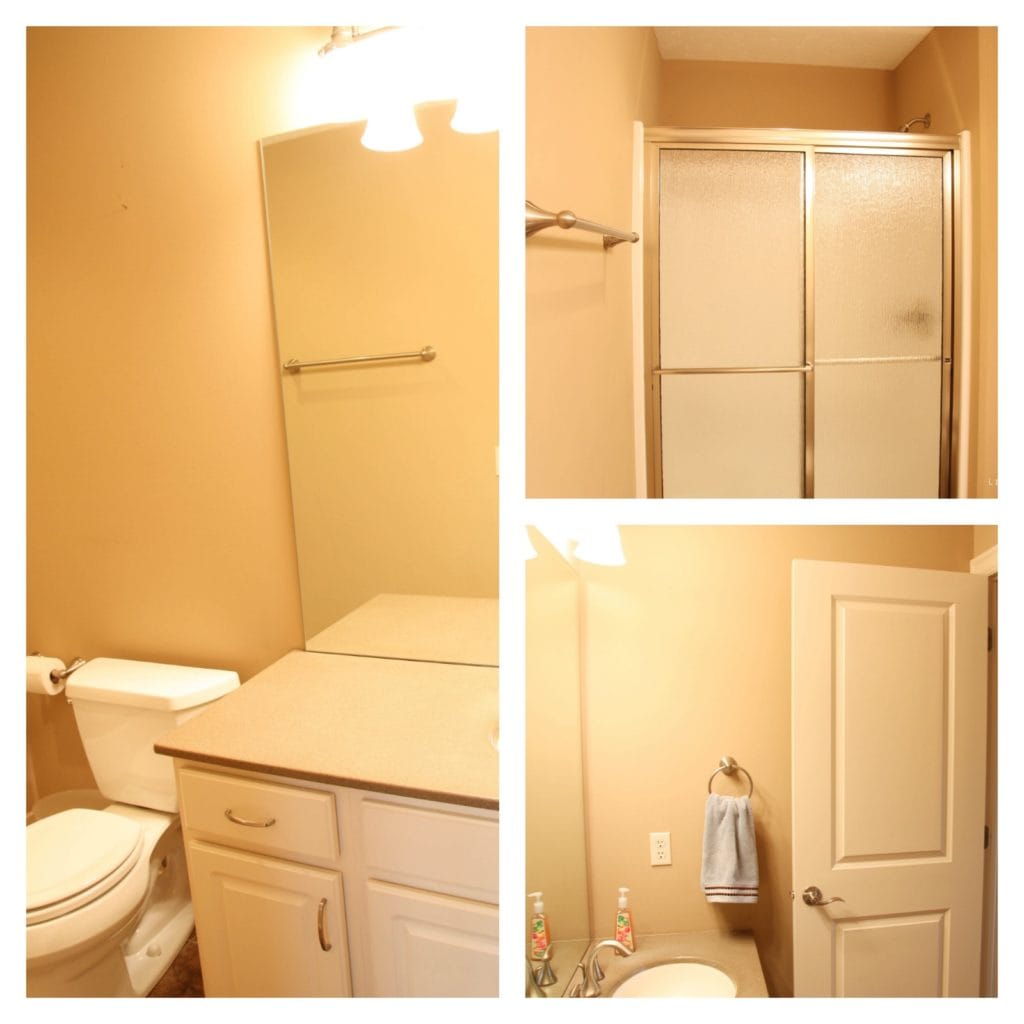 And here is how the bathroom looks now after a number of super budget friendly makeovers (the most recent of which was nearly two years ago – it literally hasn't been touched since). As we started to get more guests, we wanted to make it a lot more presentable and wanted it to flow a little better with the rest of our house. Although I'm not sure it really achieves that yet. The cabinets are melamine, so they're a bit of a challenge but I painted them with chalk paint a few years ago. The countertops are a very faded Corian. The sink is offset and not centered (which is good for counterspace, but crushes my need for symmetry). We built a frame around the builder basic mirror. We never even tried to mess with the dark brown floor tile! Also, cameras have dramatically improved over the past eight years 😉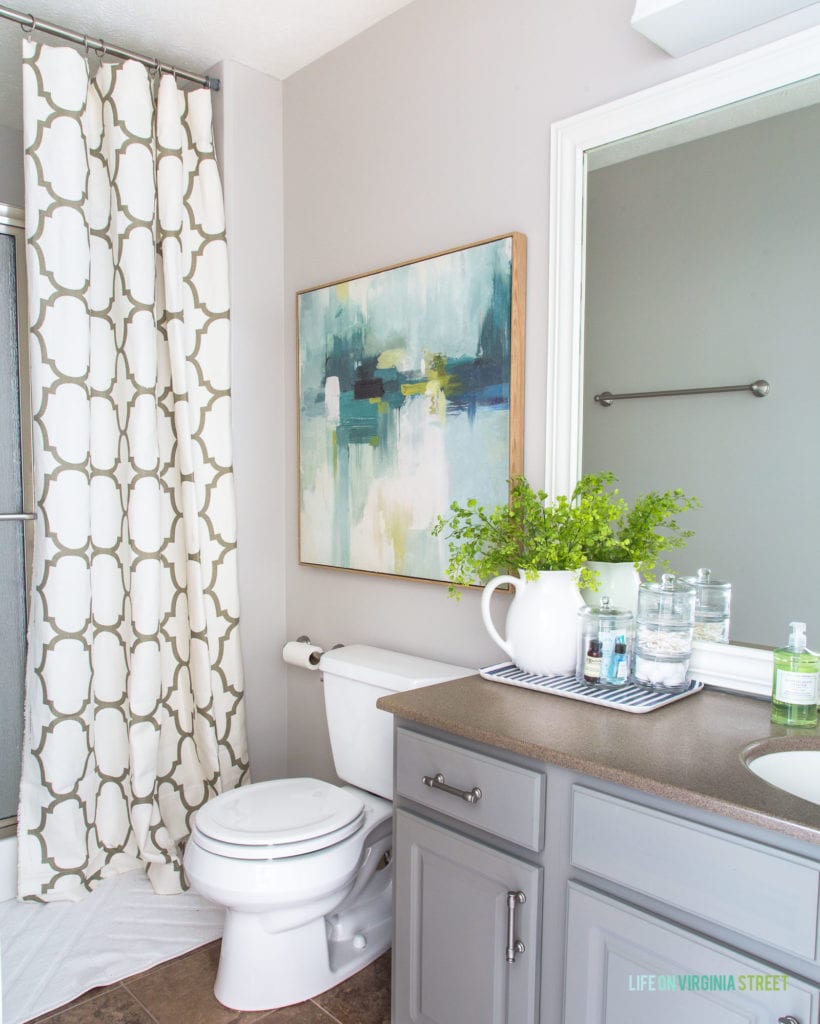 GUEST BATHROOM SOURCES: Shower Curtain Fabric | Abstract Art | White Pitcher | Faux Maidenhair Fern Stems | Striped Tray | Hand Soap
It's obviously a lot better now, but it's safe to say there's room for improvement! And although it's still not a priority, we know bathroom makeovers get you a decent return if you ever sell, and we know our two guest bathrooms really aren't cutting it right now! Side note: we have no plans to sell. But we could totally see ourselves being those people that waited all those years until we did sell to do the makeover and never get to enjoy it. And we don't want that! So, we're hoping we can fit this bathroom makeover into the budget as well! We have, after all, had nearly an extra year to save for it now at this point since our other bathroom has been so delayed!
Small Bathroom Goals
After talking about it at length (you know, since this past weekend), here is a list of items we asked to be bid when we met with the contractor on Tuesday. I can't promise all/any of these will happen based upon budget, but these were our goals and wishes!
New vanity (I've already started hunting for some good options)
Scones in lieu of center-mounted light fixture
New tile floors
A window
Removal of shower insert (not necessary, but a nice to have)
Tiled shower with niche (same as above)
Glass enclosure with door, in lieu of sliding doors (again, same as two above – not necessary but on the wish list)
So, clearly things kind of escalated after Kurtis gave me the green light. As things typically do around here. But, if we do it, I want to do it right! We originally thought just floors and vanity but I can never leave well enough alone.
After reminding Kurtis just how much windows changed our kitchen renovation, I also reminded him this bathroom had an exterior wall overlooking our courtyard. So, although it's a bathroom, there are virtually zero privacy concerns with a window, since the exterior wall opposite the room is our laundry room (which has no window) and the side angle is our open hallway windows. And can you imagine how much a window could totally change the space?!
I would also like for this to have a slightly different, but semi-coordinating, vibe that the other bathroom. Kurtis asked if he could help design it since it was "his office bathroom"… I told him it was probably best if I gave him some ideas to pick from and he could then pick his favorite. I think he's mostly on board with that. He's not great at articulating what he wants, but he excels at telling me what he definitely doesn't like 😉
Small Bathroom Ideas
So, now let's talk about some inspiration for how we'd love the space to look! Even though I'm a total fan girl, it wasn't intentional that so many of these inspiration images are from Studio McGee. I actually was on Pinterest doing some searches, and most of the ones I clicked happened to be theirs. But, so many of these are similar to the vibe we're looking for and also have a similar small footprint.
This first image is the one that sticks out most in my mind! Can you even imagine?! So good!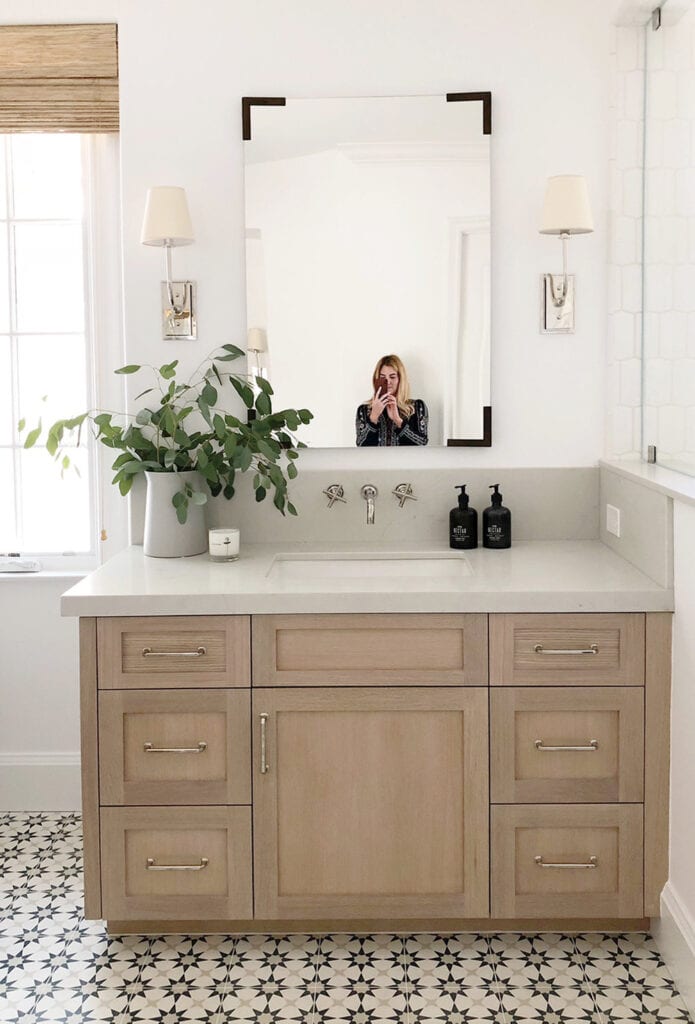 Kurtis really loves the idea of a marble hex tile on the floor. Although he's also into cement tile like the one above. I have mixed feelings about the hex tile because I feel it's a bit too modern. But then I see the next image and think maybe it could work! We actually used a similar tile on a recent project (yes – someday I'll talk about it!) and the style is definitely growing on me!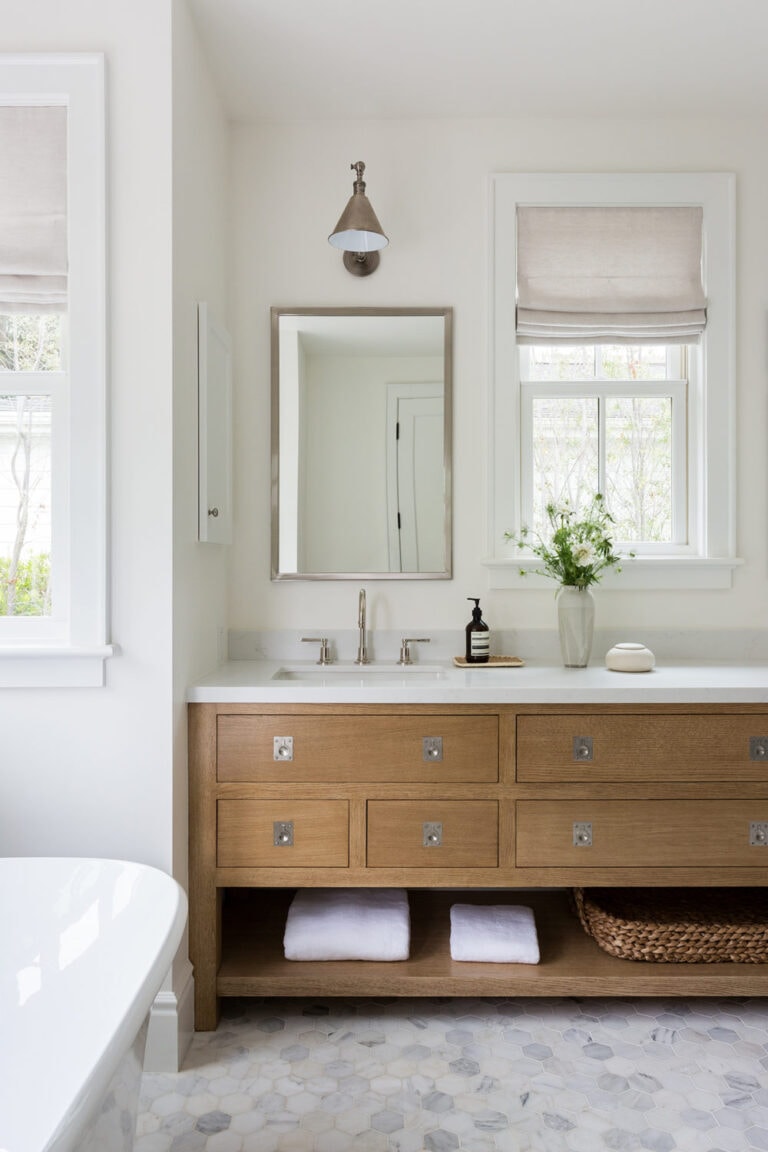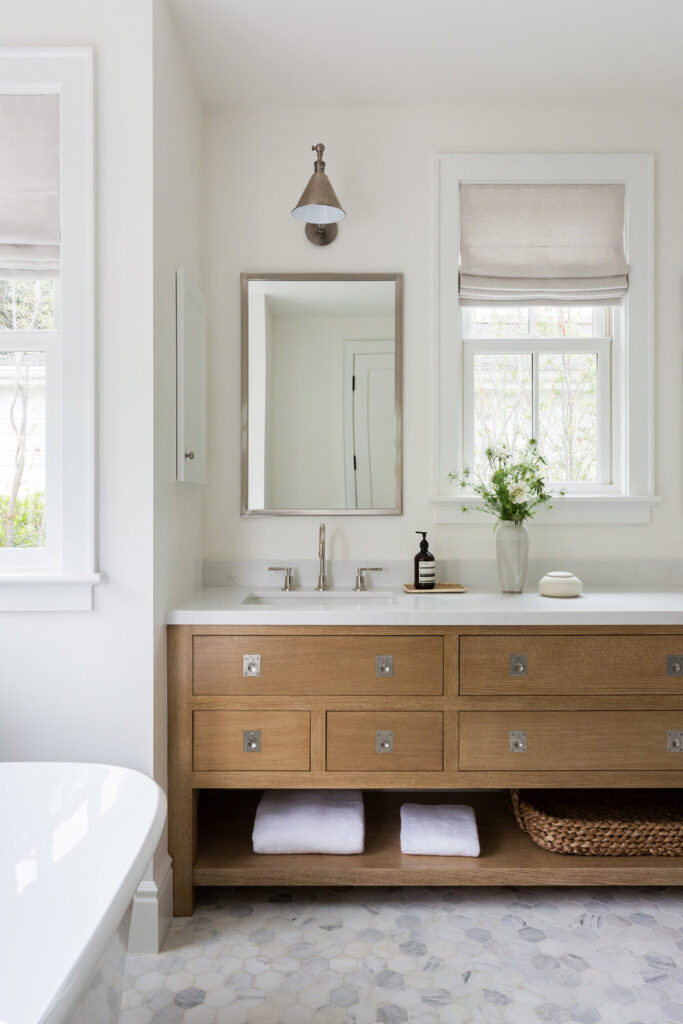 Although this next bathroom is by no means a small bathroom, the finishes and tall mirrors immediately caught my eye! Our ceilings are only 8′ upstairs, so clearly nothing close to this space. But it's also a reminder how tall mirrors can make a space feel so much more grand!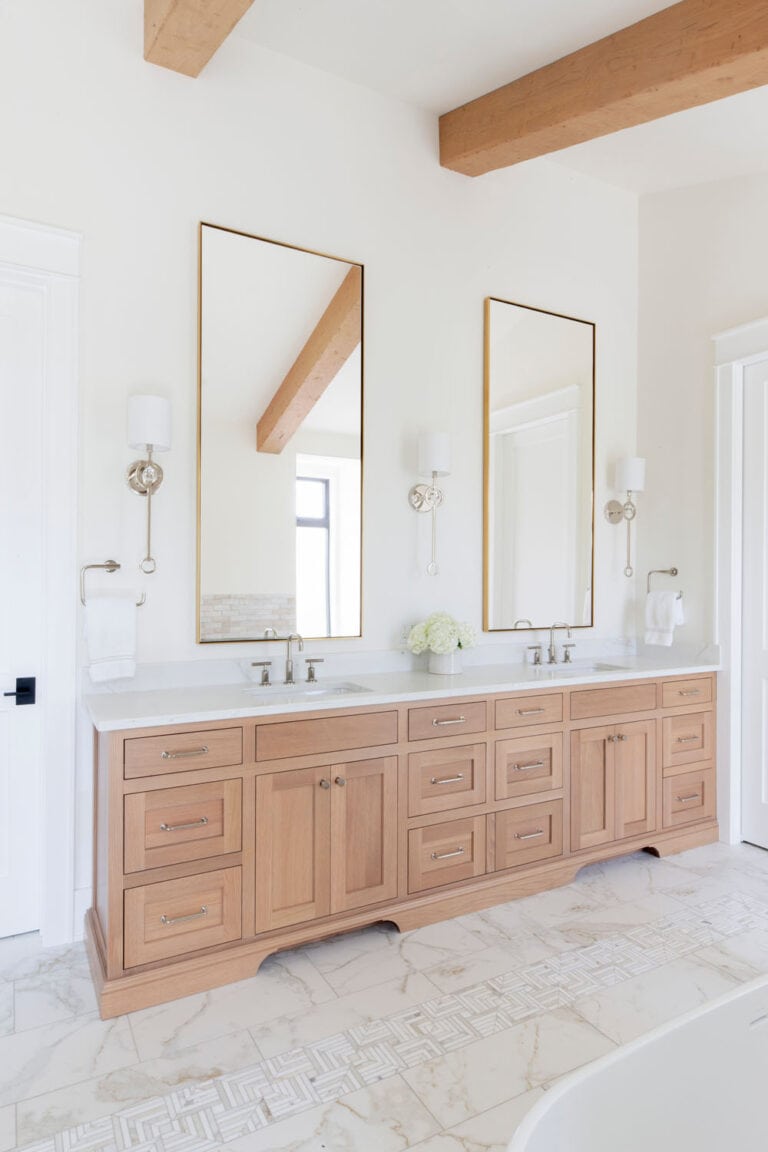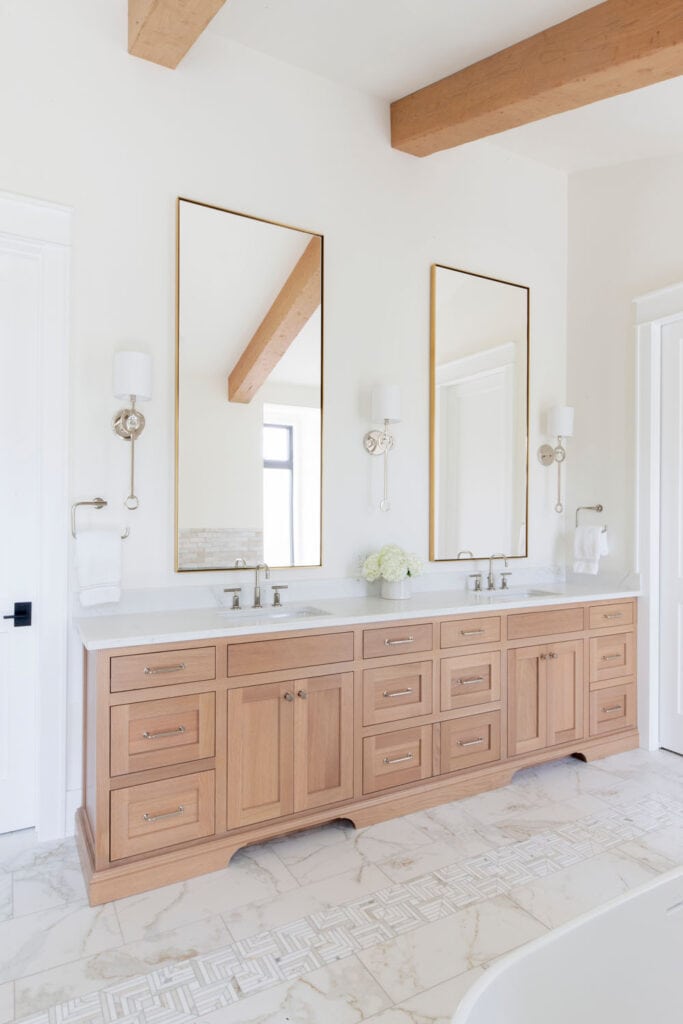 I've loved this next bathroom from House of Jade Interiors since the day they released it. And the one item I can't stop thinking about is that mirror! I believe they had it custom made, but consider me on the hunt for something similar. So dang good!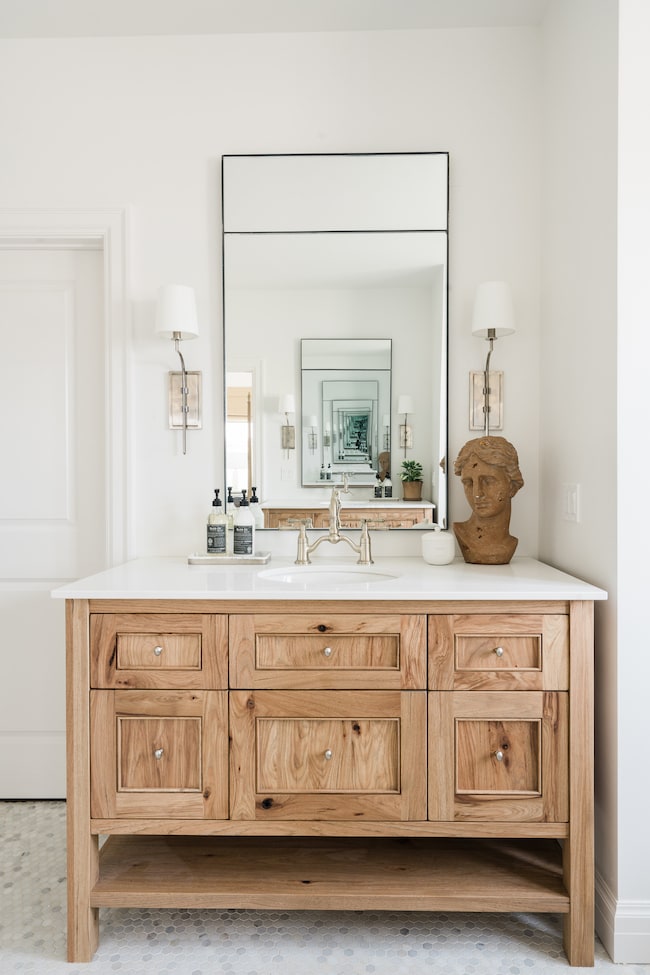 And here is another layout similar to ours, with the vanity right in front of the door. The toilet and window layout is similar to what I'm envisioning.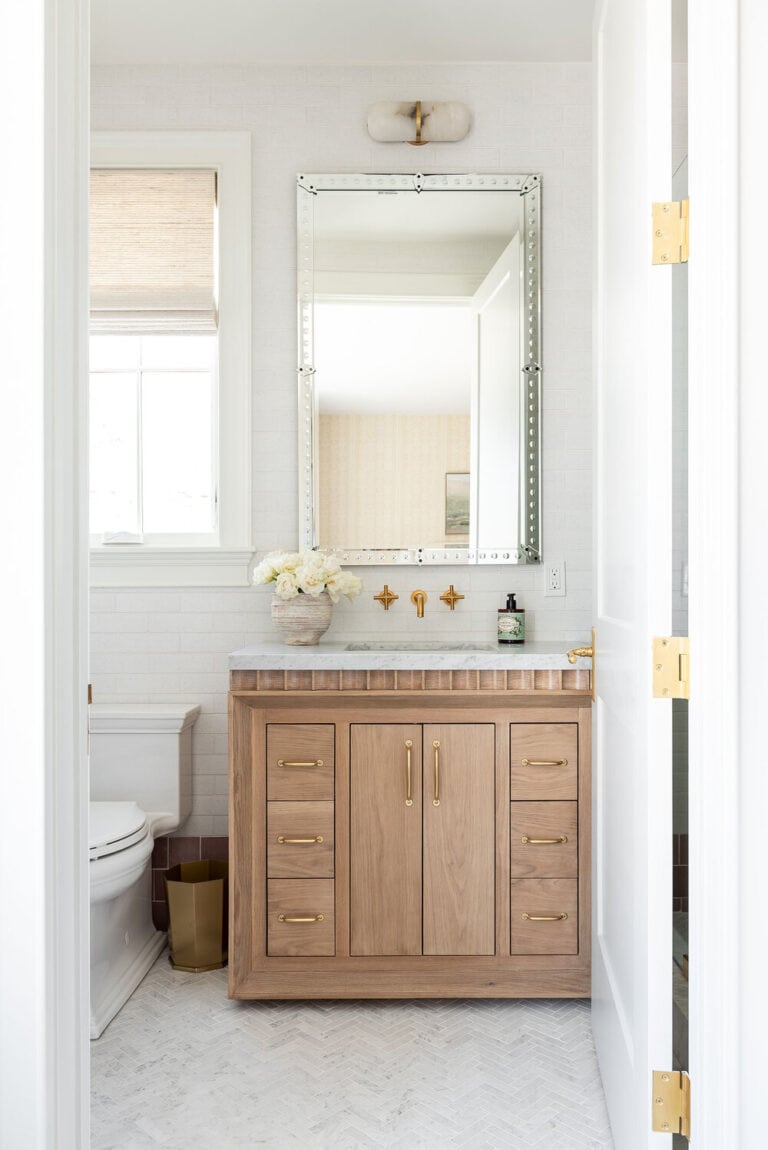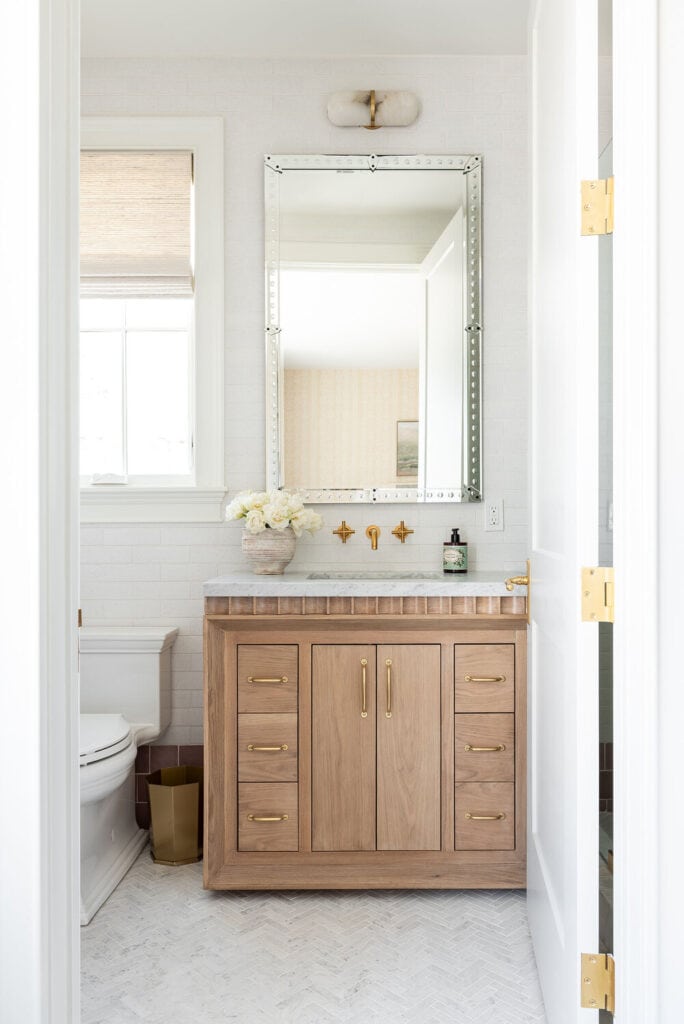 Although all the inspiration photos show light wood cabinets, the vanity we both actually fell in love with and agreed upon first is white. However, I'm worried it might be too stark (especially with the addition of a window), but we'll see. It may be the winner!
Once we receive the official bids, I'll circle back with some vanity ideas (we nee a 48″ one), flooring ideas, and more! Or I'll disappoint all of us and let you know we can't do it. 😉 But I'm remaining optimistic! And regardless, the other bathroom is happening for sure since the vanity arrives tomorrow!
Additional Bathroom Inspiration
Looking for even more bathroom inspiration? Be sure to check out the following posts. Click the name of the post below that you'd like to read to be taken directly to the article.
Any other thoughts or things we should consider? I'd love to hear your feedback!
If you would like to follow along on more of my home decor, DIY, lifestyle, travel and other posts, I'd love to have you follow me on any of the following: