Sharing a collection of beautiful table lamps at a variety of budgets that that would work well in a variety of home styles!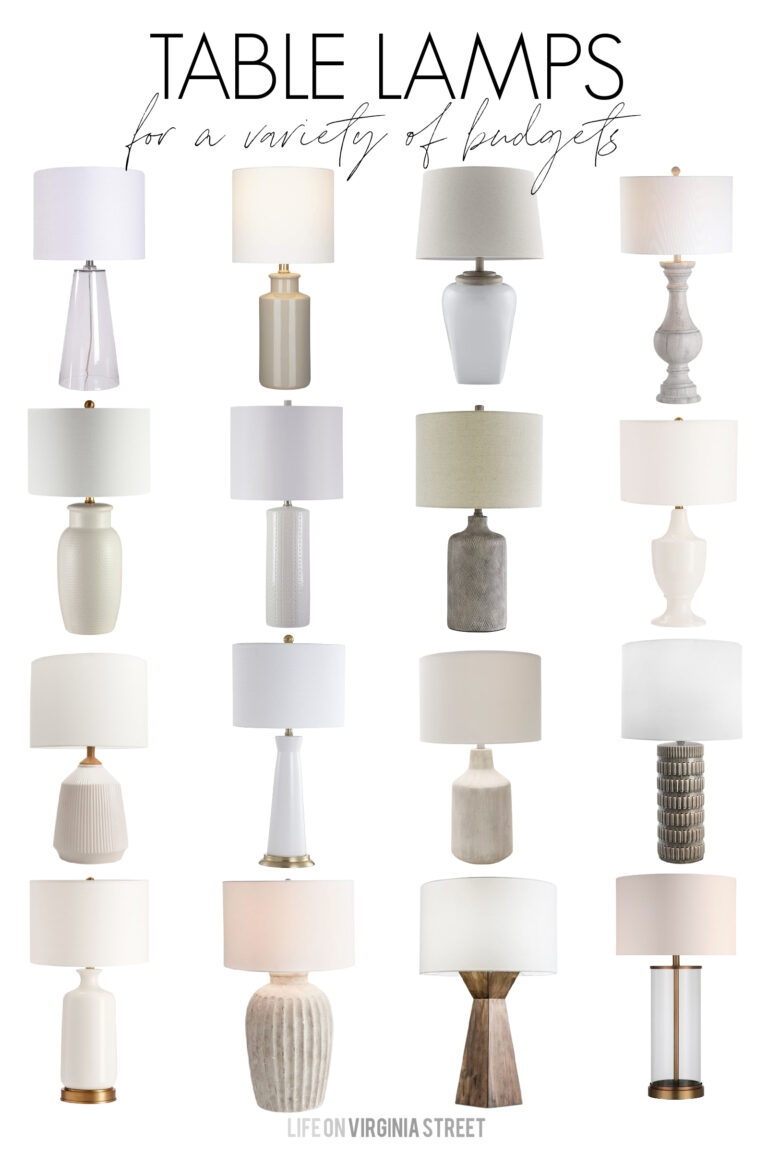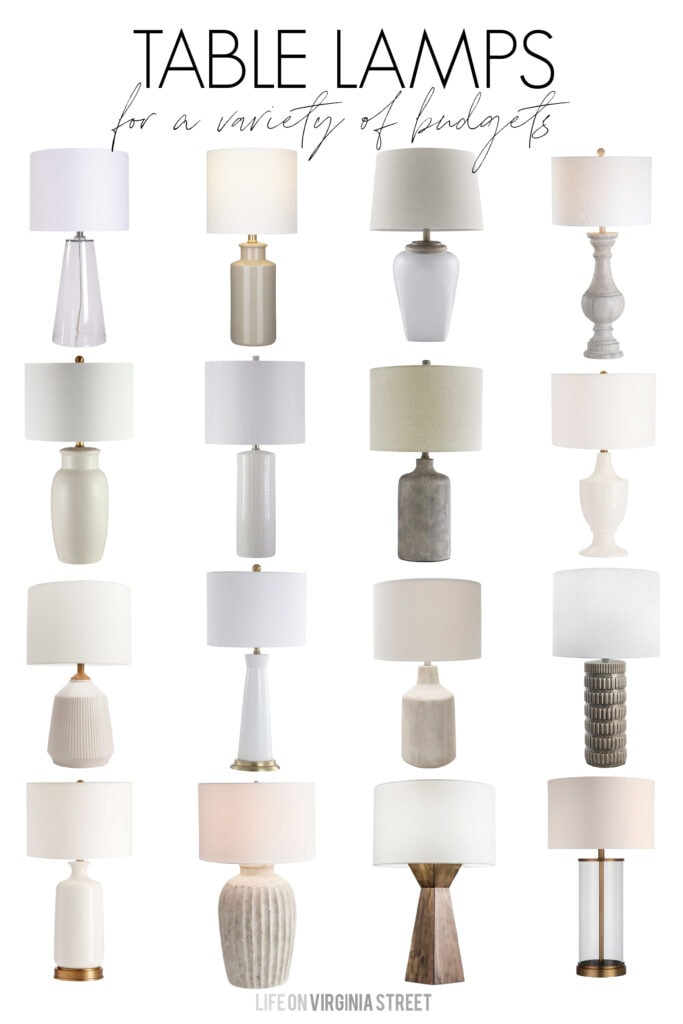 Over the past few months, I've received a lot of requests to share favorite table lamps! I actually had a post from a few years ago that I would refer people to, but many of the original finds have since sold out. So, I set out to find all new choices (with a few returning favorites) to share. I'm also sharing some characteristics I look for when shopping for lamps. Today I'm sharing some stylish table lamps for all budgets!
This post was originally published 2/22/19 but I have updated it today with current, available products and example photos. This post also contains affiliate links for your shopping convenience. Click here to read my full disclosure policy.
How I Search for Table Lamps
Lamp prices can vary wildly these days. So to help your search, I've broken the lamps down into three price categories: under $50, under $100, under $200 and $200+. It's becoming more and more difficult to find substantial, unique table lamps under $50 (even Target & Walmart table lamps, where they typically sell the shade & hardware separately)!
I prefer lamps that are a bit more substantial. I feel like they look a bit more high-end when the bases have some substance and the shades are on the larger side. Obviously, the space has to justify the larger size, but in most situations, slightly bigger is better. But I always recommend you carefully check the dimensions of any lamp you're looking at to determine if it's large enough for your space.
As you'll see below in the photo from a few years ago, I also prefer simple white drum shades for a more classic and timeless look. However, the tapered style of shade is definitely making a comeback! So many stores now carry lamp shade replacements, so don't let the shade deter you from purchasing a lamp if you really love the base! Although they veer very bright white, I've usually been happy with these affordable linen drum shades. But you can find tons of other options here, as well.
I've also been leaning a lot more towards ceramic and glass bases (versus trendier metals or woods) and have found those tend to last much longer with various decorating trends. I find that if I stick with these core characteristics, I then have a much easier time mixing and matches lamps from room to room – and I tend to get sick of them much less quickly!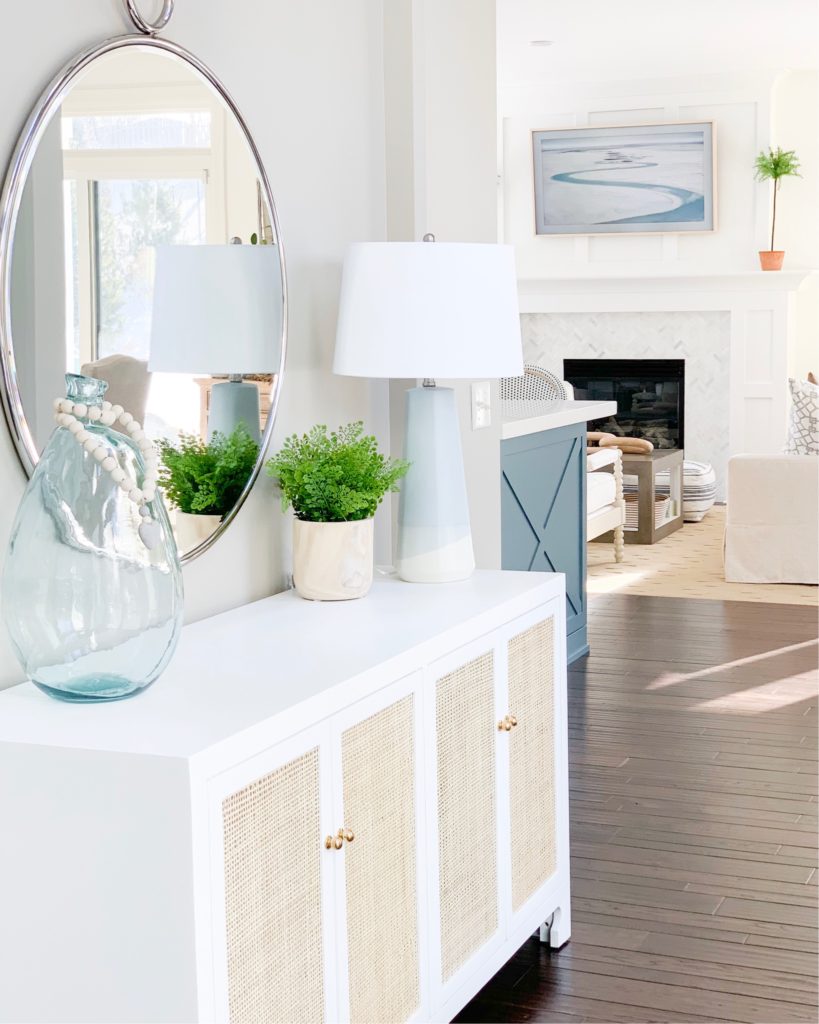 SOURCES: Table Lamp Base | Shade | Console Table | Faux Maidenhair Fern & Pot | Vase | Similar Mirror
The lamp below on our bedroom dresser is still one of my all-time favorites! We also have on in our guest bedroom (you can see it in our fall home tour). It's a great example of a very large lamp that doesn't feel too overwhelming in the space.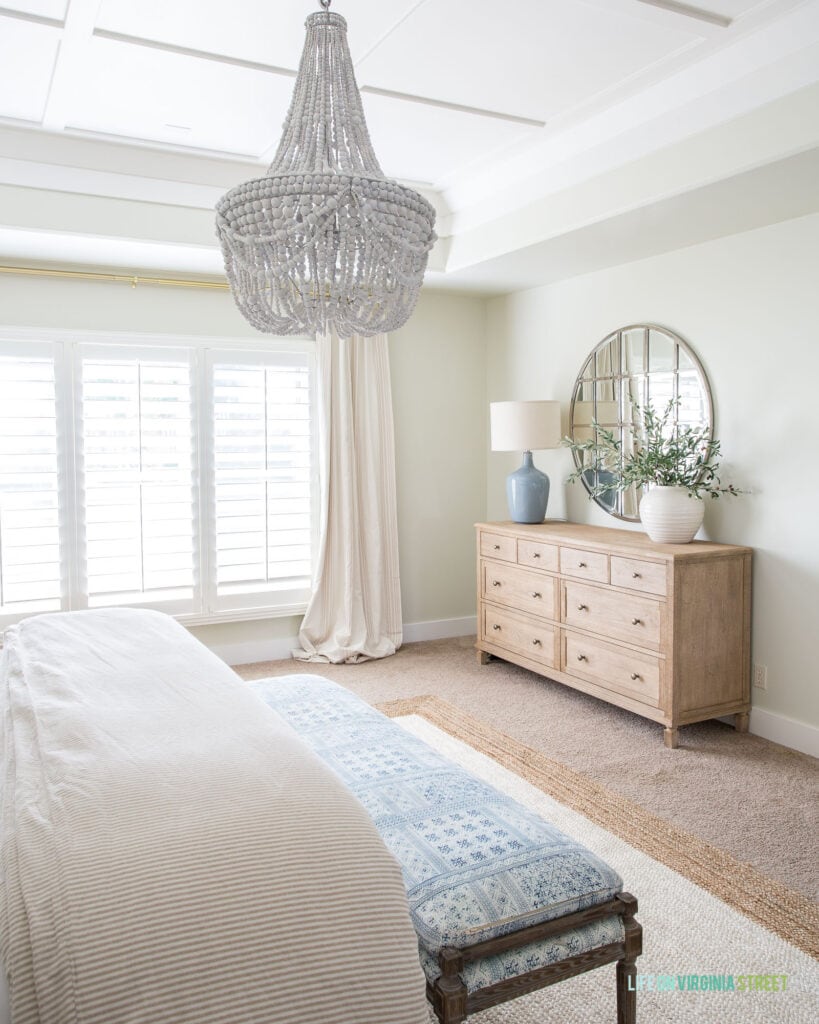 BEDROOM SOURCES: Similar Upholstered Bed | Bead Chandelier | Striped Duvet Cover | Jute Rug | Dresser Lamp | Striped Curtains | Gold Curtain Rod | Bench | Dresser | Round Grid Mirror | Similar Ceramic Vase | Faux Olive Stems
Stylish Table Lamps That Caught My Eye
Before we jump into all of the table lamps I found, I thought I'd quickly highlight a few that caught my eye!
Table lamps now sometimes come with features unheard of in the past! I especially love these USB table lamps that allow you (or your guests) to charge their phones without requiring an extra outlet!
This pair of fairly basic table lamps is one of the best deals I've found! the price is for the pair and includes the shades! Plus the reviews are really good!
This pair is still one of my all-time favorites. We have them in our larger guest room, but have nearly identical ones in our office also. I just love the shape and feel like it works with so many decorating styles! This lamp looks like a cleaner, more streamlined version if you prefer that look! With the more column-like shape, I think they'd be beautiful flanking a buffet table or console table!
Following are my top stylish table lamp picks for all decorating budgets.  Please note that some lamps below are priced for the pair, but I included them in the section on a per lamp basis (based on price at time of posting). Simply click any of the images below to learn more about each lamp. Additionally, several of these lamps come in additional color and shade options and you can see those by clicking through.
Stylish Table Lamps Under $50
Following are additional table lamps under $50. Click any of the images to learn more about each item.


Stylish Table Lamps Under $100
Following are additional table lamps under $100. Click any of the images to learn more about each item.



Stylish Table Lamps Under $200
We've had these lamps in our living room for five + years now and still love it every bit as much as the day we got them. They might actually be the oldest lamps in our home! Following are additional table lamps under $200. Click any of the images to learn more about each item.

Stylish Table Lamps $200+
Following are additional table lamps over $200. I'm mostly including these to serve as inspiration for what some of the more designer-style lamps look like! Click any of the images to learn more about each item.

Additional Light Fixture Inspiration
Looking for even more light fixture inspiration? Be sure to check out the following posts. Simply click the post name to be taken to the article.
I hope you found some table lamps you love!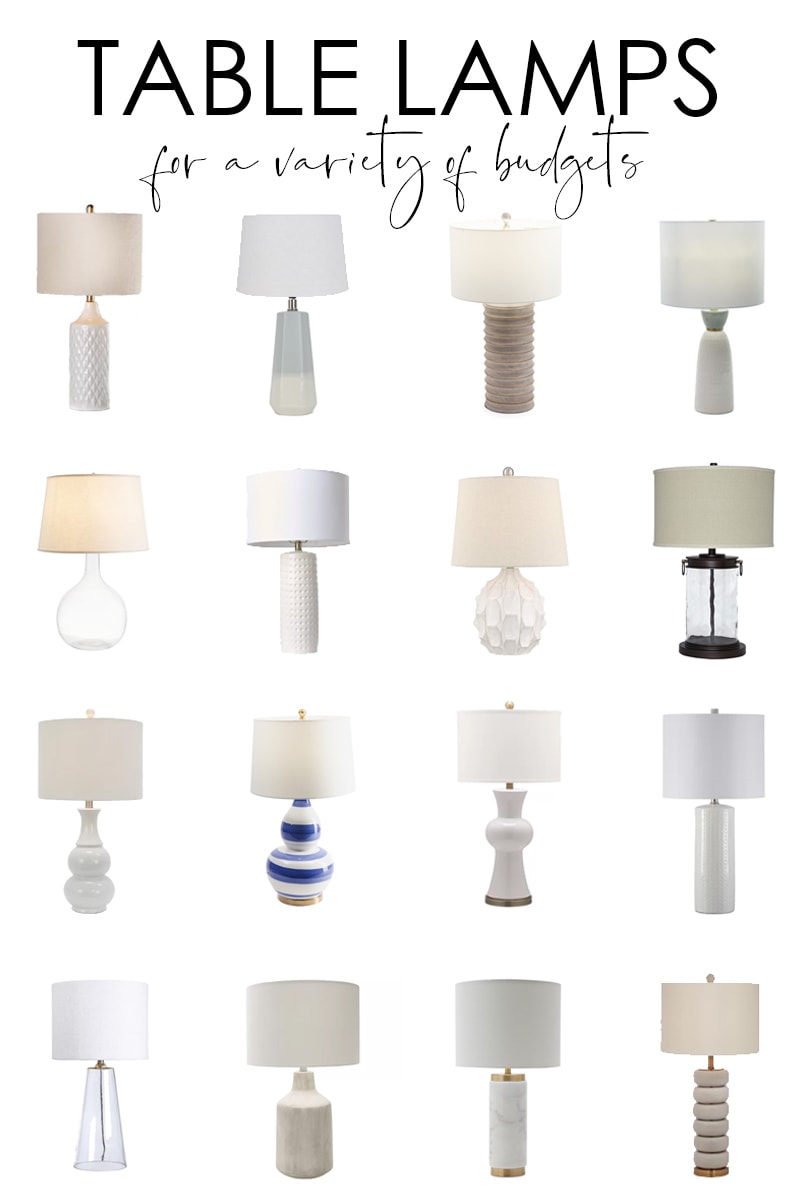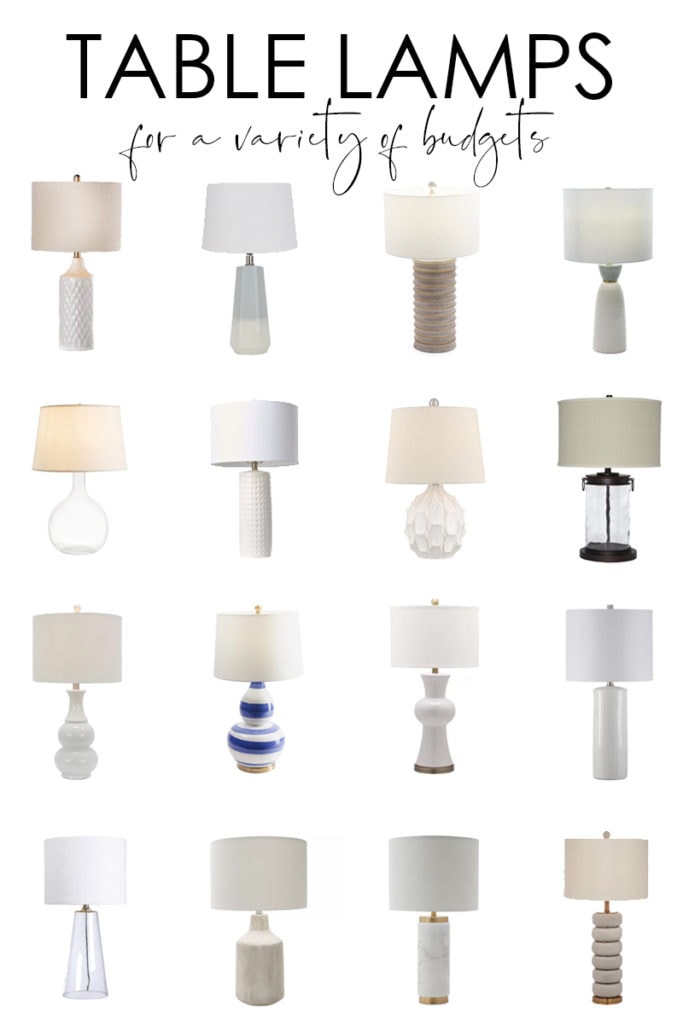 If you would like to follow along on more of my home decor, DIY, lifestyle, travel and other posts, I'd love to have you follow me on any of the following:
Pinterest | Instagram | Facebook | Twitter 
disclosure: some affiliate links used