If you follow me on Instagram or Facebook, you saw over the weekend that my husband and I started talking about our powder bathroom. I wrote a more in-depth post about it here, but for now, here's a quick shot of the space. As you can see it gets no natural light so I definitely need to brighten things up a bit! This is an older picture, but other than the hand towel, nothing has really changed.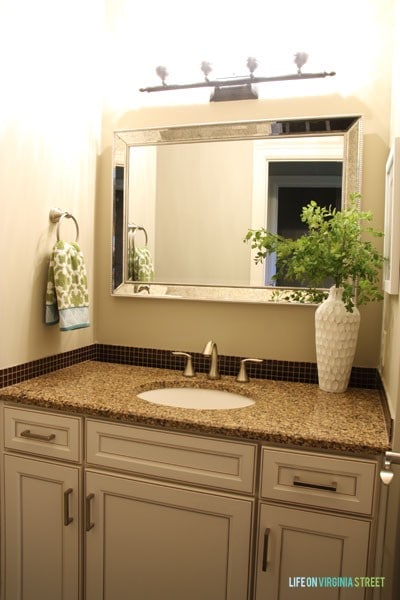 Since one of our goals is to entertain more this year, this bathroom will be seen more than it ever has before (it's the only one on our main level). It feels completely out of place in contrast to our much brighter and lighter room, even after I swapped the mirror out nearly a year and a half ago.
Ultimately, I would like to fix the peeling cabinets by either trying to repaint them or simply replacing the doors (could we build new ones?). I want to tear off the thin layer of tile (it's the same used on our kitchen backsplash), find a remnant for a new countertop, flip the mirror vertically, and install sconce lights on the side of the mirror in lieu of the vanity bar up top. I have a feeling we could drastically change this room up for under $1,000.
Today I want to share 10 small powder baths with big style that are too good not to use as inspiration!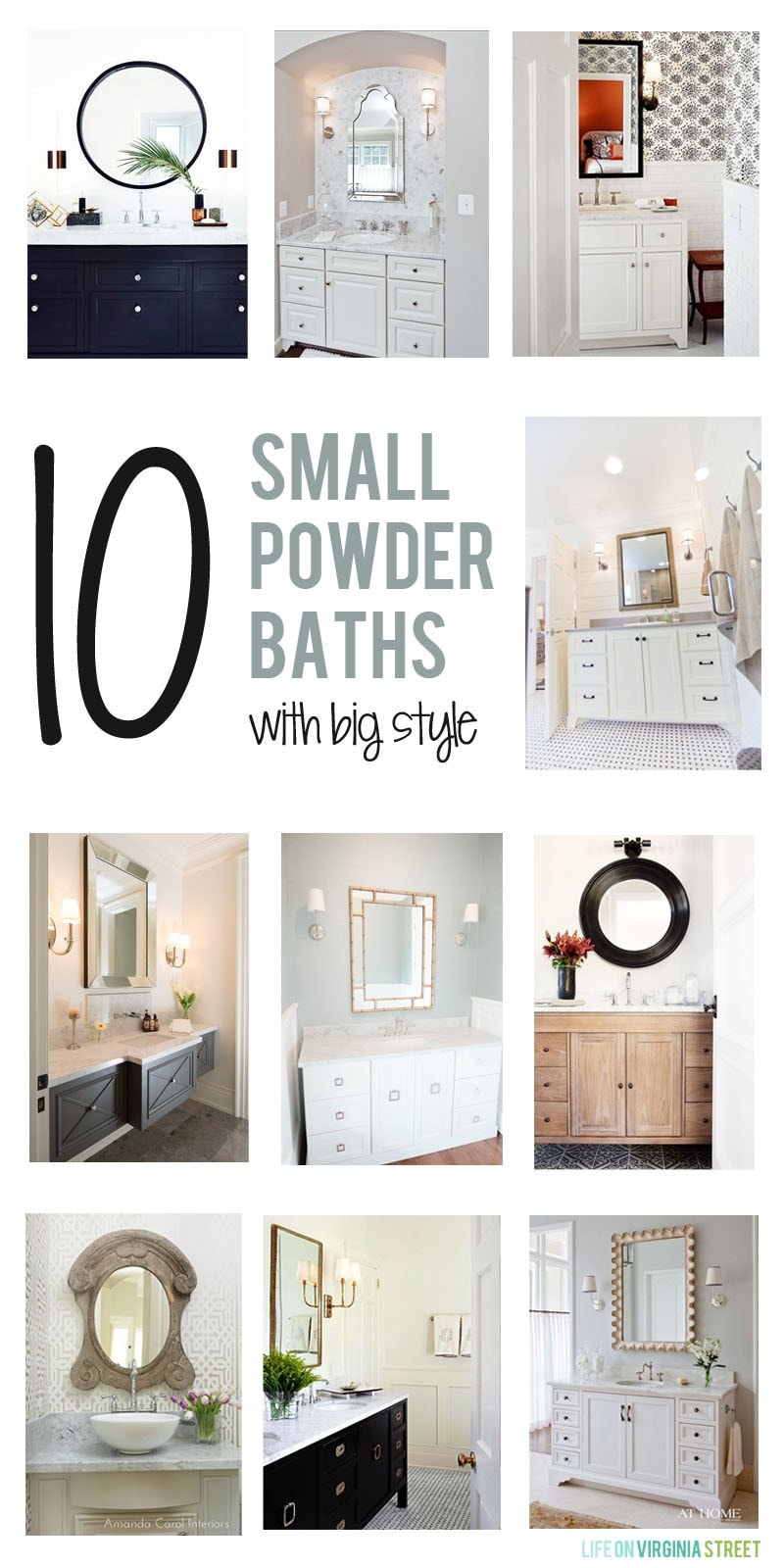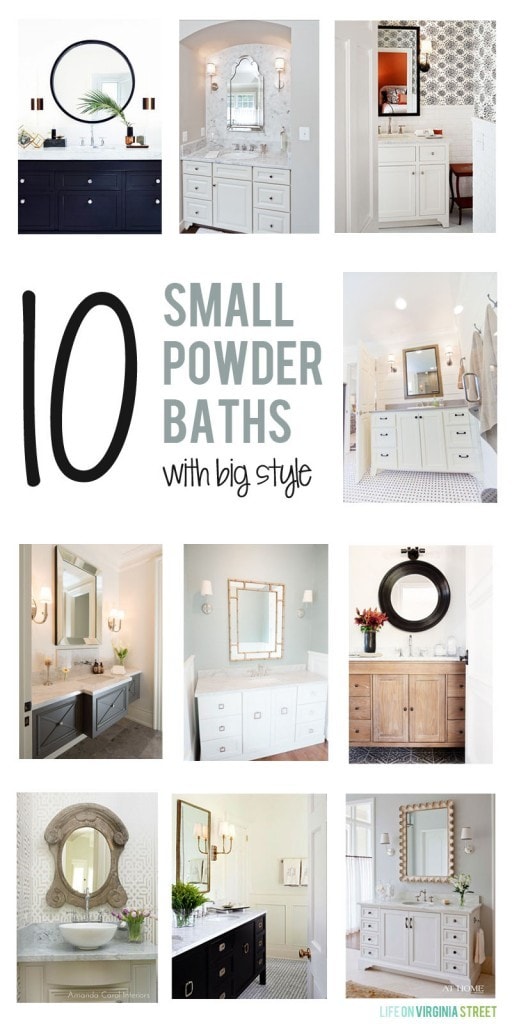 First up is the image I shared on Instagram and Facebook. I love the floating vanity, the x-marked gray cabinets, and the mirror style. This is a bit wider than the area we have to work with, but I think we could get a similar look (although I would want slightly less formal and traditional).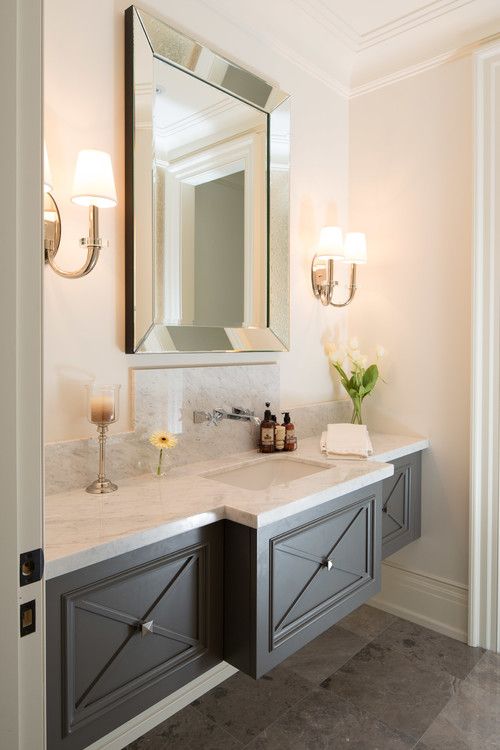 The colors in this next powder bath are perfection. I love the blue-green grasscloth, the flanked sconces, the countertops and the cabinet hardware is to die for! This one is the leader for the overall look I'm going for (although I prefer the mirror style in the image above).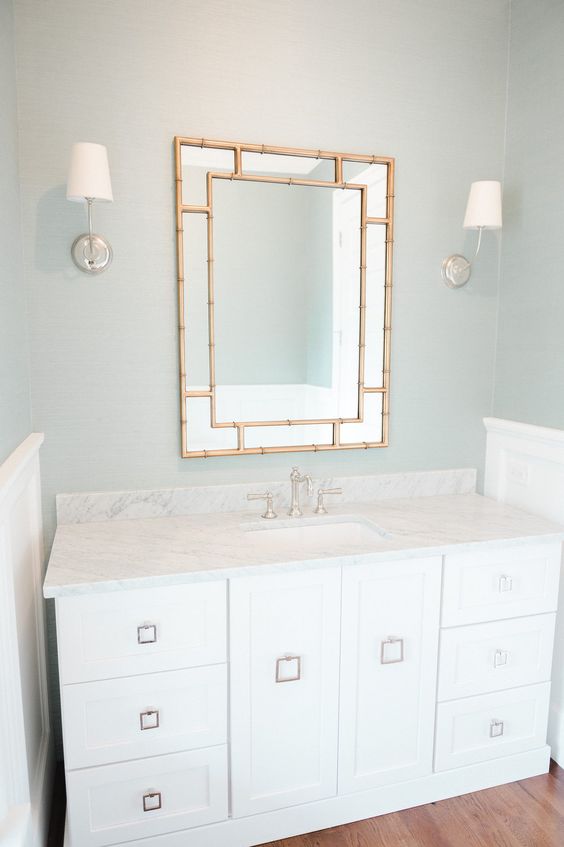 A statement mirror can go a long ways in a small space, and these scalloped version are always a favorite! Even with simple surroundings the scalloped detail adds that 'wow' factor!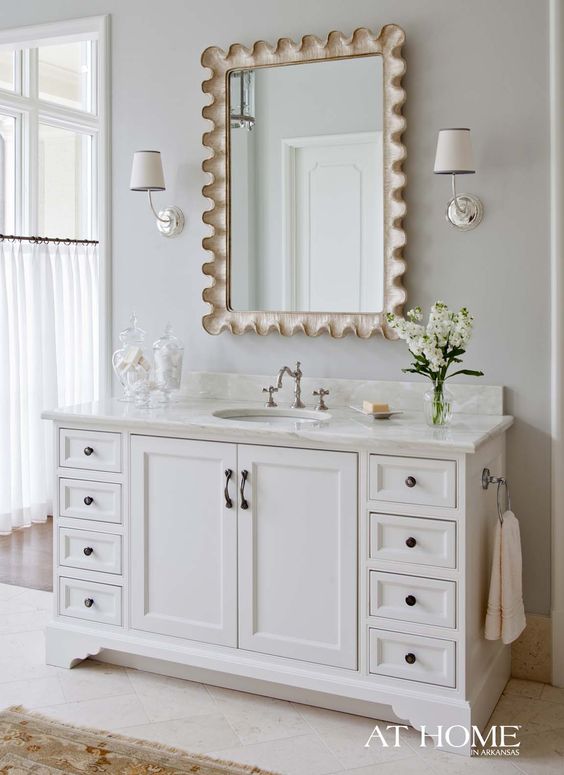 This next bathroom has been a longtime favorite. Granted, it's a bit too modern for our home, but it is still so beautiful and actually feels homey for a modern space. I love the extra-thick marble and the contrast of the cabinets and the round mirror with the white walls. And there's a palm leaf so, pretty much I couldn't not love it.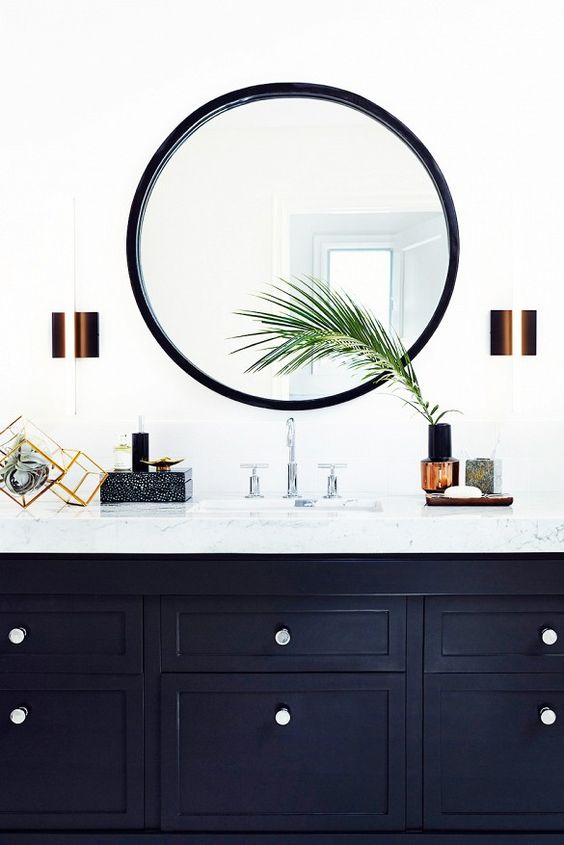 We've toyed with the idea of adding some tile to the back wall (the whole length of it) and this marble hex backsplash is a really pretty example of the look.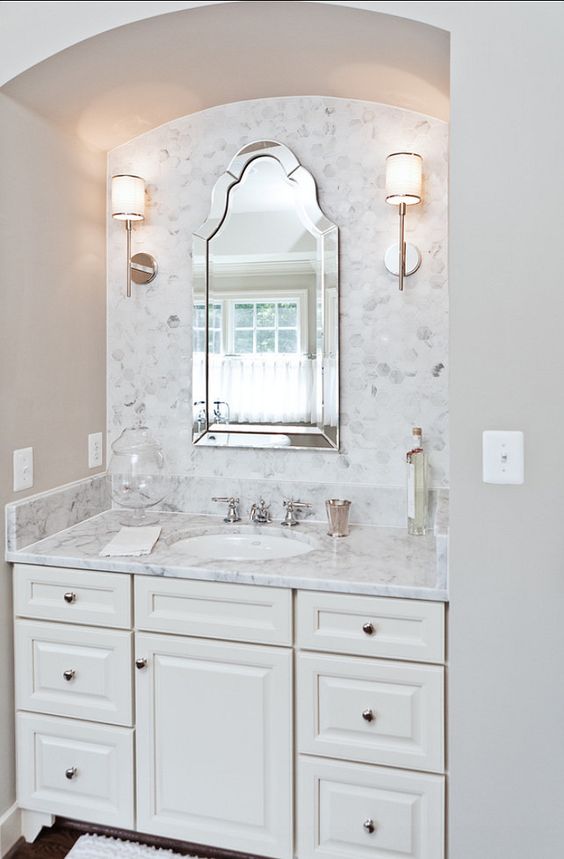 Here's another example of great contrast with a dark cabinet base and light walls. I also really love the wainscoting on the walls and the double brass sconces.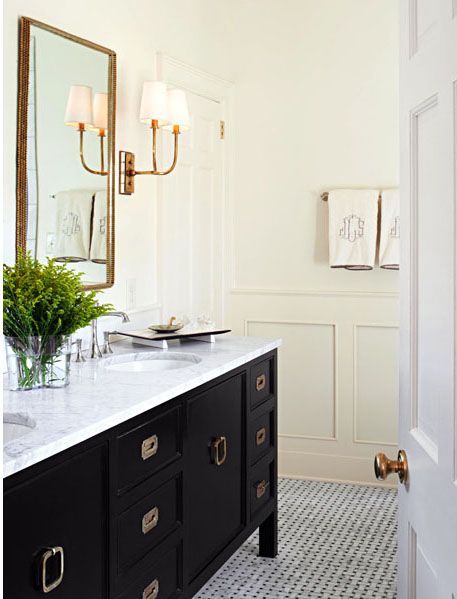 I love the rustic yet glam vibe of this next powder bath. The trellis wallpaper in combination with a weathered wood mirror is so pretty together!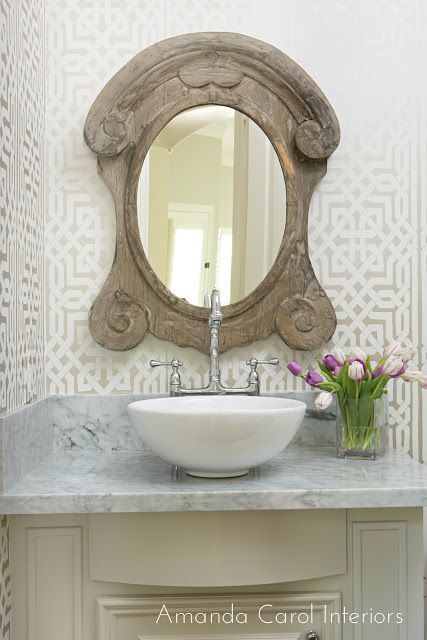 I'm completely in love with the bottom half of this next powder bath. The white walls, chrome fixtures, driftwood vanity and cement floor tiles are perfection in my mind and with a lighter upper half, I think I would just cut and paste this space into my own home.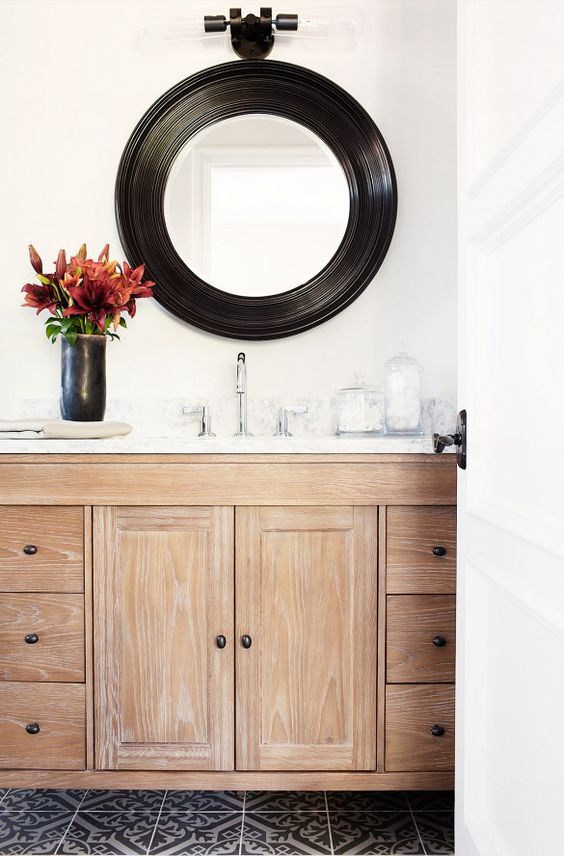 Another thought we've tossed back and forth is shiplap planked walls. Opposite the powder bath, we've done some in our mudroom (yes, it's still unfinished but not yet driving me crazy enough to actually finish it).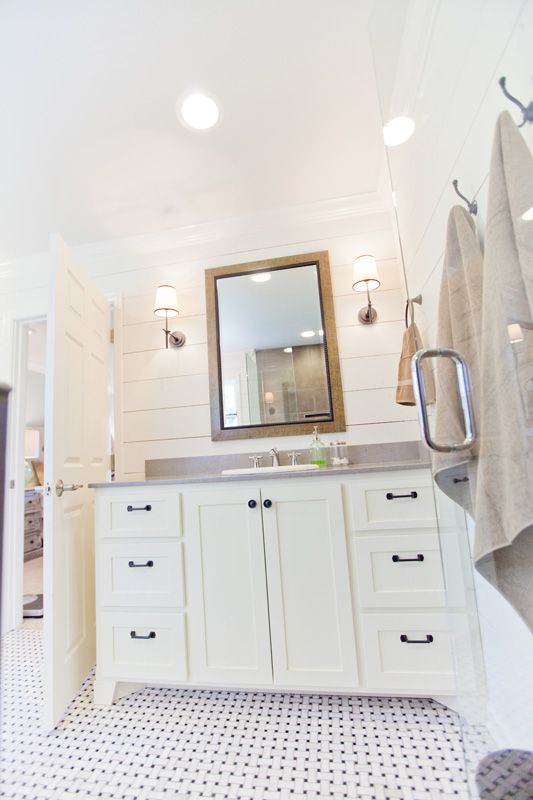 When I closely examine this bath, I also love it. The orange reflection unfortunately takes center stage, but I think the combo of white subways halfway up the wall paired with the graphic black and white wallpaper works really well together. A great way to add personality to a small room.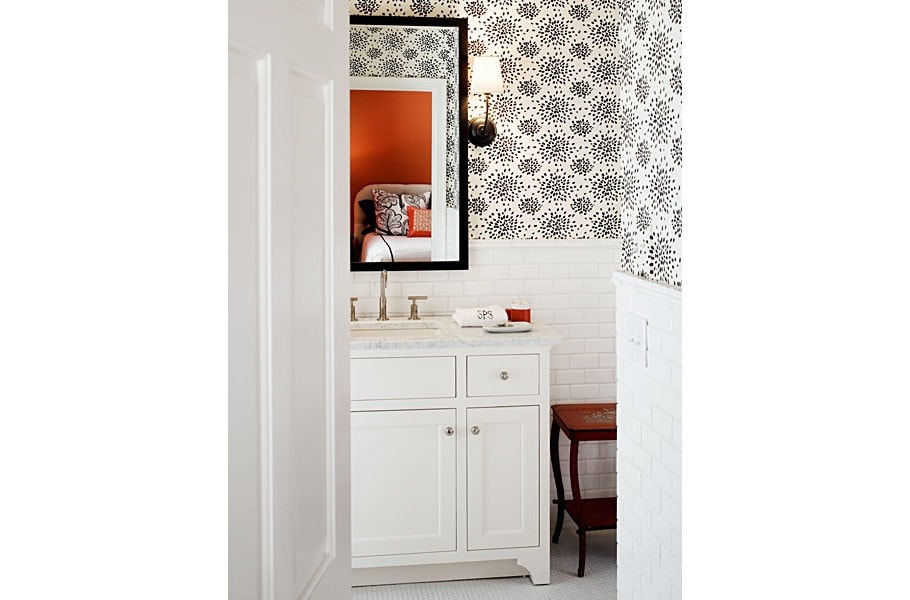 So, which is your favorite? Are you in favor of a clean, bright powder bathroom or do you feel it's an easy place to be bold and graphic?
You can see more of my bathroom inspiration, both small and large, on my Bathrooms Pinterest board.
If you would like to follow along on more of my home decor, DIY, lifestyle, travel and other posts, I'd love to have you follow me on any of the following: