I've been a long time advocate for the power of paint. It is one of the most dramatic and affordable changes you can make to a space! It's hard to believe, but tomorrow marks the six-year anniversary of moving into our home, and over the years I've worked to paint the walls in nearly every room.
Today, I'm going to share a space that was one of the few remaining areas that had the original flat paint the builder used over ten years ago. You probably don't even remember this room exists because I have only shared it a time or two over the past six years. But today, I'm sharing an under $200 coastal bathroom makeover that shows just how powerful paint and a few affordable accessories can be to completely change a space!
This post is sponsored by True Value and EasyCare Ultra Premium Paint and contains affiliate links. As always, all thoughts and opinions are my own. Click here to read my full disclosure policy.
When True Value reached out to me to offer paint from their EasyCare Ultra Premium Paint line for a room makeover, I immediately thought of our smaller guest bathroom. It's likely the least used bathroom in our home, which is probably why I've neglected it for so long. But, over the last year or two, we've had an increasing number of guests using it and to be honest, it was an embarrassment. To refresh your memory, the bathroom connects to this bedroom. You enter the bathroom through a door on the left-hand side of the room.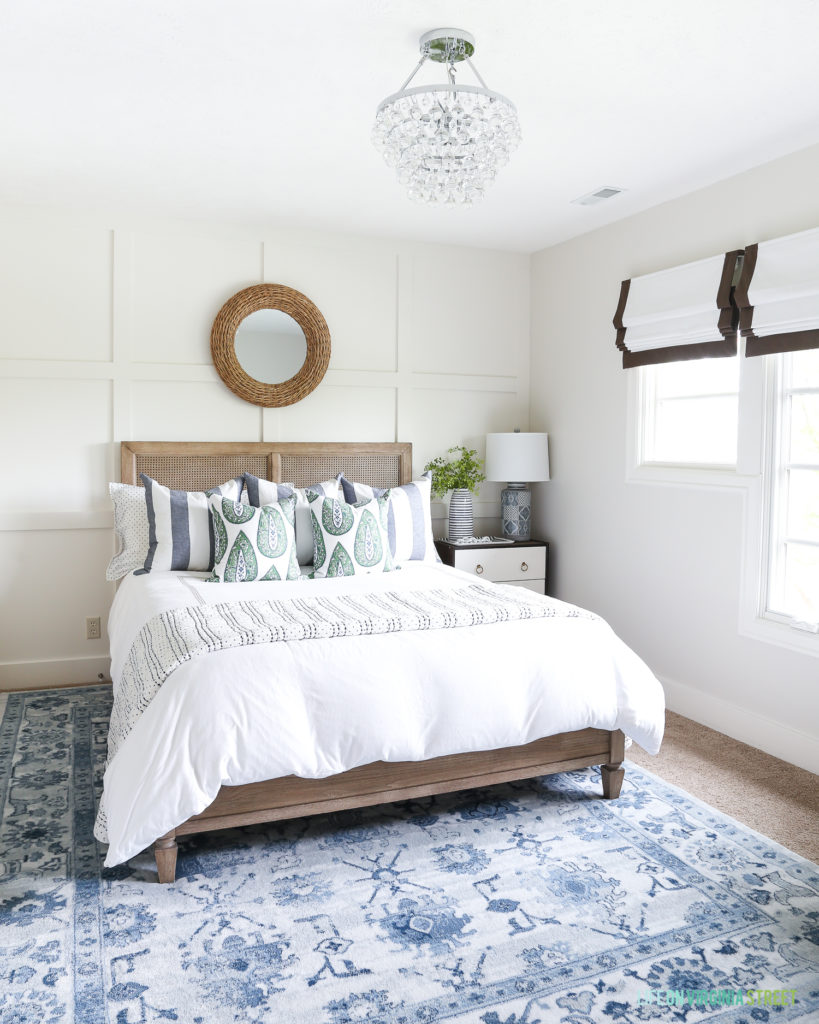 And here's how the bathroom looked after we moved in. We were focused on other spaces so it was bland city for many months. The paint was flat and flesh toned and ten years later, it was in bad shape!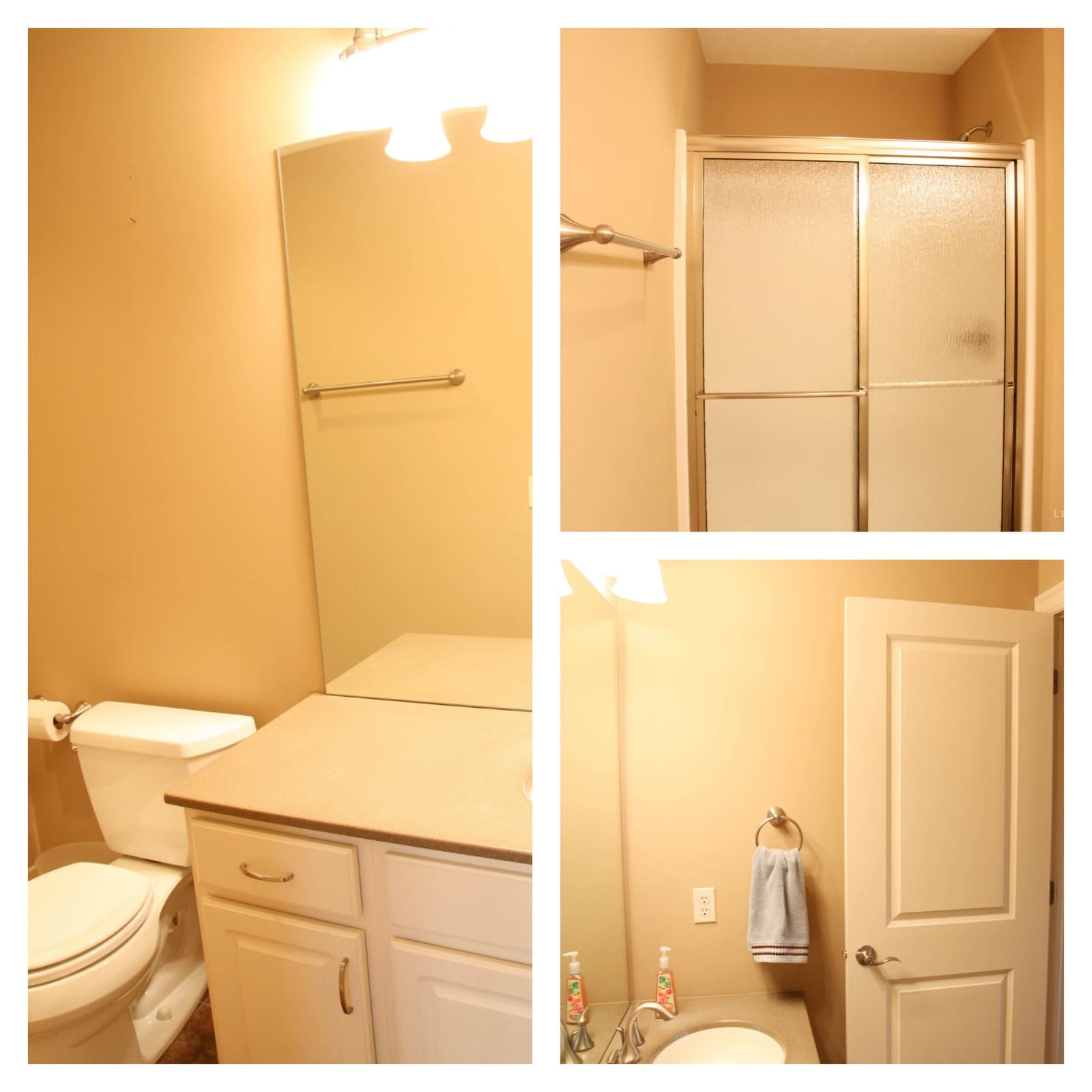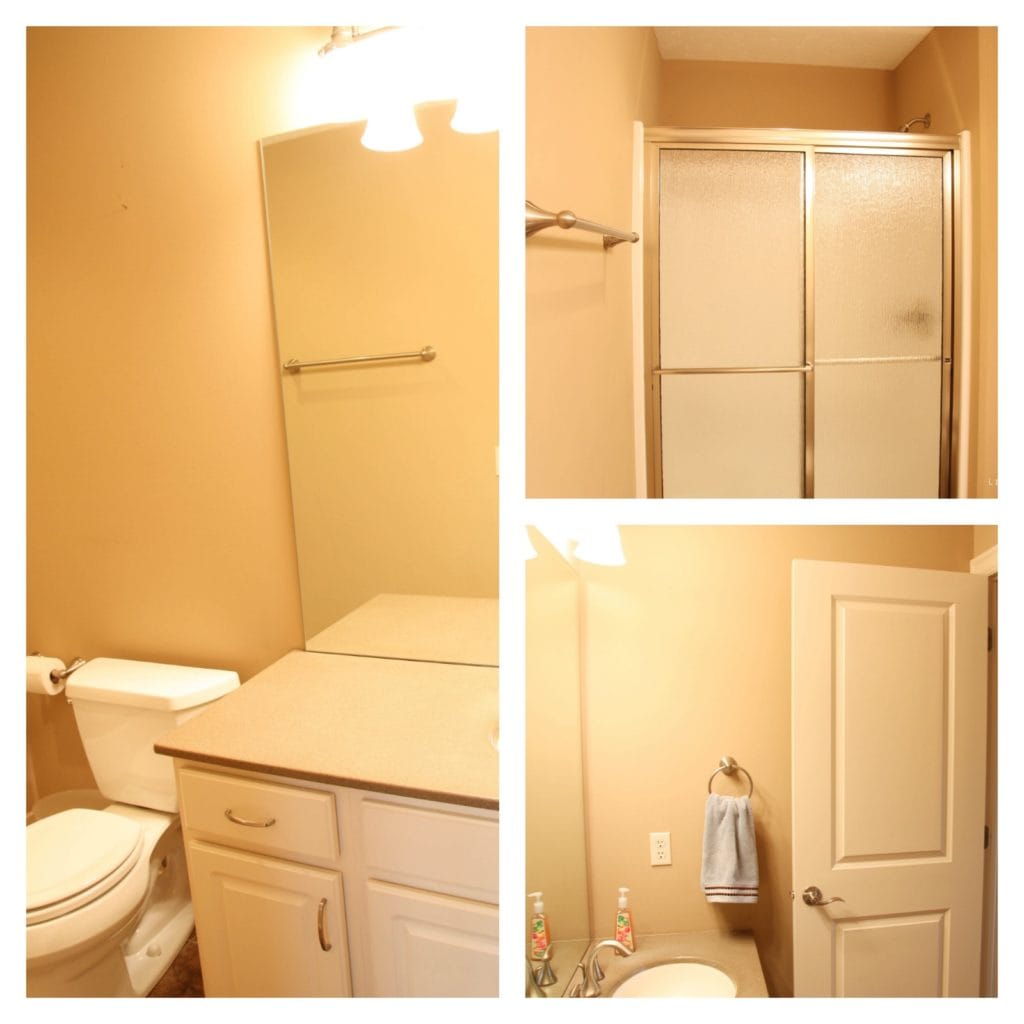 And then, because it was so bland before, a color explosion happened when I decided to paint the vanity dark blue (which really turned out more like cobalt blue) a few years ago.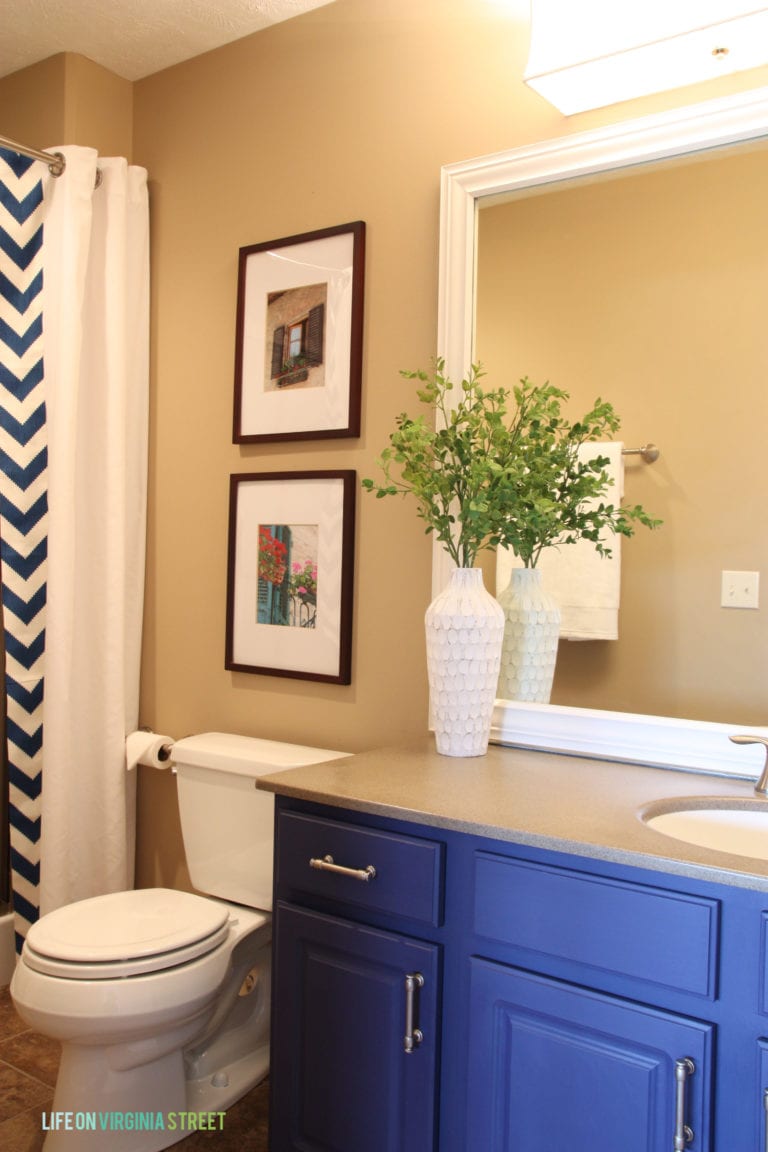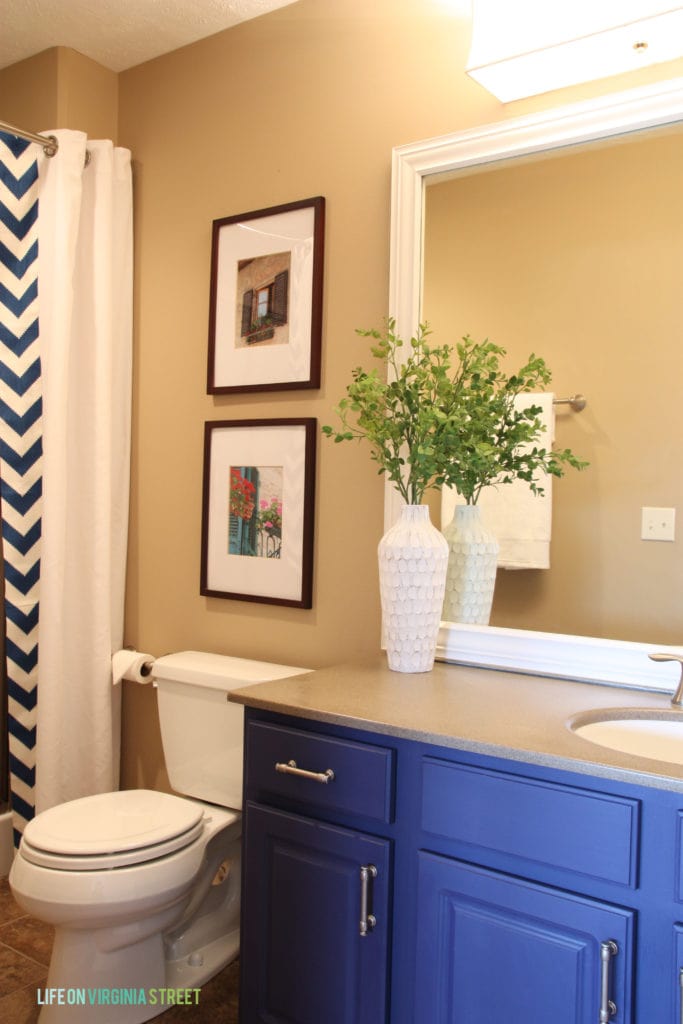 Whose house is this anyway? It certainly didn't flow well with the beachy vibe of the connecting bedroom (or really anywhere else in our house for that matter)!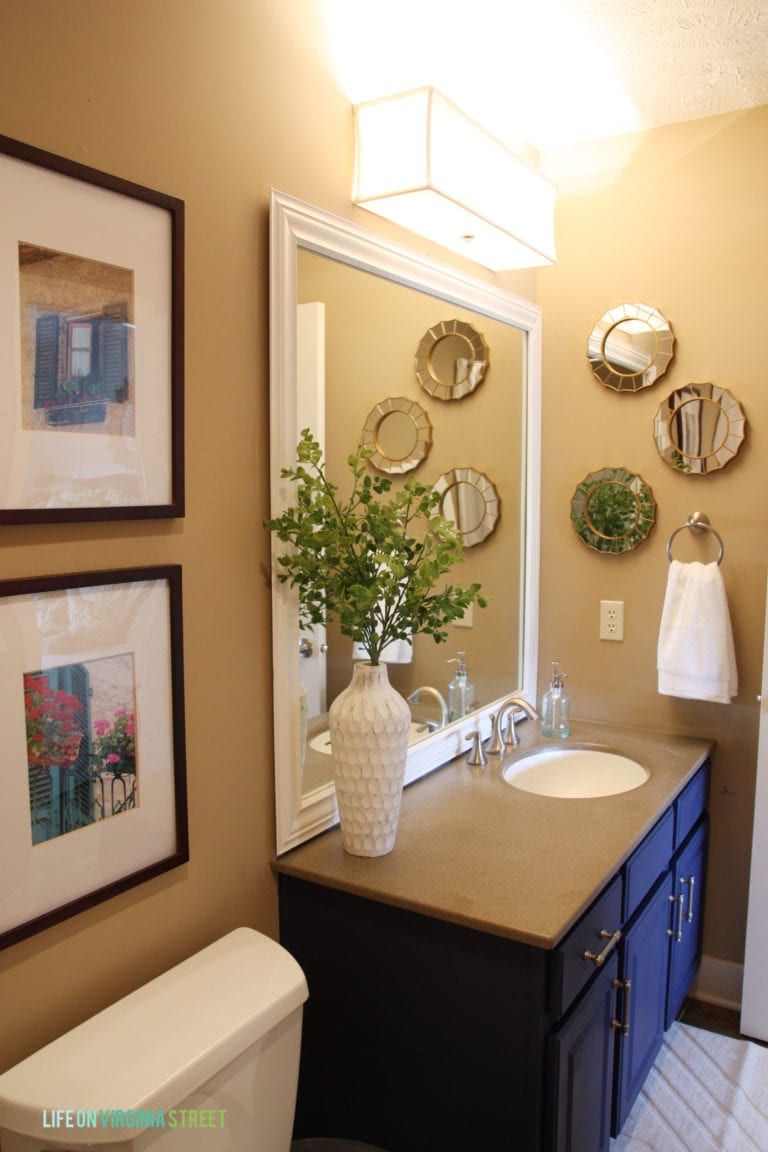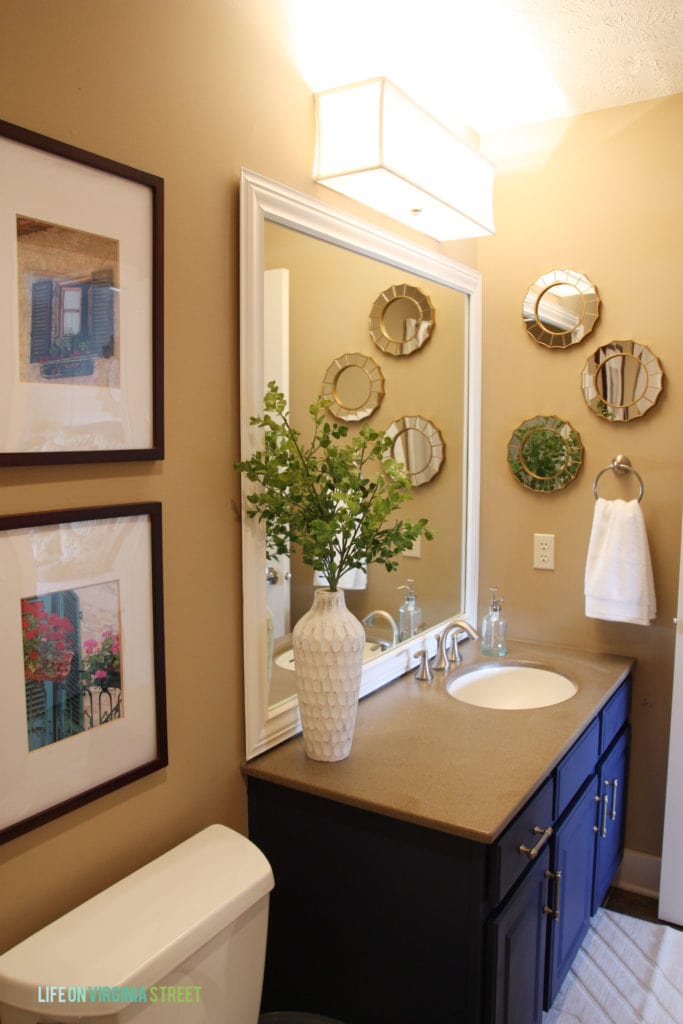 I painted the vanity gray a year or two back, but otherwise, it basically sat like this for years. And although I had every intention of painting the walls shortly after (hence the blue cabinet paint on the walls), it never happened. Our walls are ten years old and the original paint was still intact. You can see what looks like drip marks all over (likely from moisture in the room). Flat paint in bathrooms weirds me out almost as much as carpet in bathrooms! It's clear these walls needed to be painted badly!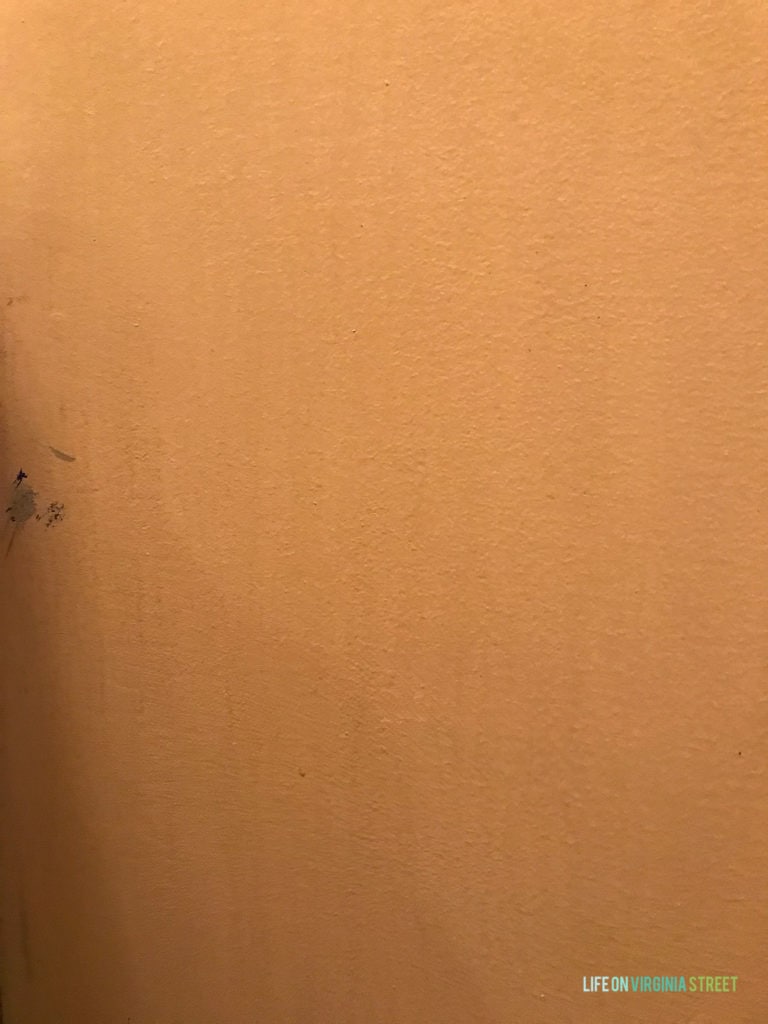 Down the road, we'd love to fully remodel this bathroom with a new vanity, new flooring, replace the Corian countertops and possibly add some tile. But, the reality is that likely won't be in the budget for many years as it really isn't a top priority. But, that also doesn't mean it has to be ugly until that time! I set myself a max budget of $200 to freshen up the space to make it feel like it fits better with our home!
Since this bathroom is mainly used by Kurtis in the mornings (when he changes to work out but doesn't want to wake me) or our guests, I let him have some guidance on the paint color. I say some, because let's be honest – he'd pick the wrong color if I left it entirely up to him 😉 I ordered a handful of paint chips I thought would work in the space, and came up with the below options. I ended up going with the darkest one – EasyCare Paint Birch Bark – in an eggshell finish. The color a beautiful warm gray-ish color and exactly what Kurtis and I had jointly envisioned! You can explore the full EasyCare Paint color line here.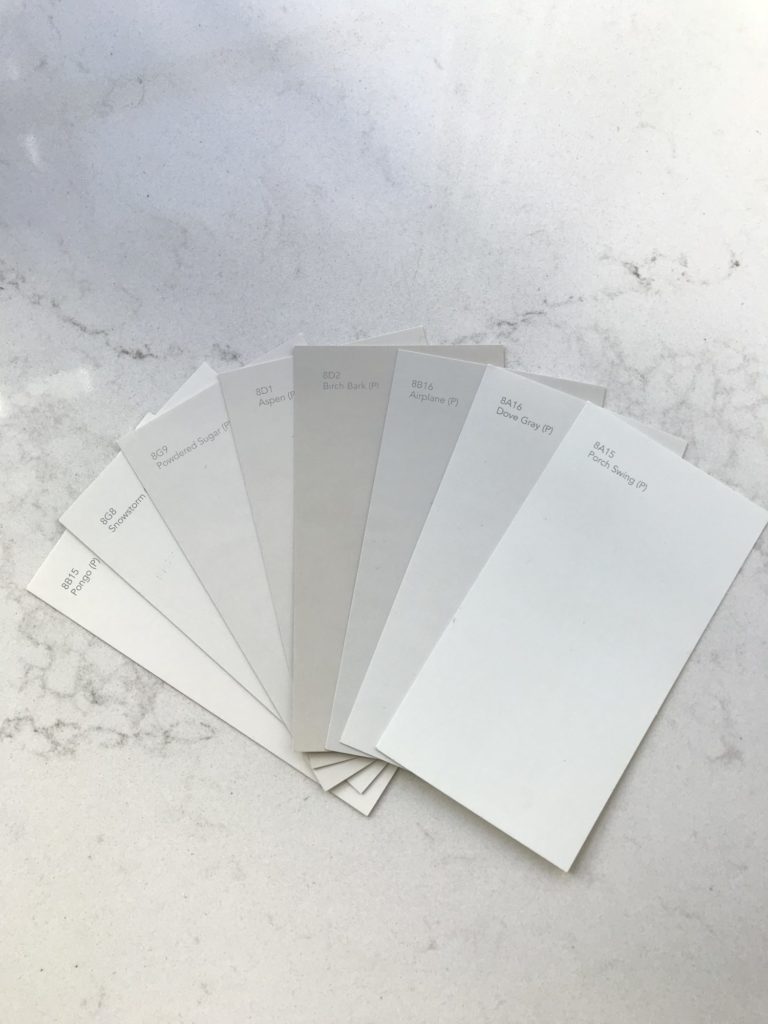 I painted a little sample on the walls to make sure I liked the color, and I loved it! You can see here how when the paint first goes on it's lighter and then dries to the true color. It was perfect!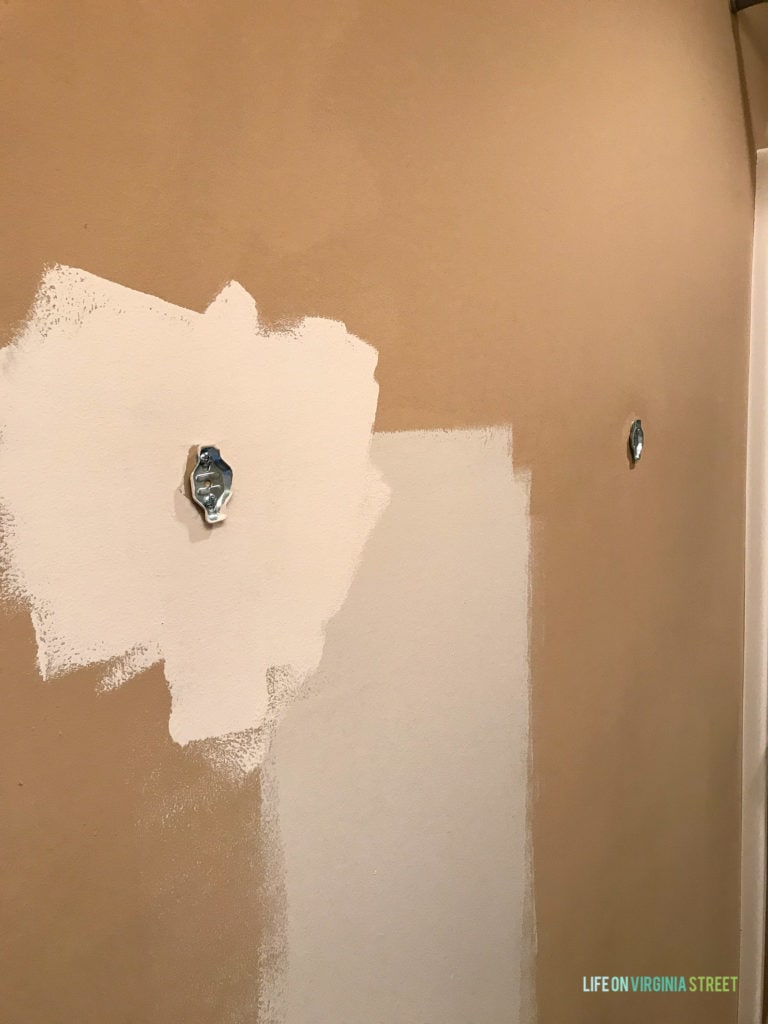 When I had about half of the room painted, I couldn't believe how much brighter and larger the room felt!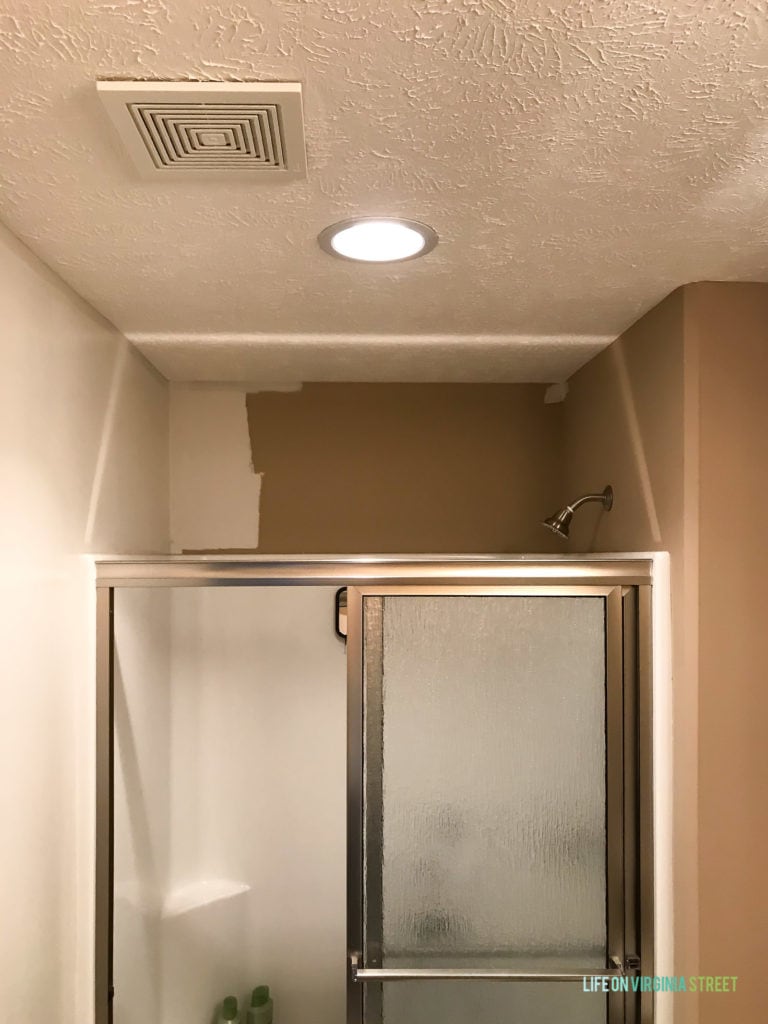 The new reflection in the mirror really showed the difference in paint colors! I loved the cooler tone of Birch Bark (even though it's very much still a warm color). The old color was just so brown and warm!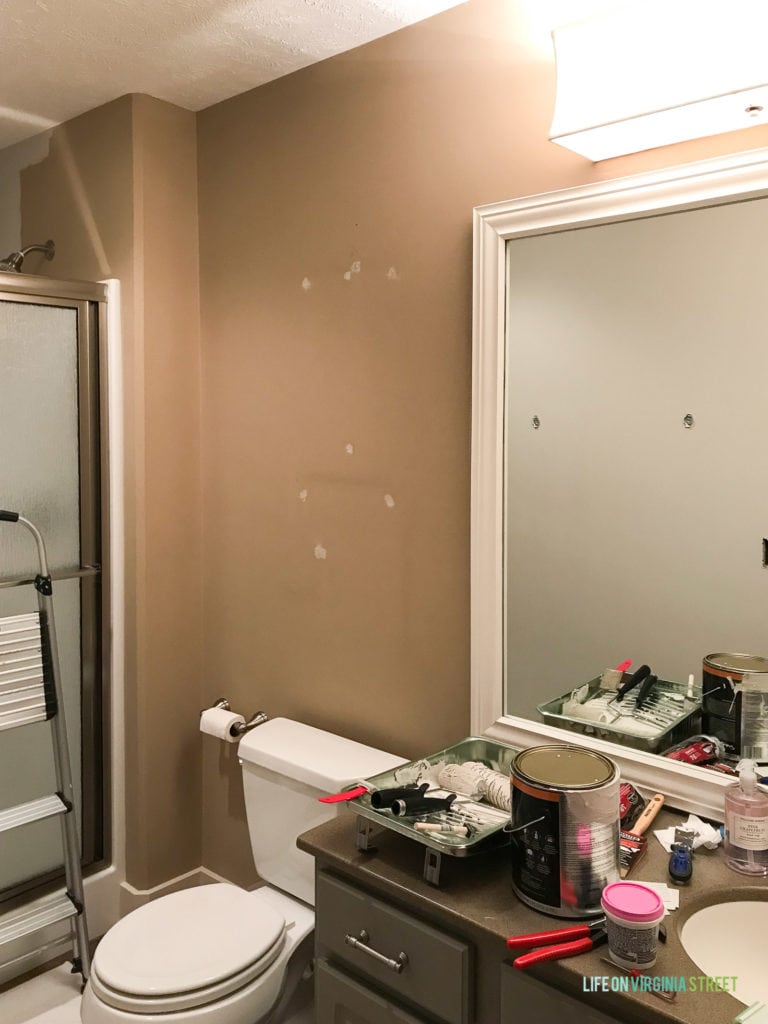 Also, here's a little painting hack for you. I used to try to use painter's tape and paper to cover the toilet. Now I just take the lid off and use plastic wrap around the back about three times to fully cover it. It works like a dream and so much quicker and easier – on both the prep side and clean-up side!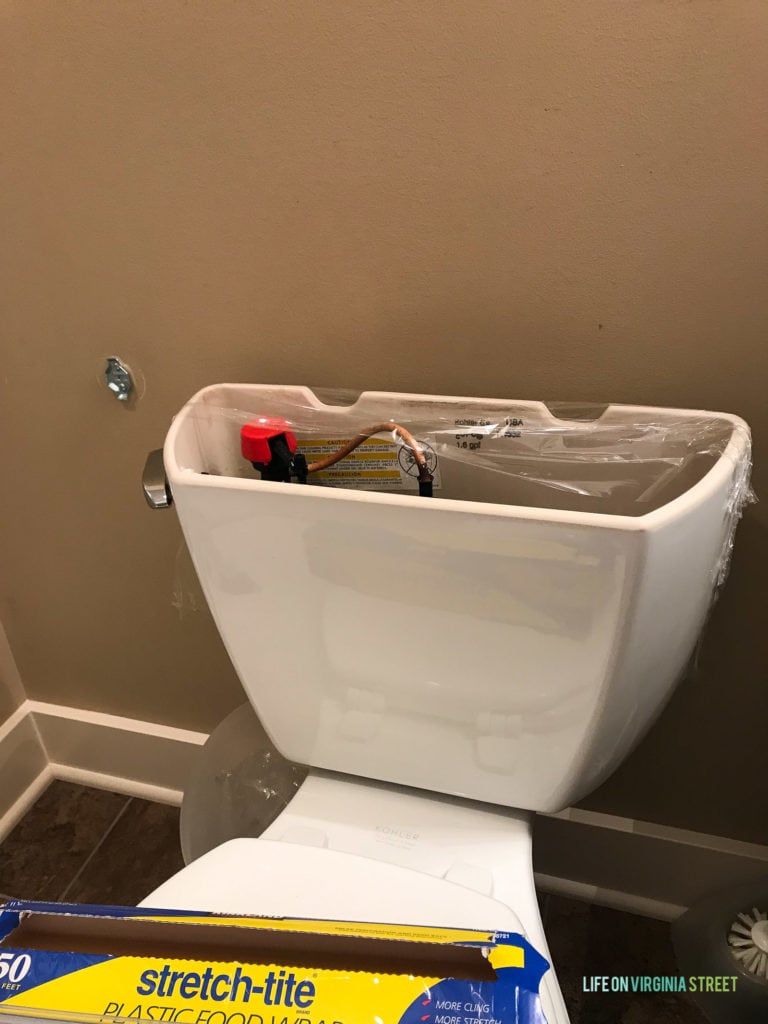 As I neared the finish line, the room was starting to glow!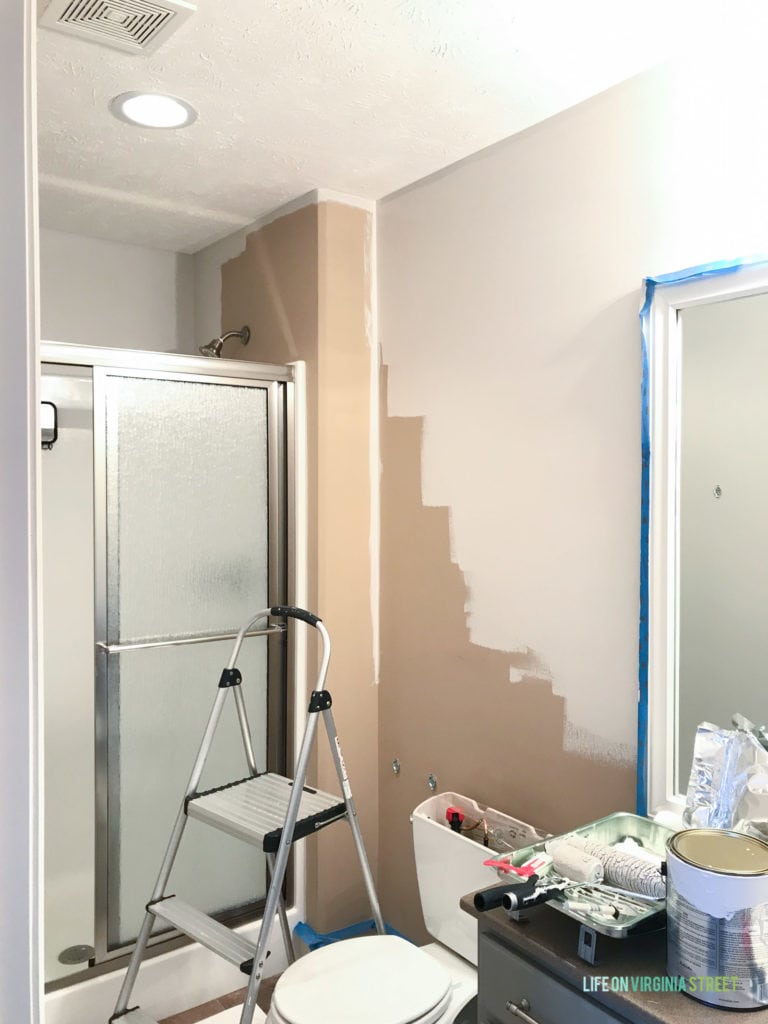 So here's the deal. Over the years, I've used a lot of paint brands. Maybe all of them 😉 And the reality is, I don't really LOVE any particular brand and I tend to just buy based upon the color I want to use (because I haven't had great luck with color matching). I've also used a lot of paints that claim to be one coat and I've literally never had that work for me. Ever. Until now. I was blown away by the smooth and full coverage on this paint – especially with our flat, sponge-like walls in here. I made Kurtis come look at least three times. This is by far the best coverage I've ever gotten out of a paint. I only had to do one coat and then a few touch ups around the ceiling (because I trim out a weird way). Let's just say I was beyond thrilled at how quick this project went!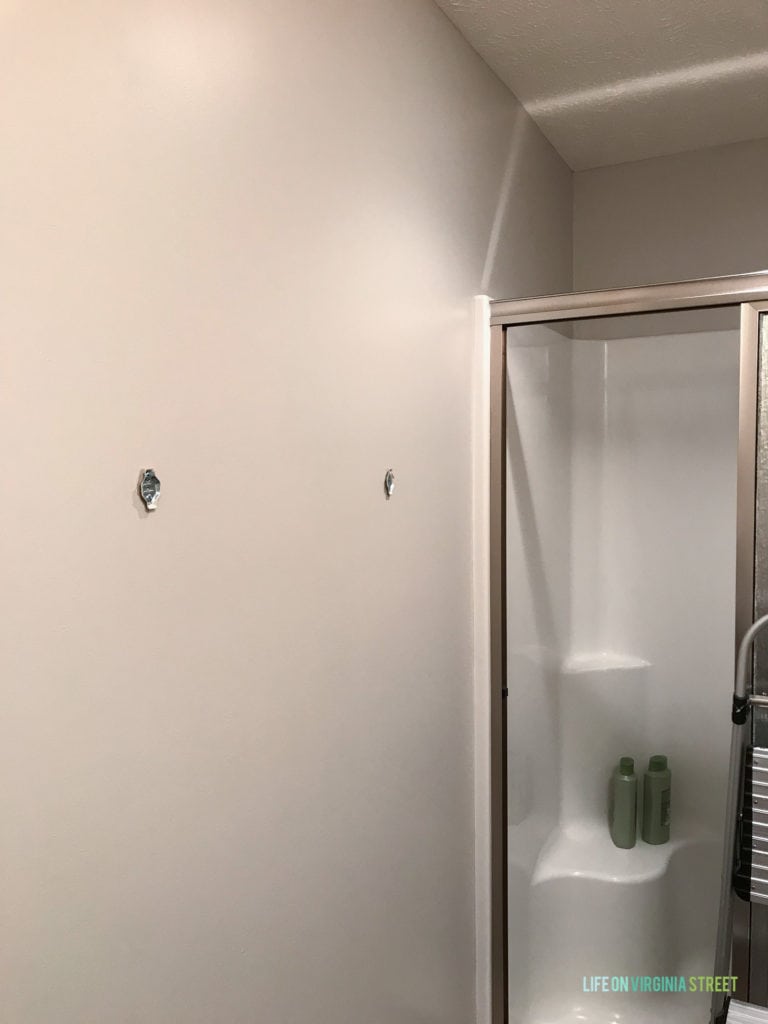 Not only that, I used so little paint! I actually ordered two gallons thinking I would need that much based upon prior experience with other paints (and our walls). I was shocked I only used about a third of the gallon even with our super absorbent walls! The paint is also certified by the Asthma and Allergy Foundation of America (AAFA), and minimizes irritants and pollutants in the air, creating a healthier indoor environment.
And now for the reveal! The hardest part of this entire project was taking decent photos of this bathroom since it gets zero natural light!
Here we are five years and three hundred and sixty four days after we moved in (sounds better than the actual six years it will be tomorrow), I finally have painted our ten year old flat paint! Below is how my under $200 budget bathroom makeover turned out! Doesn't it flow so much better with the adjoining bedroom now? The new Birch Bark paint color laid the foundation for a dramatic change. And I actually came in under budget!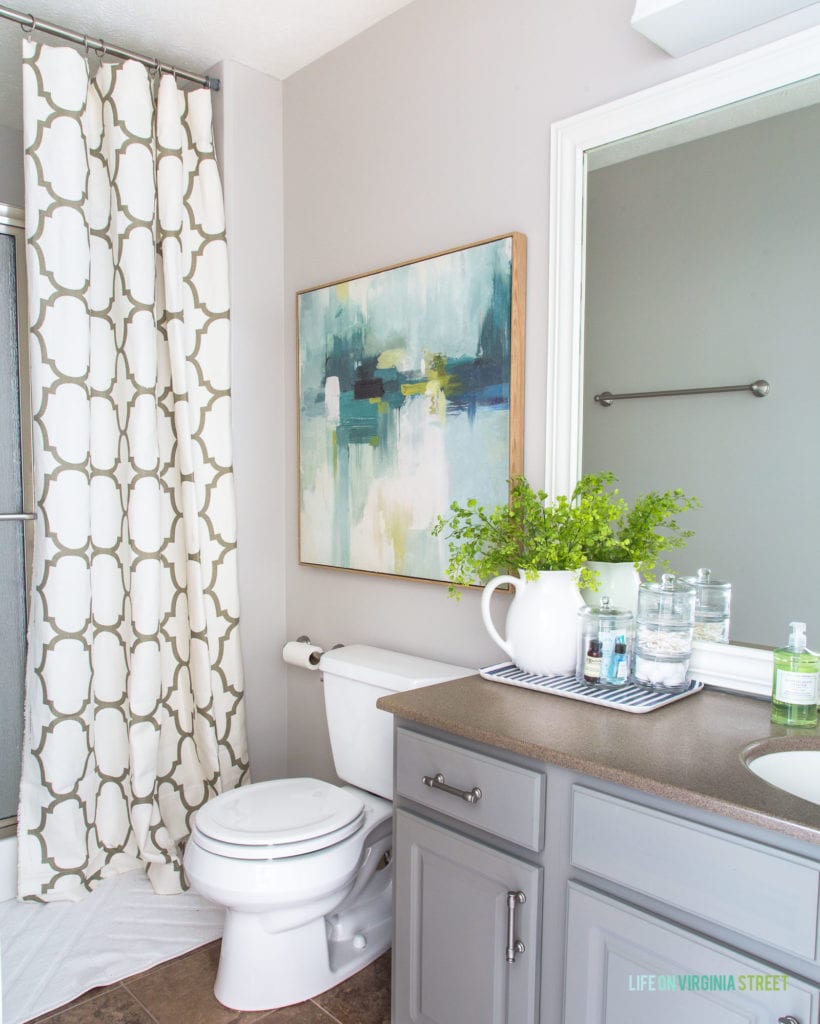 I love that Birch Bark is one of those colors that looks like it has beige tones in some lights and gray in others. It's the perfect greige!
Since this is a temporary makeover until we upgrade the vanity and flooring, I didn't want to put a lot of money into the accessories in the space. I basically shopped our house and brought in some new artwork. The "shower curtain" is actually a fabric remnant I had on hand but I loved that I could make it longer than a traditional shower curtain! The changes still feel dramatic even on a super tight budget! It now has that beachy vibe I love and looks so good with the adjoining bedroom!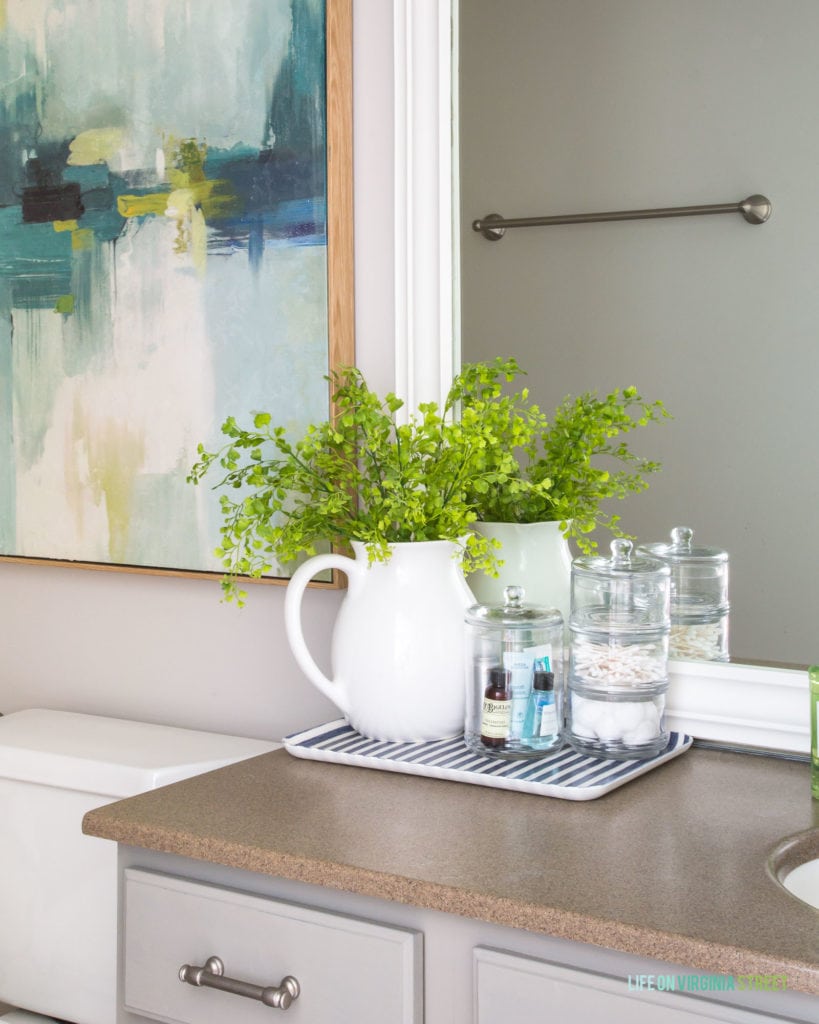 It makes for a pretty fun before & after!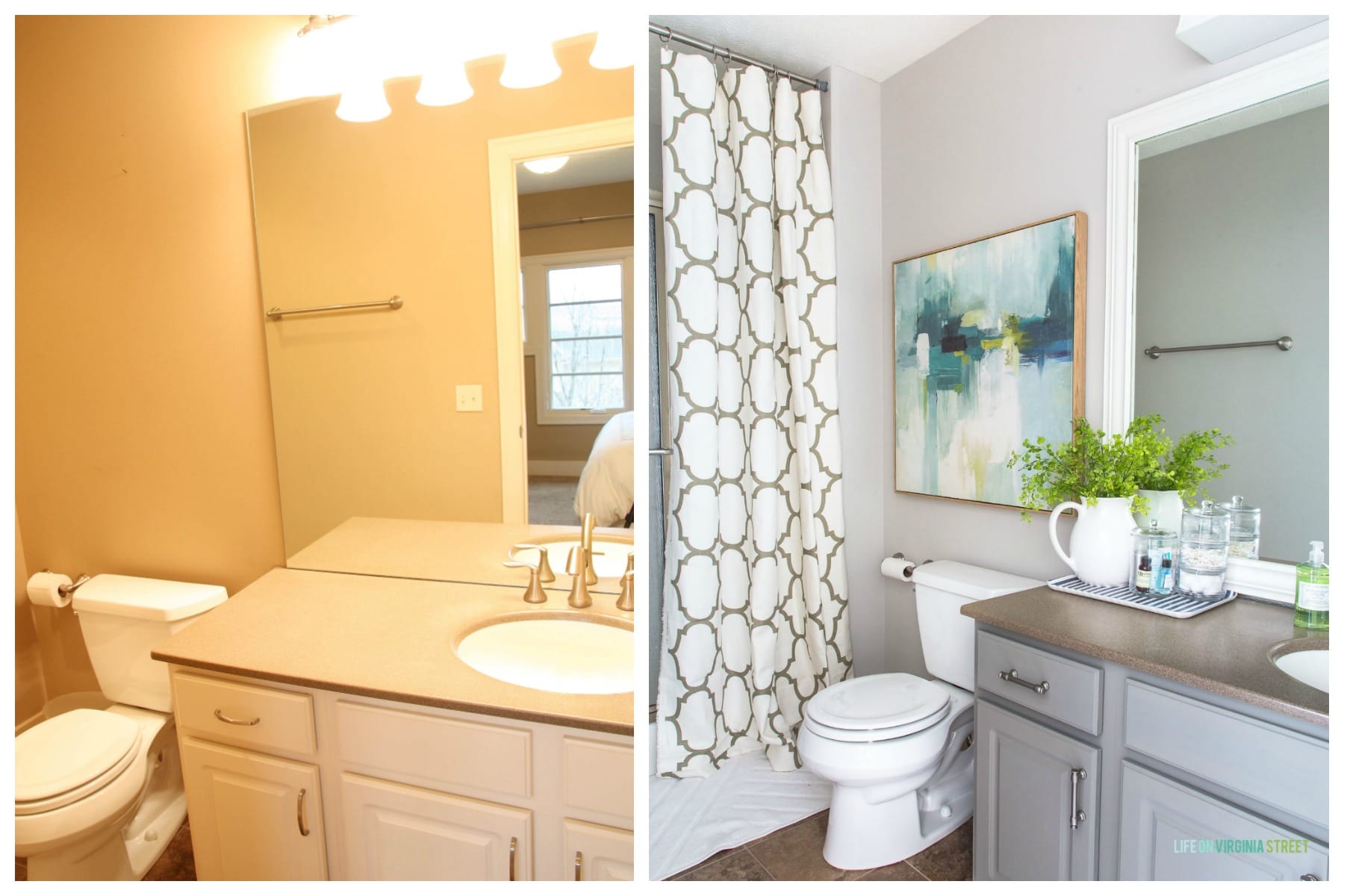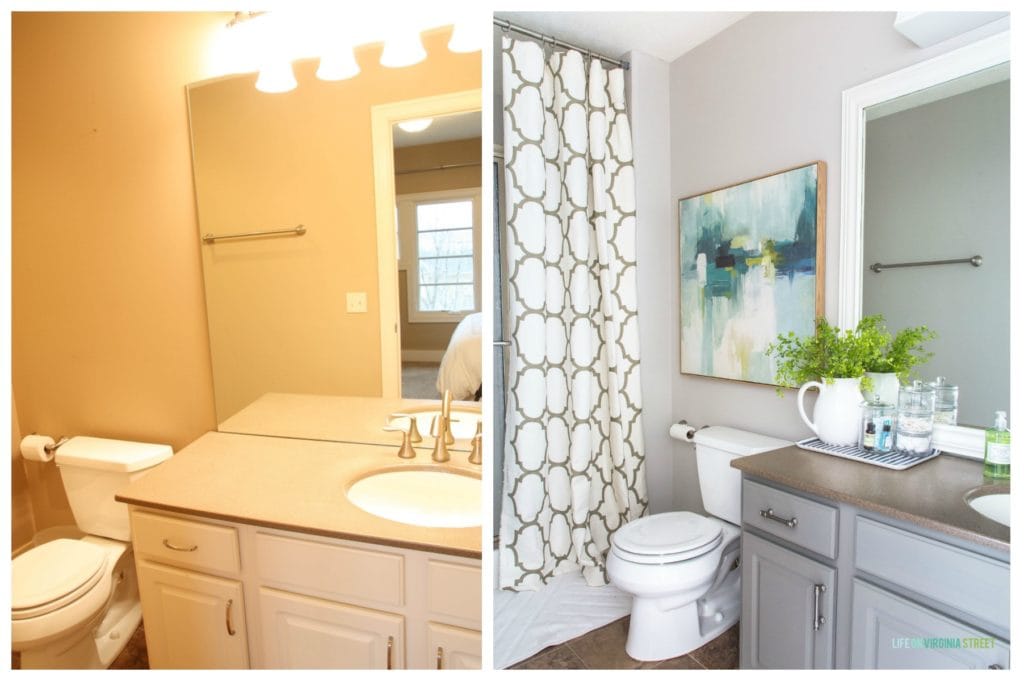 I hope you enjoyed this budget coastal bathroom makeover! If you're wanting to try the EasyCare Ultra Premium Paint line, it's available at True Value stores nationwide and many
independent paint and hardware retailers. You can visit the Store Locator on www.TrueValue.com to find a retailer near you!
If you would like to follow along on more of my home decor, DIY, lifestyle, travel and other posts, I'd love to have you follow me on any of the following:
Pinterest / Instagram / Facebook / Twitter / Google+
disclosure: some affiliate links used