Good morning! I hope your Monday is off to a good start so far! We're supposed to be getting what could be the largest snowstorm in Omaha in 15 years today! Since we're now to the last week of January already, I feel like I'm totally okay with that, as long as people can stay safe!
This post contains affiliate links for your shopping convenience. Click here to read my full disclosure policy.
Home Projects & Updates
I have a lot to update you on in regards to the bathroom renovations. A lot of progress was made last week, but the reality is, it wasn't the "fun" stuff to share. The floors have been fully prepped, and weather-permitting, the final drywall sanding will happen first thing this morning. The storm my delay things a day or two this week, but otherwise, tile should be starting shortly. But, my favorite part of the week was when they cut the hole and re-framed for the window! We had to downsize it to a 25″x25″ to make it fit with the pipe, but I think it will be perfect. It will let in plenty of light, but not compromise privacy.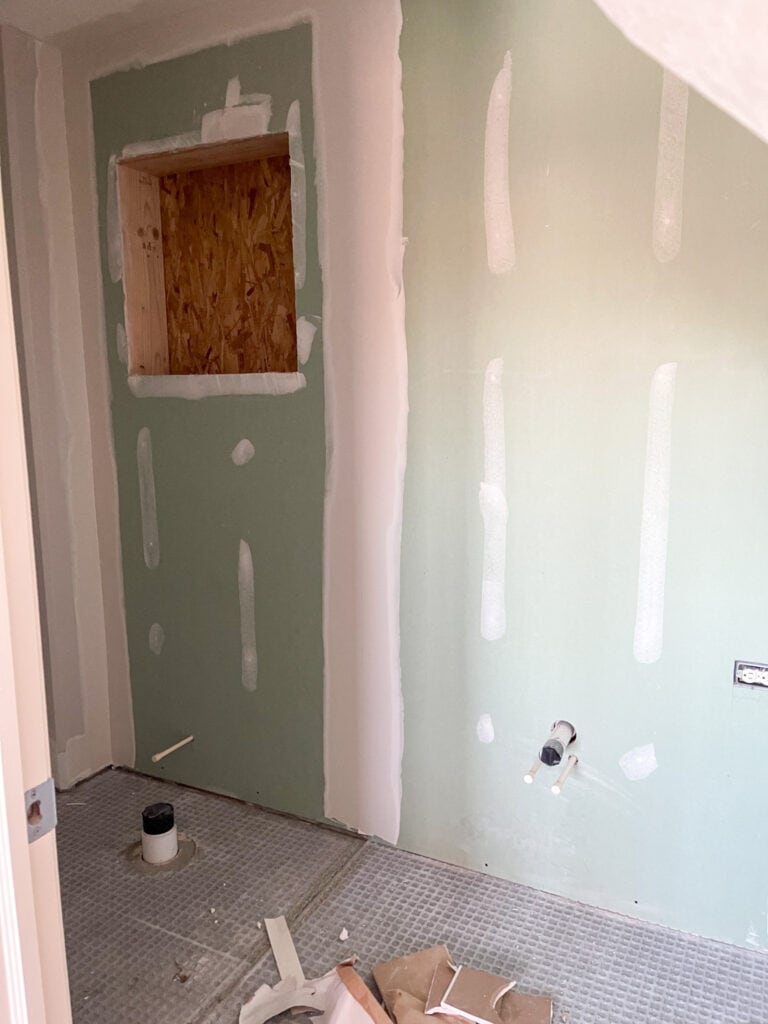 Friday we met with another building company to talk about a possible pool house. I'm hoping to know more by the end of the week or early next week. We're still really hoping we can make a scaled-down version of our dream work! I'll share some design plans soon, regardless, since I know most of you were interested in seeing them last time we were on this topic!
On Saturday, I got a random urge to re-design my website. Not always the best idea when there aren't any tech teams you can reach out to since it's the weekend 😉 It's a work in progress, but essentially I've change my format a bit to a home page with popular categories, posts, etc. And then the chronical blog posts are available if you click the 'Blog' graphic below. I also show the four most recent blog posts right below that. With over 2,200 blog posts on my site, it had gotten a bit challenging for people to find old, popular content. The header categories you see below are still drop-downs on desktop with a bunch more sub-categories underneath them. I'm just hoping that overall navigation is a bit easier now!
I definitely still have some tweaks to make (and need to chat with some tech folks today), but I'm happy with the progress so far. Let me know your thoughts if you think there is anything you see that needs to be changed. Is the font size okay? I feel like it got smaller with this latest theme. Is anything else hard to see? I don't love the link color right now (I'm finding it hard to quickly see links) so that may change as well!


I feel like I have so much to catch you guys up on! Among other things, I need to do a bathroom progress post for those wanting the details and another flip house post before the big reveal. Hoping to get caught up on all of those over the next week or so!
Top Sellers Of The Week
Following are the top sellers of the week across all of my channels. Links to each item are below the graphic.
Around Town & For Fun
Most of my Studio McGee Target order arrived last week! The faux maidenhair ferns are legit! I wish I had ordered more! I have both the small and large sizes shown below. This isn't all styled or anything – I just wanted to show you how they looked side by side. They're a fraction of the cost of the one I have from Pottery Barn, and I love these white-washed pots a lot more than the terra cotta color on the PB ones!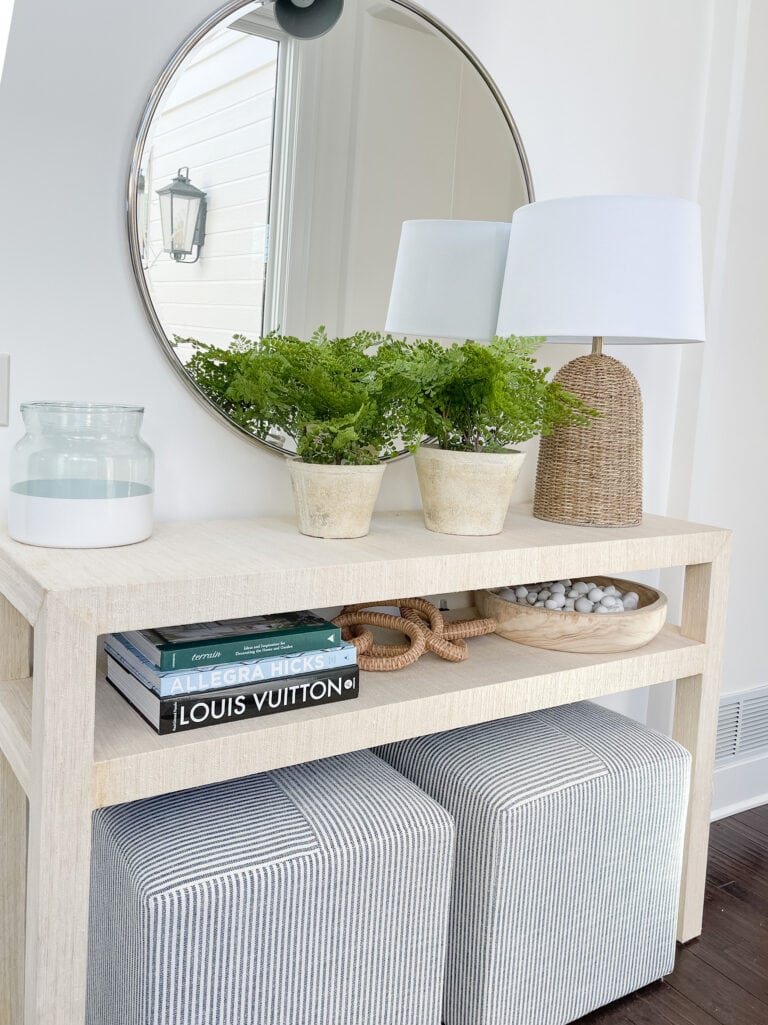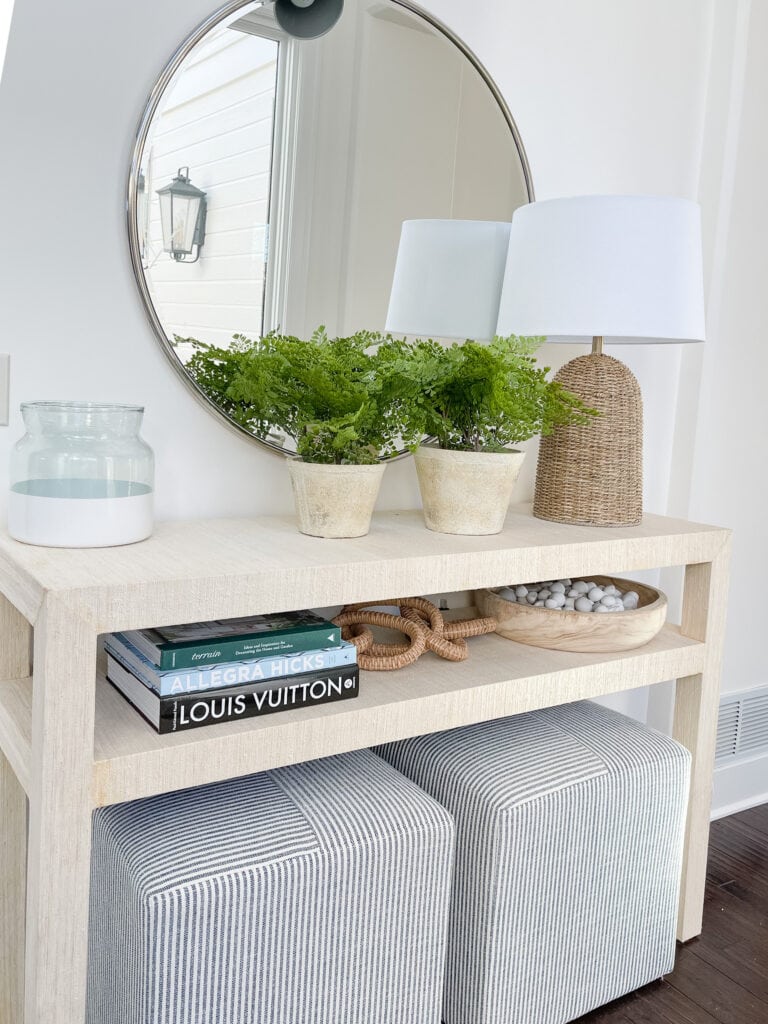 ENTRYWAY SOURCES: Raffia Console Table | Paint Dipped Vase | Faux Maidenhair Ferns | Seagrass Lamp | Wicker Chain Decor | Similar Wood Bowl | Stone Pebbles | Striped Stools (bench version here)
I actually still have to open some of. I'm not sure Target could have sent my order in any more individual boxes if they tried. Ha! But the good news is, nothing has been broken so far! I'm hoping to hop on Stories sometime this week to share some of my favorites in person. And did you know more of the collection launched yesterday morning? Not only that, there have already been a bunch of re-stocks over the past week! Henley managed to make a bed out of every single thing I've already opened 😉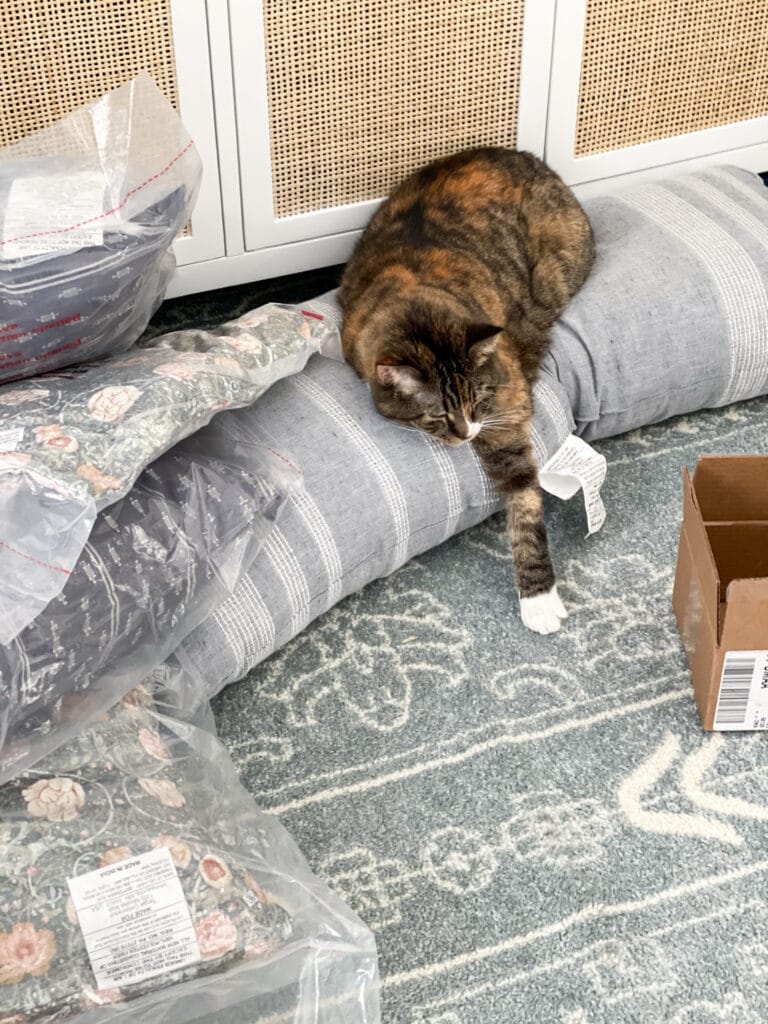 SOURCES: Cane Cabinet | Slate/Ivory Rug | Striped Lumbar Pillow | Floral Pillow | Patterned Pillow
I picked out this grill and griddle pan set in November or December for an upcoming sponsored post on Instagram. The second Kurtis saw them he said we'd never use them and they were a total waste. Fast forward a few weeks once they arrived. He's used them almost daily now to cook with 😉 The grill pan is such a great way to get a grilled taste when you don't want to go outside in the winter months. Literally every meal we've made on them since, Kurtis talks about multiple times that day and how good it was. Remember how we were never going to use them?!? I mostly just love that clean-up is a total breeze (I can get most of the grease gunk off with water and a paper towel if I wanted to).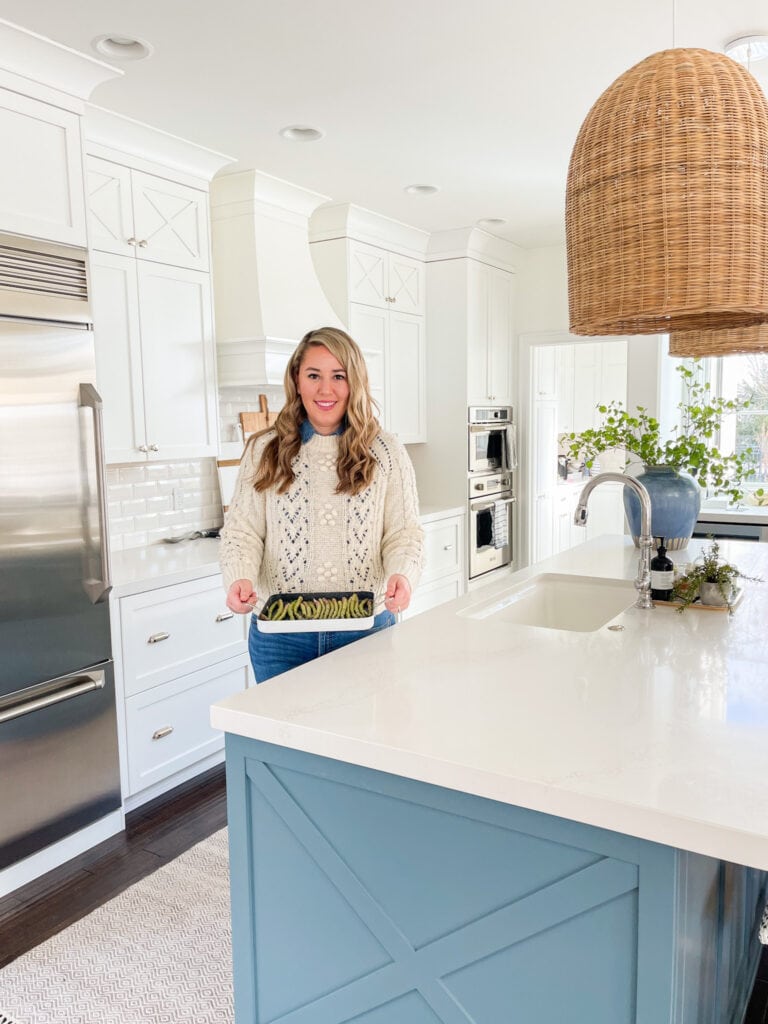 KITCHEN SOURCES: Runner Rug | Pendant Lights | Periwinkle Vase | Faux Greenery | Grill & Griddle Pans OUTFIT SOURCES: Sweater | Chambray Shirt | Jeans | Hair Wand
They're from the same line as these bake and store food sets I've talked about in the past. This isn't sponsored at all at this point. Just thought it was worth sharing over here since we really do love all of these items!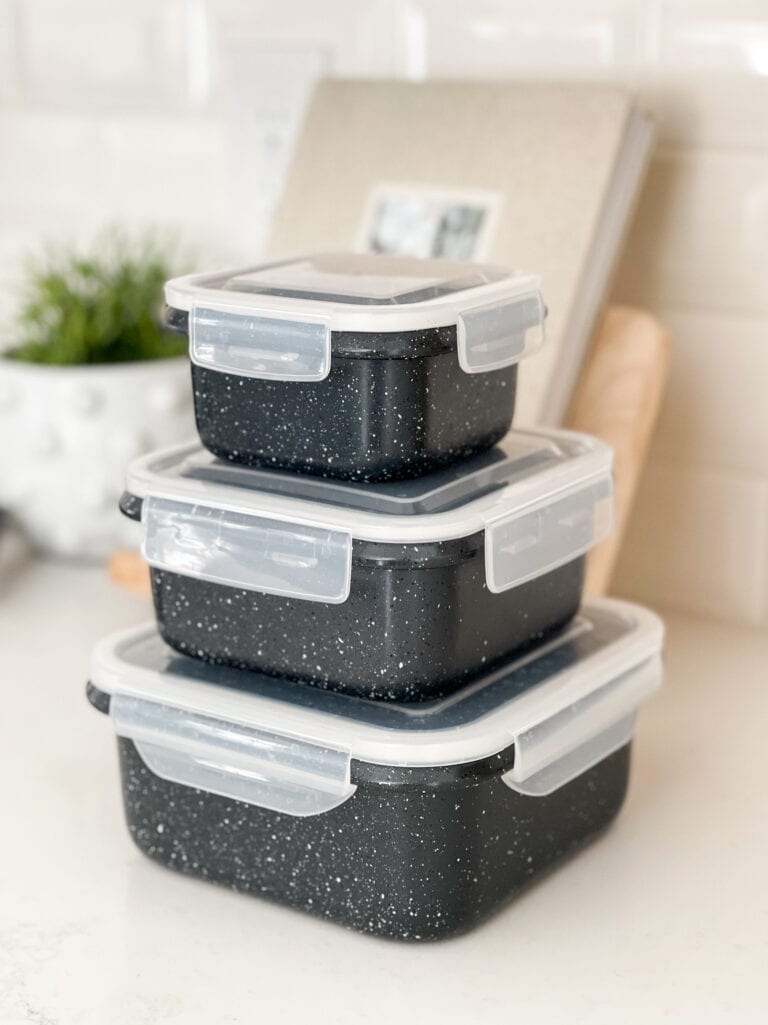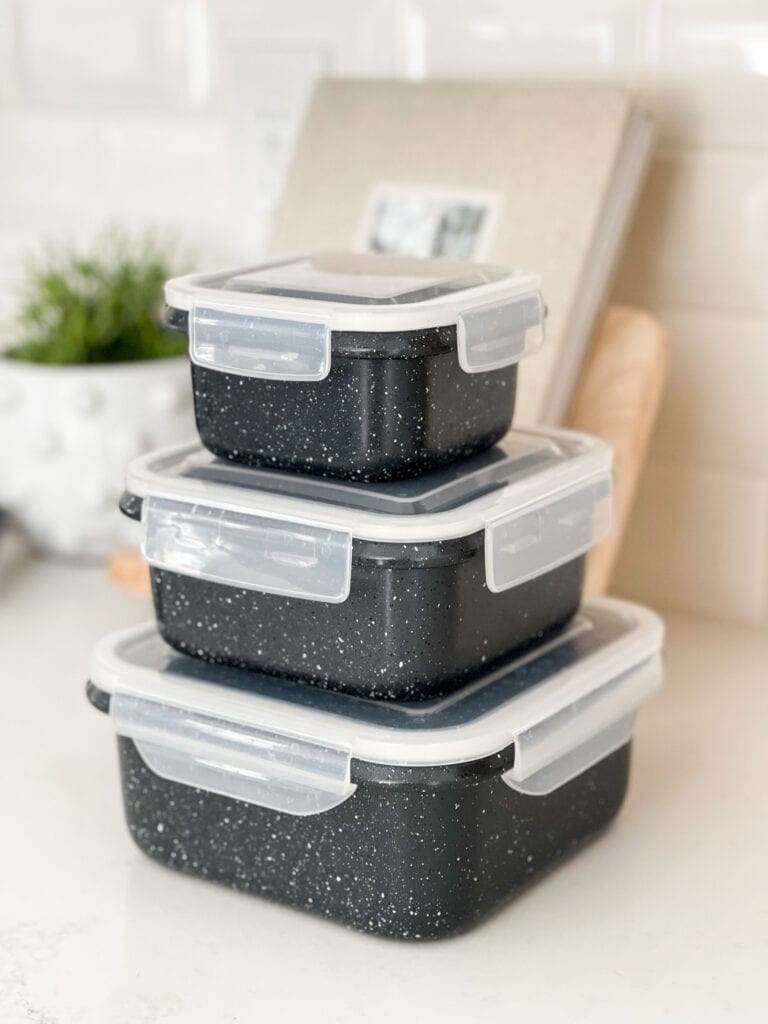 I also shared a little video tour of the inside of some of our cabinets and drawers in our kitchen. I'm always shocked by how much that interests people! I had several people request I save it, so you can find the videos in the first little highlight bubble, Kitchen Org, on my Instagram. I got so many other questions and requests for other cupboards that I'll be doing Part II today or tomorrow!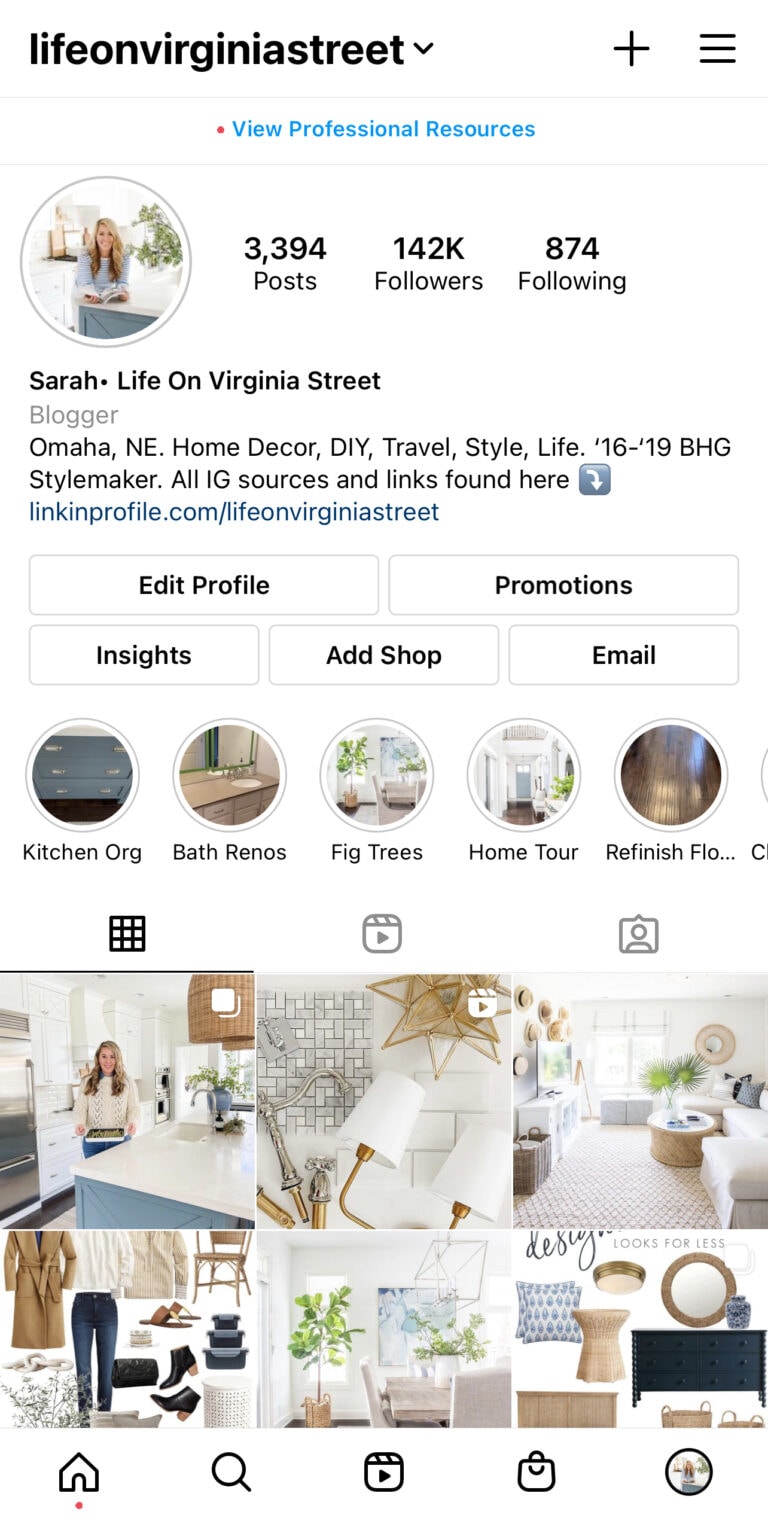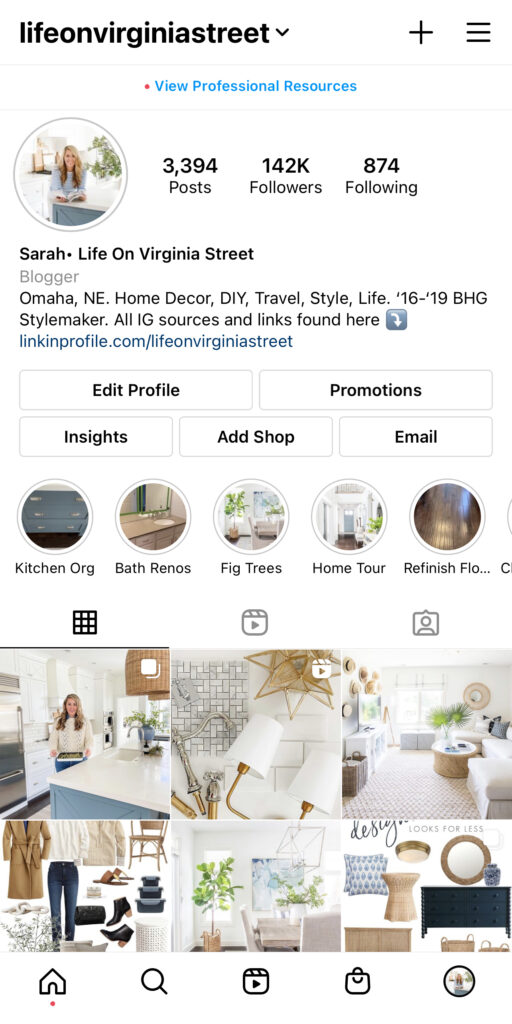 In not-so-fun news, we had to take Bailey to the vet on Friday. Over the past few weeks, her obsession with water and gotten crazy. She'd basically lay at her water dish half the day, and their litter boxes were filling up twice as quickly as they should be. We had a feeling what was happening. She was diagnosed with diabetes and now has to have insulin shots twice a day. They're hoping that once we can get her regulated for awhile, she may be able to come off the insulin down the road with a grain-free diet. Fingers crossed! Her insulin has to be administered every 12 hours, with not much leeway, so it's definitely going to be an adjustment for all of us. Thankfully, she's a total champ and doesn't even feel the injections. They also realized she has really bad arthritis in her lower back and hips, so she may have to go on an anti-inflammatory down the road as well. Even though she 14.5 years old, this is the first time she's really ever had any issues, so we're thankful for that and glad we took her in so quickly!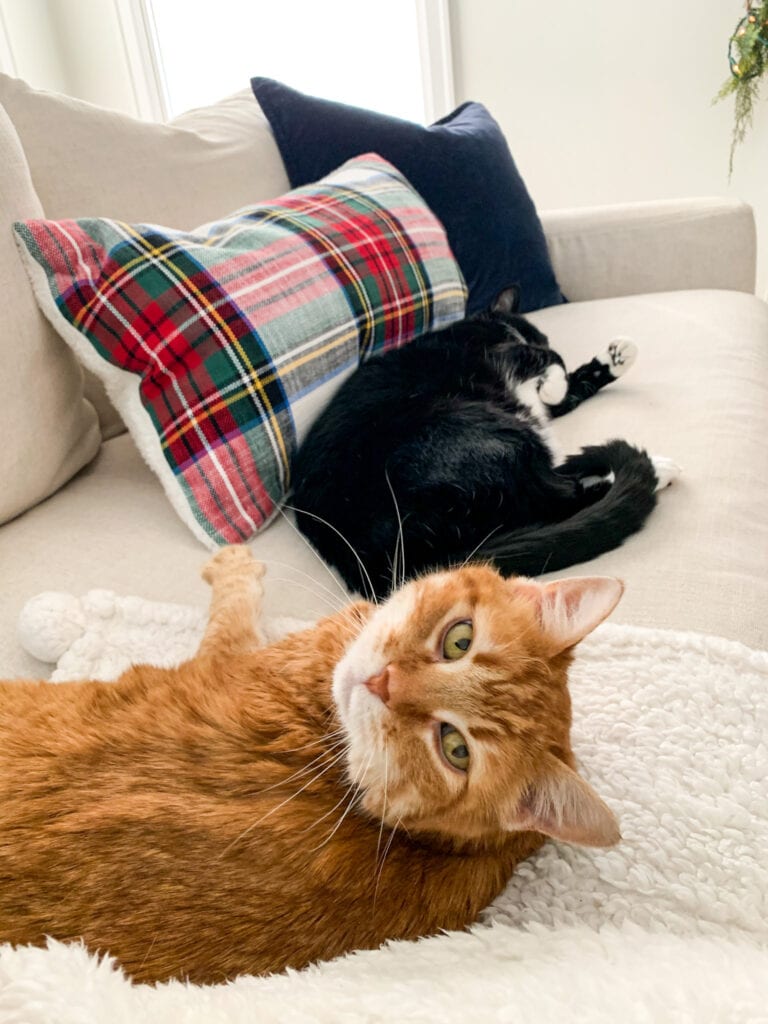 Recent Buys & Sales
Following are some of the sales that have carried over from the weekend. I didn't do a sale post Saturday, because honestly, there just wasn't that much to promote!
I hope you all have a great week!
If you would like to follow along on more of my home decor, DIY, lifestyle, travel and other posts, I'd love to have you follow me on any of the following:
Pinterest | Instagram | Facebook | Twitter
disclosure: some affiliate links used