In my recent 2020 Home Goals post, I mentioned that renovating our guest bathroom is one of the projects at the top of our list to accomplish this year! We've already talked through a tentative budget, and hope to have some appointments scheduled by the end of the month to get some official bids. This project will be a mix of us doing demo, and tradesmen doing the install of new products. Following are our tentative guest bathroom renovation plans!
This post contains affiliate links for your shopping convenience. Click here to read my full disclosure policy.
Before we jump into the plans too much, let's talk a bit more about the space itself. Below, I've included a zoomed in view of our floorplan (along with some very rough measurements I took) to show you the layout of the space and where it sits in our house. You can see it's between the den and our main guest bedroom, so it's one of the most used bathrooms in our home.
The bathroom is the area below shaded in light gray. It's a fairly decent sized space, but because it also acts as a passageway between what is actually two bedrooms, the layout really can't be changed. Which we're totally okay with to help save on costs!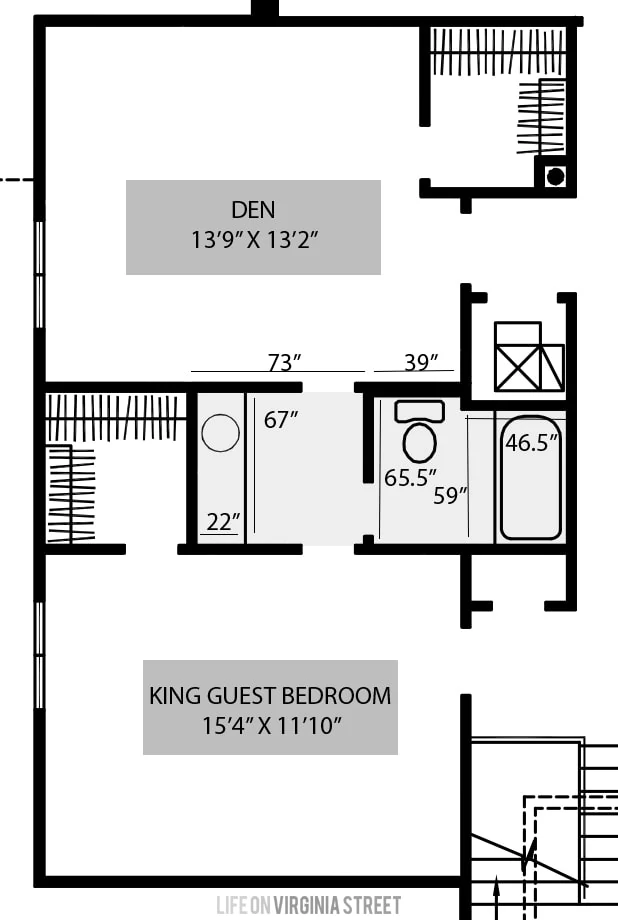 And here is how the space looks currently. Not terribly offensive, but also not great by any stretch of the imagination. The FrogTape has literally been on the mirror (and only one coat of paint on the walls) for years now. I'm sure our guests have just grown used to it 😉 The cabinets are cheap melamine (plastic) that is very difficult to paint. The Corian countertop appears to be bleached in areas (it was this way before we moved in), and you can see all the finishes are very builder basic.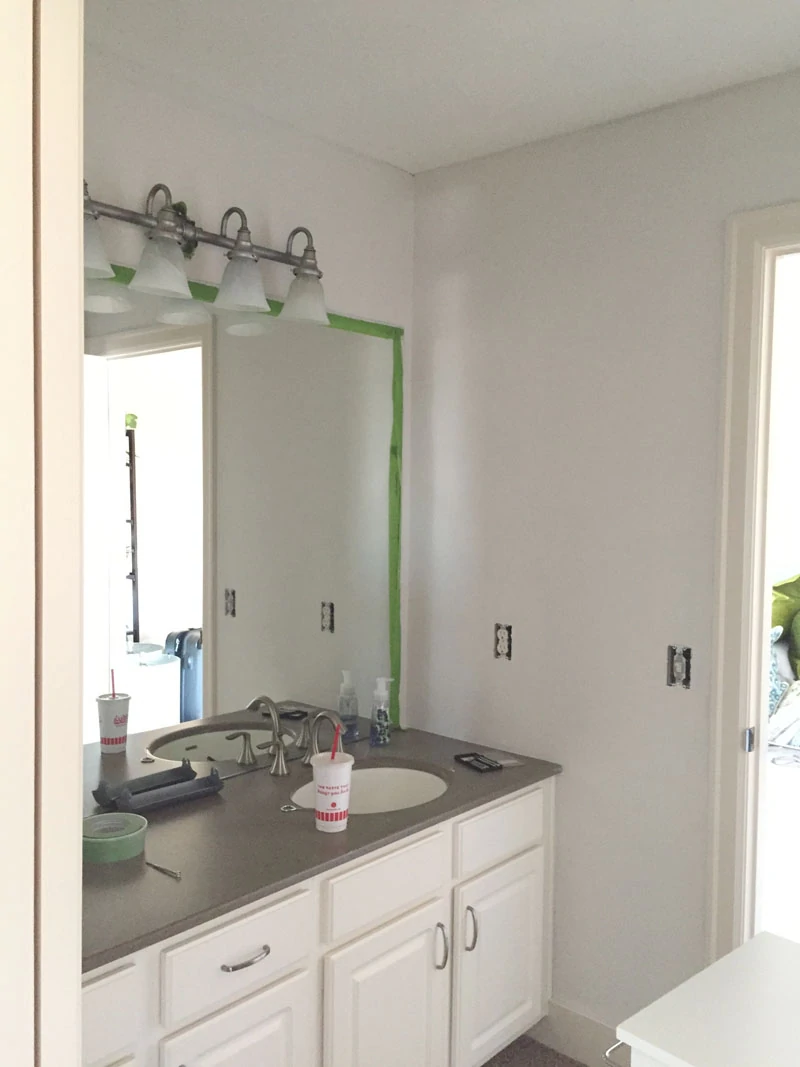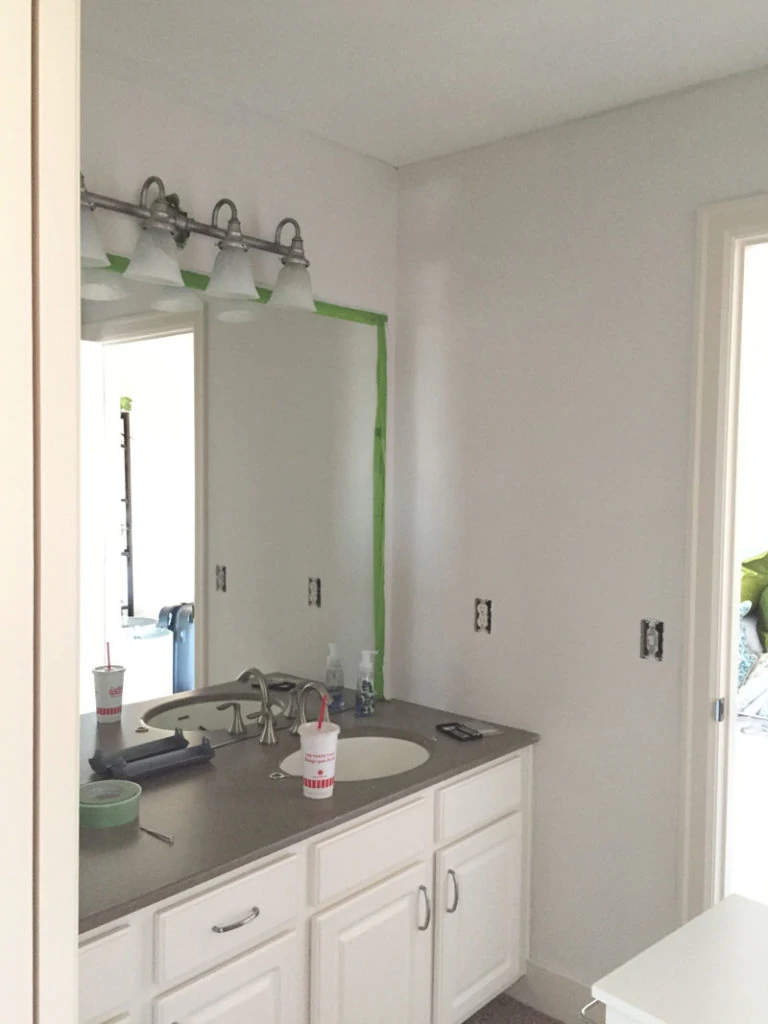 It's hard to see, but the carpet has startled buckling very badly. We could certainly get it stretched, but I'm one of those people that gets really grossed out by carpet in bathrooms.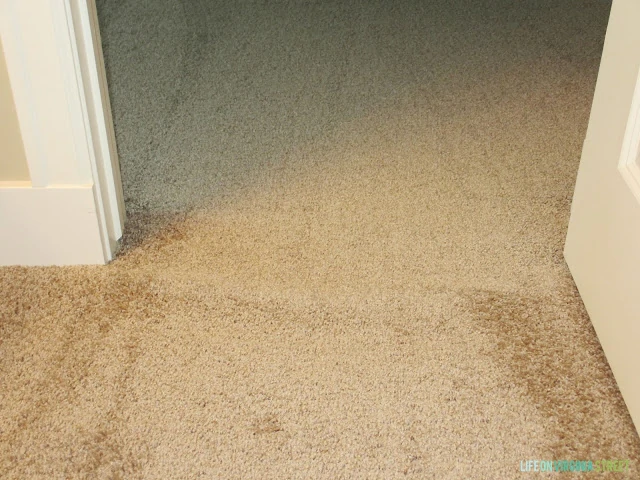 We have this little tower in the shower/toilet room. We usually stock it with toilet paper when we have guests, but it makes the room super tight. I'll likely remove the towel bar from above the toilet and hang hooks on the wall opposite to dry towel. I don't love that towels have to hang above the toilet currently.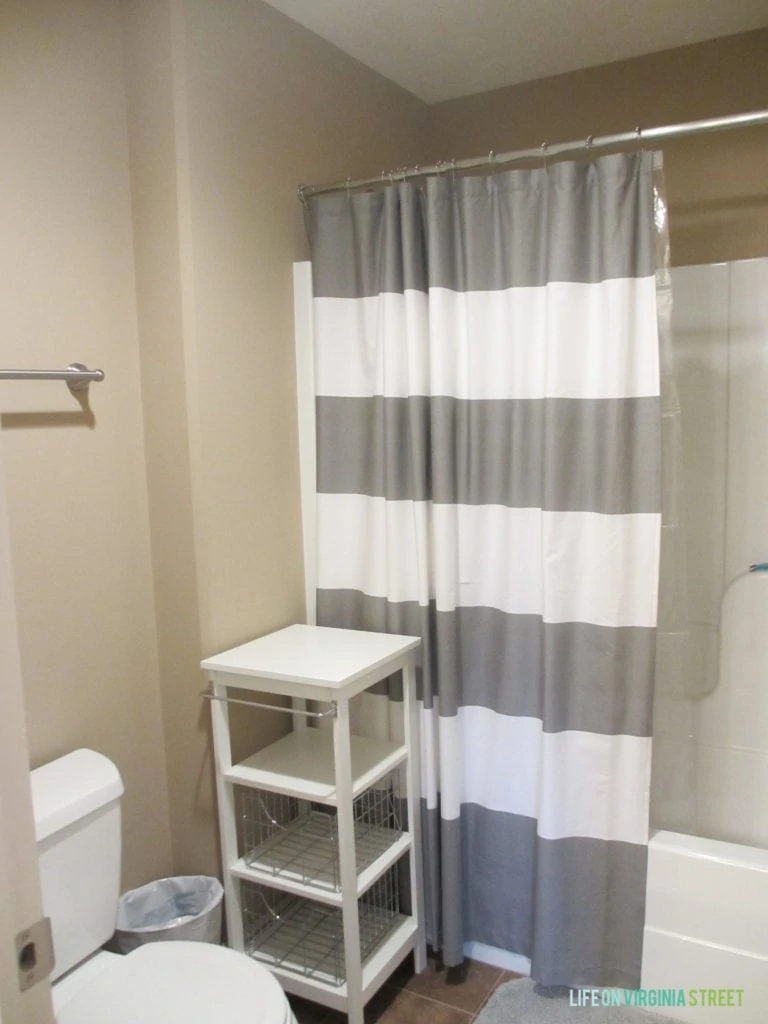 The brown tile in the room is very dark and obviously not our style. It's a small area (maybe 9 square feet) that will need to get torn up, since the bulk of the flooring is carpet.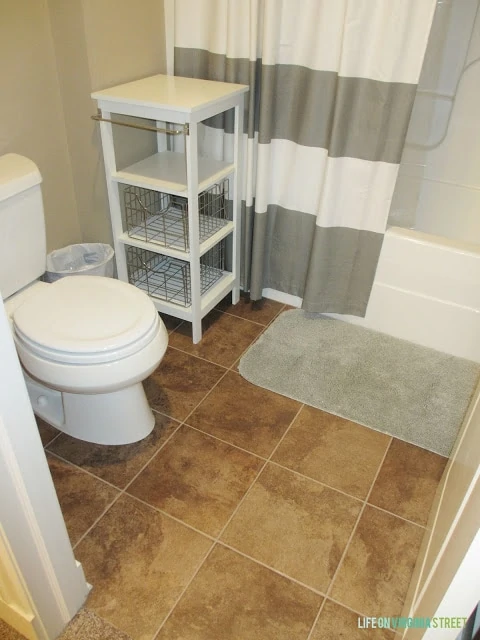 In order to keep this post relatively concise, I'll save my actual inspiration photos and formal design plans for another post. But let's dig into the specifics on what we know what we want to change!
Go to a two-sink vanity, or a single centered sink.
Add a solid-surface countertop like quartz, marble or granite.
Find a vanity that has a "furniture vibe" since it's visible from both the den and guest bedroom.
We're thinking we'll have the entire vanity wall tiled because the drywall will likely get destroyed tearing off the builder-grade mirror.
Replace the carpet in the vanity area with tile that flows all the way to the shower.
I'd love to get rid of the shower insert and just have a tub, with tile then running from the tub to the ceiling. Kurtis things this is going to kill our budget, so until I get a bid, I'm leaving it on the list 😉
We'd love for the lighting to include sconces on the sides of the mirror, but we're not sure we actually have enough space for that. It's probably a decision we'd have to make once the other components are selected.
Here is a very high-level view at the look we're going for. The products in the design plans are not official, and were merely selected just to show the vibe we're looking to achieve.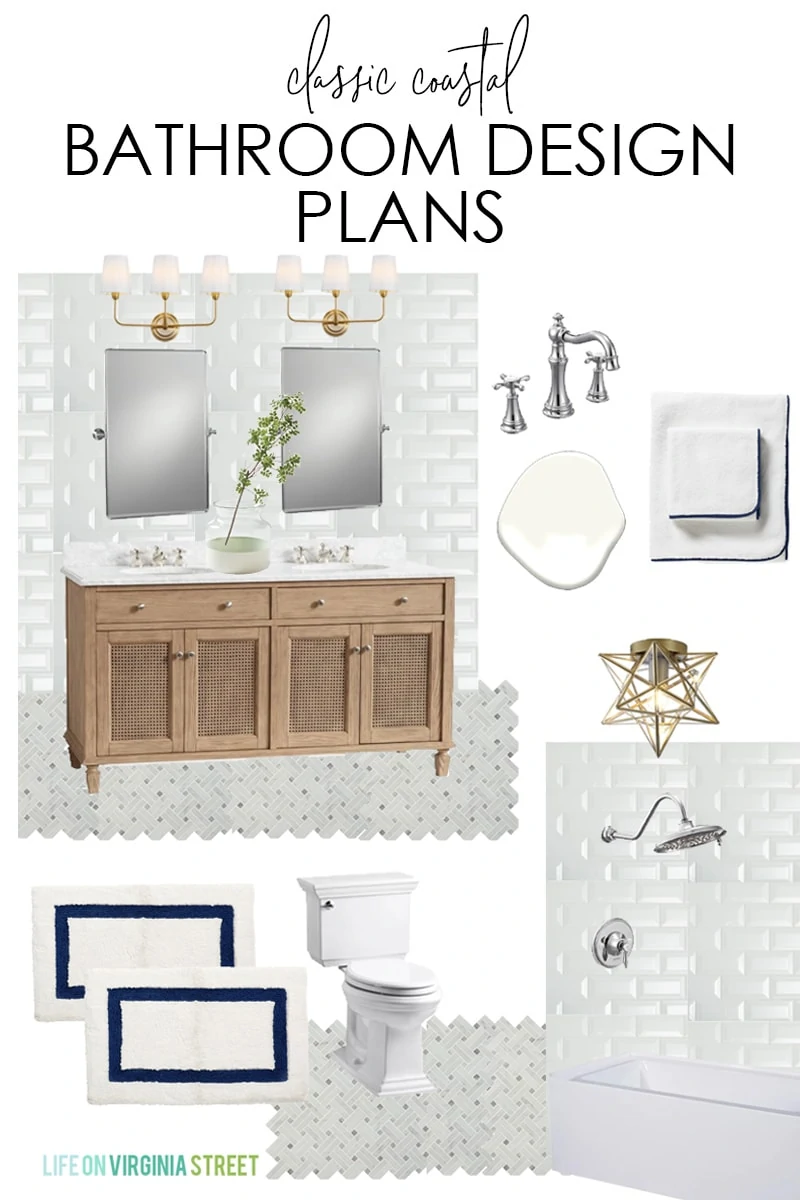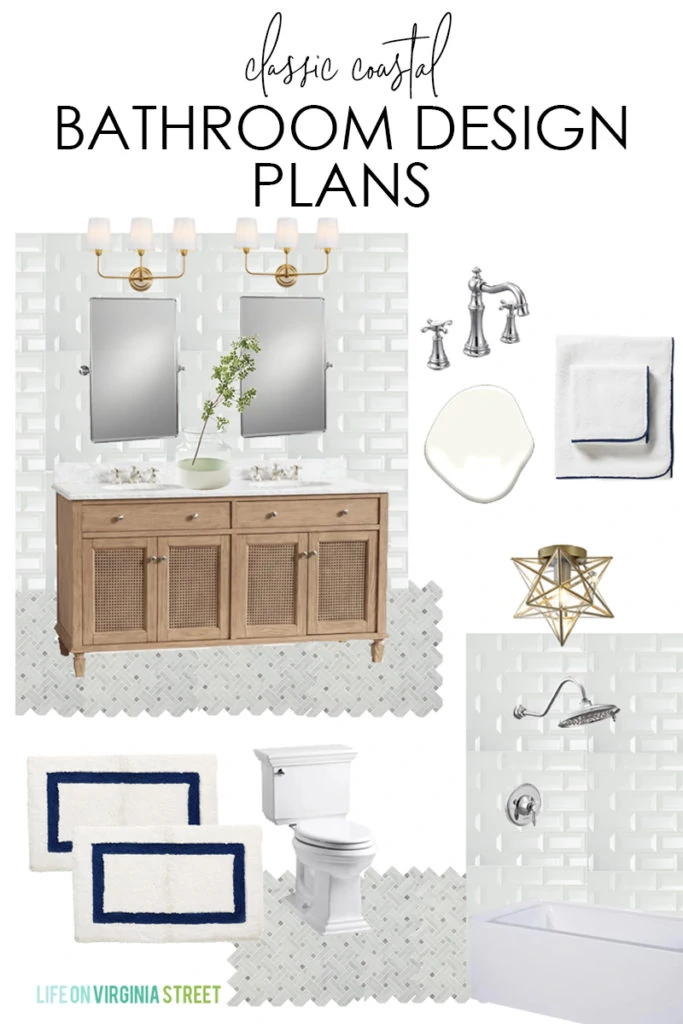 MOOD BOARD SOURCES: Vanity | Pivot Mirrors | Light Fixtures | Vanity Faucet | Faux Greenery | Paint-Dipped Vase | Towels | Beveled Subway Tile | Carrara Mosaic Tile | Memory Foam Bath Mats | Toilet | Moravian Star Light Fixture | Shower Head | Paint Color: Benjamin Moore Simply White
You can see even more vanity ideas in my post on classic coastal bathroom vanities if you're looking for even more ideas!
We want the bathroom to have a slightly coastal feel, but we also want it to feel very classic, as we don't ever intend to renovate it again once it's done! Again, the products in the moodboard above are just placeholders as we continue to drill down into options and until we know more on what the actual costs of renovations will be. I also put this together so when we do have people over for bids, I have a visual to show them of what we're tentatively thinking.
Since this isn't our master bath, I'm feeling much less specific about many of the selections, since it's not something I personally have to stare at every day 😉 And again, since we're leaning towards classic versus something trendy, we're not looking at doing any crazy patterns, etc. or finding unique, one-of-a-kind items.
I'll plan to share additional inspiration and ideas in a separate post. But, in the meantime, I'd love to hear if you have any "musts" for guest bathrooms (or bathrooms in general) that we should consider for this guest bathroom renovation!
If you would like to follow along on more of my home decor, DIY, lifestyle, travel and other posts, I'd love to have you follow me on any of the following:
Pinterest | Instagram | Facebook | Twitter 
disclosure: some affiliate links used