Sharing a collection of 48″ bathroom vanity ideas that work well for a variety of decorating styles and bathroom plans. Most of these vanities also include the countertop and sink!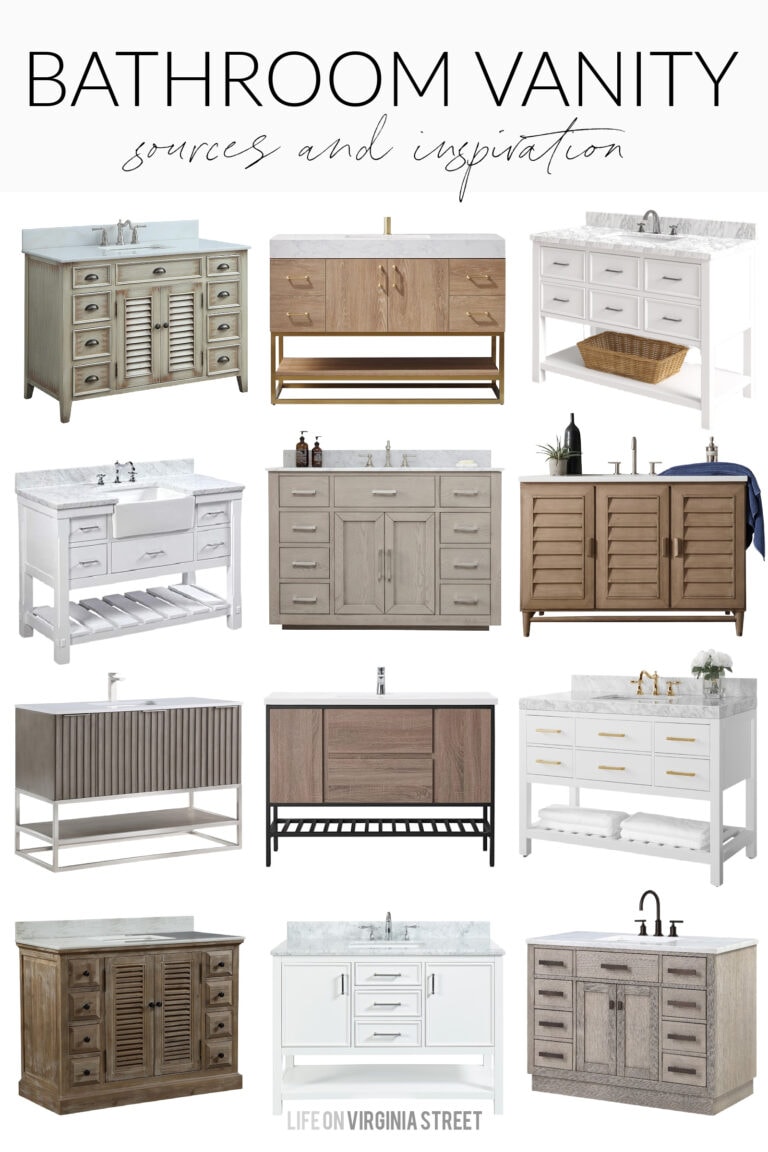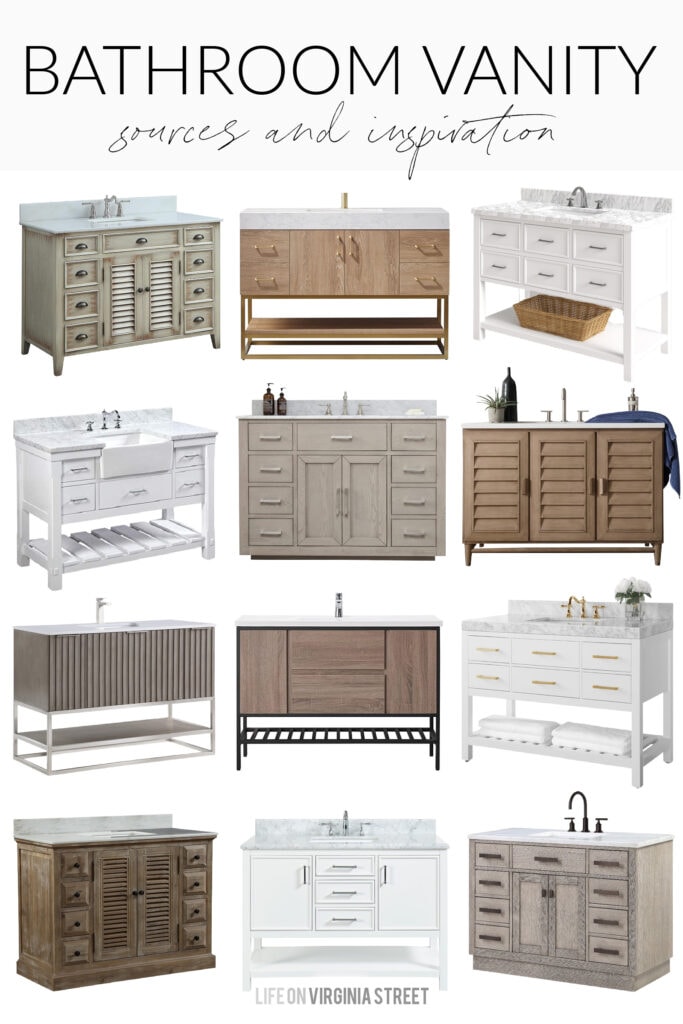 After sharing my post last week with small bathroom ideas & makeover inspiration, I got a lot of messages and comments both on the blog and social media. Specifically about all those gorgeous light wood vanities and where you could find something similar and for a variety of budgets. So, today I'm sharing some 48″ bathroom vanity ideas! This includes options that come in other sizes, light wood, colored, and others that may work well for some of you too!
This post contains affiliate links for your shopping convenience. Click here to read my full disclosure policy.
Earlier this year, I shared a collection of classic coastal bathroom vanities that I considered for our guest bathroom makeover. I still love so many of those styles, and strongly encourage you to also check you that post if you're on the hunt for a bathroom vanity.
However, for that particular space, we were looking for a 60″+ size with double sinks. The options vary considerably as you start to size down on vanities so I started a new search for our smaller bathroom in the last week.
48″ Bathroom Vanity Ideas
There are so many gorgeous options out there for a variety of budgets. We actually used this one (in navy) in our flip house and I can't wait to show it to you. Although it's not right for our house, it is absolutely stunning in person, and includes the marble top, sink and gold hardware!
And, while I think many of the vanities found in the inspiration photos of this post were custom, there are still so many good ones out there! Unfortunately, at this time, I think the newly popular fluted style would have to be custom or a DIY addition.
I've included more than just light wood, although you'll see a lot of that, and many of these come in a variety of sizes so don't get discouraged if you see the 48″ size in one you love if that's not the size you're looking for. I also love that so many now allow you to pick the stone color on the top, as well! I also think several of these could look even better with a little hardware swap! For our particular needs, we don't have a linen closet in the space, so I kind of like the idea of ones with a shelf for us to store towels on when we have guests coming.
Following are the 48″ vanity ideas I found and love. Click any of the images below to learn more about each of the options.

This solid wood vanity with cane door details looks like a really pretty option. But I also don't want it to look too matchy matchy with our other vanity. And although I'd really love a wood-tone option, Kurtis and I both really like the look of this vanity. The customer reviews and photos are also helping to sell it! We also both really like this one, but are hoping to find something about half the cost.
We've got a little bit of time to make a decision, but I'd like to get one ordered in the next two or three weeks. All this is assuming our bid comes back at a number we can stomach. And if it does, I'm going to get moving so we can wrap this project up by the end of the year!
Additional Bathroom Inspiration
Looking for even more bathroom inspiration? Be sure to check out the following posts. Click the name of the post below that you'd like to read to be taken directly to the article.
If you would like to follow along on more of my home decor, DIY, lifestyle, travel and other posts, I'd love to have you follow me on any of the following:
Pinterest | Instagram | Facebook | Twitter
disclosure: some affiliate links used