A curated collection of modern traditional wall sconce lighting options that work well for staircases, hallways, reading nooks and more! Each option comes in multiple finishes with clean and traditional lines that work well for a variety of decorating styles!
Yesterday I mentioned that we're trying to wrap a few unfinished projects before guests arrive later this month. One of those projects is the lighting situation in our staircase.
The other day Kurtis randomly asked if I was ever going to replace the sconce lights I had removed when our staircase was painted earlier this year. I had actually forgotten that the lights had been missing for the past five months. I had the painter remove them, fully planning to replace them down the road and completely spaced it! Since there is a chandelier in the space, they aren't entirely essentially for lighting our staircase. Apparently I managed to turn a blind eye to the wires hanging out of the wall for the past several months!
Today I'm going to be sharing my top modern traditional wall sconce lighting picks and then I'll be jumping in a bit deeper to our specific project and some other updates I'd like to eventually make.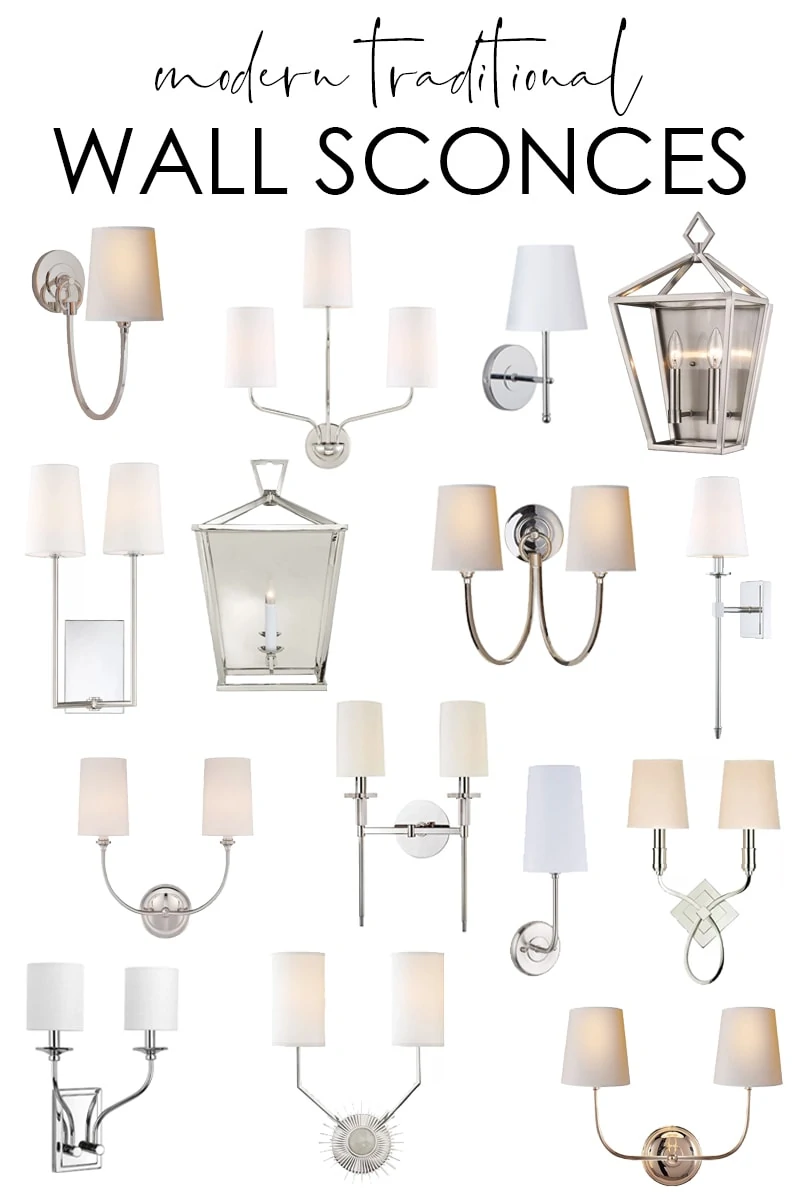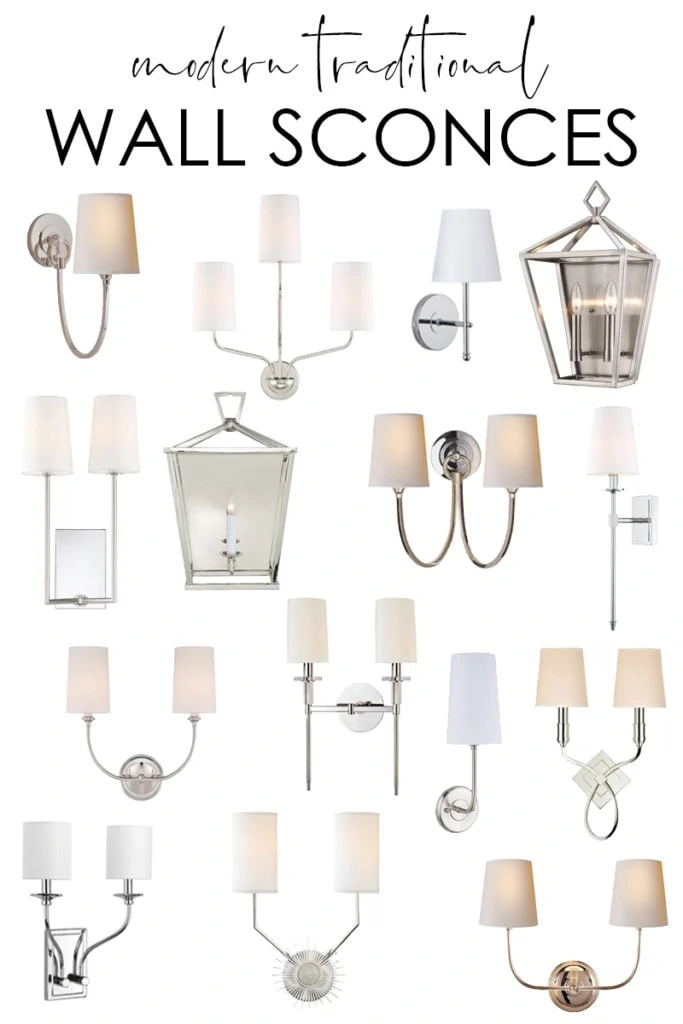 All wall sconce lighting options are linked below.
This post contains affiliate links for your shopping convenience. Click here to read my full disclosure policy.
Modern Traditional Wall Sconce Lighting Options
Following are my top picks for modern traditional wall sconce lighting options. I'm calling them "modern traditional" because I'm looking for something with traditional lines that isn't too trendy, but with a more modern, current take.
Please note that most of the options come in a variety of finishes. I simply used the chrome/polished nickel options for my graphics, since that is likely the finish we will use. I've also tried to include options at a variety of price points and for all budgets! Simply click any of the images below to learn more about each of the sconce lighting options!

Our Staircase Plans
Here is our staircase where I need to update the sconces. You can see as of right now the wires have just been capped and are hanging out of the wall. Yep, not sure how I forgot about this one for the past five or so months! But this is something I want to get updated ASAP before our guests arrive!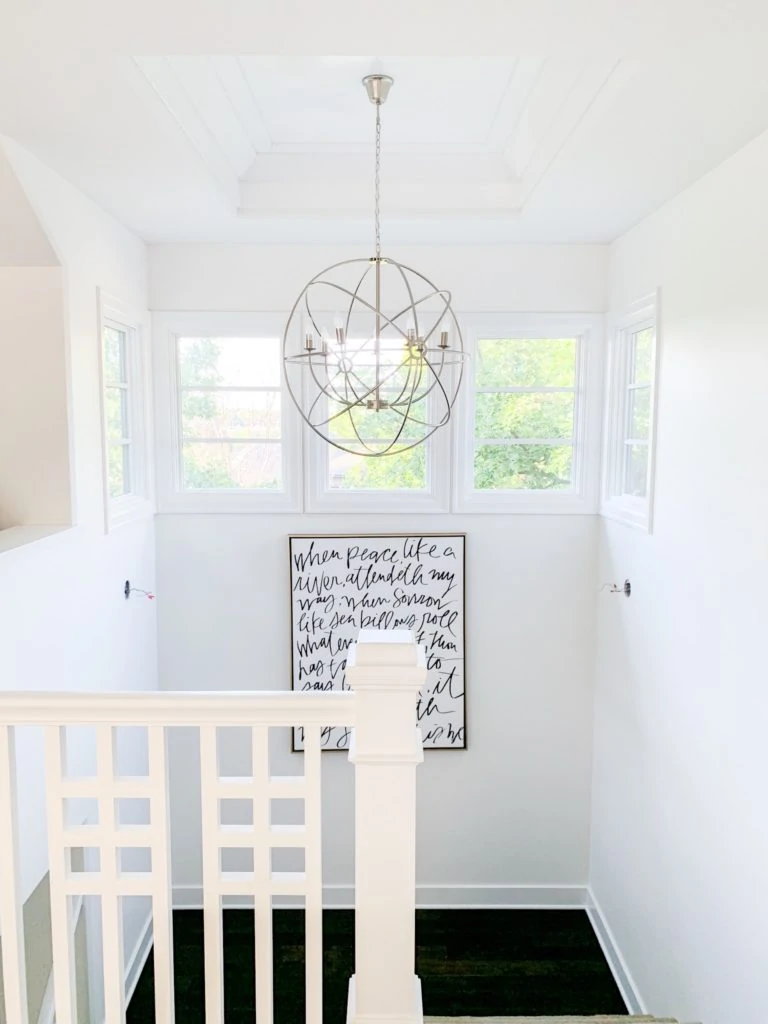 STAIRWELL SOURCES: Similar Orb Chandelier | 'It Is Well' Canvas
I have mixed thoughts on which of the sconces above that I want to go with. I want something that can stay here long-term because sconces aren't cheap! I also want something with a bit of personality though because there isn't really much else I can do to "decorate" this space. Because of the large wall space, I'm leaning towards one of the double arm sconces just to take up a bit more space!
The art will likely be swapped out eventually for something a little less graphic and a bit more serene. However, that certainly isn't a top priority at this point! We may also add the board and batten we've been wanting to do for years, but now that everything is white (BM Simply White) I actually like the walls just as they are!
Additional Upstairs Hallway Plans
Ultimately, I'd love to also update this area to the left of the staircase, as well. The cabinet is one from our last house and is definitely no longer my style. The unit holds all of our wi-fi components and clearly much of my leftover decor I'm not using elsewhere. This likely won't be updated until fall at the earliest but I'm hoping to start looking for the piece that will ultimately go here. We can definitely go much smaller than what's here currently.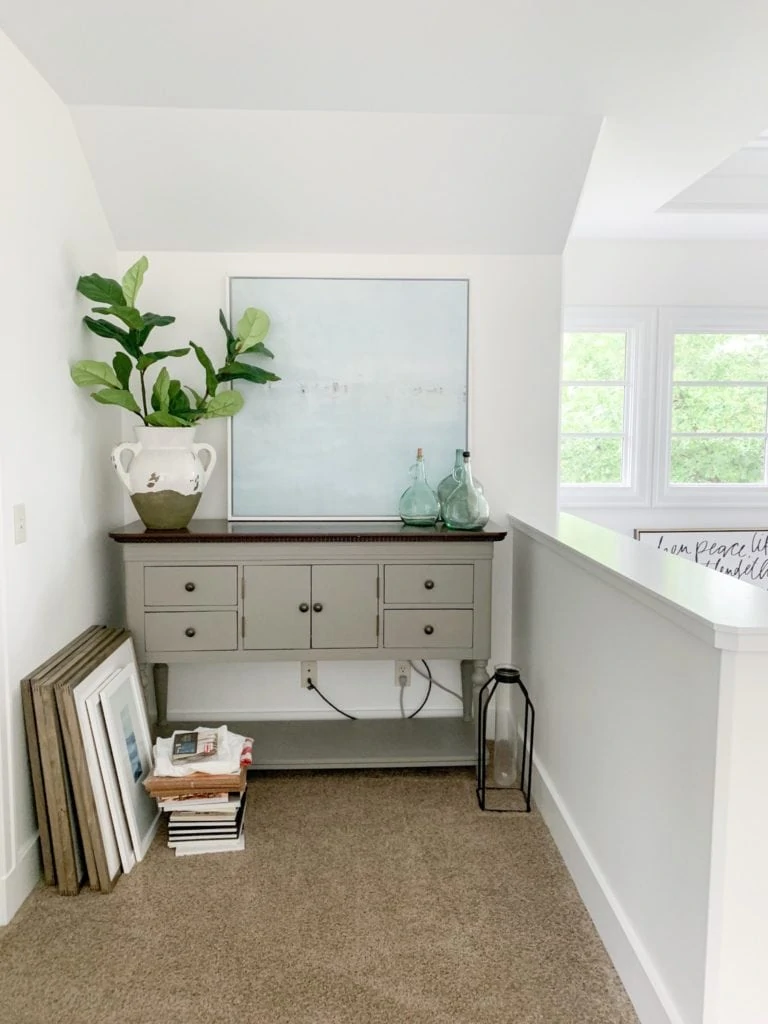 SOURCES: Similar Console Table | Vase | Faux Fig Leaf Stems
I actually bought the frames for a gallery wall along this wall and just need to take the time to get it hung. Not sure if that will happen before our guests arrive or not, since it obviously isn't as pressing.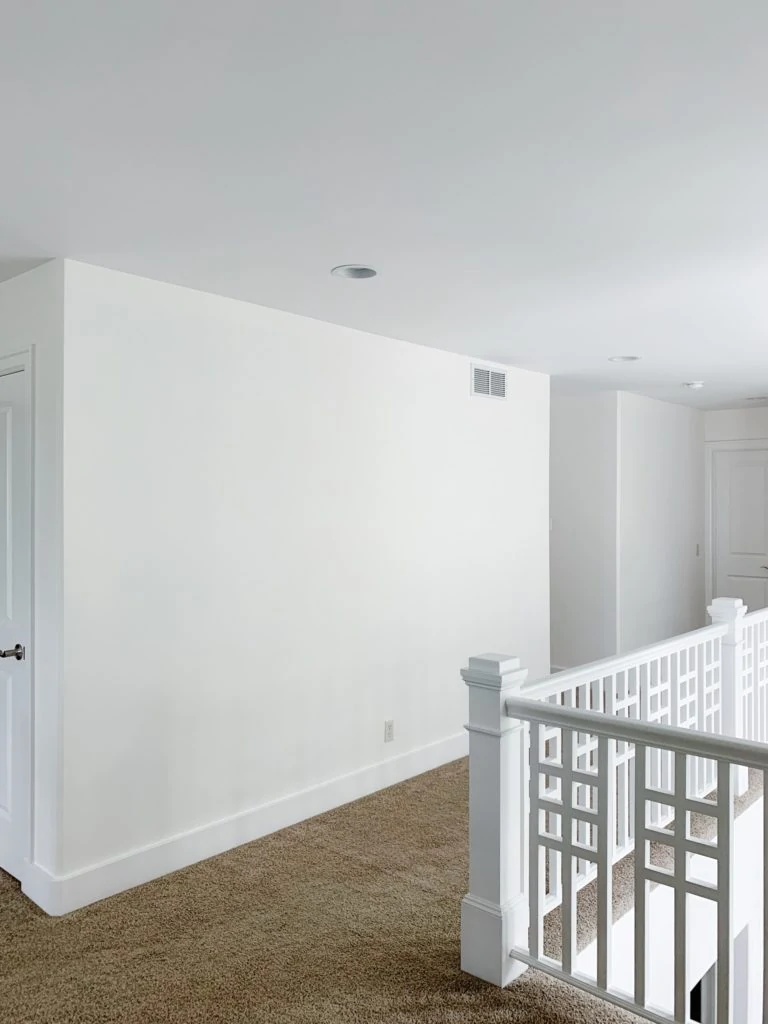 I'm hoping to get some sconces ordered yet this week, so I'll be sure to share an update once they are hung!
Additional Light Fixtures Inspiration
Looking for even more light fixture inspiration? Be sure to check out the following posts. Simply click on the post title below to be taken to the full article.
If you would like to follow along on more of my home decor, DIY, lifestyle, travel and other posts, I'd love to have you follow me on any of the following:
Pinterest | Instagram | Facebook | LTK
disclosure: some affiliate links used