I am sharing some simple tips on how to make your bathroom feel like a relaxing spa! 
This post is sponsored by Kohler and ShopStyle. As always, all thoughts and opinions are my own. Click here to read my full disclosure policy.
If you were to ask me my least favorite room in our house before today, it would 100% have been our master bathroom. It's spacious and functional and doesn't actually have anything wrong with it. But for me, there is so much heavy dark brown tile and the overall aesthetic is completely opposite of the light, bright and airy look I love so much! Kohler linens and their bath and body collection have completely  changed all that!
Much like our kitchen, it was one of the rooms we knew would need updating from the day we bought the house. However, so often, I let permanent fixtures like our dark tile stop me from making other small improvements to the space. I've literally been saying for years now that I need to do something to improve our master bathroom without a full gut job. And with today marking the seven-year anniversary of us moving into this house, I figured there was no better time to make some simple improvements thanks to Kohler!
How To Make Your Bathroom Feel Like A Spa
Today I'm sharing some tips on how to make your bathroom feel like a dreamy spa with simple additions! There's no reason to not add some simple serene upgrades to your bath space even if it isn't your dream bathroom! These tips are intended to help make your bathroom feel like a relaxing sanctuary away from the rest of the world – especially during the busy holiday season!
I always have to remind myself that I can make little custom changes now to make it much prettier and more serene. And down the road, we'd still love to replace all the dark tile and vanity with something much lighter and brighter. The new paint we added five years ago definitely helped, but today I'm sharing even more upgrades to help make our master bathroom feel brighter and more serene with a spa-like vibe and the addition of Kohler's bath linens and Bath & Body collection!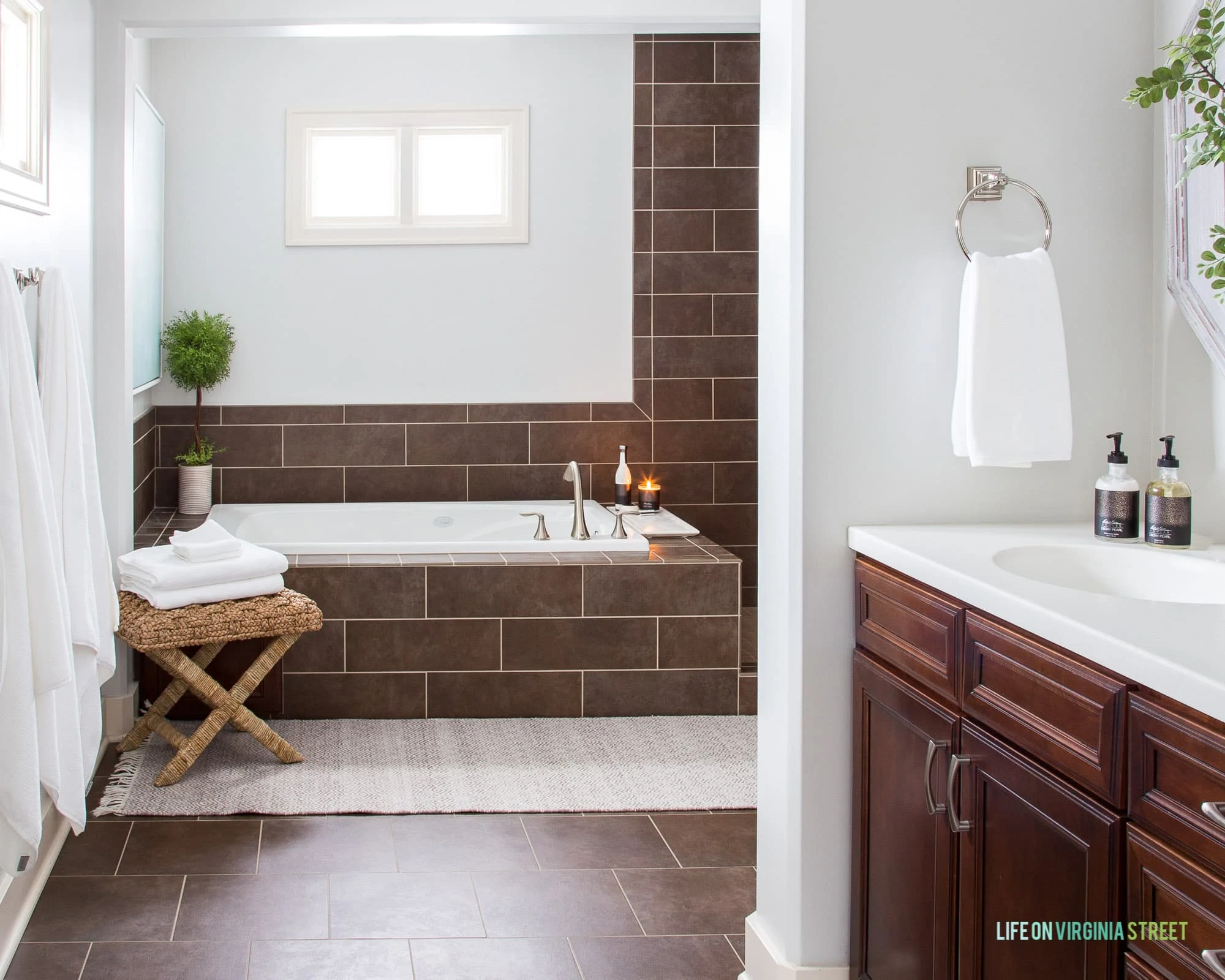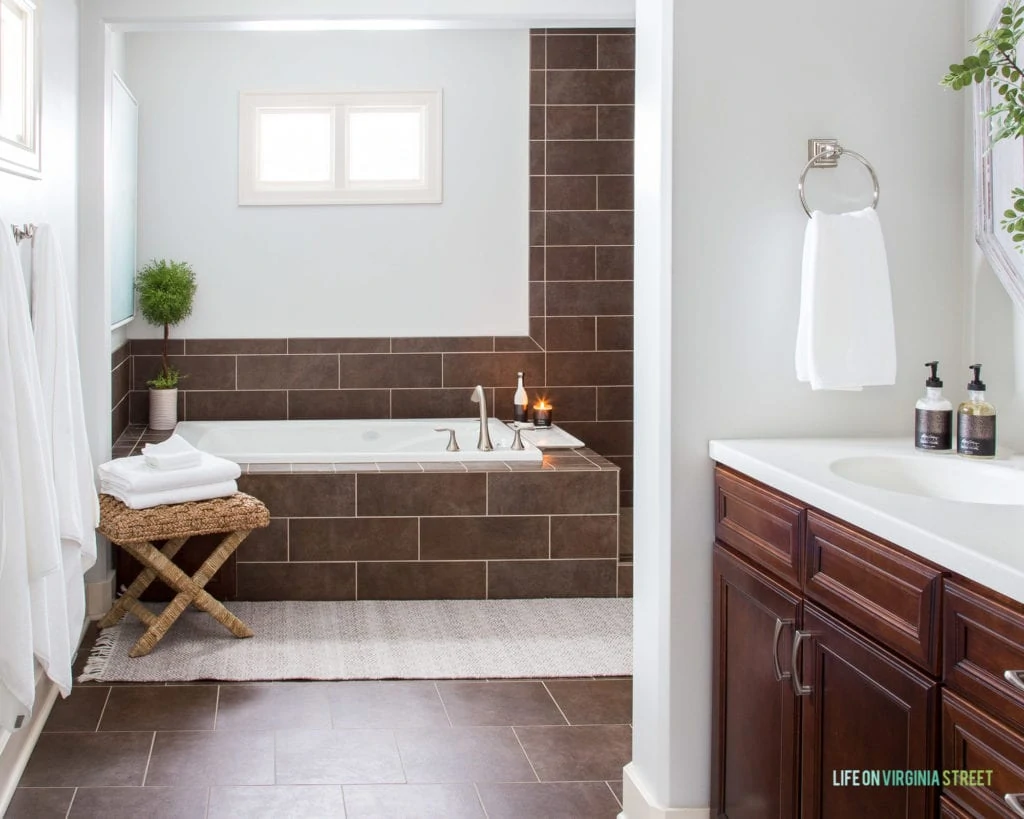 After Kurtis saw the updates, he said he didn't realize what a stunning improvement our simple updates like nice towels would make. Once he saw the refreshed space, he said it felt like a whole new stylish bathroom! Let's dig into my tips.
Upgrade Your Towels
If you don't currently use a bath sheet sized towel, you are definitely missing out! We upgraded to this size a few years ago and will never go back! It's like stepping into a lovely blanket when you get out of the shower! It had been a few years since we bought new towels for our master bathroom and we recently upgraded to these Turkish bath sheets from Kohler's new line of bath linens. They are crafted in Turkey and made with 100% Turkish cotton, which is known for its plush, premium feel and extra-long fibers. The collection also includes washcloths, hand towels, and standard bath towel sizes, along with a bath robe and bath mats. To further add to the ethereal spa-like vibe, I love the crisp, clean look of white towels but there are a few other amazing neutrals in Kohler's line for you to choose from, too!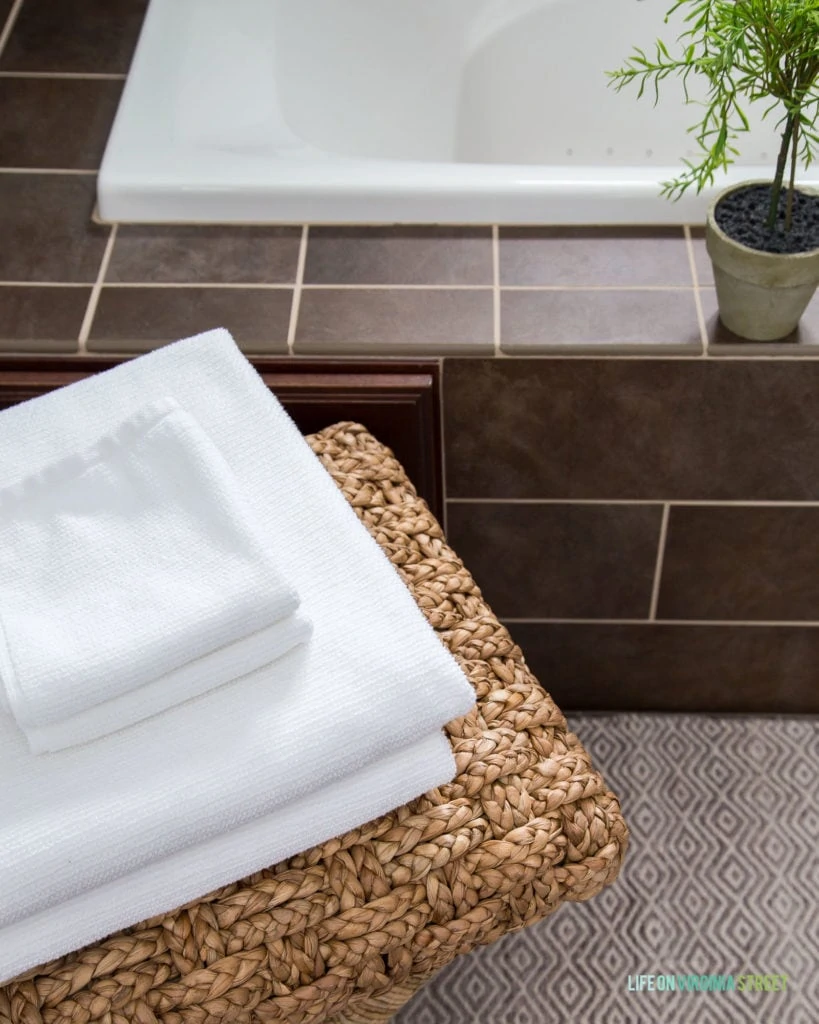 Swap Out Your Towel Bars for Hooks
One of my favorite updates to make in bathrooms is to swap out towel bars for hooks (see similar here). Not only do I think it looks better, but they're so much more functional! We have four hooks in our bathroom and when our towels are wet, we each use two hooks to air dry the towels. Once dry, we hang them on one hook. We're planning to add another set of hooks from Kohler on the wall to the right of this photo for our swim towels and suits! Kohler has a fantastic selection of robe hooks that are sure to elevate the look of your bathroom!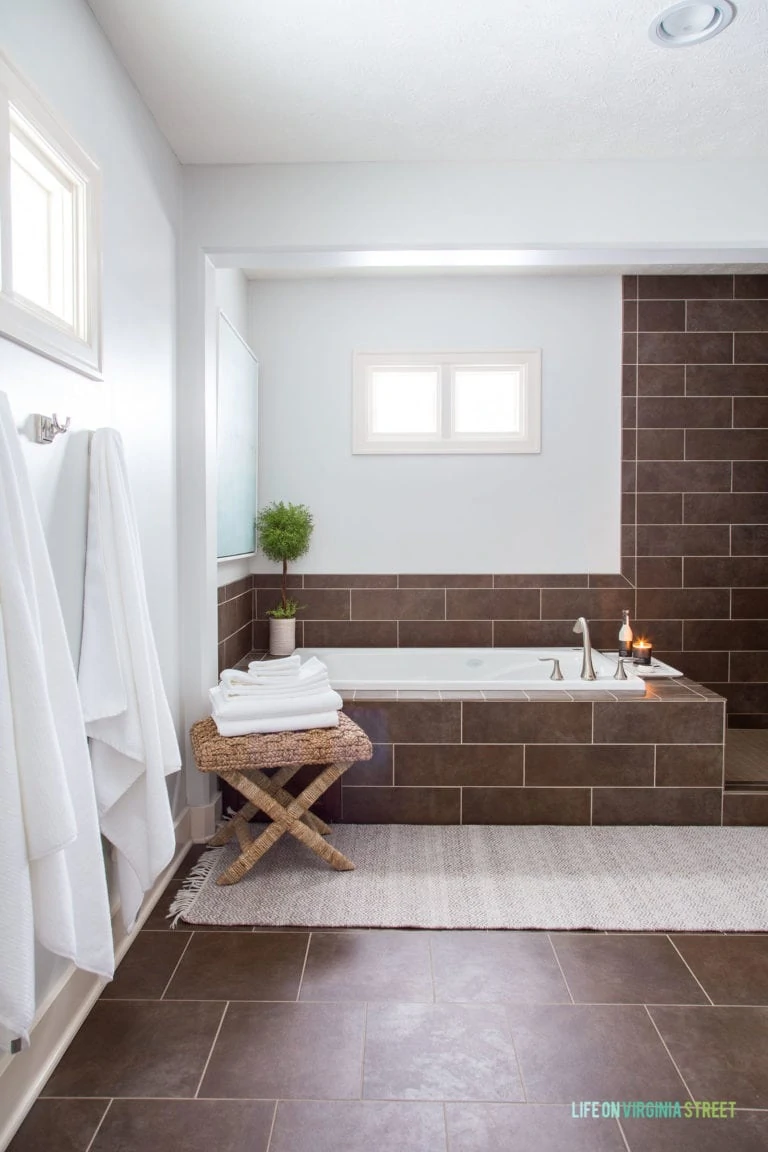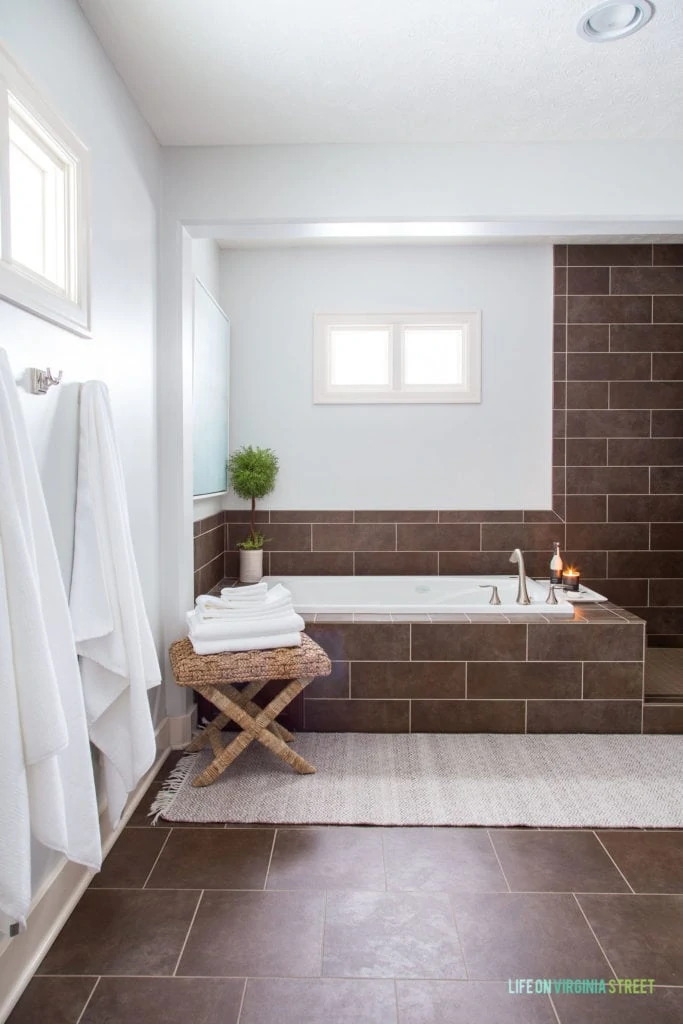 We also have a hook near the entrance to our shower to hang our dry towel before we enter, or to keep a robe!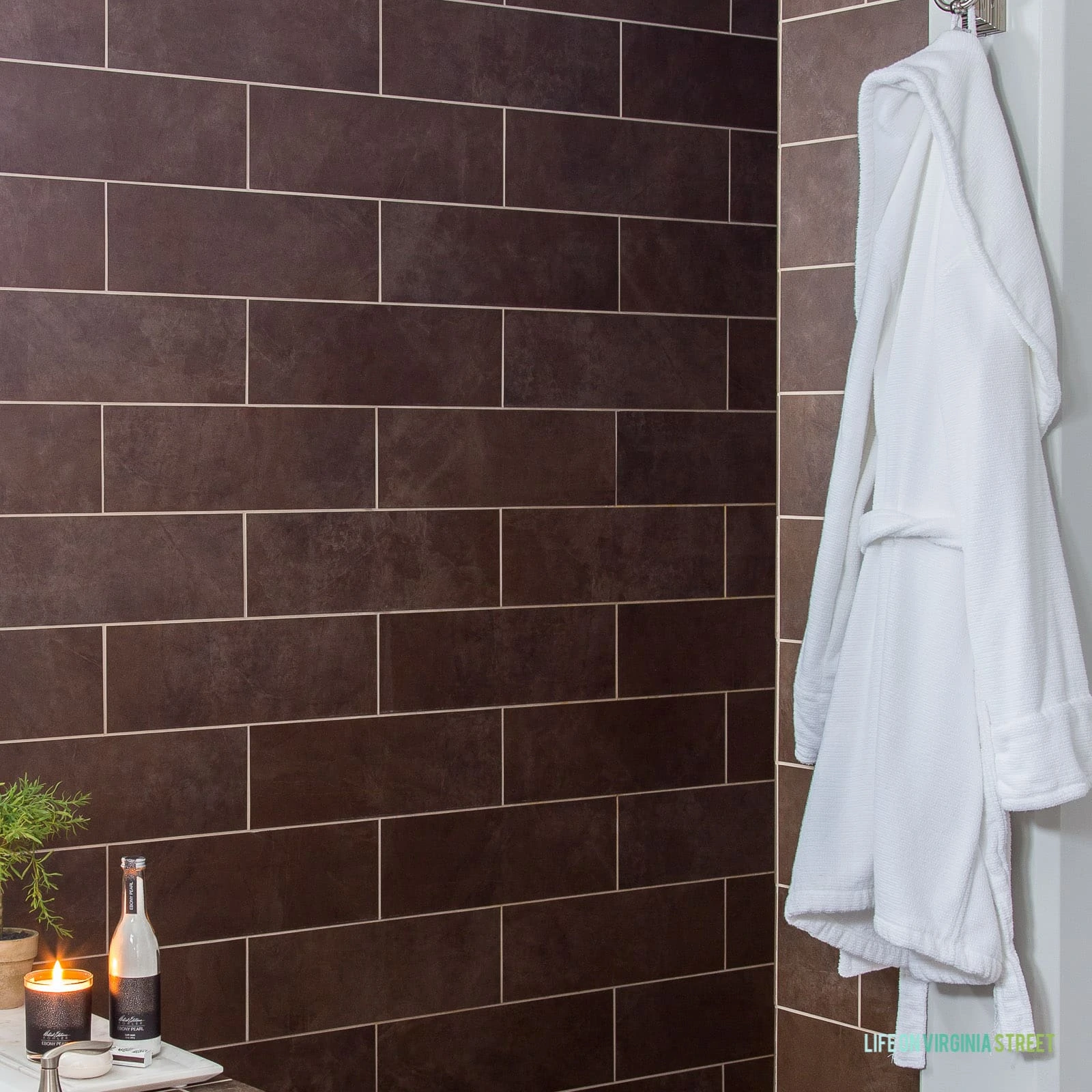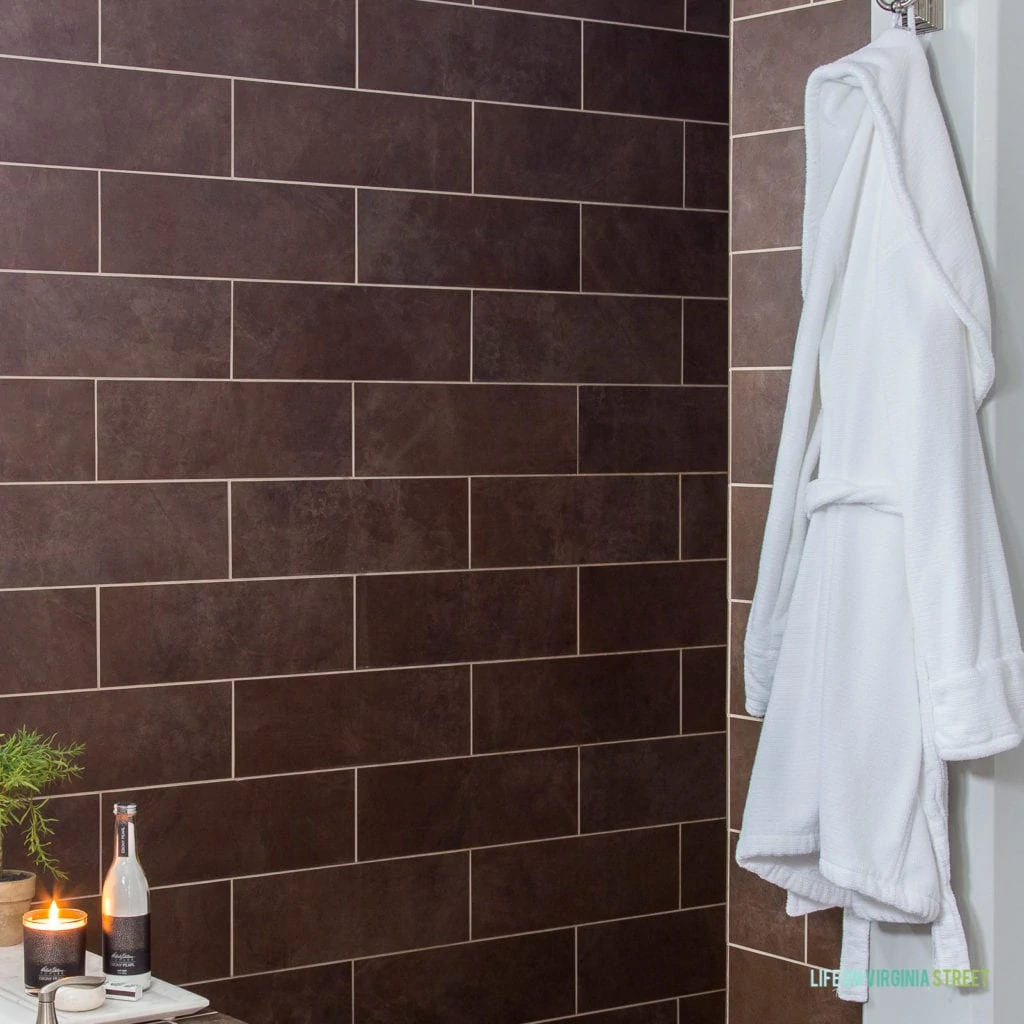 Light A Candle
So often, we only think to light scented candles in our common living areas. But you'll instantly be transported to your favorite inviting spa if you bring the scent into your bathroom as well! And did you know Kohler, known as a global leader in the design, innovation and production of kitchen and bath products, now has a Bath & Body collection? The collection includes shea butter lotions, bath salts, soy candles, hand soap and bar soap. This Ebony Pearl scent has citrus, fruity, and black pepper notes that both Kurtis and I love! The scent is so good we also got the bath soak and bar soap! There is also a Blush Floral scent that we can't wait to try next. To keep things looking tidy around our tub, I corralled everything on a pretty and easy-to-clean handy marble tray.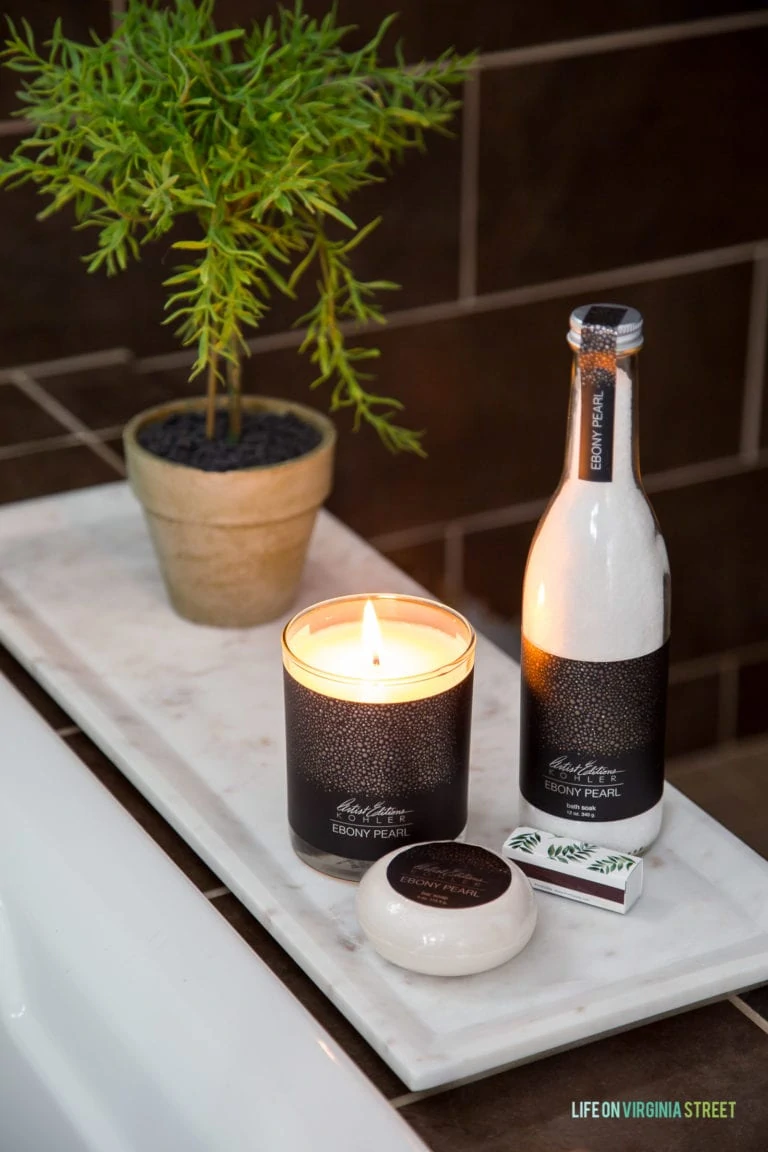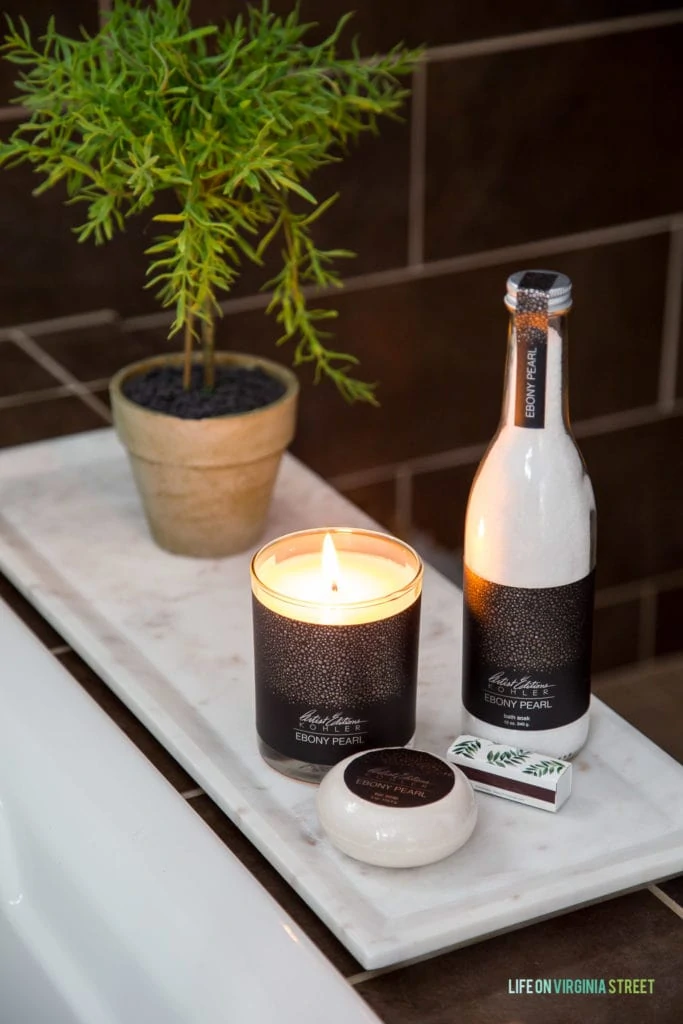 Add Some Greenery
I'll probably sound like a broken record on this topic, but I still truly believe adding greenery to your spaces instantly makes them feel more finished and alive! This rule holds true in your bathroom as well! From a large vase of greenery stems to even a small succulent or other plant, greenery can help take your bathroom from sterile and lifeless to a true welcoming sanctuary that feels like any other cozy room in your home!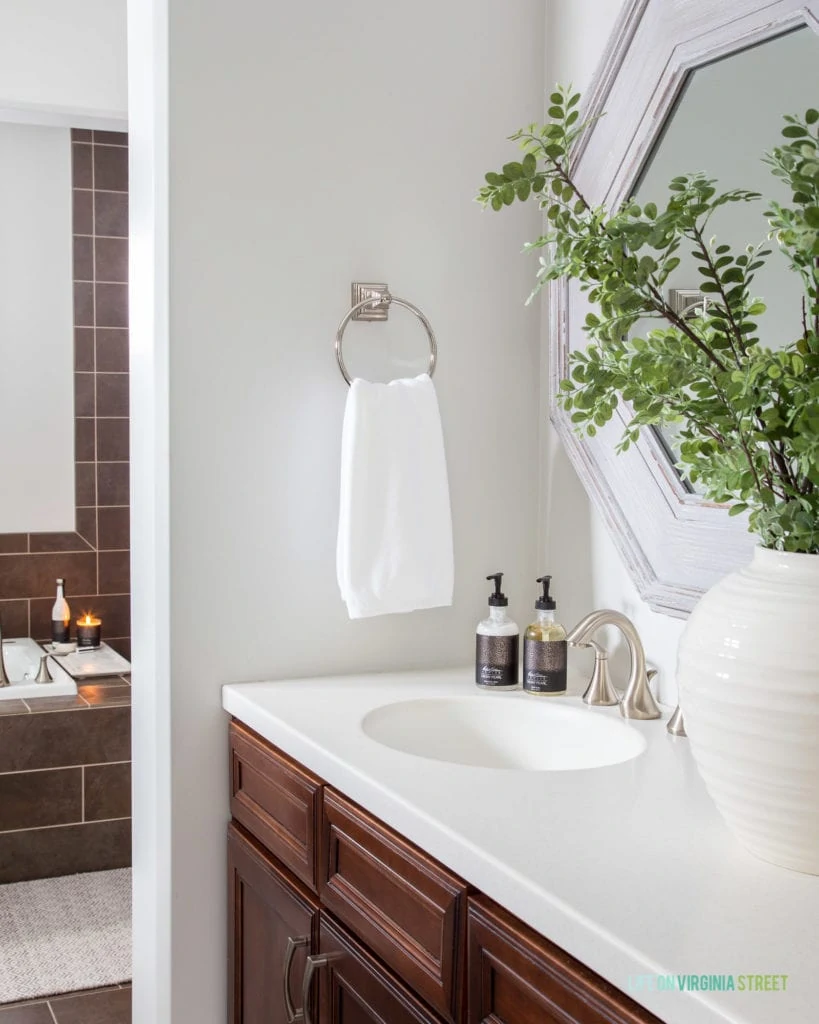 Hang Serene Artwork
For more than five years, we've had a large dark chunky shelf hanging above our bathtub. And for nearly one year short of that timeframe, I've wanted to take it down and do something else. This mini makeover with Kohler inspired me to follow through. And guys – it was literally a quick five minute project. This charming beach print that was previously in our dining room several years ago was the perfect addition to the space! Look around your own home and see what items you can re-purpose and give new life!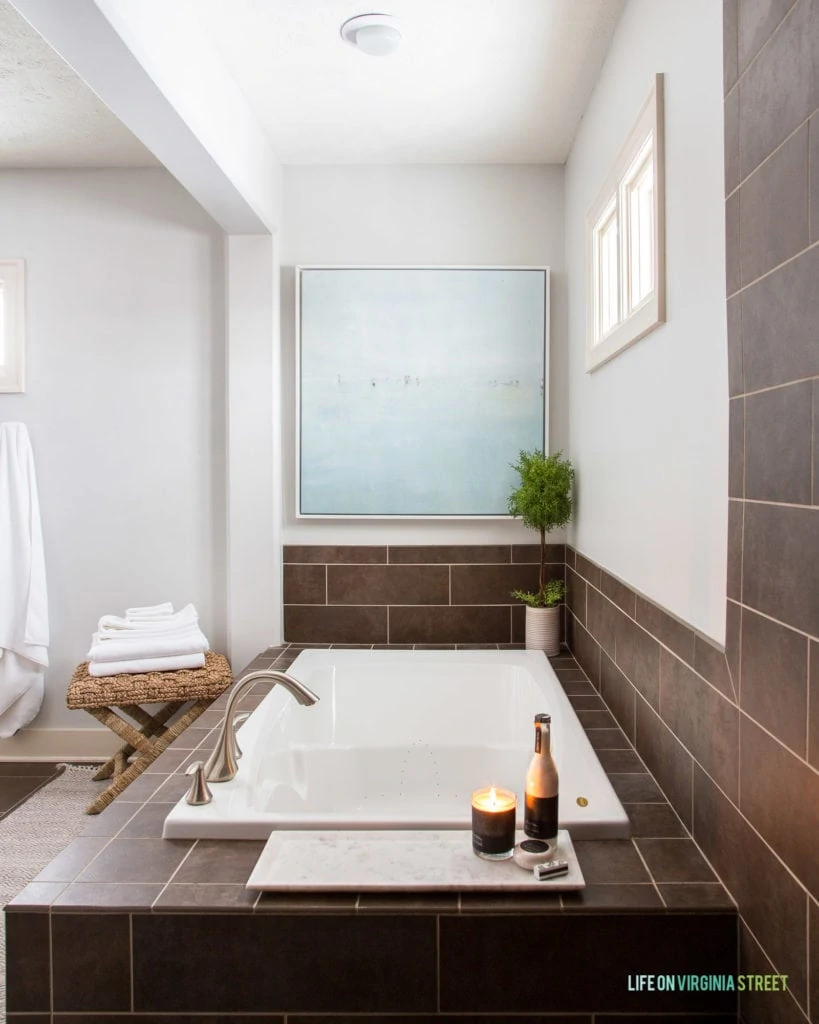 Upgrade Your Hand Soap
This seems like such a simple option, but it always feels so luxurious to use fancy coordinating hand soap, lotion, and bath salt! I love the matte labels with metallic finishes that Kohler offers, as well as the glass bottle that instantly feels like an upgrade from cheap plastic bottles seen all too often.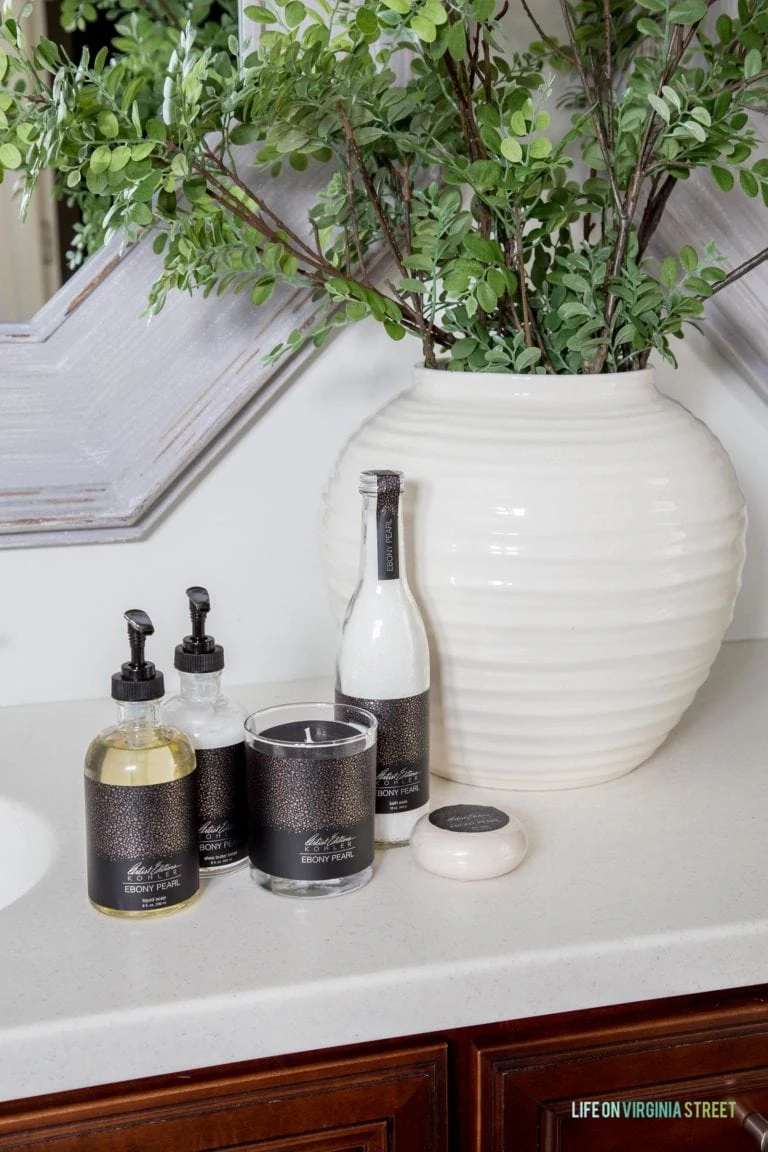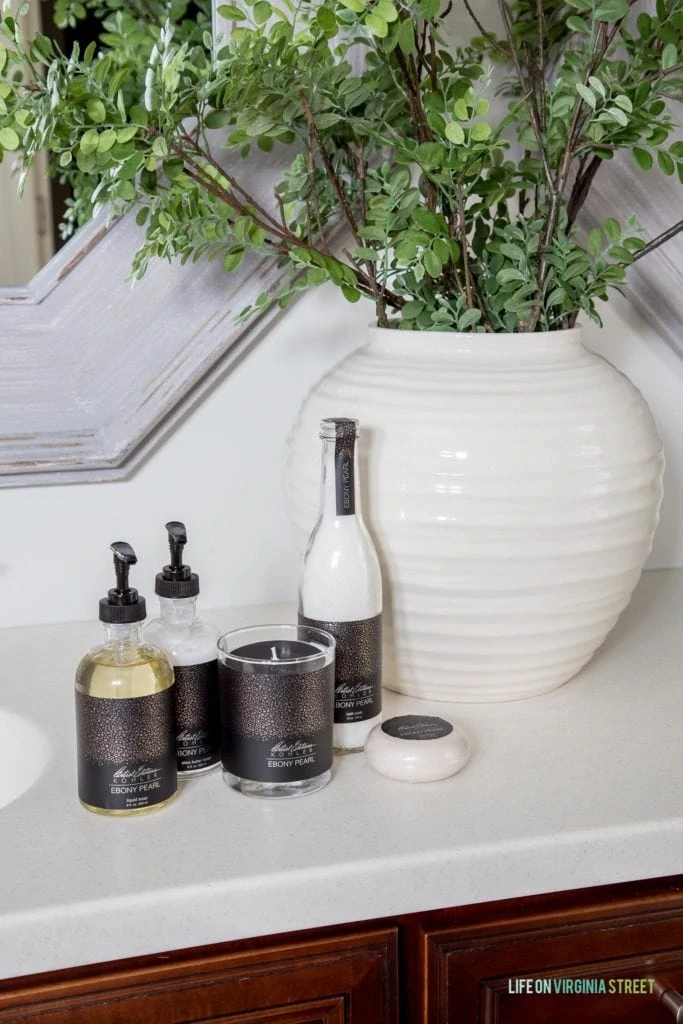 Find A Plush Spa-Like Robe and Put It To Use
There's nothing that feels more luxurious and spa-like than a plush robe you can step into after a soak in the tub or long shower! When you're this cozy, you don't even care about showing your face without makeup for all the world to see 😉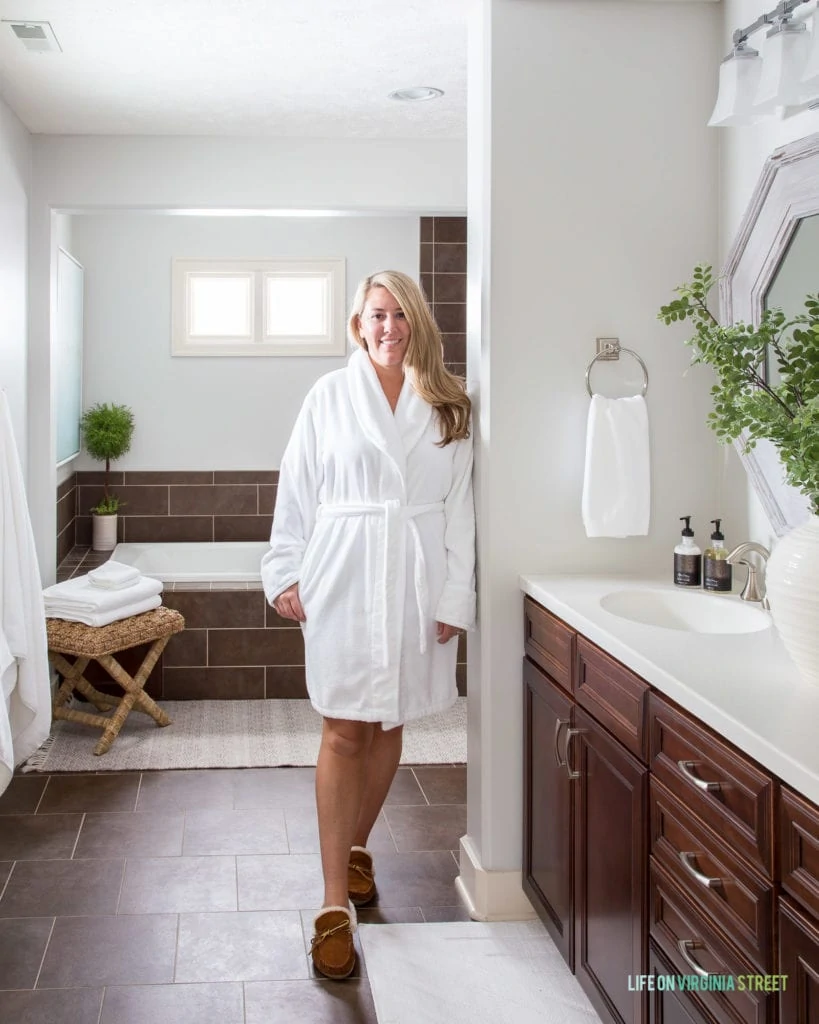 There are fewer things better than little luxuries around your home that you can enjoy every day! And speaking from experience, I 100% recommend adding Kohler towels and their Bath and Body Collection to your bathroom! I hope you found these tips helpful!
If you would like to follow along on more of my home decor, DIY, lifestyle, travel and other posts, I'd love to have you follow me on any of the following: