Sharing all the details of our small guest bathroom design plans! I'm also including sources for everything in the space along with a mock-up and the inspiration behind it all.
Good morning! I had every intention of posting both bathroom design boards yesterday, but the crew showed up first thing to start demo and then I had meetings and got caught up in all the activity afterwards. So, today I'm sharing both sets of design plans. I'm splitting them into two separate posts for easier linking reference in the future and to avoid confusion between the two. In this post, I'll be sharing our small guest bathroom design plans. After reading this post, be sure to also check out our Jack & Jill bathroom design plans!
This post contains affiliate links for your shopping convenience. Click here to read my full disclosure policy.
While I plan to share fairly real-time updates on my Instagram Stories, I'll also plan to do some additional recaps here on the blog as progress occurs. I also have a highlight saved called "Bath Renos" if you ever want to refer back to any that I've already done!
Small Guest Bathroom Design Plans
But today, let's just jump right into the design plans! In late October, I shared some small bathroom ideas and makeover inspiration when we started talking about potentially renovating this bathroom. Initially, we were only planning to do the Jack & Jill, but we ultimately decided it wasn't worth living through the mess twice, especially when this was a much smaller project.
This bathroom design plan actually came together the quickest. You may remember the below picture from my inspiration post. I honestly couldn't get so many of the features out of my head so I decided not to mess with a good thing. And, given that this space was a last minute addition to the project list, I didn't have a ton of time to source product. Especially given all the crazy lead times right now for shipping! So, while I didn't use most of the exact products shown below, I found really great alternatives that were available quickly and much more affordably!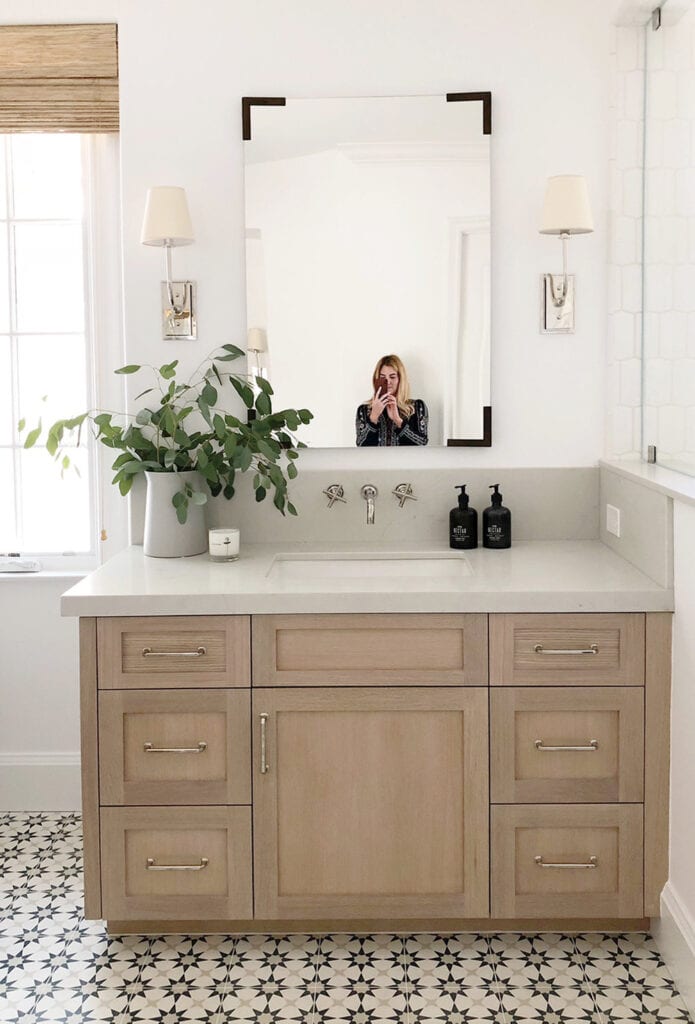 Following is the mood board with the pieces we'll be ultimately using. I'll jump into more detail on a few of the items further down.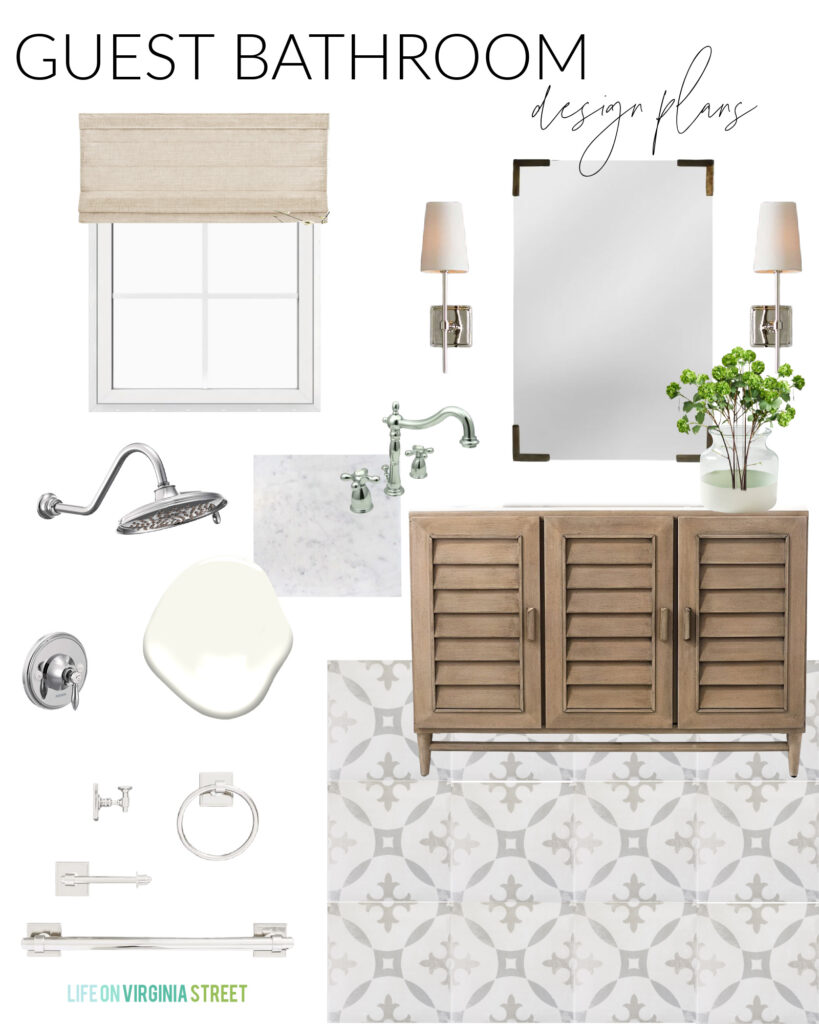 GUEST BEDROOM DESIGN PLAN SOURCES: Louvered Vanity | Mirror | Sconces | Sink Faucet | Shower Fixtures | Bath Accessories Set | Paint Dipped Vase | Faux Viburnum Stems | Cordless Roman Shade | Patterned Tile | Paint Color: Benjamin Moore Simply White
Bathroom Design Board Details
Let's jump into the details of each of the items we chose for the space!
THE VANITY
Custom cabinets obviously weren't in the budget, so I started a search for a natural wood cabinet. I shared a bunch of ideas in this post. We ultimately decided on this louvered vanity when I found it on sale over Cyber Week. It was a lot more than we wanted to spend, but after reading through some of the features it made the most sense for this smaller bathroom. It actually can be wired for an outlet (and 2 USB ports) in one of the internal drawers (all hidden by the doors). The drawers are metal lined to accommodate hot hair tools. This helps free up counter space significantly, and all the internal drawers make organization so much easier. No more giant messes under the bathroom sink! And you know I love those louvered doors that have a coastal vibe. We also went with the version that includes a Carrara Marble top, but there are other options (as well as no top). We felt this was the best route so we don't have to wait for fabrication after installation and excessive wait times.
THE MIRROR
I was also able to find the exact mirror Shea used in the inspiration photo. I couldn't stop thinking about and was also able to snag it Cyber Week on sale! It's so beautiful in person and I'm really excited I decided to stick with this less-traditional option! It's also available here for less money if McGee & Co. isn't offering a sale at the time.
THE SCONCES
I love, love, love the sconces used in the inspiration photo, as well, but at $375 a pop, it wasn't happening in here. I ultimately settled on these sconces and I think they'll give a very similar look for a fraction of the price!
THE TILE
I knew a more designer-type tile was out of the question, given how quickly I needed to get it to our house. I feel like places such as Lowe's and Home Depot have significantly upped their tile game recently though, so I wasn't too concerned! Since this bathroom is so much smaller and we're leaving the shower insert, I felt like we could get away with something a little more bold and less traditional. Over the holiday break, Kurtis and I ran to The Tile Shop to see if anything caught our eye. We both like this patterned porcelain tile (that mimics cement/encaustic tiles) and decided to just go with it. Thankfully, it only had about a 10 day lead time when we ordered it! I love that it has both gray and beige in it and it still fairly neutral and brings a European vibe to the space.
BATHROOM FIXTURES / HARDWARE
Since we aren't replacing the shower insert, our contractor recommended sticking with the same brand of shower hardware to avoid having to change out our valves. I texted over a pic of our existing fixtures and was sent a list of five or so Moen products to pick from. I had already eyed the Moen Weymouth faucet collection for our Jack & Jill bath. Although we went a different route there, I was able to quickly pick the shower fixture for this space. I ended up ordering the same sink faucet as I did in the other bath, but in the chrome finish here. The faucet was a look for less (but still solid quality) of the Weymouth faucets, so I went with it! We also decided to replace the toilets for an elongated version (we're going with this toilet). The good news is we're able to donate the old toilets and all cabinetry, fixtures, and accessories to Habitat for Humanity's ReStore!
THE BATHROOM ACCESSORIES
Want to know what is not fun to buy? Toilet paper holders and towel bars. In full disclosure, I was sick of hunting for some, and ultimately bought the ones that matched our shower head collection. I felt like they were overpriced, but I hadn't exactly shopped for bathroom accessories (ever) and just went with them because I was sick of making decisions. And I didn't even really love them that much – because how do you love a TP holder?! Of course I was then randomly on Pottery Barn's website for something entirely different and stumbled upon this set and fell in love. So I guess it happens! And it was about half what I paid for the Moen set. I'll compare them all in person when they arrive, but I'm pretty sure the Moen set will be going back.
Small Bathroom Demo Update
We ran into a potential snag yesterday during demo, when the guys found that the sewer gas vent is directly centered on the wall where I want the window. The pipe runs from the floor up through our roof for venting purposes. At first, I thought it was a dead end. But, we're going to have the plumber bid re-routing it to see if that's a viable solution! Fingers crossed! This pictures was from early in the day when they discovered the issue. But it has since been fully gutted, with the exception of the tile floor. They'll still need to jackhammer that out today or early next week!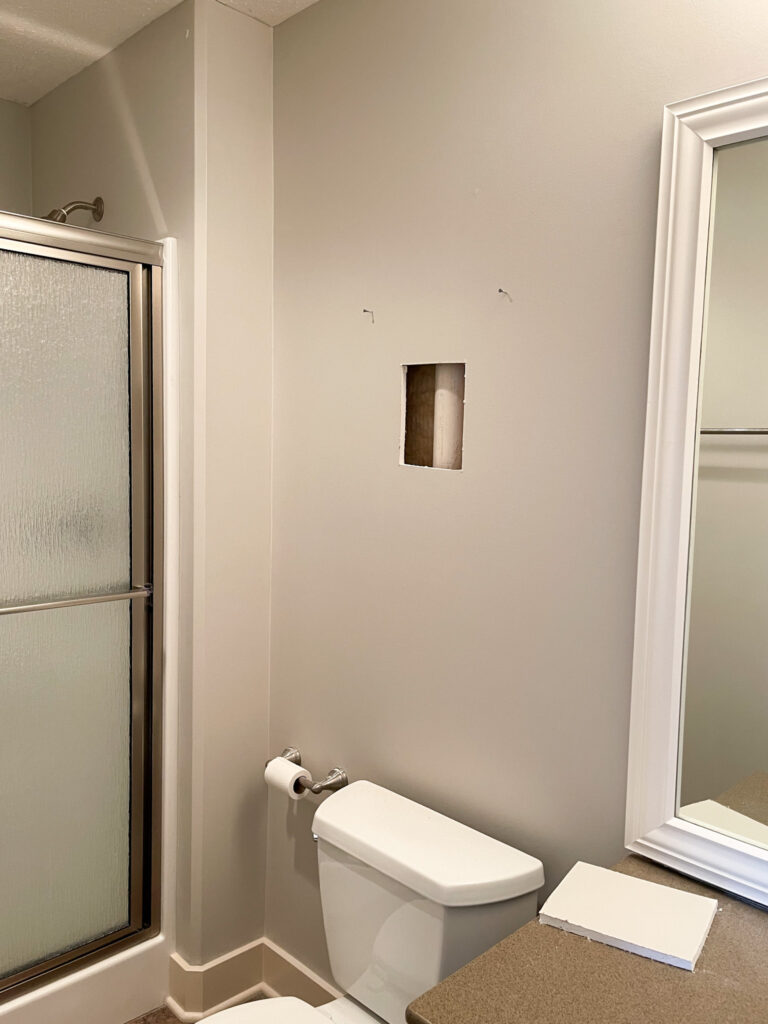 I'll plan to share more updates as they occur, both on Instagram Stories and the blog over the coming weeks! We're tentatively hoping to be wrapped up in 30 days, but 5-6 weeks max!
Be sure to check out our Jack & Jill bathroom design plans next!
Additional Bathroom Inspiration
If you would like to follow along on more of my home decor, DIY, lifestyle, travel and other posts, I'd love to have you follow me on any of the following:
Pinterest | Instagram | Facebook | Twitter
disclosure: some affiliate links used