Each January, Kurtis and I sit down and write out our goals for the year. We tackle personal goals, goals for our businesses, and our home goals! Now that we're almost into February, I figured I had better get our 2022 home goals published! As much as we love our home, I also love a good project and we have a lot to tackle this year.
This post contains affiliate links for your shopping convenience. You can read my full disclosure policy here.
2021 Home Goals Check-In
Before we jump into our 2022 home goals, let's see how we did on our 2021 home goals. If you want more details on each, I'd hop over to that post for the specifics. I'll update the status of each below. Since 2020 was essentially the year of lost projects, we had to pull double duty in 2021, and we got quite a bit checked off the list!
Guest Bathroom Renovations. FINALLY! We crossed these off our list! Can you believe these have been on our lists since 2014 and then other projects (or a pandemic) kept bumping them? We are thrilled with how both our Jack & Jill bathroom and small guest bathroom turned out! These essentially started the first week of the new year in 2021, so it almost feels like they have been done a lot longer than they have!
Finish King Guest Bedroom. This one made a little progress, but it's back on the list. Sharing more details in the next section.
Spray Paint Fireplace. Guys, I don't how on earth we didn't manage to get this one done. Adding it back to the list for this year, and hoping it gets done sooner rather than later!
Living Room Chairs. We finally replaced our old bobbin chairs in our living room with these leather beauties! They made their first appearance in my 2021 summer home tour. If you're on the hunt for armchairs, be sure to check out my post on my favorite modern coastal living room chairs!
Our Home Office. Clearly not done, but we're slowly taking steps. Adding it back to the list!
Update the Wi-Fi Station. Partially started. I'll share more below, since I've added it back to the list this year. Again!
Figure Out the Upstairs Flooring. Done! After realizing hardwood floors weren't in the budget with all the other projects we had going on, we finally had our carpet replaced! It essentially needed to be done nine years ago when we moved in, but we hadn't wanted to deal with it. We included it in our pool house budget/flooring bid after a big storm that caused a roof leak and soaked the carpet in multiple areas, and we're so happy they're finally done. We love the carpet we chose!
Add More Hydrangeas. With all the construction in our yard, we actually lost one of my Incrediball Hydrangeas, but we gained five more on the west side of the pool house. They were planted late fall, so I'm excited to see the color they add next summer!
Our Garage. We were thrilled to finally get our garage whipped into shape this past year. It involved a lot of purging as well as a new garage floor coating and new garage storage units from Hello Garage. So happy with the end results!
Pool House Addition. It was one of our personal five-year goals in 2016 back when we finished the pool, and in 2021 we were so excited to add a pool house addition! Despite the fact we haven't been able to use it in "summer mode" yet, we already have gotten so much use out of it, and are so happy we decided to make the addition. And even more excited to have a dedicated space to entertain in the summer months!
2022 Home Goals
We've made a lot of changes to our home in the last nine years! When we bought the house, we already had a laundry list of projects we immediately knew we wanted to tackle. But, as is the case once you live somewhere for a few years, more seem to pop up each year! You can see our nine year before and after home tour for all the progress we've made to date. Following are some of the projects we hope to tackle in 2022! We find that by jointly discussing them and writing them out, we're much more likely to hold ourselves accountable for completing them.
Here's how the before-before looked shortly after we moved in so you can see the cabinet setup. The only thing different on the cabinets is that we added a box and crown molding to the top to extend them about a foot higher in the air so they didn't look so squatty. The cabinet frames have also been painted and are no longer this almond color. But the drawers and doors are. I painted the thermofoil cabinets in our powder bath and they've held up really well, but I don't think I have it in me to paint these! So, it dawned on me that I could search for new cabinet faces online to get a color and style I prefer. I haven't actually started that search yet, so it may be a pipe dream, but that would be an easy way to quickly wrap up this project and have it done once and for all!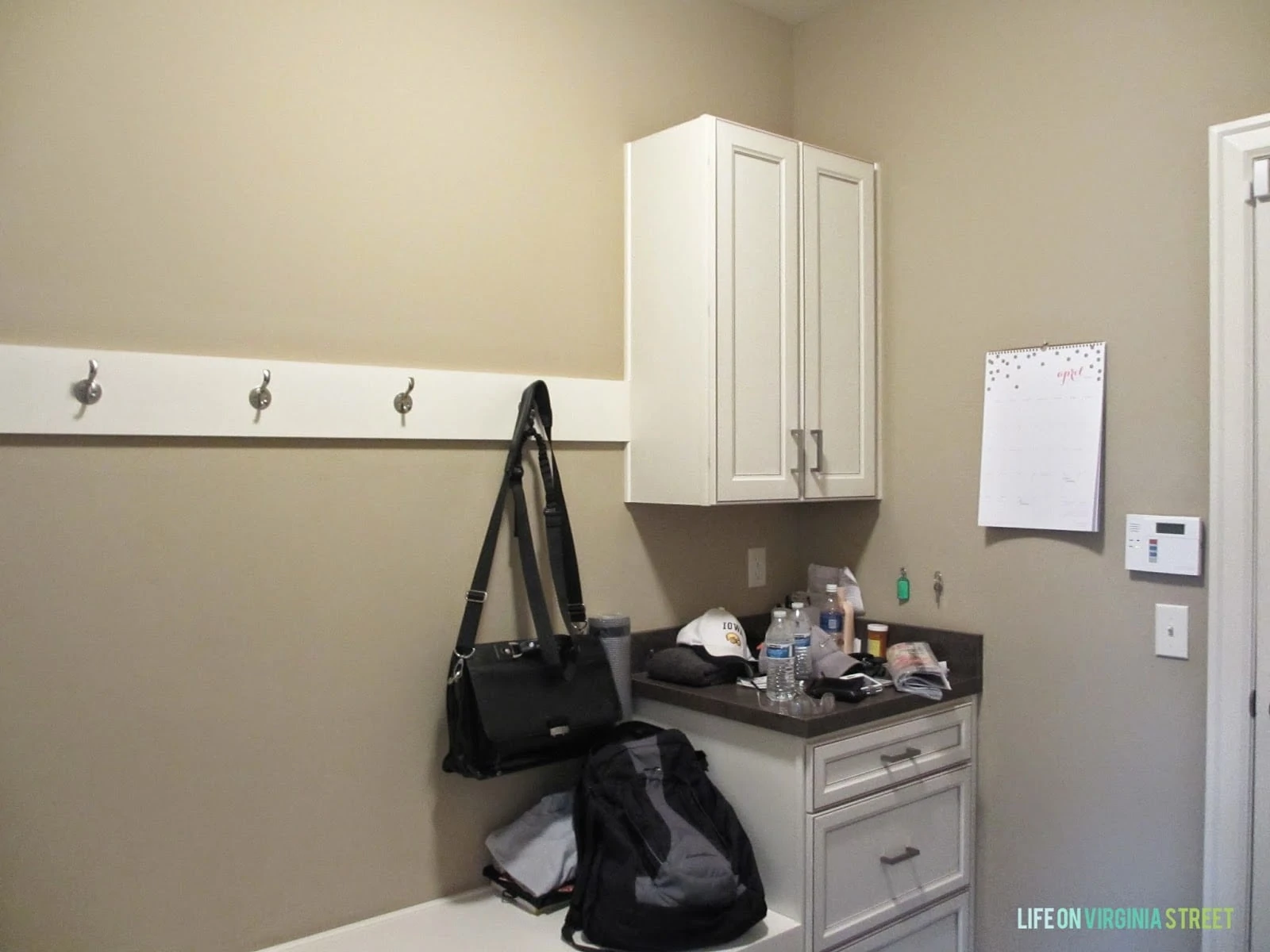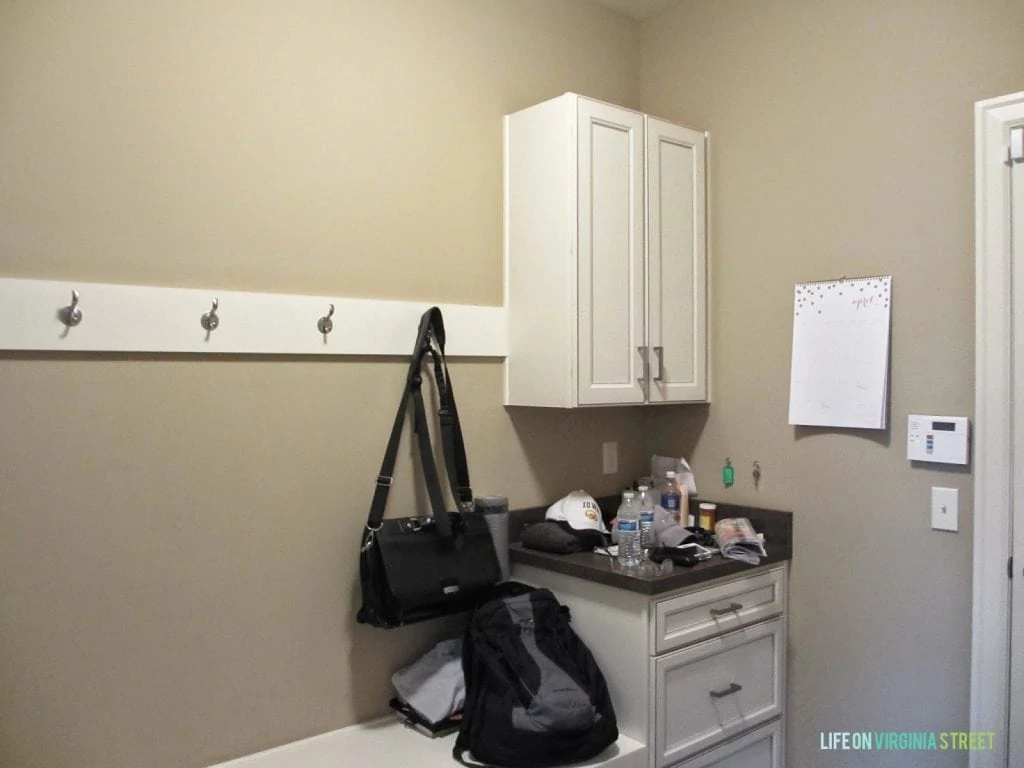 Finish the Master Closet
As part of the pool house addition, we built out a larger closet upstairs in our bedroom. The prior closet was tiny, and if we ever wanted to add on, it had to be done at the time of the pool house addition since it impacted the roofline. So, we had the space built out and finished. Kurtis is essentially taking the old closet, and the plan was for me is to take the new one. Turns out cool closet systems are crazy expensive and there are way more decisions that we realized. We were already facing so many decisions in the pool house (and budget additions) that we ultimately decided to pause my side of the closet. So, we're actually sharing the old closet now (which is even smaller at this point), and I have a lot of my clothes on a six foot folding table in the new space. In full disclosure, we mostly added on to the closet for resale purposes down the road since it was a now-or-never scenario. We were managing just fine with the smaller closet, so getting this space updated isn't a major priority. But we know the old one would have been a deal breaker for a lot of people if we left it as is. I'm glad we built out the space, but pumped the brakes on an actual closet system last fall so we can really figure out exactly what we want, and not feel rushed to order something just to be done with it. Besides, that six foot table is actually working out pretty well 😉 But, just to wrap things up, I think we'd both like to have a decision made and something installed by the end of the year.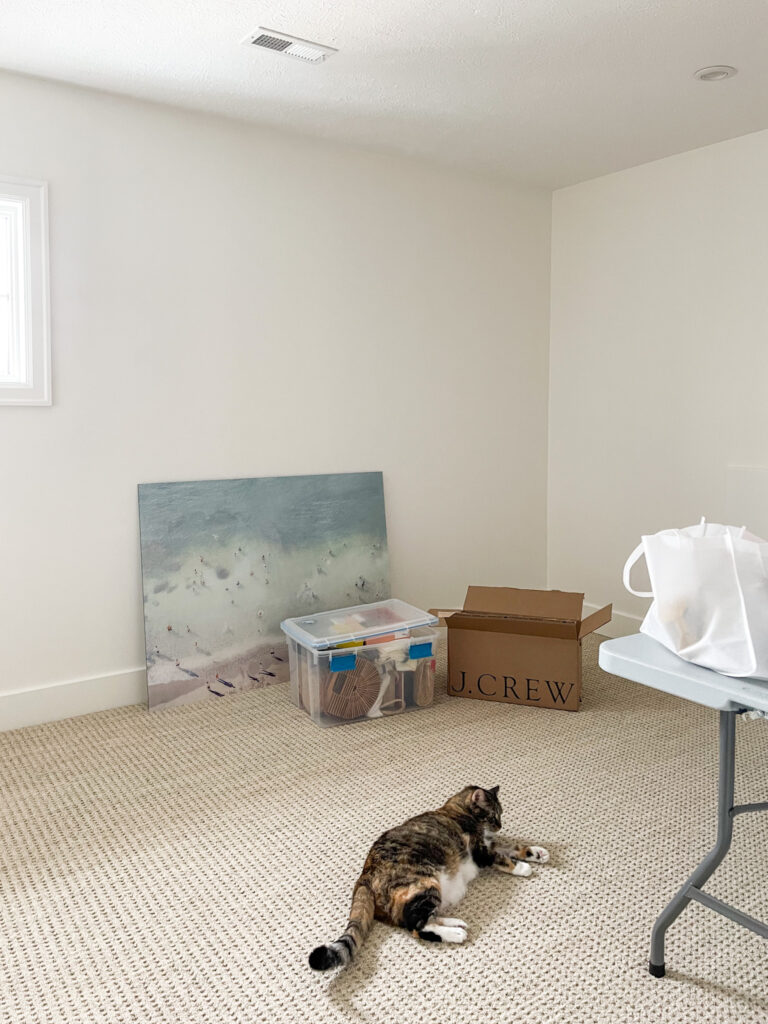 The Home Office(s)
With all the chaos of the past two years, and not knowing what Kurtis' work situation would look like, we flip flopped on this one a lot. Now that we have a bit more clarity about his ability to work from home, we need to move forward with setting up more permanent situations for both of us. To avoid redundancy, I won't rehash our wish lists but this post on home office ideas shares what we're each hoping for. This is the year we need to find a solution for both!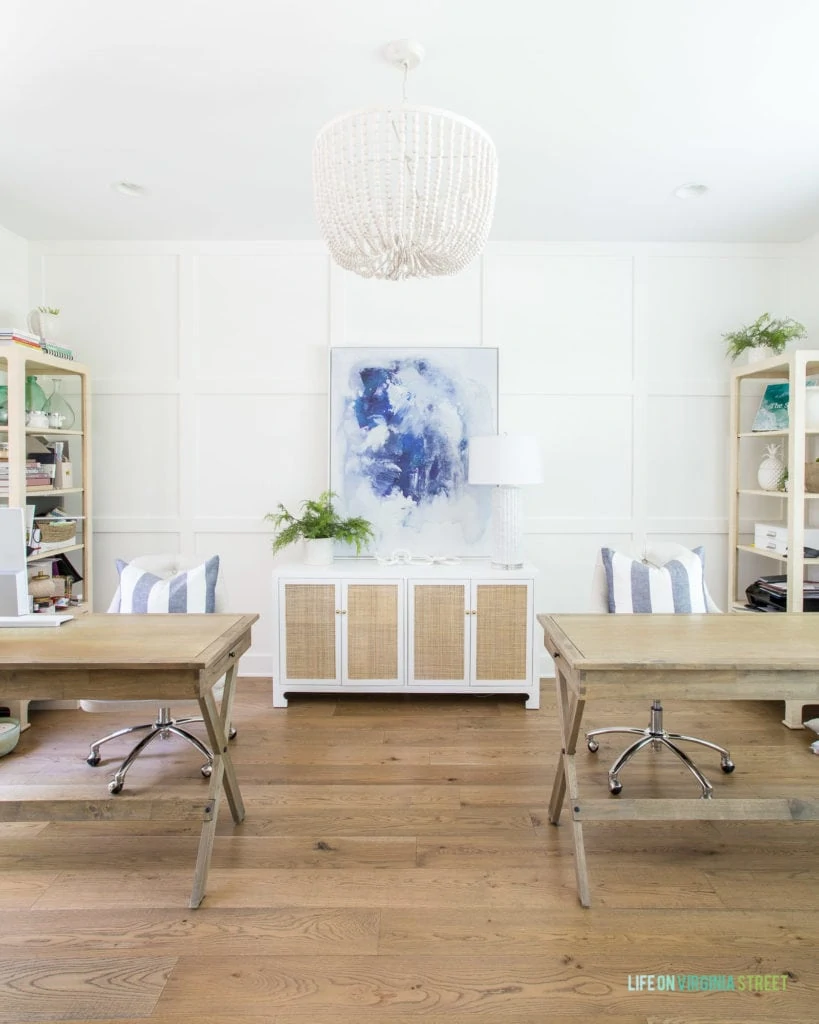 HOME OFFICE SOURCES:  Cane Cabinet | Wood Desks | Linen Chairs | Striped Pillows | Striped Curtains | Bookcases | White Wood Bead Chandelier | Similar Desk Lamps | Faux Fern Pots | Abstract Art | Marble Chain | White Bamboo Lamp – HomeGoods (old)
Plant ALL the Flowers
Last year was a bit of loss in terms of my planters all around the yard. With all the construction, we didn't have irrigation for several months, and we had tractors parked in our yard for several more, blocking hose access. Needless to say, my flowers were a bit of a sad story. This year, I'm determined to bring them back in full force and add a few in strategic planters around our pool house. I'm already looking so forward to it! Colorful flowers bring me so much joy!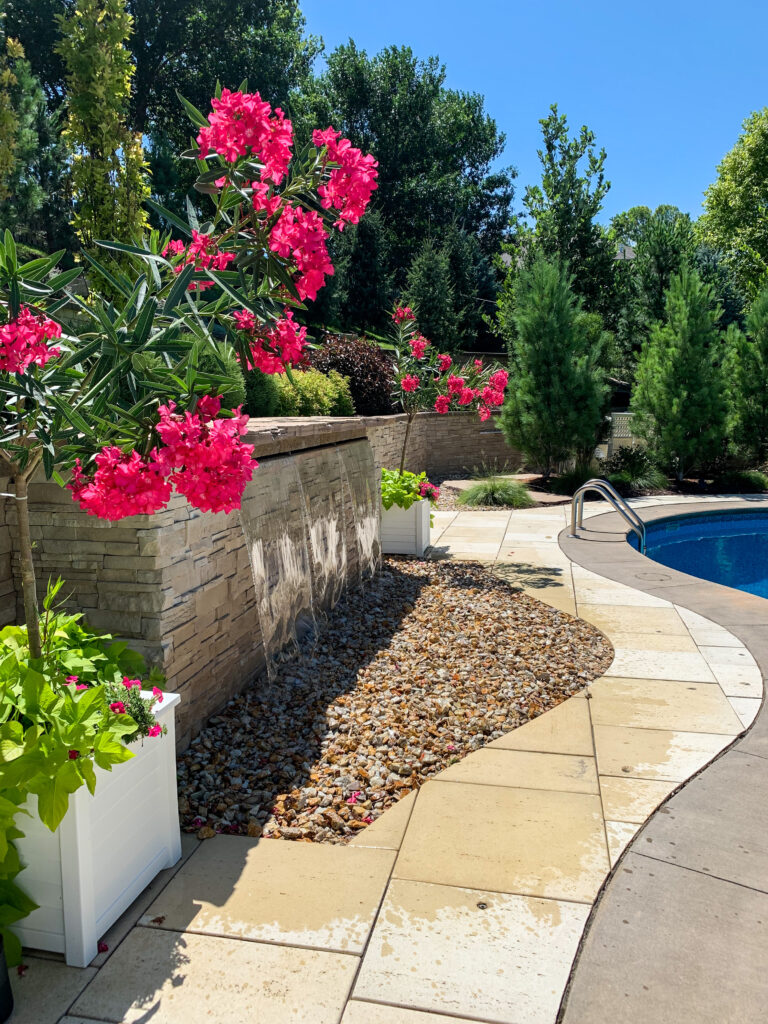 Florida Home Updates
This section probably deserves a post of its own! But, Kurtis and I have big plans for our Florida house. Our spring rental calendar is almost full, but we're trying to squeeze in some time to do a few updates before the busy summer season starts! What we can't wrap up then, we'll likely do in the fall. But our top priority is the main living area and adding a little Life on Virginia Street vibes and color to the already beautiful foundation! I'm planning to swap out light fixtures, the armchairs, and possibly the dining seating. We also have a tentative DIY project planned to see if we can jazz up that range hood! I'll share more soon. In the meantime, if you want to see more photos or check out rental availability, go here.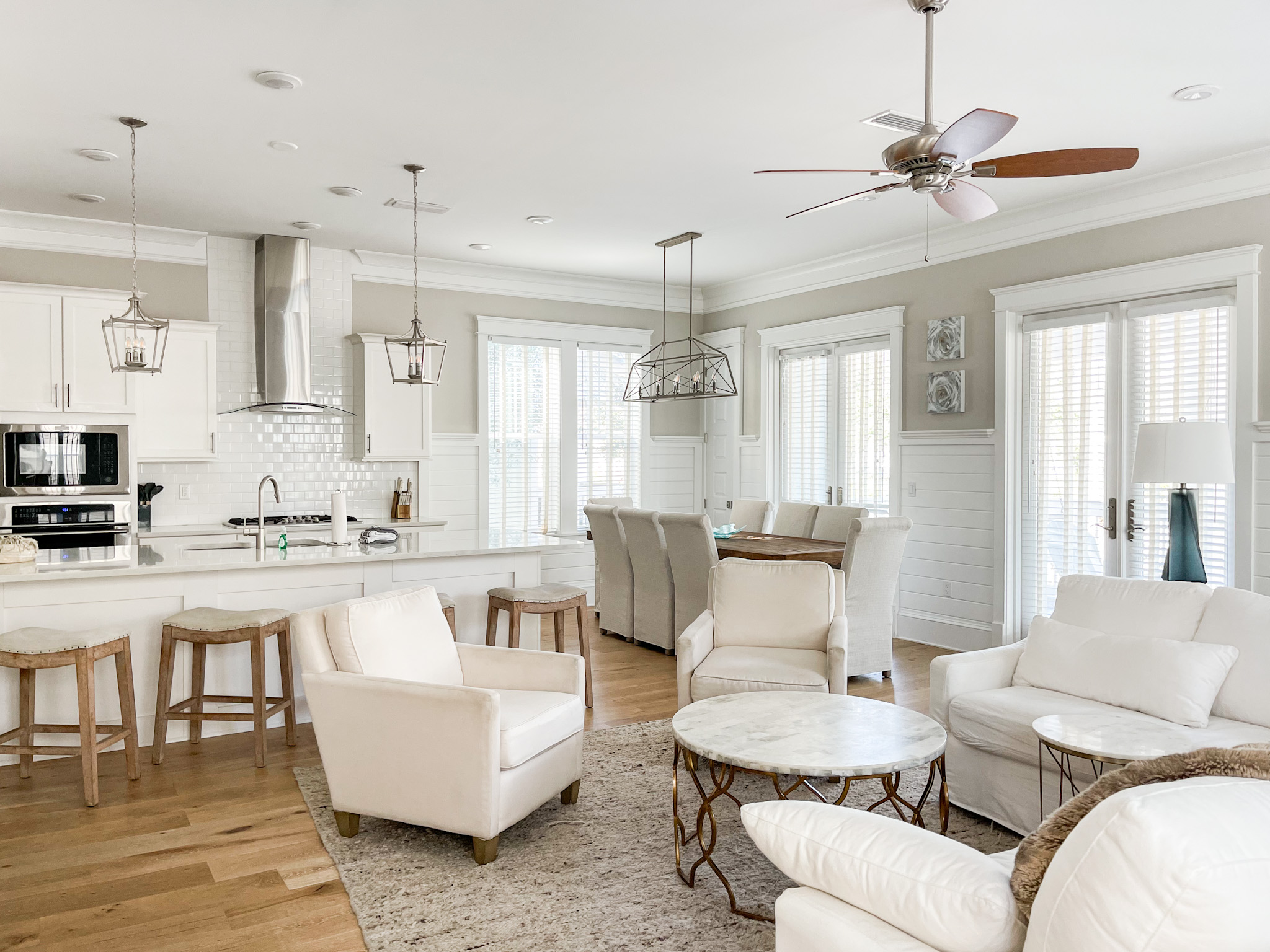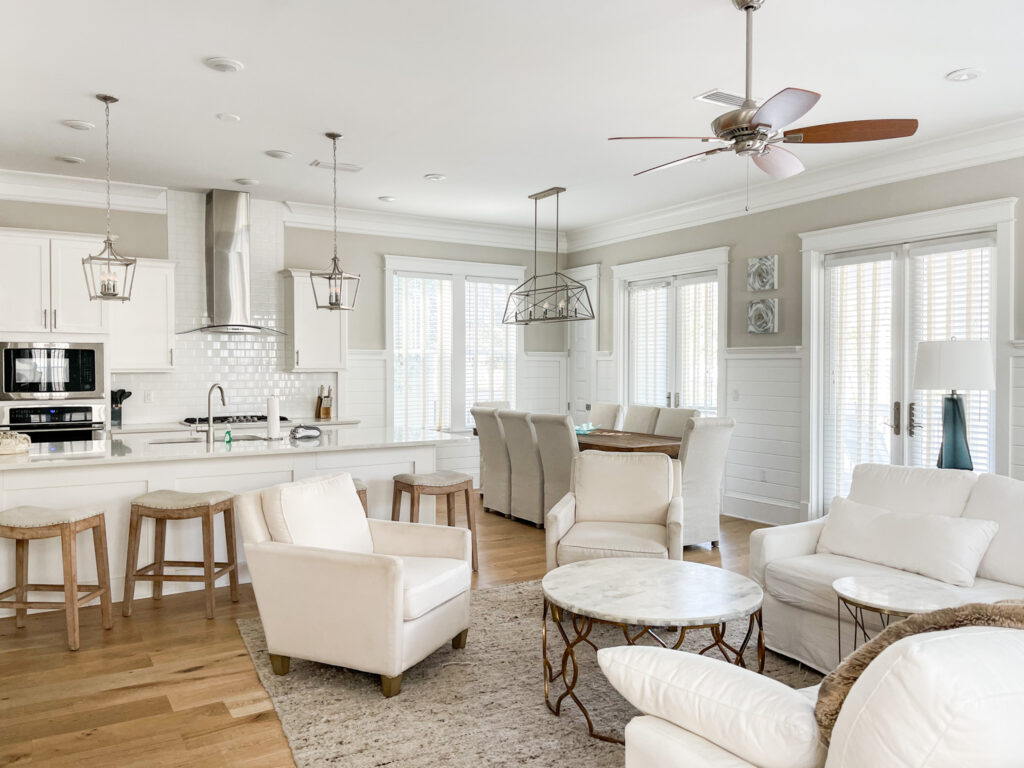 That about wraps up our home goals for the year!
Prior Home Goals Lists
If you're curious, I'm sharing prior years' home goals below. Click on any of the post titles to go directly to the post.
If you would like to follow along on more of my home decor, DIY, lifestyle, travel and other posts, I'd love to have you follow me on any of the below channels: