Good morning! Today I'm finally sharing our 2021 summer home tour! It's by far my favorite season of the year, so I didn't want to let another season go by without a tour (the spring tour is the first I've skipped in as long as I can remember). It's definitely a construction zone around here, but I was able to photograph a few spaces to share with you today.
This post contains affiliate links for your shopping convenience. Click here to read my full disclosure policy.
I had already planned to scale back my summer home tour this year with all the construction we have going on. It seems like our house is cluttered and messy more than it's clean. Then, after I photographed several rooms, we had the water intrusion in our house and carpet has been pulled in several rooms (you can read more about that here). So, I'm scaling back the tour even further than I had initially planned.
Last year I went all out in our 2020 summer home tour and photographed nearly every room (likely out of boredom, given the times). This year I tried to use items I already had but in near ways and keep things fairly simple. But, we've had a few new arrivals since my last tour for Christmas, and I wanted to share them officially. And, since summer is my favorite season to decorate for, I didn't want to skip another home tour like I did in the spring! Welcome to our 2021 summer home tour! I'll list sources for each space after all the photos for each room. And if you're looking for any paint color details, be sure to check out my Paint Colors page with all the details.
Hopefully the 'It is Well' canvas distracts you from the fact that we still don't have window trim around the new windows in our stairwell. Pella won't be back for a few more weeks to finish that area. But otherwise, I didn't change too much in the entryway, other than bringing back in my favorite indoor/outdoor rug!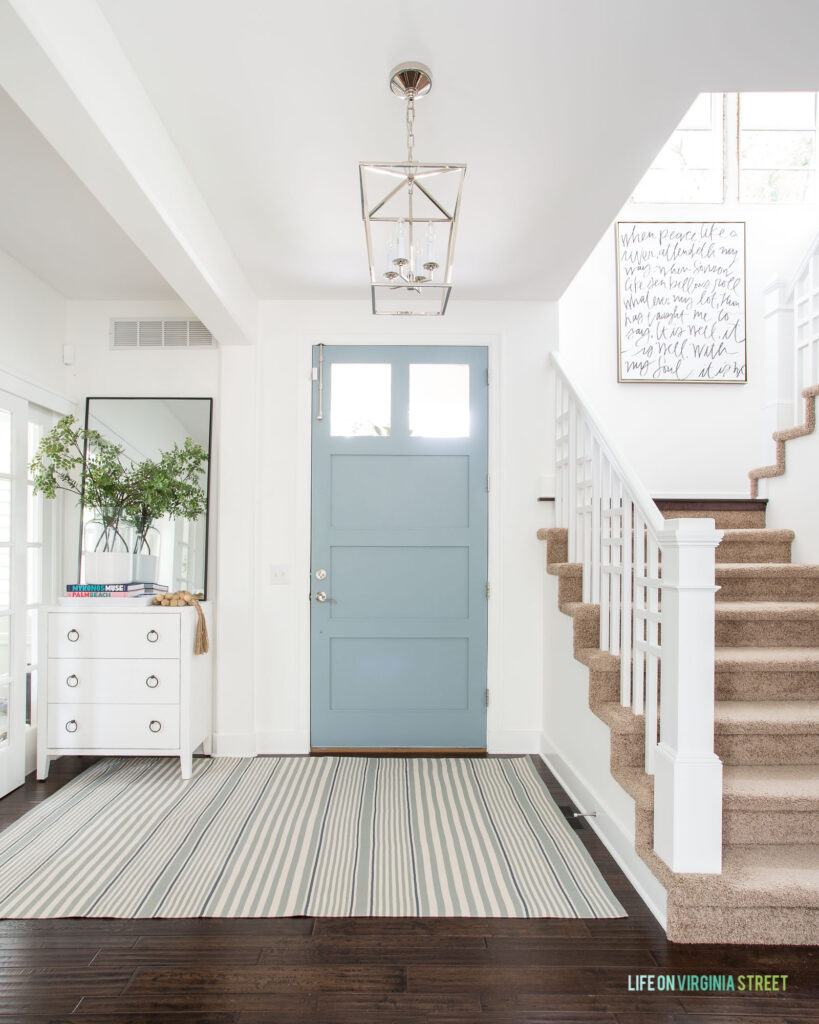 ENTRWAY SOURCES: White Raffia Cabinet | Tall Mirror | Faux Greenery | Colorblock Vase | Striped Rug | Lantern Pendant Light | 'It is Well' Canvas
Moving down the entryway hallway, we have a few changes here that you'll likely spot right away!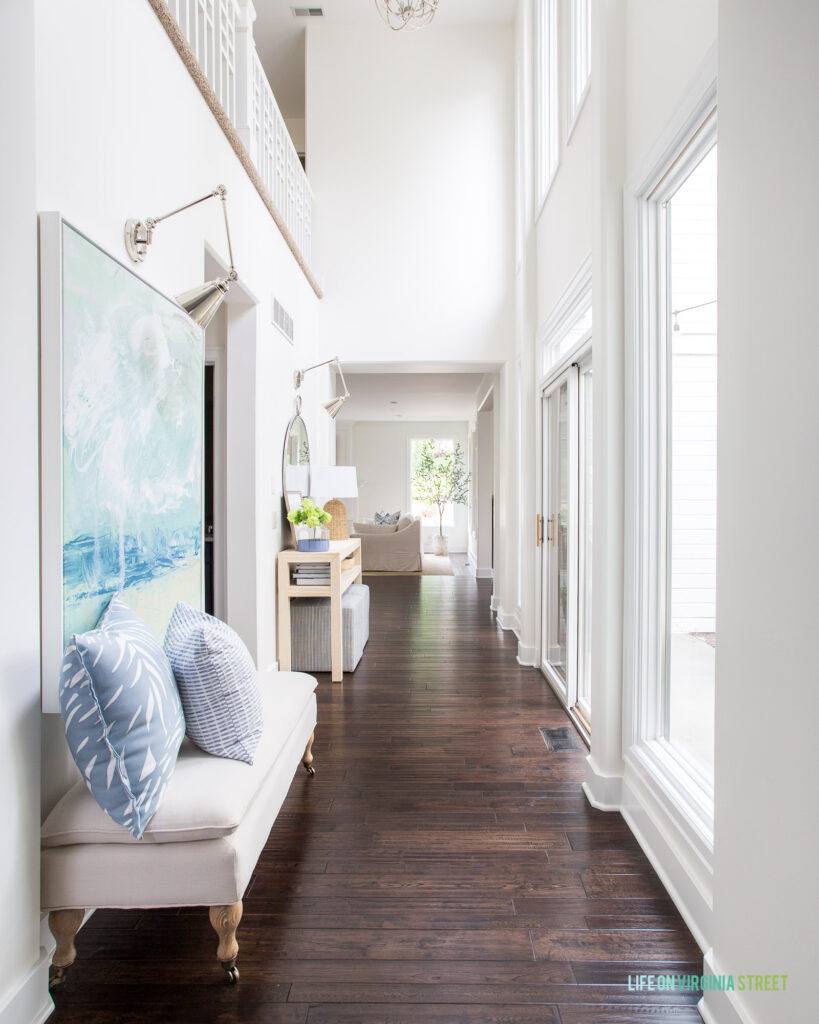 Here's a closer look at that gorgeous Coconut Beach art from Lindsay Letters! I love all the added color this piece brings to our hallway. It definitely sets the tone for our beachy vibe once you start walking down the hallway.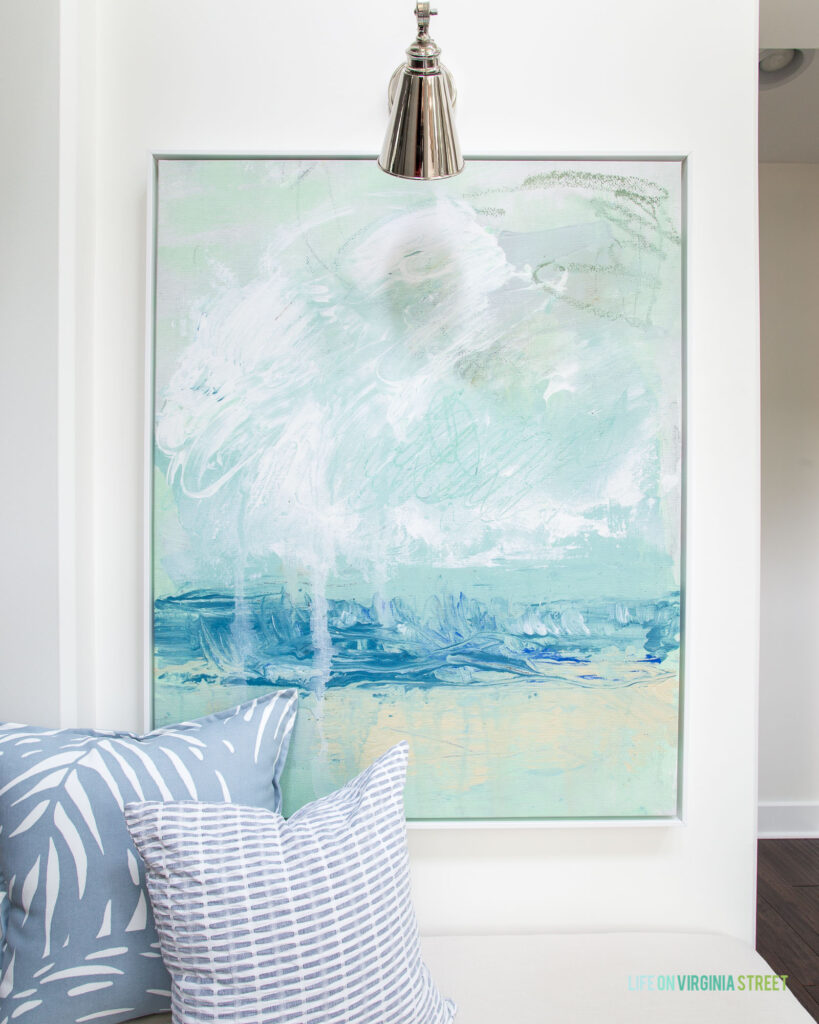 And here's a look from the other direction!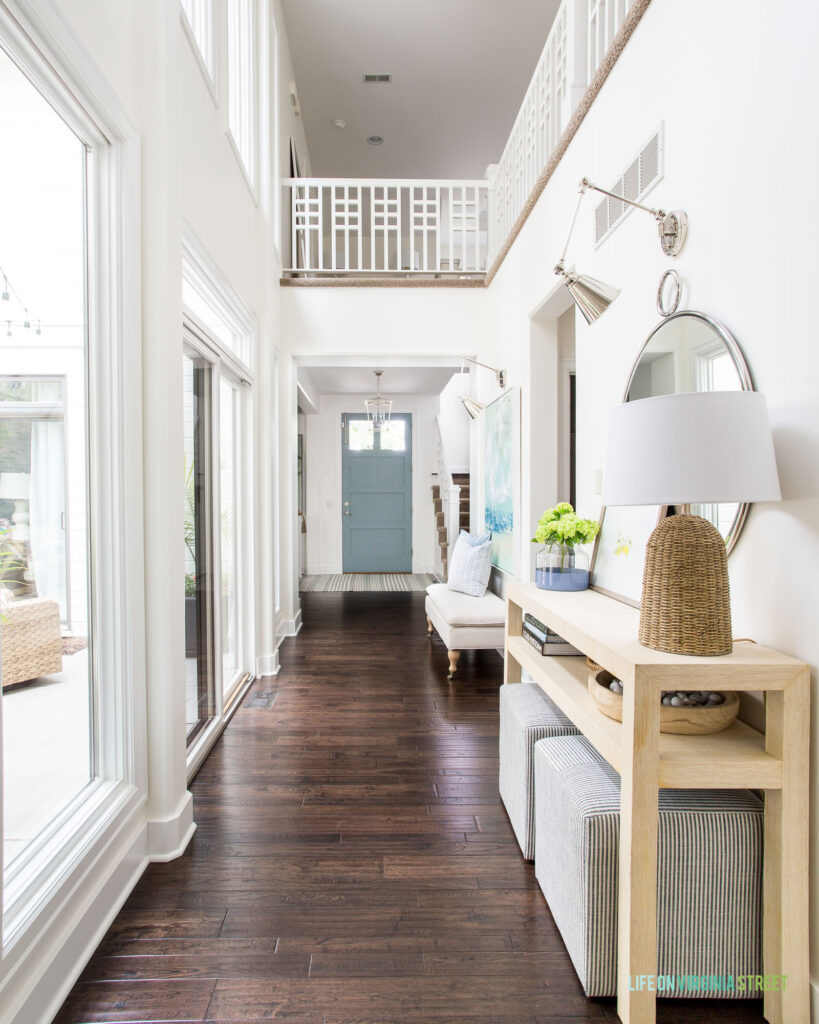 I love these faux mini hydrangeas so much (I'm using two sets here) I ordered two more to use in another area. They work great in short vases!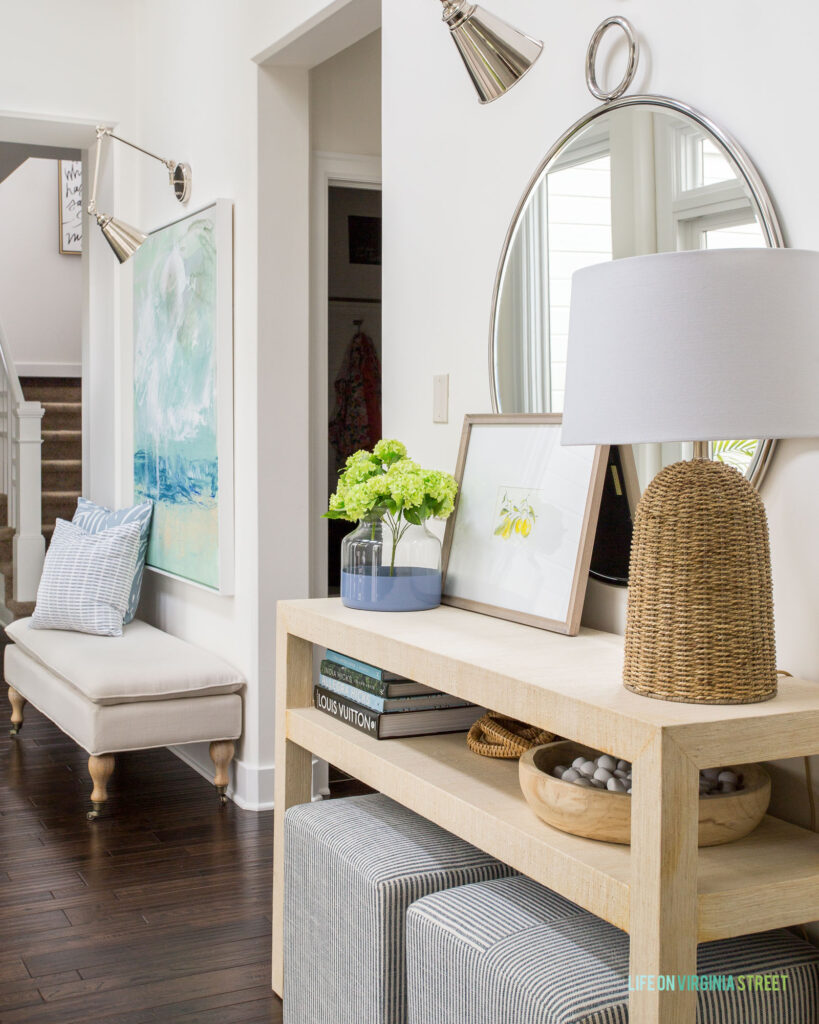 ENTRWAY HALLWAY SOURCES: Abstract Water Art | Palm Pillow Cover | Pleated Pillow Cover | Pillowtop Bench | Swing Arm Sconces | Raffia Console Table | Similar Round Mirror | Blue Colorblock Vase | Faux Mini Hydrangeas | Wood Frame | Lemon Watercolor Art | Seagrass Lamp | Striped Ottoman Stools | Similar Wood Bowl | Wicker Chain Decor
I didn't actually get a chance to photograph our kitchen this time around, so this is about all you'll see of it. But I'm glad I was able to get this shot in before we had to tear up the living room carpet last weekend! Thankfully it's dried out now and mostly put back together, but we need to get a carpet stretcher to get it all looking nice again.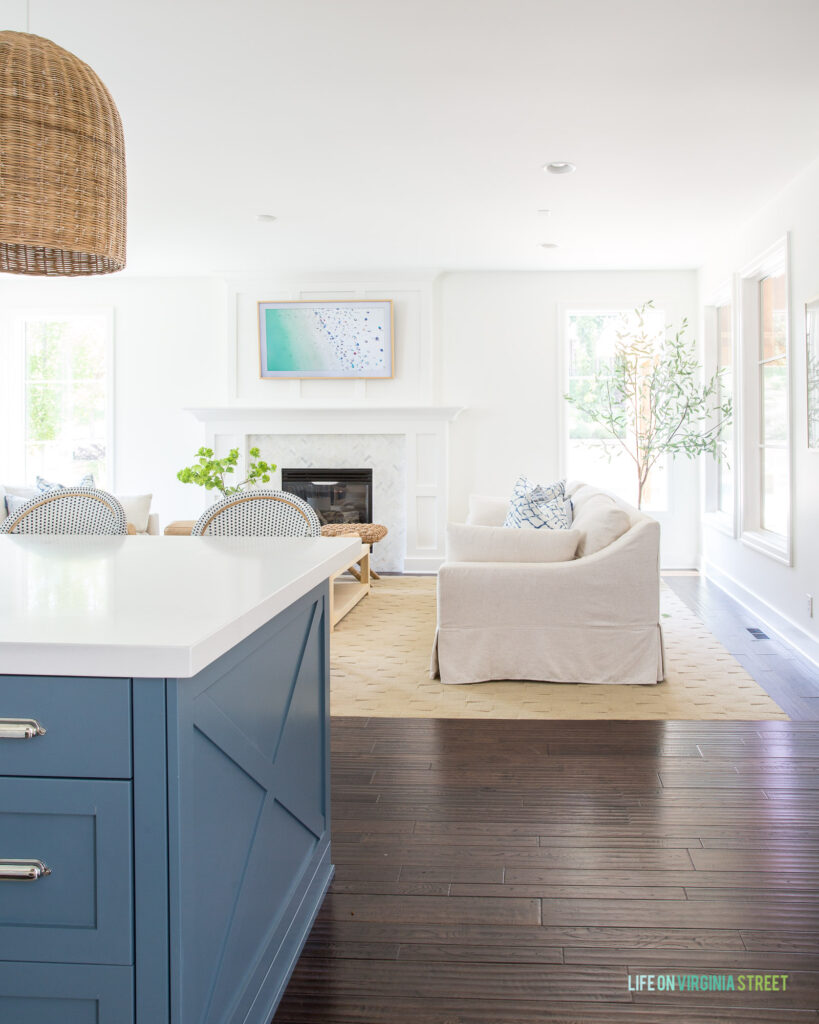 This is the first time I've shown our new buckle-back leather chairs in the living room even though they arrived several months ago! The spindle chairs served us well for nearly four years, but I'm loving the warmer tones that the leather brings to the space! They're also so unique and the scale works much better in this space. They're also some of the only leather pieces I've ever found that aren't too orange for our space. The leather color is absolutely stunning!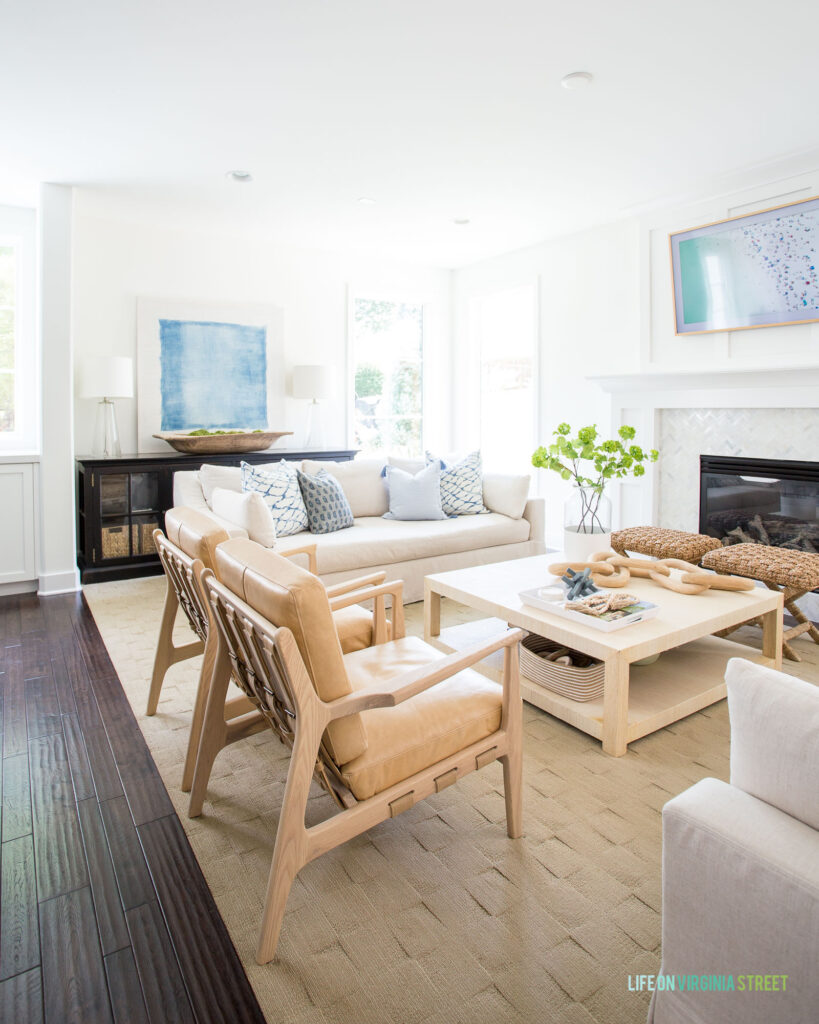 I'm loving the simplicity of the Indigo Ombre Canvas Art and the color it also brings to the space. It's so perfect for the spring and summer months!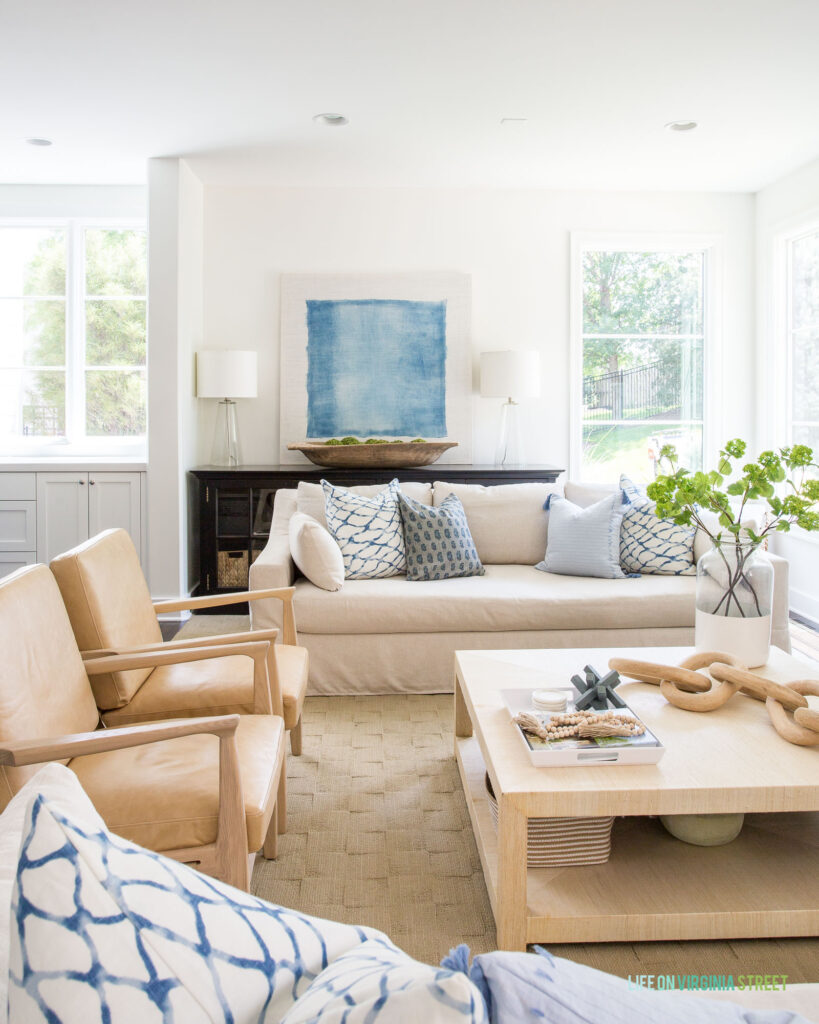 I just can't get over how much I love the buckles on the back of the chairs!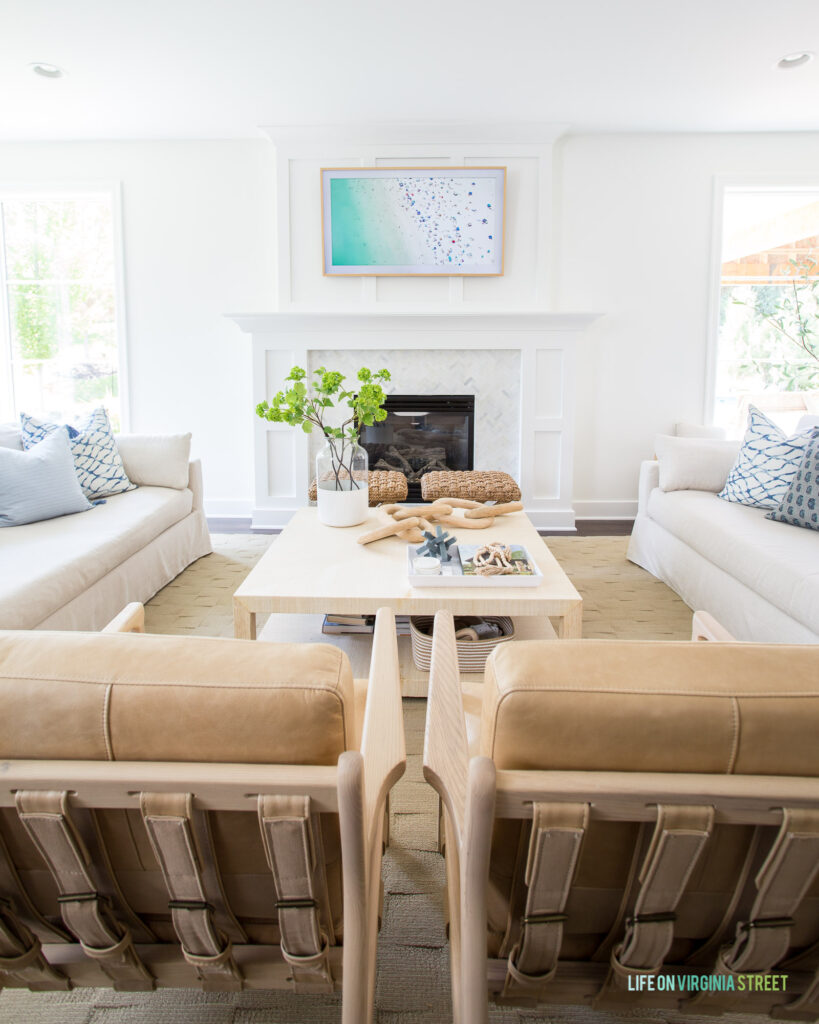 I added a down insert to these affordable Clipped Stripe Tassel Pillows, and they fit right in with the two designer fabrics! I love when affordable pillows have zippers so I can add my own insert (I'm using this one here). Just ignore the glimpse of the tractor you can see outside this window 😉 But you can faintly make out the grids we added to the windows here. I love them!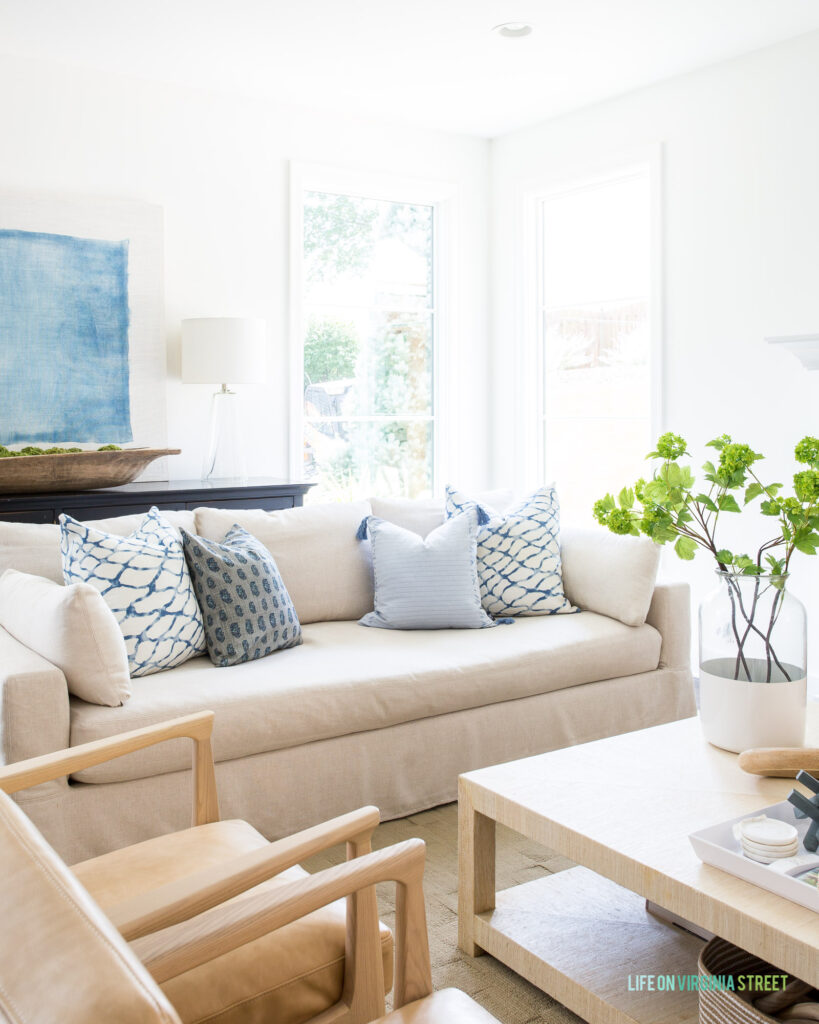 Notice anything different from this view? 😉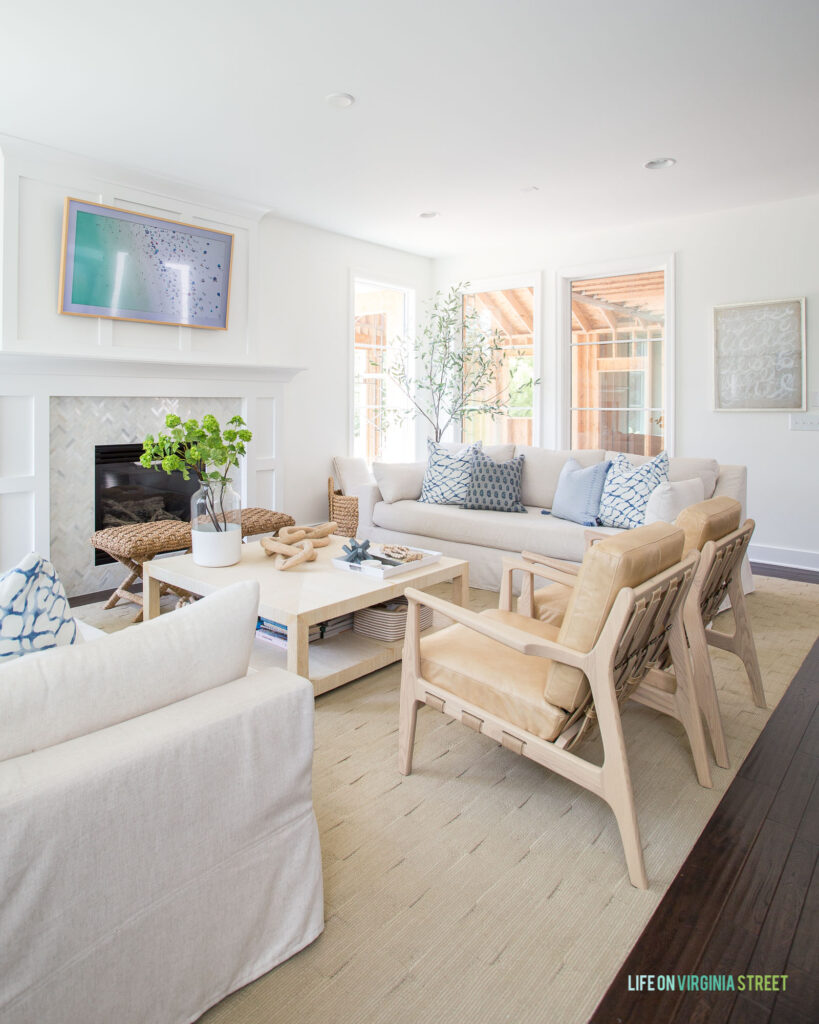 The large kitchen window on this side of the room tends to wash out the colors up quite a bit more over here in photos. But, you can see the framed view of the pool house from here! It's definitely casting an orange glow on things right now, but I continue to have fun checking the new sightlines from every angle to see which windows I'll be able to see out of, etc.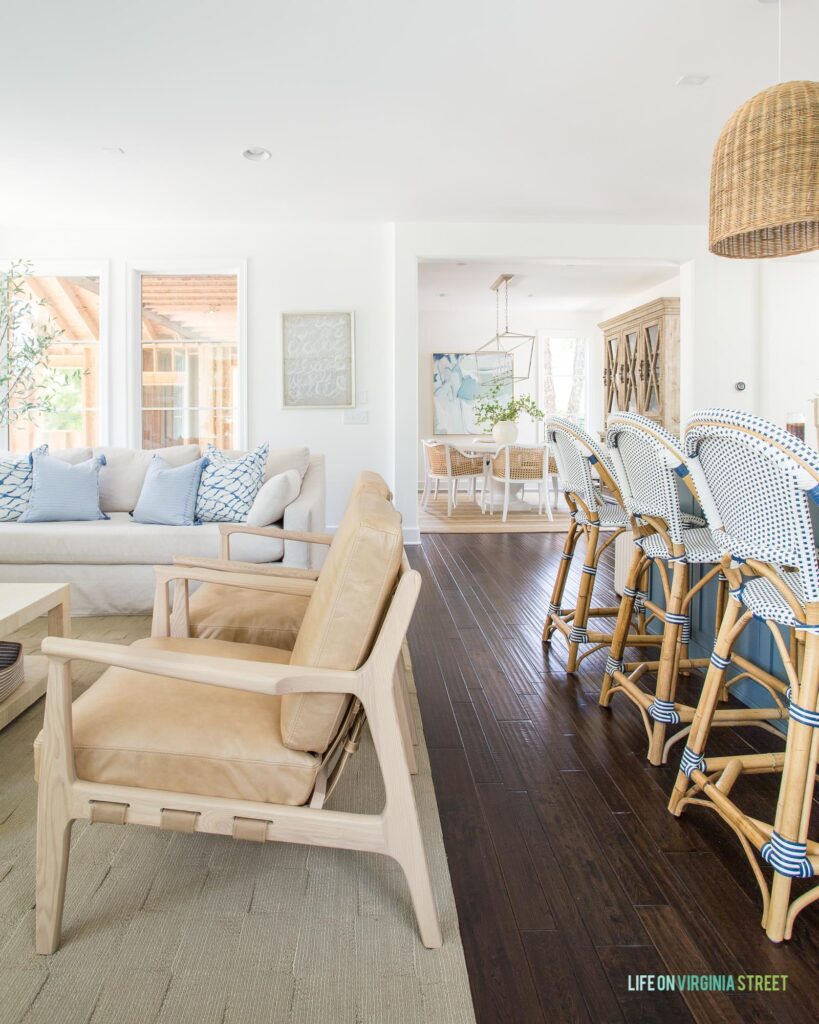 LIVING ROOM SOURCES: Linen Sofas (read my review here) | Buckle-Back Leather Chairs | Raffia Coffee Table | Woven Stools | Colorblock Vase | Faux Viburnum Stems | Similar Wood Chain Object | Faux Olive Tree | Weathered Whitewashed Terra Cotta Planter | Indigo Ombre Canvas Art | Similar Black Cabinet | Lamps | Wood Dough Bowl | Water Effect Pillow Covers | Clipped Stripe Tassel Pillows | Similar Block Print Pillows | Frame TV
In the shot above you can see a glimpse of our dining room! And since I've only shown it once or so in the last year (and it was decorated for Christmas) I thought it was time to share a current look! We sold our old dining table earlier this year. We found we were literally never using it for fear of damaging it and there were just a few too many wood tones in the space once I added the cane chairs. The chairs sold out shortly after I got them (from CB2), but I've found these look for less options that come in and out of stock occasionally.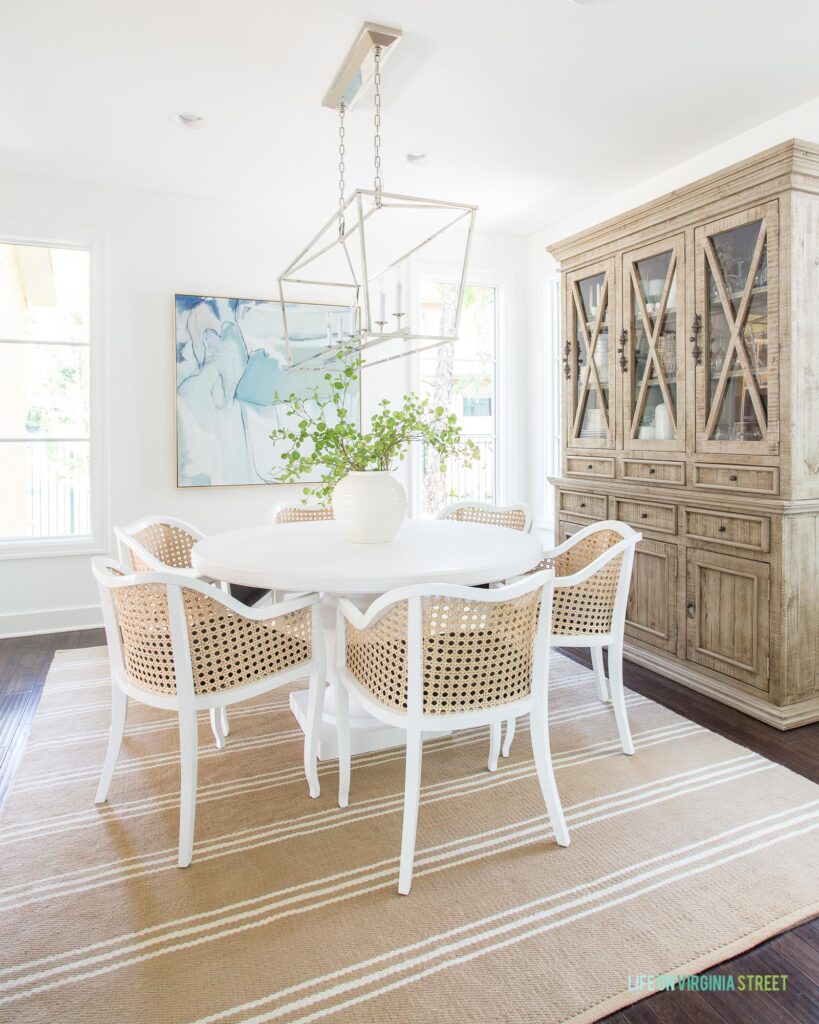 When I ordered the round dining table, I actually thought for awhile I'd use it in the pool house. But, we love it in here so much, I think it's staying. The round shape actually works so much better and I love the addition of the white surface. I'm also a little concerned (even though it's an indoor/outdoor table), that the reconstituted stone may be a bit too porous for the pool house. I think it will see far less spills in here! I didn't get a great shot of it, but the pedestal base on this one is gorgeous! I love the table so much! Now I'm thinking I may need a round rug for the space, but we're just living with this one for now since it's not a top priority. The door you see on the left will be getting replaced soon, and that will be our entrance from the house into the pool house!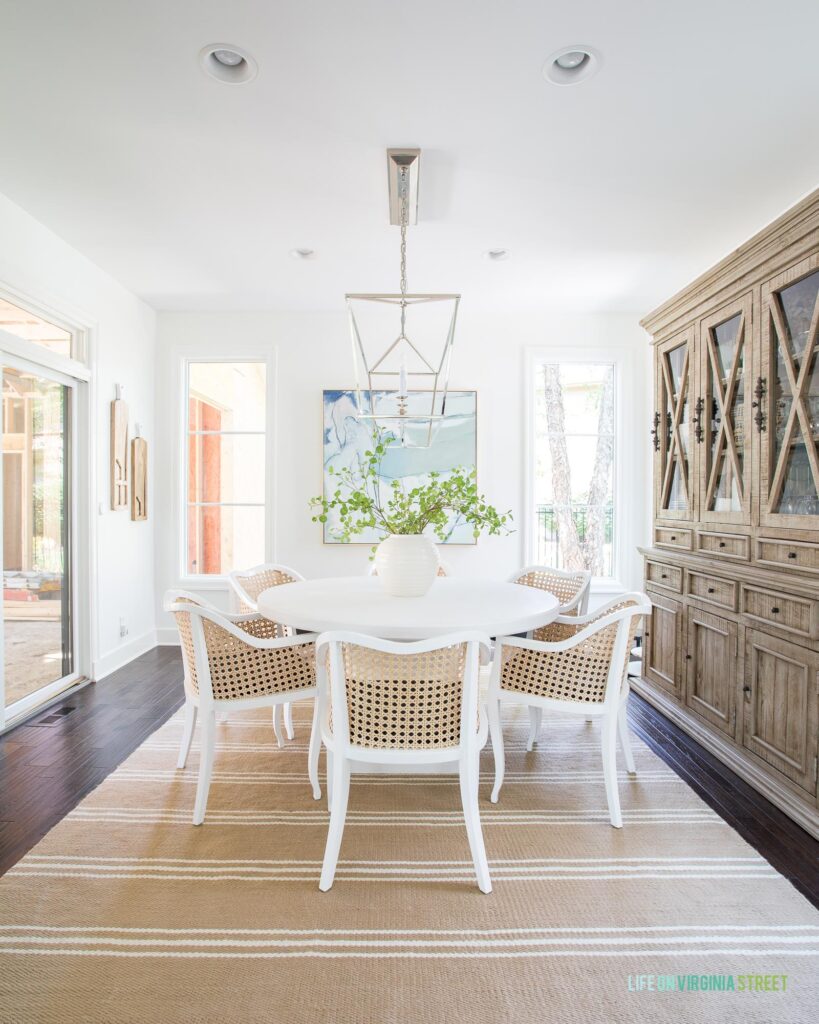 I'm not sure if I've shown this view before, but here you can kind of see the view into the courtyard – and the new windows!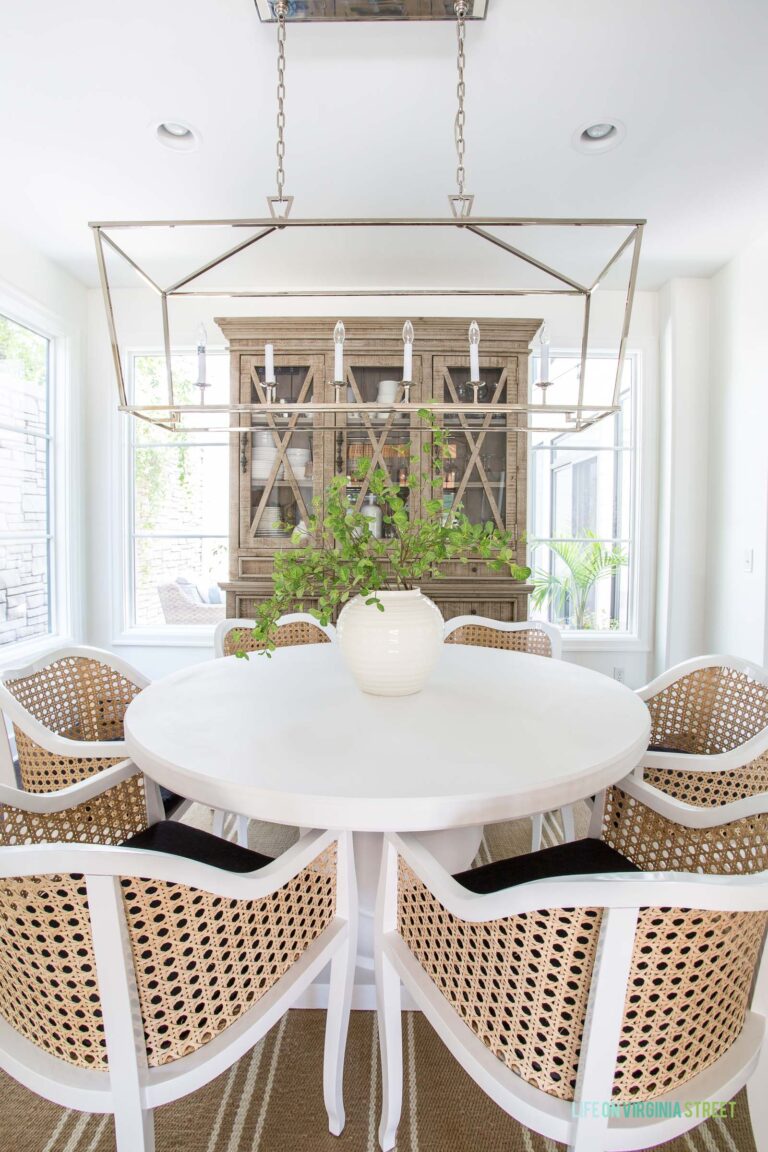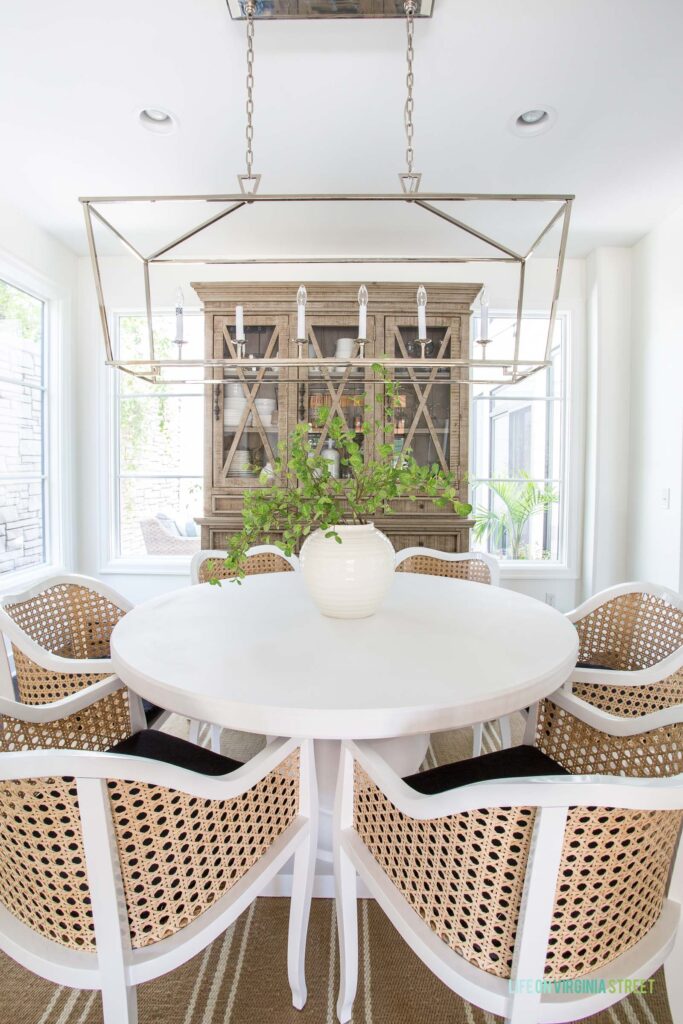 DINING ROOM SOURCES: Cane Dining Chairs (look for less here) | Stone Dining Table | Linear Chandelier (look for less here) | Hutch | Striped Rug (gray version – my color is no longer available) | Abstract Art | Vase | Faux Greenery Stems | Wood Serving Boards
Moving upstairs, we made a few changes in our den, as well!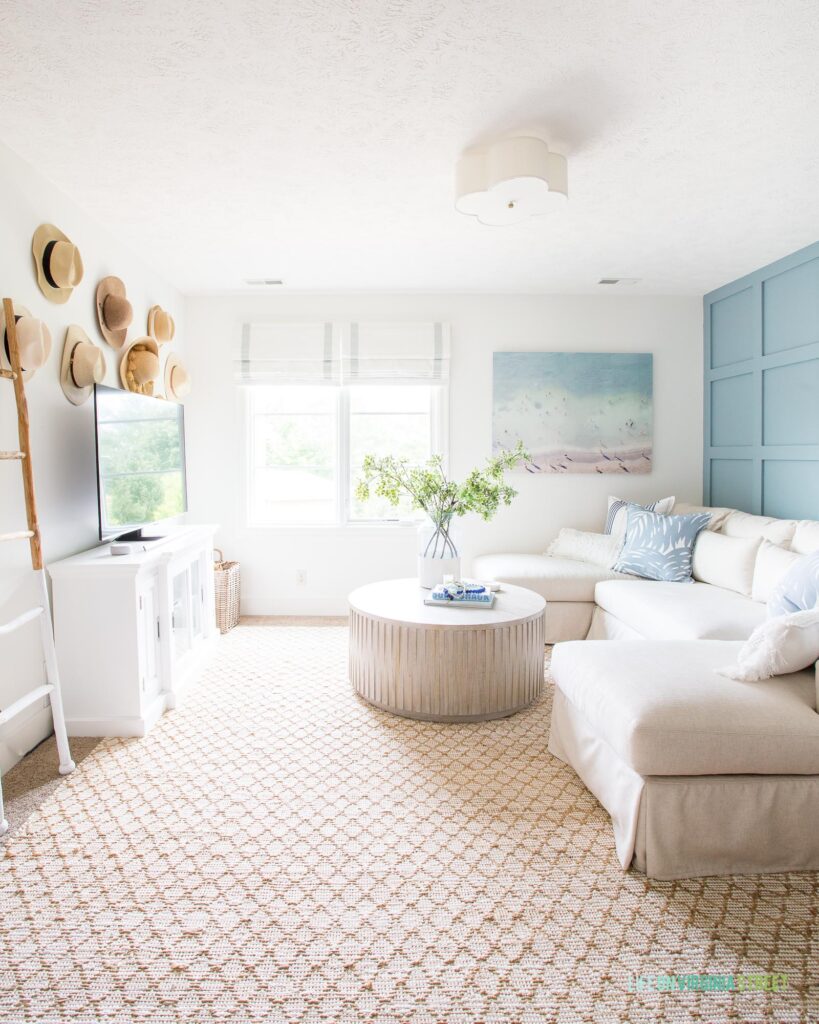 Since we're planning to use this coffee table in the pool house, I had to search for a new one earlier this spring. The second I saw this one, I knew it was "the one". Much like our old table, this one offers internal storage as well! So helpful for things like extra throws, pillows, etc. And I love the varying shades of wood tones on it, ranging from gray to warm.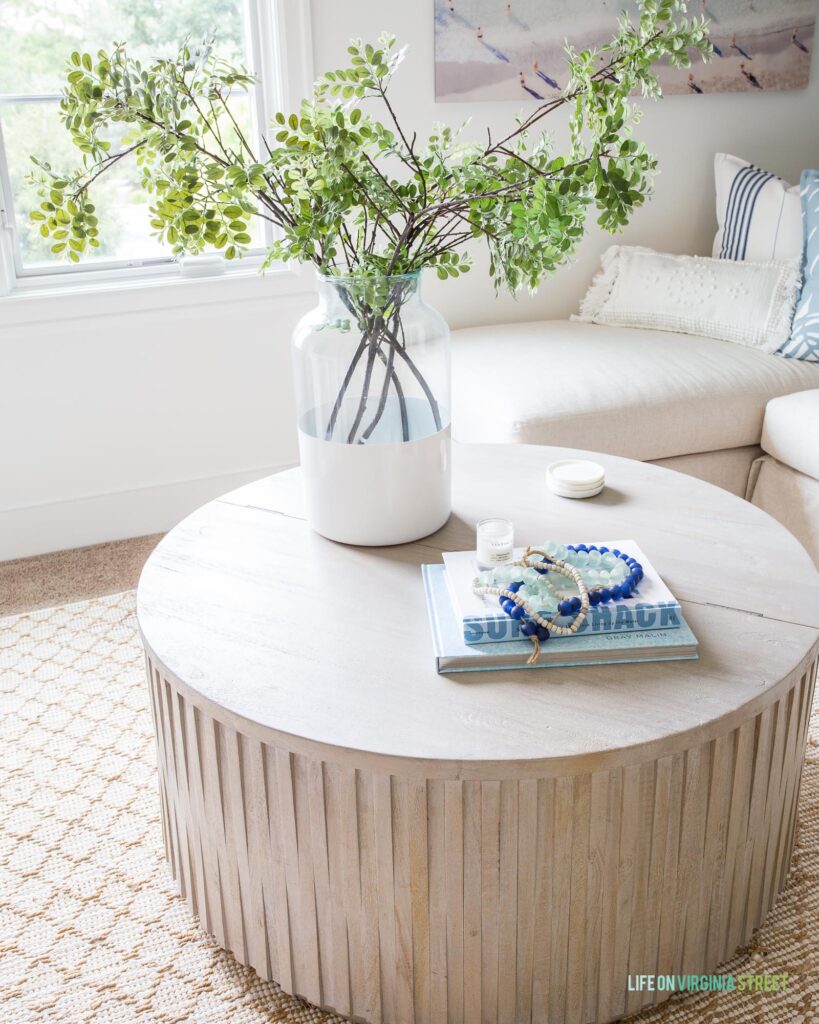 This is one of the rooms where we had to replace the windows, so the roman shades aren't a great fit any longer. I'm thinking I'll swap them out for a warm, woven shade, and then maybe some linen drapes on each side. The pillows in here are actually all indoor/outdoor ones, and I ordered them for the pool house. But I thought it would be fun to use them in here until that space is ready!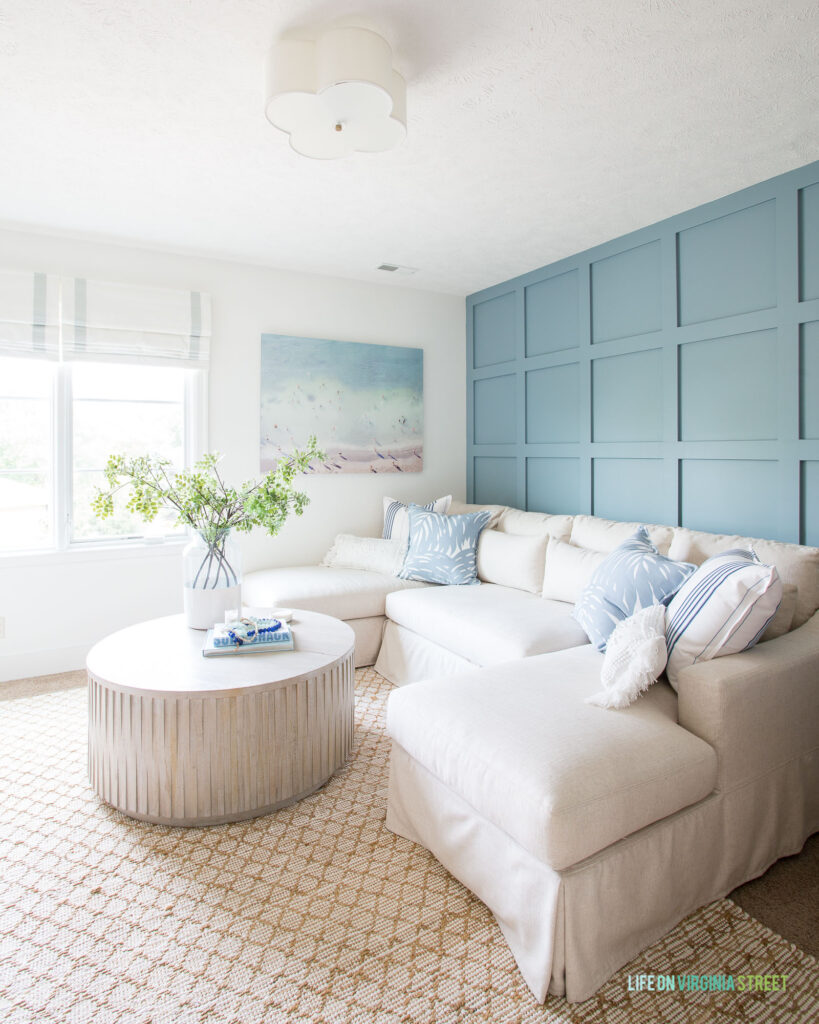 This little corner is my cozy reading corner and I've actually managed to finish two books these past few weeks!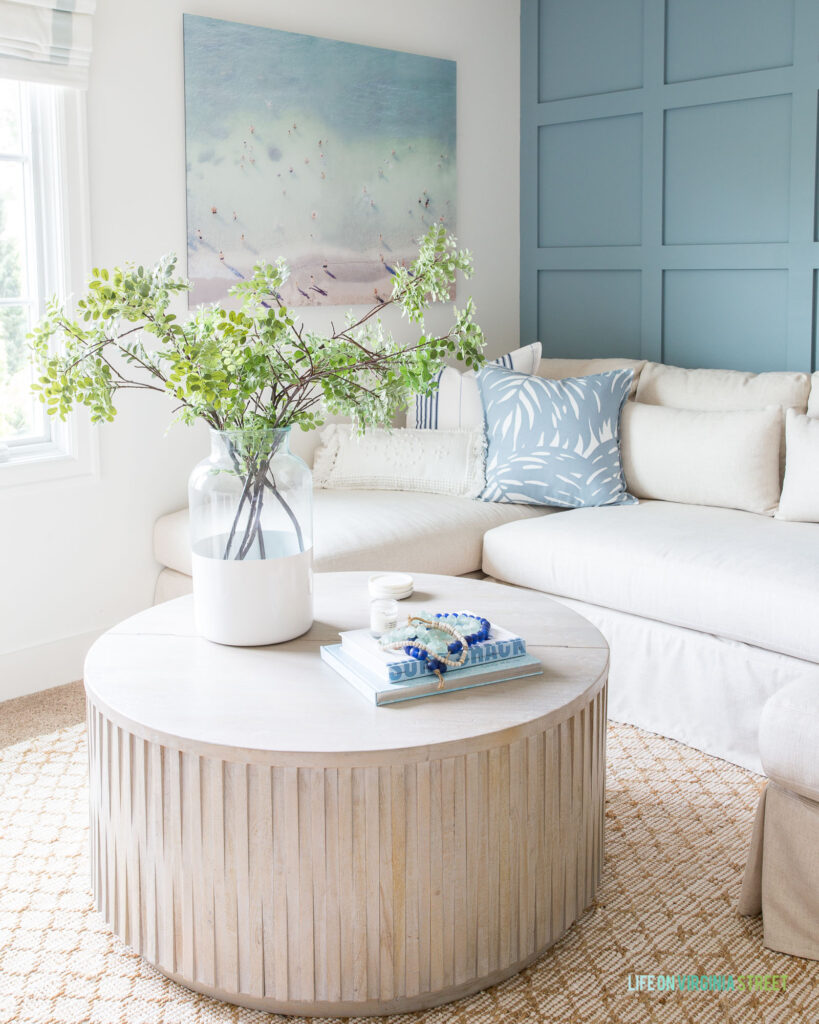 I have this designer look for less blanket ladder actually filled with blankets in the colder month, but I love the bare look for summer! This view also shows you a peek of our Jack & Jill bathroom we completed earlier this year. It's so nice looking in at the pretty tile instead of the buckling carpet that used to be there!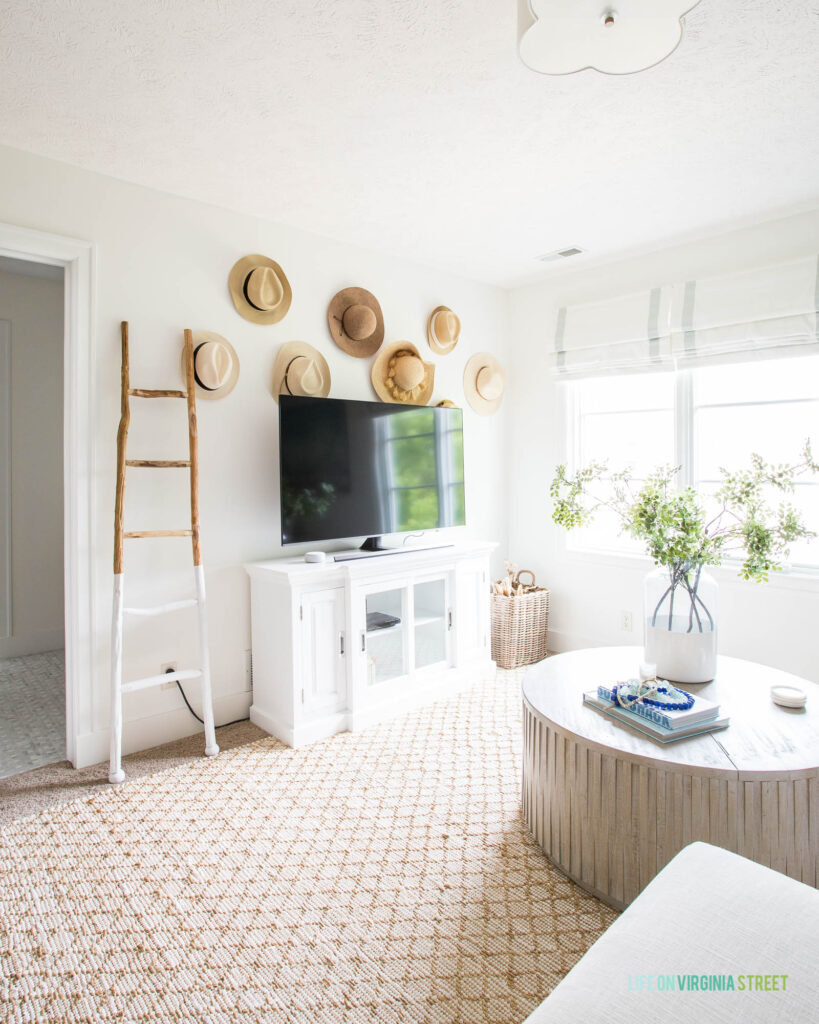 DEN SOURCES: Sectional (read my review here) | Coffee Table | Beach Art | Woven Rug | Scallop Light Fixture | Blanket Ladder | Roman Shades | Faux Greenery | Colorblock Vase | "Surf Shack" | "Escape" | Recycled Glass Beads | Marble Coasters | Palm Outdoor Pillows | Striped Outdoor Pillows | Textured Lumbar Outdoor Pillows | Tripod Lamp
In our guest bedroom, I changed up the bedding for summer, and am loving this striped comforter set!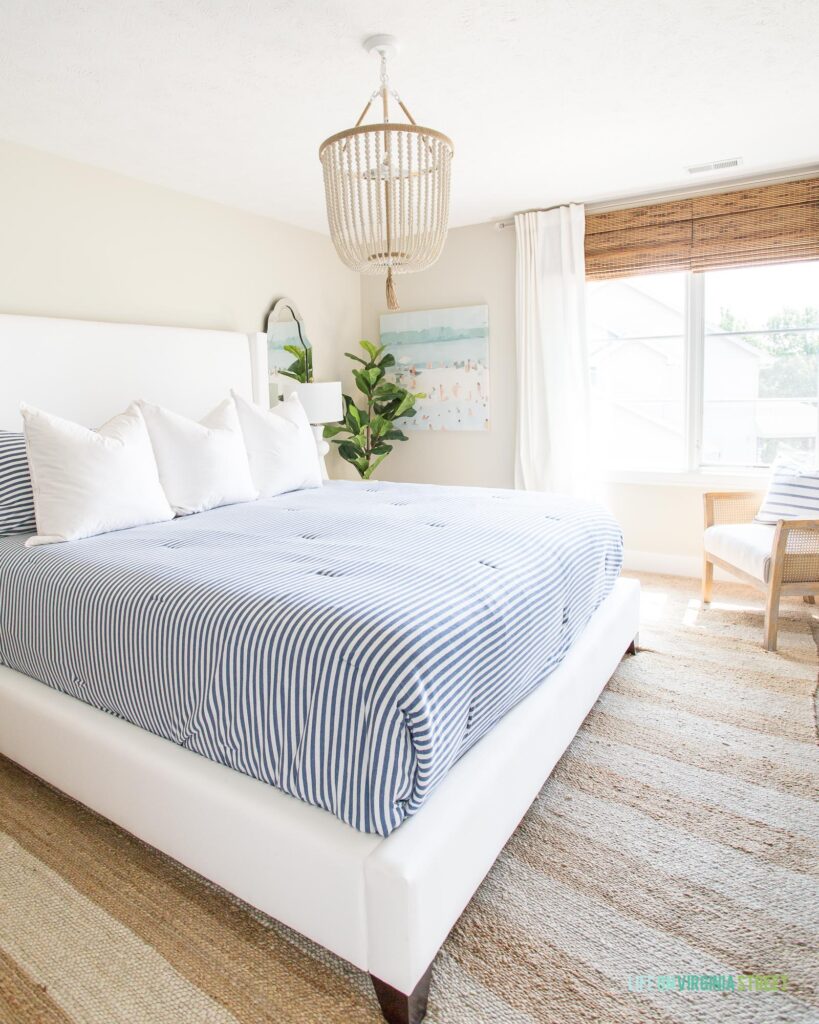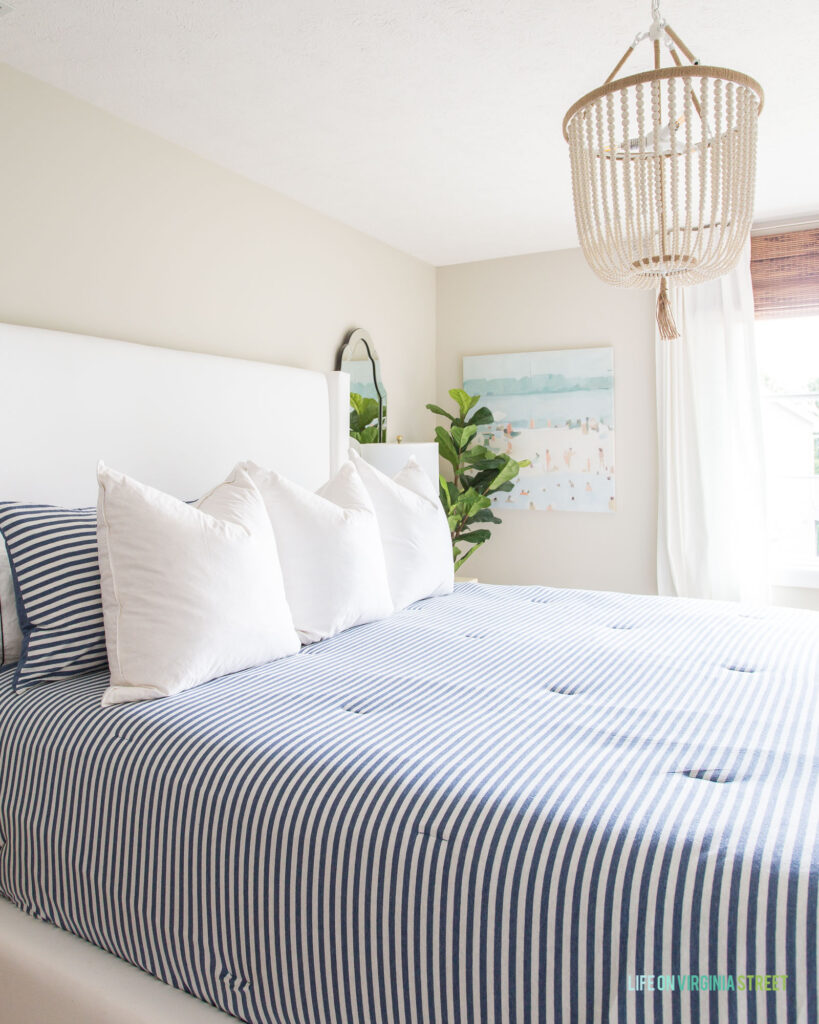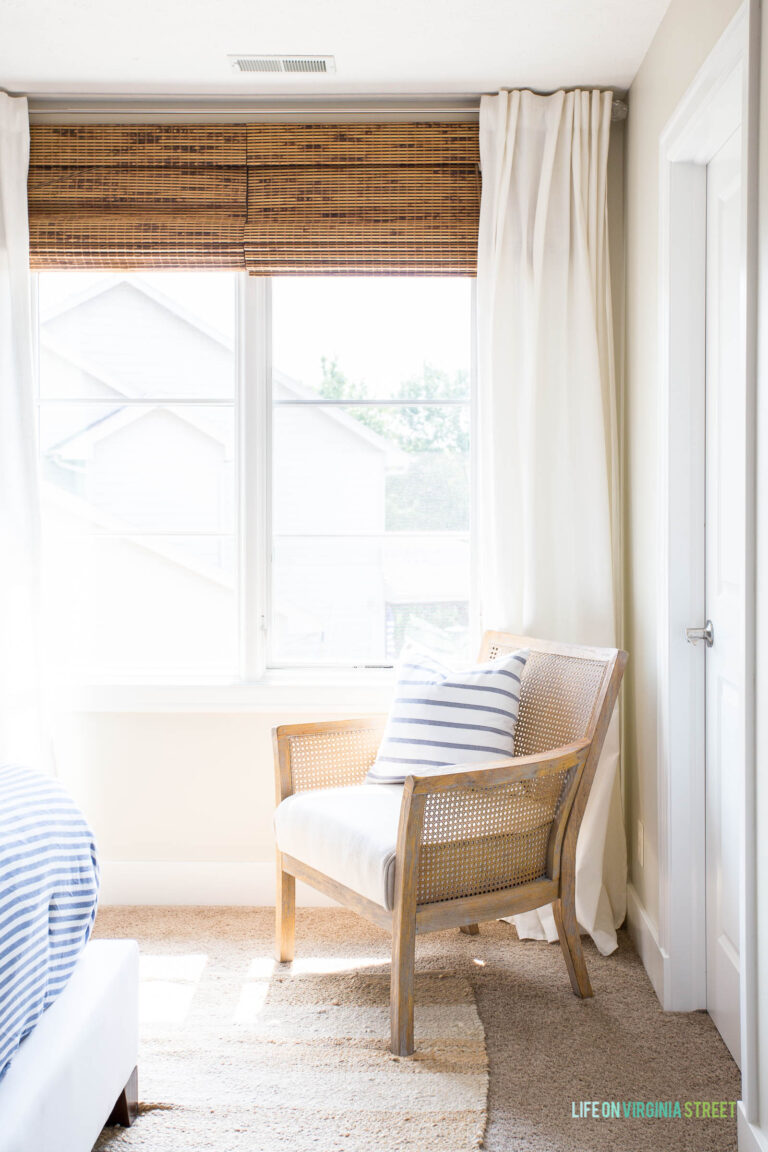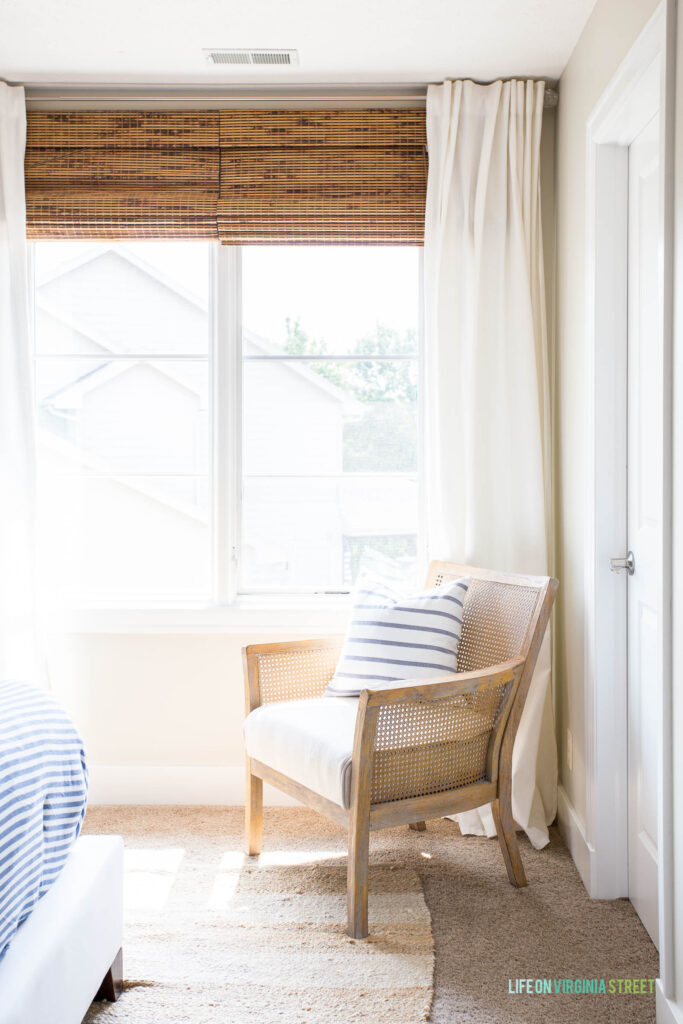 GUEST BEDROOM SOURCES: Upholstered Bed | Striped Comforter Set | Euro Pillows | Bead Chandelier | Striped Rug | Raffia Nightstands | White Ceramic Lamps (come as a set of two) | Abstract Beach Art | Faux Fiddle Leaf Fig Tree (this is the 5'4″ size) | Mirrors | Similar Drapes | Cane Chair | Striped Pillow
The biggest change of all this summer will be getting wrapped up in the next month or two! I can't wait to share it all with you once it's complete! If you're new here, you can read the latest on this project here.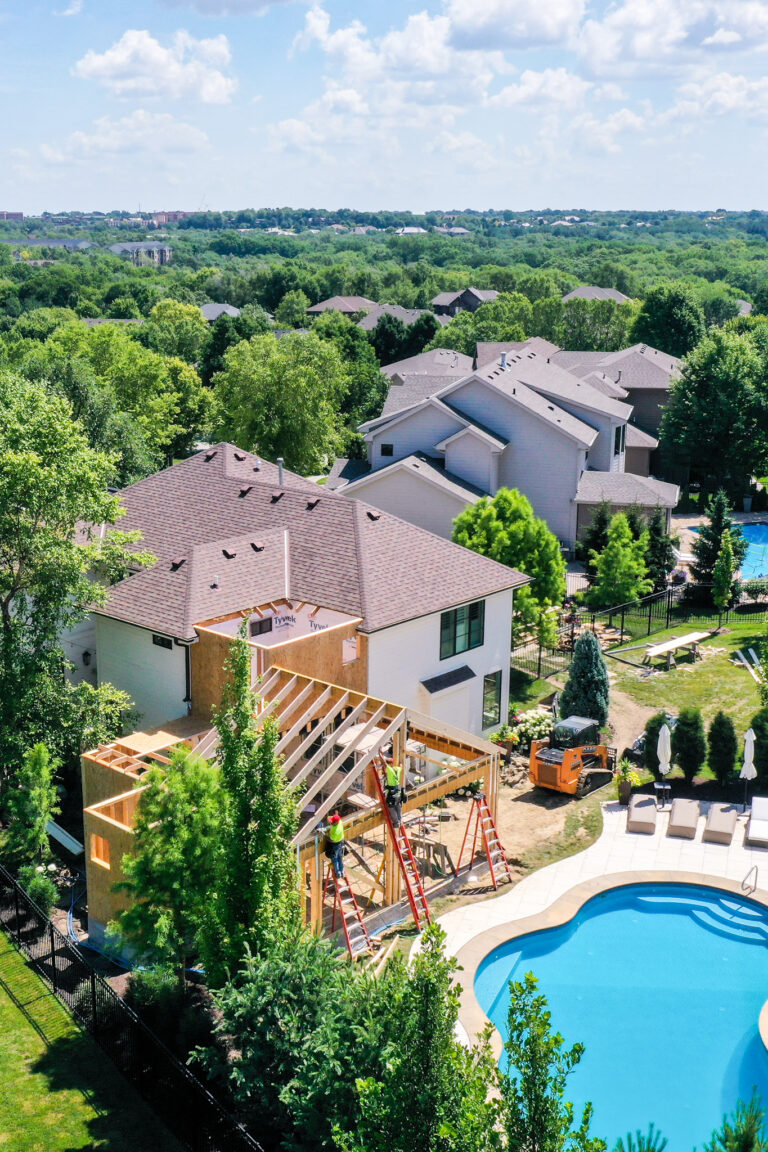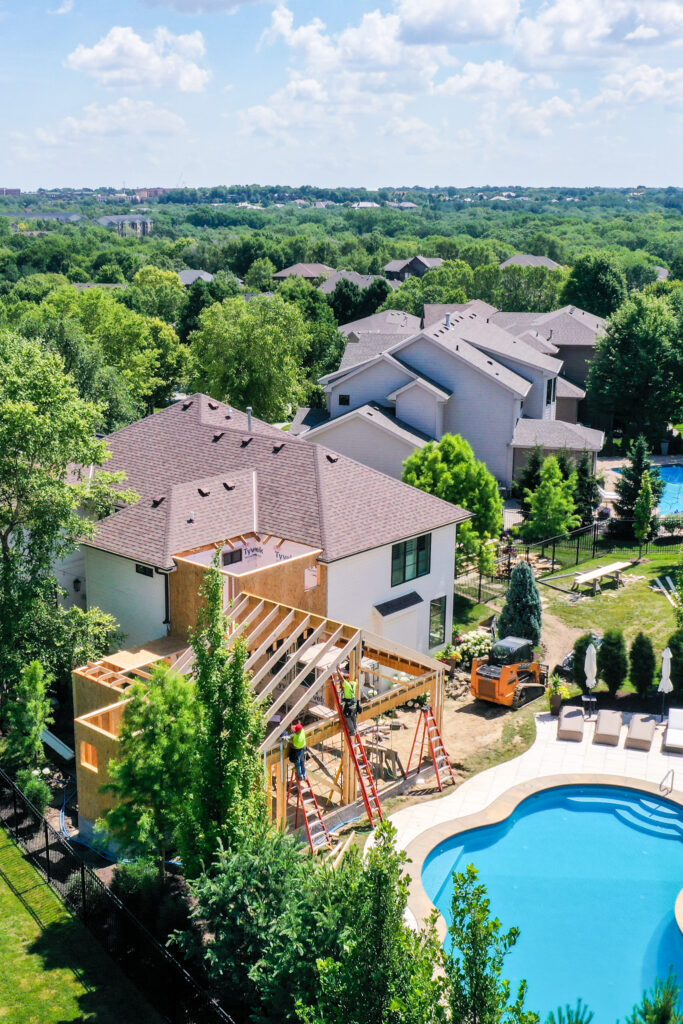 That wraps up our 2021 Summer Home Tour! I hope you enjoyed it! I'm hoping the fall tour this year can be much more comprehensive!
If you would like to follow along on more of my home decor, DIY, lifestyle, travel and other posts, I'd love to have you follow me on any of the following:
Pinterest | Instagram | Facebook | Twitter
disclosure: some affiliate links used