Good morning! I'm coming at you today with a rare Sunday post! Today marks the ninth anniversary of us living in this home, and with that, I'm sharing my annual before and after home tour! We bought this home knowing we had many projects in store for us over the years, and we love how we've been able to truly make this house a home!
This post contains affiliate links for your shopping convenience. You can read my full disclosure policy here.
If you want to check the progress we made throughout the years, I've linked all of our anniversary posts below. I think it's always helpful to see that full home renovations can take a lot of time. We're not even done after nine years! But, gradual progress each year can make a pretty big impact over time!
And if you want to check out any of our seasonal home tours from 2021, here's quick access to each of the ones I shared.
A little history on our house. It was built in 2008 and sat as a model home for a few years. Another family then lived in it for a few years before we bought it in December of 2012!
Most of my 'before' photos I'm sharing below were taken at night and they're all I have. So I fully understand that it makes the before & afters seem much more dramatic in some cases. I think it's clear my photography skills (and cameras in general) have improved a bit over the years, as well 😉
We started 2021 having to make up for lost ground from 2020. Not only had we planned to start some bathroom renovations early in the year, but we also planned to get a head start on the pool house (in addition to other small projects here and there). So, when 2021 rolled around we were eager to make up for the lost year! So, I think I can safely say 2021 was our most aggressive progress and renovation year to date!
HOME EXTERIOR BEFORE & AFTER
We painted our home Benjamin Moore White Dove several years ago, and it's still one of my favorite updates! It completely changed the vibe of our home's exterior!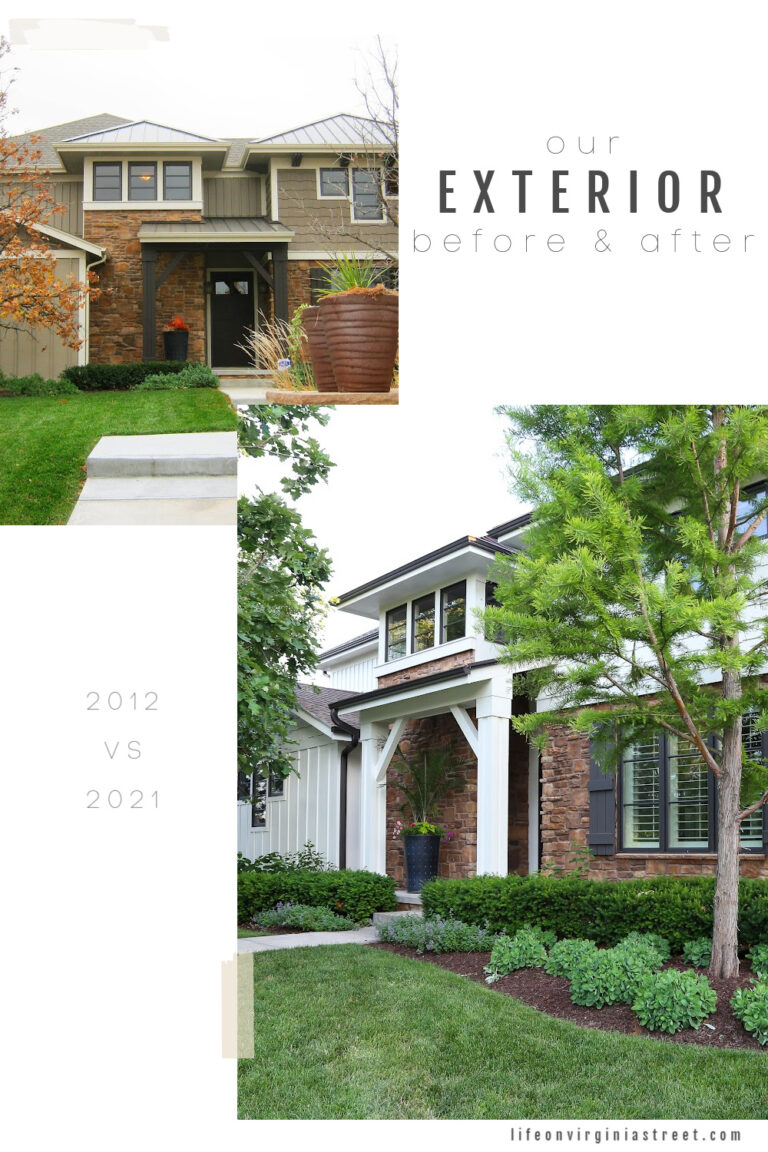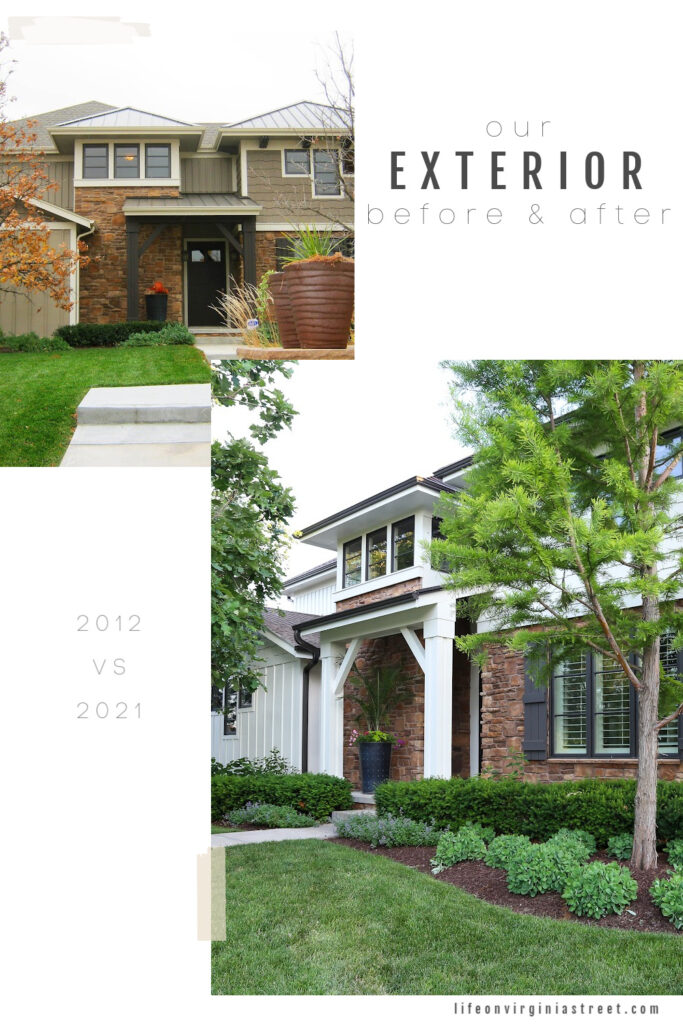 ENTRYWAY BEFORE & AFTER
The biggest change to our entryway over the past year was the new carpet on the stairs. So, so happy with this update!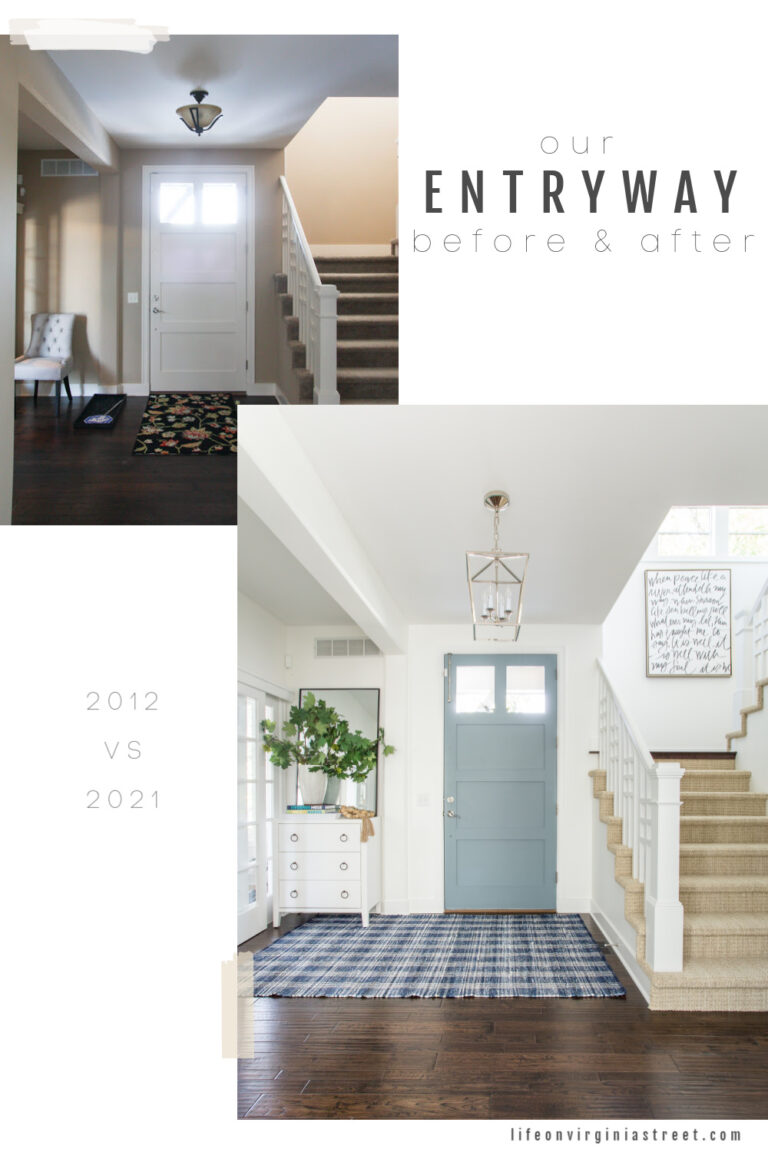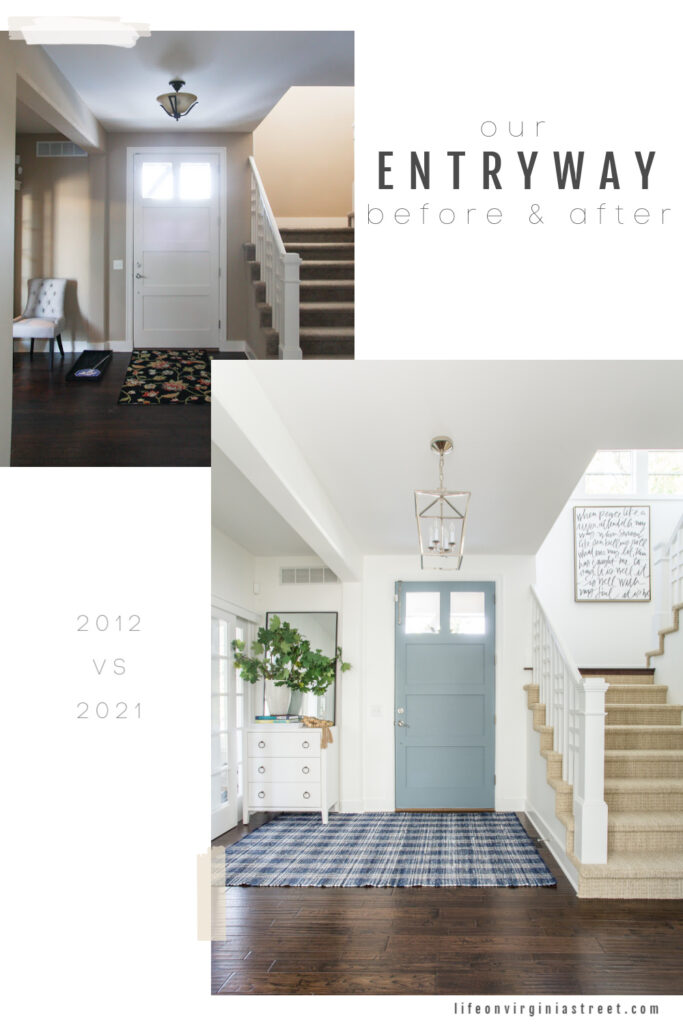 FALL ENTRYWAY SOURCES: White Raffia Cabinet (also here) | Tall Black Framed Mirror | Plaid Rug | Lantern Pendant Light | "It Is Well" Canvas Art | Wood Bead Garland
ENTRYWAY HALLWAY BEFORE & AFTER
Here's a look at our entryway hallway from the year we moved in until now. The biggest change came in the form of fresh paint and new lighting!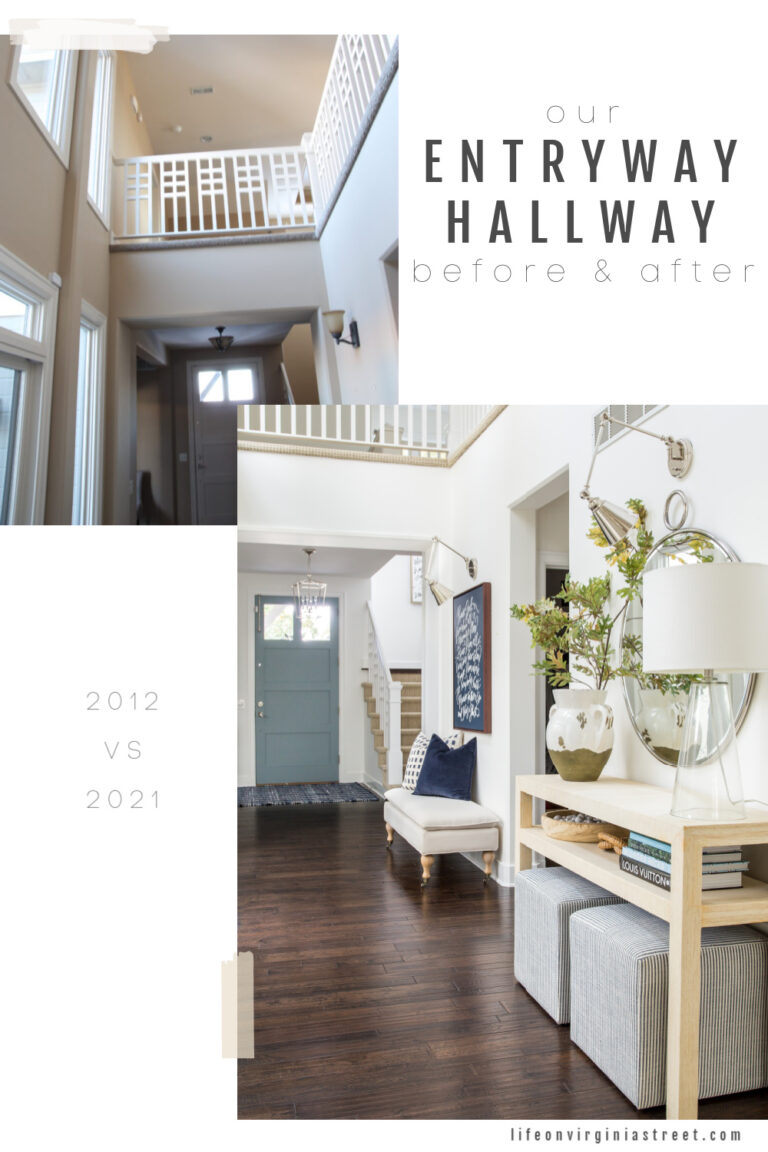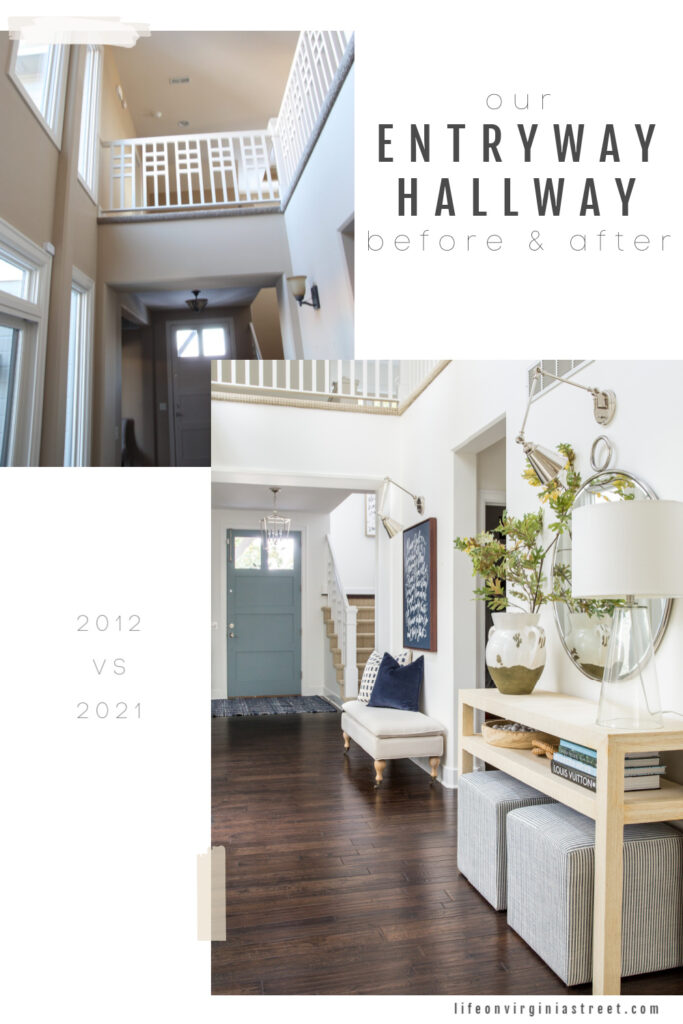 FALL ENTRYWAY HALLWAY SOURCES: Doxology Canvas | Pillowtop Bench | Grid Pillow (similar here) | Velvet Pillow (similar here) | Swing Arm Sconce Lights | Console Table | Terra Cotta Vase | Faux Oak Leaves (one stem) | Similar Mirror | Lamp | Striped Ottoman Cubes | Similar Wood Bowl
KITCHEN BEFORE & AFTER
With the kitchen renovation now three and a half years behind us, it's sometimes easy to forget it didn't always look this way! This is still one of my favorite projects to date and we've gotten so much use and enjoyment out of the space the past several years!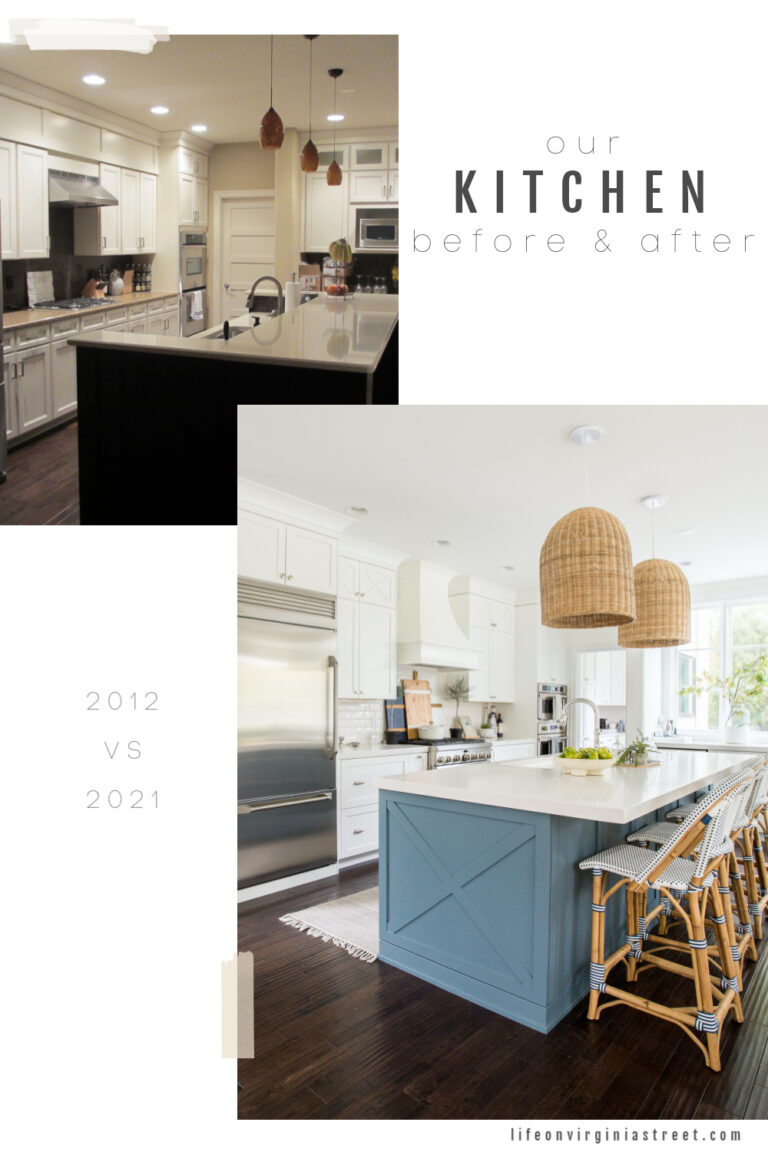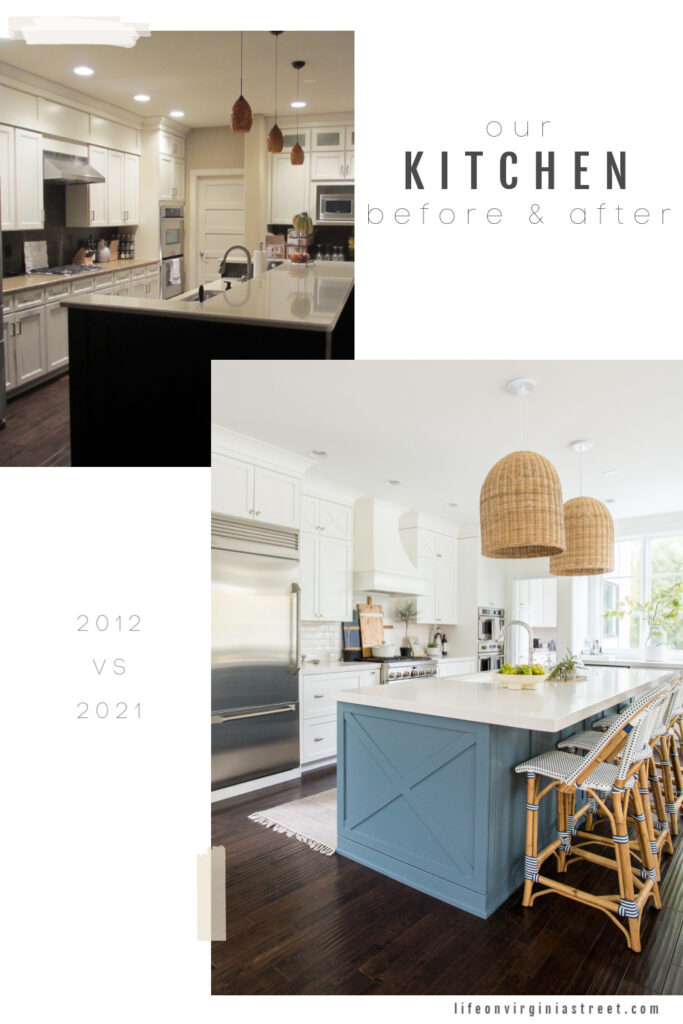 FALL KITCHEN SOURCES: Basket Pendant Lights | Bistro Counter Stools | Runner | Thyme Topiaries | Navy Blue Wood Serving Board | Natural Wood Serving Board | White Wood Serving Board | White Dutch Oven | Faux Artichokes | Footed Bowl | White Dotted Planter | Similar Wood Recipe Stand
PANTRY BEFORE & AFTER
As part of our kitchen renovation, we also remodeled our pantry! The footprint didn't change, but with the addition of cabinets and a window, it's crazy how much larger this space feels now!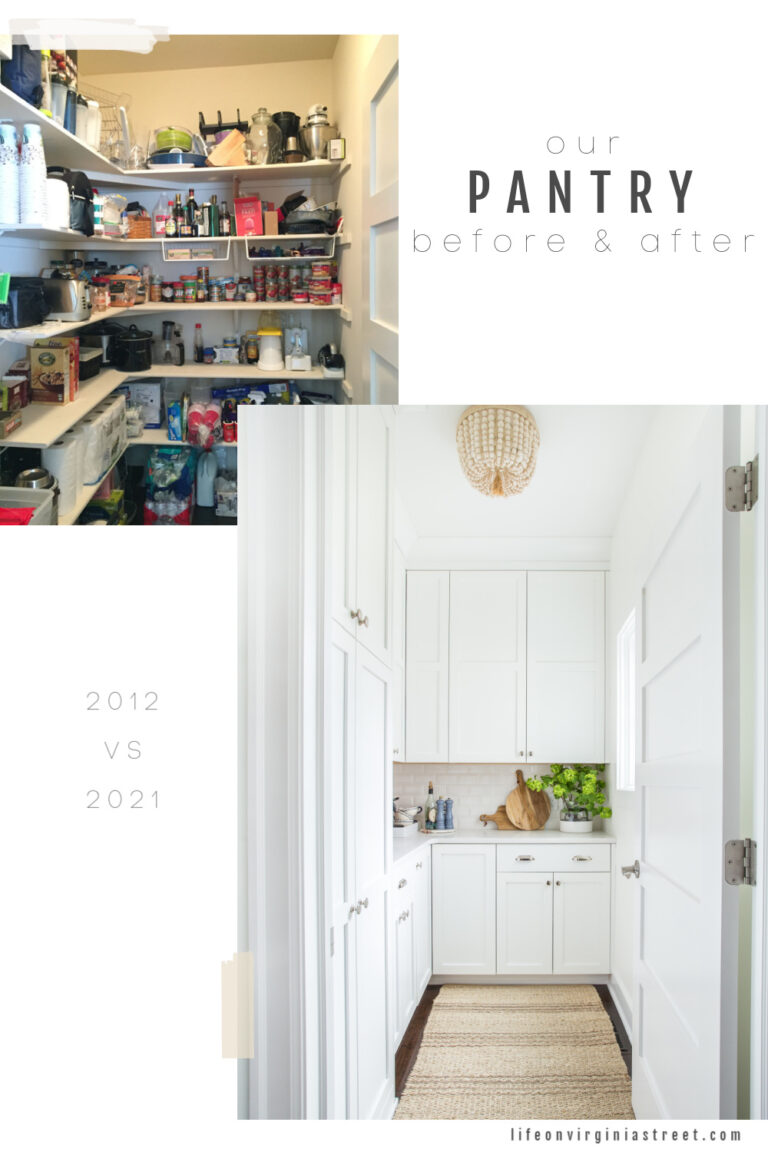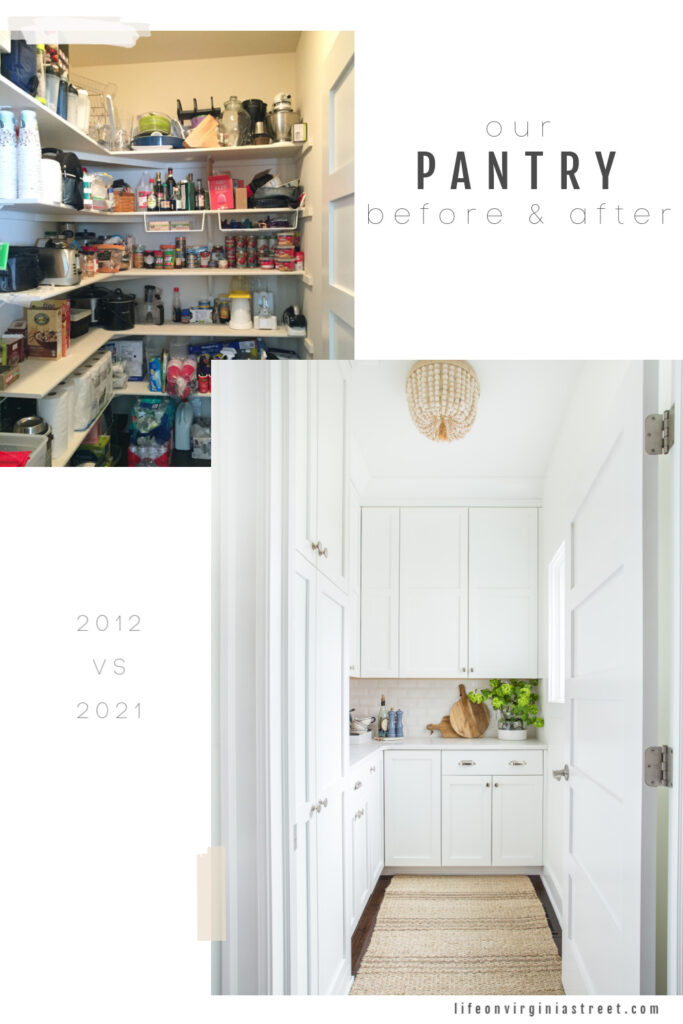 PANTRY SOURCES: Beaded Light Fixture | Cabinet Knobs and Pulls | Wood Boards (Homegoods – old) | Marble Tray | Paint Dipped Vase | Faux Viburnum Stems  | Motion Sensor | Blue Salt & Pepper Grinders | Rug (old Dash & Albert second-hand find)
LIVING ROOM BEFORE & AFTER
The 'after' photo below is from my 2021 Summer Home Tour, so it still has the old carpet. But everything pretty much looks the same otherwise (and that fact that it's decorated for Christmas now) 😉 The original furniture in the room was purchased for our last house and was way too bulky and dark for this home. We've slowly updated it over the years and love what we have now!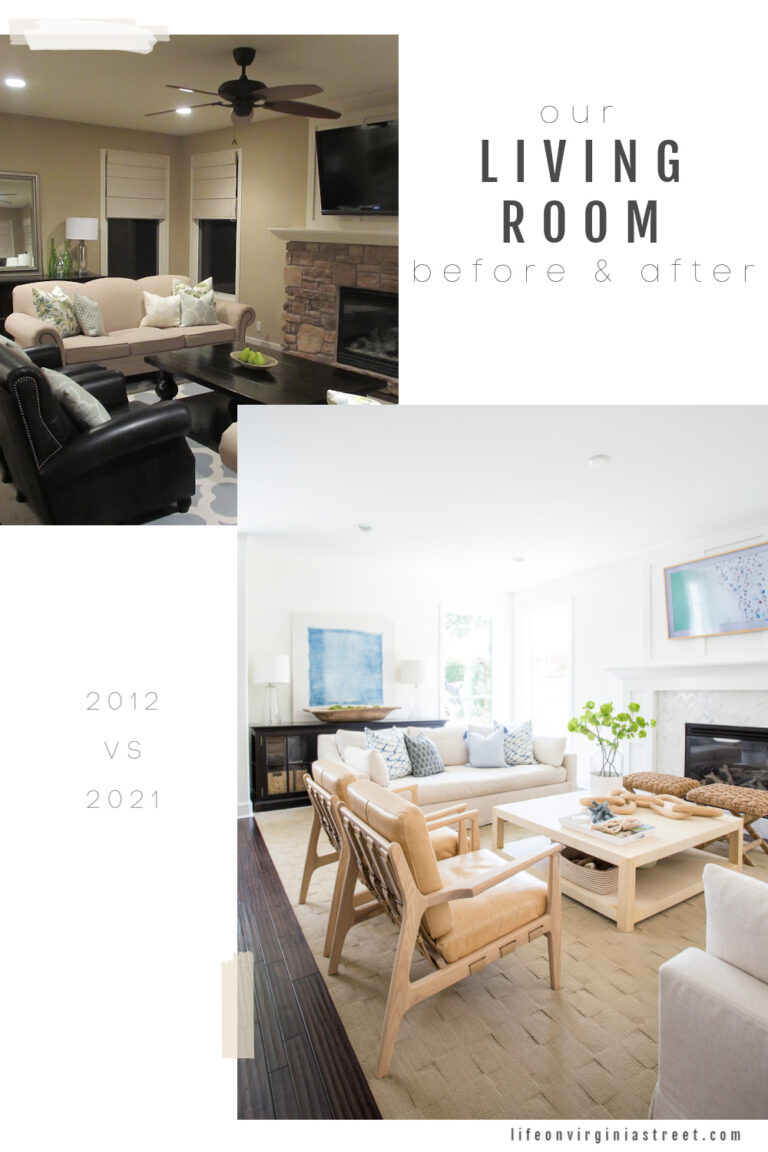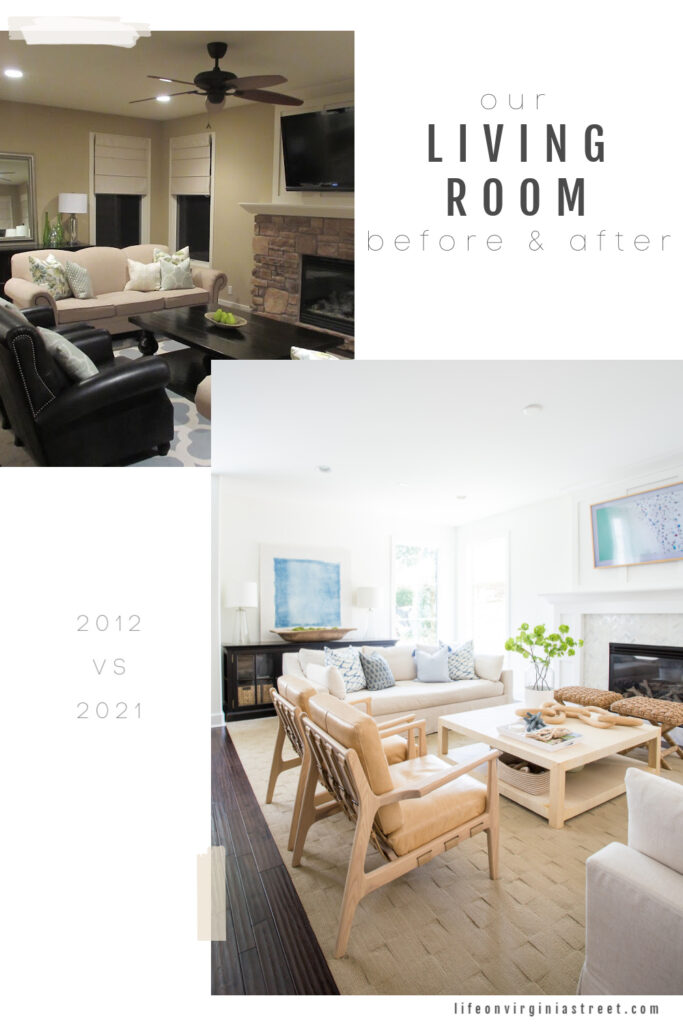 LIVING ROOM SOURCES: Linen Sofas (read my review here) | Buckle-Back Leather Chairs | Raffia Coffee Table | Woven Stools | Colorblock Vase | Faux Viburnum Stems | Similar Wood Chain Object | Indigo Ombre Canvas Art | Similar Black Cabinet | Lamps | Wood Dough Bowl | Water Effect Pillow Covers | Clipped Stripe Tassel Pillows | Similar Block Print Pillows | Frame TV
DINING ROOM BEFORE & AFTER
I ordered our dining room table in 2020, but it didn't actually show up until 2021. So, The room underwent some minor changes this year. This biggest of which was the addition of the pool house right out the door (you can see it in the framing stage below). We actually updated the sliding door as well, removing the transom and extending the door the full height to match the other ones in the pool house. Fortunately, this really didn't make it any darker in our dining room! The image below shows our new windows, but the new slider wasn't yet installed. You can see how that looks in my 2021 Christmas home tour.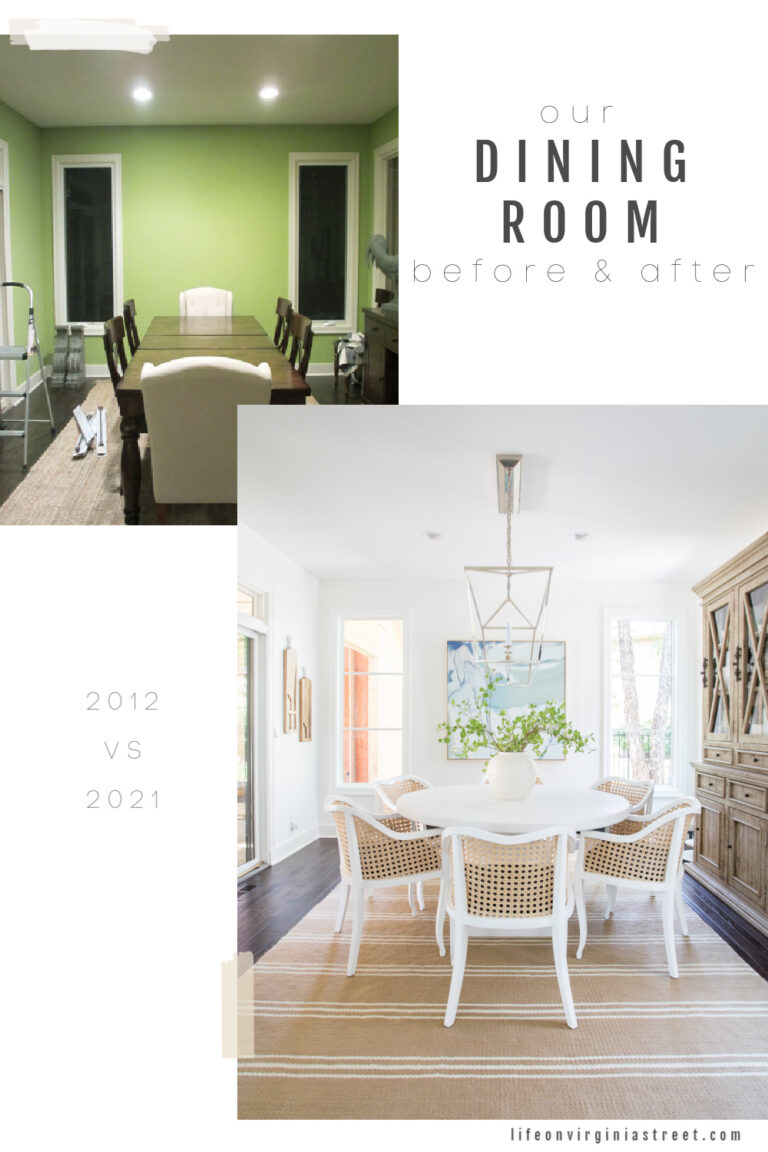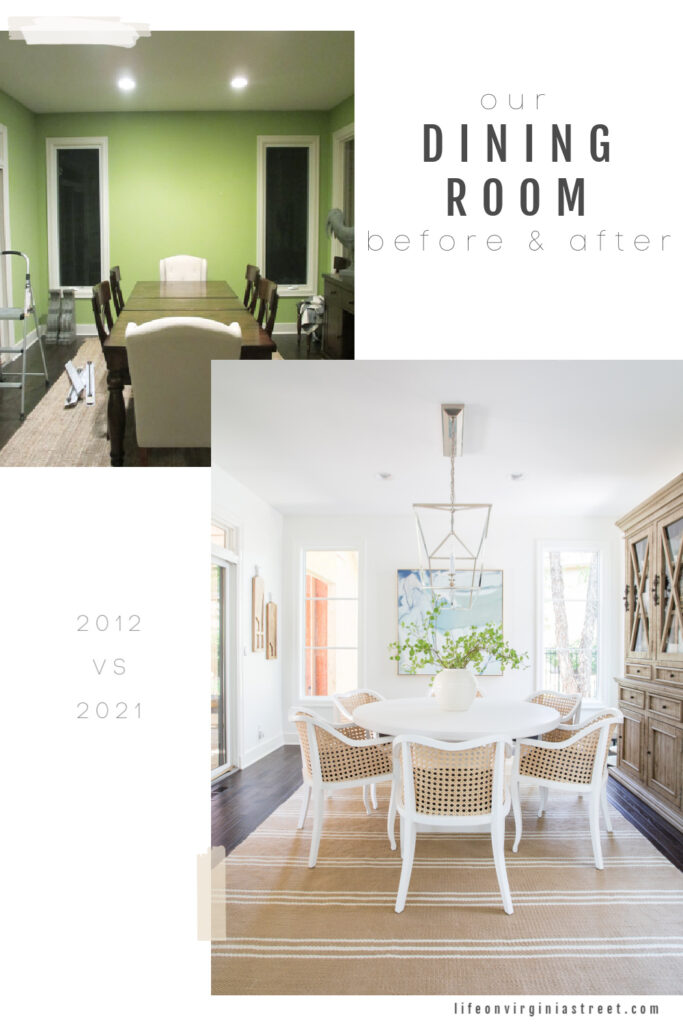 DINING ROOM SOURCES: Cane Dining Chairs (look for less here) | Stone Dining Table | Linear Chandelier (look for less here) | Hutch | Striped Rug (gray version – my color is no longer available) | Abstract Art | Vase | Faux Greenery Stems | Wood Serving Boards
HOME OFFICE BEFORE & AFTER
Our home office is such a great space, but we have to make it wear many hats so I've struggled with a final layout for over a year now. Particularly now that Kurtis works from home and we also run two businesses from the space. You can read more about that here. But I'm hoping to make this space a focus in 2022.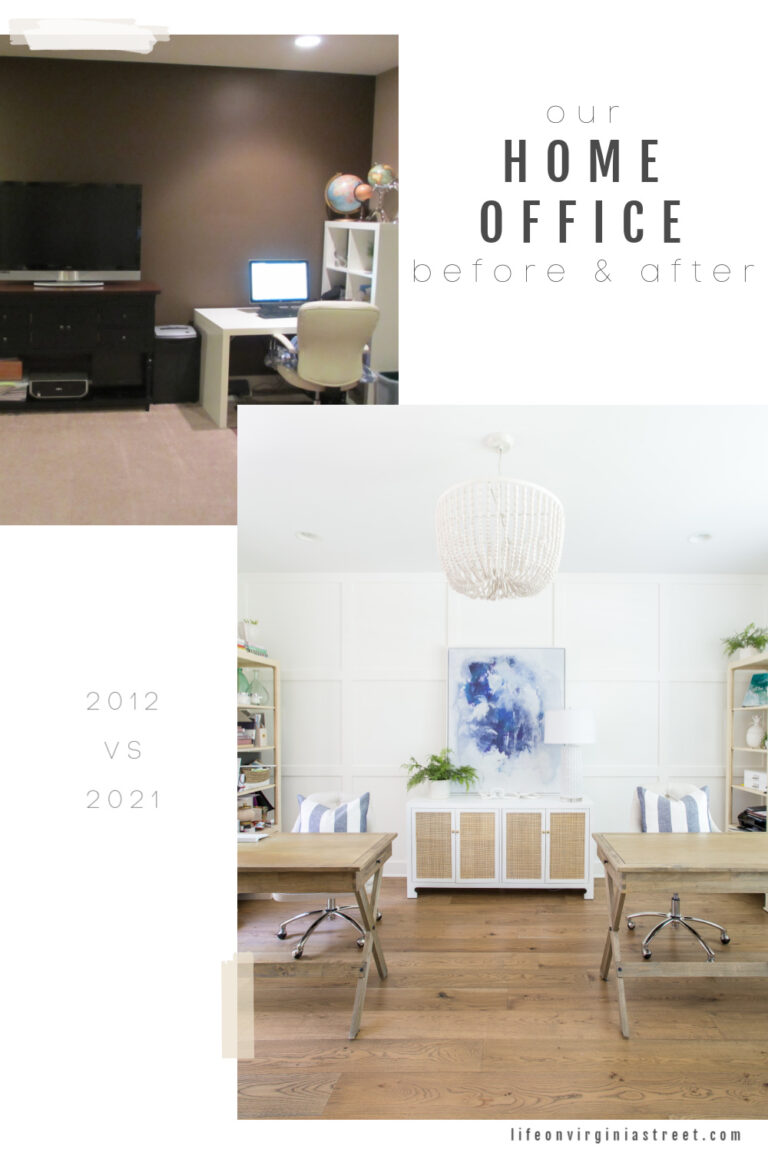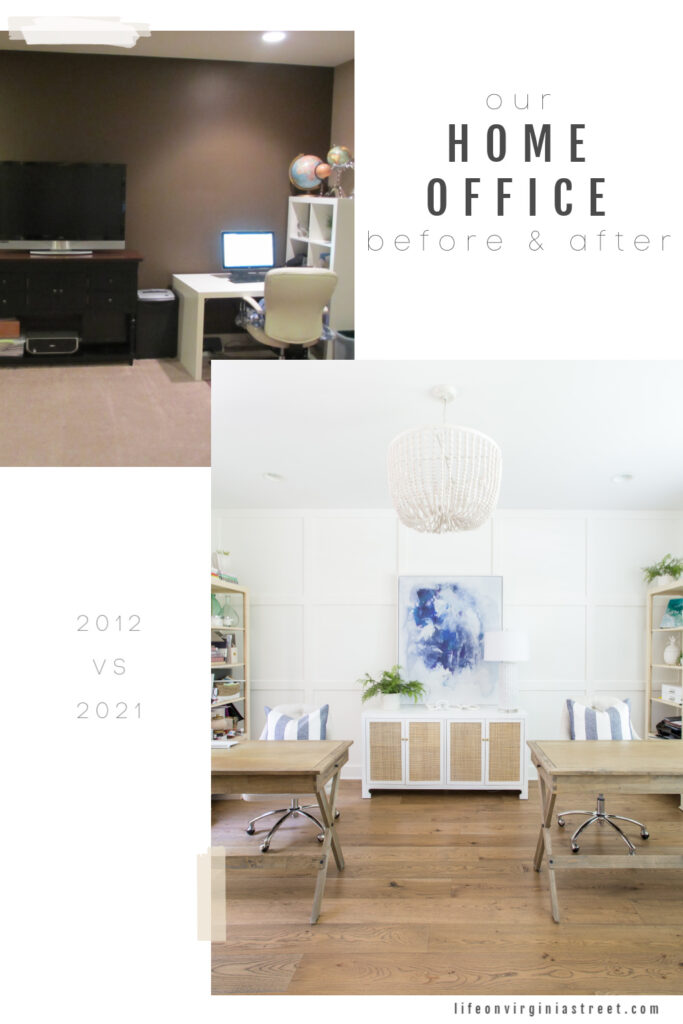 HOME OFFICE SOURCES:  Cane Cabinet | Wood Desks | Linen Chairs | Striped Pillows | Striped Curtains | Bookcases | White Wood Bead Chandelier | Similar Desk Lamps | Faux Fern Pots | Abstract Art | Marble Chain | White Bamboo Lamp – HomeGoods (old)
POWDER BATH BEFORE & AFTER
Nothing has changed in our powder bath this past year, but my painted thermofoil cabinets have held up well over the past four years!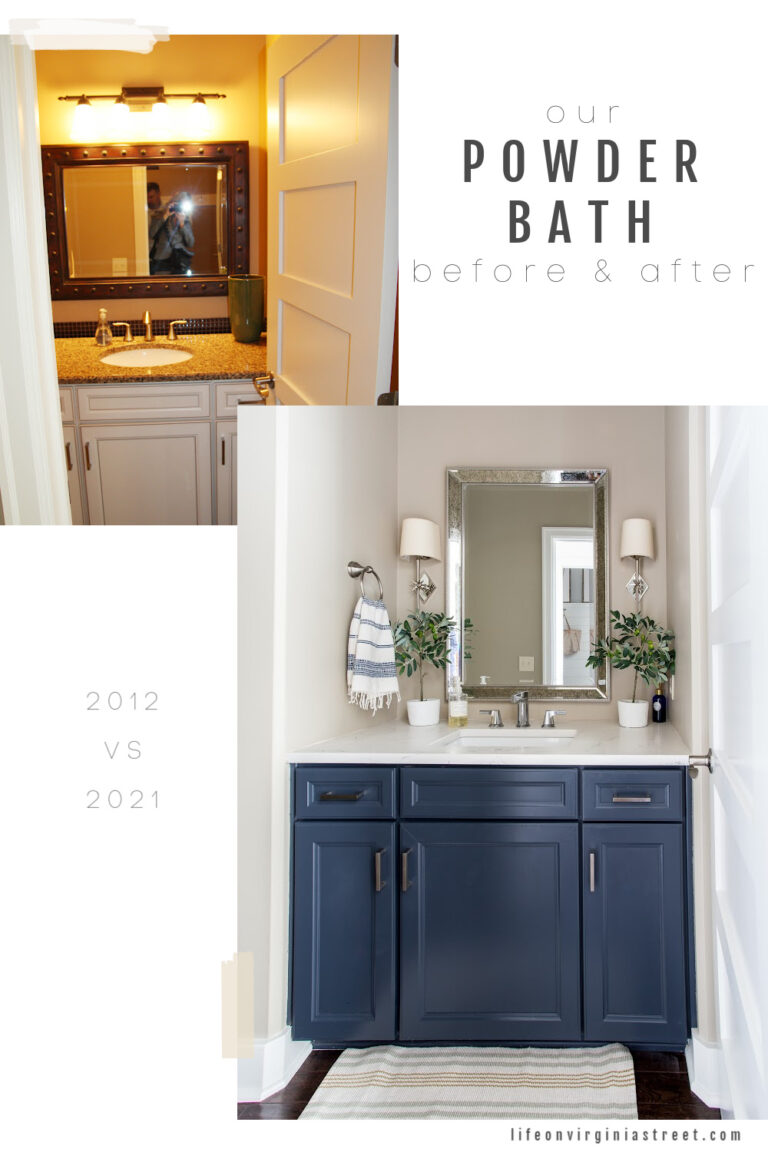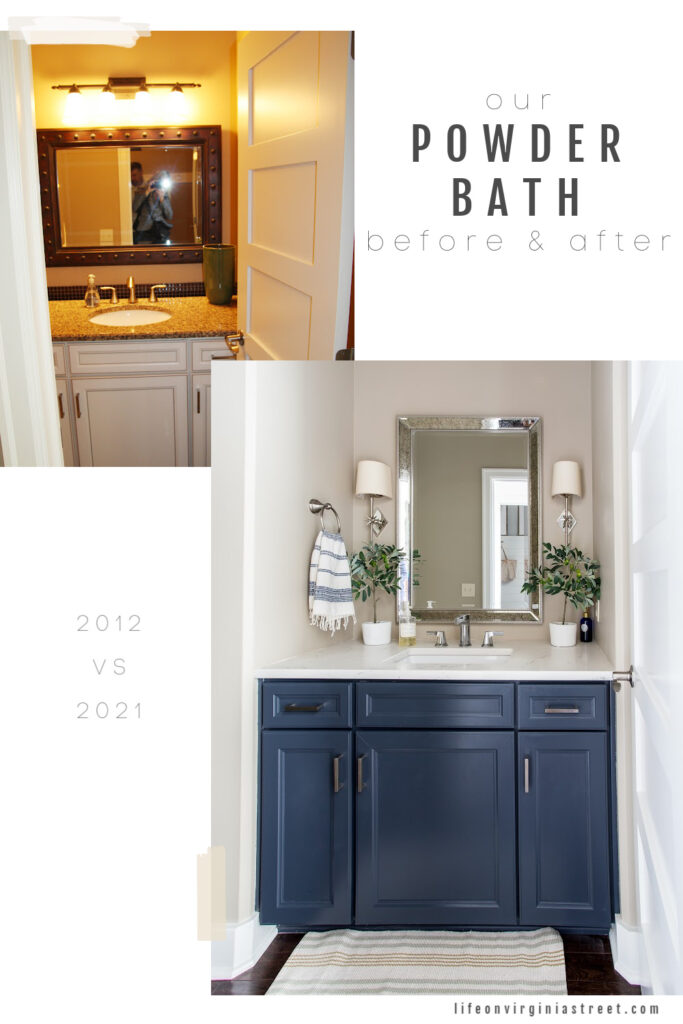 POWDER BATH SOURCES: Star Chandelier | Star Sconces | Striped Rug | Similar Mirror | Meyer Lemon Hand Soap | Faucet | Similar Olive Topiaries
MUD ROOM BEFORE & AFTER
We've done a few updates here and there in our mud room, but the cabinets and drawers off to the right are still the yellow-ish thermofoil. Maybe 2022 will be the year I tackle them once and for all!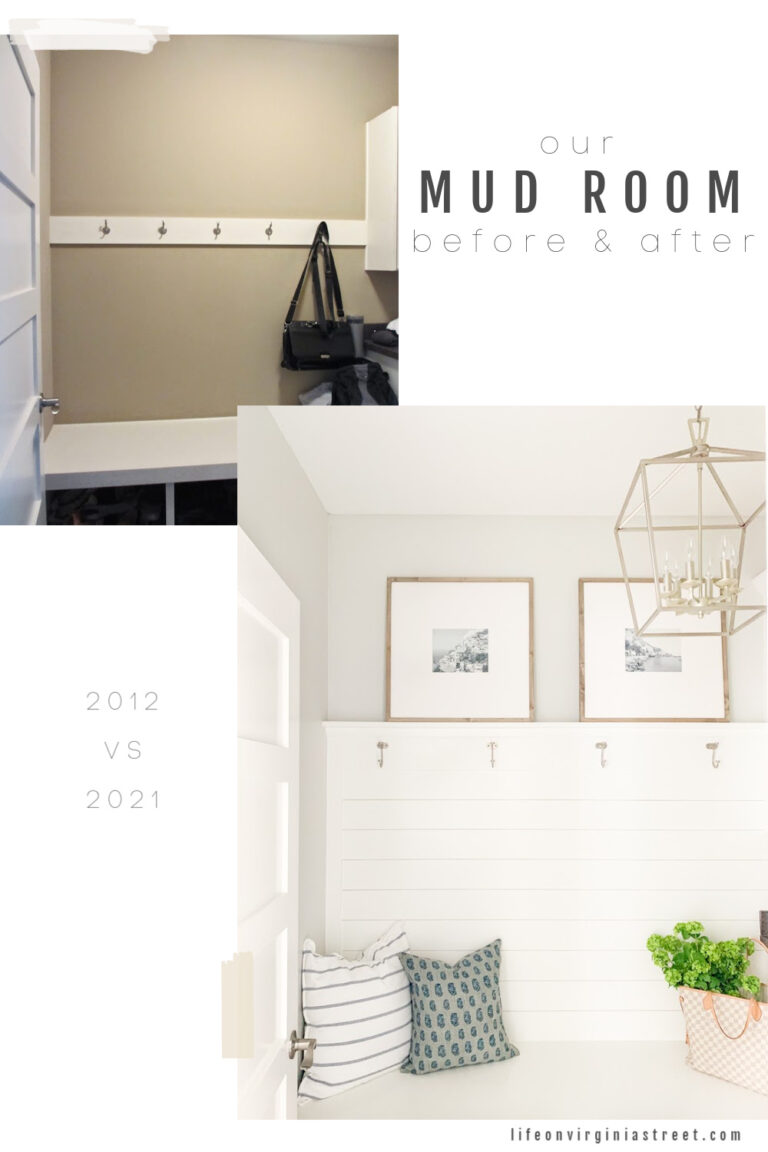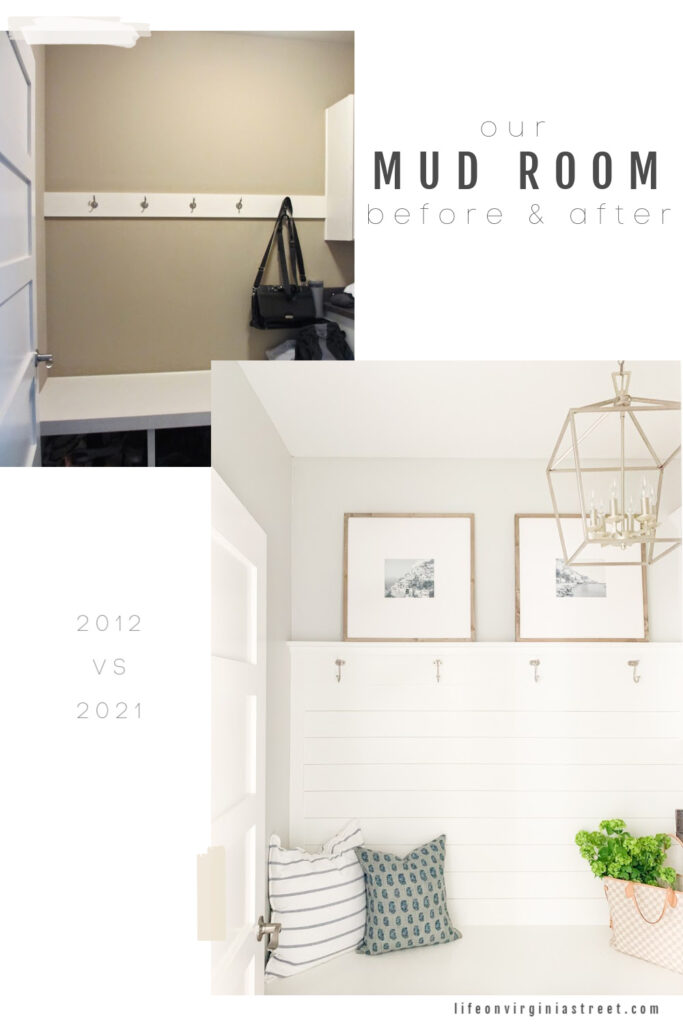 MUDROOM SOURCES: Lantern Chandelier | Striped Pillow | Similar Paisley Pillow | Gallery Frames | Faux Viburnum Stems (similar here)
COURTYARD BEFORE & AFTER
Our courtyard is famously known as the spot "in" our home that sold us on the house. It's such a unique feature and allows windows on 2-3 walls in every room in our home. It's still one of my all-time favorite features of our home!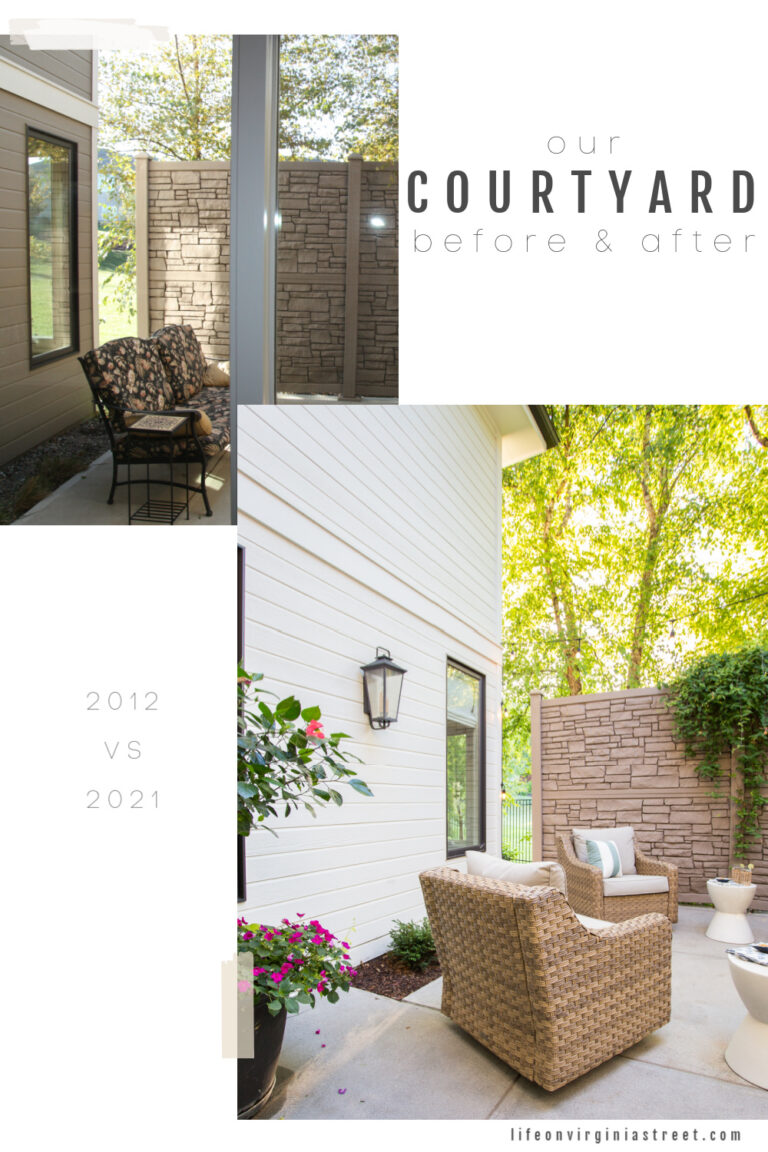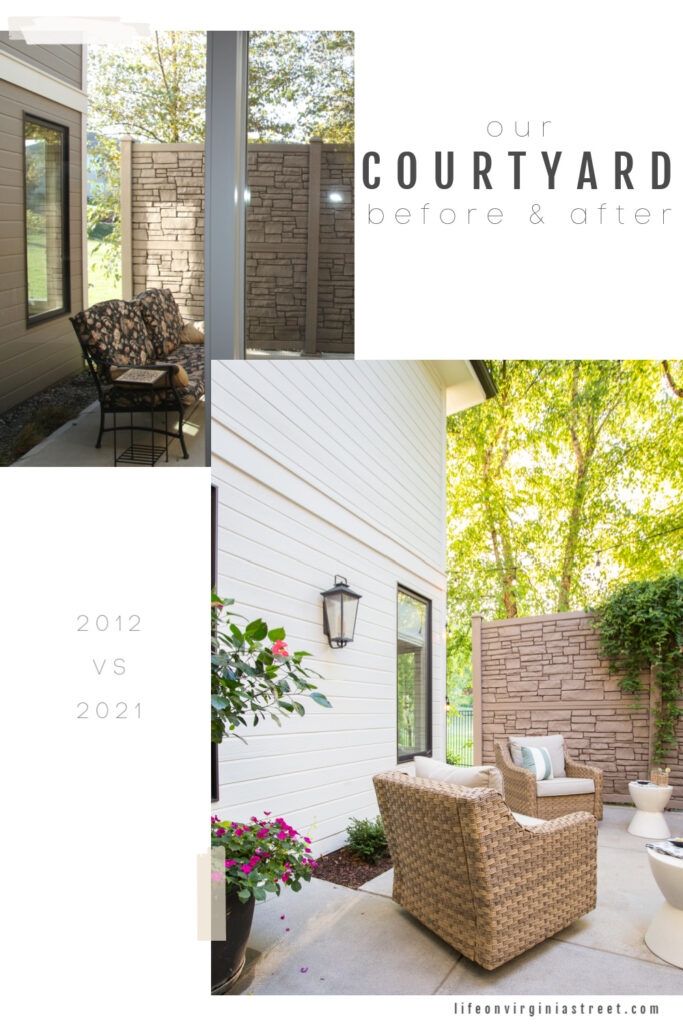 COURTYARD SOURCES: Swivel/Glide Woven Armchairs | Concrete Side Tables | Sunbrella Striped Outdoor Pillows | Lantern Wall Sconces | Shatterproof String Lights | Block Print Napkins | Cane Wrapped Glasses | Oyster Shell Dishes | Faux Stone Wall | Similar Black Planters
STAIRWELL BEFORE & AFTER
Our stairwell is proof that a coat of paint and new lighting can completely change a space!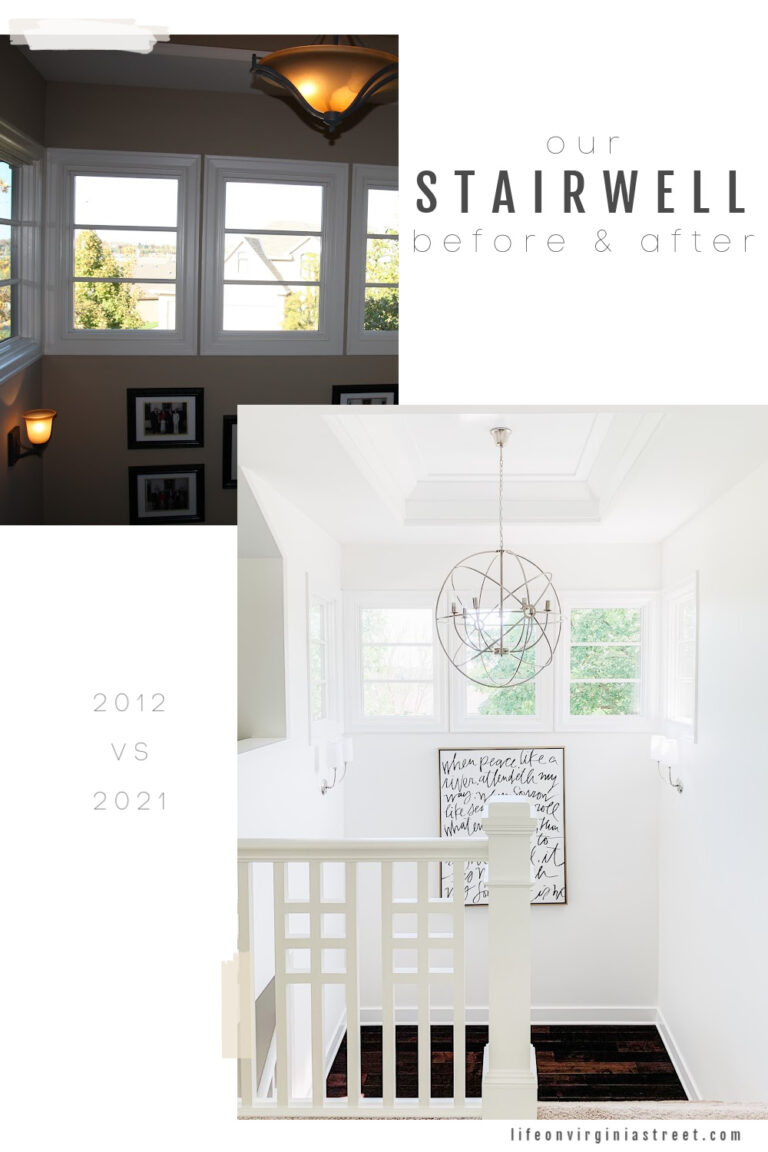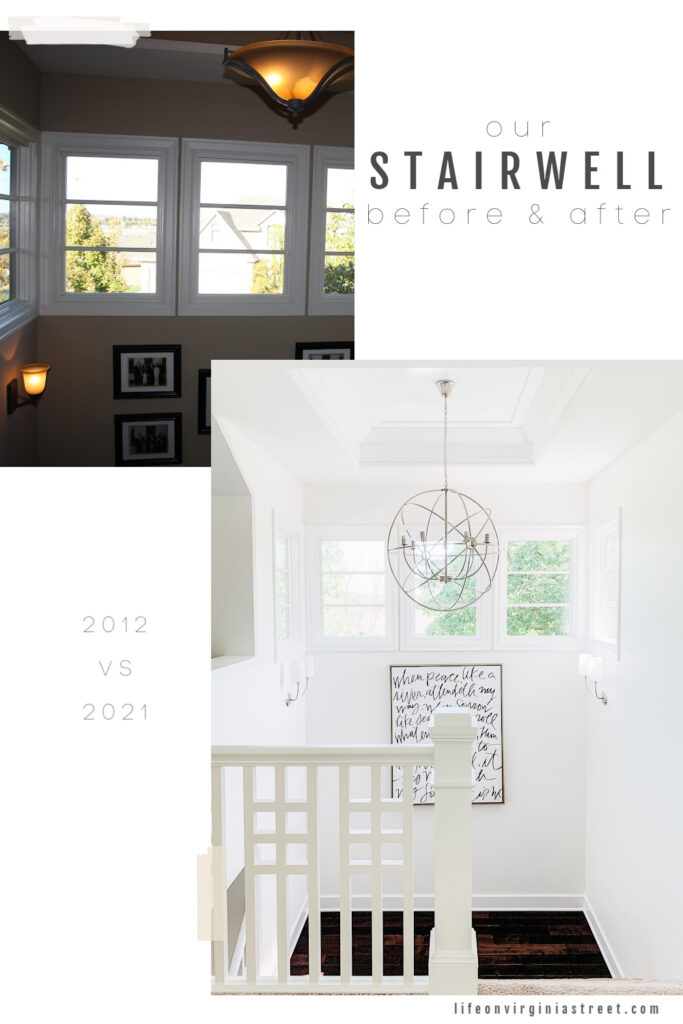 STAIRWELL SOURCES: Similar Orb Chandelier | 'It Is Well' Canvas Art | Double Sconces
UPSTAIRS HALLWAY BEFORE & AFTER
No more buckling carpet!! Perhaps one of the most impactful yet underrated updates was the installation of our carpet upstairs. The carpet should have been replaced years ago, but we finally did it after some water came in during construction and we had to add carpet to our closet regardless. So happy we finally have it done!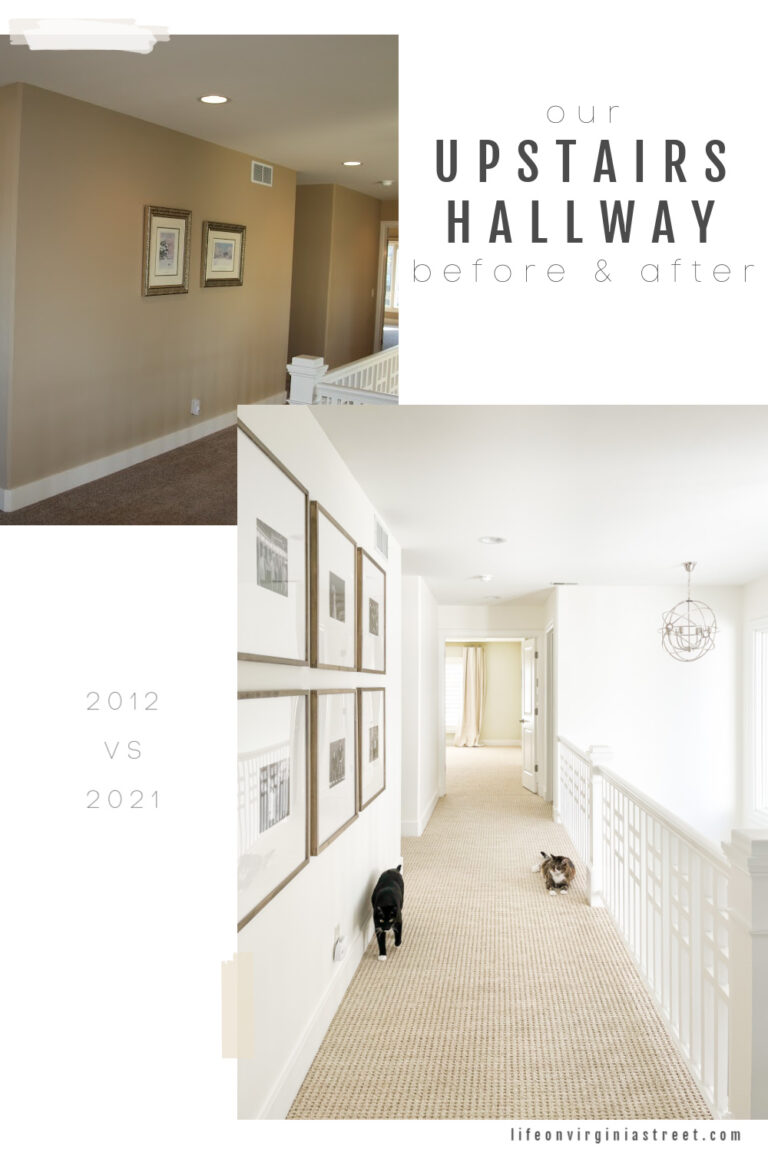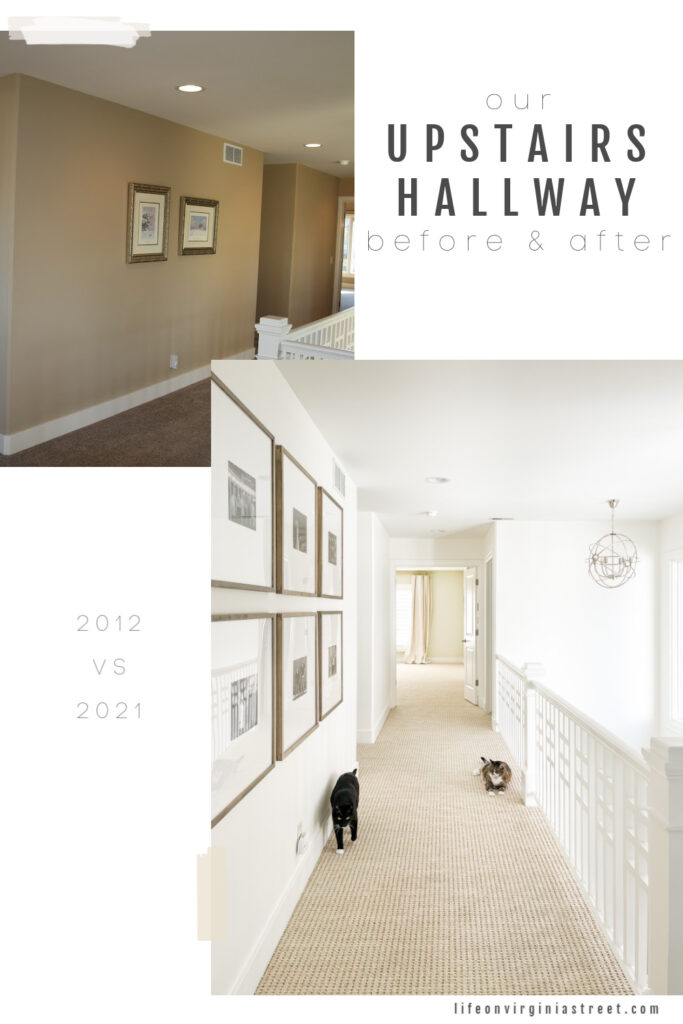 UPSTAIRS HALLWAY SOURCES: Similar Orb Chandelier | Gallery Wall Frames
KING GUEST BEDROOM BEFORE & AFTER
We name our guest bedroom based on the mattress size – because we're creative like that 😉 No major changes in here this year, other than a few textile swaps! We did finally get rid of the messy bookcase and added a dresser early in the year, but that's it!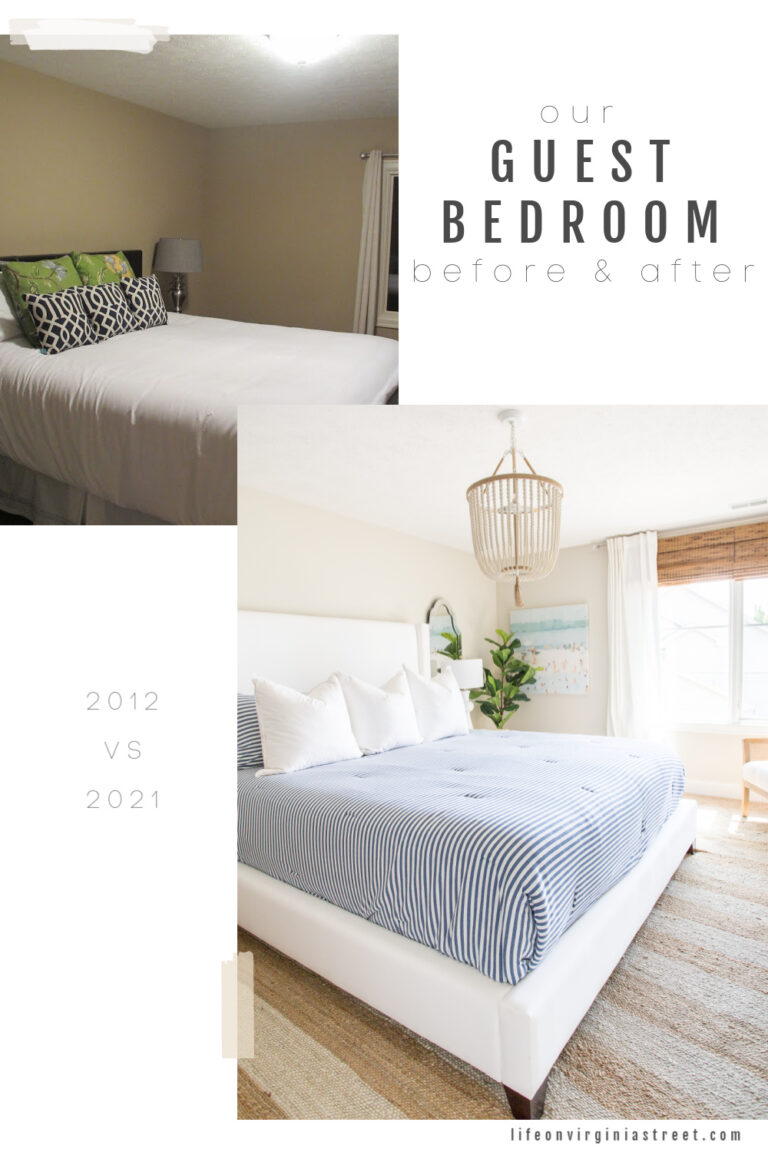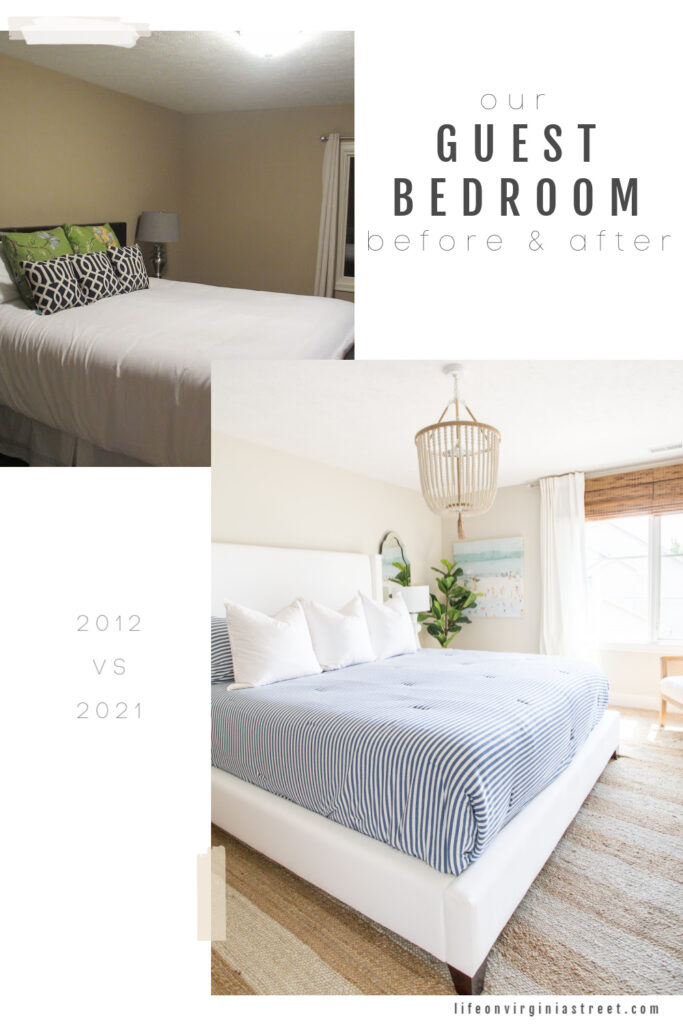 GUEST BEDROOM SOURCES: Upholstered Bed | Striped Comforter Set | Euro Pillows | Bead Chandelier | Striped Rug | Raffia Nightstands | White Ceramic Lamps (come as a set of two) | Abstract Beach Art | Faux Fiddle Leaf Fig Tree (this is the 5'4″ size) | Mirrors | Similar Drapes | Cane Chair
JACK & JILL BATHROOM BEFORE & AFTER
One of our first projects of the year was the renovation of our Jack & Jill bathroom! This is one of those projects that we had planned to start in early 2020, and then the world shut down and the rest is history. So, we got on the schedule first thing this year and are so happy with how the space turned out!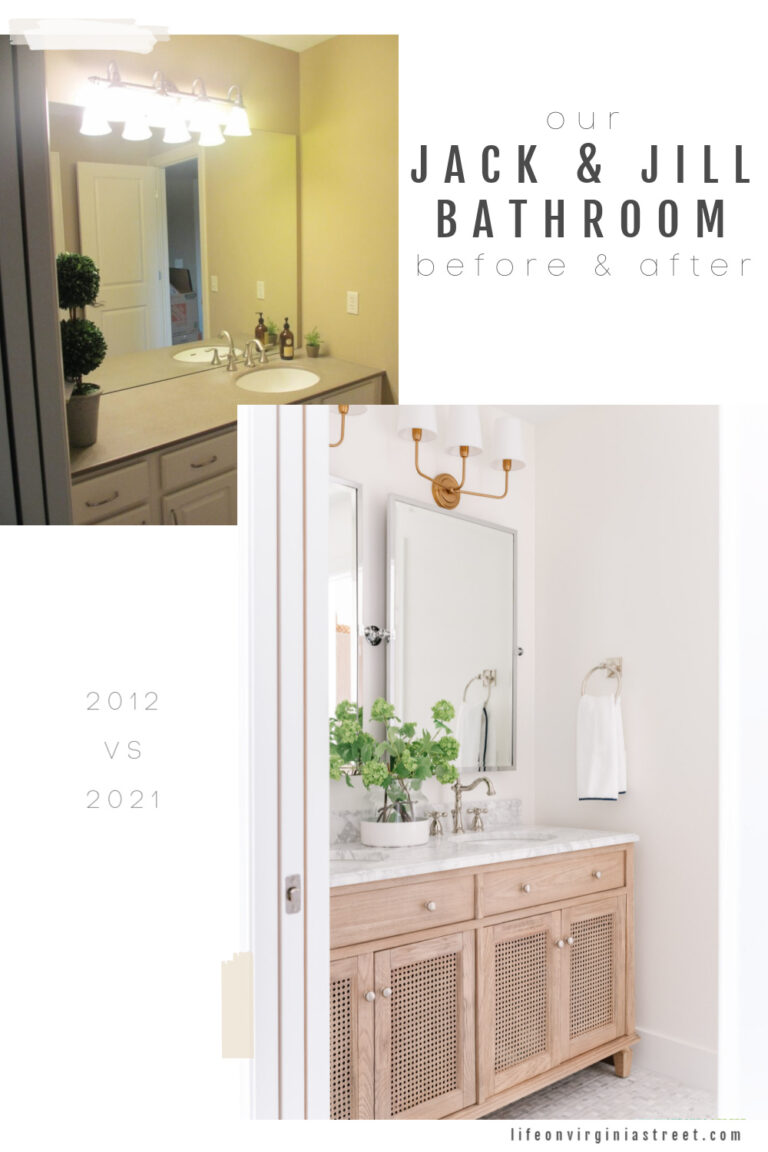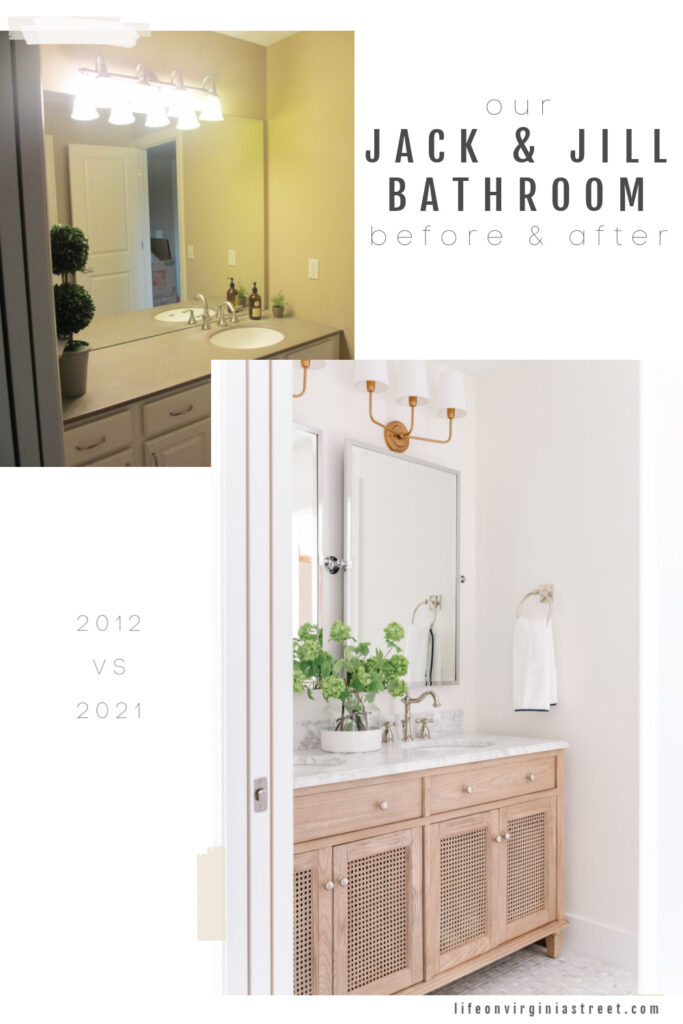 GUEST BATHROOM SOURCES: Cane Vanity | Pinwheel Carrara Marble Floor Tile | Sconce Lights | Pivot Mirrors | Faucets | Towel Bar | Towels | Paint Dipped Vase | Faux Viburnum Stems
QUEEN GUEST BEDROOM BEFORE & AFTER
No changes in here this year when you look this direction. When you face the other way, Kurtis has taken over now that he works from home. And let's just say, his desk is definitely not inspirational or blogworthy 😉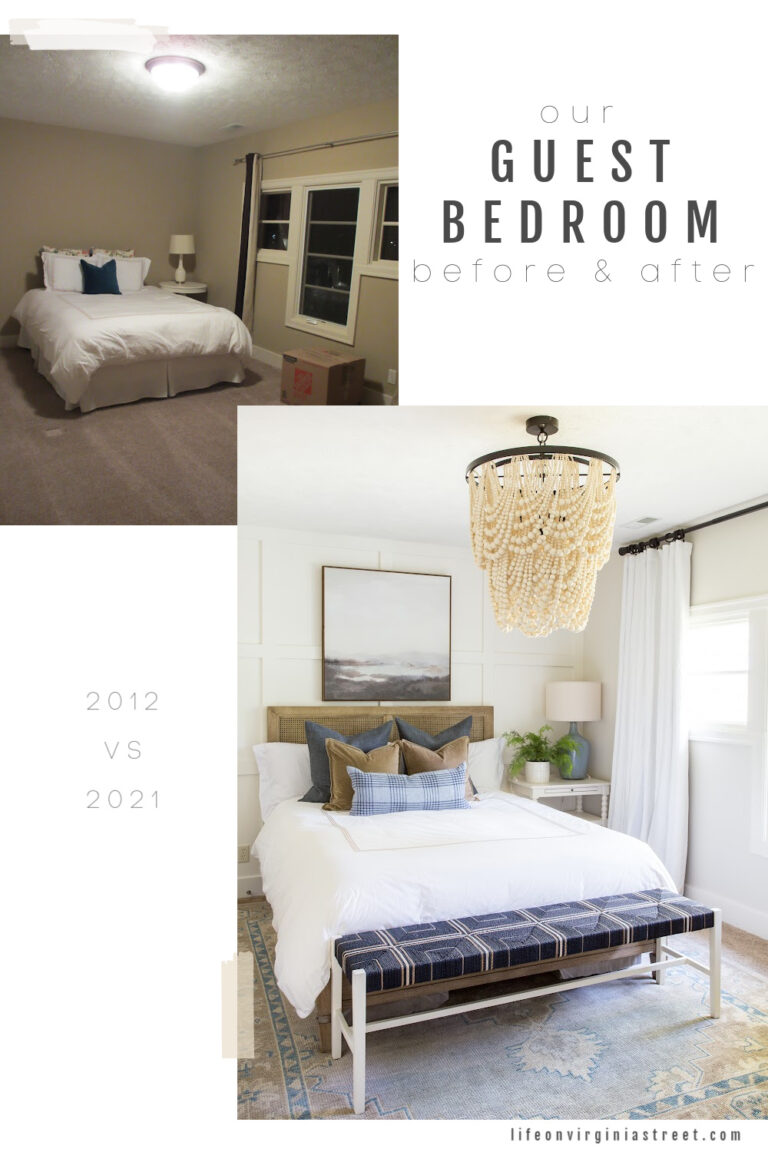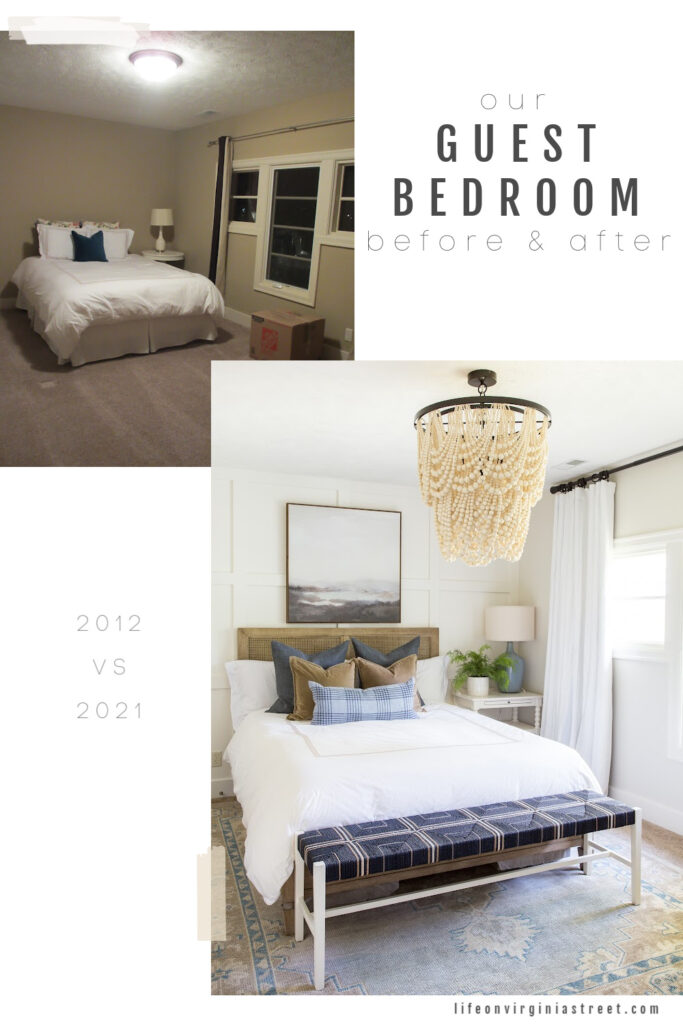 UEST BEDROOM SOURCES: Wood Cane Bed | Hand-Knotted Rug | Bead Chandelier | Abstract Art | Spindle Nightstand | Belgian Linen Drapes | Iron Curtain Rod | Iron Finials | Iron Curtain Ring Clips | Woven Bench | Linen Pillows | Velvet Pillows | Plaid Lumbar Pillow | Ceramic Lamp | Faux Fern | Hotel Style Duvet Cover
QUEEN GUEST BATHROOM BEFORE & AFTER
We ended up renovating our small guest bathroom along with our Jack & Jill bathroom, once we found out Kurtis was likely working from home on a much more permanent basis. Since this room required much less in the way of renovation, it actually saved us a bit to have it done at the same time the crew was here for the other bathroom! With the other renovations we've done in the rest of our house, these bathrooms stuck out like a sore thumb. So it's nice to have the aesthetic much more in line with the rest of our home! And the addition of that window? Holy crap – such a difference maker!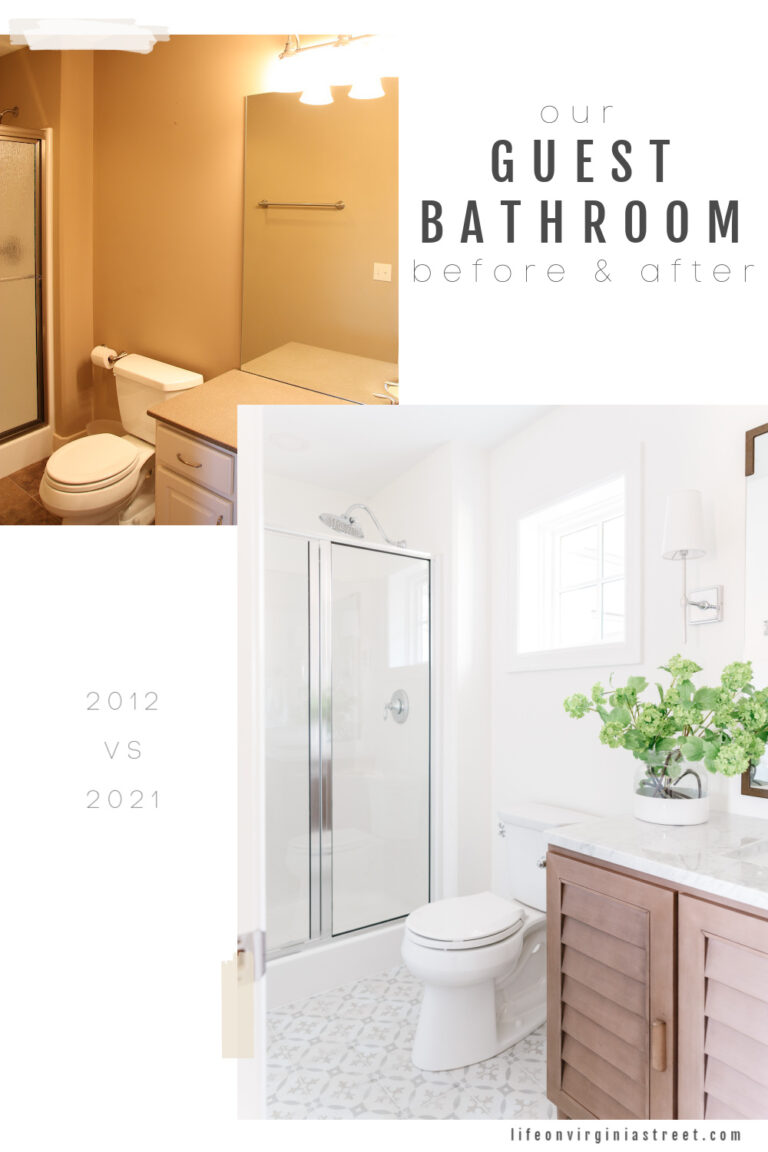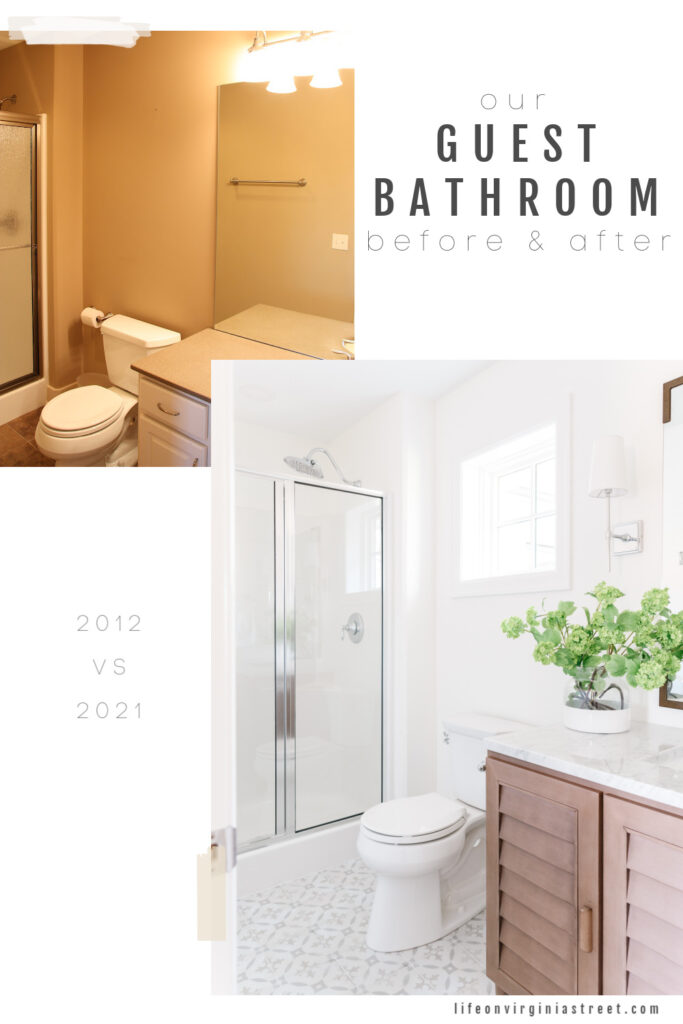 SOURCES: Louvered Wood Vanity (also here and here in other sizes) | Sink Faucet (chrome) | Shower Fixtures (chrome) | Toilet | Patterned Floor Tile | Floor Grout: Silverado | Mirror | Towel Ring, Toilet Paper Holder & Hooks (chrome) | Sconce Light Fixtures (chrome) | Faux Viburnum Stems | Paint Dipped Vase
MASTER BEDROOM BEFORE & AFTER
We actually haven't really changed anything in our bedroom for about a year. I do have an undecorated Christmas tree in there now, but after a makeover a few years ago, I haven't changed much!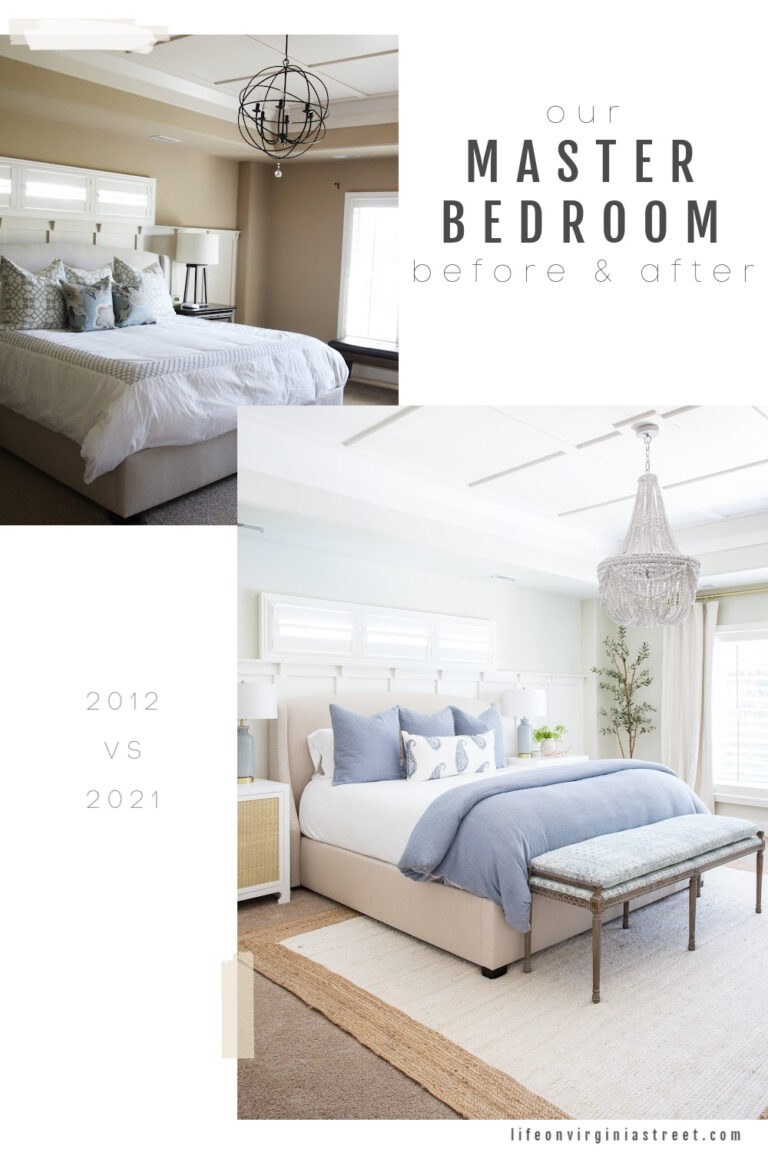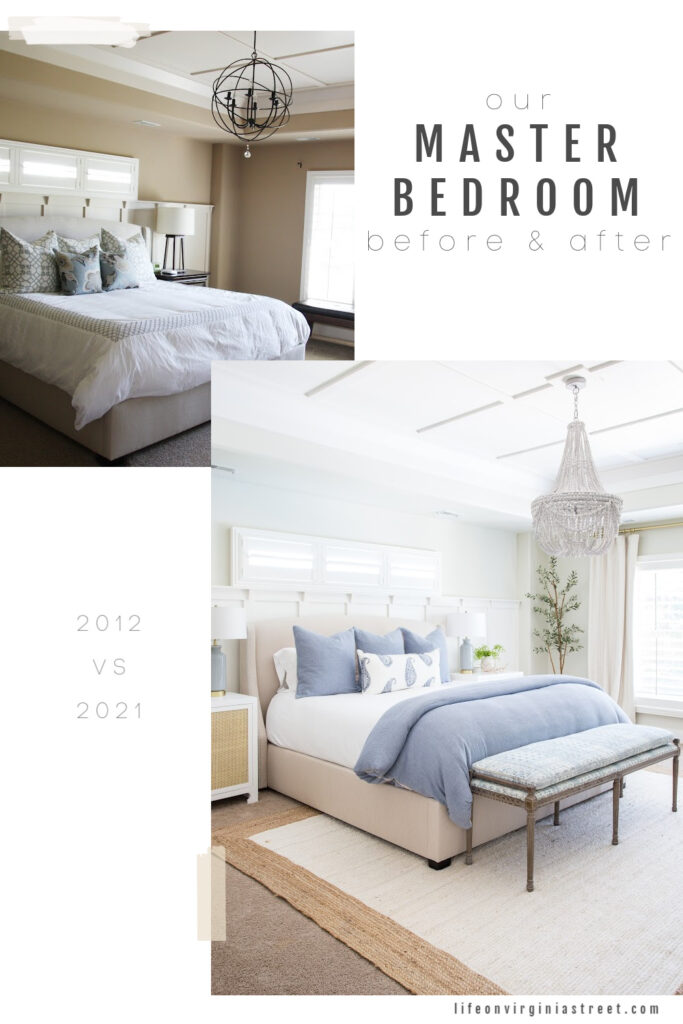 MASTER BEDROOM SOURCES: Similar Bed | Blue Euro Shams & Bedding | Paisley Lumbar Pillow | Cane Nightstands | Bead Chandelier | Faux Potted Maidenhair Fern | Manzanita Branch | Jute Rug | Dresser Lamp | Nightstand Lamps | Gallery Wall Frames | Striped Curtains | Curtain Rod | Bench | Dresser | Round Grid Mirror | Similar Ceramic Vase | Faux Lemon Stems
MASTER BATHROOM BEFORE & AFTER
Our bathroom actually got some unintended updates during our pool house renovation. We expanded our closet (since it was the only time we'd ever be able to once the pool house was done). But, we stalled on figuring out a closet system, so the room is empty and our clothes are randomly all over the house. We also added a window to the water closet and the room has since been painted Simply White. But, I don't have any non-construction photos, so I'm using an old one. But honestly, it pretty much looks the exact same as last year from this view, but with white walls. We'd love to renovate this room next, but honestly, I'm not sure we'll be ready for another major renovation for another year or two at the soonest.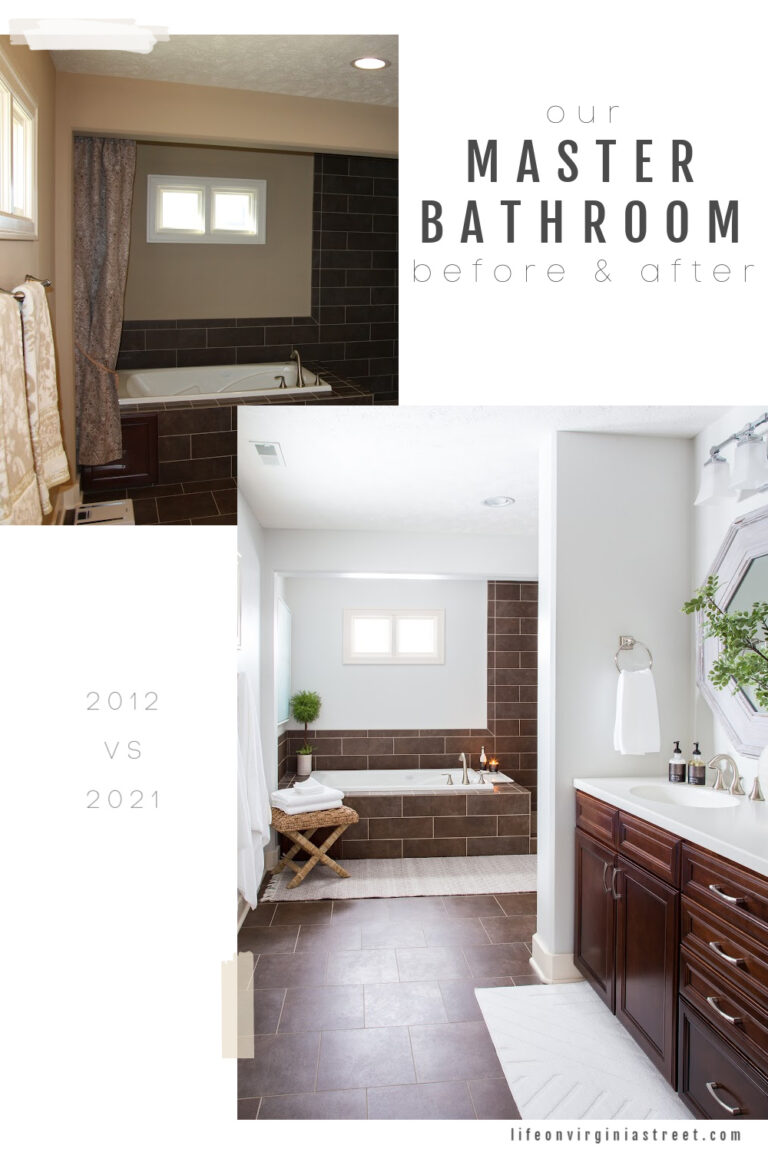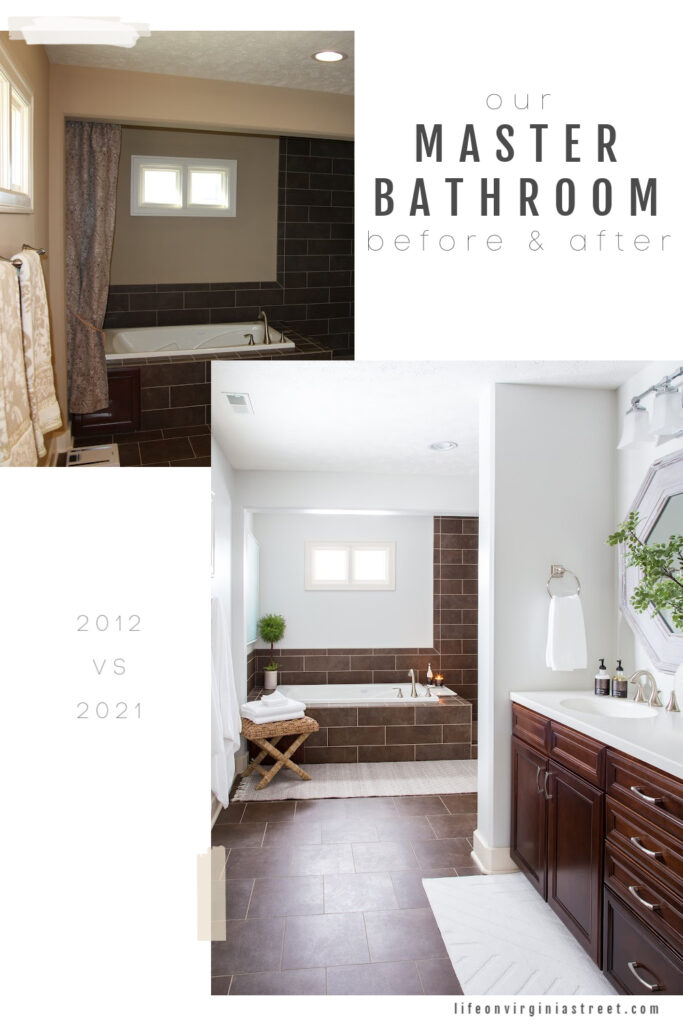 MASTER BATH SOURCES: Towel Hooks | Woven Stool | Similar Vase | Faux Greenery | Runner Rug
DEN BEFORE & AFTER
Our den saw a number of changes this year! Not only did I paint the board and batten Benjamin Moore Hale Navy, but we also got new carpet this fall! In addition, I ordered this coffee table, after decided our old one would work well in the pool house! This updated image of our den is from our 2021 Fall Home Tour if you're looking for even more photos!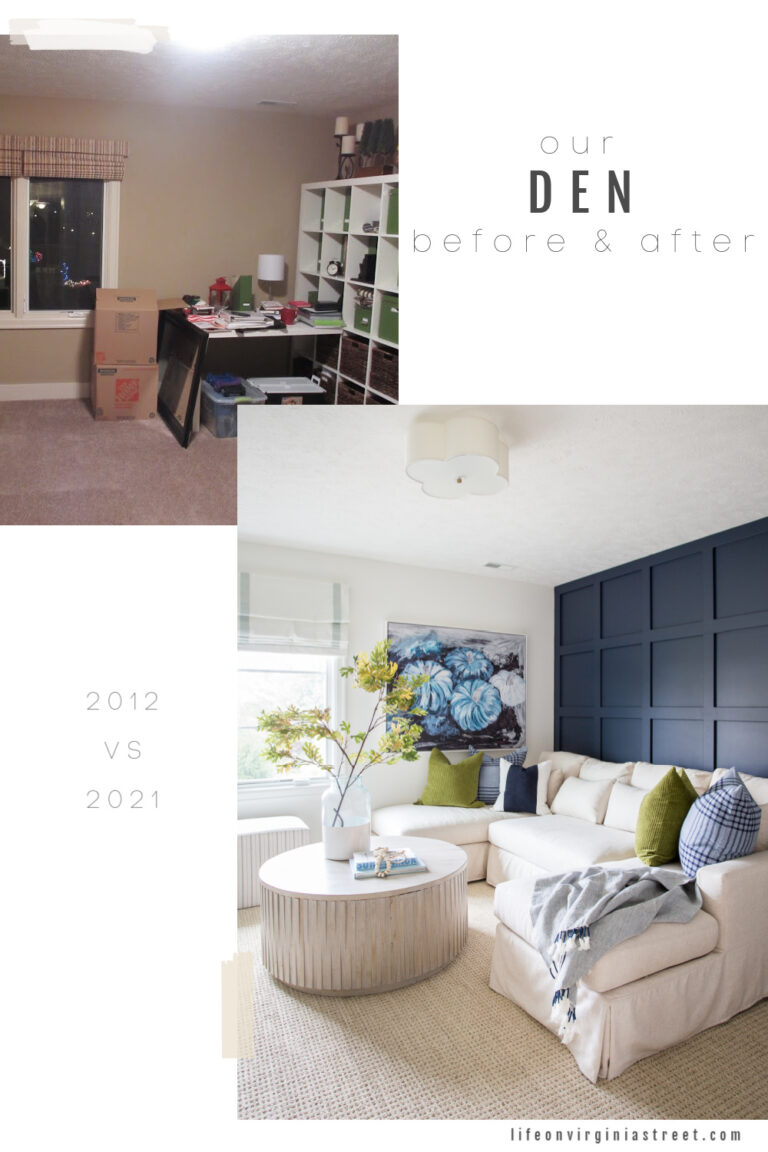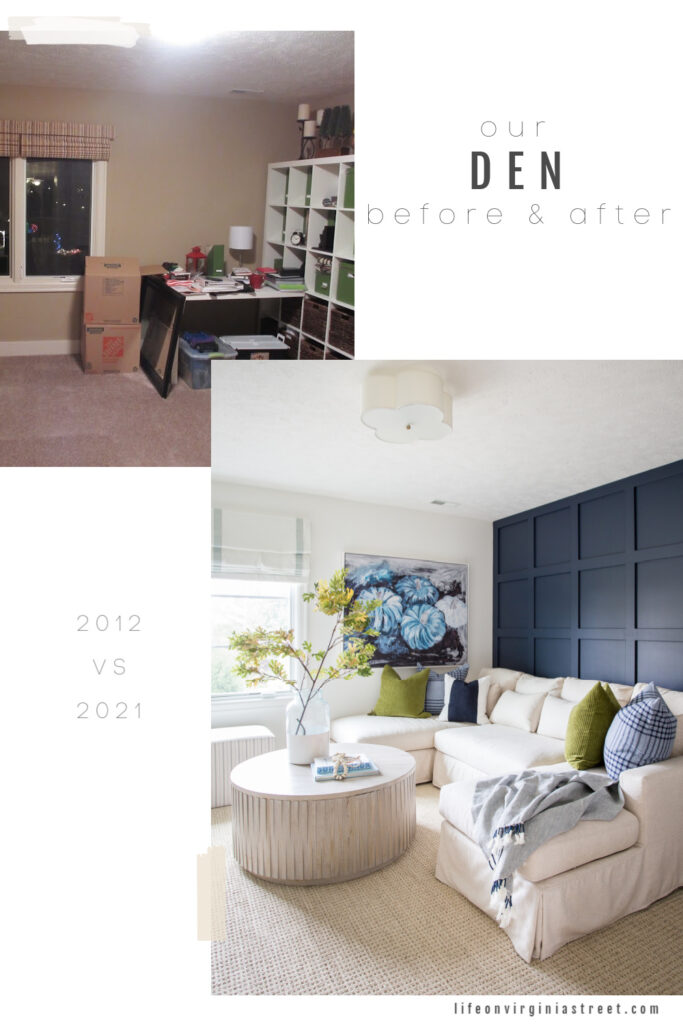 FALL DEN SOURCES: Linen Sectional (see my review here) | Coffee Table | Blue Pumpkin Art | Roman Shades | Striped Ottoman Bench | Faux Oak Leaves | Vase | Plaid Pillow Cover | Corduroy Pillow Cover | Linen & Suede Stripe Pillow Cover | Linen Throw Blanket | Tripod Lamp | Scallop Light Fixture
LAUNDRY ROOM BEFORE & AFTER
The last major update I gave our laundry room was when I painted the walls with a buffalo check pattern. Two years ago, we did have to replace our washer and dryer (and now have white models) so I need to get an updated photo with them in there! That was also on the to-do list last year, and yet here we are 😉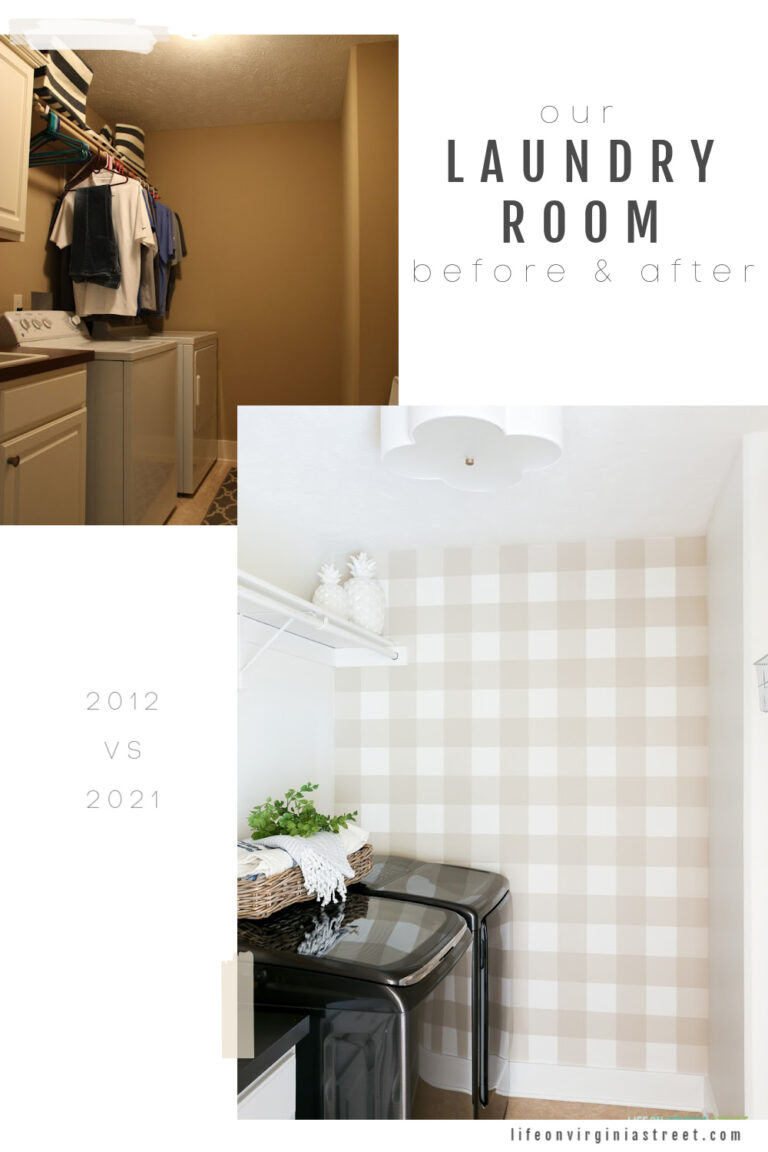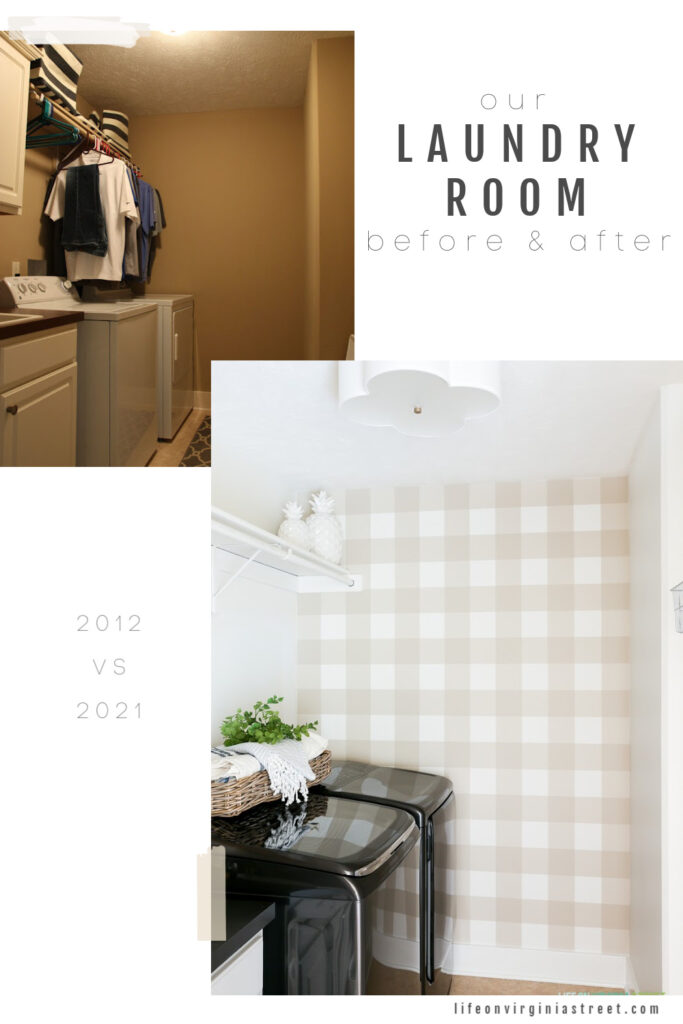 LAUNDRY ROOM SOURCES: Scallop Light Fixture | Similar Basket Tray | Similar White Ceramic Pineapple
BACKYARD & POOL BEFORE & AFTER
I opted to use a picture from the summer as the "after" since I don't have any great ones after the pool house was finished. I love this one though because you can see the footprint of the project, but also get to see summer mode rather than the dead of winter 😉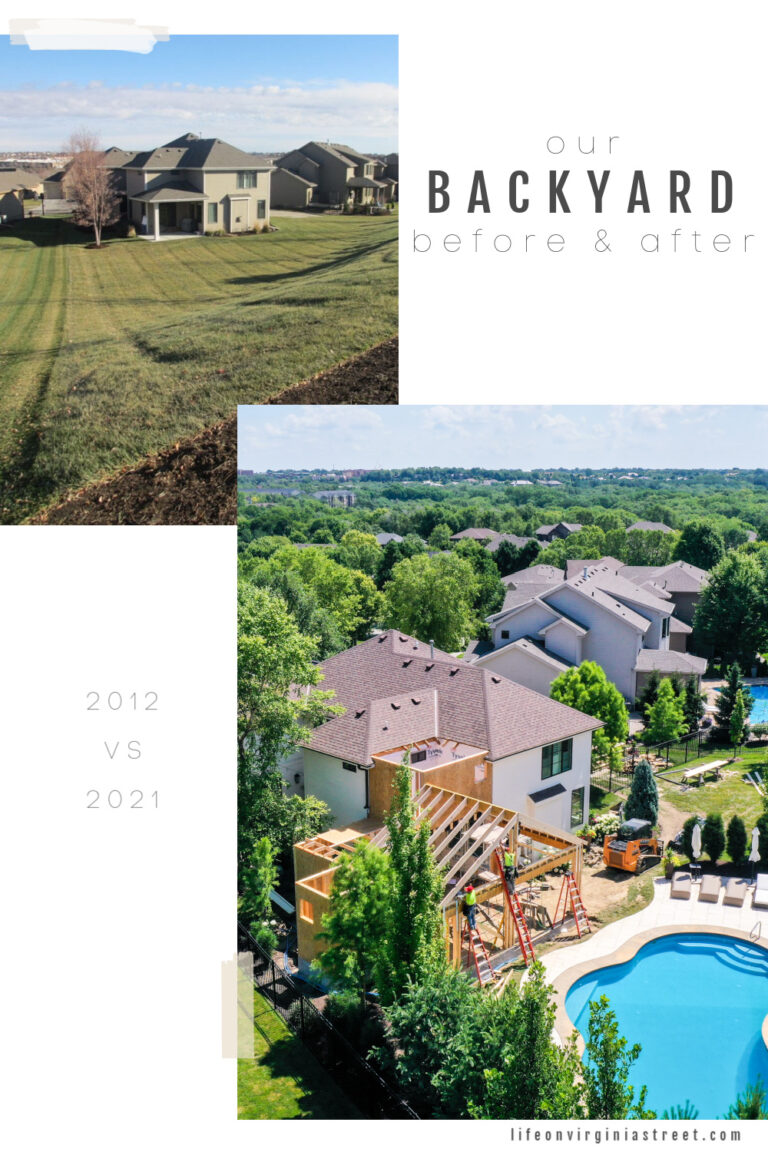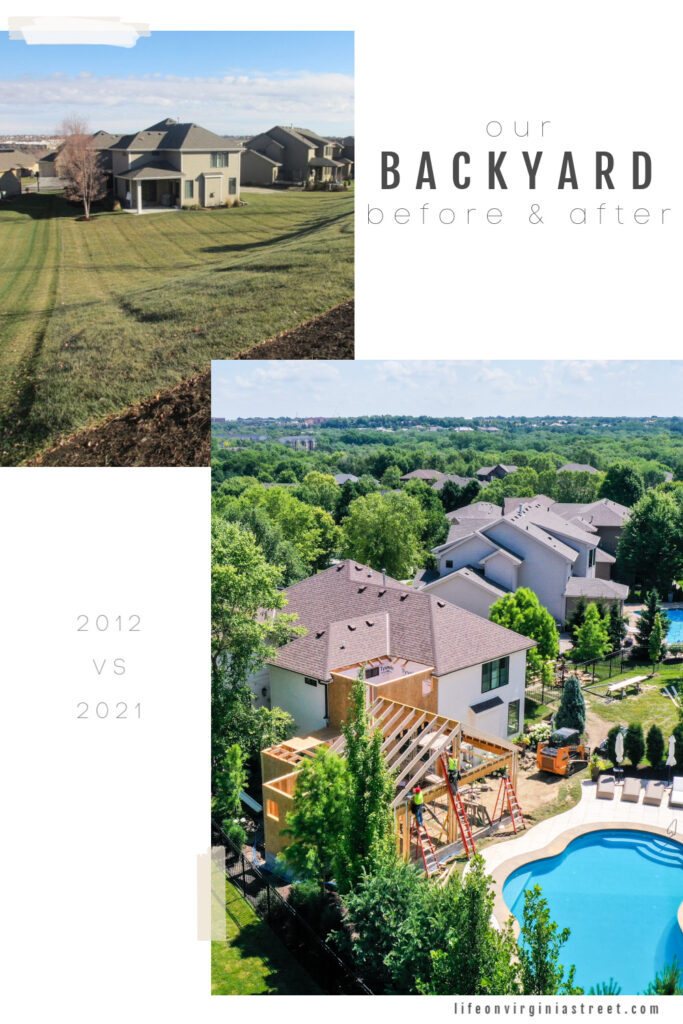 POOL HOUSE BEFORE & AFTER
Since there really wasn't a "before", here's a look at our pool house addition! I'm so excited to see the space take shape and change with each of the seasons!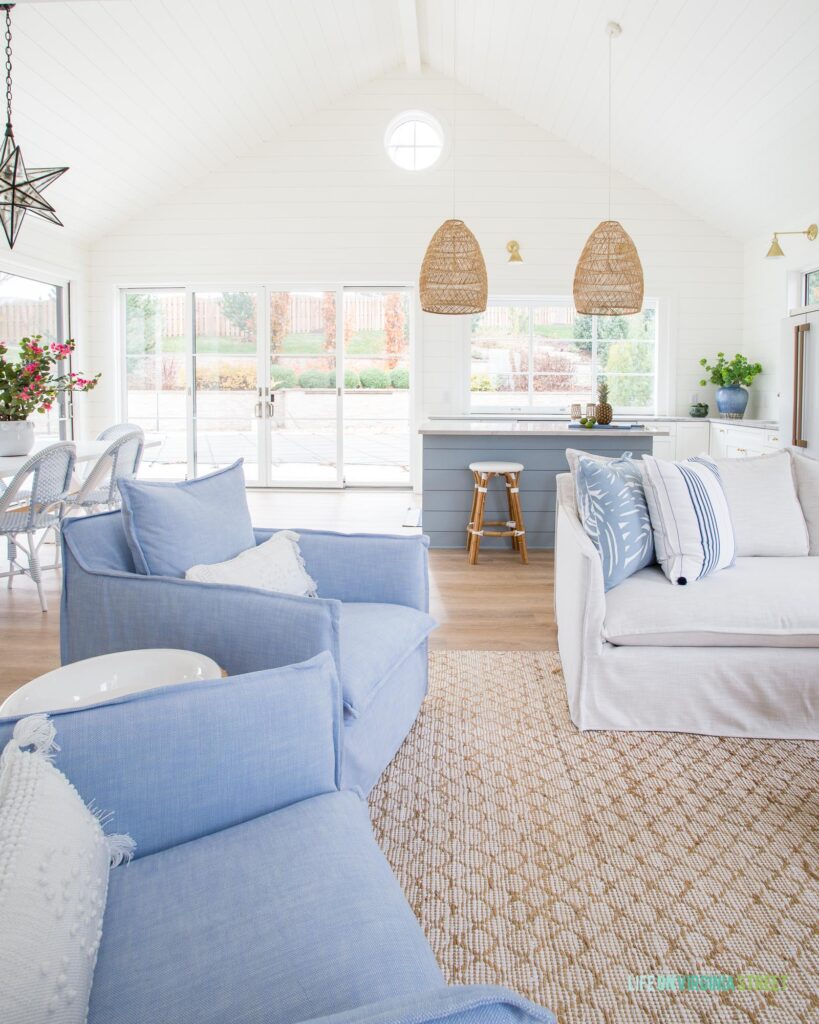 POOL HOUSE KITCHEN & BAR SOURCES: Basket Pendant Lights | Aged Brass Star Sconces | Backless Counter Stools | Cabinet Ball Knobs | Drawer Bin Pulls | Faucet | Counter Depth Fridge | LVP Floors (color: Dusk Cherry) | Seagrass-Wrapped Glasses | Seaglass Bowl | Faux Viburnum Stems | Blue Vase | Cabinet Color: BM Simply White | Countertops: White Macaubas Quartzite
POOL HOUSE LIVING ROOM SOURCES: Outdoor Sofa (Perennials Basketweave – Chalk) | Outdoor Swivel Chairs (Perennials Basketweave – Coastal Blue) | Round Storage Side Table | Rug | Woven Stools | Indoor/Outdoor Palm Pillow Cover | Indoor/Outdoor Striped Pillow Cover | Indoor/Outdoor Fringe Lumbar Pillow Cover
POOL HOUSE DINING ROOM SOURCES: Dining Table | Outdoor Dining Chairs | Star Pendant Light | Faux Bougainvillea | White Circle Dot Pot
That wraps up our 2021 before and after home tour! I'm exciting for the changes we have in store for 2022!
If you would like to follow along on more of my home decor, DIY, lifestyle, travel and other posts, I'd love to have you follow me on any of the following: