Around this time each year, I share my goals for our home for the new year. A few months back, I shared our fall & winter project plans (and some long-term goals) but today I want to be very specific about what we plan to accomplish over all of 2020. This year, we even put timelines in place to get started on several of the projects listed in hopes it will help us push forward!
This post contains affiliate links for your shopping convenience. Click here to read my full disclosure policy.
2019 Goal Check-In
But, before we get to my 2020 goals, let's review how I did on my 2019 home goals:
MASTER BEDROOM – Finally! I think our master bedroom has been on our list since we moved in, but 2019 was the year I finally finished the space! It was a major project (so much paint) but it is such a relief to have it done!
THE CRAFT ROOM – Another project that we finished entirely and I couldn't be happier with our new den! The space not only looks so much better, but it is such a better use of the space and is no longer the dumping grounds for everything in our home.
THE SMALL GUEST ROOM – I made progress here but haven't really shared any official updates (just some in-progress shots the past few months). Planning to wrap this space up the first quarter of this year though so it's ready for summer guests!
THE GUEST BATHROOMS – I didn't make any progress here, but you can read more about what we plan to achieve this year in the 2020 goals section below!
DINING ROOM – I didn't make much progress on this one (you can read my thoughts on this project here). BUT, 2020 is the year! You can read more details below.
THE STAIRCASE – This is another one that we finished! Now that all the walls are white (and have been since last January), I'm ready to get the decor side of things wrapped up!
THE ENTRYWAY HALLWAY – This one is complicated 😉 We actually got it mostly finished with fresh paint, a new console table, rug, etc. We were mostly just needing a new bench. But, in December, we changed things all around and decided to move the console table elsewhere. So, this space will be going back on the list for 2020. You can read more details below.
WI-FI STATION UPDATE – I made zero progress here, so it's back on the list and I'm anxious to get this one wrapped up ASAP!
MANAGE THE CLUTTER – I feel like I made good progress here. Between the Nebraska flood victims needing new furniture and decor among other supplies, and hosting a local home decor/furniture sale, I was able to get rid of a lot of the items that had been piling up in the corners around our home. I still have a little ways to go, but this area has already gotten drastically better and I'm hoping to continue to improve here!
ADD MORE HYDRANGEAS – I hit my goal here and am so happy I did! I don't have an exact count, but I think I was able to add another dozen or so shrubs to the yard. Hydrangeas are never a bad idea!
RENTAL PROPERTIES – We made good progress with our rental properties last year and achieved our goals! Not only did we hire a property manager, we finished our gut job house (and got it rented) plus bought one more property! Although the property manager adds a different level of work/issues, it's nice to no longer be the point of contact with any of the issues at each of our properties! Major weight lifted there!
2020 Home Goals
Now that we've reviewed where we stand on last year's goals, let's jump into our new 2020 home goals!
GUEST BATHROOM
Our main guest bathroom is back on the list and I feel like this is the year we actually may tackle it! I literally think this space has been on the list since the year we moved in, so I'm ready to stop talking about it and actually do something about it! I'll share more details in a specific post soon, but this will almost be a full gut job. We'd remove the carpet in the vanity area, the dark brown tile in the shower/toilet area, get a new vanity and mirror, new lighting, and possibly tile in lieu of a tub insert. The current vanity is melamine (essentially plastic) and the countertop is Corian which has several bleached out areas that were there even before we moved in. It's all pretty builder basic stuff.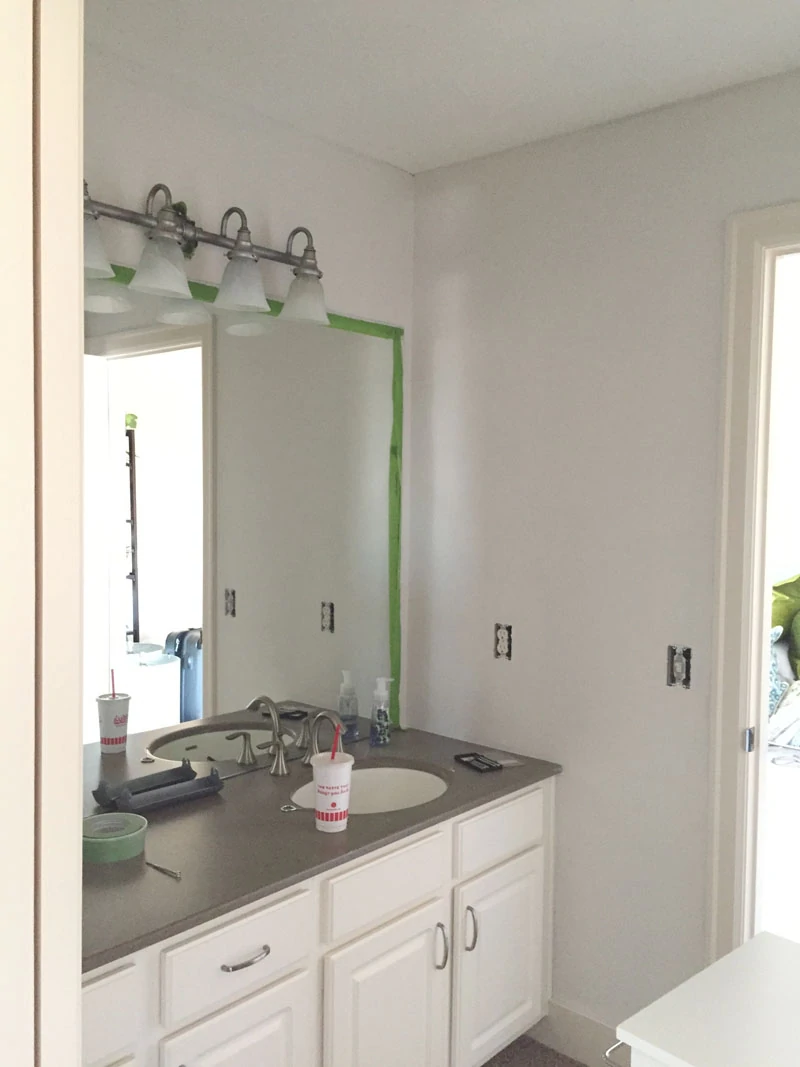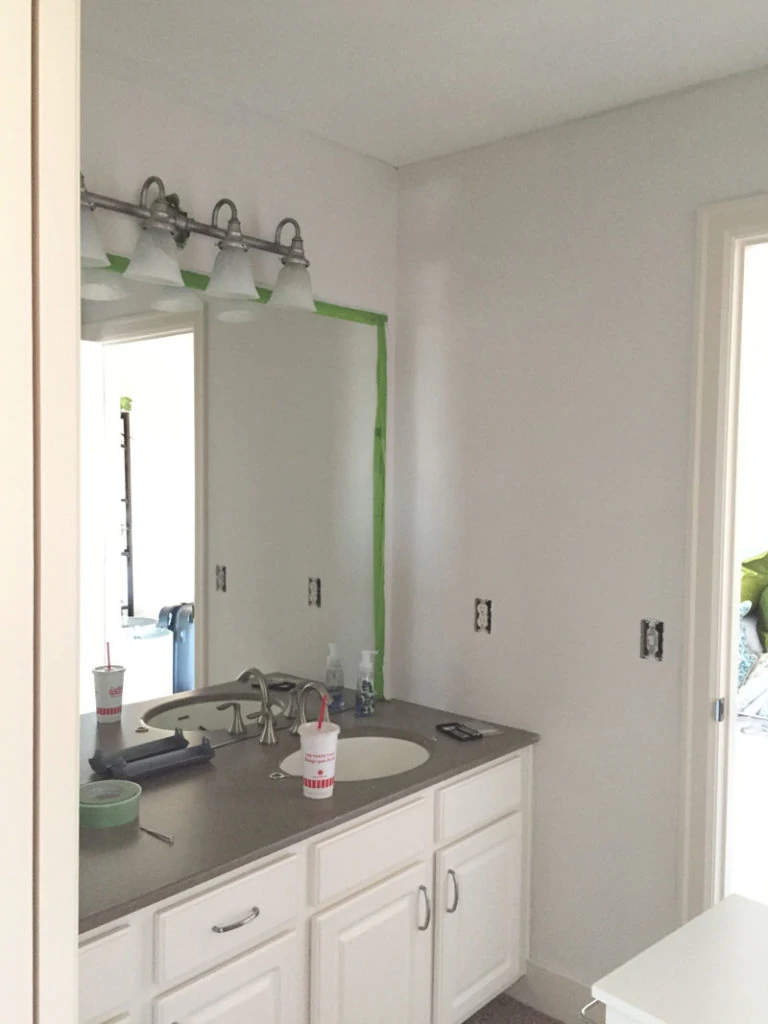 This is the bathroom that runs between our main guest bedroom and our den, so it's one of the most used in our home. We'd love to tackle this before even considering a master bath reno, just so we have an idea of what really goes into a bathroom reno.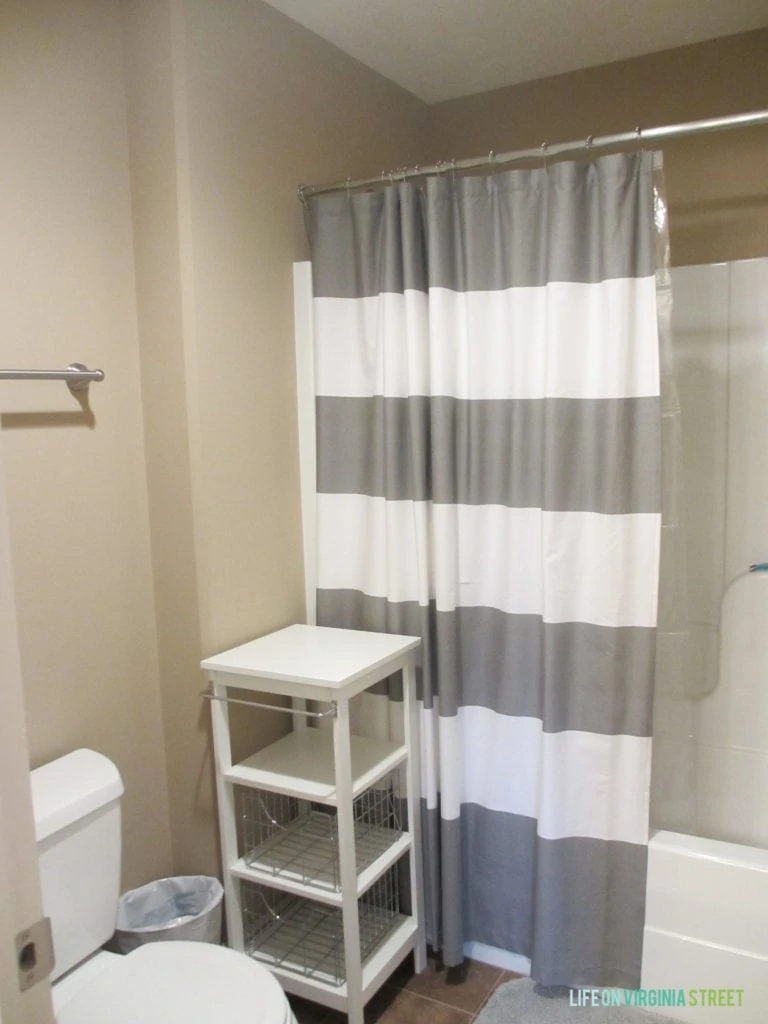 I say "we" but the reality is we'd likely hire most of this out. Tile is one of those things we just don't feel qualified enough to handle on our own. As part of our goals this year, we gave ourselves specific deadlines to get wheels in motion and not delay! We're hoping to have an appointment scheduled with both a plumber and tile guy by the end of the month for some bids. If we tackle this, we'd love the full project to completed by June 1 so any summer guests will have a fully functional (and new!) bathroom! I'll be sharing more specific details on this very soon since some of our deadlines are quickly approaching!
FINISH KING GUEST BEDROOM
This one is already super close to being done. Our king guest bedroom (the one with the king sized mattress), got a new bed and nightstands this past year and now I just need to get the giant bookcase out and put a few final touches on the space (especially now that the Christmas decor will be coming down)! You can read my official plans here.
FINISH QUEEN GUEST BEDROOM
I've definitely made a lot of progress in here since this time last January, but it's been random bits and pieces. Although I haven't done a formal post in awhile to show progress, I've shared snippets in our weekend recaps. I still need to finalize the fabrics I want to use on pillows, I had to order another curtain panel (after we realized it's a few inches short of closing all the way), decide if I want to hang something over the bed once the wreath comes down, and decide if we're keeping the monstrous desk in there or if we want to switch to something more compact. I'm also thinking I'll had some woven roman shades up about a foot higher than the window since our windows are so short!
UPDATE THE WI-FI STATION
This is another fairly easy project that has been on the list for a few years and continues to stall. And since I never get anywhere with it, it becomes the dumping grounds for decor I don't want to deal with. Here's how the space looked as of this weekend (this is after I had cleaned it quite a bit) 😉 The cabinet holds all of our wi-fi, routers, etc. since the area is so open to most of our house. The cabinet is one we had in our last home that I painted with chalk paint once we moved here seven years ago. I think this spot has the potential to not only be functional, but also beautiful, so I need to kick it in gear and get this figured out this year! A new console table (that can hide all the wires and components), a mirror or artwork, and some small accessories. Nothing too major, but since this is the view all of the bedrooms and den see when you exit, it's time to get it in shape!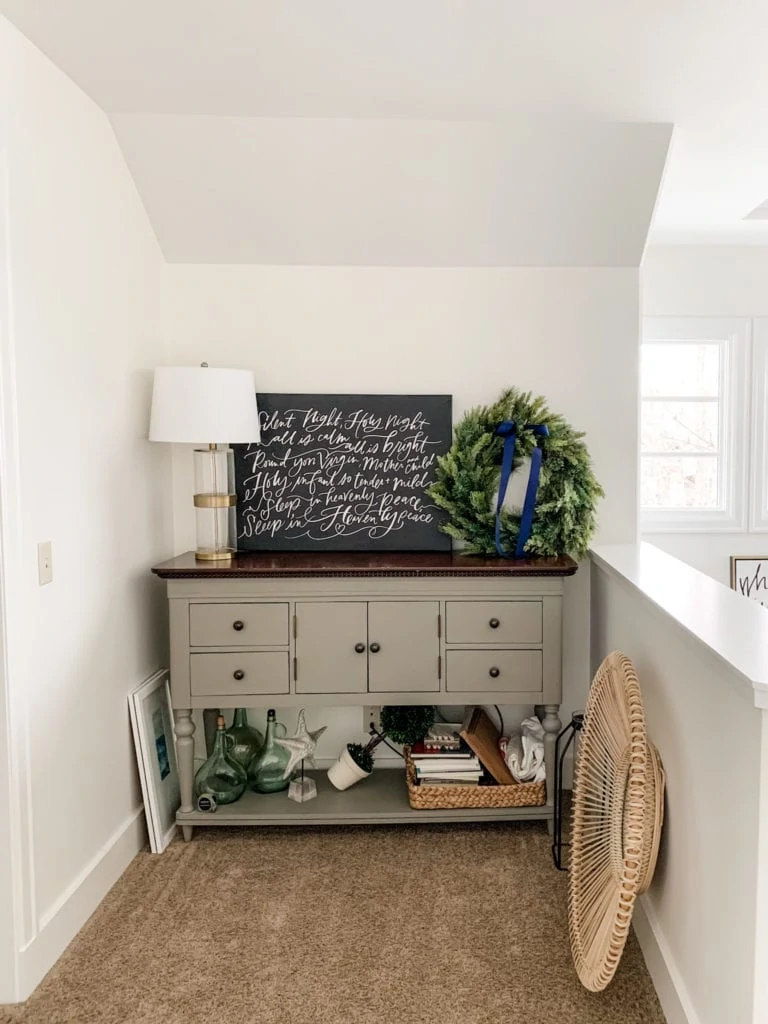 UPSTAIRS HALLWAY
Truth be told, I'm adding this one to the list because it's one I've already almost finished 😉 Over Christmas break, I finally hung something on that long wall but still need to wrap up a few parts in order to share it! It's hard to believe it's been a blank slate for seven years!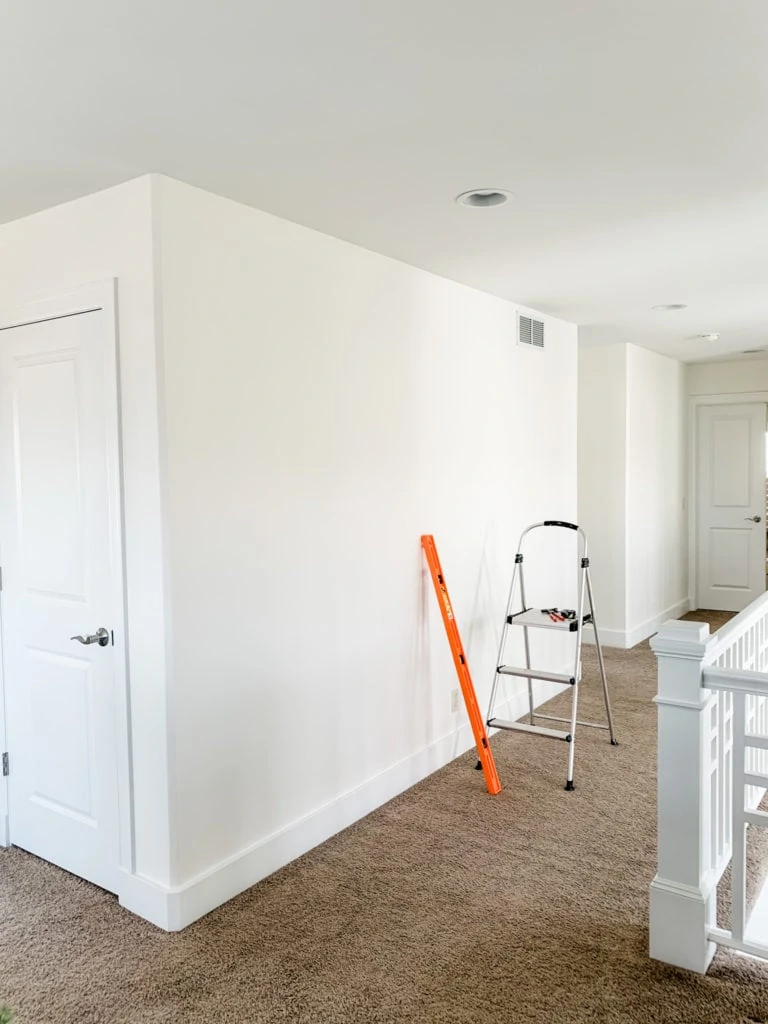 ENTRYWAY HALLWAY
I actually feel like I got this area to a really great place last year, and then I had to go and ruin it 😉 We ended up moving the new console table to a different room, and I have yet to find a new bench. Which is desperately needed, since both Kurtis and I yell "Noooooo…." in slow motion anytime some is about to sit on it. Three of the legs are basically not attached and it's a death trap and it needs to go. I said that last year too, but it has to happen soon. It's just been surprisingly hard to find another bench that is short enough to fit that wall! The good news is, I do have another console table en route!
DINING ROOM
I already made some good progress in the dining room last year, and now it's time to wrap it all up! I shared my thoughts and plans last January and then stalled out while I was on the hunt for the perfect chairs. But, in surprising news, I had a delivery randomly show up yesterday that's going to allow me to finish this project sooner than I expected! Stay tuned for more details!
OFFICE
This one is all about functionality for us. You may recall, I ordered two new bookcases for the space last year (that I still have yet to show for whatever reason). But, they each include a drawer, which is something we both decided over time was necessary. As our two business have evolved, our needs for the space have as well. That includes adding super fun stuff like multi-page scanners (contracts are so fun!!), larger capacity printers, dedicated filing space, etc. We got tired of all the stacks on our desks and avoidance of tasks like scanning contracts because the space wasn't working as well as it should. Over Christmas break, we sat down and finalized what we really need, so I'm excited to share some updates soon! And I'm still leaning towards painting the navy blue wall. I know a lot of you love the contrast (and I do too!), but I think I'm ready for less contrast 😉 Stay tuned for a design plan soon! We'll mostly be using things we already have, but some in a new way.
OUTDOOR EXPANSION
I talk a lot more about our long-term dream of expanding our outdoor covered patio to include a built-in outdoor kitchen, fireplace, storage, shade for guests that want to hang out but not in the sun, and more in this post. It's honestly that "thing" that steers a lot of our decisions lately. So much so, Kurtis asked me seriously the other day if we also needed to consider building/moving instead. But that option doesn't really appeal to either of us either.
If this project is something we do decide to move forward with, it likely won't be until 2021 at the earliest. However, we have a goal to meet with a contractor and/or architect to get some drawings and bids early this year so we know what we're really looking at cost-wise and if it's even an option. I'll share more details soon, but our intention would be to open up the covered patio all the way over to that patch of grass and then a lot closer to the pool deck.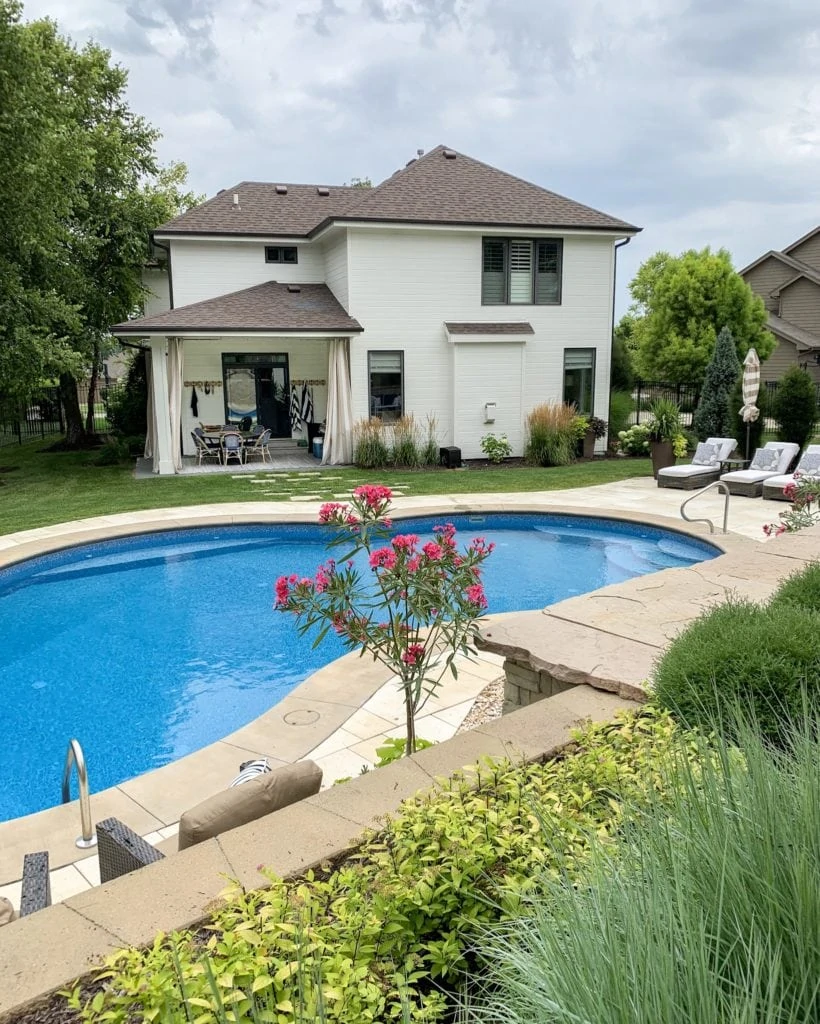 ADD MORE HYDRANGEAS
Although I was able to knock this one off my list last year, I'm adding it again to continue to trend. I'd like to add at minimum another 5-10 hydrangea shrubs to our yard this year! They really do make me so happy and it's such an easy and affordable addition!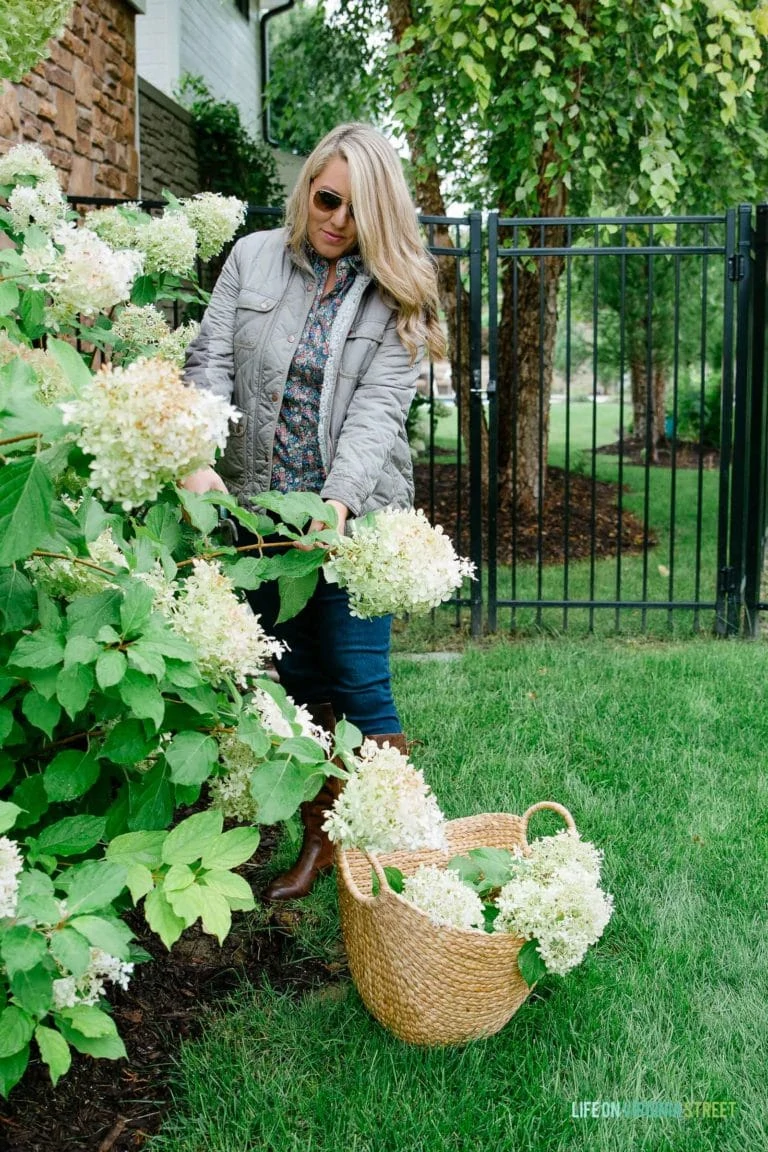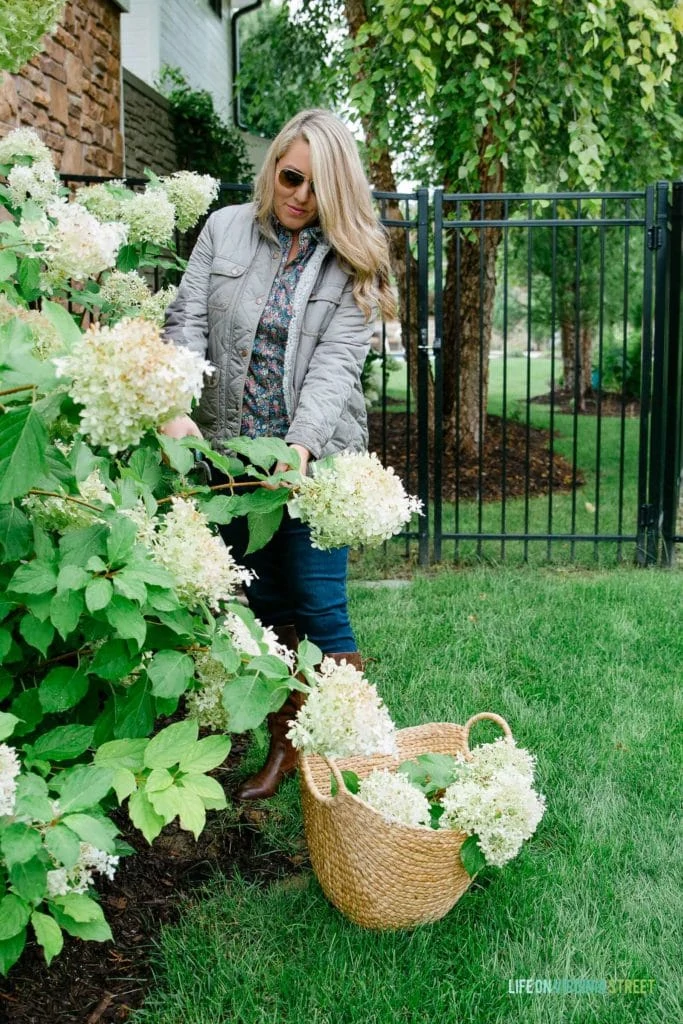 OUTFIT SOURCES: Quilted Jacket | Floral Top | Skinny Jeans | Knee-High Boots | Aviator Sunglasses | Similar Basket
FIGURE OUT THE HILL
This is one of the top requests on Kurtis' list. You may remember last year, I spent hour and after tearing out sod between the limestone terraces in our back yard. I made good progress, but once the real heat of summer arrived, I couldn't do much more. This area has always been a bit of a mystery to us, and we haven't really loved it from day one. But, it was necessary because the grade on the hill right there is unbelievably steep (as in, you'd probably fall down if you tried to walk it). Below is a picture before I started. I'd say I made it from the right side almost all the way to the start of the pine tree on the left. We'll likely just hire the rest out and based on how some of the grass came back, we're hoping they can add black weed paper or something equivalent to stop grass from growing.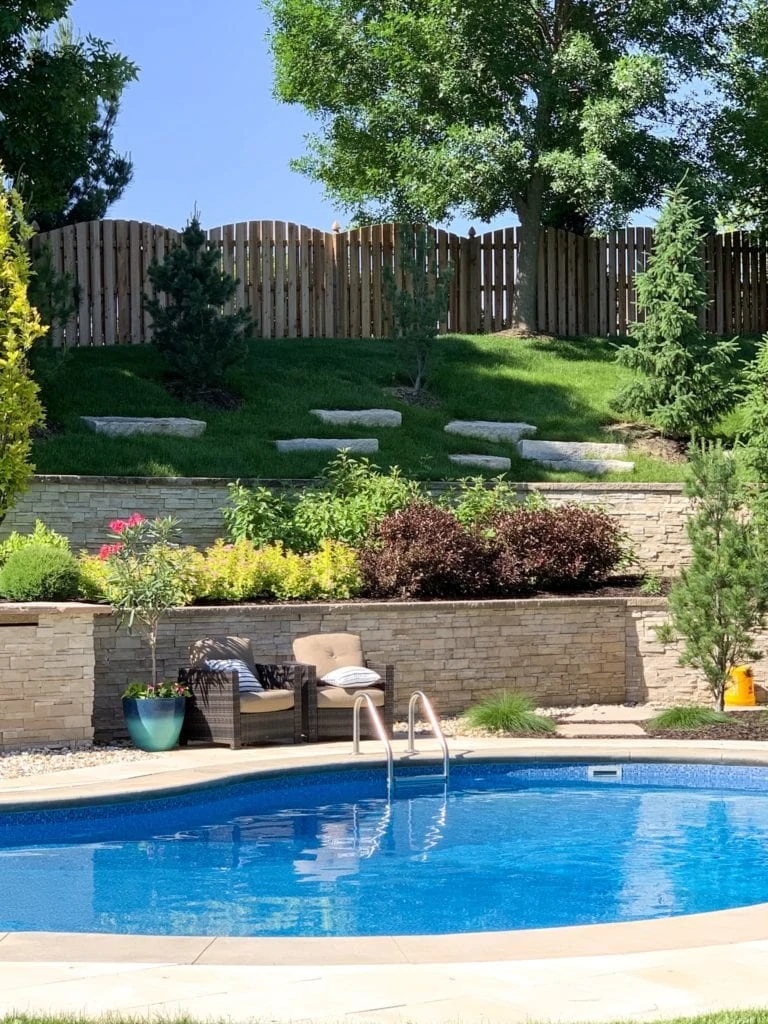 The picture below was to show the pavers for something else, but if you look up to the right you can see the space. We want to fill it in with bushes or ground cover that will clean the space up a lot better (and even help cover the limestone a bit) so it looks less random! It actually looked better than the picture below by the end of summer, as a lot of my ground cover had time to grow and it didn't look so much like piles of dirt 🙂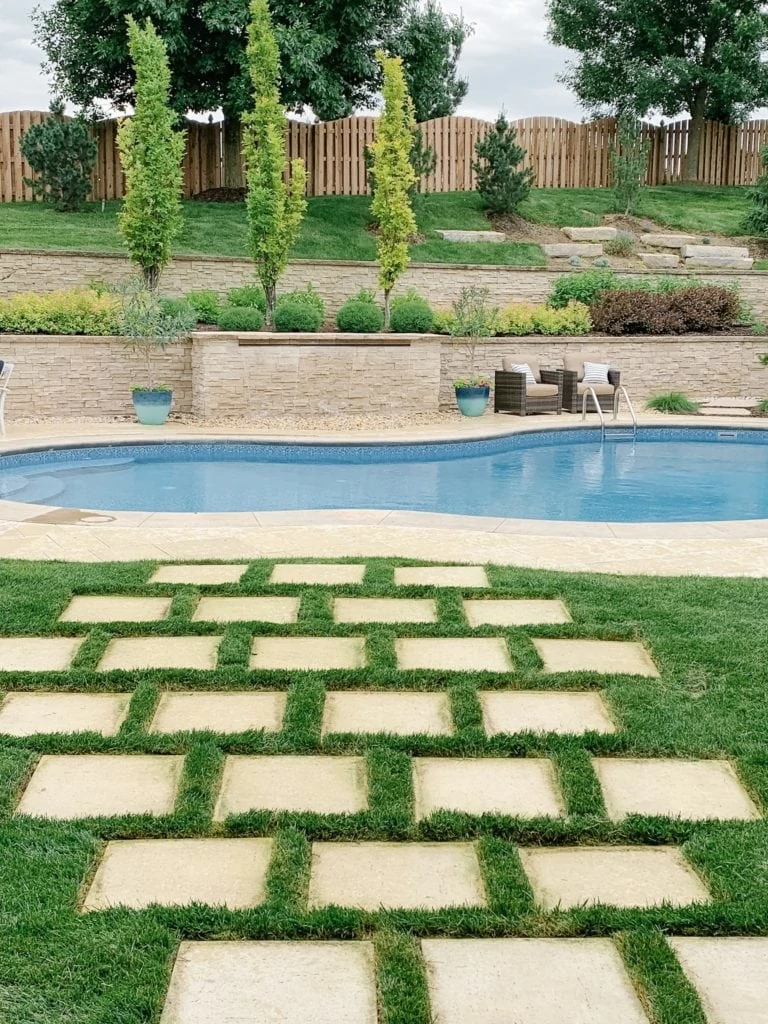 So, that's our list for the year! I'm sure we'll have lots of other last-minute and surprise projects thrown in along the way, but I think we have a good chance of getting 100% of the way through this list!
If you would like to follow along on more of my home decor, DIY, lifestyle, travel and other posts, I'd love to have you follow me on any of the following:
Pinterest | Instagram | Facebook | Twitter
disclosure: some affiliate links used