Sharing a before and after tour of our small guest bathroom remodel reveal!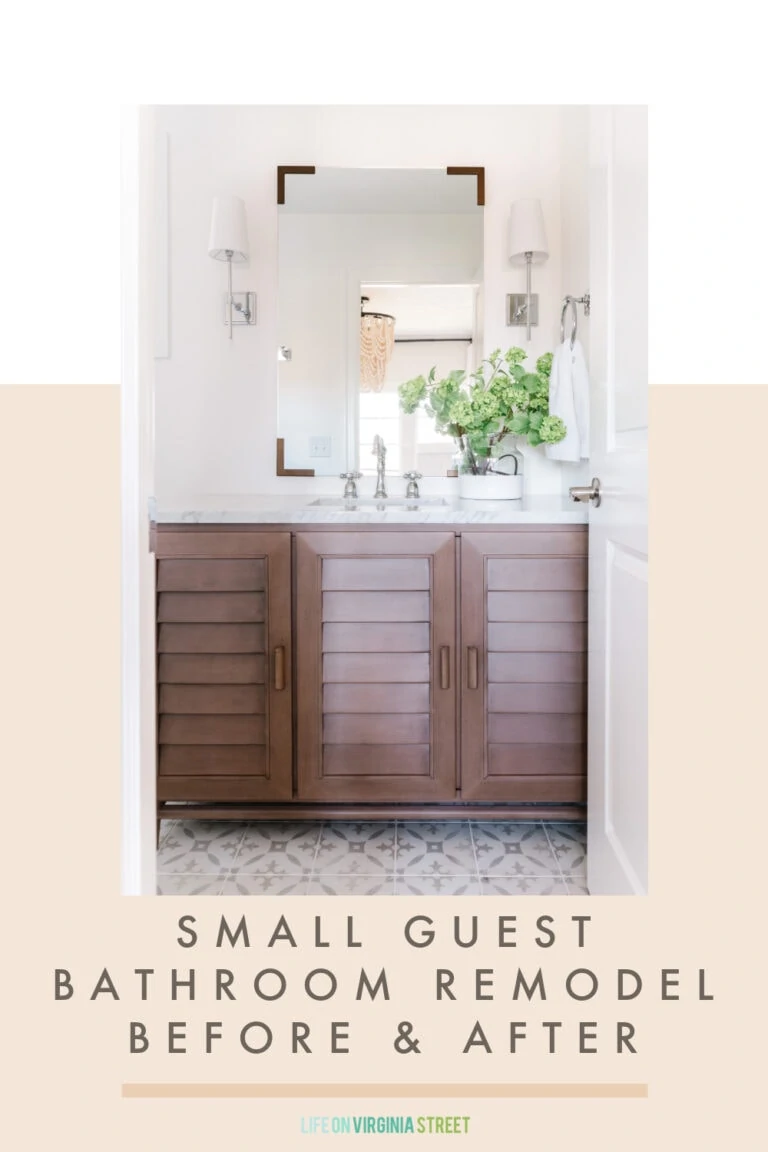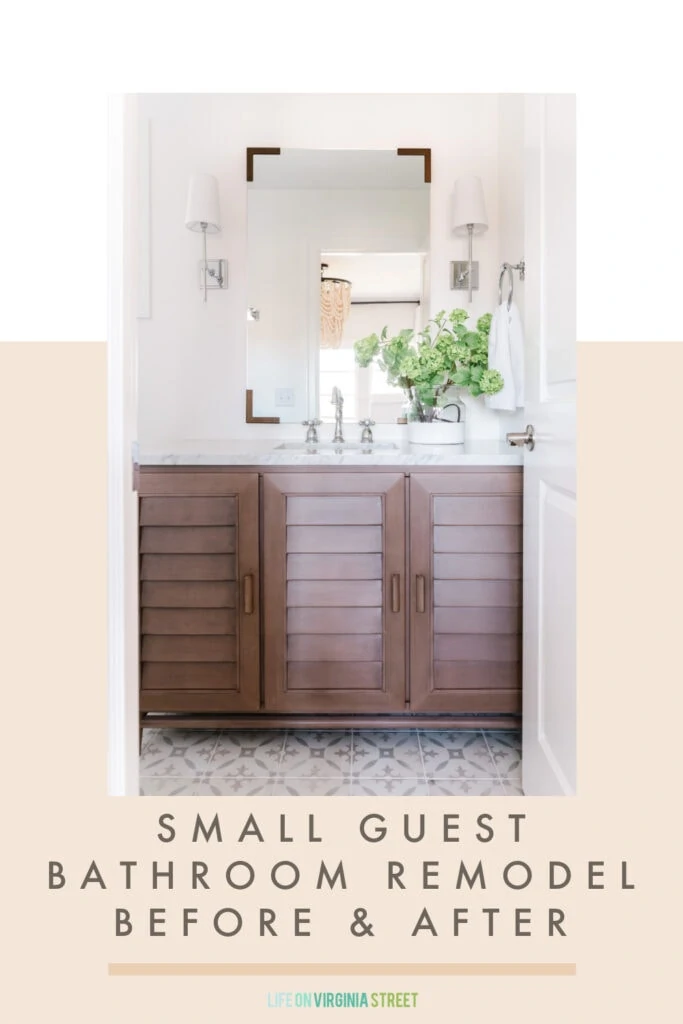 I'm so excited to share today's post with you! I'm finally revealing our small guest bathroom remodel! Although the space has been mostly finishes for about a month, we had a delay with the shower door. But, it was installed two weeks ago, and today I'm sharing the full before and after tour of the space!
This post contains affiliate links for your shopping convenience. Click here to read my full disclosure policy.
Small Guest Bathroom Remodel: Before & After
If you're new around here and want to get caught up on the project, I've linked the three main articles with background details and in-progress photos below. In an effort to not be redundant, I'm not going to repeat most of the info I already included in the posts below that include some background details, design plans & construction progress.
As a reminder, here is how our small guest bathroom looked when we first moved in.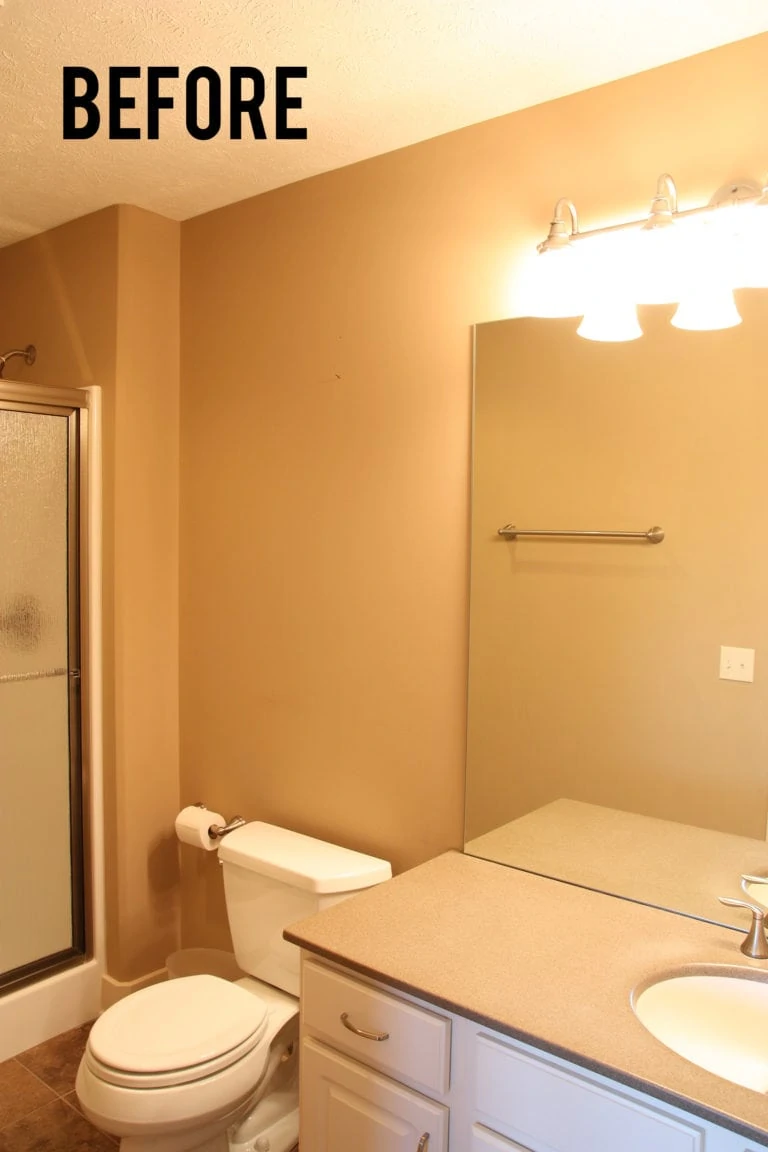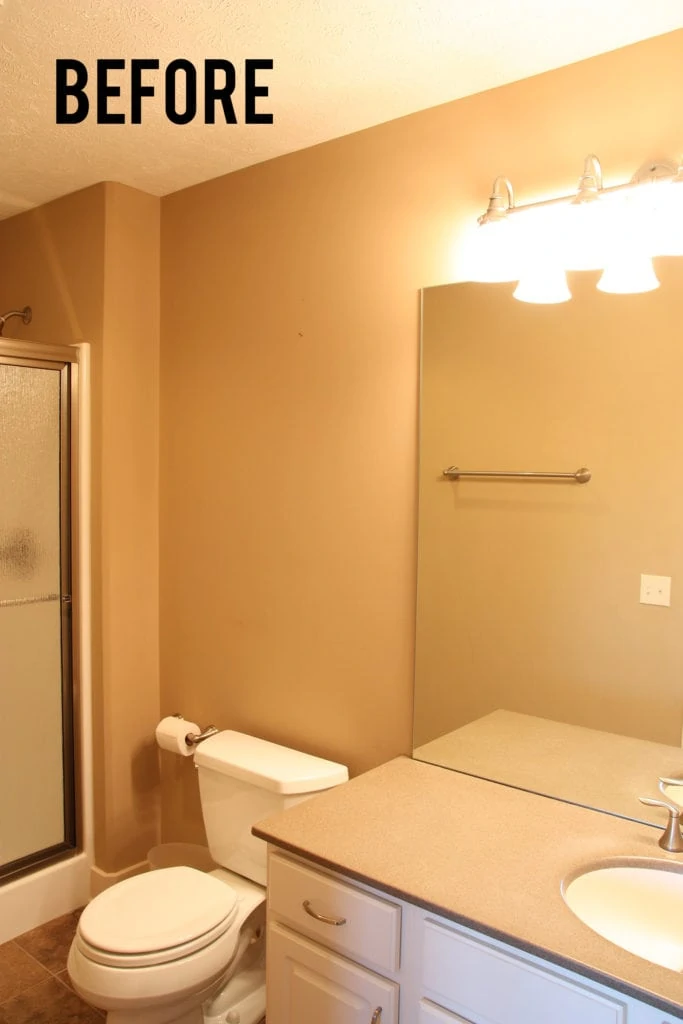 And a few more angles from an old collage I had made of the space.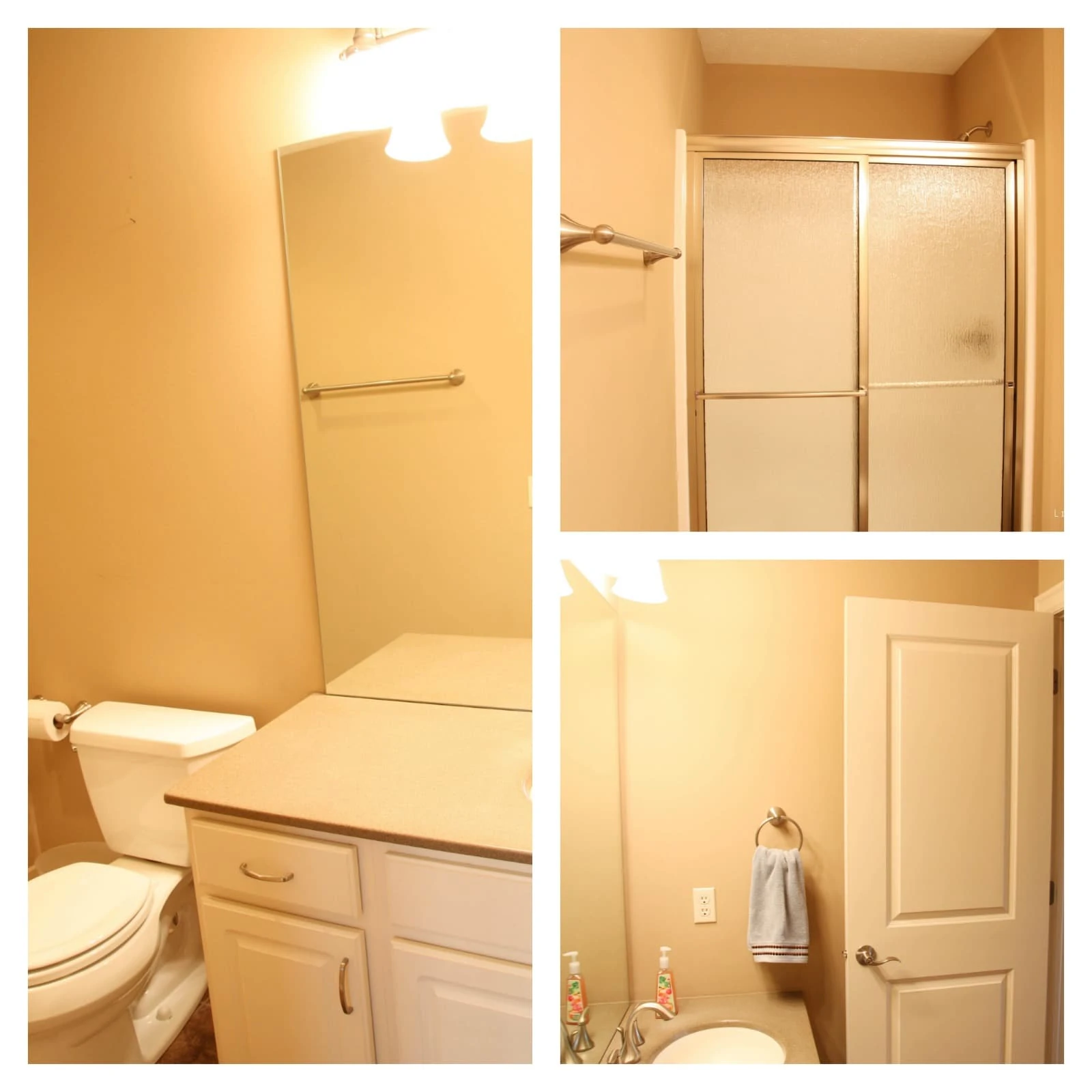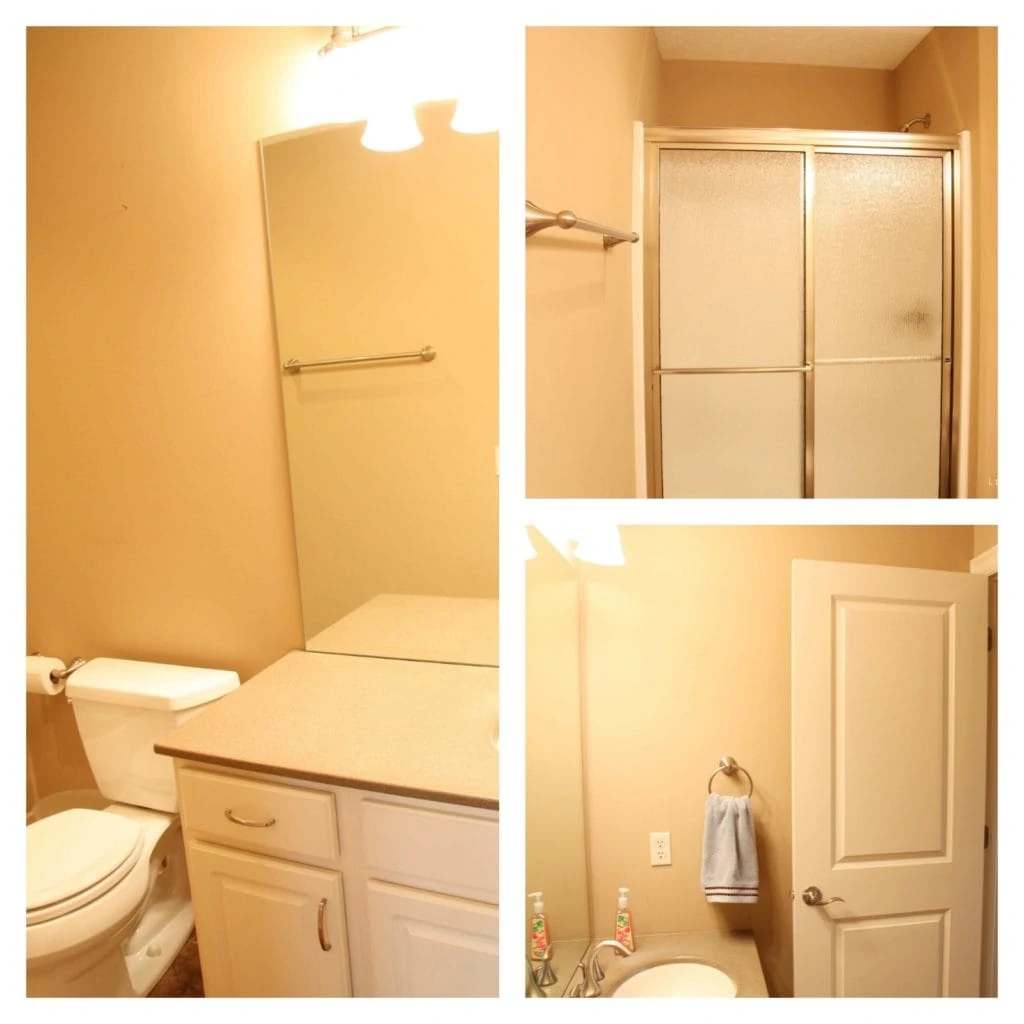 After moving in over eight years ago, we always knew we'd eventually do a full remodel on this space. So, we never wanted to spend much on updates along the way. I did several super budget-friendly updates over the years – mostly involving paint. The most shocking of which was when I painted the vanity blue. That feels like a lifetime ago! Here's how it looked right before we started the remodel.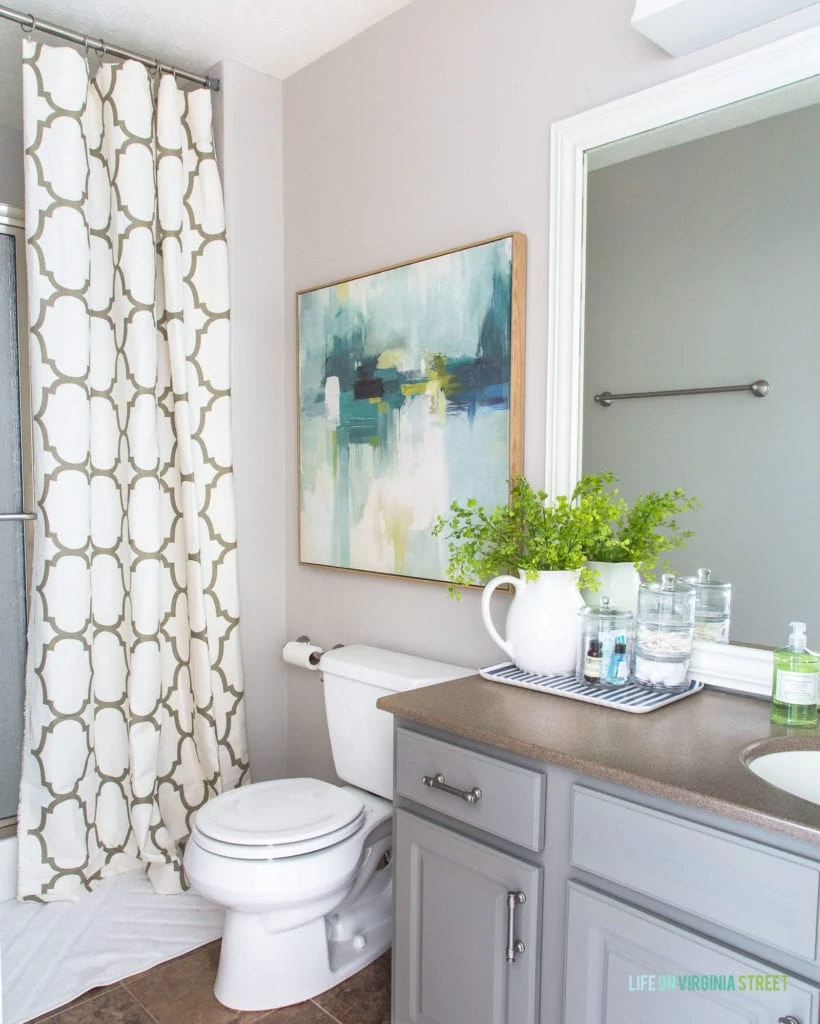 And here is how that same space looks today. How is this even the same room?!?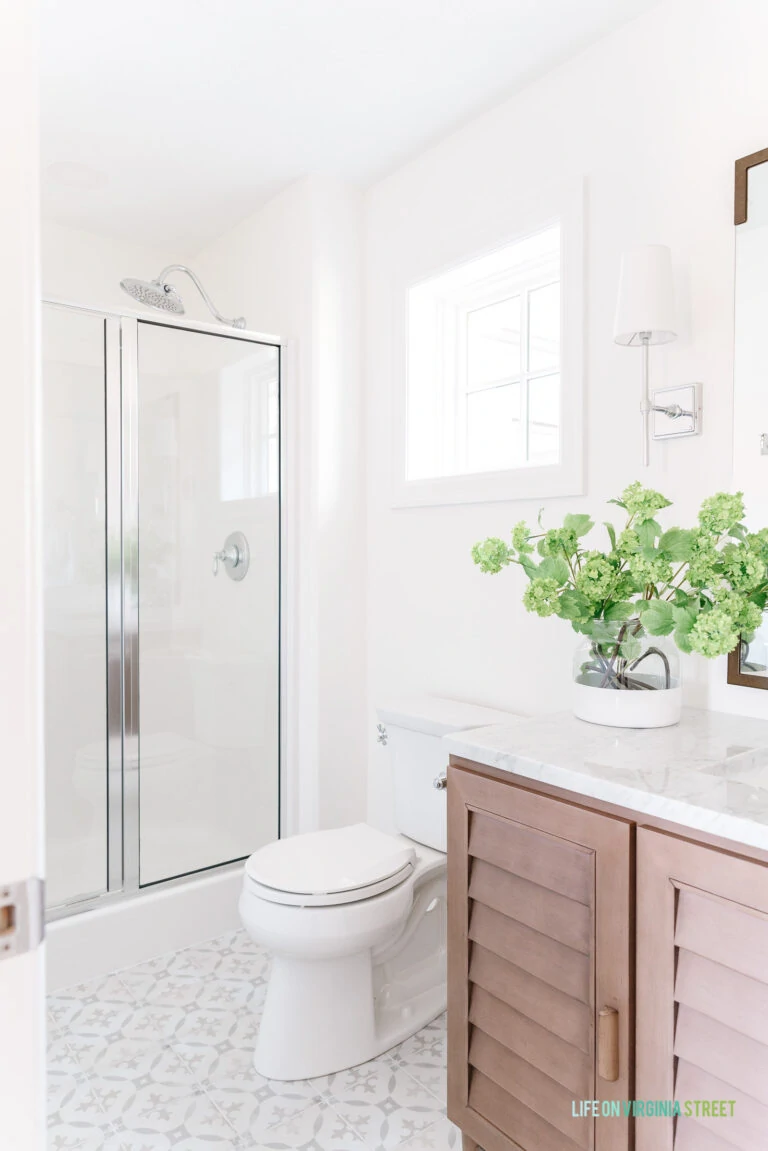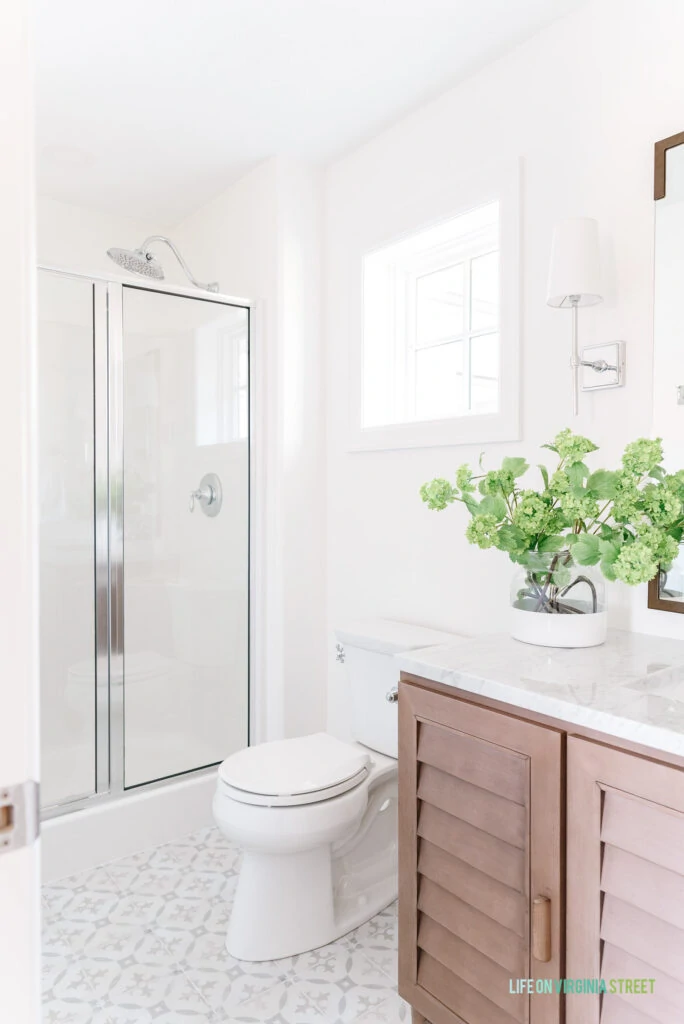 SOURCES: Louvered Wood Vanity (also here and here in other sizes) | Sink Faucet (chrome) | Shower Fixtures (chrome) | Toilet | Patterned Floor Tile | Floor Grout: Silverado | Mirror | Towel Ring, Toilet Paper Holder & Hooks (chrome) | Sconce Light Fixtures (chrome) | Faux Viburnum Stems | Paint Dipped Vase
It's literally the exact same footprint, shower insert, vanity size, etc. When we added the window, we were able to shift the toilet to be centered between the shower and vanity and it make it feel just a bit roomier! And that window – hello! Let's jump into more of the details below.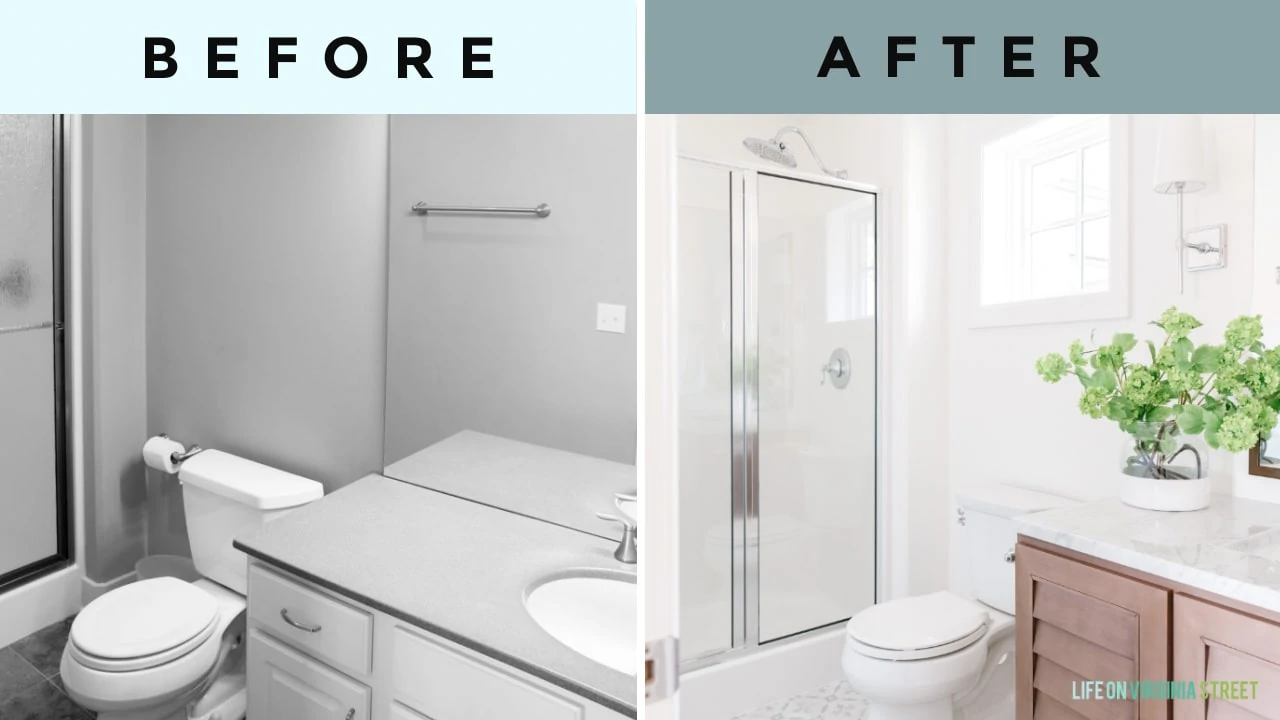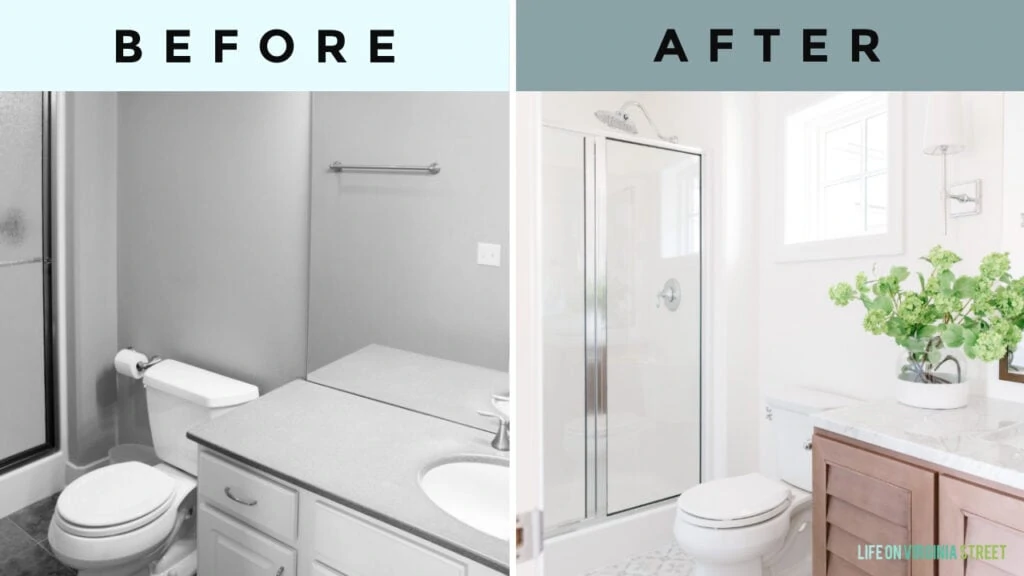 I have all sources listed at the end of this post, but will also include links along the way in the details shared below.
Guest Bathroom Makeover Finishes and Details
My ultimate goal for this bathroom was for it to be classic and timeless, but also have a bit more fun with it that the Jack & Jill bathroom. I wanted to bring in slightly coastal elements, and since there isn't much wall space, I also wanted to bring in some pattern in the floor tile.
The louvered vanity is definitely a chameleon when it comes to color. With no direct light, it definitely looks darker and more rich in tone. But if you move out of the doorway and not block the light from the attached bedroom, it definitely looks lighter! It's one of my favorite features of this bathroom remodel! The old sink was off-center on the vanity so you basically had the doorknob pushing into you as you stood at the sink. The shift of one foot or so makes such a difference in this small space!
Although it appears the vanity is only doors, each door opens to reveal drawers. One of the drawers (top right) even has outlets and USB ports so you can hide all of your hair tools! I forgot to have Mandy take a picture of it, so I'll try and snag one and circle back and upload it to this post at a later time. But how great is this reflection in the mirror back to the guest bedroom and wood bead chandelier. I love it so much!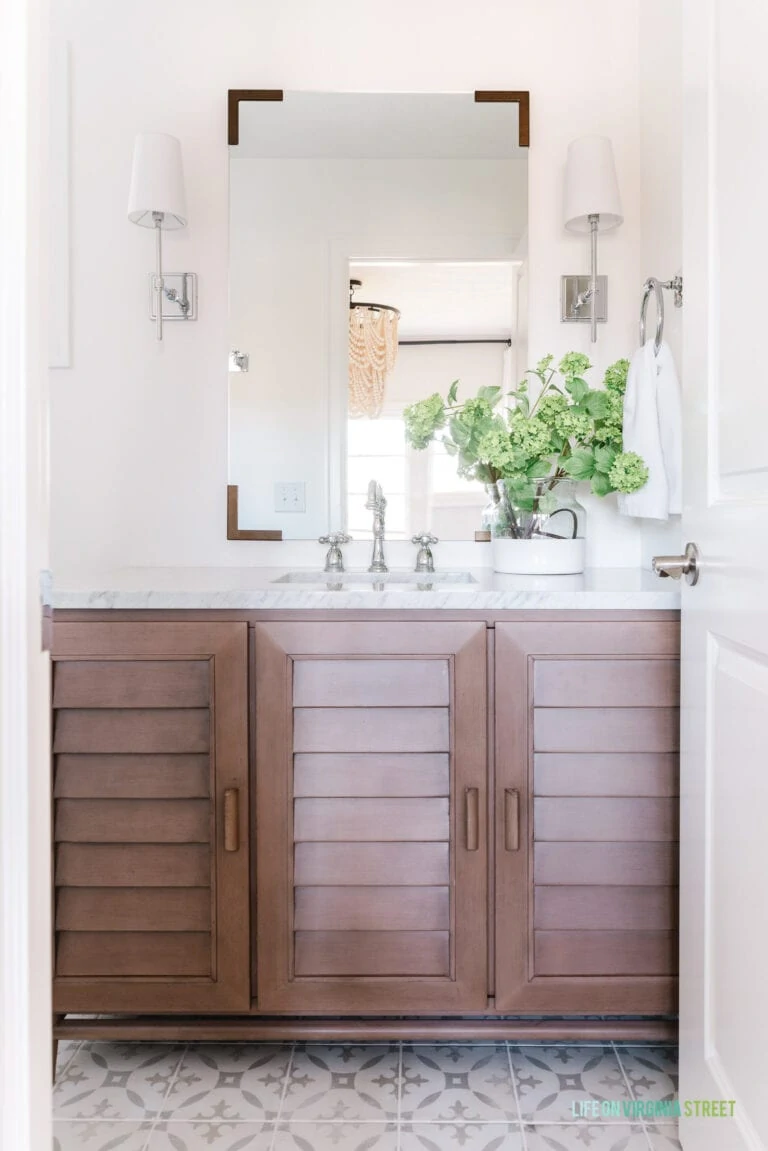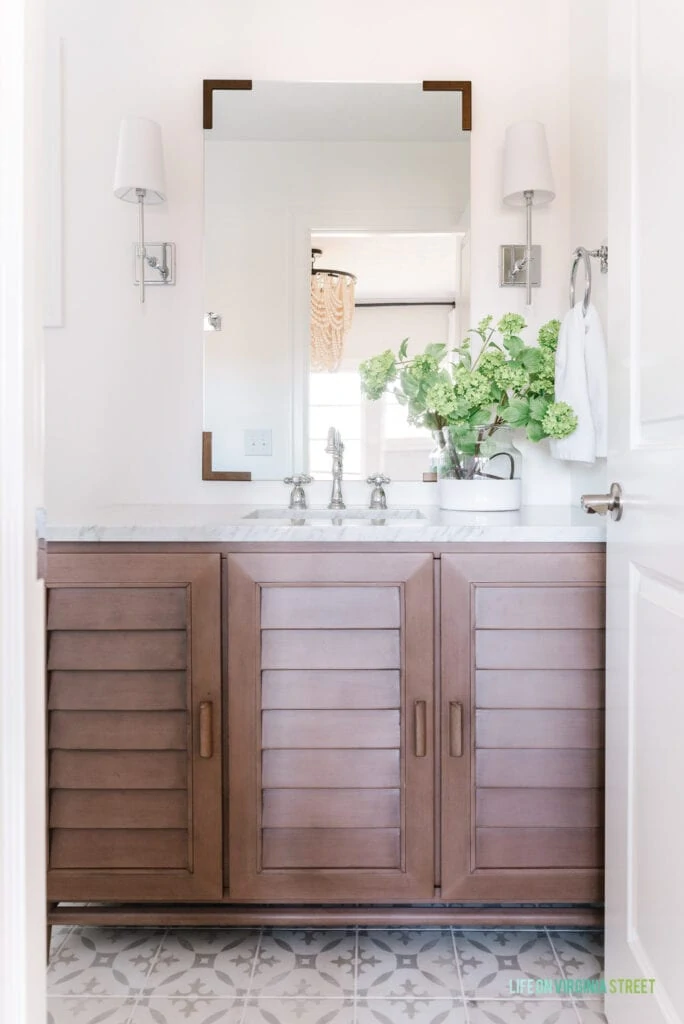 We used the same faucet and towel ring and hooks we used in the other bathroom. However, because of the differences in shower fixture finishes, we did all chrome in this bathroom, in lieu of the polished nickel in the Jack & Jill bathroom. You can actually see the toilet paper holder below as well. I don't think I shared it in the Jack & Jill reveal but it's the same one. We mounted it here to the vanity in lieu of having it front and center on the wall like it was before!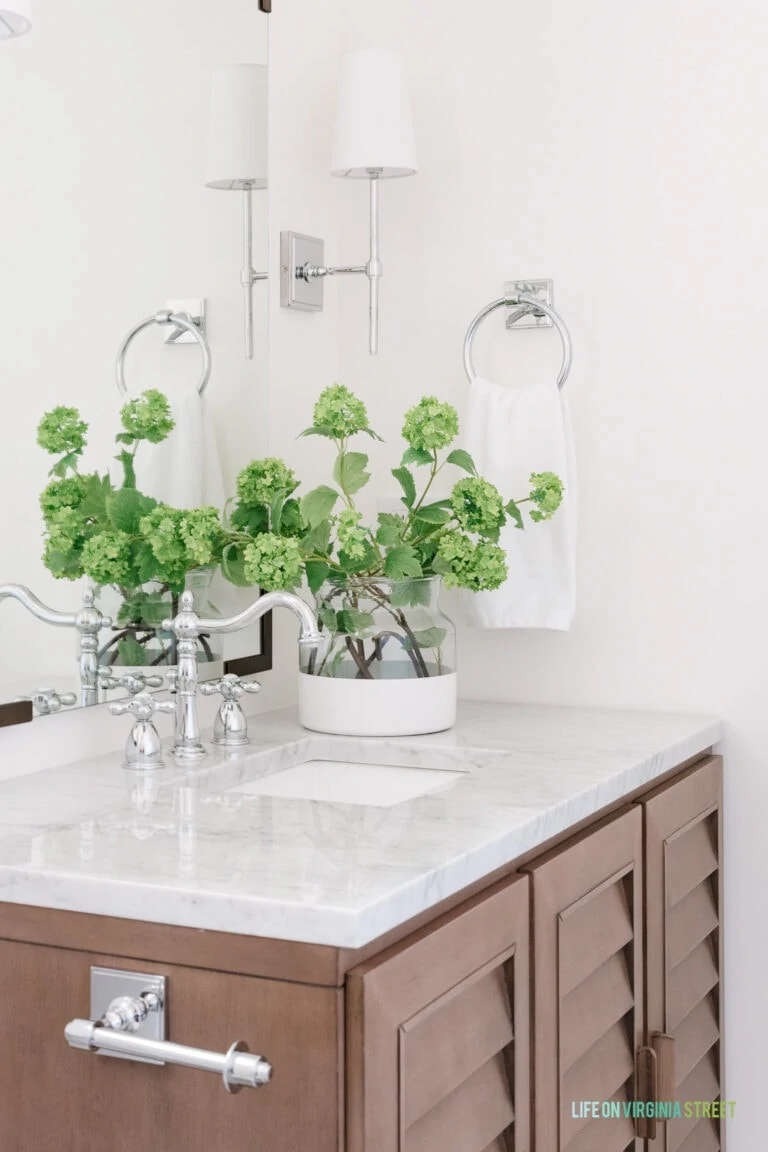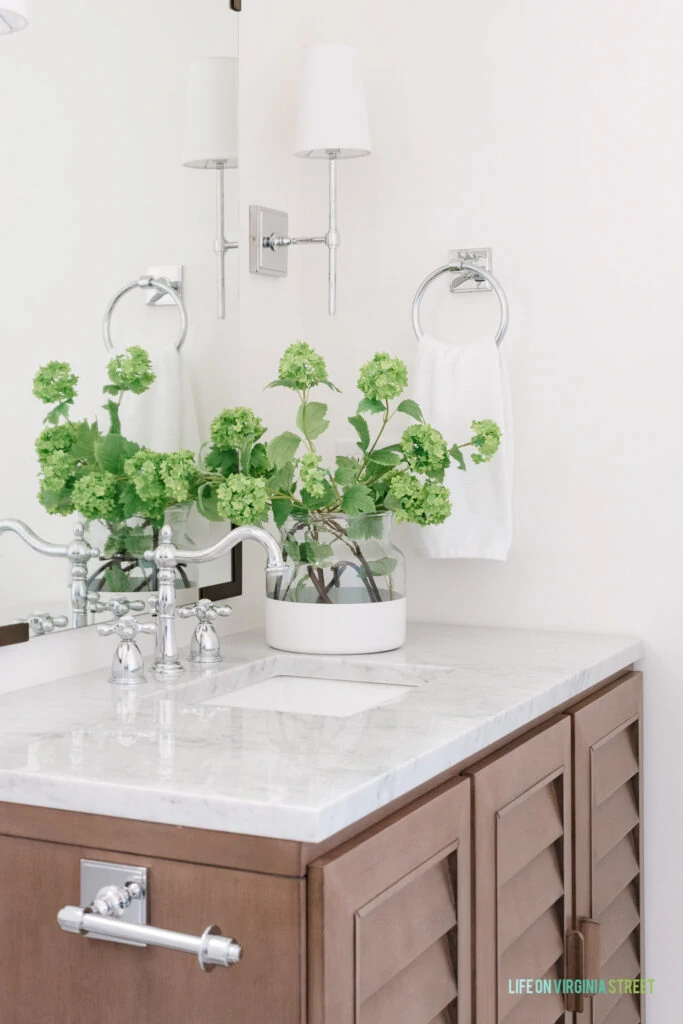 I also love the sconces we chose. The quality is excellent, and they bring a bit more of a formal vibe to this otherwise rather relaxed look. There are a number of countertop options for this vanity (or you can get just the base) but we opted for the Carrara Marble with the rectangular sink. The mirror was a splurge, but I was able to buy it during a Black Friday sale when I was ordering everything in the winter! I love how the metal corner brackets tie into the brown tones of the vanity.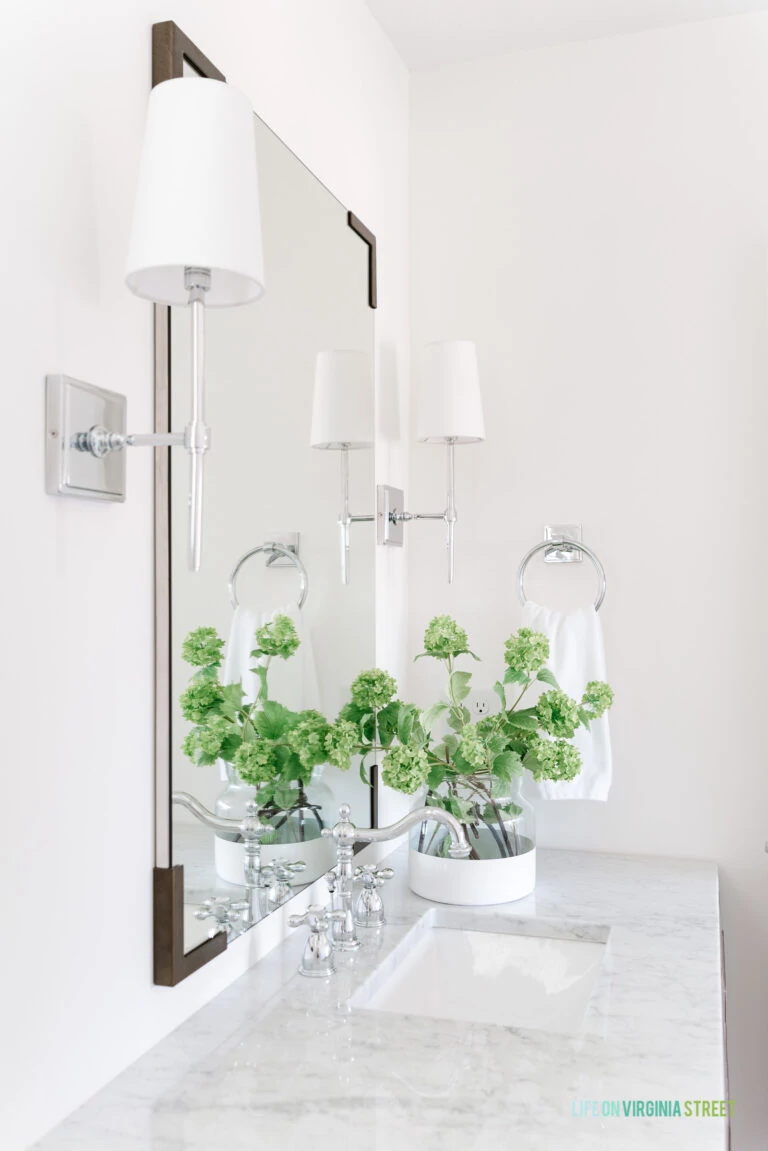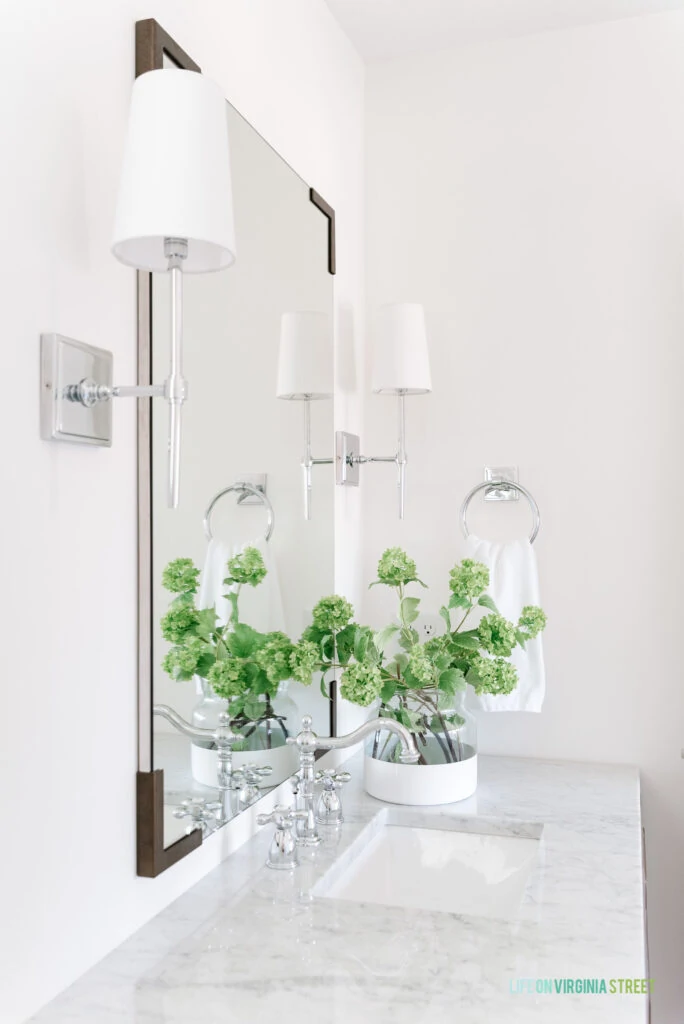 Can you believe we kept the same shower insert?! I really wanted to have it torn out and tile the floor and walls in the shower and then do a frameless door. But, for the expense, it just wasn't worth it. So, I set about trying to disguise it as much as possible. By painting the walls Benjamin Moore Simply White, the insert doesn't feel so obvious. And as much as we wanted go with a frameless door, the glass company said it just wasn't possible with our fiberglass insert. So, after three attempts (and the source of the delay for the reveal), we finally have a shower door! It's such an improvement over the sliders we had previously. They had to custom order it because of the odd size of our shower insert. The right panel on the glass is stationary, and then the door swings and (thankfully) clears the toilet. We had originally planned for an elongated bowl on the toilet but went back to standard to ensure the door cleared.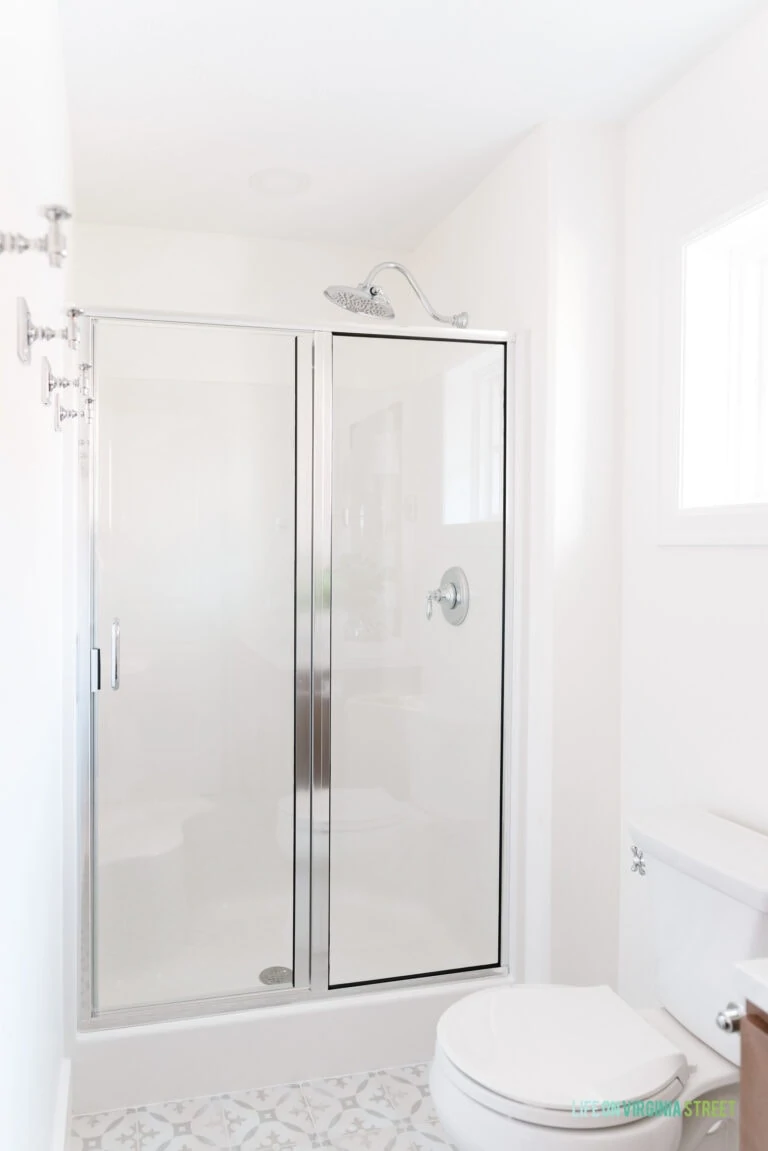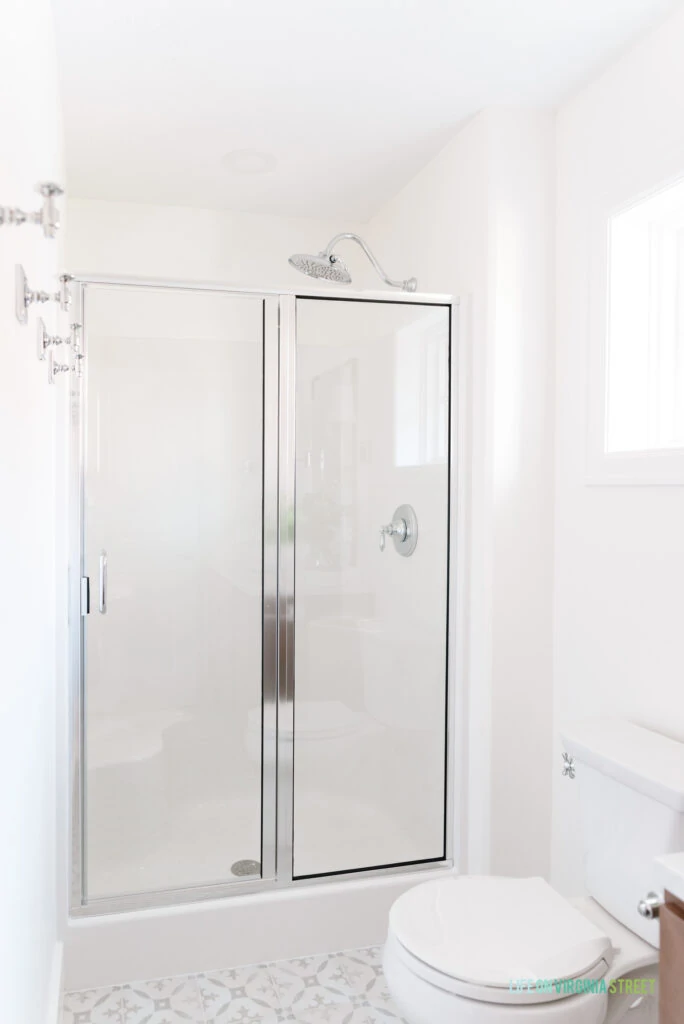 And I probably should have read the shower head measurements a little more closely 😉 I was at the end of my decision making rope, and thought it looked cute and would coordinate well with our sink faucet. It's a little large, but will definitely feel like a luxury for our guests! But, my favorite part is that you can get a coordinating toilet flusher handle (no idea what the proper word is). Can you see it peeking out in the picture above? Cole at Gitt Construction added that to the shower fixtures order from the same collection, and it's one of those ridiculous things that we're obsessed with. And now we want one on every toilet in our house 😉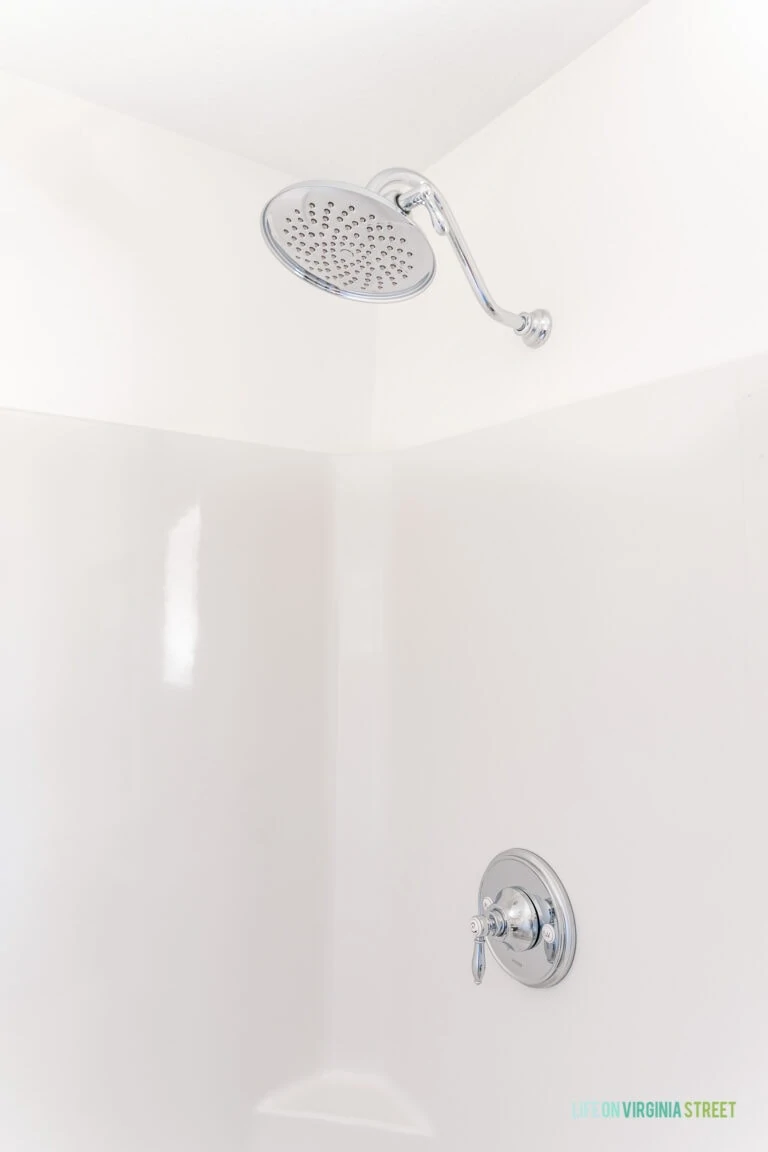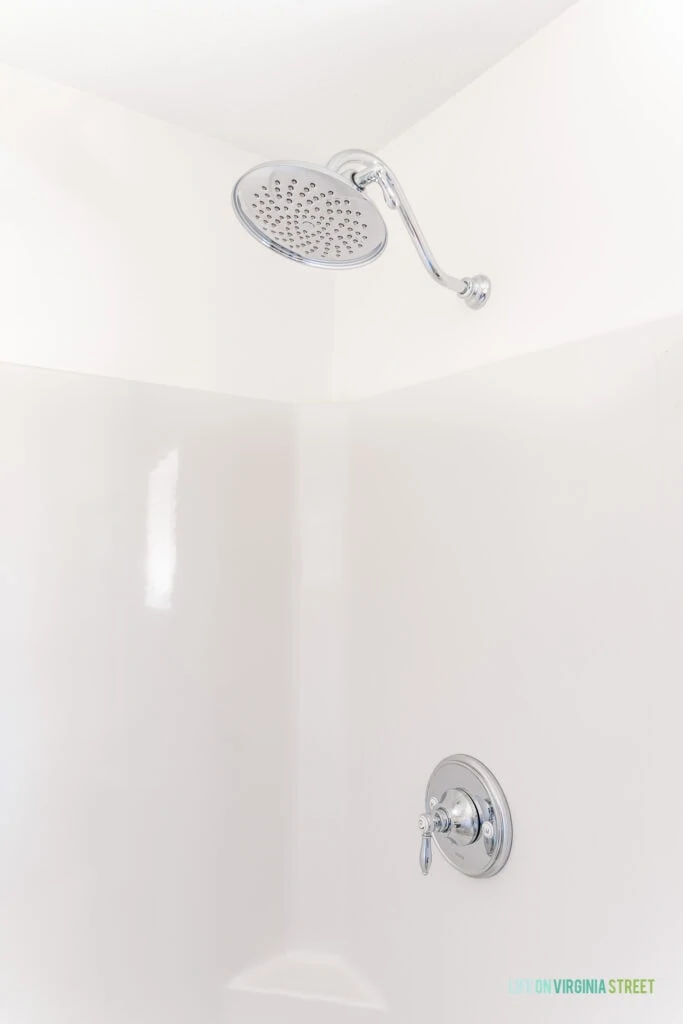 The window is an absolute game-changer in this bathroom! Particularly since the bedroom it's attached to faces north and doesn't get tons of natural light, a north and south facing window makes these two spaces feel extra special. For the time being, I haven't added any windows coverings, and I'm not sure I will. The window sits pretty high off the ground and overlooks our courtyard, so there really aren't many privacy concerns. But I may still add something down the road for a little more pattern/color and to ease our guests minds 😉 We found that in lieu of 2×4's on this wall, the builder used 2×6's, so the window is extra deep – which I love! I could also probably set a plant or something in the window sill to also add some privacy. The window you can partly see out the window is from our two-story entryway hallway.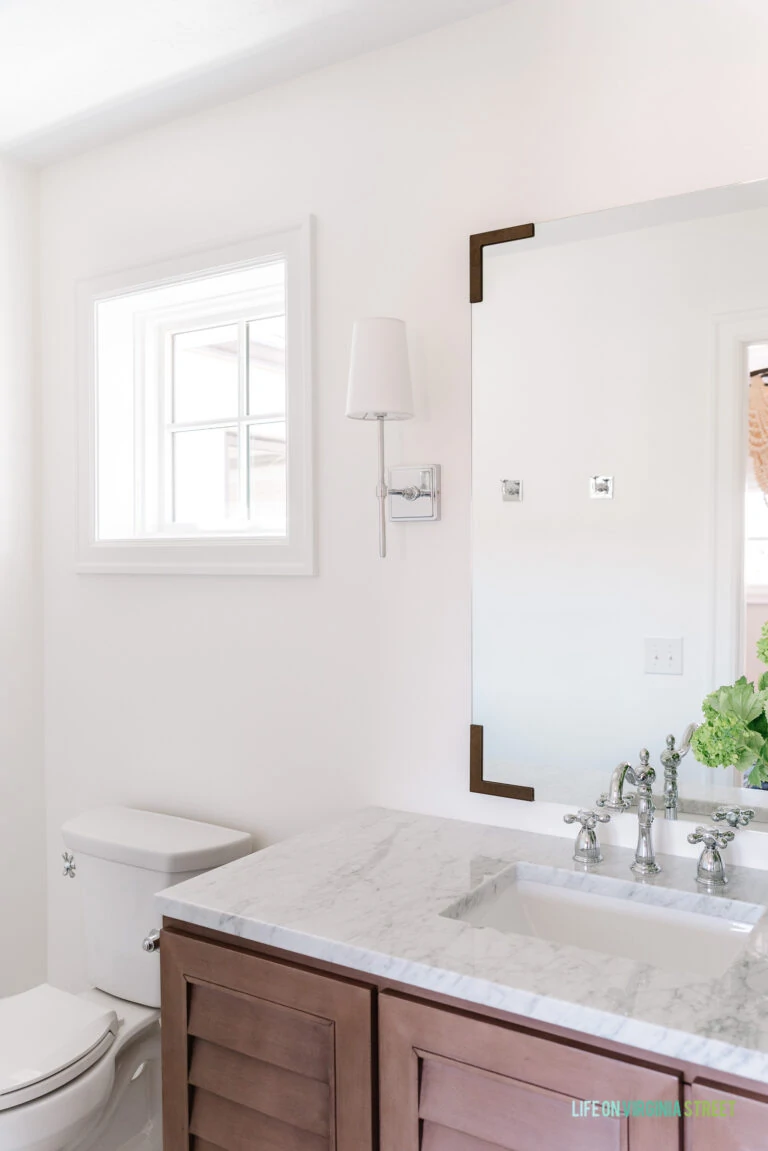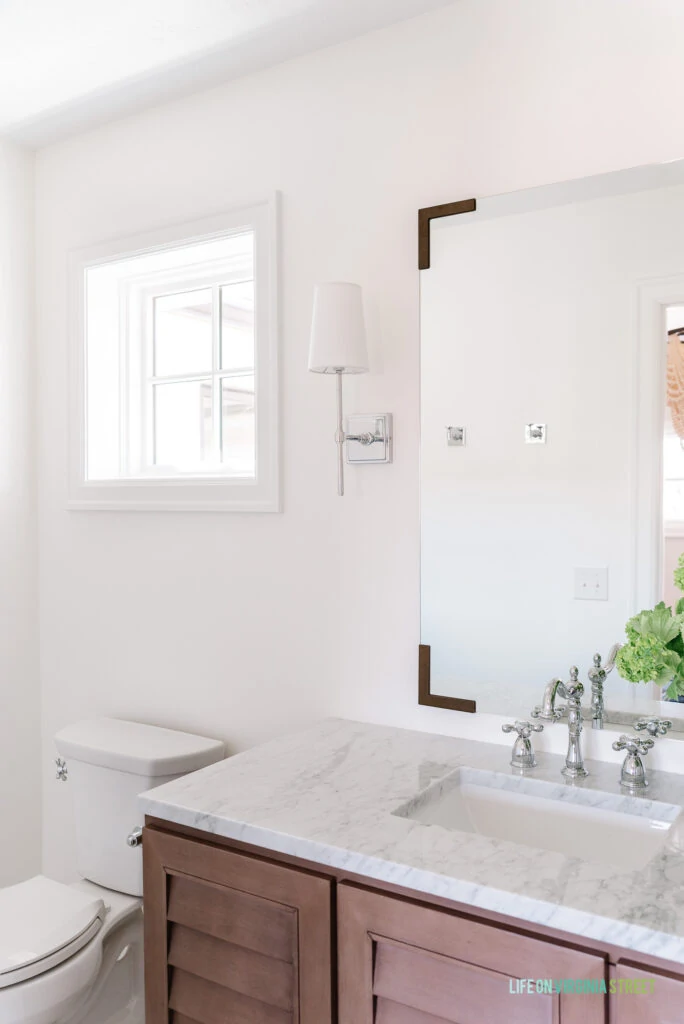 You can see I opted to do robe hooks in lieu of a towel bar in here. Most of our guests are here in the summer months when they have pool towels in addition to shower towels. So I like the option of extra hooks and more places to hang towels to dry! This next photo also shows the patterned tile we chose. I absolutely love it! Kurtis has mixed feelings (even though he helped pick it) because he said he always thinks it's dirty because of the distressing. I actually love that feature! And, with this being such a small bathroom, the tile was an easy way to bring in some personality and pattern.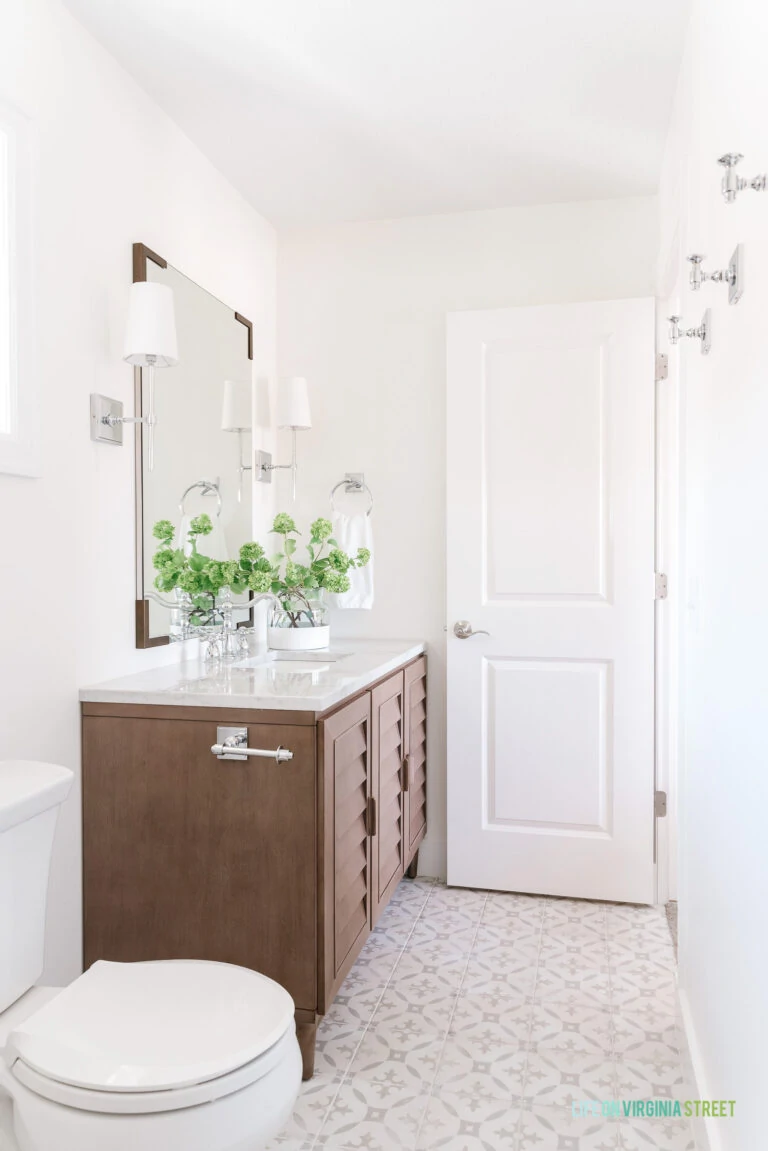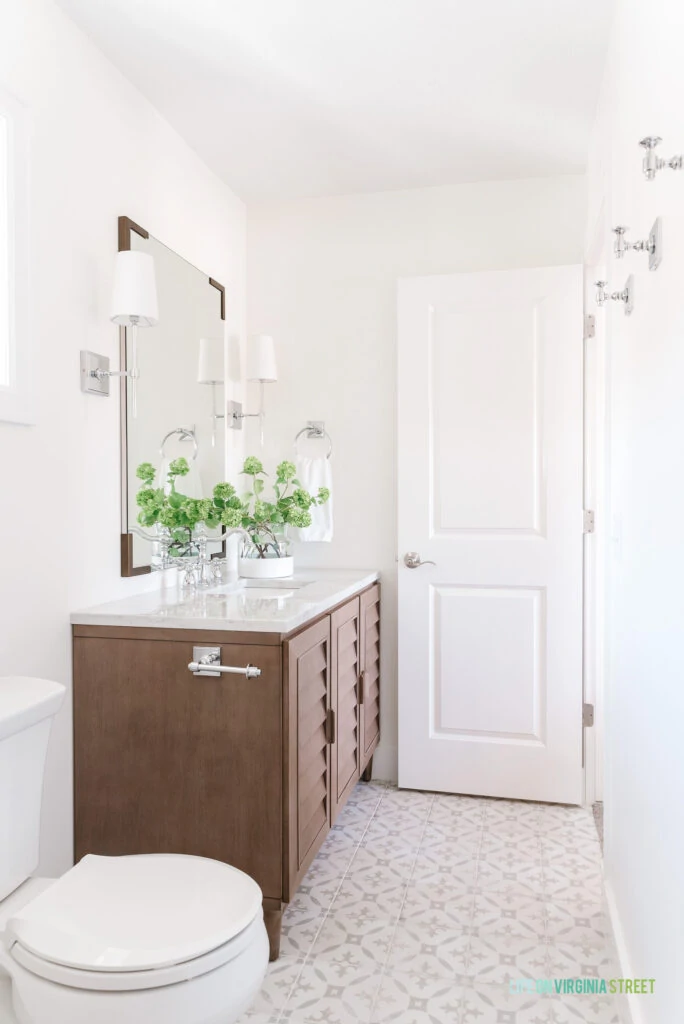 We're thrilled with how this bathroom turned out! And so excited we were able to finally host a guest in this space (and the Jack & Jill bathroom) this past Easter weekend!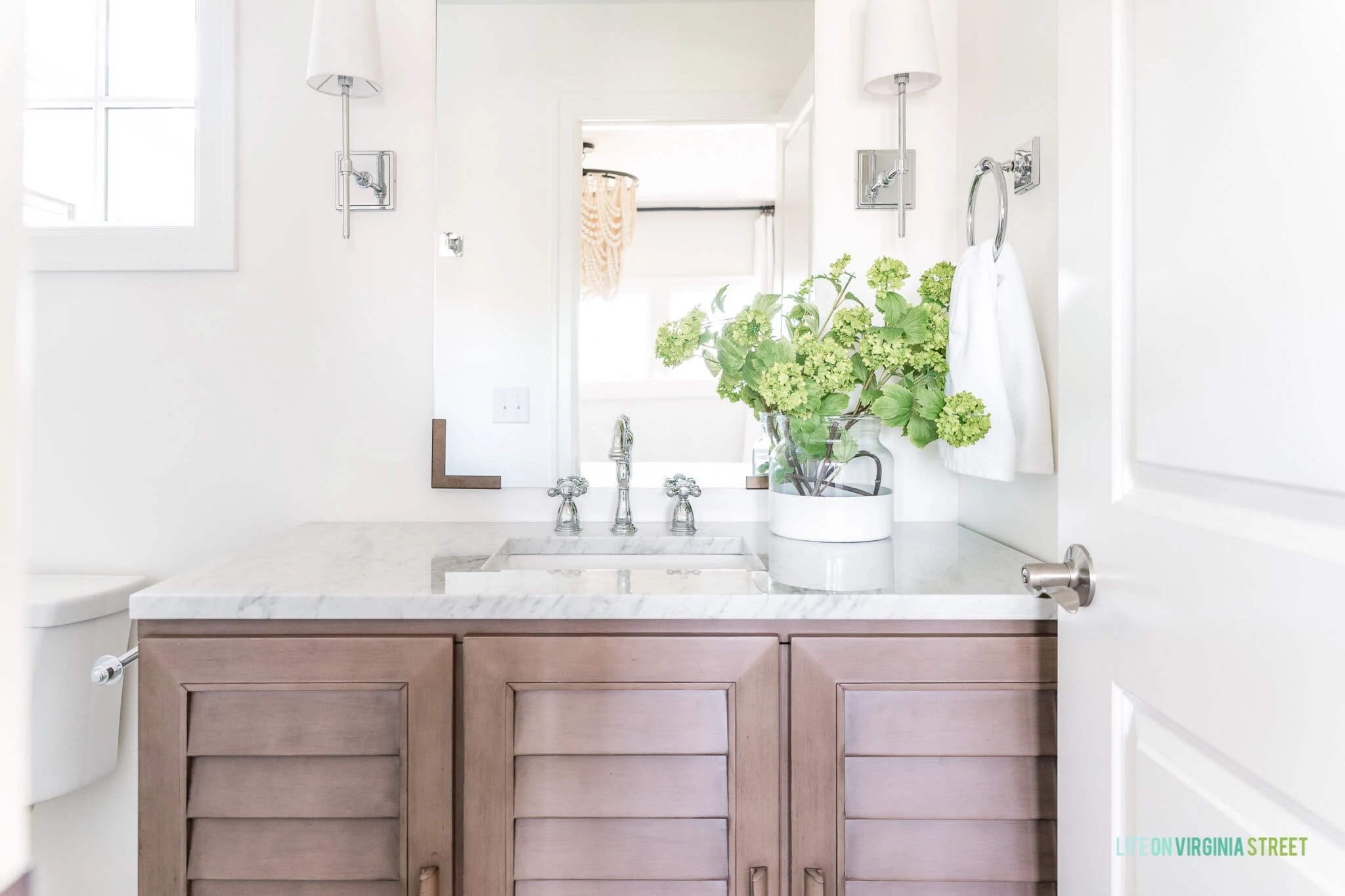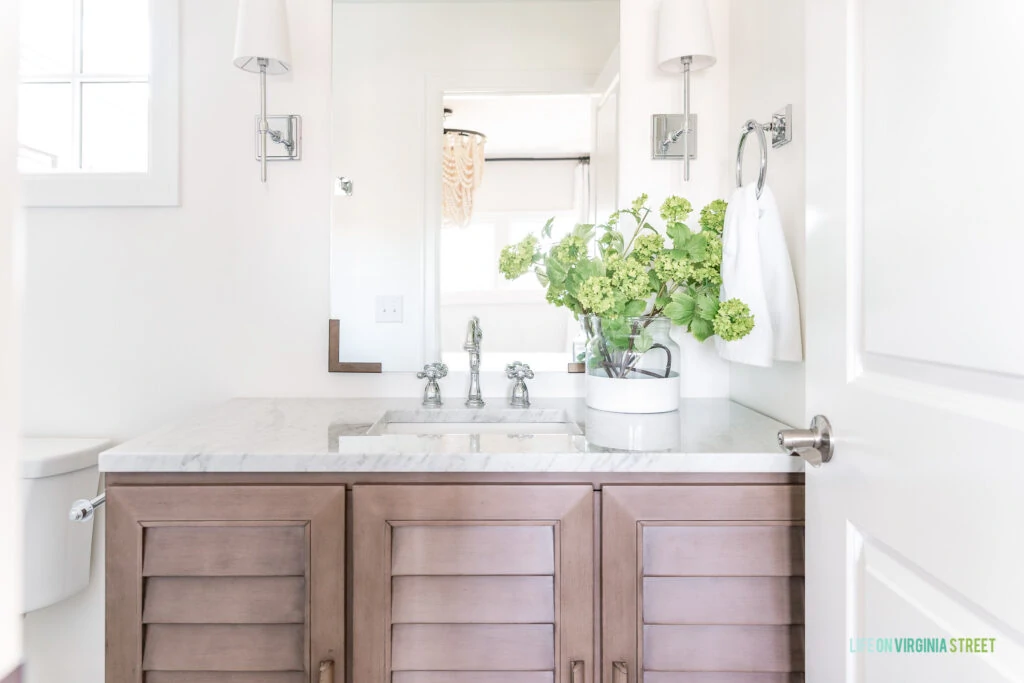 Once again, I can't thank the amazing crew at Gitt Construction enough for all their hard work and their attention to detail on this project. They are top-notch and we'd happily recommend them for any renovation projects. A big thank you also goes out to my friend Mandy McGregor Photography for all the beautiful photos! She truly captures these spaces in their natural light in the best way possible!
Small Guest Bathroom Makeover Sources & Vendors
Following is the full list of sources and vendors used for our Jack and Jill bathroom remodel project.
General Contractor: Gitt Construction
Photography: Mandy McGregor Photography
Paint Color: Benjamin Moore Simply White; Eggshell finish on walls, Semi-gloss on trim
Louvered Wood Vanity (also here and here in other sizes)
Sink Faucet (chrome)
Shower Fixtures (chrome)
Toilet
Patterned Floor Tile
Floor Grout: Silverado
Mirror
Towel Ring, Toilet Paper Holder & Hooks (chrome)
Sconce Light Fixtures (chrome)
Faux Viburnum Stems
Paint Dipped Vase
Additional Bathroom Inspiration
Looking for additional bathroom inspiration? Be sure to check out the following posts. Click any of the titles below to be taken directly to the article.
If you would like to follow along on more of my home decor, DIY, lifestyle, travel and other posts, I'd love to have you follow me on any of the following:
Pinterest | Instagram | Facebook | Twitter
disclosure: some affiliate links used