An honest review of our Pottery Barn sectional, including ordering tips, customer service issues, and how our sectional has held up over time. I'm also sharing the best times of the year to purchase Pottery Barn furniture to ensure the best price!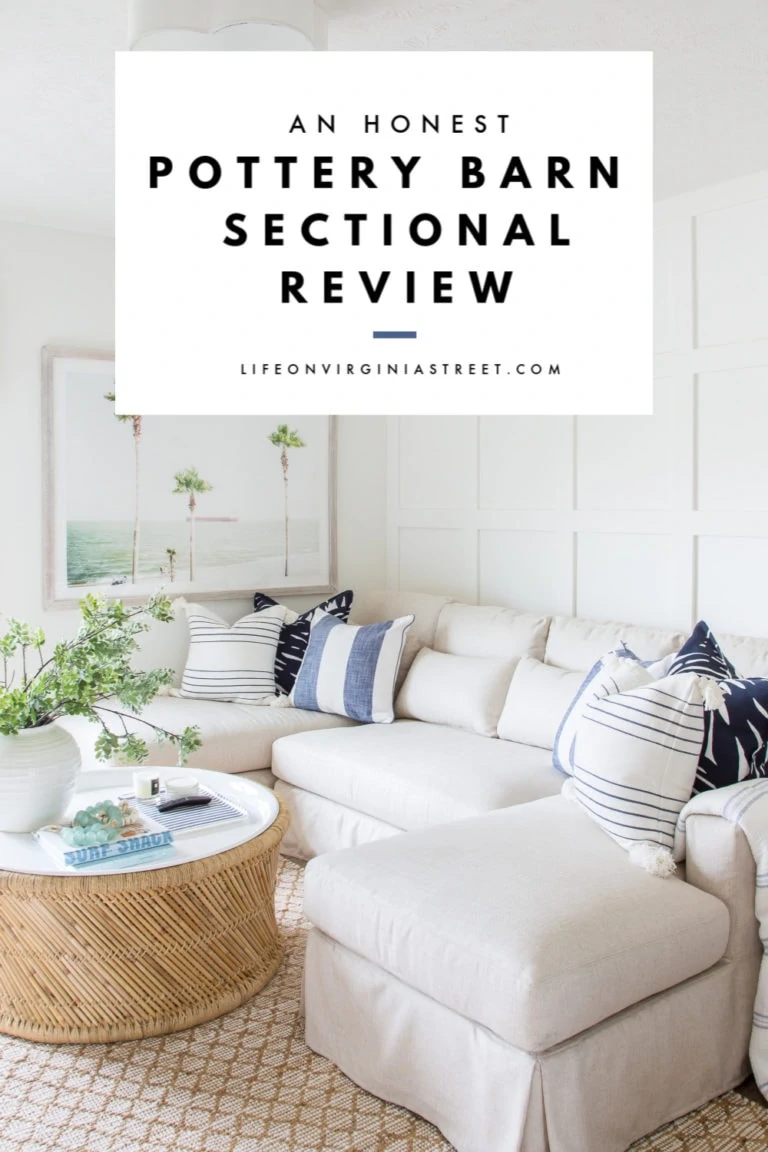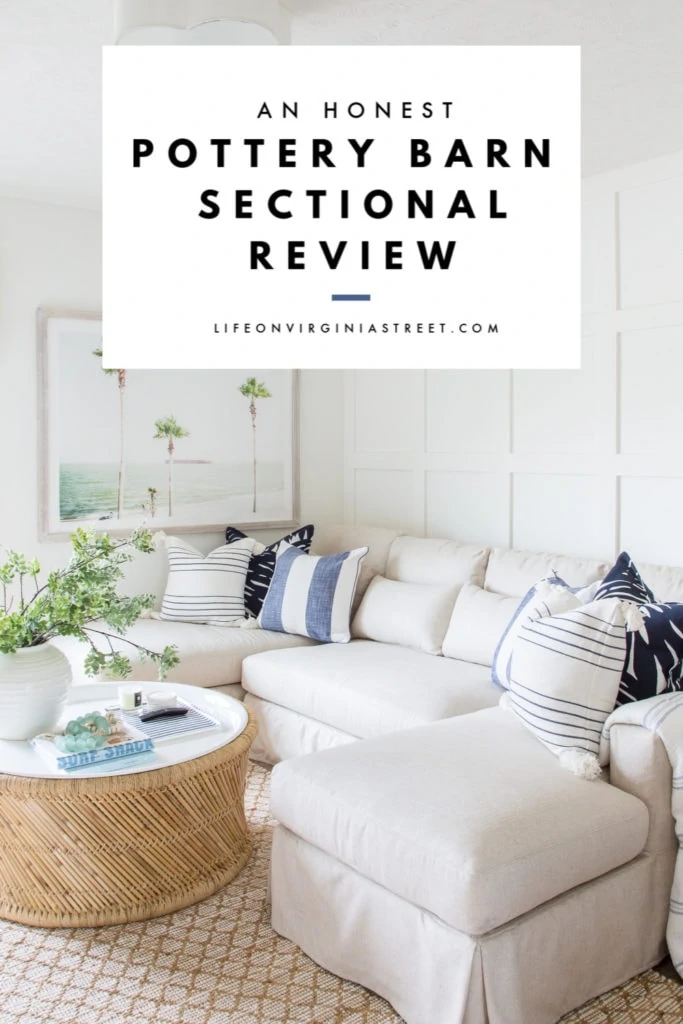 Our Pottery Barn sectional was delivered on April 6th, so we've now lived with it for seven months. I figured it's a good time to finally share our initial review and then I'll continue to update this post over time with additional feedback. This review is very detailed with information and is broken down into multiple sections. I truly believe it will be helpful if you're ordering any type of large Pottery Barn furniture, so feel free to jump to the sections that may apply to you most!
This post contains affiliate links for your shopping convenience. Please know this Pottery Barn Sectional review is in no way sponsored, and we fully paid for the sectional with our own money! Click here to read my full disclosure policy.
Potter Barn York Sofas
If you're new here, we also own two Pottery Barn York sofas. I wrote a very thorough Pottery Barn sofa review that is worth reading if you haven't already. We've been so happy with those sofas which is why we opted to try one of their stylish sectionals. In an effort to not be too redundant, I would recommend reading that post first, as we went with the exact same fabric. Then, further down in this post, I'll share the specifics that relate to our sectional and how it compares! The best part? The sectional is now up to 30% off during the buy more, save more sale. It's the only time of year I recommend buying their furniture so you get the best price possible!
Our Pottery Barn Sectional Specifications & Environment
Before I get into the general pros and cons of the lovely sectional, I want to share the exact specifications of the exact style we ordered. Regardless of the style we ordered, this entire post will contain helpful info for all Pottery Barn sectionals!
We ordered the Pottery Barn York Slope Arm Deep Seat Slipcovered Build Your Own Components Sectional which has now been pre-packaged as the York Slope Arm Deep Seat Slipcovered U-Shaped Chaise Sectional. Longest names ever! From the build-your-own components, we ordered the left-arm chaise, armless loveseat, and right-arm chaise (which has now been pre-customized here to make it more simple). If you don't need customizable components and only one chaise, be sure to check out this sectional from the same collection. The fabric we selected is the Performance Everydaylinen™ by Crypton® Home in the Oatmeal color. I'll likely sing the praises of this amazing fabric until the day I die.
We do not have kids but we do have three cats that love to sleep on the sectional.
The den, the room where we're using the sectional, is a converted bedroom. The measurements of the room are 13'9″ x 13'2″. Since the sectional is pushed into the corner, we still have plenty of floor space and walkways to access the three sets of doors in the room.
We want our home to be welcoming and livable, so nothing is considered precious. Our den is the room where we watch movies, read, watch football, etc. So, it's seen it's fair share of popcorn, food, drinks and more!
Since our den is our secondary living space, it doesn't get daily use like our sofas do (at least not from humans). But, with that being said, the sectional has still been used quite a bit over the past seven months!
I shared a bit more about why we ordered this sectional in my post on Our Den Design Plans and Why We Ordered a Pottery Barn Sectional. And here is the sectional in our space in May from our den reveal post.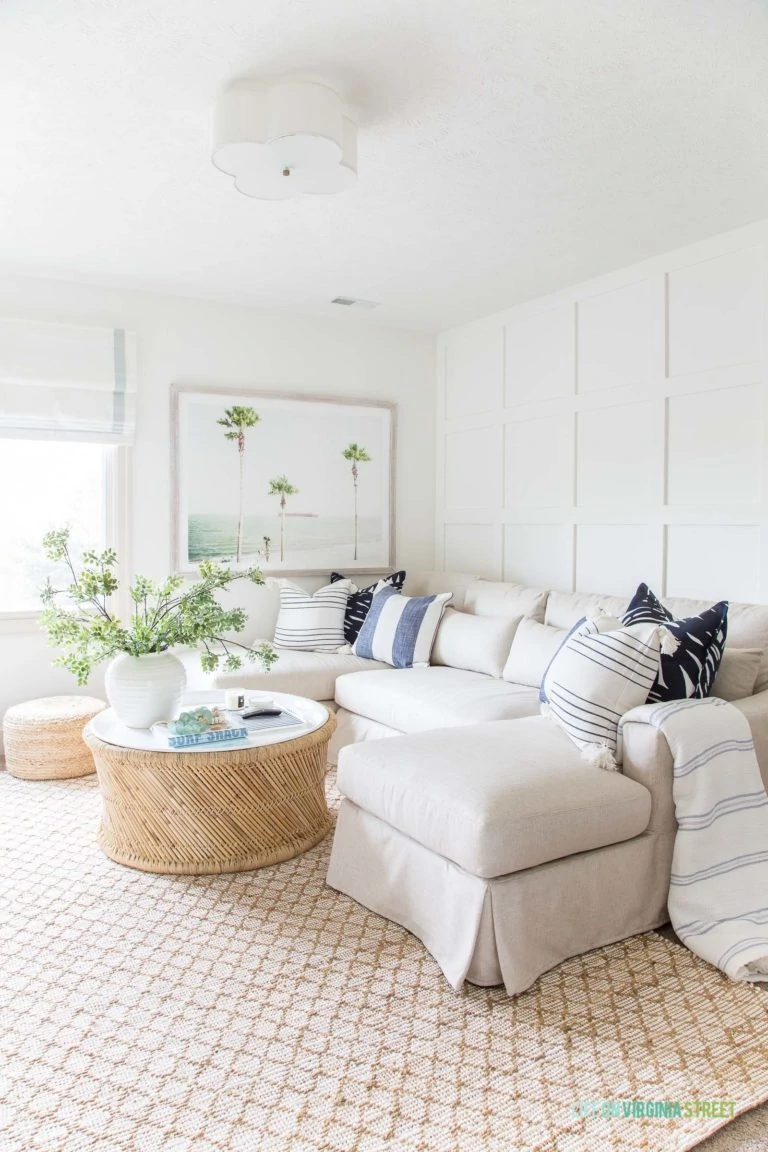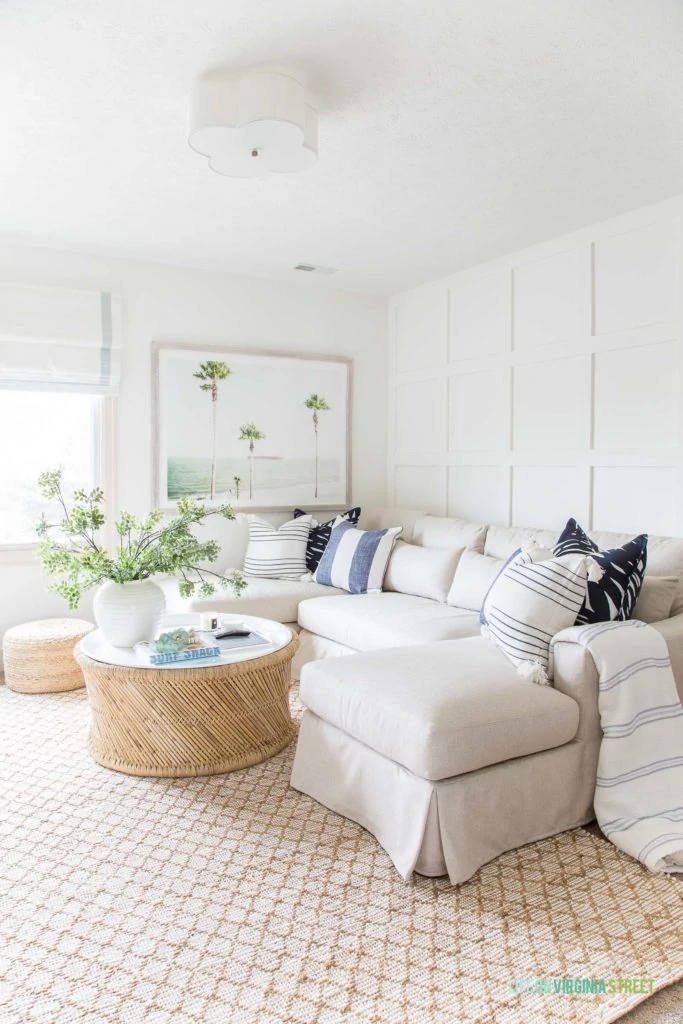 DEN SOURCES: Pottery Barn Sectional | Jute Diamond Rug | Scallop Light Fixture | Coffee Table | Palm Tree Art | Jute Poufs | Similar Ceramic Vase | Faux Greenery Stems | Small Striped Pillow | Wide Striped Pillow | Palm Print Pillow | Striped Throw | Roman Shades
PB Sectional: PROS
Following are some of our favorite features of our Pottery Barn York Sectional.
CONSISTENCY
As mentioned above, we already own two of the Pottery Barn York sofas and absolutely love them. So, we had much more confidence going into this order than we did the first time around. Thankfully, the consistency in craftsmanship, quality, and color are spot on!
GORGEOUS DESIGN
Let's face it. There are a lot of ugly sectionals out there! After looking through hundreds of sectionals, there weren't any that I loved as much from a design standpoint. I also love how many configurations there are for this sectional. From the overall size, fabric selections, arm style, depth to the length (and more!) there is a lot of flexibility in customizing the perfect option for your space. Our "den" is actually a bedroom we converted to a TV zone. So, we have tight doorways and limited space. I love that I was able to select a configuration that fit the room perfectly (and still fit through the door)!
WEARS EXTREMELY WELL
The Performance Everydaylinen™ by Crypton® Home fabric is amazing. It comes in several soothing colors, has a beautiful linen texture and is the most durable fabric I've ever come across. The longer we have it on our sofas and sectional the more obsessed with it I become. When I was researching fabrics for our sofas, I actually poured red wine on a sample. It beaded up and wiped right off without any work! So, I got a little crazy and poured more on and really pushed it into the fabric. It still came out with water and a paper towel. After seven months of owning the sectional, we don't have any spots, pilling, or any other signs of wear. It holds up remarkably well. I also want to make a really strong point here. Nearly every Pottery Barn sofa complaint I've seen comes down to the fabric. If you read the comments at the end of this post or any review on other sites, it always comes down to fabric quality. I cannot say enough good things about the Performance Everydaylinen™ by Crypton® Home fabric. Everyone that has ordered it and come back to me down the road has loved it.
The down fill has also worn extremely well. After more than seven months, I can safely report that zero feathers have come out of our sectional. We've had multiple other pieces of furniture in the past of lower quality where we were constantly being jabbed by feather tips! Not only that, it so much easier to reshape the cushions when they get mushed down (thanks cats)! I've found that having individual cushions (versus the bench seat we have on our sofas) also keeps the fabric much tighter and easier to re-shape.
FLEXIBILITY
The version I ordered is a slipcover and I'm not sure I would have ordered it at this price if it wasn't. But, it isn't the old-school ill-fitting versions of the past. It fits well and the best part is, the Performance Everydaylinen™ by Crypton® Home is dry cleanable. Several other fabric options they offered are actually machine washable, as well. There is so much flexibility because you can re-use the frame and totally change your look with new slipcovers (Pottery Barn sells them separately as an option). I was also told you can order any of the cushions separately down the road if need be. I'm assuming they're not cheap, but if one gets ruined, at least it doesn't mean I have to buy a new sofa.
COMFORT LEVEL
After having lived with our Pottery Barn sectional for seven months, it only gets comfier with age! We both love having one of the chaise lounge sides for movie and TV watching. Initially I was going to order this model, until I realized we both thought we were the ones that were going to be sitting on the chaise side. So, we opted for the build-your-own components to get exactly what we wanted! Since we also have our York Sofas to compare this to, for nap taking and fully laying down, I do prefer the single bench cushion on our sofa over the individual cushions on the sectional. But it's still very comfortable overall!
The down-wrapped cushions that come with the York sectional are so comfy. There's honestly days we think the cushions are comfier than the mattress on our bed!
When sitting up, the deep model does require use of the lumbar cushions for comfort. However, when laying down, we find it much more comfortable to remove the lumbar pillows to take advantage of the depth of the sofa portion!
When I told my husband I wanted to order this sectional for our den, he had zero commentary. Like ZERO. This alone was proof that he loves the comfort level our sofas and was fine with another version. The sectional sofa was fairly firm at arrival, which reminded us of just how well broken in their furniture gets since our sofas are softer. It will only get comfier with time!
PB Sectional: CONS
Following are some of the issues we've had with our Pottery Barn York sectional. Sadly, most don't have to do with the sectional itself, but rather the delivery and service side of things.
DELIVERY SCHEDULING
I believe this is really only an issue in cities where you don't have a Pottery Barn receiving center. Omaha has to rely on a service in Kansas City. Recently, every single freight order has had issues where things just sit in limbo. So, if you are ordering multiple items (or in our case, a sectional with multiple parts), stay on top of checking status on the Pottery Barn site. I do appreciate that Pottery Barn now has a very detailed timeline online that you can follow to see where your order is.
This time around, I could see all of my pieces had arrived at the Delivery Center but I hadn't received any calls to schedule delivery. After a week or so, I called in and sure enough. PB showed that everything as there, but the delivery center had notes that they were still waiting on pieces. I had to get both sides to talk it out, and finally they agreed to delivery everything (they weren't convinced it was all there). Sure enough, it was and if I hadn't called, it may have sat there for another month.
Even now when I go on the Pottery Barn site and check my order status, it still shows one of the pieces hasn't been delivered. And it's been here for seven months!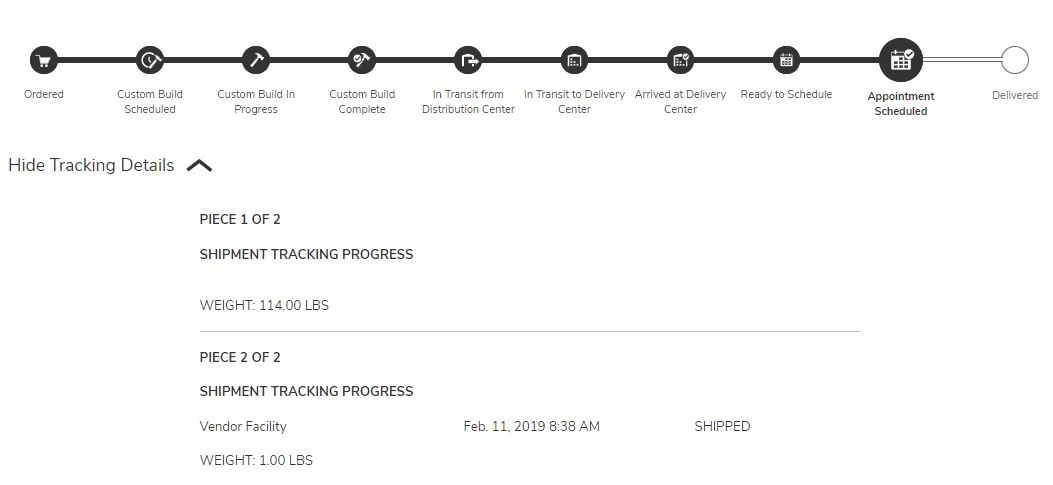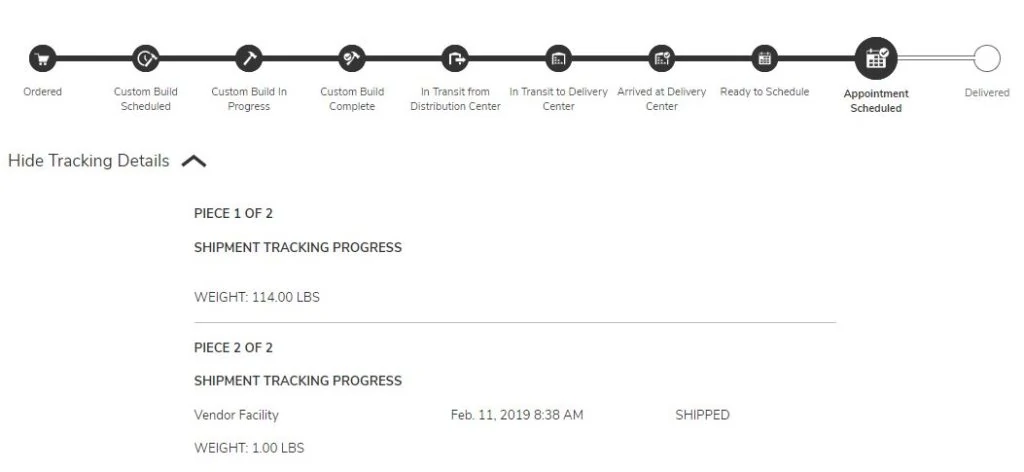 So my advice is this. Check in on your order status online periodically. The build will likely be the longest portion (understandably). But if you see your items at the delivery center for more than a week and you haven't been contacted to schedule a delivery, I would call. But, keep in mind that ALL items in an ENTIRE order must be at the delivery center before they will delivery since you only paid one delivery fee.
I also want to make it clear that while I continue to have issues in this area, I find they are manageable. Since the sectional order, I have ordered two other large pieces of furniture from Pottery Barn. There was an issues there with delivery (one piece got left behind). BUT, I am never disappointed in the amazing quality of the product, so it keeps me coming back and ordering from them. I still recommend their furniture, but I also just want to set realistic expectations if you decided to order one.
CUSTOMER SERVICE
By far the biggest gripe I have about our Pottery Barn sectional was the customer service I received upon delivery.
A little back story. I ordered the sofa on January my own online during the buy more, save more sale because I knew exactly what I wanted. Upon arrival, the delivery guys (who are always excellent!!) realized that the middle section of the sectional was built with shorter feet than the two sides. It was dramatic enough (about two inches) that they couldn't hook the sectional components together.
I called the main Pottery Barn customer service line and the wait time was rather excessive. So, I decided to try and call my local store to see if they knew off-hand if new feet could just be shipped separately so I could let the delivery guys go home. Since the feet simply screw on and off it sounded like a really easy solution.
Let me start by saying, the folks in my local store are all amazing and many know me by name. They couldn't be nicer and they are always so helpful and sweet. I truly do love my local store. However, the person that answered the phone this particular day was horrible. I was told that the issue was occurred because I didn't order from them in store (really?!?) and that I needed to refuse delivery and wait for an entirely new sectional to be delivered. It was the most ridiculous thing I had ever heard. Even the delivery guys (who were still waiting) were appalled by this advice since they knew this was a super easy fix. Not only that, I was not about to wait another 12 weeks (and waste a perfectly-fine-otherwise $4,500+ sectional) over four legs that could easily be removed. And I'm pretty sure if I had ordered in store this wouldn't have prevented the factory from attaching the wrong legs. Especially since leg height isn't an option at ordering!! It was just an honest mistake at the factory and someone screwed the wrong set of legs on one component.
Guys, I was livid (and it takes a lot to get me upset). I was also on the verge of tears many times.
So, I opted to call the Pottery Barn customer service line again and wait on hold. When I finally got through and explained the situation, I was told that it was no problem to get new legs and I definitely should not refuse delivery over this. It's a quick fix and they said they'd even send someone out to set it all up for us again.
There were a few additional issues in actually receiving the correct legs (and several phone calls on my part). I think it ultimately was five weeks before I received them. Thankfully it didn't prevent us from using the sectional! Once they arrived, we quickly attached them on our own (rather than waiting for someone to be sent). The sectional is good as new now!
Here is a quick iPhone pic of the sectional on delivery day. The difference in foot heights is not that noticeable, but again, they weren't actually able to hook the unit together. If you were to lay down, you could feel the two-inch drop in the middle section. But, with the back lumbar pillows in place you couldn't even see the problem.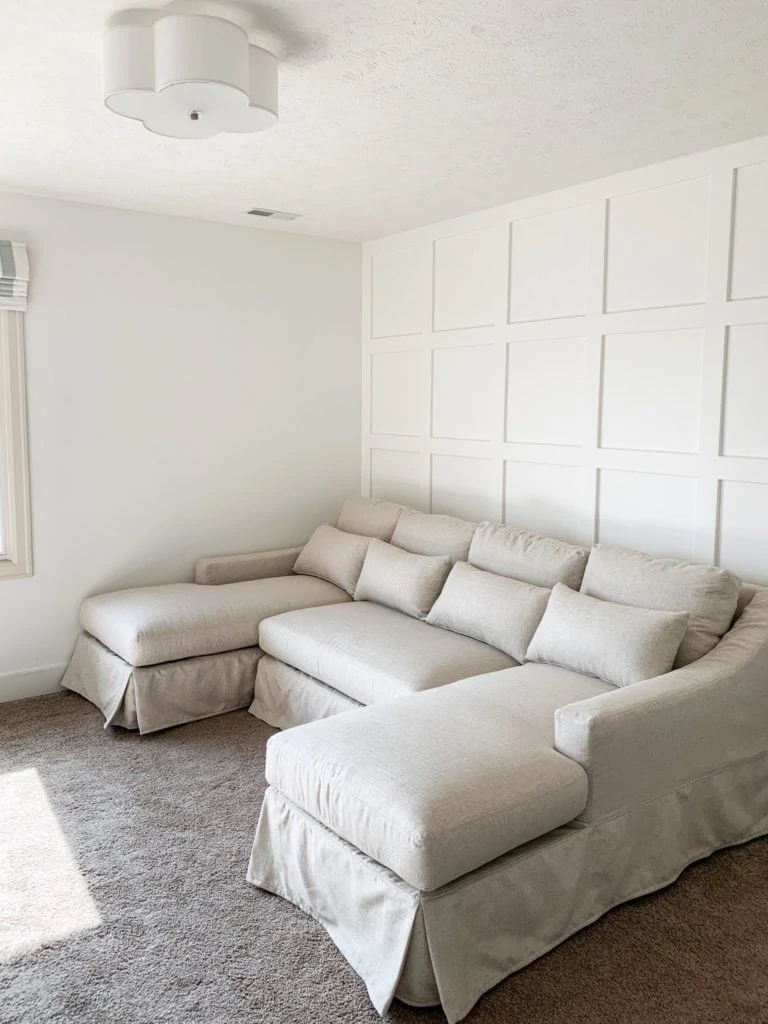 LEAD TIME
Since the configuration we ordered was custom, the lead time was rather significant. Add on top the fact that we don't have a local delivery team, so we have to wait until the Kansas City team drives up to Omaha. I knew all this going in though, and didn't expect any surprise early deliveries. I ordered our sectional on January 6th, and it was delivered on April 6th.
SECTIONAL COST
Pottery Barn sectionals are not cheap. However, the quality is apparent and each one is custom made to your specifications. I personally believe that Pottery Barn has frequent enough sales (from 15-30% off) that you should never pay full price for their sectionals or their sofas. If it's not on sale when you want to buy it, chances are within a few weeks it will be on sale. Most of the sectionals quality for 30% off during the Buy More, Save More sales since they are over $3,000. When you're spending that much money, the discount adds up in a hurry! You can read more of my Pottery Barn cost saving tips at the end of this post.
7-Month Wear Report & Maintenance
Our sectional essentially looks as good as new at this point. It has worn remarkably well and has zero stains or signs of wear. I have yet to steam the skirt to smooth out wrinkles. But that's not really a surprise since I still haven't on our two-year old sofas either 😉 Here is a recent shot of the space from October.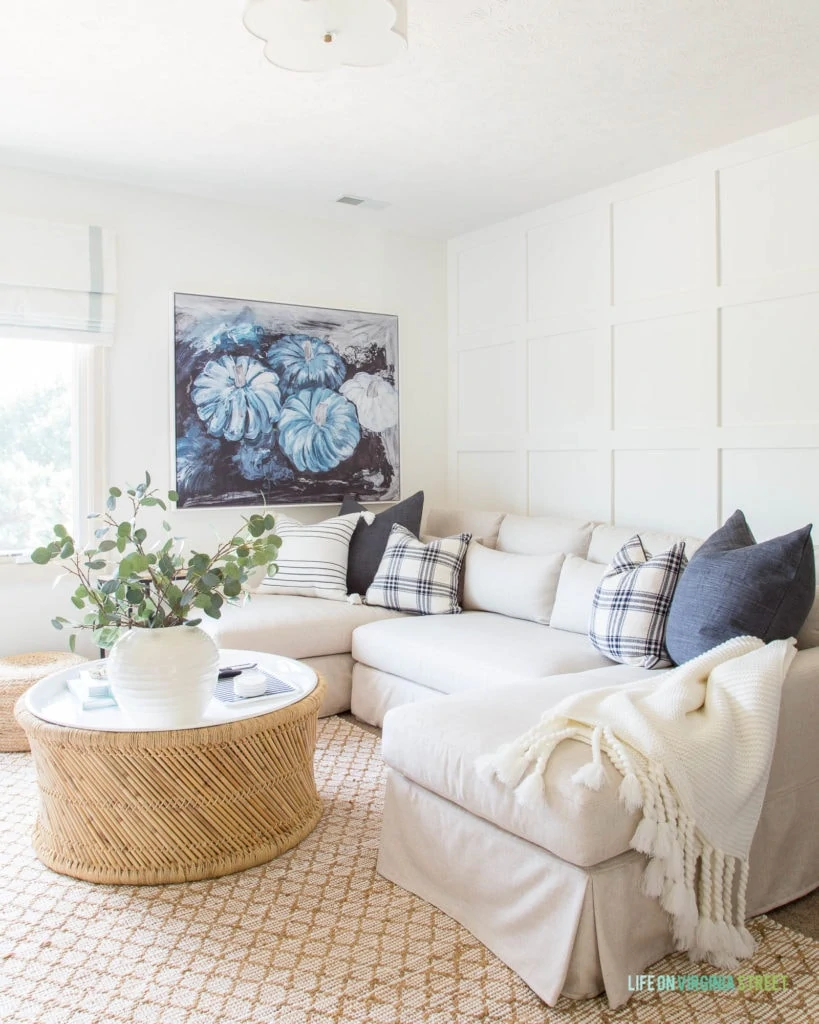 DEN SOURCES: Linen Sectional | Coffee Table | Rug | Blue Pumpkin Art | Jute Poufs | Roman Shades | Scallop Light | Similar Vase | Faux Eucalyptus | Linen Pillows (color: Gunmetal) | Striped Tassel Pillow | Plaid Pillow (old from HomeGoods) – similar here and here | Chunky Tassel Throw (old) – similar here
Overall Pottery Barn Sectional Review & Thoughts
We can now say we are really happy with our purchase! Once the sectional was delivered, the correct feet were attached, and we've had some time to use it, it's great! I wouldn't hesitate to order another piece of furniture from Pottery Barn in the future either. Now that I've had this experience, I set my expectations on the lower side for delivery. But I know it's ultimately worth it in the end because I've been so happy with every single piece of furniture I've ordered from them! Zero regrets!
If you haven't already, I'd strongly encourage you to also check out the comment section of my Pottery Barn York Sofa review. There is a lot of great information from others who have ordered Pottery Barn sectionals and sofas. There is also a lot of helpful tips on the good and bad fabric options!
How To Get The Best Price On Your Pottery Barn Furniture
Since it's pretty clear I love the product, I also want to give some tips on how to get the best price on your sectional. Pottery Barn holds frequent enough sales on their products that I wouldn't ever pay full price for their furniture.
Try and buy during the Buy More, Save More sale. Pottery Barn typically holds these in early January, once or twice in the spring, around Labor Day, and around Veterans Day. With these sales, you can typically get 25-30% off over a certain spending limit. If you spend less, you will still qualify for 10-25% off! Update: See recent intel on the status of Pottery Barn sales, here.
Multiple times year, they will have 20-25% your entire purchase sales regardless of how much you spend. Since these are relatively frequent, at minimum, I would wait for one of these sales to purchase their furniture!
Black Friday and Cyber Monday are usually good sale days as well, but I don't recall them ever being better than any of the above sales for furniture.
Any time a Premier Day sale is announced, I immediately jump to the furniture I have my eye on. These sales are one-day flash sales and the savings on very specific items can be excellent!
Keep in mind, I've never seen Pottery Barn waive their shipping costs for large furniture. And I'm on their site almost daily 😉 So, keep in mind that this is likely something you'll have to pay no matter the sale. However, keep in mind it does cap out at $299 regardless of number of pieces you order. So, I typically keep a list of a few items I want, save up, wait for one of their big sales, and then buy everything at once to save on the freight delivery fees!
I also have a Pottery Barn credit card. This allows for 5% cash back (to be used in stores) on all products. It's one of the best rewards programs out there. You obviously want to be very responsible using this card, and pay it off in full each month. But, the cash back can add up in a hurry and allow you to get other items for free! Several times a year, they will also offer double rewards. On large purchases, you can often get 0% financing for a year if you opt out of rewards. It's one of the few store cards I hold because I do believe it's a valuable one to have.
If you don't want to get a store card, I would strongly encourage you enroll in their free Key Rewards program! You get 2% back in Rewards Dollars on qualifying purchases within Pottery Barn's family of brands. This can also add up in a hurry when buying furniture!
I hope you found our Pottery Barn sectional review helpful!
Follow me on my other channels for even more home decor and lifestyle inspiration! All links are included below.
Pinterest | Instagram | Facebook | Twitter 
disclosure: some affiliate links used