Each January, Kurtis and I sit down and write out our goals for the year. We tackle personal goals, goals for our businesses, and our home goals! I typically also publish a winter project list each fall, since we tend to do better focusing on projects in the colder months when we're stuck in side. You can see my 2020 fall/winter project list for the latest version. But, now that we're already into February, I figured I had better get our 2021 full year home goals published! As much as we love our home, I also love a good project.
This post contains affiliate links for your shopping convenience. Click here to read my full disclosure policy.
2020 Home Goals Check-In
Before we jump into our 2021 home goals, let's quickly check-in on how we did on our 2020 home goals. If you want more details on each, I'd hop over to that post for the specifics. I'll update the status of each below. Spoiler alert: like most things in 2020, not much went according to plan 😉 Which, as you'll see further down in this post, is pushing us to get two years' worth of goals done in one year.
Guest Bathrooms. The one goal I thought for sure we'd accomplish last year. And then 2020 happened. This project has been on my list for seven years, and as we all know, it was moved to this year. I'll go into it more below, but we're happy to know this will be the year these for sure get crossed off our list!
Finish King Guest Bedroom. We made a lot of progress in this guest bedroom (simply named for the mattress size, because we're creative like that). I shared my original plans and mood board in this post.  I'm sharing more details on what's left, below.
Finish Queen Guest Bedroom. I actually was able to complete most of what I wanted to in this space. You can see it best in our fall home tour. We'd still like to find a more compact desk for the space (that can still accommodate Kurtis' 6'2″ frame when we works from home). And I'd also still like to explore adding some woven shades a foot or so above the window. But other than that, this room is done! And will soon have a nice attached bathroom to go along with it!
Update the Wi-Fi Station. Another to-do item that really hasn't been a priority, and still hasn't been completed. I keep saying, when I find the perfect piece, this project will be wrapped up. Maybe this will be the year? Adding it back to the list.
Upstairs Hallway. Finally! Something I can say I fully finished! You can see how this turned out in my post on our Upstairs Hallway Photo Gallery Wall (& Some Inspiration)!
Entryway Hallway. Done! Mostly! After moving the cane console table to the office, we replaced it with the raffia console table. We also finally got rid of the bench with wobbly legs (that would literally fall off if you sat on it) and went with this pillowtop version. I'd eventually like to replace the HomeGoods art (that has a busted frame), but right now that really isn't a priority. So we're calling it a day for now!
Dining Room. It only took until our Christmas home tour for me to finally show our new dining chairs. I have another change or two in store down the road, but we've been very happy with the more casual chair swap!
Office. I feel like I may have regressed here. 😉 Although I painted the wall and finally found a rug, the overall goal was not achieved, and has been added back to the list below.
Outdoor Expansion. This was on 2020's list, but more as a "what we want to do next year or in the years following". So I get a pass for only making a little progress here 😉 It's back on the list for this year so you can read more below.
Add More Hydrangeas. Achieved! I think I added nearly a dozen hydrangeas to the yard, and if I'm being honest, I'd probably be okay if I did that every year for the next decade.
Figure Out the Hill. We made some progress here, but we need to still remove a little more sod to keep the flower beds from growing grass. Not much left to do on this one!
2021 Home Goals
The funny thing about our 2021 home goals is that several of the goals were on our list as far back as 2014 (I'll link them at the end of this post)! They were delayed and delayed (I'm looking at you, bathrooms) and we now know they'll finally be finished this year! If nothing else got completed, I'd be A-Okay with that after finally being able to cross them off the list this year! Over the past year+, we've had the conversation multiple times if it would just be easier to move. Were we putting too much into this house?  The truth is, we both hate moving, and we've ultimately decided, that unless we're moving to a warmer climate, we don't want to move again within Nebraska. And thankfully, we purchased our house on the lowest side of homes in our neighborhood (many now cost double what we paid). So we have flexibility. Since we plan to stay here for the long-term (or at least until we can move somewhere with palm trees), we're going to make the upgrades that work best for our lifestyle. And, if possible, on a timeline where we can enjoy them as long as possible! Let's jump into our goals.
Guest Bathroom Renovations
As you're likely all aware, this project kicked off the first week of January. I had to laugh when a follower messaged me on Instagram and said she remembered when the Jack & Jill bath was on my very first home goals post back in 2014 and she was excited we were finally seeing it come true! I had actually forgotten that it was on our list for so long. In fact, when we bought this house at the end of 2012, we immediately factored in remodeling our kitchen and bathrooms before we even made an offer. You can read our Jack & Jill guest bathroom plans and small guest bathroom design plans for more details on each. But we're hoping everything will be 100% complete by the third week in February, with the bulk of it done in the next week or so! We may just have to wait a little longer on the window and shower door.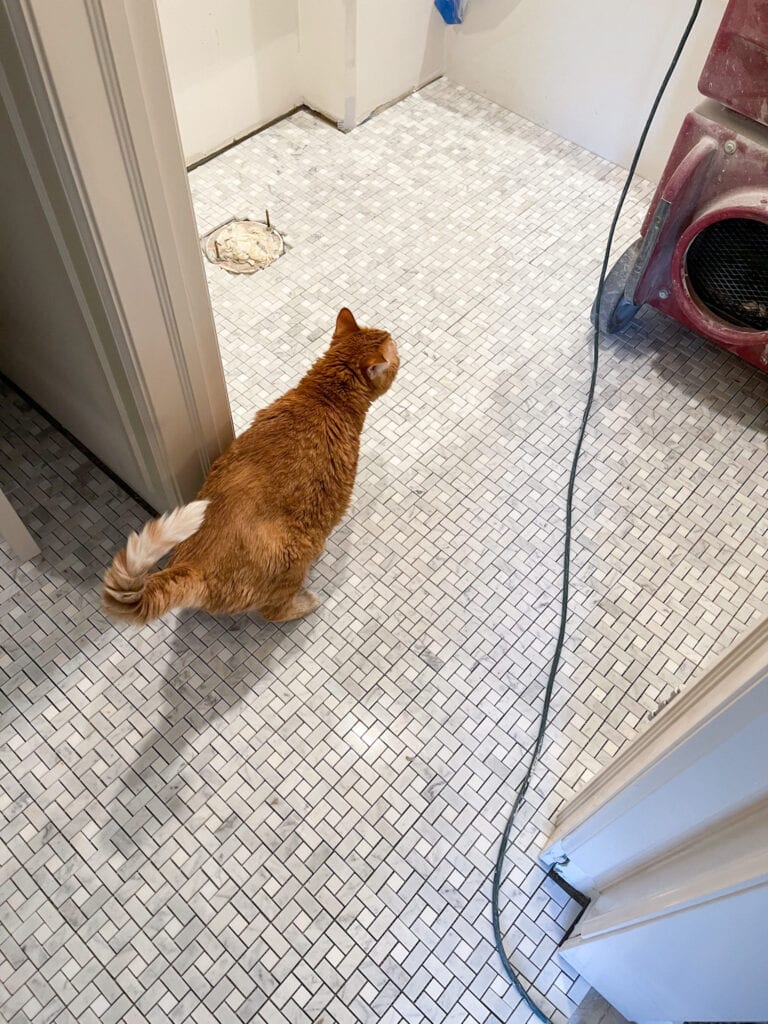 Finish King Guest Bedroom
As mentioned above, we name our guest bedroom based on their mattress size. It works for us 😉 So, this one is super easy for us. For the most part, I love how this room came together last year. But to the left of this photo, we still have the bookcase that is essentially just a junk collector. Last week, I finally bought this dresser after months of indecision, but after getting a lot of feedback from people on Instagram that had it, I decided to move forward. It sounds like it's darker in person, but I'm okay with that. Our one linen closet in our house isn't cutting it, so I'm hoping to use half of the dresser as extra bed linen storage and then leave the other half empty for guests if they choose to use it. I'll likely also replace the mirrors over the nightstands. I have a few ideas in mind, but with the newish bed, I feel like they don't look quite right. We're also thinking we may want to tackle a feature wall or wall treatment in this room! Pretty easy changes that I feel I can tackle over the next eleven months!
Spray Paint Fire Place
This was on our fall/winter project list this year, but I still haven't completed it so it's carried over to this list. It should be one of the easiest projects on the list once we just do it. If you look in the photo below, you'll see a silver section on the black grill of our fireplace. Since our fireplace renovation over two years ago, more and more of the paint has fallen off. Which is odd, because we never touch it. But, we run our fireplace frequently and it sounds like this is just something that can happen over time. I've already purchased the high-heat black spray paint, so we just need to take the screen of, sand it down, and re-paint. It will be a quick weekend project, but for safety reasons with the pilot light, also requires us to lock up the cats for awhile.
Our Home Office
As mentioned above, we made some progress last year in our home office and then things just stalled stalled. To be honest, 2020 kind of stumped us. And in reality, it started in late 2019 when Kurtis had his hip surgery and was home for six weeks. He then only went back to work for about two full weeks before he then had to work from home again (and still is). At this point, the earliest he'll go back is June, but the reality is, when you work with more than 4,000 people in a 12 story building, logistics can get a bit crazy with social distancing guidelines. All that being said, we anticipate he'll be working from home more frequently after that point, and it kind of threw our initial home office plans out the window. I think until we get a bit more clarity about what the future holds there, this project will stall. If he ends up needing a dedicated home office for his day job (rather than the small corner in the guest room), we may go back to a single desk in the office for me and figure out something else entirely for him. But hopefully we'll know more soon!
Update The Wi-Fi Station
This is another fairly easy project that has been on the list for a few years and continues to stall. And since I never get anywhere with it, it becomes the dumping grounds for decor I don't want to deal with. The area has looked like the below image from 2017 basically since we moved in. I mostly just pretend it doesn't exist 😉 The cabinet holds all of our wi-fi, routers, etc. since the area is so open to most of our house. The cabinet is one we had in our last home that I painted with chalk paint once we moved here seven years ago. I think this spot has the potential to not only be functional, but also beautiful, so I need to kick it in gear and get this figured out this year! A new console table (that can hide all the wires and components), a mirror or artwork, and some small accessories. Nothing too major, but since this is the view all of the bedrooms and den see when you exit, it's time to get it in shape!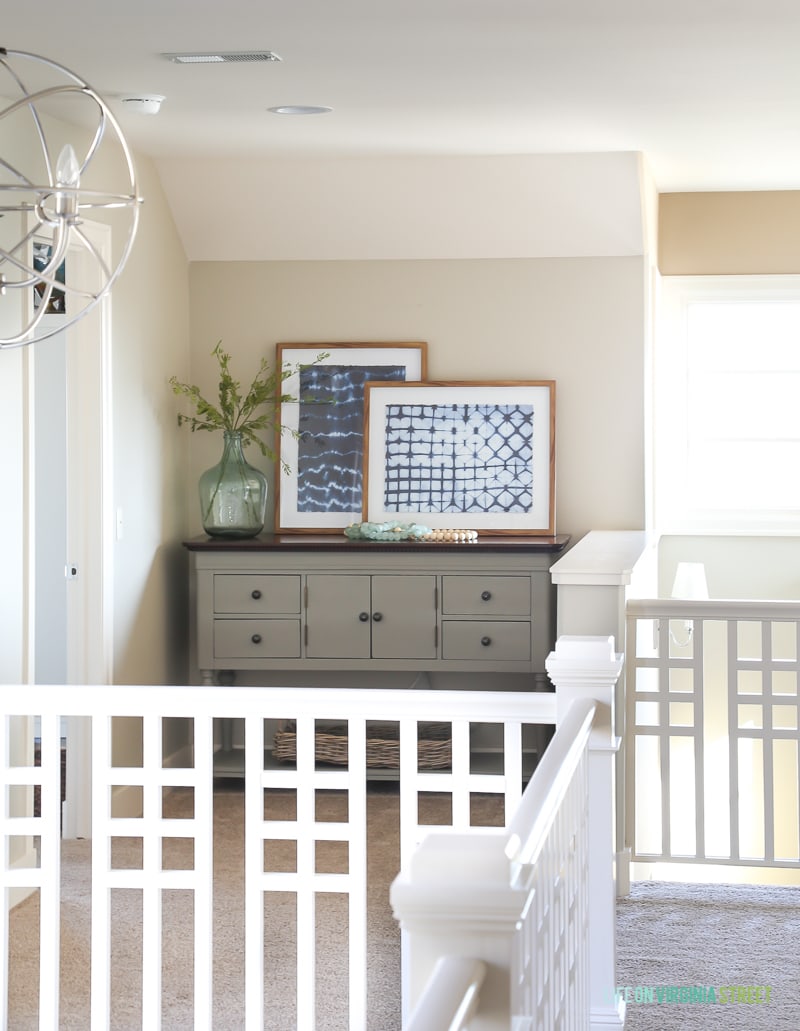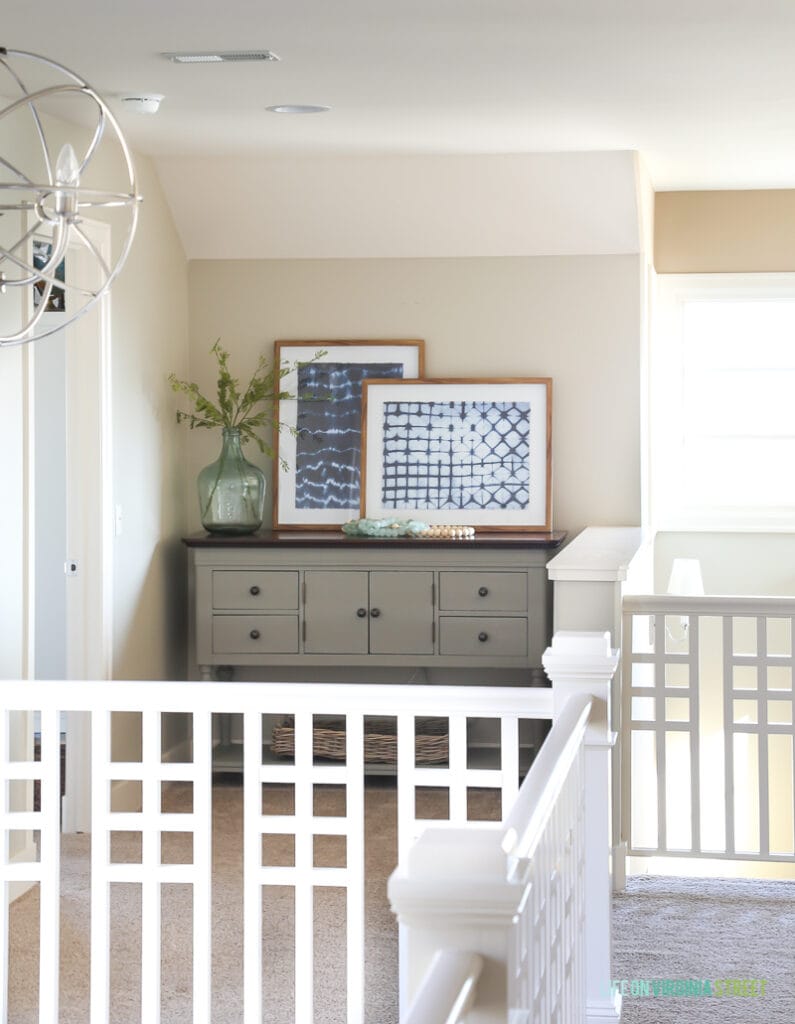 Figure Out the Upstairs Floorings
This is a maybe. I talked about this more in our fall/winter project plans. But our upstairs carpet is currently well beyond its useful life. Not only is it buckling in basically every room in multiple places, it's clear it isn't the highest quality. We don't have a lot of interest paying someone to stretch it in literally every single room and closet when we know it wont' be here long. Ideally I'd love to do engineered hardwoods in the hallway and on the stairs and then carpet the bedrooms. But that then poses a problem with our main level hardwoods. I talk more about this in my post on if you can refinish engineered hardwood floors. But, with all the natural light our house gets mixed in with the cats the dark hardwood floors we have on our main level, they basically look good for the 30 seconds they're clean. I genuinely don't think this is something we'll actually wrap up this year (Kurtis disagrees). But I'd at least like to start the process so we can get an estimate on pricing and then budget for something in the next 1-2 years.
Add More Hydrangeas
As mentioned above, I'll always be planting in our yard, especially when it comes to hydrangeas! I realized last year that although I love limelight hydrangeas, I hate that it takes until late July or early August for them to bloom here. So, my goal is to add more Incrediball hydrangeas, which seem to bloom the earliest in Nebraska. I added a bunch along the back of our house last year, and I they made me so happy all summer! So, although I don't know where yet, I'm making it a goal to add more in 2021! The image below is of my most mature Incrediball that I planted five or six years ago. It's basically zero maintenance at this point and always so pretty all summer long!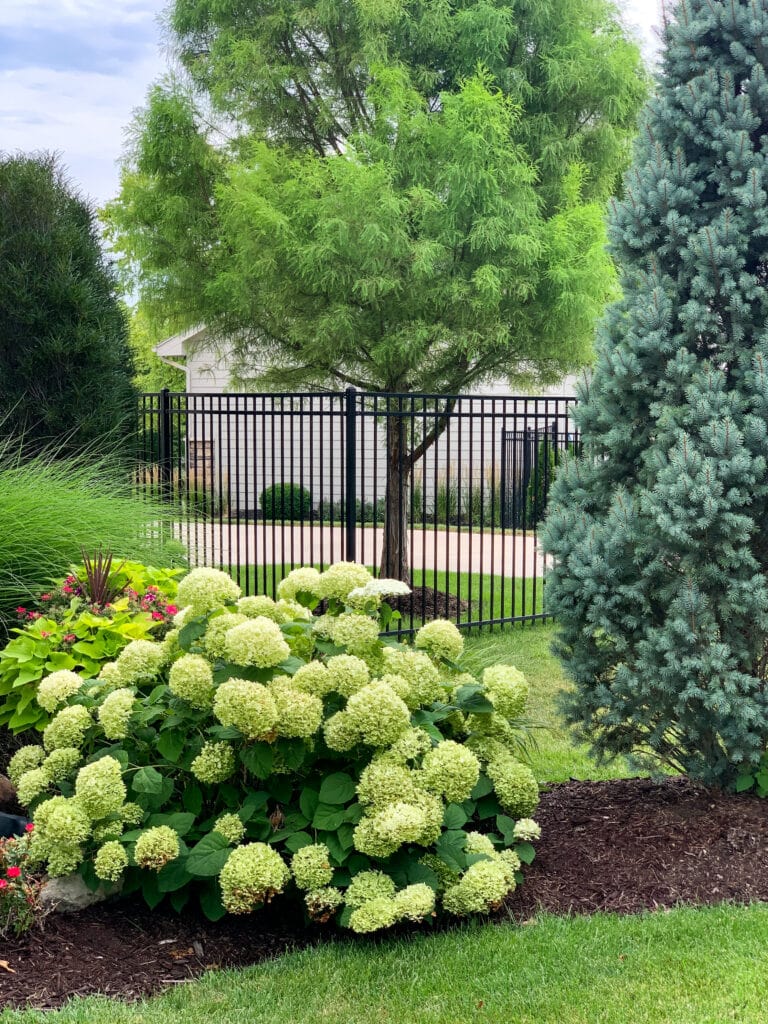 Our Garage
To put it simply, our garage is an embarrassment. Yes, we have space to at least park our cars in it. But it's the area where we are the least organized, and it shows. Even on the days when it's the most clean it's ever been, it's still a disorganized mess. And since pool guests use the fridge in our garage, people actually see the space frequently in the summer months. A lot of what we do in here though, may be contingent on the next project on our list! The image below was from the summer when all our pool furniture is outside. It gets even more chaotic in the six months when we store all of that in here! Our flooring is also badly chipped and peeling and turns into an ice skating rink in the winter months since our garage isn't insulated. So we may be looking into getting it insulated as well.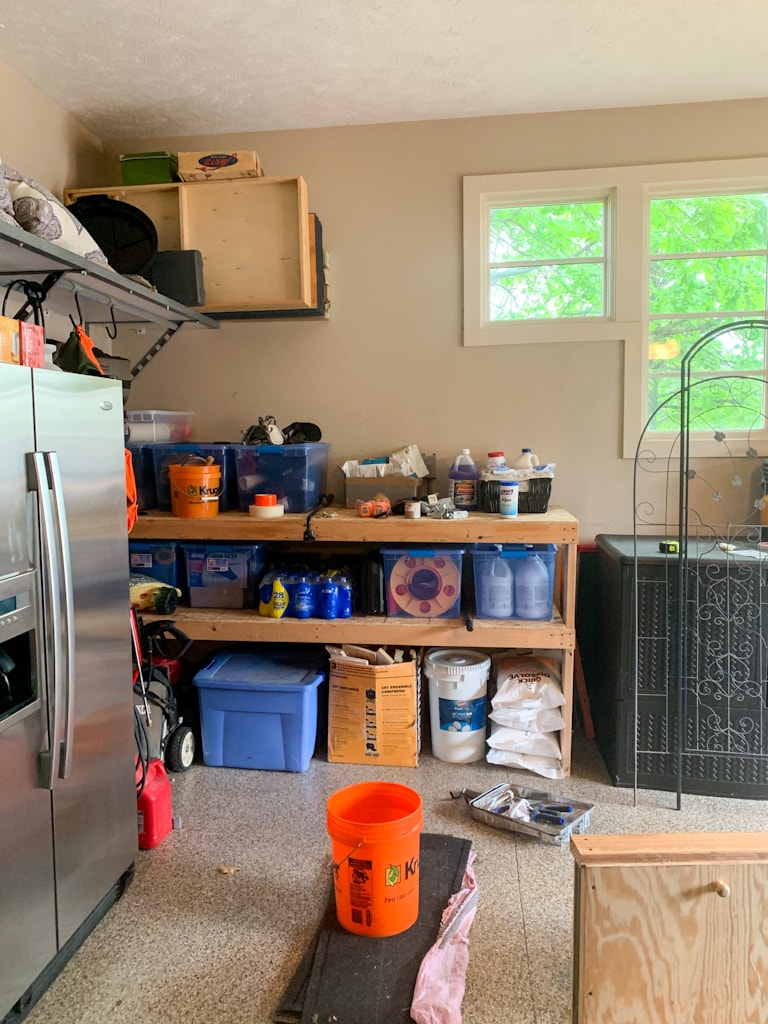 Pool House Addition
Fun fact. When we completed our pool in 2016, we decided to make it a five year goal to eventually add a pool house. 2021 was the year we ultimately selected so we could start saving. Over the past five years, we realize more and more how much we need the additional storage space and entertaining area. Fast forward to 2020 and I started doing all the legwork to get the wheels in motion. I met with a builder right before the pandemic hit. There were a number of roadblocks along the way with the year that was 2020. But, we're circling back to this project to see if we can still make it a reality yet this year. 2020 did really make us stop and evaluate our house and our priorities for it. So, I think it's actually good that we encountered the road blocks we did, before making decisions that weren't what we wanted long-term. I need to share a big update post about this project and hope to do so soon! In the meantime, you can see our pool house ideas and tentative plans for more information on this project!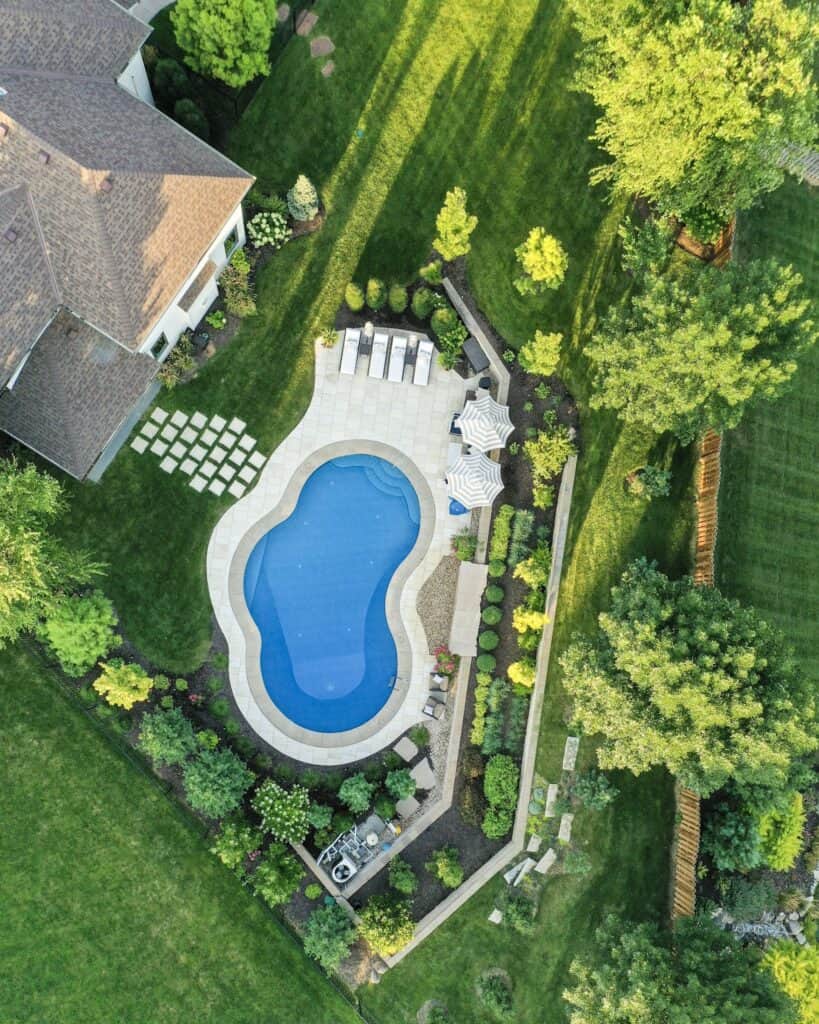 That wraps up our 2021 home goals list for the year! Since we have a few big ones thrown in there, we tried to keep the rest pretty manageable this year. I'm sure we'll have a handful of additional projects thrown in along the way, but I already feel good about the progress we've made so far!
Prior Home Goals Lists
If you're curious, I'm sharing prior years' home goals below. Click on any of the post titles to go directly to the post.
If you would like to follow along on more of my home decor, DIY, lifestyle, travel and other posts, I'd love to have you follow me on any of the following:
Pinterest | Instagram | Facebook | Twitter
disclosure: some affiliate links used