An honest, real-life review of owning a Pottery Barn York Sofa. Includes our specific order details, our thoughts upon arrival, the best fabric option, a three-month review, a one-year review, & a three-year update. Tons of helpful information if you're considering ordering a Pottery Barn couch!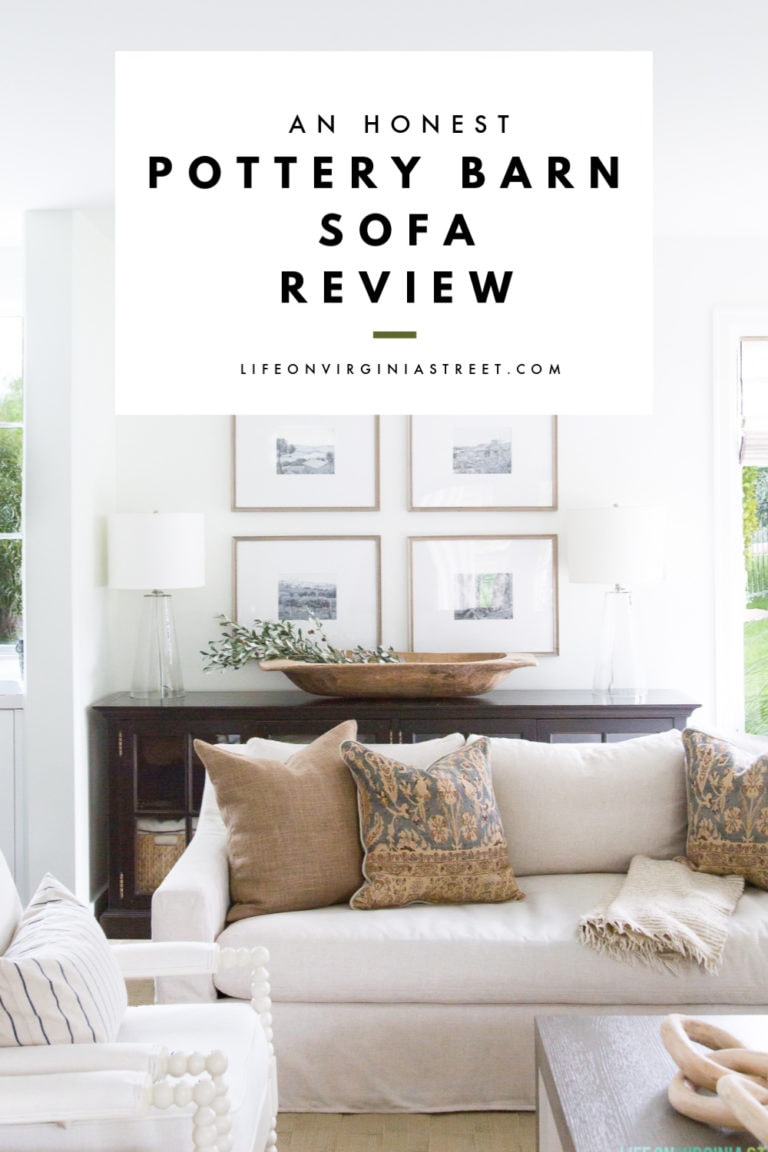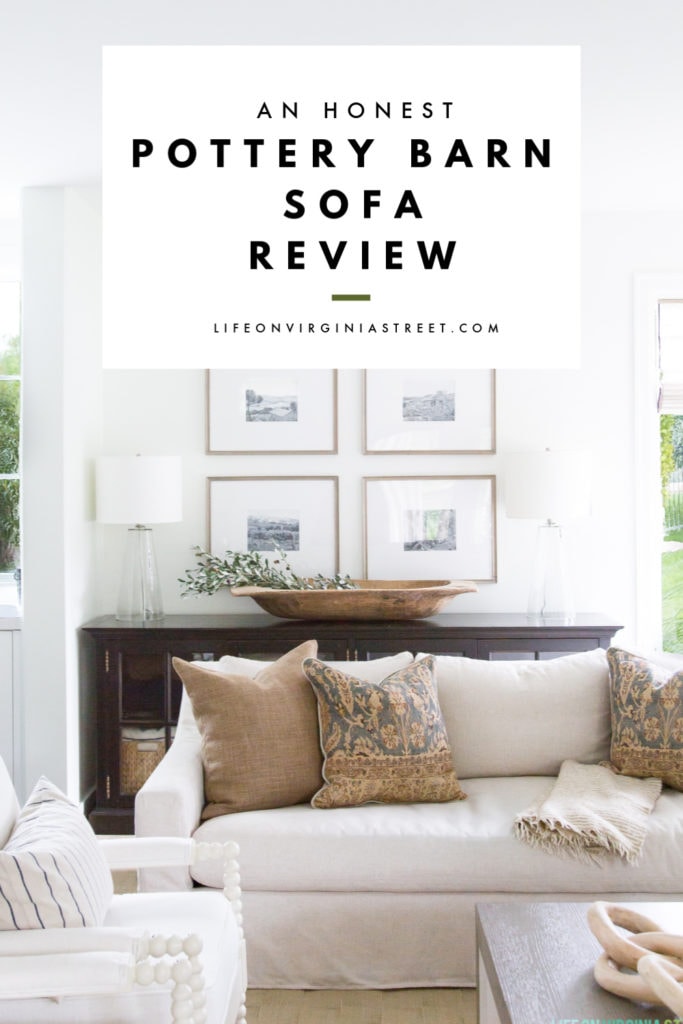 This post was originally published March 2018, but since then I have added a one-year review and today I'm back with an update after three years with our Pottery Barn York Sofa review! If you've read this post in the past, I'd encourage you to scroll down toward the end of the post to read our updated information now that we've lived with the sofas daily for three years.
This post contains affiliate links for your shopping convenience. Please know this Pottery Barn York Sofa review is in no way sponsored, and we fully paid for the couches with our own money! Click here to read my full disclosure policy.
The Search for the Perfect Sofas
Since the day I hit the 'Place Order' button on our Pottery Barn York Sofas September of 2017, I receive emails and messages weekly asking about them. And likely for good reason! I had a hard time finding many Pottery Barn sofa reviews at the time, let alone one for the York Sofa. If you're considering a Pottery Barn sectional, be sure to also check out my Pottery Barn Sectional Review!
It took me several months to finally decide to go through with the couch purchase and I did a lot of research prior to that. In fact, you may remember I had a whole post dedicated to white and neutral sofas when I started searching last spring. However, at the time, I couldn't find many reviews, specifically on the Pottery Barn York sofa that I had my heart set on. I read review after review on sites like Houzz about the quality of various Pottery Barn couches (and the fabrics, specifically), so I knew what not to order. After taking a big chance, I ordered two of the York sofas last September during their buy more, save more sale. Today I'll be sharing our thoughts after owning the couches for some time.
Now that we've owned our sofas for so long, I thought I would publish my first Pottery Barn York Sofa review. My plan down the road is to continue to update this post at various milestones (six months, a year, etc.) so it can be a constant source of info. You'll find these updates near the end of the post in chronological order.
Because of the layout of our living room, we've always had two sofas. We prefer to lay down when we are watching TV because of the angles, so keep in mind several of our decisions were based upon how we use the space.
Our Pottery Barn York Sofa Specifications & Environment:
Before I get into the general pros and cons with the sofas, I want to share the exact specifications of the sofas we ordered. We currently have the Pottery Barn York Slope Arm Slip-Covered Deep Seat Sofas. We went with the 95″ Grand Sofa with the bench cushion. The fabric we selected is the Performance Everydaylinen™ by Crypton® Home in the Oatmeal color.
We do not have kids but we do have four cats. We underestimated how much the cats would love the pillow backs (after having tight back sofas previously). I'll share more details later in the post on how this has impacted wear.
We want our home to be livable, so nothing is considered precious. Occasionally, we eat on our sofas, drink on our sofas, etc. We want our guests (and us) to feel comfortable.
Pottery Barn York Sofa Pros:
Gorgeous design. After looking through hundreds of sofas, there weren't any that I loved as much from a design standpoint. I now get more comments and questions on the sofas than anything I have owned in the past. It definitely has that "look" that everyone loves so much! I also love how many options you have on this sofa. From the fabric, to the arm style, to the depth to the length (and more!) there is a lot of flexibility in customizing a look that is right for your home. You can see all the various shapes, sizes and styles here (including chairs and sectionals!).
Wears well. The Performance Everydaylinen™ by Crypton® Home fabric is amazing. I actually took two samples home from the store before placing my order to test colors. I was going back and forth between the Oatmeal color and the Stone (which was on display at the store). I was worried the Oatmeal would be too light but in all honesty, I think I would have felt the Stone was too dark for our home if I went that route. Before I returned the samples, I actually poured red wine on the Oatmeal sample. It beaded up and wiped right off without any work! So, I got a little crazy and poured more on and really pushed it into the fabric. It still came out with water. After three months, we don't have any spots, pilling, or any other signs of wear. We also frequently wear dark denim, and have not had an issues with it bleeding onto or wearing into the fabric.
Flexibility. The version I ordered is a slipcover and I'm not sure I would have ordered it at this price if it wasn't. But, it isn't the old-school ill-fitting versions of the past. It fits well and the best part is, the Performance Everydaylinen™ by Crypton® Home is dry cleanable. Several other fabric options they offered are actually machine washable, as well. There is so much flexibility because you can re-use the frame and totally change your look with new slipcovers (Pottery Barn sells them separately as an option). I was also told you can order any of the cushions separately down the road if need be. I'm assuming they're not cheap, but if one gets ruined, at least it doesn't mean I have to buy a new sofa.
Comfort level – and it passes the 'husband test'. My husband was actually against me ordering new sofas because he loved our prior Bernhardts so much. However, I agreed to get him to a local store to test one. I could tell, aside from the price, he begrudgingly loved it. Prior to writing this post I asked him his thoughts. He said it is a lot more comfy and spacious than our last sofas. He said it's really nice to take a nap on (a critical factor for him). Although he still claims we didn't "need" them, he does love them.
Minimal leakage. That's a weird one, huh? But after more than three months, I can count on one had the number of feathers that have come out of either sofa. With our prior Bernhardt sofas, it felt like it was a daily occurrence!
Shown below, the Performance Everydaylinen™ by Crypton® Home fabric in Stone (left) and Oatmeal (right). This is from my iPhone but shows a comparison of the two against or current sofa at the time.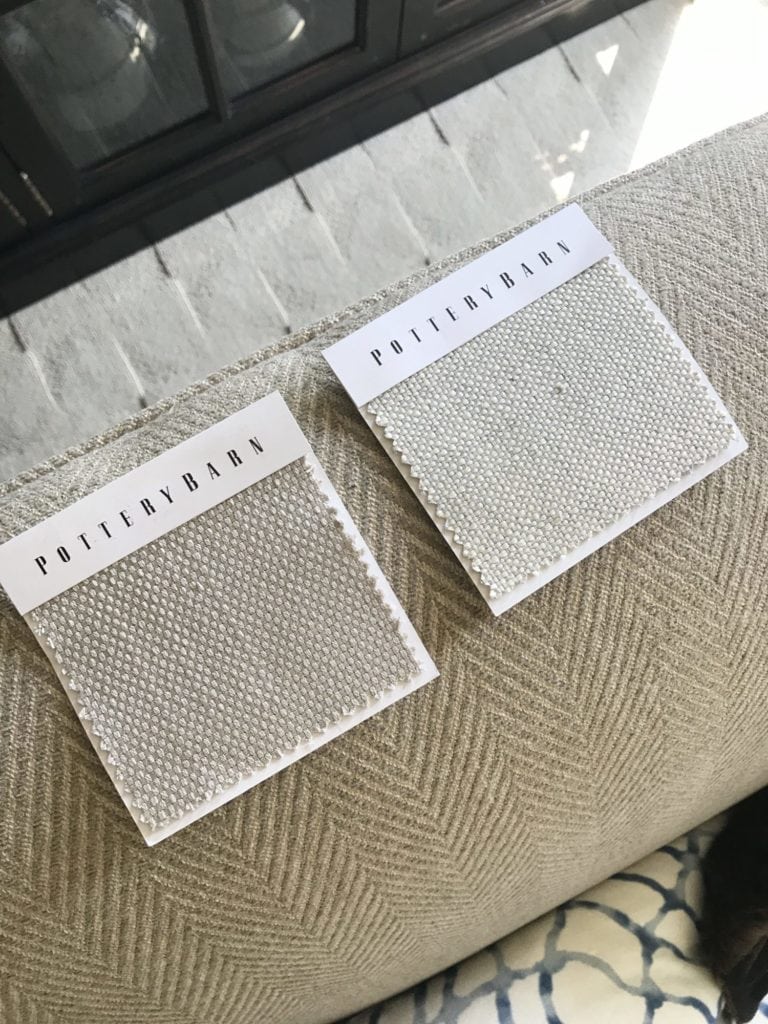 Pottery Barn York Sofa Cons:
Lead time. I am not a patient person so the wait nearly killed me. Especially when I was told they would take 5-7 weeks at time of order and it was closer to 11 once they were delivered. I ordered them on September 4th, with an expected arrival date of 10/9-11/2. They were finally delivered on 11/25.
The cost. The sofas are not cheap. However, the quality is apparent and each one is custom made to your specifications. I personally believe that Pottery Barn has frequent enough sales (from 15-30% off) that you should never pay full price for this sofa. If it's not on sale when you want to buy it, chances are within a few weeks it will be on sale. Because we ordered two during the buy more, get more sale, ours were 30% off. When you're spending that much money, the discount adds up in a hurry!
We opted to go with the deep version since we are both on the taller side (I'm 5'8″ and my husband is 6'2″). Additionally, we mostly are laying down when we use our sofas so we preferred the extra depth. However, without the lumbar pillows in position, it makes it a bit tougher to sit up comfortably on the couch. So, if you opt for the deeper version, just know going in that you will likely always need the included lumbar pillows to sit comfortably. Not a major con, just something to be aware of.
Condition of Sofas at Delivery:
I ended up ordering my sofas online because I was wavering back and forth the night before the sale ended. I ended up moving forward and they arrived exactly as I ordered them. Below, you can see some iPhone images as our sofas were being delivered. The delivery guys were great and very careful. You can see the slipcovers were a wrinkled mess upon arrival though and honestly didn't fit great (especially on one of the sofas). Clearly we were in the middle of painting and decorating for Christmas 😉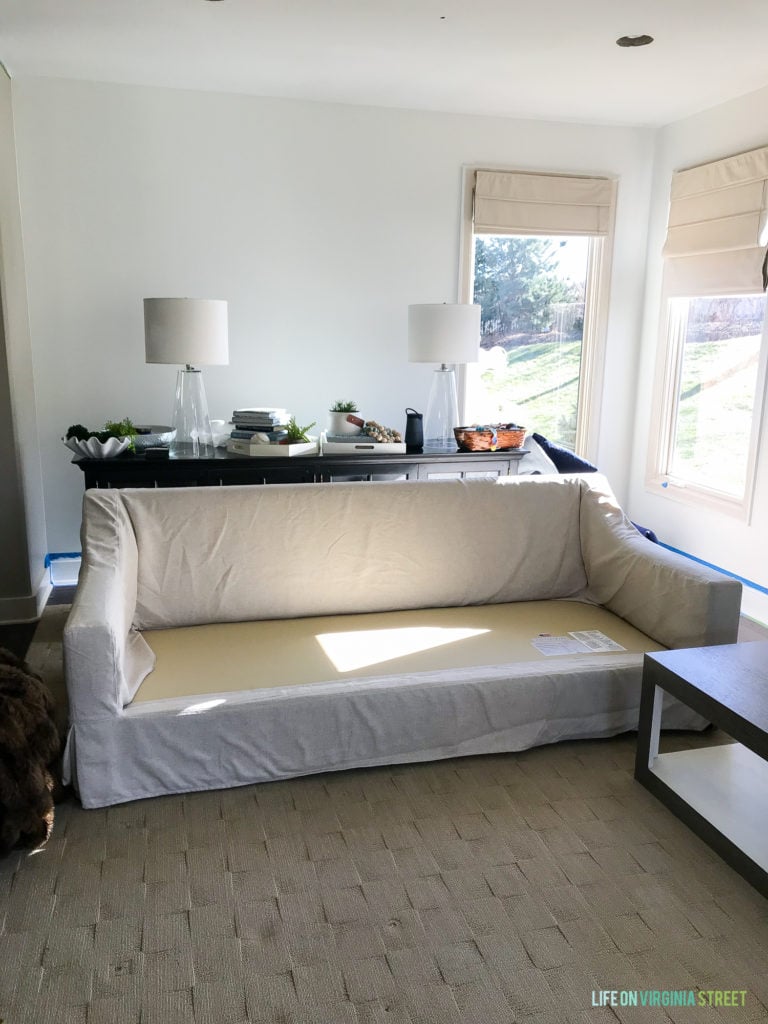 I never ended up ironing or steaming mine and most of the wrinkles have naturally fallen out over time. I've had good intentions of getting rid of all of them, but just haven't gotten around to it. The slipcover on the frame was a bit loose on the one the way it was delivered. See the photo above (specifically the left arm). I worked on it for about ten minutes (tucking in the fabric tighter) and it now looks tight and as good as the other sofa.
Month 3 Wear Report & Maintenance:
For the most part,  the sofas look like new. Typically every week, I rotate and fluff the cushions. You can see how they look here without any update (with a week of laying on them and the cats smashing the upper cushions). I took these with my iPhone on a Monday without making any adjustments (other than moving throws) just so you can see real life. Nothing horrible, it just looks sloppy. With the the bench cushion, it's a little more noticeable in areas.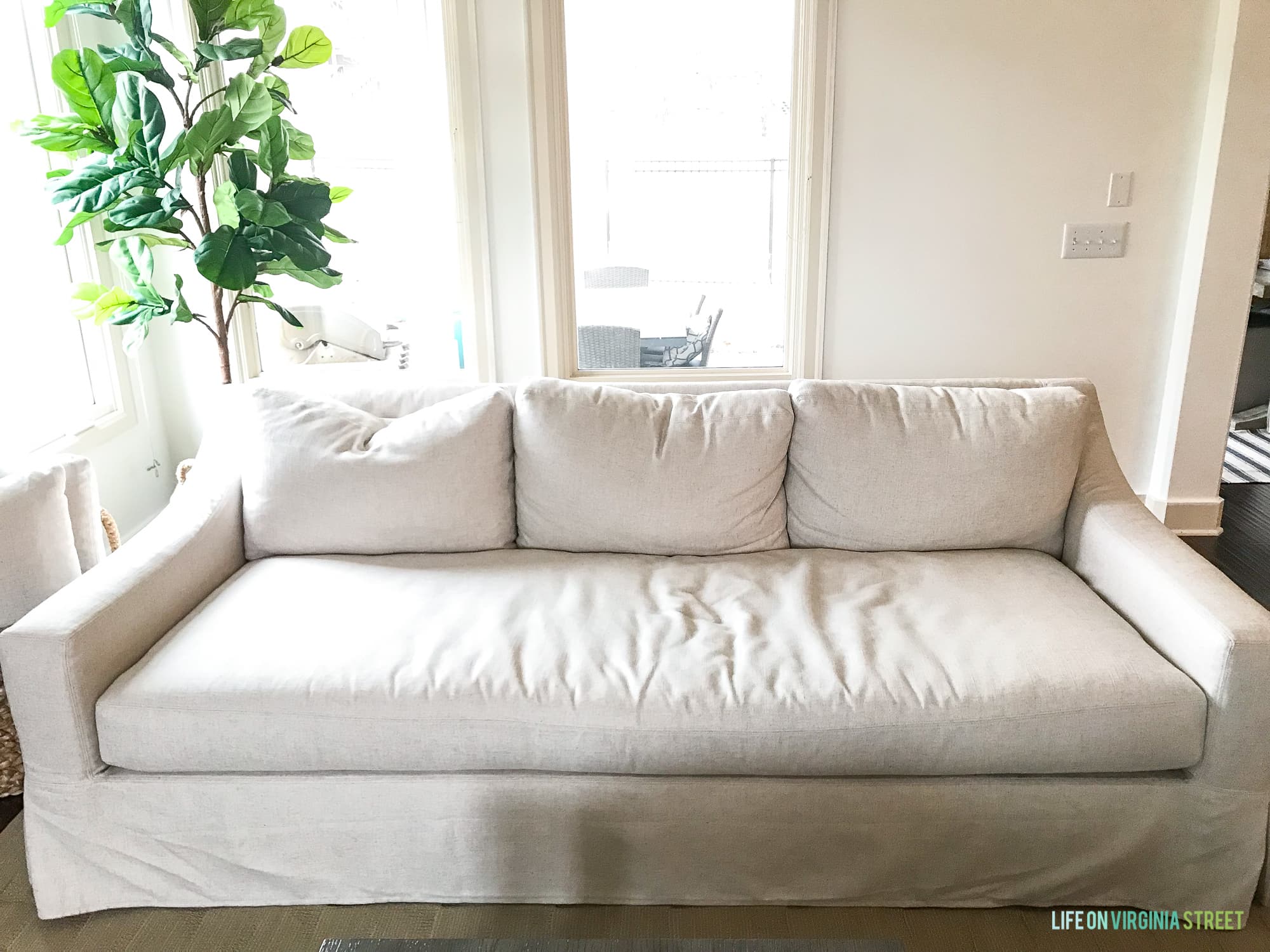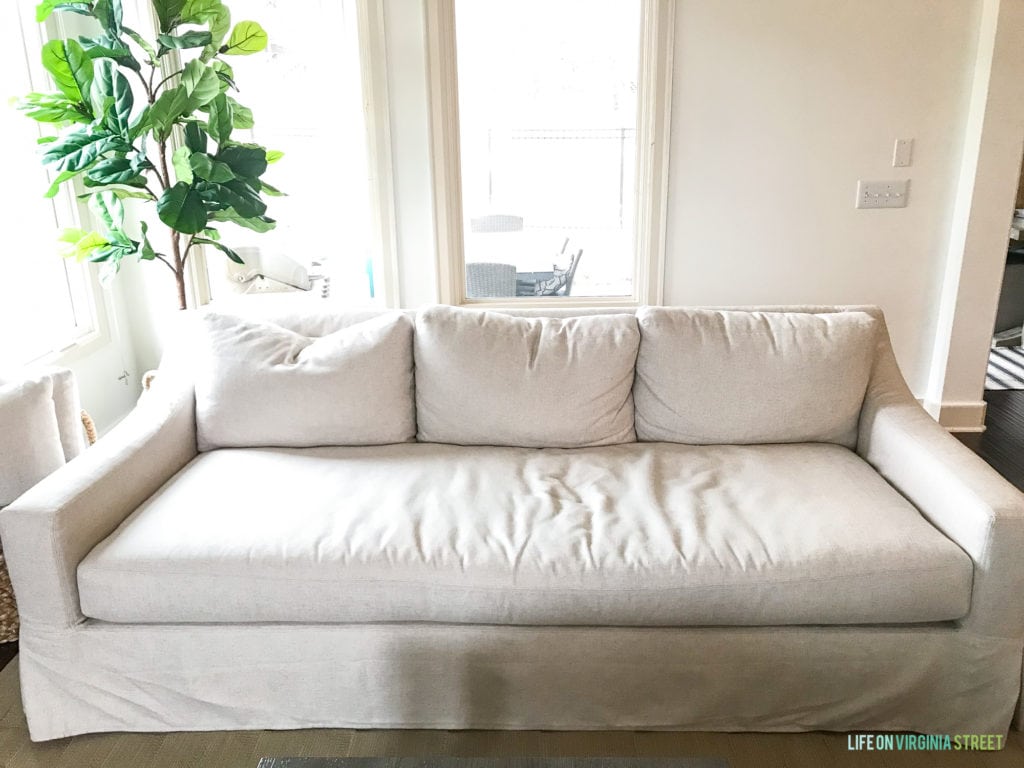 After less than five minutes of fluffing and rotating, it basically looks like new again. I basically lay the cushions flat, press on them in a circular motion with my hands, and then shake upside down and they're good. The rotation probably isn't necessary in most homes, but I'm trying to rotate which cushion the cats sleep on. This is the beauty of the down cushions. They can be re-shaped back to normal, unlike cheap poly-filled cushions.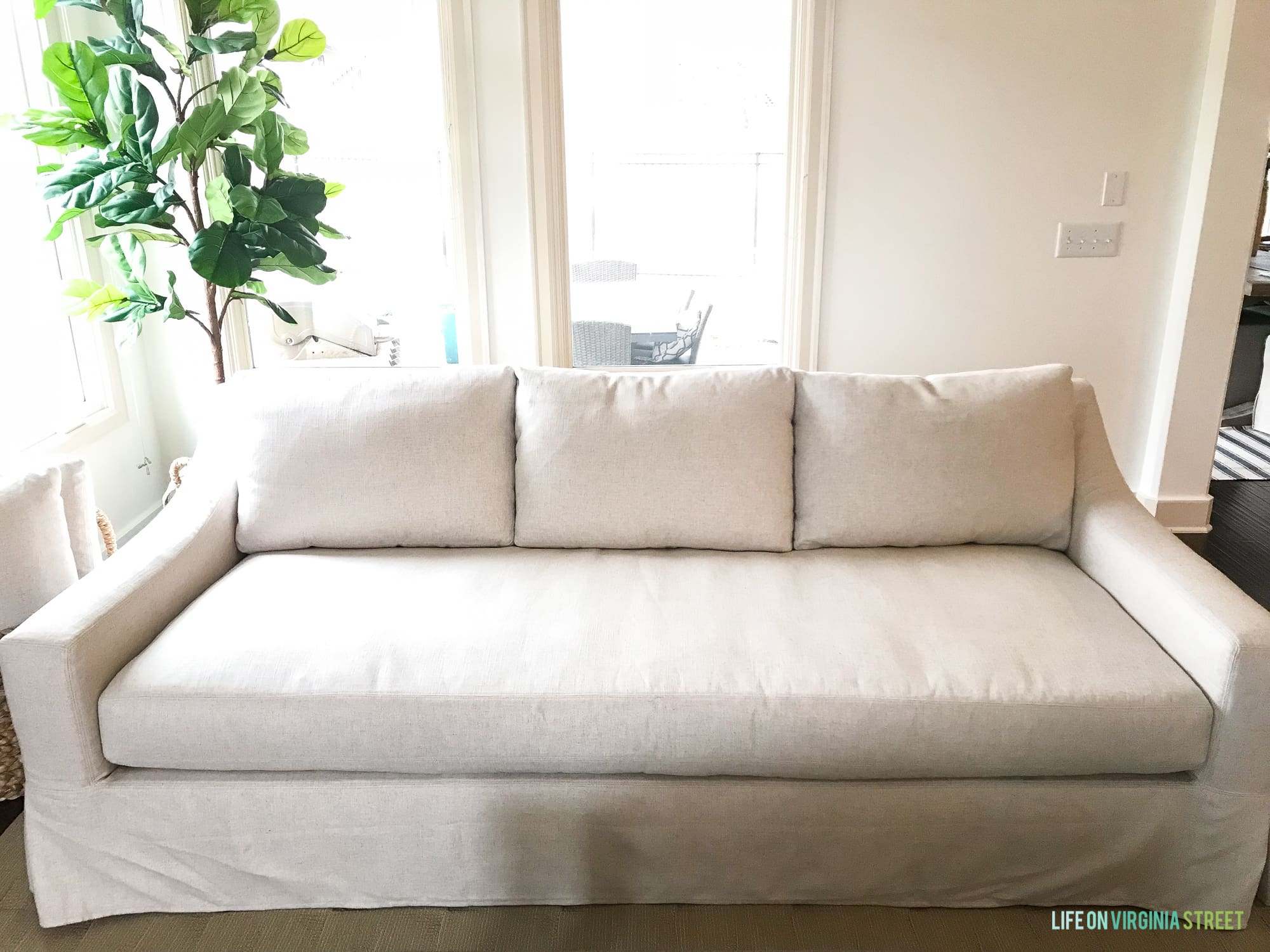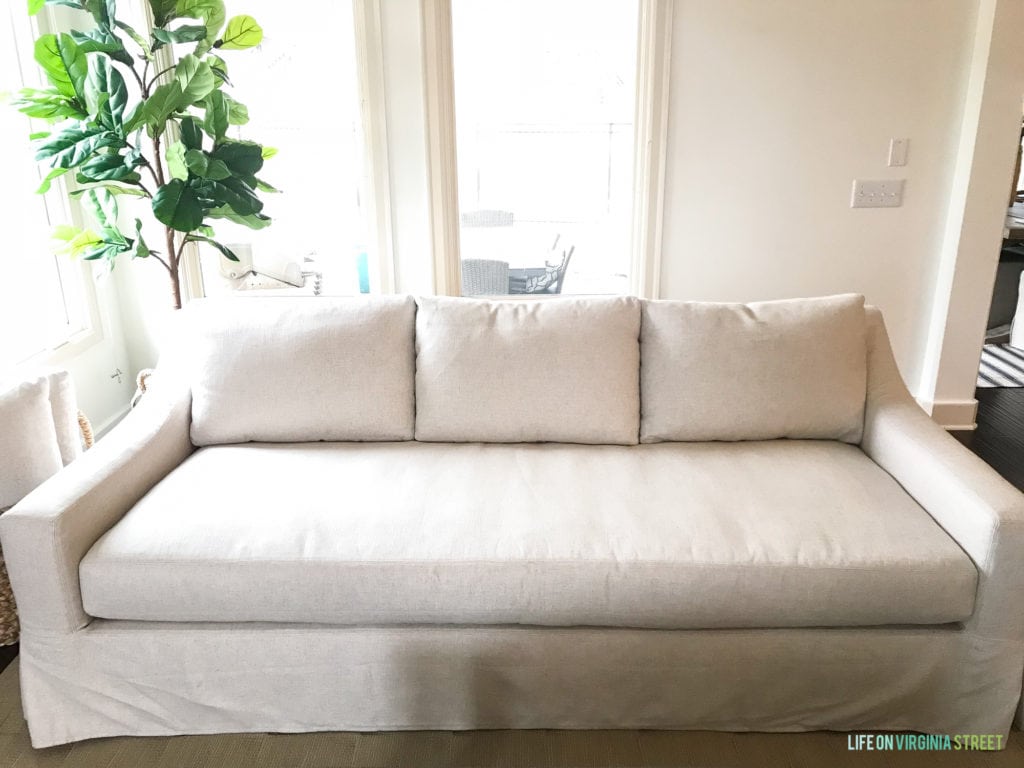 And again once the lumbar pillows are added back on.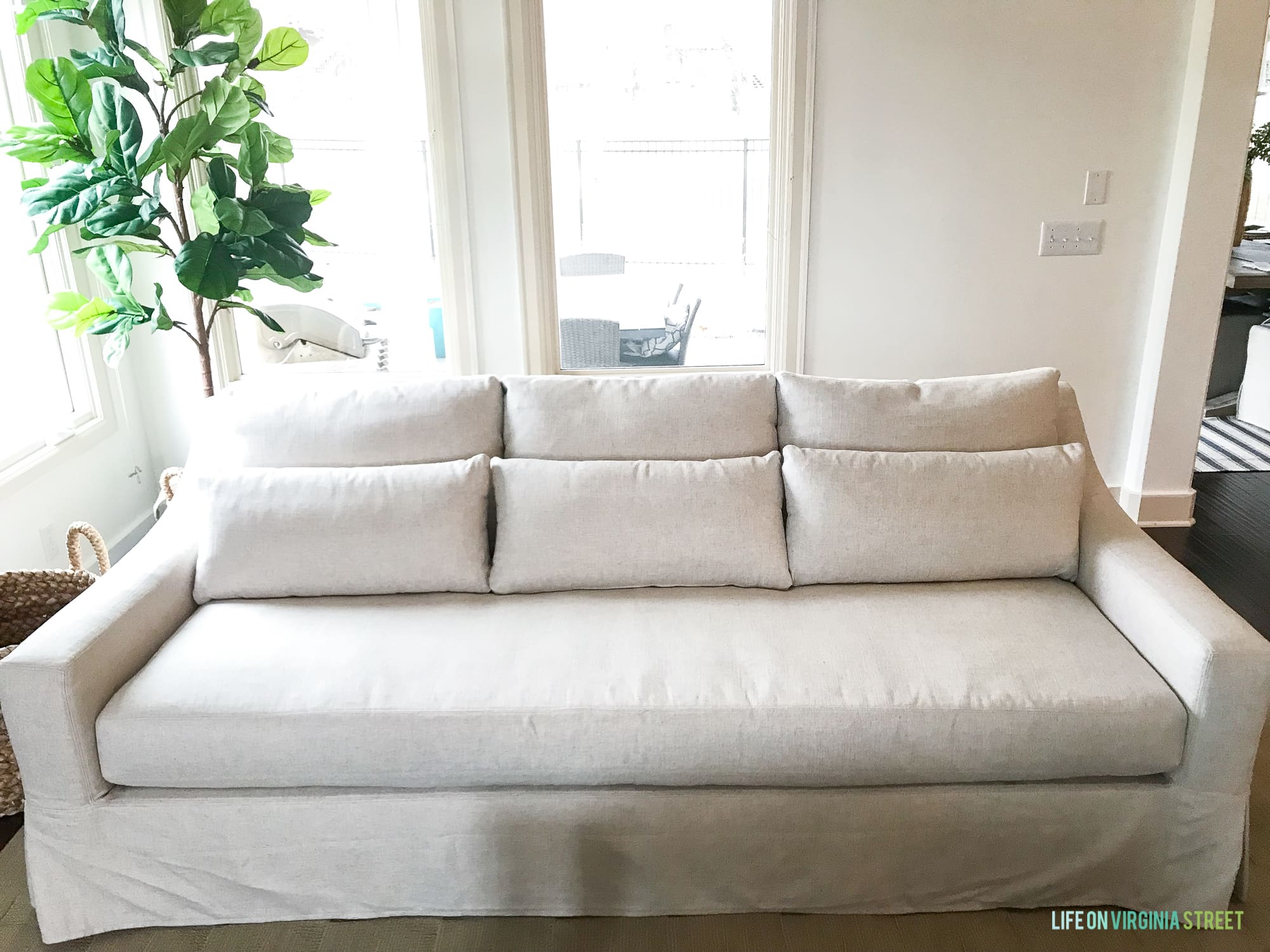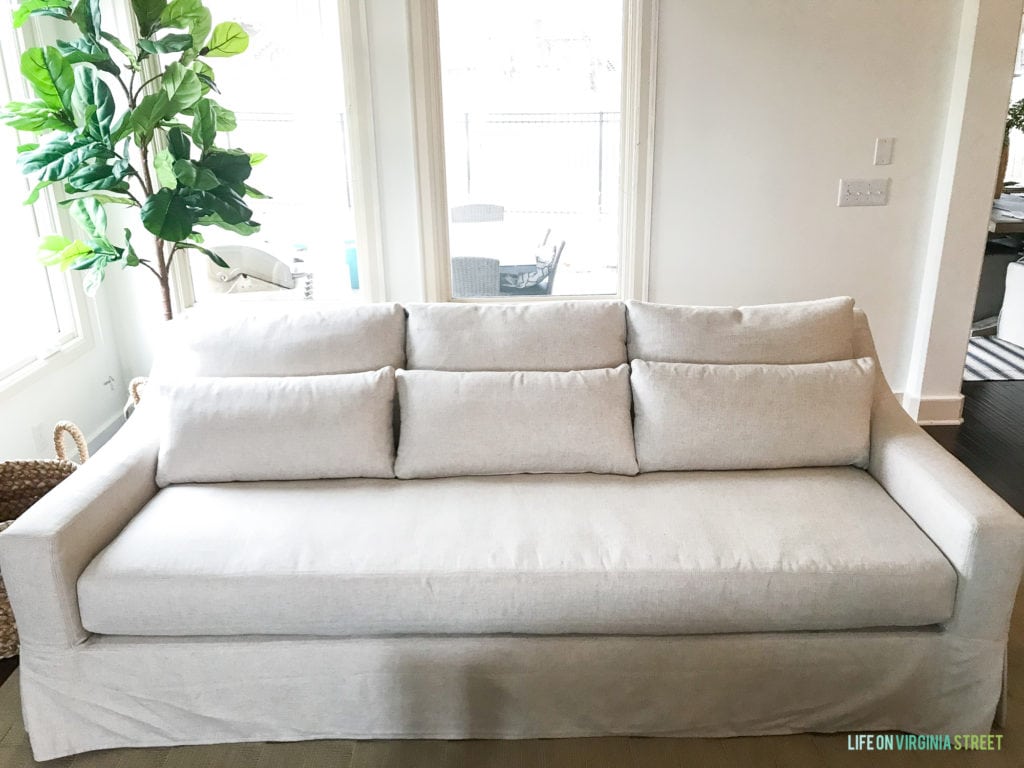 And a final shot with my "real" camera to show you how it looks with other throw pillows. My husband makes me store "his" lumbar pillows in the basket on the side of the couch. Basically three less pillows for him to throw on the floor when he's ready to lay on it to watch TV 😉 In the picture below, I actually left just the middle lumbar pillow for balance. You can see I really do need to steam the skirt on that one, as that's where most of the wrinkles remain.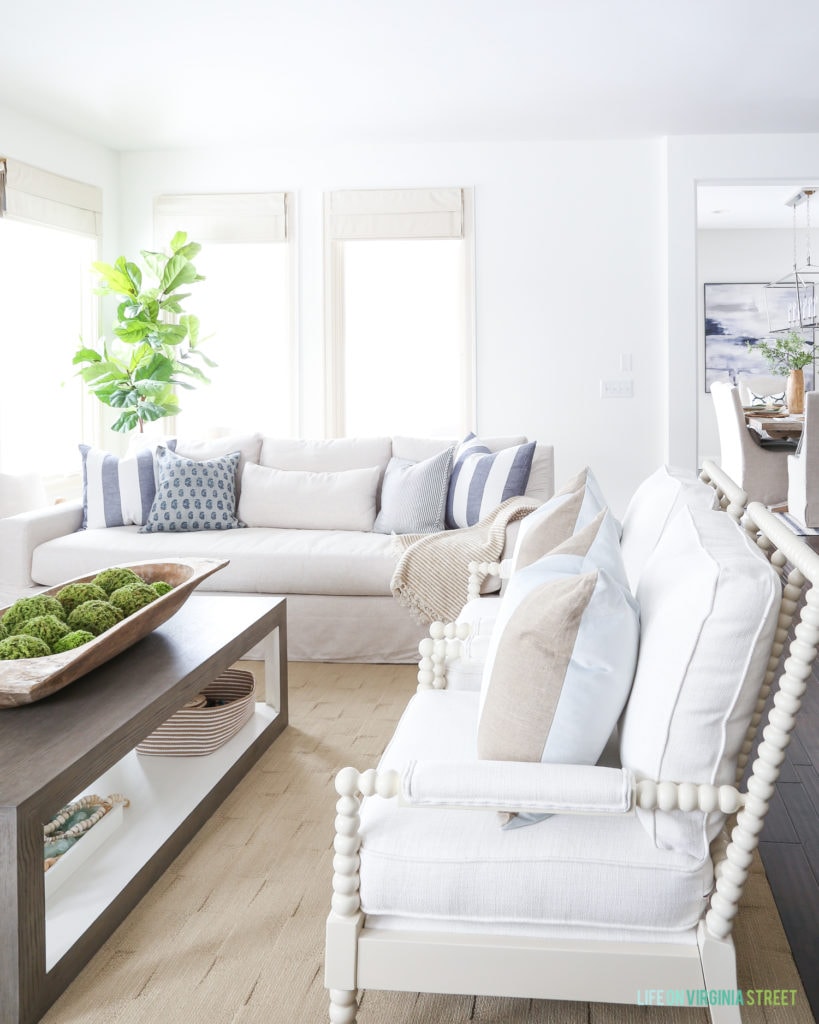 I would argue the cats are harder on the sofas than most people. They're testing it in ways most probably never thought possible 😉 There are days two of them (at nearly 15 pounds each) will be on one cushion for eight hours straight. But, they clearly think it's the best seat in the house because they never move! Since we know they won't leave the cushions alone, I usually have blankets on the backs of the sofas now to at least contain some of the fur.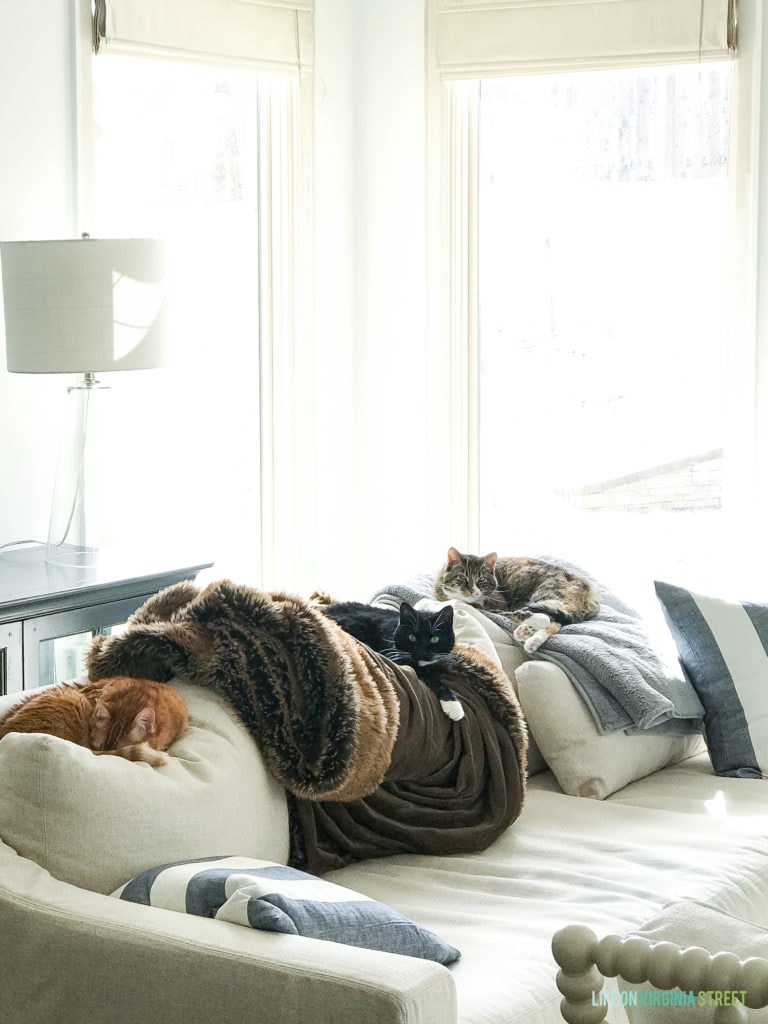 Pottery Barn Sofa Review After One Year
Not much has changed with our sofas since my three-month review. However, we've experienced more spills and should-be-stains, but I can't say enough about the fabric we selected. We have been shocked by the durability and stain resistance of the Performance Everydaylinen™ by Crypton® Home fabric. We've spilled wine, food, chocolate (that melted overnight), cat sickness one week, and more. We've been able to clean it all with a wet paper towel (just water!) and a little effort. The stains have yet to stick and everything that's come the fabric's way in the past year has been removed. I can't say enough good things about this fabric!
We still love the comfort factor of our sofas, as well. We've found that they have gotten comfier with time and the fabric has worn so well. The cats have continued to smash the cushions as much as possible, but with a little fluffing they go right back to their normal shape. We haven't had any issues with the fabric pilling either. The sofas essentially still look as good as the day we got them. In fact, we love the sofas so much, we ordered a Pottery Barn sectional! Even Kurtis is on board (shockingly) because he loves our sofas so much! Here's a more current look at the sofas to show how they've worn – and this wasn't with much straightening at all.
And, as much as I love them, I still of the believe you should always buy Pottery Barn sofas on sale. They do sales frequently enough, that you should wait until you can get, at minimum, 20% off!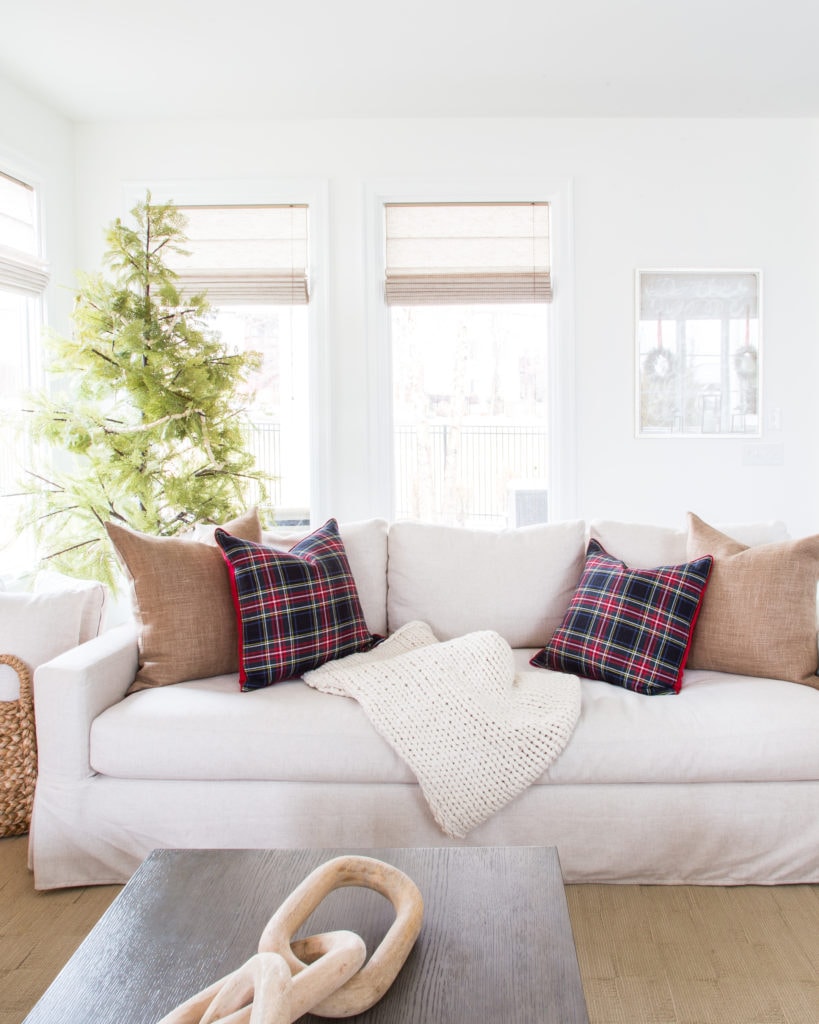 Pottery Barn York Sofa Review After Three Years & FAQs
Today, I'm back to update this post with our three year Pottery Barn York Sofa review. I still get questions so frequently about our sofas so we'll get right to it. We still love them! Zero regrets! Before I jump into the FAQs, below is an image from our recent summer home tour that shows the current look of our sofas.
Q: Your fabric looks lighter than the Oatmeal color. Are you sure that's what you have?
A: This is 100% a resounding yes. We for sure have the Oatmeal color. But, keep in mind our living room has five giant windows (facing east, south and west), a nearby kitchen window that takes up an entire wall and we get a lot of natural light in our house. Many of the photos above were also taken in the winter when there was snow on the ground, and our house gets even brighter! If you look in the shadows of the photo directly above, you can see how they look when there isn't direct light hitting them. It's also possible our fabric has lightened over the past three years. I also didn't know if dye lots had changed over the years either.
So, I ordered some recent samples to show you all. In the images below I have the Performance Everydaylinen™ by Crypton® Home fabric in Ivory, Oatmeal, and Stone. They are laying on our actual sofa, while I have the shades drawn in the living room, to reduce all of our exterior natural light as much as possible. The white background of the card can also be deceiving, making you think all three samples are darker than they are. You can see ours may have possibly lightened a bit over time (or they've changed it slightly), but for the most part is the same. If I were to open all the window coverings, it looks much more like the ivory sample to the eye, but with a little variation in the coloring (which I like). I'm guessing the Oatmeal likely hides any dirt/grime/stains much better than the Ivory for this reason. But if you're wanting a sofa that looks nearly white, I'd go with Ivory.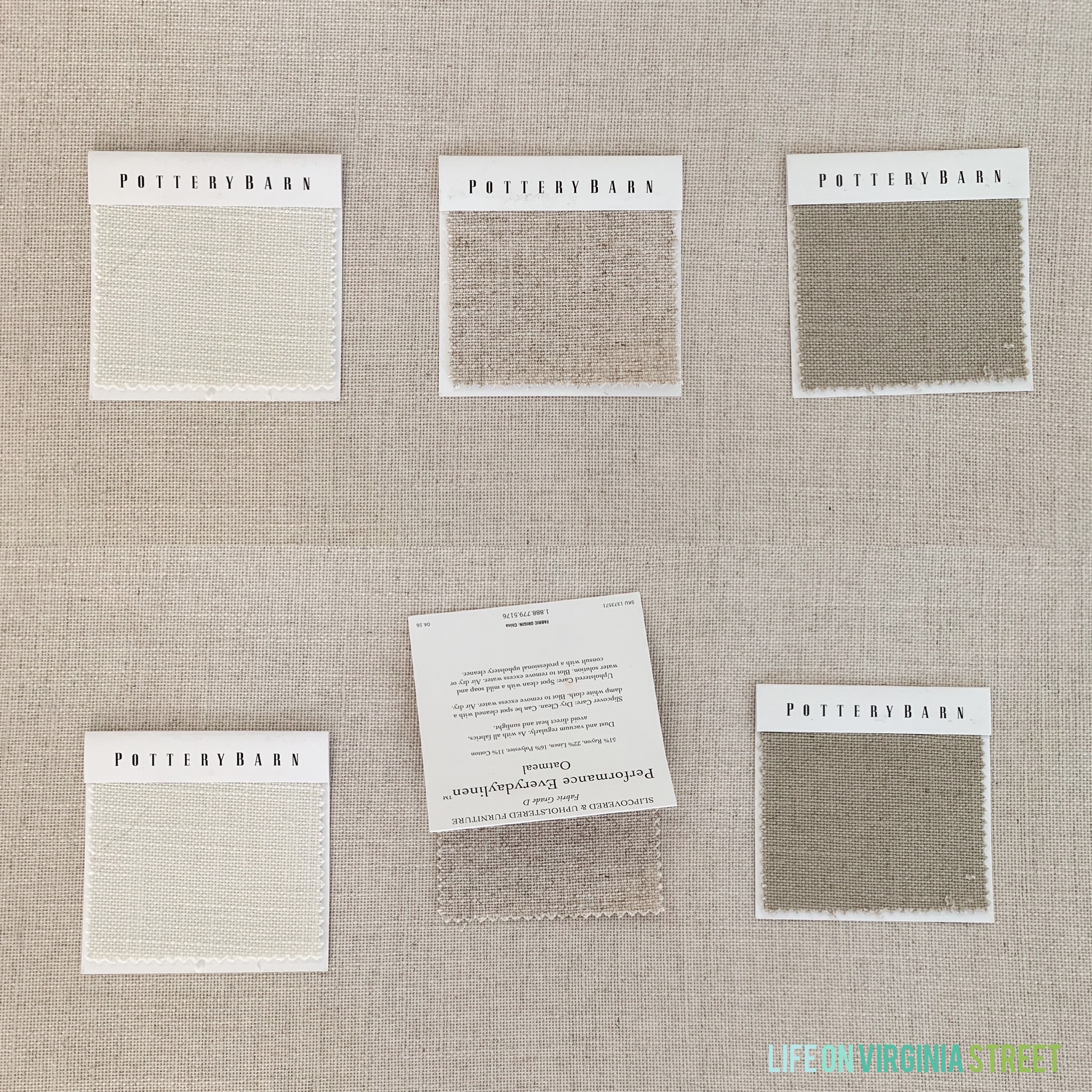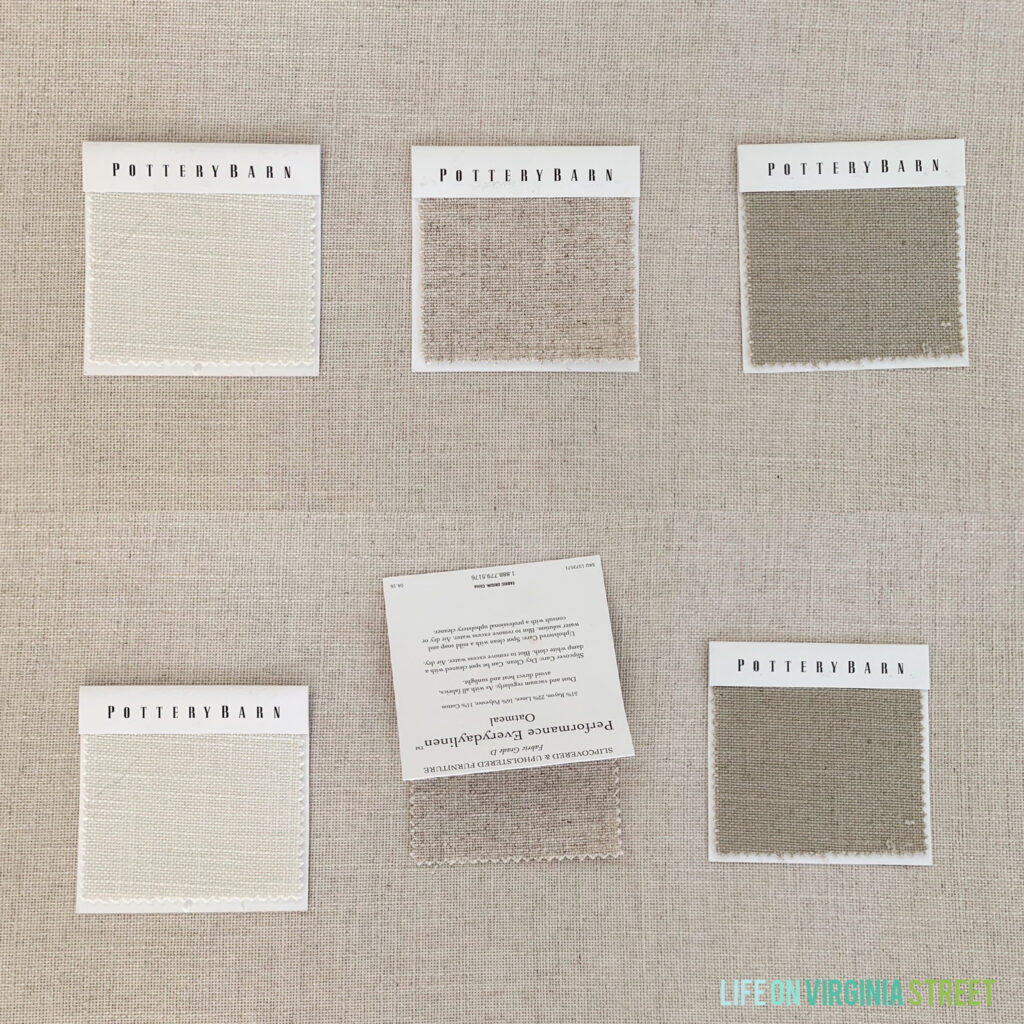 For what it's worth, our best friends have a square arm York sofa in the Stone and it actually looks much lighter in person too. I'll try and grab a photo soon to share with you. But just know, the fabric will look lighter on the sofa than on the tiny swatch and will vary significantly depending on the natural light your room receives! So much can also changing with monitor color and brightness, so I'd strongly encourage you to order free samples to see how they look in your own space before ever making a final decision!
Q: How has clean-up been with this fabric?
A: I think the challenge with this fabric is that it's linen and people automatically assume high-maintenance. I can assure you, that because of the Crypton®, it is ridiculously durable. We have had zero issues with pilling. Additionally, we've cleaned everything from melted dark chocolate, blood, red wine and even cat throw-up off with simply water and a paper towel. The fabric basically repels everything if you act quickly. Only recently did I run into an issue where I was laying on a blue throw pillow with wet hair. The dye from the pillow has bled onto the sofa. I haven't tried to remove it yet, for fear of setting it. But Crypton recommended their cleaner so I think I'm going to order it and see how it goes. They have a lot of great clean up tips on their site!
Q: Have you found the fabric on the bench cushion to stretch over time?
A: The bench fabric has definitely loosened over time, as has all of the fabric really. But keep in mind, we usually lay on ours for a few hours each per day if we're watching TV. I took a photo yesterday morning of the sofa early in the morning with all the shades drawn except one, to help show the color when the room is darker and what the sofa looks like after weeks of use with no "fluffing" (top). The color reads slightly warm here because the sun was coming up and still getting through the drawn shades a little bit. The bottom is a refresh that look less than 60 seconds. If I spend more time on the pillows, they basically look like new, but it does take about five minutes. Overall, super low maintenance, and nothing looks "slouchy". This is also about as dark as our sofas ever look, since all but one of the window shades were drawn and it was early morning. Also, after three years, I still haven't managed to steam the skirt 😉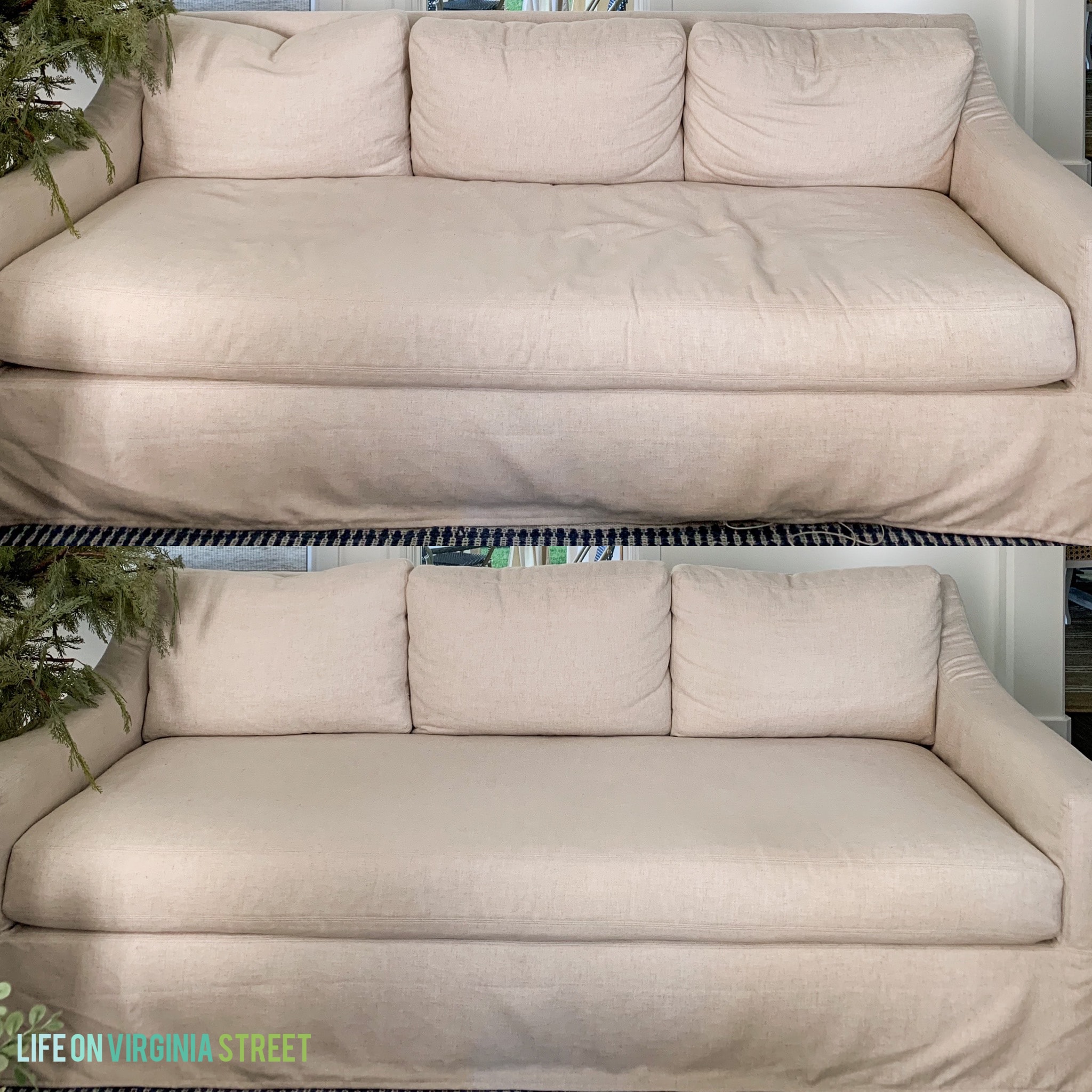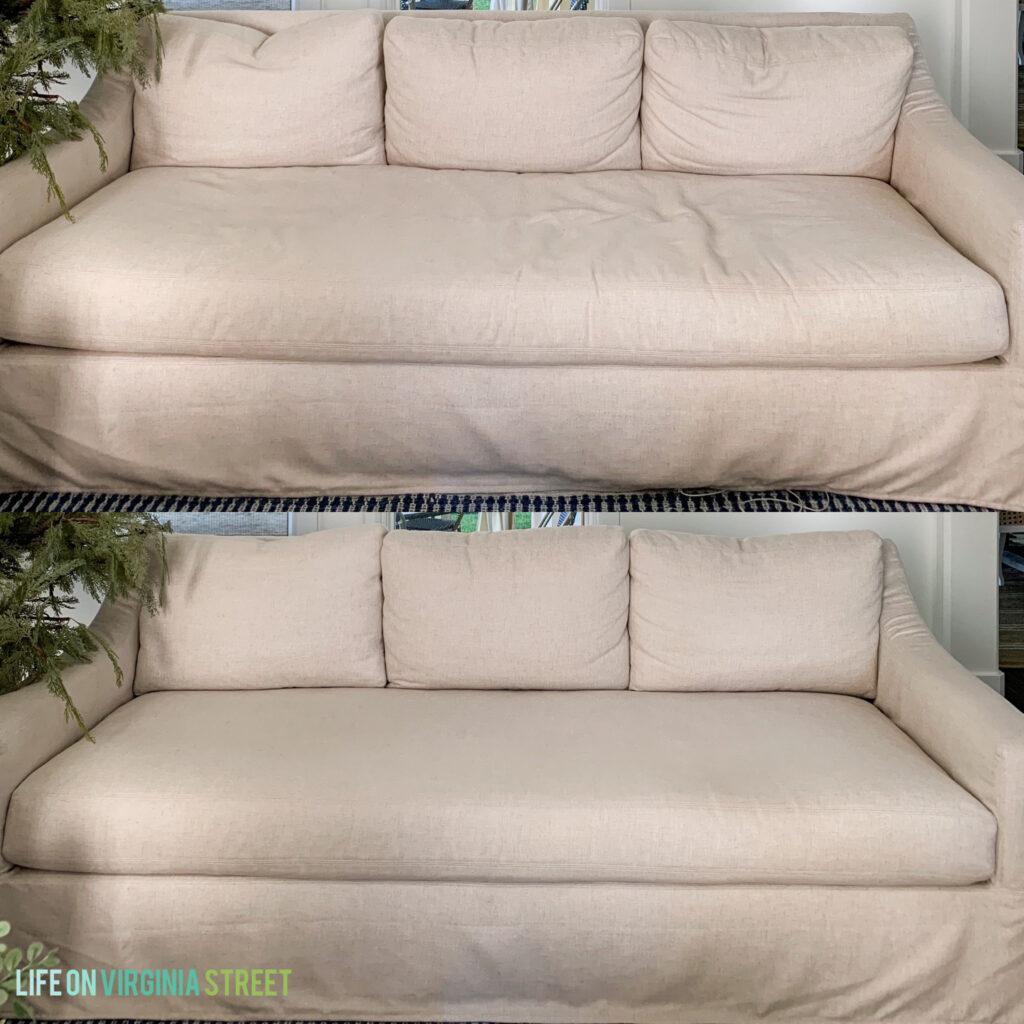 Q: Do you usually use the included lumbar pillows?
A: The only time we use the included lumbar pillows is when we have company over and we actually plan to sit on the sofa. Because we ordered the deep seat, even being tall, it's hard to sit comfortably on the sofa without the lumbars. However, about 90% of the time, ours are in a basket on each side of the couch because we remove them whenever we lay on them. Which is essentially every single night! You can see one of the baskets peeking out below.
Q: Have you experience any pilling with your fabric?
A: Zero. Seriously, none. However, I do know that is the most common complaint with a lot of other Pottery Barn fabrics. Unfortunately, since we've only ever personally experienced this performance linen, I can't speak to which other fabric options are good. But I would encourage you to read through all the comments to this post to see others' experiences!
Q: Has the fill on the cushions held up?
A: Ours have held up incredibly well! They don't look 100% new any longer, but that's because we lay on ours almost daily. In addition to that, our cats still love to sleep on the various upper cushions. Over time I'm guessing it's also stretched the fabric a bit too (our cats are not small). But, they're still easy to fluff back up! And honestly, I probably wouldn't notice a difference if I didn't have the nearly-new lumbars to compare them to (since ours never get use) or our sectional upstairs that gets a lot less use.
Closing Thoughts on Our Pottery Barn York Sofas
Overall, we are extremely happy with our Pottery Barn York Sofa selection! We have had zero issues (other than dealing with the cats that are obsessed with them). Because we use the sofas while laying down, the bench cushion was definitely the way to go and is so comfortable! We would argue it's even more comfortable than our bed.
If you are considering multiple fabric options, do your research! I found lots of complaints on various fabrics (although I think most were older on a fabric no longer offered). The Performance Everydaylinen™ by Crypton® Home has so far lived up to its hype and seems like the perfect fabric for us. We get the look of linen without the maintenance!
If you buy them on sale, I think they are worth the investment! We couldn't be happier with them!
I hope you found this review helpful! Again, I'll plan to update this review at various milestones to make sure we are still loving the sofas. If you have any questions at all on anything I didn't cover, please feel free to leave a comment and I'll get back to you as soon as possible! Side note: I encourage you to check out the comments at the bottom of this post for feedback from others that have experience (or other questions) with these sofas!
Want to save this post for later? Be sure to pin the graphic below for future reference!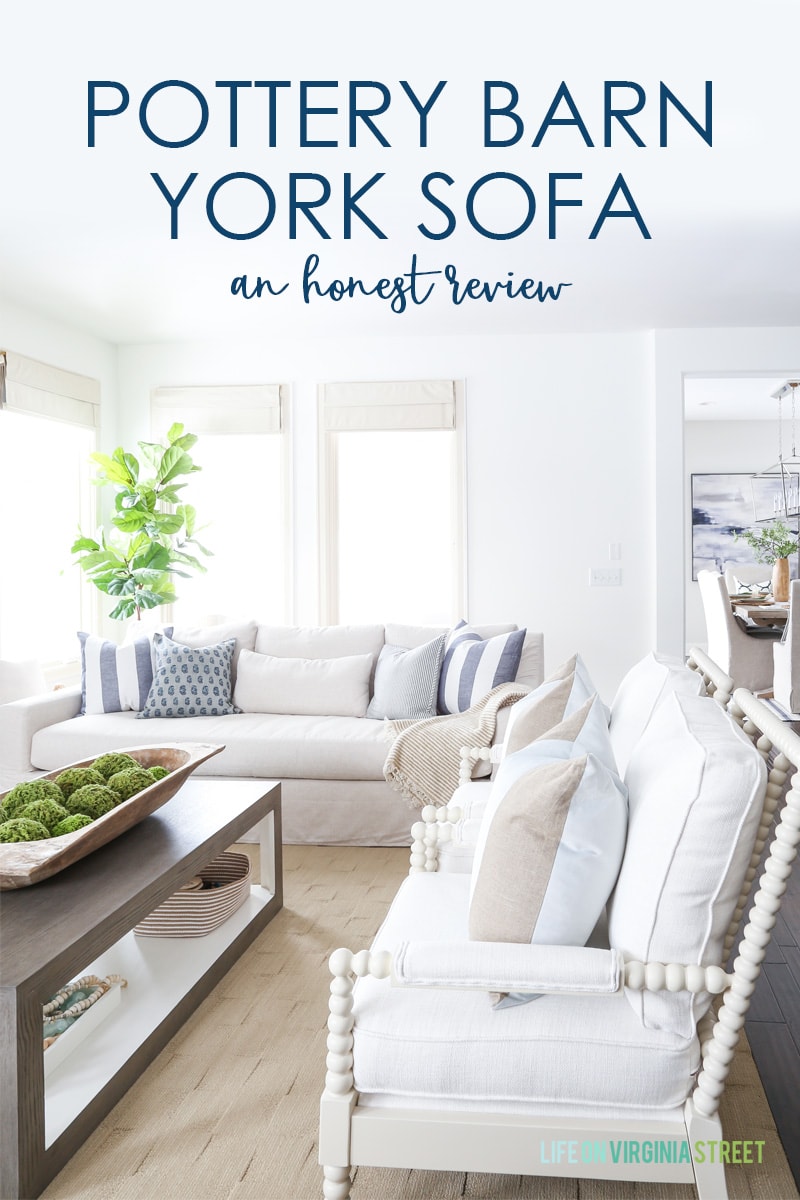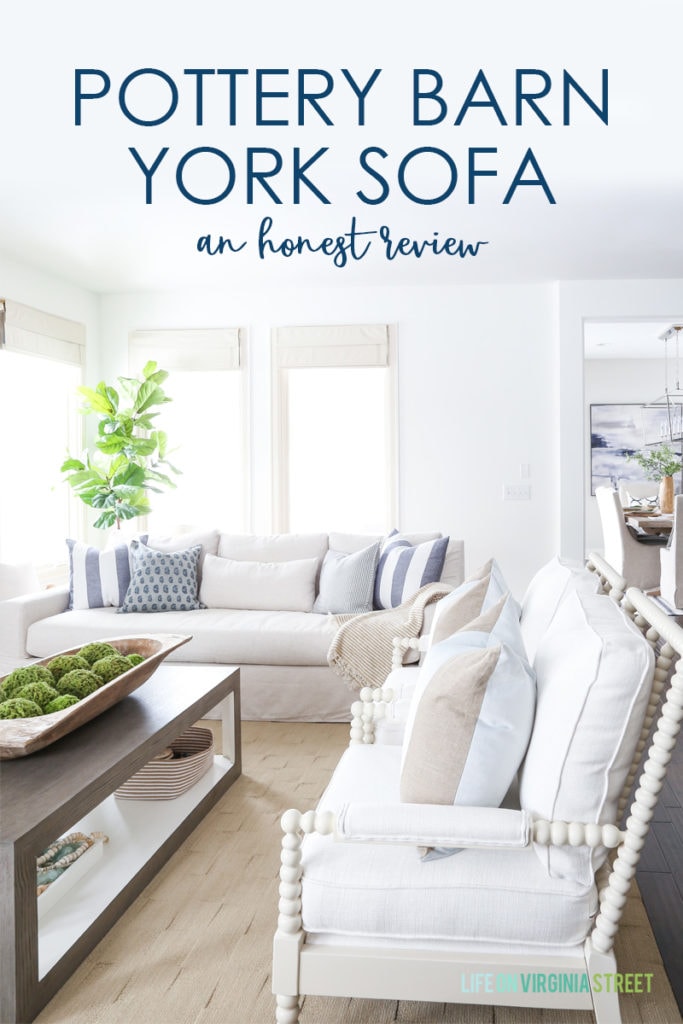 If you would like to follow along on more of my home decor, DIY, lifestyle, travel and other posts, I'd love to have you follow me on any of the following:
Pinterest | Instagram | Facebook | Twitter
disclosure: some affiliate links used