Sharing all the details on Part II of our garage makeover, including details on all the new garage organization and storage pieces we added to completely transform the look of our garage!
A few weeks ago, I shared part I of our garage makeover and our new polyaspartic garage floors. If you missed that post, I'd start there and then circle back to this post afterwards. Today, I'm back sharing part II of the garage makeover which focuses on all the incredible new garage organization & storage pieces we added from Hello Garage!
This post is in partnership with Hello Garage. As always, all thoughts and opinions are my own! Click here to read my full disclosure policy.
Our Garage Organization & Storage: Before
Not only were our original epoxy floors a complete disaster, but the space in general was. We've actually tried a number of layouts and storage pieces over the years, but the reality is, it would always feel messy, even after a good purge and clean.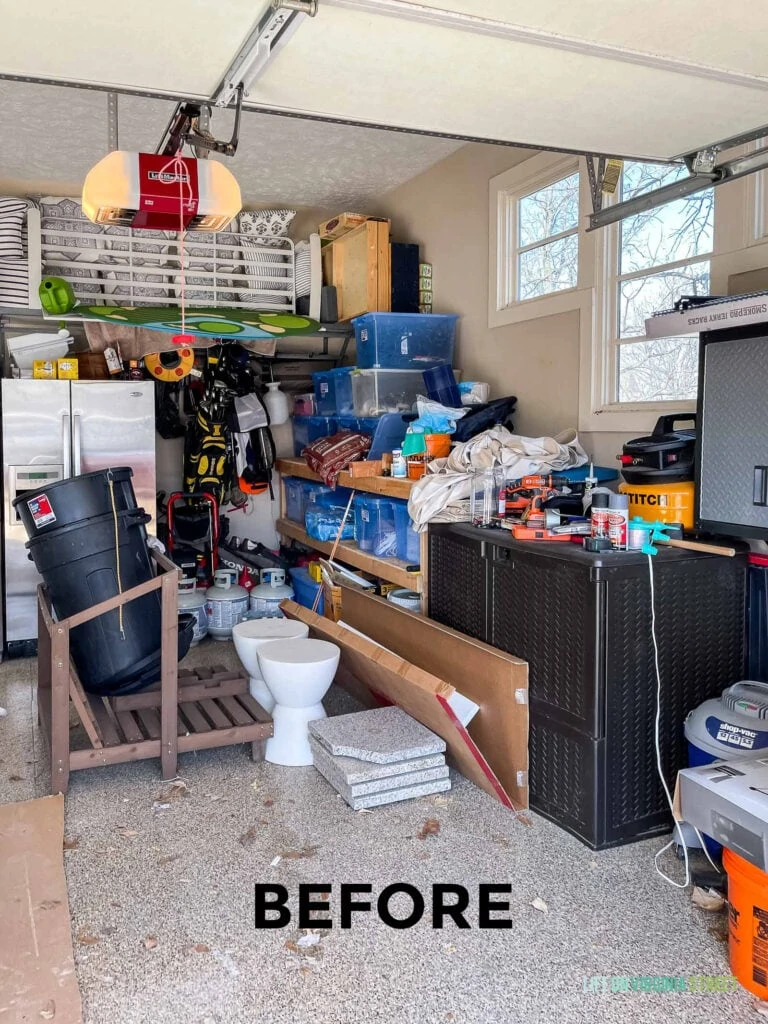 We get a lot of use out of our garage, which means we also have a ton of stuff out here to store. But, our storage pieces were added over the years, and none actually matched nor were they working in sync together at all.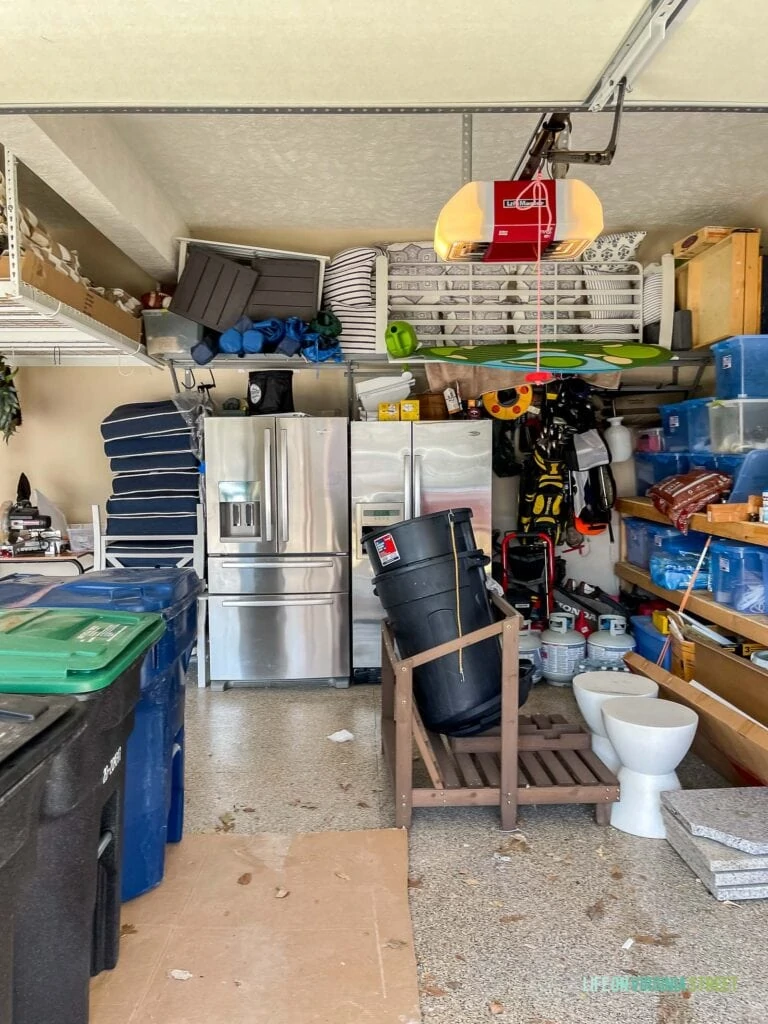 At some point, Kurtis had installed a system to help us get our gardening tools more organized. But it had limited space and we had to double (or triple) down on most of the hooks. It wasn't always easy to get to the items we needed to use.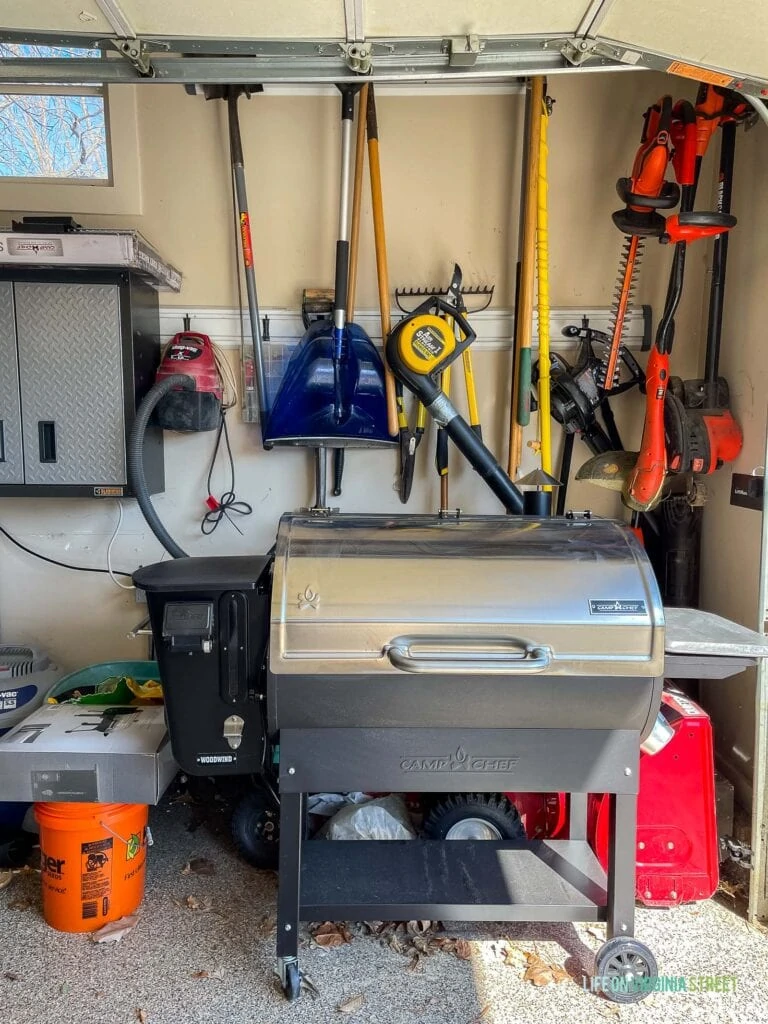 On the other side, things were a little better, but that was simply because we had to get a car almost right against the wall. Those boxes on the floor were leftover stone veneer from our back wall, but after five years of storing it here, we finally decided to donate it. Clearly, we weren't going to use it at this point and it was making the walkway between our cars extra cramped.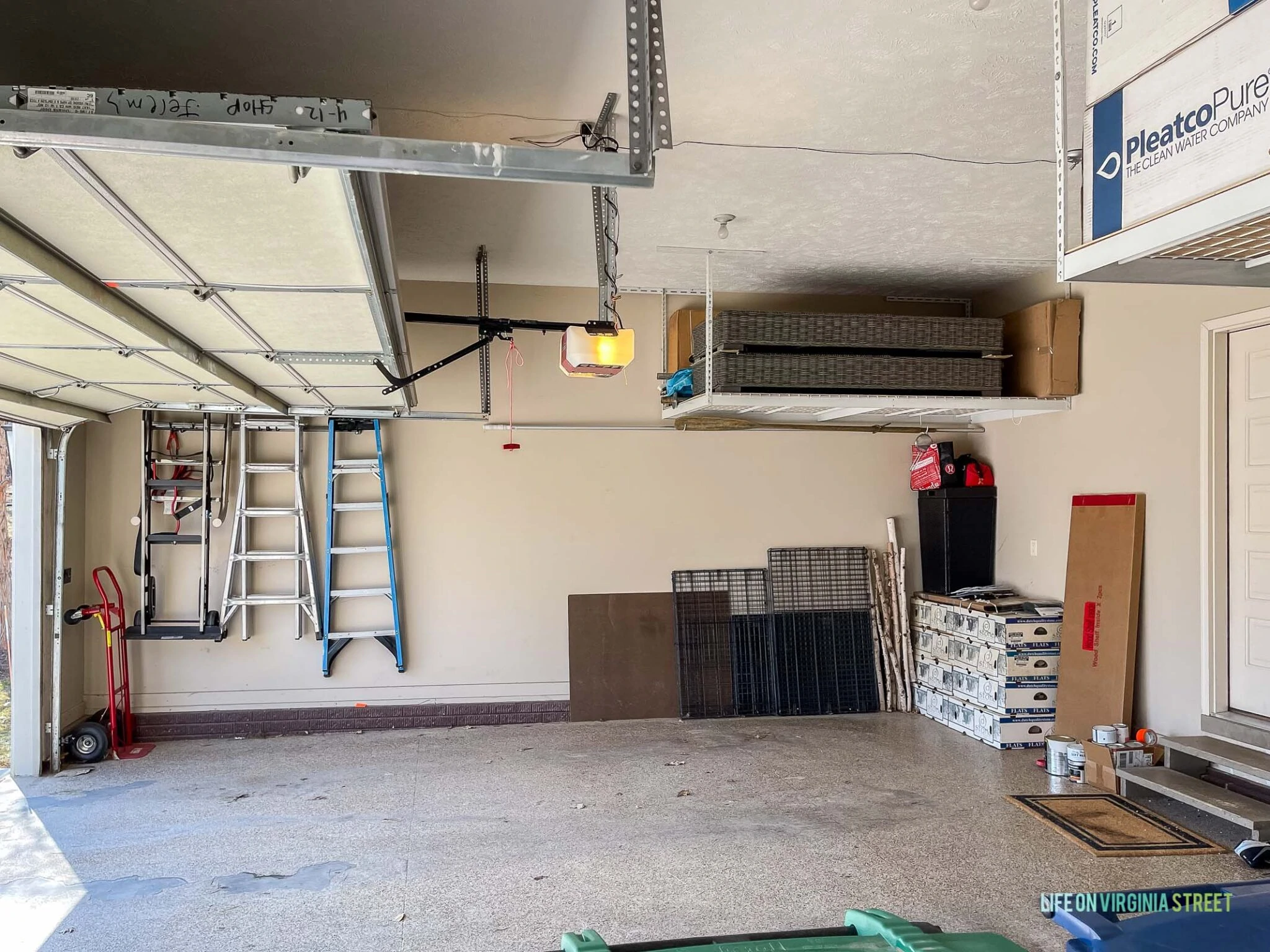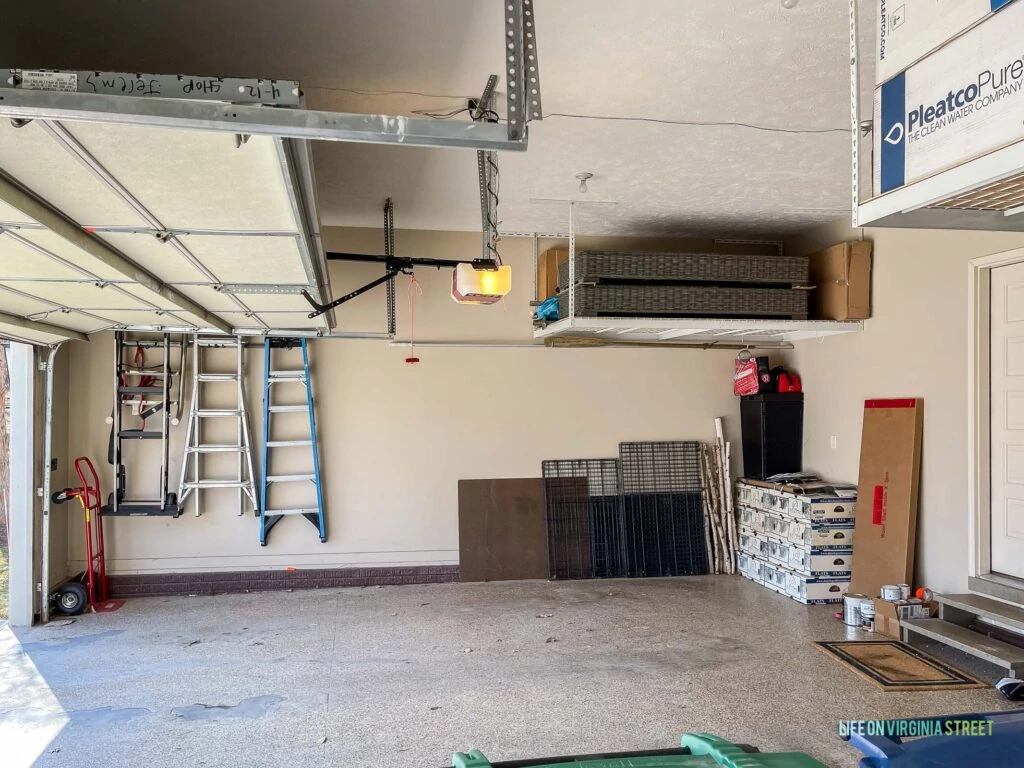 When we knew our old epoxy floors needed to be replaced, we figured now was the time to address our storage and organizational needs as well. Thankfully, the pros at Hello Garage handle both sides of garage makeovers, so it simplified the process and kept things streamlined!
Our Garage Organization & Storage: After
The day after our garage floors were installed, the Hello Garage crew came back to install all our new storage & organizational pieces! When we originally met with our Garage Guru from Hello Garage early in the process, we walked through what needed to be stored, and where. He evaluated our needs and asked some questions about the various zones we envisioned. Since they offer garage cabinets, open shelves, drop zones, workbenches, and slat walls, we had a lot of options!
Here's how our garage looks now after all of our stuff has been loaded back in the garage. We didn't "stage" it or do anything just for photos. This is after nearly a month of us living with the updates and these are real life photos of how it's all functioning for us currently!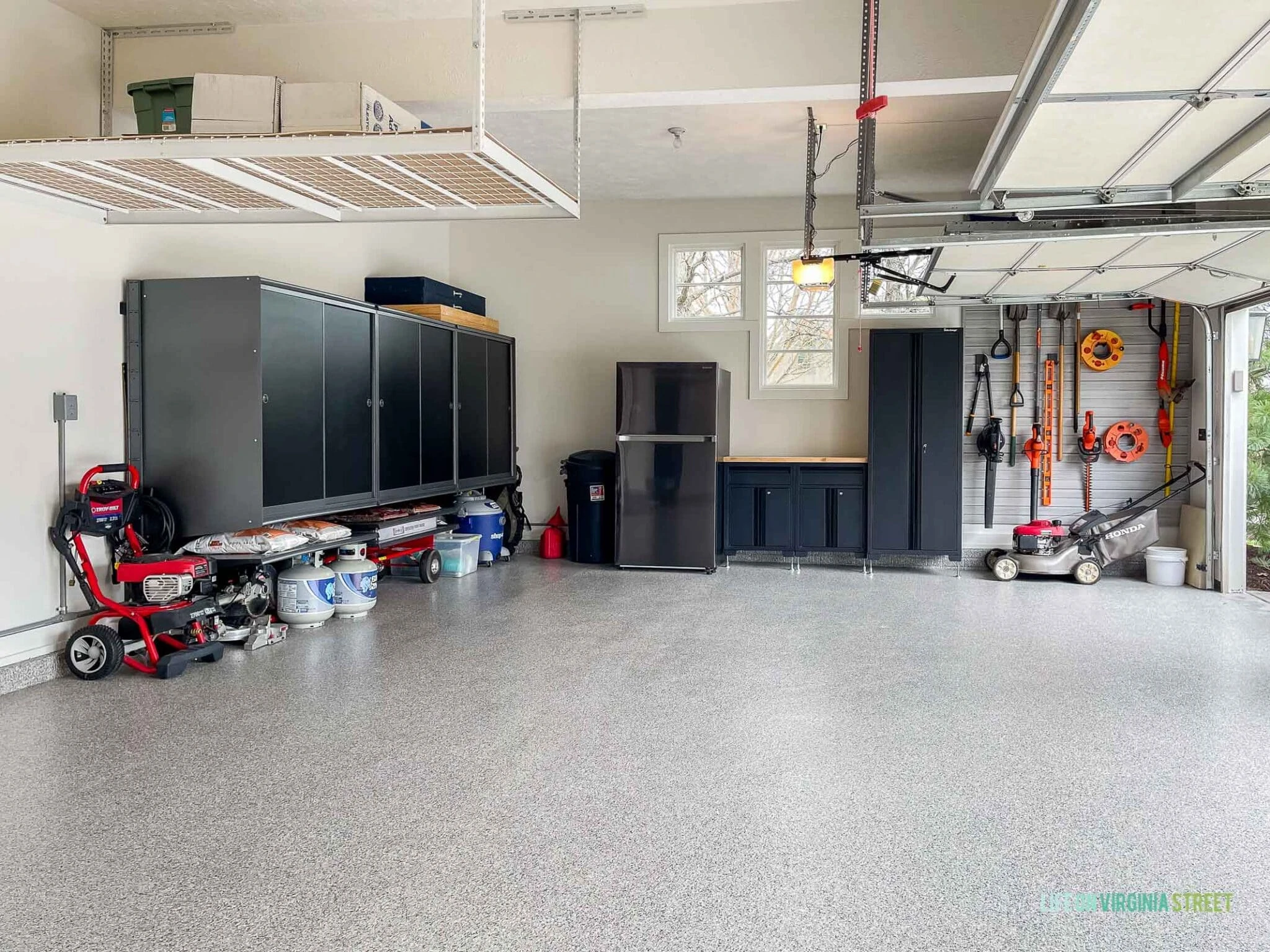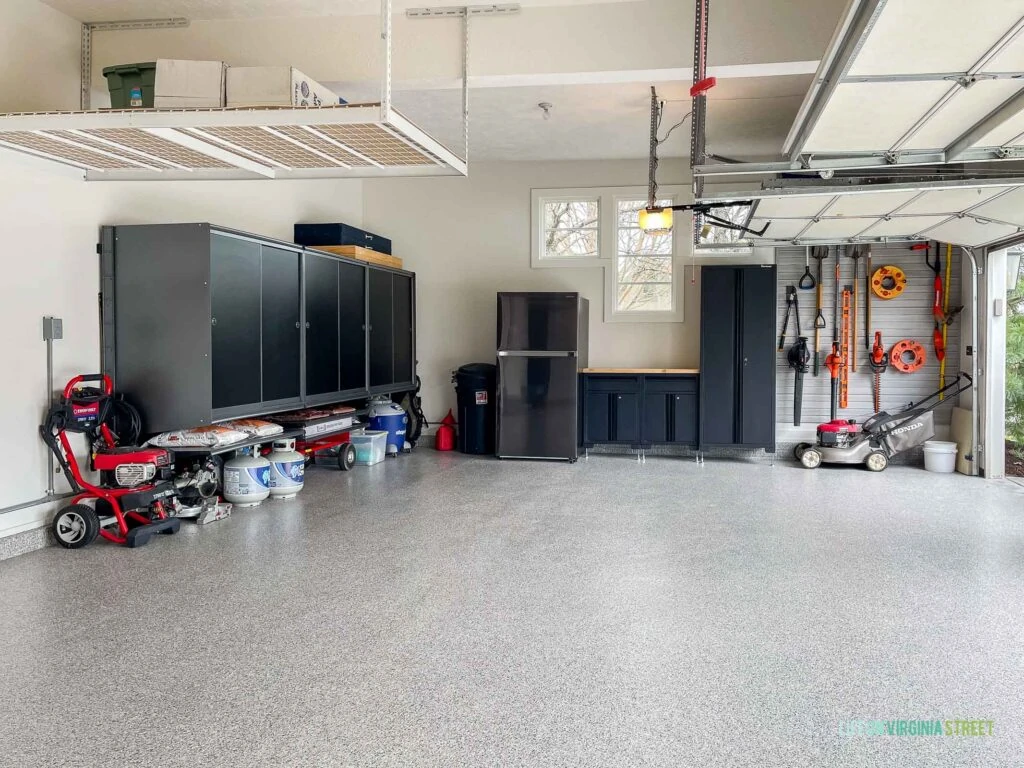 Let's dig into all the details!
GARAGE STORAGE CABINETS
The beauty of the storage cabinets is that all of stuff is still here, but it's mostly hidden behind cabinet doors. The best part is they not only look good but work hard too! There are so many ways to configure them. You can make them one long cabinet on the interior, move shelves, have shelves below (like we've done in a number of configurations below) and even store items on top! They're lagged into your studs on the wall, so their weight capacity is beyond anything we'll ever need.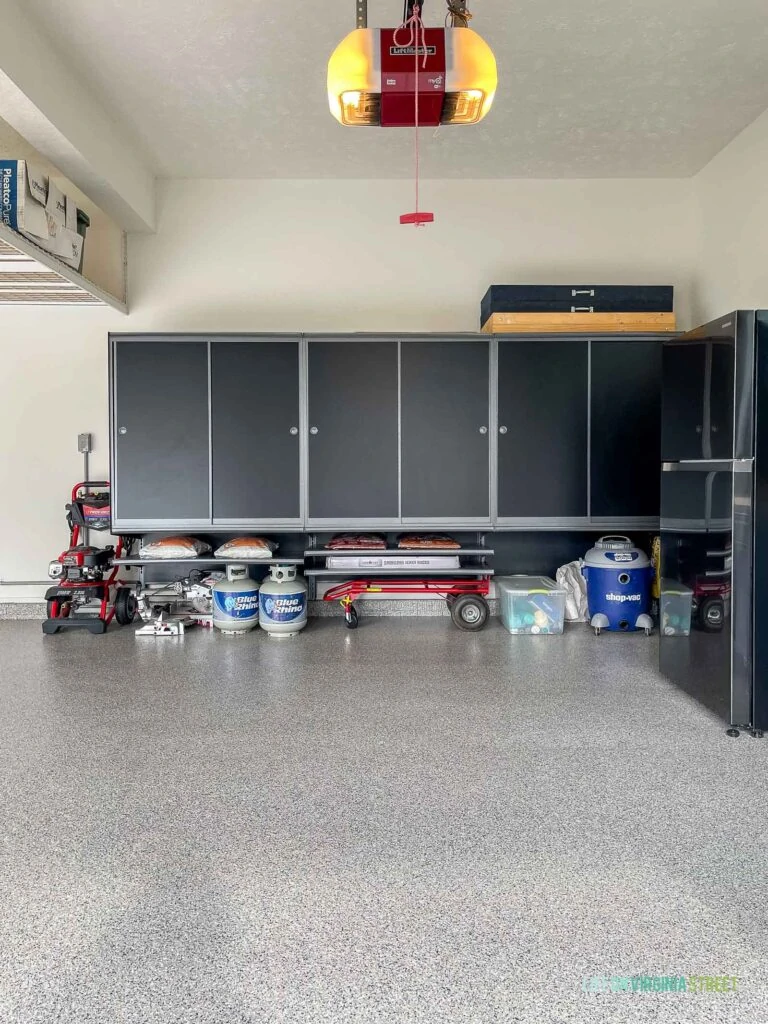 Here are a handful of features that we loved about these cabinets:
Feature sliding doors (versus swinging doors) to save on clearance space
Includes three durable 22 in. shelves that can hold up to 300lbs when evenly distributed
Built with commercial-grade, welded steel to withstand heavy objects
Each cabinet is 4'x4′ allowing for tons of storage space
All those storage bins that used to be out in the open now fit perfectly behind the sliding doors. Kurtis moved the interior shelves in every section to perfectly accommodate what he needed to store, so it's nice just how flexible the cabinets are! The scale may be hard to grasp in photos, but these cabinets hold a lot.
We actually underestimated just how much they could hold (especially knowing how much crap we had). A week or so out from installation, we asked for a third cabinet to be added to our order. We wanted to ensure we could store as much as possible behind the closed doors. And now, with the third cabinet, we have room to grow! Since this is Kurtis' world, I let him organize things however made the most sense to him. All I care about is that I can look at the pretty cabinets and not all the junk inside 😉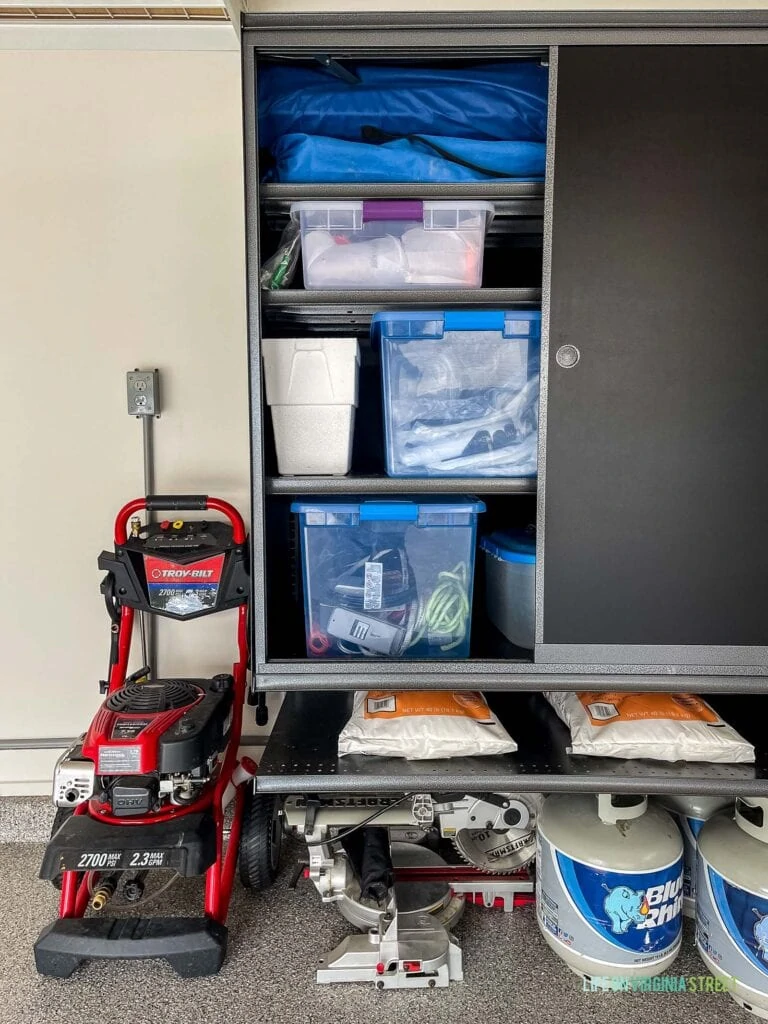 I don't think either of us realized just how much it was weighing on us having such a disorganized garage until we feel the relief of the setup now!
GARAGE WORKBENCH
One of Kurtis' biggest wish list requests was a workbench so let's focus on that area of the garage next.
You'll notice we donated our two old fridges (one from the prior owner and the other from our last house). We really only had both because neither of them had died yet and we were kind of expecting one (or both) to do so at any point. Kurtis decided to buy a new one with a better layout that better blends with his new workbench and cabinets. And with this old-school style fridge layout, we can actually fit just as many drinks as the two old fridges combined!
Hello Garage has actually since discontinued our style of workbench for a new and improved (and much more customizable) workbench system! It now coordinates and integrates with the cabinets shown above. We modified ours slightly anyway to work with the garage window shape. But it all feels so intentional now! Kurtis loves having a spot with a countertop for random things he works on from time to time.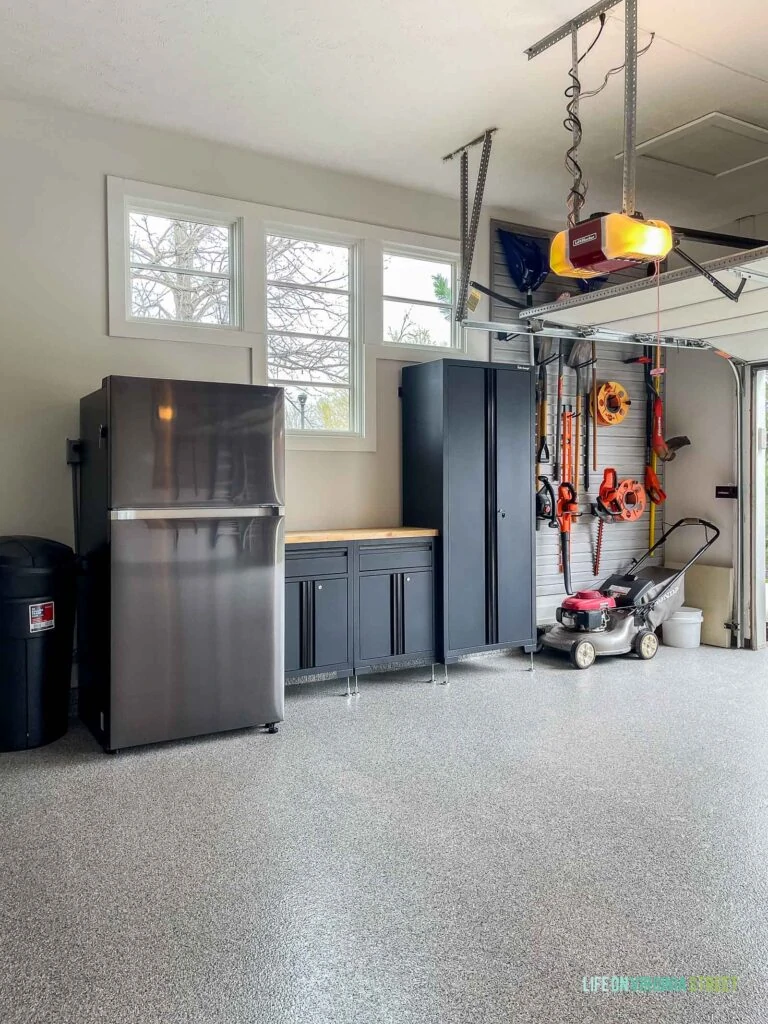 The cabinet to the right side of the work bench holds most of Kurtis' tools. The team at Hello Garage was able to incorporate our wall outlet into the back of the cabinet. They did an amazing job of integrating it seamlessly in the perfect location. Now we can charge all of our universal 20V batteries for our drills, leaf blower, trimmer, etc. right from the cabinet.  It's so handy and we never have to worry about not having charged tools!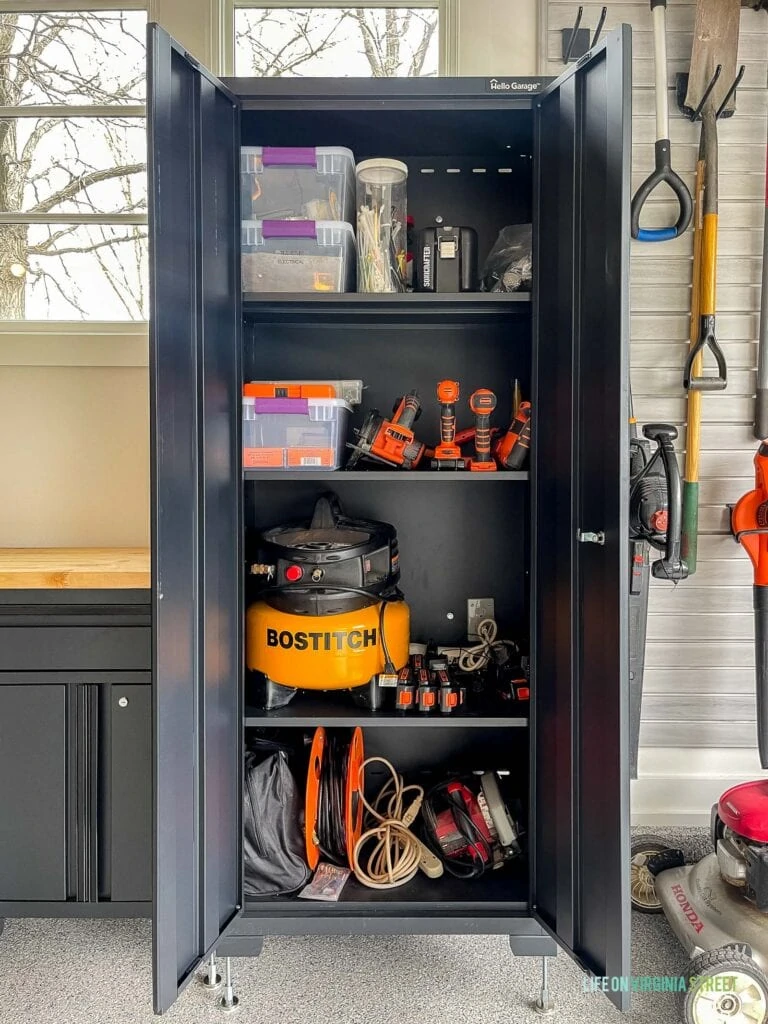 GARAGE SLATWALL
In the pictures above you probably also noticed our new giant slat wall! I love that every single item has it's own hook now. Previously, we had our yard tools stacked 2-4 deep on one hook and it was always a process to get the item we needed. Kurtis loves using the Hello Garage organization components to get creative and hang things he uses frequently, like our yard tools and rolls of extension cords! It's nice to have them easily accessible but also out of the way.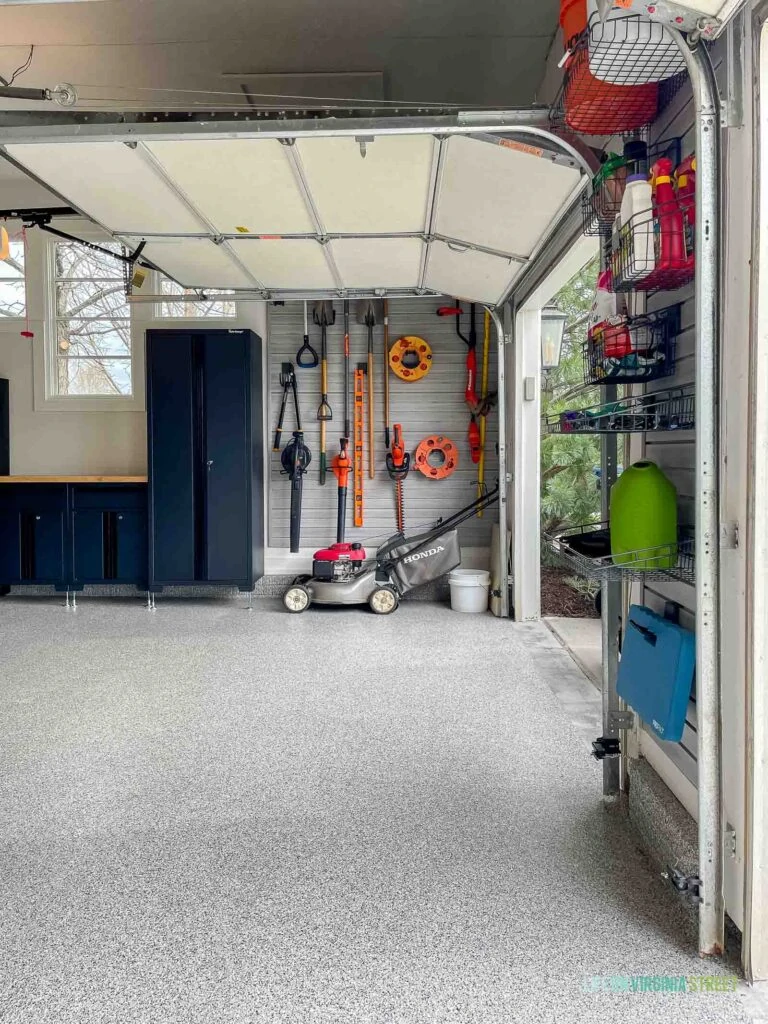 Here's a closer look at the wall itself. What we love about the slat wall option is that:
Each panel is custom-cut to fit and can hold up to 115 lbs. at 4 inches off the wall
The panels are resistant to mold, mildew, water, fading, and weathering
It's easy to clean
10-year warranty against defects in workmanship and material
They're super customizable to your own personal needs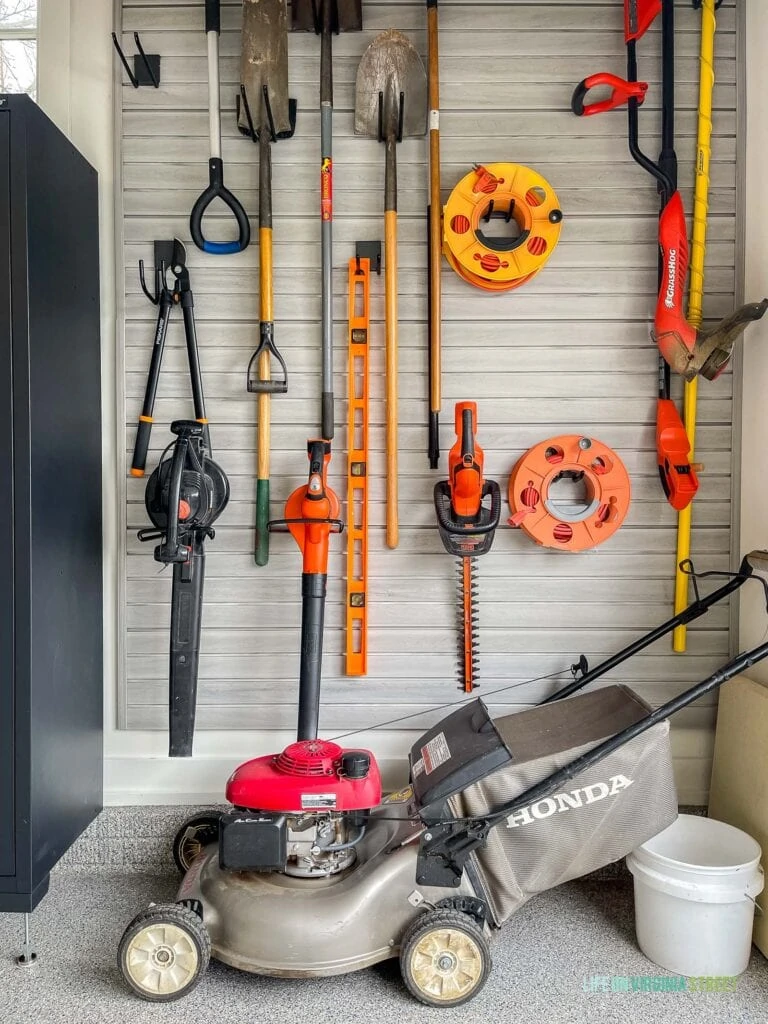 The best part of that giant slat wall? Hello Garage is able to cut the sheets down to custom sizes and trim them out. Since we had a bit of leftover slat wall from the wall above, we got a little creative in another area! One of my personal favorite spots in the garage is the little gardening wall we created for me between the two garage doors. We paired the slat wall with Hello Garage basket components for all my gardening supplies! I've already gotten a lot of use out of it, and I love how accessible it is right next to the garage doors.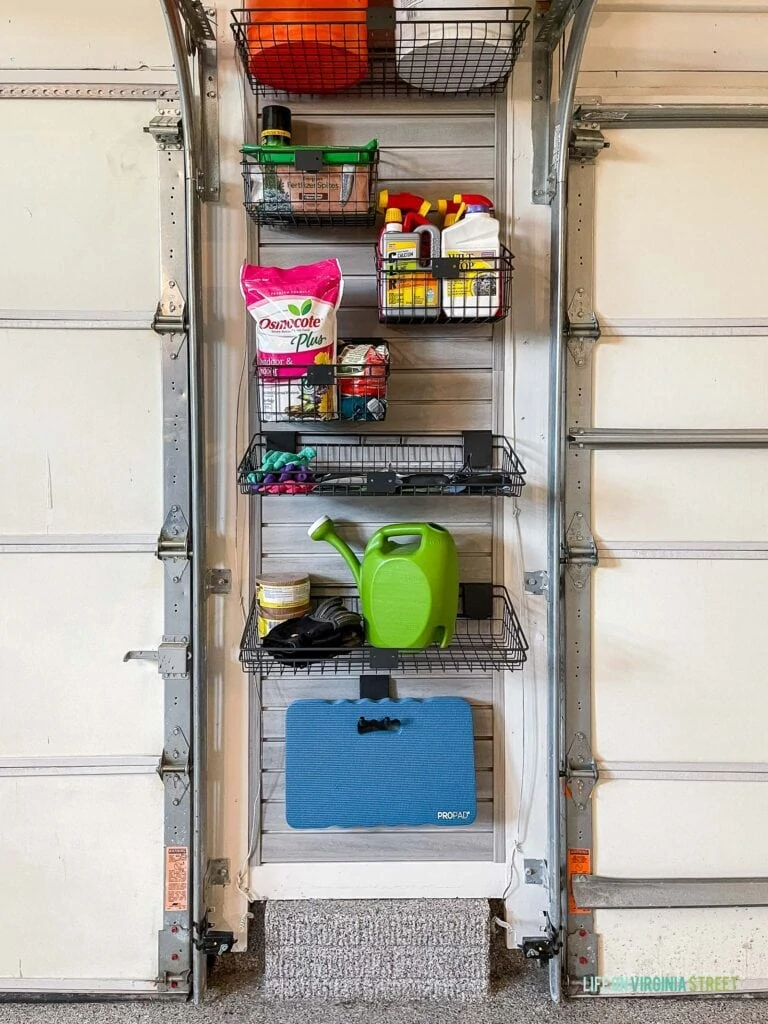 Looking over to the other side of the garage, we have another, slightly smaller, slat wall. Previously, we had pegs in this area to hold our ladders, but we love the flexibility of the slat wall to adjust heights of various items. We also have several hooks and rungs leftover for items we may choose to add to this particular wall as we continue to use it down the road.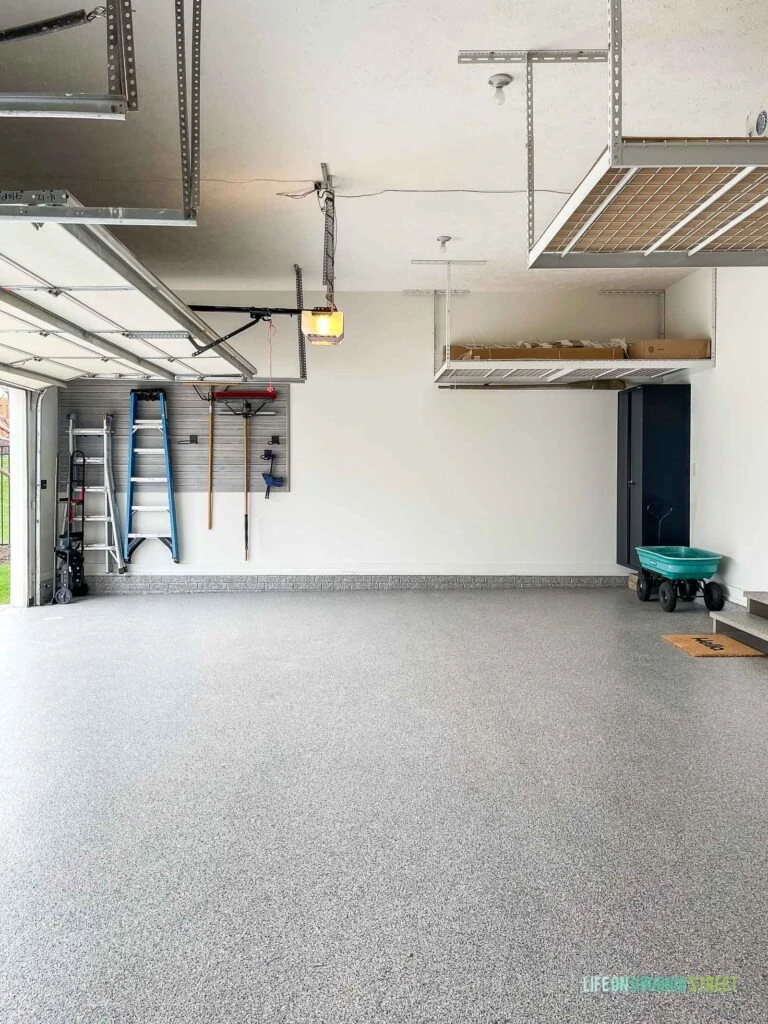 We used the other half of the work bench cabinets on this wall. It's the perfect spot for Kurtis to store pool supplies and hide a few extra wall caps for our retaining walls out back. I use the wagon almost daily in the summertime for work around the yard – particularly during planting season! So, I like to have it handy this time of year. In the winter months, we can store it on the slat wall or above the cabinets. You'll noticed we also kept our overhead storage racks to hold the pool furniture in the winter months. They are also super handy to have to help keep our garage organized in the winter months! I'm still admiring just how good our new floors look in this photo too!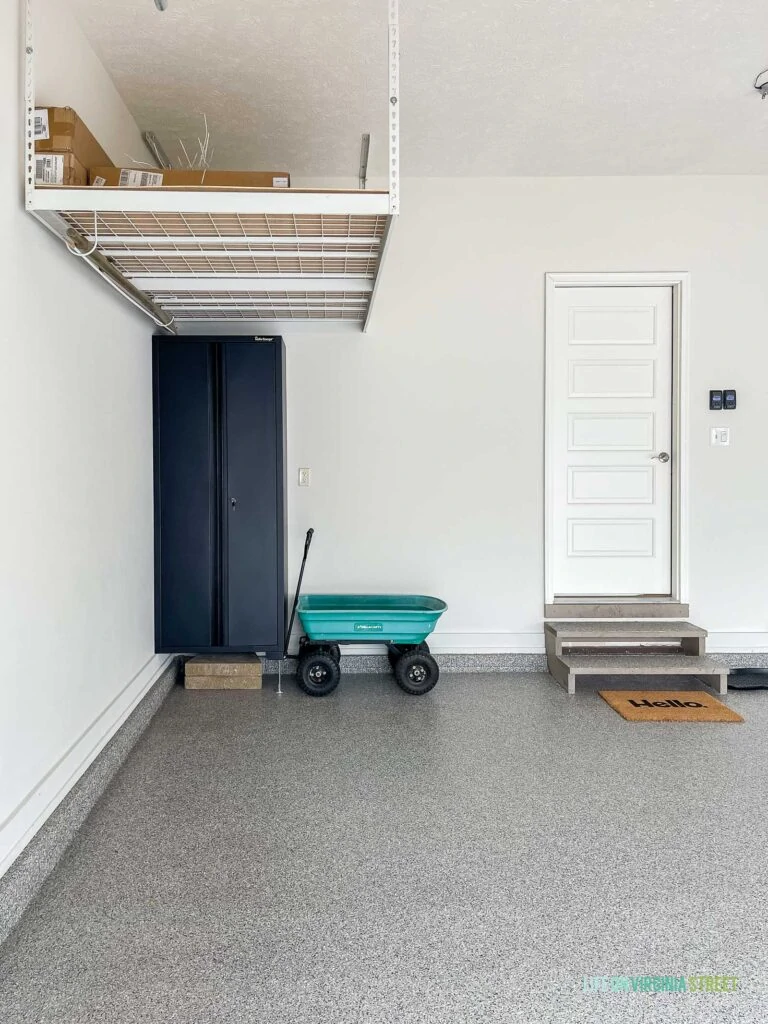 It's crazy just how much the view has changed now when we pull in our garage!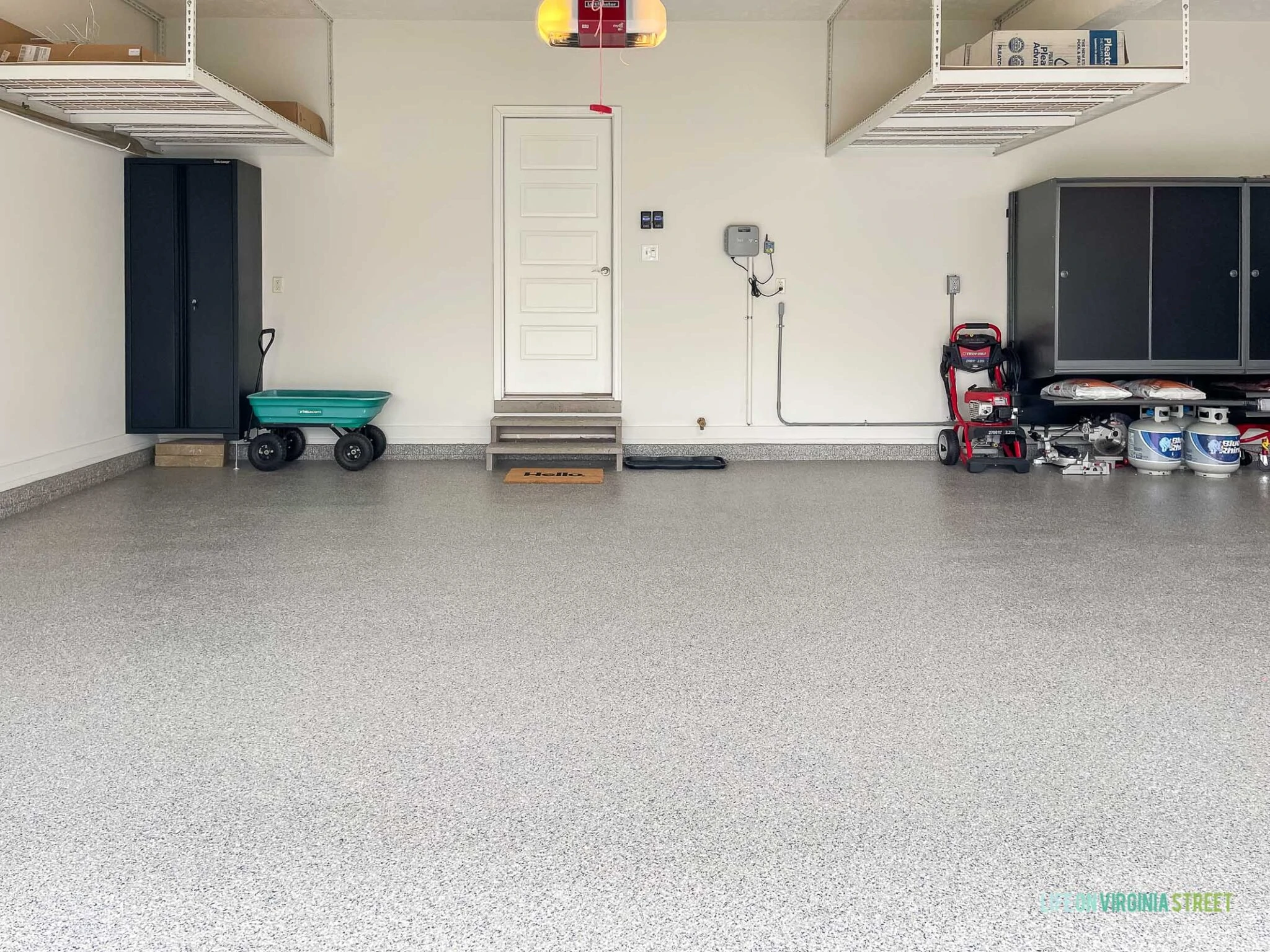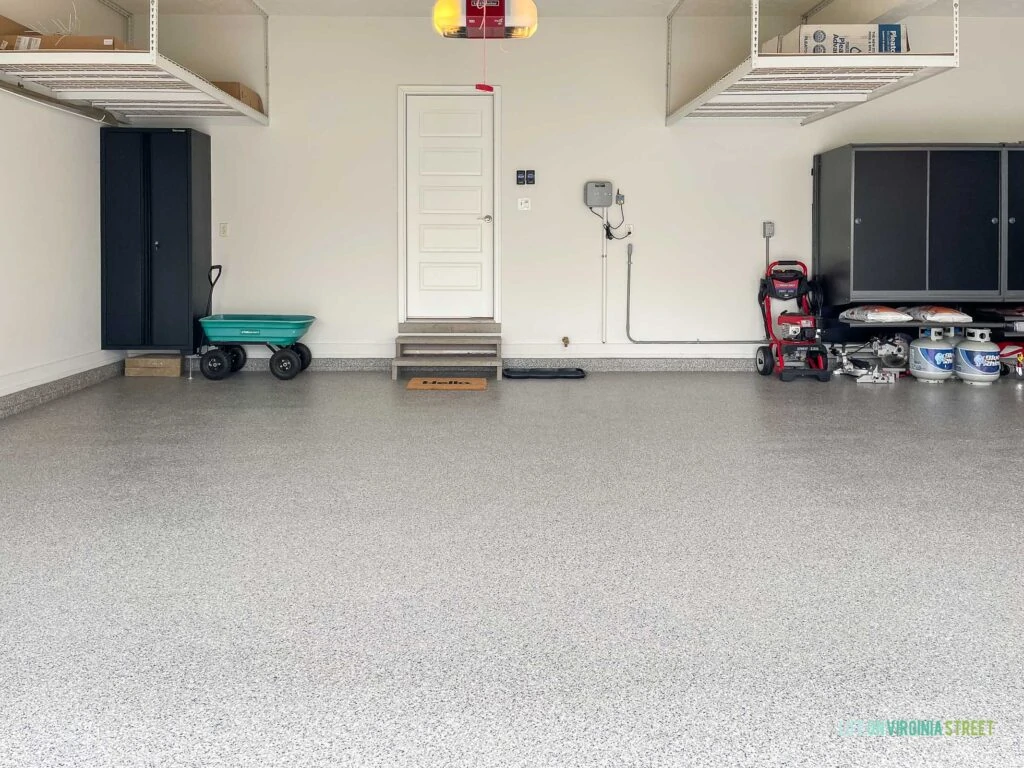 We couldn't be happier with the work Hello Garage did and with our newly organized garage! And after a nearly a month's worth of use, we've managed to keep it clean and organized! These "after" photos were taken on Sunday this week!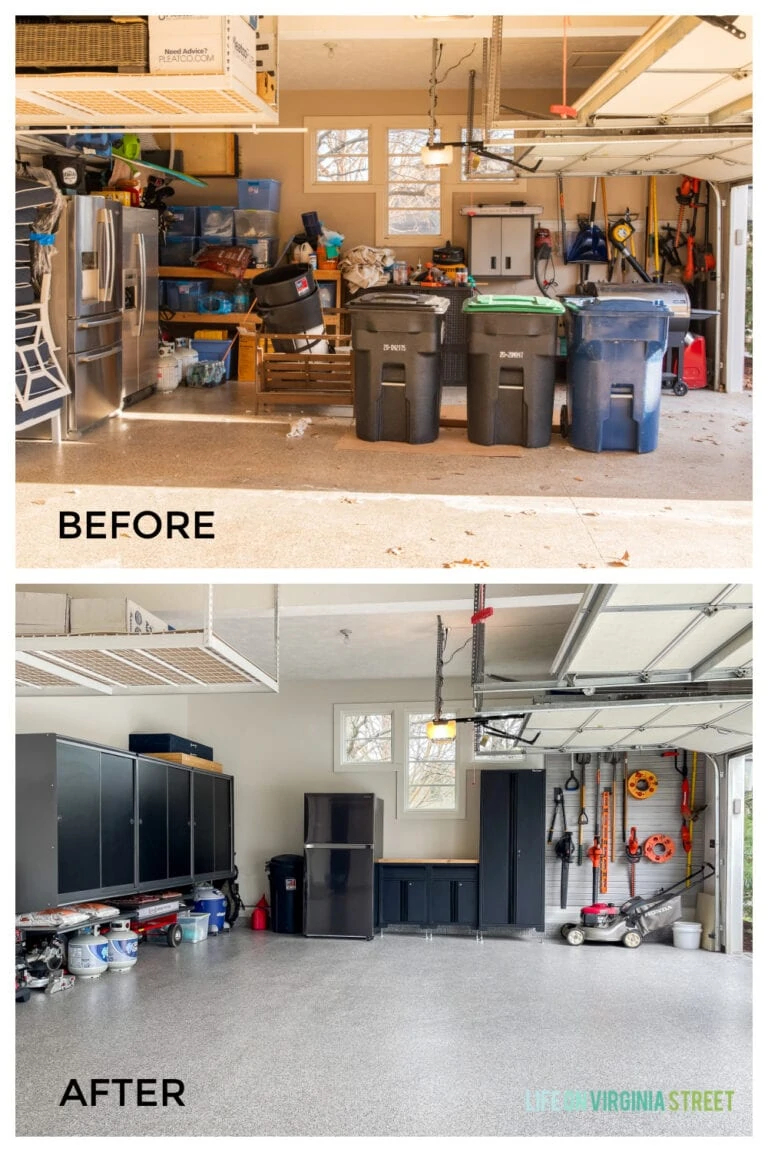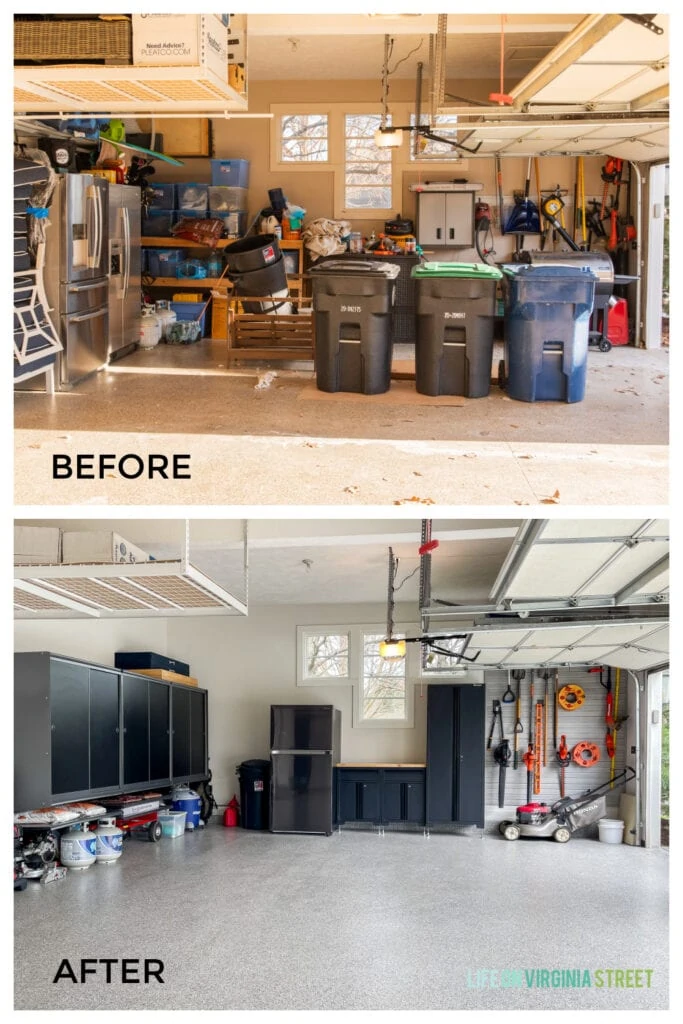 We do actually store or garbage cans in the garage still. I just didn't want them obstructing the view above. But here is how the space all flows with them back in the garage! The blue can is actually from a service we'll be canceling (we're still in transition mode). We basically park them as an island so we have a few feet to get out of our car, but then tons of walking space behind them. It's still a night and day difference even with the cans back in here!
A huge thank you goes out to the team at Hello Garage for all their work on this project! We couldn't be happier with how our garage makeover turned out. If you're looking to tackle something similar in your own garage, you can see if there is a Hello Garage franchise near you to get a free bid! They have location all over the country, and we absolutely loved working with the pros on the Omaha crew!
If you would like to follow along on more of my home decor, DIY, lifestyle, travel and other posts, I'd love to have you follow me on any of the following:
Pinterest | Instagram | Facebook | Twitter
disclosure: some affiliate links used