Today I'm circling back to a project that's been a work-in-progress for a few years now: our home office. A lot has changed (in needs, not actual progress) since my last update on this space so I figured it was time I circle back around to this one! I'll also be sharing some other home office ideas you may find helpful!
This post contains affiliate links for your shopping convenience. You can read my full disclosure policy here.
Remember two years back when we set up a "temporary" office for Kurtis in our guest bedroom? He was about to go out on hip surgery, and knew he'd be working from home for close to two months. So, we quickly set up a station where my "dad's computer" is when he visits in our guest bedroom.
After recovering, Kurtis then returned to work for about two weeks, followed quickly by his entire company shutting down their office because of the pandemic. Again, not a major issue since the space was still set up and we figured it would be a few more weeks max.
Well, here we are in August 2021 and he's never gone back. Not only that, he just found out that he'll likely be working from home permanently now (other than going in occasionally for a meeting here or there).
His temporary office that we set up nearly two years ago isn't really cutting it now. He made it work with the mindset it was temporary, but it's time for a change now that we know it's permanent. As the end of summer approaches, he's even more eager to get a proper space set up inside since he won't be able to sit outside much longer.
We are both very much "office" people. We don't camp out at our kitchen counter, dining room table, etc. We both also use actual computer towers and Kurtis needs multiple monitors for his day job, which makes it much more difficult to be mobile.  We both feel extremely grateful that we have space in our home and all the options listed below, and aren't forced to work in an open area as the only option, which I know others may have to deal with. But, some changes do need to be made in order for us to both be our most productive selves.
Today I'm going to be sharing our current office setups, some goals we'd both like for a space, and then some inspiration and links to other home office resources! It's honestly a post where we're just kind of thinking out loud on a some upcoming projects.
Kurtis' Home Office Plans
Here is Kurtis' "temporary" office for his day job. It's tucked in the corner of this smaller guest bedroom, which is directly above my office.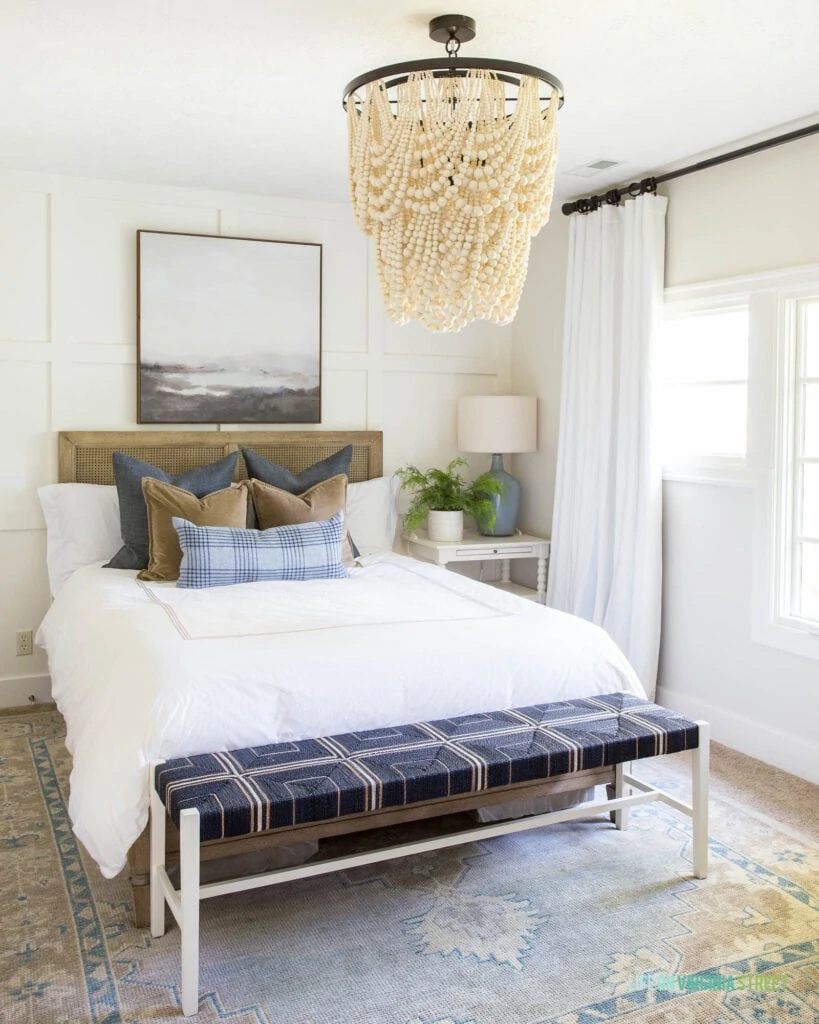 GUEST BEDROOM SOURCES: Wood Cane Bed | Hand-Knotted Rug | Bead Chandelier | Abstract Art | Spindle Nightstand | Belgian Linen Drapes | Iron Curtain Rod | Iron Finials | Iron Curtain Ring Clips | Woven Bench | Linen Pillows | Velvet Pillows | Plaid Lumbar Pillow | Ceramic Lamp | Faux Fern | Hotel Style Duvet Cover
This is an old pic from one night in the spring. But it gives you an idea of his setup. He's also on his phone or in video meetings most of the day, so he requires a door and some privacy. The cats aren't allowed in during business hours, for obvious reasons demonstrated below 😉 Since this time, he's no longer allowed to remote into his computer terminal at work, so he actually has another laptop on his desk. He's using a desk we found on Facebook Marketplace we found a few years ago. It worked well for the guest room, but not for a desk that is in use 8+ hours a day.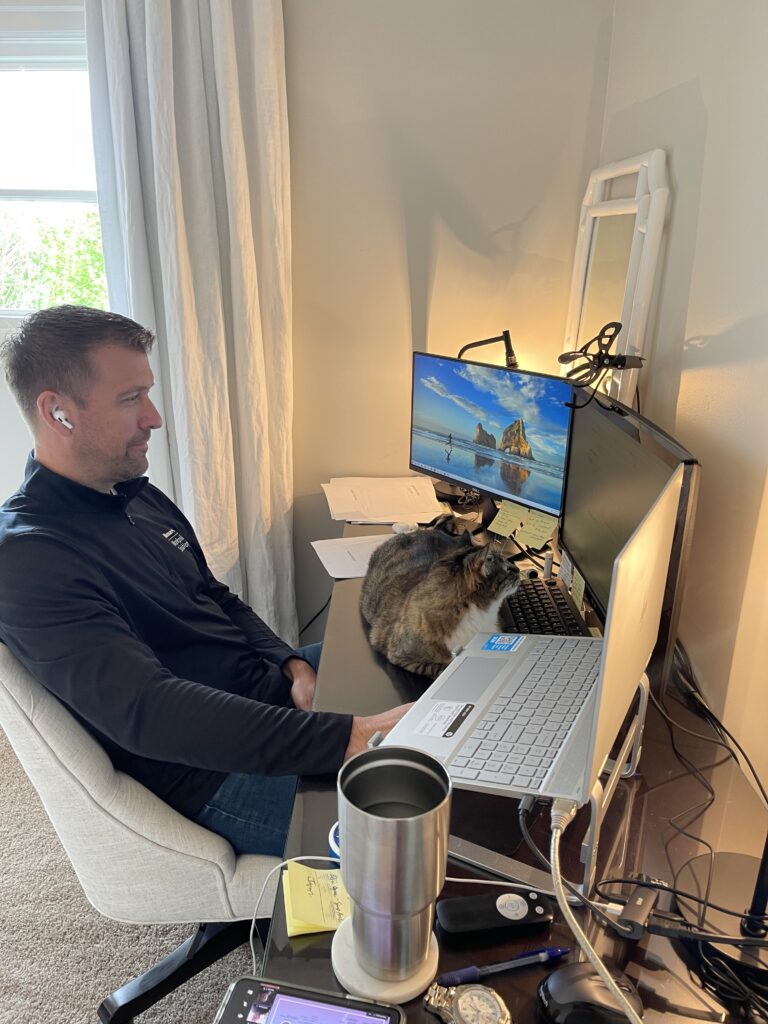 In addition to more desk space, Kurtis would also love to have a floating desk in a room so his legs aren't smashed up against the wall. He's also a bit particular about what the background can be, since he's on so many video phone calls. With that, here are some options we have, along with the downside to each.
Take down one of the guest bedrooms and fully convert it to an office. For the handful of times each year we have enough guests to fill all the bedrooms, we'd have to come up with an alternative. We'd also likely need to store the bed, mattress, nightstand, etc. in case we ever convert it back.
Move my office and he takes the main floor one. Unfortunately, this doesn't really solve much since we'd still have to carve out an additional space somewhere. Additionally, the doors on our office aren't soundproof at all, since they're essentially floating.
Finish the basement bedroom and make it his office. The biggest issue here is that this is the "cat bedroom" and is where we keep their food and litter boxes. This is also probably the most expensive and time-consuming solution.
Use the existing desk location but find a desk that fits better or utilizes the corner.
Find a corner desk that fits in the current space, that doesn't intersect the low window. This was actually something I searched for a few years ago but couldn't find anything that was a good fit. I need to try again to see if anything new has been released!
Build out the dead space in our upstairs landing and combine it with the guest bedroom to offer a larger desk area. This would require some minor construction, and we're not sure if we'd be able to tackle any/all of it on our own.
When we thought this situation was truly temporary, we weren't really willing to invest in any changes. But now that we know it's permanent, and with fall quickly approaching, he wants to get moving on a solution as soon as possible. If you've tried to order furniture recently, you likely know most lead times are not fun, so we need to get some wheels in motion. I'll keep you posted what we decide!
Our Current Shared & My Home Office
Shifting gears a bit, let's chat about some of the ongoing issues in my office (which is also our shared office in the mornings).
Below is a fairly current look at how our dedicated home office looks now (except we've had this rug on the floor about a year, and it all looks much messier right now) 😉 One of our favorite features of our home is that every room has tons of big windows and doors. But, this also becomes a challenge for planning layouts and furniture placement, as most rooms only have one "usable" wall. So, we only have one or two layout options that work, for the most part. On the left of the image below, we have sliding doors leading to the courtyard, to the right is a giant window that is only 18″ off the ground, and behind me is the entrance as well as a door to a small storage closet.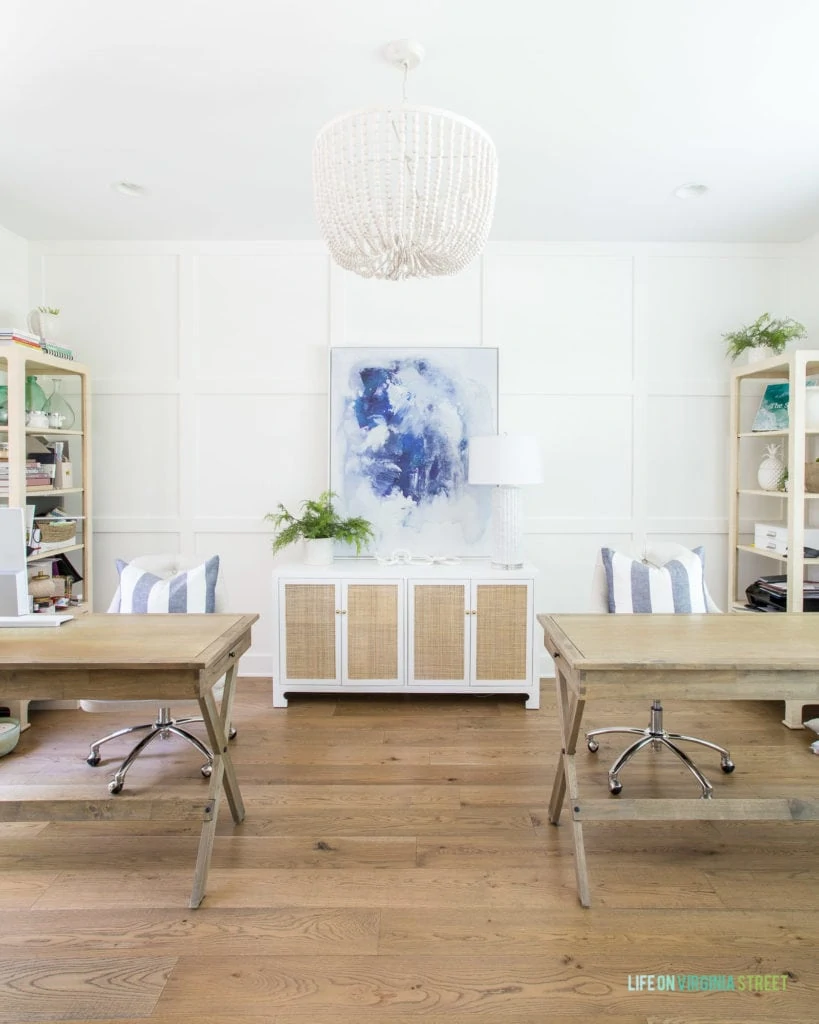 HOME OFFICE SOURCES:  Cane Cabinet | Wood Desks | Linen Chairs | Striped Pillows | Striped Curtains | Bookcases | White Wood Bead Chandelier | Similar Desk Lamps | Faux Fern Pots | Abstract Art | Marble Chain | White Bamboo Lamp – HomeGoods (old)
With us running two businesses from the space (and this being the room I'm typically in most of the day, 7 days a week) we knew it wasn't optimally functioning for us. It's such a great space, but as you know if you've been following for a few years, it's been a challenge for me to maximize. With Kurtis only in here early mornings and weekends (before he goes to his "real" office), but it being my primary working space, it needs to function one way for a portion of the day and another way for the remainder.
Last year, we even considered adding a dining table in here to serve as one large, shared desk (read more in this post on dining tables that could work as desks.
My Home Office Plans
A few months back, I actually met with Gitt Construction (the ones that did our guest bathroom makeovers). I've known for some time what needs to happen in our main floor office. And a lot of that boils down to storage. Currently all of our storage is out in the open, and the older our businesses become, the more paperwork and files and crap we have. With the office being directly off of our entryway, it isn't a great combo when we don't have storage for all our crap 😉
After talking with the Gitt designers, I told them what I needed for storage (including tall locker style cabinets for photography equipment, tripods, lighting kits, our scanner, printers, etc.) they came up with a few renderings. I had them tweak it a bit further and below is the final plans. It was going to be epic! But, then I got the bid (almost double the initial estimates). And then we got word that Kurtis is permanently home and my dreams were further put on hold since his office is a bit more pressing.
But the design the Gitt team came up with based upon my inspiration and needs with is too pretty not to share! This built-in situation would run along the main wall and Kurtis could have his morning desk in the center. I would then have my desk float in the middle of the room (similar to ours now, but there would be only one). It would feel much less cluttered without all the individual pieces of furniture and the built-ins would hold nearly everything we'd need!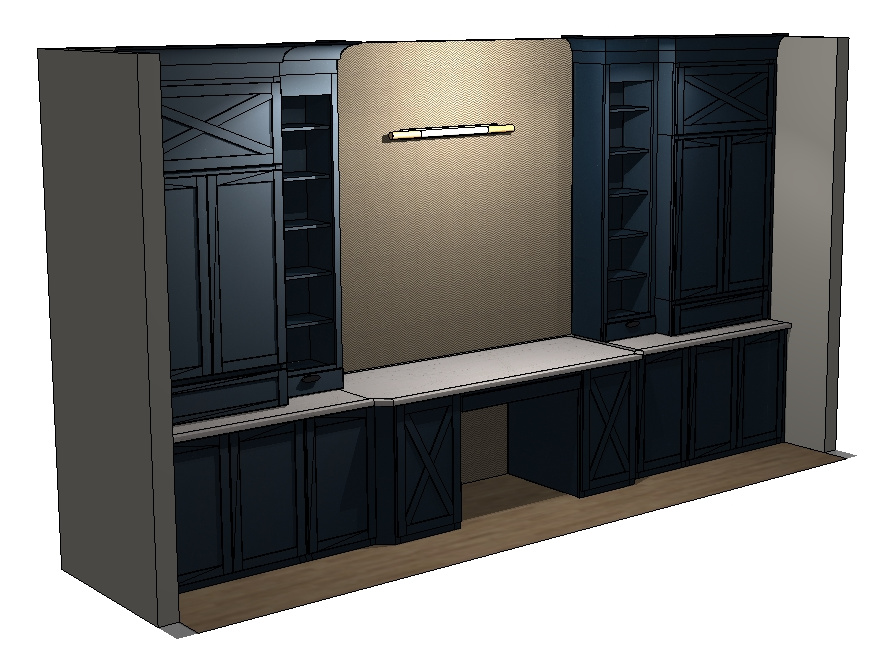 I'd still love to make this happen (or some version of it down the road) but the reality is, we have higher-up priorities in this house based on what this would cost. I'm hoping if lumber and other building costs start to drop, that cabinets will eventually too.
We've also talked about potentially creating our own built-ins from stock cabinets at Lowe's or Home Depot. We did something similar in our last house with a built-in entertainment center way back when. Back in the days when sometimes my blog posts essentially consisted of "Hey guys, I like this." Followed by an image. Oh the simpler days! 😉 I think our skills have improved quite a bit since then (how was that eleven years ago?!) so it might be worth a shot! It could be a "fun" fall or winter project! We definitely couldn't get as advanced as the rendering from Gitt, but I think we could potentially make something we'd really like.
Home Office Ideas
Now I'm going to share some pretty home office spaces I've found online that I find inspiring. Hopefully you will too!
I'm absolutely loving this gorgeous L-shaped peninsula desk – and even more so with those accent cubes that serve as additional seating. The desk is unique in that it can be arranged as you prefer – in both the l-shape or in one long line.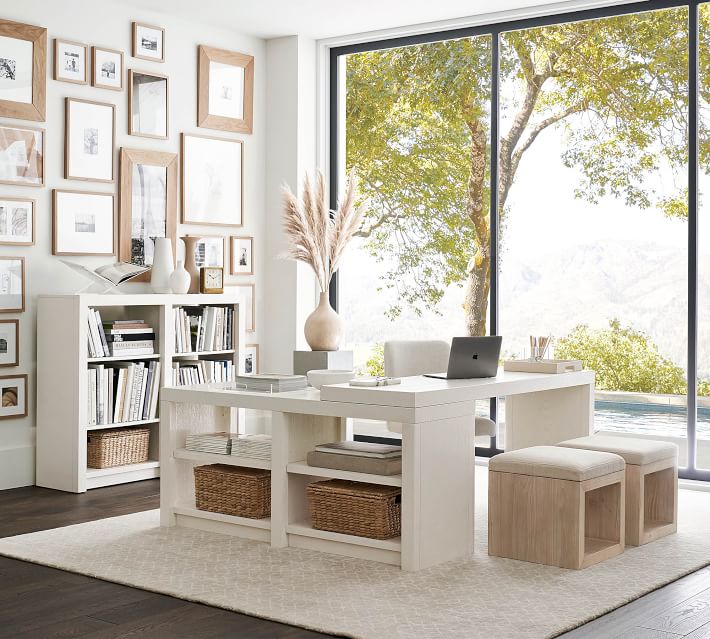 The reality is, for the bid I got on the built-ins, I could do several very expensive sets from Pottery Barn or Ballard Designs, etc. for less money. The pieces can all be mixed and matched to create a fairly custom experience. I love many of their sets, but with our 9′ ceilings on our main floor, they may look a little squatty. Here's an example of an office suite that could be used along the main wall in our office, similar to the built-ins.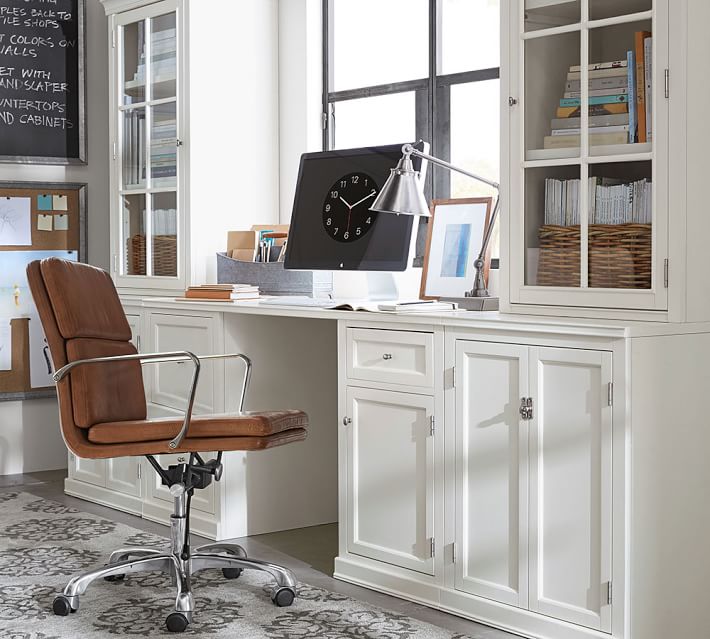 We could also try a setup similar to the one below, but with two sets of units.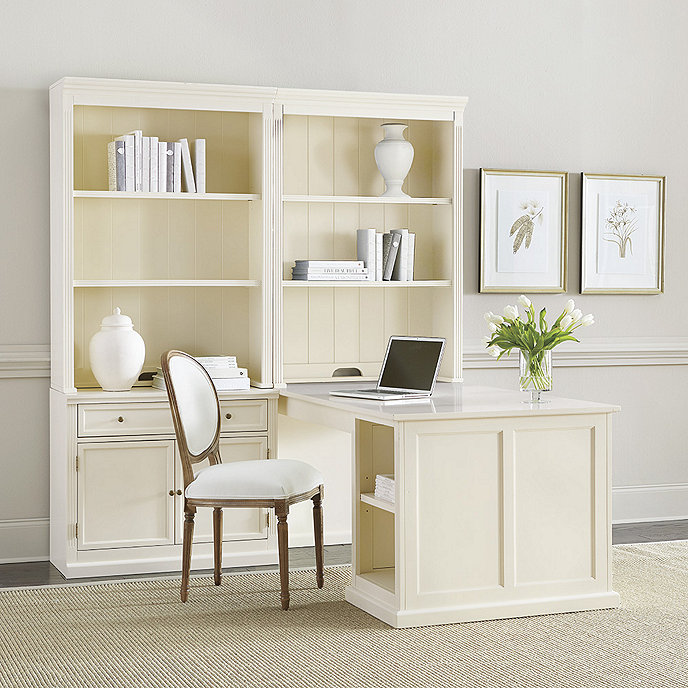 If you're tight on space or need to make another room work as an office, I love this modular pop up desk! It can fold essentially flat against your wall when not in use.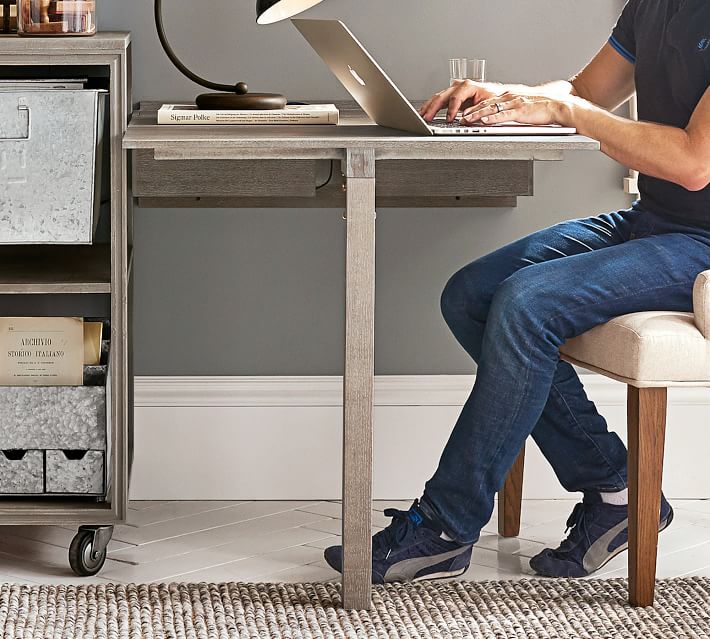 I love so many of the modular options now where you can mix and match the end pieces of your desk. This desk system shown below is the perfect example!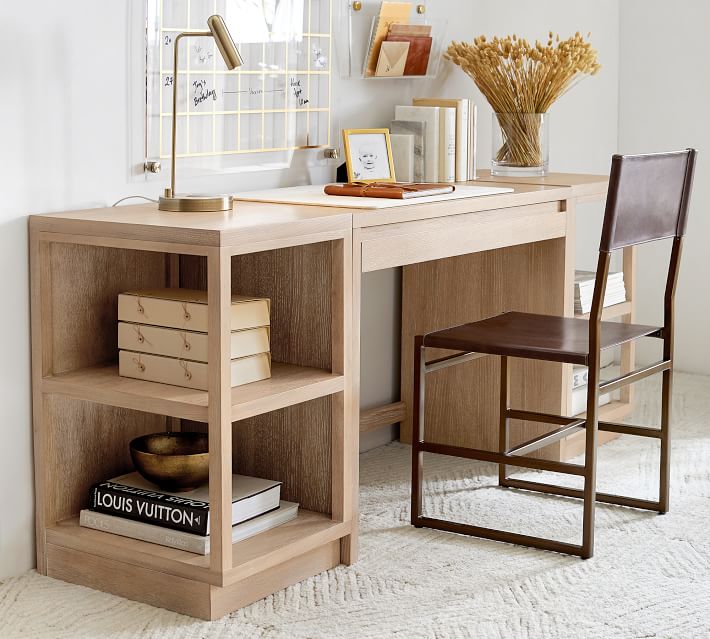 Additional Home Office Ideas
If you're looking for even more home office ideas, be sure to check out the following posts. You can click on any of the post titles below to be taken directly to the article.
If you would like to follow along on more of my home decor, DIY, lifestyle, travel and other posts, I'd love to have you follow me on any of the following:
Pinterest | Instagram | Facebook | Twitter 
disclosure: some affiliate links used