How's that for an attention-grabbing headline?!? I'm excited to share our latest "project" with you today. We recently bought a house in Florida! Today also marks the 14 year anniversary of my blog (!!) which seemed like a fun day to share this news! Over Halloween weekend, Kurtis and I closed on a home near the beach in Florida and I'm sharing all the details with you today.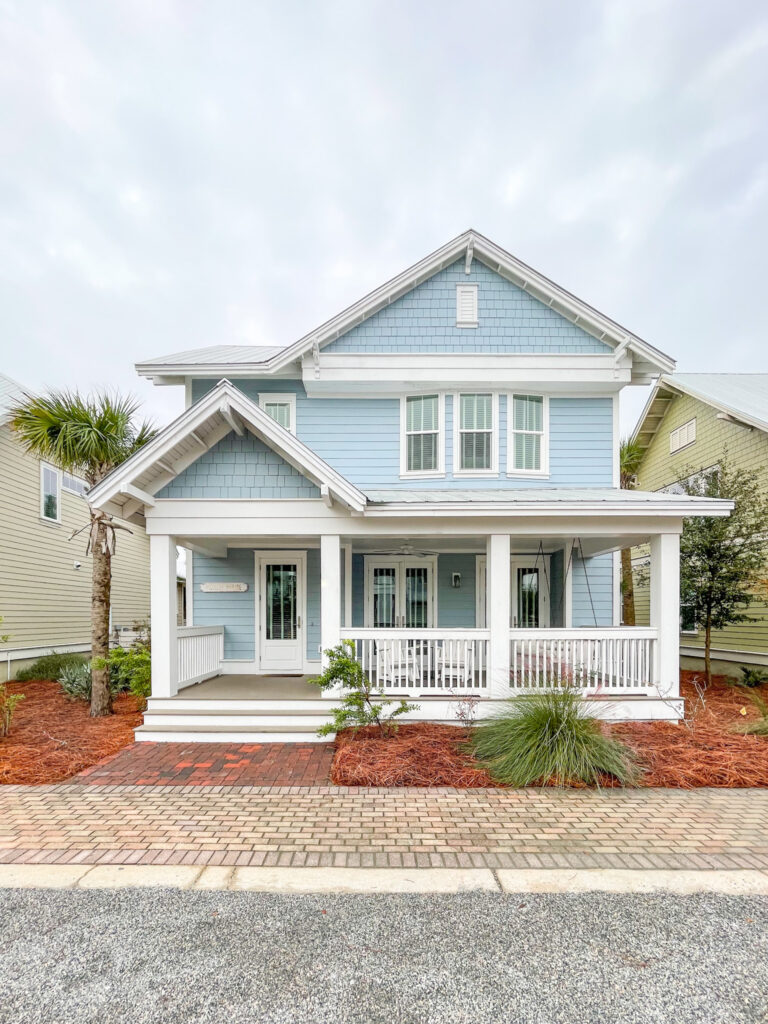 This post contains affiliate links for your shopping convenience. You can read my full disclosure policy here.
A Little Backstory
First, a little back story.
As many of you know, Kurtis and I have several long-term rental homes in the Omaha area. Kurtis loves the actual rental business side of things, and I loved the idea that I may have more houses to decorate and design along the way! But, the truth of the matter is, to run a profitable business, you can't necessarily design them how I would want to. The goal is more to have a somewhat universally appealing base, on a budget, so that it appeals to the widest variety of potential tenants!
With that, I set a goal several years ago to have a Life On Virginia Street VRBO. My dream was to have it somewhere near the ocean and really play up all my coastal decorating dreams! But, I knew I'd need to start small. If you've read here for a while you may remember, in early 2020, we  made an offer on this house to use as a short-term rental. Omaha actually has a fairly strong short-term rental market (particularly in the area of the house), thanks in part to things like the College World Series, the Olympic Swim Trials, the Berkshire Hathaway annual meeting, and the med center a few blocks away. We closed literally the week the country essentially shut down. We knew we had to quickly reevaluate our initial plans, and despite months of making those plans, we ultimately decided it made more sense to make the home a long-term rental. Womp, womp. The initial tenants have continued to renew the lease, so we are permanently considering it a long-term rental and are no longer considering using it as a short-term rental.
Our joint goal for our real estate investment company has been to add one rental house a year to our portfolio, but with the way the Omaha market (and much of the country) has been the past two years, the numbers just wouldn't work on virtually any house we found. So, starting in mid-2020, Kurtis and I had serious discussions about needing to pivot or find a new market. In 2019, we saw the writing on the wall, and you may remember we even explored some properties in Chattanooga, TN since the market there was still relatively decent. Once 2020 rolled around, we determined we really needed to explore as many options as possible.
By that time, Kurtis found out he'd be working his day job remotely (likely permanently), and we really started to question – why Omaha? We really enjoy living here with the exception of the winter, which we absolutely despise. We also have serious issues with the property taxes and income taxes. Which were tolerable when housing was so much more affordable. Now, not so much! But, we also know we're not ready to fully uproot our lives here at this point in time. But, we quickly realized it didn't mean we couldn't move our focus for other purposes!
Fast forward to September of 2021. I mentioned in a Weekend Recap post that Kurtis and I had planned a mini-escape to the 30A area in Florida. It was our first time visiting the area, but I've known for years, it would be somewhere we'd love. We went with the intent of a little R&R but also to start scoping properties. We stayed at my friend Rachel's (from Pinteresting Plans) rental home. The second we walked in we fell in love, and it kind of set the bar for what we wanted (and what we didn't). Rachel, and her realtor husband Chris, showed us a number of properties during our stay. We found one we fell in love with, but it was out of our budget.
Once we got home, Chris felt we could make an offer on the home at a price that was much more palatable since it had been on the market for so long. So that was our plan. But then, they threw us a curveball. On the call, they shared that they had actually found their dream home over the weekend, and asked if we would be interested in buying the rental we stayed at instead of the other property. It was a pretty significant savings from the other property we considered (especially as an off-market sale), and we already knew we loved their home so much! Long story short, we came to an agreement on price, and the rest is history! Not only did we get the house, but we now have new friends we text almost daily! The four of us all get along so well and it's been a major bonus of this whole process! Several stealthy people on Instagram (that follow both Rachel and me) actually could tell back in November that we were the buyers once Rachel mentioned they sold the house. It was funny to get those messages, but it was fun to share the news with a few people back then once they made the discovery!
So, are you ready to see the house?!
Details on the House We Bought
First and foremost, although we plan to personally use the house, we are also renting it out! You can see the details, tons more photos, book a stay, and check availability here. I'd also love for you to follow us here on Instagram! I'll be sharing details on the house but also tips and recommendations for the entire 30A area, including gorgeous architecture and home decor! Needless to say, we've been hard at work in the background here for the last few months, prior to making the announcement.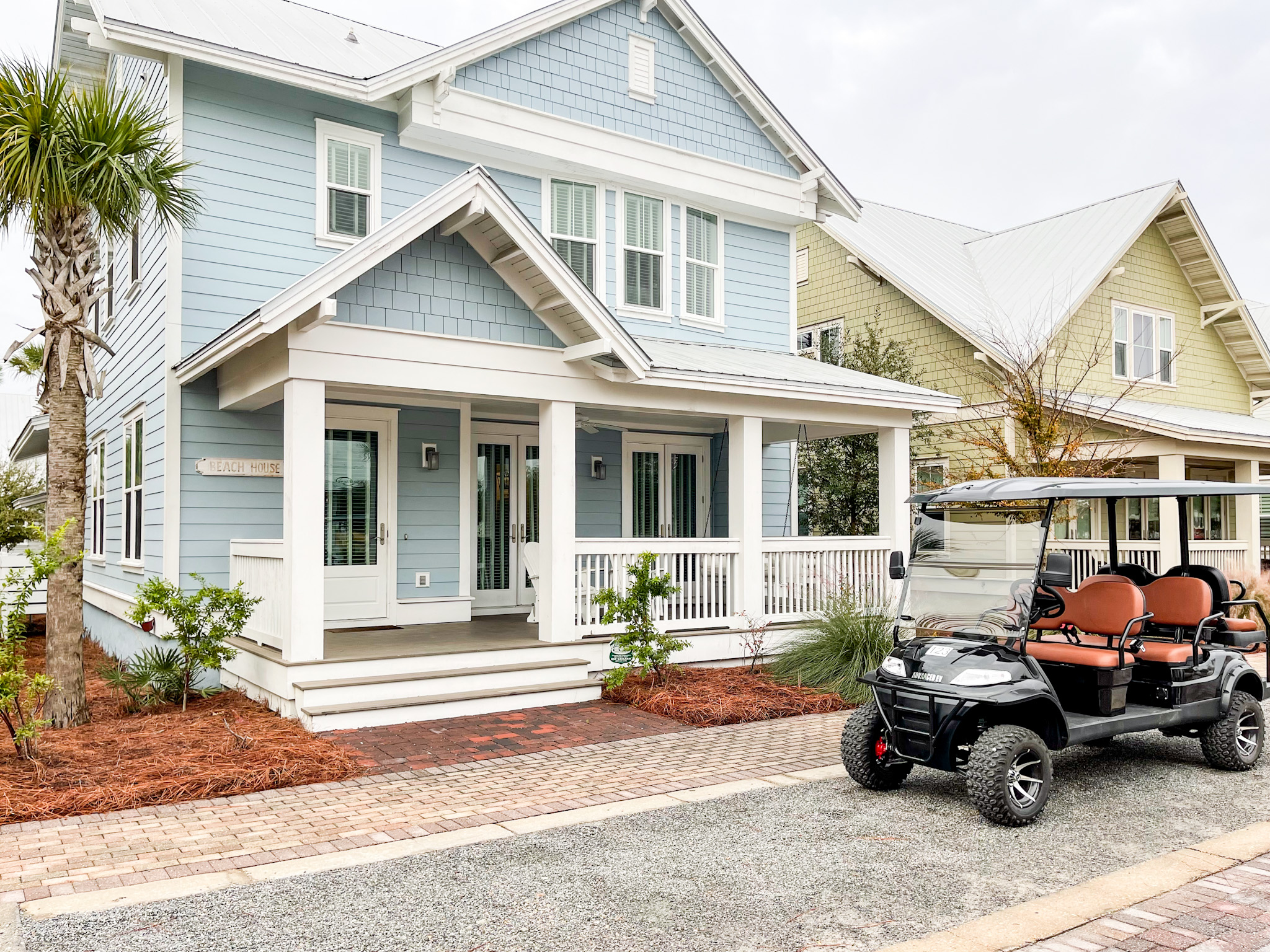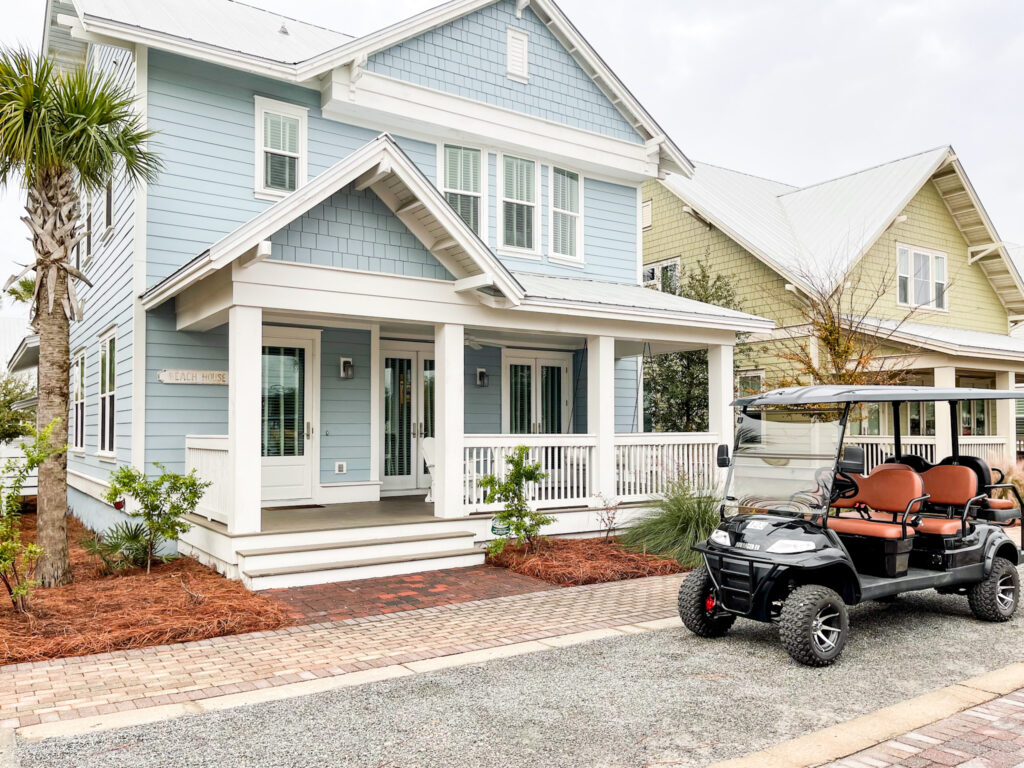 The home is a 4 bedroom (plus bunk room), 5 bathroom home situated about halfway between Rosemary Beach and Seaside on the south side of 30A! It's in an area called Prominence, surrounding The Hub in WaterSound Beach, FL. We quickly fell in love with the area and all the amenities that are a two minute walk from our front door! There's restaurants, bars, shops, bike rentals, and a huge common space where they do things like yoga, NFL football nights, movie nights, live music and more! Plus, the rental includes access to the community's two resort style pools, fitness center and more! It's just as perfect for families as it is adults-only trips! And beach access will be just a short golf cart, bicycle ride, or free shuttle ride away when the newly renovated Deer Lake State Park beach access opens this spring! But there are many other nearby public beach access points, as well.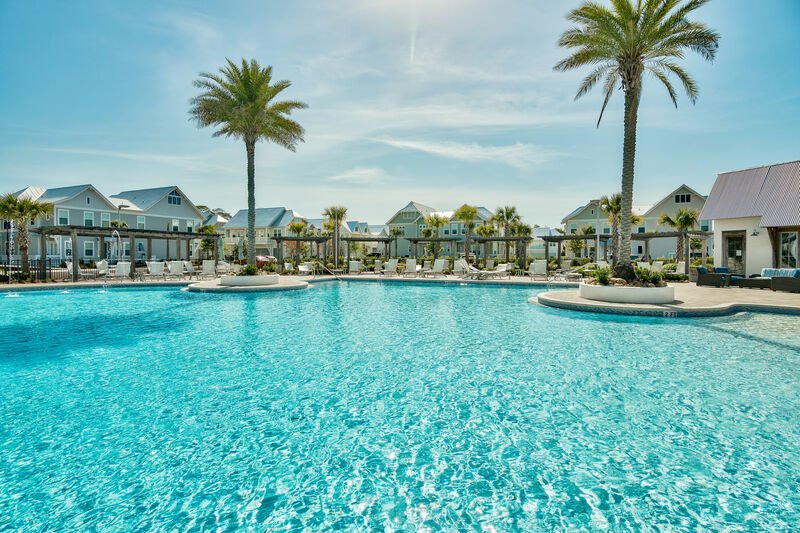 We're using a property manager for the home, which is essential since we live so far away. We're actually using the same one Rachel & Chris used, because they were so happy with them, so the process has been fairly turnkey. They are experts in the area and have a full staff we can utilize for emergency repairs, cleaning, reservations, etc. The team also helped us right before Thanksgiving when the washing machine fully broke, and were able to meet the delivery team on the new unit for setup. They also set the nightly rate for us based on seasonal demand and market conditions which is wonderful, since we're still learning so much! So far, it's been a great experience!
Welcome to our Florida house, Hola Beaches (formerly Dunes for Days)! Our property manager suggested we pick a name that is catchy and people easily remember. We wanted to release the Dunes for Days name back to Chris and Rachel if they ever wanted to use it. They have a lot of connection to the name, including their sweet pup Dune! So, Kurtis and I spent a few nights brainstorming catchy names (and having to check they weren't already used in the area). When Kurtis said "Hola Beaches" in a goofy voice, we couldn't stop laughing. But then, we started saying it over and over for several days following. We didn't think we'd actually use it, but here we are! And we love the name!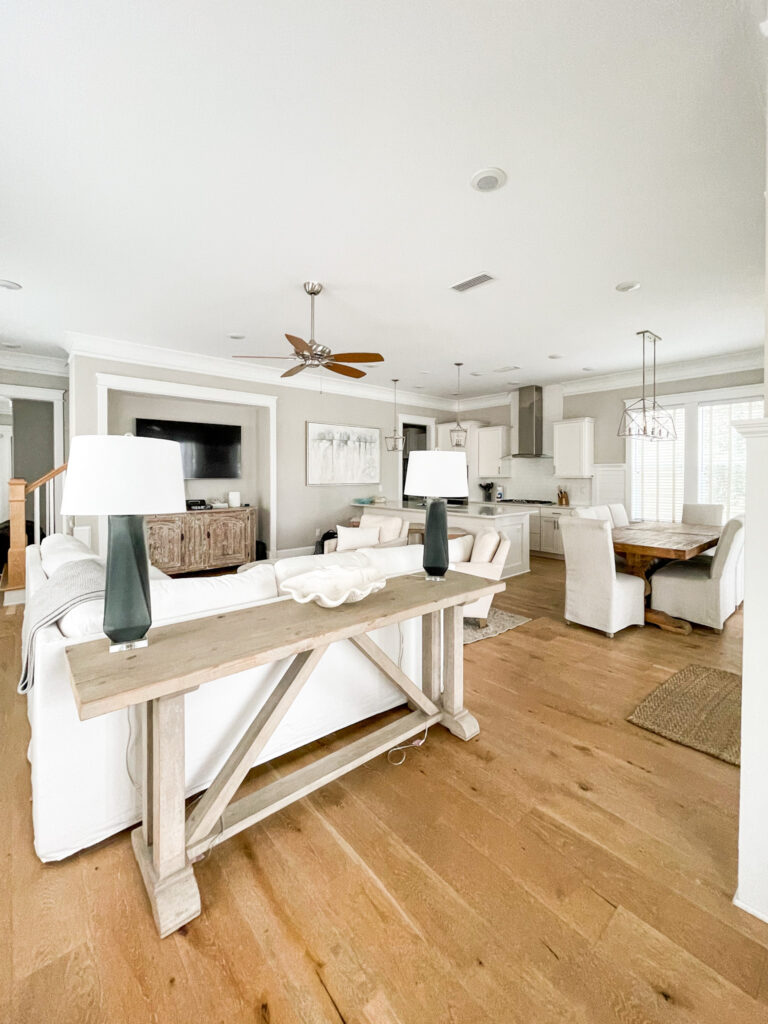 Because most of the homes in the area are vacation rentals, they typically come fully furnished and even include items like golf carts. Here's a quick peek at the main living area! It's already so beautiful and much of the furniture is still in really good shape. BUT, I definitely have replacements for a few things in mind (including the lighting). I think this is also going to be a great opportunity for me to cover durability on the blog! Short-term rentals take a lot of beatings so I'm excited to put everything from fabrics to furniture brands to even paint to the test to see which performs best long-term and then share it all here on the blog! And you know I'll be adding some blues and greens in here.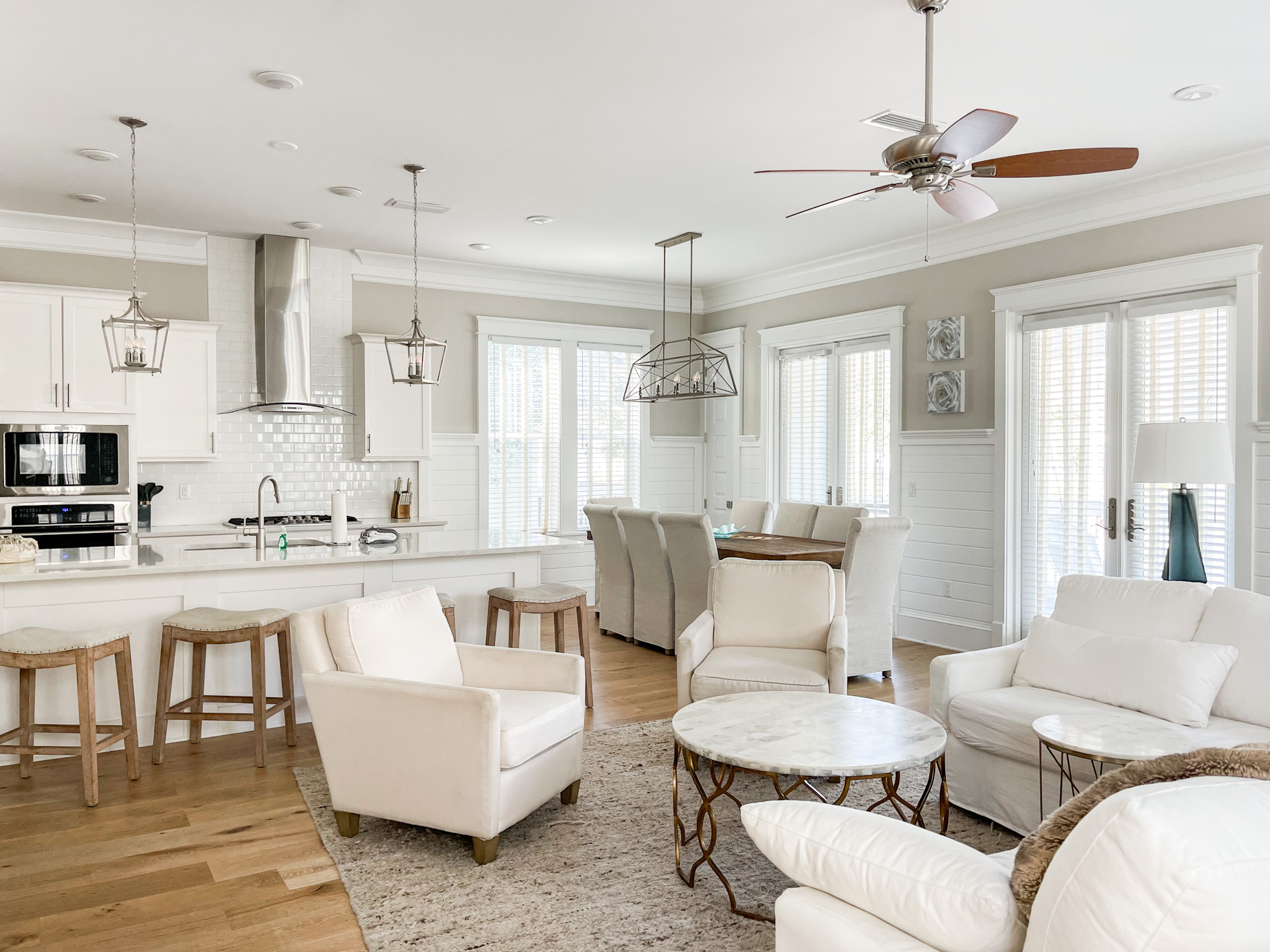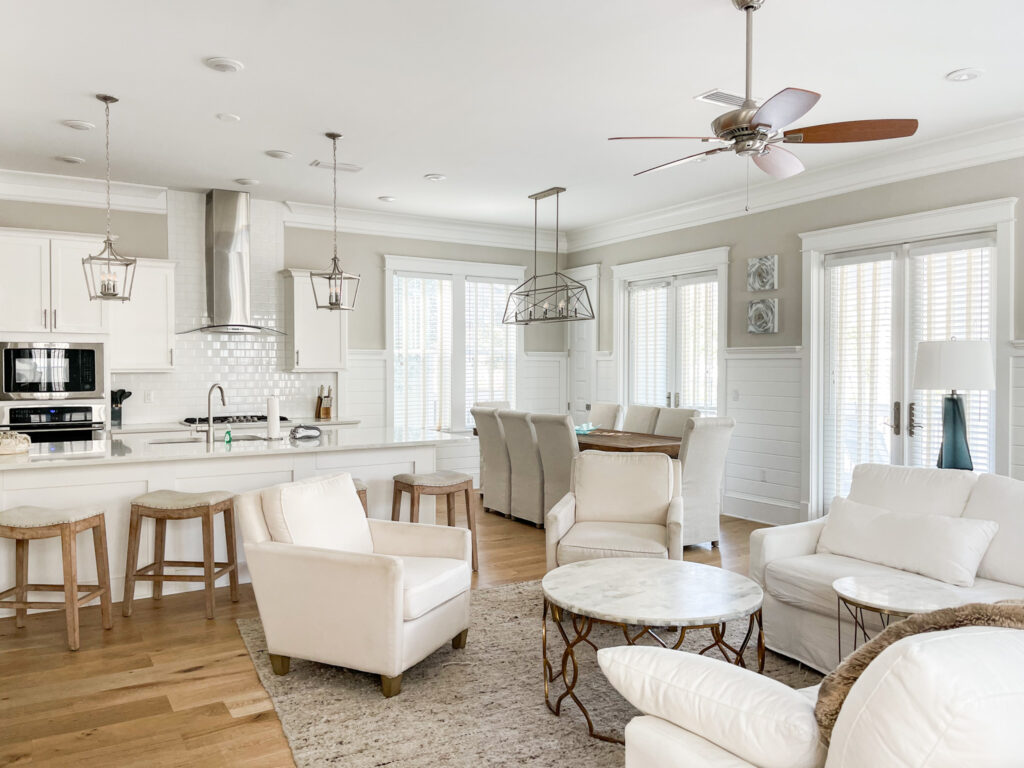 Here's a look at one of the upstairs bedrooms. It's essentially a second master suite with a full en suite bathroom which makes the home perfect for multiple families!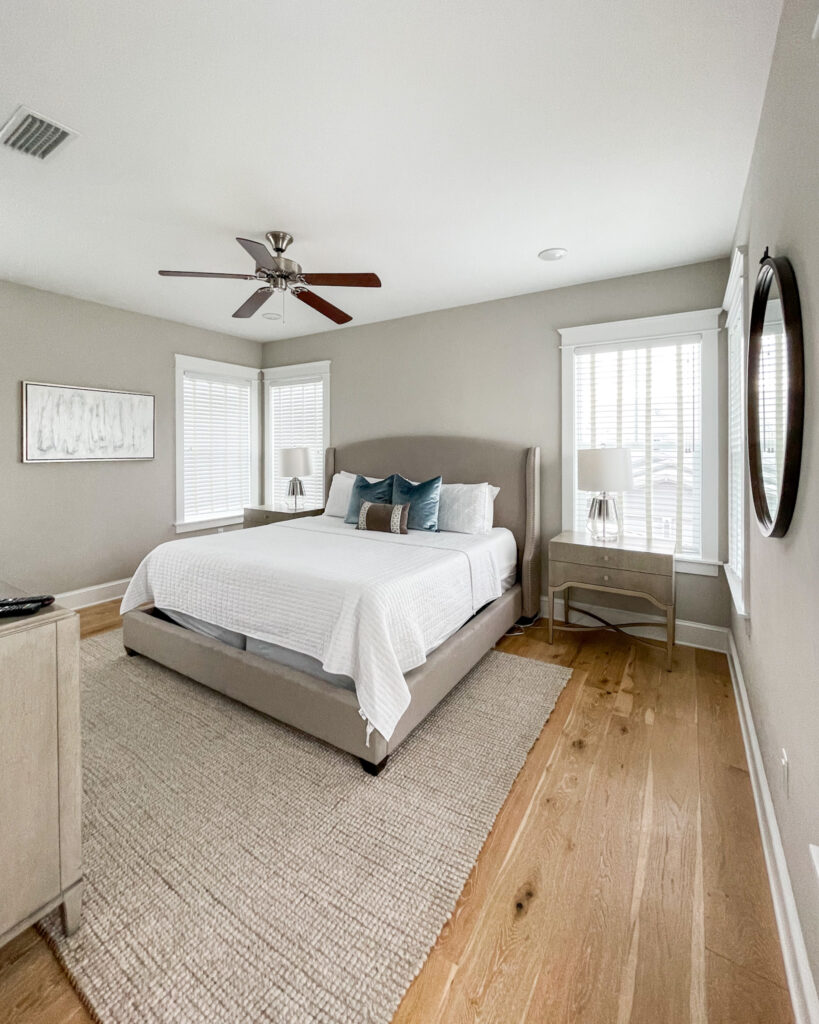 This particular bedroom also has a daybed with a trundle on the opposite wall, along with an en-suite bathroom. All of the bedrooms are nicely equipped, but again, I want to put my own little decor spin on it. Possibly even having some fun with paint or wall treatments.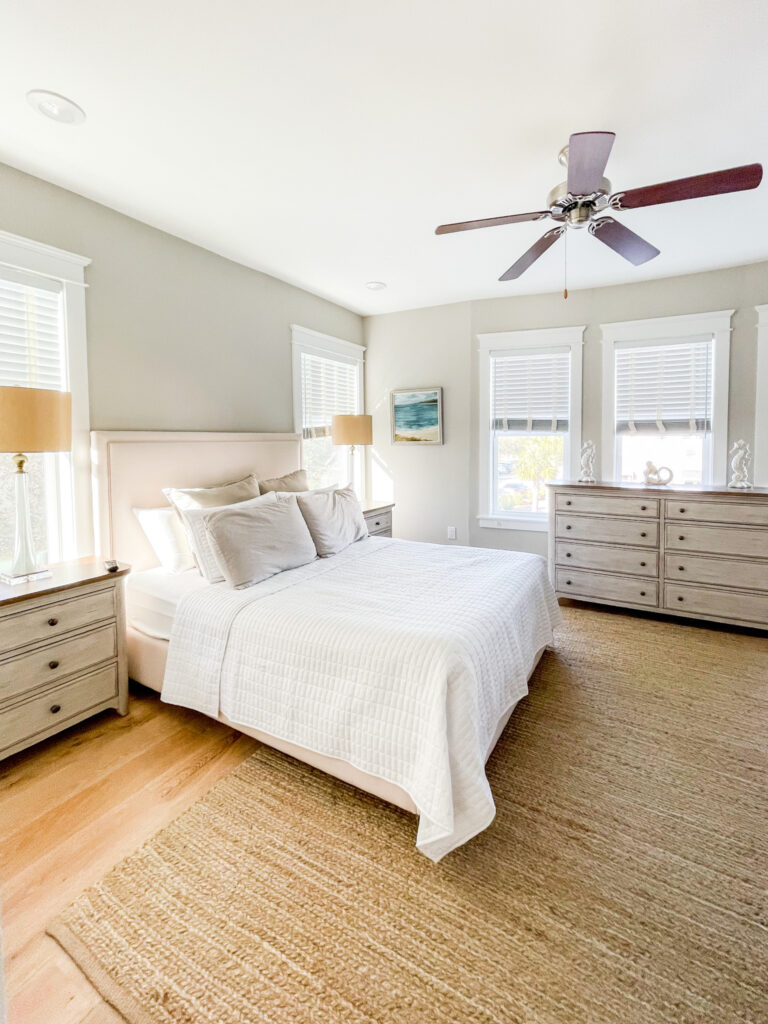 It has the cutest front porch that is perfect for a morning cup of coffee!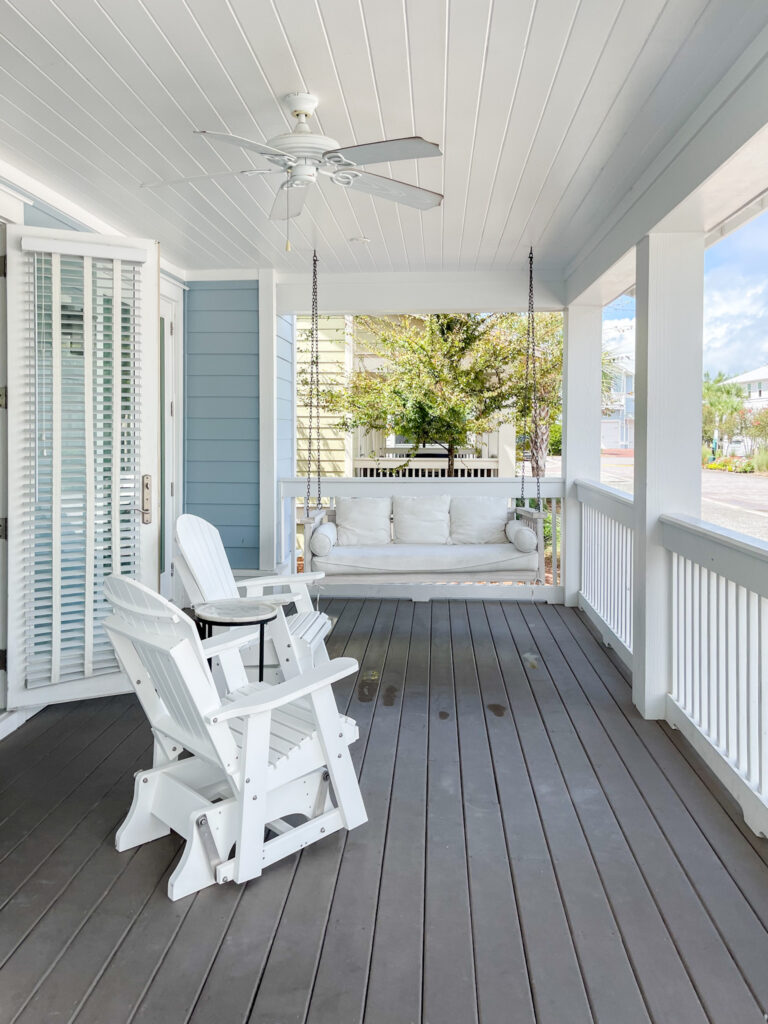 Fun fact: Kurtis made a goal in 2021 to buy a golf cart with the income he made from a little side-hustle he was doing. Turns out, his goal came to fruition. He just didn't realize it required buying a house too 😉 This was him back in September, before we actually even considered buying the house! He was just a happy renter with the brand new golf cart!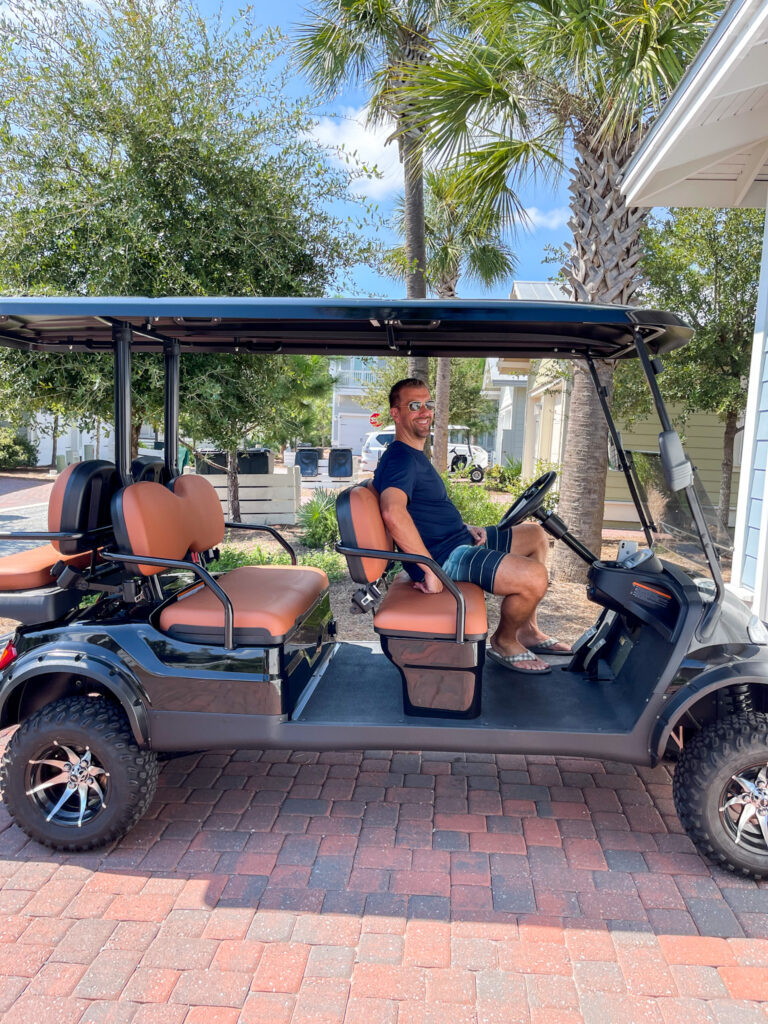 Once I officially finalize some of the design plans, I'll be sure to share them. As I mentioned, the home is already so beautiful, we're just looking to do a few minor upgrades and "Life On Virginia Street"-ify all of the decor! We're planning to head down late this winter or early spring for a few weeks to do some maintenance like adding some fresh paint, doing a few minor repairs, and replacing some of the furniture. Since we still love Omaha in the warmer months, we plan to personally use the house (and use the time for updates) only in the off-season. It's the best of both worlds!
I also plan to begin working on a 30A travel guide with all of our favorite spots. I'll feel much more equipped to finalize it once we get down there again later this year! But know that it's coming and I'll have it ready before the busy season starts!
So, for all you Airbnb/VRBO/short-term rental pros out there, I'd love your advice on what you look for when renting a property. What are must-haves and nice-to-haves? For the most part, it's already fully stocked, but I'd love to hear of any "extras" that make you want to rent from a home again. Give me all your thoughts!
And, if you've ever considered a trip to 30A, we'd love to host you! We're excited to take you along with us on this journey!
More on Hola Beaches
If you would like to follow along on more of my home decor, DIY, lifestyle, travel and other posts, I'd love to have you follow me on the below platforms: