Sharing all the details on our painted Benjamin Moore White Dove house exterior reveal!

The day has finally come to reveal our stylish white painted house!
Our House Before the White Paint
But first, a little background. Last spring, our roof and gutters were totaled in a hail storm. Because of the damage city-wide, ours wasn't replaced until this spring. I had a painter at our house bidding another project and asked him to look over our exterior for a bid. Our home is now ten years old and it turns out it was probably a few years past due for new caulking and paint. So, we decided to get it completed while we were already in the mess of other projects! Be sure to also check out my posts on white houses with black window trim and the best exterior white paint colors for more background on and inspiration for this project!
Here's how the exterior of our home looked when we first saw the house nearly six years ago. It's the best image I have since the trees were starting to lose their leaves and you can actually see some of the details on the house.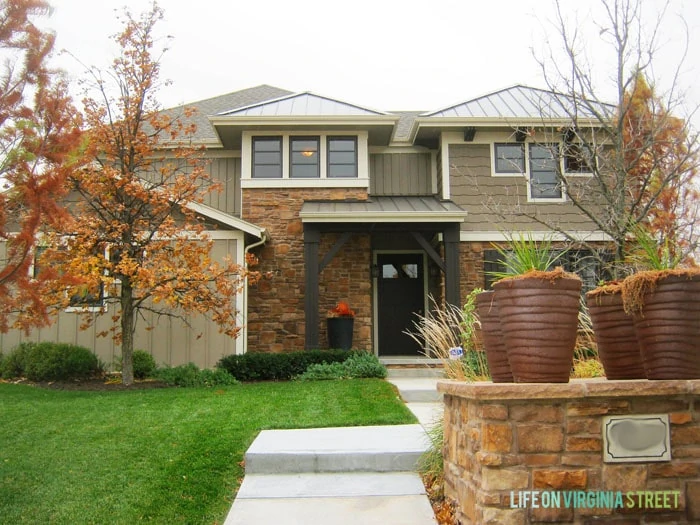 And here's how our home looks now from the street view! We ultimately selected Benjamin Moore White Dove for a few reasons that I'll get into a bit further below. If you're local in Omaha and need a painter, we can't say enough good things about Ben from Nelson Brothers Painting. He also stained our fence and has done work at our rental houses!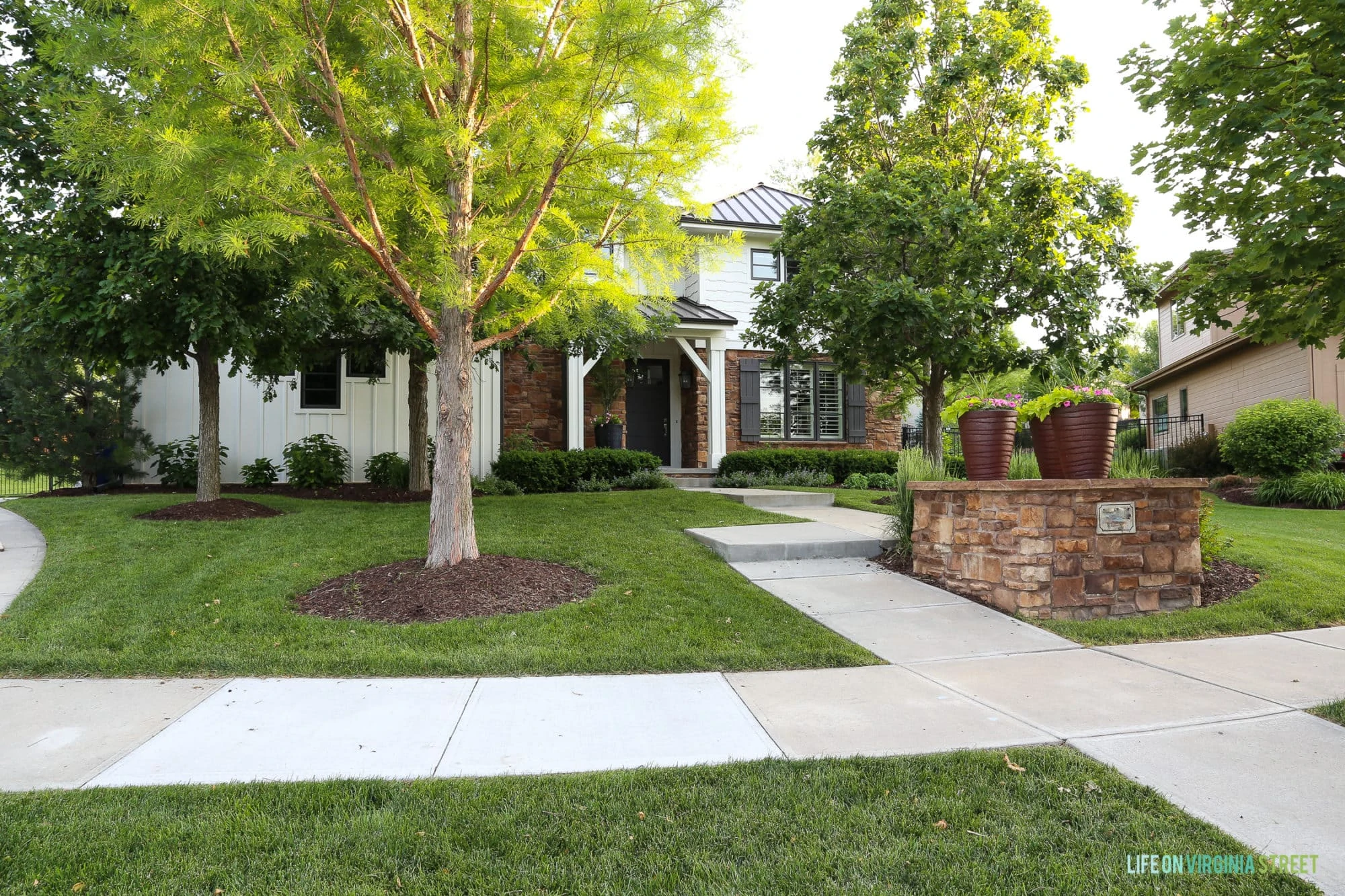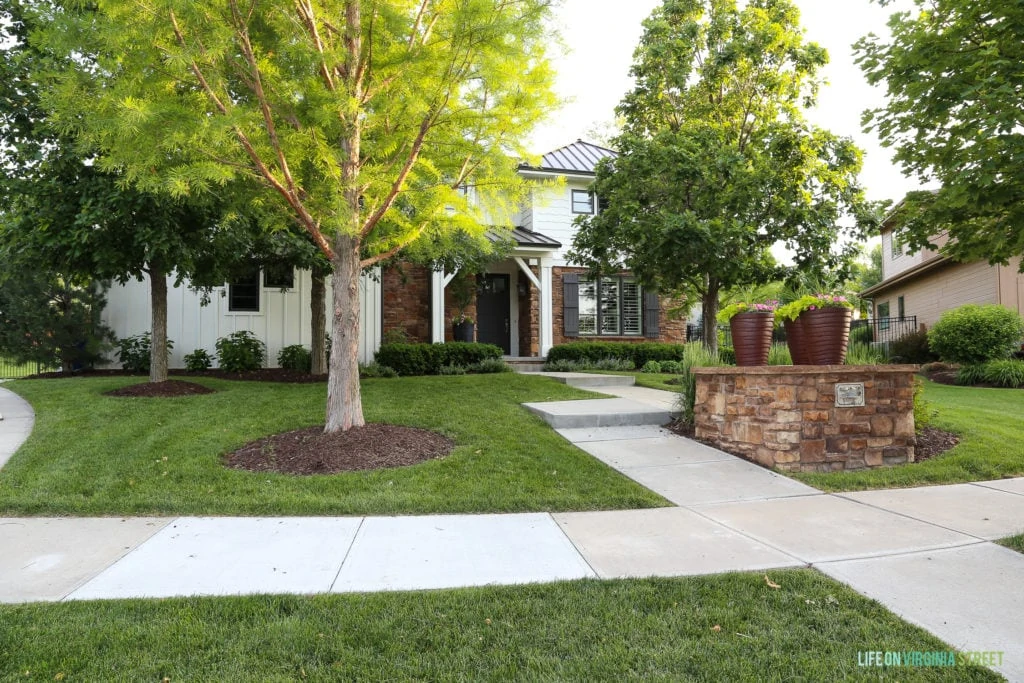 I know once of the biggest discussion points was if we should paint the stone or not, and if we should paint the shake shingles and board and batten a different color. We opted not to paint the stone (since it wasn't originally bid) and decided to give it a year to see if we still wanted to update it. I was worried the white paint would make me hate the stone even more. But surprisingly, I'm really liking the contrast now! It also helps our home to blend a bit more with our surroundings from the street side, since nearly every home in our neighborhood is a shade of brown or gray.
Benjamin Moore White Dove Paint
After advice from a lot of you, we opted to paint all the wood details the same color (Benjamin Moore White Dove), rather than painting two colors like it was before. Since there are so many different textured surfaces on the front of our home (asphalt shingles, metal roof, stone, two sizes of board and batten, and shake shingles), we decided that was the best route. And we love it!
Since we opted to keep the stone as is, the White Dove was warm enough that it didn't look "off" with the orange and brown stones". It's a warmer white with yellow undertones but definitely still reads white on our home. One of the downsides of a white home is that you have to take photos at dusk if you don't want to have crazy shadows or blown-out photos. So, keep in mind these were all take around 8:30 pm when the sun was casting a warm glow as it was setting. Even then, I still love the color!
This post contains affiliate links for your shopping convenience. Click here to read my full disclosure policy.
With the updates, I bought our first new doormat since we moved in five and a half years ago! I was actually excited to update this space again! And I love how much brighter our porch looks now! We've had these outdoor lanterns for a few years now and still love.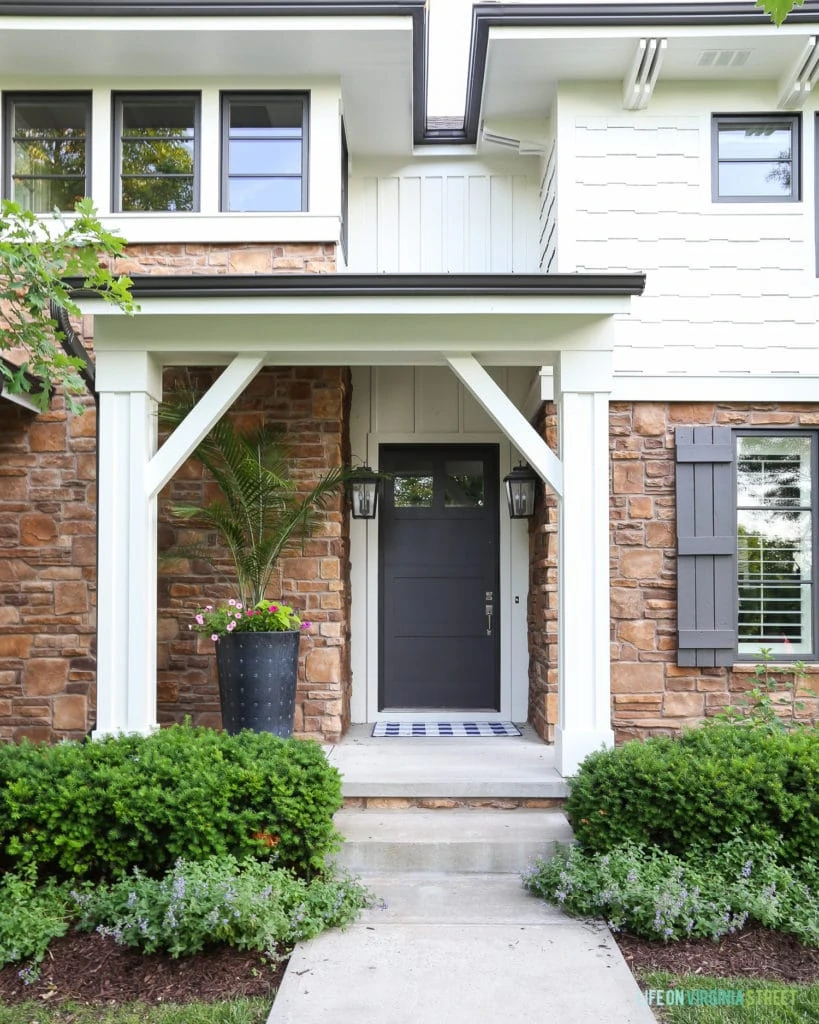 I love seeing the varying board and batten widths and the shake shingle textures all the same color of white now. I had the shutters, front door, and garage doors all painted Benjamin Moore Iron Mountain – which is one of those colors that looks brown at times and gray at others. They're a near perfect match for our window trim so it all flows well. You'll notice we opted to go with a contrasting bronze gutter system to coordinate with the windows as well.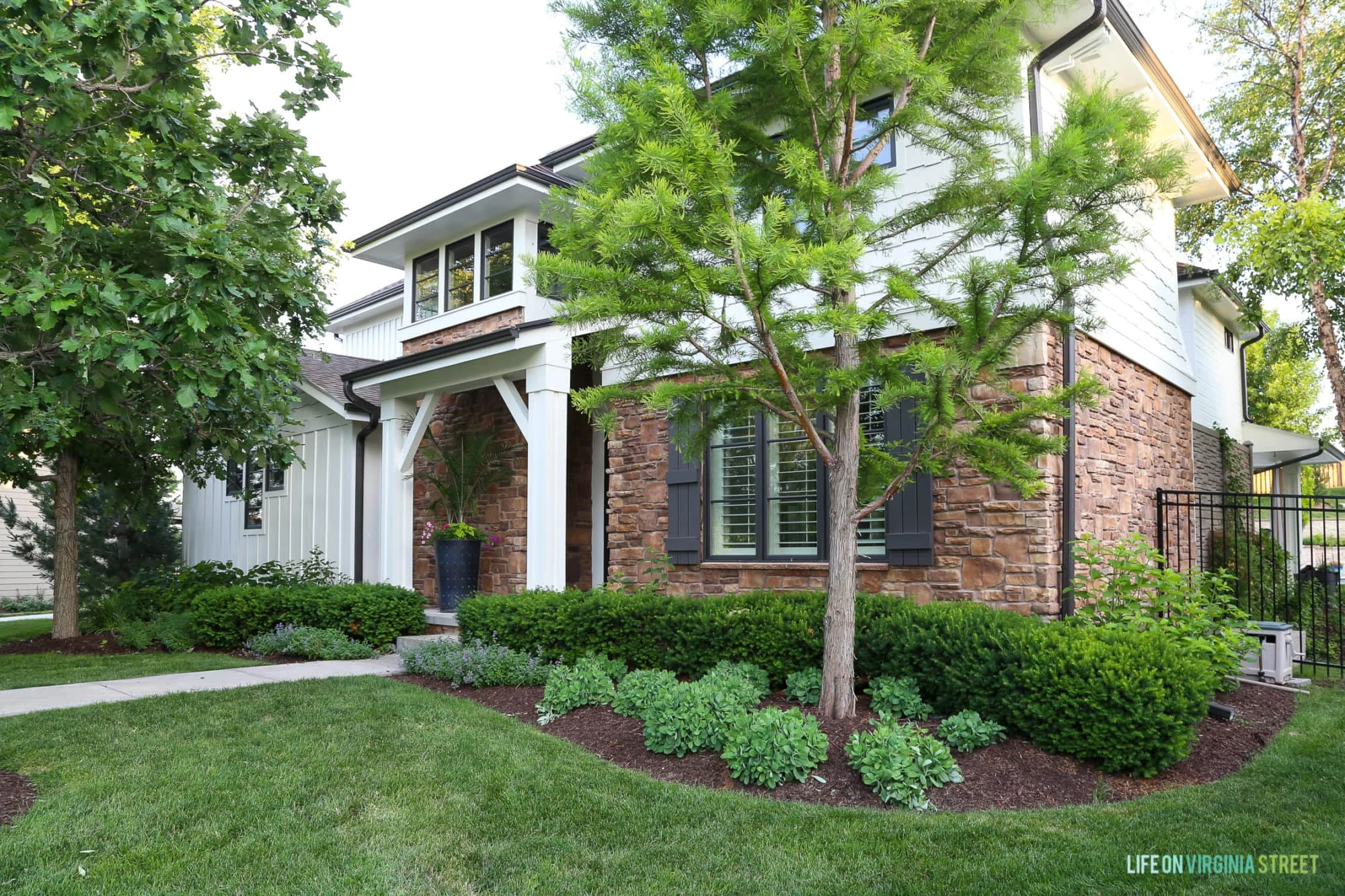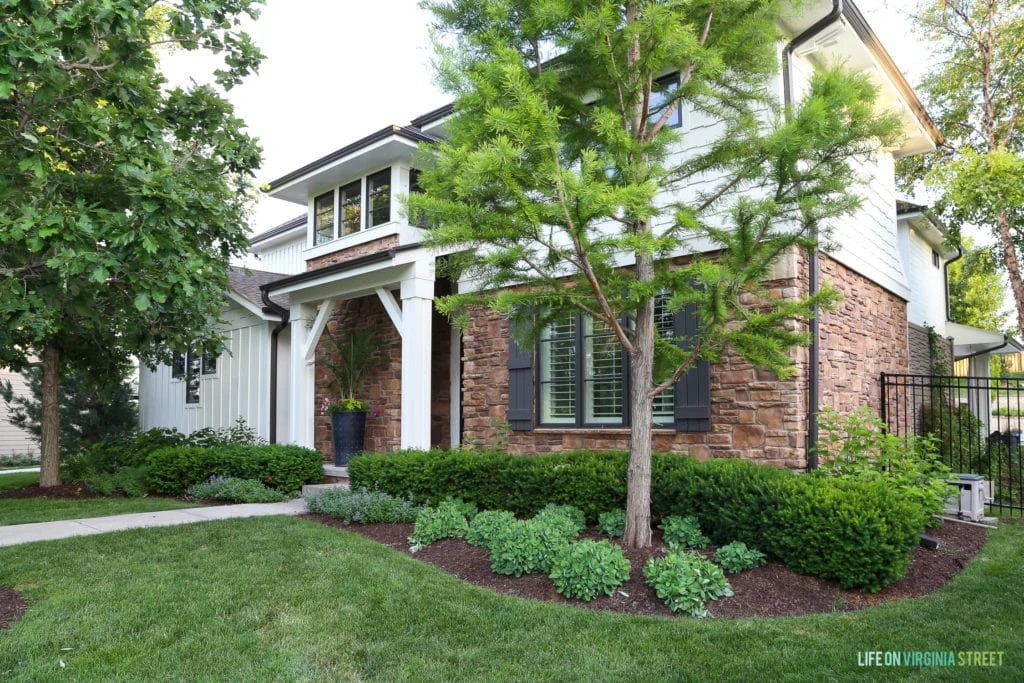 The garage doors were previously very bleached from the sun and constantly looked dirty. This view is one of my favorites of the makeover! I just love the board and batten and window trims. I can't wait until there is a large window soon above our air conditioners that we'll be adding to the kitchen! This view will get even better!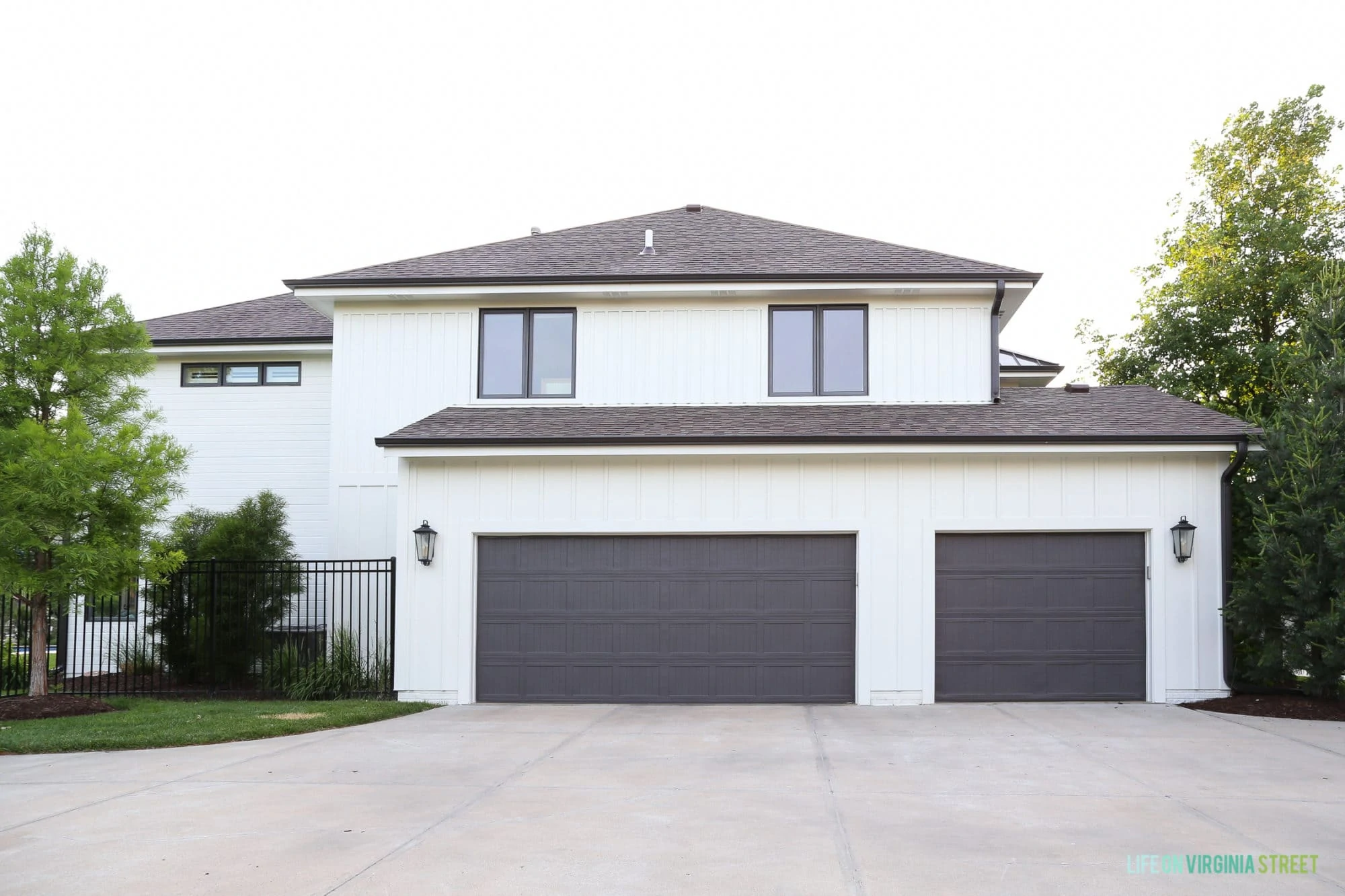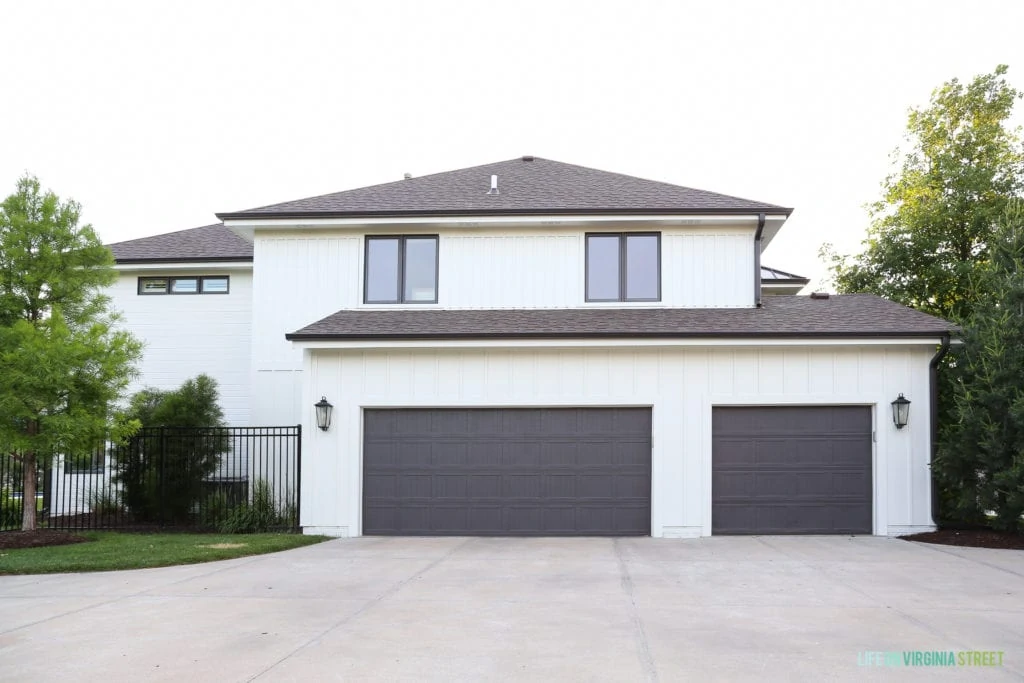 This close-up shows more of the details. The outdoor lanterns on this side of the house were from Lowe's a few years ago (but I think they still carry them in stores).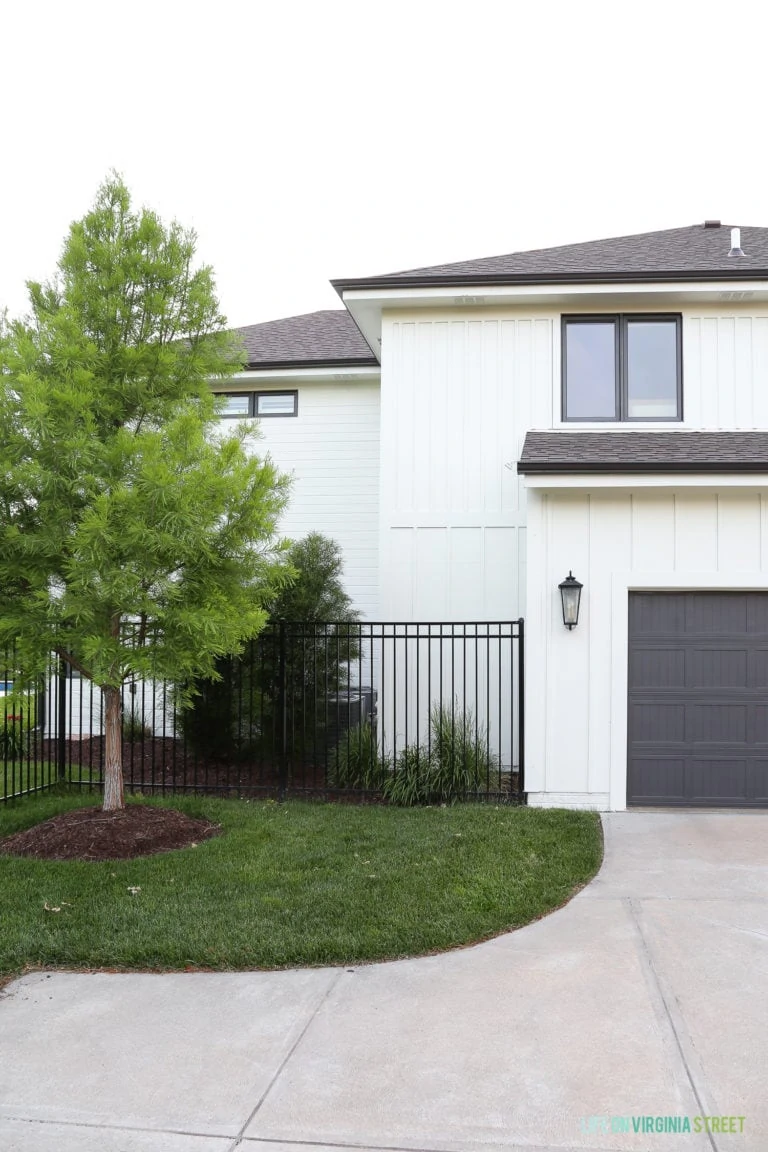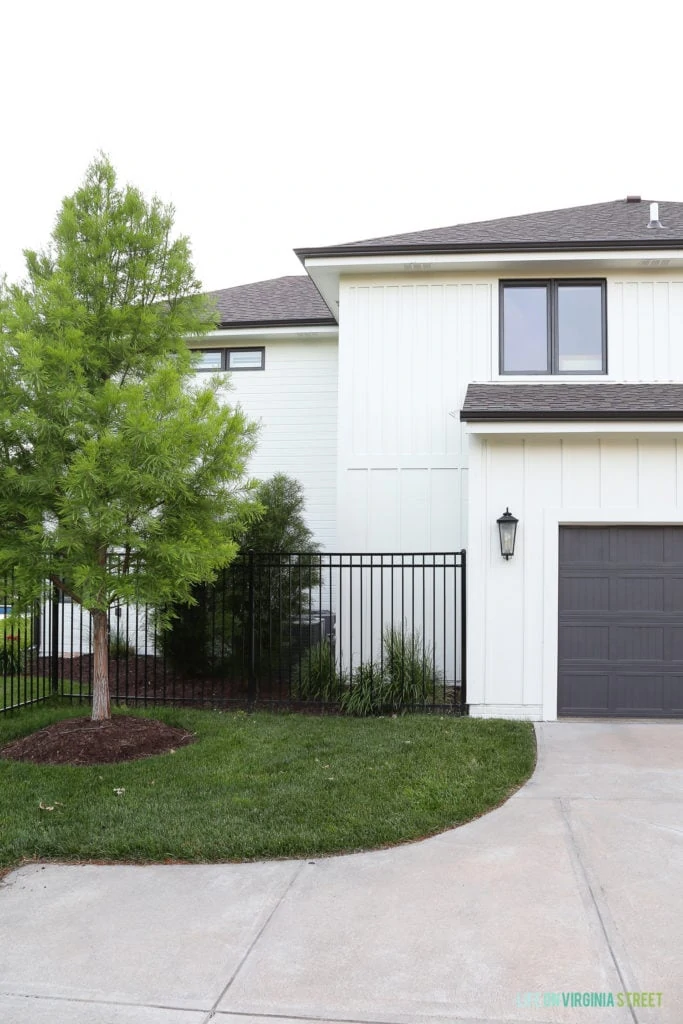 This is the view into the courtyard from my office now. It's really amazing here how much the white brightens up all the surrounding interior rooms (office, hallways and dining room). Also, lets pretend you don't see a paper towel fort in the dining room 😉 We were emptying our kitchen last night when I took this photo. I may have to replace the striped rug soon, as it received some damage from the roof project. Our firepit set was from Costco a few years ago, and you can find the outdoor pillows here.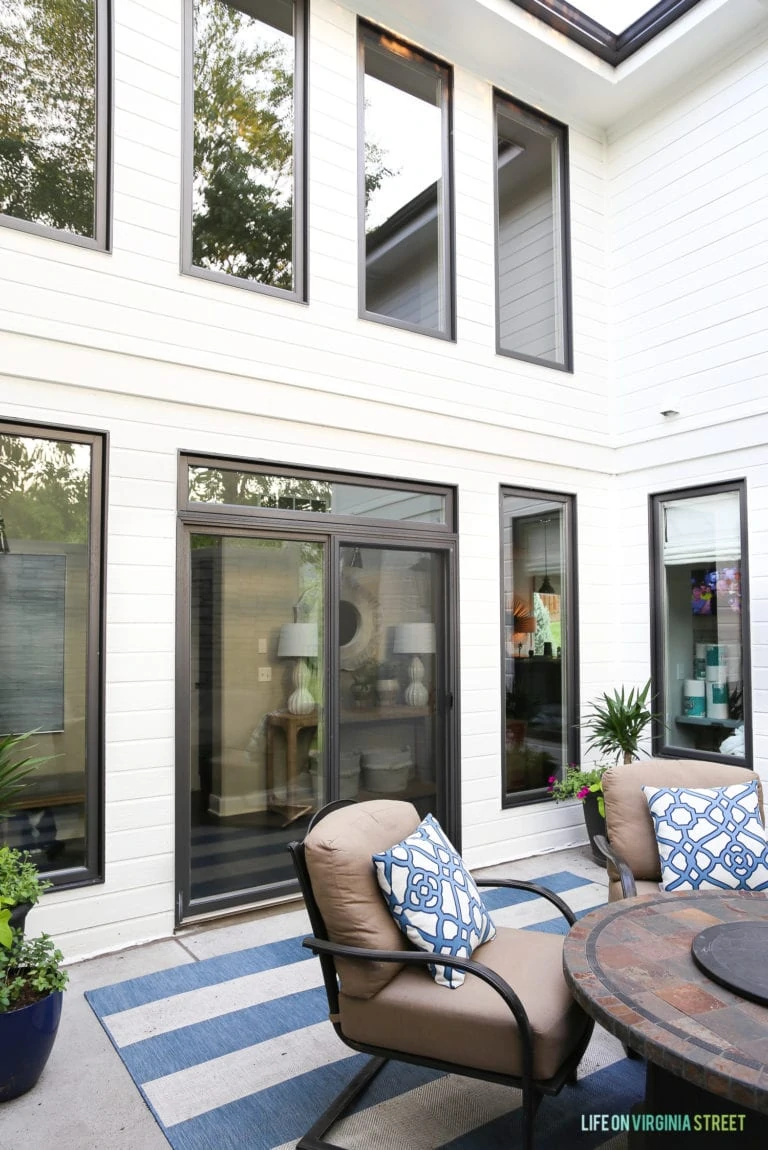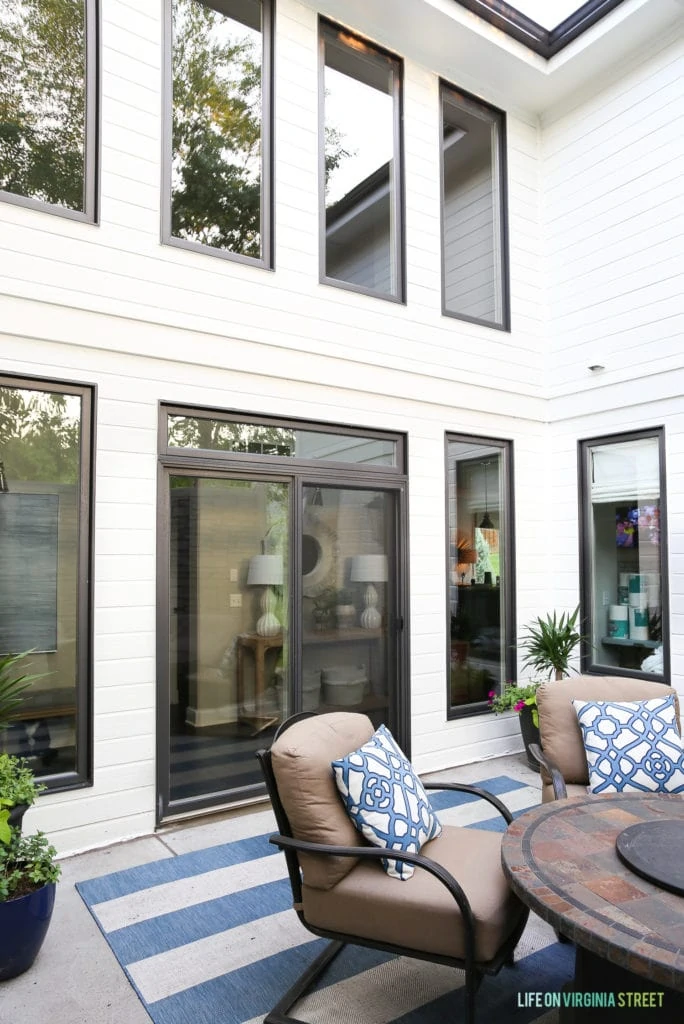 Moving out to the backyard. This was the area I was concerned would get too bright if we went with a true white. The backyard faces south and in the summer months is in the sun non-stop. Pair that with our light concrete travertine-like pavers and I didn't want a total white out. But I feel like the White Dove works perfectly back here since it's a warmer white.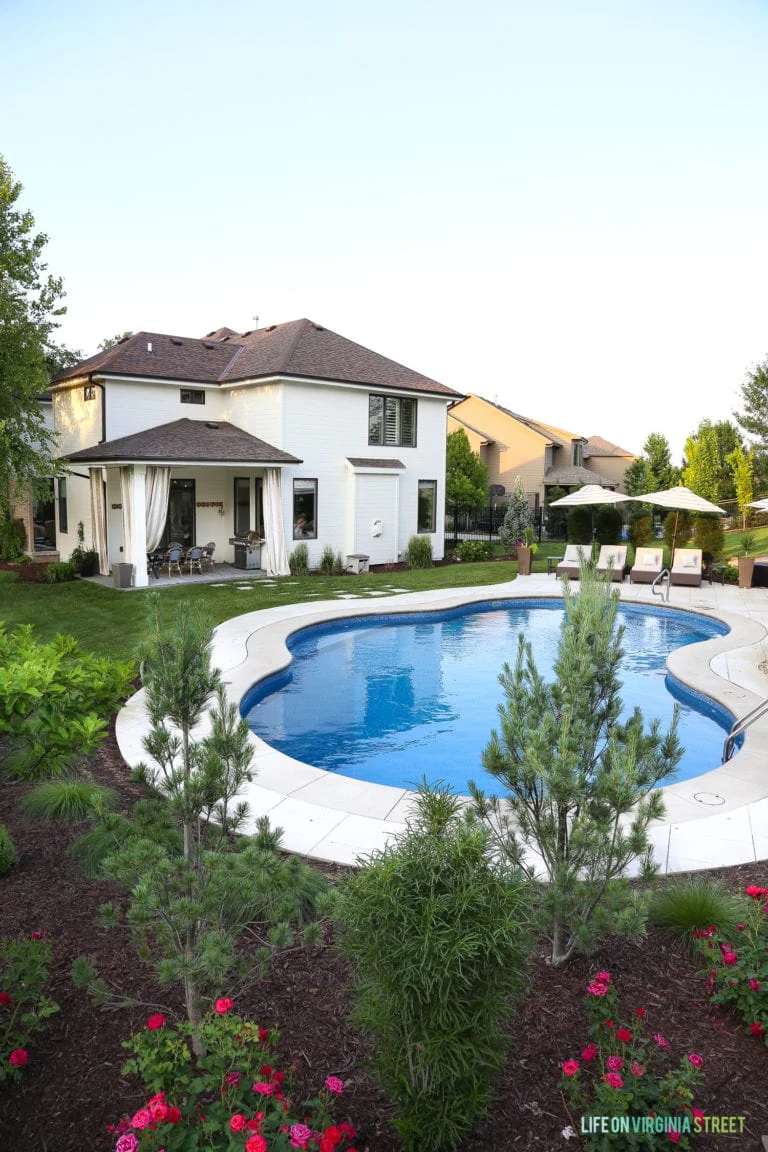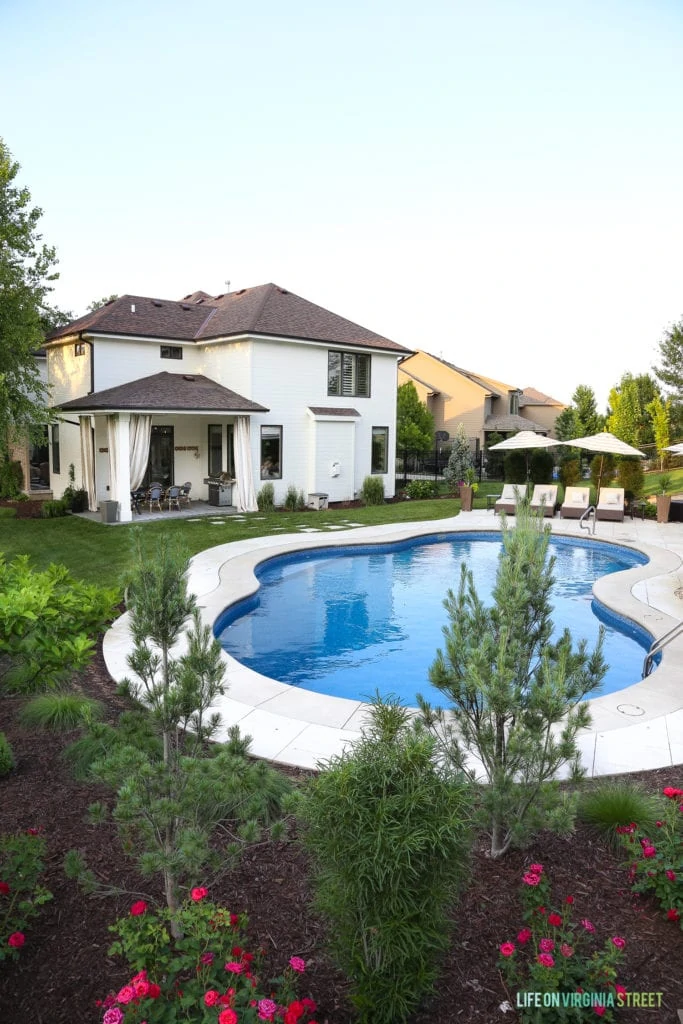 Here was the view from the top of our hill shortly after we moved in five and a half years ago.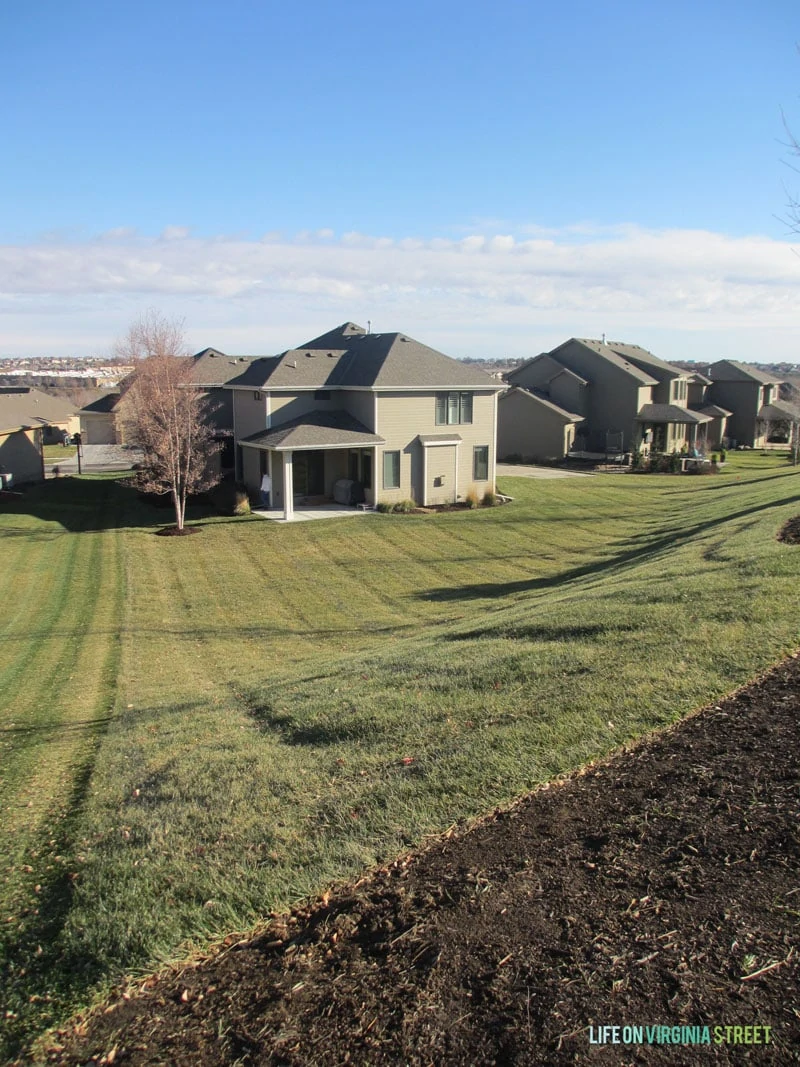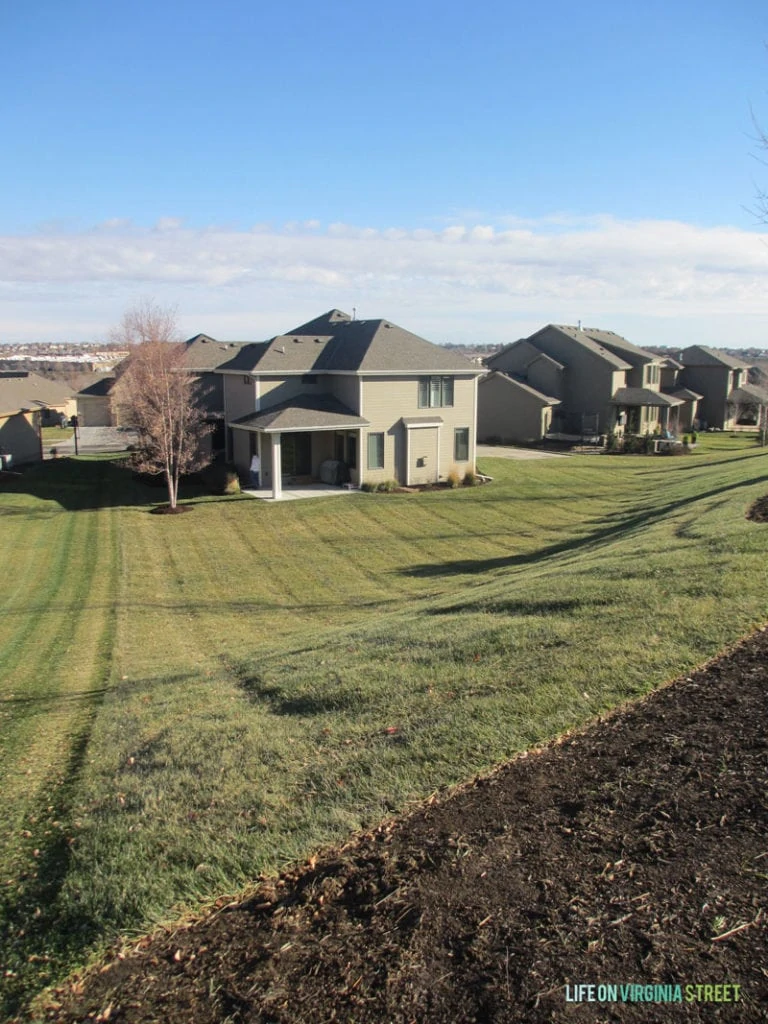 And here's how it looks now from the same spot!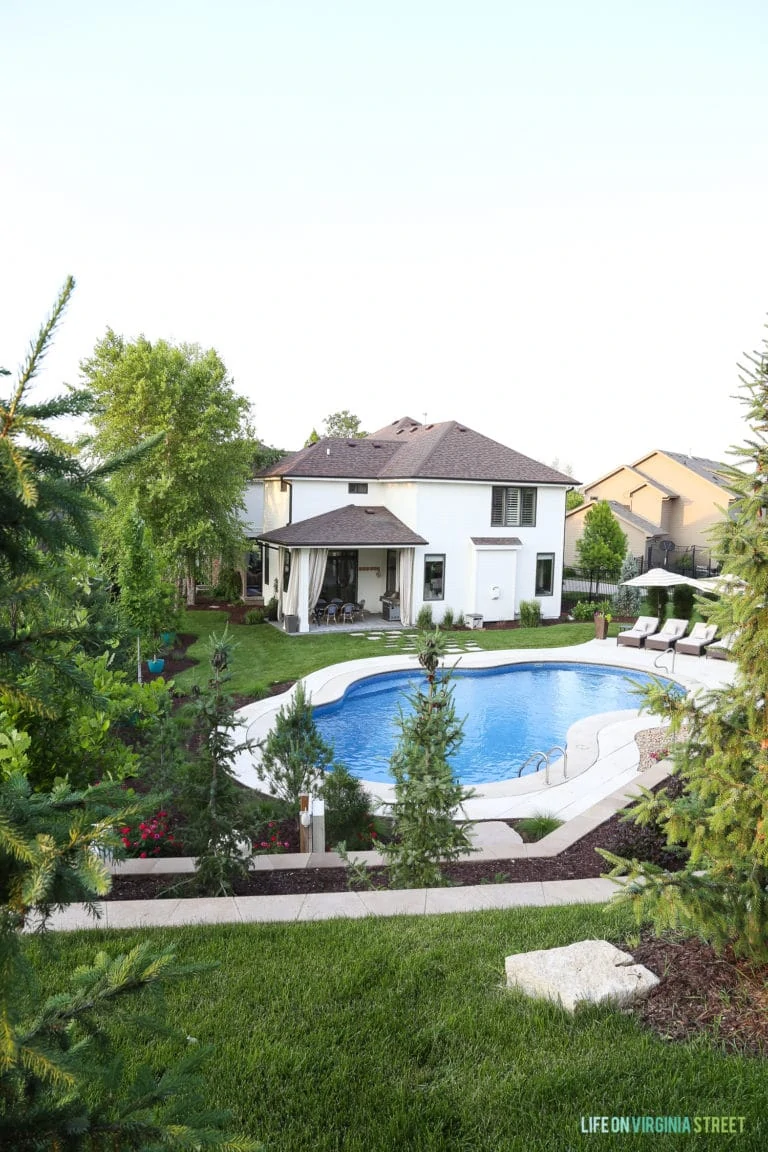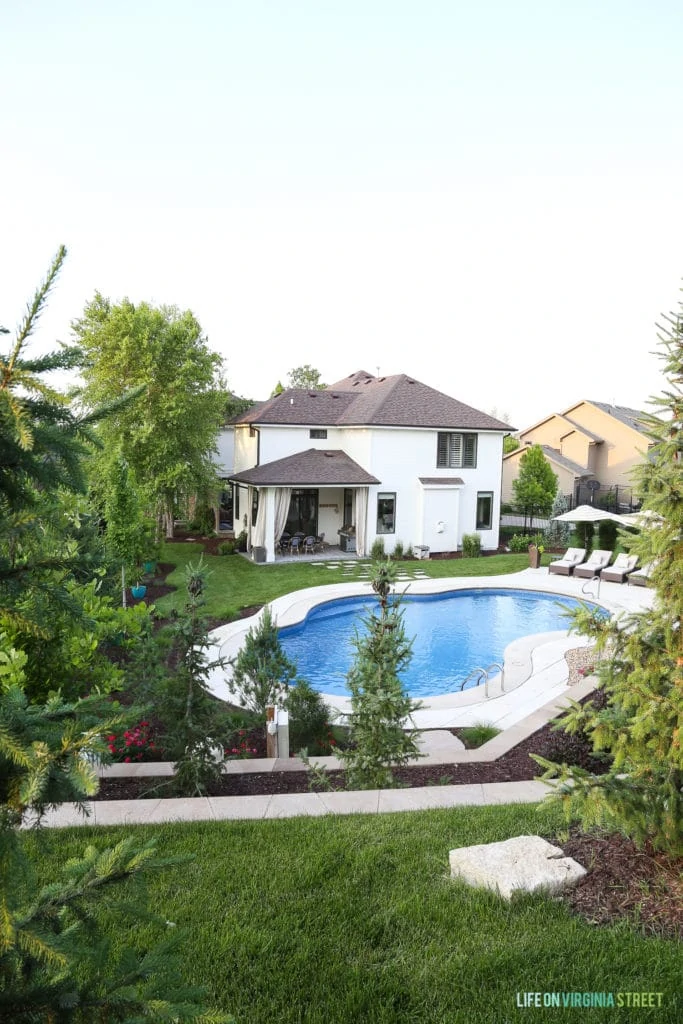 Given that White Dove can tend to have warm yellow undertones, I wanted to ensure that it wasn't too yellow as the sun began to set each night. My samples definitely showed a yellow undertone, but nothing that bothered me. This picture was taken around 8:30 pm when the sun was starting to set. And although you can see the warmer undertones, much of that is from the sun. I actually love the warm glow!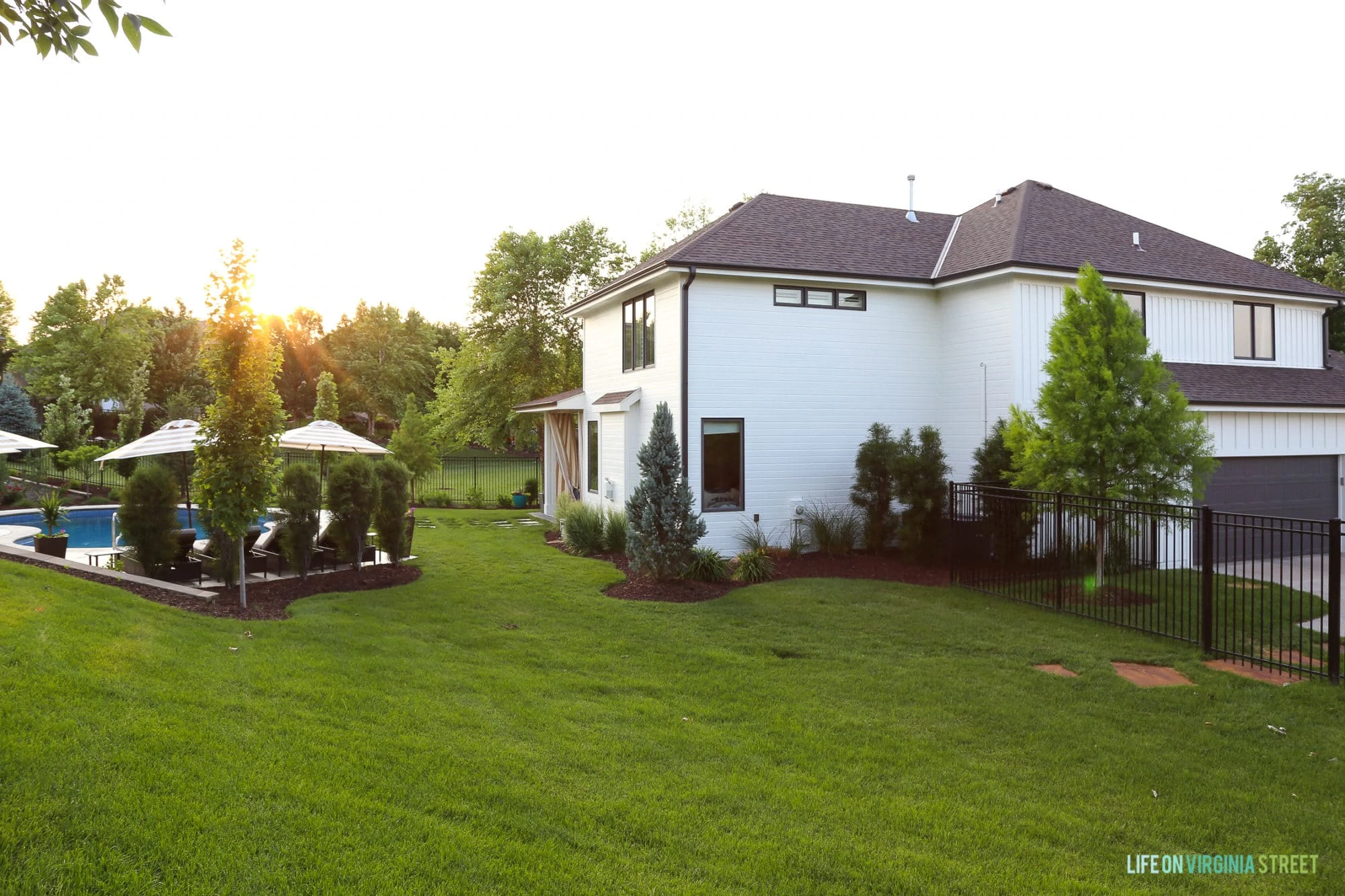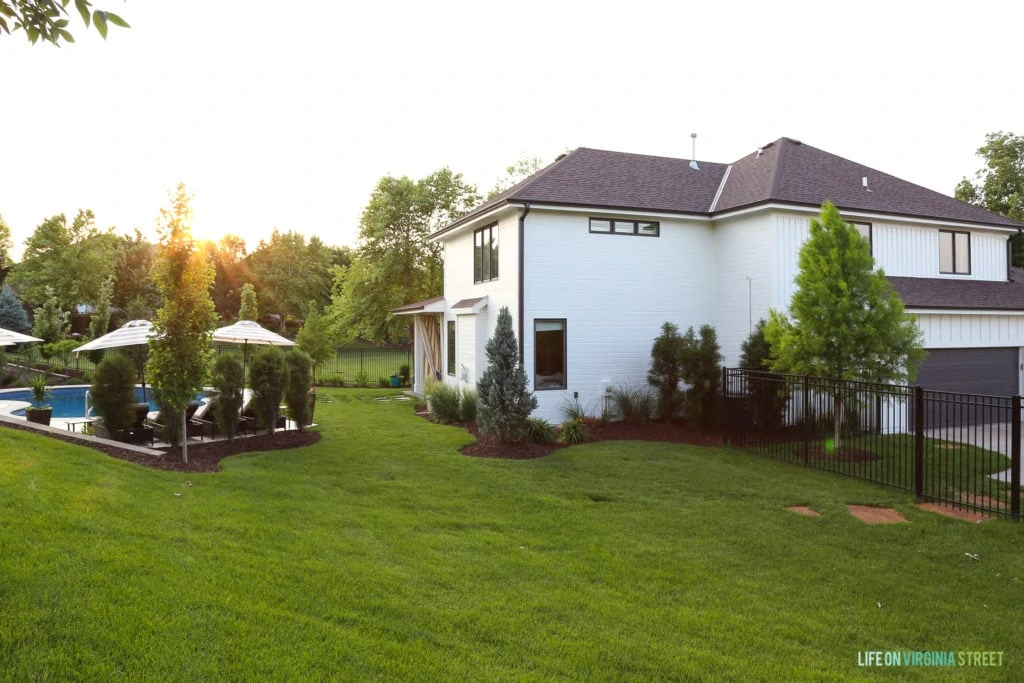 I hope you enjoyed this our Benjamin Moore White Dove house exterior reveal! If you have any questions about any of the details or anything I missed, feel free to comment and I'll get back as soon as possible. Thanks for following along on this journey!
If you would like to follow along on more of my home decor, DIY, lifestyle, travel and other posts, I'd love to have you follow me on any of the following:
Pinterest | Instagram | Facebook | Twitter
disclosure: some affiliate links used