Welcome to our 2021 fall home tour! Most bloggers likely already have a Christmas tree or two up, but I was still scrambling up until yesterday to get the remnants of summer taken down. I'm feeling a little bit behind on everything right now, but I'm excited to share today's tour with you! It's a bit smaller of a tour than I've done in years past, but I hope you enjoy getting this glimpse of our home in the fall months!
Let's jump into the tour! After each of the room tours, I'll share sources for everything before moving on to the next space. If there's anything I missed, feel free to let me know. With the exception of some of my faux greenery, I prefer to add fall touches through textures and colors, rather than items that scream fall.
This post contains affiliate links for your shopping convenience. You can read my full disclosure policy here.
As you come in the front door, one of the biggest changes is our new carpet! It has changed the vibe so much in each of our spaces and I couldn't be happier with it! We went with Shaw's Natural Boucle in the Beach color and I love how it looks more like a sisal rug than actual carpet. I also swapped out the rug for this plaid rug we've had for years now. I love how it helps tie into the colors you can see in the office!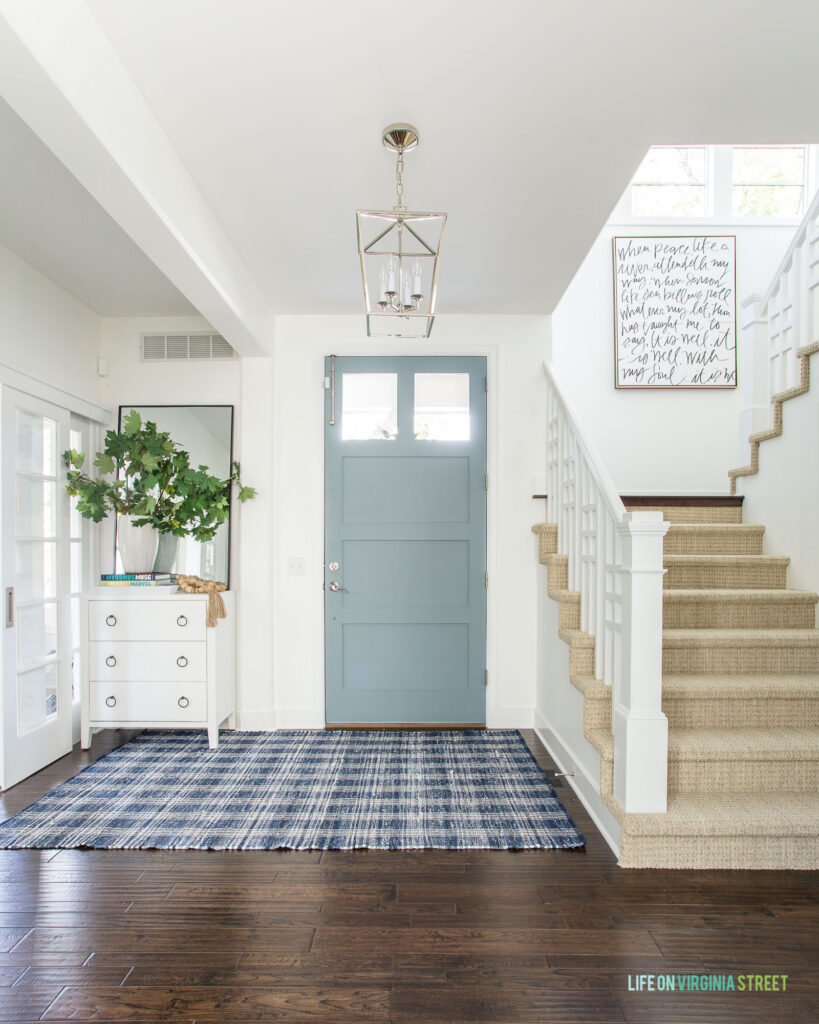 I didn't decorate the office for fall (and could barely get this little glimpse of it presentable enough for a photo). Haha! But, if you look closely, you can see Bailey sleeping soundly on her favorite floor cushion!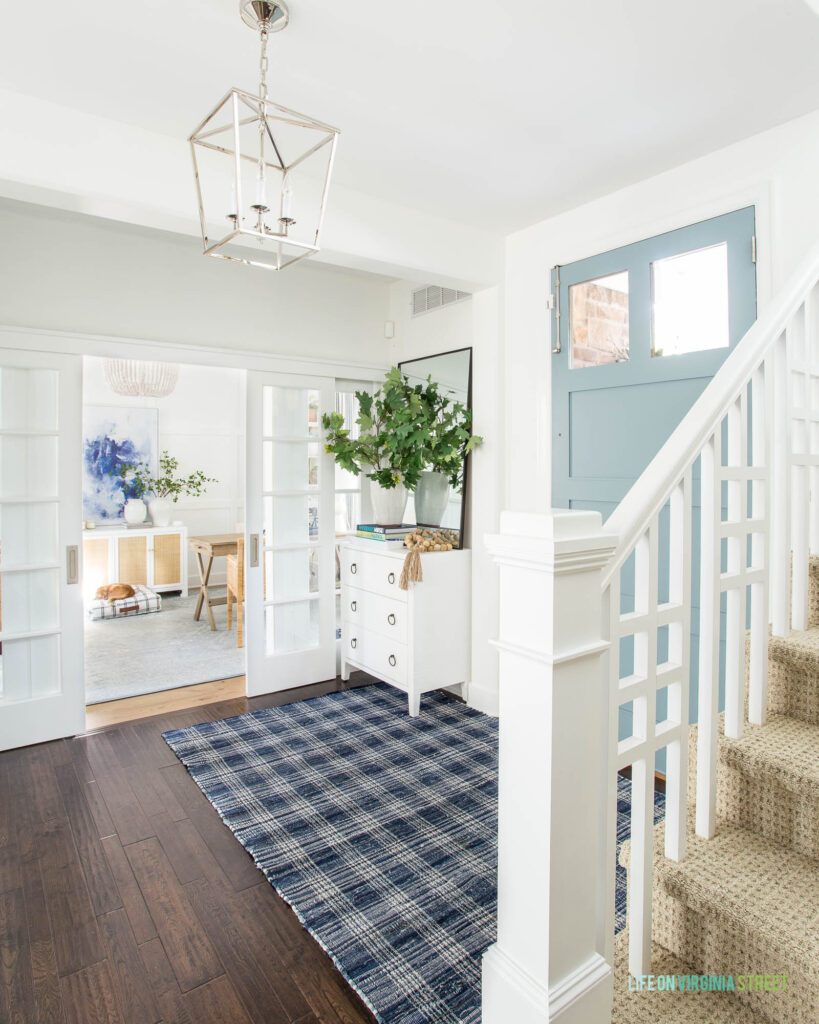 FALL ENTRYWAY SOURCES: White Raffia Cabinet (also here) | Tall Black Framed Mirror | Plaid Rug | Lantern Pendant Light | "It Is Well" Canvas Art | Wood Bead Garland
FALL HOME OFFICE SOURCES: Indigo Abstract Art | Cane Cabinet | Faux Greenery | Plaid Floor Cushion | Rug | Wood Desk | White Bead Chandelier | Rattan Chair
It's been a few years since I've hung our Doxology canvas, so it felt like a brand new item when I brought it out last week! I absolutely love how it looks here in the fall months!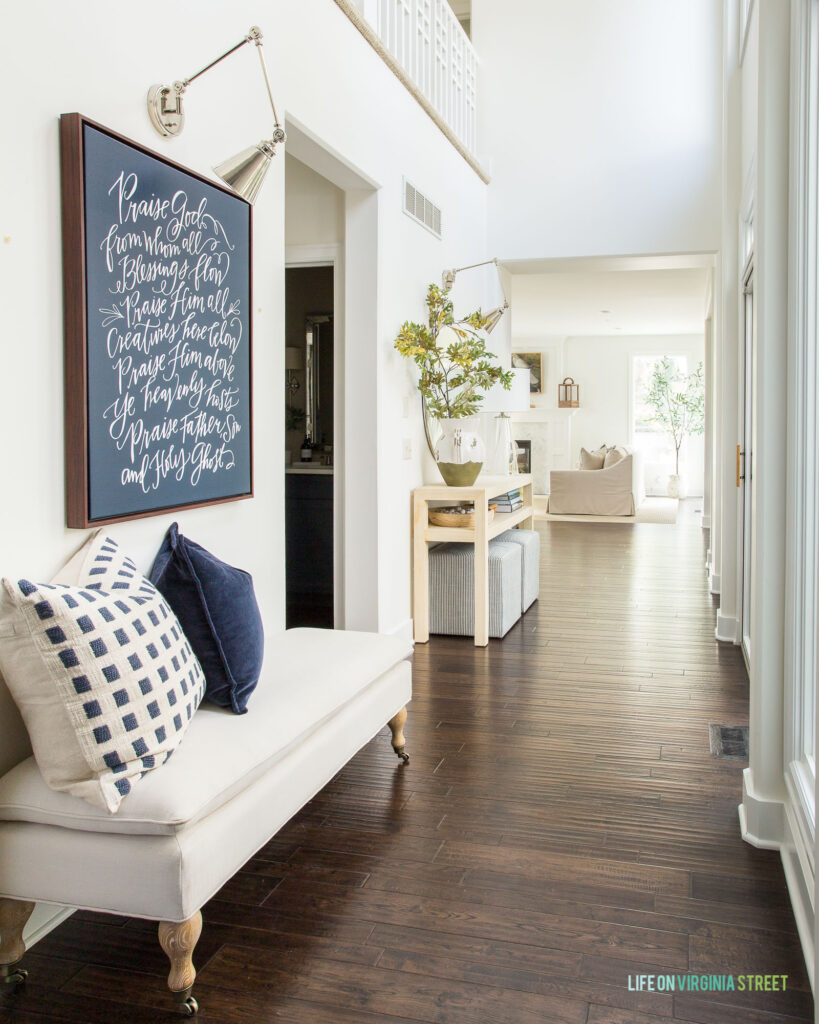 You'll see these Faux Oak Leaves in several rooms. When the branches arrived (this is only one) they were literally taller than me. I had to do some special magic bending to get them to fit in any of my vases! But they are so beautiful and natural looking in real life so it was totally worth the effort!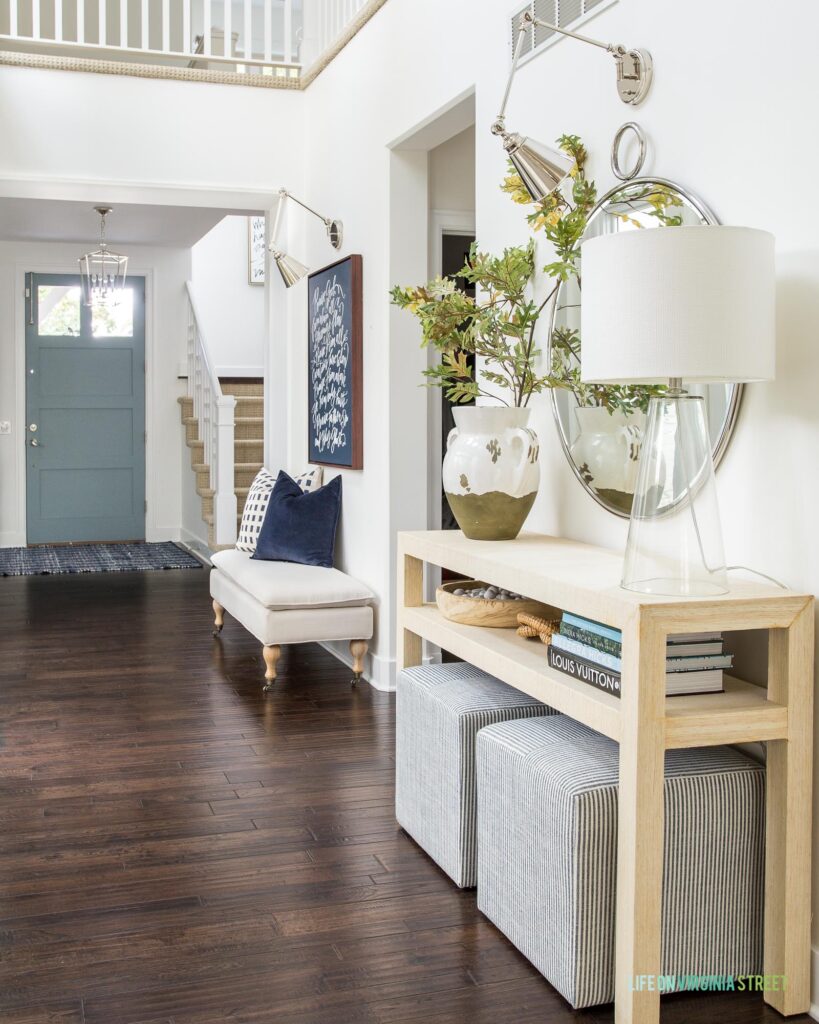 FALL ENTRYWAY HALLWAY SOURCES: Doxology Canvas | Pillowtop Bench | Grid Pillow (similar here) | Velvet Pillow (similar here) | Swing Arm Sconce Lights | Console Table | Terra Cotta Vase | Faux Oak Leaves (one stem) | Similar Mirror | Lamp | Striped Ottoman Cubes | Similar Wood Bowl
Moving down the hallway is our kitchen and living room! Here you can better see the location of the kitchen in relation to the hallway. I kept the decor even more simple in here than normal. With all the construction chaos just around the corner, it's nice to have one space that feels mostly clean!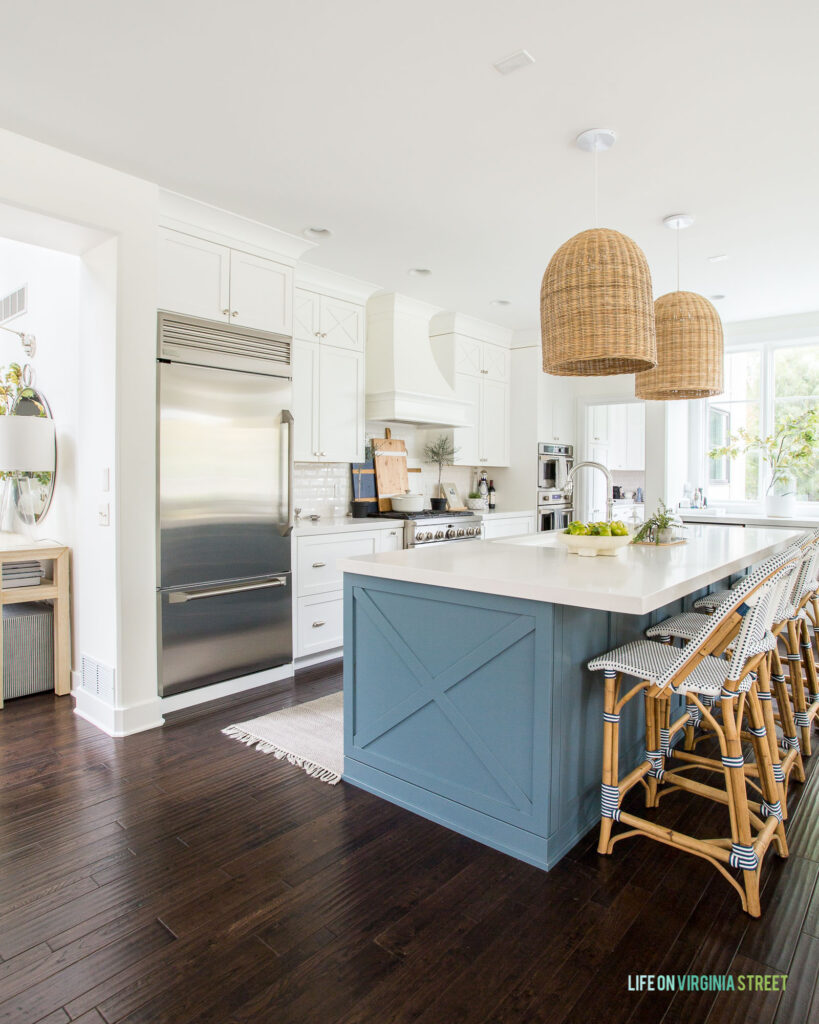 These faux Thyme Topiaries usually live over by the window, but since they're so wispy, they're hard to get to show up well in photos. But I actually love them over by the range now! They just have to be moved each time we cook.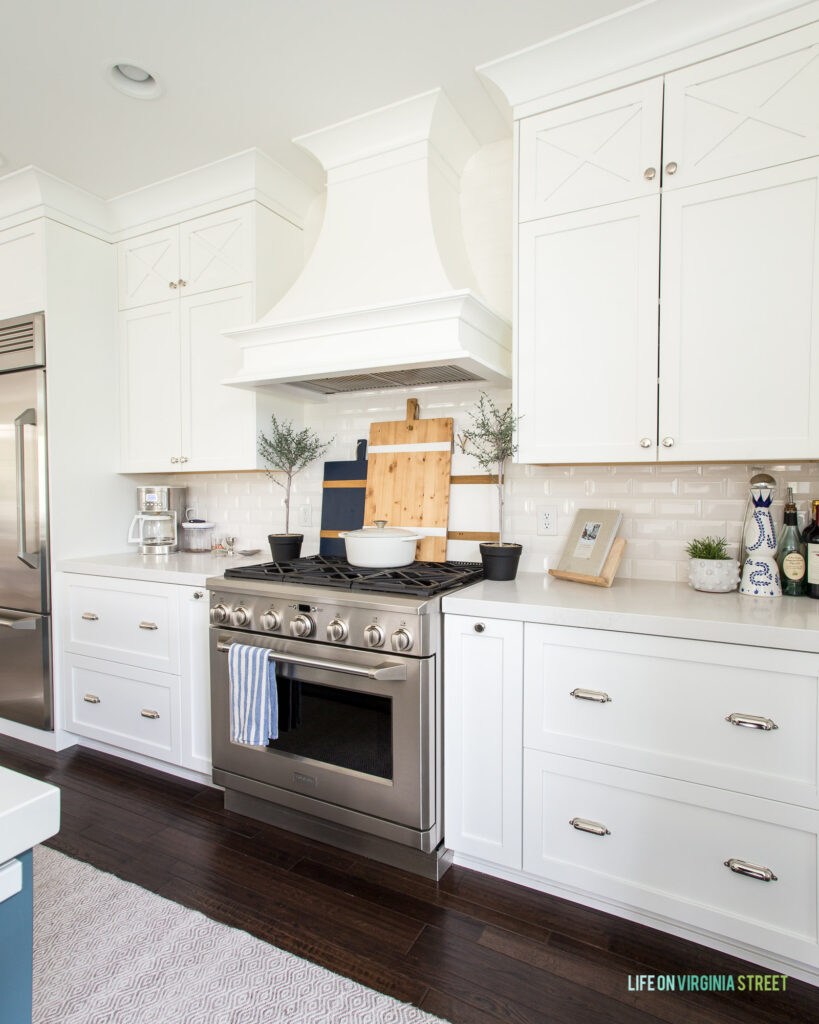 I swapped out my light blue wood board for this navy blue version and love the simple change for the fall months! Just go ahead an ignore the glass full of Bailey's insulin syringes I accidentally left out on the counter. Haha! Real life creeping in.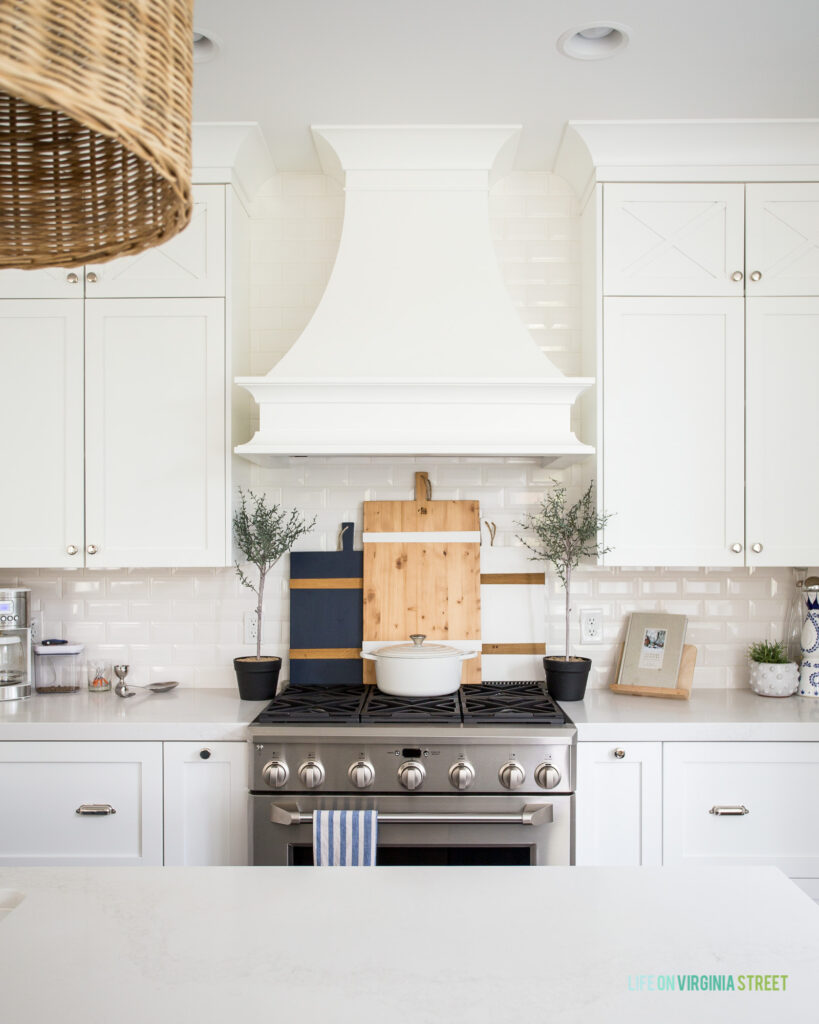 And here you can see how our kitchen backs up to our living room. I love how the view evolves almost daily out our large window in our kitchen. It's fun to watching the changing colors and I still couldn't be happier that we added the window during our kitchen renovation a few years back!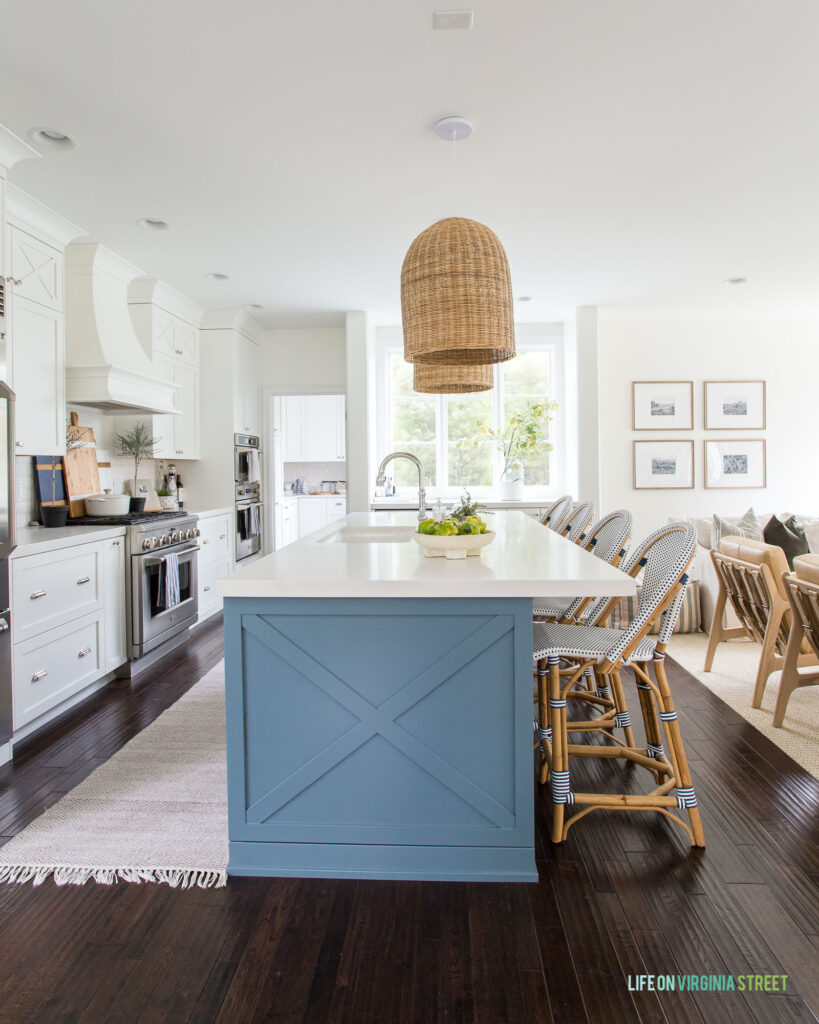 Our island color (BM Providence Blue) continues to be a chameleon not just seasonally, but even various hours throughout the day. It's always fun to watch as it changes once more of the leaves fall off outside, too!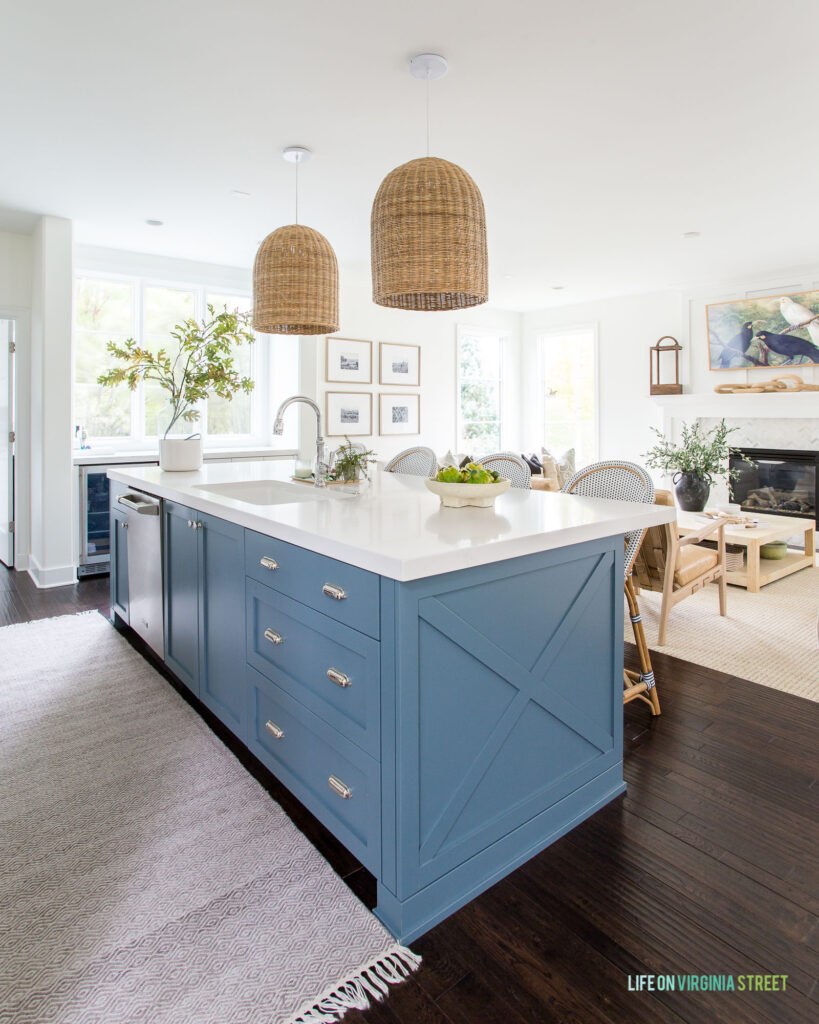 FALL KITCHEN SOURCES: Basket Pendant Lights | Bistro Counter Stools | Runner | Thyme Topiaries | Navy Blue Wood Serving Board | Natural Wood Serving Board | White Wood Serving Board | White Dutch Oven | Faux Artichokes | Footed Bowl | White Dotted Planter | Similar Wood Recipe Stand
Next, we head into our living room. The previous carpet in here was inset into our hardwood floor (so many people thought it was a rug!). We had this spot replaced as well since it's the only remaining carpet on our main floor. It instantly felt like the room was bigger once it was swapped out!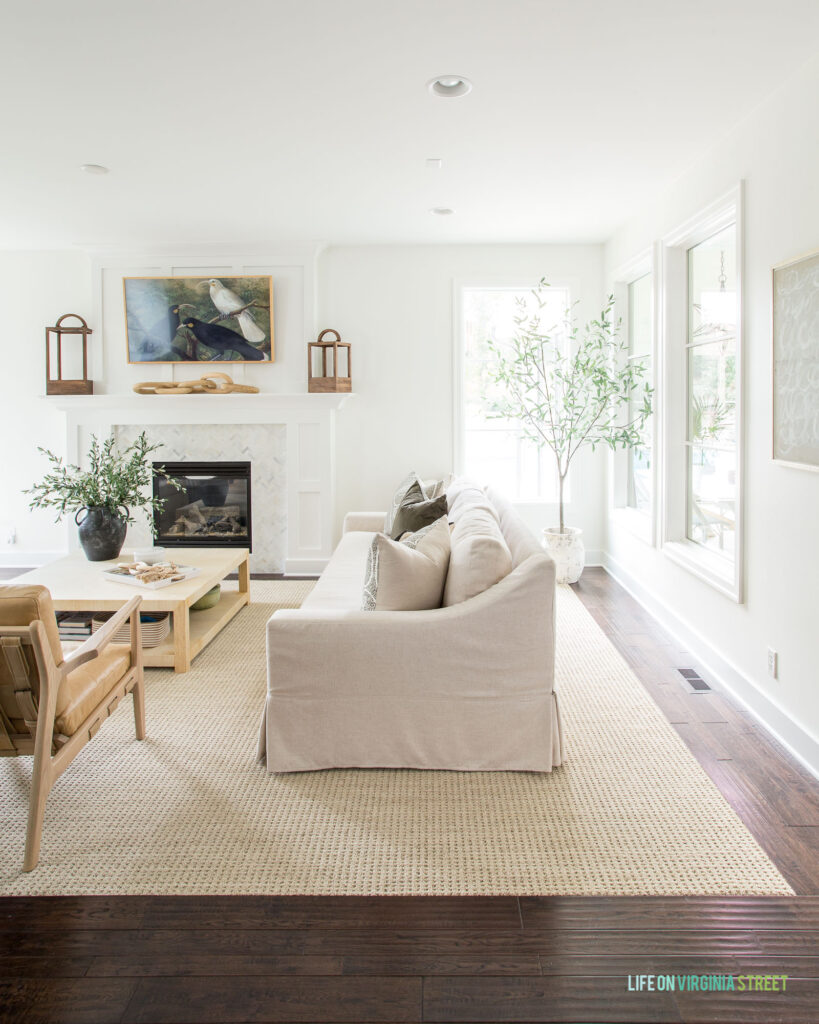 Things are looking a little sparse behind the sofa since I sold the black cabinet that was previously there. But I also think it helps the room to feel much more spacious since that piece was so heavy (both visually and literally). 😉 I miss having a lamp for there, but I also don't want to rush the search for a piece that fits much better!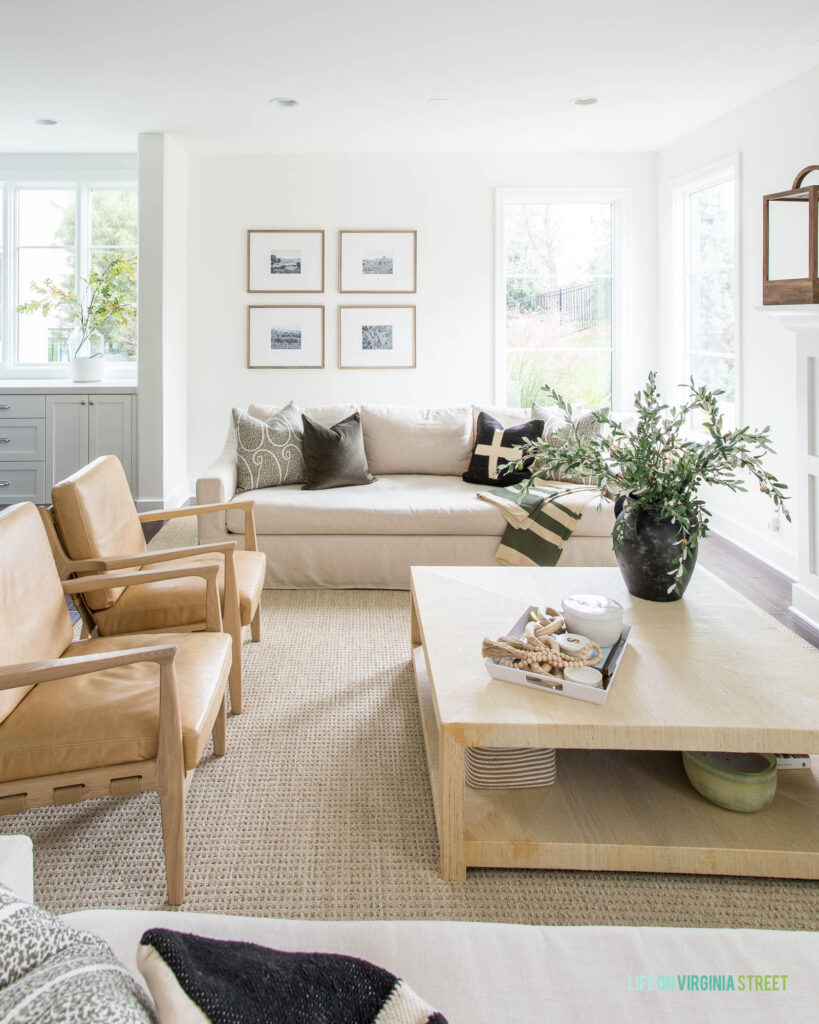 I actually bought these wood lanterns to use in the kitchen window at Christmas time. But I randomly threw them up on the mantel when our counters were a mess during the whole carpet process. They stayed and I actually like them there. Although if this were there intended spot, I probably would have bought two of the same size for better symmetry. I'll likely add flameless candles and faux snow for the winter months! Side note: Kurtis hates the bird "art" I chose for our Frame TV. He says it's creepy, but I told him that was kind of the point this late in fall. In can double as my one and only piece of Halloween decor! Plus, the colors worked pretty perfectly in here 🙂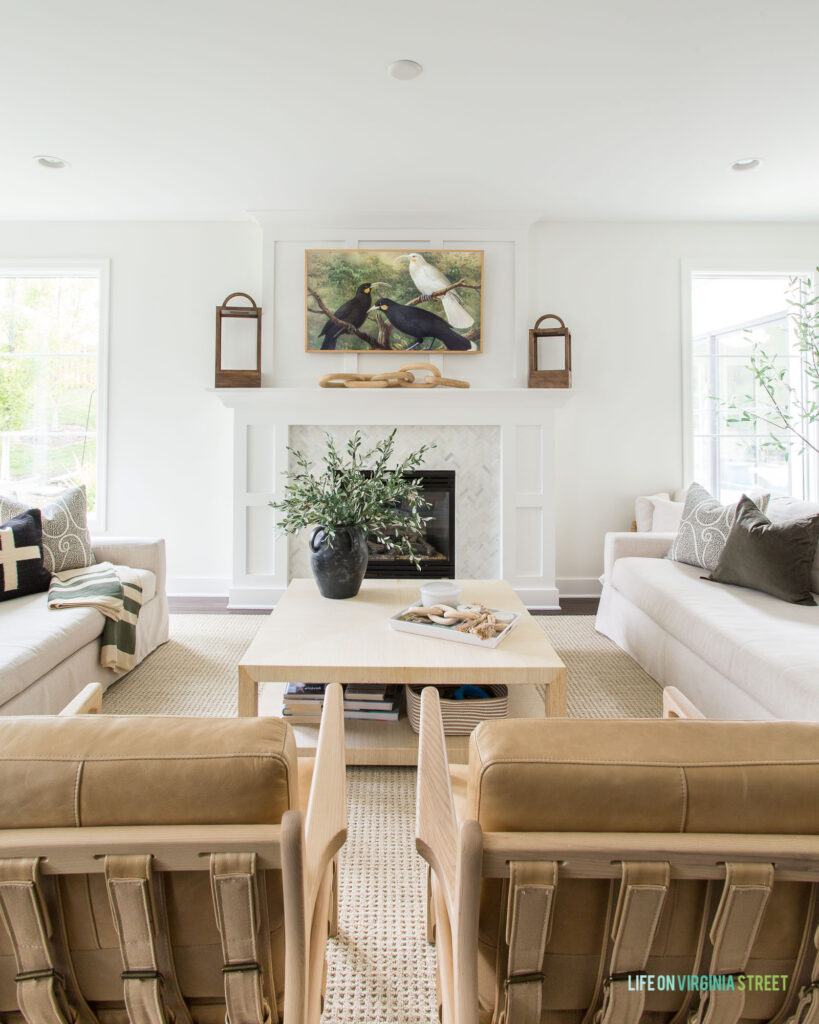 I love to have a collection of velvet pillows on hand for the fall and winter months. A few basic colors can be used year after year from fall all the way into spring!
It's fun to see this next view evolving as the pool house comes closer and closer to completion! Here you can see a peek of the pendant lights I'm using out there!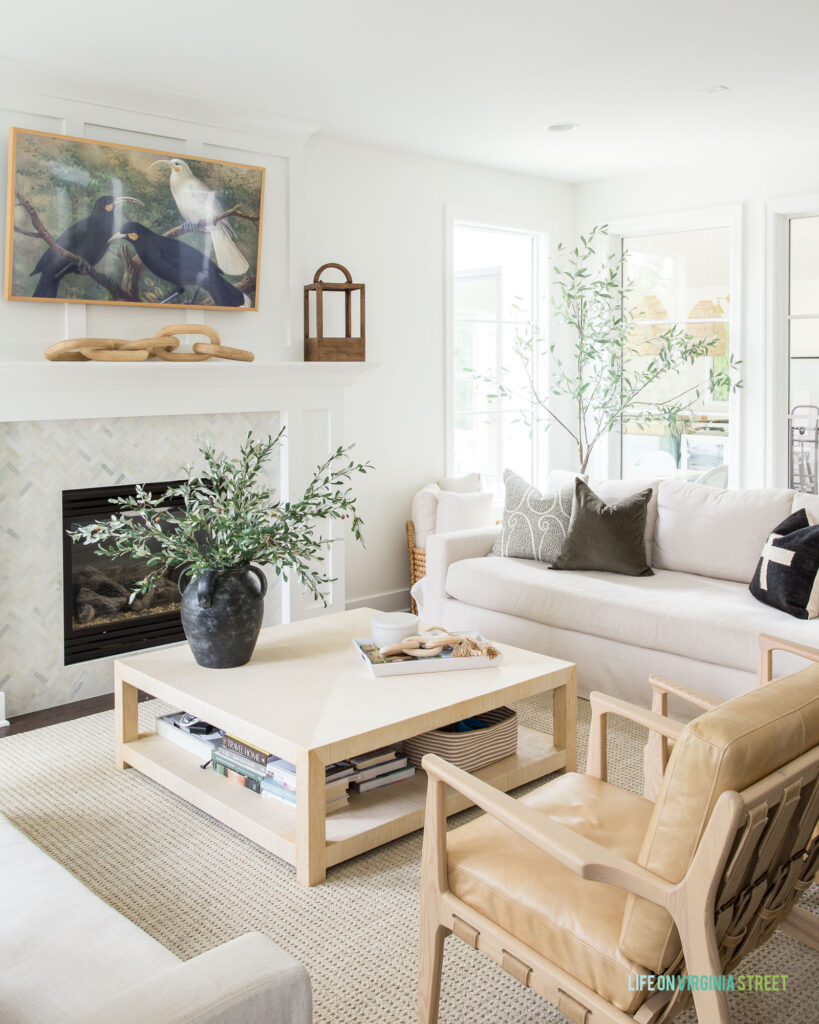 FALL LIVING ROOM SOURCES: SOURCES: Sofas (read my review here) | Paisley Pillow | Velvet Pillow | Swiss Cross Pillow | Striped Throw Blanket | Faux Olive Tree | Leather & Wood Chairs | Coffee Table | Small Wood Link Chain | Similar Large Wood Link Chain | Wood Lanterns | Black Vase | Faux Olive Stems | Gallery Wall Frames (look for less here)
Moving upstairs, the only room I had a chance to fall-ify was the den. I actually partnered with Serena & Lily on these pillows for a fall version of the pool house. But since we haven't even seen a summer version of the pool house yet, I decided to put them to use in the den! I'm loving this color combo of navy and chartreuse green and even more so with our freshly painted board and batten wall! There's a pretty strong chance I'm going to use these colors in some of my Christmas decor, as well!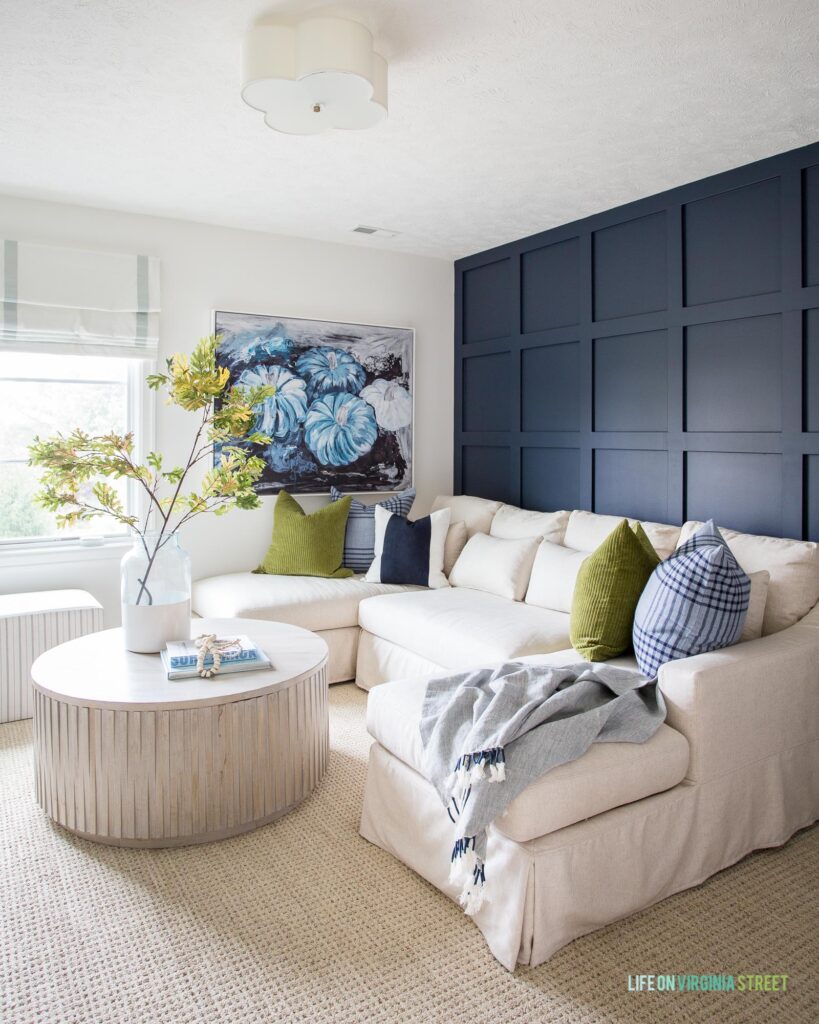 This is still one of my favorite cozy corners to read a good book! And the darker wall helps make it even cozier in here now.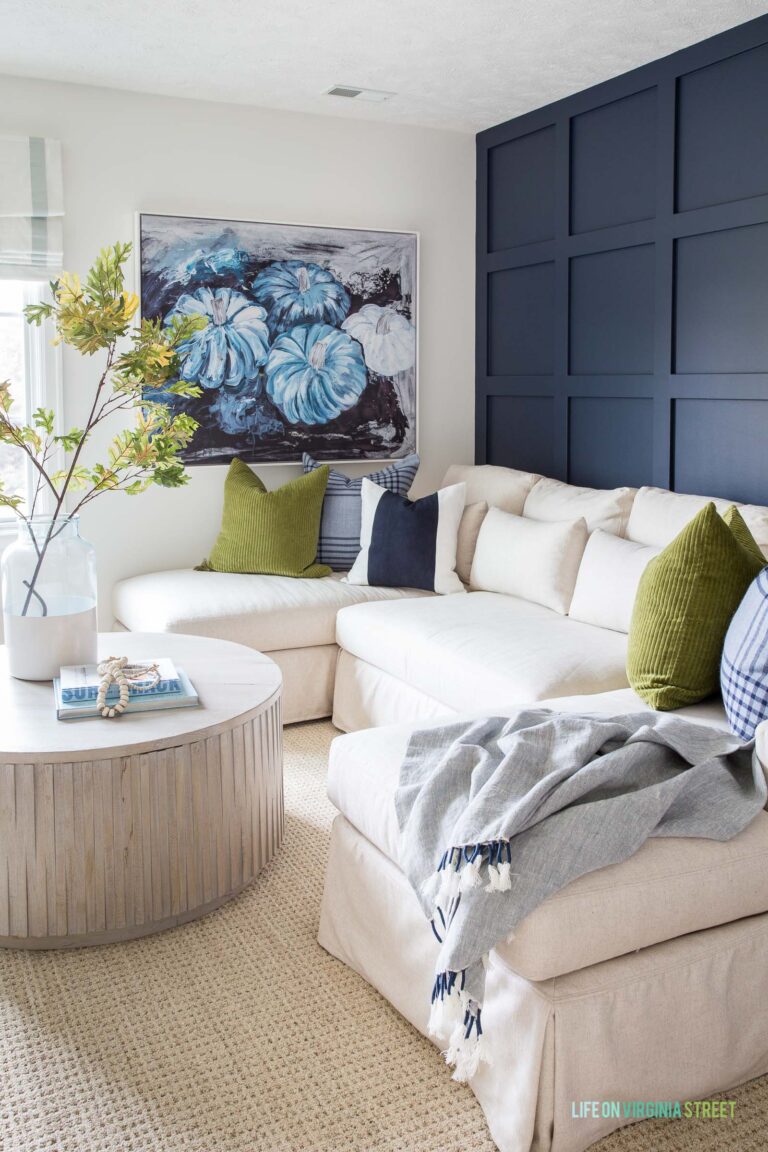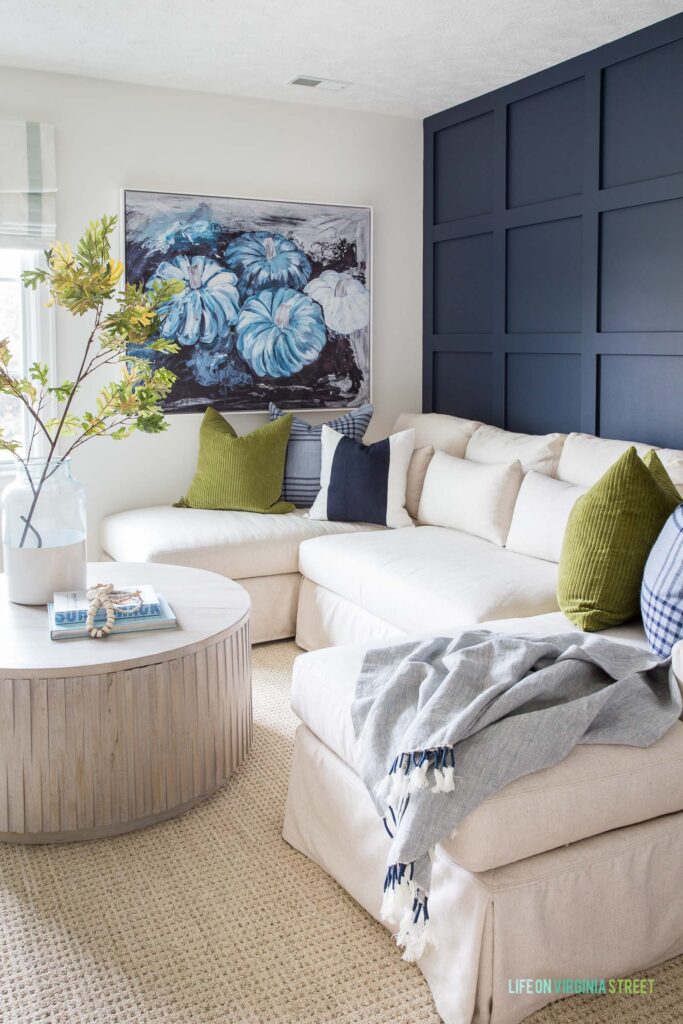 I've had this Blue Pumpkin Art for years now and love to bring it back out this time each year! It works even better in the space now with the freshly painted Hale Navy wall!
After getting the carpets replaced, we decided to go rug-free in here for the first time ever. But I love that our carpet has enough interest to not make the floor look too boring!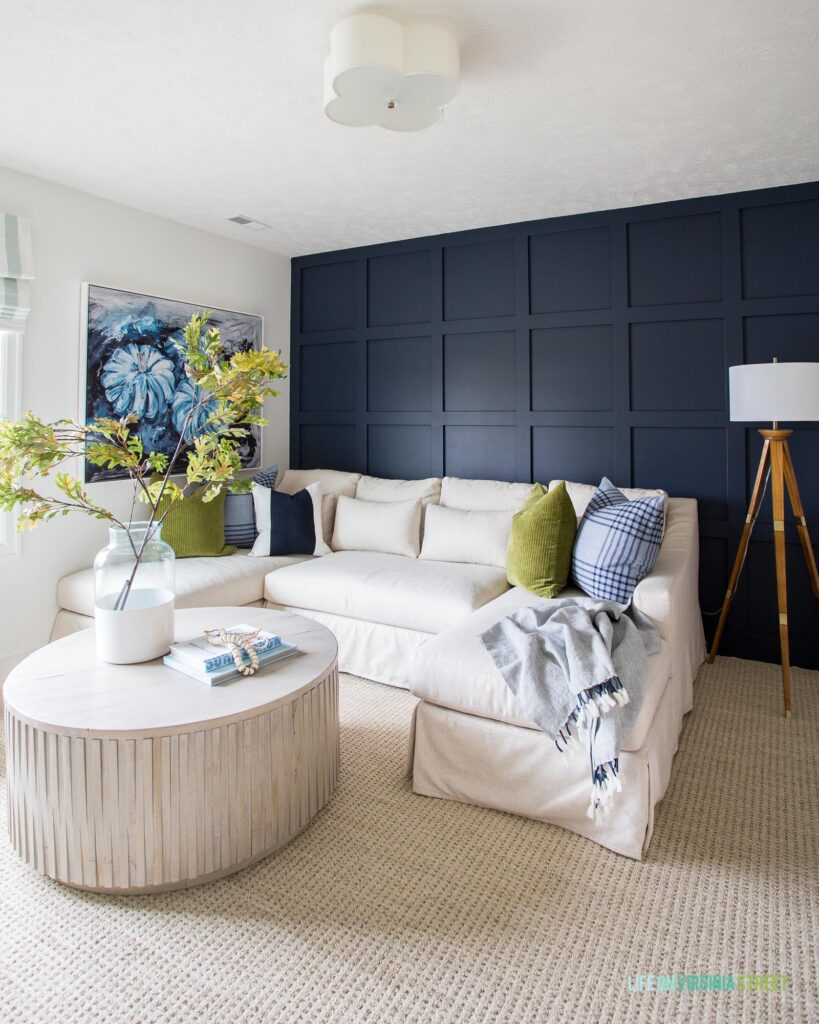 FALL DEN SOURCES: Linen Sectional (see my review here) | Coffee Table | Blue Pumpkin Art | Roman Shades | Striped Ottoman Bench | Faux Oak Leaves | Vase | Plaid Pillow Cover | Corduroy Pillow Cover | Linen & Suede Stripe Pillow Cover | Linen Throw Blanket | Tripod Lamp | Scallop Light Fixture
That wraps up this year's fall home tour! I hope you enjoyed this little peek into our home!
If you would like to follow along on more of my home decor, DIY, lifestyle, travel and other posts, I'd love to have you follow me on any of the following:
Pinterest | Instagram | Facebook | LTK
disclosure: some affiliate links used