It's so hard to believe, but Saturday marked the eight year anniversary of us moving into our new home! This is always one of my favorite posts to write each year, because it does really help me realize just how far we've come. It's also important to stress that it's taken EIGHT years to get to this point! I always want to point that out, especially to those that may just be starting with a home they plan to update. It's definitely a process – but it can be such a fun one, if you take things day by day and project by project!
The photo below is from 2012 on move-in day.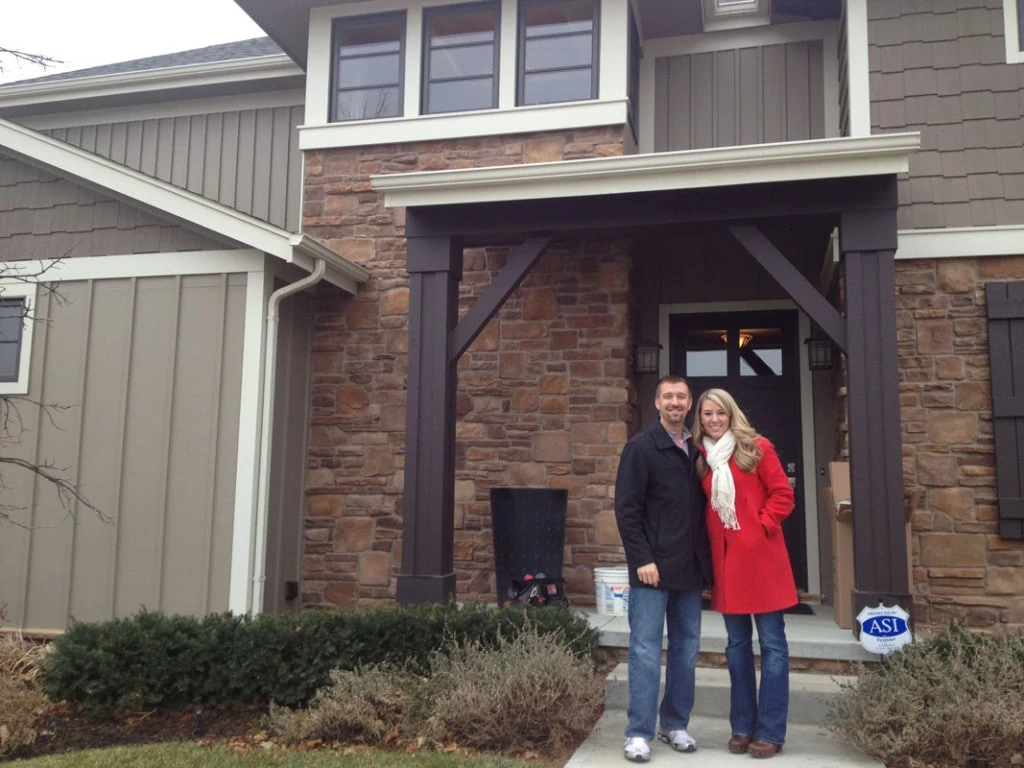 If you want to check the progress we made throughout the years, I've linked all of our anniversary posts below.
And if you want to check out any of our seasonal home tours from 2020, here's quick access to each.
A little history on our house. It was built in 2008 and sat as a model home for a few years. Another family then lived in it for a few years before we bought it in December of 2012!
Most of my 'before' photos I'm sharing below were taken at night and they're all I have. So I fully understand that it makes the before & afters seem much more dramatic in some cases. I think it's clear my photography skills (and cameras in general) have improved a bit over the years, as well 😉
We started 2020 with a long list of projects we were going to tackle or hire out. It was supposed to be a year of a lot of fun updates like our guest bathroom makeover and more. But then 2020 was the year that it was, and we had to hit the pause button on a lot of these plans. So while we planned for a lot of big transformations, it was probably the year with the least transformations in our home. But that's totally okay! I think this year forced us to get creative with the spaces in our home and bring new life to a few areas we had neglected! It also forced me to work on organizing areas that had stumped me for a few years and allowed me to find pieces to help solve that.
So, let's jump into this year's before & after home tour! I have one set of images for each room/area, but within each section I've also tried to link all sources as well as provide the link to any relevant makeover posts if you want to read more about any of the spaces!
This post contains affiliate links for your shopping convenience. Click here to read my full disclosure policy.
HOME EXTERIOR BEFORE & AFTER
Two years ago, we had the exterior of our home painted Benjamin Moore White Dove! It made such a huge difference in the overall vibe of our exterior and we're still so happy with how it turned out! After trying something on our flip house, we're thinking we may get creative with the stone veneer this year. I still weighing the pros and cons of me trying to DIY it myself! Our trees have also grown by leaps and bounds, so it's getting harder and harder to get an actual photo of our exterior anymore!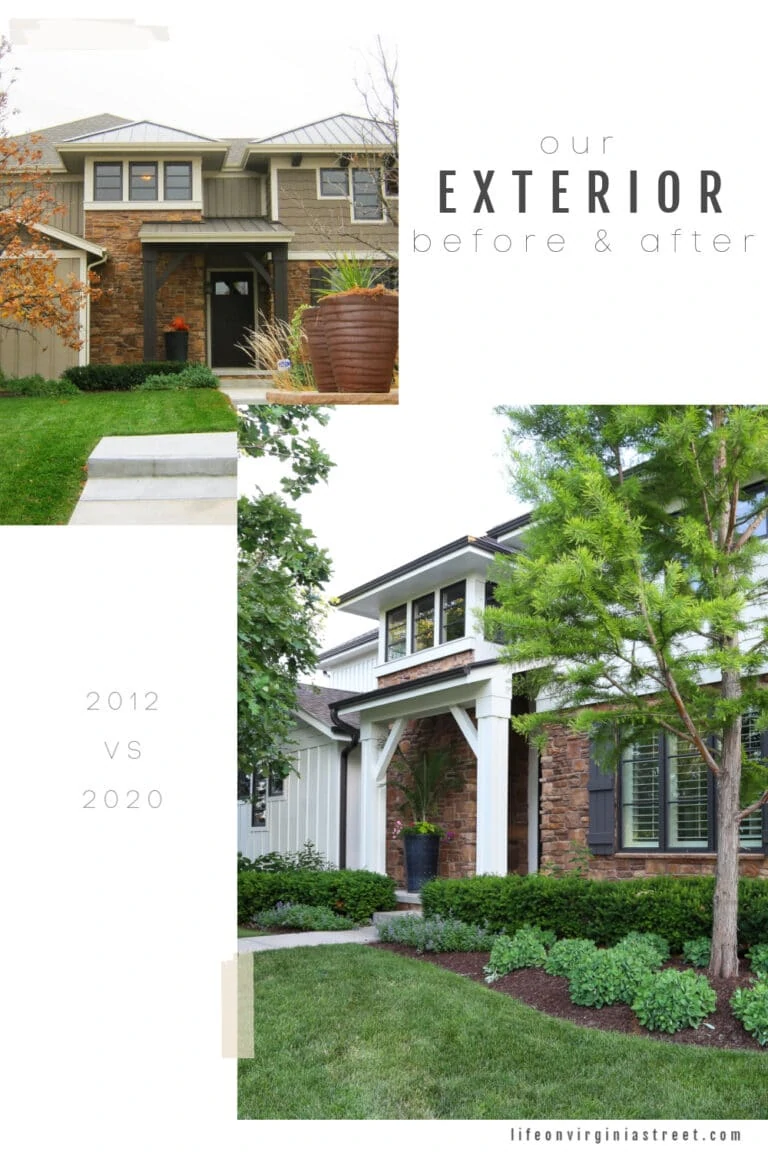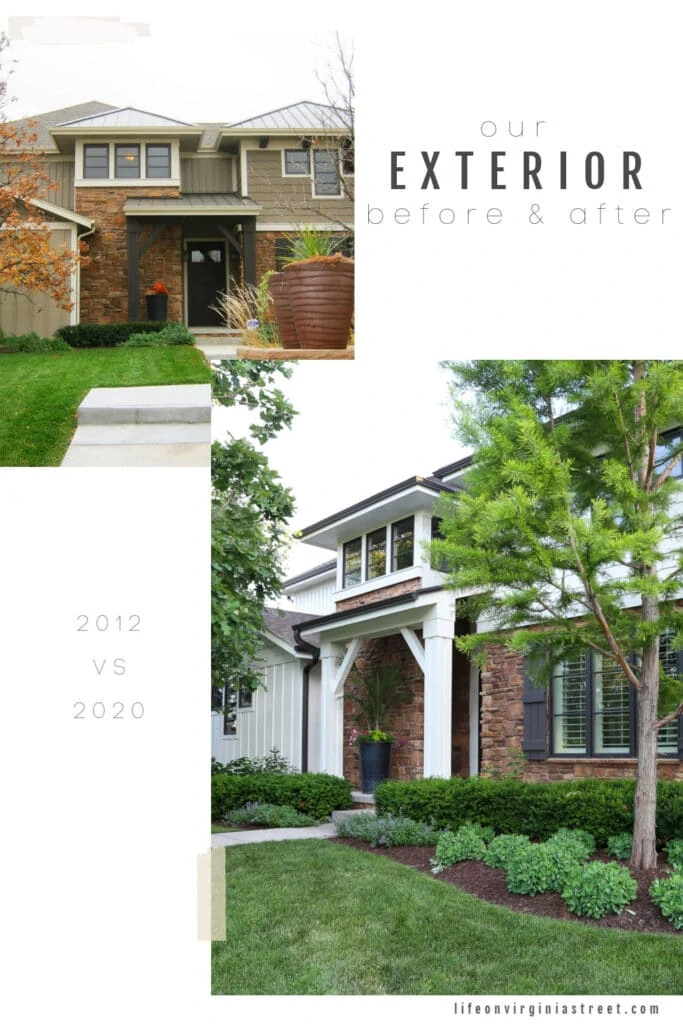 ENTRYWAY BEFORE & AFTER
I made one of my favorite updates to our entryway earlier this year when I painted the front door this pretty soft blue-gray shade last year! The color is Benjamin Moore Water's Edge and it helps add so much personality to this spot! In 2021, I got a new cabinet for the space and added a taller mirror and I'm loving how much it has also changed the space!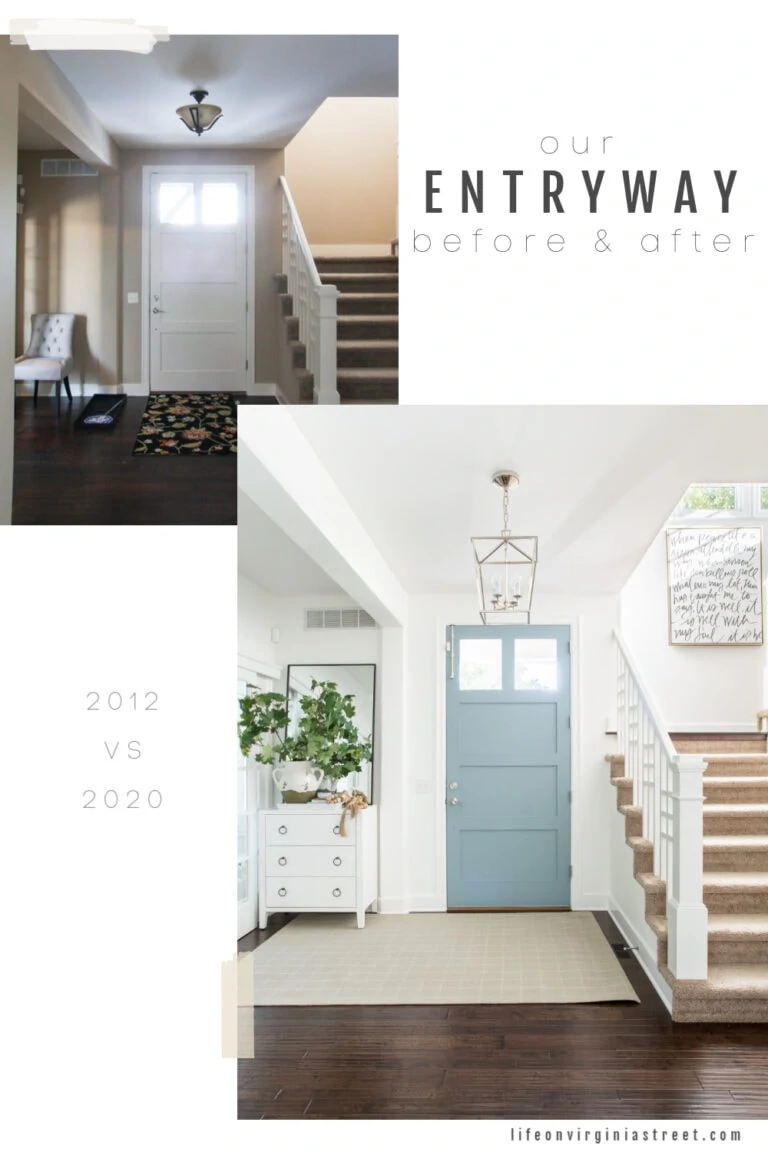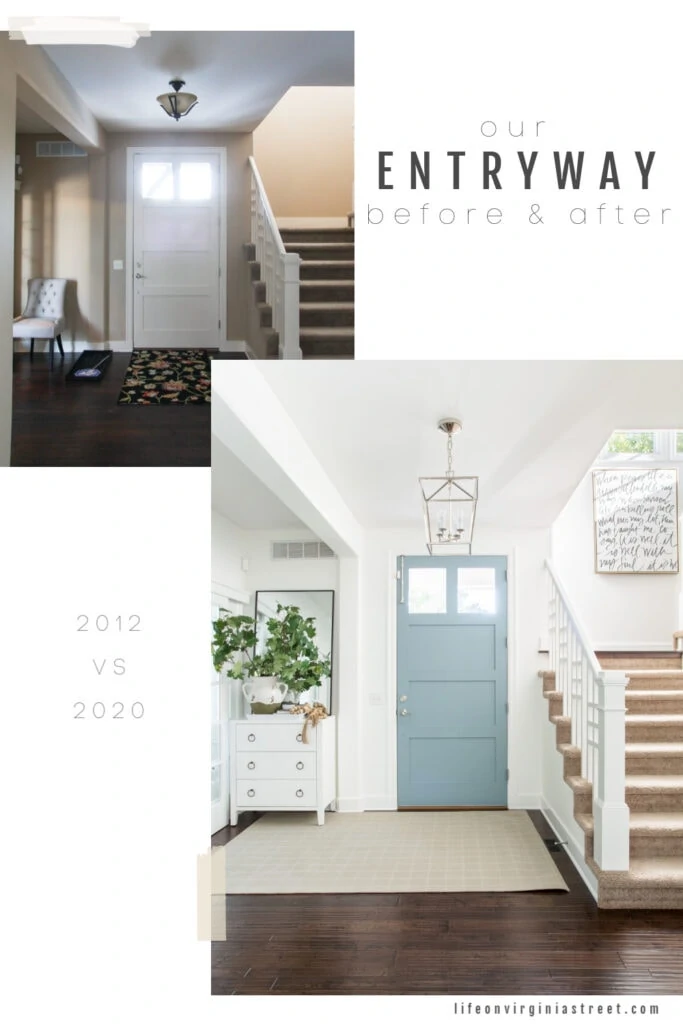 ENTRYWAY SOURCES: Lantern Pendant Light | Plaid Rug | White Raffia Cabinet (also available here) | Mirror (Black Finish, 48″x36″) | Tuscan Vase | Oversized Wood Beads | White Tray | 'It Is Well' Canvas (40″x50″ with gold gallery frame) | Door Color: Benjamin Moore Water's Edge | Wall/Trim Color: Benjamin Moore Simply White
ENTRYWAY HALLWAY BEFORE & AFTER
Our entryway hallway saw some updates this past year as well! We moved the cane console table that was here last year into our office. Since we needed the storage space the cane table offered in our office, we added this raffia console table here. I also finally replaced the bench that had broken legs for years in favor of this pillowtop bench!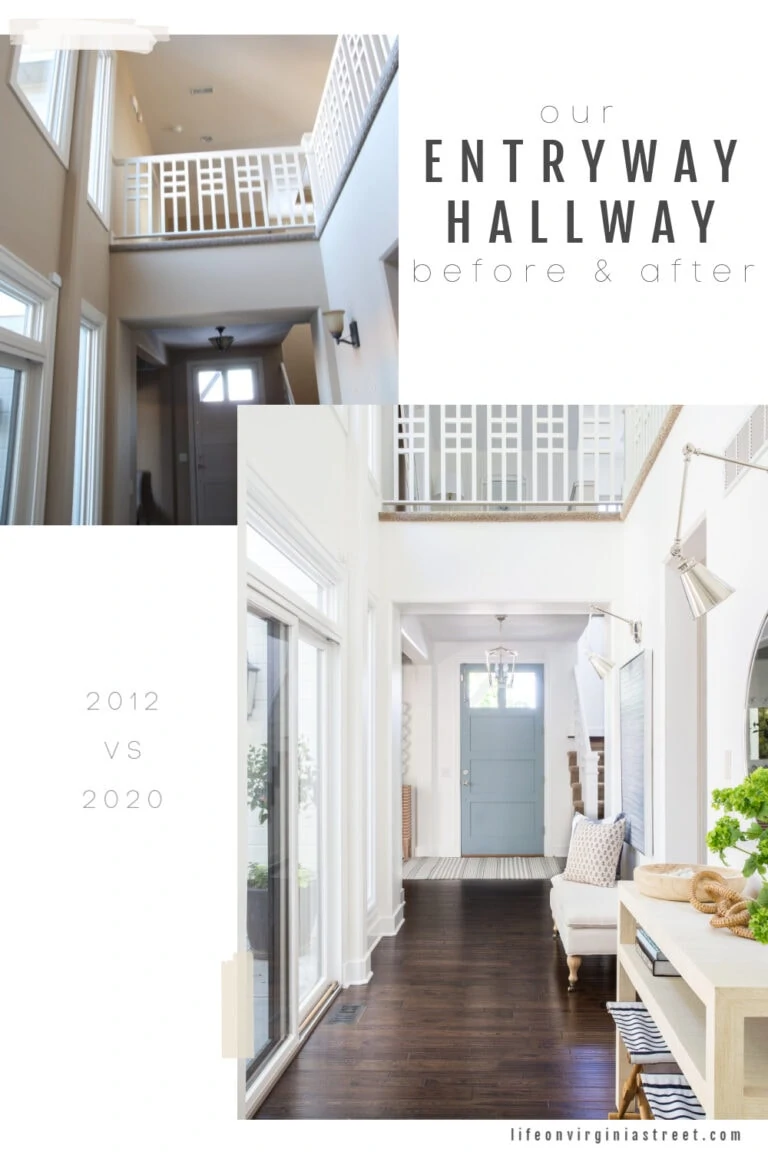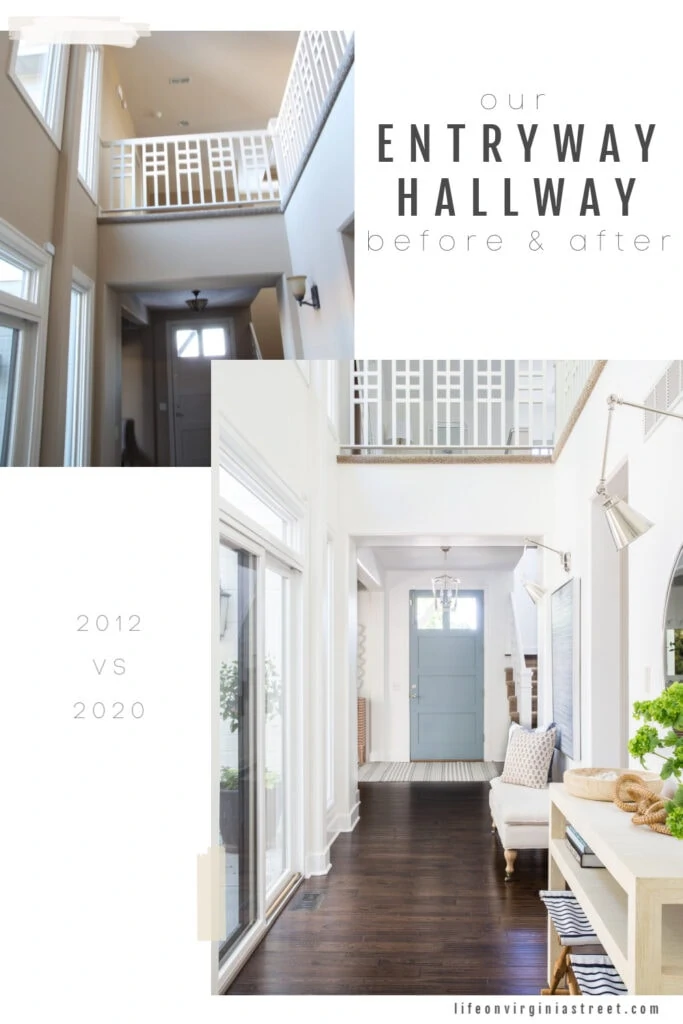 ENTRYWAY HALLWAY SOURCES: Pillowtop Bench | Striped Pillow | Block Print Pillow | Console Table | Striped Stools | Similar Mirror | Wicker Chain | Dipped Vase | Faux Viburnum Stems (similar here) | Swing Arm Sconces | Abstract Art (HomeGoods – old) | Wood Bowl (At Home – old)
KITCHEN BEFORE & AFTER
Since our kitchen renovation over two years ago, we haven't really made any adjustments to the space! Just a few seasonal swaps here and there. But we still think the renovation was one of our best decisions!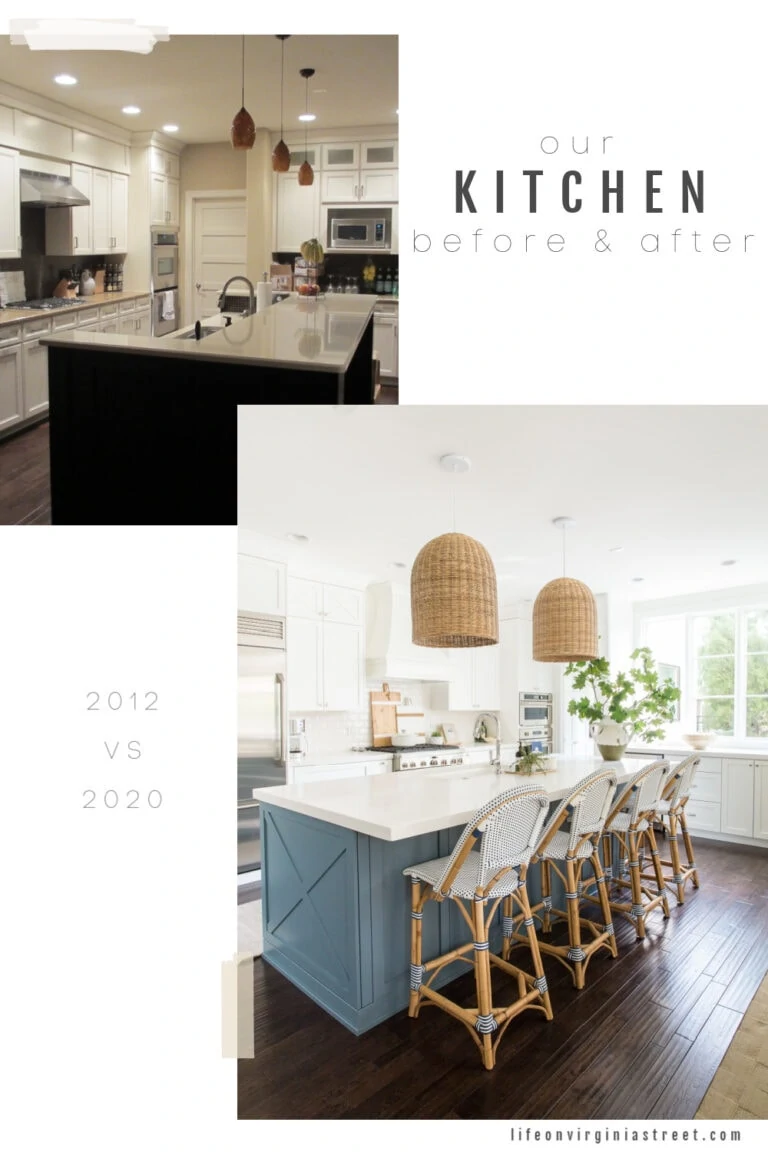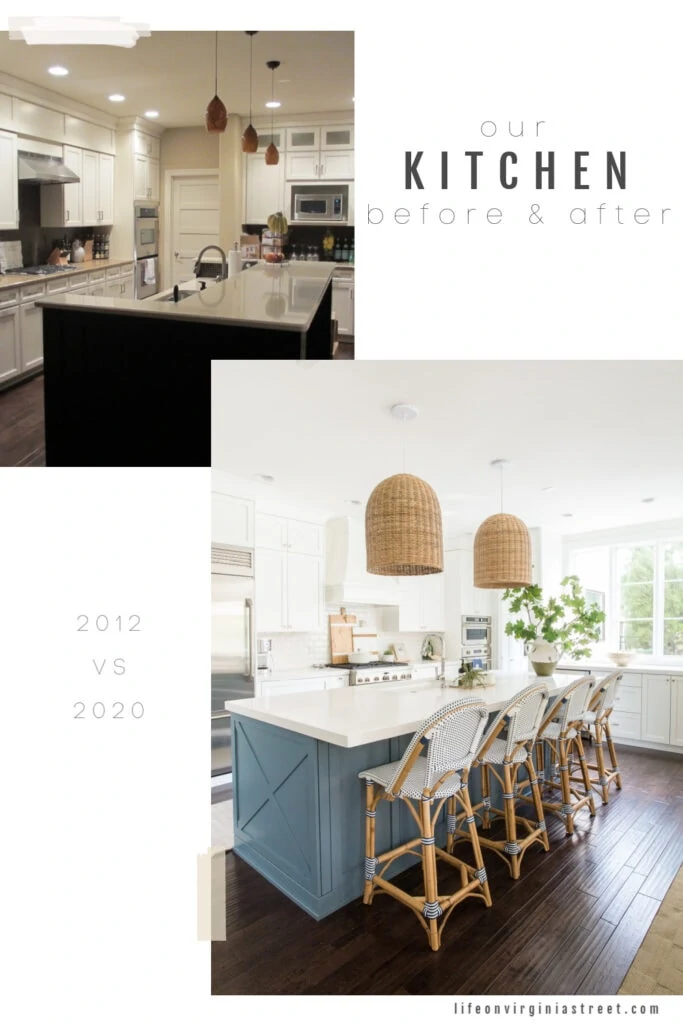 FALL KITCHEN SOURCES: Basket Pendant Light | Bistro Counter Stools | Runner Rug | Natural Wood Board | White Wood Board | Tuscan Vase | Cabinet Bin Pull | Cabinet Knob | White Dutch Oven | Similar Cookbook Holder | Faux Mini White Pumpkins | Paper Mache Bowl – local from Amethyst Home but also here and here | Paint Colors: Benjamin Moore Providence Blue & Simply White
KITCHEN PANTRY BEFORE & AFTER
Our pantry makeover, as part of our kitchen renovation, is still one of our favorite updates to our entire house! We didn't make any changes to the footprint of the space. But the addition of cabinets and the window has made just a dramatic difference. We love it so much, we rarely ever close the door anymore! This past year, I finally got a wide-angle lens so I'm now able to capture the full space much better too!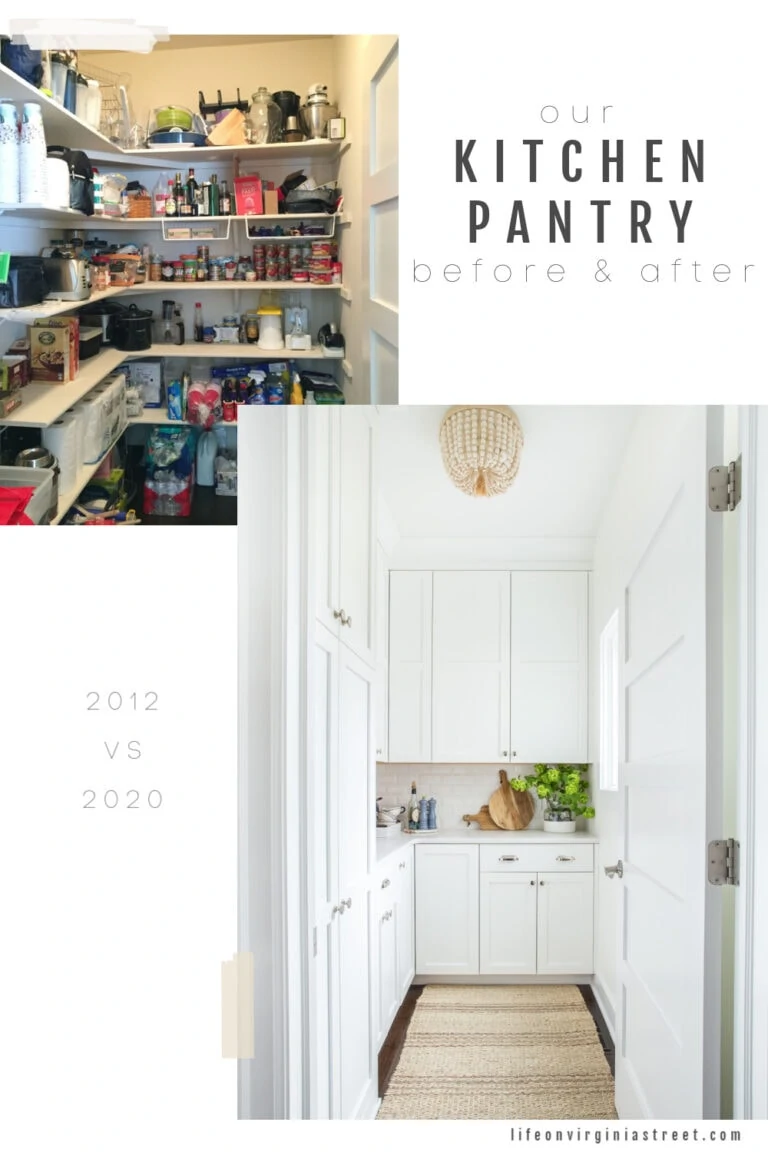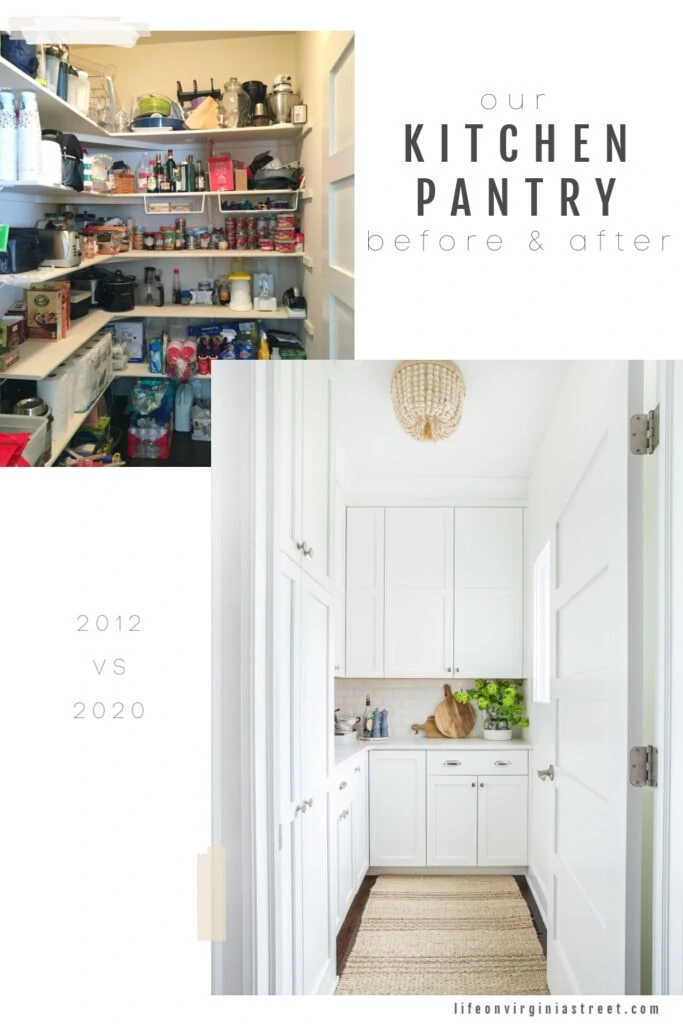 PANTRY SOURCES: Beaded Light Fixture | Cabinet Knobs and Pulls | Wood Boards (Homegoods – old) | Marble Tray | Paint Dipped Vase | Faux Viburnum Stems (similar here) | Motion Sensor | Blue Salt & Pepper Grinders | Rug (old Dash & Albert second-hand find)
LIVING ROOM BEFORE & AFTER
Our living room has seen it's fair share of updates throughout the years! But I haven't changed much (other than throw pillows) in the past year since our fireplace makeover two years ago. As I mentioned in our 2020 Fall & Winter Project Plans post, I'll likely be replacing the armchairs at some point over the next year. But it's not a rush – just when I find something we love!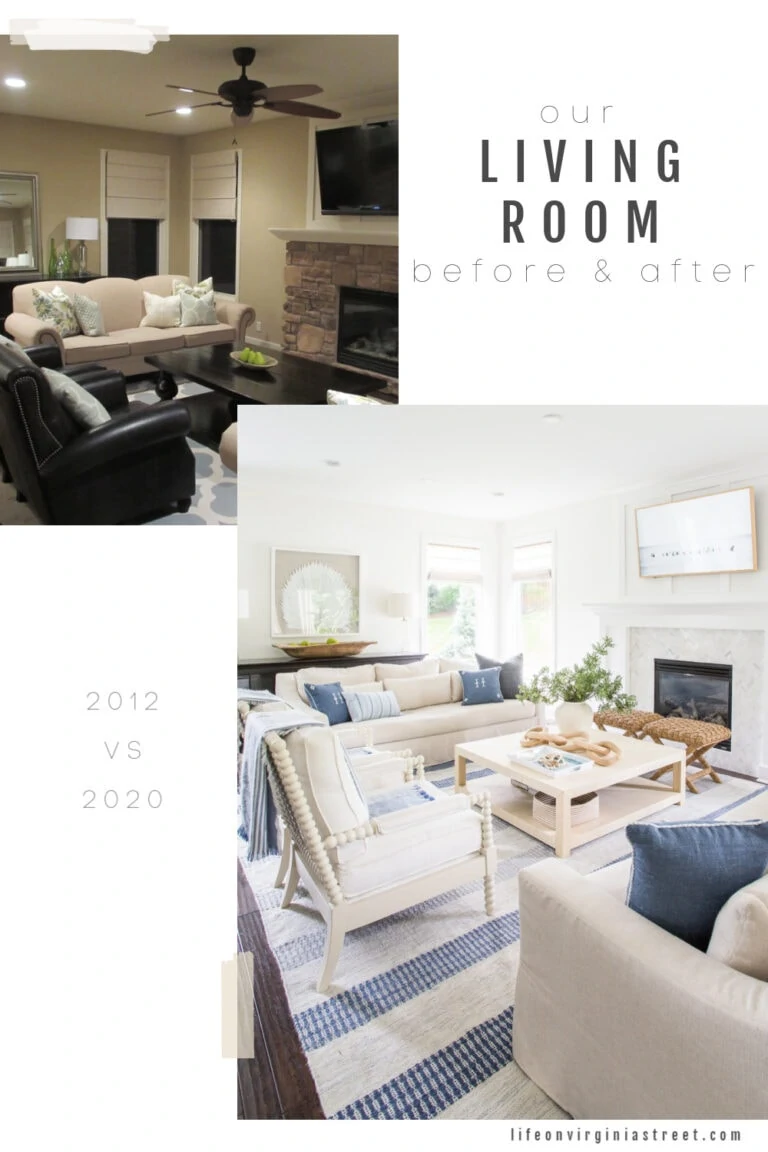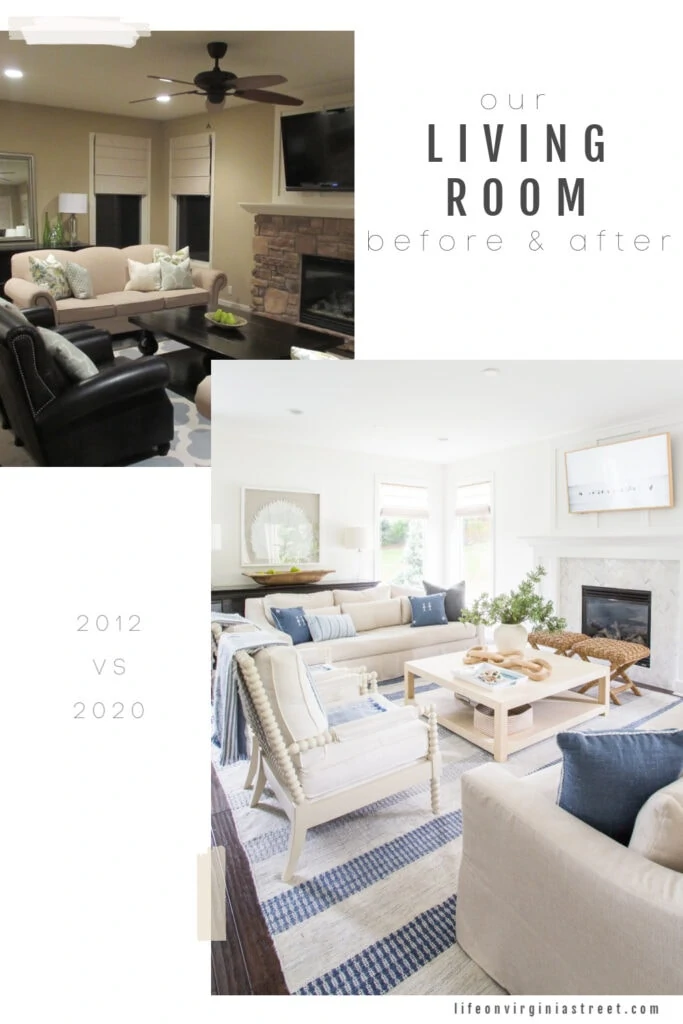 LIVING ROOM SOURCES: Striped Rug | Linen Sofas | Spindle Chairs (similar here) | Embroidered Blue Pillow | Striped Lumbar Pillow | Solid Linen Pillow | Striped Throws | Raffia Coffee Table | Similar Wood Chain | Similar Vase | Faux Greenery Stems | Woven Stools | Oversized Palm Art | Gallery Wall Frames (similar here) | Dough Bowl | Lamps | Frame TV
DINING ROOM BEFORE & AFTER
Our dining room is one of the most dramatic before and afters, thanks mostly to the paint color change! I've actually painted this space three times, but I'm so happy with the current paint color (Benjamin Moore Simply White). This year I finally swapped out the dining room chairs for something that fits with our lifestyle better. The chairs arrived early in the year, but I didn't actually share them in the space until Christmas time. This is our only dining space and I felt like it had gotten a bit too formal. By swapping the chairs, it already feels much more casual but I have another fun update or two planned in here for next year!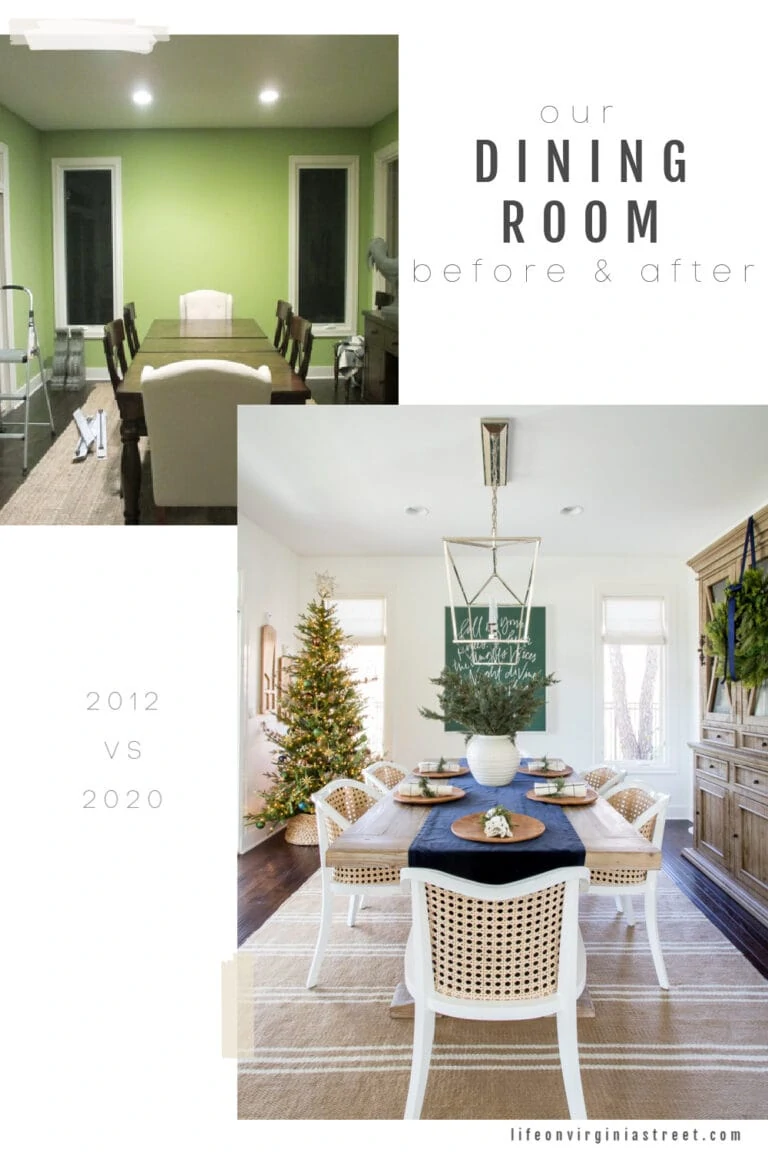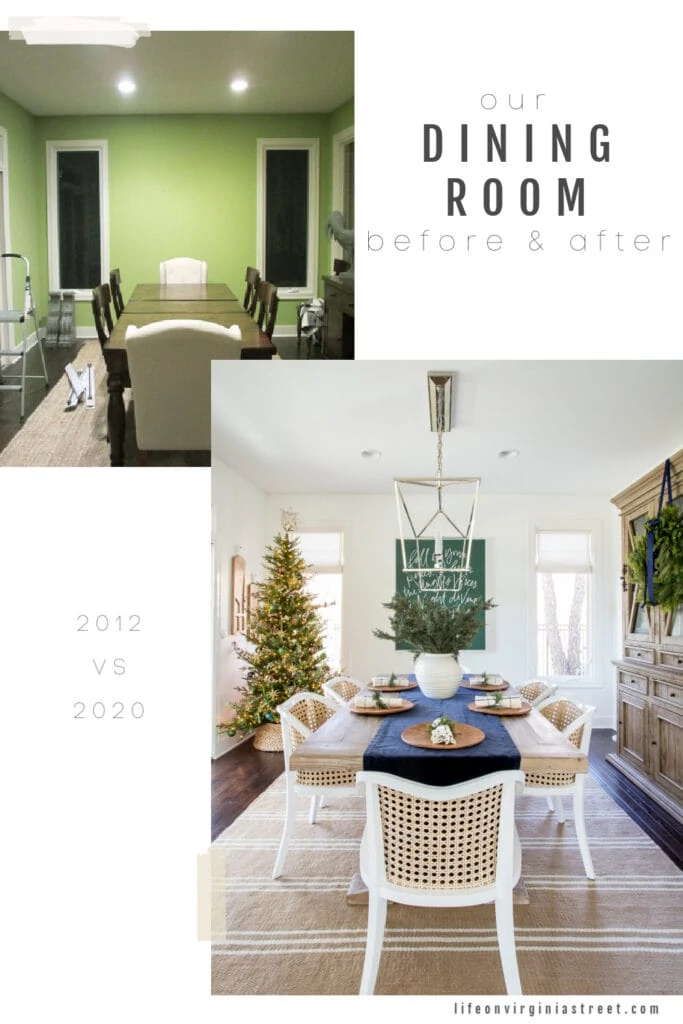 CHRISTMAS DINING ROOM SOURCES: Dining Table | Cane Dining Chairs (look for less here) | Striped Rug | Linear Chandelier (look for less here) | Small Buffet Table | Mirror | Similar White Ceramic Vase | Windowpane Plaid Napkins | Faux Cypress Napkin Rings | Wood Chargers | Faux Christmas Tree | Capiz Star Topper (similar here) | Woven Tree Collar | "Fall On Your Knees" Canvas | Hutch Details | Velvet Table Runner – old from Pottery Barn
OFFICE BEFORE & AFTER
Our office is one of the most used spaces in our home. It's taken a few years to get the layout and flow right (especially once Kurtis added a desk to the space and I started working from home). And honestly, I'm not quite sure we're there yet. I painted the BM Hale Navy wall white this year after trying a bunch of blue-gray samples and not loving them. So, we're living with the white for now (it was the only color I had on hand during quarantine). Since the photo below, we also added this rug to the space and love it in here! It actually makes us think we may not need to paint the wall.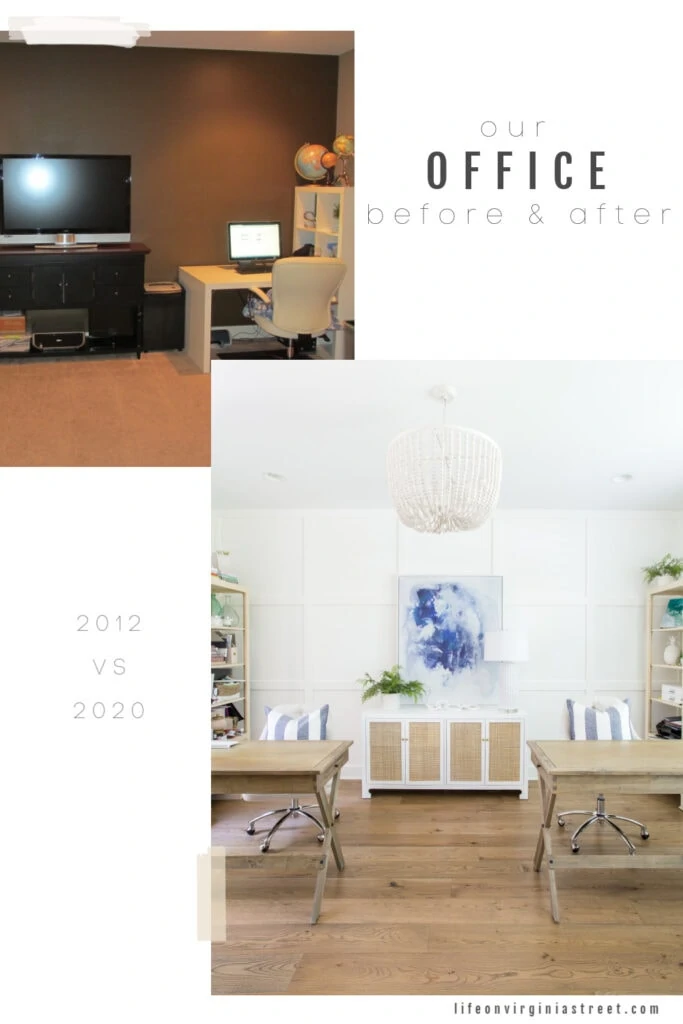 HOME OFFICE SOURCES:  Cane Cabinet | Wood Desks | Linen Chairs | Striped Pillows | Striped Curtains | Bookcases | White Wood Bead Chandelier | Similar Desk Lamps | Faux Fern Pots | Abstract Art | Marble Chain | White Bamboo Lamp – HomeGoods (old)
POWDER BATH BEFORE & AFTER
It's been a few years since I've really made many updates to our small powder bath. I painted our thermofoil cabinets and they've held up great over the years! I'm guessing if the paint ever starts to chip, we'll ultimately just replace the bathroom vanity, but for now, we love it just as it is!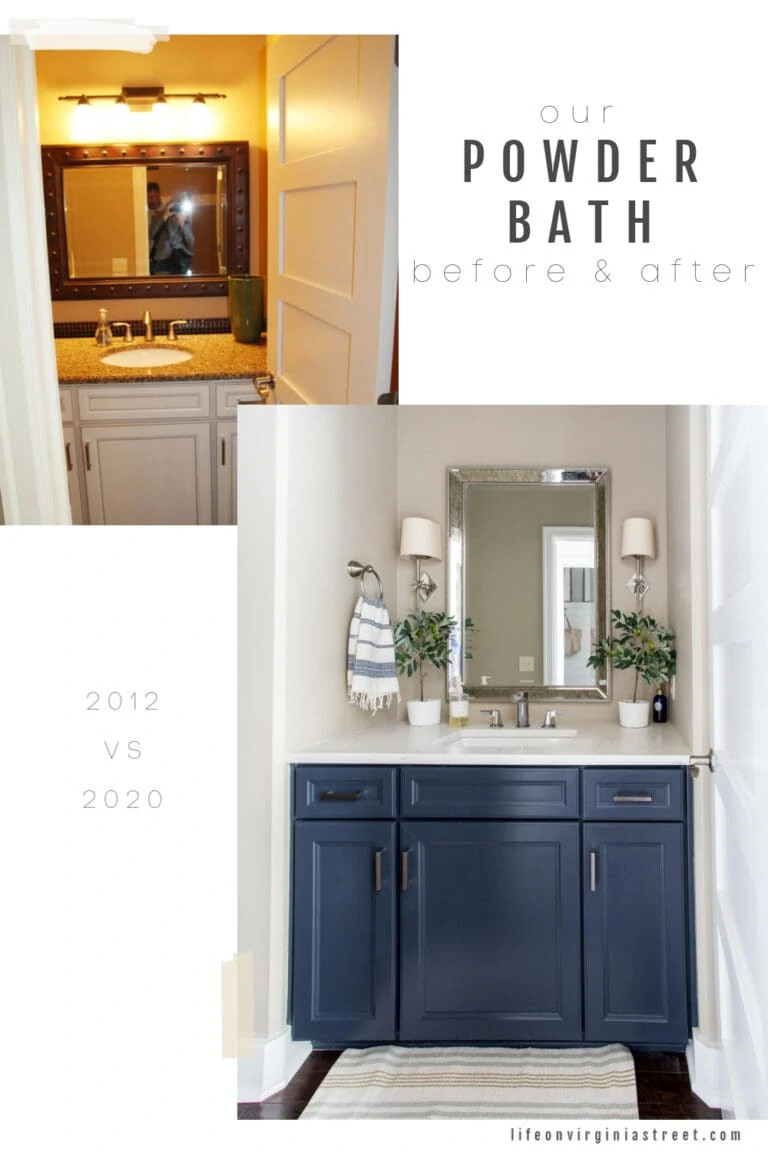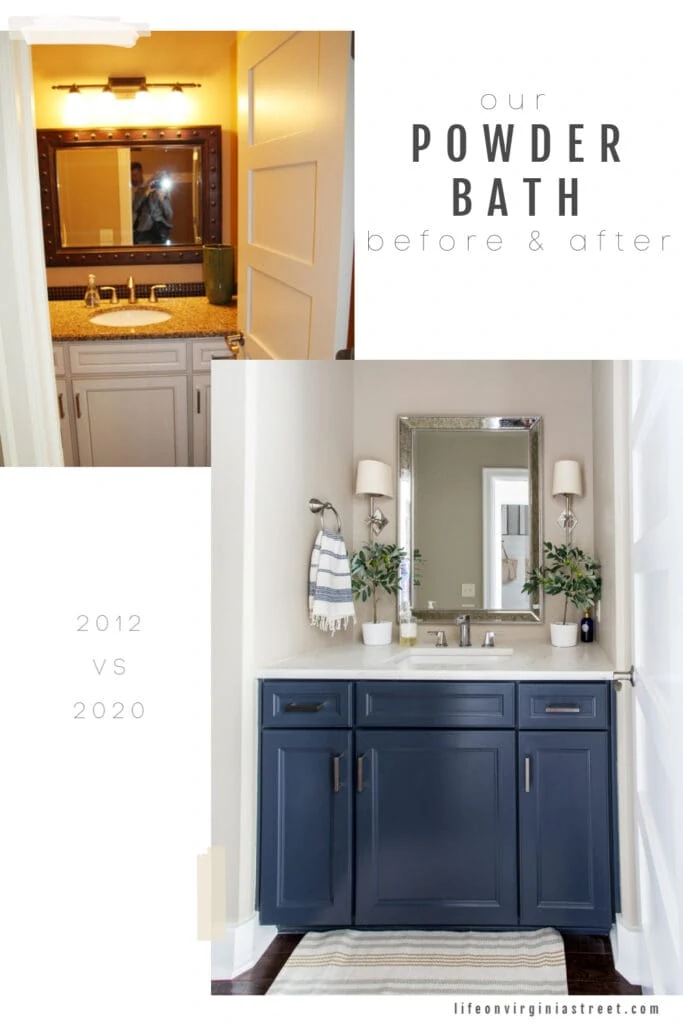 POWDER BATH SOURCES: Star Chandelier | Star Sconces | Striped Rug | Similar Mirror | Meyer Lemon Hand Soap | Faucet | Similar Olive Topiaries
MUD ROOM BEFORE & AFTER
Our mud room is always on our to-do list. It's one of the most used spaces in our home but also probably one of the most neglected! We still need to figure out what to do with the cabinets (they are also thermofoil) but we've made some good progress over the years and looks so much better from where it started! I love the addition of these gallery frames to the space this year. It's been fun to swap out the images each season!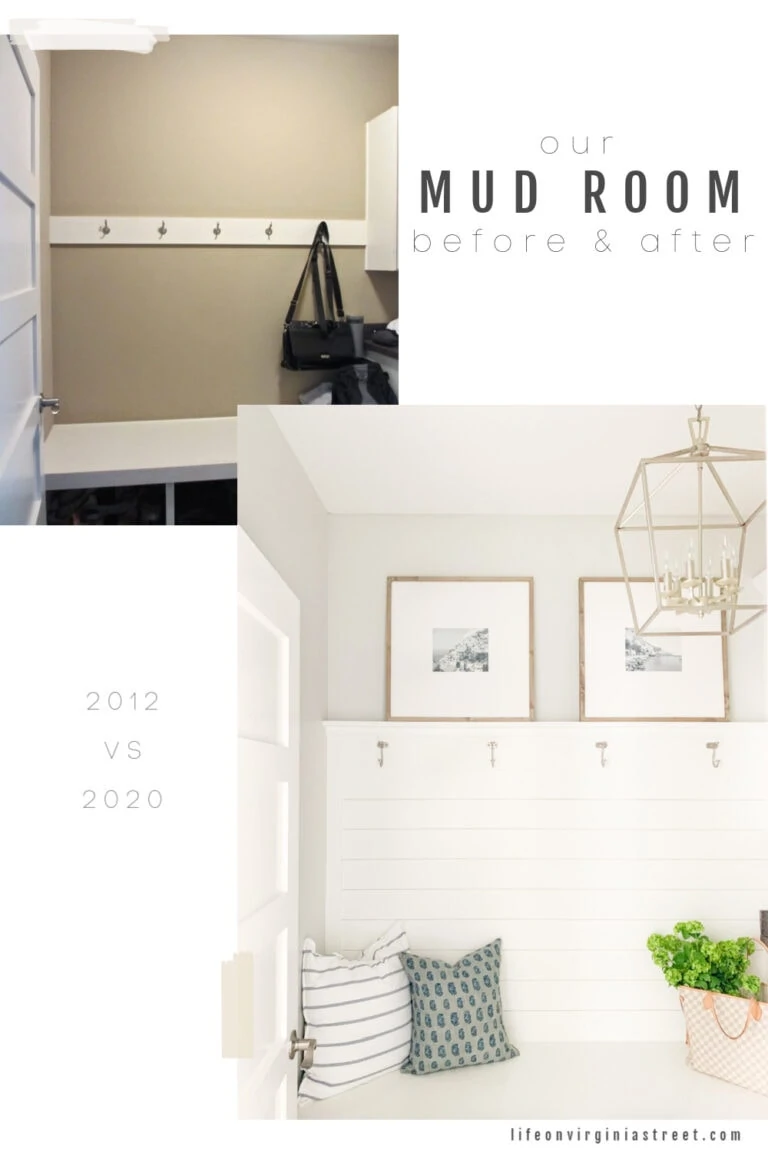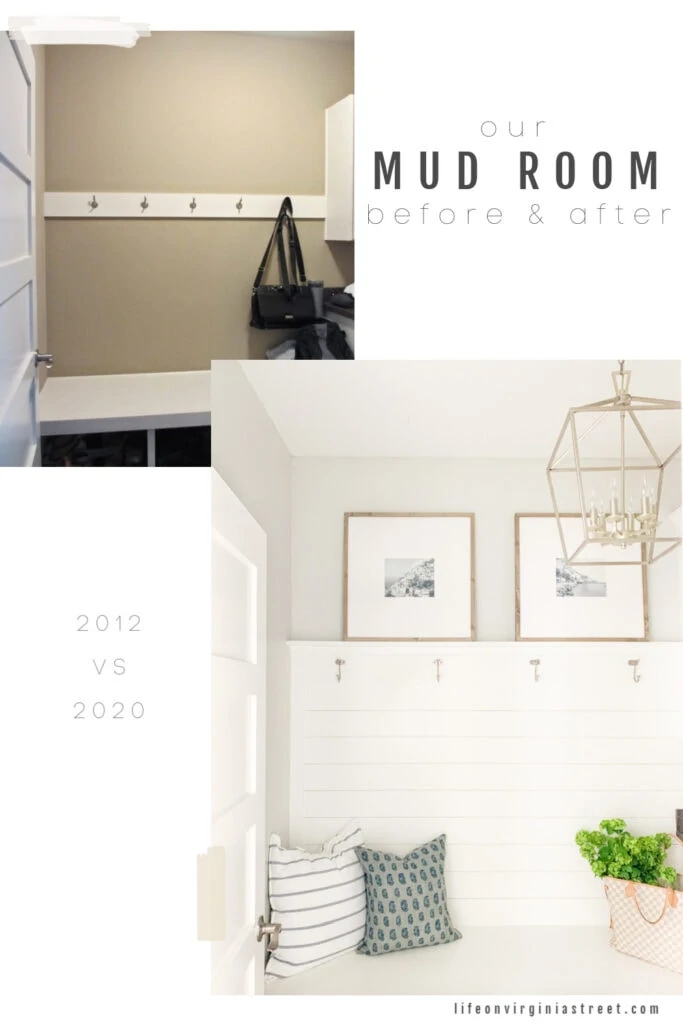 MUDROOM SOURCES: Lantern Chandelier | Striped Pillow | Similar Paisley Pillow | Gallery Frames | Faux Viburnum Stems (similar here)
COURTYARD BEFORE & AFTER
Our outdoor courtyard is very likely the single space that really pushed us to buy our house. Kurtis knew the second we walked in the front door, he was done for once I saw the space 😉 It makes the footprint of our home so unique (think of it as a sideways squared off U-shape). This gives us so many windows on our main floor and we absolutely love it! With all the time we spent at home this past year, we finally whipped our courtyard back into shape after a few years of semi-neglect. I transformed the spot into "Sarah's Bistro" and we used it as a happy hour patio for most of the spring and fall. The cats loved it, as well, because it's a spot we'll let them outside for longer periods of time since there's less trouble for them to get into!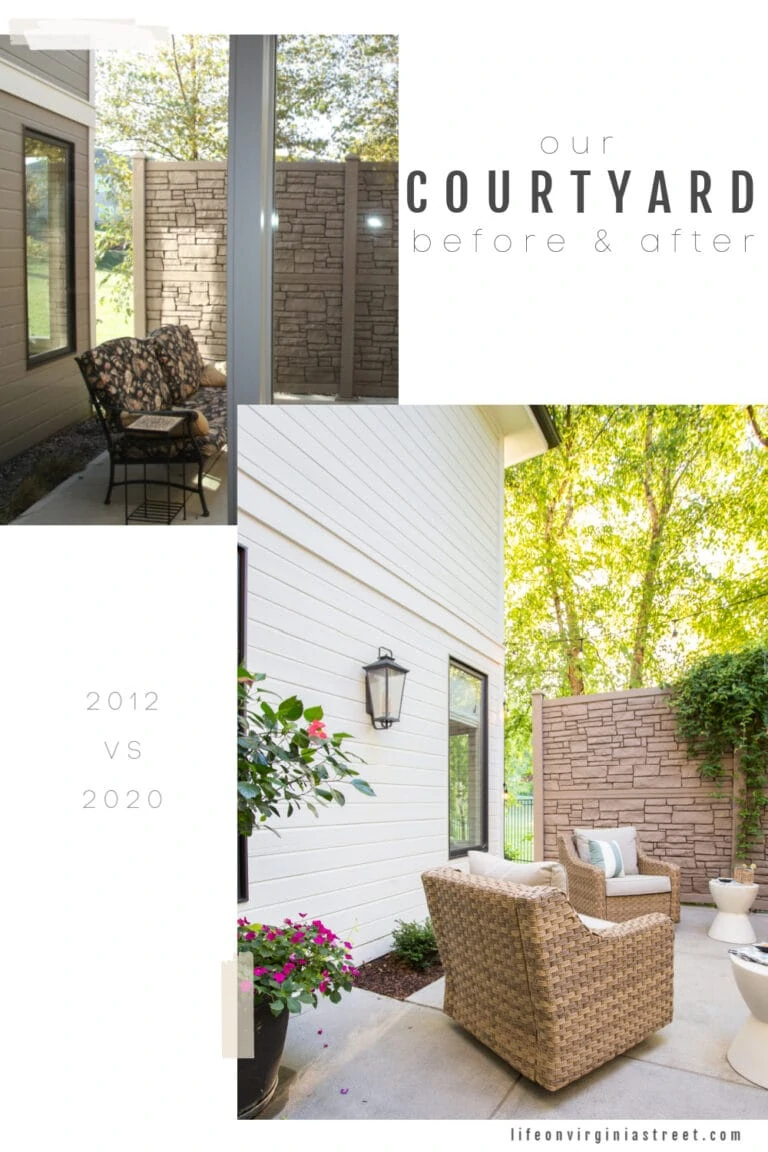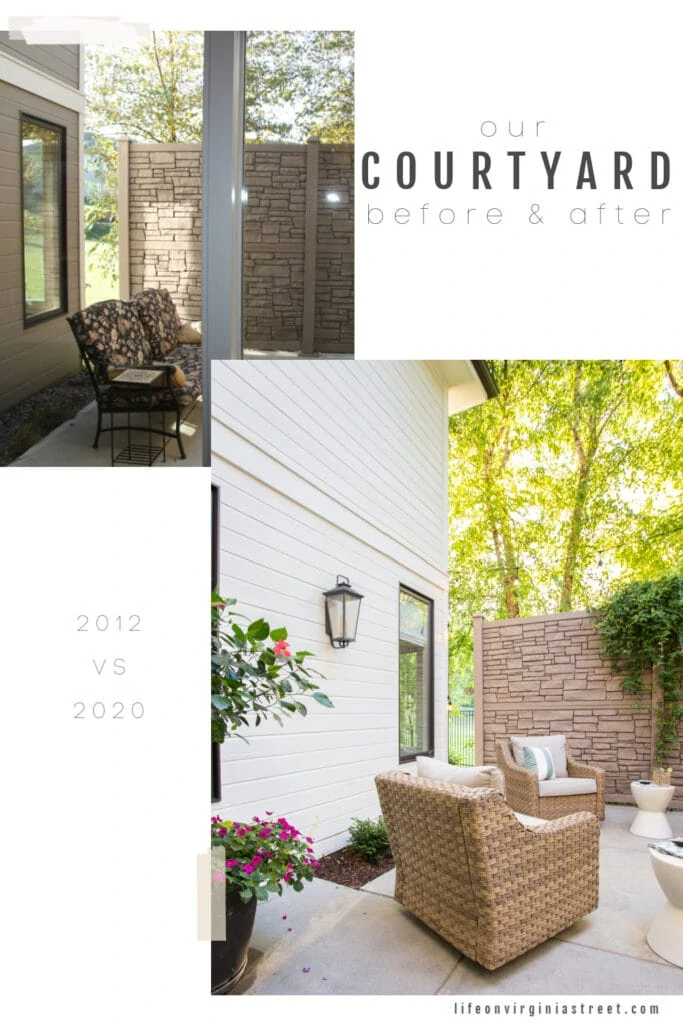 COURTYARD SOURCES: Swivel/Glide Woven Armchairs | Concrete Side Tables | Sunbrella Striped Outdoor Pillows | Lantern Wall Sconces | Shatterproof String Lights | Block Print Napkins | Cane Wrapped Glasses | Oyster Shell Dishes | Faux Stone Wall | Similar Black Planters
STAIRWELL BEFORE & AFTER
As we move upstairs, our stairwell looks the same as last year, after we finally had it painted. This was one area where I had zero interest in doing the painting myself. But I did manage to wash the windows up here this year, so I'll consider that a win 😉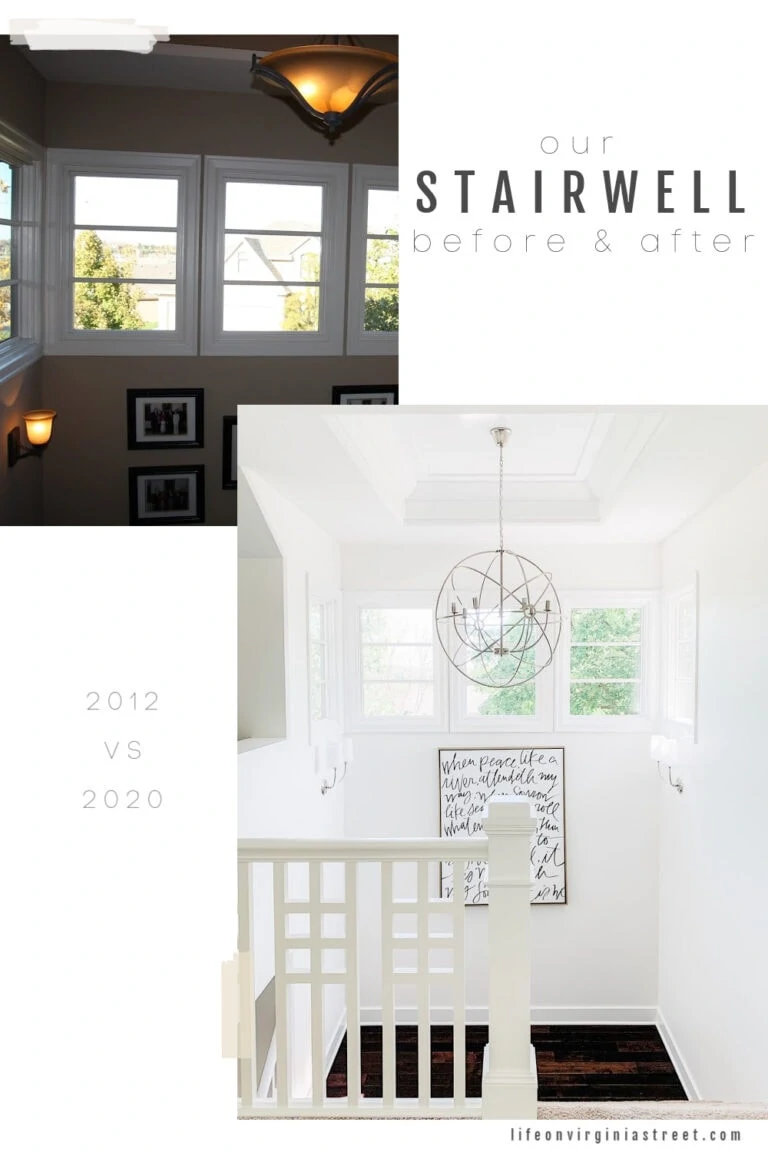 STAIRWELL SOURCES: Orb chandelier | 'It Is Well' Canvas Art | Double Sconces
UPSTAIRS HALLWAY BEFORE & AFTER
The biggest change to the area at the top of the stairs was this long wall. I finally figured out how to decorate it! This photo gallery wall has been such a fun addition to this otherwise boring hallway. And since we walk past it multiple times a day on the way to our bedroom and den, it's fun to see all of our family members so frequently!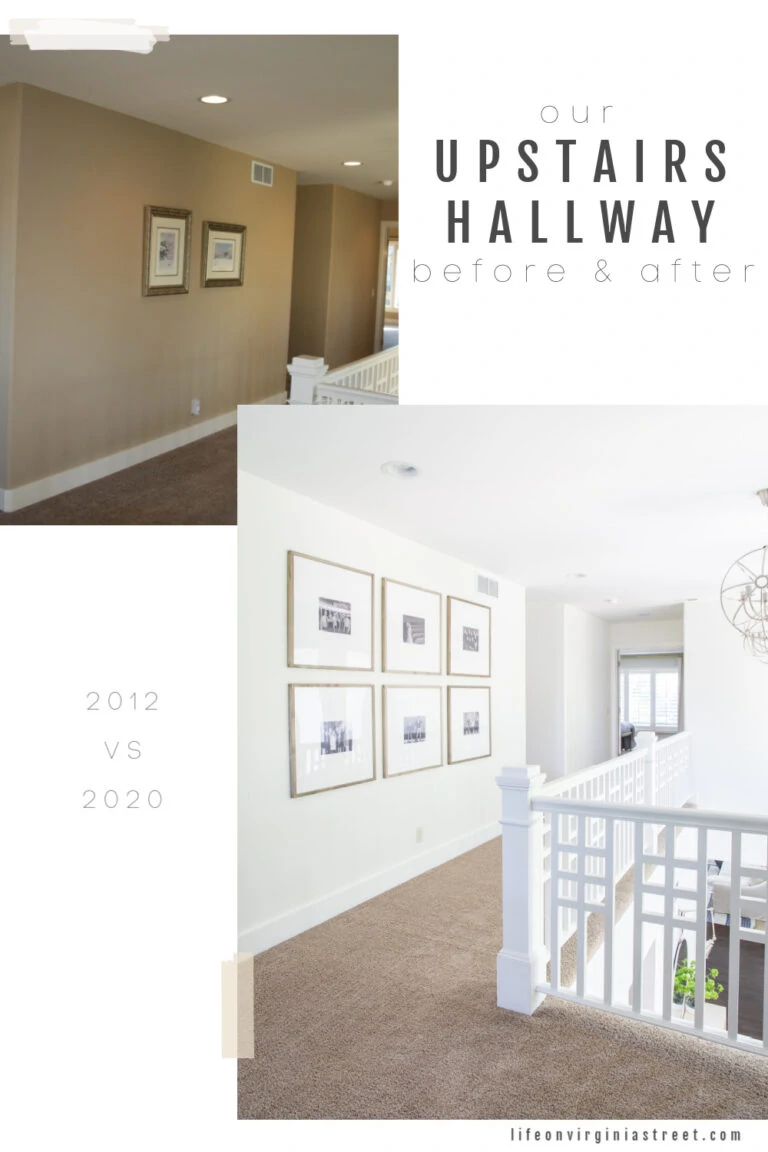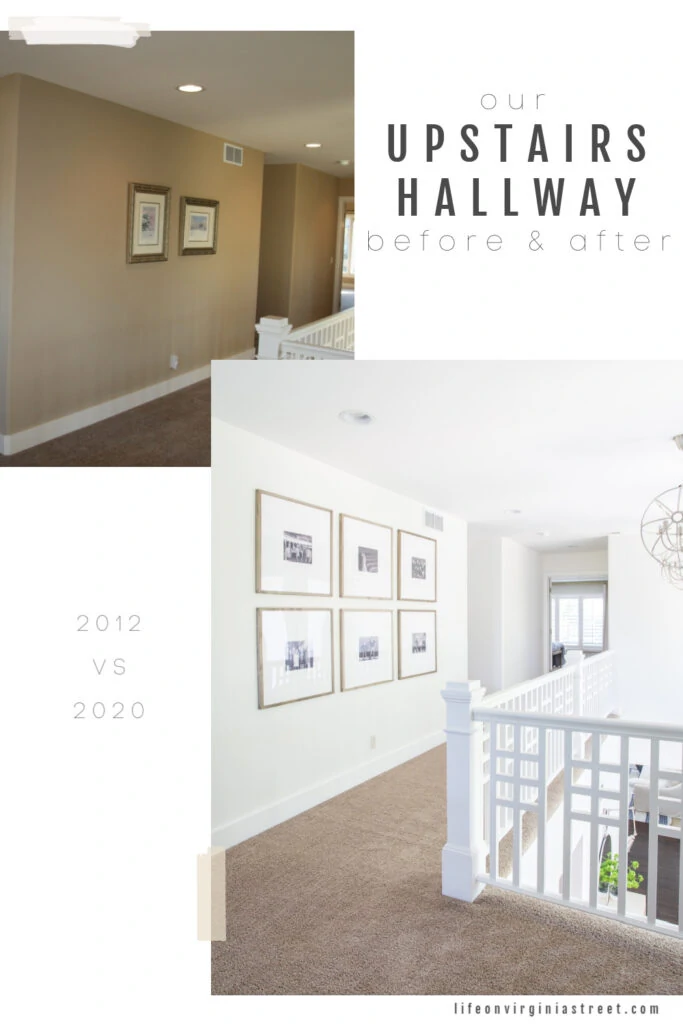 KING GUEST BEDROOM BEFORE & AFTER
Our king guest bedroom has seen it's fair share of updates over the years. (We've name them king vs. queen simply based on the mattress size). This past year we finally got it in shape after the arrival of the new upholstered bed late last year. I have a little bit of work on the opposite wall to tackle yet, but otherwise, this space is just about where we want it!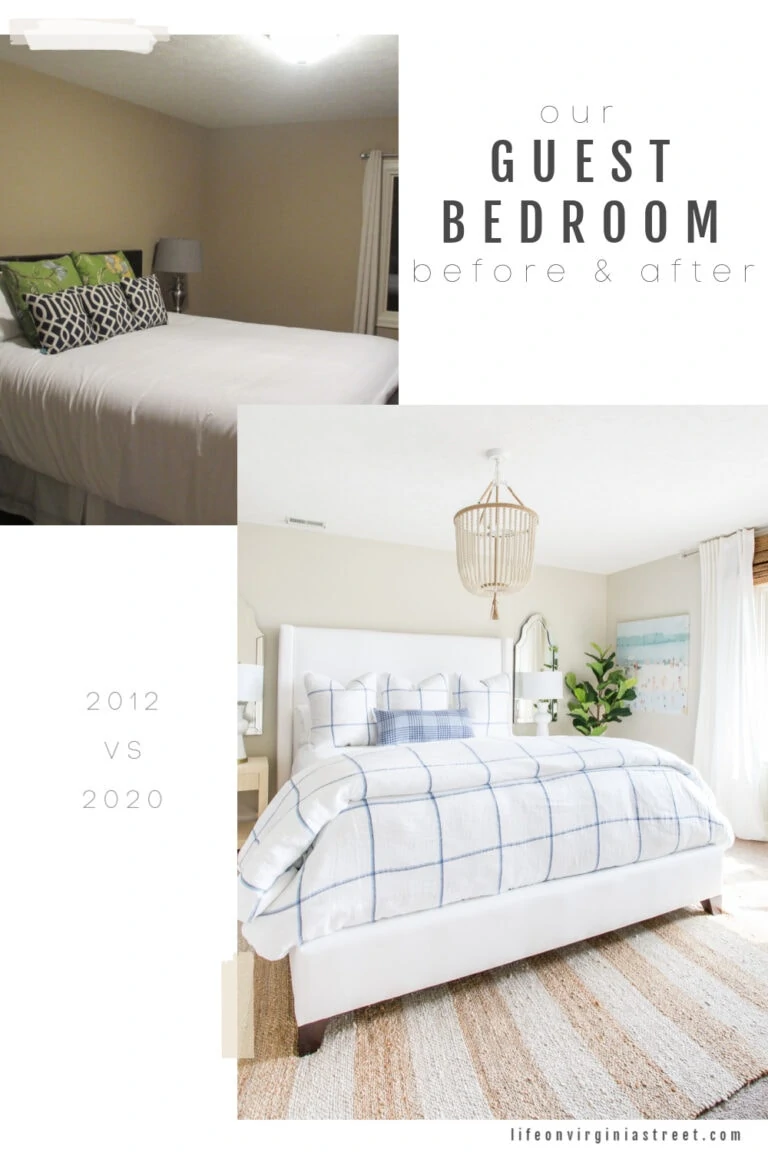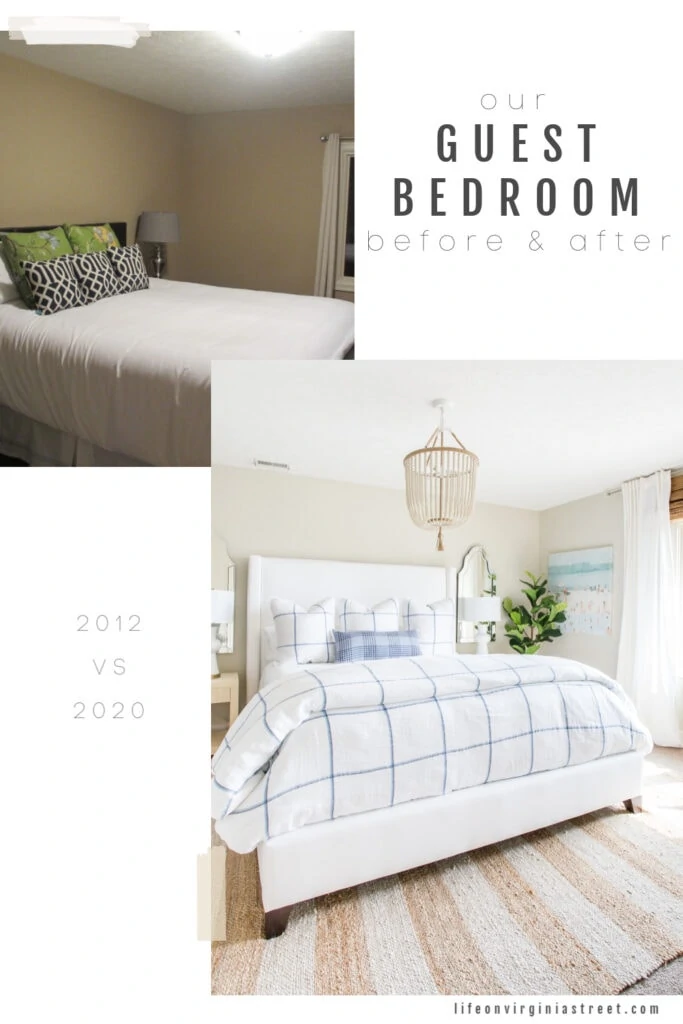 GUEST BEDROOM SOURCES: Upholstered Bed | Windowpane Plaid Bedding | Plaid Lumbar Pillow | Bead Chandelier | Striped Rug | Raffia Nightstands | White Ceramic Lamps (come as a set of two) | Abstract Beach Art | Faux Fiddle Leaf Fig Tree (this is the 5'4″ size) | Mirrors | Similar Drapes | Cane Chair | Striped Pillow
QUEEN GUEST BEDROOM BEFORE & AFTER
Our queen guest bedroom was one of the first bedroom we ever initially updated! It kind of sat idle for about a year, but this year forced me to get it back in shape when Kurtis had to start working from home. We probably need to figure out a better situation for his desk side of the room, but otherwise we love how it looks now!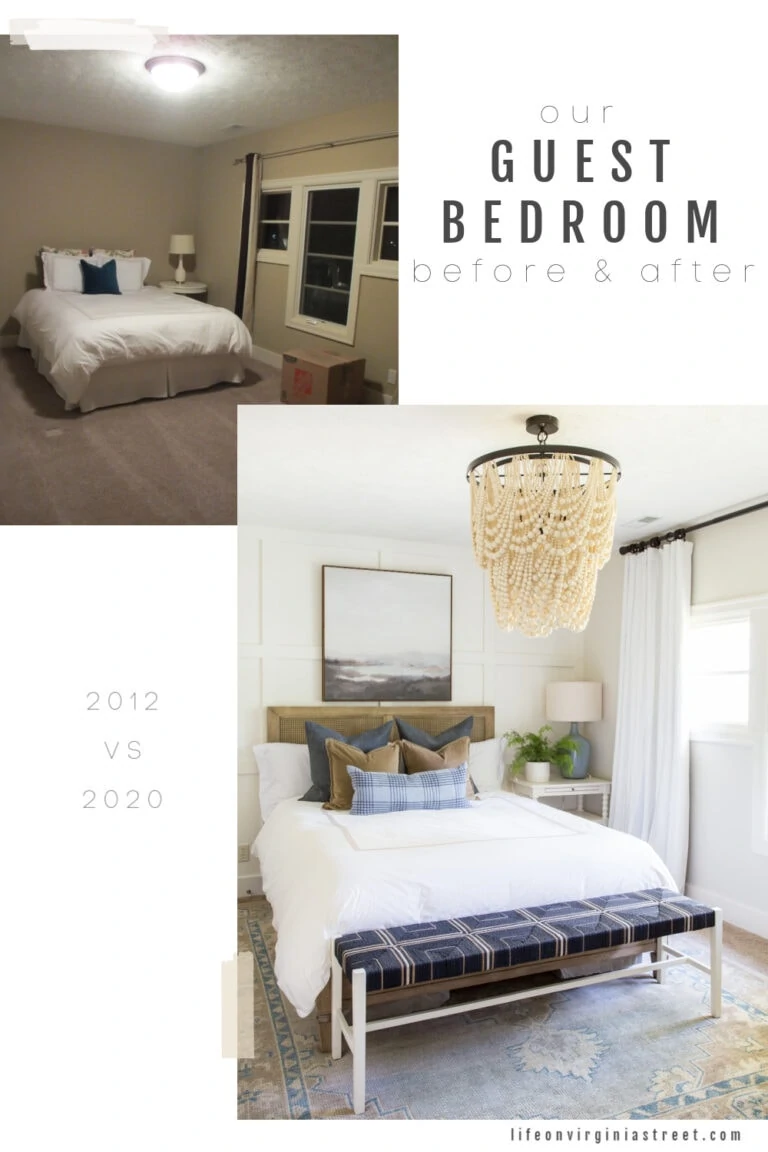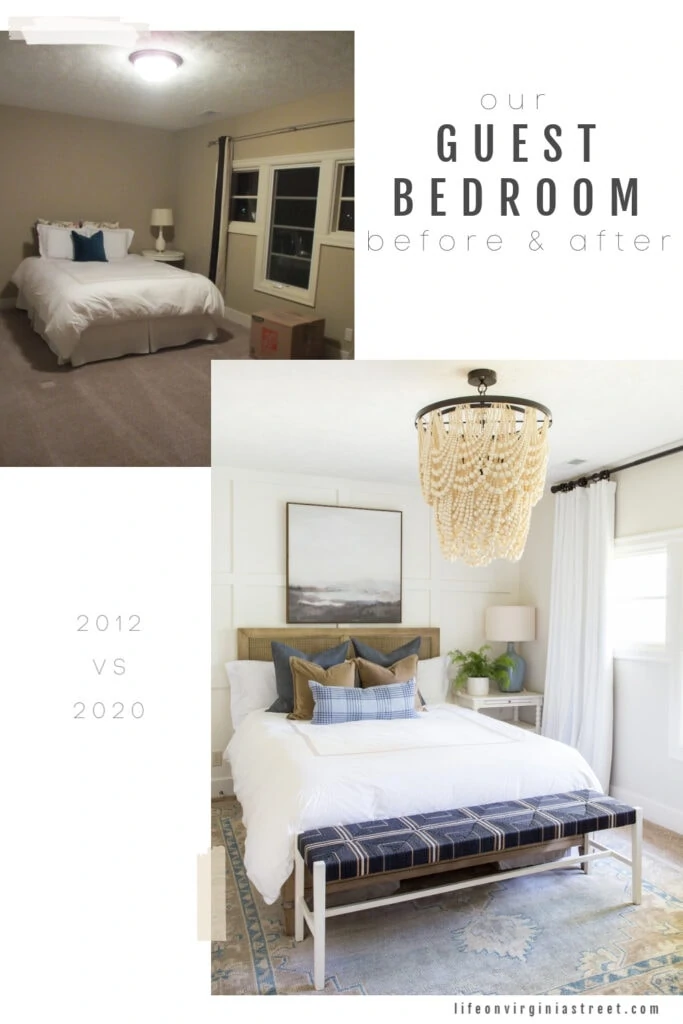 GUEST BEDROOM SOURCES: Wood Cane Bed | Hand-Knotted Rug | Bead Chandelier | Abstract Art | Spindle Nightstand | Belgian Linen Drapes | Iron Curtain Rod | Iron Finials | Iron Curtain Ring Clips | Woven Bench | Linen Pillows | Velvet Pillows | Plaid Lumbar Pillow | Ceramic Lamp | Faux Fern | Hotel Style Duvet Cover
QUEEN GUEST BATHROOM BEFORE & AFTER
Although we've made small improvements to our guest bathroom over the years, we plan to tackle a big renovation here in 2021. The room was a last minute addition to our other bathroom makeover, but it will be nice to tackle them all at once. The biggest change will be adding a window and I can't wait!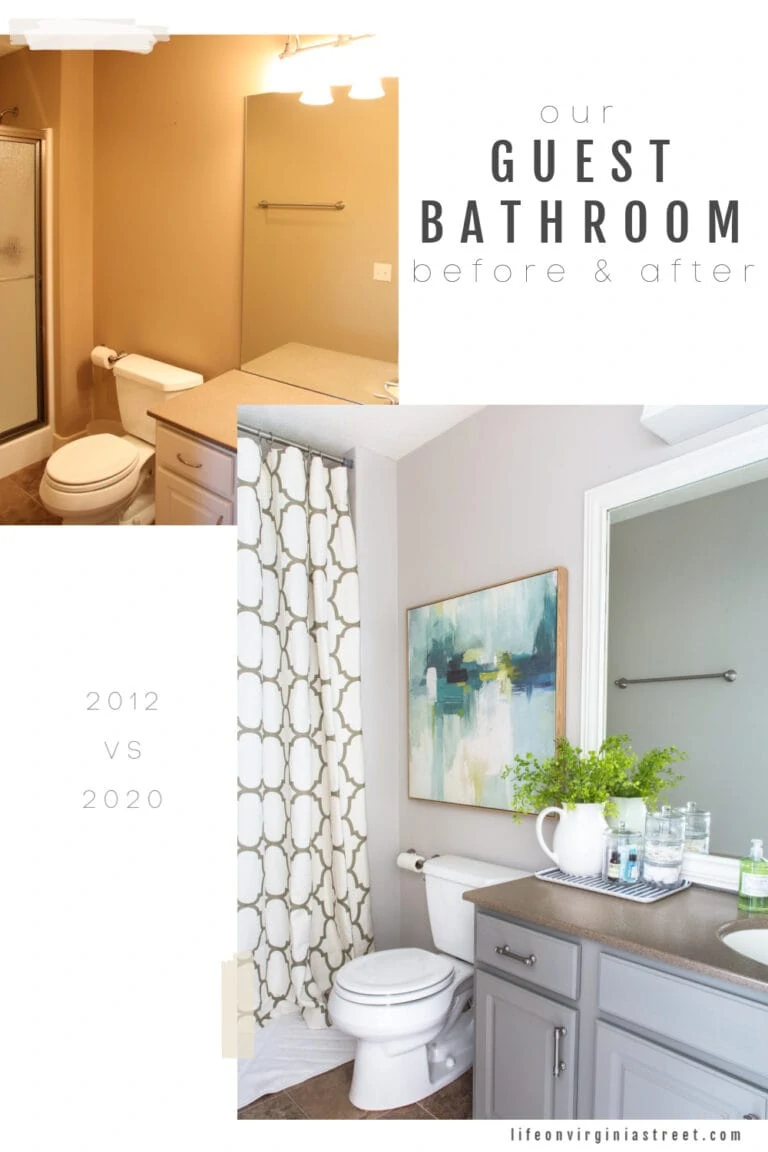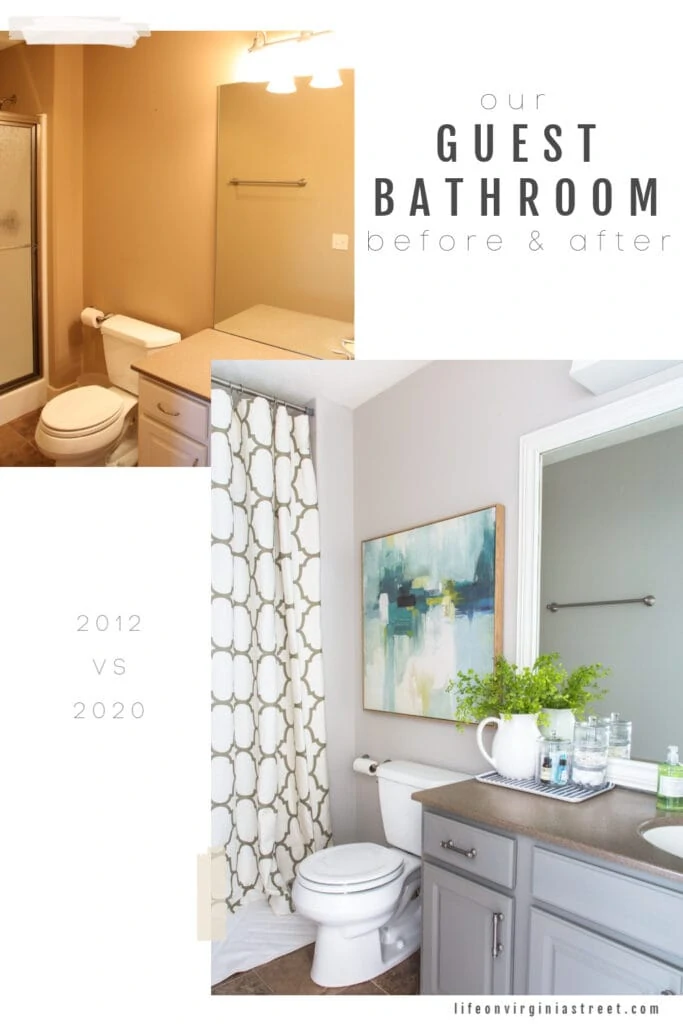 GUEST BATHROOM SOURCES: Abstract Canvas Art | Shower Curtain Fabric | White Porcelain Pitcher | Similar Faux Maidenhair Ferns | Lemongrass & Ginger Hand Soap
MASTER BEDROOM BEFORE & AFTER
After doing a big update to our bedroom in 2019 and painting the whole room (and ceiling) myself, this year, it was just mostly cosmetic updates!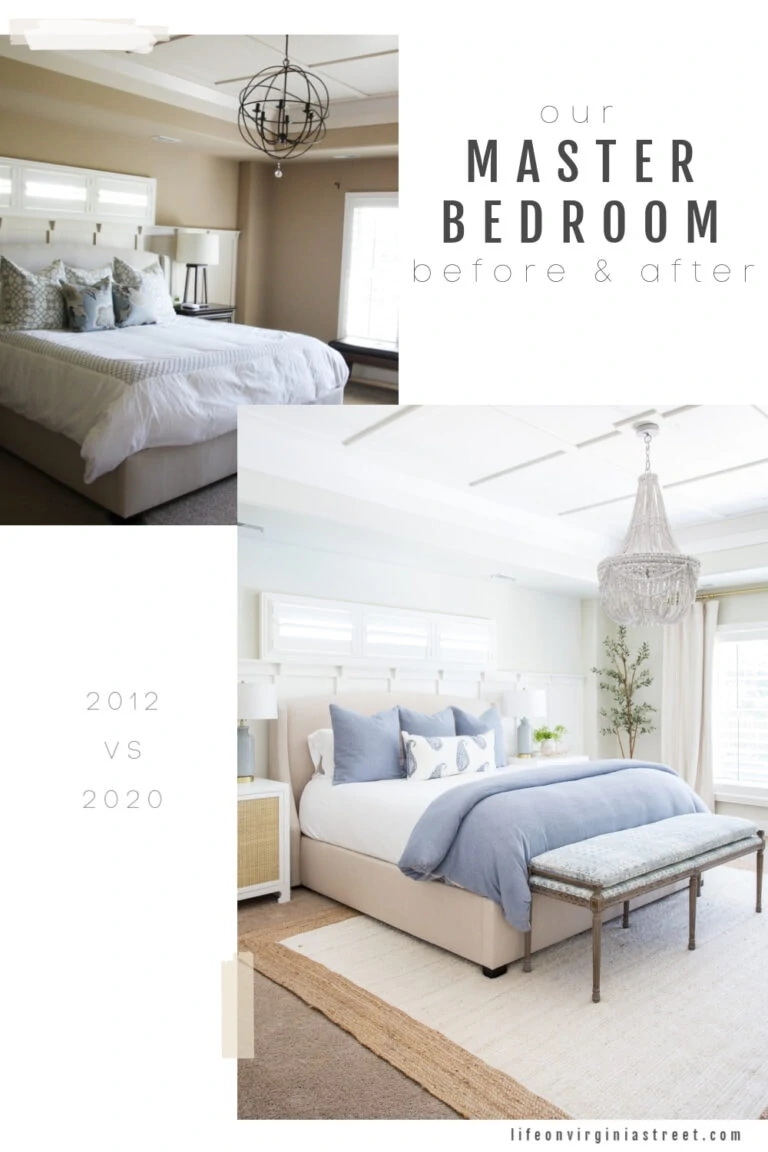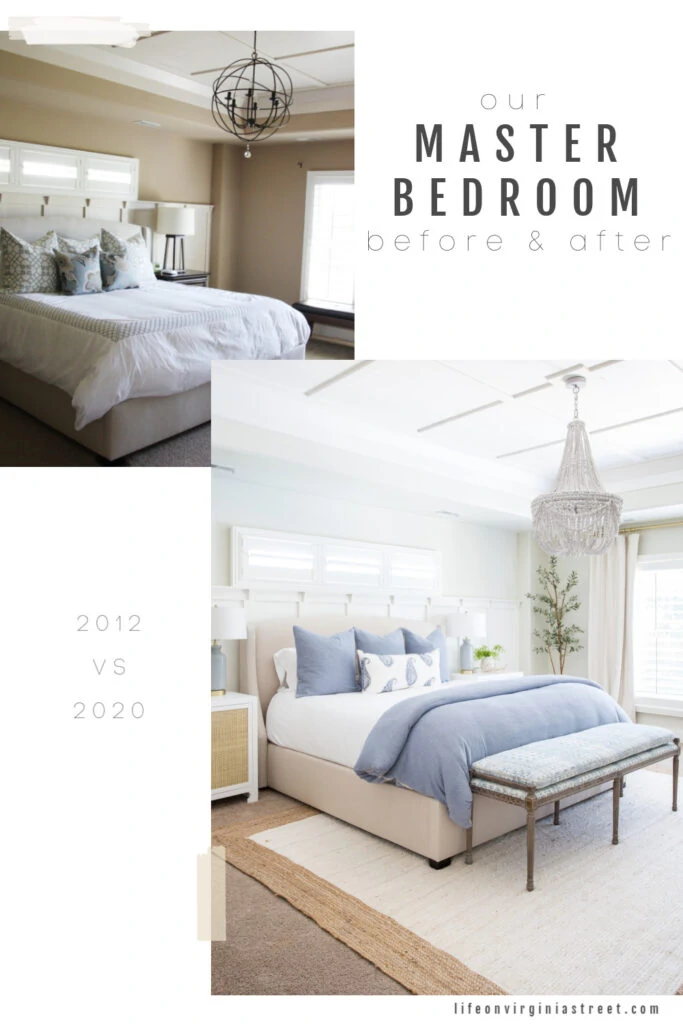 But, we finally got a new dresser  after about a decade and couldn't be happier with it! It fits our coastal style so much more than our original, dark wood version.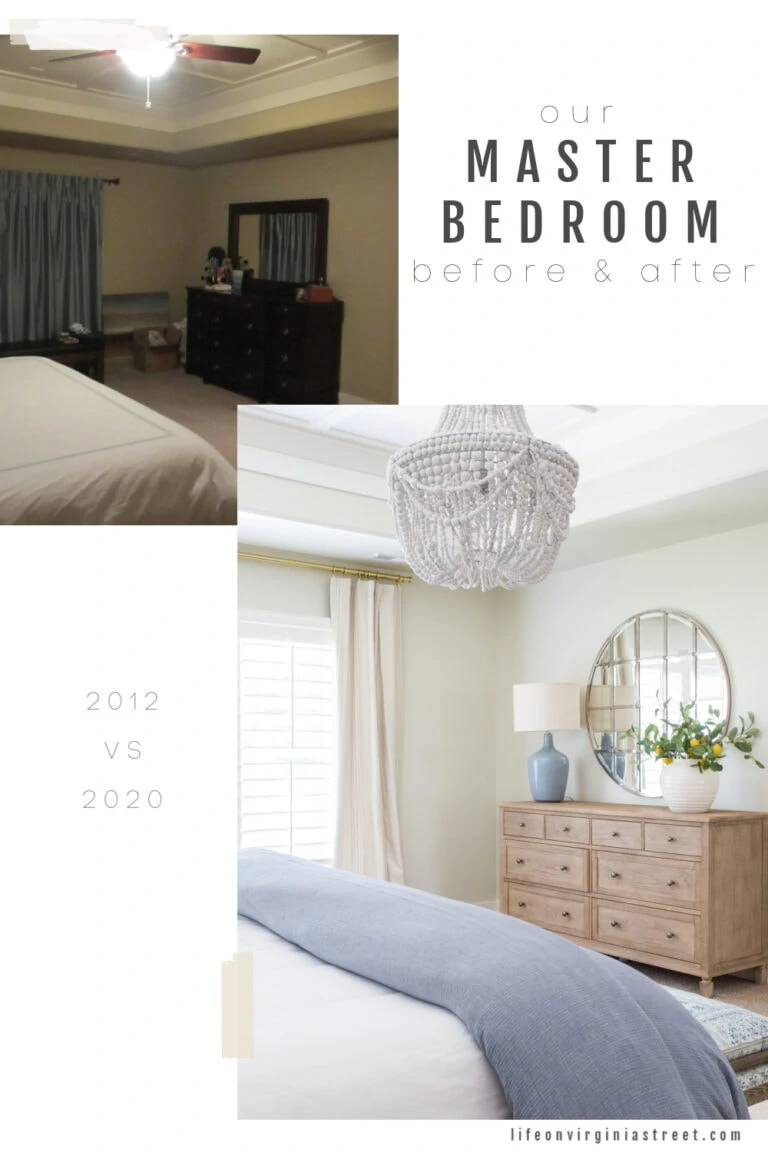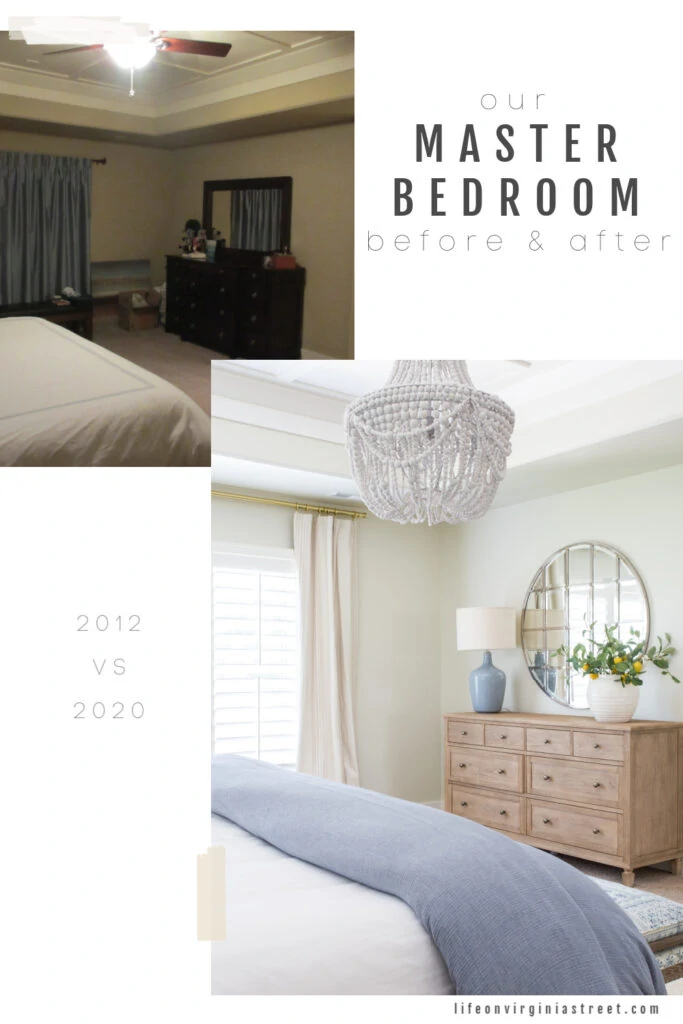 MASTER BEDROOM SOURCES: Similar Bed | Blue Euro Shams & Bedding | Paisley Lumbar Pillow | Cane Nightstands | Bead Chandelier | Faux Potted Maidenhair Fern | Manzanita Branch | Jute Rug | Dresser Lamp | Nightstand Lamps | Gallery Wall Frames | Striped Curtains | Curtain Rod | Bench | Dresser | Round Grid Mirror | Similar Ceramic Vase | Faux Lemon Stems
MASTER BATHROOM BEFORE & AFTER
Our master bathroom is always the one that surprises people most about our house. It's super dark and just feels really "off" with the way our other spaces are currently. But functionally it's totally fine. After we tackle our guest bathroom makeovers, we'll likely start saving for this one. We're hoping to learn a thing or two along the way with the first two renovations before we tackle this one!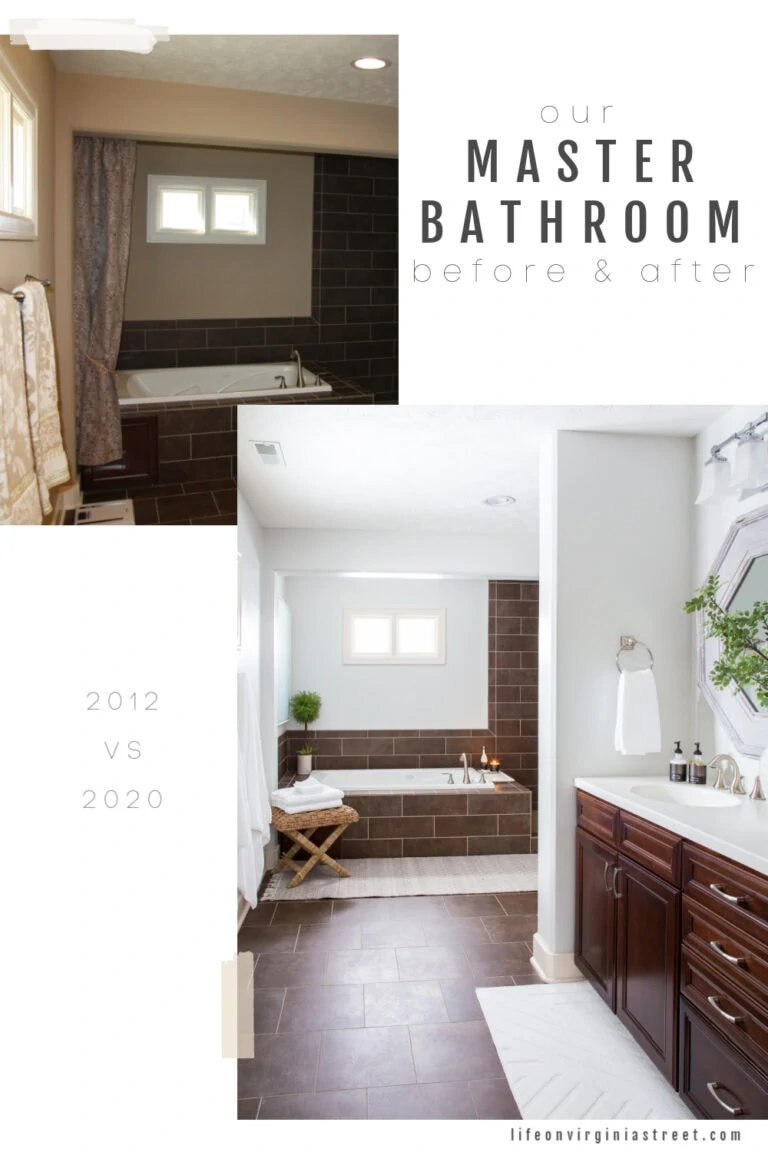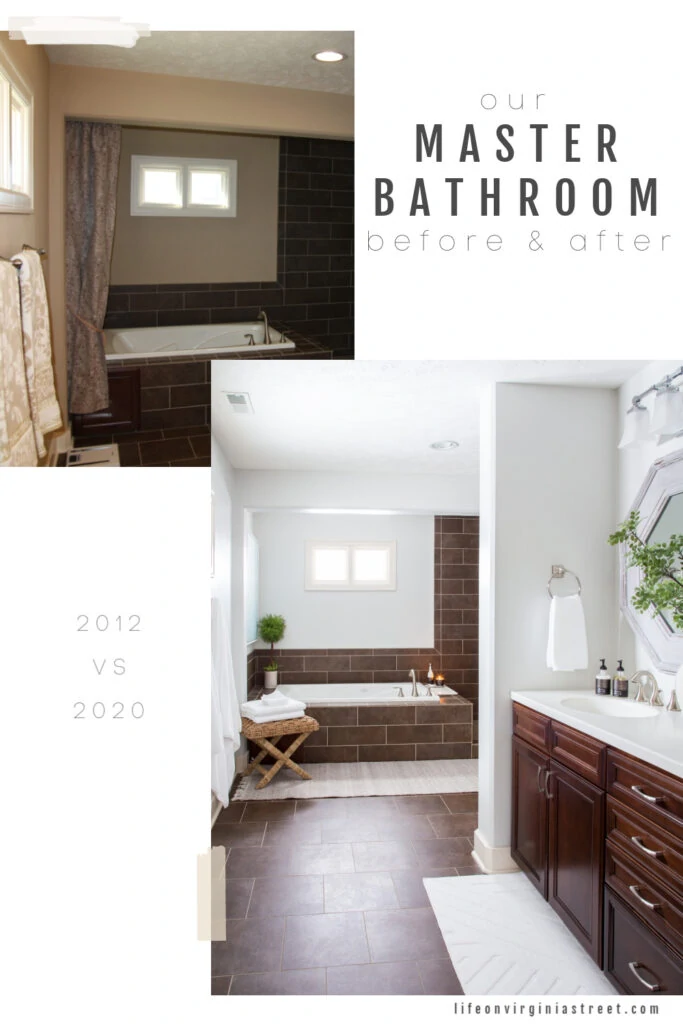 MASTER BATH SOURCES: Towel Hooks | Woven Stool | Similar Vase | Faux Greenery | Runner Rug
DEN (FORMER CRAFT ROOM) BEFORE & AFTER
One of the biggest changes of the year was painting the board and batten in our den Benjamin Moore Van Courtland Blue. I love how it has totally transformed the vibe in here! Since we mostly only use this room for reading or watching movies, I like the moodier paint color.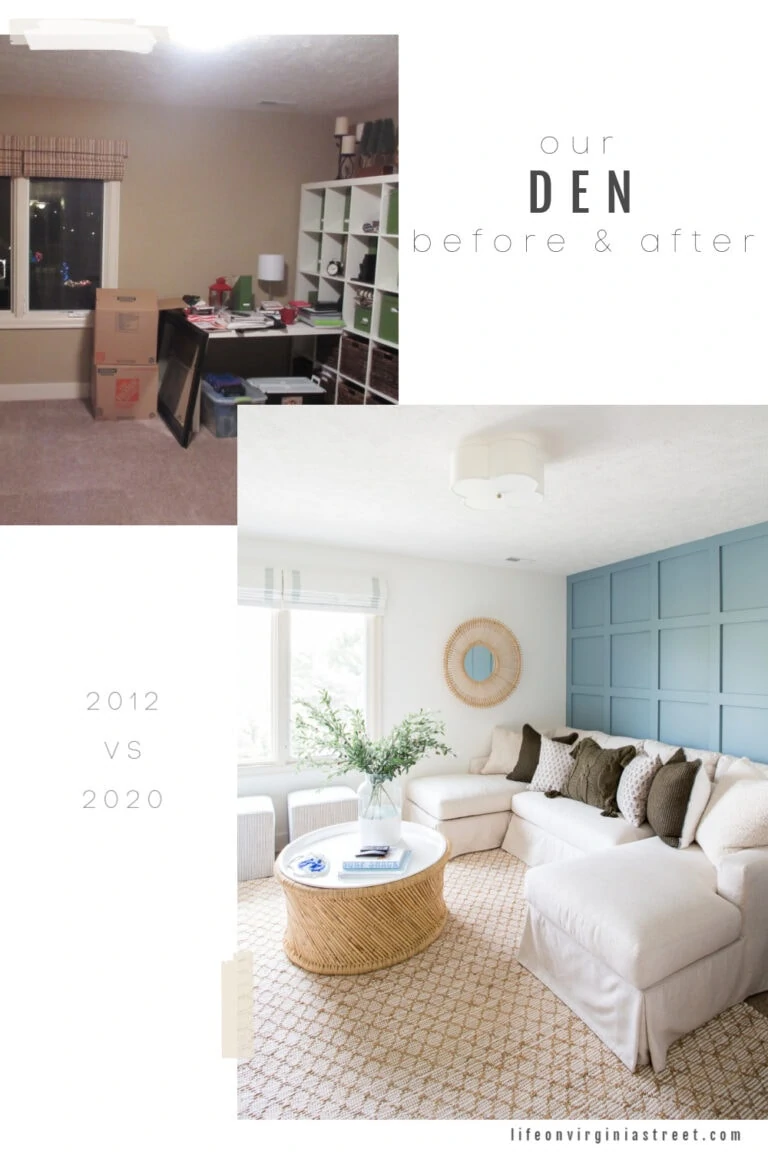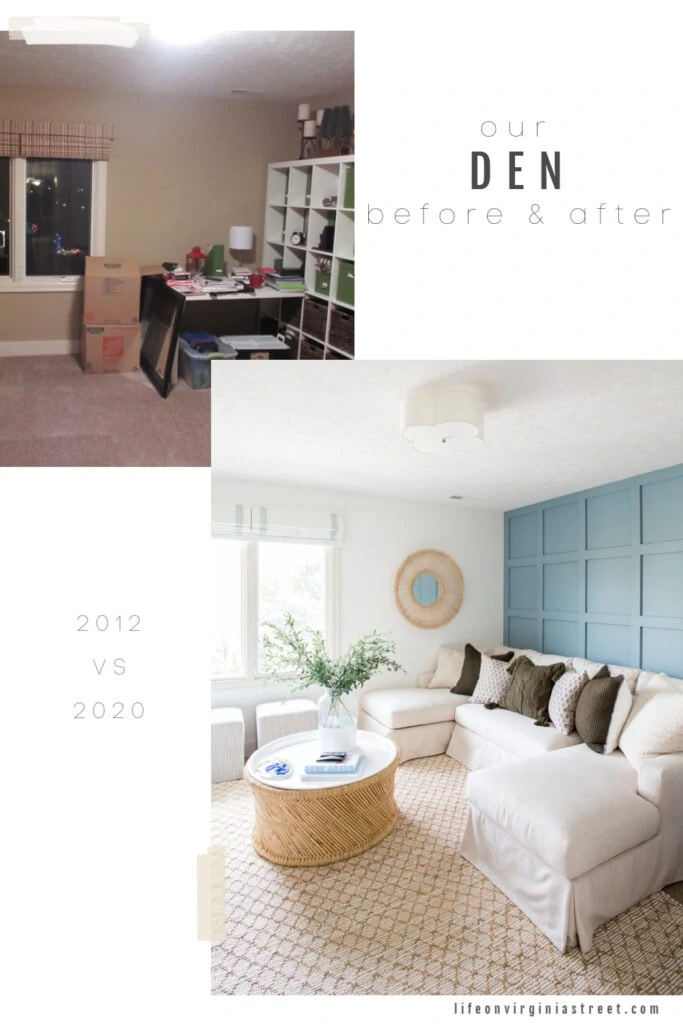 FALL DEN SOURCES: Linen Sectional | Rug | Storage Coffee Table | Paint-Dipped Vase | Faux Olive Stems | White Bone Beads | Coffee Table Book | Scalloped Light Fixture | Similar Rattan Mirror | Striped Ottomans | TV Stand | Boucle Pillows | Waffle Knit Reversible Sherpa Pillows | Block Print Pillows | Chunky Knit Tassel Pillow | Tripod Lamp
LAUNDRY ROOM BEFORE & AFTER
The last major update I gave our laundry room was when I painted the walls with a buffalo check pattern. Last year, we did have to replace our washer and dryer (and now have white models) so I need to get an updated photo with them in there! That was also on the to-do list last year, and yet here we are 😉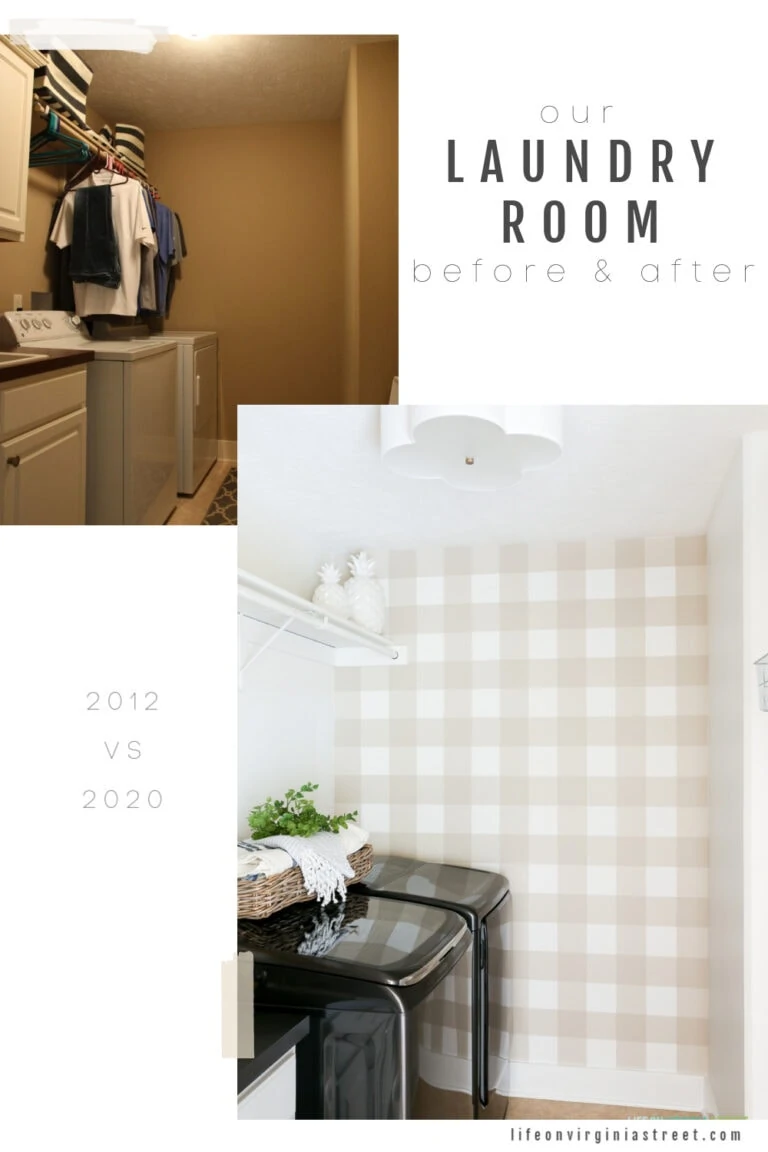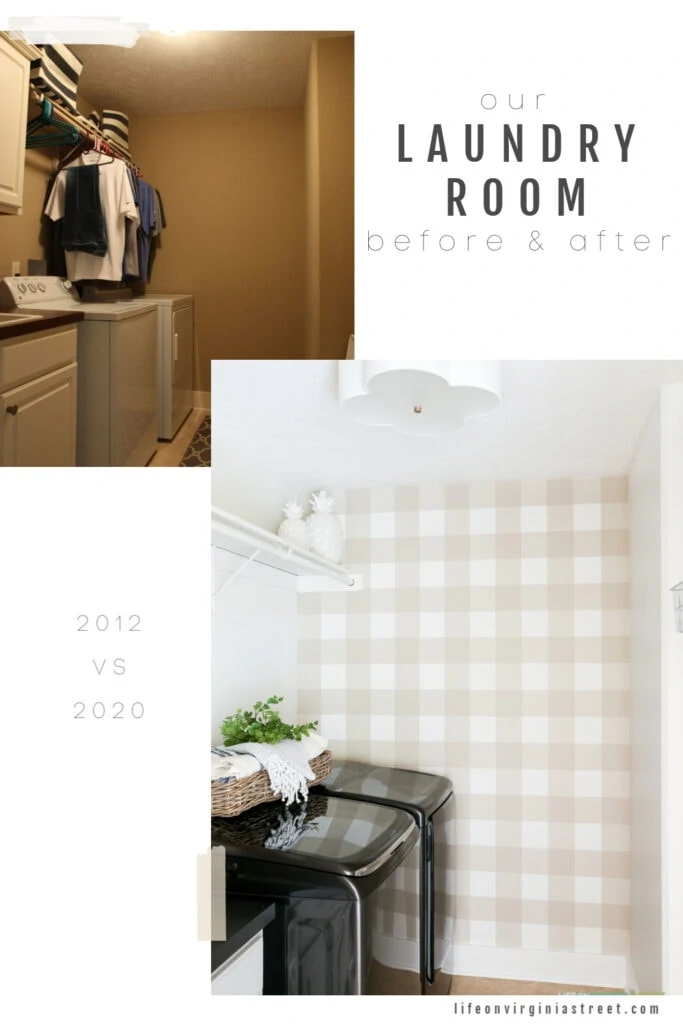 LAUNDRY ROOM SOURCES: Scallop Light Fixture | Similar Basket Tray | Similar White Ceramic Pineapple
BACKYARD/POOL BEFORE & AFTER
Although it's been about five years since our pool was built, the space continues to evolve as our landscaping matures. Our backyard is truly one of our favorite places in the world to be and we look forward to getting back to entertaining here this year! This year we noticed a dramatic difference in our trees, now that they're all getting rooted and really starting to take off! It's hard to believe eight years ago, there were only a handful of trees on the entire property!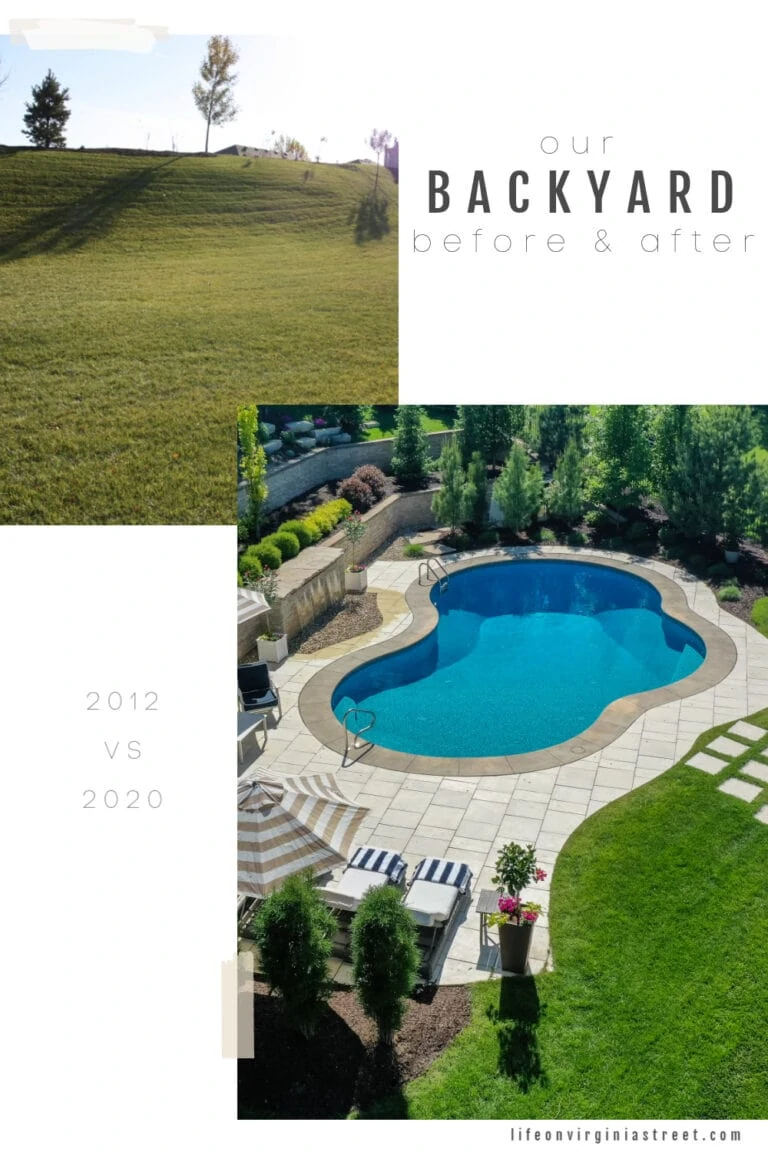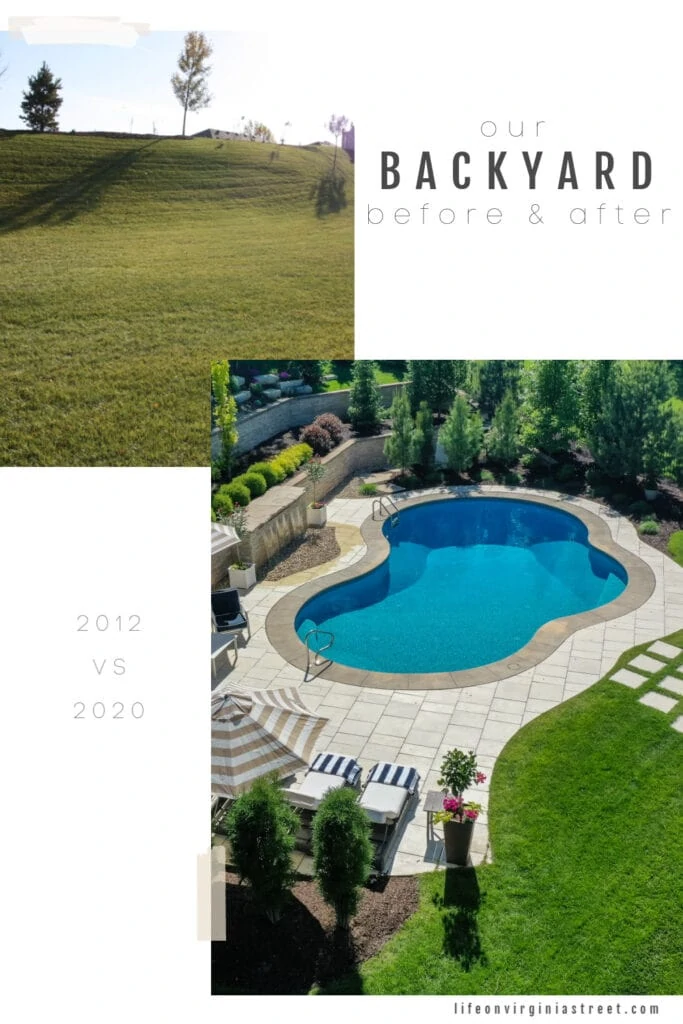 POOL DECK & COVERED PATIO SOURCES: White & Navy Blue Conversation Set | Chaise Lounge Chairs | Striped Umbrellas | White Planter Boxes | Tall Planters | Striped Sunbrella Pillows | Reversible Pool Towels | Hibiscus Topiary | Sweet Potato Vines | Round Dining Table | Similar Outdoor Bistro Chairs | Striped Outdoor Curtains | Rug
I hope you enjoyed this before and after tour!
I'll be posting less frequently next week, and if you're signing off for the holidays, I want to wish each and every one of you a wonderful Christmas and Happy New Year! I truly appreciate each and every one of you taking the time to come read my blog and I'm so excited to see where things go this next year. I hope you all enjoy some down time and come back refreshed in the new year! I think we're all ready for a fresh start!
If you would like to follow along on more of my home decor, DIY, lifestyle, travel and other posts, I'd love to have you follow me on any of the following:
Pinterest | Instagram | Facebook | Twitter 
disclosure: some affiliate links used