Can you believe Christmas is already this week?! Let alone that it's nearly the end of 2021?! So crazy! In so many ways this year has flown by while also feeling like it stood still at others. I'm looking forward to a fresh start in 2022! Here's a little of what we've been up to this past week.
This post contains affiliate links for your shopping convenience. You can read my full disclosure policy here.
Home Projects & Updates
I shared a rare Sunday post yesterday with our nine year before and after home tour! I wanted to mention it here again, since I know I don't frequently post on the weekends. It's always fun to look back at all the updates we made to our home over the year(s)!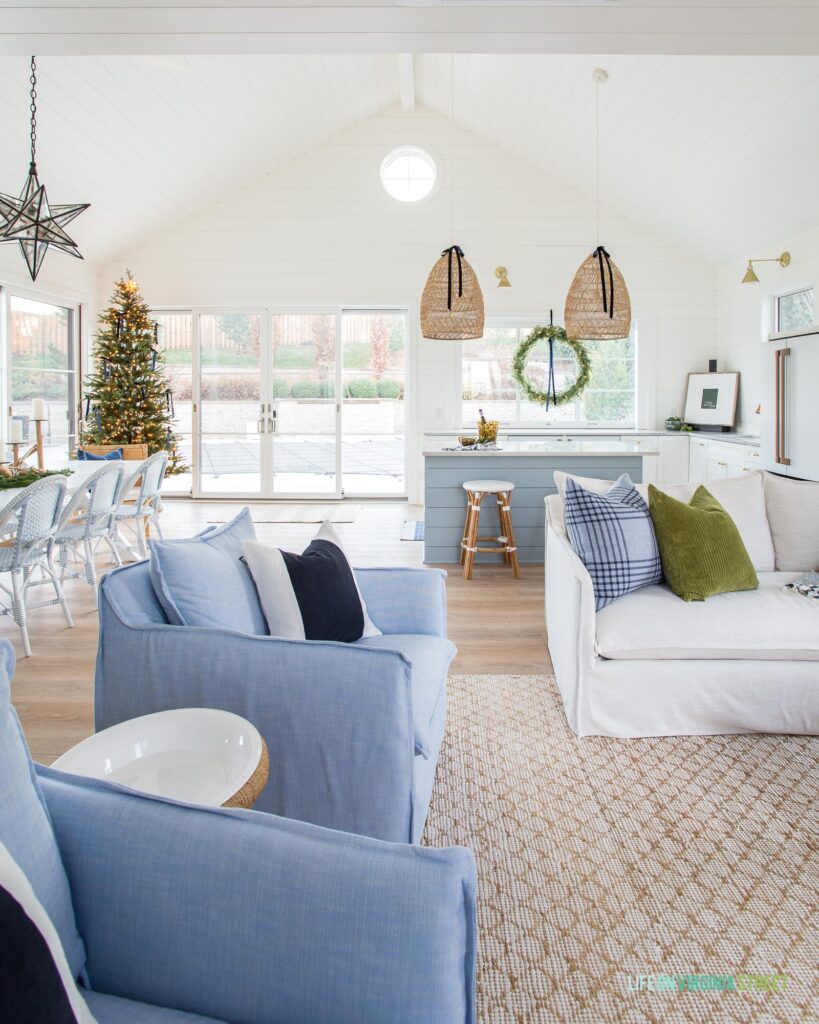 CHRISTMAS POOL HOUSE LIVING ROOM SOURCES: Outdoor Sofa (Perennials Basketweave – Chalk) | Outdoor Swivel Chairs (Perennials Basketweave – Coastal Blue) | Round Storage Side Table | Rug | Plaid Pillow Cover | Corduroy Pillow Cover | Suede Stripe Pillow Cover | Linen Throw Blanket
CHRISTMAS POOL HOUSE KITCHEN SOURCES: Basket Pendant Lights | Aged Brass Star Sconces | Backless Counter Stools | Cabinet Ball Knobs | Drawer Bin Pulls | Counter Depth Fridge | LVP Floors | Oversized Juniper Berry Wreath | Seaglass Bowl | Easel | Frame | "Let Your Heart Be Light" Art | Tortoise Ice Bucket | Tortoise Bowls | Blue Plaid Dish Towels | Cabinet Color: BM Simply White | Island Color: BM Santorini Blue | Countertops: White Macaubas Quartzite
CHRISTMAS POOL HOUSE DINING ROOM SOURCES: Dining Table | Outdoor Dining Chairs | Woven Chairs | Plaid Pillow Covers | Driftwood Candle Holder | Dripless Candles | Garland | 9′ Faux Christmas Tree | Moravian Star Tree Topper | Woven Tree Collar | Navy Blue Velvet Ribbon
If you missed my tjmaxx.com post last week, I did a little makeover off the entryway at the base of our staircases last week. It feels good to not have this area looking like a dumping station any longer! If you've ever wanted a wood chain decor item, the $12 clearance price (in both stain options) is making this one the most affordable I have ever seen…by far! It's so cute!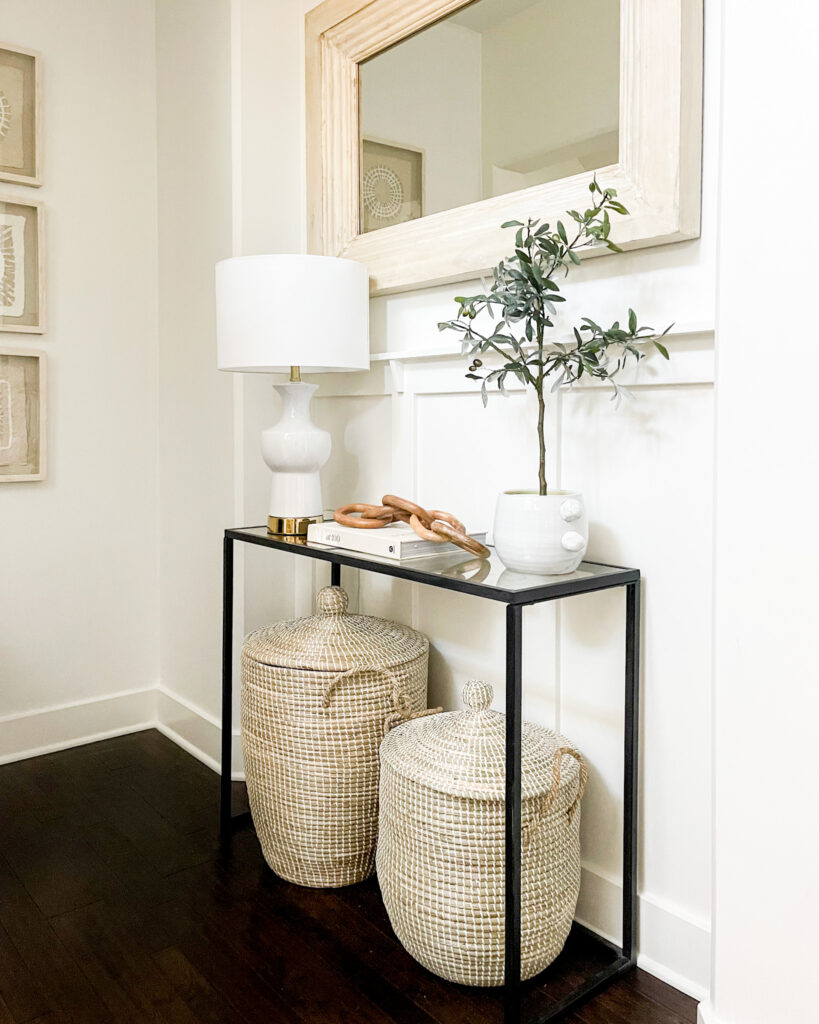 SOURCES: Lamp | Wood Chain Decor | "AD At 100" Coffee Table Book | Faux Olive Topiary | White Dot Vase | Large Basket | Medium Basket | Wall Art & Mirror – Old from At Home | Console Table – Old from Holly & Martin
We also received our automated shade for the pool house! We went with the Serena by Lutron shades like we had in our living room. Once the windows were replaced this summer, they no longer fit which was basically the worst news to us. But, we ordered one for the pool house and have already been so excited to use it the past few days! I've worked with them in the past, but these weren't sponsored or anything. We truly love them that much and knew that's what we wanted out here!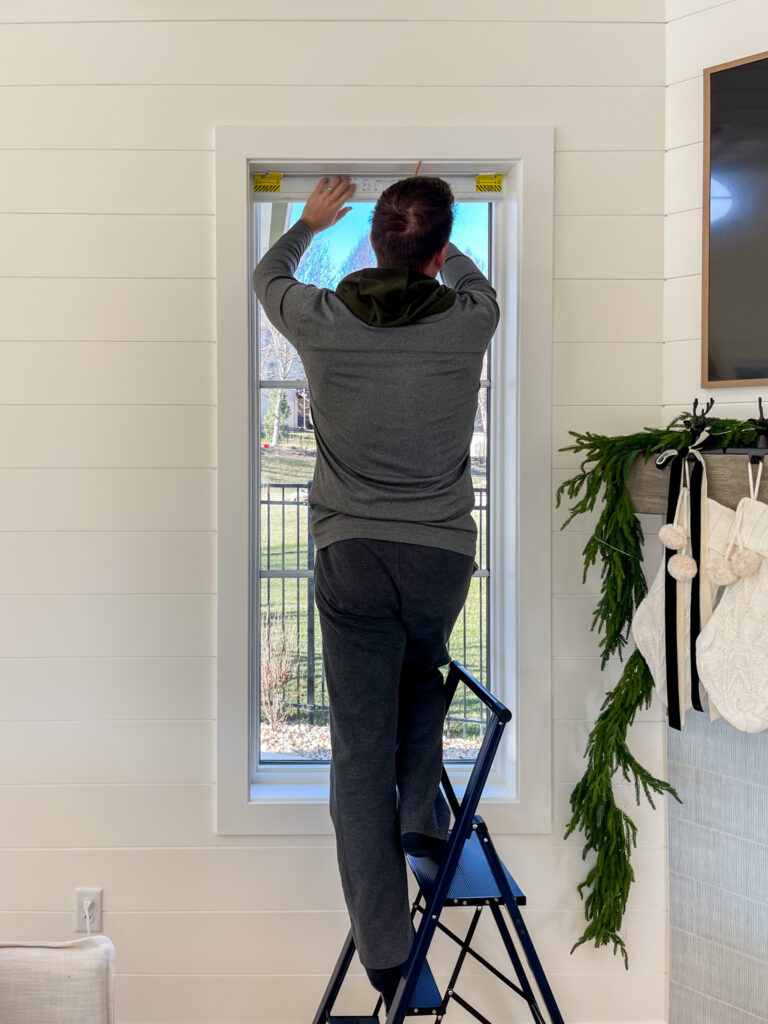 In the living room, I always had part of the shade hanging down for aesthetic purposes, but out here, I wanted it up as high as possible since we don't have shades on any of the other windows. But, it has already proven so helpful to have at night since this is the only other window that faces neighbors houses. You can see a shot of them fully closed further down in the post.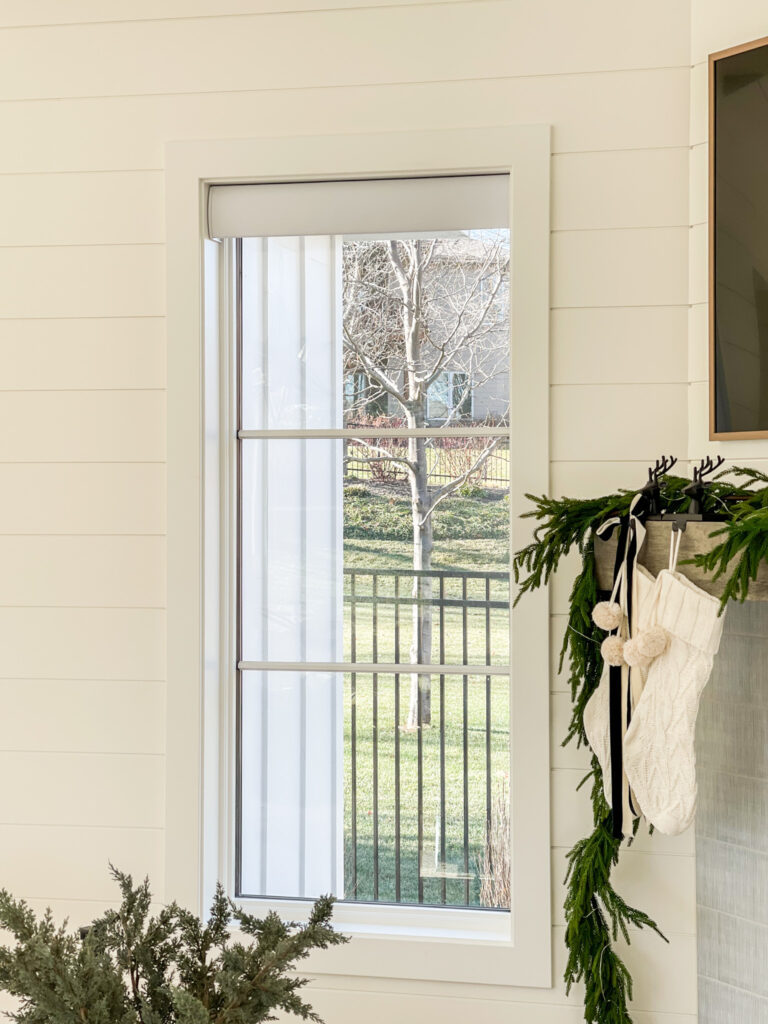 Top Sellers Of The Week
Following are the top sellers of the past week across all of my channels. Links to each item are below the graphic.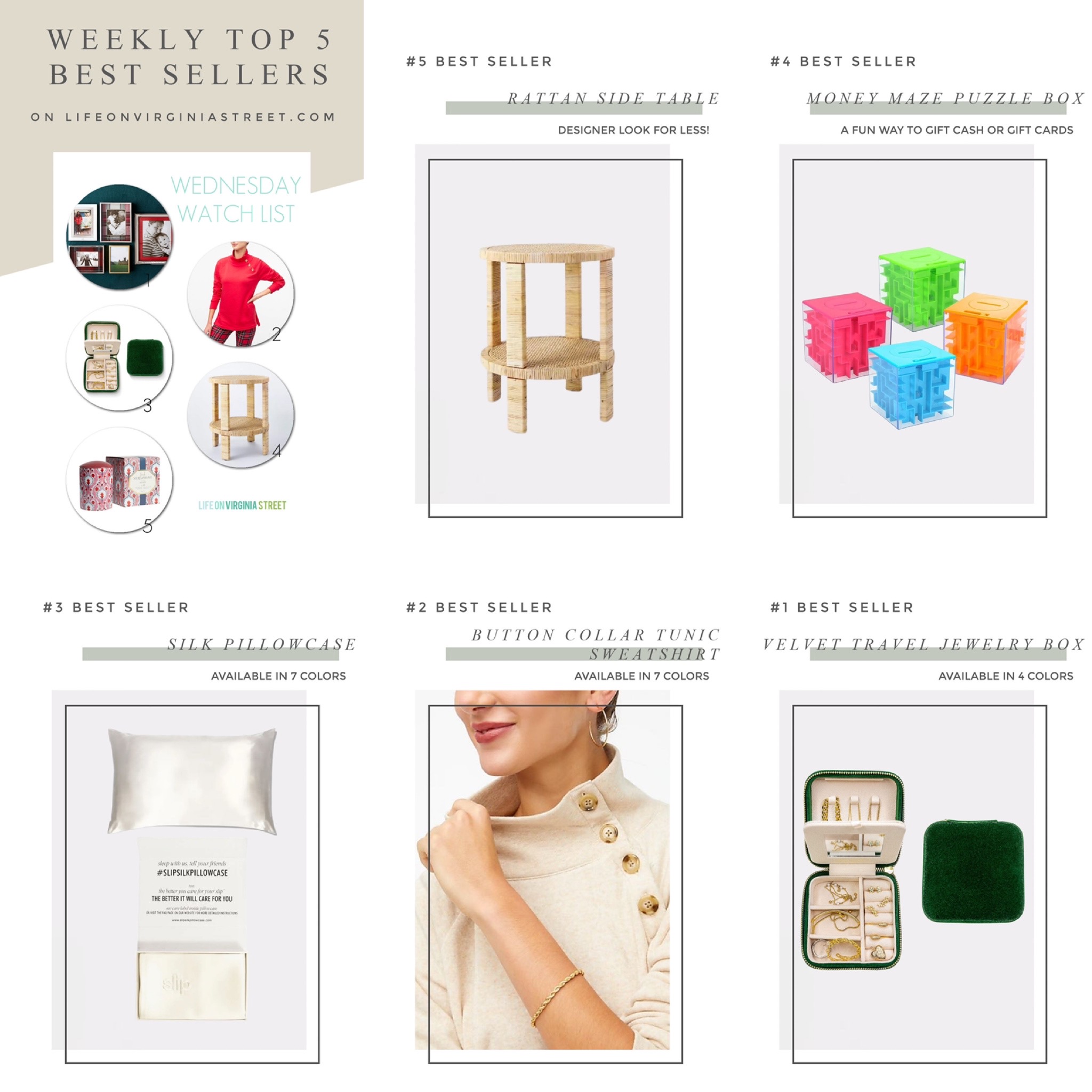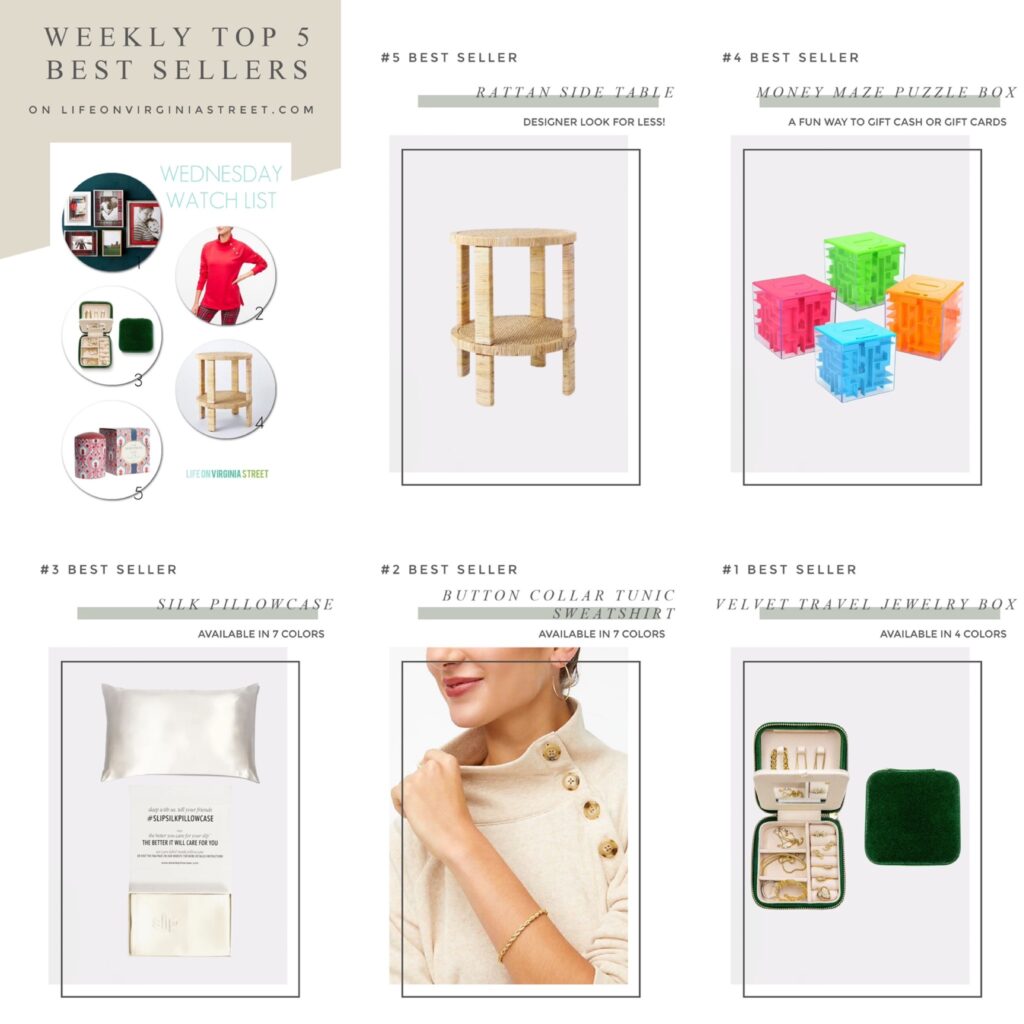 BEST SELLERS (each number is clickable): #5 | #4 | #3 | #2 | #1
In Case You Missed It
Following are the posts I shared over the past week.
Following are the most read blog posts of last two weeks (excluding any of the new posts already mentioned above). Many times this includes old posts that are popular on Google or Pinterest! It's fun to see what is trending each week!
Around Town & For Fun
I think it's safe to say the cats missed me while I was out of town the prior week. Both Bailey and Hawkeye tried to sit on my lap at the same time. That always ends well 😉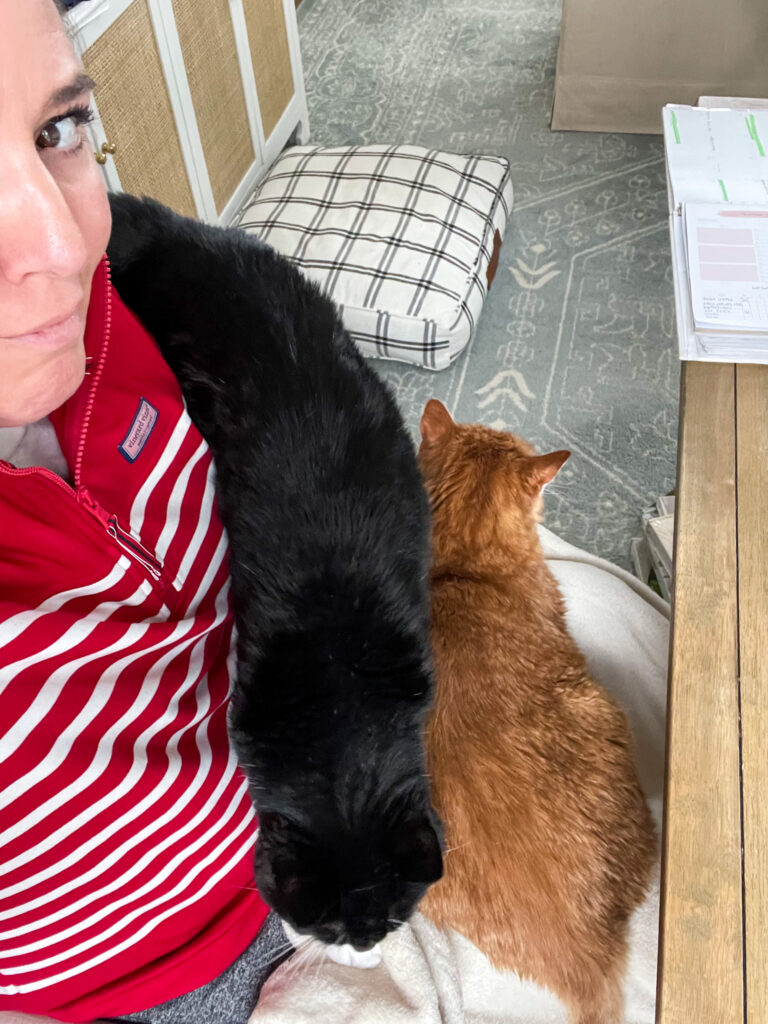 Wednesday, we had some scary storms roll through town. It was 74 degrees outside (which is unheard of this time of year), and we had 80-100 mph hurricane force winds. The tornado sirens went off three or four times, so we spent much of the evening in the basement. Thankfully all was okay here, but Kurtis' sister in Iowa had their entire barn taken out. So scary! But so thankful nobody was hurt. The next day, all of our windows looked like the image below. They are literally covered in mud. It was so weird!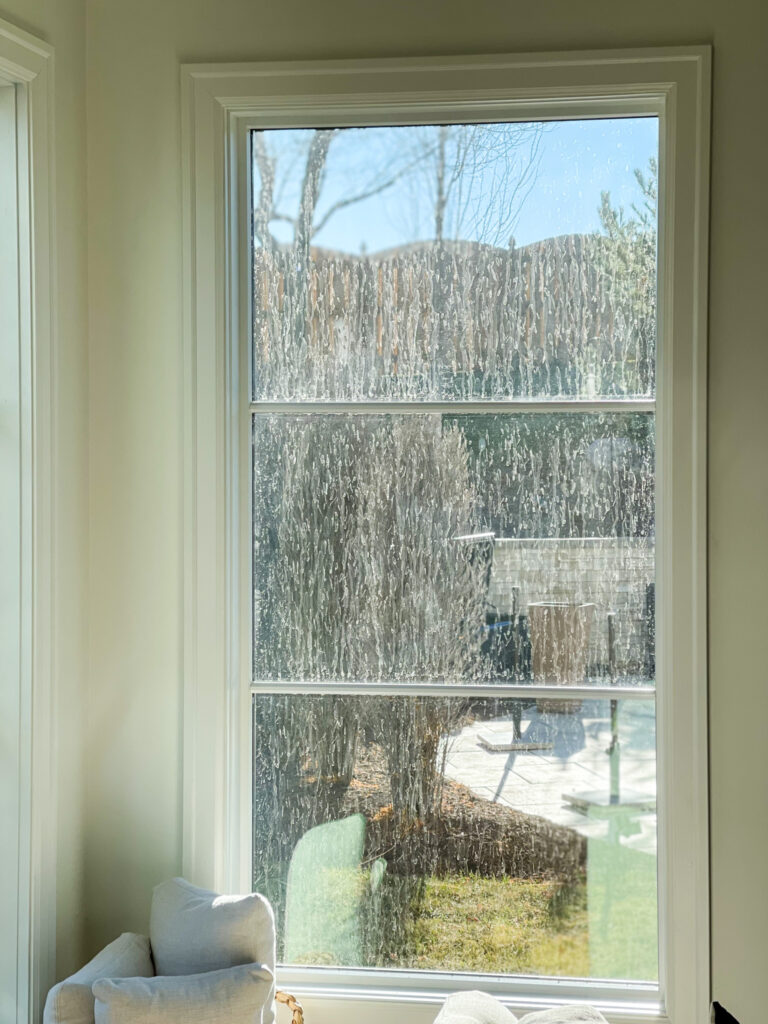 Friday night we went out with our besties to Blatt. It was fun to catch up one last time before the chaos of the end of year ensues. I wore this sweater and love how cozy it is! It's a very relaxed fit so I'd order down a size for a more fitted look.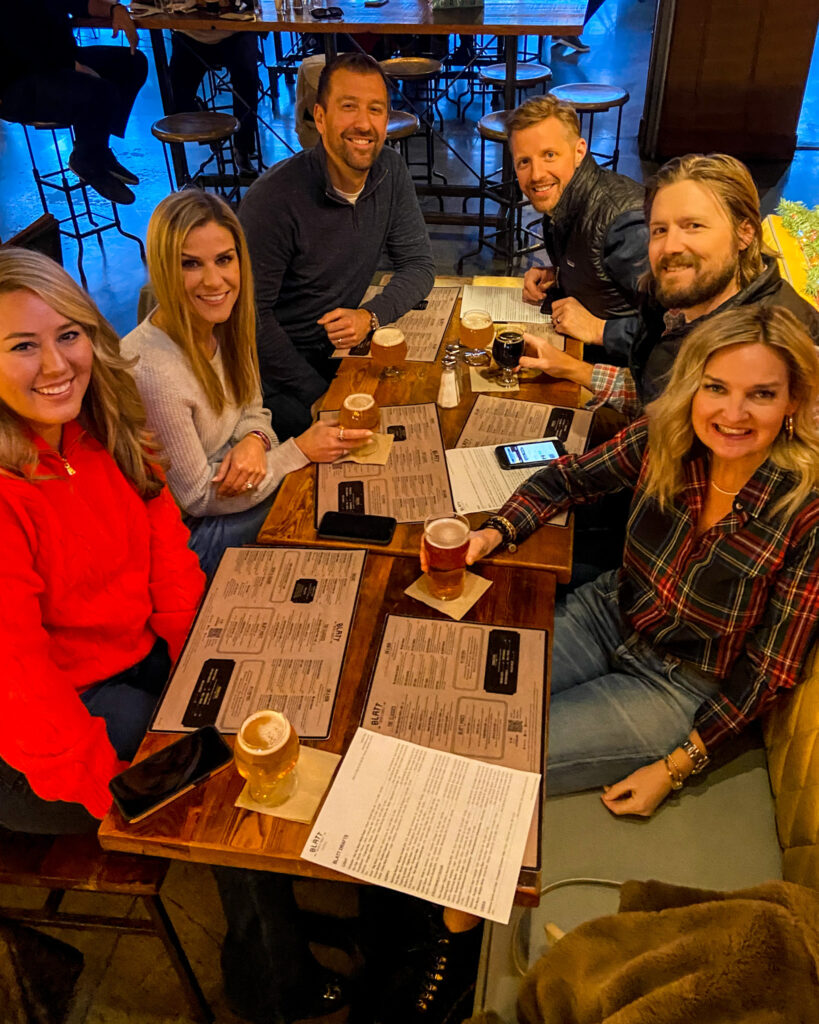 Afterwards we went to Jill and Nick's house. And although I didn't get a pic of our cute goddaughters, I took one of Scout and Kurtis. Everyone always jokes that Kurtis is Scout's favorite human on the entire planet.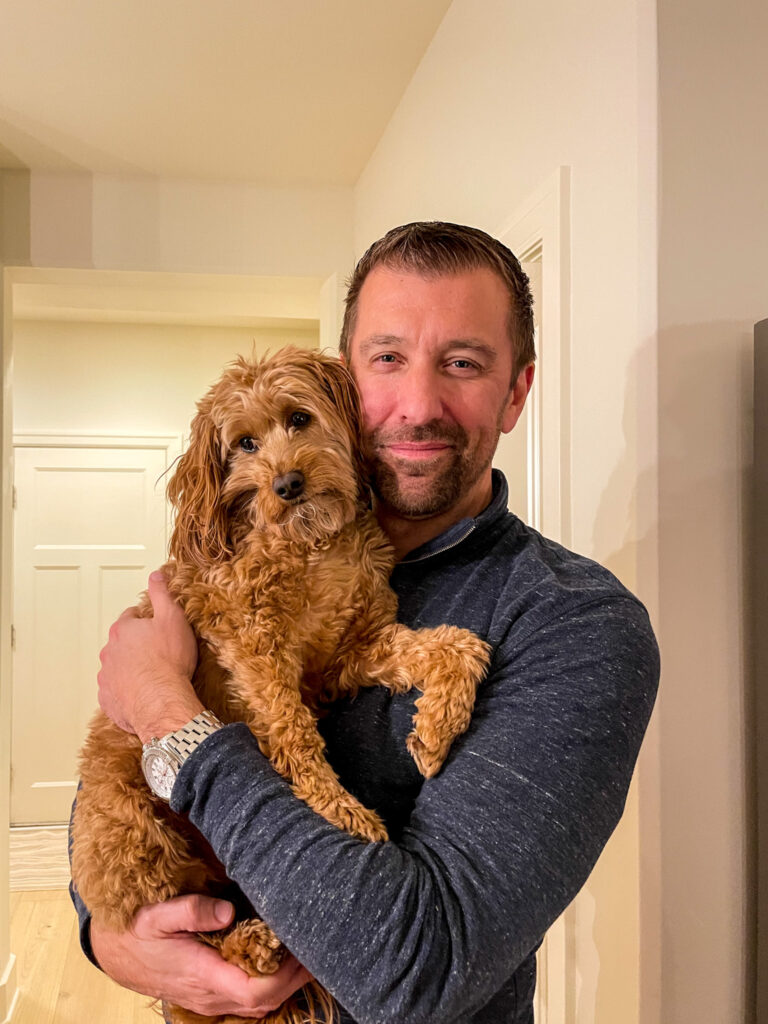 Saturday morning, I worked on a puzzle for a bit. I went to take a picture of Henley watching the birds but then she yawn-cried at the same time. I couldn't stop laughing at how the picture turned out! But, it basically sums up her very bossy attitude 😉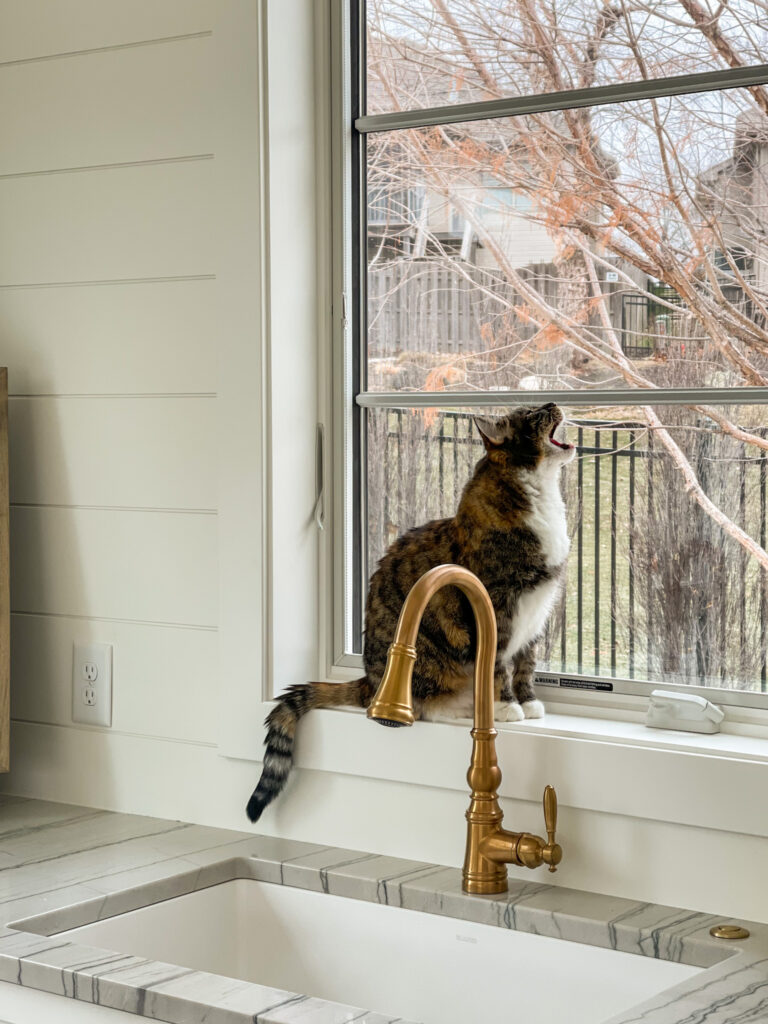 She also happens to be super helpful at puzzles. Now I have windows covered in mud and my puzzle mat covered in cat hair!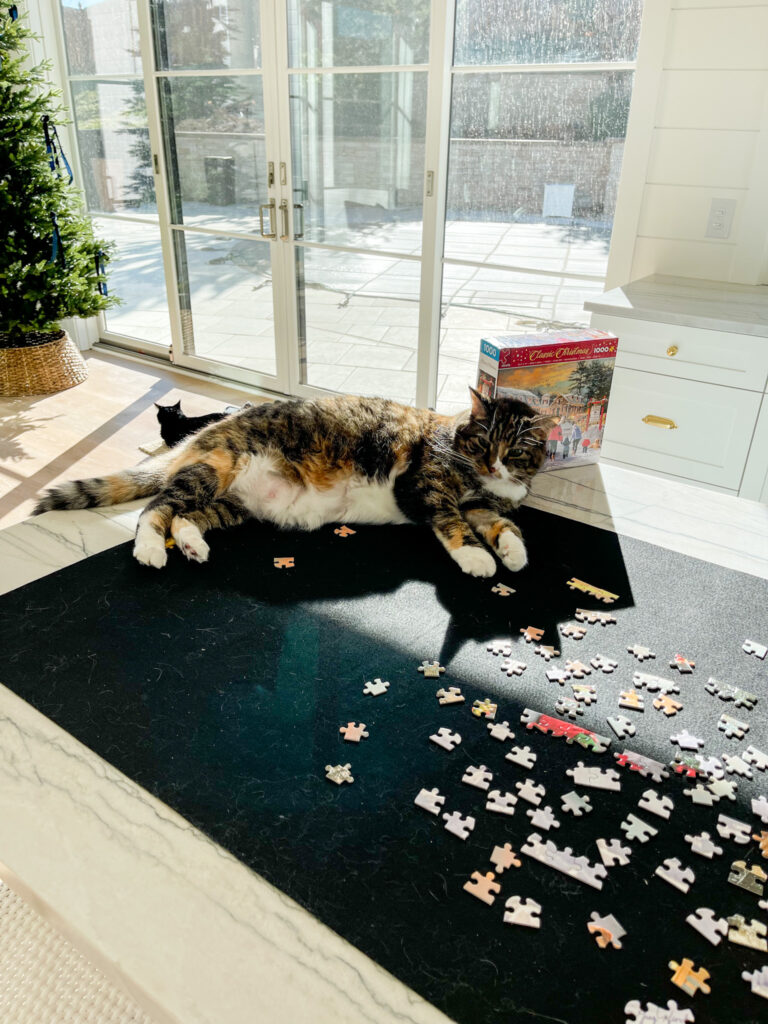 Saturday evening we hosted Kurtis' sister and brother-in-law for dinner and cards. The Nebraska women's volleyball team was in the championship game that night so we also tuned in to that. I looked over at one point and Kurtis was less than a foot from the TV talking to it and reenacting one of the calls. He loves his sports!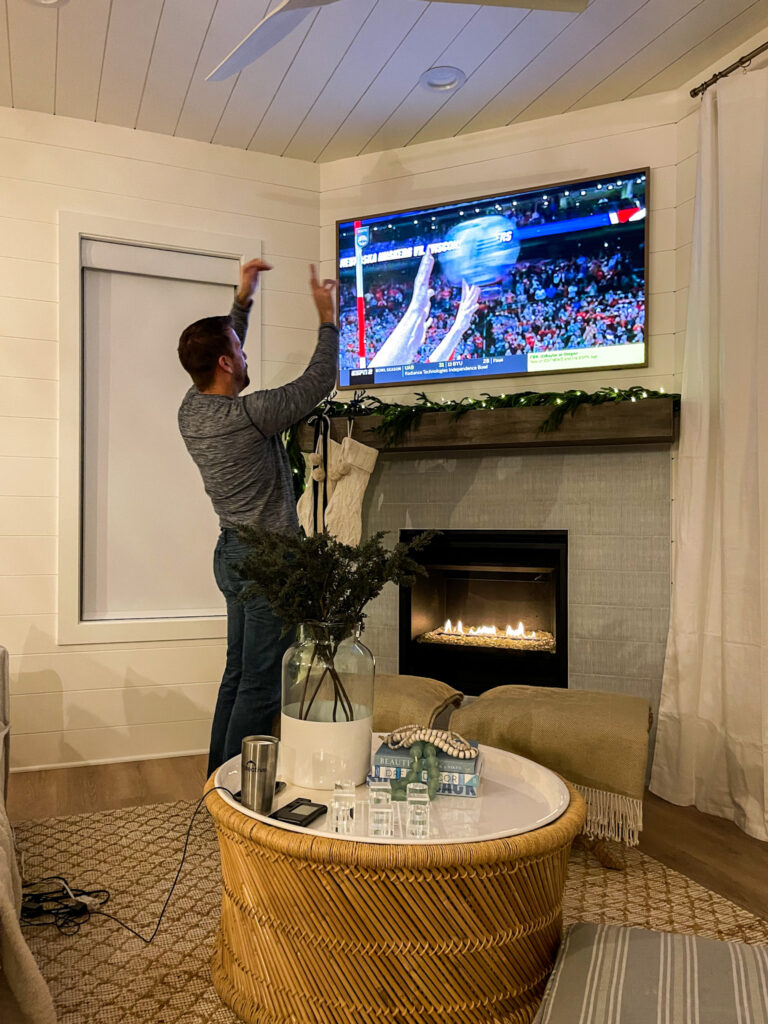 I shared this graphic over on my Instagram over the weekend, and thought it was worth re-sharing here. Not sure how shipping times have been impacted a few days later (or based upon where you live), but here are some last minute Amazon gift ideas and stocking stuffers that are more home-geared.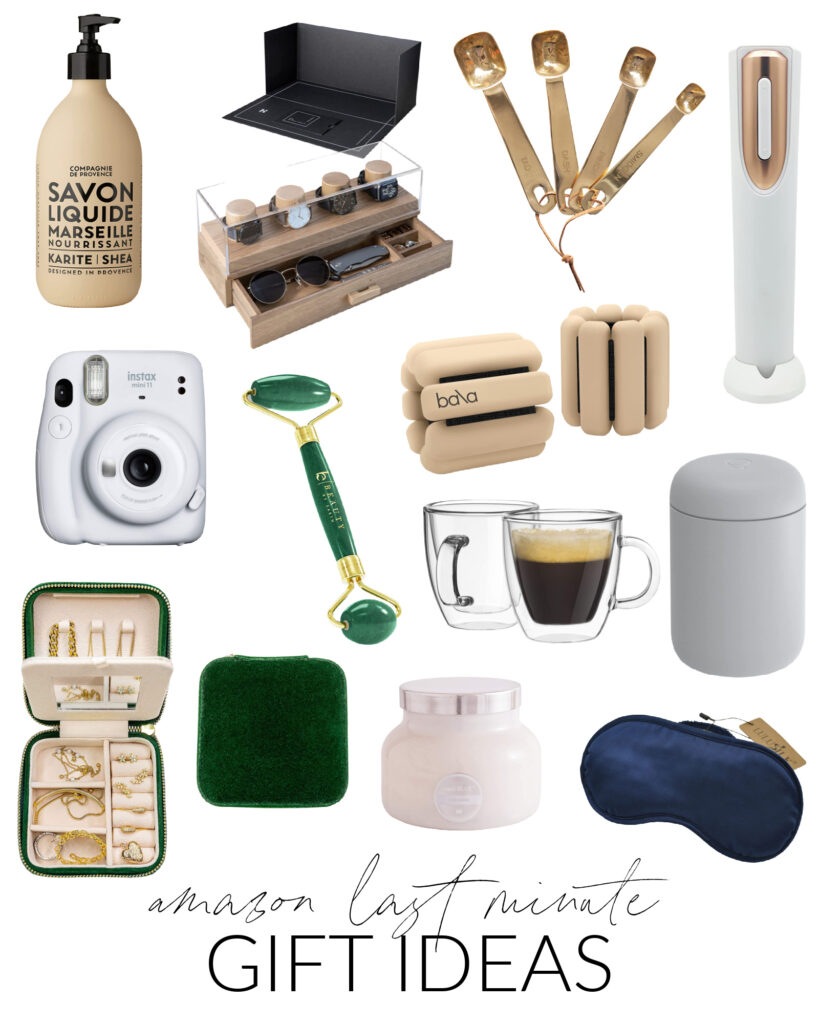 SOURCES: Designer Hand Soap | Watch & Accessory Box | Bronze Measuring Spoons | Wine Opener | Instax Camera | Jade Roller | Bala Wearable Wrist/Ankle Weights | Insulated Espresso Mugs | Insulated Tumbler | Velvet Travel Jewelry Box | White Capri Blue Volcano Candle | Silk Eye Mask
I'm not sure what my posting schedule will look like the next two weeks, as we prioritize time with both sides of the family. But, I do have a handful of posts ready that, at minimum, will be going up. So it definitely won't be too quiet around here. But, if you're signing out for a few weeks for some down time, I want to thank each and every one of you for reading my blog and supporting me in all the ways that you do! I hope you all have a wonderful Christmas and a happy new year! I'm looking forward to a new year, and whole new list of projects, decorating ideas, and more!
Recent Buys & Sales
Following are some sale from the weekend that have carried over and are still going strong!
I hope you all have a great week!
If you would like to follow along on more of my home decor, DIY, lifestyle, travel and other posts, I'd love to have you follow me on any of the following: