That's kind of a confusing subject line/topic, right? But I'll explain further shortly. It's hard to believe but it's been two and half months since my last office update! Today I'm back with another post that's more like a stream of consciousness rather than an actual plan. Hopefully you guys can weigh in and give me your thoughts and/or personal experiences!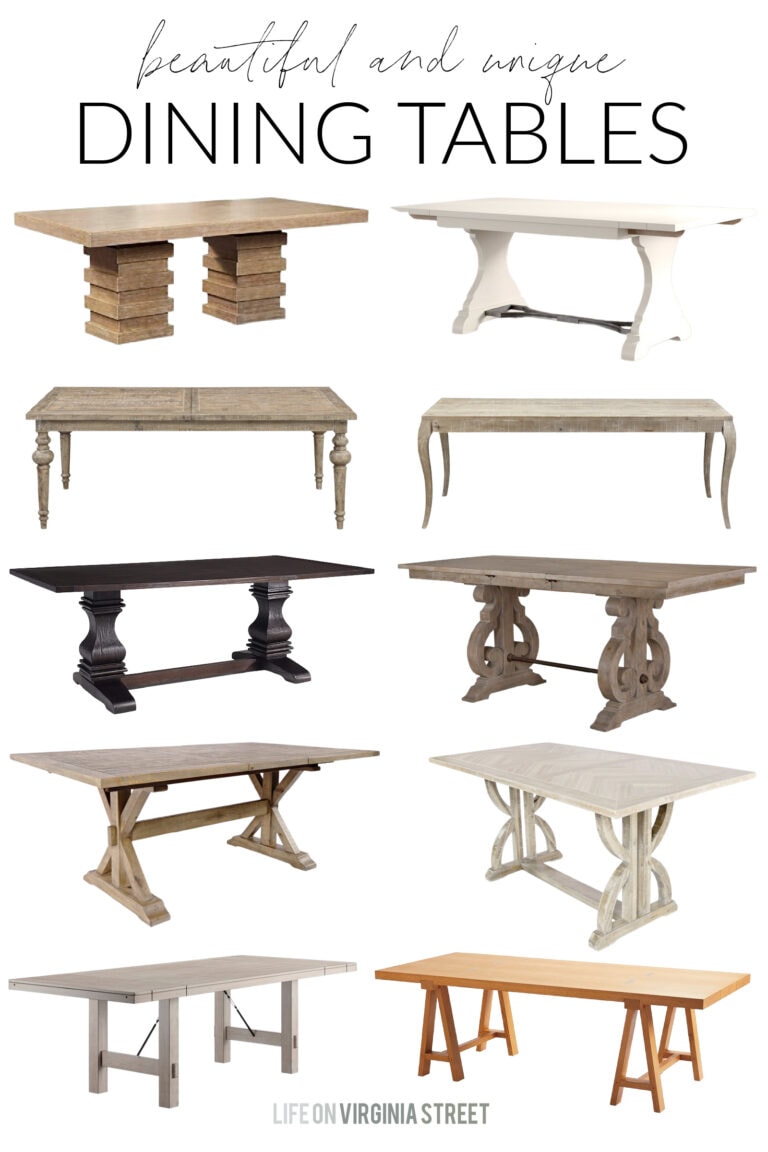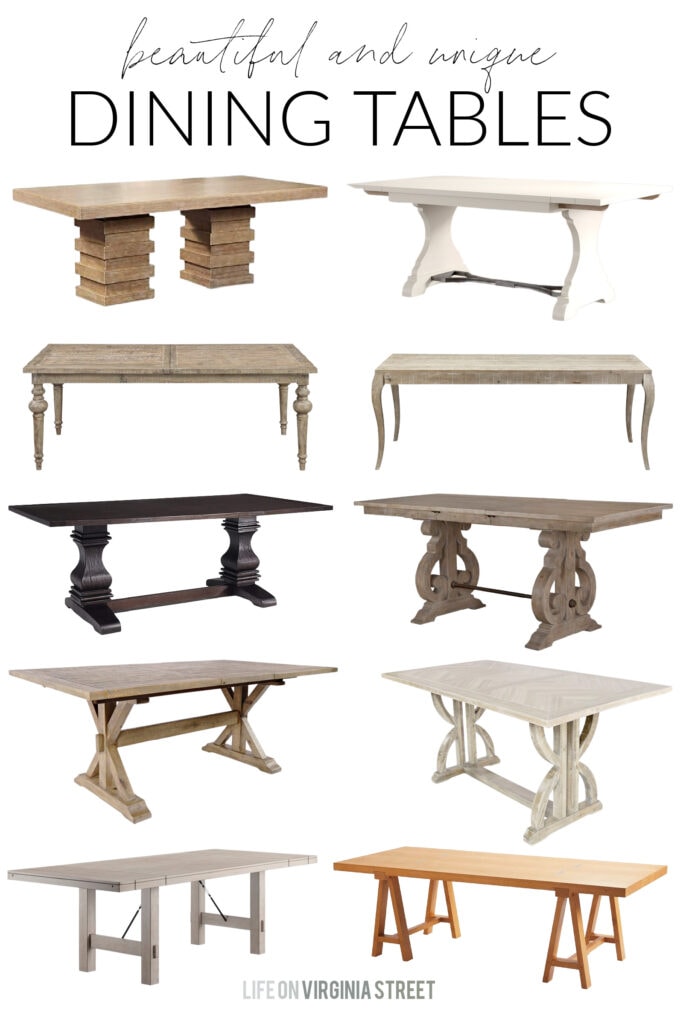 This post contains affiliate links for your shopping convenience. Click here to read my full disclosure policy.
A Home Office Update
So, let's step back a bit before we get to today's topic and share a view of the last time I shared our office in our summer home tour. This is quickly becoming the slowest room makeover in history. But we're really wanting to make sure we do it right rather than rushing to get it done!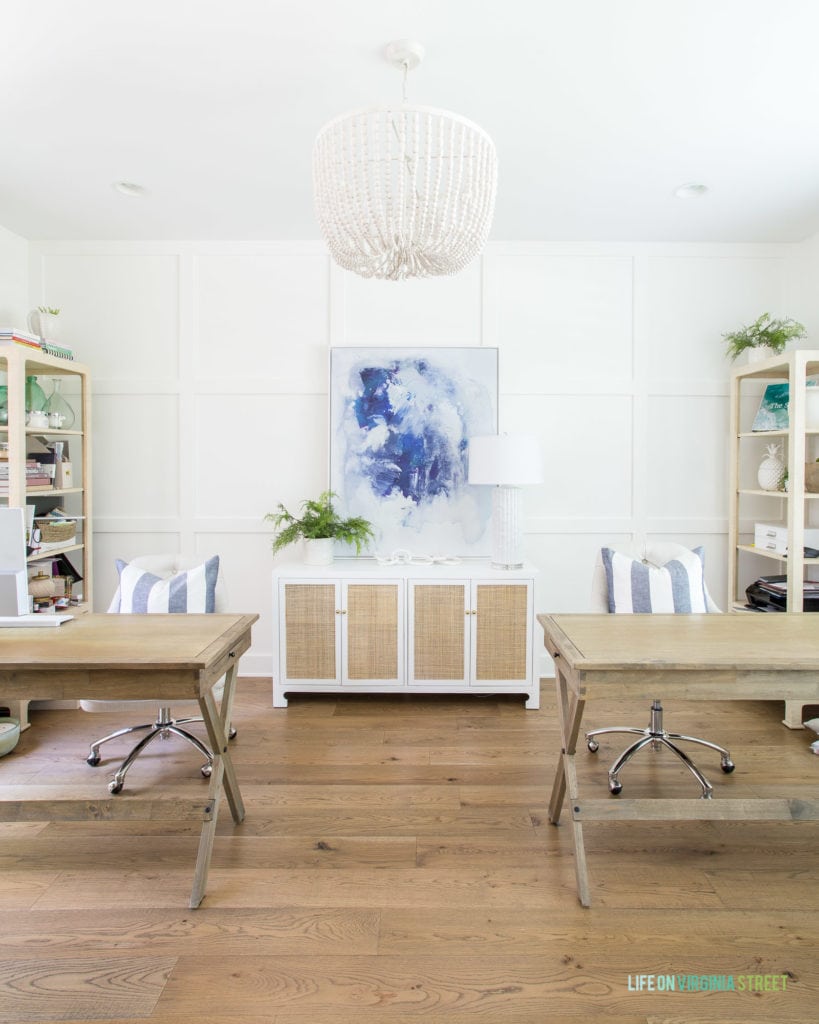 HOME OFFICE SOURCES:  Cane Cabinet | Wood Desks | Linen Chairs | Striped Pillows | Striped Curtains | Bookcases | White Wood Bead Chandelier | Similar Desk Lamps | Faux Fern Pots | Indigo Abstract Art | Marble Chain | White Bamboo Lamp – HomeGoods (old)
But you may remember in that last update, I had ordered this rug (in slate/ivory). We've been really happy with it even though it took about a month to get all the wrinkles and creases out of it. I think the biggest issues was that I ordered a 10×14, and in order to get it shipped for free, they folded it multiple times. I'm guessing most other sizes wouldn't have the same issue. I haven't really shown an updated photo of the space since it was in the room. But you can see live footage of the rug if you want a real-life look at it in my Instagram Stories highlights. Just scroll over on the circles until you see the one labeled "Office Rug". I get a lot of questions about the color of the rug. I feel like it looks more blue when the weave is vacuumed one direction, and then more gray from the other direction.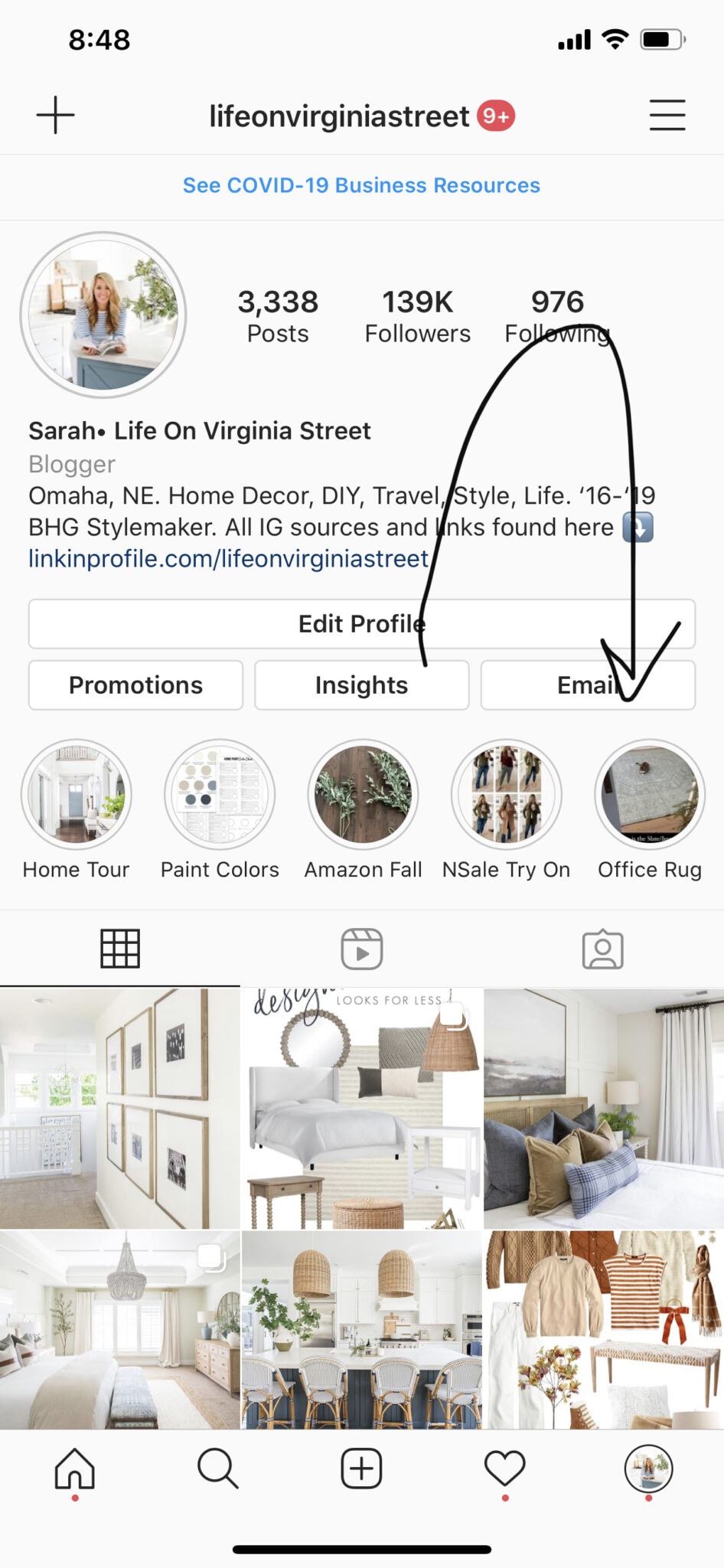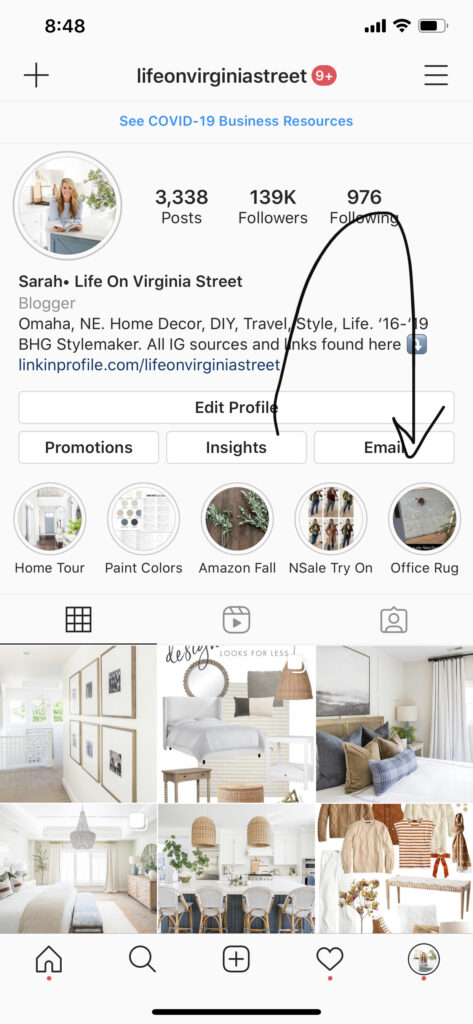 I also had this random photo but it's not super indicative of how the whole room looks. Once we moved the rug in, we decided we both liked looking out the windows instead of facing the doorway. My desk (shown below) faces the courtyard, and Kurtis' faces the street.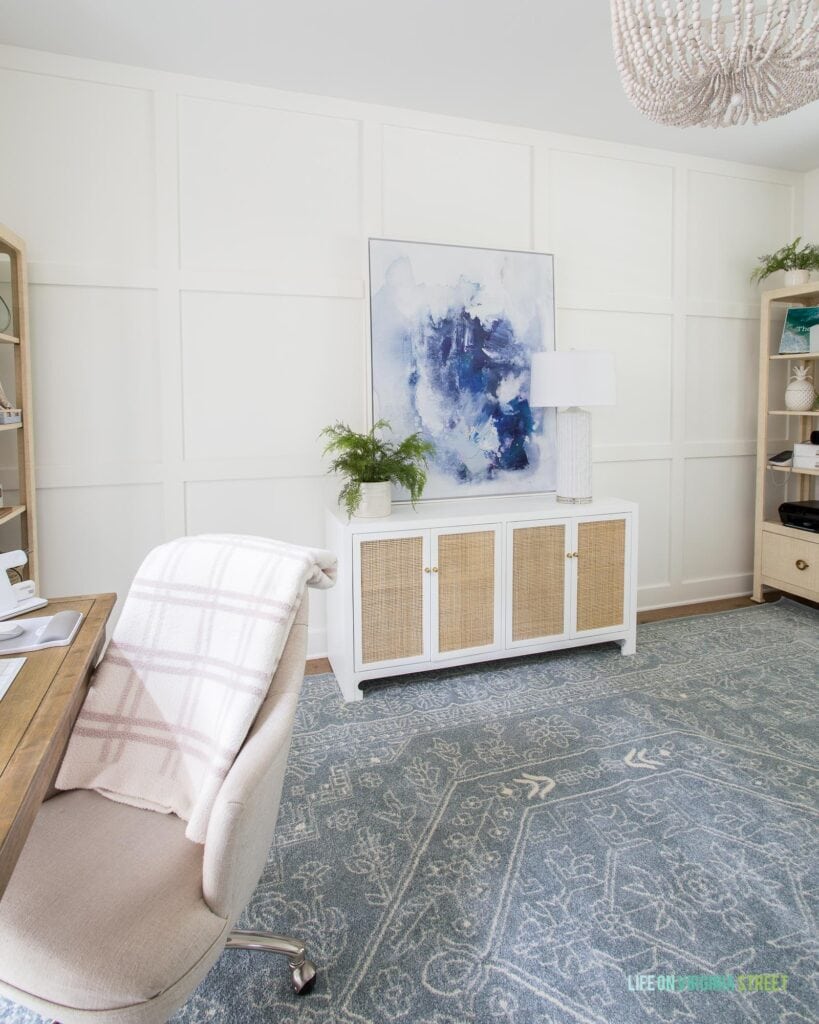 Although we both love our new views, they do present a few challenges. Granted, these aren't real, actual problems, and we totally get that. But given how much we use our office, we're trying to make it work for us as well as possible.
First, the new layout makes the room look pretty empty with a giant hole in the center. Not the biggest issue, but it does bug me a little. The cats do love the new wrestling grounds though 😉
Secondly, we've quickly learned that facing a window (with another window behind you) creates problems at various points throughout the day. I basically can't be at my computer from 1-3 right now unless all the windows and shutters are completely closed in the room because the glare is so bad. It worked fine for about two weeks and then the sun shifted pretty dramatically and I'm pretty sure it's not going to work throughout the winter at this point – especially as we lose more leaves.
Thirdly, we realized how hard it is to share screens, which we've found we do a lot more frequently than we realized! We also don't love our backs to each other when we are in the space together as we usually talk quite a bit in the early morning hours.
And yes, we could totally go back to the new layout. But, it also got us brainstorming other ideas.
The Dining Table Discussion
As we talked through everything above, we're starting to question if our desks are the issue. They've served us well for several years (ever since Kurtis decided he needed a spot carved out in the office, too)! The room is an awkward shape and there are very few configurations that work for the layout.
As we talked through a lot of options and various layouts, I brought up the idea of using a long dining table in the space instead. This way, we could shift location throughout the day (me more than him) as the lighting shifts. But, it would also allow us to share screens as needed, and make it more of a collaborative space when we needed to. This would also allow us to better maximize the space in our fairly wide but rather shallow room.
I think our biggest concern with the idea is lack of desk drawers. But each of our current drawers are relatively small so we could likely come up with a solution there. If we do opt to go with a dining table, one of the immediate issues we'd have to address is where to run the cords. I think we could figure that out (especially since our basement is unfinished and we could always add floor outlets). I use an all-in-one PC (no tower) and Kurtis just brings his laptop in. Since our printer and scanners are in the cabinet along the wall, there are minimal cords involved.
Below are some interesting dining tables I looked at that had good reviews for a variety of budgets. I have a few favorites but thought it was worth sharing all the ones I considered in case you're on the hunt for a dining table – or office desk 😉 Since ours would likely only have a handful of chairs around it, I tried to focus on options with unique and beautiful legs. Click any of the images below to learn more about each of the dining tables.

So have any of you tried this option? Did it work well for you? We're still weighing the pros and cons before we make a final decision so I'll be sure to keep you posted!
Additional Home Office Inspiration
Looking for even more Home Office inspiration? Be sure to check out any of the posts below. You can simply click the title of the post you want to read.
Additional Dining Room Inspiration
And, if you saw 'Dining Table' in the subject line and hoped for some dining room inspo, here are a few other posts that may help! Also – spoiler alert. I think I may be swapping out our dining room table soon too, but that's another post for another day! And although I thought about moving our current dining table to the office, Kurtis quickly shot that idea down and reminded me how it's reclaimed wood, and not the smoothest for a desk surface. And yes – maybe someday I will actually finish our dining room!
If you would like to follow along on more of my home decor, DIY, lifestyle, travel and other posts, I'd love to have you follow me on any of the following:
Pinterest | Instagram | Facebook | Twitter
disclosure: some affiliate links used