Have I got a crazy surprise for you guys today! I originally started this post on May 11th. Yes, nearly six months ago. And honestly, I didn't even decide to share it with you until yesterday afternoon. I was at the point I was going to wait until the new year to share the news, and then after today's site visit I was too excited to wait.
So, what am I talking about? In April, we began discussions about buying an investment property with our friends and the construction company we use for our rental properties. We ultimately closed the week of May 11 (when I originally started this post), and as I've alluded to several times, we've been working on it ever since! It's been fairly time consuming at various points in the process, but we're getting there!
Want to know the craziest part of all? I think it will actually be FINISHED next week! As in 100% done and ready to list for sale! And it's literally unrecognizable from the day we bought it.
A Little Backstory
We've been very interested in trying a flip house. I get such a thrill out of updating houses with hidden potential. We've rehabbed a handful of homes over the past six years or so, but have always hung onto them as rental homes once we got them updated (like this one). Then, you may remember earlier this year, I bought the cute little house I was going to turn into an Airbnb. And then, the pandemic struck and killed the travel industry. It was pretty turnkey already, so we ultimately ended up making that a rental home too.
I think I had gotten so excited about that potential project, and then so bummed after telling you all about it and we didn't move forward. Once we moved forward with the flip house, I went back and forth about the best time to share on the blog.
The timing was perfect when we were approached by two other couples to partner on a flip. Each couple is bringing different skills and assets to the project (one is actually a construction company thankfully), and it all seems like a perfect fit. It also helped lessen the overall financial burden and risk. I handled most of the design selections, which was super scary but also so exciting! This house is unlike any home we've ever owned or worked on in the past so it was a fun new challenge!
Details on the Tudor Revival
So, let's dig into the details of the home we bought! The home is a gorgeous brick Tudor from 1928. I'll save all of the design commentary for another post, but we all saw so much potential when first looking at it.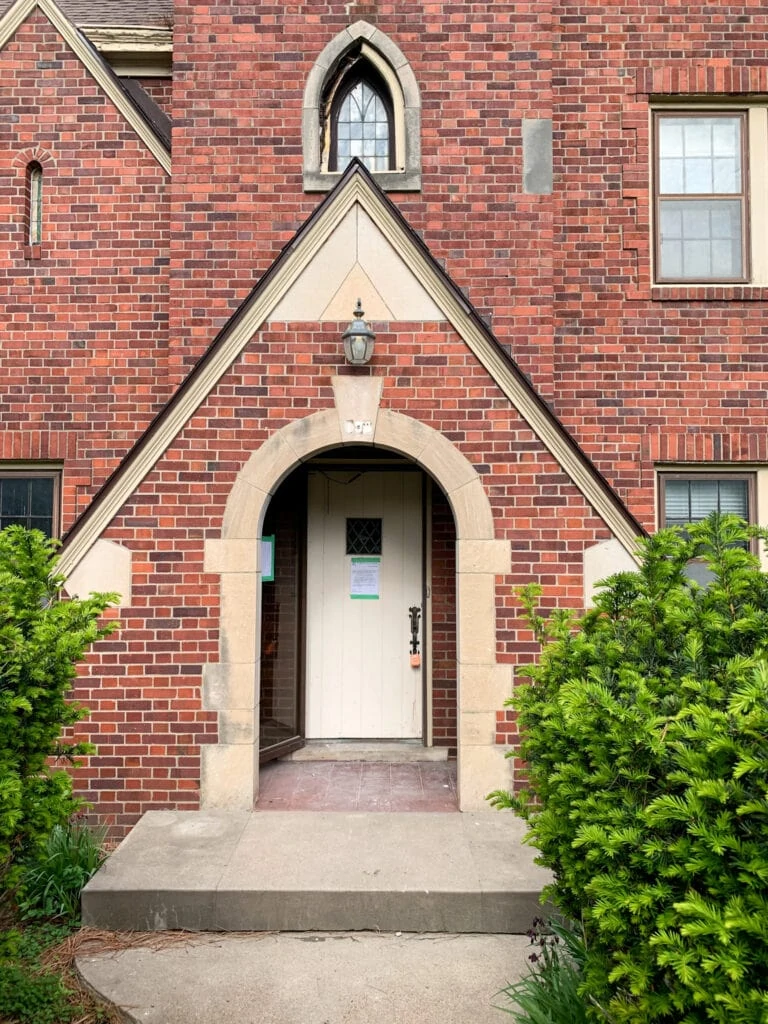 It had been on the market since last fall, but was broken into over the winter. All the copper piping was stolen and most of the entire house flooded. So, a lot of the main living areas were gutted prior to us buying the house. It then sat vacant for many more months. But quite honestly, I think it had gone into disrepair well before that. I think the overall scope of the work involved scared most potential buyers, despite a booming housing market.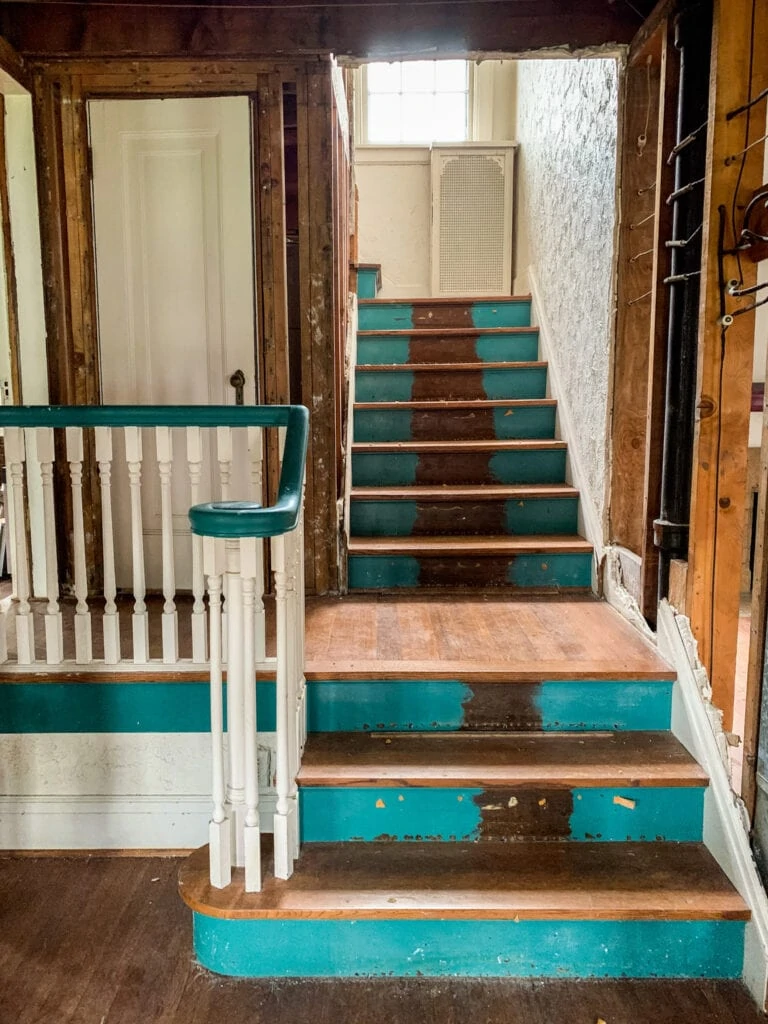 The house will now have nearly 3,000 square feet finished, 4 bedrooms and 3 bathrooms.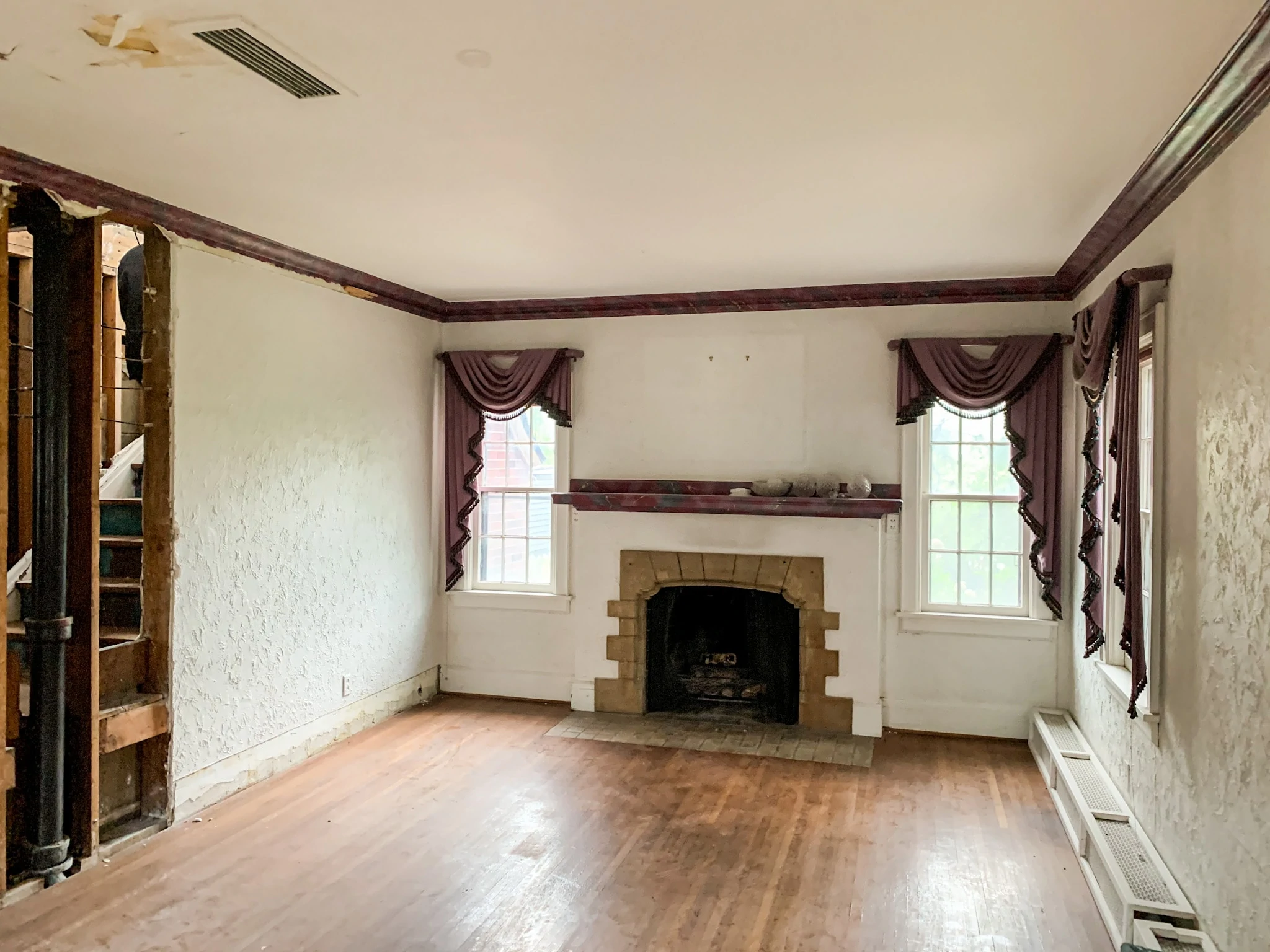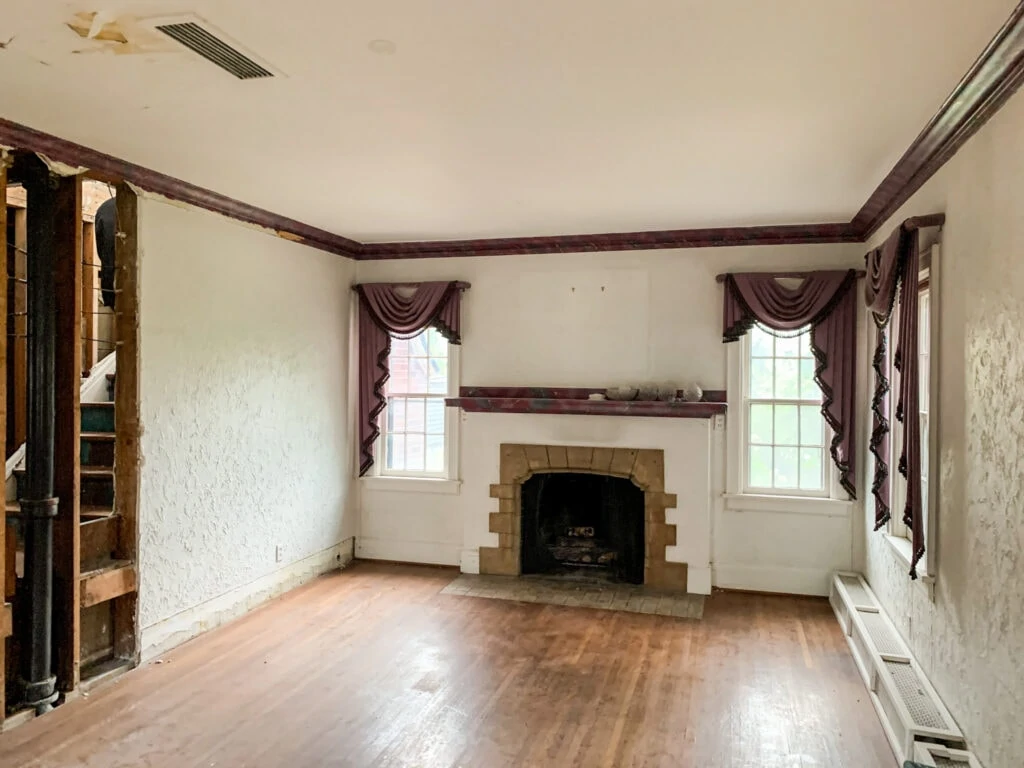 We tried to retain as much of the original character as possible, but honestly, there wasn't much that could be salvaged (especially since most of the demo work had already been done). The original doors that were okay-ish were covered in layers of lead paint. We weren't even sure if a few of the light fixtures were safe any longer.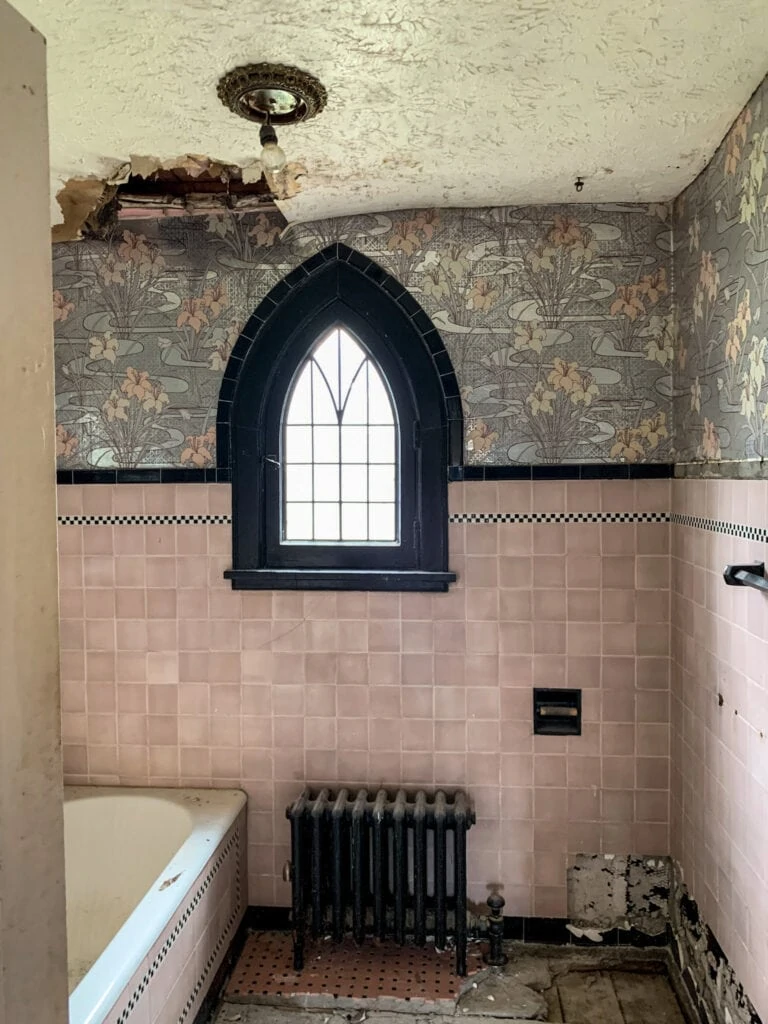 All of this technically will work to the new owners' advantage because we literally upgraded everything, including all new electrical, plumbing, windows, drywall, HVAC (no more boiler), etc. Which means…. we may not even turn a profit on this one, but it's been a very educational process. Trying to look at the bright side after all the time we have invested. 😉 And we wanted to make sure we did things right! The picture below was the attic when we bought it. We've now managed to convert it to an insulated, usable flex space/giant bedroom!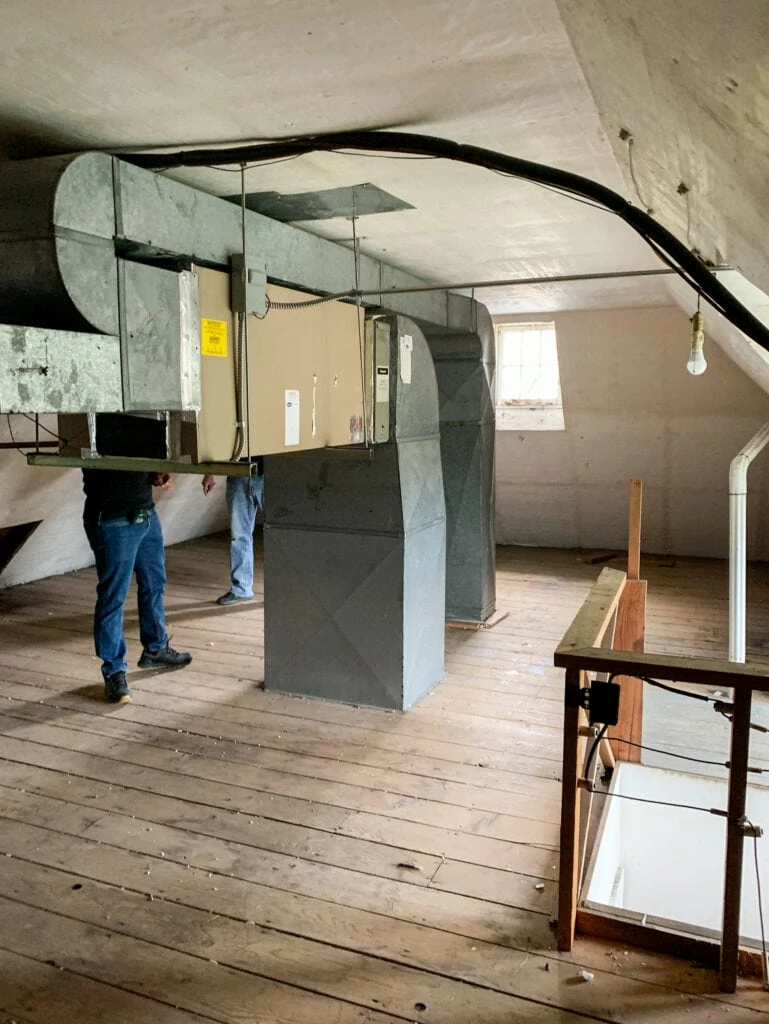 Like many houses of this age, it has it's quirks. But that's part of what adds to it's charm! This bathroom could likely win as the world's smallest bathroom. And unfortunately we had to keep it this small because it's the only one on the main level and there was no way to expand it. The good news is you can go to the bathroom and wash your hands at the same time. 😉 Kidding! But technically you could.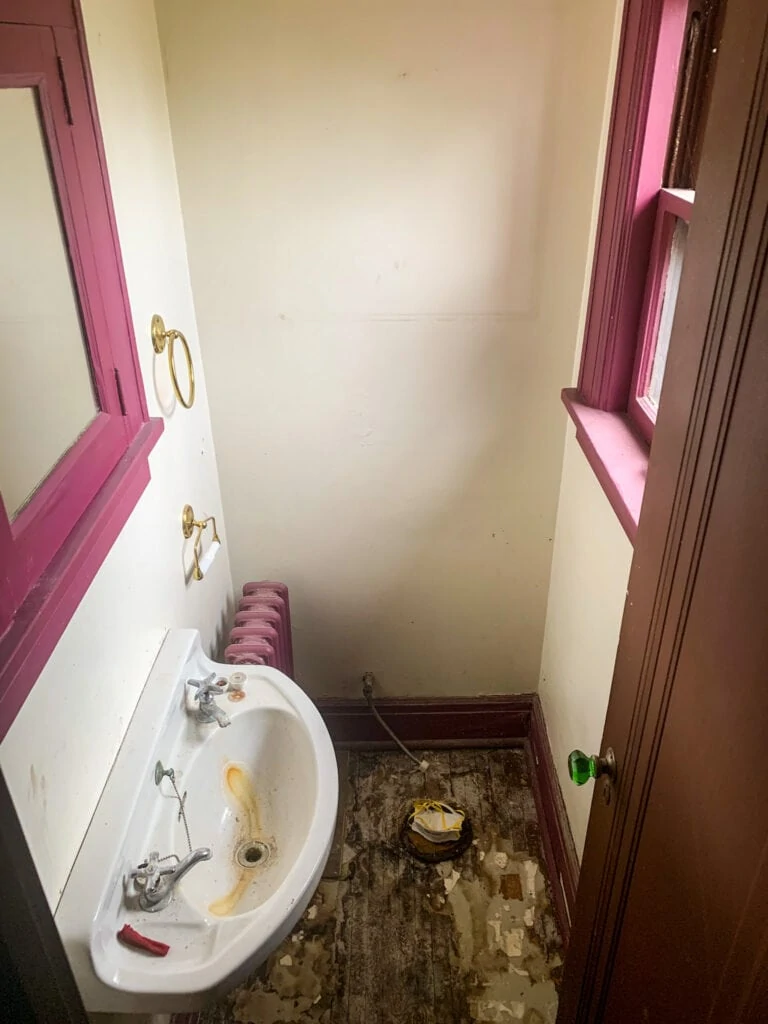 Have you started to say a prayer for us yet?? Haha! But can you also see all the potential?
The Progress
As I mentioned above, we've made a lot of progress over the last six months and the home is nearly complete. But, there's a lot to share about how we got from April to current and I'll be giving more details in future posts.
Initially, I was super excited to share with you. But I also didn't want to get your hopes up like with the Airbnb. And truthfully, there have been many weeks where I didn't think I'd ever even share it and multiple times when I declared the project a complete failure. Maybe several of us did. 😉
We initially hoped to have all the work done by the end of August. But then the chaos of 2020 happened. We encountered delays on nearly everything we tried to order or schedule. There were weeks it felt like literally nothing was happening. But, once it did, things started moving quickly!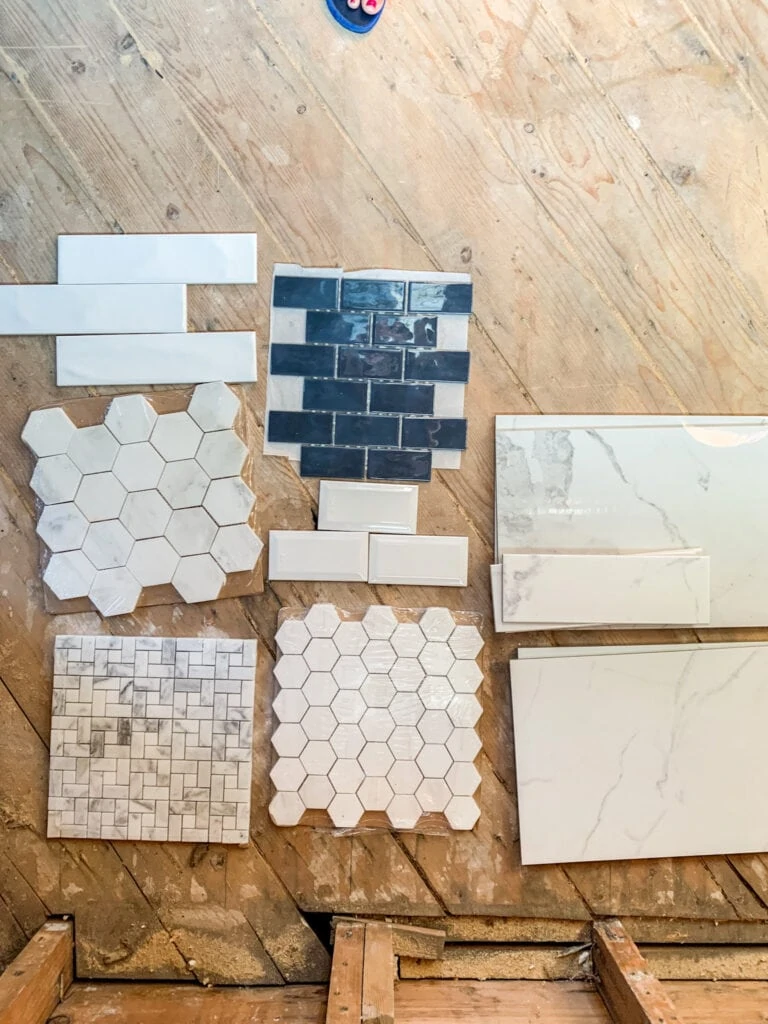 Although the interior is essentially a new build, I felt it important to keep some Tudor elements and 1920's charm. Not always easy when you're on an already super tight budget that seemed to shrink with each passing day. I also struggled with having to compromise on some of the design elements, since after all, we had two other sets of partners. I had to search high and low for budget friendly items that looked high-end and I'm excited to share some of those with you next week! It definitely isn't the ultimate renovation I originally had planned in my head.
However, after seeing the progress yesterday, all the tears and hard work were so worth it! And by worth it – I mean from an emotional standpoint, maybe not financial. 😉
Going Forward
So, with having this all transpire over a nearly six month period, I don't want to throw the reveal at you right away! But, the advantage of it being nearly complete is that you don't have to wait six months to see it finished! For sure, I'll share it all by the end of the year, and if I'm super ambitious, maybe by Thanksgiving! But over the next few weeks I'll be sharing tons of details, design boards, issues, and then the reveal! In the meantime, here's a sneak peek at one of my favorite spots in the home. Below is the tiny little eat-in nook that existed when we bought the house.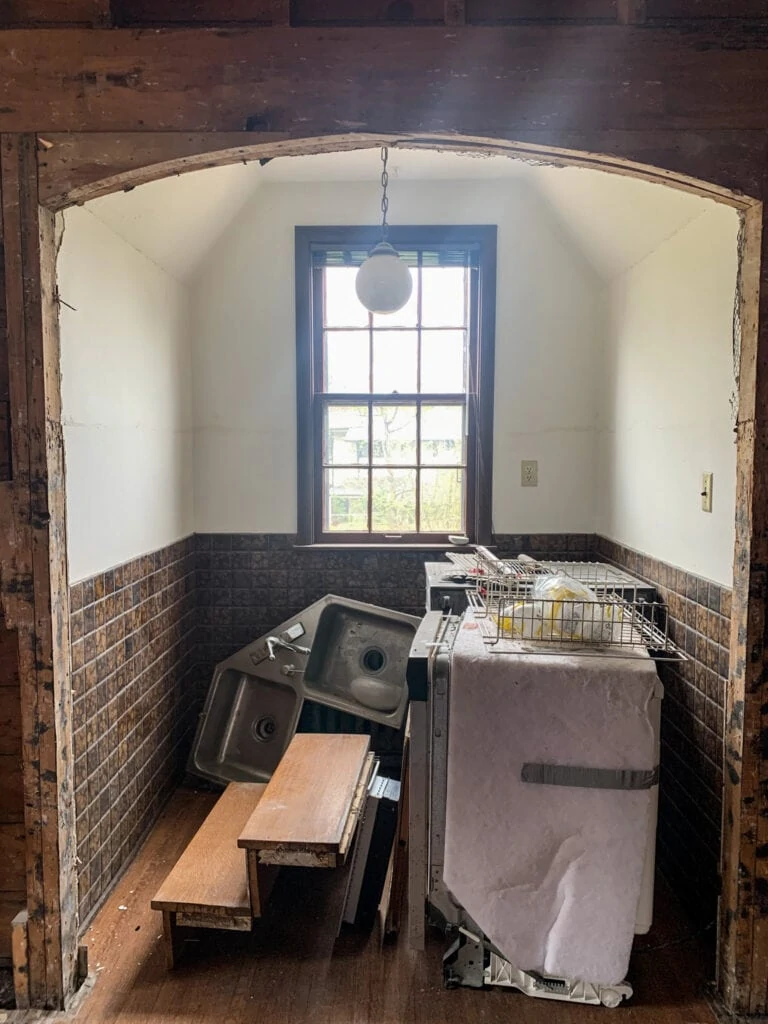 It's now a little butler's pantry and it's going to be so good when it's done! It's got a few fun surprises coming and I think it's going to be stunning!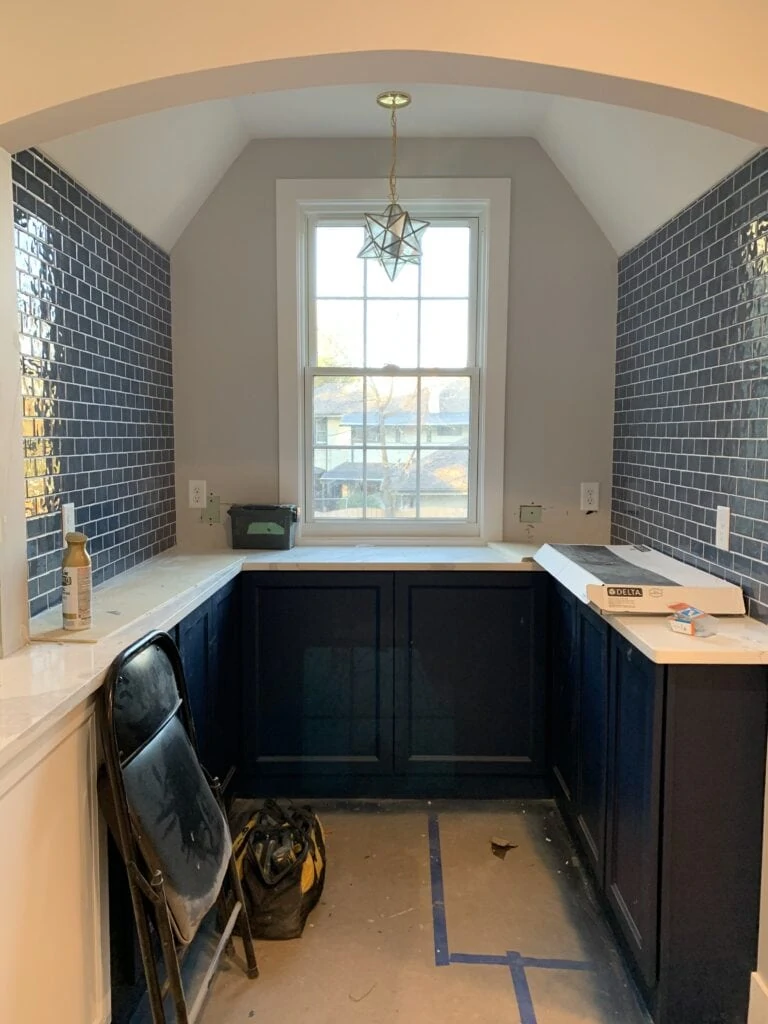 I have a lot more information coming at you soon! And I'll try to share sooner rather than later, and given my excitement level, this should all work in your favor. 😉
At the end of the day, we're not going to be the poster children for how to profitably flip a house. However, we've learned a lot and now have a beautiful home to show for it. I'm so excited to finally be able to share it with you guys!
If you would like to follow along on more of my home decor, DIY, lifestyle, travel and other posts, I'd love to have you follow me on any of the following:
Pinterest | Instagram | Facebook | Twitter
disclosure: some affiliate links used