Sharing our guest bedroom mood board and plans, along with details on the furniture, rug, lighting and bedding we'll be using in the space!
When I shared our fall and winter project plans a few weeks back, I mentioned that I'd be giving both of our guest bedrooms a bit of a refresh. Today I'm going to be sharing our guest bedroom mood board and plans for our main guest bedroom since the plans are most complete for that space right now.
I was actually going to wait to share my design plans for a few more weeks when I had a better idea as to when all of the elements new pieces would be arriving. But, so many of the new and old items in the space are on sale for the holiday weekend, so I thought I'd share now in case they are not on sale in a few weeks! I've had the  bedroom mood board ready for a week or two now but have just been in a holding pattern! So, I figured I'd share the direction I'm planning to head over the coming weeks and months. There's nothing like hosting both Thanksgiving and Christmas to make you want to get your guest spaces in top form!
This post contains affiliate links for your shopping convenience. Click here to read my full disclosure policy.
Before we get into all my plans for the space, if you need a refresher of how the room looked last time I shared it, you can see it in my summer guest bedroom refresh. And here's a peek at it from last fall when I decorated in a neutral and soft green color palette!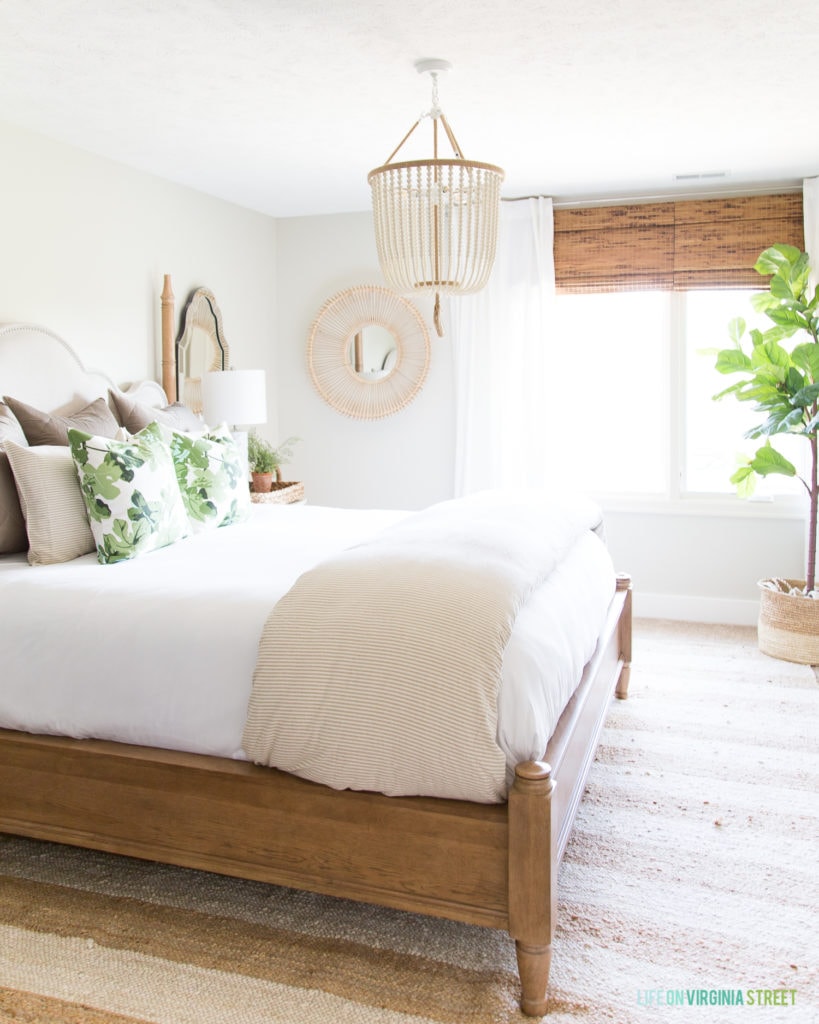 GUEST BEDROOM SOURCES: Bed | Rug | Chandelier | Faux Fiddle Leaf Fig Tree | Striped Duvet Cover | Fig Leaf Pillows | Striped Pillows | Silk Euro Shams | Tall Mirrors | Rattan Mirror | Faux Maidenhair Fern
Guest Bedroom Mood Board
And here's the guest bedroom mood board I put together. I'll dig into more of the specifics and planned changes further down the post. But, my ultimate goal is to take the space from a bit farmhouse-y coastal to a more relaxed beachy coastal vibe! I'm kind of geeking out about just how cute this mood board!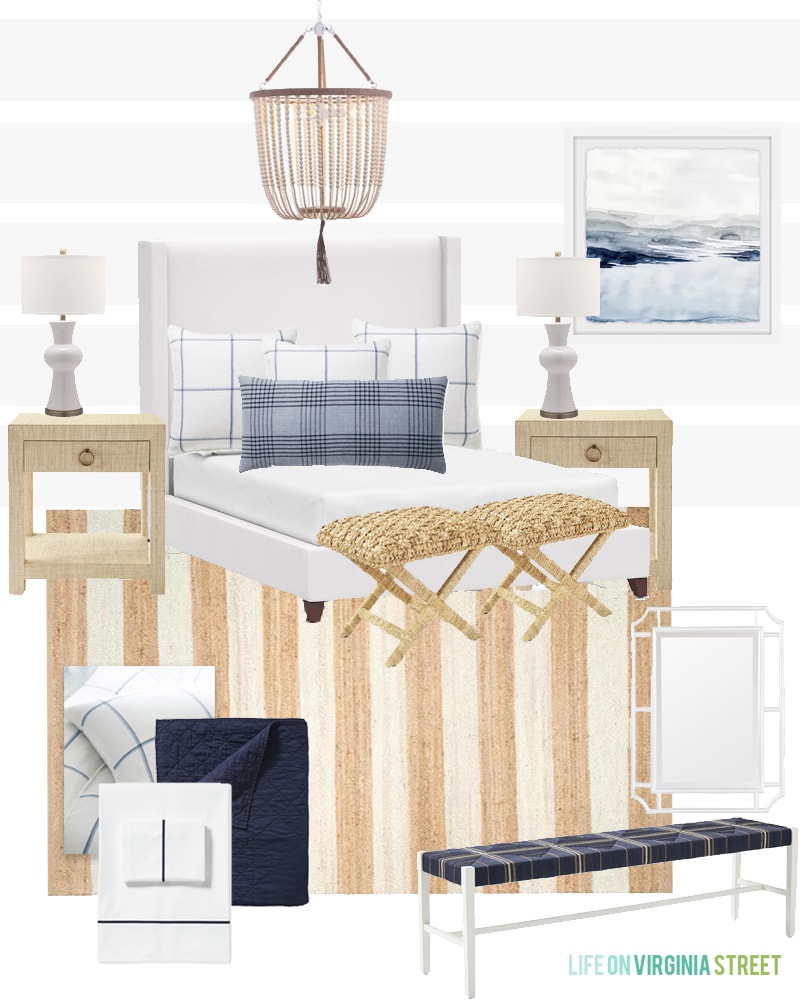 MOOD BOARD SOURCES: Upholstered Bed | Raffia Nightstands | Pair of Ceramic Lamps | Bead Chandelier | Artwork | Striped Rug | Banded Sheets | Quilt | Windowpane Duvet Cover | Windowpane Euros | Windowpane Plaid Lumbar Pillow | X-Base Stools | Mirror | Woven Bench
Although I'm changing quite a few main pieces out in the space, this makeover is fairly budget-friendly for me. I was able to partner with Serena & Lily on a few items, use store credit I had on a few others, and cash in some rewards with Pottery Barn! I also ordered the bed at the same time as our dresser so I'd only have to pay one shipping fee. Lastly, I'll also be able to recoup a lot of my out of pocket expense when I sell some of the existing furniture. If you don't try and do this (or donate) when you do a room makeover, you're definitely leaving cash on the table. Especially if you're just planning to move items to storage!
I'm sharing more details on each of the updates below.
Guest Bedroom Plans
So, let's dig into the plans themselves.
But first, a little background on why I'm even messing with a room that is totally fine.
The problem with having bedroom furniture in a space for so long that you aren't 100% on board with is that you start to make decisions that work best with those pieces. Not necessarily what you really want or what works best in your home. I'm 100% guilty of this.
The biggest change in the space is the upholstered bed. To be honest, the existing bed is what snowballed this entire project. I'm sure many of you can relate when you pick out a piece of furniture that was a bit trendy but you thought you'd love for years and years to come. Fast forward four years later, and it doesn't feel like "you" at all. When I picked the existing bed, I really did love it so much. But over the years, It's felt a bit farmhouse-y to me. I think most of us were in that farmhouse-intrigued style phase and I went against my better judgment and ordered something that wasn't 100% me. And now that the den is complete (the two rooms are connected by a bathroom), the difference in design styles is much more noticeable!
Coastal Decor
So, I started the above mood board months and months ago and have been slowly adding to it as I found pieces I've loved. I refused to make any final decisions until the mood board was as close to complete as possible before I ordered anything. This not only helped me save up for the furniture pieces I'd need to buy, but made me really stop and think before making a purchase. If it didn't work on "paper" it would likely look even worse in person so I'd go back to the drawing board. To be honest, practicing this much patience was so hard for me!
I finally ordered the bed a few weeks back when it was on sale (it's actually on sale again today). I'll share all the other beds I strongly considered soon in case any of you are on the hunt for one! I opted to get it without the nailheads and I went with the White Twill fabric. It was the most economic option (and also the look I loved most). I'll probably Scotch guard it when it gets here, but I didn't think it was worth the money to upgrade to a performance fabric for a bed. I went with this timeless style because I don't want to have to buy another bed in here for a long time! It likely won't arrive until late November or early December so it will probably be the last item to be "finished" in the space.
You know what else wasn't me in this room? This giant bookcase (shown below) I added to the space nearly four years ago. What? You don't remember it? That's probably because I've never shown it again. It's absolutely beautiful and great quality. But, I have quickly learned over the years that shelves you add to your home just to add "stuff" is not for me. Not only am I not a great shelf stylist, I'm much too prone to just put stuff on it that I'll deal with later.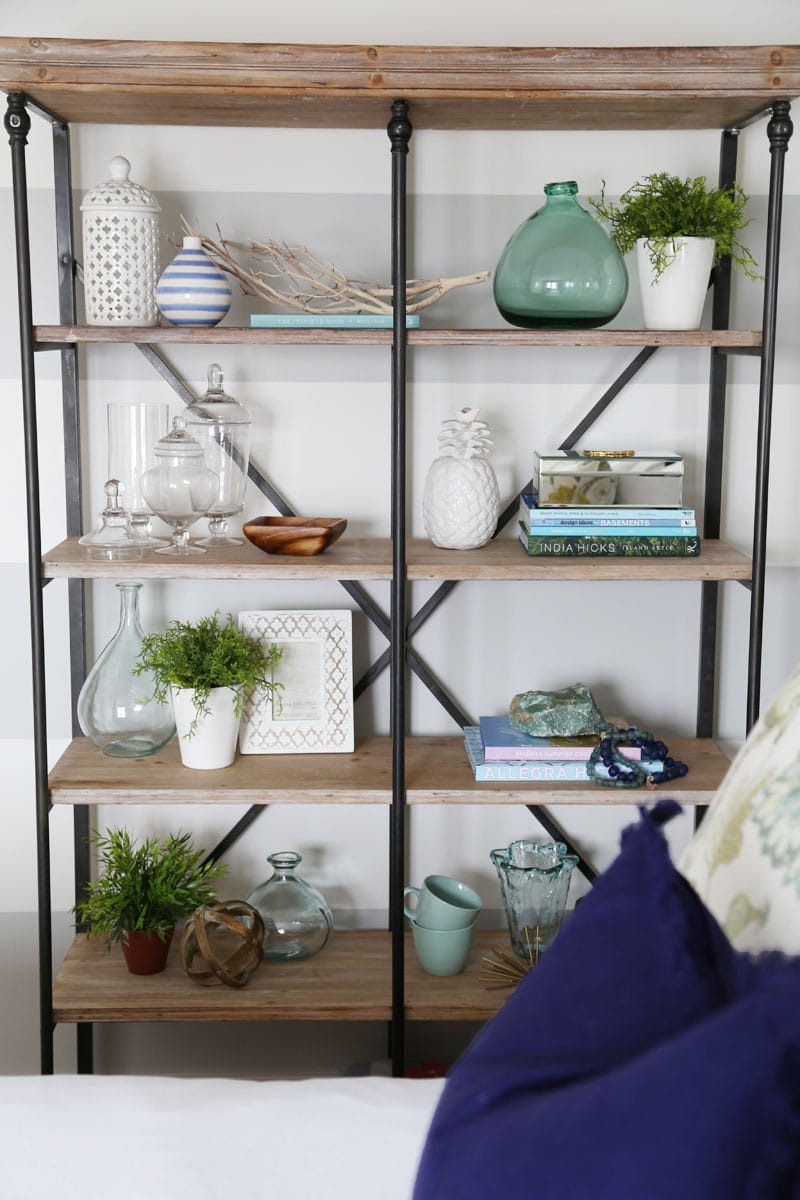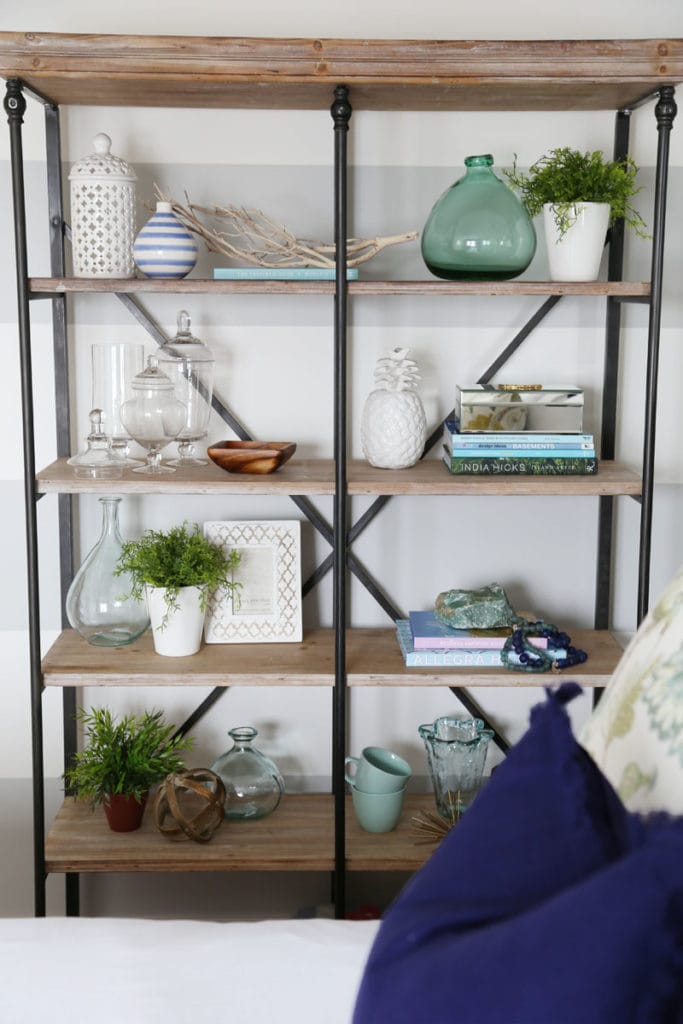 And yes – the bookcase is still in the room! I just never show it. But it's time to free up that wall and either leave it blank or add something that is functional for our guests like a bench or very small desk. Here's a wider shot of the piece in the room when I first revealed it. The wrought iron orb chandelier was replaced a year or two back for this bead chandelier and it will be staying because I still love it!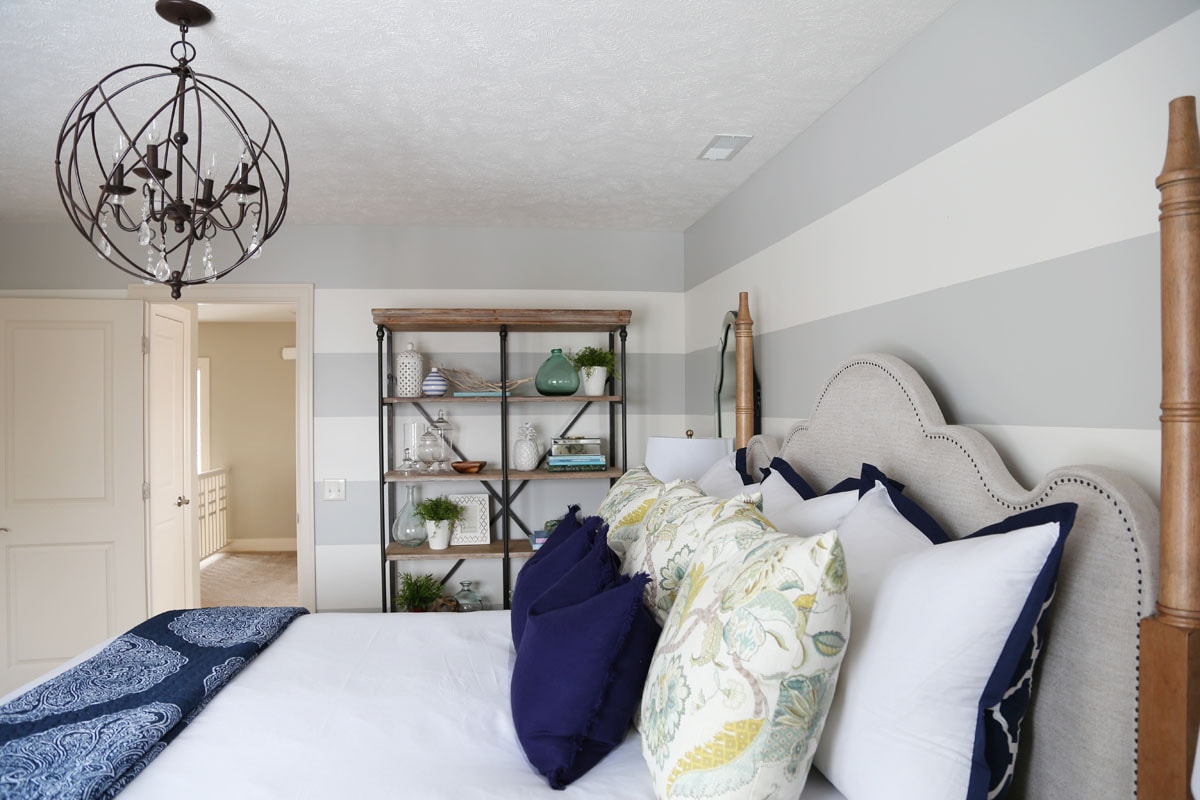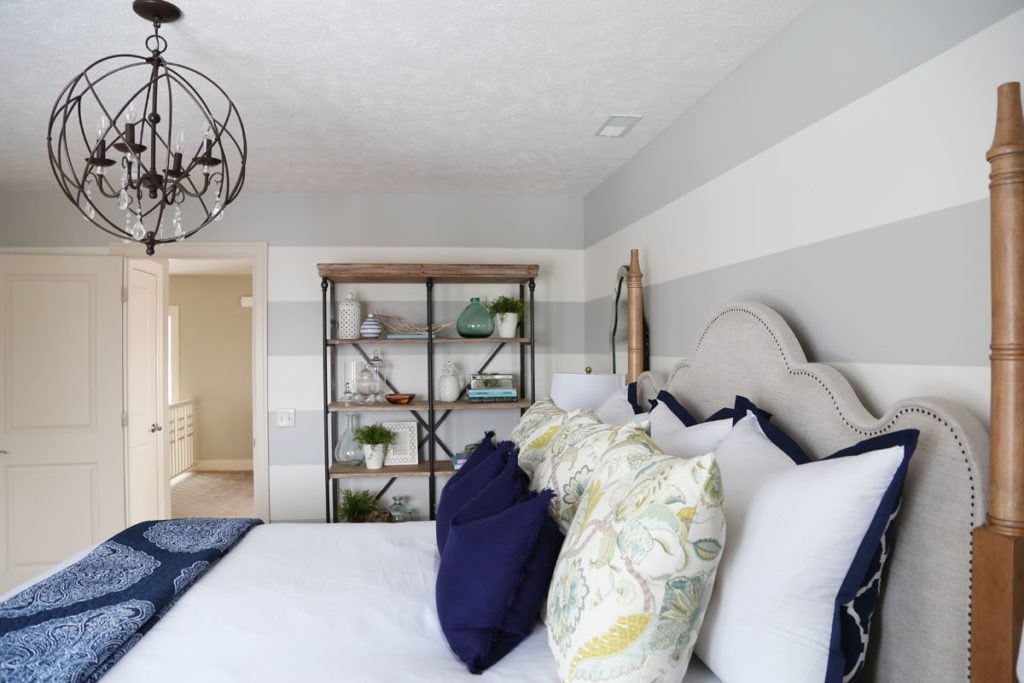 So, as I mentioned above, when you're making decisions around pieces that aren't likely permanent, it starts a snowball effect. The nightstands I originally bought for the space are so cute and great with this furniture. But, with the new white bed, they are definitely way to cream-toned since they aren't a true white. I ordered these raffia nightstands and are some of the items I'm most excited about. I've loved this entire collection for years and I'd really love one of the coffee tables or console tables. But, the raffia does scare me a bit and I want to make sure it holds up before investing in a larger piece.
The "stripes" you see on the wall in my mood board are actually a wall treatment I want to add. My thought is to add a horizontal board and batten designs. Which really just means boards hung horizontally down the wall and then all painted the same color as the wall. I fully understand that this project people may just have to see to get. I've been trying to explain it to Kurtis for a few months now, and I'm still not entire sure he gets what I'm saying 😉 But, in my mind it's going to be great, a bit unique, and will flow with other rooms in our home so well! We likely won't start this project until after the holidays when all of our guests have come and gone, but I think it's going to make all the difference in this space!
Serena & Lily will be gifting me all of the gorgeous soft bedding (love them and so grateful for this)! We actually haven't replaced the duvet cover or sheets in this room for nearly four years, so it's definitely time!
The rug, chandelier, lamps, and artwork are all staying! These were more recent updates so I actually ordered them according to future plans, rather than what worked with the current pieces. So glad I did that right!
This is going to be a real-time makeover so it likely won't all be finished until January or so. Each time we have guests visiting, I want the room to actually feel finished and not like a demolition zone, so we'll be working in stages. I'll be sure to share some of the updates along the way though so I don't leave you hanging! But, I think the slower pace will be worth it in the end!


I hope you all have a great weekend! I'll be back tomorrow with all the holidays sale details!
If you would like to follow along on more of my home decor, DIY, lifestyle, travel and other posts, I'd love to have you follow me on any of the following:
Pinterest | Instagram | Facebook | Twitter
disclosure: some affiliate links used