Sharing some pool house ideas, inspiration photos, and tentative plans!
I know I'm a bit all over the board with the projects I'm talking about lately, but I'm trying to lay the foundation for next year with all the project updates! So, today, we're moving talks to the potential pool house. Let me start by saying, this post has been ten months in the making. Actually five and a half years in the making, if we get technical! When I shared our 2020 fall & winter project plans last week, I mentioned talk of an indoor/outdoor pool house. Although the plans have actually halted for now, many of you expressed interest in the inspiration and design of the space so I thought I'd share some of that today.
If you've read here for awhile, you know we've had to do our backyard makeover in phases. We started with the retaining wall and pool along with a bit of landscaping. Since that was completed (over four years ago!), I've slowly worked on adding trees and shrubs while we could save for the next big project. And in hindsight, it actually has worked out really well that we didn't do everything at once. We've had a lot of time now to really evaluate how we use the space, what is missing, and how we'd like it to function. Plus we've had an extra almost-five years to save for it now!
Pool House Plans & History To Date
So a little history as well as some of the steps we've taken over the past ten months or so.
The first week of March, I met with a local construction company (Bearded Builders) to chat about a project we'd love to start in 2021: our outdoor living space. If you read the end of my fall & winter project list from last fall and again on this year's version, I touched a bit on this project.
In June, we met with the team at our house to go through things onsite. After talking through budgets and what were wanting to achieve, they got to work on some plans! We then met with them in August, and they presented the plans. Although stunning, the cost was more than we were wanting to spend, and we haven't decided if we still want to move forward or not with the cuts we would have to make. We literally change our mind daily on this.
Today I wanted to talk through our ideas because I know you guys always have great suggestions. So, while I realize this project is at minimum six months away (if it ever even happens) I'd love to hear any recommendations before we any further along in the process!
This post contains affiliate links for your shopping convenience. Click here to read my full disclosure policy.
The Current Situation
Our "pool house" would technically be an expansion of our current covered patio, but we would want to ability to have it fully enclosed. The picture below is over two years old, but probably best shows the area. Ideally, everything under that lower roof would be expanded in either direction by 10-15 feet. Total, it would be about 24'x24′.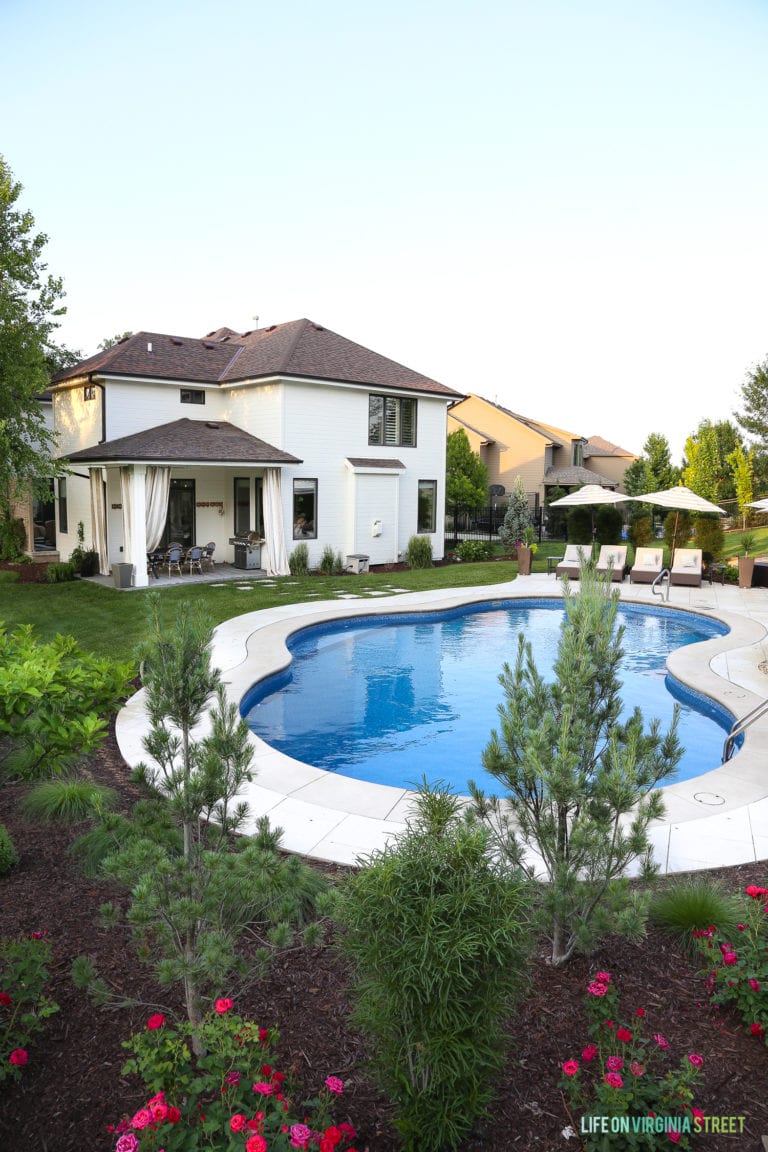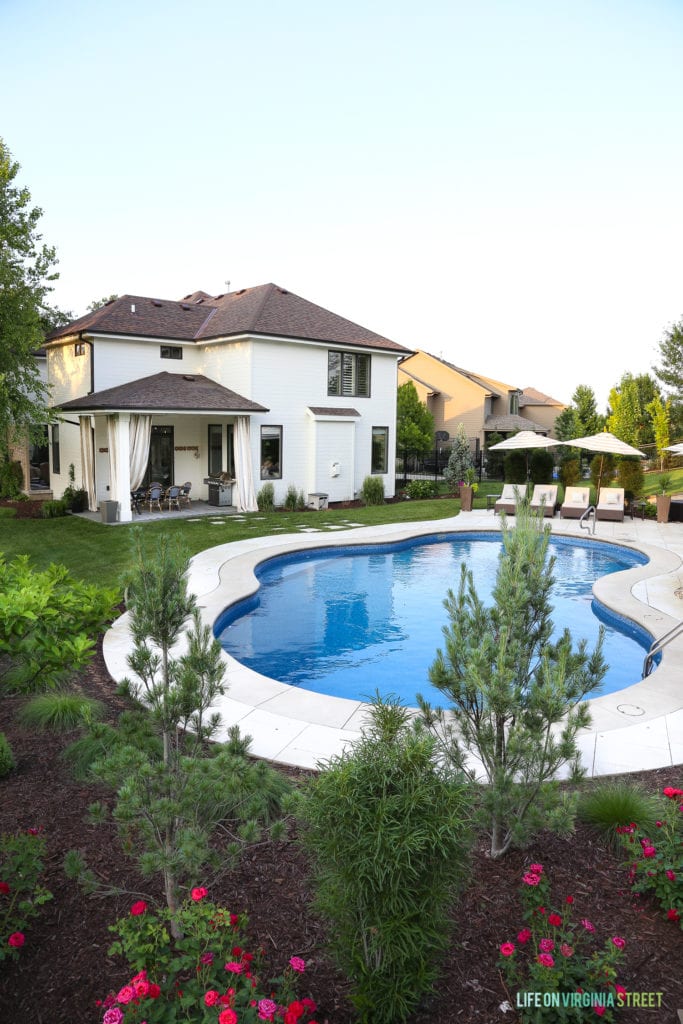 Currently, we can't be sitting at the table and grilling at the same time. Not the end of the world, but given how much we typically entertain in the summer, it can be a bit challenging. Especially since only six or so people can sit in the shaded area at a time.
This next image mostly shows the grass area we would take over to expand the space.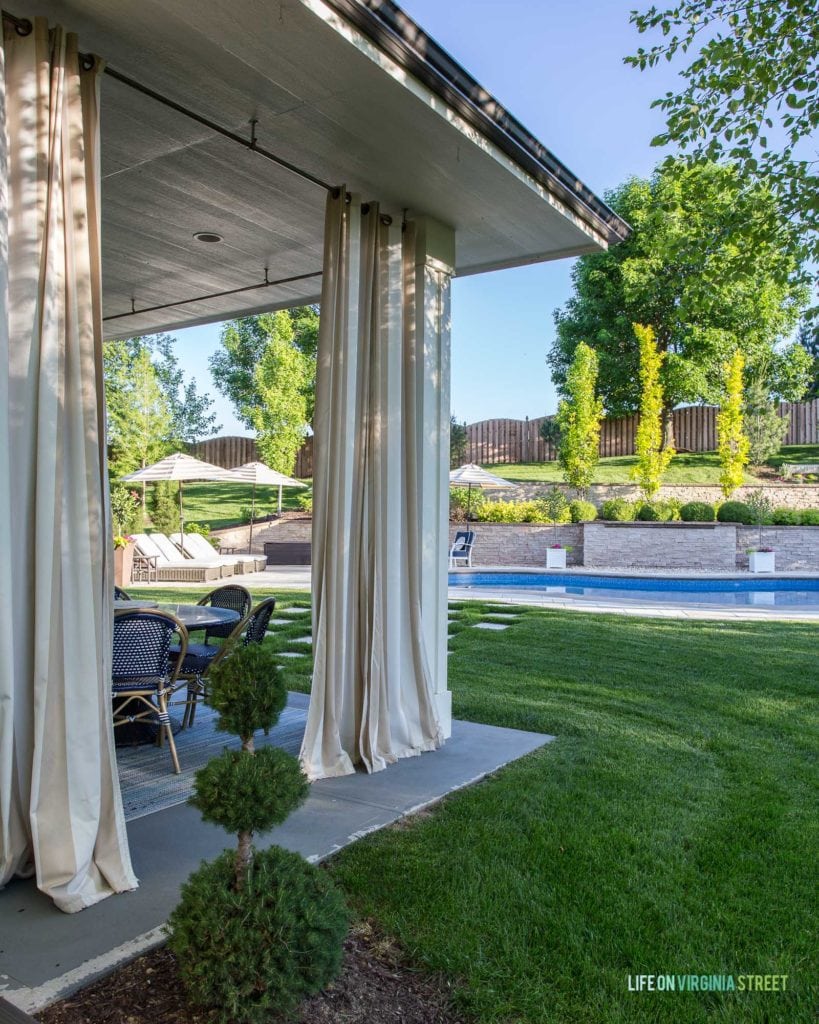 How We Want The Space To Function
Before meeting with the team, we made the following list of initial requirements we'd like to see in the space.
Ability to use as indoor/outdoor space and fully close it off in the winter months. Essentially a three seasons room.
Three mini areas: dining table, sofa/TV/fireplace and outdoor kitchen
Built-in grill
Small fridge
Water & ice maker (if running water is feasible)
Fireplace (with TV mounted above it). This will function as Kurtis' man cave during football season.
Storage closet for pool floats/supplies
Electricity / lots of outlets
Glass garage door style openings or folding doors so we can fully open up the room to the pool in the summer months
Needs to have a lot of windows and/or doors, so light to the interior of our house isn't blocked
On the nice-to-have list (if within budget or reason). Keep in mind, this was made before we had any actual meetings 🙂
A small bathroom that could be winterized (since we likely won't run HVAC out here)
Expand our upstairs bedroom closet since it would be over the pool house
Have a mini patio off our the bathroom in our bedroom?
Since I'm a total newbie in this area, you can check out my friend Cyndy's post on Where To Start When Planning An Outdoor Kitchen. Her outdoor space is not only one of the most pinned on Pinterest, but she is an incredibly talent designer and businesswoman. Be sure to check it out if you're on a similar path and needing some tips right away! Here's her gorgeous space so you can see what I'm referring to. She's amazing!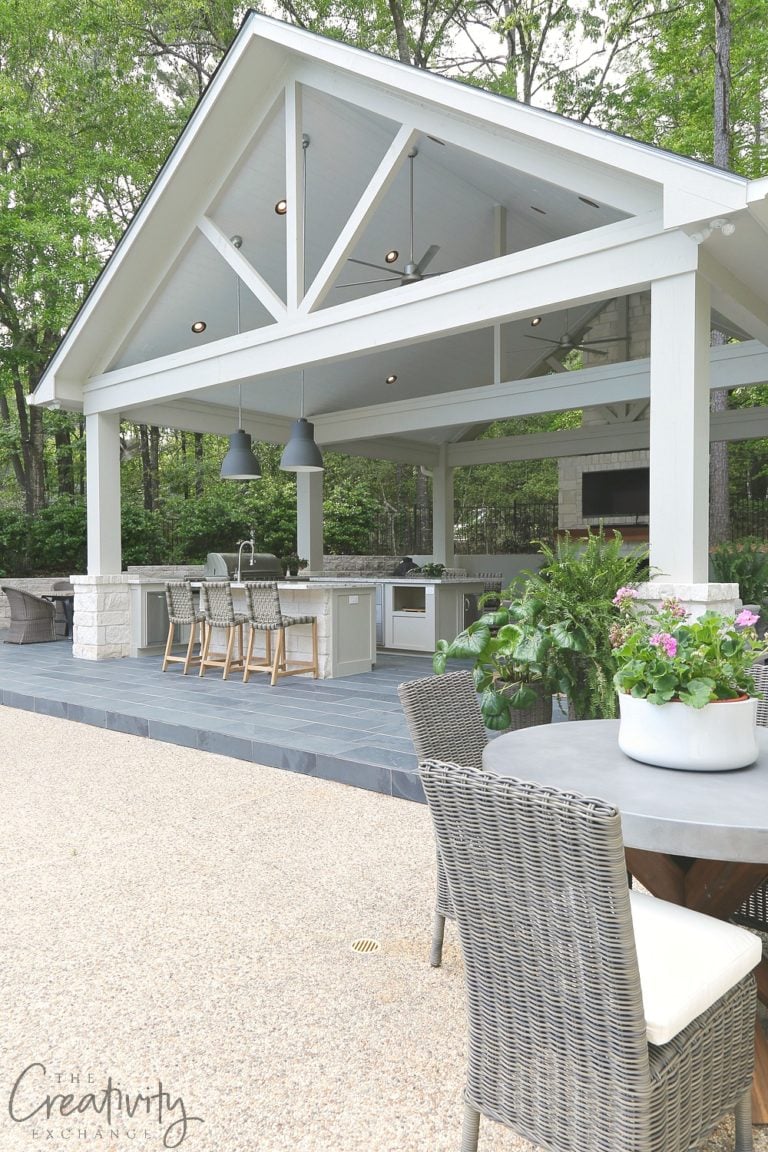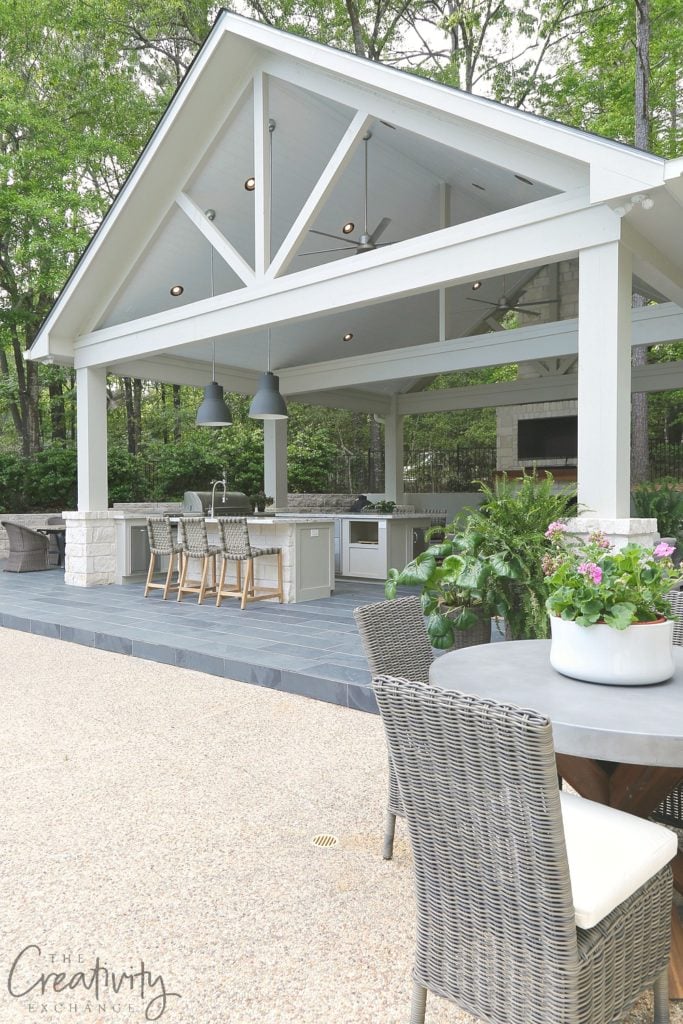 How We Want The Space To Look: Pool House Inspiration Photos
Let me preface this section by saying this is all inspiration. Truly dreamy and goal-worthy spaces! Most of these were gathered without any concept of budgets or costs. We just wanted to find what inspired us most and would work best for our space and go from there!
We want the pool house to be an extension of the pool area in the summer months and an extension of the interior of our house in spring and fall! We would plan to leaving the exterior door in our dining room, so in the summer that would still remain closed. With our heat, humidity and bugs, we unfortunately can't have a true indoor/outdoor experience. But we want it to feel close to that! We also want the space to feel extremely casual, likely with outdoor furniture, so people can lounge in wet bathing suits, etc. So basically a really durable version of an indoor space that still looks casual. Can you guys even imagine me trying to explain this to the contractor/designer team? And then showing them my thousands of Pinterest inspiration photos 😉
Basically anything done by Patterson Custom Homes is something Kurtis and I both agree on immediately. I highly recommend checking out their website or Instagram page if you're looking for tons of that SoCal outdoor living look! Sadly, their homes are way out of our price range, so that may have been part of the issue with our budget limitations. 😉
So, just squint kind of hard and pretend this is the back of our house. In our real dream world, we would expand the upper area partially to make our bedroom closet bigger, and then have a small patio area off our bathroom. In my mind, this saves on roofing costs. My mind isn't always reality though. Ha! I almost hesitate sharing some of these, because they're the best of the best, and we'd be pulling bits and pieces!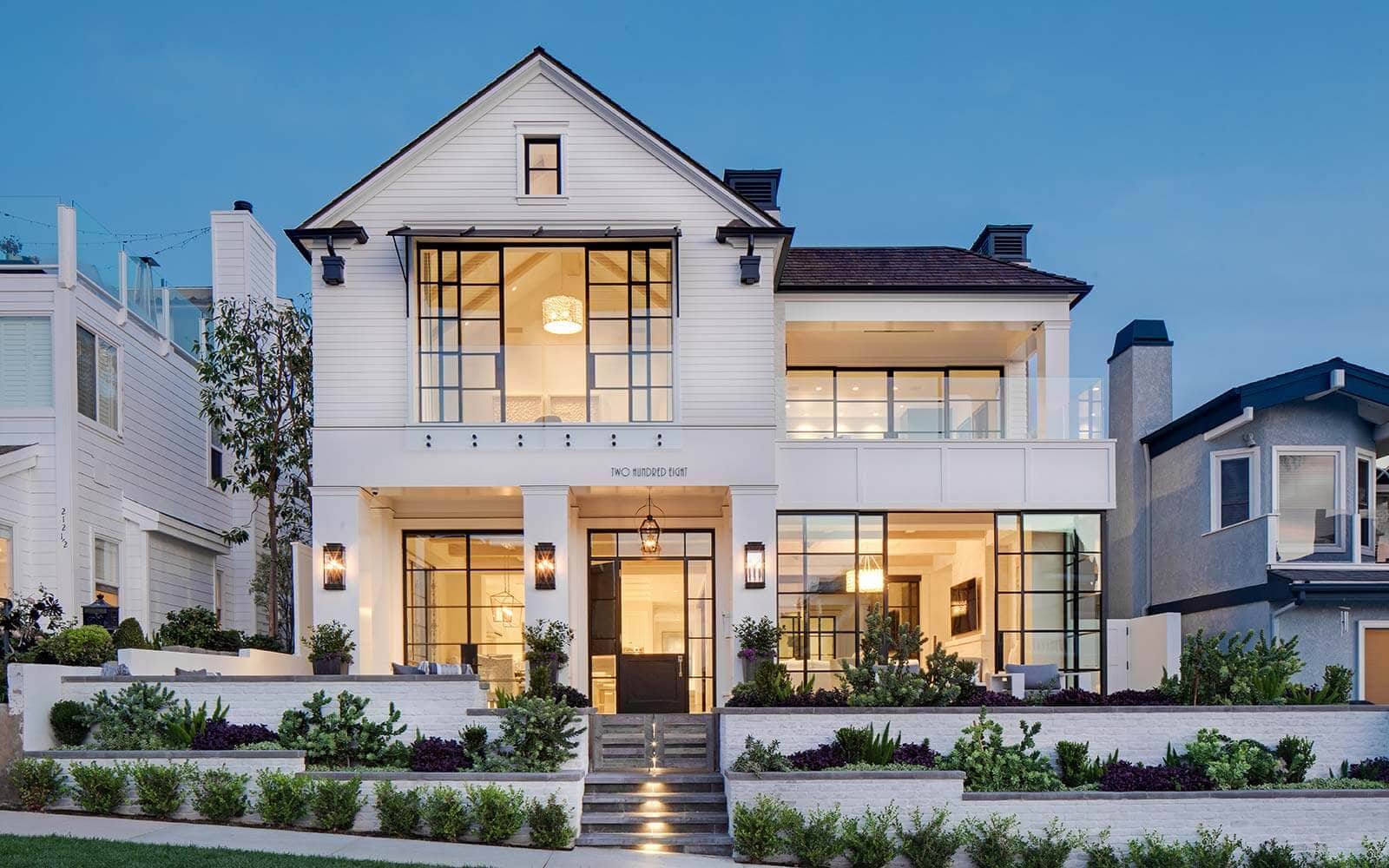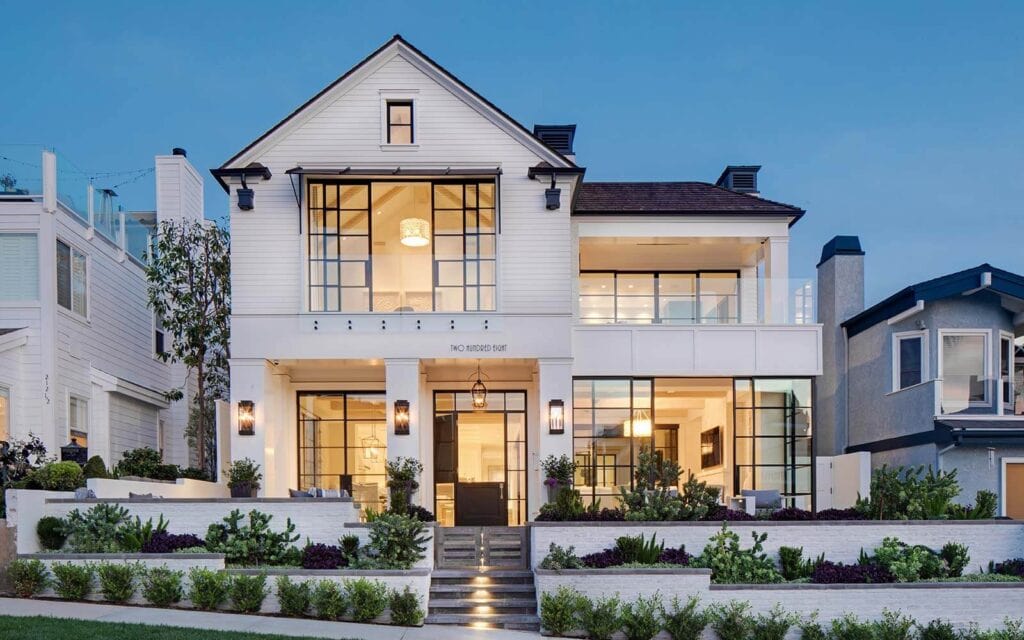 Can you even imagine drinking coffee on your own little deck each morning? It sounds lovely in theory, but we aren't 100% sure how much it would get used if we went this route. Although the in-ceiling heater would certainly be motivational in the spring and fall!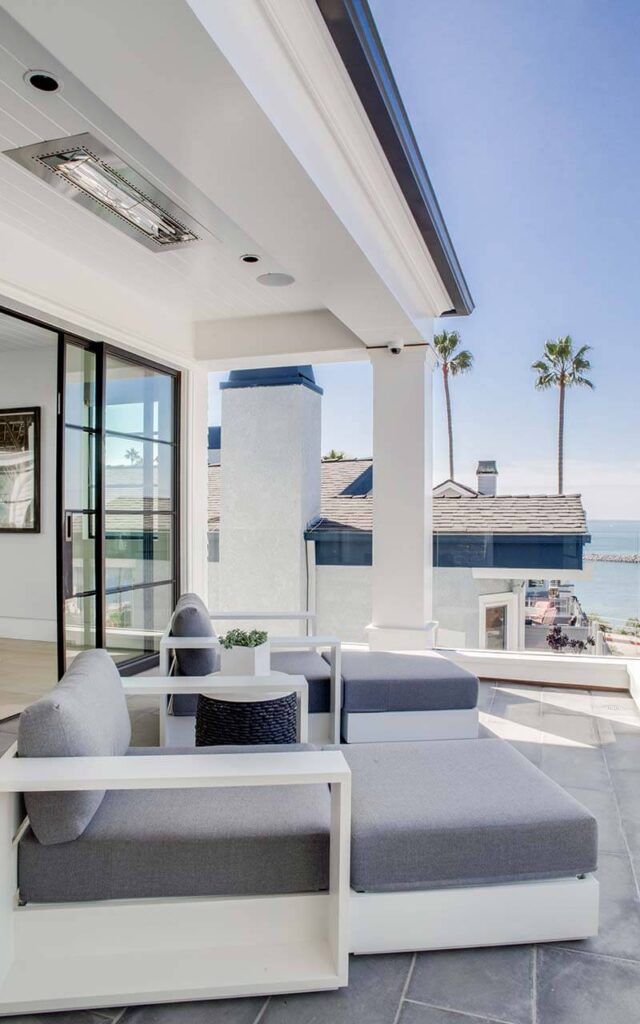 On the side facing the pool, our dream would be to have a space that functions like the one below. Bar stools on the exterior facing a "kitchen" on the inside. Our kitchen would really just be a grill, beverage fridge, and maybe a sink. We talked through the idea of both a mini garage door here (like you see at many restaurants) or accordion style doors like the one below. Each have pros and cons!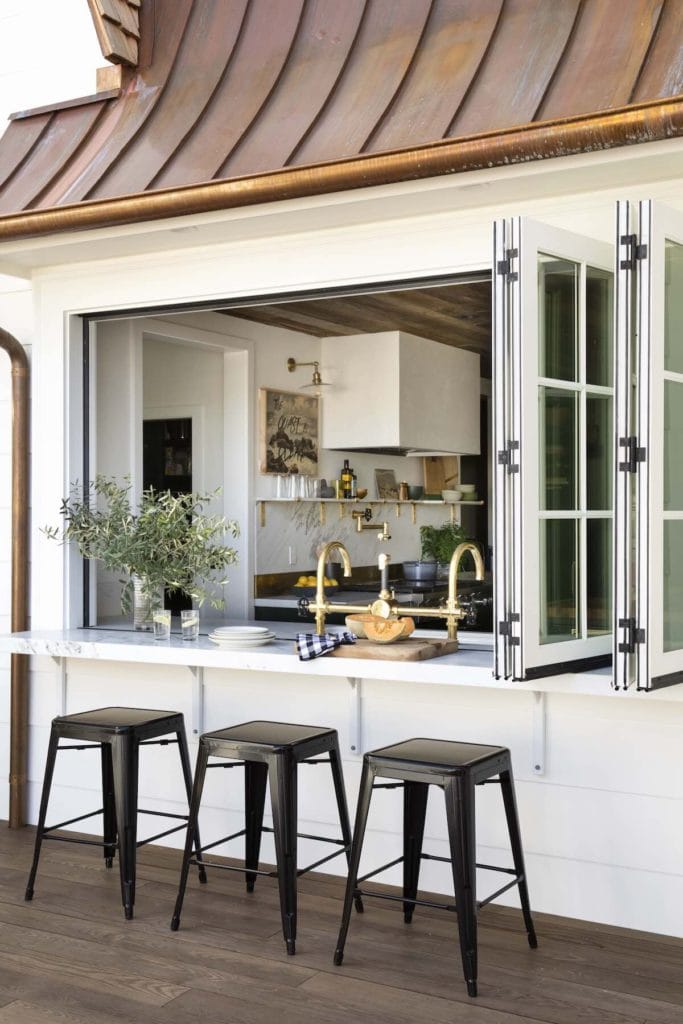 This next pool house, while not attached to the house, brings tons of inspiration. Everything about this vibe from Brandon Architects (who also works with Patterson Custom Homes on a lot of projects) is a total dream! I honestly think I've saved this one in various places no less than a dozen times!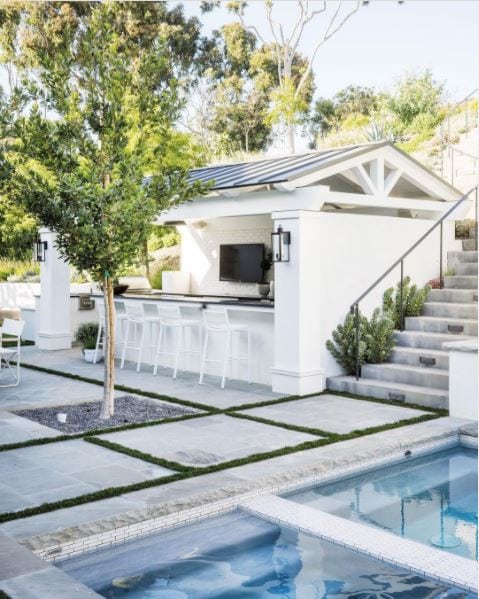 I loved touring this entire pool house from The Haven List. So many amazing features to take in! I also think the homeowners must love Serena & Lily as much as I do 😉 The below demonstrates a smaller version of the outdoor bar. Then, on ours, envision the whole right side as either glass garage doors or folding doors that open all the way.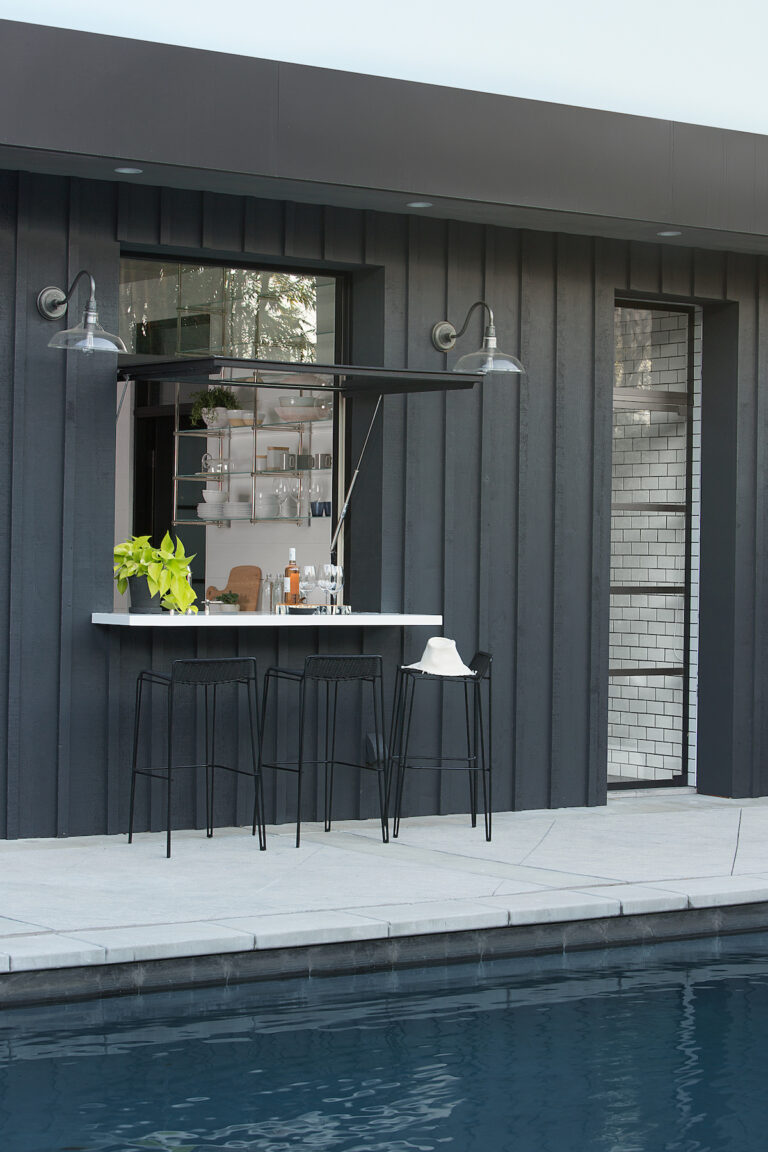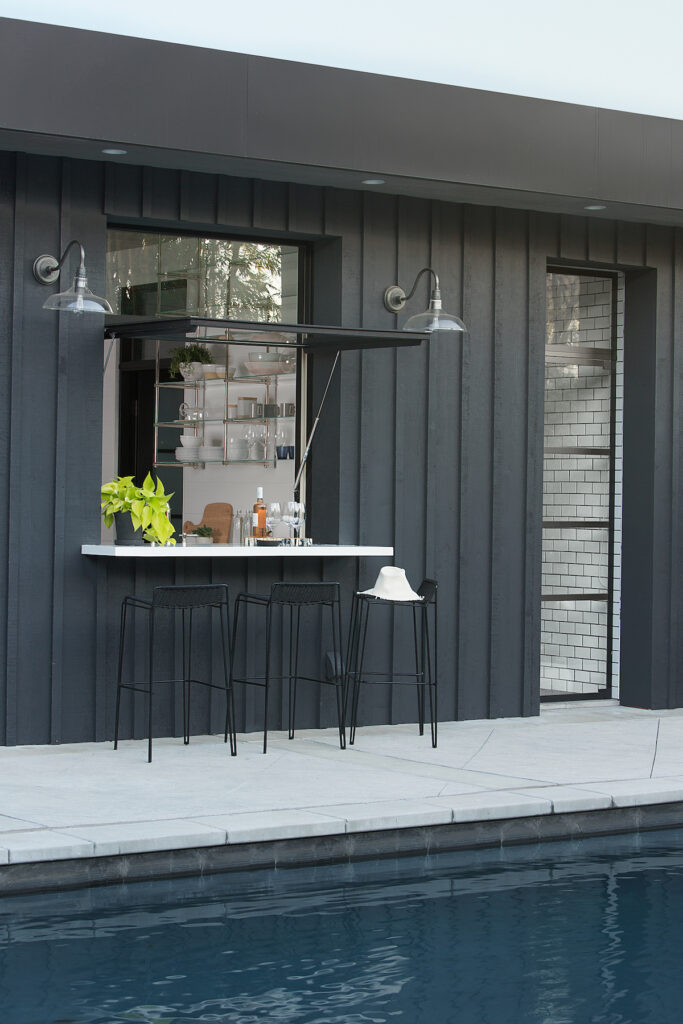 This is kind of what we had in mind for a mini kitchen. Just the essentials needed for a pool party, plus a grill. Still trying to figure out if there's a feasible way to have a grill that we could also use in the winter when the space is closed up. Would love feedback on this! I assume we could use a powerful range hood in the space so we wouldn't have to open the windows and/or have it smell like smoke inside?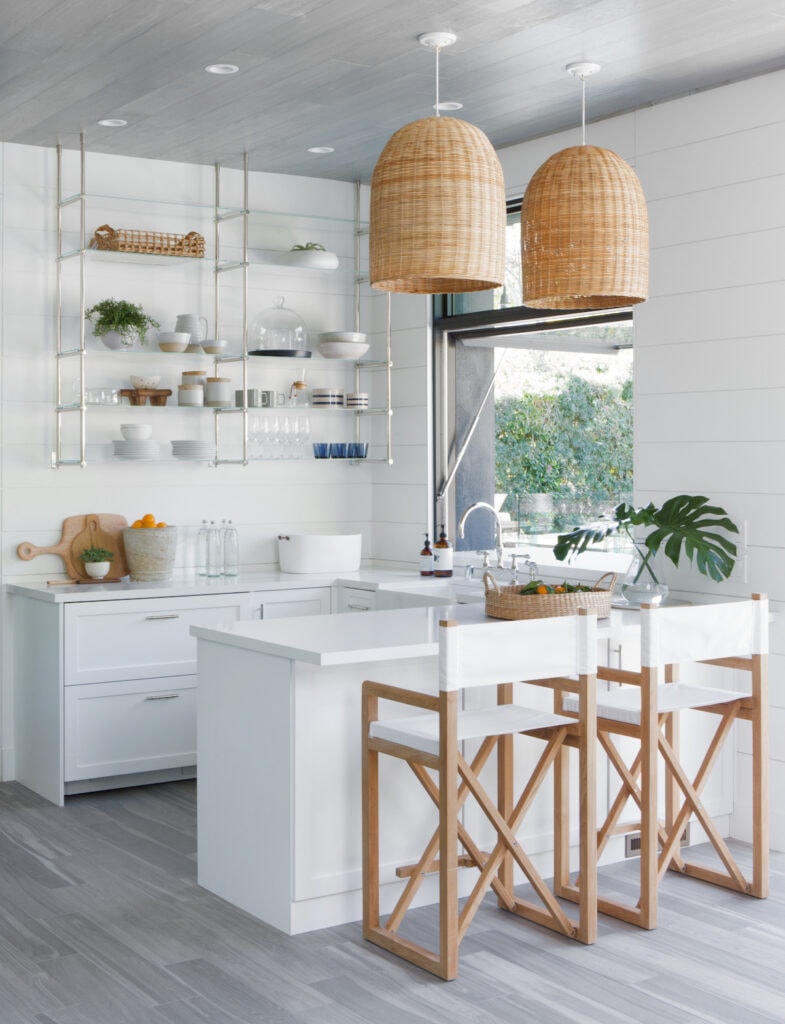 This next image from the same pool house structurally demonstrates the whole indoor/outdoor vibe we love. I want to make sure it is still as light and bright as possible with lots of windows and doors. We'd want the windows to open as much as possible so it truly feels part of the outdoors in the summer months.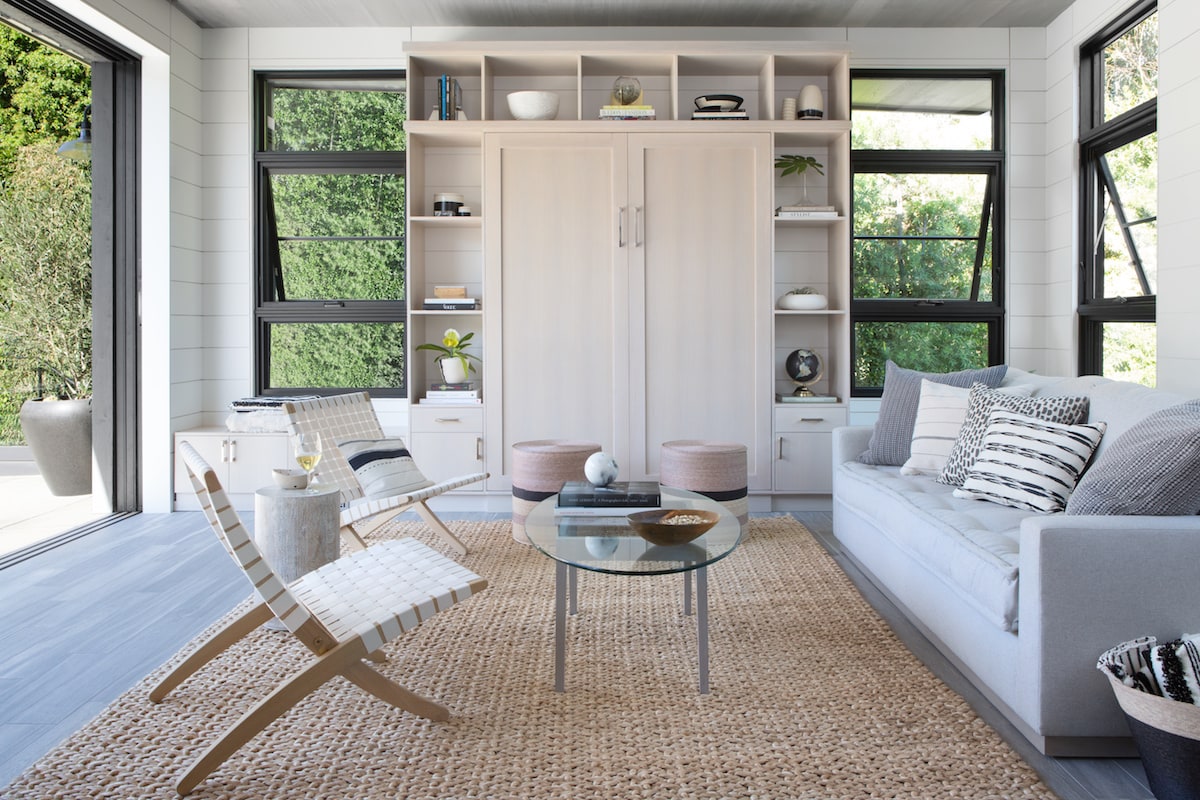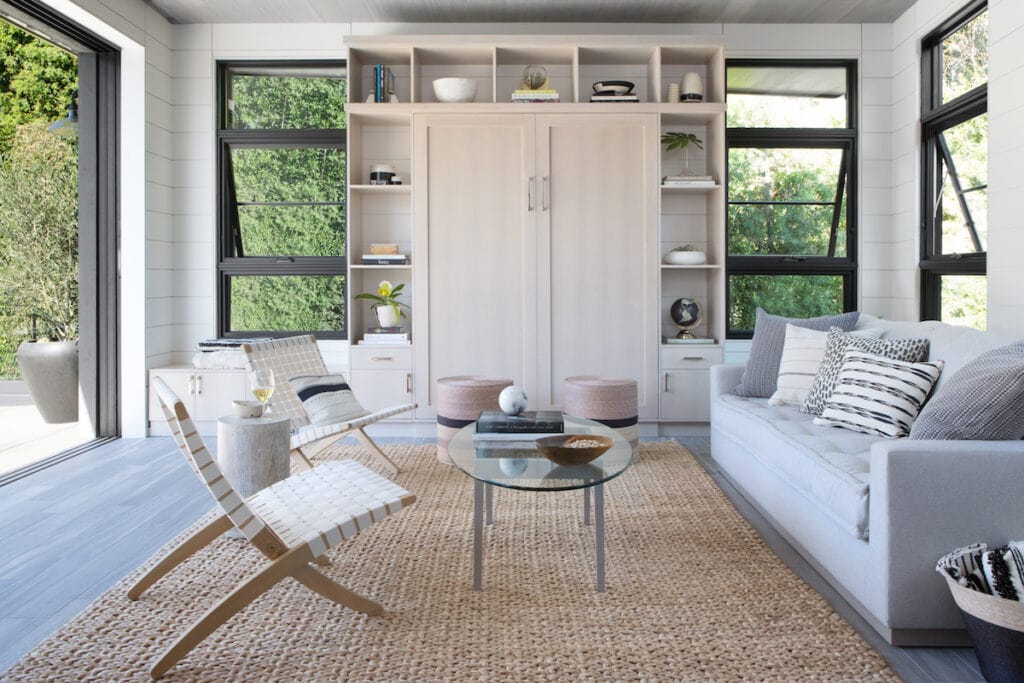 This half-window wall (rather 3/4 window wall) from Amber Interiors is a total dream! Although this is actually an interior space in her home, it brings so much inspiration for bring the outdoors inside!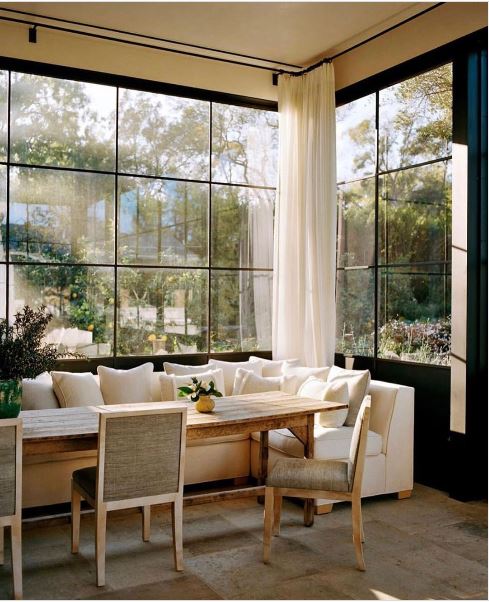 I love this next example, from one of my favorites, Sherry Hart Designs. If it isn't clear already, I basically don't want much, if any, wall space 😉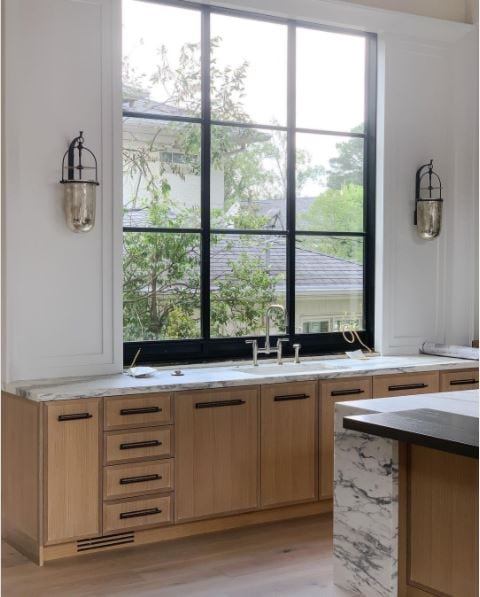 This is a quick iPhone pic I took at my friend Nancy's house in September. She has double Marvin sliding doors and they were absolutely stunning in person. I hadn't seen anything like this in Omaha before but they would be another great option. They're shown in the fully open position below, so the two sliders go on either side and rest behind the stationary glass.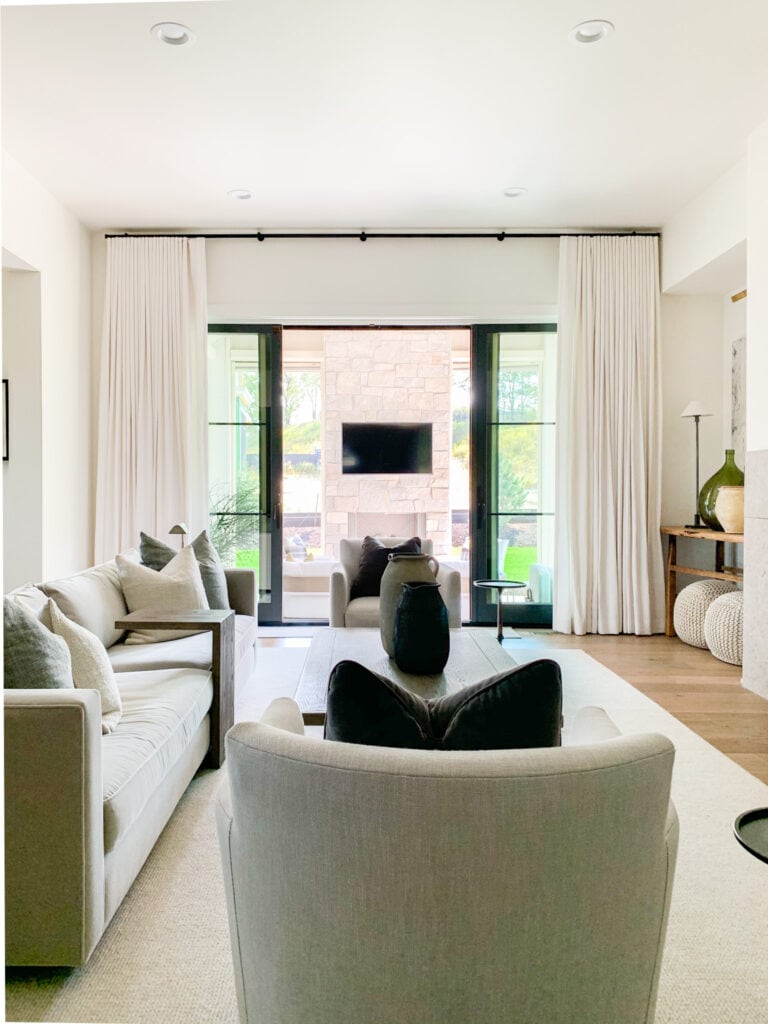 I know my friends at Zephyr now have indoor/outdoor kitchen appliances. I actually sat in on a really interesting virtual presentation with them a few weeks ago and it sounds like indoor/outdoor living spaces are trending hard right now! Basically everyone wants to make their home as multi-functional as possible given the current environment. This image is obviously much more modern than we'd go, but I love the indoor/outdoor kitchen layout!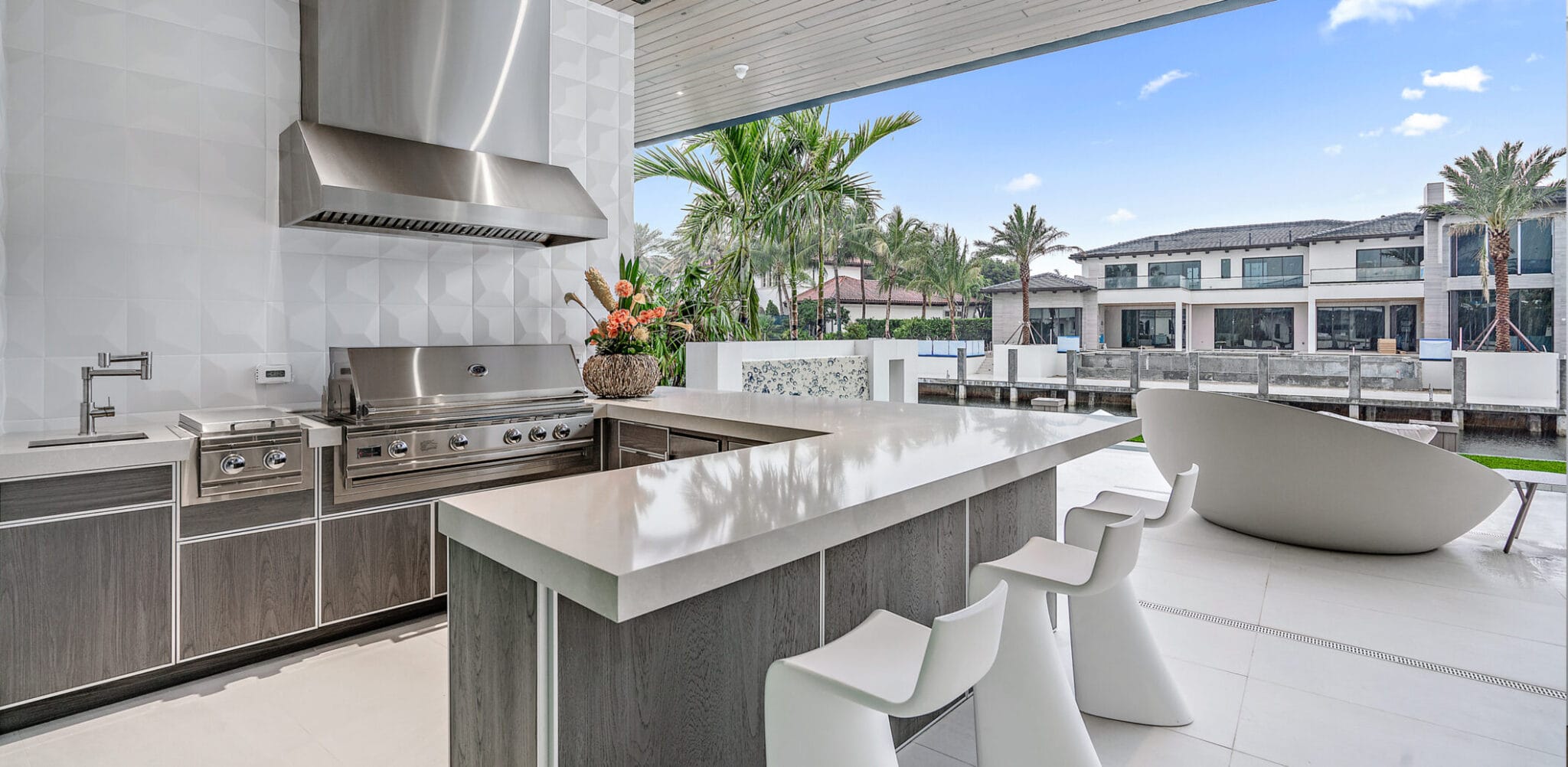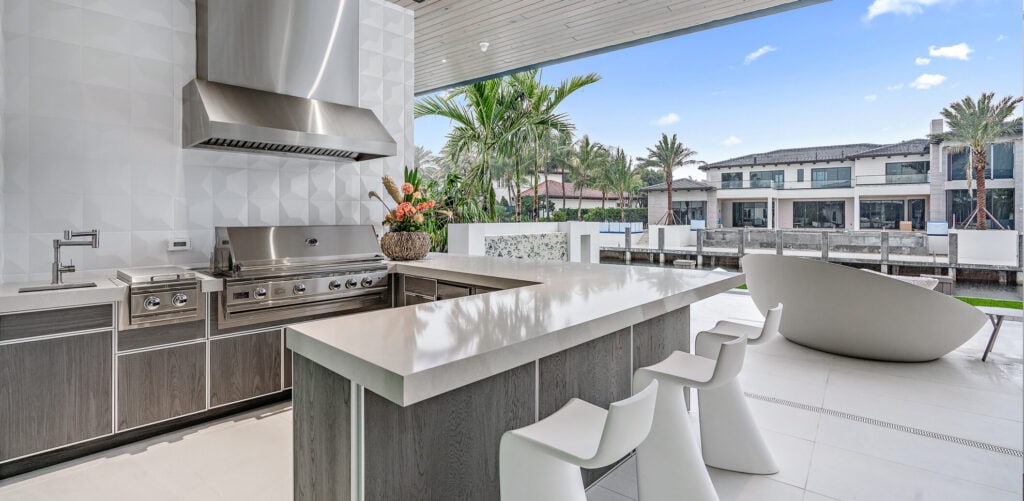 Another dreamy pool house tour from Serena & Lily and AGK Design Studio. The full tour is stunning!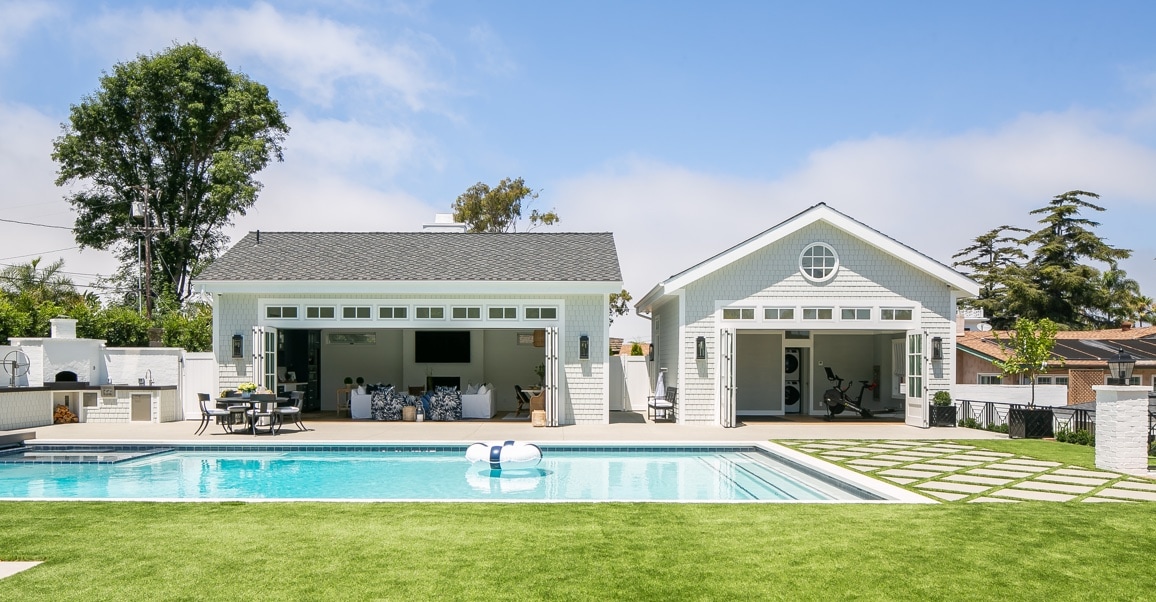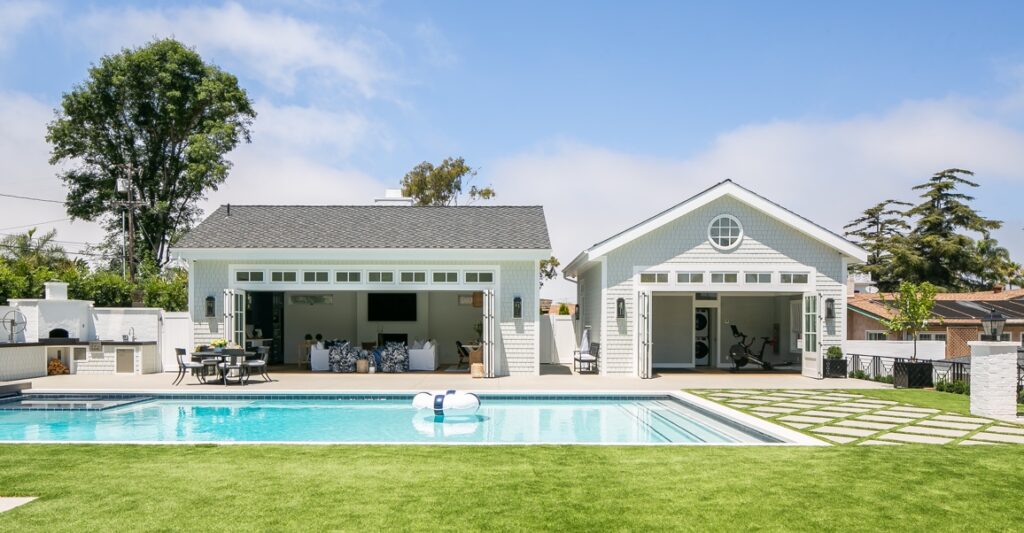 Kurtis would also love to have a TV in the space and dreams of watching football indoors/outdoors as weather permits. So, we were thinking a fireplace with a TV above in the corner. Picture the TV where the fireplace is in the image below, and the fireplace where the wood storage is. We also love the inspiration photo below for the half solid wall and fireplace. I was thinking something similar for privacy but then windows that can be fully opened or lifted above that.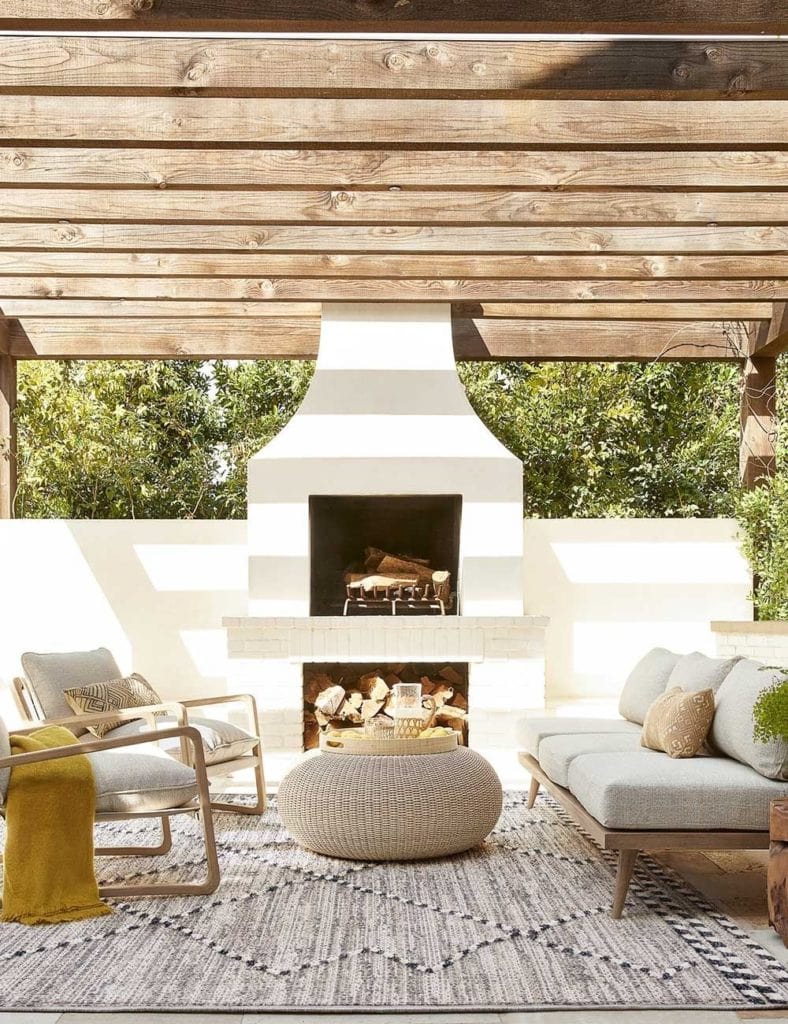 If we couldn't leave it open or windows on that wall got too cost-prohibitive, I thought this next example from Phoebe Howard was beautiful. It's a bit more ornate than the laid-back style we'd want, but still so inspiring! But it would give us additional privacy on that side (since it's closest to our neighbor's house). I love that it gives the vibe of windows but the privacy of a wall.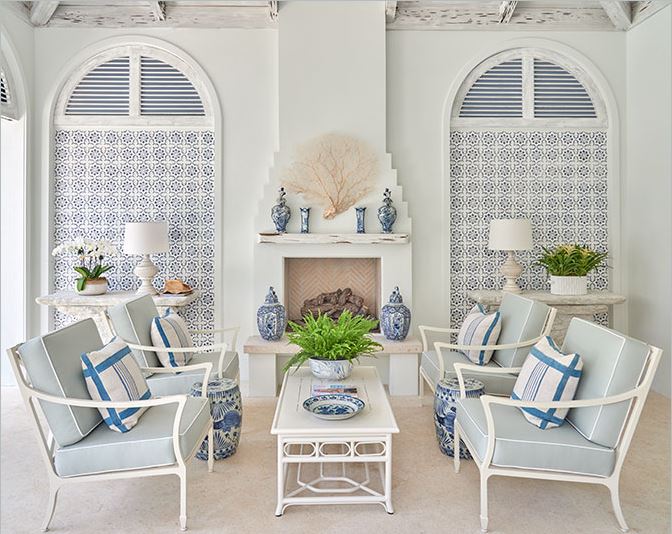 After looking at all that inspiration, can you see why we're nowhere close to our budget?! 😉 I think at this point, if we do move forward, it's very unlikely we'd be able to start next spring as originally planned. We would still need to hire an architect for the technical side of things, and officially hire the contractor. So, if it ever does happen, I see it being a ways off.
I'll plan to share the designs we received in an upcoming post, as well as what we've already decided to eliminate if we decide to move forward. But, I'd love to hear! Any experience with garage-style doors? Folding exterior doors? Outdoor kitchen equipment? Give me all your tips and favorites (and not-so favorites)! I'm really hoping we can make some iteration of this project work at some point!
If you would like to follow along on more of my home decor, DIY, lifestyle, travel and other posts, I'd love to have you follow me on any of the following:
Pinterest | Instagram | Facebook | Twitter 
disclosure: some affiliate links used