Photo gallery walls are a great way to add personal touches to your home and decor! Today I'm sharing our new upstairs hallway photo gallery wall along with some inspiration and ideas for photos to use in your own space!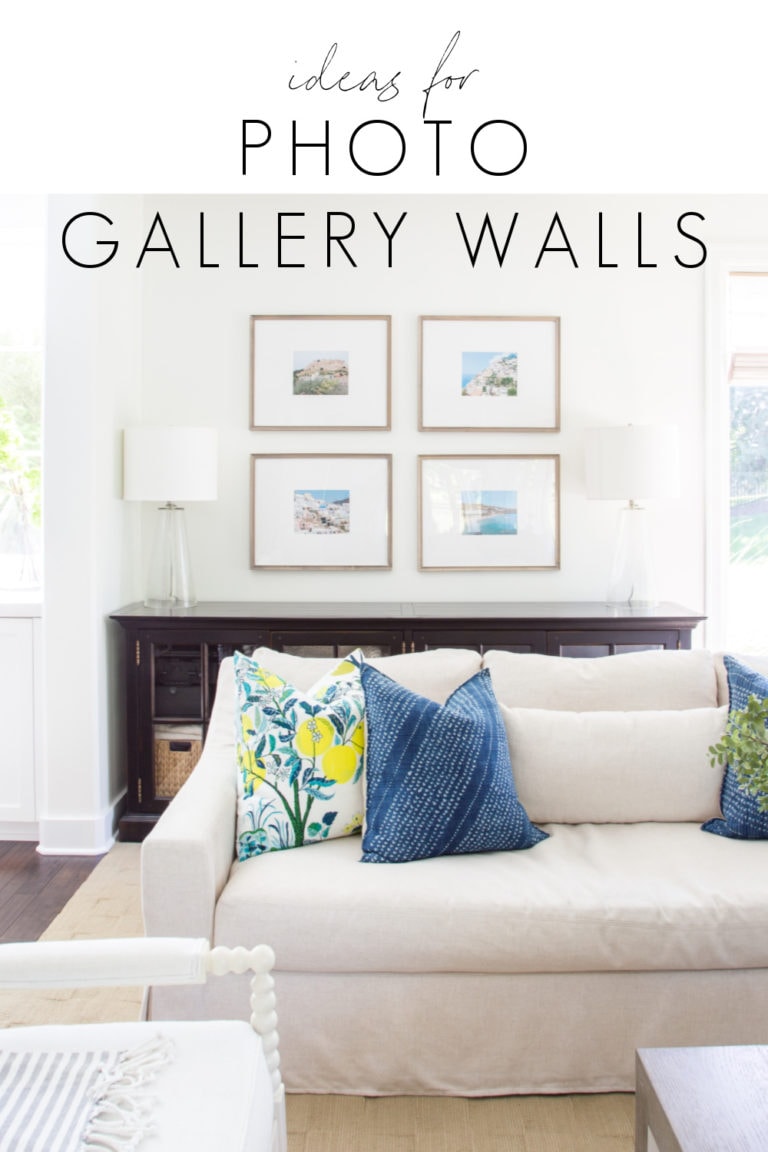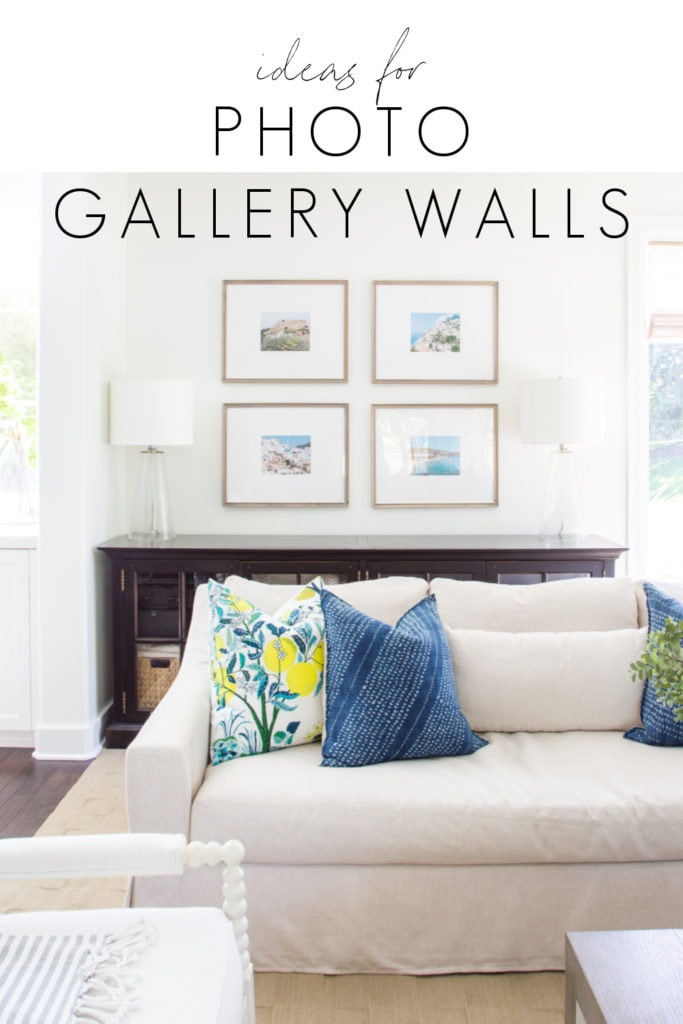 I'm guessing if there's one thing we can all agree on over the last few months, it's that our homes are more important than ever! I'm constantly looking to find ways to bring joy and happy memories to our home. Today I'm finally sharing our upstairs hallway photo gallery wall that I started working on a few months ago. I'm also sharing ideas for photos to use around your own home, as well as some of my favorite gallery wall frame options.
This post contains affiliate links for your shopping convenience. You can read my full disclosure policy here.
Our Upstairs Hallway Photo Gallery Wall
Since we moved into our home over seven years ago, our upstairs hallway walls have been bare. When Kurtis was home for six weeks after his hip surgery last December, I finally hung these frames to fill the void. And then they sat empty until last week. Ha! It only took seven+ years, but the gallery wall is finally complete. And I couldn't be happier with how it looks! Aside from the buckling carpet that runs down our hallway 😉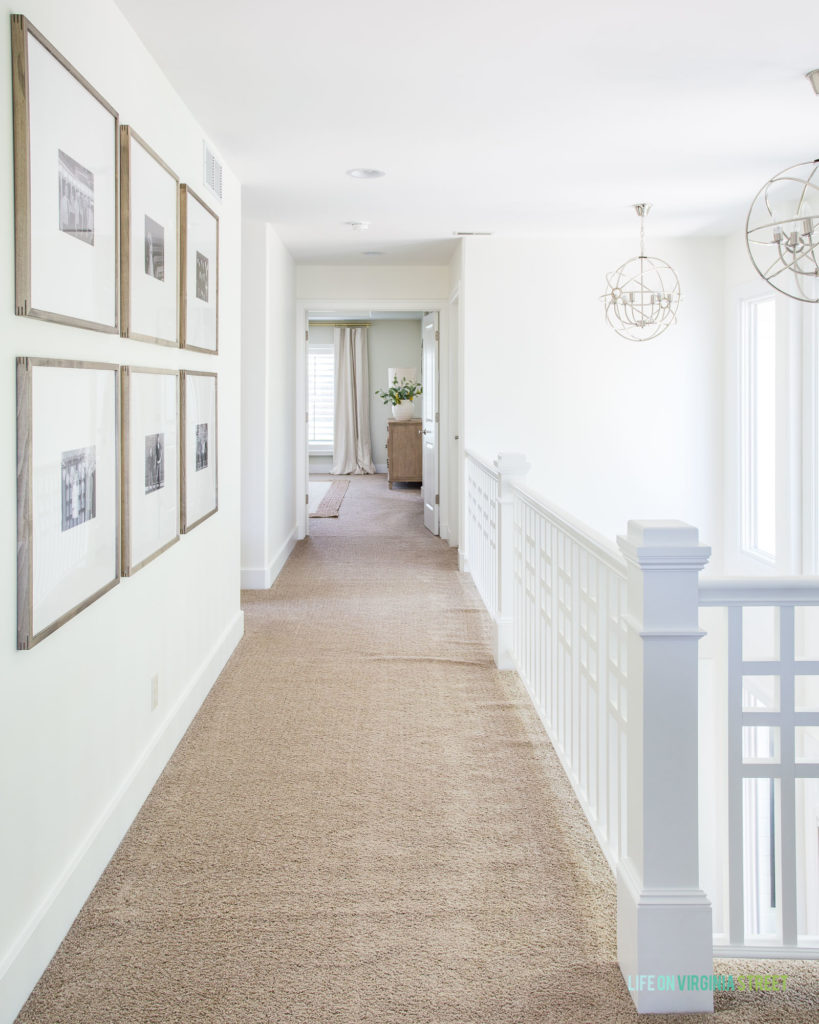 HALLWAY & MASTER BEDROOM SOURCES: Gallery Wall Frames | Similar Orb Chandeliers | Striped Curtains | Gold Curtain Rod | Jute Rug | Light Wood Dresser | Similar Ceramic Vase | Faux Lemon Stems
I used the same frames we have in several other places around our home (this is the gray finish). They are an investment (they go on sale frequently), but I haven't been able to find anything that comes close in terms of scale or mat space or finish options. Each frame holds an 8×10″ image and the mats can easily be swapped horizontally or vertically (so you don't have to add new holes to your walls with new photos). Not only that, each frame is over 2 feet by 2 feet in size. So, if you have a large will to fill, you need far fewer frames. As you can see below, my gallery spans more than six feet wide by more than four feet tall.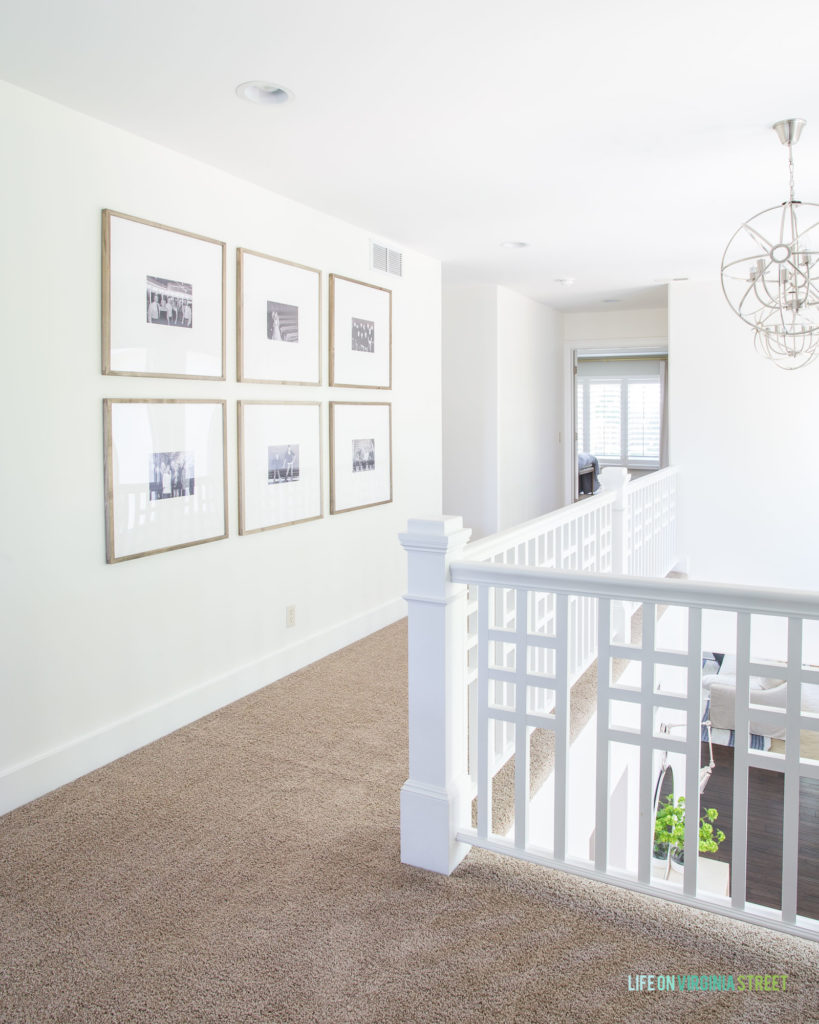 I filled the frames with family photos taken over the years. Since they were all taken over a decade or so and were all edited differently I chose to print them in black and white. This helps them feel a lot more cohesive, whereas in color, it all looked a bit chaotic! Now when we wake up and walk down the hallway each morning, we see the faces of the people we love most in this world!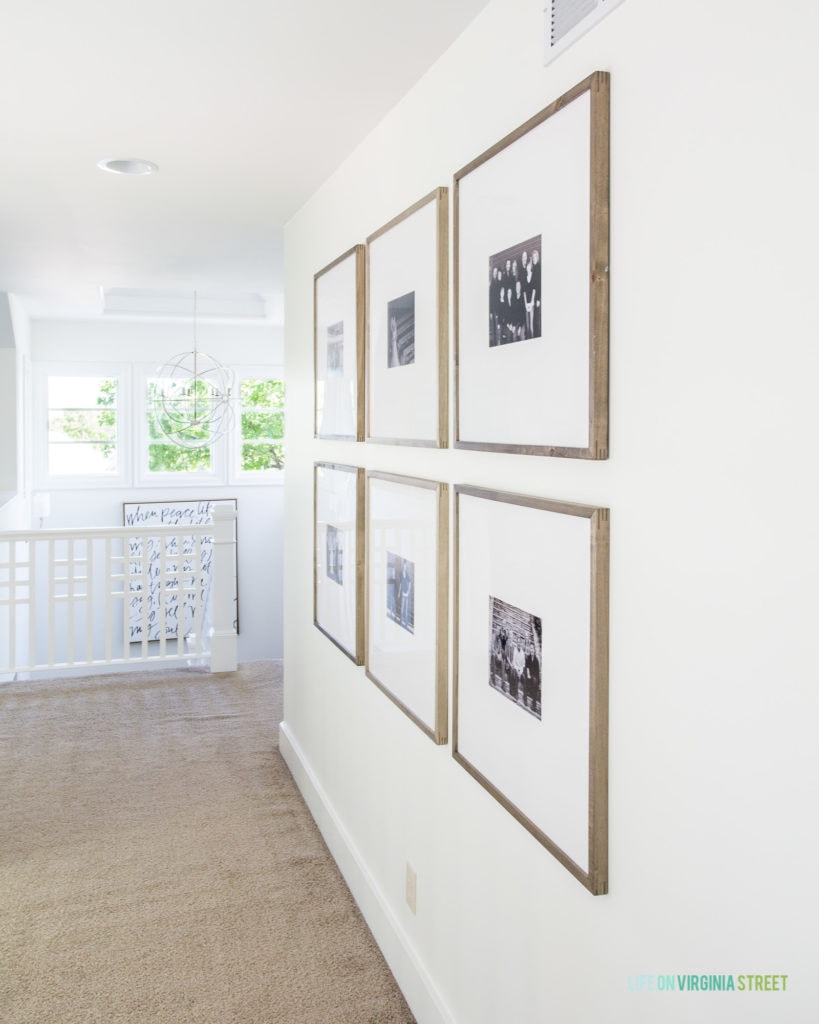 HALLWAY & STAIRWELL SOURCES: Gallery Wall Frames | Similar Orb Chandeliers | 'It Is Well' Canvas | Sconce Lights
It's a great way to get photos off your phone or out of albums and actually display them around your home.
Photo Ideas for Gallery Walls
There are a number of things you can obviously use in gallery walls around your home. I have even more ideas in my post on simple and affordable artwork ideas that include options other than photos. But, if you're purely interested in adding photos, following are some ideas.
Family photos
Vacation photos
Photos of your child's artwork
Photos of your pets
Wedding photos
Ancestor photos
A series of photos of similar images. For example, beaches, various plants around your yard, animal photography, sunsets, etc. Really, just anything that makes you happy and you want to see each day!
Photo Gallery Wall Inspiration Around Our Home
We have several other photo gallery walls around our home. Here's a sneak peek of part of our summer home tour I'll be sharing next week. In our master bedroom I used the same frames (but in white) to display some of our favorite photos from various vacations we've been on together. The prints here are in color.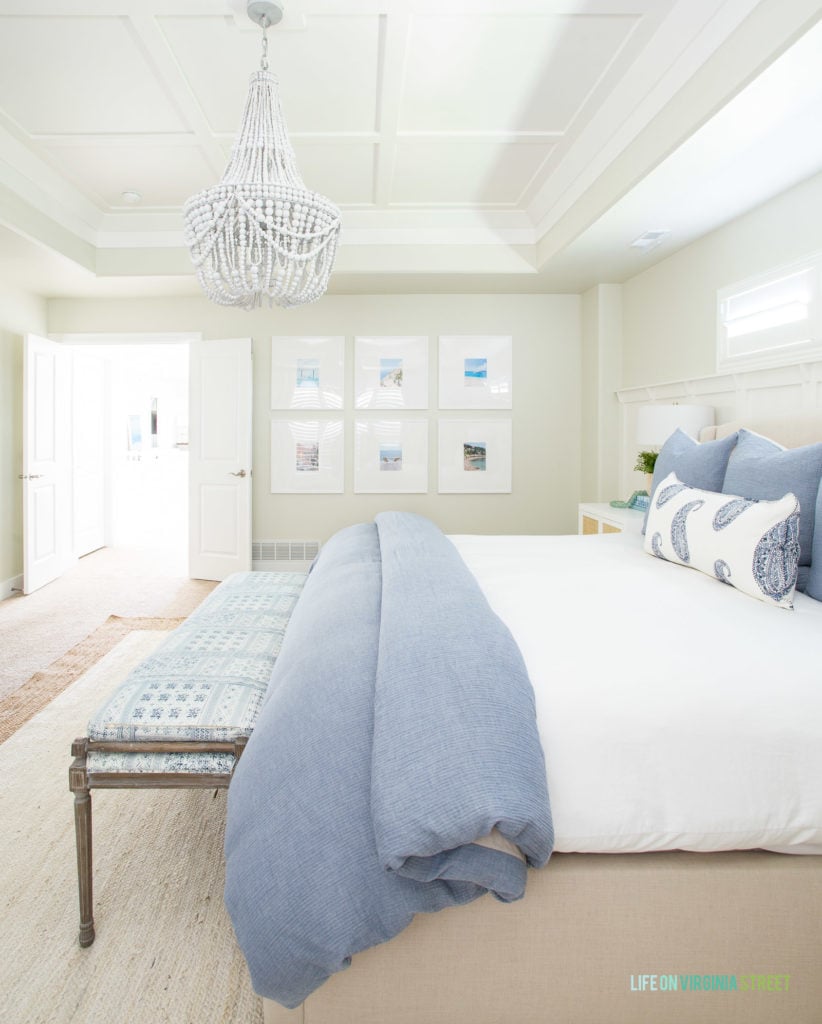 MASTER BEDROOM SOURCES: White Gallery Wall Frames | Bead Chandelier | Bench | Jute Rug | Cane Nightstand | Similar Bed | Blue Bedding | Paisley Lumbar Pillow
In our mudroom, I have two frames propped up on the ledge (also in gray). These have vacation photos, as well, but this time printed in black & white. You'll see these photos are oriented horizontally versus vertically like they are in our master bedroom.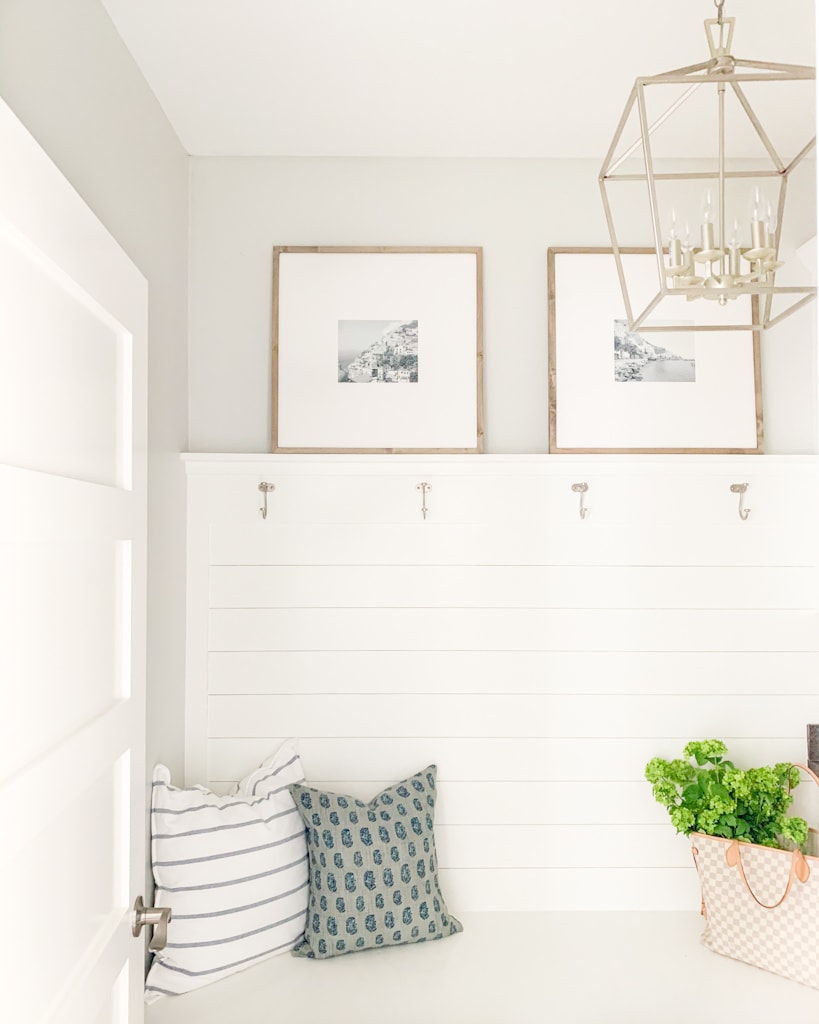 MUDROOM SOURCES: Lantern Chandelier | Striped Pillow | Similar Paisley Pillow | Gallery Frames | Faux Viburnum Stems (similar here)
In our living room, we have an older version of the frames shared above. I found this alternative that is the closest in terms of size and shape. These are also 8×10 prints, but the frames are slightly smaller (since they aren't square). Here I've used black and white travel photos in the fall and winter months.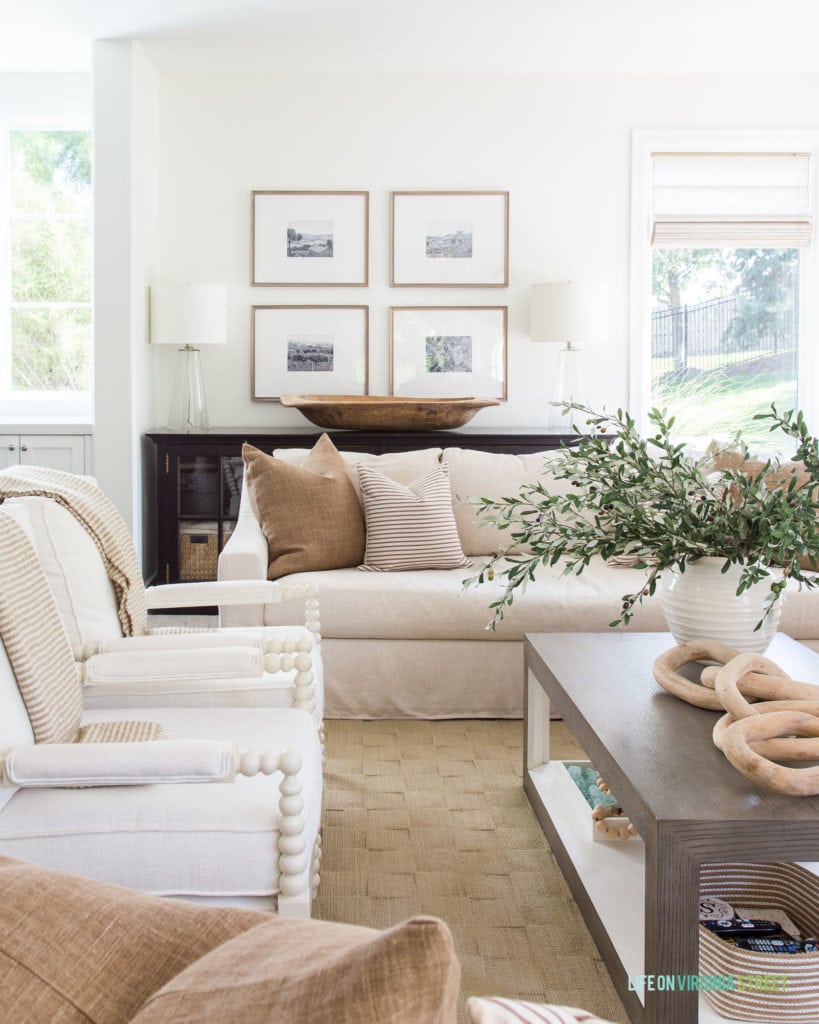 FALL LIVING ROOM SOURCES: Linen Sofa | Spindle Chairs | Coffee Table | Linen Pillows | Striped Pillows | Lamps | Dough Bowl | Faux Olive Stems | Similar Black Cabinet | Similar Vase | Similar Wood Chain
And then in the summer months, I tend to swap out the black and white photos for color. It's amazing how much that simple swap can really change the overall vibe in the space! And the great thing is that once you have the frames, the additional photos can all be printed very inexpensively. I believe the 8×10″ size is only $1.29 or so at Target.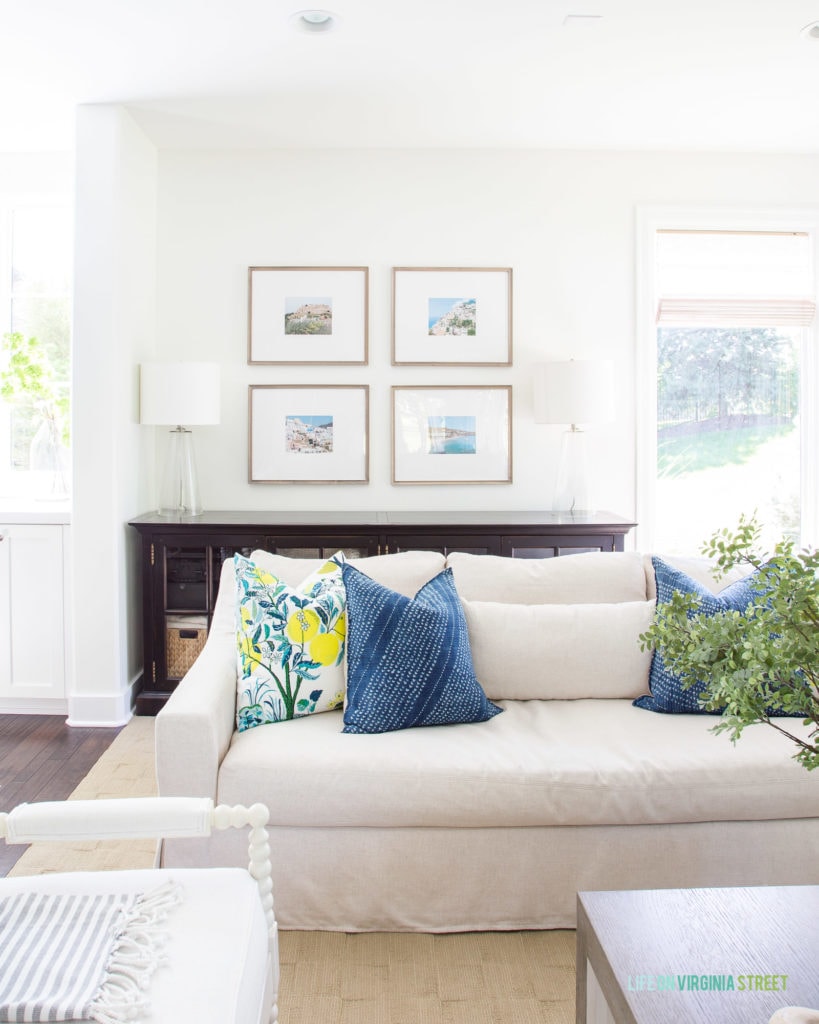 SUMMER LIVING ROOM SOURCES: Linen Sofa | Spindle Chairs | Coffee Table | Lemon Pillows | Blue Dyed Pillows | Similar Black Cabinet Lamps | Faux Greenery
Gallery Wall Photo Frames
If you're wanting to create a photo gallery wall in your own home, I've searched around to find some additional gallery wall photo frame options.
These frames are a great budget alternative to the frames in our living room.
If you like a less structured & symmetrical look, this wood gallery in a box set is an easy way to have most of the work done for you! And if you already have frames you want to use, there are some good arrangement ideas in their product photos.
If you love gold finishes, I know these frames are popular and come in a variety of sizes.
Following are even more photo gallery wall frames I've found from various stores. Click any of the images below to learn more about each of the items.

The great thing about photo gallery walls with your own images is they add such a personal touch to your home that you won't be able to find anywhere else!
If you would like to follow along on more of my home decor, DIY, lifestyle, travel and other posts, I'd love to have you follow me on any of the following: