It's one of my favorite days of the year! Christmas home tour day! This year, I had high hopes of decorating and photographing even more spaces, but then real life happened and I didn't get as much done as I would have liked. However, I'm excited to share the spaces I have finished so far! Welcome to my 2020 Christmas home tour!
This post contains affiliate links for your shopping convenience. Click here to read my full disclosure policy.
Welcome to our home! After each room tour, I'll share the sources for all items in the room. If there's any I missed, leave a comment and I'll be sure to get back to you!
Our entryway looks fairly similar to how it did in our fall home tour. However, it's now filled with faux evergreens and lots of fairy lights!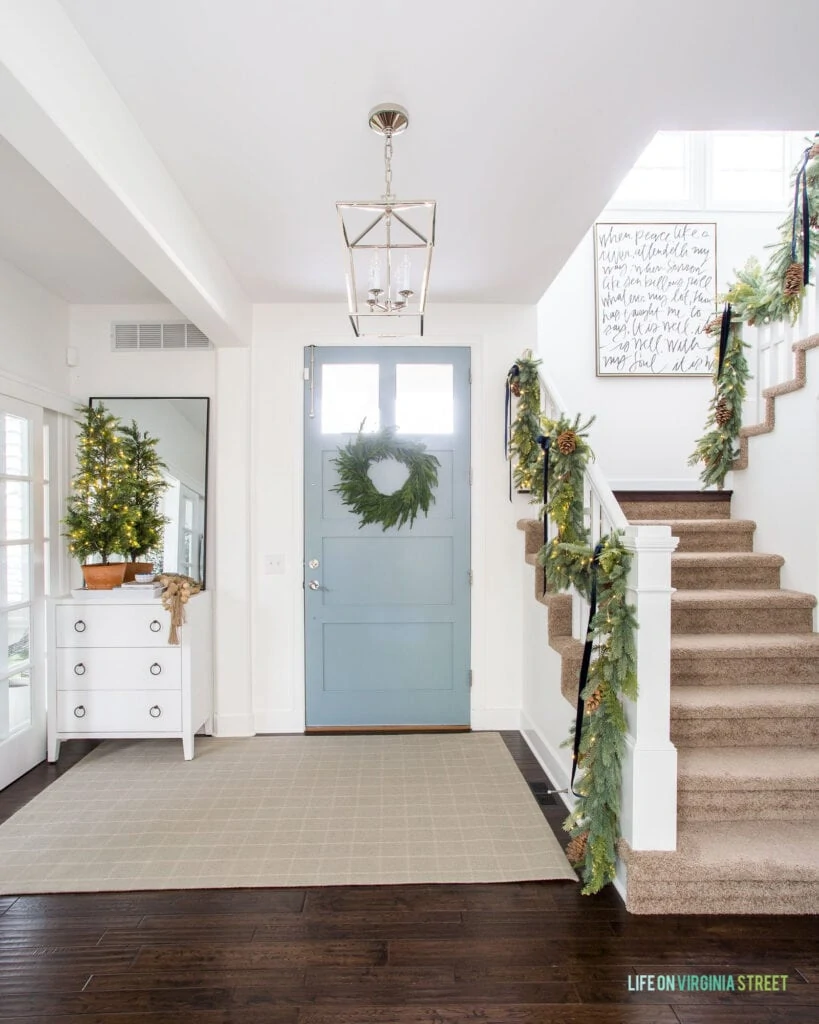 I carried the garland all the way up, and it's all so pretty when it's lit up at night!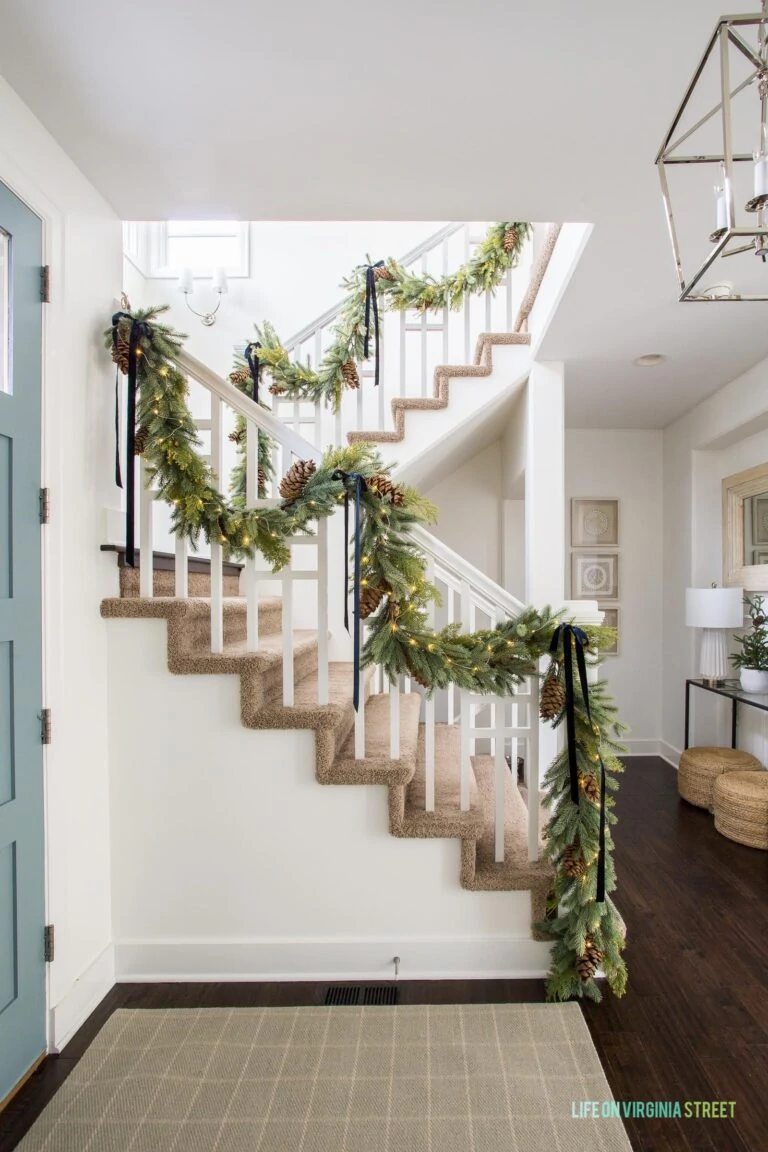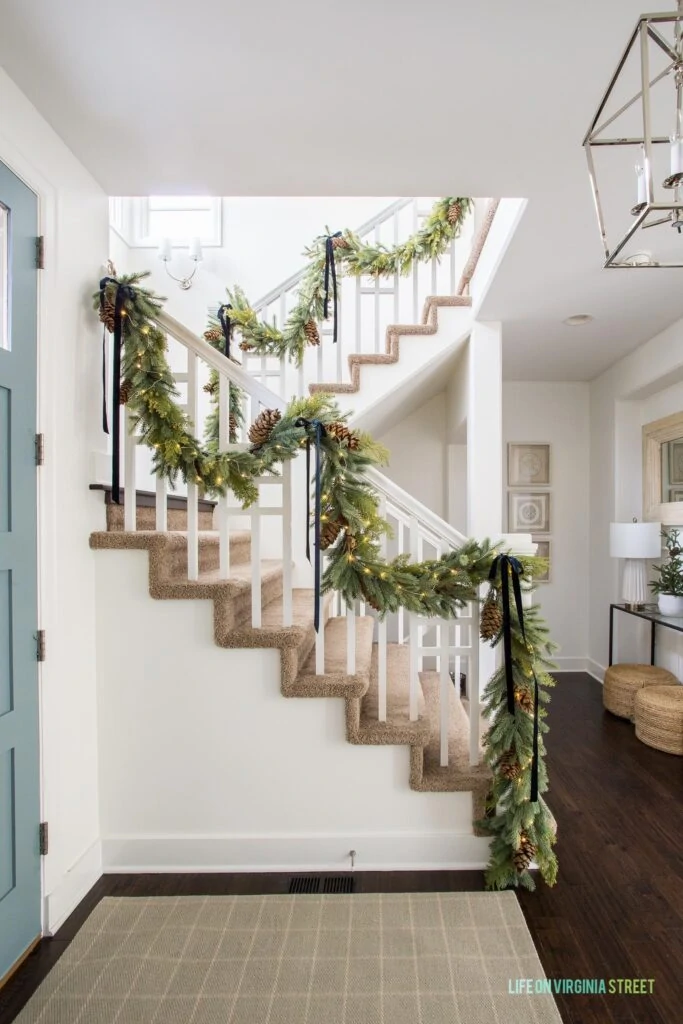 The garland I used is the same as last year. It was an end-of-season purchase from Studio McGee a year or two back, and unfortunately no longer available but this garland I found has a similar vibe. This year I added these warm white fairy lights and some pretty navy blue velvet ribbon!
As we continue down the hallway into our main living area, I kept things fairly simple.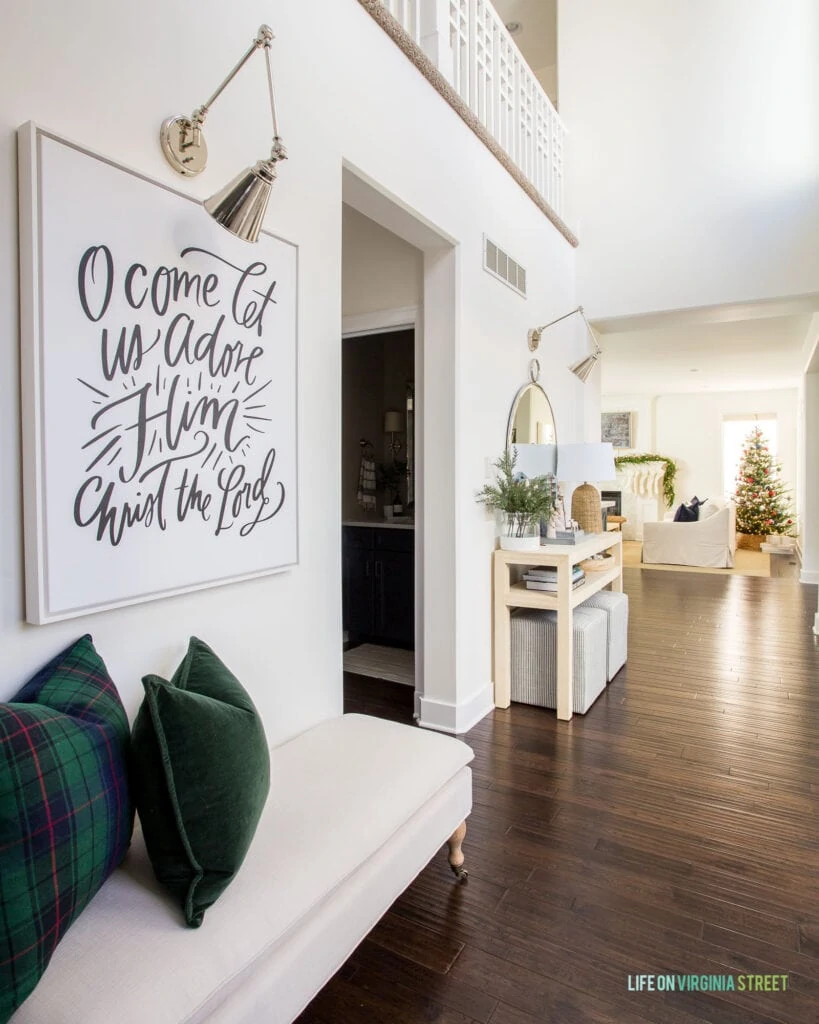 I used our console table as the setup for my Nativity Set. It's been so fun to gradually collect pieces over the last few years to add to it. I still have a ways to go, but I always look forward to setting it up each year!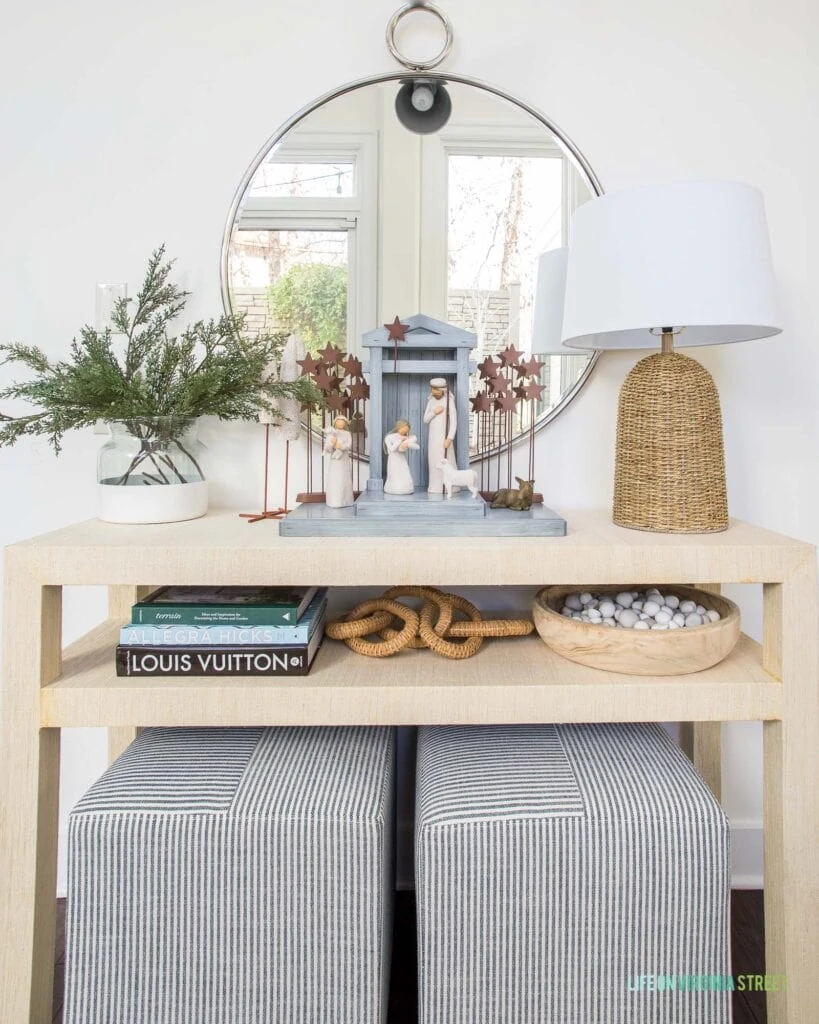 Oh, and don't mind the random bathroom vanity peeking out from the railing upstairs 😉
Moving down the hallway into our many living space, I kept our kitchen fairly simple. I added this new runner rug and love the color and pattern for the winter months!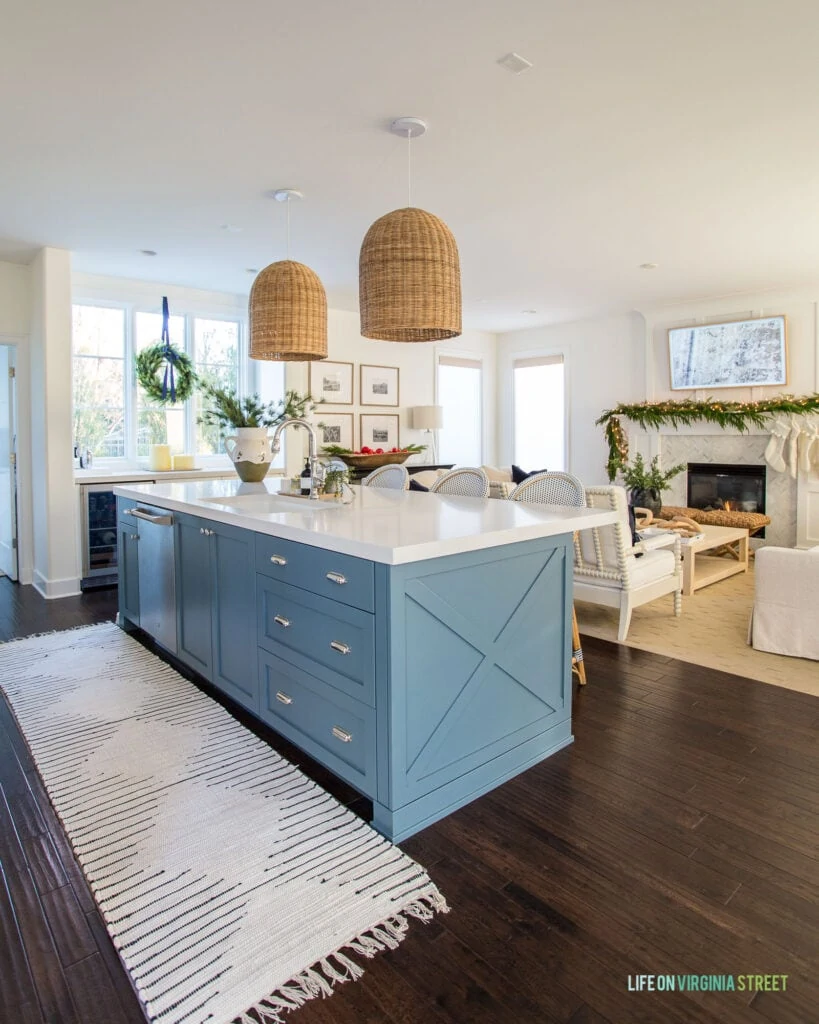 These giant flameless candles were another addition and I love how life-like they are at night! They're made of real wax, and the little faux flames move and flicker when they're turned on at night. I added the optional remote, which makes them much easier to operate given how heavy they are.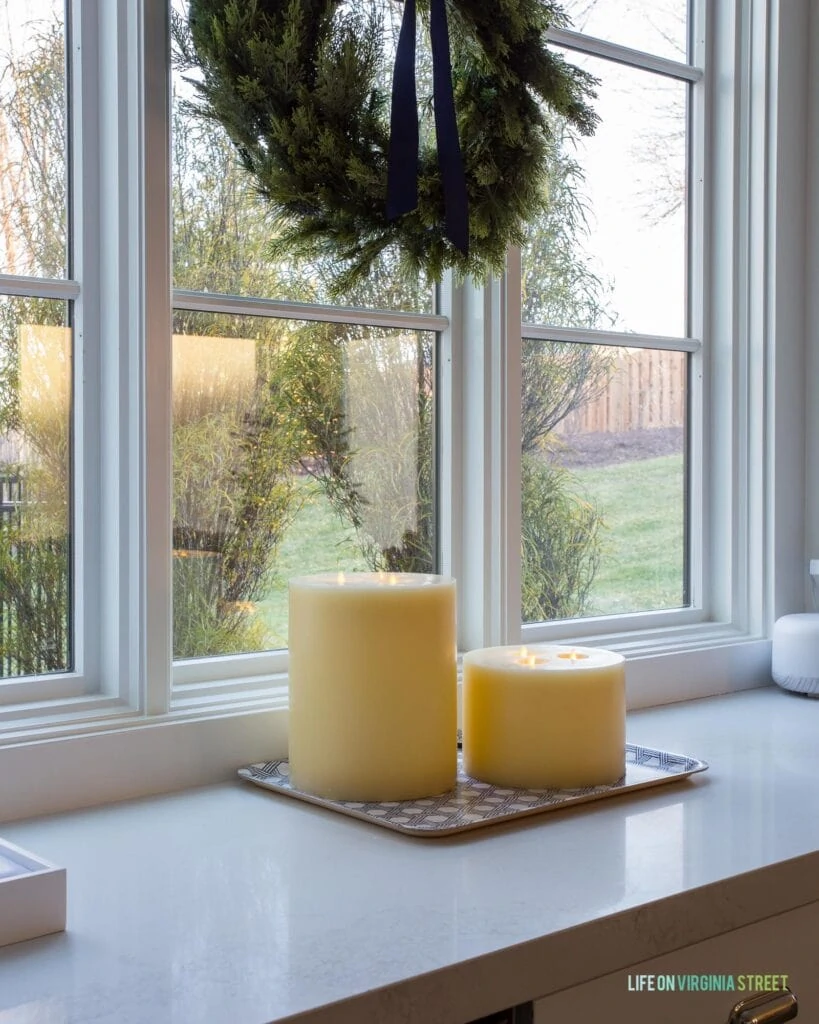 Since the bulk of this side of our house faces south (with windows also on the east and west), it's crazy just how much the natural light changes in here during the winter months. With the sun lower in the sky, the sun looks so much warmer now, particularly in the late afternoons. It almost casts a warm orange glow on everything.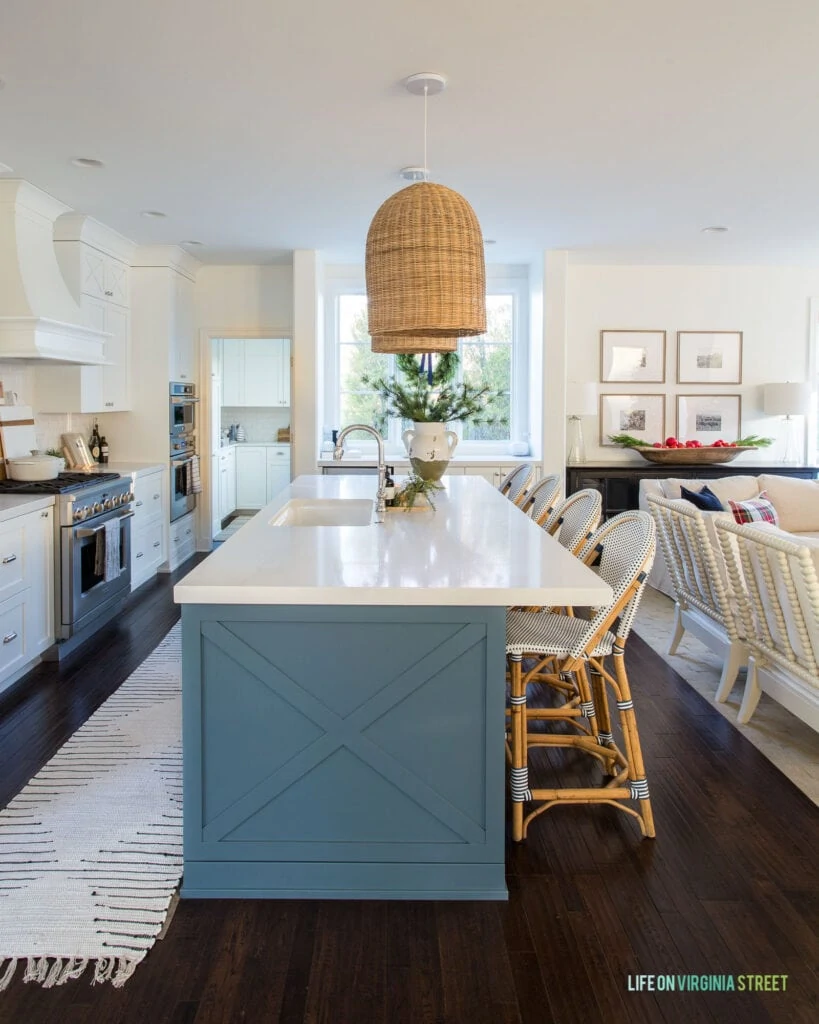 And here's a view I haven't shown in awhile. But guess what – I'm finally sharing our dining room in this tour too! It was drowning in sunlight in this image below, so I'll share some better images in a minute.
Let's first head into the living room. I'm so happy I decided to go with traditional Christmas colors and plaid this year! The little pops of red just make everything feel so much more cheerful!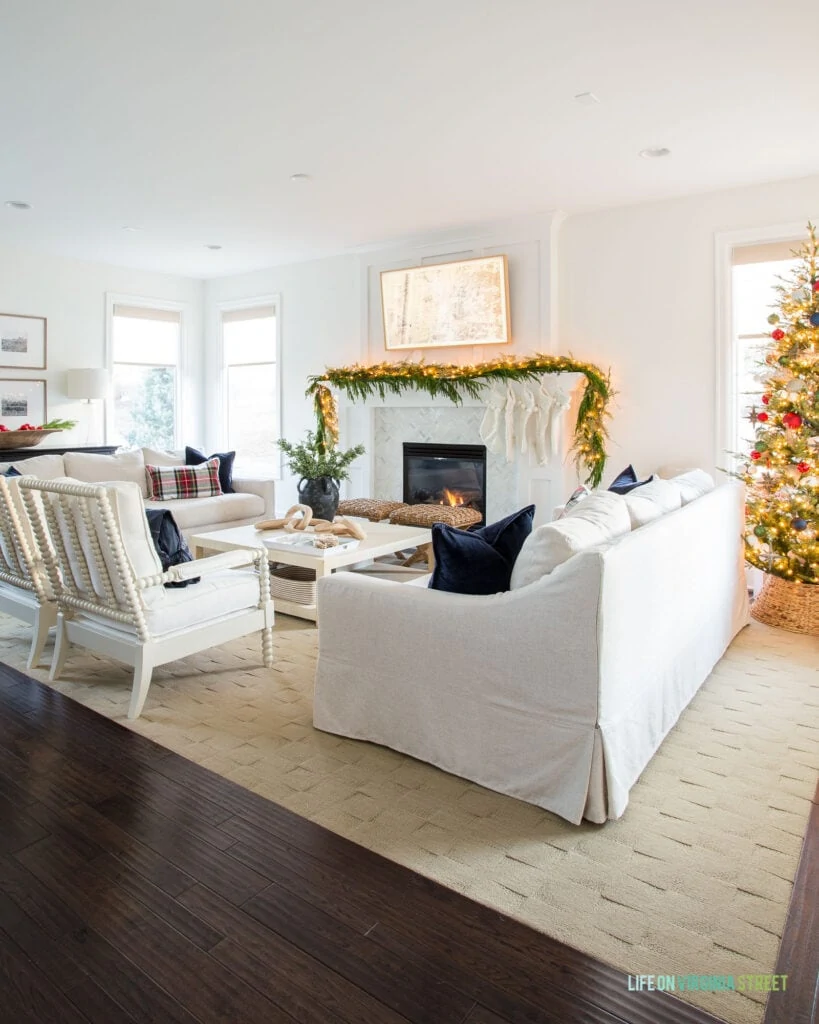 These plaid & sherpa lumbar pillows are one of my favorite finds of the year! Not only are they a really nice size, the plaid weave on the front and the cozy sherpa on back are such a great combination!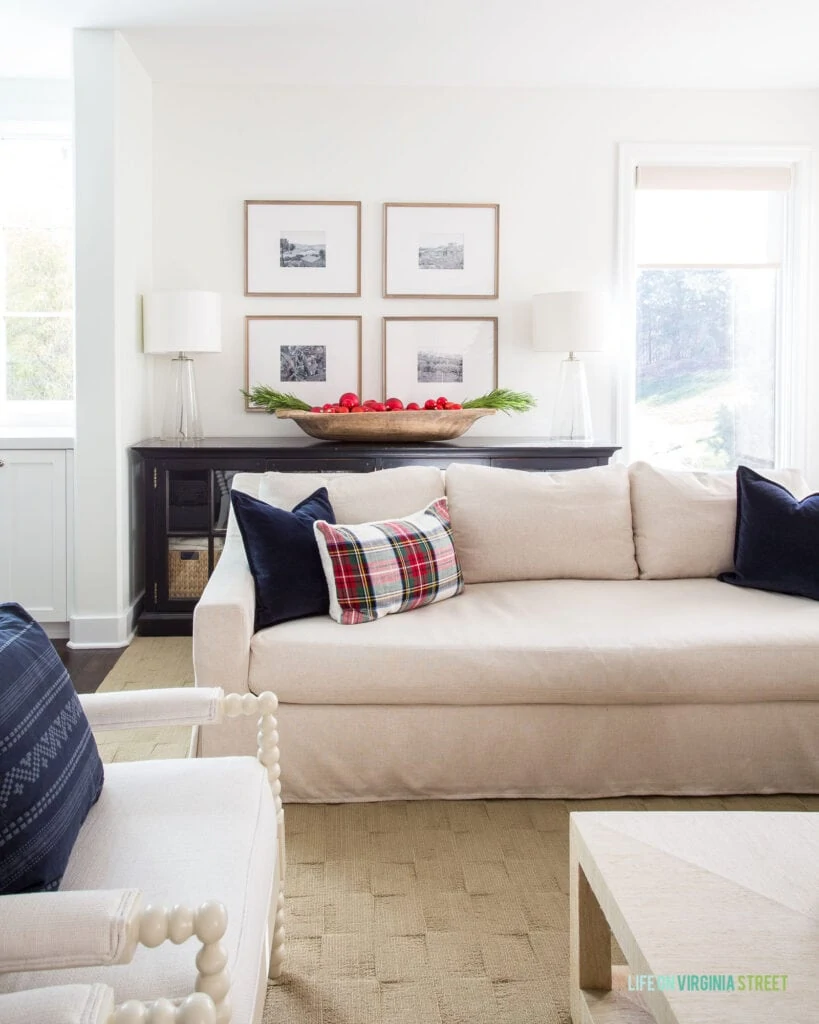 I'm so glad I finally ordered that black ceramic vase. It took a few months to arrive, but I love the contrast it provides in here!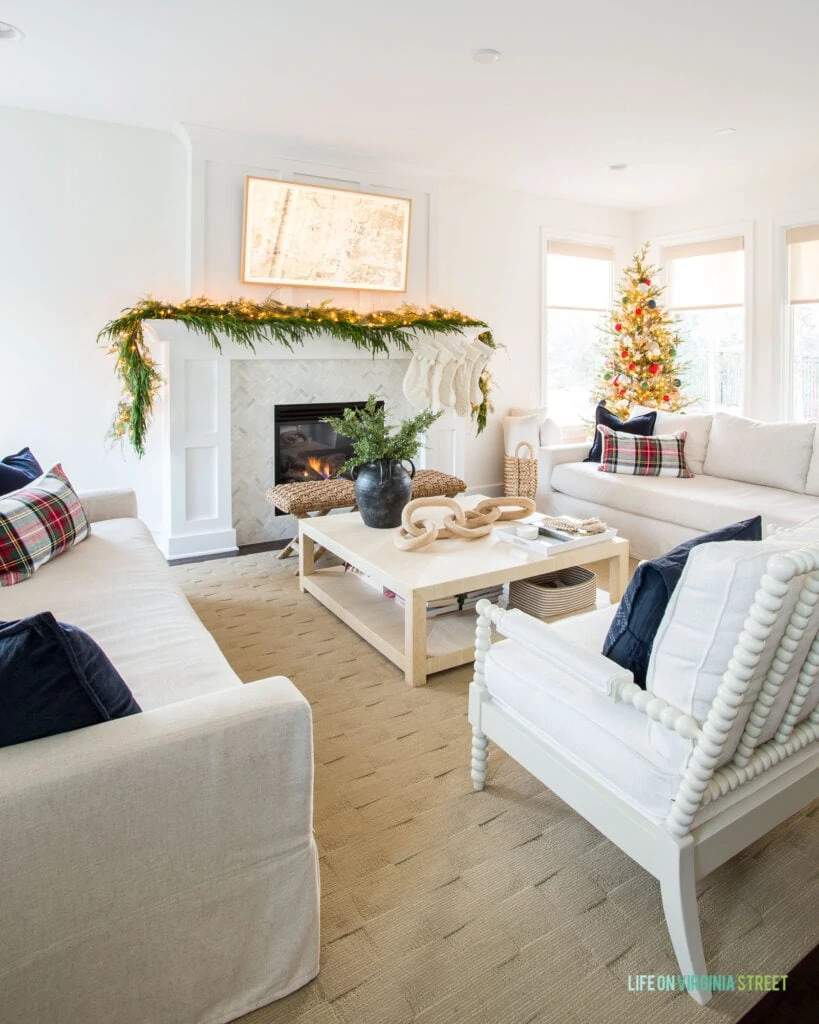 These textured side-tie pillows on our spindle chairs kind of give the space a ski lodge effect!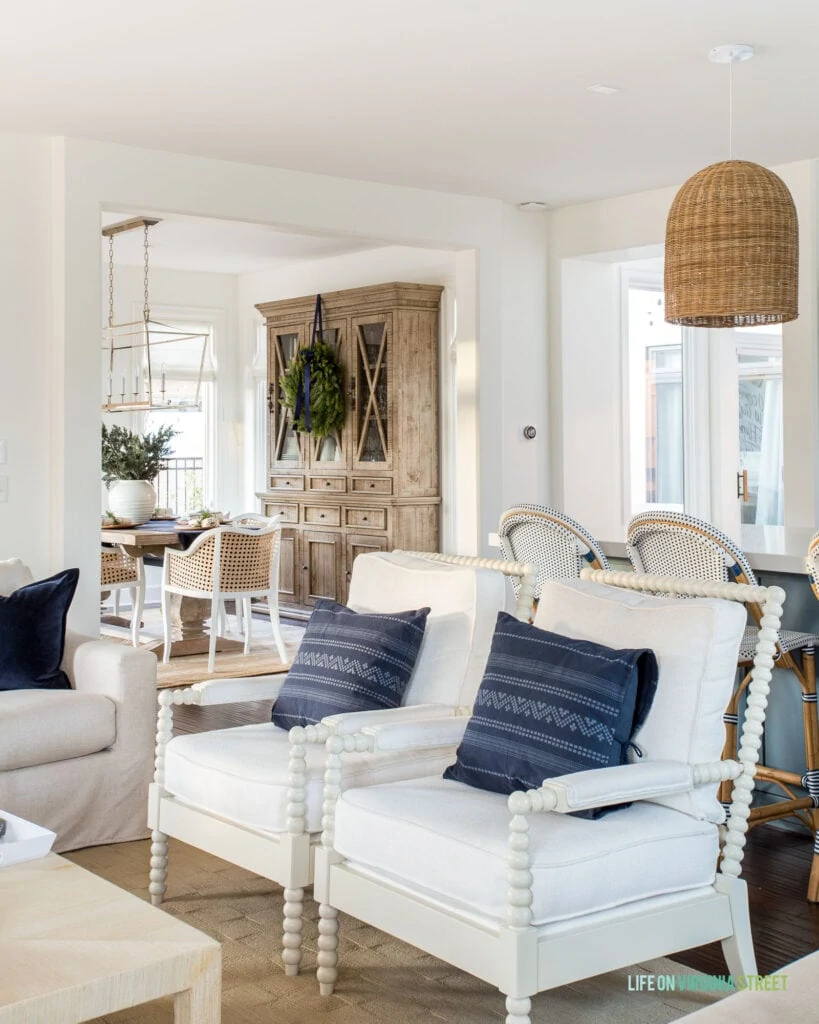 On our mantel, I layered two different garlands. I've had the back one for as long as I can remember but added in this real touch garland (also here) this year and love it! Unfortunately, half of America must love it too, because it goes in and out of stock on a daily basis. If it give an error, I would just try again in a day or two and see if it's back.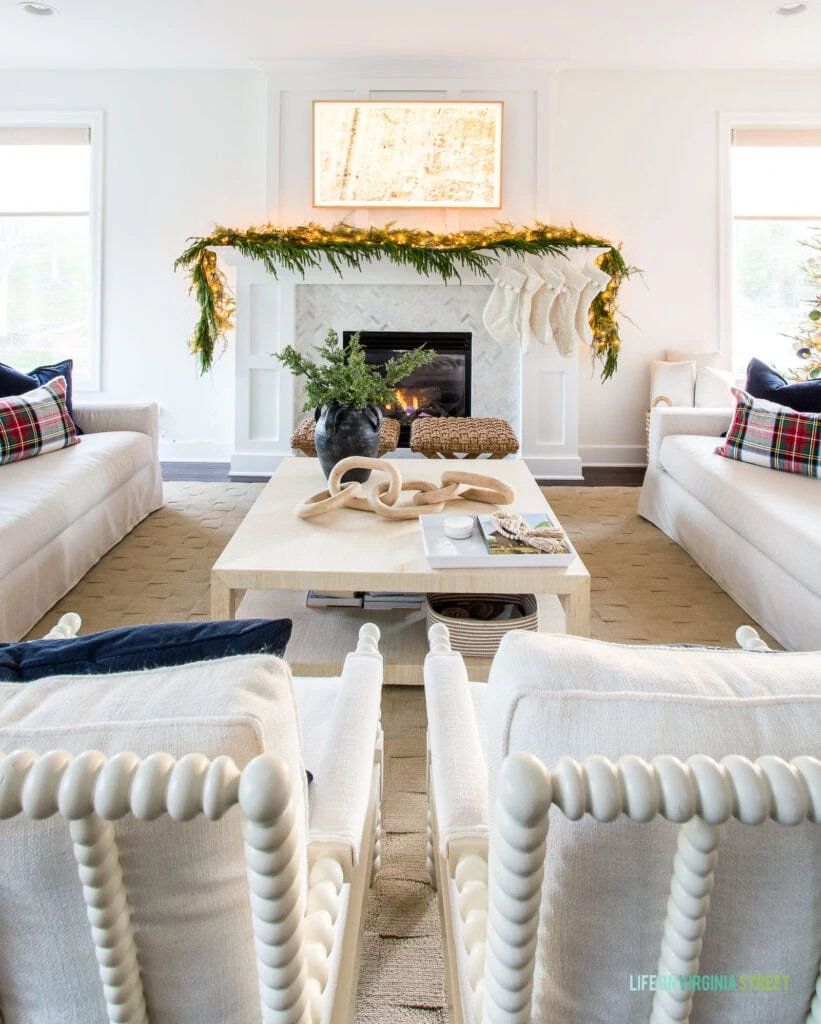 I chose to offset our pom pom stockings and chunky knit stockings on the mantel this year and I love how they look!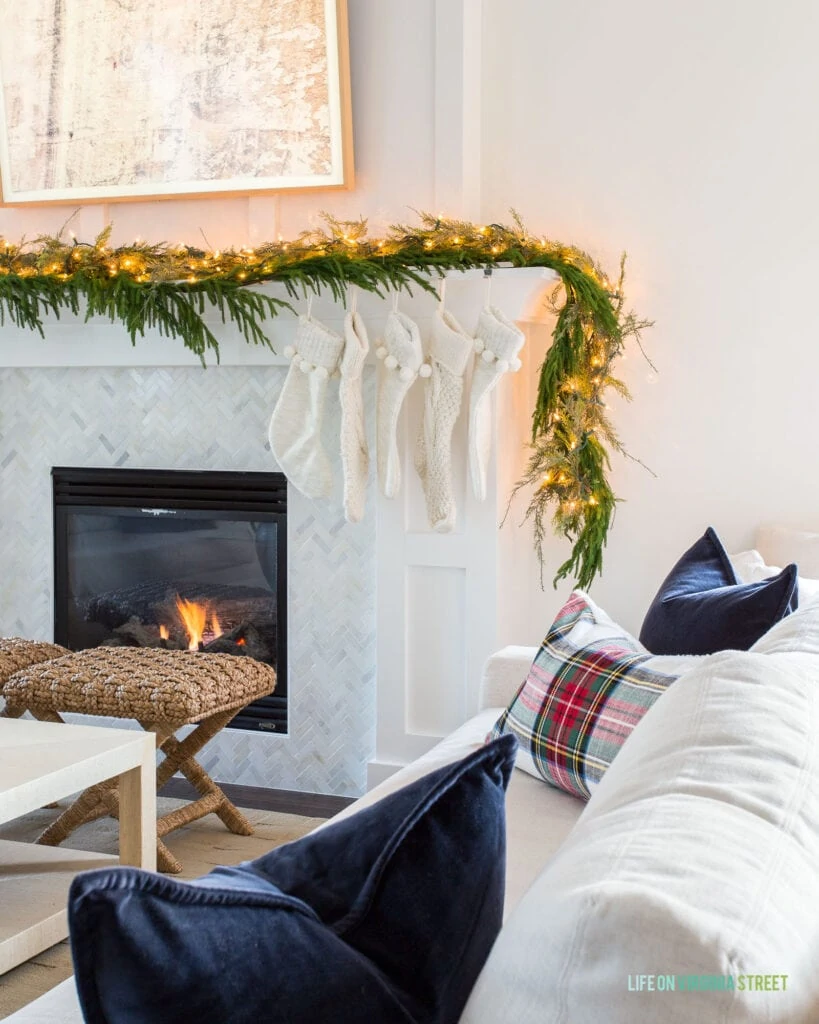 I originally had the tree decorated with only white ornaments, but I ended up realizing it needed some color, and I basically just matched the plaid pillows.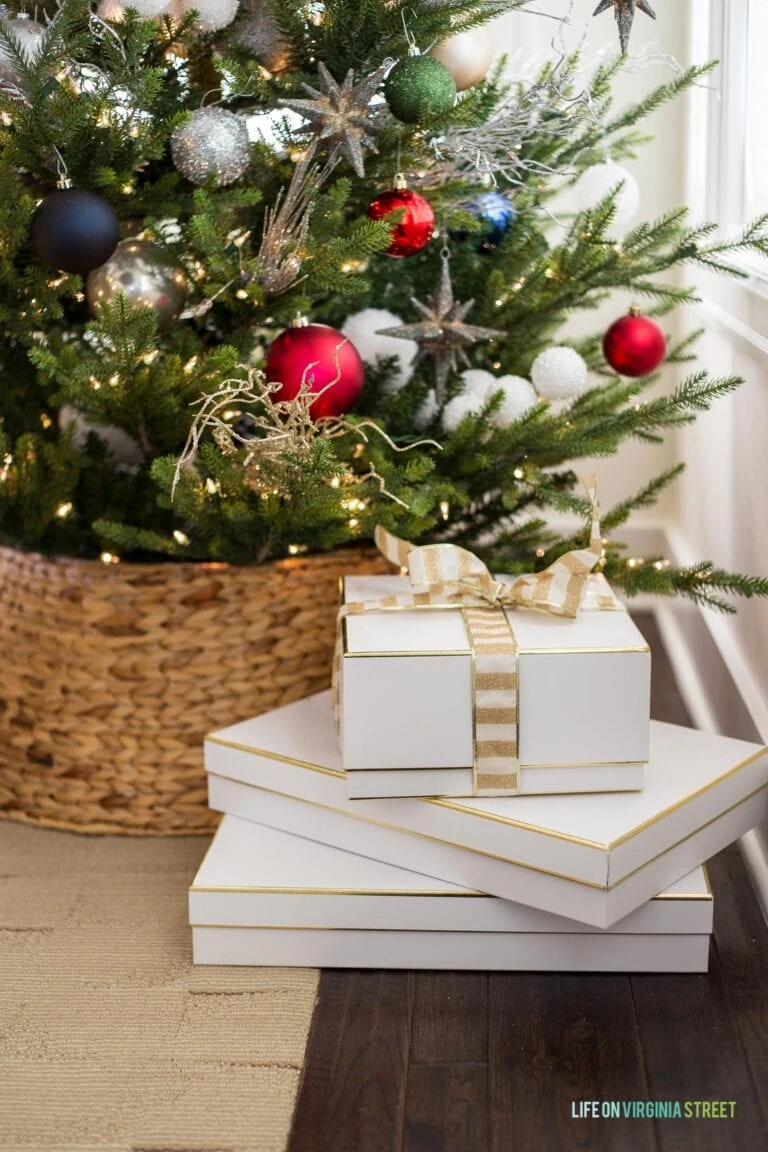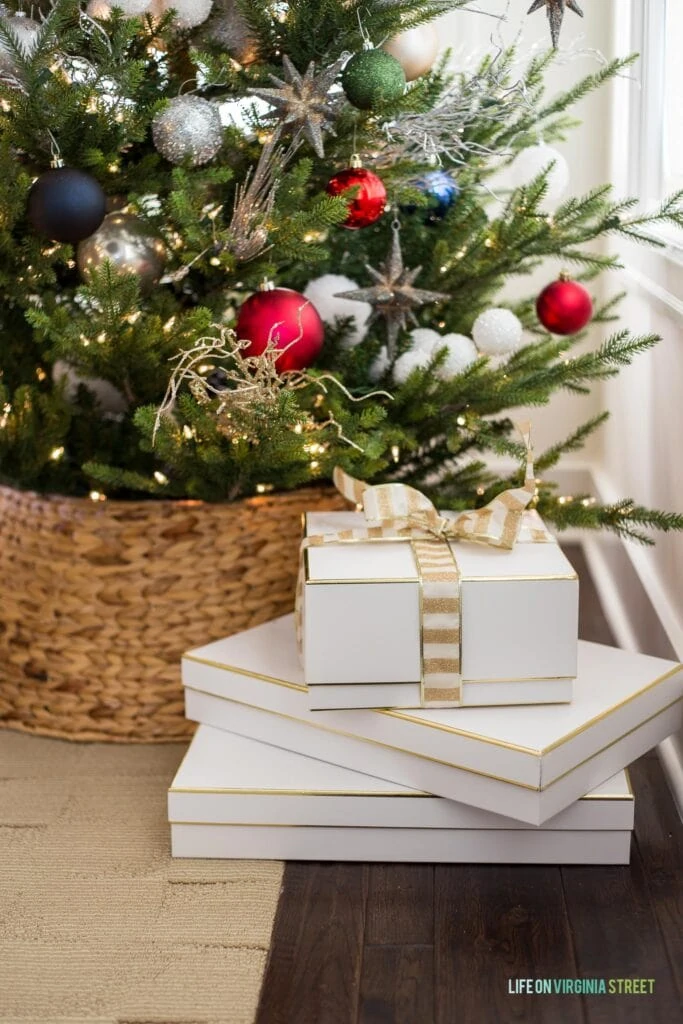 I didn't buy a single new ornament this year, so I basically made whatever I have work in each of the room with a tree! So happy I decided to do a "plaid" tree in here!
Our dining room! Can you believe I haven't shared a full image of the space with the cane chairs I ordered last Cyber Monday?! It wasn't intentional, it just never felt "ready" to share. But, I obviously got over that today! I'm so excited about how it looks with my new "Fall On Your Knees" Canvas from Lindsay Letters!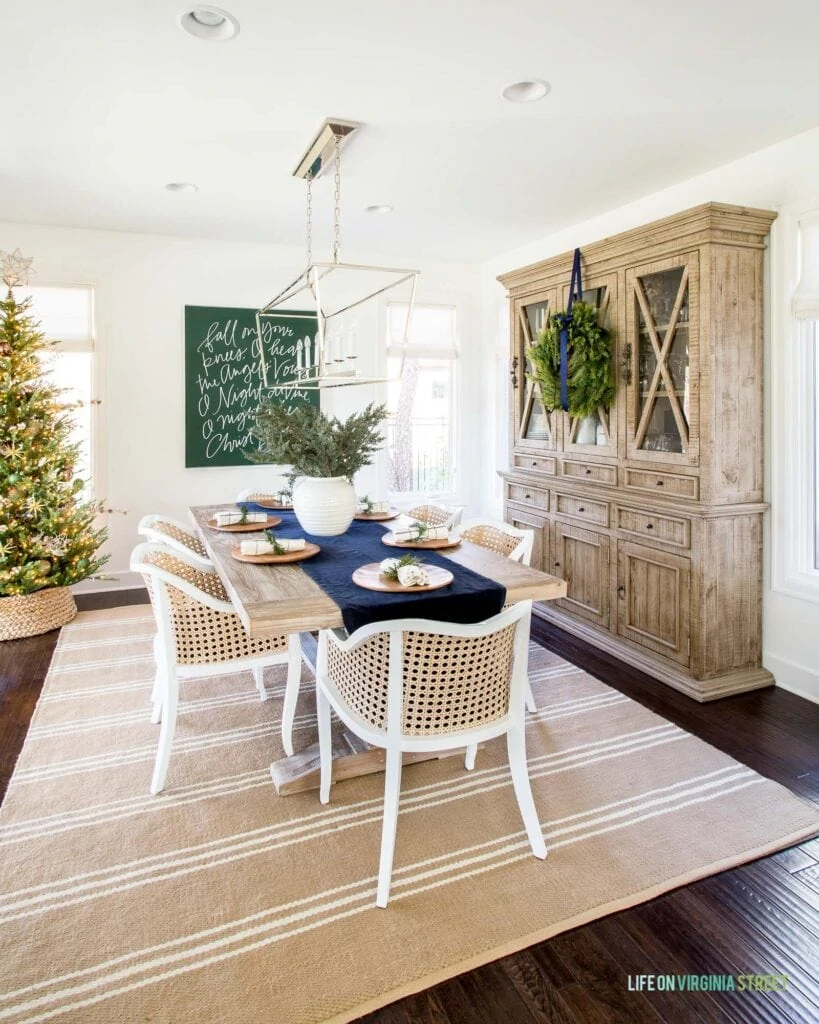 These faux cypress napkin rings are another favorite of the season! They look so cute paired with the windowpane plaid napkins.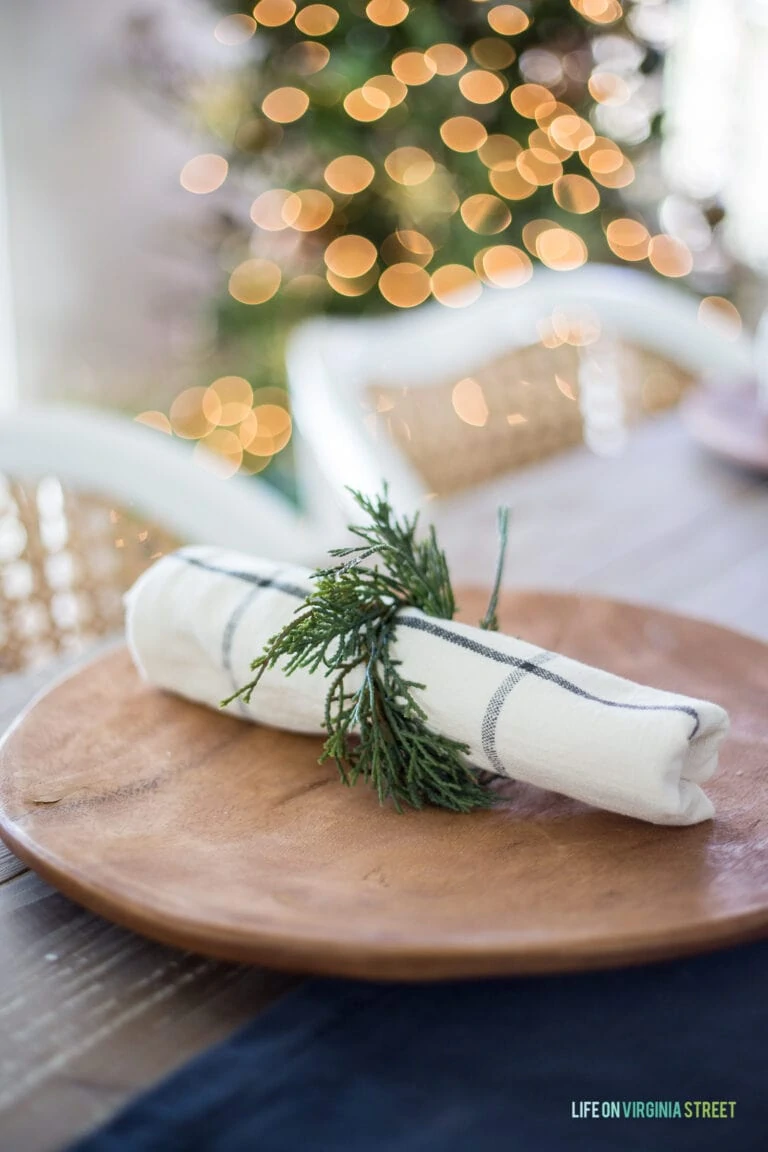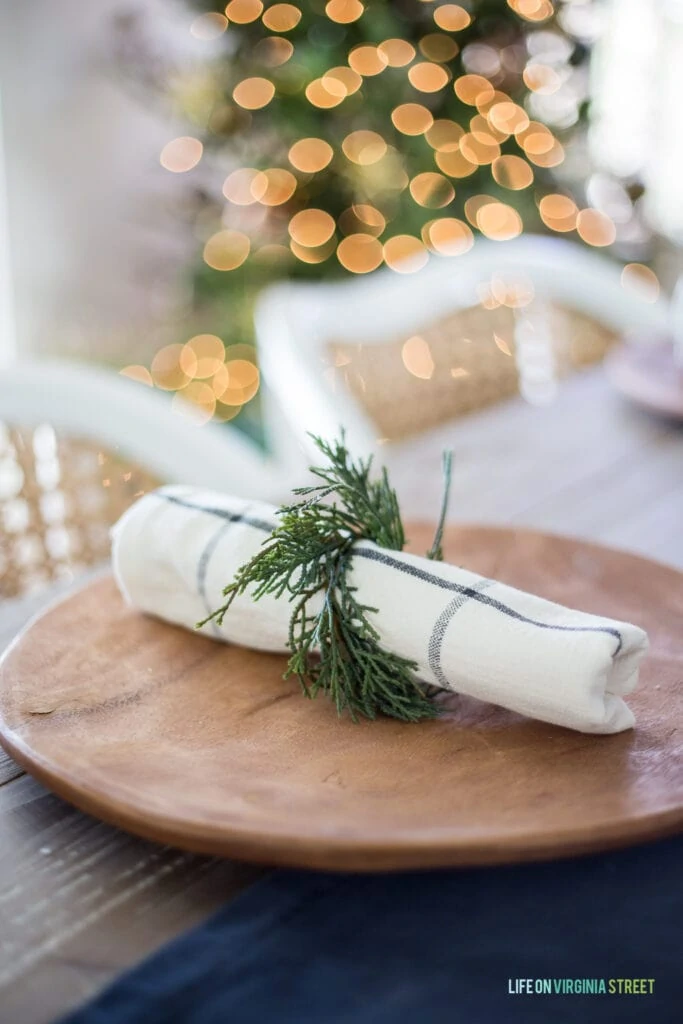 I have the same faux Christmas tree in the dining room as I do in the living room. It's fun to see them decorated two different ways! I actually had some navy blue ornaments on this one originally, but then I had to steal them for the living room 😉
Now, let's head upstairs!
I'm thrilled I decided to finally add a Christmas tree to our bedroom! And the plaid bedding couldn't be more perfect – it's even better in person. It's the same material as the lumbar pillows in our living room and I love it so much!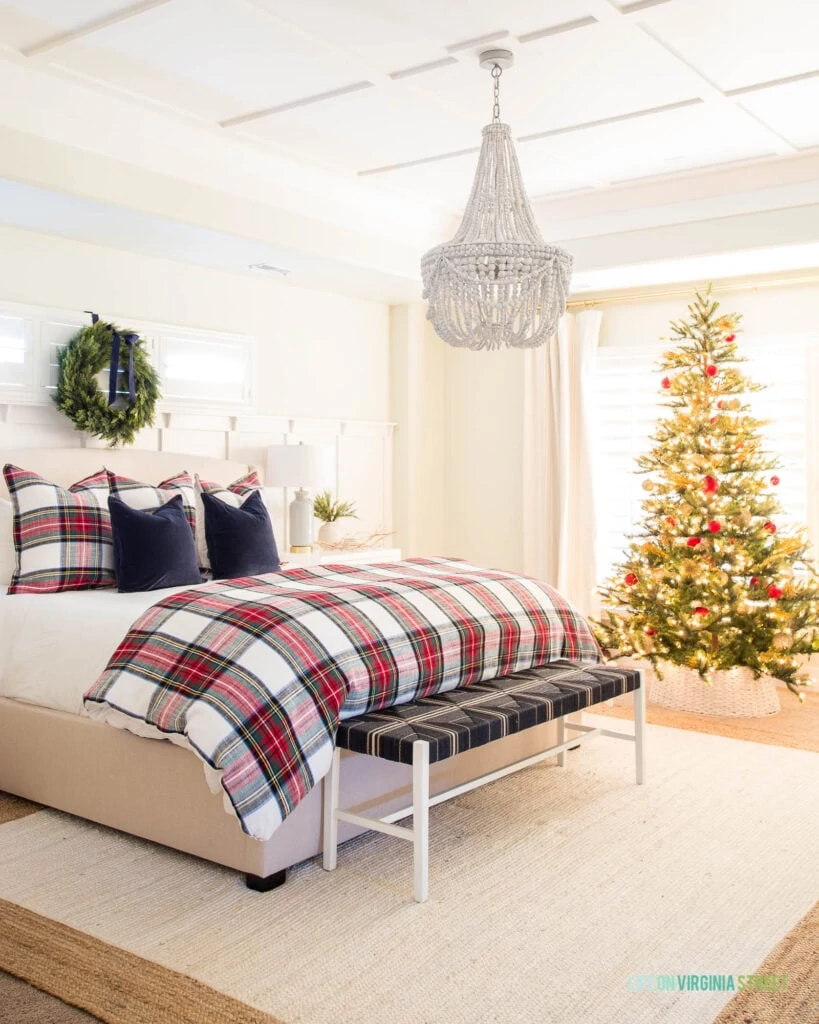 I like to keep the top of our dresser fairly clean, but I added some leftover gold ornaments into this wood bowl and filled my favorite vase with these faux berry juniper branches.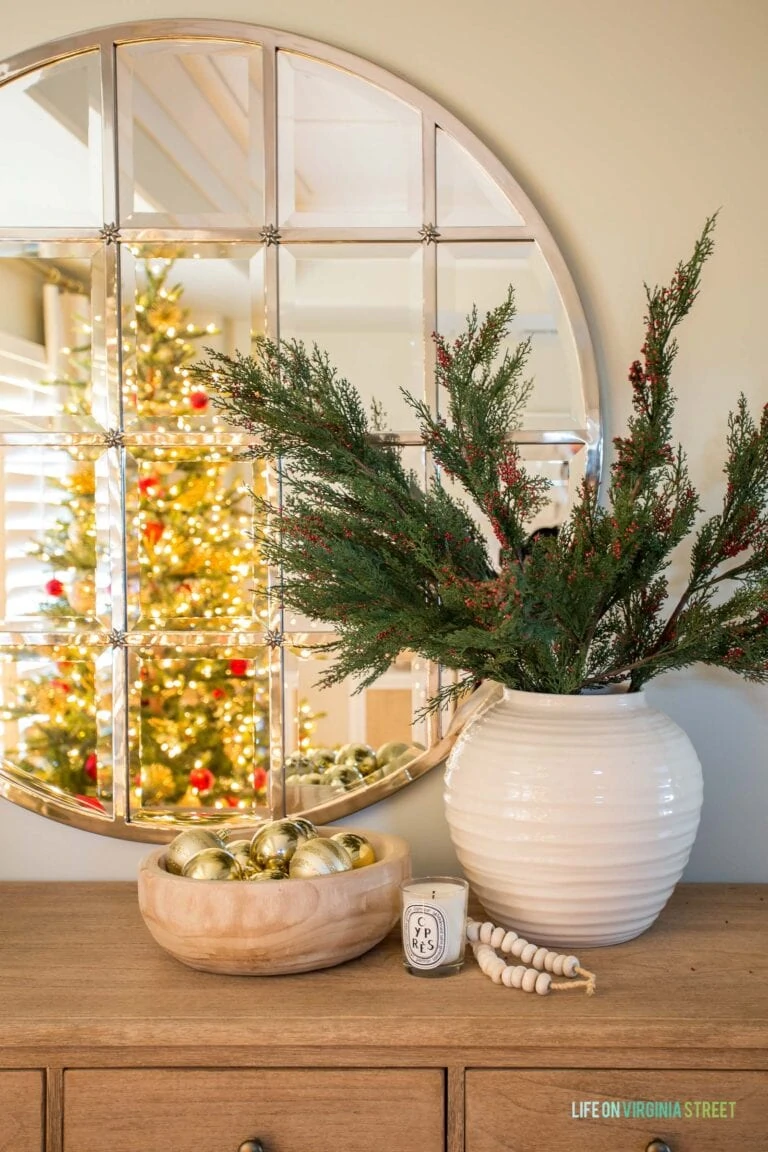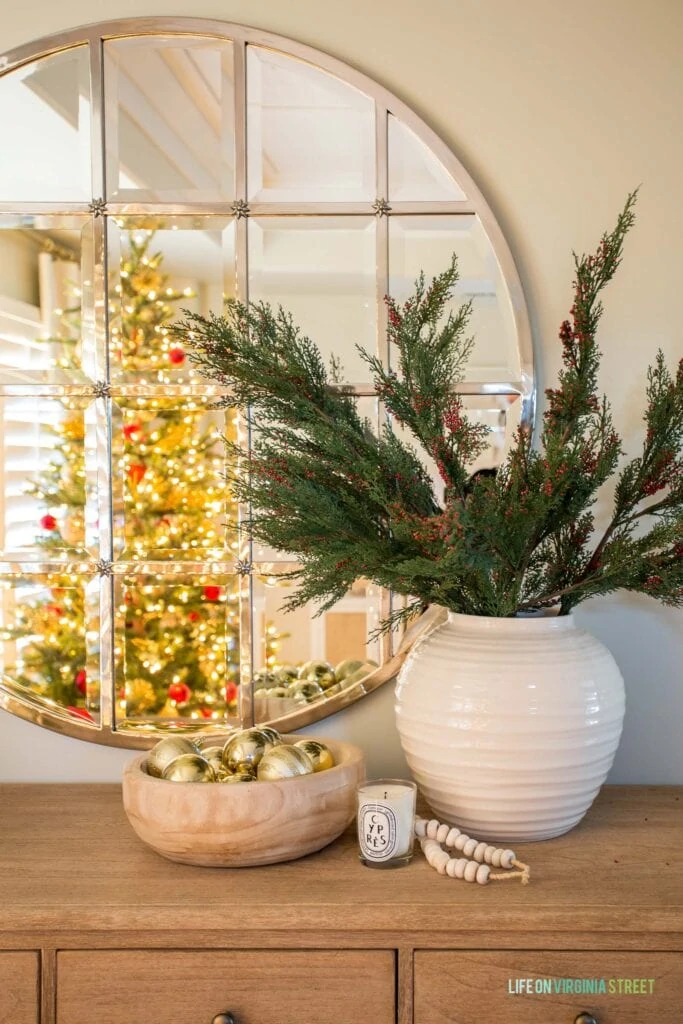 As we approach evening, the gold picks and ornaments really make the tree glow!
Moving down the hallway is our den! I had run out of batteries at this point, so unfortunately you don't get to see the mini Christmas trees all lit up 😉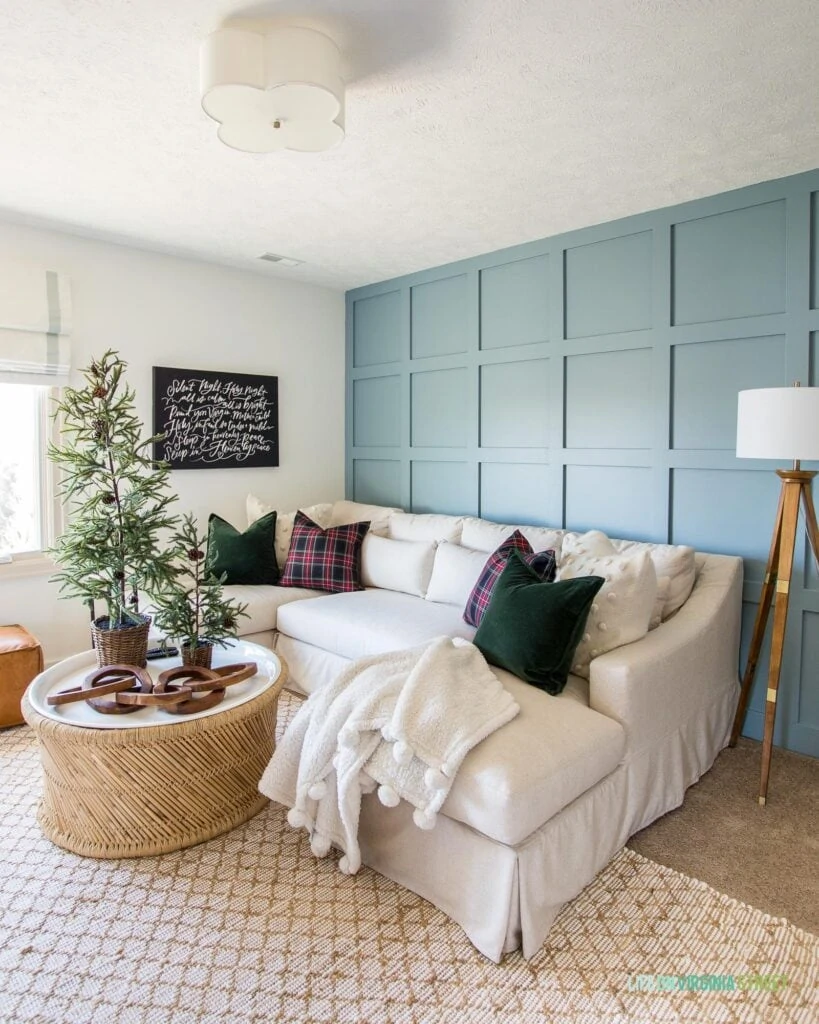 On the wall, I added my "Silent Night" Canvas and love how it looks paired with the black Stewart plaid pillows!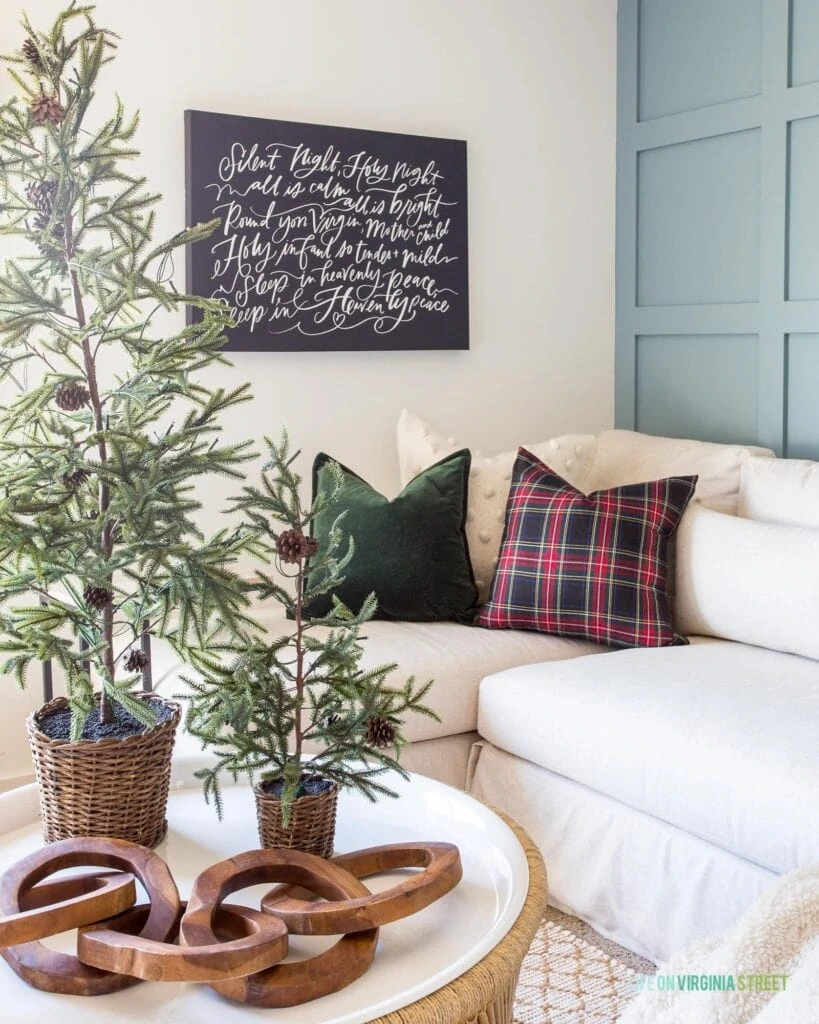 I had to push the table a lot closer to the sectional to get this next photo, but wanted to show you a slightly different angle of the space! When we use the room to watch a movie, rather than reading, I just move the trees to the opposite corner. We love how cozy it is in here!
Thank you for stopping by! I hope you enjoyed this year's Christmas home tour! I have a few more spaces I'd love to photograph in the coming weeks, so if I do, I'll let you know and add them into this post.
Additional Christmas Inspiration
Looking for even more Christmas inspiration? Be sure to check out the following posts. Simply click the title of any post below to be taken directly to the article.
If you would like to follow along on more of my home decor, DIY, lifestyle, travel and other posts, I'd love to have you follow me on any of the following:
Pinterest | Instagram | Facebook | Twitter 
disclosure: some affiliate links used