It's finally fall home tour day! Back in August, I shared my 2020 fall design boards & decorating ideas. And, after having a lot of my top picks sell out before I bought them, I had to make a few last minute changes. But today I'm sharing how it all came together in our 2020 fall home tour!
This post contains affiliate links for your shopping convenience. Click here to read my full disclosure policy.
Consider me a bad blogger, but I might be the only one in America that didn't buy 50+ heirloom pumpkins and line our porch with them. In fact, I didn't buy a single real pumpkin or even swap out my planters yet. So, needless to say, we'll start today's tour inside the house 🙂
I always hate saying goodbye to summer, but this year I was ready for the change. I tried to keep my decor as simple as possible, in an effort to simplify things once I start decorating for the holidays. This meant swapping out some greenery stems, changing pillow covers, and bringing back our heavier throw blankets. But, I did try to change up the angles of some of my photos in several rooms in an effort to share slightly different perspectives on the spaces!
2020 Fall Home Tour
Our entryway received received a little refresh recently, with a new white raffia cabinet, tall mirror and plaid rug. I shared more about my plans to make these changes in this post. The plaid rug is so perfect for the fall and winter months! The listing says it's gray, but it's more of a green-gray that somehow looks like a neutral most of the time. That's actually how a lot of the reviews described it too which is why I ordered it! My 'It Is Well' canvas literally glows this time of year and I love it even more!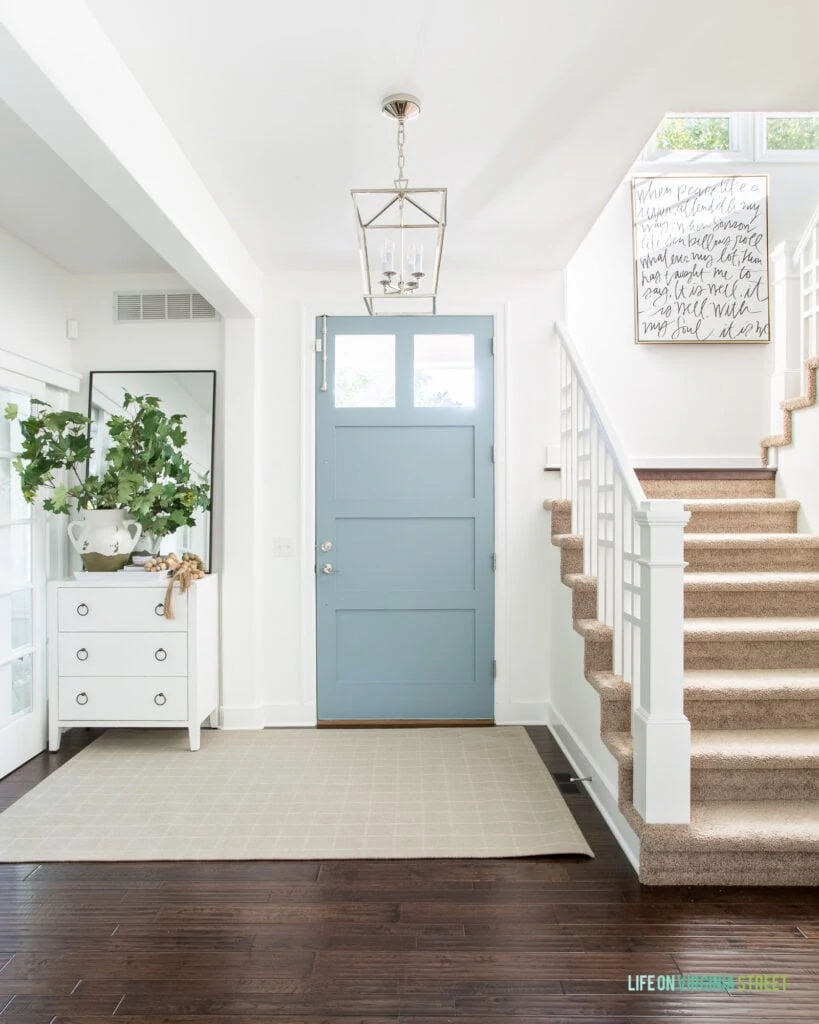 I actually had no idea these oversized wood beads would be this large or I probably would have ordered them much sooner! And I couldn't be happier with the mirror! I love how many sizes and colors it comes in, which made it perfect for me to fill more of the vertical space here without having to go too wide! It looks so high-end! We'll ultimately hang it but for now it's just leaning against the cabinet and wall.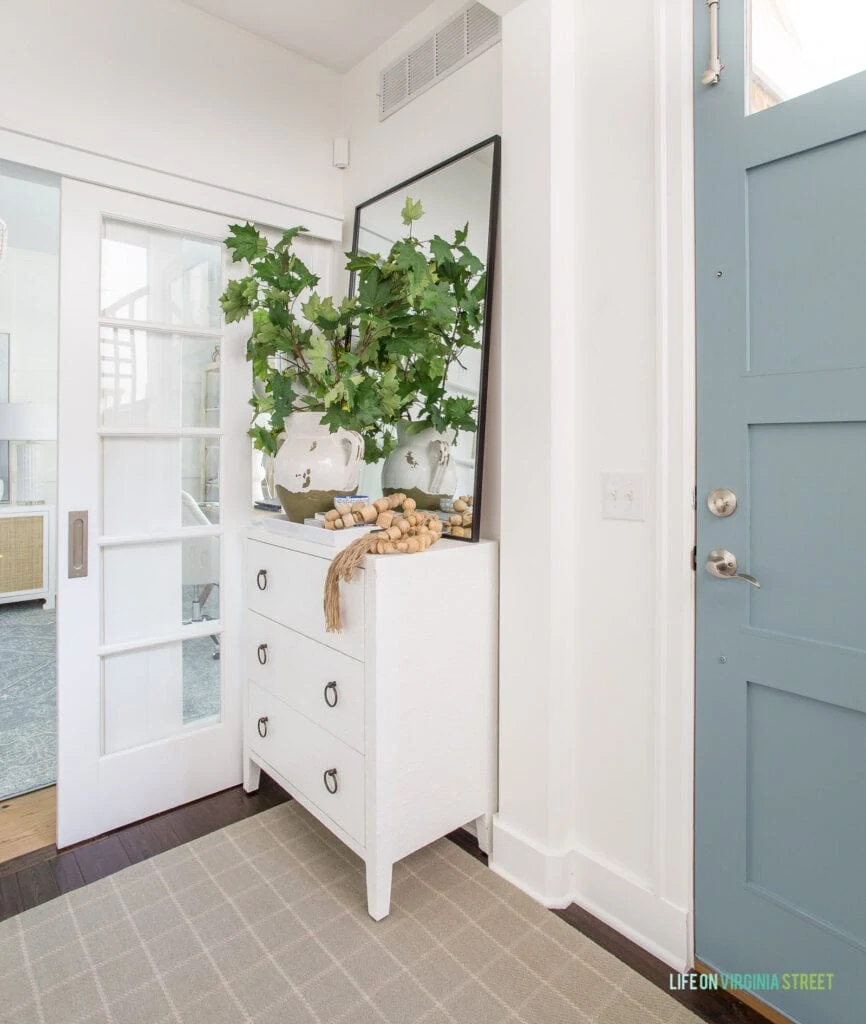 I'm already loving the fact we have drawers instead of doors on the new raffia cabinet. That was one of the main reasons for a change and I'm so happy I went this route! It may be hard to see unless you zoom in, but the raffia texture on the cabinet is actually painted with a higher-gloss white. It wasn't what I was expecting so at first I wasn't sure I'd like it. But it's actually perfect in this spot because it doesn't get much natural light.
Moving further down the entryway hallway, I made a few more seasonal swaps. I used all five of these olive stems in my paint-dipped vase. Since the vase is so short, I did have to bend the base of the stems about halfway, but here you can see the full size of the set of stems! We used these leather poufs in our living room last year, but I decided to move them here to add a little warmth. This area gets so much light thanks to the two stories of windows on the opposite wall, so the leather helps keep things from washing out too much! It's also the perfect spot for Henley to hide. She loves her poufs!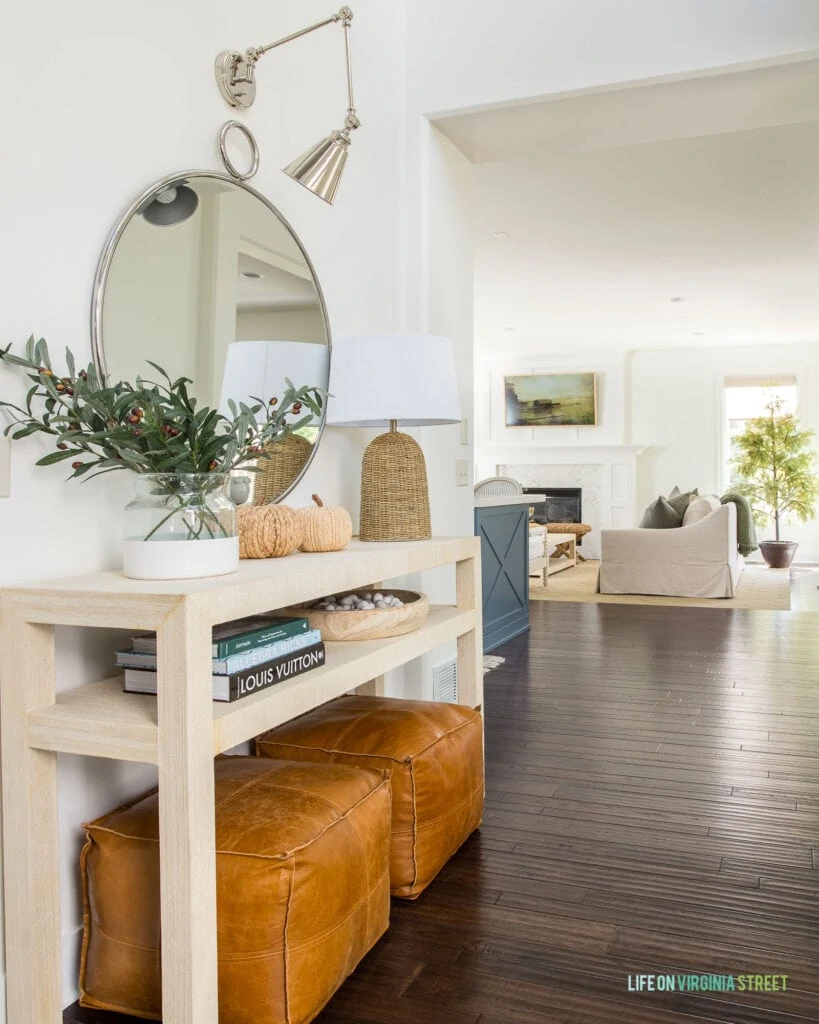 And here's a view from the other direction. My two whole pumpkins for the year!
As we move further down the hallway, we'll first stop in the kitchen. This is the room I typically do the least with in terms of seasonal decorating, and this year was no exception! This runner was the first I used in our renovated kitchen, and it's still one of my favorites. Especially in the colder months because it's so soft and plush underfoot. Plus it's indoor/outdoor and virtually indestructible!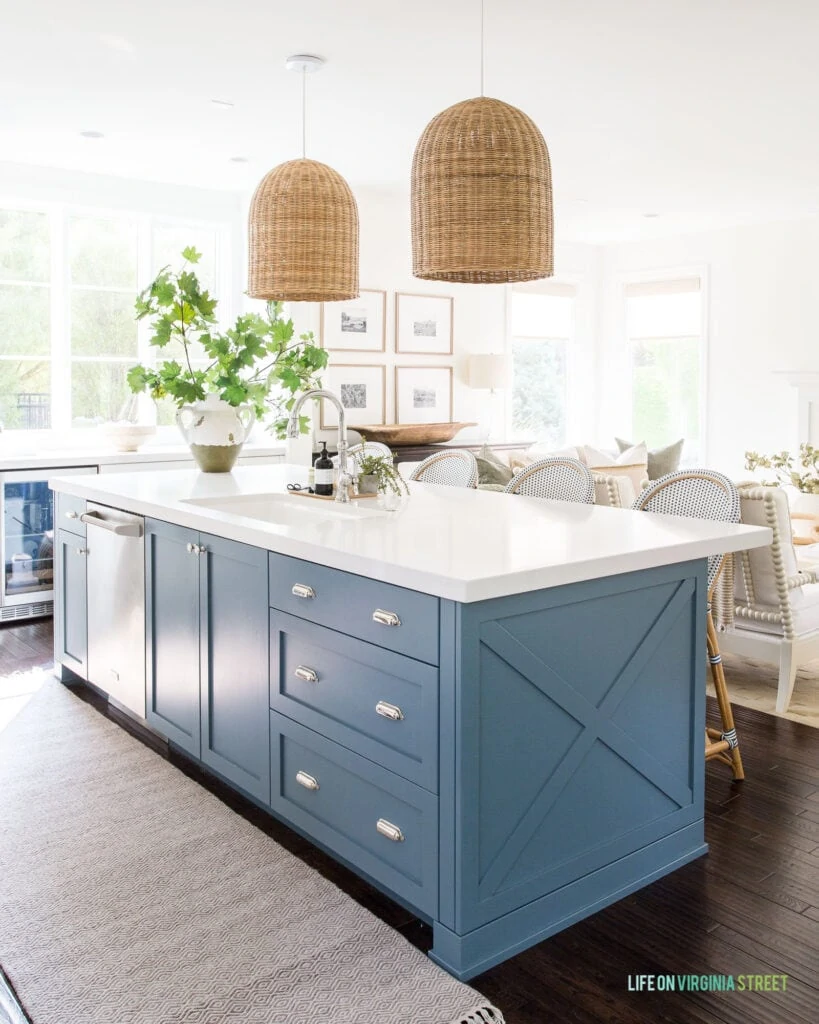 I haven't shown this view in awhile. But it's the angle I can best capture our Frame TV when it's in art mode! I probably need to devote a whole post to that TV alone 😉 We're seriously considering a second one next week if they're included in Prime Day deals!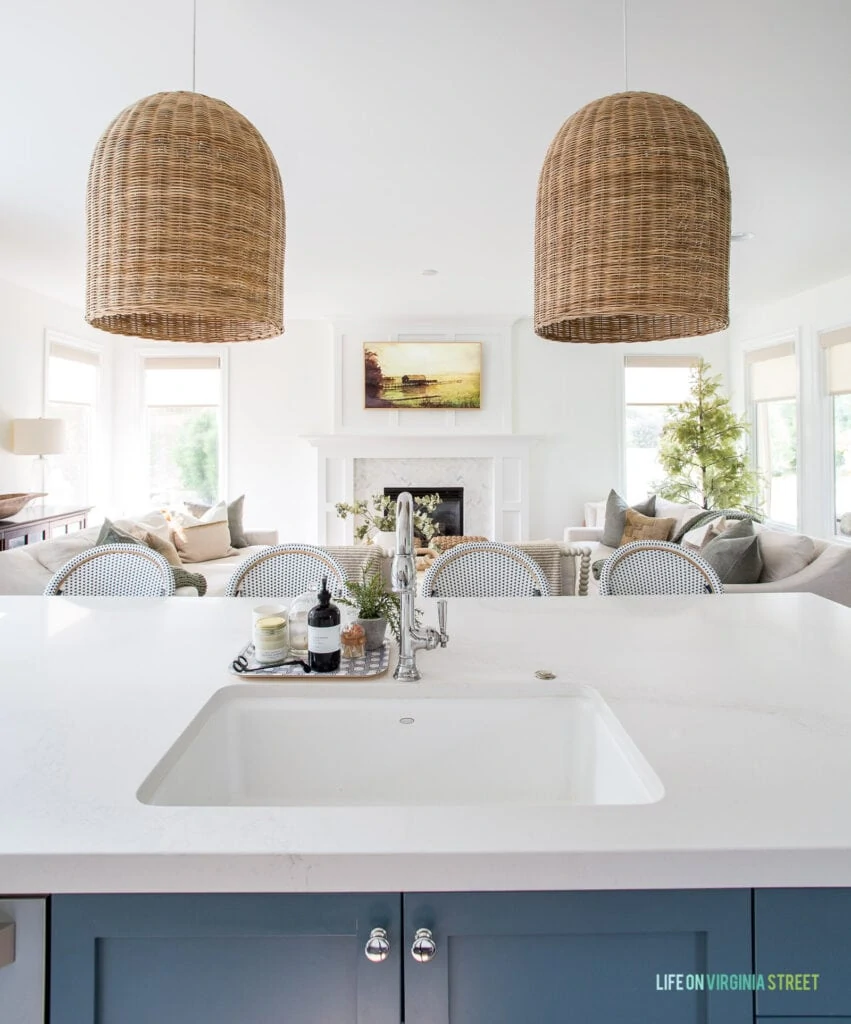 It may have required I move our living room chairs out of the room entirely, but I realized I've never taken a photo of our kitchen from this angle (that includes the whole island). So hear you go! And yes, that Tuscan vase with the maple leaves does keep traveling around…I haven't decided it's permanent home yet because I love it pretty much everywhere! I've actually had the vase for five or six years but hadn't used it for the last several. And now it's my new favorite. Isn't it funny how that happens?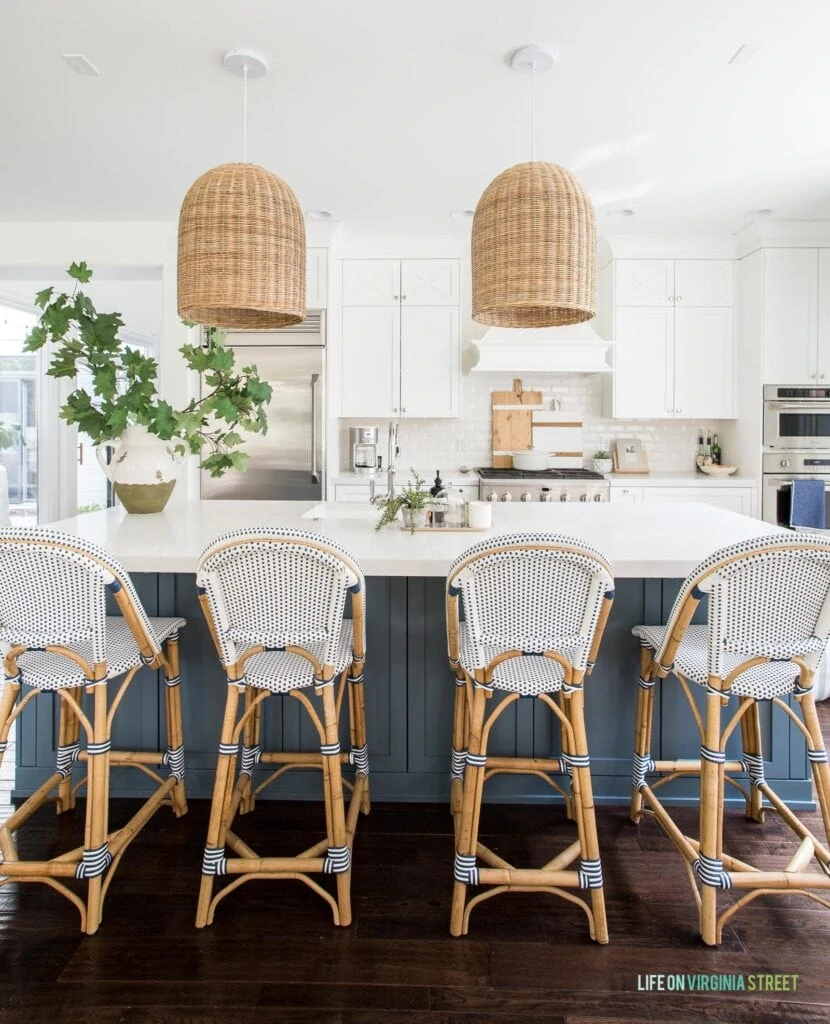 And I apparently lied. I do have more pumpkins! And this is one of my favorite looks of the season! I filled this paper mache bowl I bought locally at Amethyst Home with two sets of these mini white faux pumpkins! The bowl is huge so the pumpkins didn't go quite as far as I expected them to, but I love this little display! And it makes me feel like not so much of a pumpkin grinch 😉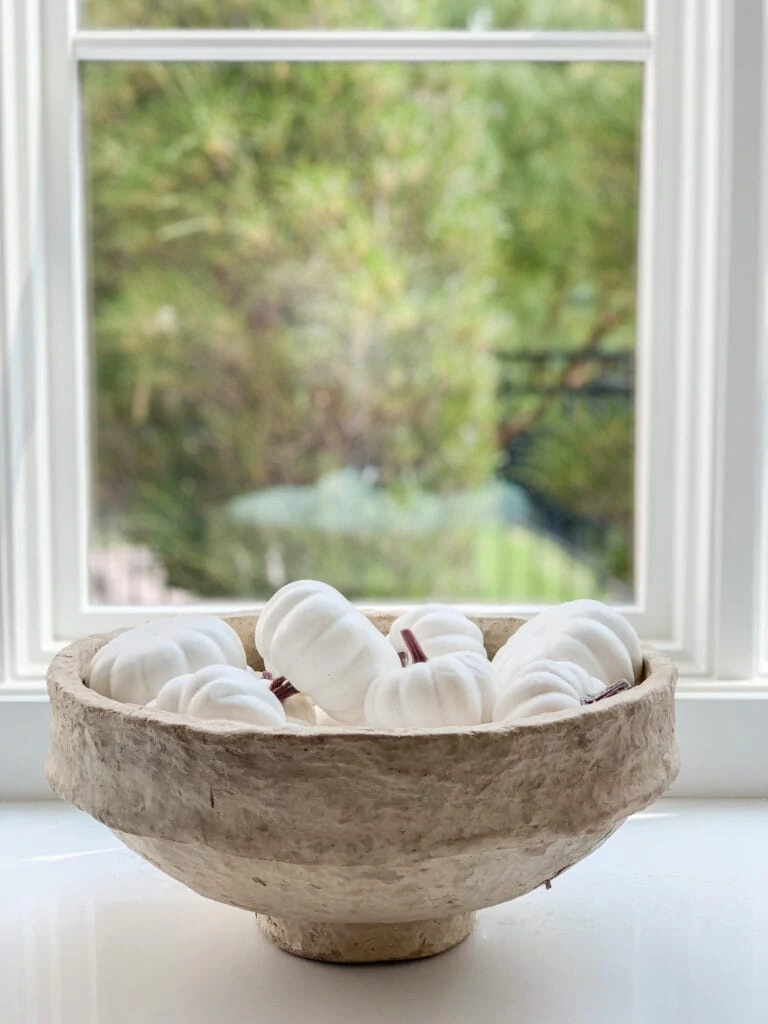 The leaves outside are just barely starting to change here. So it's fun to watch this view also change, as the giant window goes from green to copper browns!
My fall plans for the living room began when I became obsessed with the color of this chunky knit throw blanket. And then it just kind of evolved from there! I don't think I've ever focused on green tones in the past for fall, so it was a fun change!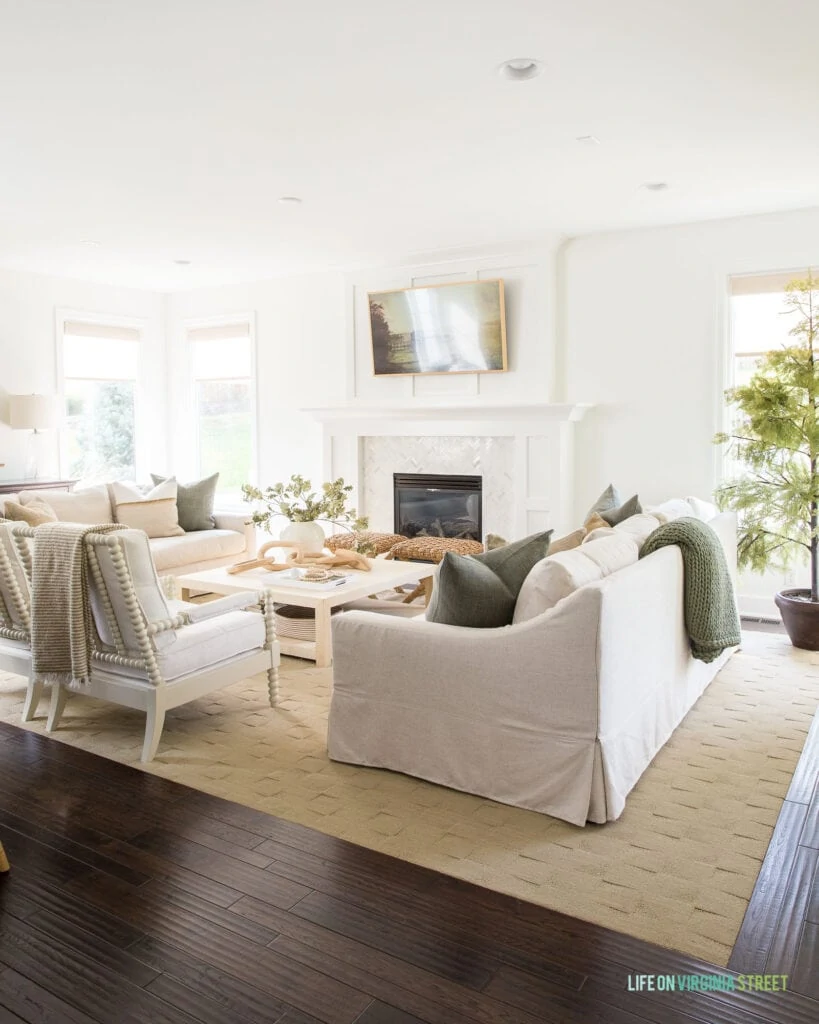 I mixed in a few vintage rug pillows I picked up locally at Amethyst Home, but also added in this vintage style stripe pillow that works really well with them! And let's not forget my favorite linen pillows, this time in Sage Grass. They are definitely an investment, but if you buy them on sale, they are worth every penny. I still use my other two colors regularly!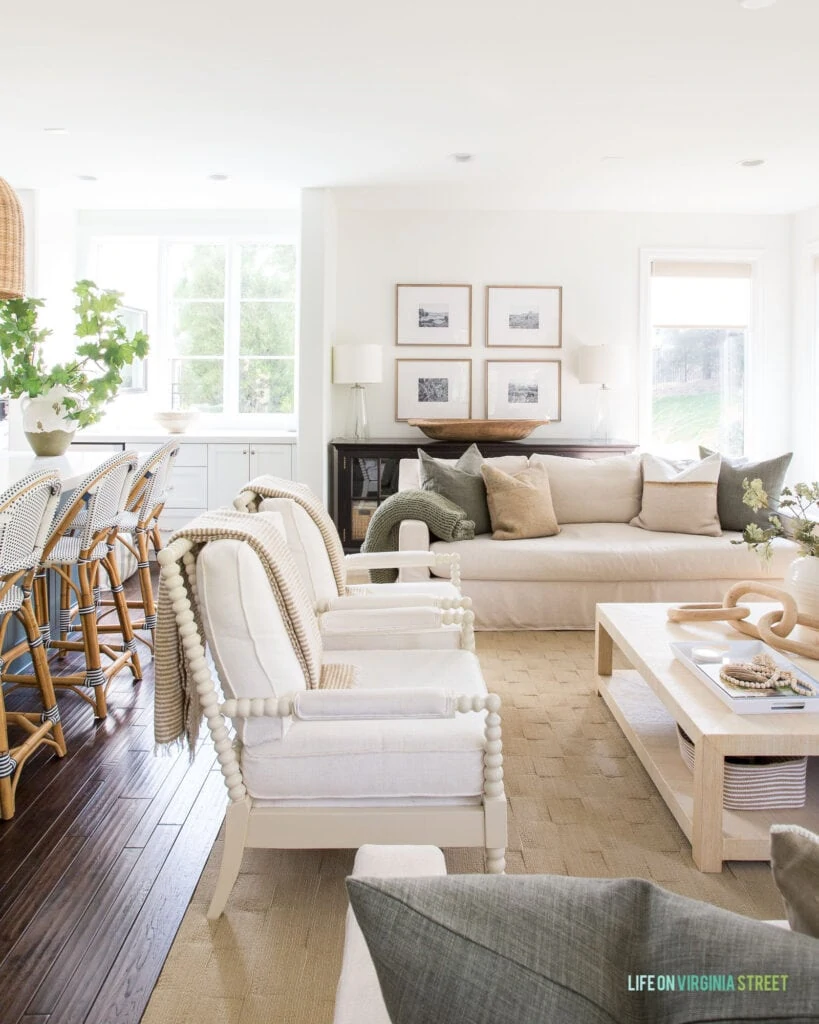 I love how each of the vintage rug pillows are unique yet they all work together so well. And here you can better see the faux cypress tree we've had for a few years now. I always get so many questions on it (it's so good!) but it was a floor sample at Amethyst Home a few years ago.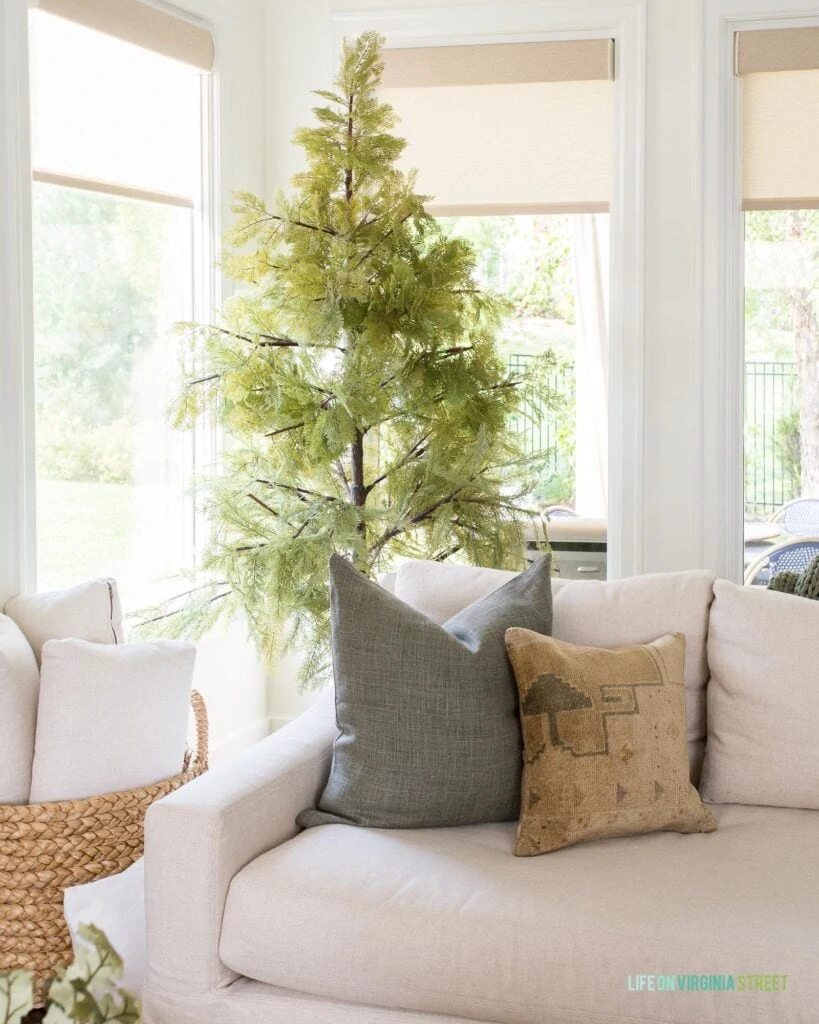 For all the eagle eyes, you likely may have noticed we pulled the blue striped rug out of our living room for the fall and winter months. I still love it so much but if we bring it back, we'll definitely need to find a better solution for it to work with our carpet. It shifted around so much and I wasn't ever able to find a way to stop that from happening. So, we'll probably give it a try again in the spring!
In our bedroom, I had to change things last minute when everything I wanted sold out. No big deal since I don't do much in here anyway, but here's the updated look. Pretty simple!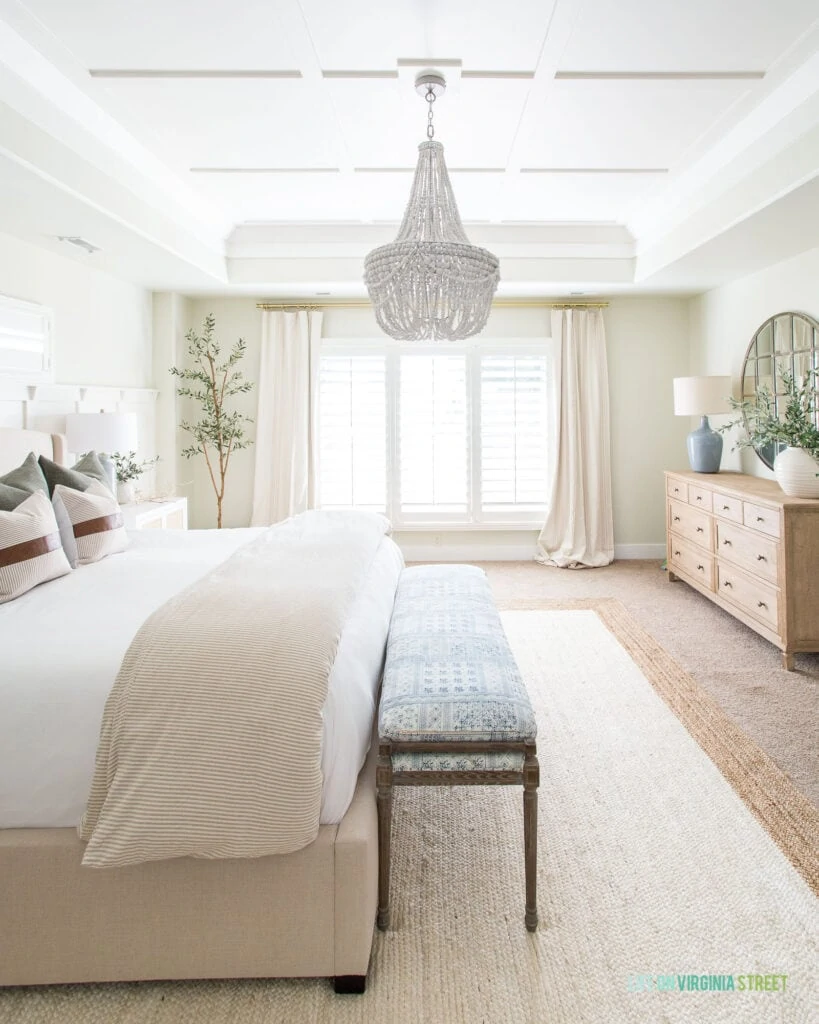 I was actually really happy with the quality of these throw pillows for the price! They have a bunch of color options available too! And although they're not a perfect match, they actually coordinate really well with this striped duvet cover I've had for a few years!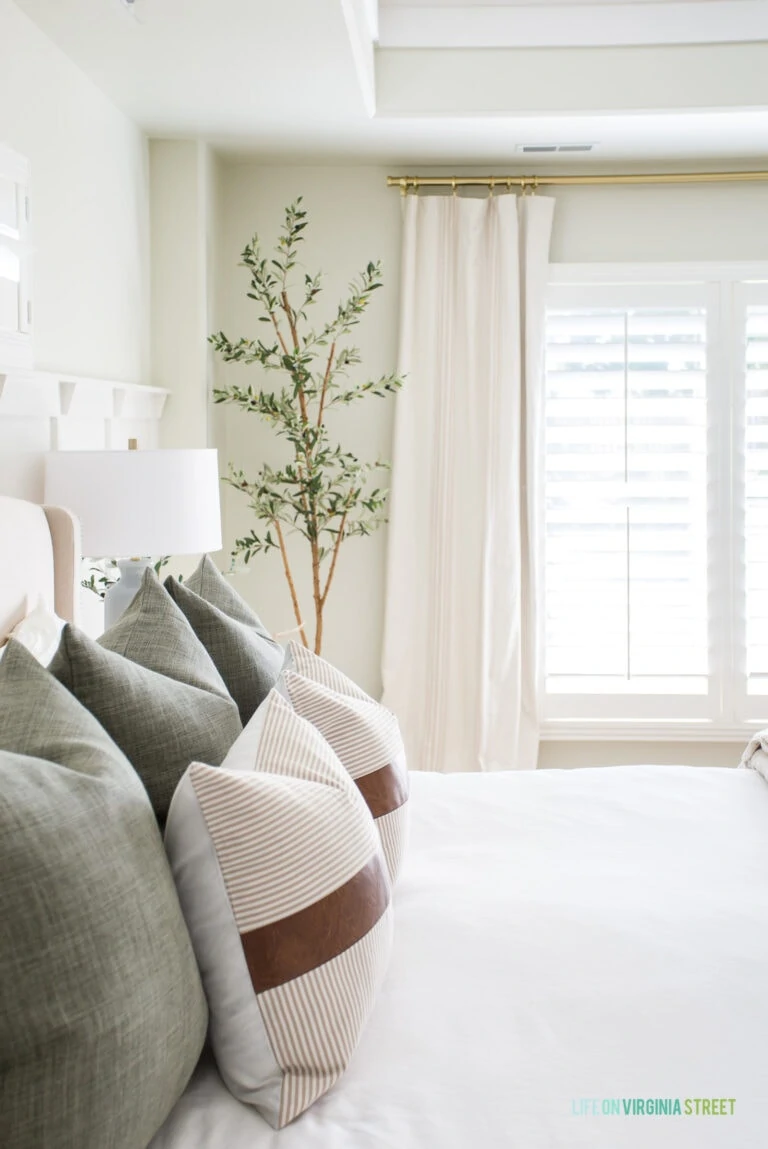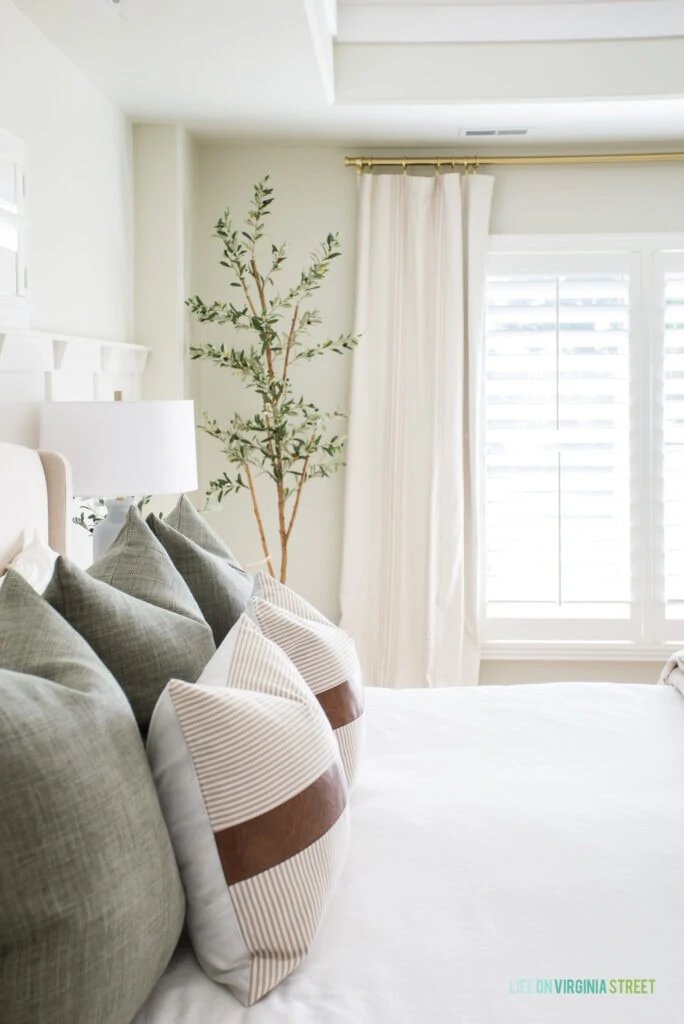 I loved having the lemon stems in here for summer, but I'm such an olive leaf girl, that I'm equally as happy to have these stems in here for fall!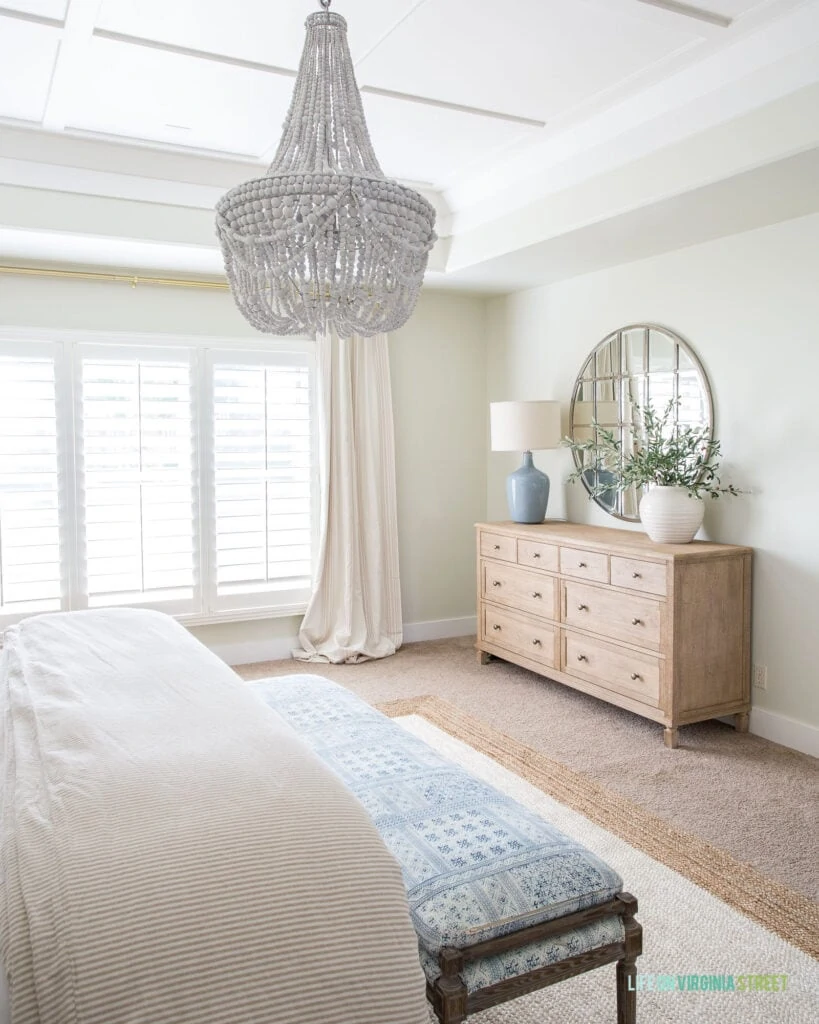 I'm still so in love with our mirror. The details on it are beautiful and it always has the prettiest reflections! My friend just ordered the rectangular black version for their home, so I can't wait to see that one too!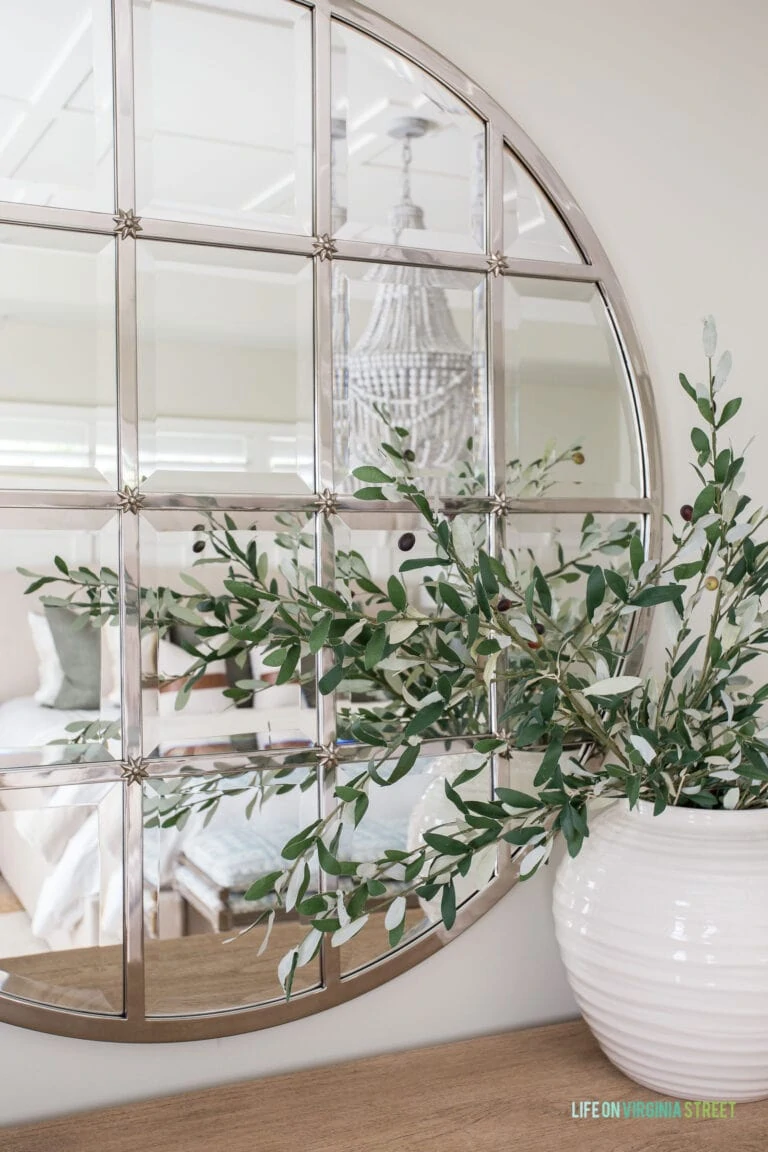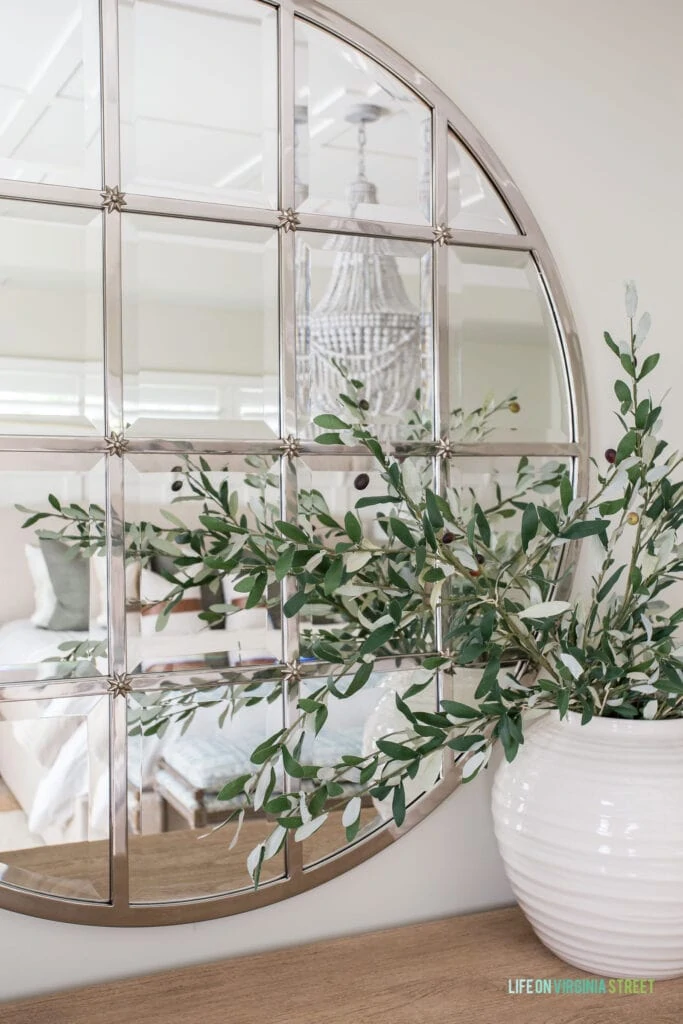 FALL MASTER BEDROOM SOURCES: Similar Upholstered Bed | Cane Nightstands | Bead Chandelier | Striped Duvet Cover | Sage Green Linen Pillows | Striped & Faux Leather Pillows | Jute Rug | Dresser Lamp | Nightstand Lamps | Gallery Wall Frames | Faux Olive Tree | Striped Curtains | Gold Curtain Rod | Bench | Dresser | Round Grid Mirror | Similar Ceramic Vase | Faux Olive Stems
And now the room that has me most excited for fall! Our smaller guest bedroom! I think it's been shown on the blog two or three times in the last year or two. It's where Kurtis recovered from hip surgery for seven weeks. Then, he went back to work for three weeks and the pandemic struck and he got sent home. So, now it's also serving as his home office (and likely will until at least January). So long story semi-short, I haven't had much chance to get in here and do anything with it! When I did last weekend, I think I was inspired by our stay at Deer Path Inn and tried to put a British fall spin on it with things I already had.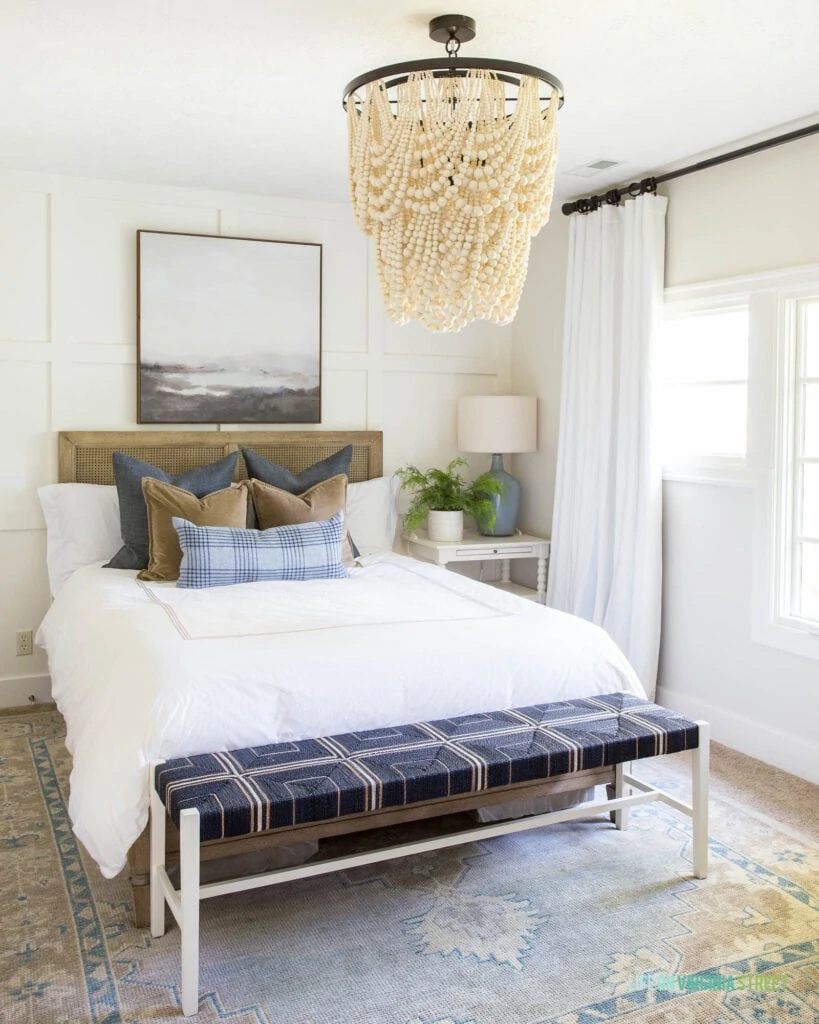 I actually bought the abstract art for another room and hated it there. And while it's probably technically too big for above this bed, I actually love it here. It helps balance out the ridiculously large bead chandelier I had to have 😉 But it makes me so happy each time I see it! And I absolutely love this pairing of pillow fabrics. Kurtis also feels they're masculine enough that he doesn't have to throw them all on the floor for his video calls. Haha! I'll consider it a win.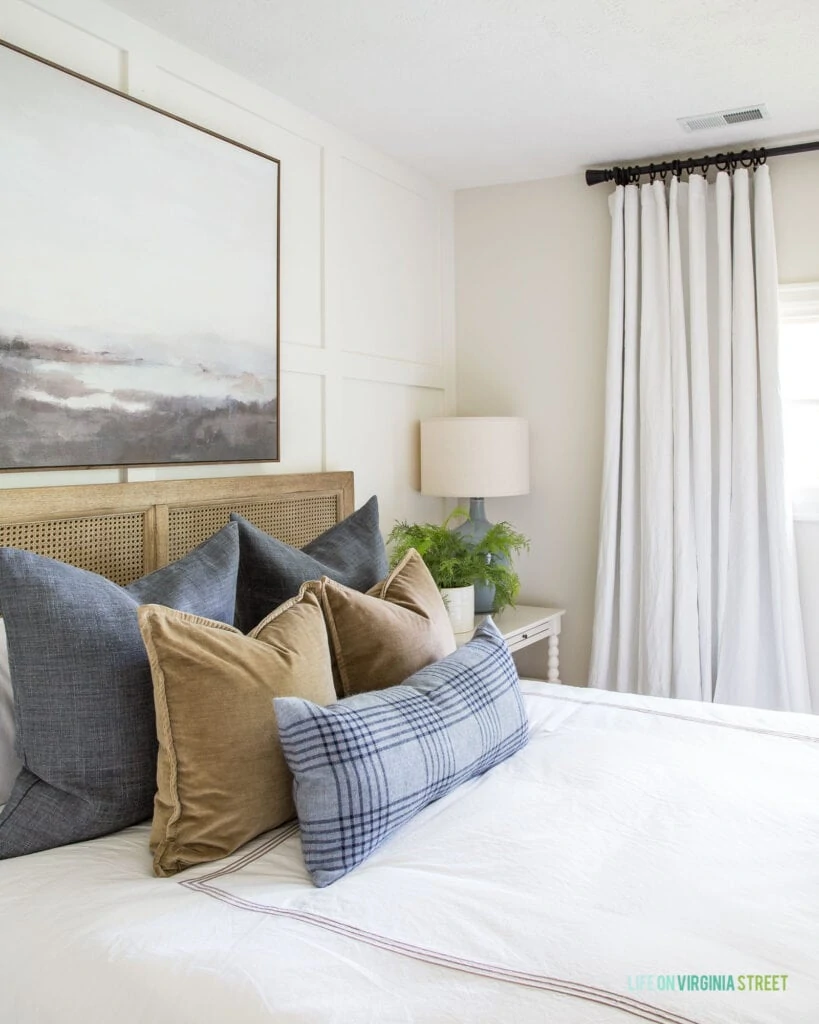 And on the random side of things I love in this room – these Belgian linen drapes. I may still had woven shades above the window a foot or so to balance out the gap, but these drapes are stunning! This is our only bedroom that faces the street (and street light) so the blackout shades were essentially. I actually ended up having to order two pairs for each side after we realized one set wasn't quite enough. But they do actually make double-wide versions that would have saved some money. But I love how they look!
The last stop on the tour – our freshly painted den! In full disclosure, I kind of had to rush this one, since I just wrapped up painting not that long ago. I'm also still learning how to photograph it to get an accurate representation of the color (Benjamin Moore Van Courtland Blue). I feel like it's reading a bit more greenish in photos that it does in real life.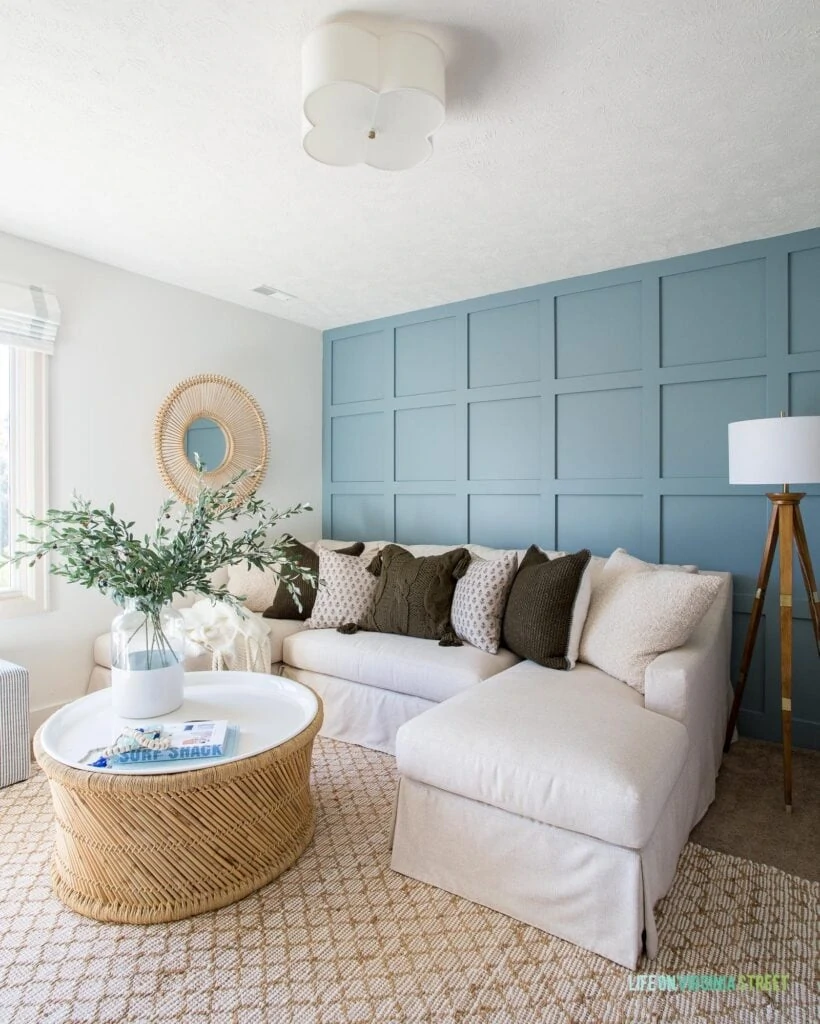 I clearly went a little overboard on the throw pillows, but I love how cozy it all looks!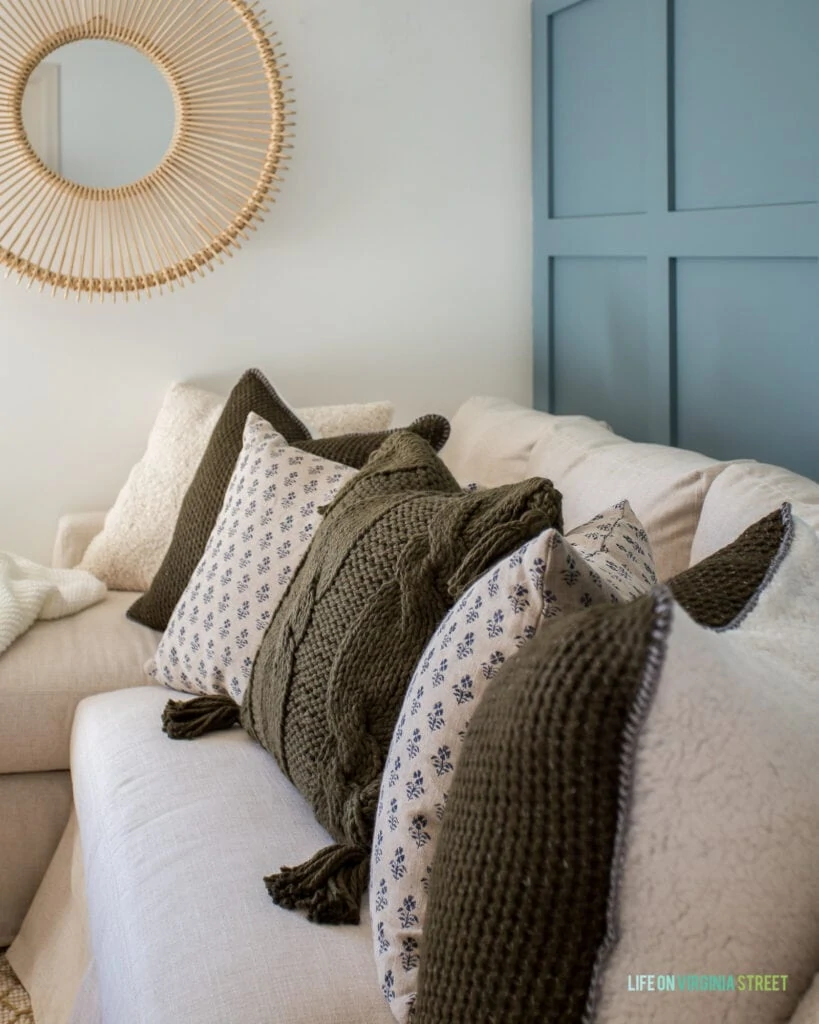 This angle has me convinced I need to paint the whole room this color. Kurtis still isn't on board but I love the whole "library" effect. Perfect for watching movies or reading!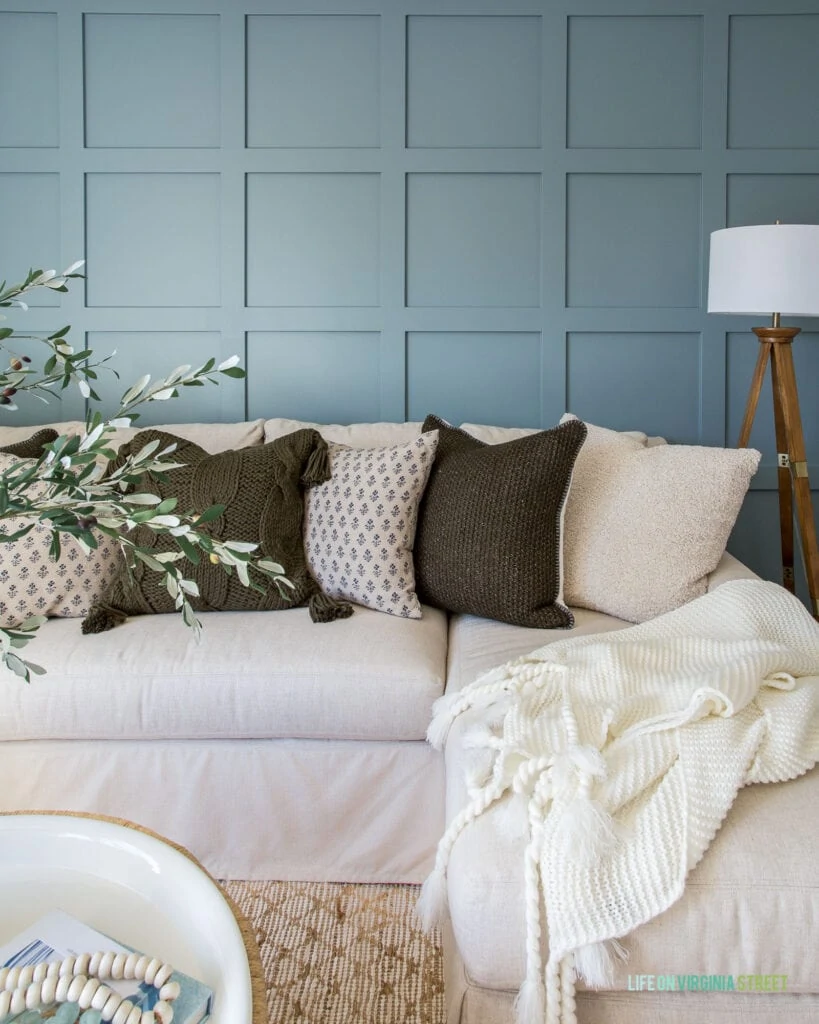 FALL DEN SOURCES: Linen Sectional | Rug | Storage Coffee Table | Paint-Dipped Vase | Faux Olive Stems | White Bone Beads | Coffee Table Book | Scalloped Light Fixture | Similar Rattan Mirror | Striped Ottomans | TV Stand | Boucle Pillows | Waffle Knit Reversible Sherpa Pillows | Block Print Pillows | Chunky Knit Tassel Pillow | Tripod Lamp | Throw Blanket
I hope you enjoyed our 2020 fall home tour! I was thinking I may do a video walkthrough later this week on my Instagram if you guys would find that interesting! Sometimes it's fun to see how the rooms flow together.
It's crazy to think I'll likely be sharing our Christmas home tour in less than two months!
Additional Fall Inspiration
Looking for even more fall inspiration? Be sure to check out the following posts. Click any of the post names to be taken to the article.
If you would like to follow along on more of my home decor, DIY, lifestyle, travel and other posts, I'd love to have you follow me on any of the following:
Pinterest | Instagram | Facebook | Twitter
disclosure: some affiliate links use