Answering the question "Can you refinish engineered hardwood floors?" in today's post! Includes insight from people all over the country, as well as a few success stories (with before and after photos)!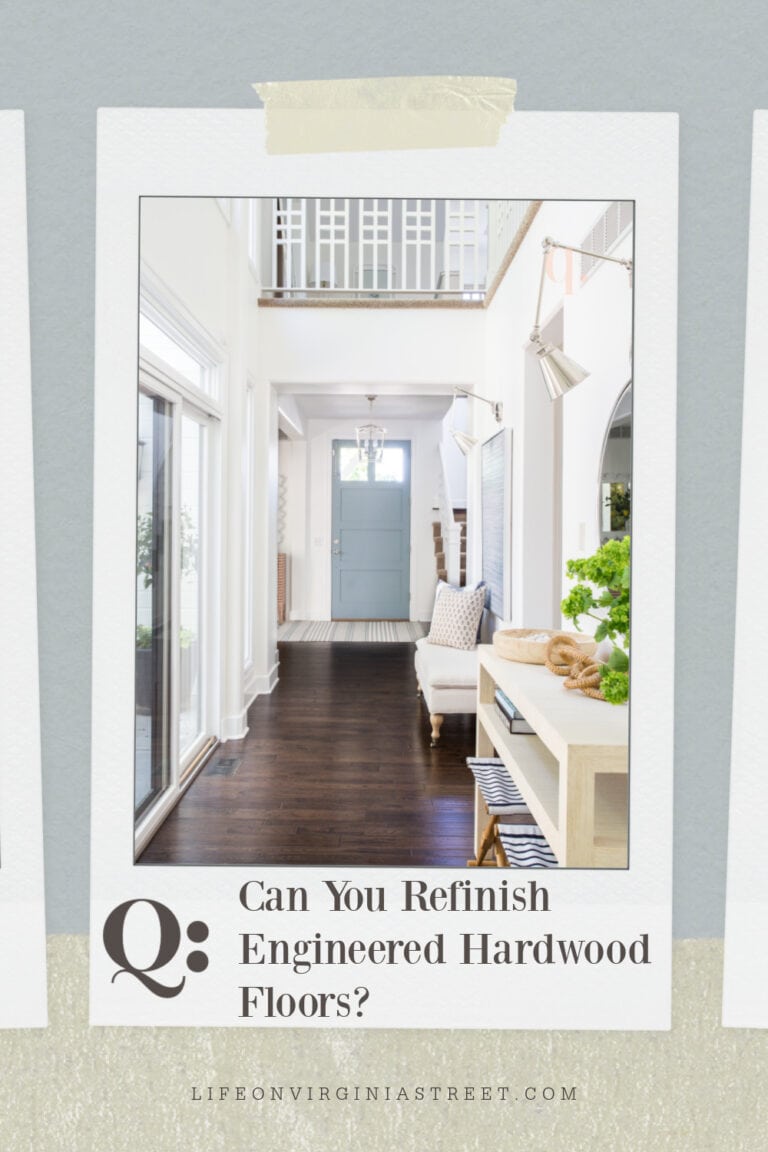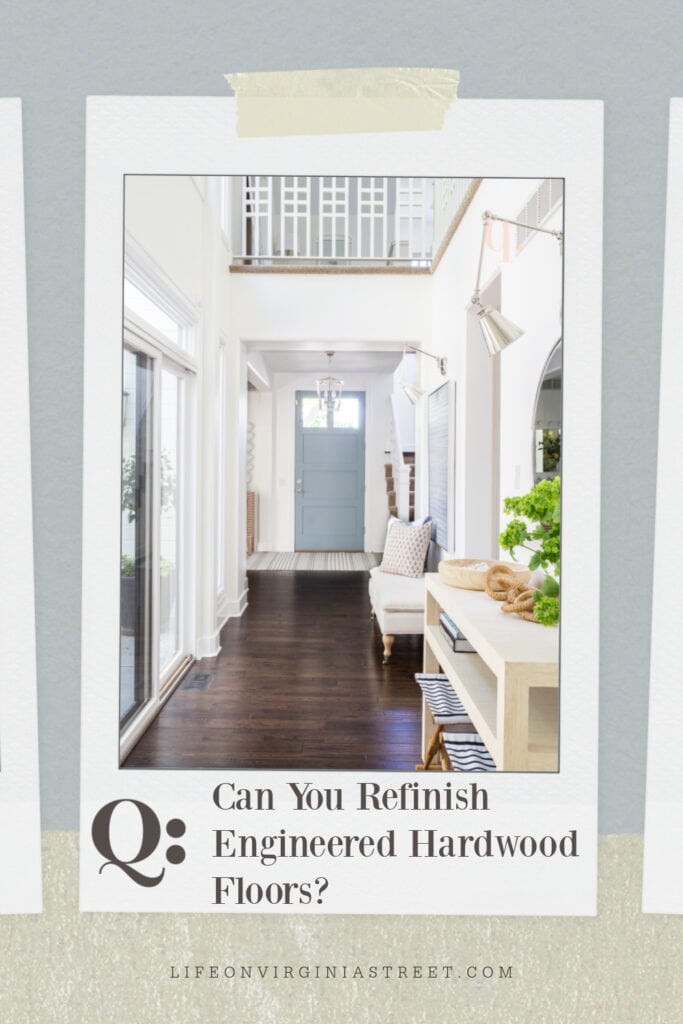 Today I'm discussing a questions it sounds like I, in addition to many of you, have had on my mind lately! Can you refinish engineered hardwood floors?
This post contains affiliate links for your shopping convenience. Click here to read my full disclosure policy.
Our Current Floor Situation
You guys made it very clear after this post that we need to ditch the carpet in our upstairs hallway. We get it, and definitely know it needs to be fixed. And that it has needed it for several years. But, I end up getting total analysis paralysis once I head down the path of searching for new options.
We'd ideally love to remove the carpet entirely from our stairs and upstairs hallway and replace it with hardwood or an engineered hardwood option. The issue I have is that I don't love our existing engineered hardwood floors on our main level. They're beautiful for the 3.5 seconds they're clean, but they basically always look dirty. Add in the glossy finish and all the windows  in our house, and it's worse. Now that our floors are also about 13 years old, they have a lot of cuts, scratches, indentations, etc., particularly after our kitchen renovation. Then, add in five summers of salt water being tracked in from pool party guests. They've definitely taken a beating!
Aesthetically, I would love something lighter like the white oak floors we have in our office! And, as typically the case with the way my brain works, I wondered if it would be possibly to refinish our existing hand scraped engineered hardwood floors to be smooth and lighter! That way, we could get what we truly wanted in our upstairs hallway, and not spend money on something we don't love just so it matches the lower level. And since they're both open to one another, we do feel like they need to coordinate.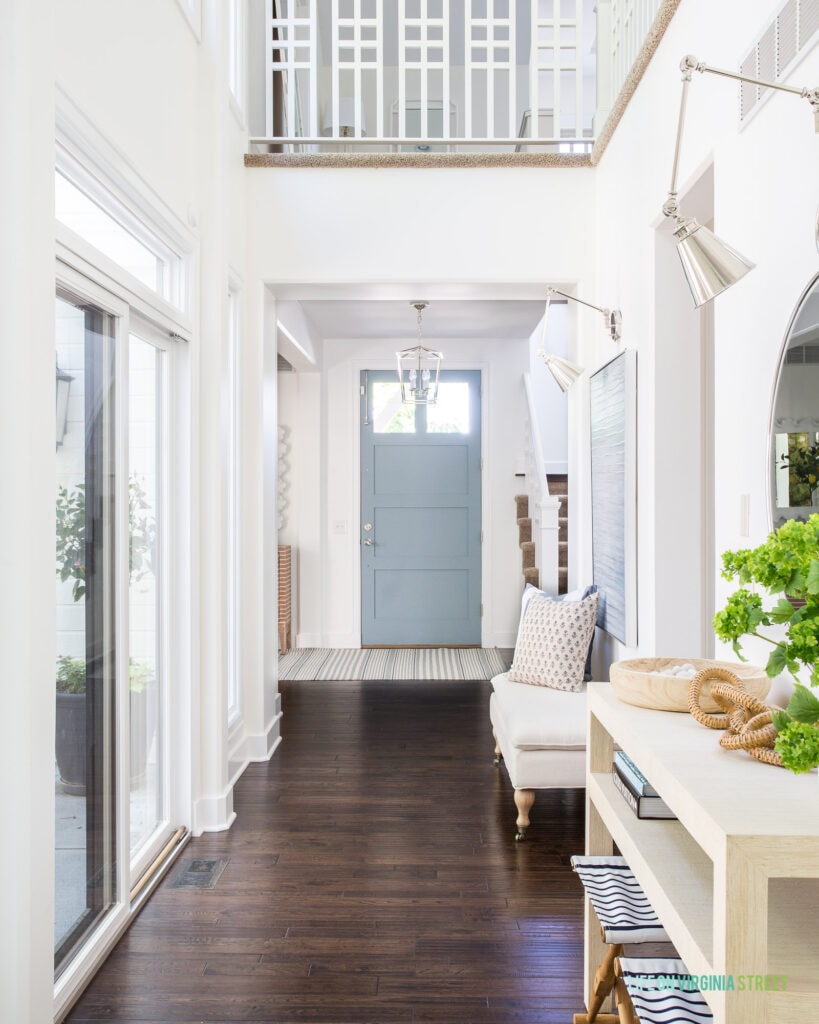 ENTRYWAY HALLWAY SOURCES: Striped Rug | Lantern Pendant Chandelier | Pillowtop Bench | Striped Pillow | Block Print Pillow | Console Table | Striped Stools | Similar Mirror | Wicker Chain | Dipped Vase | Faux Viburnum Stems (similar here) | Swing Arm Sconces | Abstract Art (HomeGoods – old) | Wood Bowl (At Home – old)
As you can see in the image above, not only are our floors engineered hardwood floors, but they also have a hand scraped finish, which I know makes my question even more challenging! You can also see in the photo above how our upstairs hallway overlooks the lower hallway and vice versa. And the staircase wraps halfway to join the two floors together. Again, this is the reason I feel they would need to be similar. If it meant our existing floors could be refinished, we would be fine with losing the hand scraped detail.
What Are Engineered Hardwood Floors?
Before we jump into whether or not engineered hardwood floors can be refinished, I thought I'd first describe what they are exactly. After getting some messages on Instagram, it became clear pretty quickly that a lot of people don't think there is any real wood on engineered hardwood floors. However, engineered hardwood floors are actually made of a thin layer of real wood on top of high-quality plywood. Depending on the brand and style, the level of real wood thickness varies. The cost of engineered hardwood floors tends to be slightly less than the cost of solid hardwood floors. It also tends to be slightly easier to install than solid wood. Engineered hardwoods can also be beneficial in climates with a lot of humidity and moisture, and it's much less likely to warp than solid wood.
Can You Refinish Engineered Hardwood Floors?
So, I took the question "Can engineered hardwood floors be refinished?" to Instagram to get some feedback, and holy cow! This might be the most popular topic of all time! I was shocked how many people were in the exact same position as us, but didn't know if there was an option. I then received rather polarizing responses in terms of whether or not the floors could actually be refinished. So, today I thought I'd share those responses and give a word of advice at the end of the post.
I should also preface my question by first sharing the following. We are the second owners of our home, so unfortunately I do not know the brand of our floors, so I am unable to check specs with the manufacturer to see if, in fact, they can be refinished.
Responses I Received From Various People Across The Country via Instagram
Following is a small sampling of the responses I received.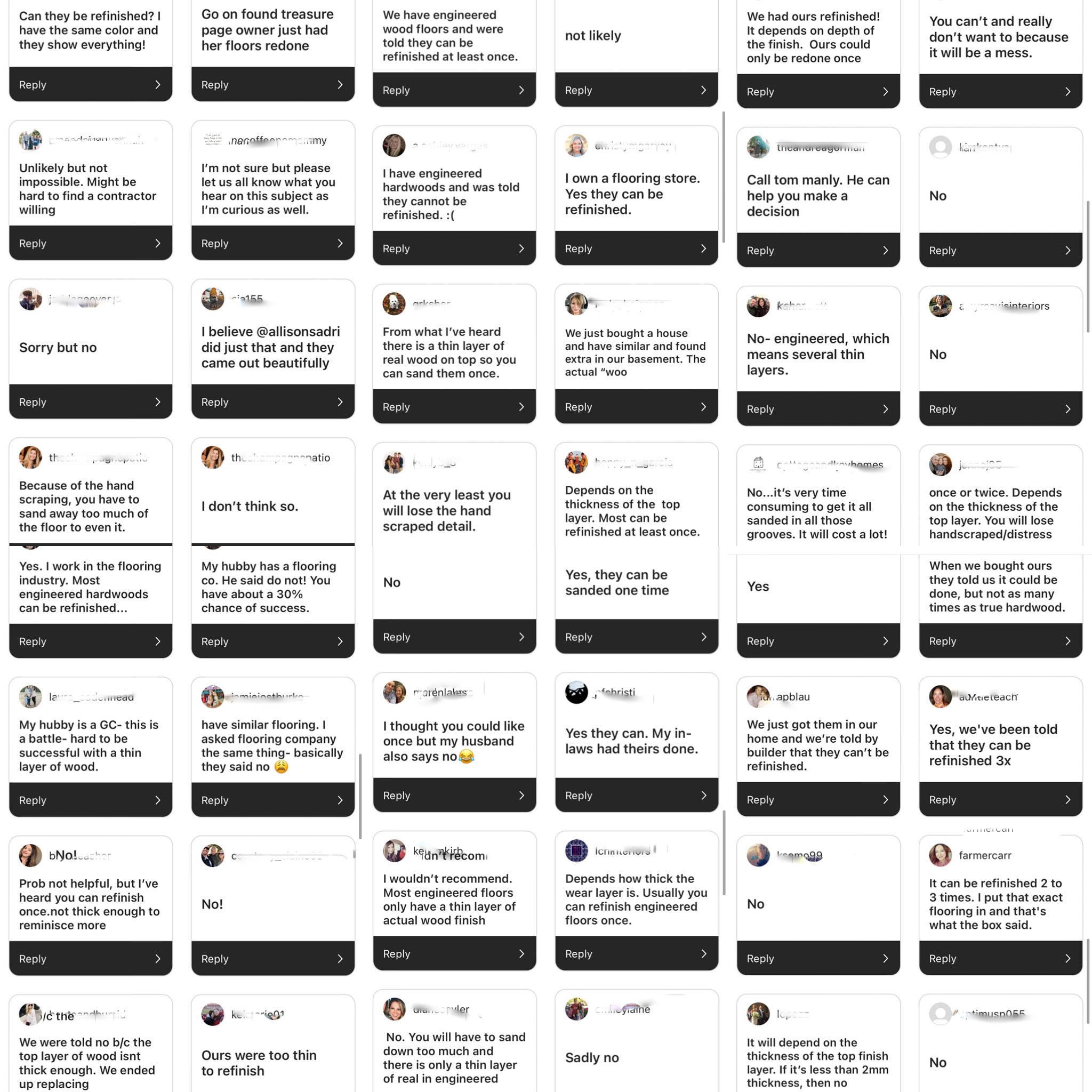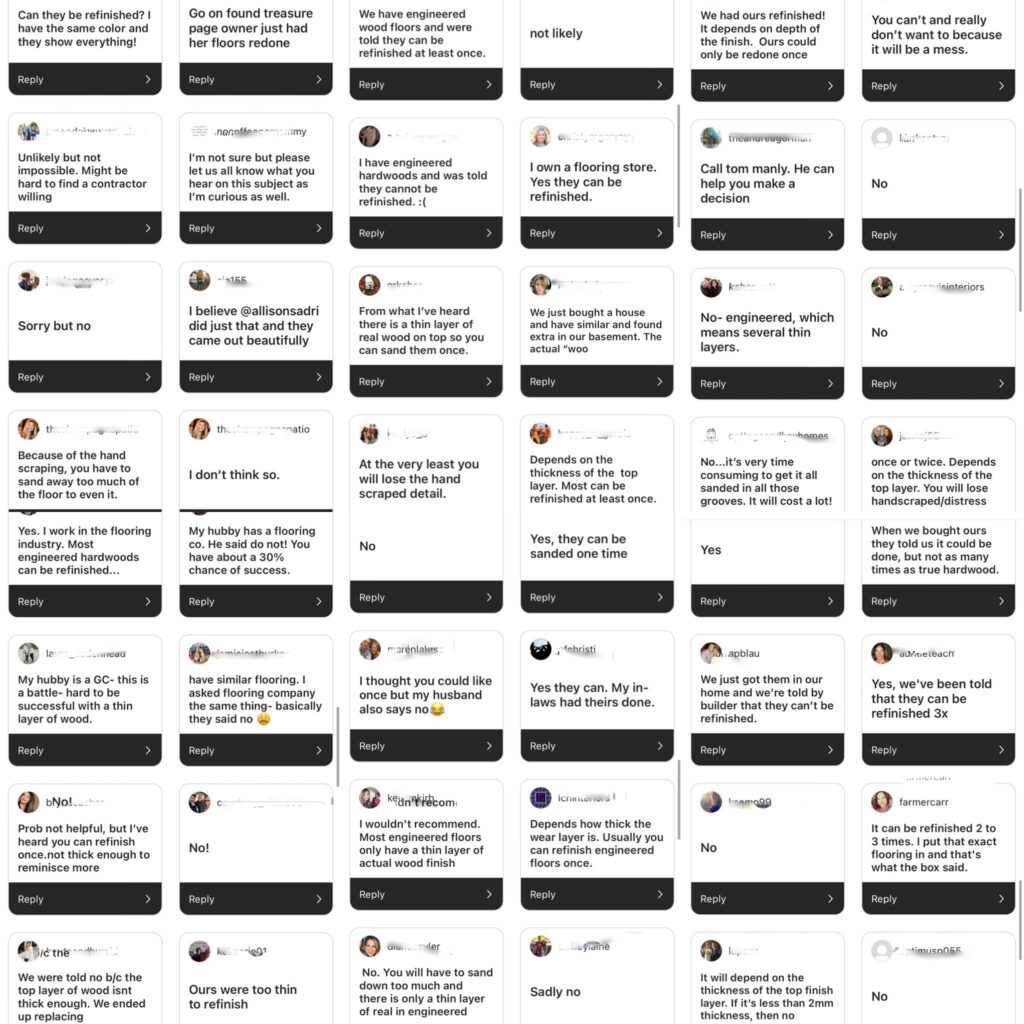 As you can see pretty quickly, nearly every other answer was opposite the one right before it.
If you want to see my stories showing our floors and the full list of responses I received from others, you can see them in my Instagram Highlights. Simply head to my Instagram page and then click the circle below that says "Refinish Floors".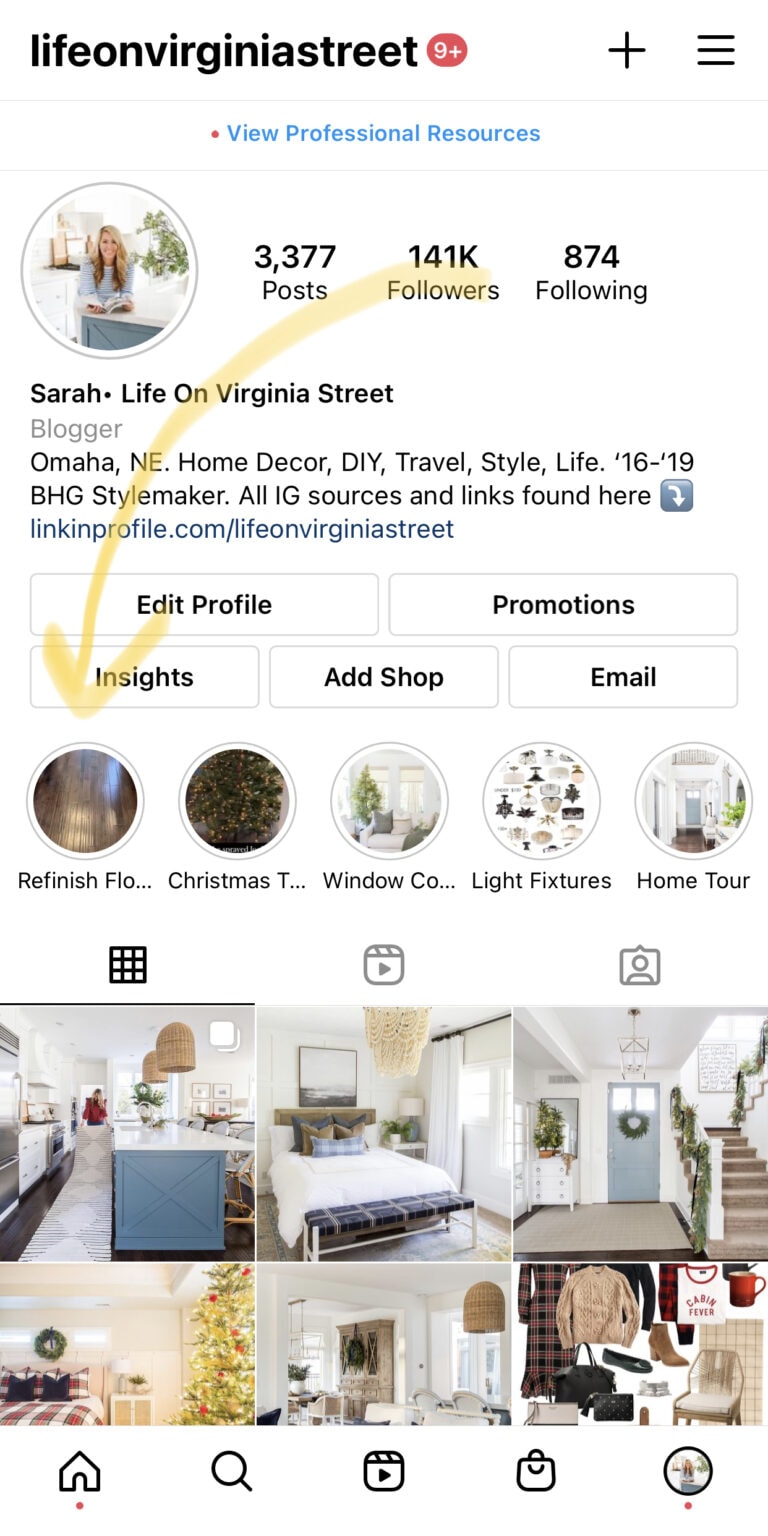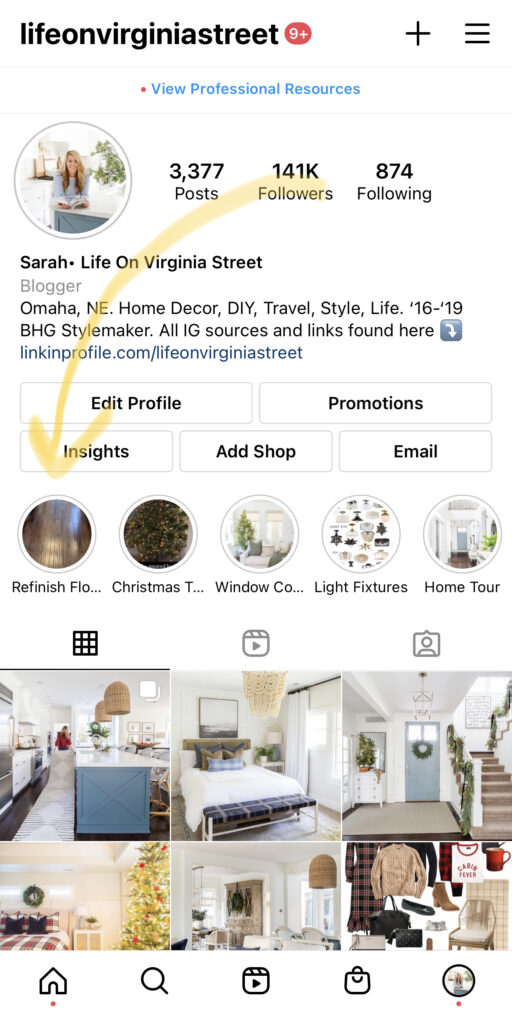 What I Found After Further Research
I did some further research, and here is what I found. Essentially – "It depends"!
The first critical piece of information in answering this question is how thick your layer of veneer is. There are some engineered hardwood floors that cannot be refinished because the layer of veneer is too thin. However, with most engineered hardwood floors, you should be able to refinish them 1-3x max.
However, if your engineered floors are also hand scraped, like ours are, that adds in another layer of complication. At most, you will likely only be able to refinish your hand scraped engineered hardwood floors once. And if the veneer is on the thinner side, not at all.
Engineered Hardwood Refinishing Success Stories
After posing the question on Instagram, I received some direct messages with a few success stories. I asked both individuals if I could share their images, and I'm so glad they let me. It shows there is hope!
The first transformation is pretty crazy! She started with darker, red-toned hand scraped engineered hardwood floors. They had them sanded down smooth and then did a matte finish with a white topcoat to achieve this beautiful light wood shown below!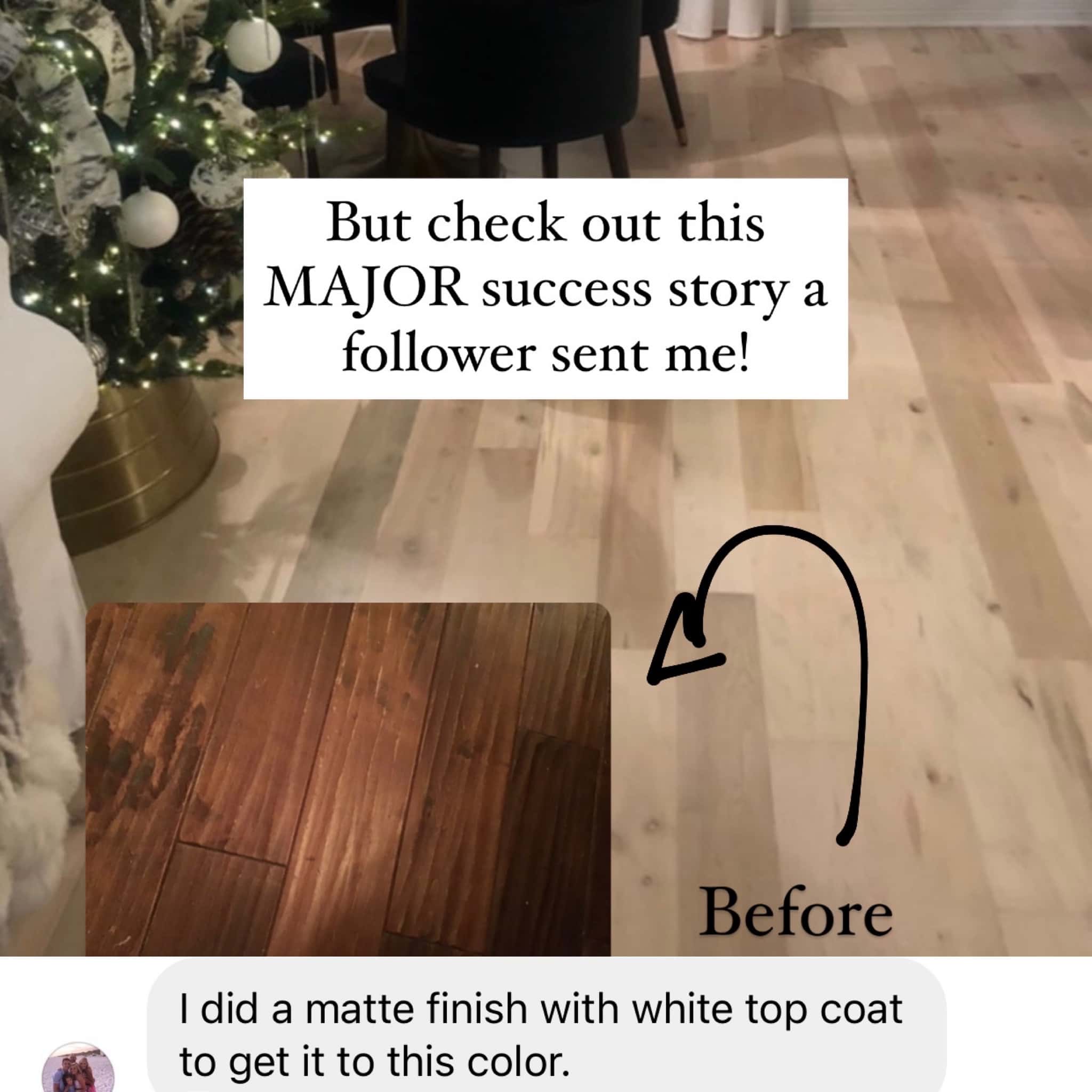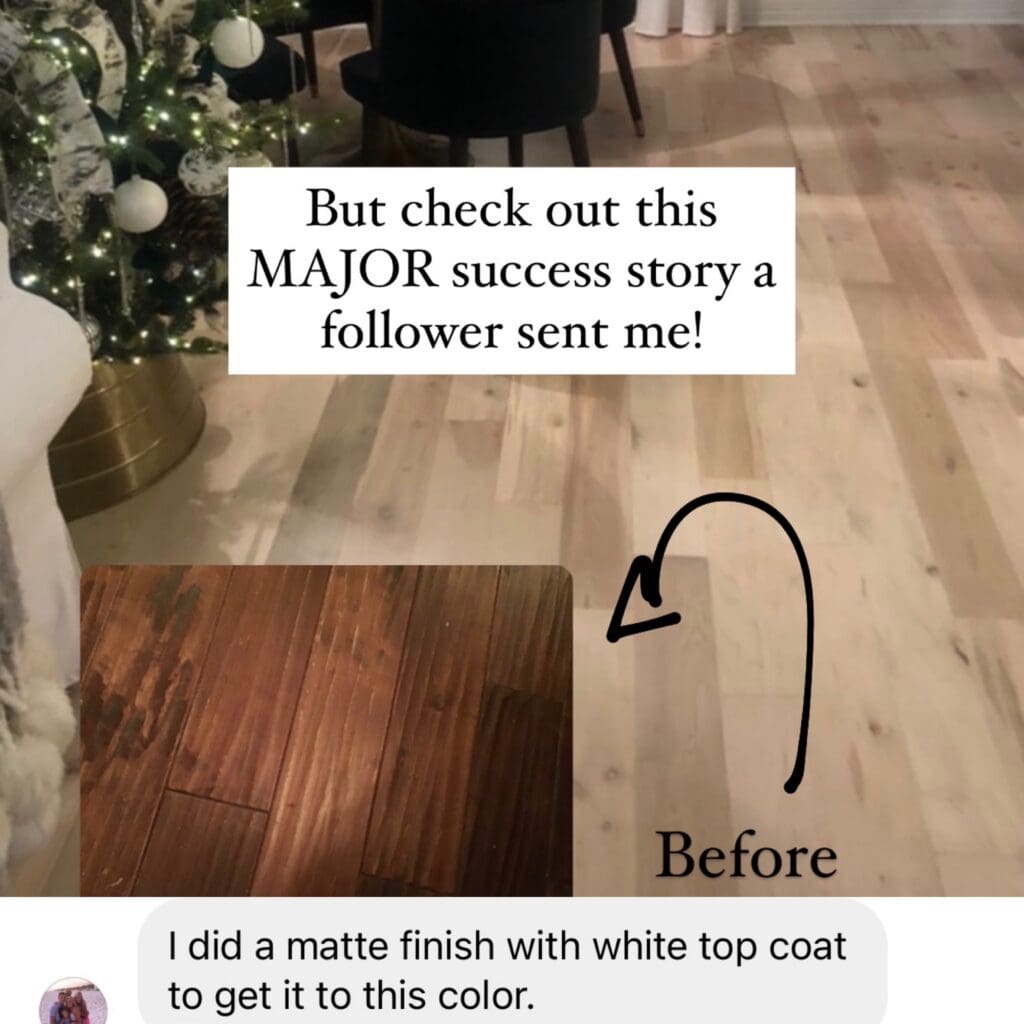 This next success story is another beautiful option. In this situation, the followers floors were more red than she wanted. Her floors were not hand scraped and she opted to take the color darker. The images below are very helpful to see the original engineered hardwood floor color, the sanded color and then on the right the beautiful outcome! I also included a bit about her story in the image as well. Essentially, three different flooring companies told her it cannot be done and that she would need to replace her floors entirely. She then met with a professional refurbisher in her area who had tackled similar projects multiple times. In the end, he was able to achieve the look below for about 1/4 the cost of replacing her floors! This job was completed over three years ago, and she said they have help up really well!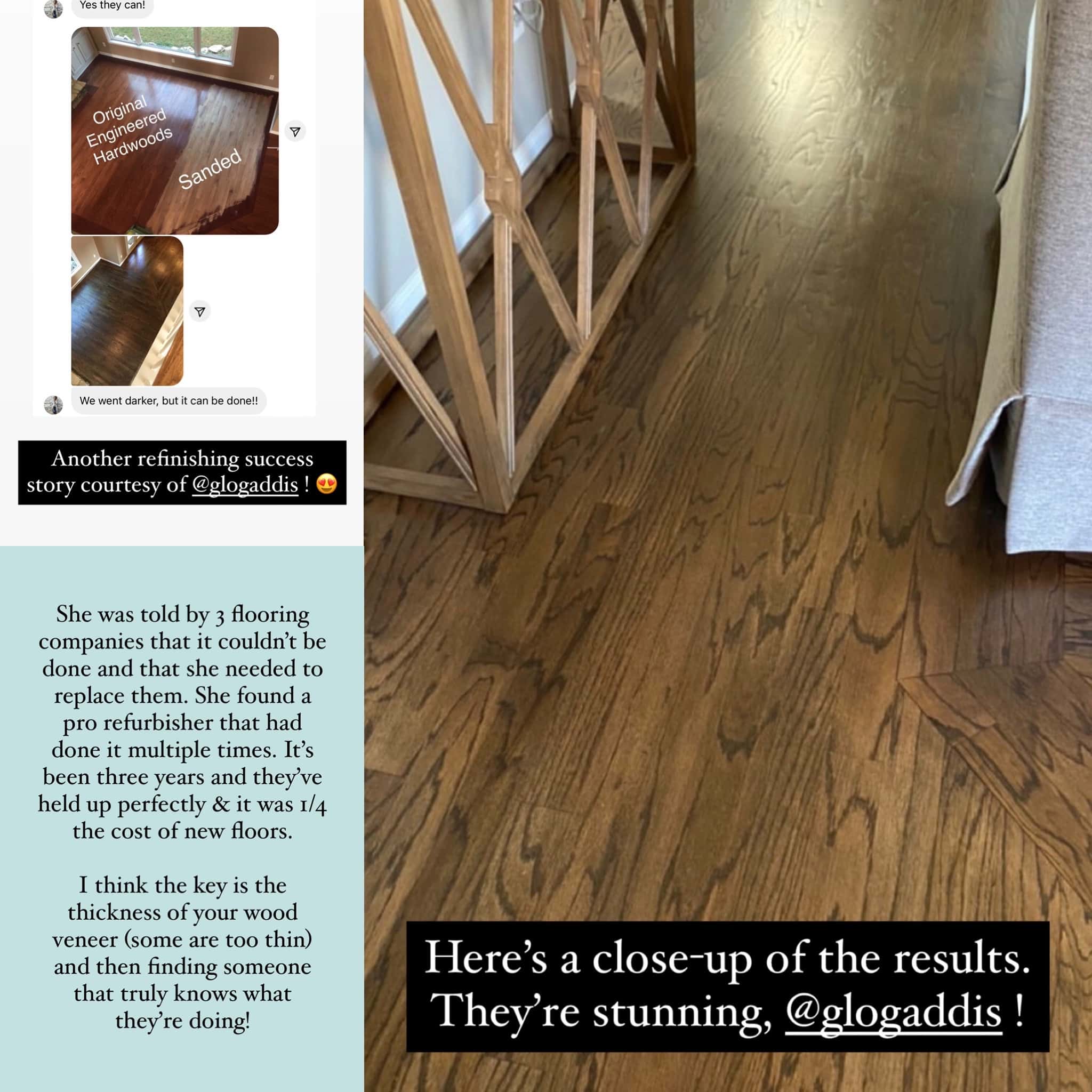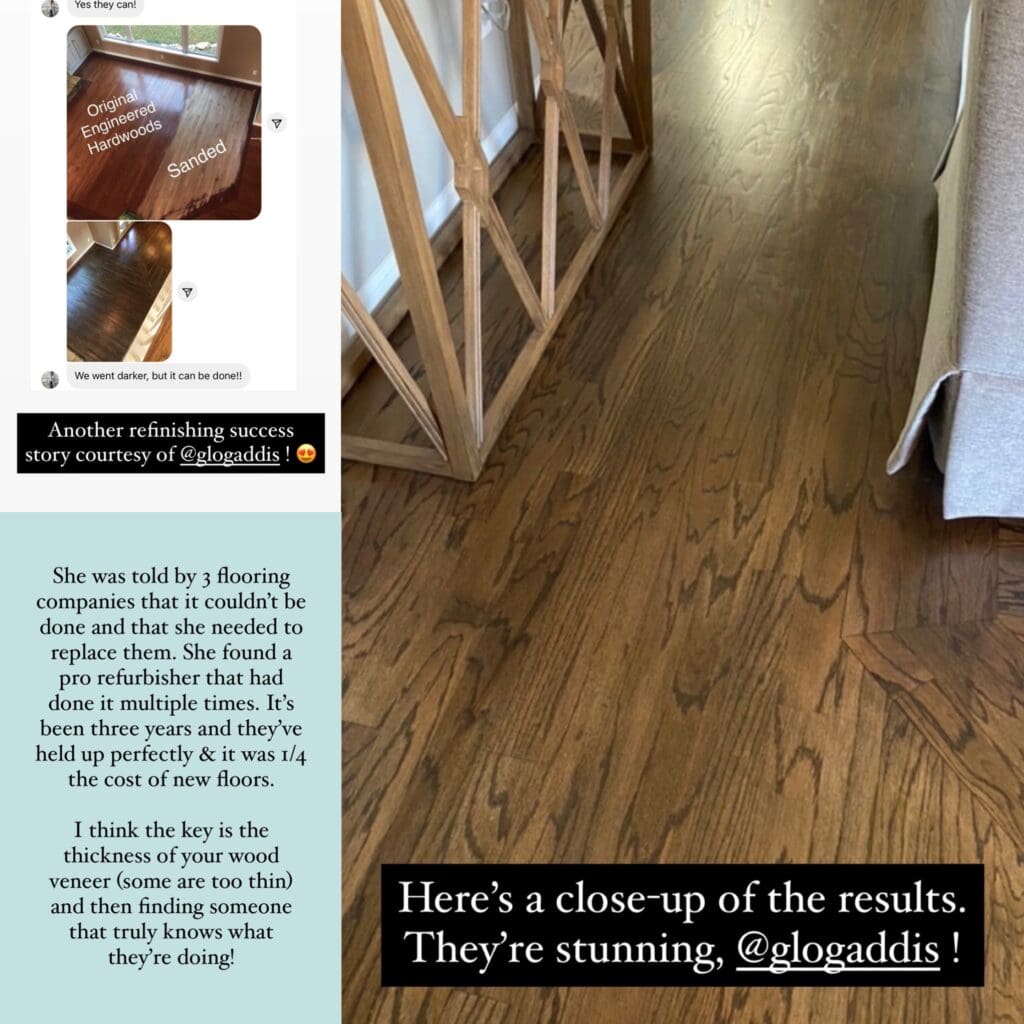 I also want to point out that many others sent me messages directly. In many of those situations, they were told it could be done, got a bid, and ultimately decided to have their floors replaced entirely. This was due to various reasons such as the costs in their area being very similar for either option. Others heard about the mess and weighed the pros and cons. Ultimately, they decided to spend a little more for new floors.
Where Do We Go From Here?
The examples provided above show that it can be done when the circumstances are ideal! However, I want to reiterate that I think it's critical to work with a professional that has had success with this in the past. I don't think this is a DIY most people should tackle, unless you have extensive flooring knowledge. It will also be very helpful to have a sample of your exact floors handy for your meeting so the pro can see how thick your layer of real wood is.
Before we make a decision on what to do with the flooring upstairs, I think we need to know more about the floors on our main level. Kurtis thinks he can find a few scraps left of our wood, even though we used most of it during our kitchen renovation. I received a few local referrals over Instagram that we may try and meet with at some point. This isn't currently a rush by any means, so we may wait until spring time to have the conversations.
I hope you found this information helpful!
If you would like to follow along on more of my home decor, DIY, lifestyle, travel and other posts, I'd love to have you follow me on any of the following:
Pinterest | Instagram | Facebook | Twitter
disclosure: some affiliate links used