Good morning! How are you all doing? I hope you all had a nice and relaxing weekend, especially after the sad and difficult week here in our nation. I continue to pray for comfort, strength and unity as we all move forward together.
Here's a little look at what we were up to last week.
This post contains affiliate links for your shopping convenience. Click here to read my full disclosure policy.
Home Projects & Updates
The demo is 100% done on the bathroom.! They wrapped up early Friday afternoon, so I think we're already out of the bulk of the noise and dust/mess! Here is how the Jack & Jill bathroom look now.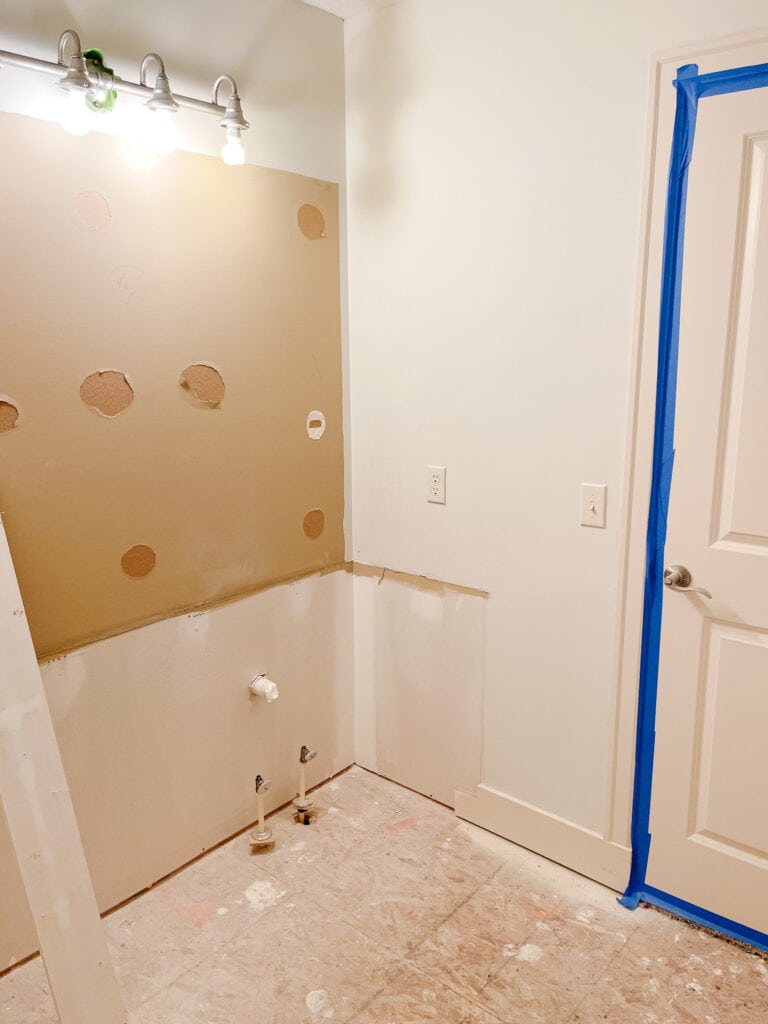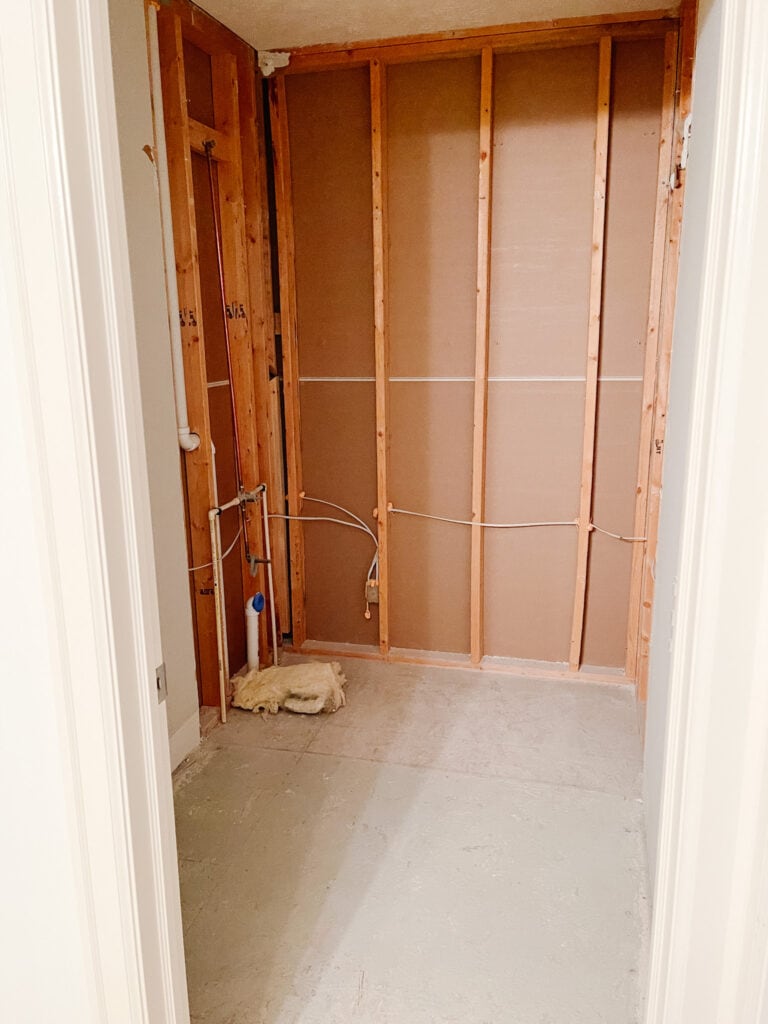 And here is how the smaller guest bathroom looks today. I'm guessing you can tell by the state of the drywall, we've decided to have the sewer gas line re-routed so we can still have a window. The window will have to be a bit smaller than initially planned, but we're thinking we can still get a 25″x25″ in here.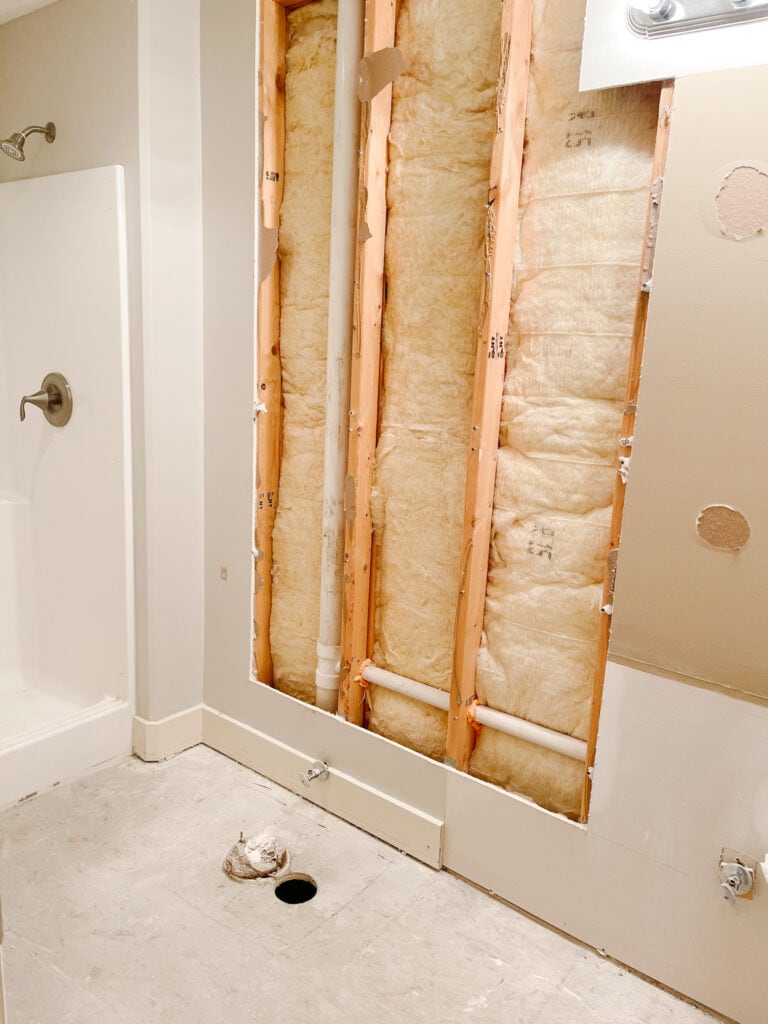 The plumber and electrician will be coming this week to start some of their work. So it may be a slow week otherwise until they wrap everything up.
As of yesterday, 90% off our Christmas decor was still up. All I had put away up until that point was the ornaments on the tree. But, yesterday, the bulk of it came down. I still have a little was to go. And although I miss the white lights, I don't miss what was starting to feel like clutter! I'm super happy with how the Christmas tree bags worked though!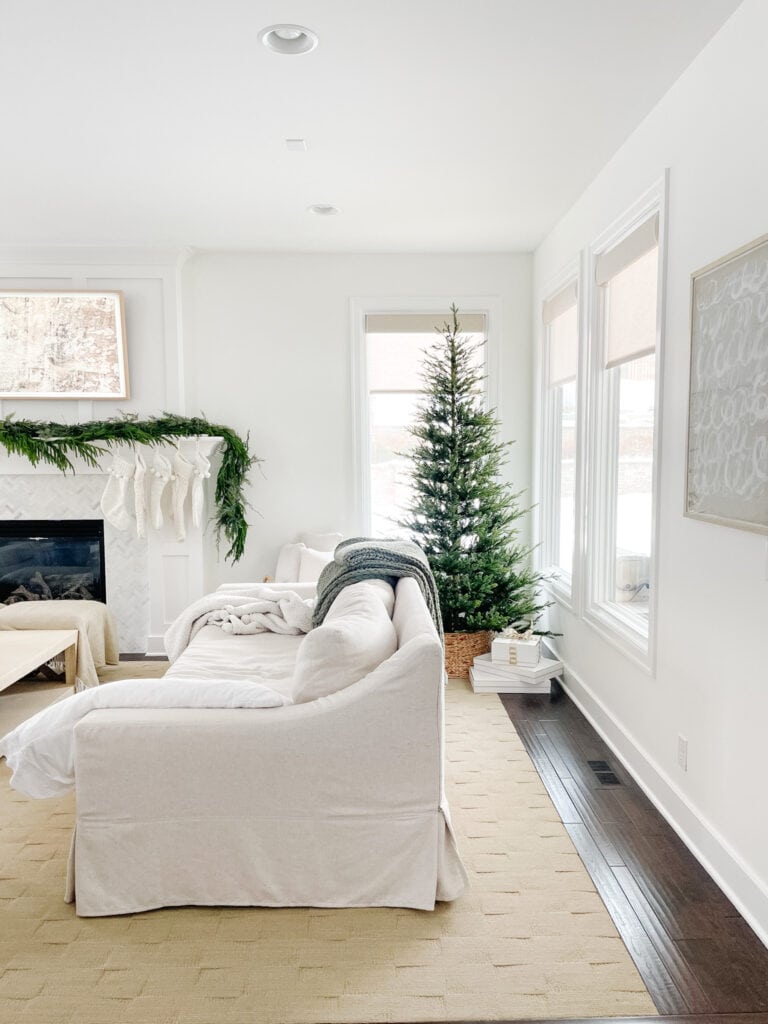 I was finally able to pull out this olive tree I ordered back in September! It didn't arrive until the end of October, and by that point I was decorating for Christmas. I had wanted this one for ages, but refused to pay the freight shipping charges for just the one item. So, I ordered it during buy more save more when I bought our bathroom vanity, so it was included in the shipping charge for free. You can see below on the left how it looks when it arrives (this was even after some initial primping back in October). After about 10 minutes, it looked like the image on the right. I still have a little tweaking to get it consistently full all the way around, but I am so in love with it! And in full disclosure, when I took it out of the box, I wasn't sure I would. Mine is the XL size. Funny enough, when I was searching for it, I noticed they now carry this one, too. It's the same as my Amazon olive tree, but about half the price on Amazon.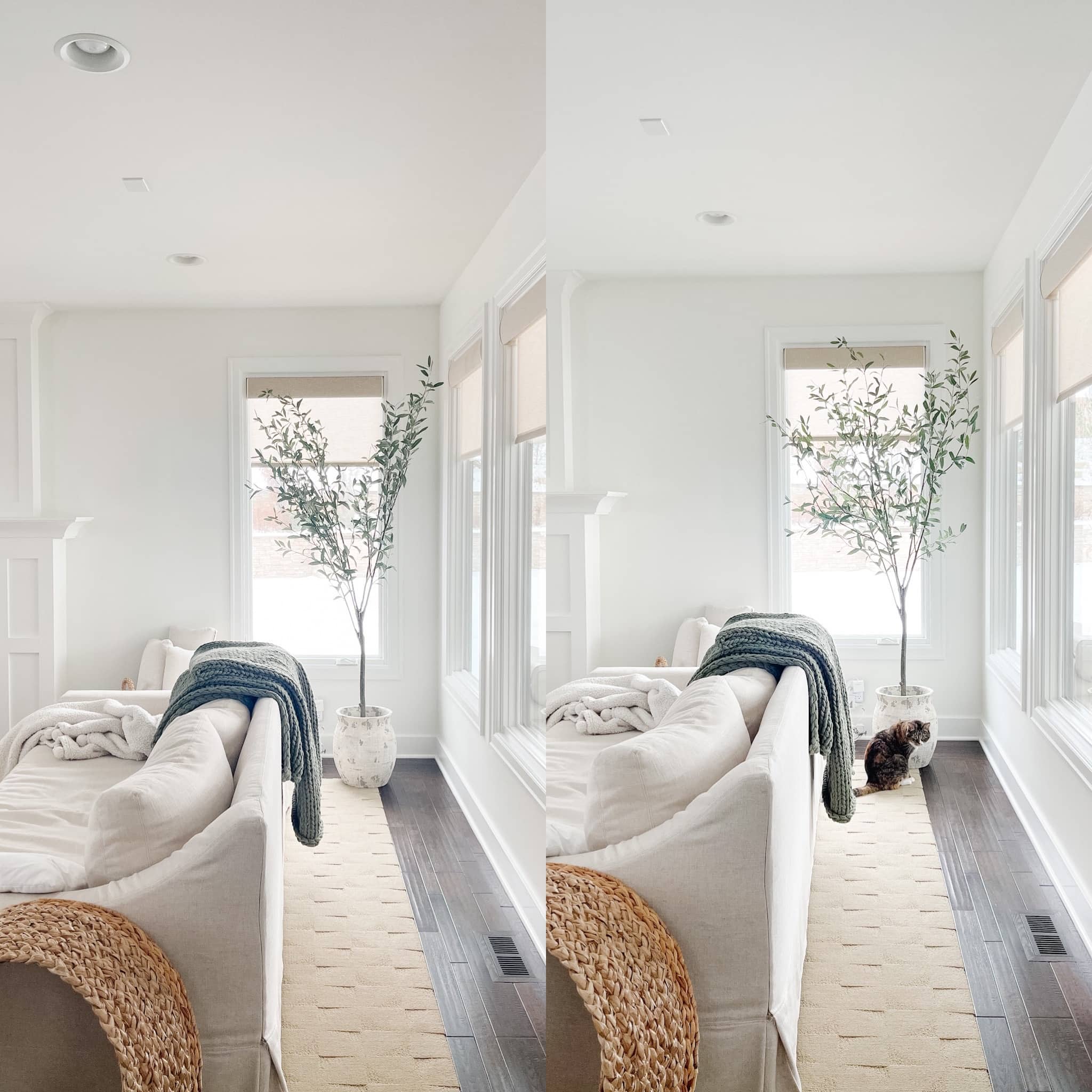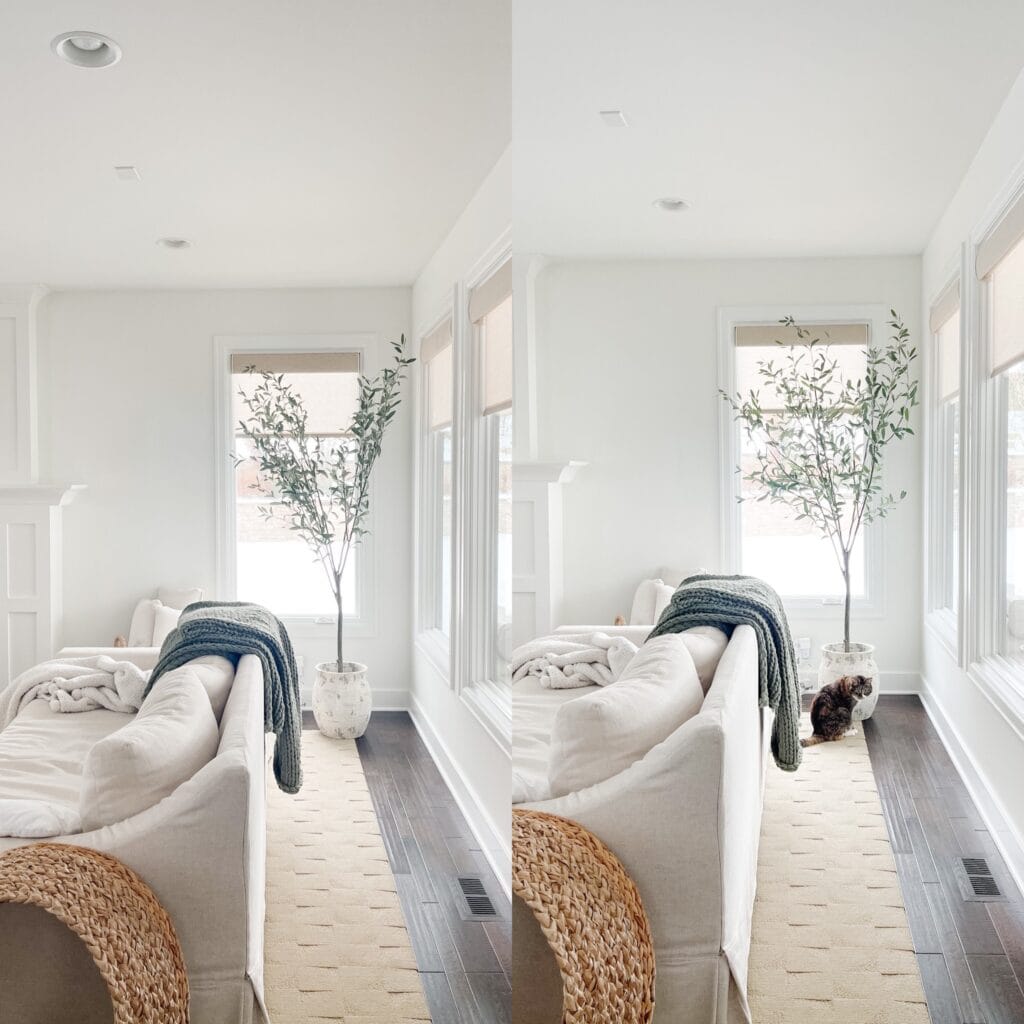 SOURCES: Linen Sofa | Chunky Knit Blanket | Faux Olive Tree | Terra Cotta Pot
Top Sellers Of The Week
Following are the top sellers of the week across all of my channels. Links to each item are below the graphic.
Around Town & For Fun
Here's a quick look at how the lid organizer works in our food storage drawer. The drawer looks a little "off" since we had several containers in the fridge or dishwasher. But a year or two back, we ditched all of our plastic food containers in favor of glass ones. Not only are they "healthier" but we eat way too many tomato-based foods for plastic!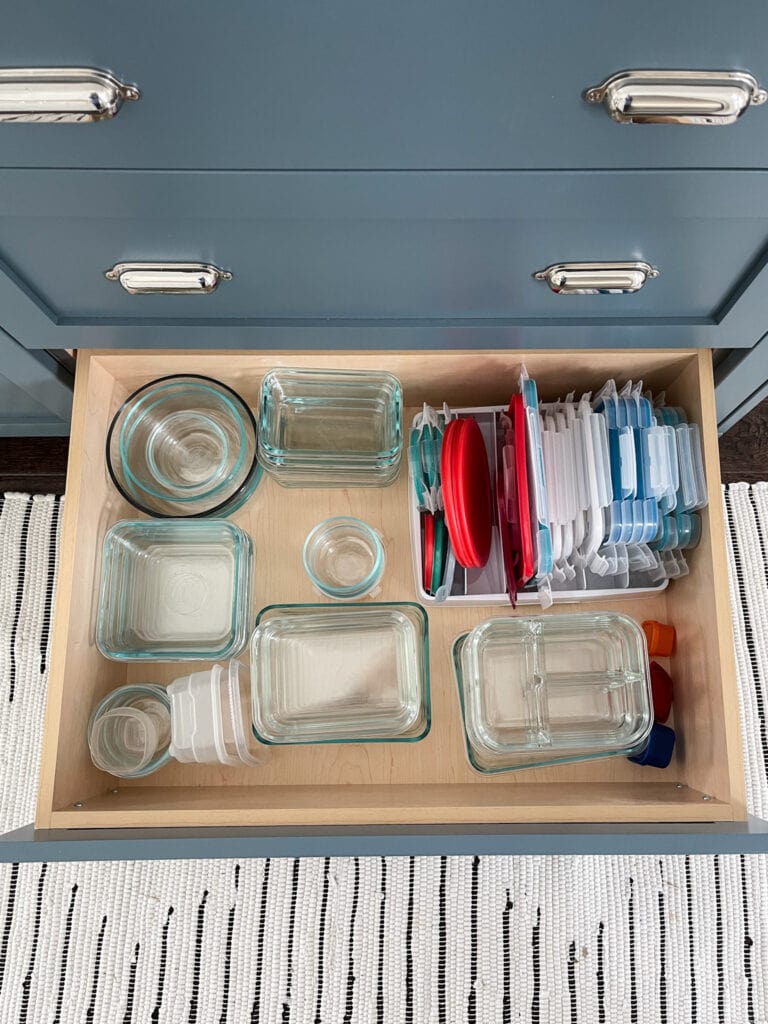 I thought I'd offer a little peek at Kurtis' new home office. We had to move him out of the guest bedroom during the bathroom renovation, and literally the only place left in our house with a door (not connected to the construction) was 6″ from our bed. So he made it work! It may not be the prettiest setup, but hopefully he's only here another month or so.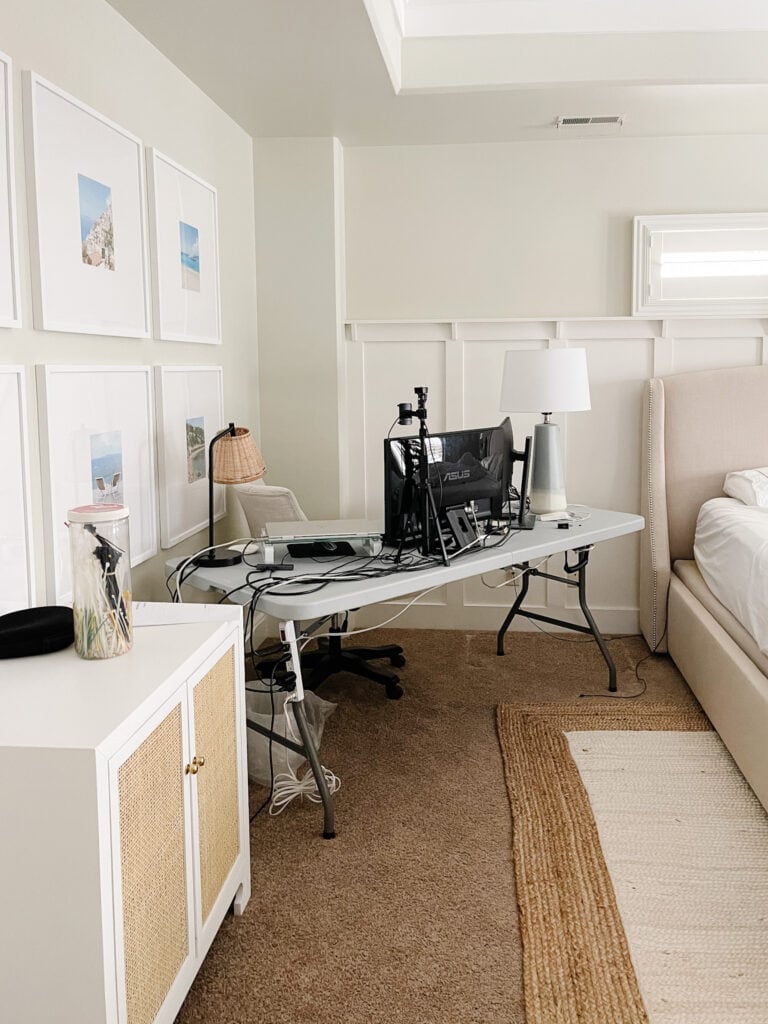 Not sure why I included this in the "fun" section. But Saturday we had to pick up some of our tile for the bathrooms. We then wandered into Nebraska Furniture Mart to look at carpet and hardwood. We're a ways out on dealing with our upstairs flooring, but we do want to replace the inset carpet in our living room soon. My friend Lea just had a bound carpet rug made from the Anderson Tuftex carpet below (top, middle) and it's absolutely gorgeous. We loved it so much, when we were at their house recently that we both thought it may be a super simple solution for our carpet in the living room that badly needs replaced. The pattern is much more subtle in person and reminds me a lot of the Dash & Albert rugs.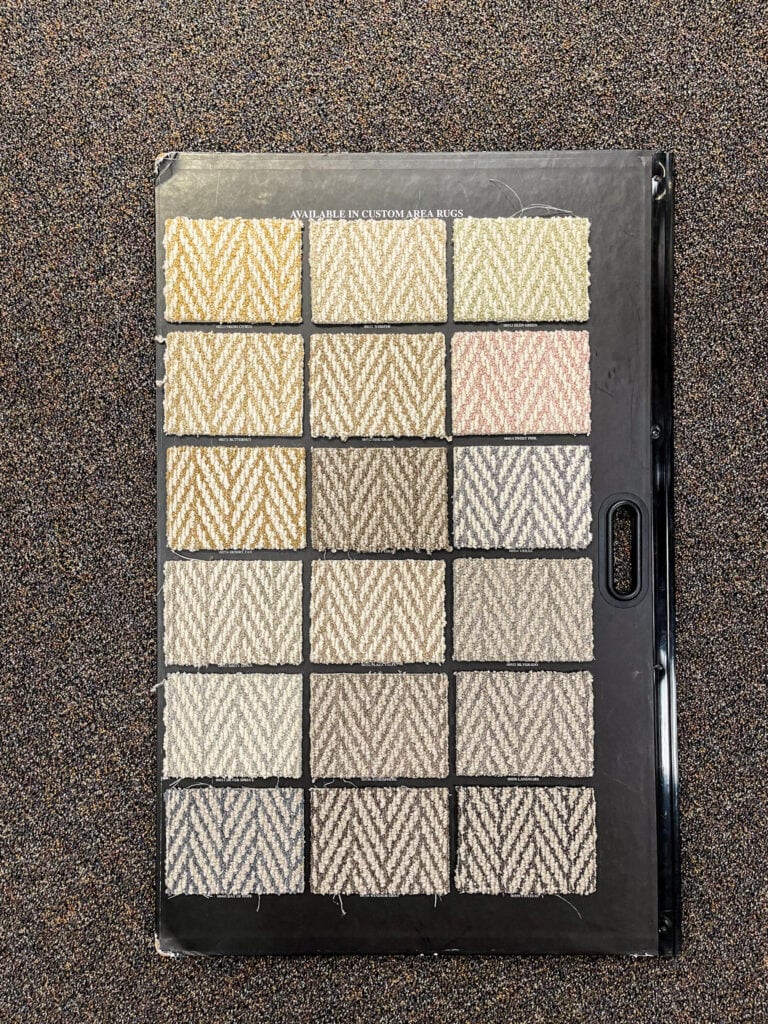 The cats have been handling the renovation chaos fairly well. We have to keep them locked up in the unfinished basement bedroom while the workers are here.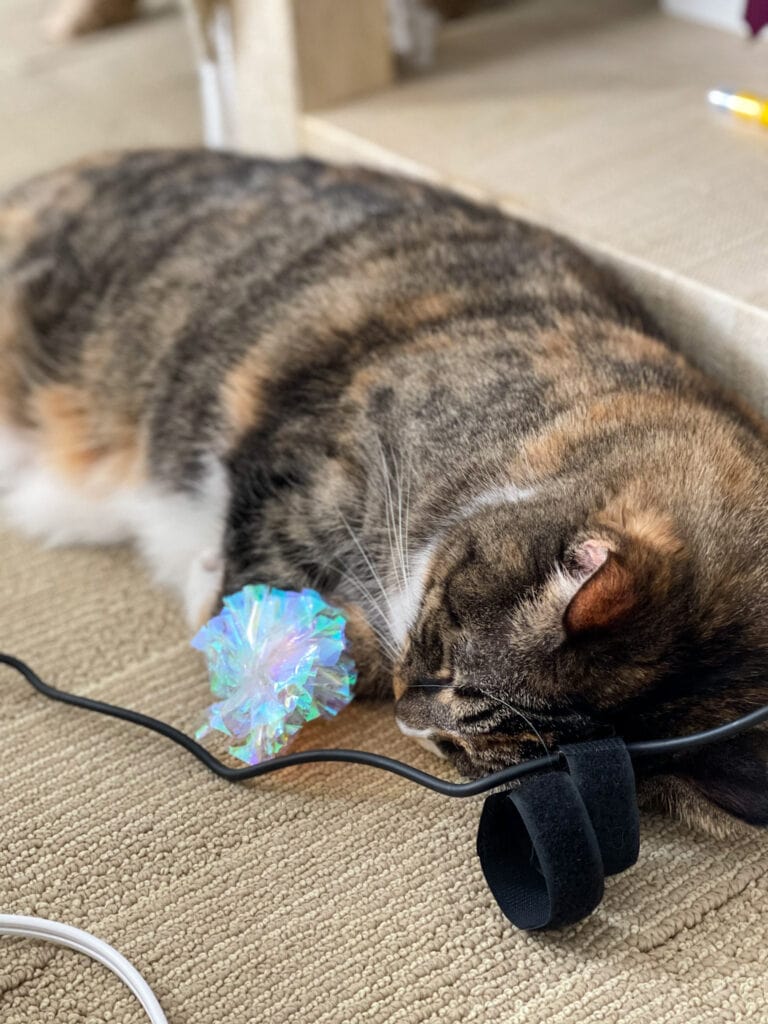 We had dinner Saturday night with this little goofball and her family. Her dad just got new blue light blocker glasses, and she thought she looked pretty cute in them. 😉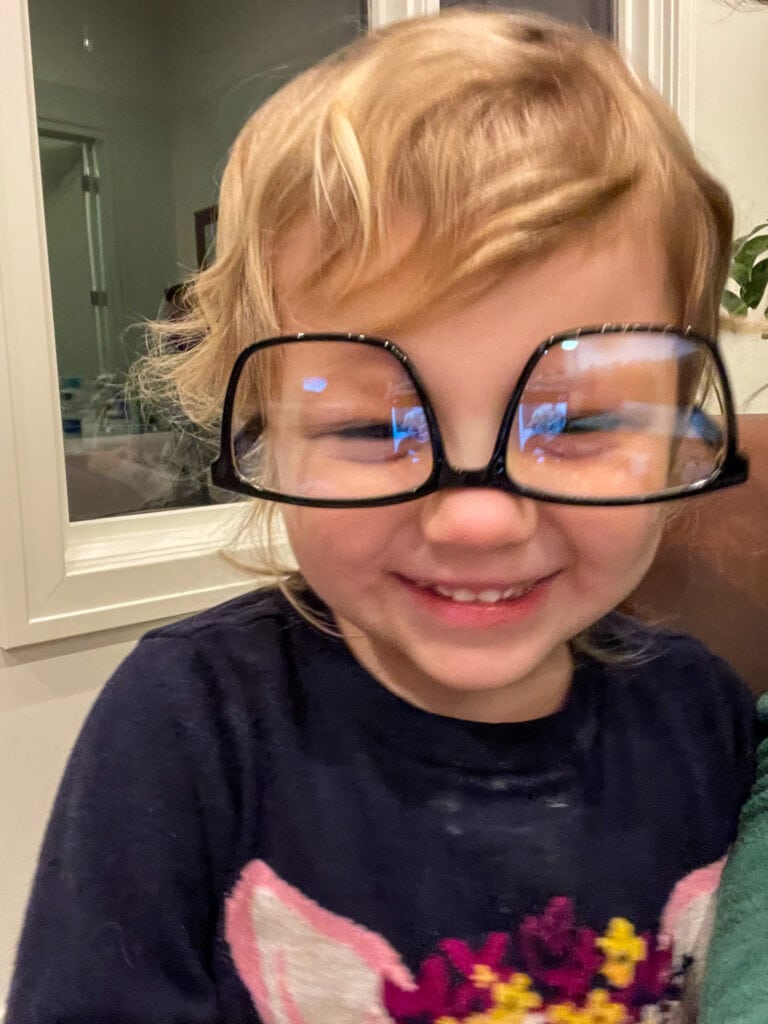 It wasn't the best week to start dry January, but we powered through. With the first week behind us, we're feeling good about the next few weeks! It also helps that we're trying to eat more healthy, and we have less temptation to eat out.
We have another busy week ahead, but I don't mind at all when the cold winter months are action-packed. Hoping it brings spring and warm weather around that much more quickly!
Recent Buys & Sales
Following are some of the sales that have carried over from the weekend.
I hope you all have a great week!
If you would like to follow along on more of my home decor, DIY, lifestyle, travel and other posts, I'd love to have you follow me on any of the following:
Pinterest | Instagram | Facebook | Twitter
disclosure: some affiliate links used