Sharing our outdoor courtyard makeover details! Includes a tour of this outdoor patio space as well as all the details on the furnishing and plants we used for this functional makeover!
Happy Friday! I wanted to pop in with a simple post today to share some of the updates we've made to our outdoor courtyard over the past few months. Although I shared a very much unfinished look at the space in our summer home tour (and a few peeks in Weekend Recap posts) I wanted to share some additional photos now that it's much more finished!
This post contains affiliate links for your shopping convenience. Click here to read my full disclosure policy.
Before we jump into all the courtyard details, I wanted to quickly mention that the Nordstrom Anniversary Sale preview just launched for those of you that are interested! You can actually favorite items today so they're ready to go when the sale goes live! Alright – back to the courtyard!
Courtyard Background Info
For those that aren't familiar with the layout of our house, I thought I'd give a quick refresher. Our courtyard is actually one of the main reasons we bought this house (almost eight years ago!). I house is basically an angular C-shape. In the photo below, if you walk in our home, our office is to the immediate right (on the left in this photo). Then as you walk down the hallway a bit further you'll see the courtyard on the right (also on the left in this photo). Even further you'll enter our kitchen/living room/dining room. The outdoor courtyard is basically surrounded by our office, the hallway, and our dining room.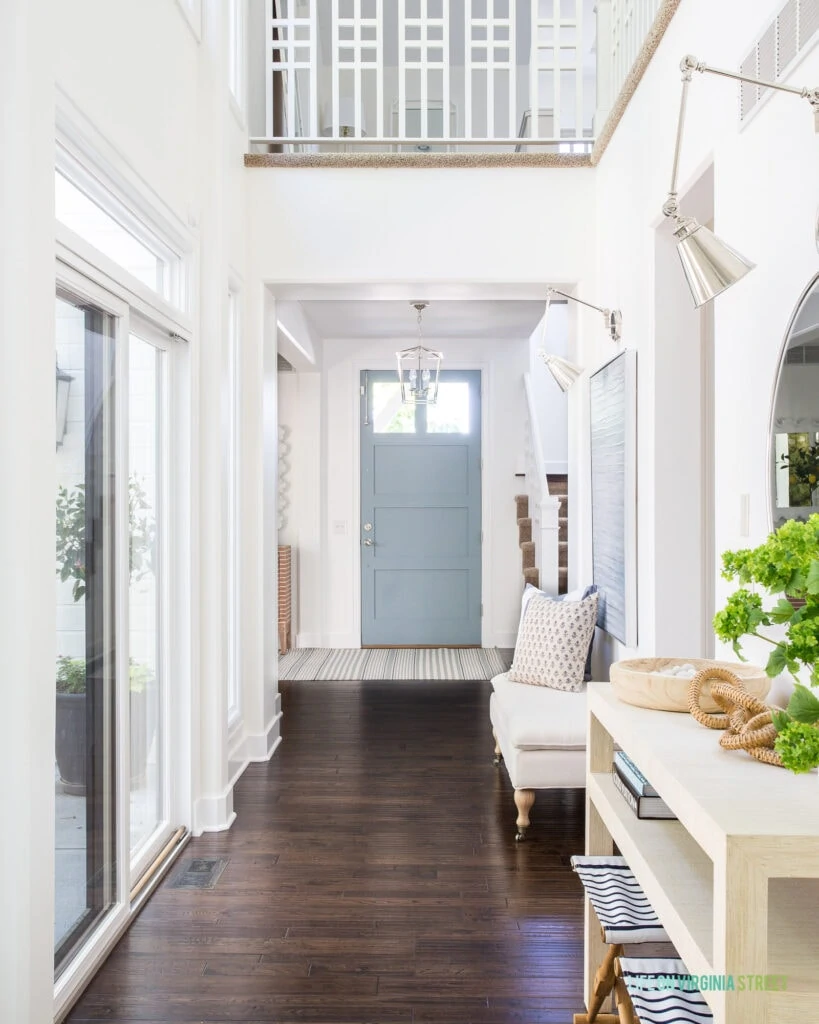 ENTRYWAY HALLWAY SOURCES: Pillowtop Bench | Striped Pillow | Block Print Pillow | Console Table | Striped Stools | Similar Mirror | Wicker Chain | Dipped Vase | Faux Viburnum Stems (similar here) | Swing Arm Sconces | Similar Wood Bowl | Abstract Art (HomeGoods – old)
Although I take most of my interior photos during the day when the light is the brightest, I usually have to wait until 7 or 8 PM to photograph the courtyard. So here's the view from the hallway in the evenings when we tend to use our courtyard the most!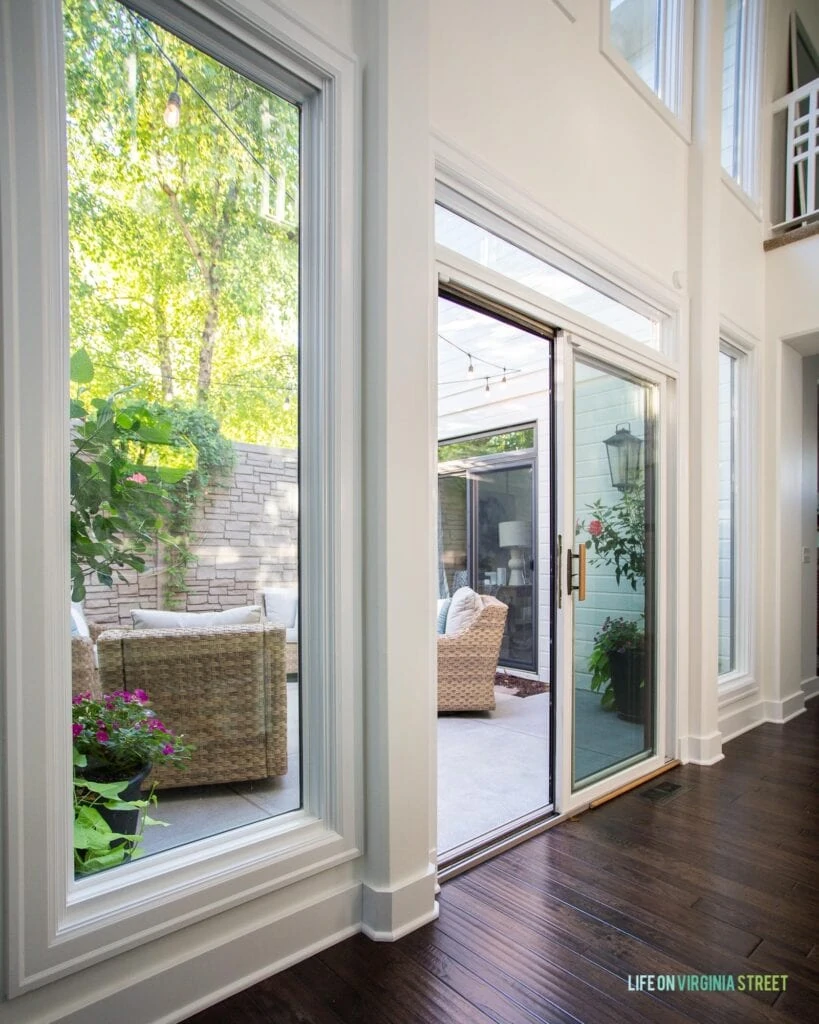 Outdoor Courtyard Tour & Makeover
Despite a massive storm taking out half of one of our birch trees several years ago, they've really started to fill in again nicely. As dirty as they are, they provide so much privacy (and added color) to this little spot!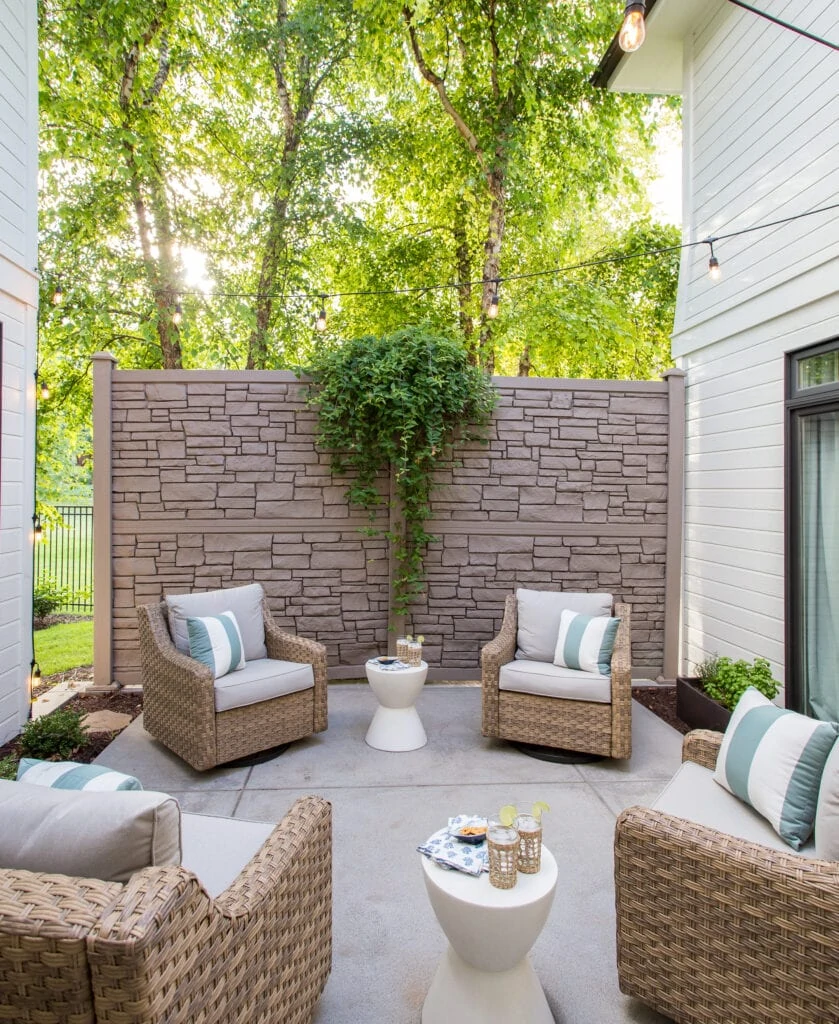 In the few years after we bought the house, we used it all the time! You can see my very first "makeover" in this post. I even wrote a "love letter" to our courtyard after our first full summer in the house. We spent so many nights out here around the fire pit with friends and family. Unfortunately, once we built the pool, we found ourselves using this space less and less.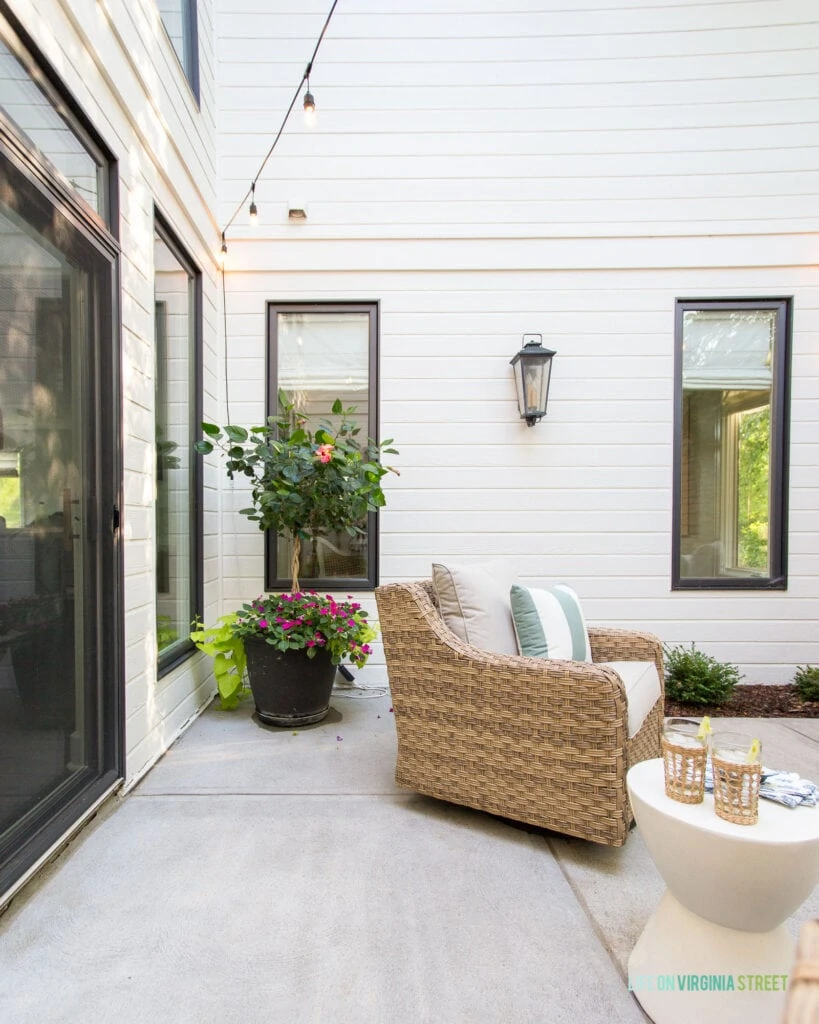 Now that we're home nearly 24-hours a day, this spring I decided I really wanted bring this space to life again! When you've been in your house for nearly four months straight, you have to get a little creative to make things more exciting. Kurtis was skeptical. He also only agreed to use the space if I removed the outdoor rug that was previously here. It's not a super big space (I had to use my wide-angle lens for most of these photos), so it makes updates fairly manageable!
The full makeover started when we bought these outdoor chairs (full set available here). You can read more about our plans in this post on fire pit tables. The chairs have been wildly popular this summer and basically sell out again within an hour any time there is a re-stock. In fact, there was a major re-stock last night and they're already all gone again. But I'm hopeful that means they actually have more in inventory to release soon (I've noticed they drip them out over a few days, likely to manage shipping). And the best part is – I first sold our old set and fire table and it paid for a set and a half of the chairs! Which definitely helped make this a much more affordable makeover.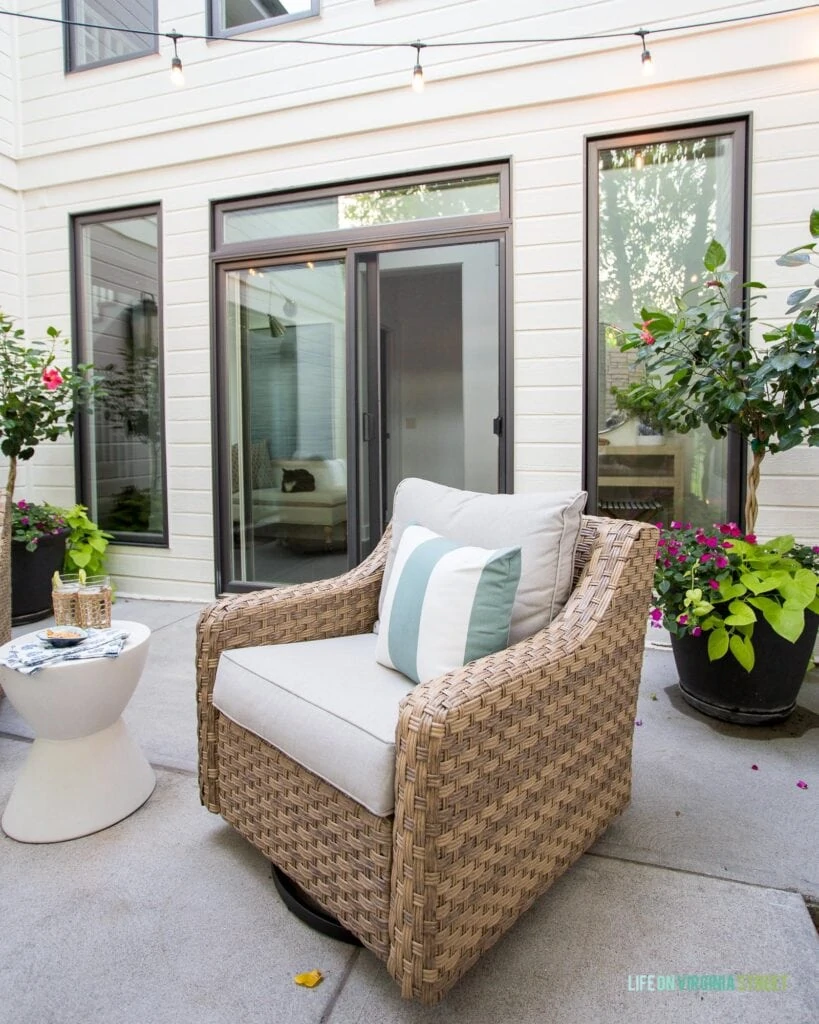 I have big long-term plans for this space that include a much larger remodel. You can see my outdoor courtyard ideas for some inspiration. Although our privacy wall has started to warp a bit (it's nearly 12 years old) it's still getting by. So, the big makeover will likely be several years down the road, if ever!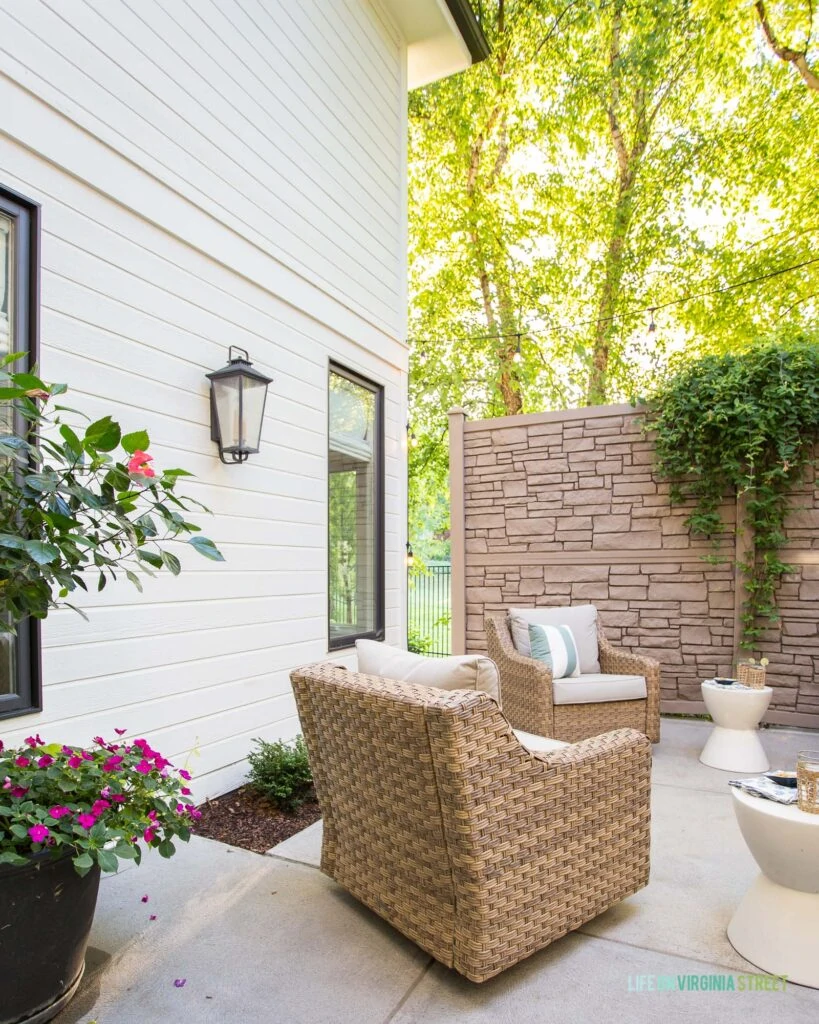 You can even see a peek of my photo gallery wall in our upstairs hallway from this view!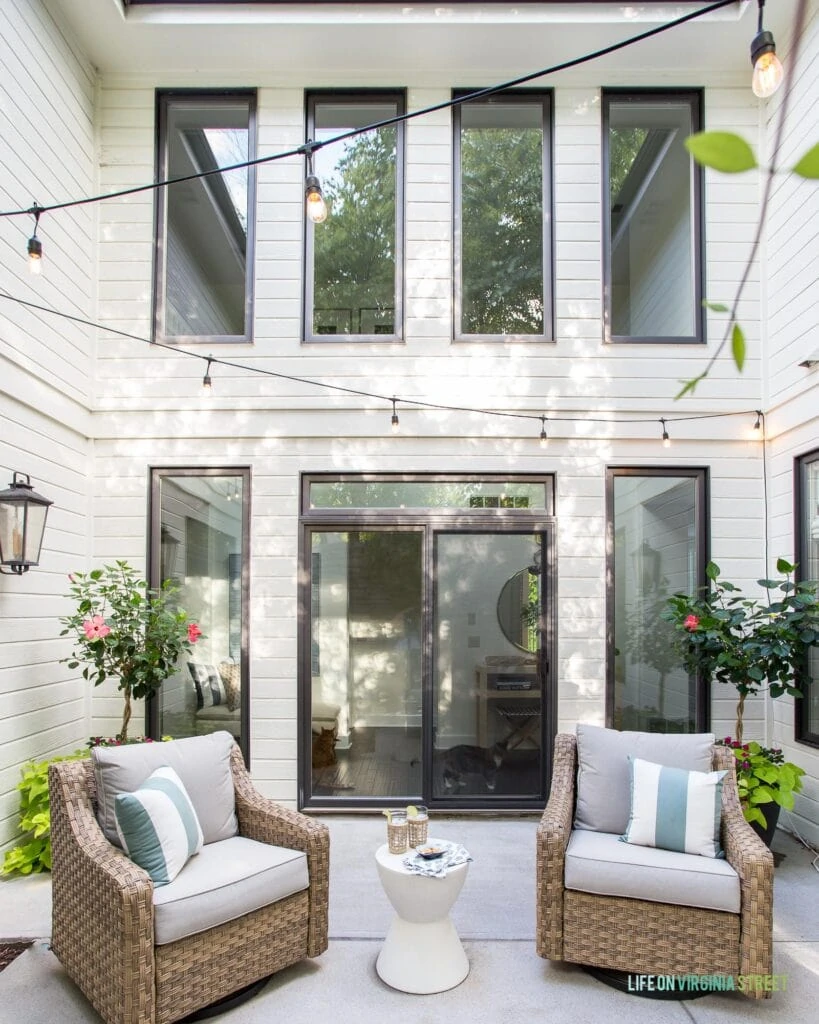 Once the chairs were in place, I wasn't sure what I wanted for surfaces. I found some outdoor coffee tables and side tables I loved, but many were backordered most of the summer. Since the chairs swivel and rock, we had a few spills pretty early on without any taller surfaces to set glasses. I ultimately ordered these concrete side tables because they were heavy duty and could ship pretty quickly. I didn't love the finish on them when they arrived (it's more of a painted concrete look) but now that they're outdoors, I actually love them. They're a bit more modern than I would typically go for, but I kind of love them paired with the chairs! They actually remind me a lot of this Serena & Lily side table for less than half the price!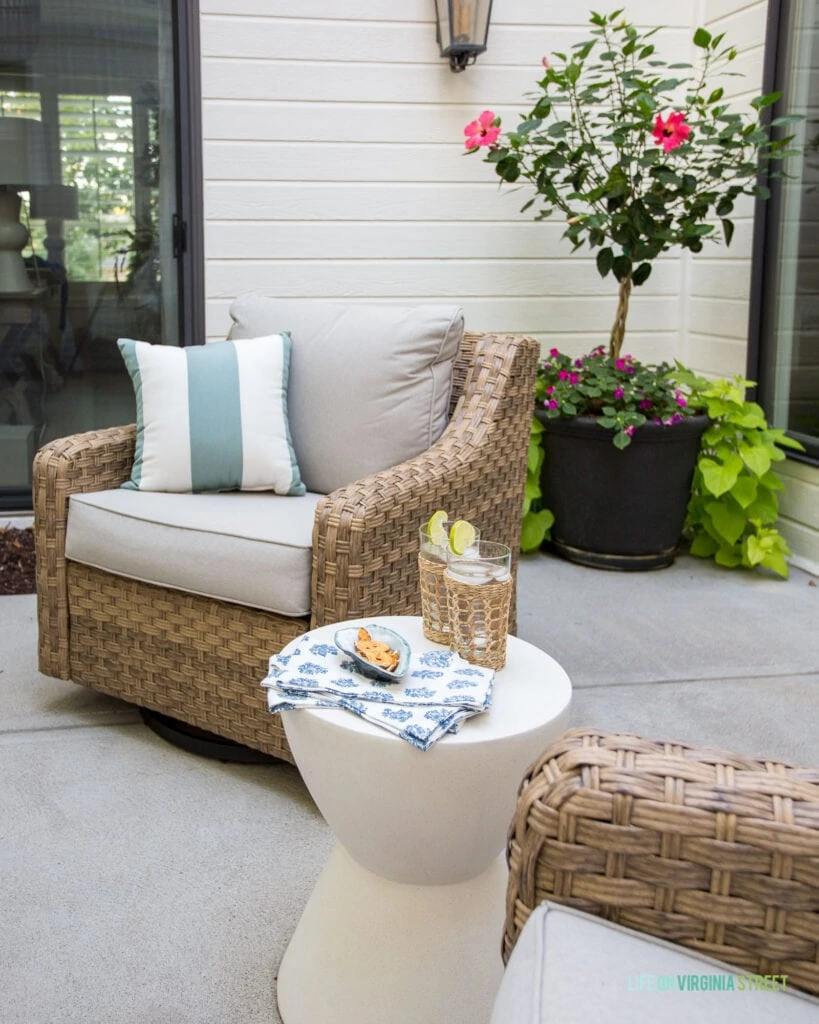 We try to come out to "Sarah's Bistro" at least once a week, if not more frequently. We'll usually come out for a drink before dinner or just to chat. Kurtis has also come out here occasionally on the weekends for his morning coffee. You can also see I picked up some pieces from my outdoor dining essentials post!
We've found these cane-wrapped drinking glasses are a great solution for outdoors. Although they are actually glass, the cane helps with any condensation and slippage. I actually bought mine at Pottery Barn, but I see that Serena & Lily also carries the exact same sets as well. And I've had these floral block print napkins for years and I'm so glad to see they brought them back in stock! I may have to get a green set next time they go on sale!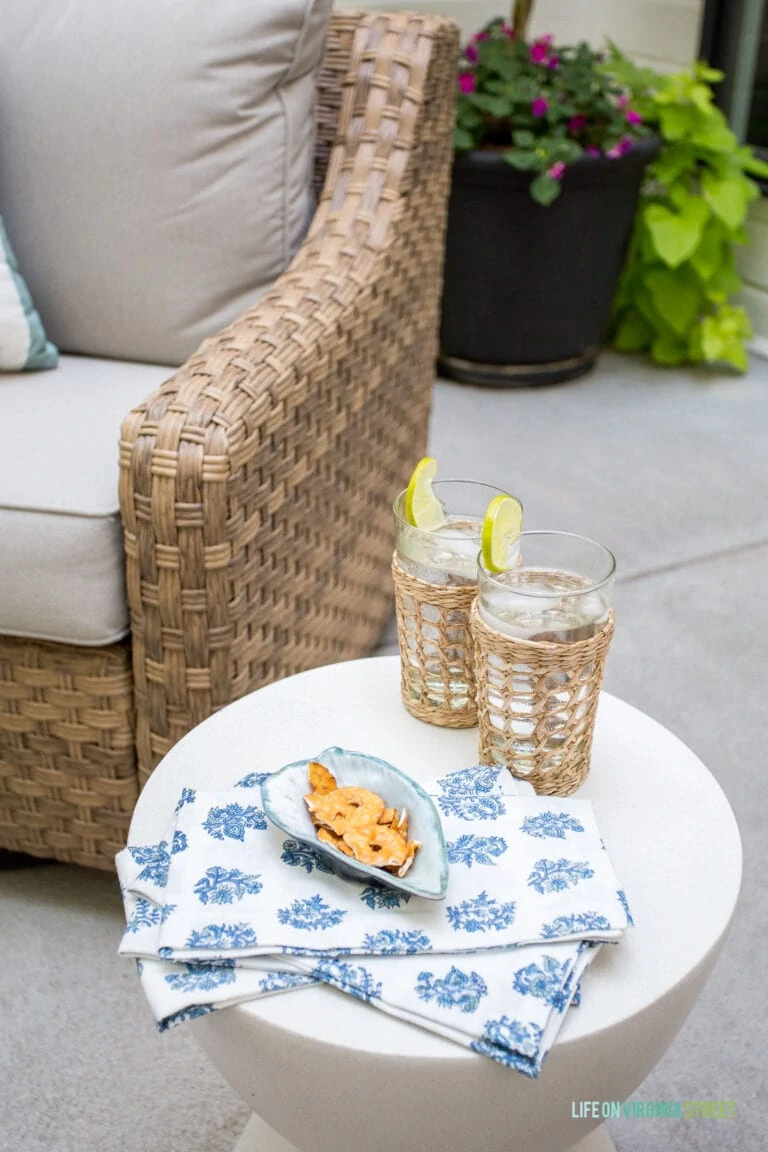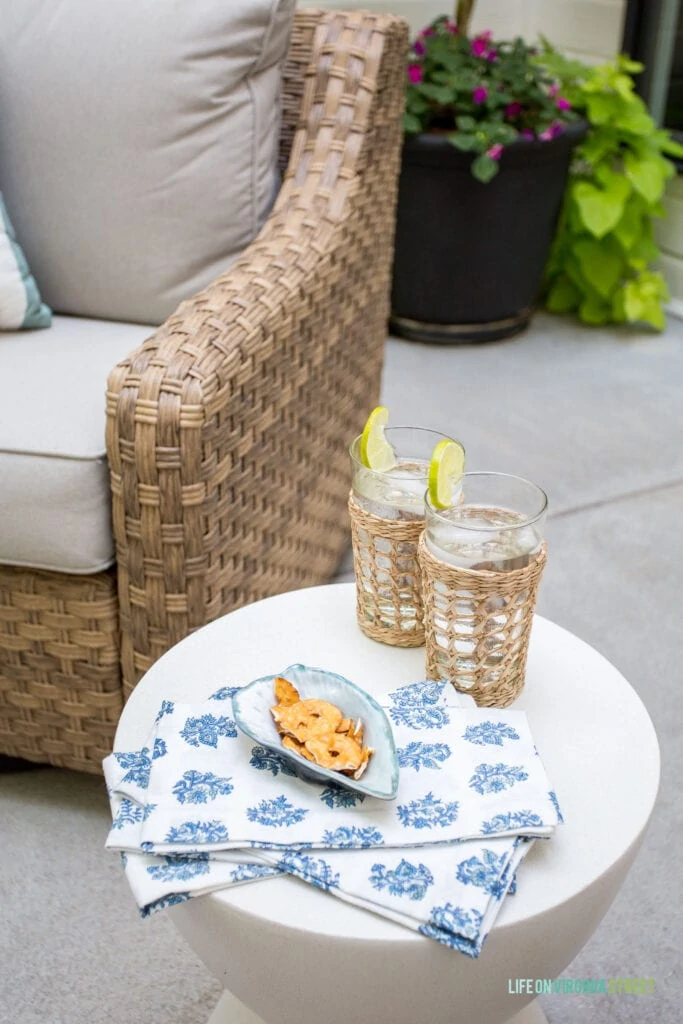 We may eventually add a fire pit or coffee table to the space but I didn't want to rush that decision. So we're continuing to live with it like this and may move forward next summer or when I find something I really love! Speaking of, I really love our shatterproof string lights! Although we haven't had a lot of violent storms this summer like we typically do, it gives so much peace of mind to know the hail can't break these bad boys!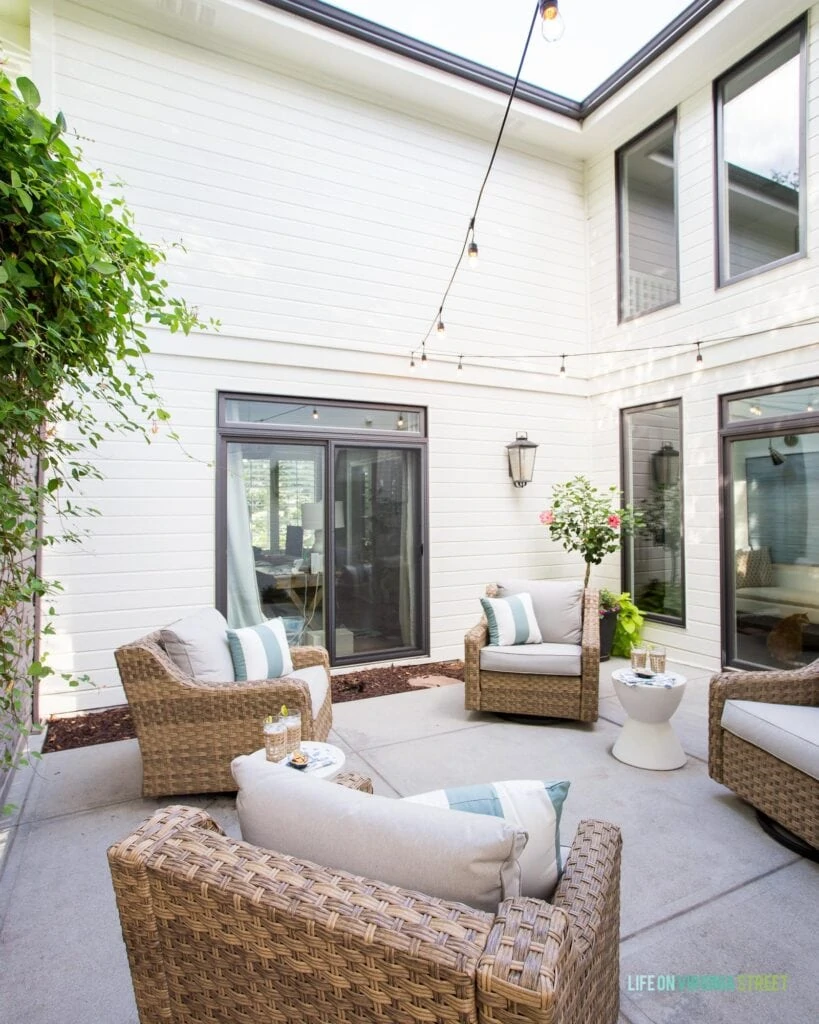 And we can't forget about my planters! I think the courtyard is where my love of planters really began many years ago. This year, I used a hibiscus topiary, impatiens and sweet potato vines.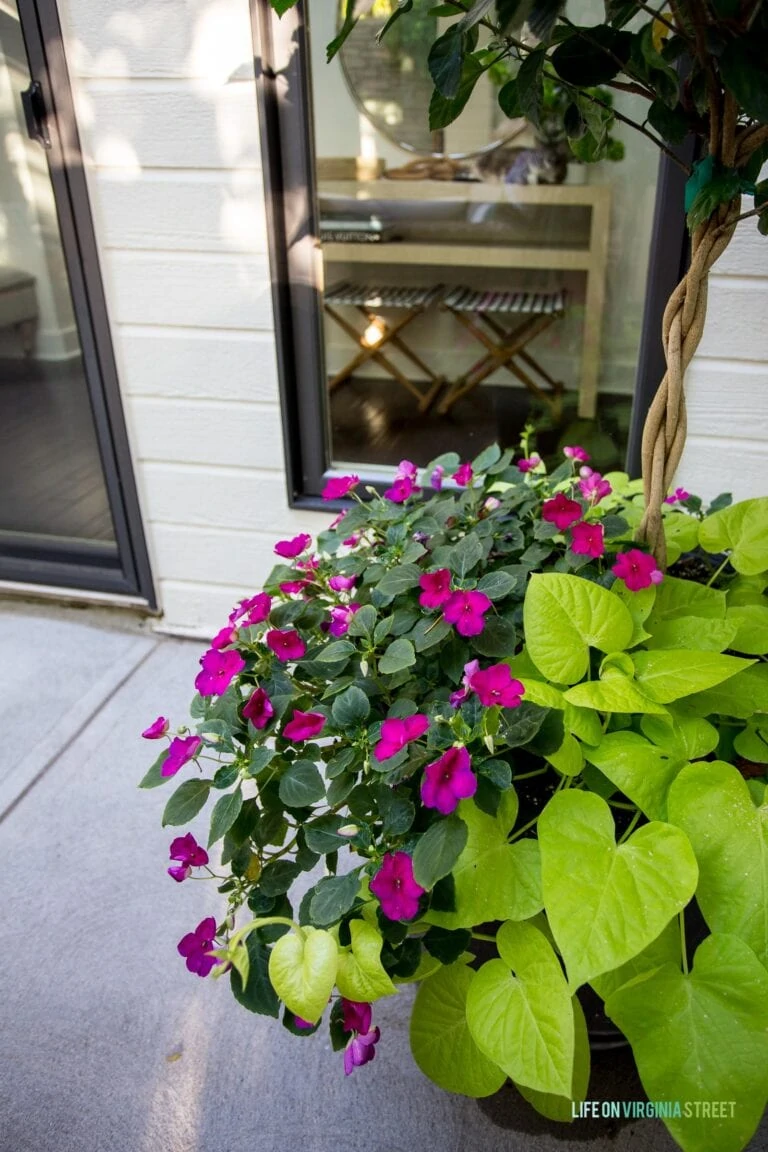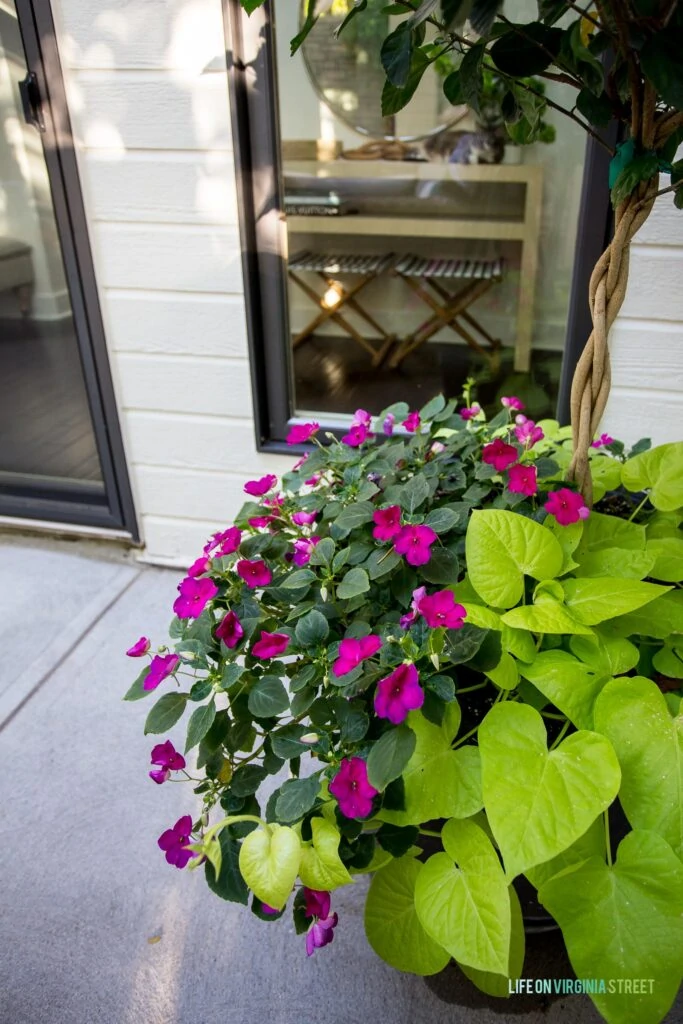 The hibiscus are so beautiful when they are blooming! They add such a fun pop of color!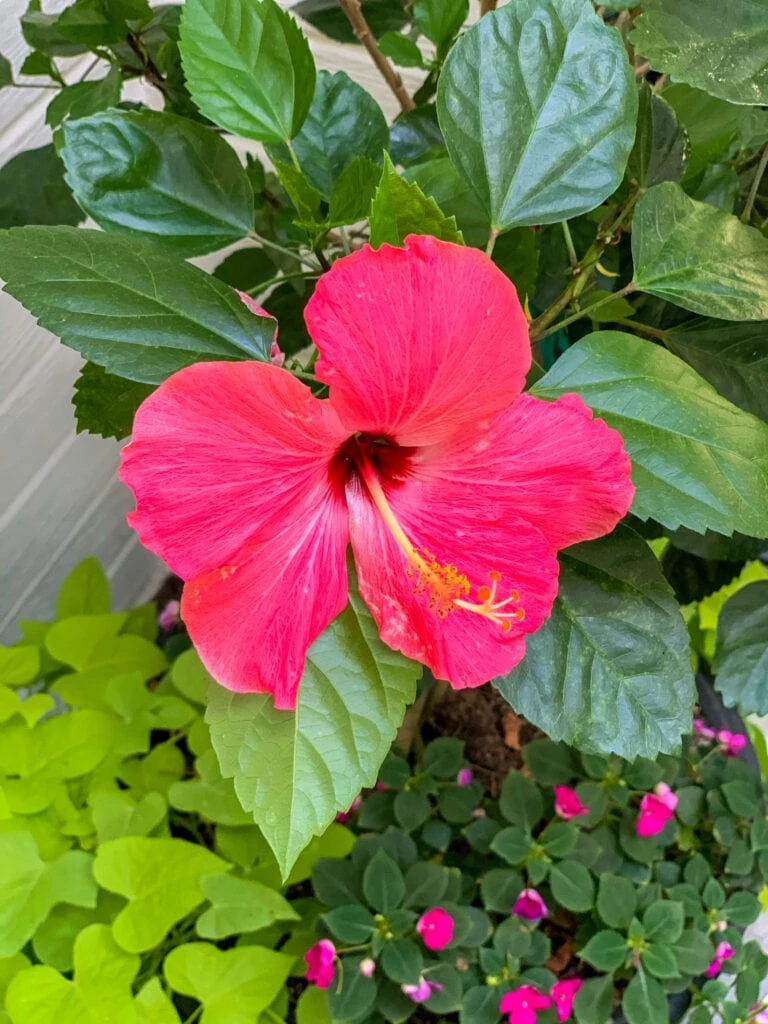 I love that we've fall back in love again with this spot. And Kurtis was definitely right on the 'no rug' policy. Since the space is fairly enclosed and doesn't get much breeze, it has the ability to dry out so much more without a rug down. The ground looks a bit sparse for now, but a few of you suggested painting a rug or pattern on the concrete. I may still do that at some point because I love that idea! It may be dependent upon if we ever add a coffee table or fire pit down the road.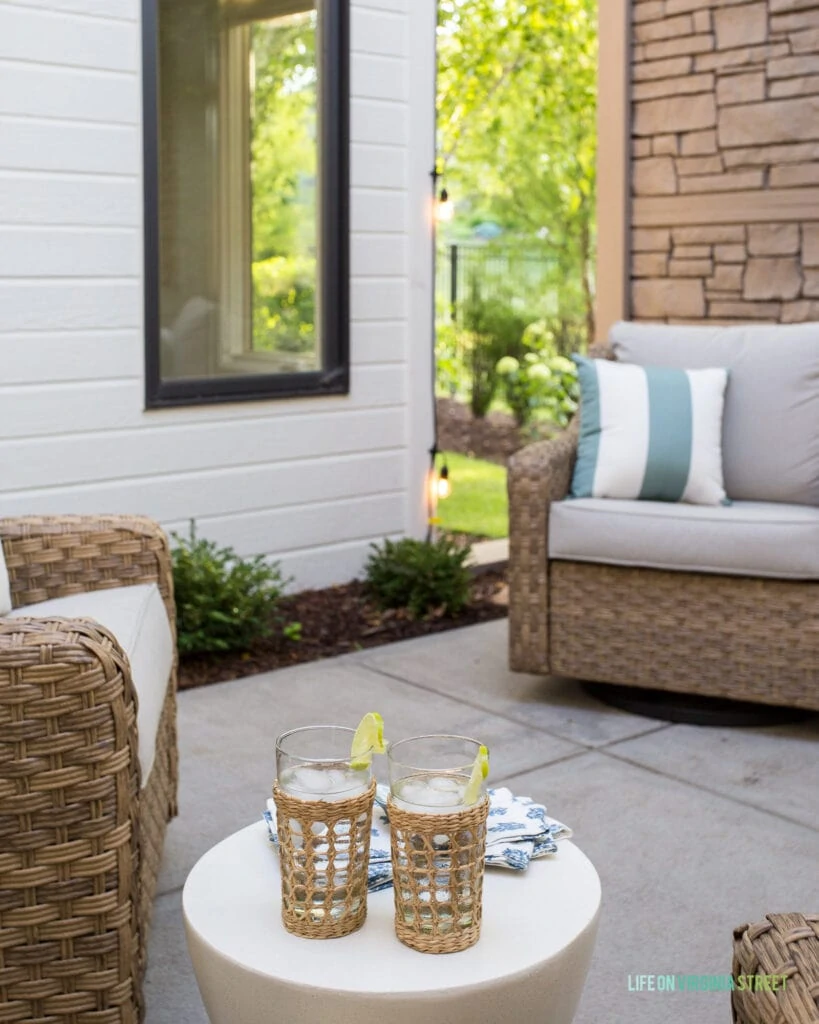 We're so excited to have this little spot updated and functional again!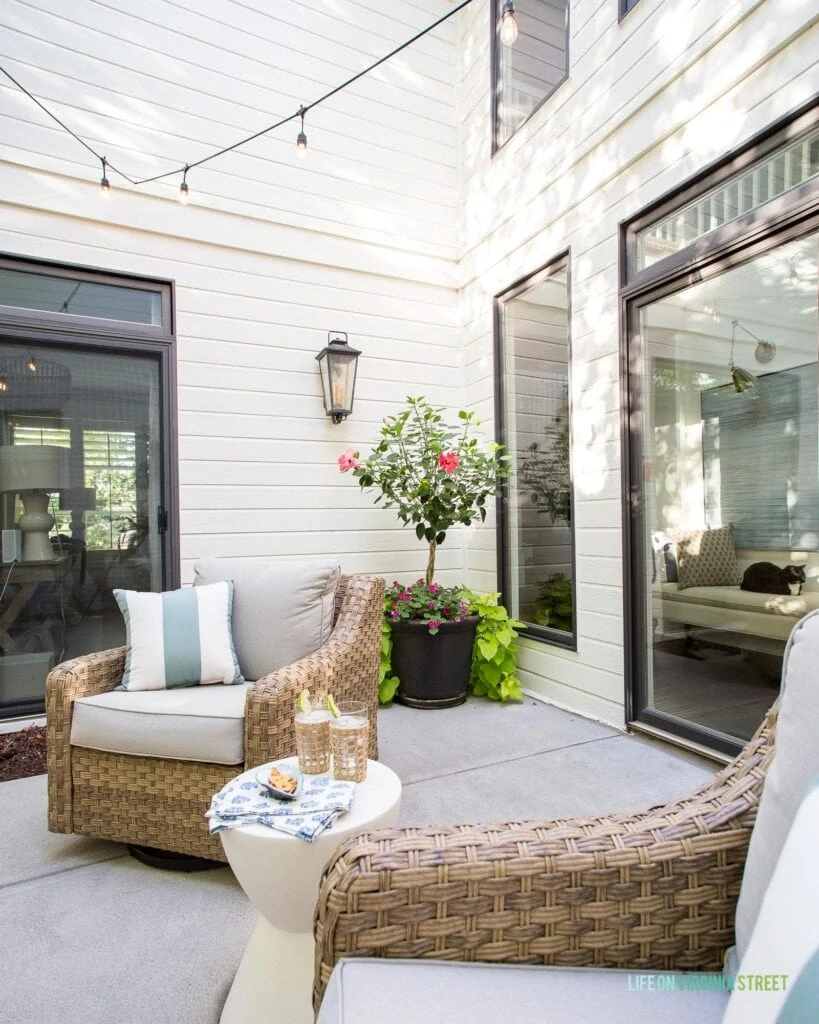 And I think the cats are even more excited than us to have this space all cleaned up and used. We typically let them out here with us and it's definitely their happy place too! "Sarah's Bistro" is definitely the hottest new spot in town 😉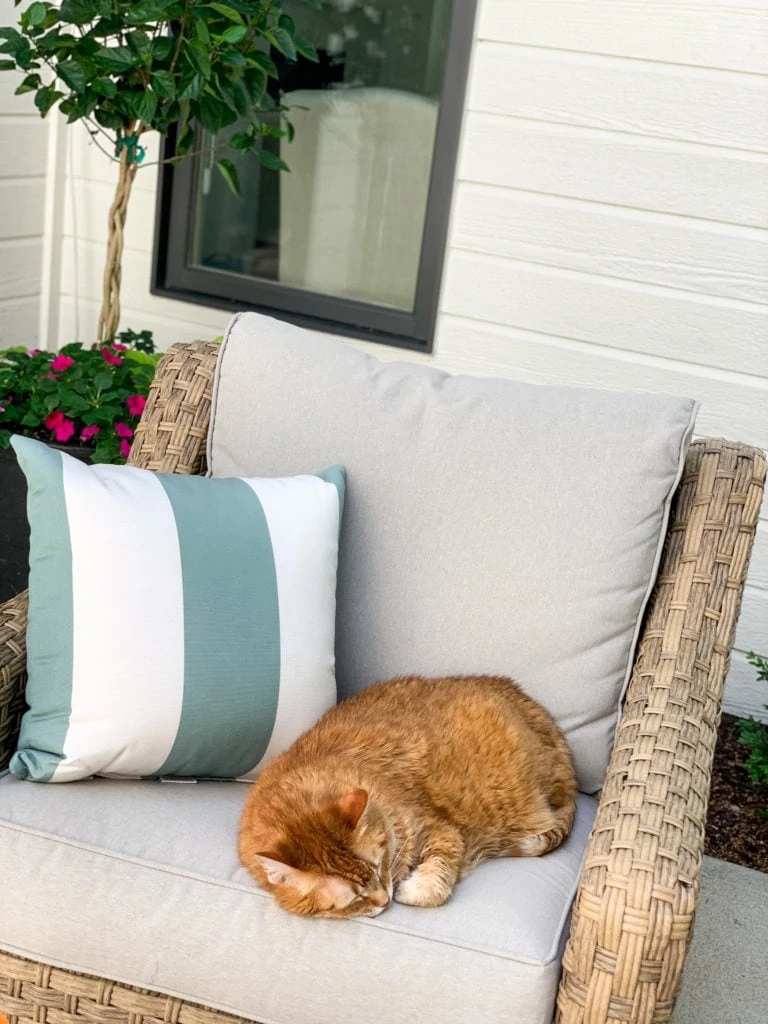 Although I've included sources along the way, here's a master look at everything in one spot! Simply click any of the images below to learn more about each item from our outdoor courtyard refresh!

Additional Outdoor Inspiration
I hope you all have a great weekend!
If you would like to follow along on more of my home decor, DIY, lifestyle, travel and other posts, I'd love to have you follow me on any of the following:
Pinterest | Instagram | Facebook | Twitter
disclosure: some affiliate links used