A comprehensive guide to outdoor furniture. Includes top picks for various sets based upon outdoor space, furniture characteristics, and where to shop for the best outdoor patio furniture!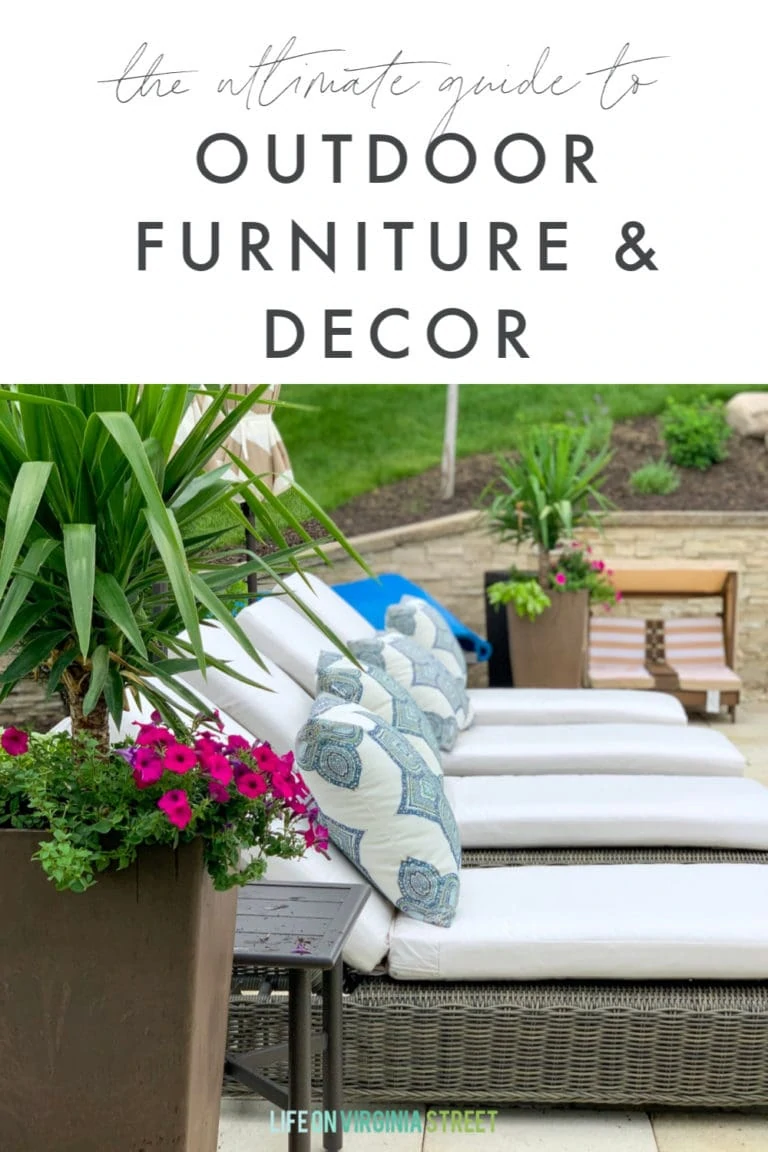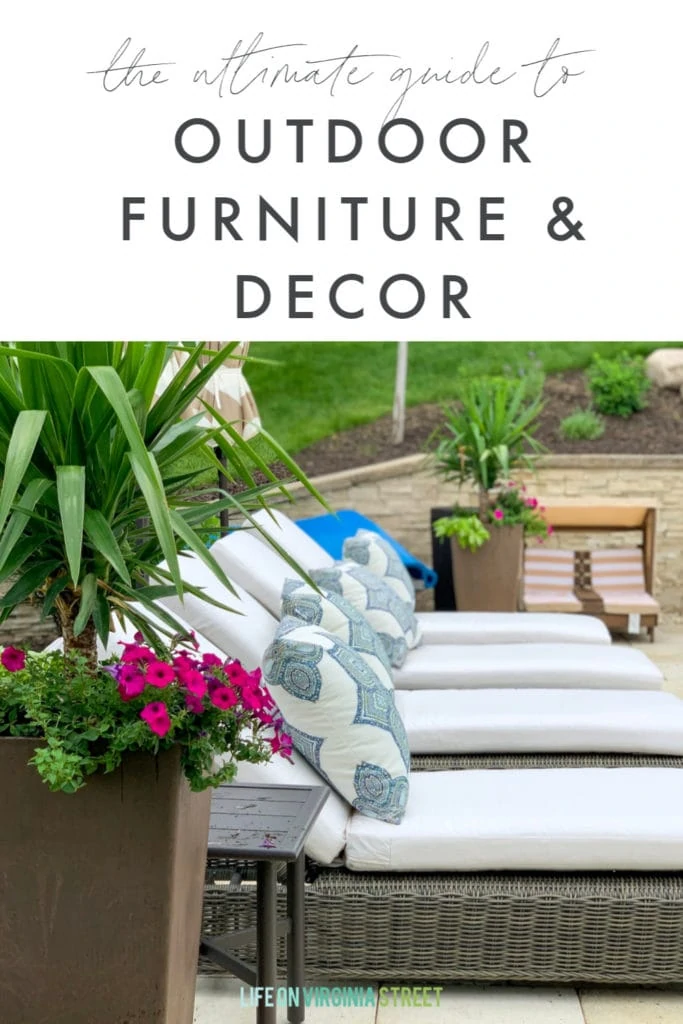 It's no secret I live for summer and months spent outside! And after this past year, I'm even more excited to get outdoors. Today's post comes highly requested from several people. Although I originally published this post two years ago, I've updated it to include additional resources as well as updated product picks that are in stock this year. At the end of the post, I've also included links to tons of other resources on my site related to outdoor living!
Over the years, I've gradually learned more and more about what to look for in outdoor patio furniture and where to find the best value for your money. So, although I definitely don't consider myself an expert, I'm going to be sharing the ultimate guide to outdoor furniture and patio decor today! And since things seemed to sell out super early last year (and I anticipate the same for this year), I wanted to get the guide up as soon as possible!
This post contains affiliate links for your shopping convenience. Click here to read my full disclosure policy.
What To Look for In Outdoor Furniture
When we were building our pool and I was asking for outdoor furniture recommendations, I heard the same things over and over and over again. And since the advice was from all over the country, it started to feel like universal truths. Following are my top functional characteristics to look for in outdoor furniture based on personal experience and from reader advice:
Read as many reviews as possible! I've found them to be so helpful when deciding on furniture and to know what is most likely to last the longest term. This is also an important step if you're buying online and won't have a chance to test the comfort level before purchasing.
Pay attention to fabric options. If you plan to leave your furniture out in the elements, fabric choices are critical. Sun and water can wreak havoc on your outdoor furniture so you want an option that is durable. I am a strong believer in the Sunbrella line of fabrics, but there are other great options that are also weather resistant and beautiful. Again, reviews can help big-time here!
If you're buying furniture with any sort of metal on it (even most woven pieces have a metal frame), look for powder-coated aluminum or steel. This will help ensure your furniture doesn't rust all over your patio as it gets wet over time.
If you're looking for wood outdoor furniture, I've heard teak or cedar is the way to go and will ultimately be the most durable in the elements!
If you're buying patio furniture with cushions, be sure to look for frames that fit standard cushion sizes. We learned this the hard way with our first set of pool chaise lounges! We absolutely loved the chairs and bought them because of the oversized cushions. The only problem was that the cushions rotted after three years (definitely not performance fabric), and we weren't able to find cushions that fit the oversized frame. As I bid out options, the cushions ended up being almost as much as the entire chair and cushion so it didn't make sense to replace them. We ultimately ordered these chaise lounge chairs that come with a universal sized cushion that allows for a Sunbrella Rain slipcover (which sounds essentially indestructible). We've had them nearly two years and have been very happy with them!
Store your furniture when not in use. We leave our furniture outdoors (uncovered for the whole summer) but then move it to our garage for the winter months. You could also purchase covers to keep your furniture covered when not in use.
Where To Shop for Patio Furniture & Decor
There are so many places these days that have a great selection of patio furniture and decor! I've actually used all of these sources at one time or another and think they're all worth checking out! Each of the names below is clickable and will take you right to their outdoor section for easy searching!
Our Outdoor Furniture
As mentioned above, our original chaise lounges served us well for about three years until the fabric started to rot. Admittedly, we never covered them or brought them inside during the summer months. The frames were still in near perfect condition the day we sold them locally. So, these are ones I would recommend (especially for the price) if you're willing to be diligent about covering the cushions or bringing them in! They were oversized and super comfy!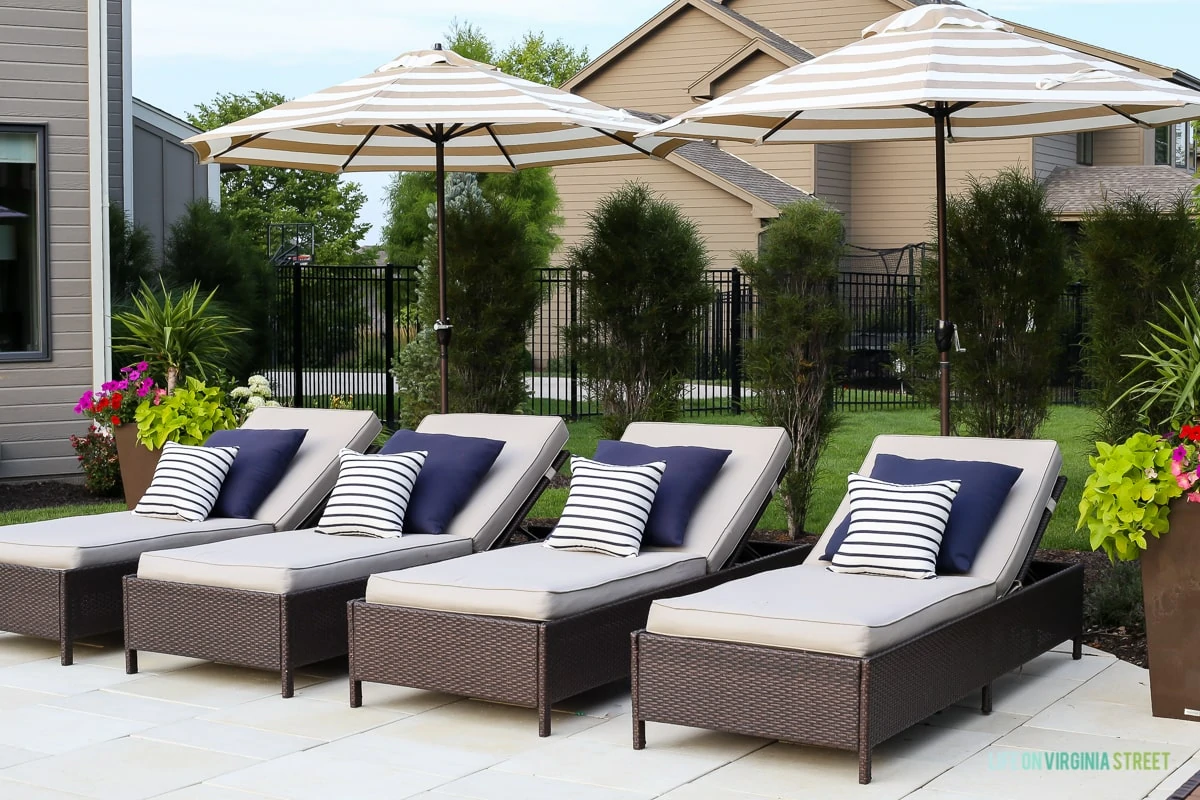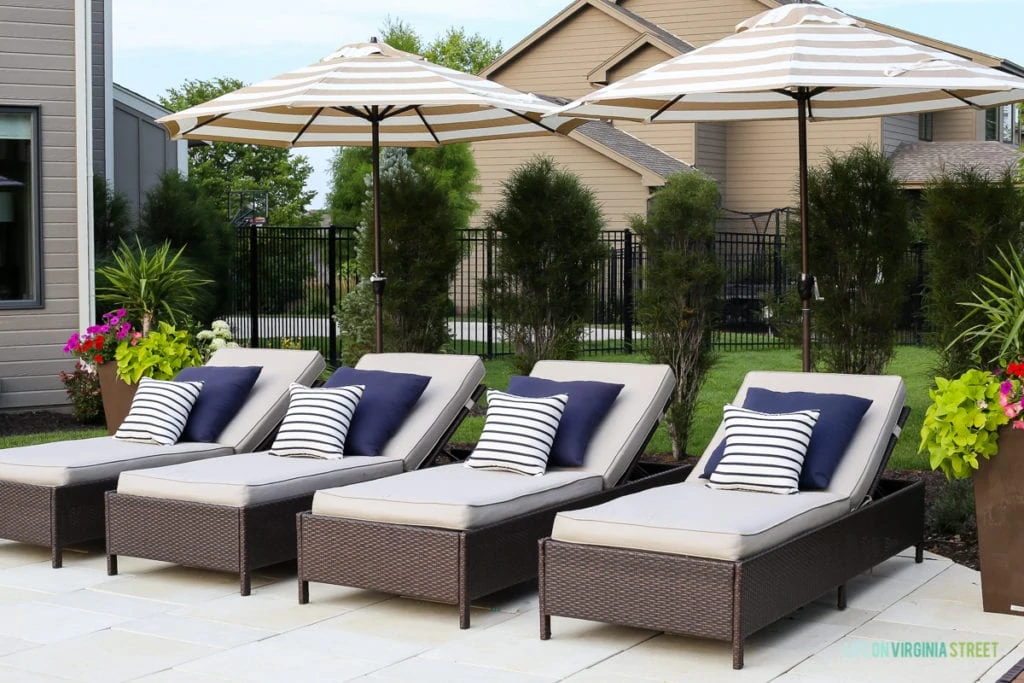 POOL DECK SOURCES: Chaise Lounges | Striped Pillows | Solid Pillows | Resin Planters | Striped Umbrellas
We've had these chaise lounge chairs for nearly a year now and have been impressed so far by the quality! They are smaller than our last set, but still comfy. It was apparently rather quickly just how much water and dirt the Sunbrella Rain cushions repelled compared to our prior chairs! And the tubing/wicker on the chair itself is incredibly strong and resilient. We're hoping we can get 5-10 years out of these! I didn't do a great job of taking photos last summer, but you can see a view of them below.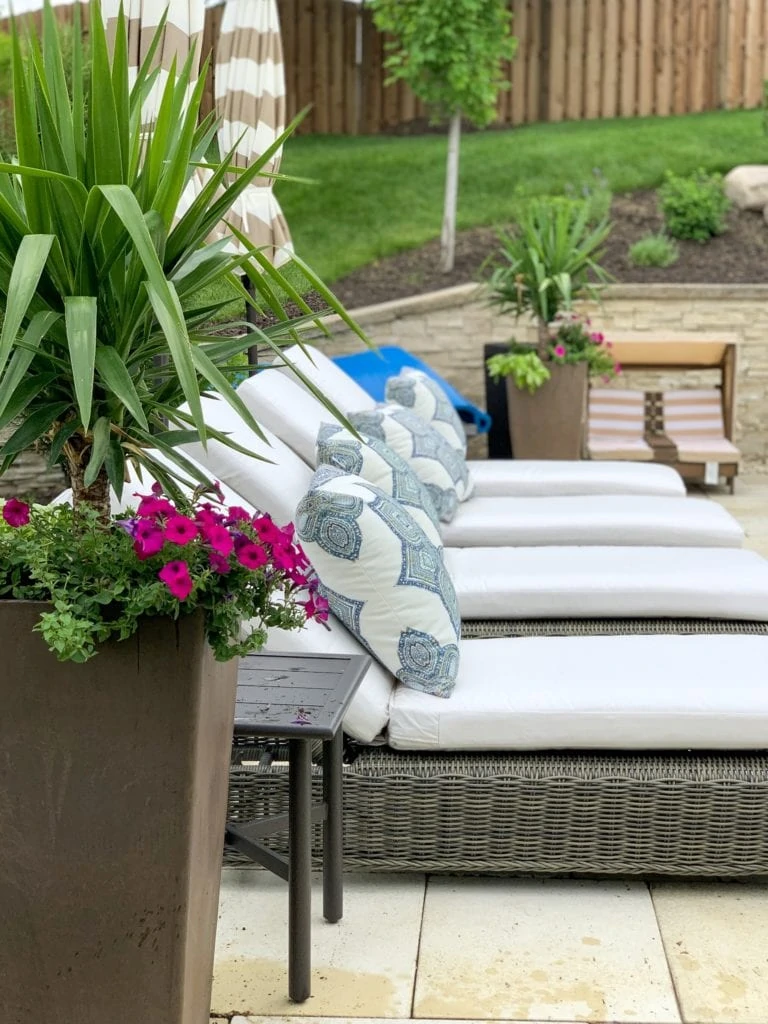 POOL DECK SOURCES: Resin Planters | Woven Chaise Lounges & Cushions | Medallion Pillows | Striped Umbrellas | Children's Cabana
One of our favorites sets, and probably the one we've been most surprised by, is this conversation set from Walmart! We figured it would last a season or two, but it's held up remarkably well. It's also super comfy!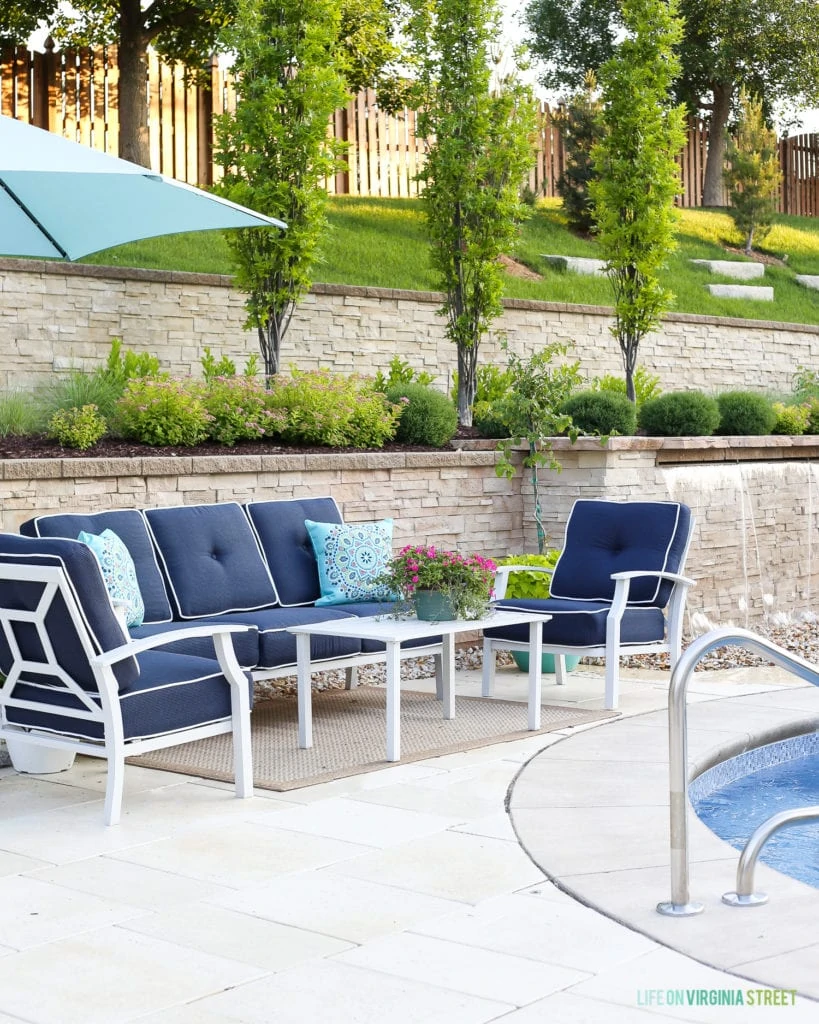 In our courtyard, we hade an old fire pit set we bought from Costco nearly seven years ago and just sold last year! The set had held up really well over the years but we were just looking for a change! We're huge fans of fire pit tables that have propane tank storage built-in! If you're looking for a fire pit specifically, be sure to check out my post on fire pit tables & unique filler options!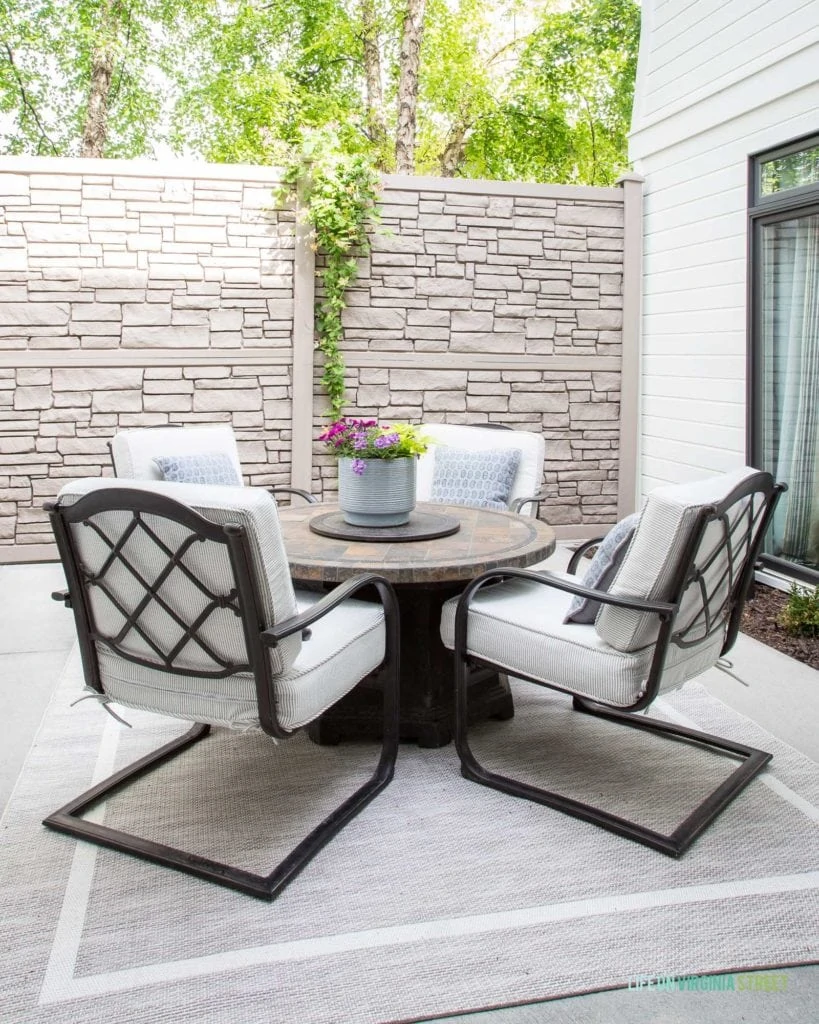 Last year we changed over to the swivel/glider chairs in this set. Walmart used to sell the pair of chairs as a set and it sold out constantly last year. They brought back the full set, but it continues to go in and out of stock. The quality is exceptional for the price, and the furniture also comes with custom covers! This set looks very similar, just darker.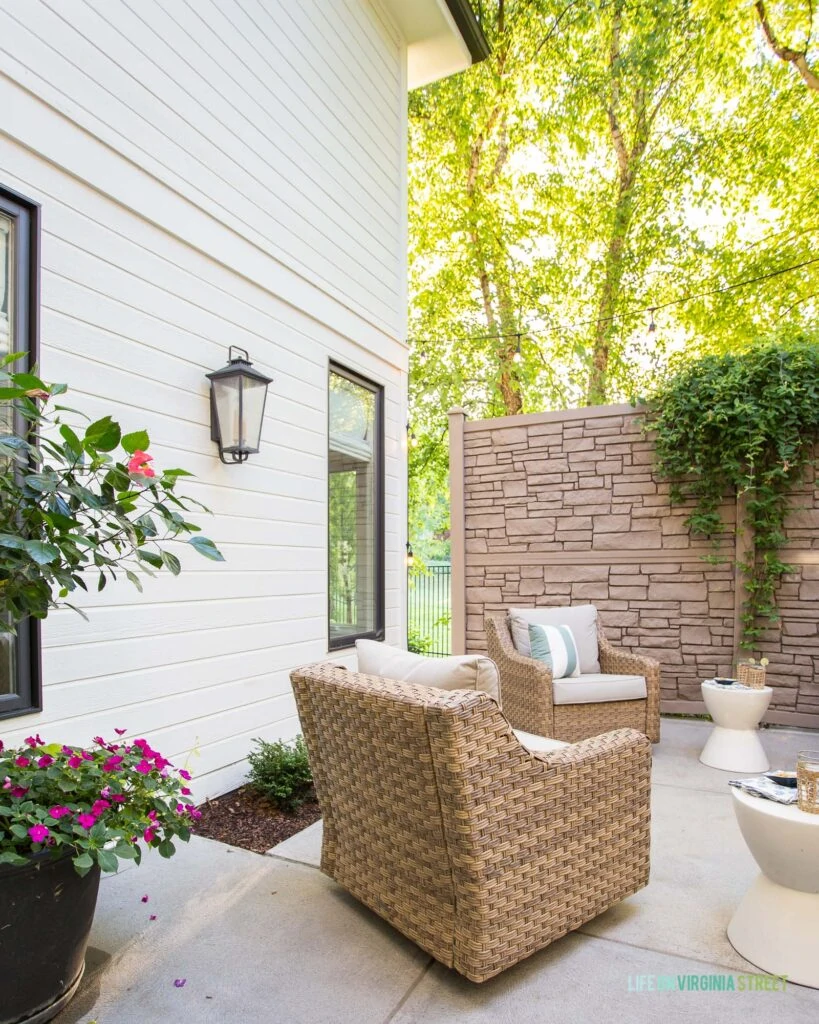 COURTYARD SOURCES: Swivel/Glide Woven Armchairs (full set here) | Concrete Side Tables | Sunbrella Striped Outdoor Pillows | Lantern Wall Sconces | Shatterproof String Lights | Block Print Napkins | Cane Wrapped Glasses | Oyster Shell Dishes | Faux Stone Wall | Similar Black Planters
We recently updated our table on our back patio to this round version, but these chairs from World Market have lasted us several years and are still in excellent condition! I found similar options here with excellent reviews since ours are no longer available. And this rug has been out here as long as I can remember (5+ years?) and is still going strong!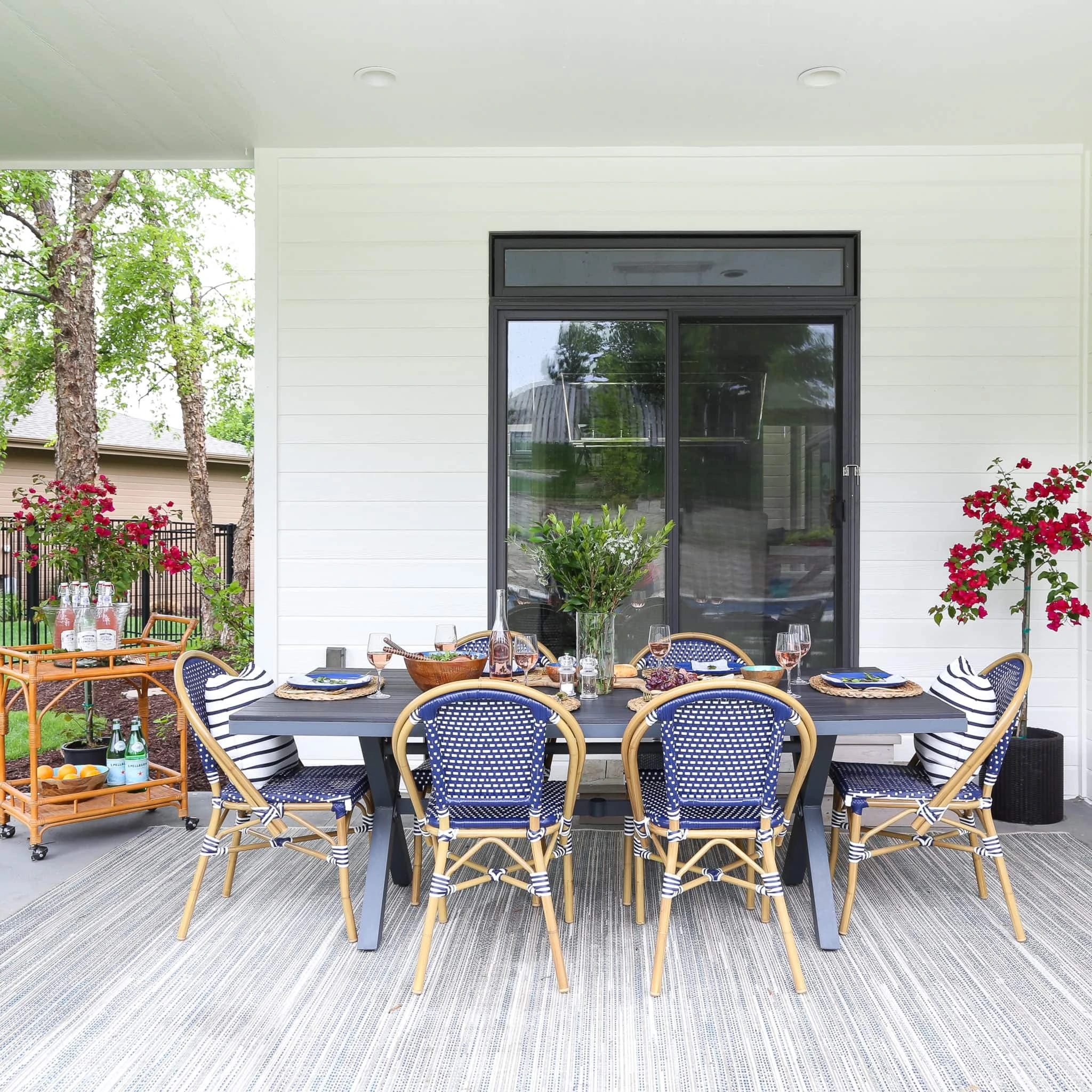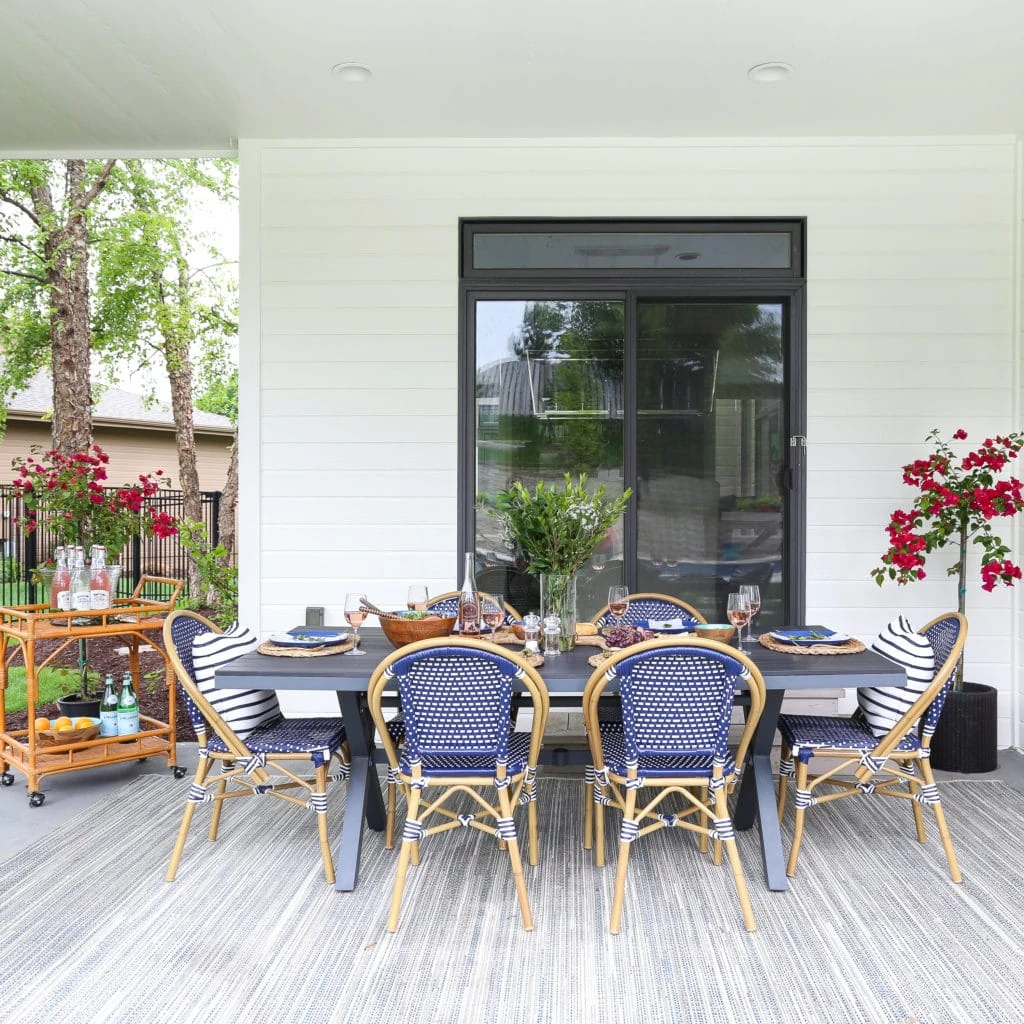 Now I'll be sharing my top picks for current season outdoor furniture and decor! I've scoured the reviews and have tried to pick the best and most stylish options out there!
Outdoor Chaise Lounge Picks
Following are my top picks for comfy & stylish outdoor chaise lounges. Simply click any of the images below to learn more about each item.

Outdoor Dining Set Picks
Following are my top picks for outdoor dining furniture. Simply click any of the images below to learn more about each item.



Outdoor Living Sets
Following are my top picks for outdoor living sets. As a side note, I have a separate post dedicated to Outdoor Coffee Tables & Side Tables. Simply click any of the images below to learn more about each of the outdoor living sets shown below.



Outdoor Decor Picks
Following are my top picks for outdoor decor. Simply click any of the images below to learn more about each item.


Any other places/sources you love that we should all know about?
Additional Outdoor Inspiration
Looking for even more summer and outdoor inspiration? Be sure to check out the following posts. Click on any of the blog post titles below to be taken directly to the post!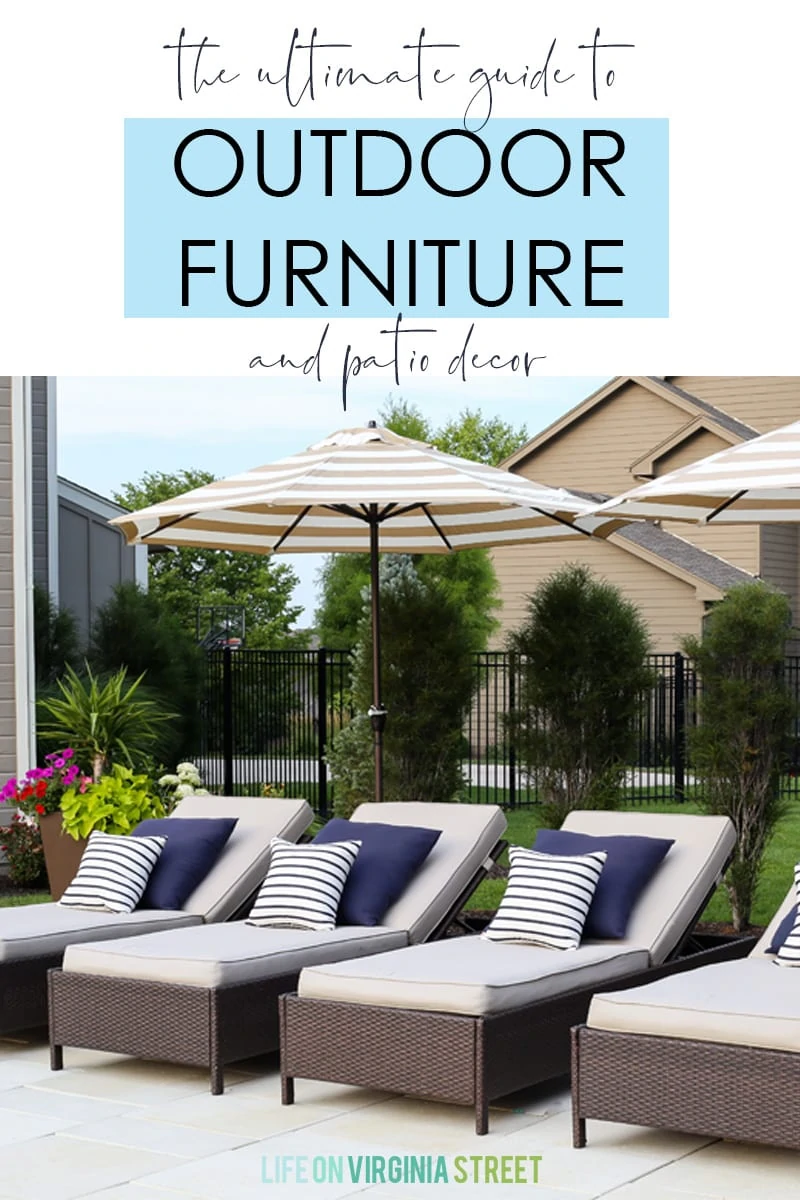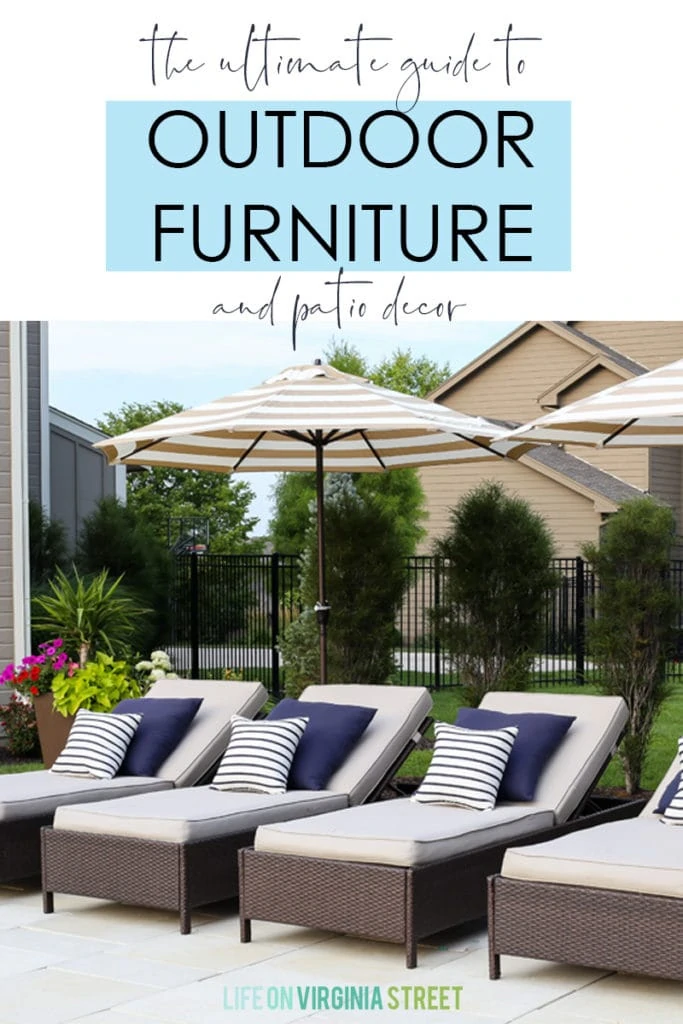 If you would like to follow along on more of my home decor, DIY, lifestyle, travel and other posts, I'd love to have you follow me on any of the following:
Pinterest | Instagram | Facebook | Twitter 
disclosure: some affiliate links used