A collection of the best exterior white paint colors that work well to achieve the modern farmhouse and coastal home vibe. Real-life examples are shown to demonstrate each of these warm white paint colors that work well on exteriors!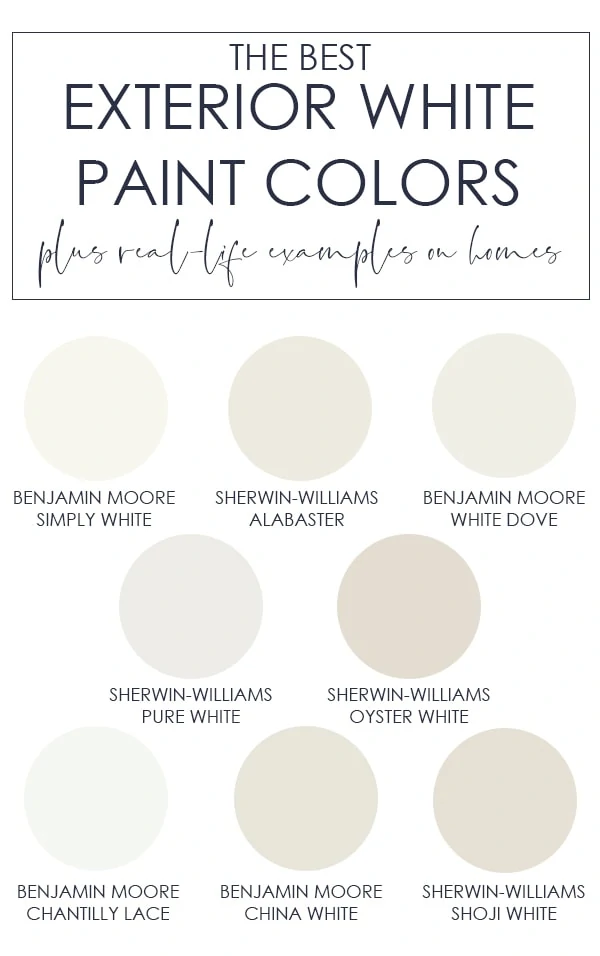 A week or two back, I mentioned we're finally at the point to have our exterior house painted. From the day we moved in over five years ago, I knew I'd eventually want to have things lightened up a bit. So, for the past few weeks I've been researching white paint colors that work well in an outdoor setting. We wanted something a bit warmer to ensure we aren't completely blinded by the new look. Today I'm sharing the best exterior white paint colors!
This post contains affiliate links for your shopping convenience. Click here to read my full disclosure policy.
The Best Exterior White Paint Colors
Last year, I shared some white houses with black window trim inspiration. Although our window trim will be more of a bronze color (we're leaving the existing color), the post helped guide me to figure out the overall look I wanted. However, at the time, I hadn't actually looked at which colors any of the inspiration photos were. I know picking exterior paint is a totally different art form than picking interior paint!
So, I asked my Instagram followers for advice and got so many great recommendations! As the color recommendations poured in, I immediately did Google searches on each of the colors to find images to represent each option. I then did some additional research to hear what many pros said. Surprisingly, it is very hard to find reliable exterior paint color photos. Today I'm sharing all of the great ideas with each of you along with real-life inspiration photos of the white exterior paint colors recommended! Be sure to also check out my post on the best white paint colors for interiors for even more inspiration and color ideas!
If you're wanting to try large, pre-painted samples, I'd definitely look into Samplize for picking the perfect exterior white paint color for your home! Their large peel and stick samples are made with real paint (not dyed to mimic the color) so it can definitely help narrow down your top picks.
Benjamin Moore Simply White
Benjamin Moore Simply White has long been a favorite of mine for interiors, but I wasn't sure how it would translate on exteriors. Turns out it looks amazing there as well! The front door color in the image below is Benjamin Moore Azores which pairs perfectly with the modern farmhouse vibe!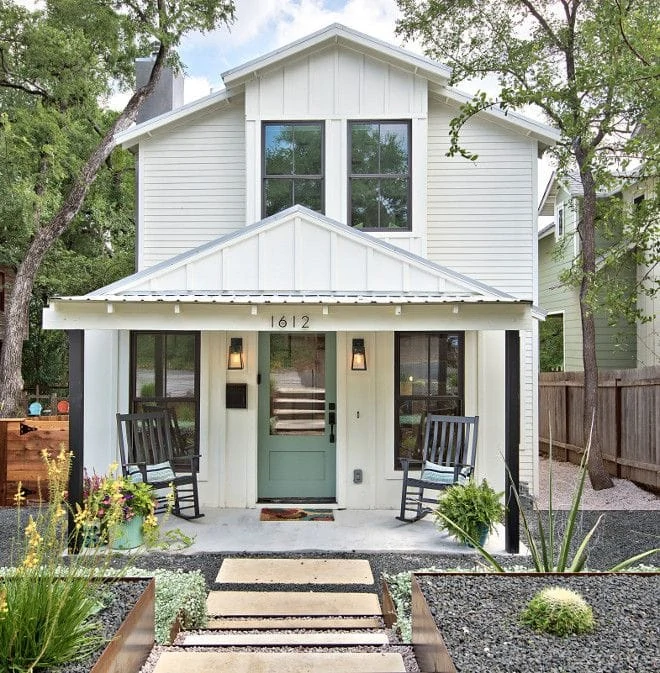 Sherwin Williams Alabaster
Sherwin Williams Alabaster was one of the most recommended colors by my Instagram followers. Many have used it on their house and each and every person loved it!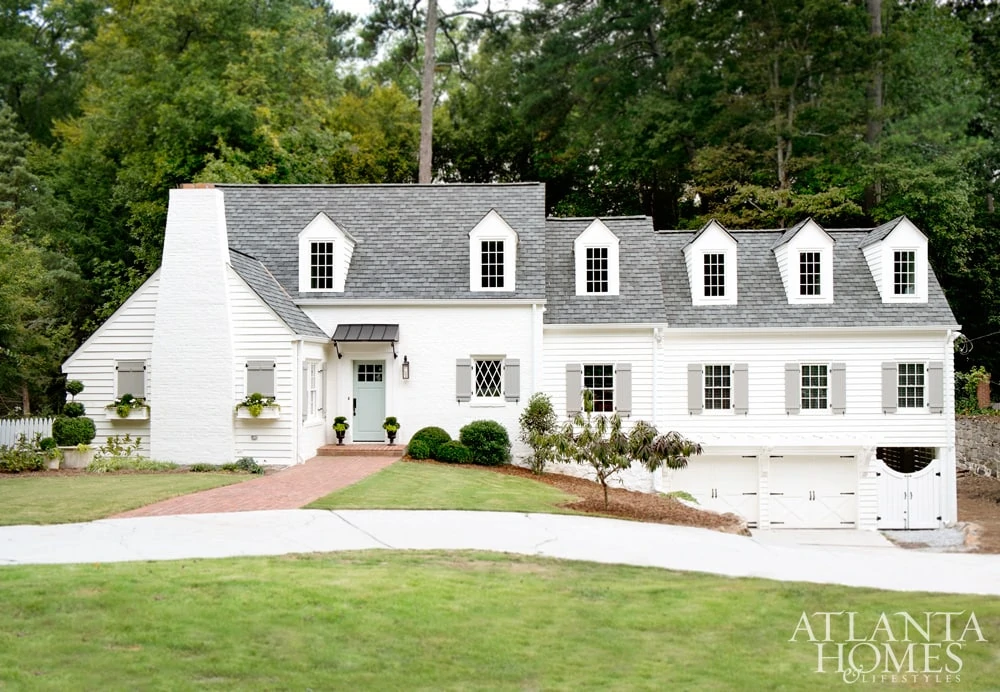 Benjamin Moore White Dove
Benjamin Moore White Dove is a favorite for kitchen cabinets, but it also ranks high for exterior white paint! It has a hint of gray in it, making it slightly cooler than some of the other white paint options.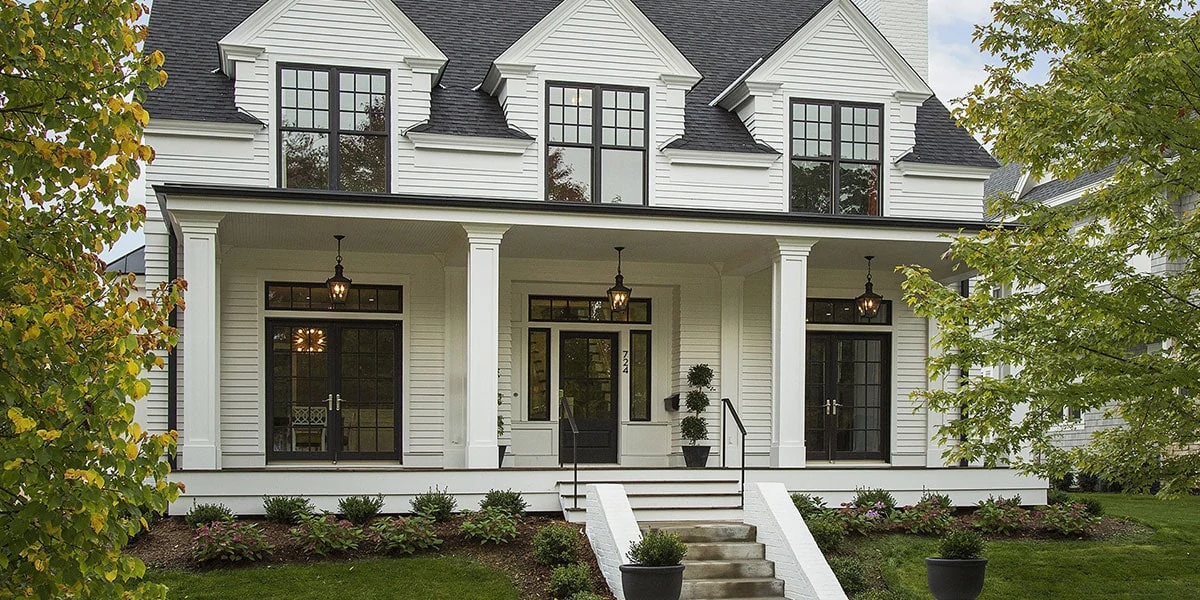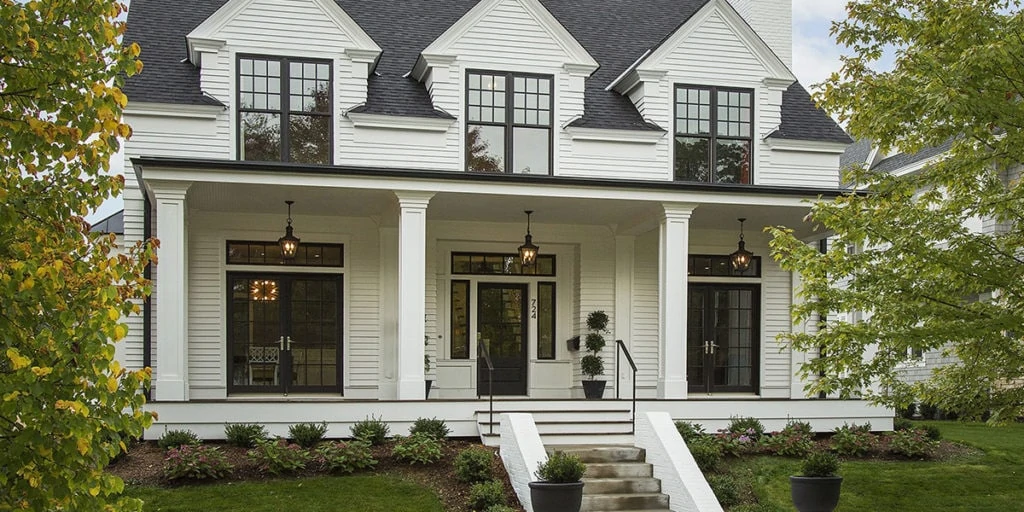 Update: This is the color we chose! Be sure to check out our Benjamin Moore White Dove Exterior House Reveal! It's full of even more photos and reason why we went with this color!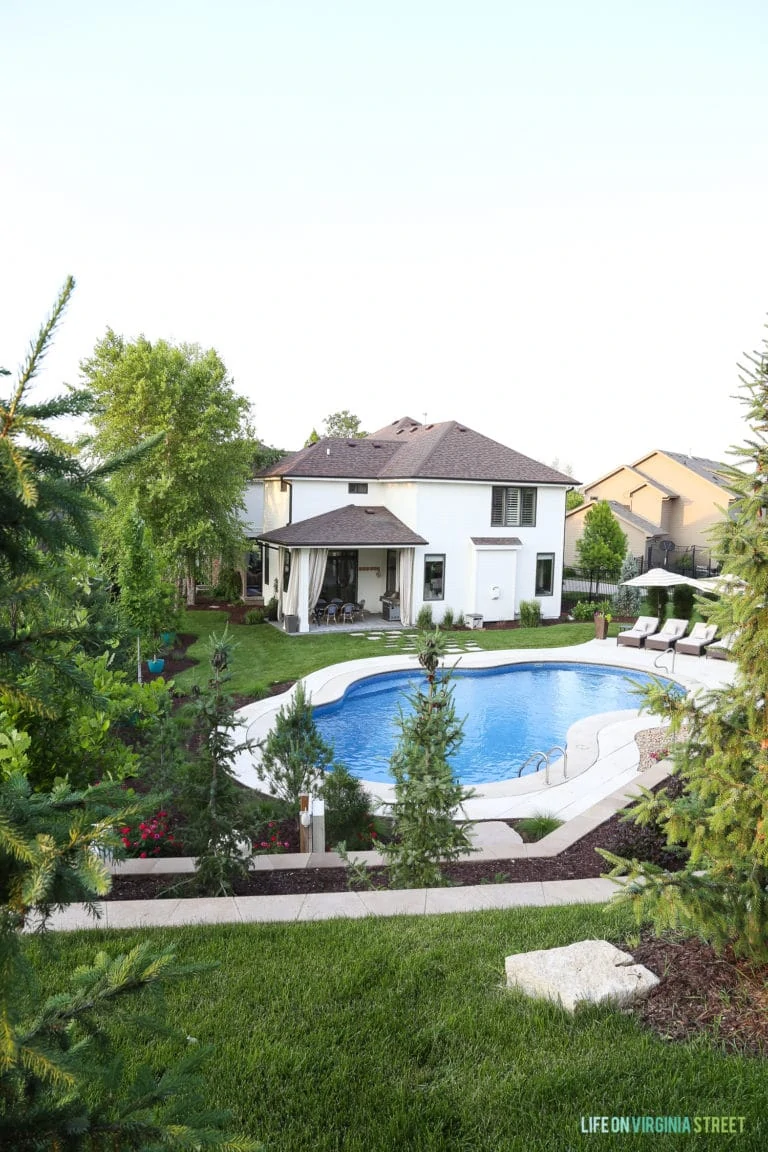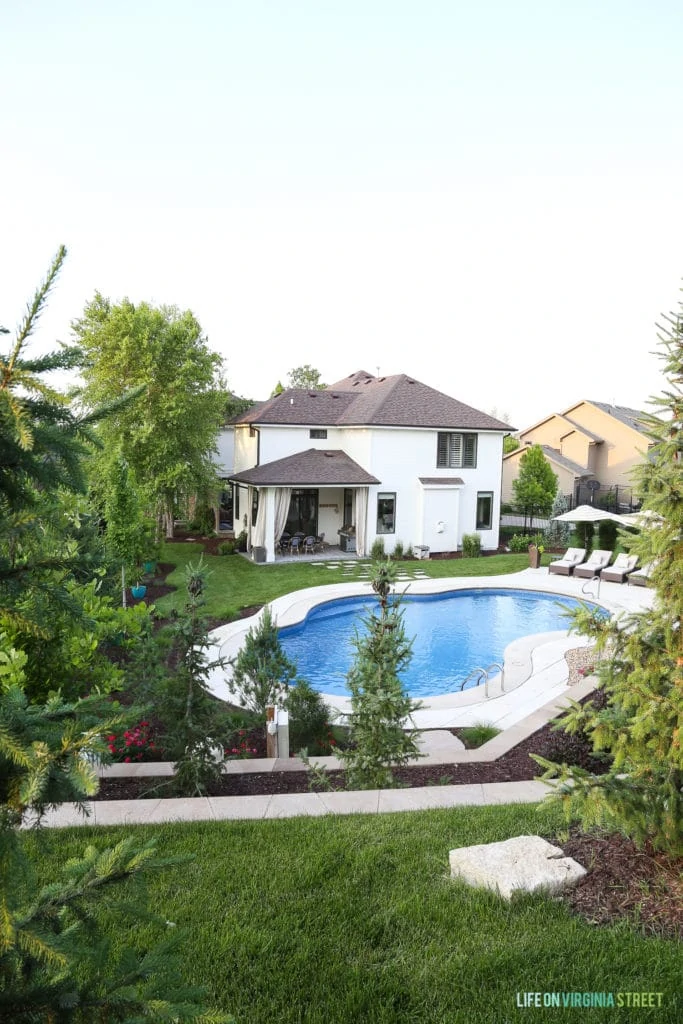 Sherwin Williams Oyster White
This is a warm white that looks beautiful on painted brick or with brown accents on the exterior of your home.
Sherwin Williams Pure White
This bright white painted brick and board and batten paired with black window trim and walnut wood accents look beautiful even against freshly fallen snow!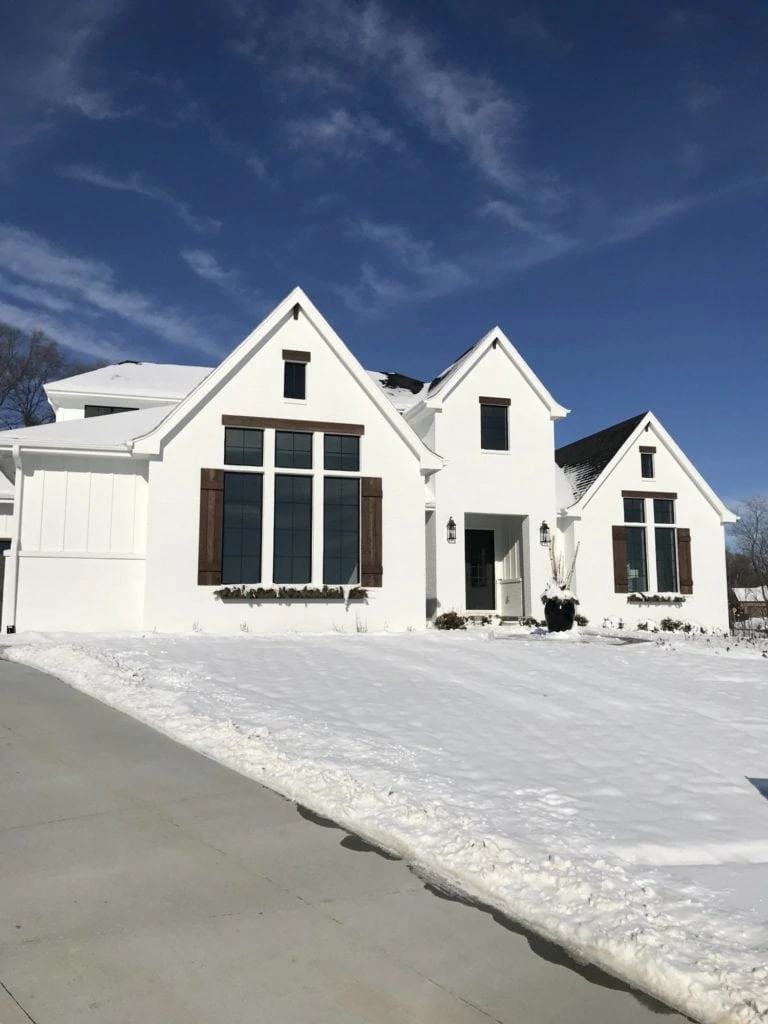 Benjamin Moore Chantilly Lace
Benjamin Moore Chantilly Lace is perhaps the "whitest" of the options, and works well with the modern farmhouse vibe!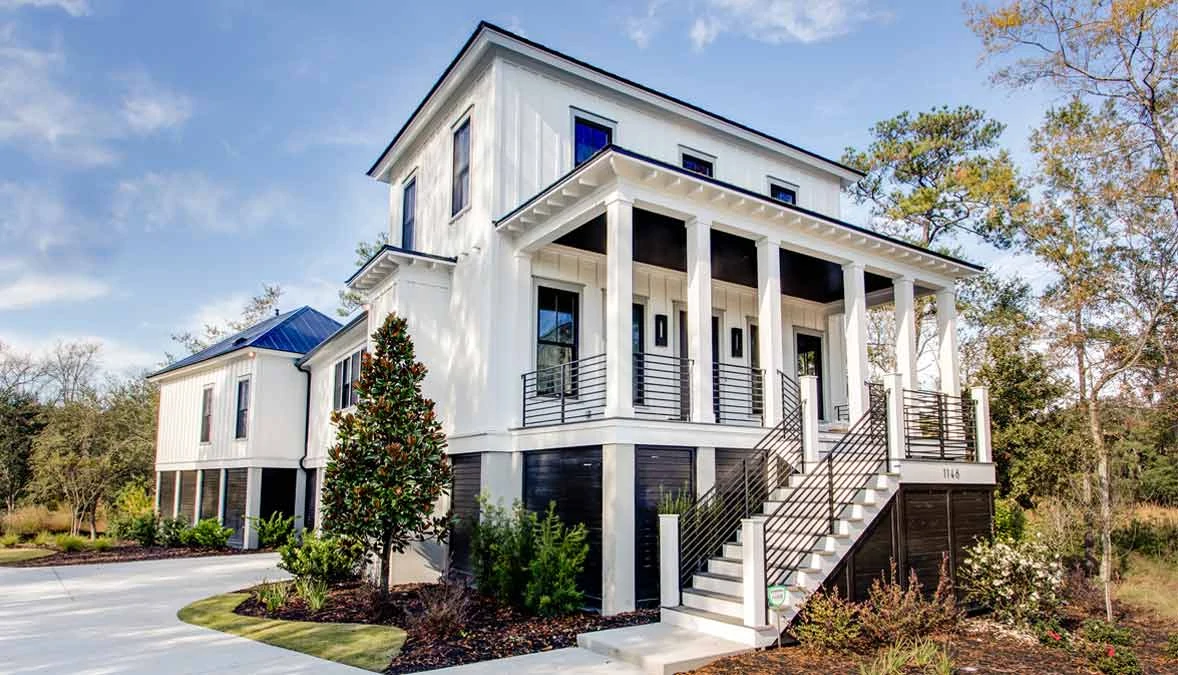 Benjamin Moore China White
Another warm white option, Benjamin Moore China White pairs well with brown and bronze accents!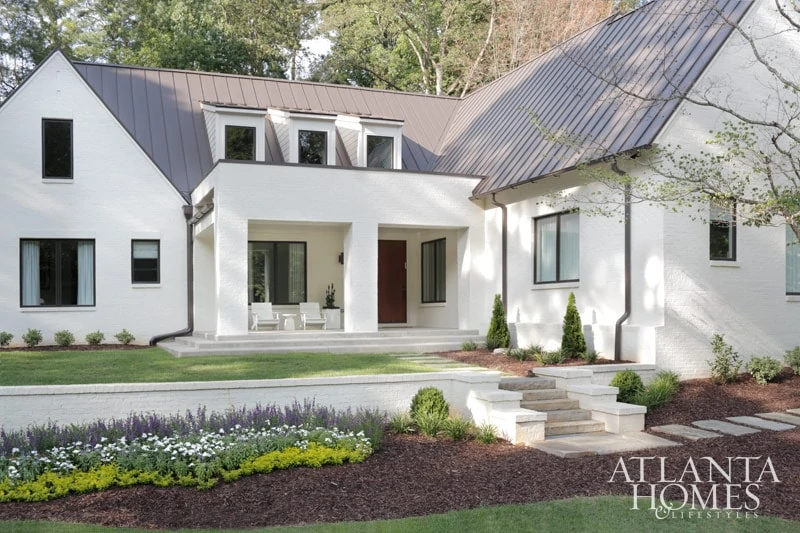 Sherwin Williams Shoji White
Sherwin Williams Shoji White is probably the warmest and most saturated of the options. Our friends Jill and Nick actually have this color on the interior of their home and it's gorgeous. But many of you said it's equally as beautiful on home exteriors!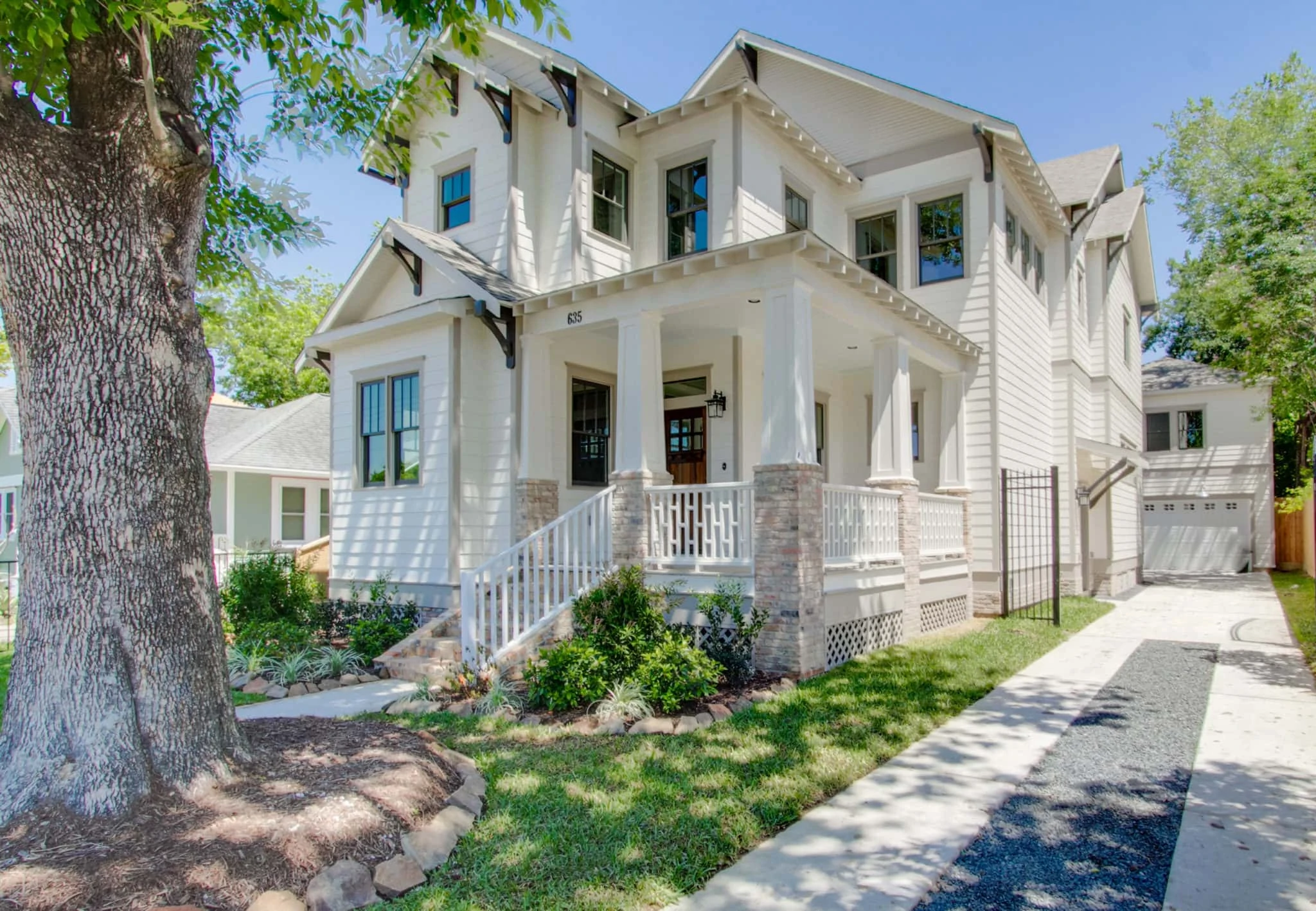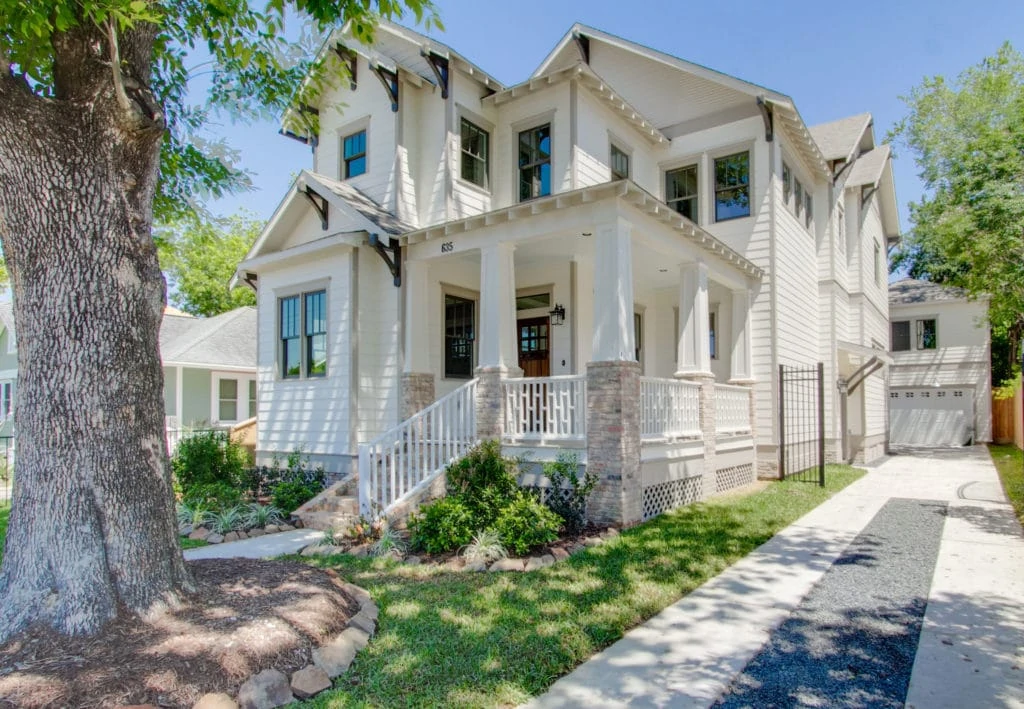 Additional White Paint Colors for Exteriors
As mentioned, it was really hard to find images of some of these colors and/or I could only find "best guesses". But here are some additional paint options that made the best exterior white paint colors list!
Benjamin Moore White Heron
Benjamin More Ballet White (50% saturation)
Benjamin Moore Eider White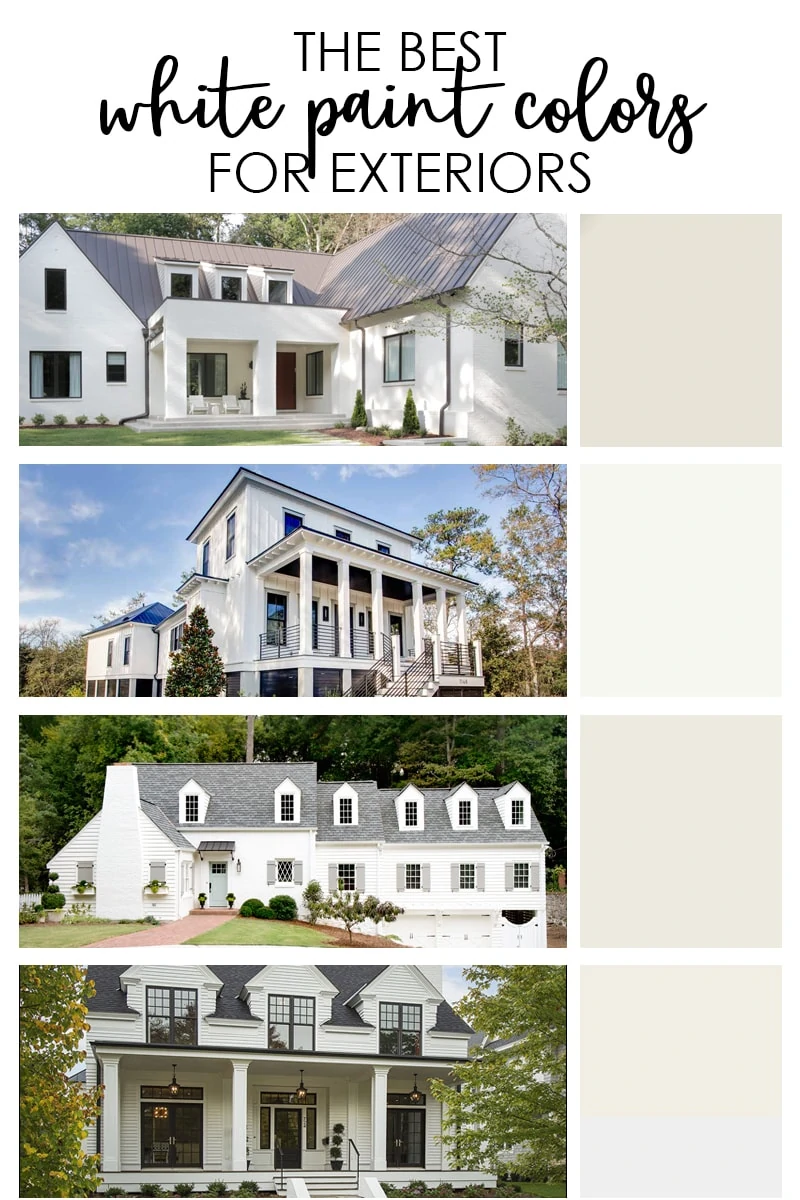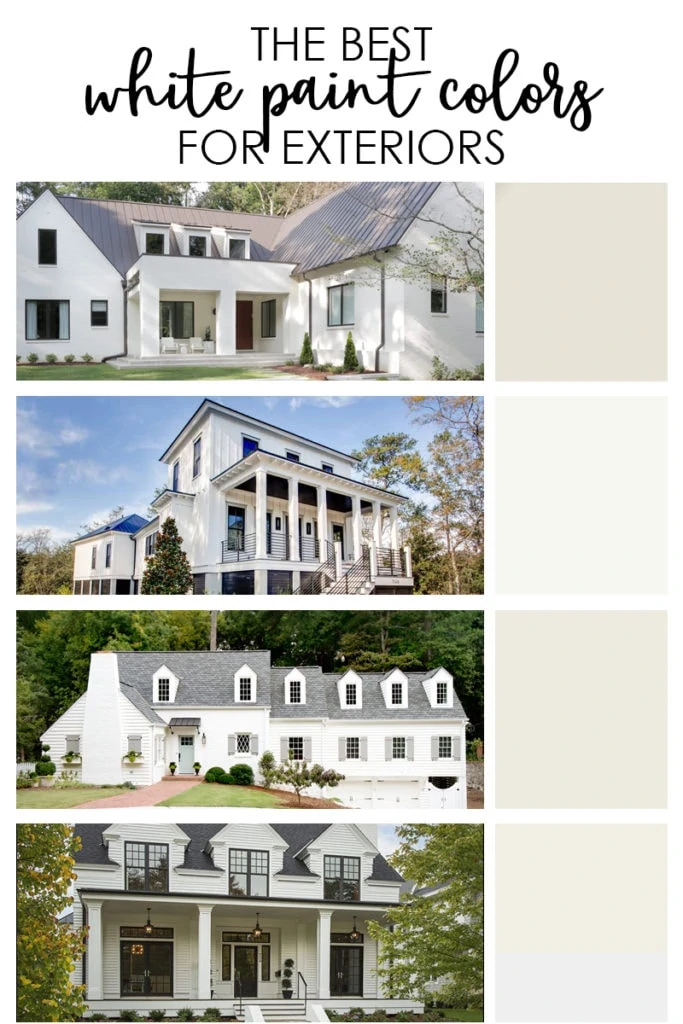 Our Current Home & Colors
As a reminder, here is how our house currently looks. Because of the two sections of shaker shingles, I'm wondering if I should really do everything white, or paint the shaker shingles a slightly darker color. I'm think a soft warm beige color. I'd love to hear your thoughts on this as well! Our new roof and gutters should be getting installed within the next week or two, and I opted to take both darker in preparation for the new paint colors. So, the roof will be a dark brown/gray color and the gutters will match our window trim and be more of a bronze color. For the time being, the stone will be remaining as is, although I'd eventually love to have it painted or replaced. Update: See how our white painted house turned out here!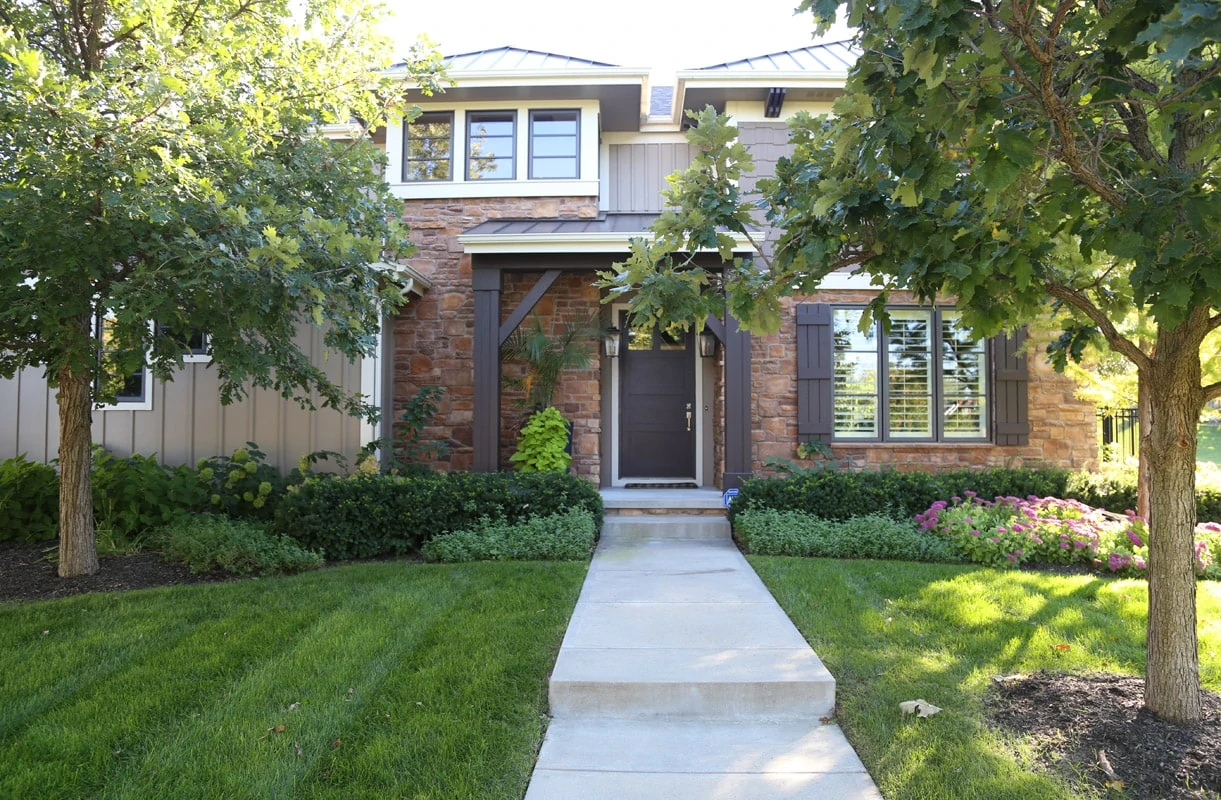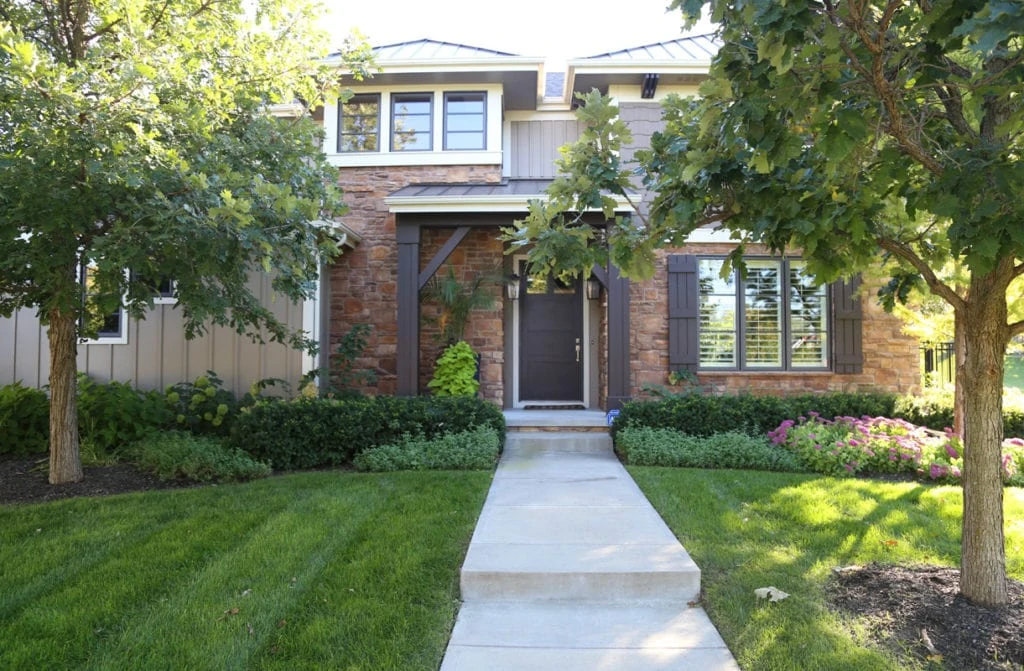 And another shot without the leaves on the trees so you can see the shaker shingle areas better.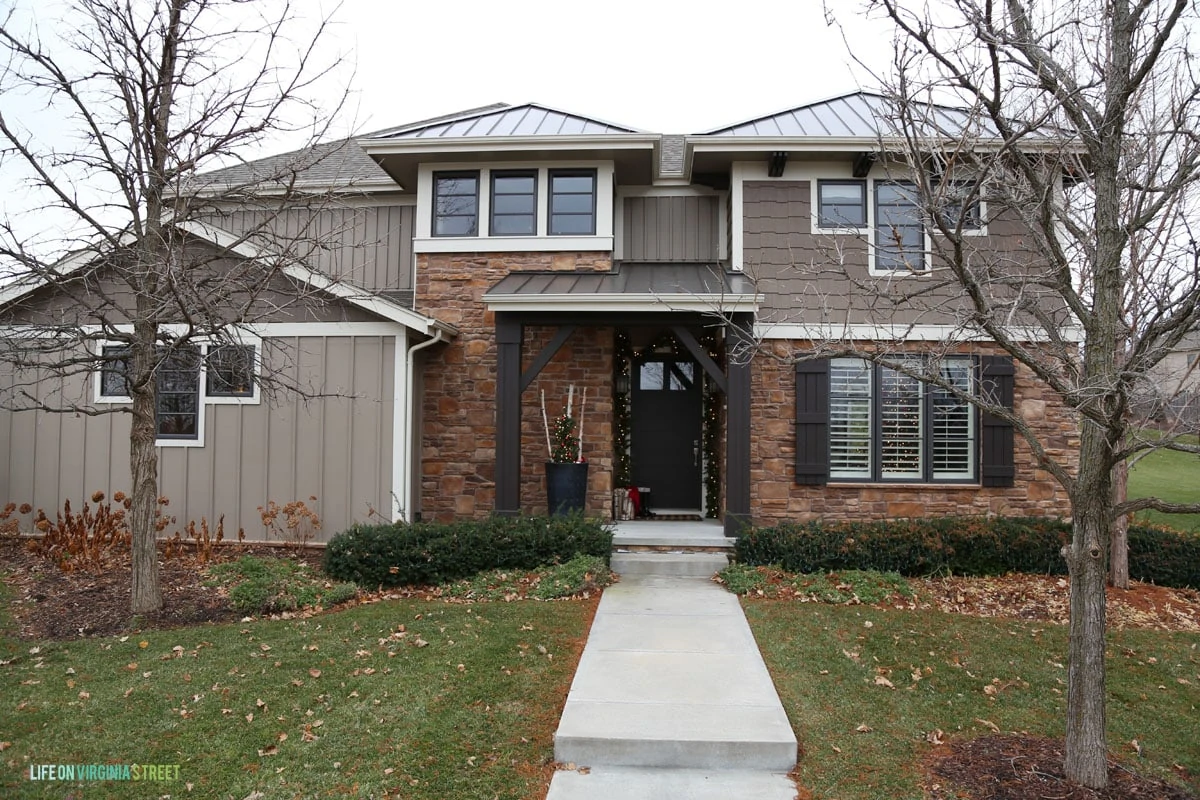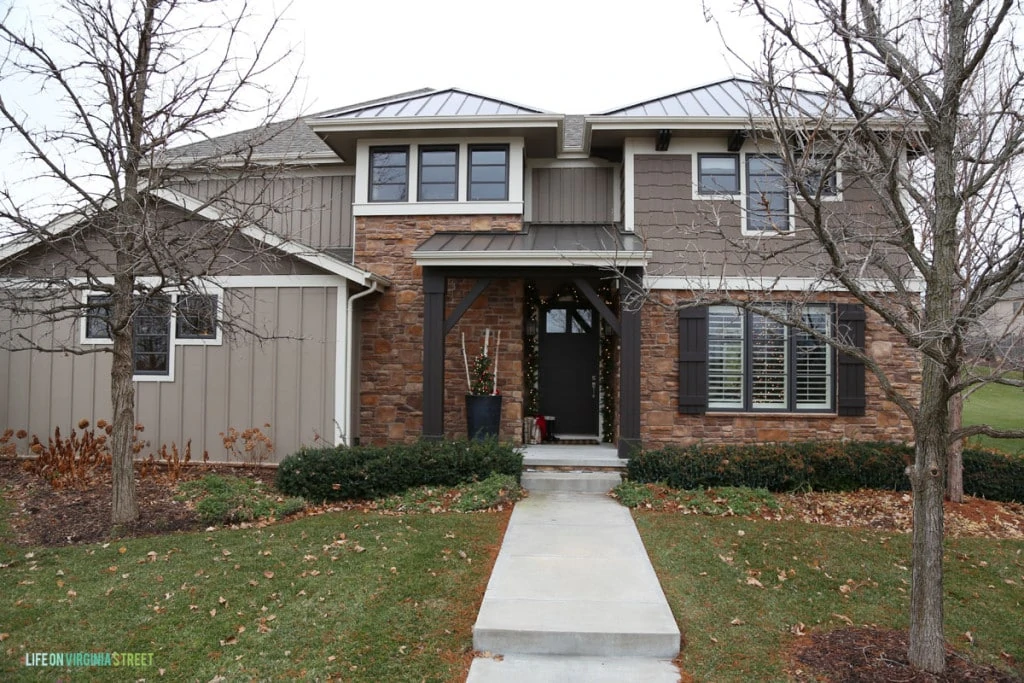 Thank you to each of you that took the time to send me your recommendations! And for those that don't follow me on Instagram or didn't see the original post, feel free to offer more suggestions for the best exterior white paint colors in the comments. I can then update this post accordingly so that it can continue to be a source of inspiration!
Additional Paint Color Inspiration
If you're looking for even more paint color inspiration, be sure to check out these other posts by clicking on their titles below:
Free Paint Color Organization Printables
If you frequently paint your home like I do, it can sometimes be difficult to keep all your colors (and paint cans) organized! That's why I've created a free paint color organization printable set that I think you will all love!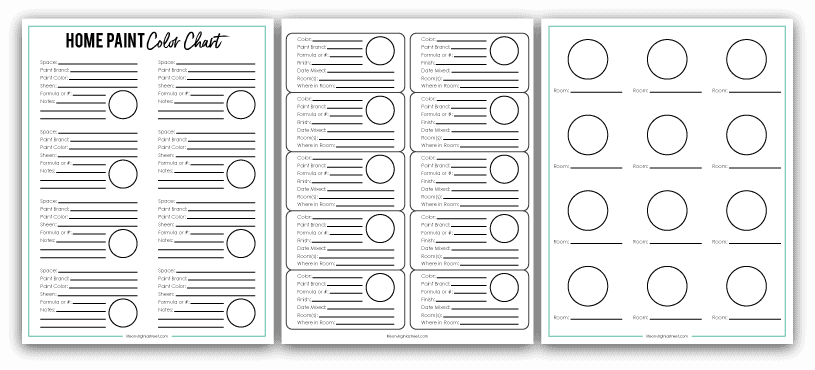 Simply complete the form below and I'll email the PDF files over to you to start using today! It will also subscribe you to my email list, however, you can easily unsubscribe at any time if that isn't your thing.
If you would like to follow along on more of my home decor, DIY, lifestyle, travel and other posts, I'd love to have you follow me on any of the following: