A collection of fire pit tables and fire pit sets for all budgets! Also includes accessory ideas if you already have a fire pit, as well as tabletop options.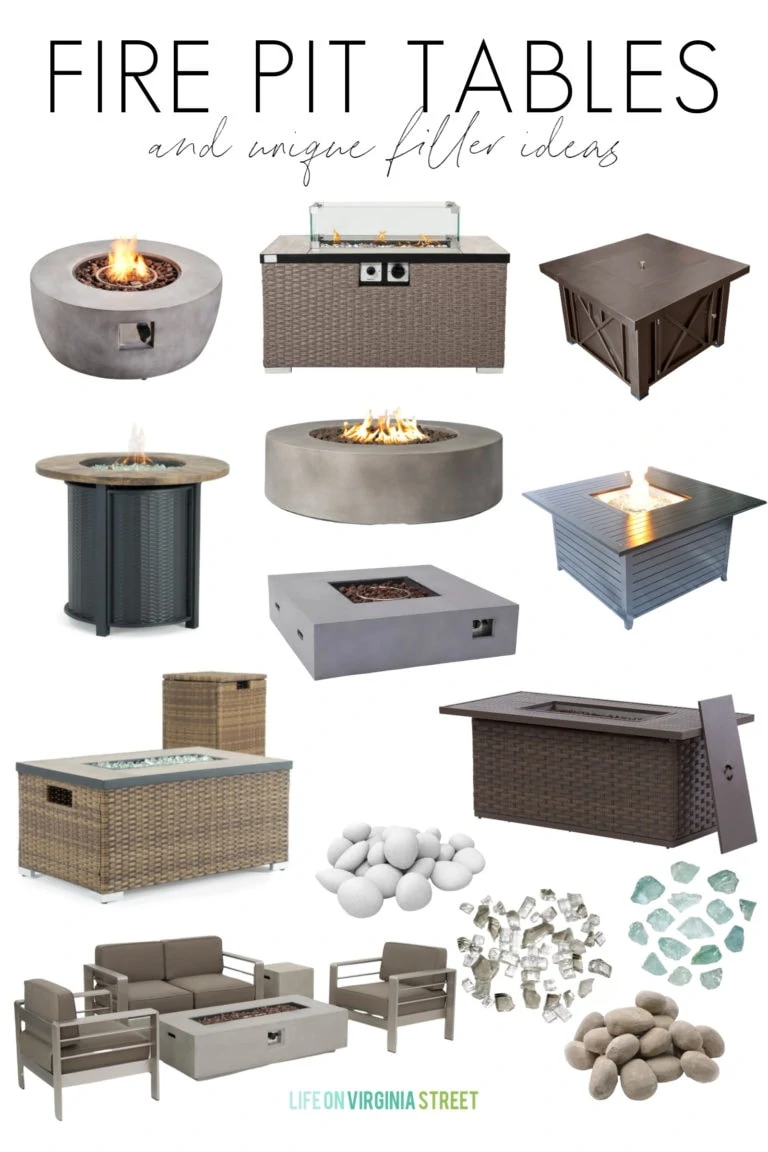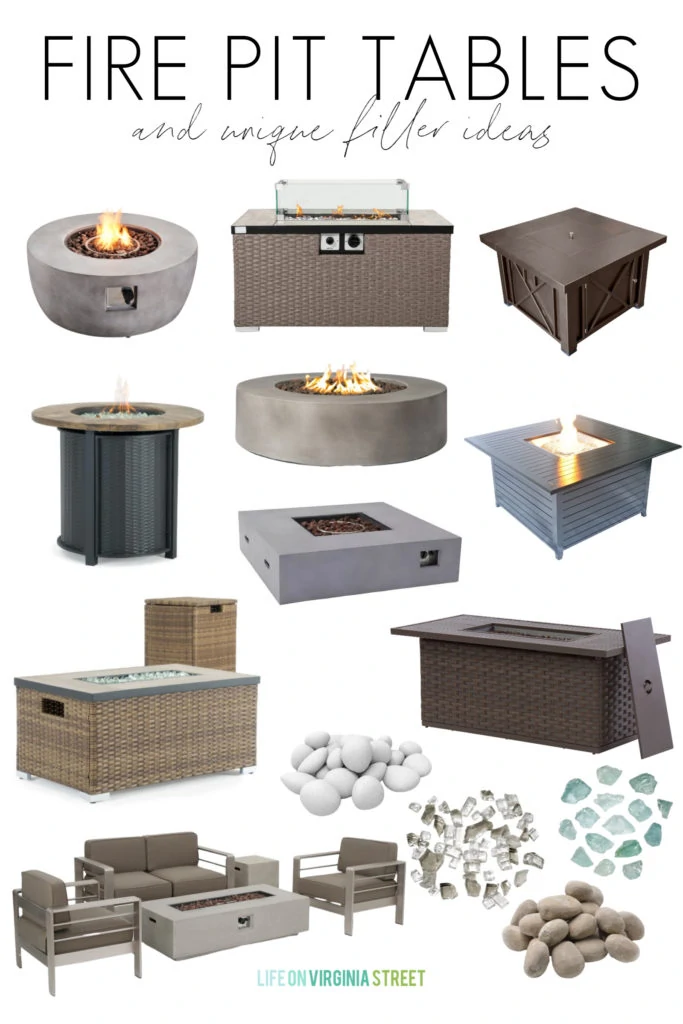 Earlier this week, I spent some time on my Instagram stories showing my freshly planted courtyard flowers. I also mentioned that we had briefly looked for a new fire pit table, and I was a bit shocked by how expensive they were! For some reason I was thinking $200-500, but nearly everything I found and liked in a quick search was $500-1500+! A bunch of you messaged me back and agreed that a stylish fire pit for $500 or less was hard to find! So today, I'm sharing some fire pit table options for all budgets.
This post contains affiliate links for your shopping convenience. Click here to read my full disclosure policy.
Fire Pit Tables
Our fire pit set has served us well for the past seven years! But, it's starting to show it's age and is definitely no longer our style. It can be hard to find affordable options with good reviews that also look good! When I recently shared my guide to outdoor furniture & decor, I intentionally left out fire pits, because I could quickly tell they were going to take a lot more research and probably deserved a post of their own!
I was able to find several fire pit table options under $500, as well as some in the $500-$800 range. One thing you'll want to pay close attention to as you're searching. For the fire pit tables that use propane tanks, you'll want to know if the tank is hidden in the table or if it needs to be set up near the table with a hose. Some of the photos can definitely be deceiving! If the tank is not able to go in the table, I prefer options like this set that includes a small side table to hide the propane tank.
Following are some of the best fire pit options I found in my search. Simply click on any of the images below to learn more about each of the options. Several of the tables shown come in a few finishes and sizes!


Another fun option is this tabletop firepit. You basically add it to any outdoor table that has an umbrella hole. It's compact and easy to move so you can bring it out whenever you want a fire feature!
Fire Pit Table Sets
It also became pretty apparent to me that sometimes the best option is to actually purchase a fire pit as part of a set. For some reason, the price feels a bit less crazy when it also includes chairs. Especially if you also need to replace chair cushions, like we probably should this year, which come with another major price tag.

Fire Pit Filler Ideas
Already have a fire pit? Check out some of these cool fire pit filler ideas! I especially love the ones that look like sea glass or round concrete balls! It's a fun way to change up the look of your fire pit table and give it a little refresh for summer.

Our Courtyard
Circling back to our courtyard, here is the view I shared last year. Our fire pit set was from Costco seven years ago and has held up extremely well over the years. However, the tile top is starting to flake and we don't love the look of it any longer. It's a bit rustic for our style. I'm contemplating selling it if we can find a new one that works well out here. We also had to get new cushions last spring, and one thing I've quickly learned is that fabric is important if you don't plan to cover your furniture. Since we basically left ours uncovered all summer and didn't opt for a performance fabric, they haven't held up well. We are clearly a "performance fabric only" type of family 😉 This picture below is when they were brand new last spring.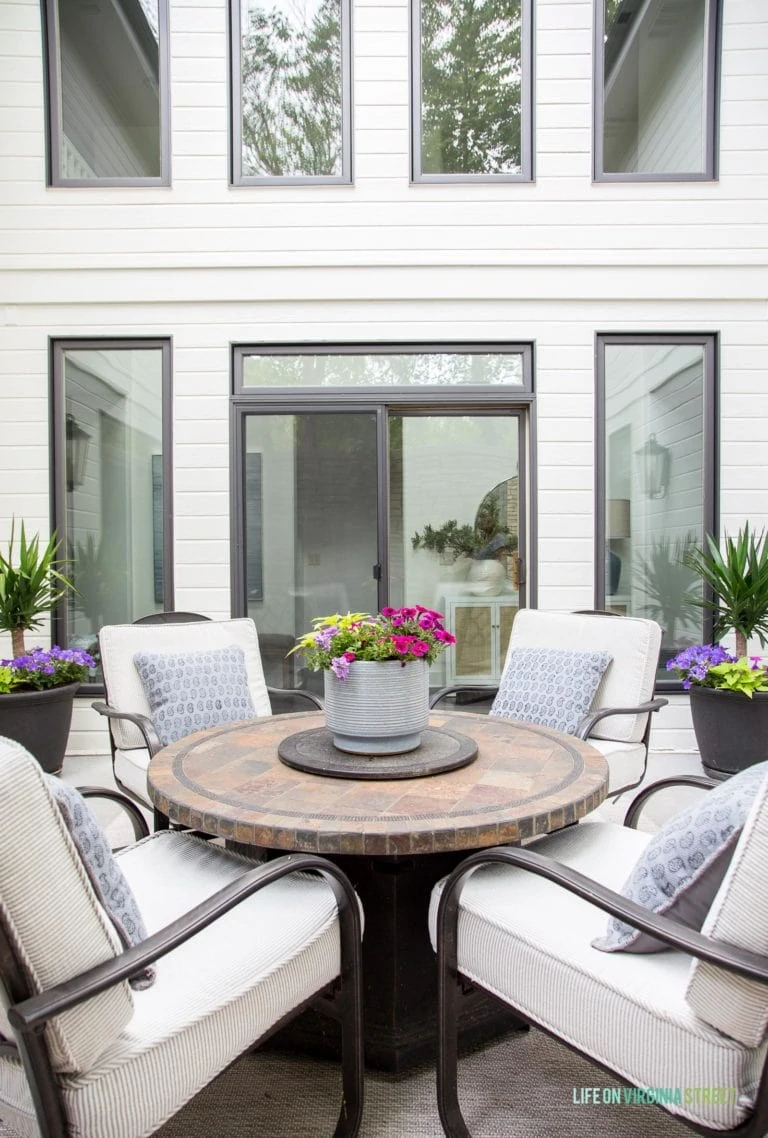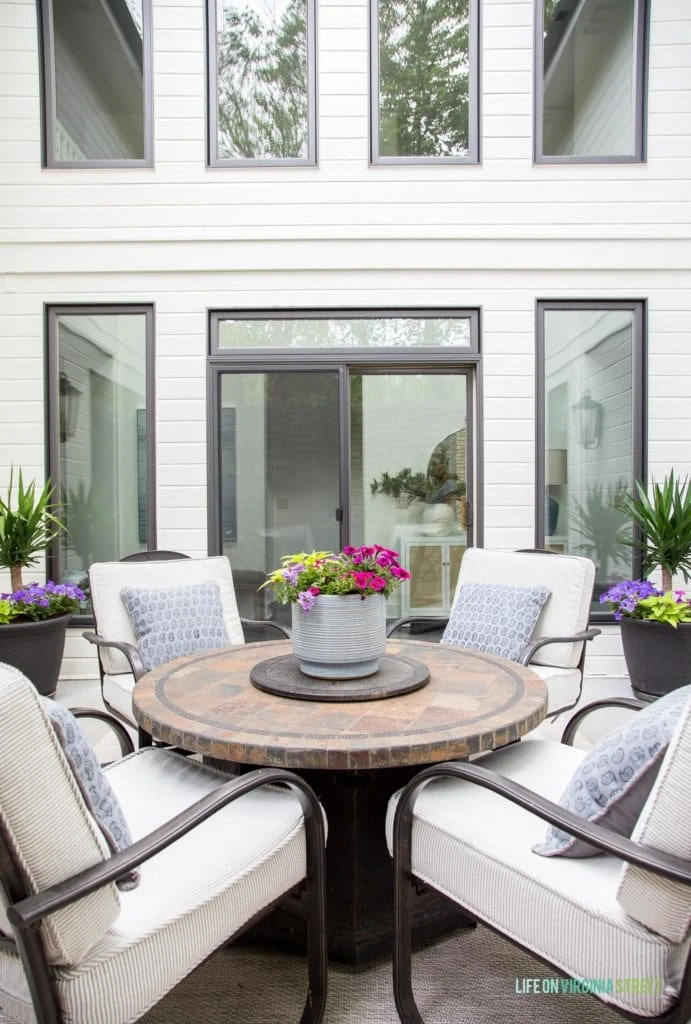 You can read more about our courtyard and some long-term plans we have for the space in my post on Outdoor Courtyard Ideas. Since we ultimately want to add a fireplace to this space, I don't want to spend a lot on a new fire pit in the interim. But I would love a style that better fits our overall aesthetic! Hence the reason for this post 😉
The courtyard sits between our office, entryway hallway, and our dining room and is visible from nearly our entire main floor of our house. We love the space so much that it's one of the main reasons we ever bought this house! But, it definitely needs a good power washing right now and a little refresh for summer! Kurtis also wants us to permanently get rid of the idea of a rug out here. As much as I want one, it does make it really hard for it to ever fully dry out.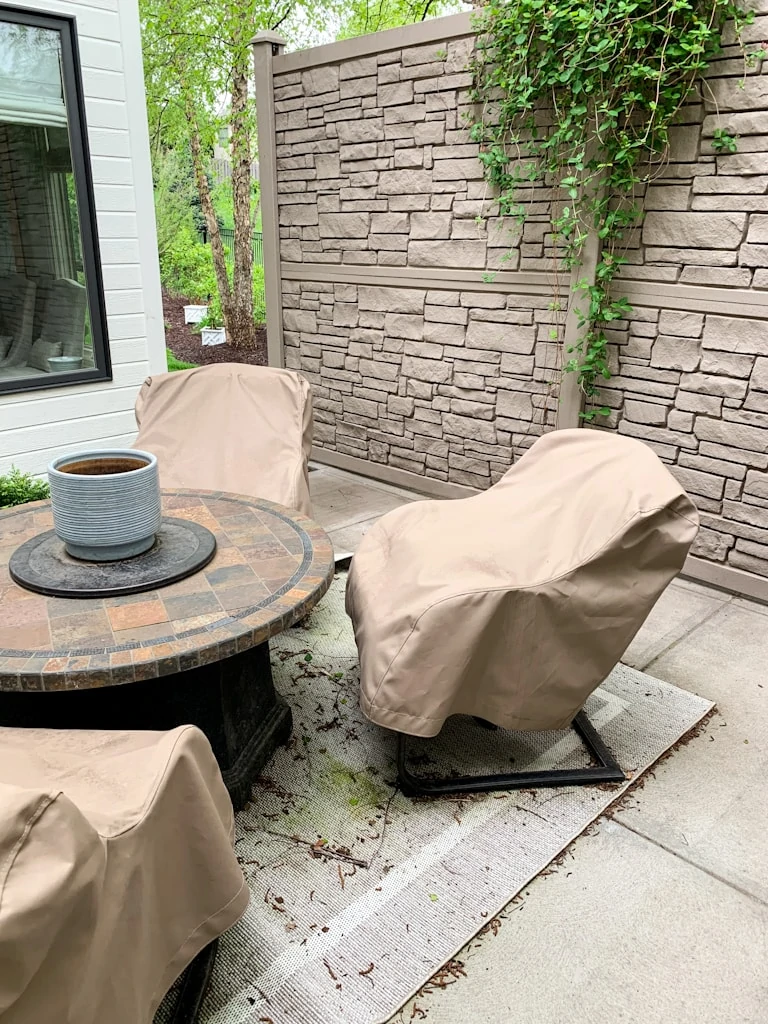 Here are the planters I wrapped up earlier this week. Our Lowe's was running a great special on hibiscus plants this week! I got each of the topiaries for $19.99 and a few of the hibiscus bushes that they had 2/$15! Then, I filled the base of the planter with sweet potato vines and impatiens. I was going to add another type of plant too (hence the blank spots) but I think I'll just add in a bit more impatiens. They definitely look small now, but after adding my favorite fertilizer, they'll be looking great within a few short weeks!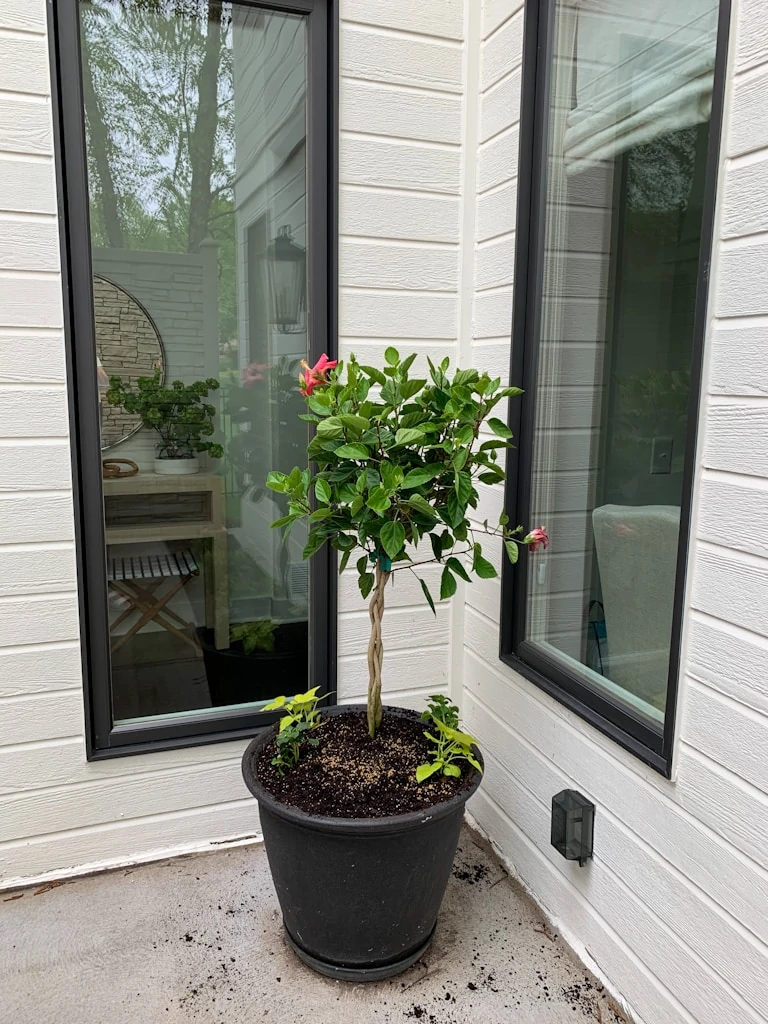 I also finally got our herbs planted (you can see them in the back of the photo below). I got that long planter for them from At Home last year, and it's the perfect size and height for my herbs! It helps to keep them look a little more streamlined and less chaotic in our courtyard!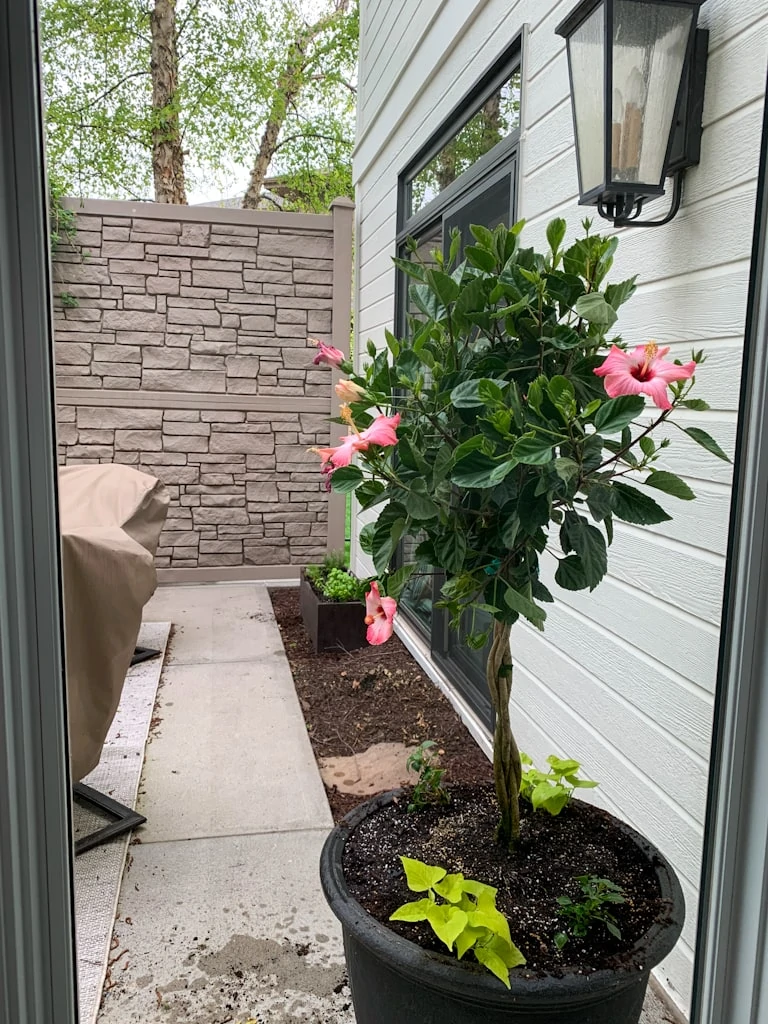 I'll be sure to share another courtyard update once we get it cleaned up (hopefully this weekend) and once we decide if we'll be getting a new fire pit or not!
I hope you all have a great holiday weekend!
If you would like to follow along on more of my home decor, DIY, lifestyle, travel and other posts, I'd love to have you follow me on any of the following:
Pinterest | Instagram | Facebook | Twitter
disclosure: some affiliate links used