Summer is by far my favorite season, and today I wanted to share some of my favorite summer planter ideas with you!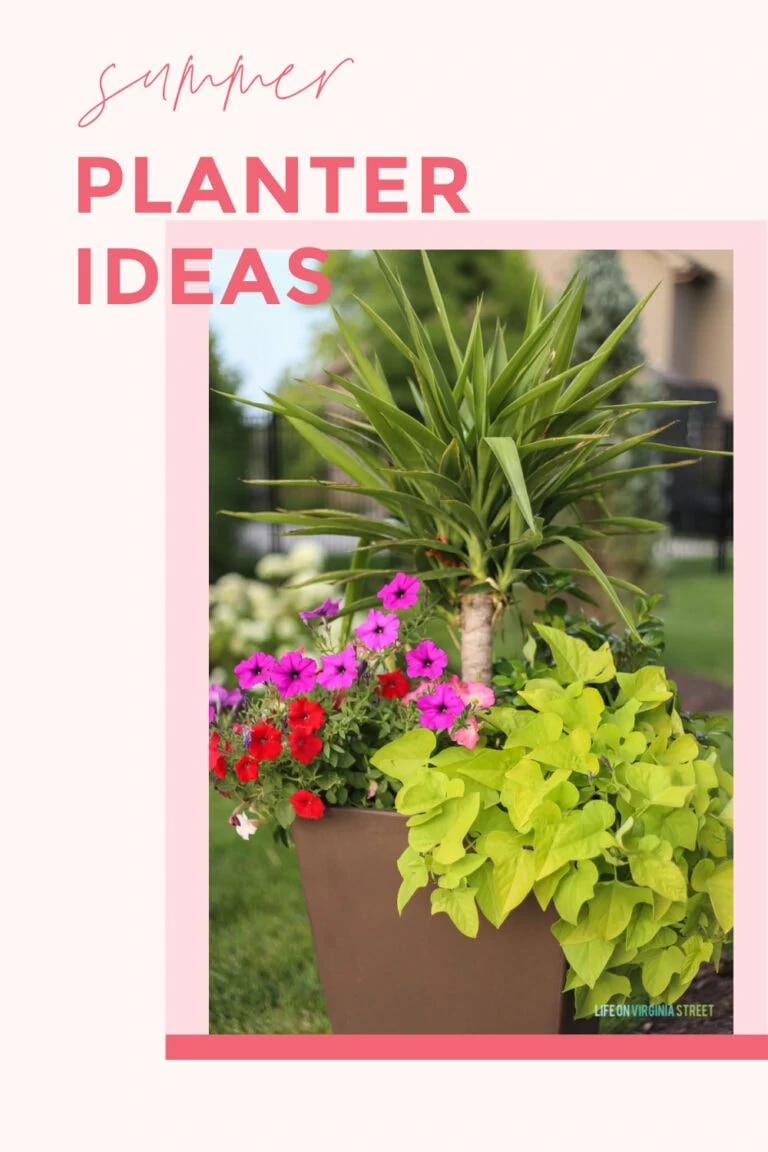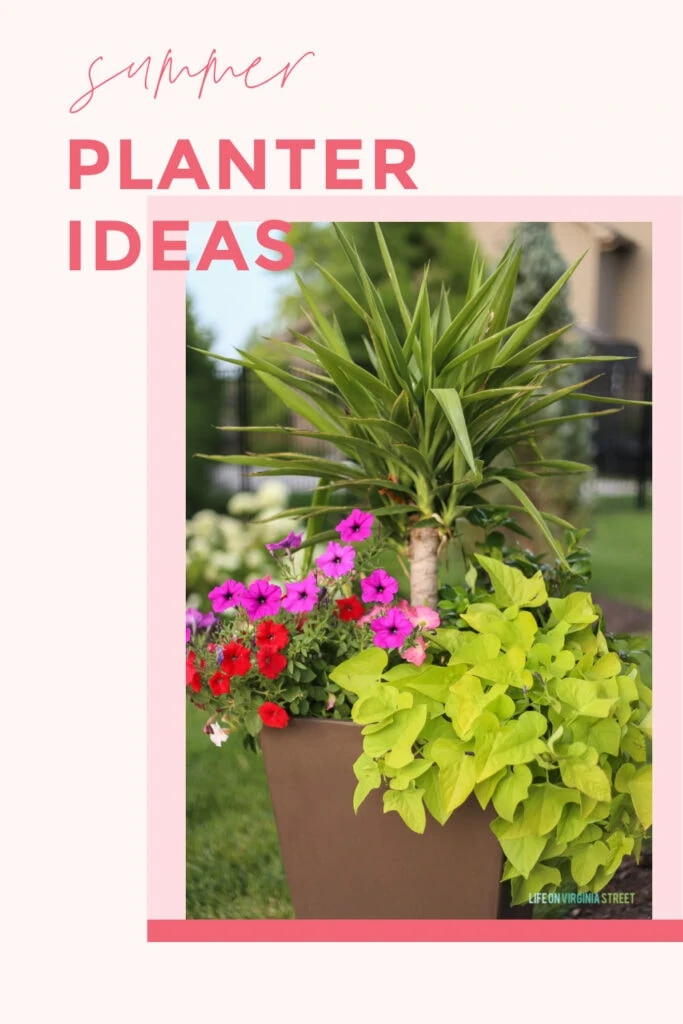 With the weather as crazy as it has been lately, it's hard to believe summer is on the horizon. But, we're only about two weeks from being able to plant around here (there's a tentative Mother's Day rule in Nebraska). With that being said, I've got lush summer planter ideas on my brain and thought I'd share some inspiration for the upcoming season!
Container Gardening
I'm a big fan of the thriller, filler, spiller method of container planting. That essentially means an upright superstar in the middle (I love palm trees or yucca plants for larger planters). Then you use filler, which is basically everything around the thriller and can include flowers or green foliage. Lastly, I follow with a spiller, which are plants that grow over the edges of the pot and downwards (I love potato vines). This method always seems to work well and creates a cohesive and full looking planter. If you're looking for a tutorial to get started, be sure to check out my tips on how to plant flowers in a pot! I also have a post dedicated to front porch planter ideas, if you're looking for inspiration specific to your porch! I also have a post dedicated to outdoor planters, if you're looking for some new pots or containers!
In terms of colors, I love pairing bright greens with pinks and purples. Unlike in my decorating choices, I love bold, dramatic and happy colors in my planters so they don't get washed out in the summer sun! I also love a mix of textures to add more visual interest.
I'm convinced every outdoor space could use some container planters (or ten!) and if you haven't tried them before I'll be back in the coming weeks for a tutorial. They are a quick process, and you definitely shouldn't be intimidated to try them. Now, on to some summer planter ideas!
This post contains affiliate links for your shopping convenience. Click here to read my full disclosure policy.
My Planter Ideas From Years Past
First, I thought I'd share some of my personal summer planters from years past.
My planter below includes yucca (I buy it at Lowe's or Walmart, usually in the tropical section), petunias, sweet potato vine (that plant had two leaves when I bought it!) and jasmine.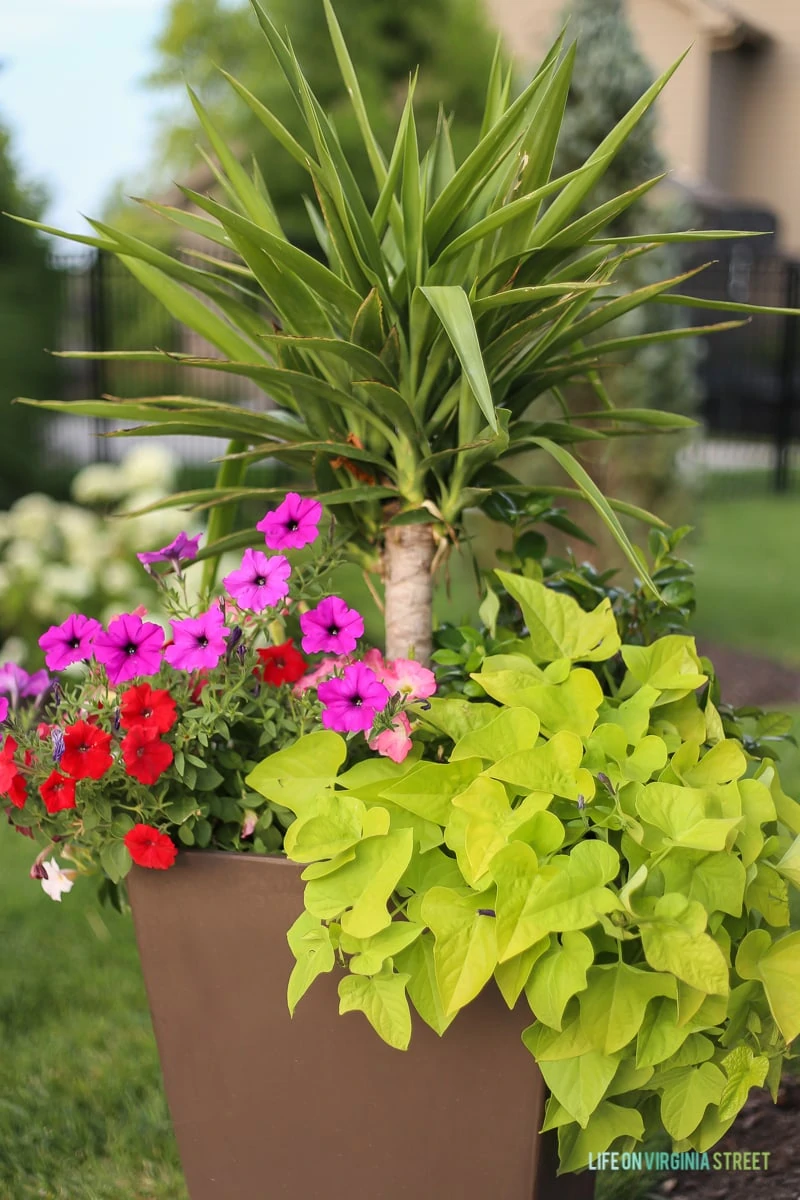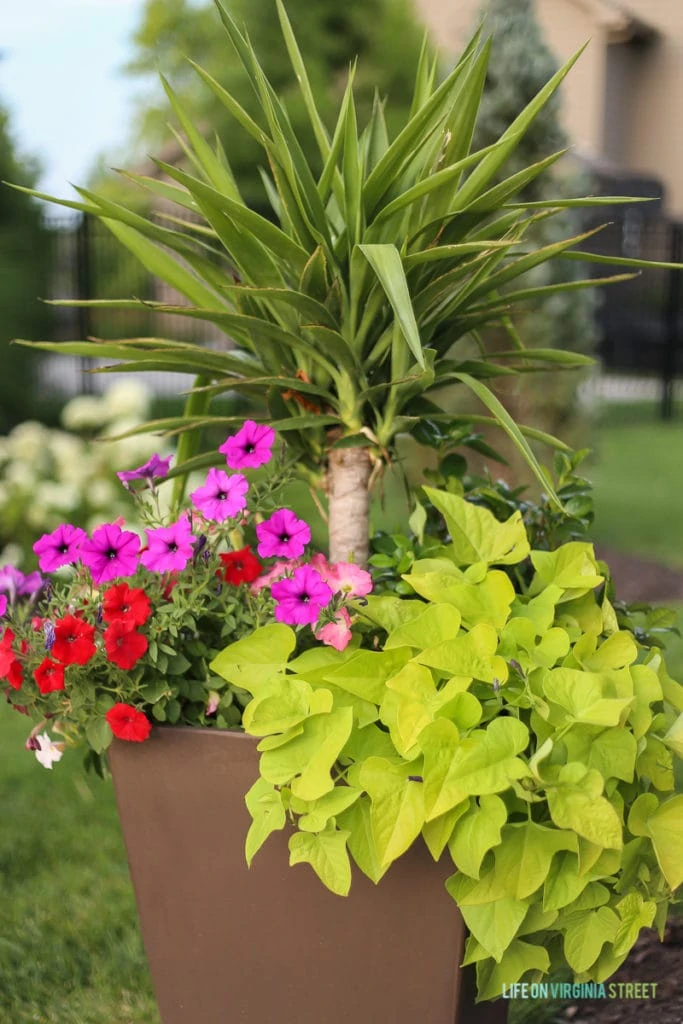 I love to flank our pool deck with colorful plants and flowers in these tall resin planters.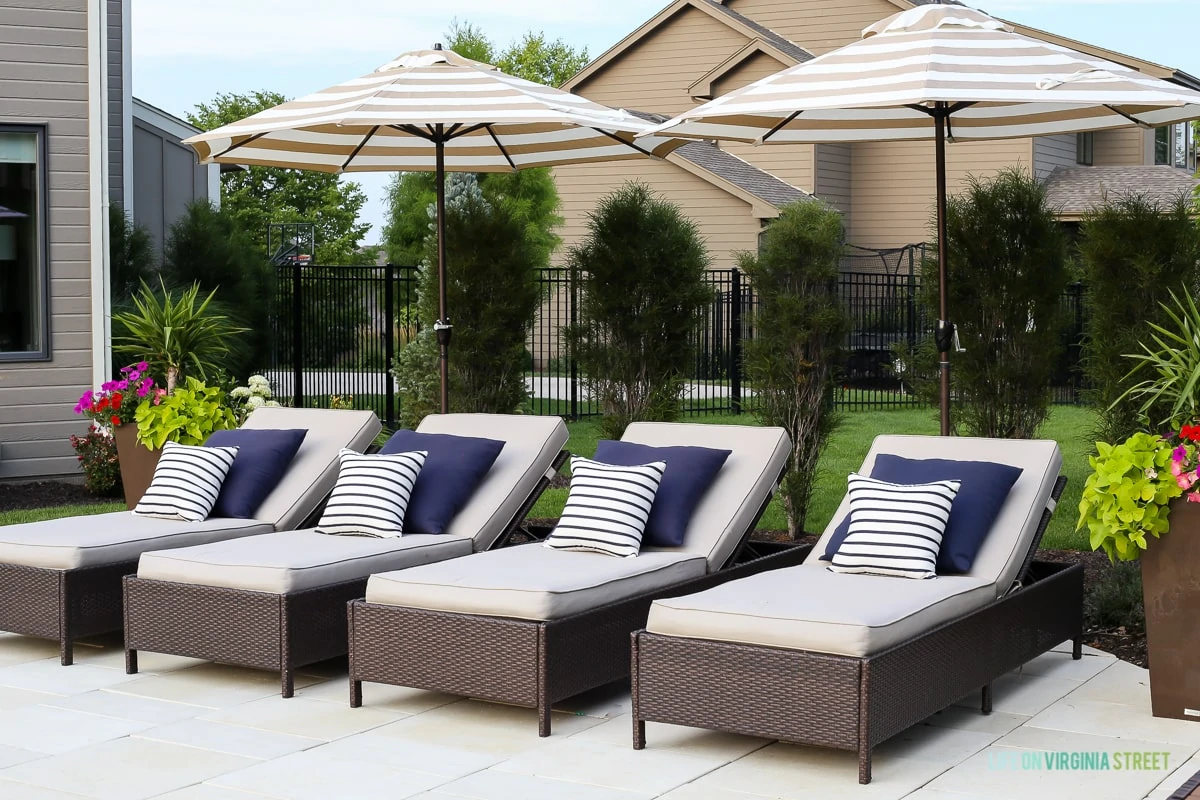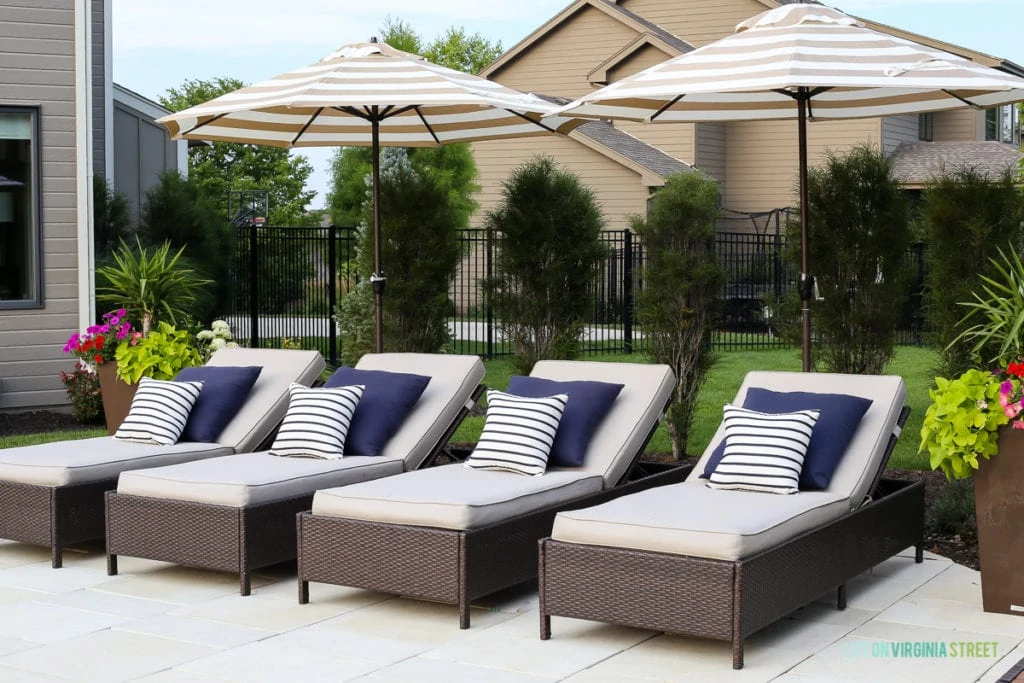 This fertilizer that my mom got me hooked on years ago is the one I swear by. It makes such a difference on your plants and flowers. I'll add several shakes when I plant and then again on a monthly basis throughout the season. I use it on basically everything other than my herbs, as I don't prefer to use fertilizer on them. I made this graphic a few years ago to demonstrate how well the plants grow with the fertilizer. This is my shade area in the courtyard so I used a combination of yucca, impatiens, coleus, asparagus grass, and creeping jenny.


A similar look of my botanical beauties from another year.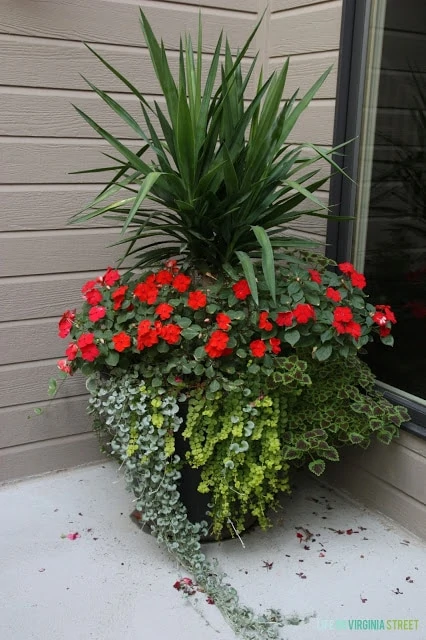 On our front porch, I typically go with a very large palm tree in the center along with a mix of shade loving plants. The looks is different nearly every year! In the year shown below, I paired the pretty palm with impatiens, coleus, asparagus grass, and creeping jenny.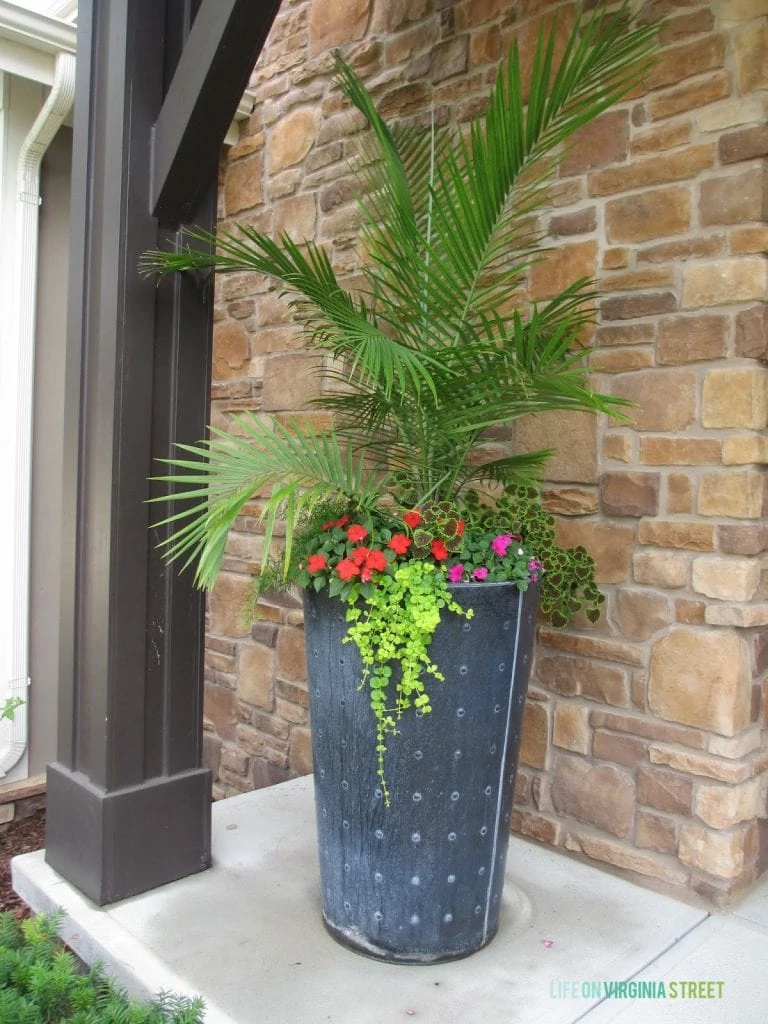 This particular year, I couldn't find a palm tree so I opted for a different tropical, complete with petunias, impatiens and potato vines (in both lime green and purple).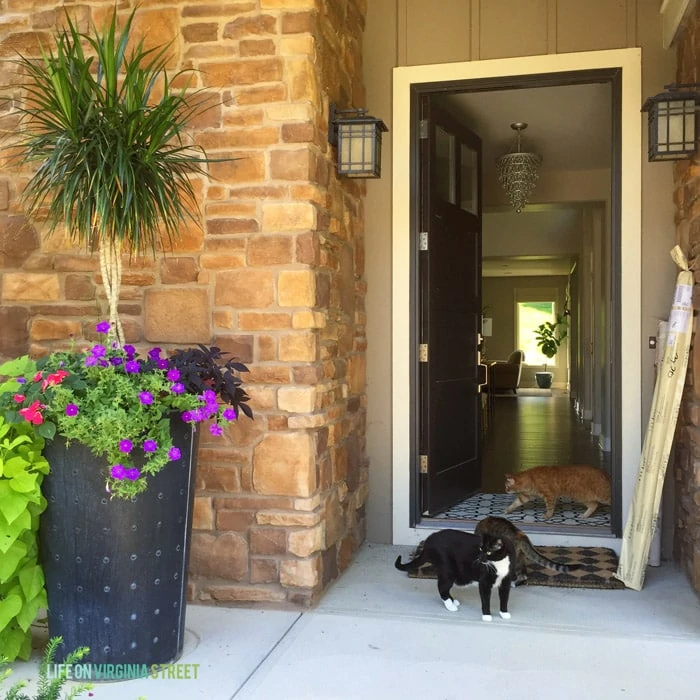 In our front yard, we have a pedestal with three planters (formerly four before some kids thought it would be funny to push on off, breaking it). Because they are in the sun nearly all day, every day in the summer, I go with petunias and potato vines. Occasionally I'll mix in marigolds, geraniums or other sun-loving options. I always add spikes in the middle for some height and added interest.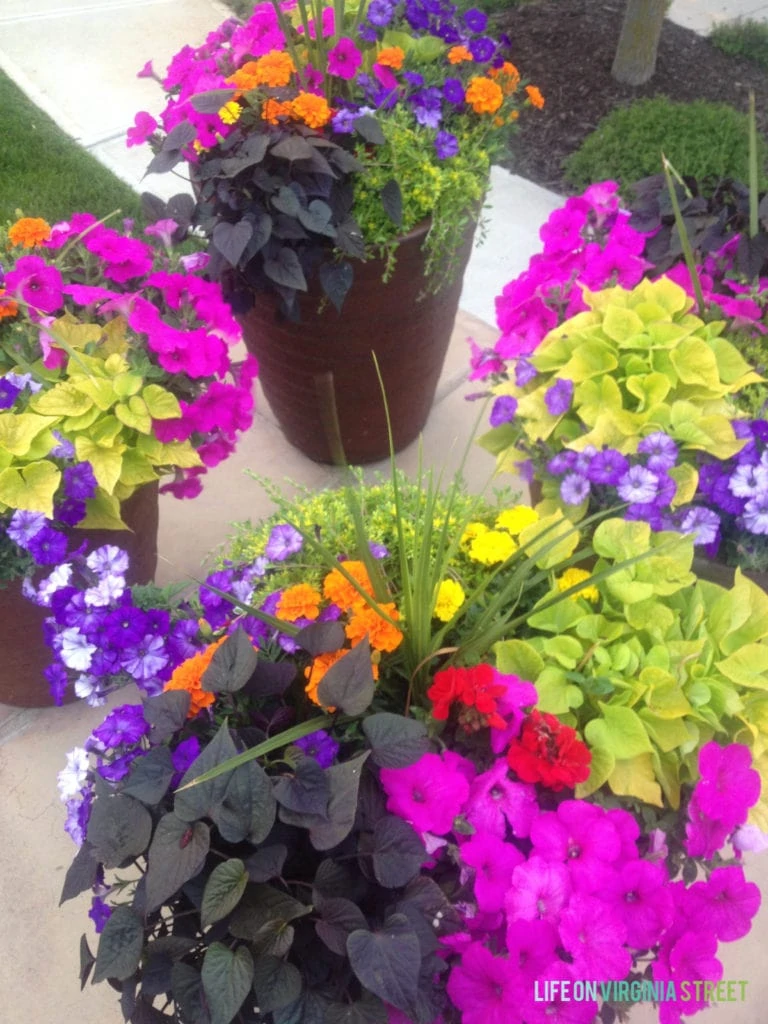 This particular year, I went with much deeper, prominent colors and I've ultimately decided I love the brighter versions better. But I still think these turned out beautifully!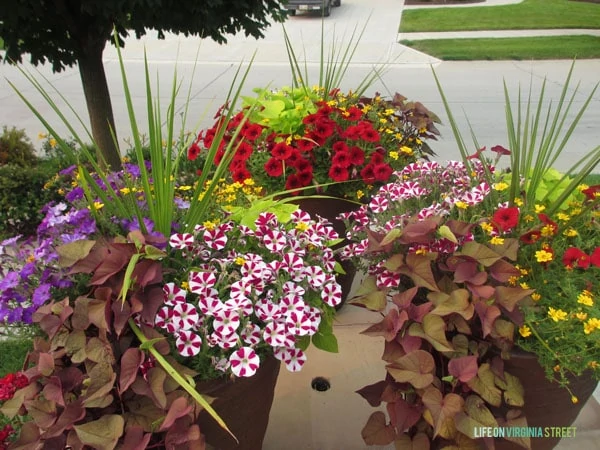 Keep in mind, the day I plant them, they look like the below image. See what I mean about them not being that beautiful on day one?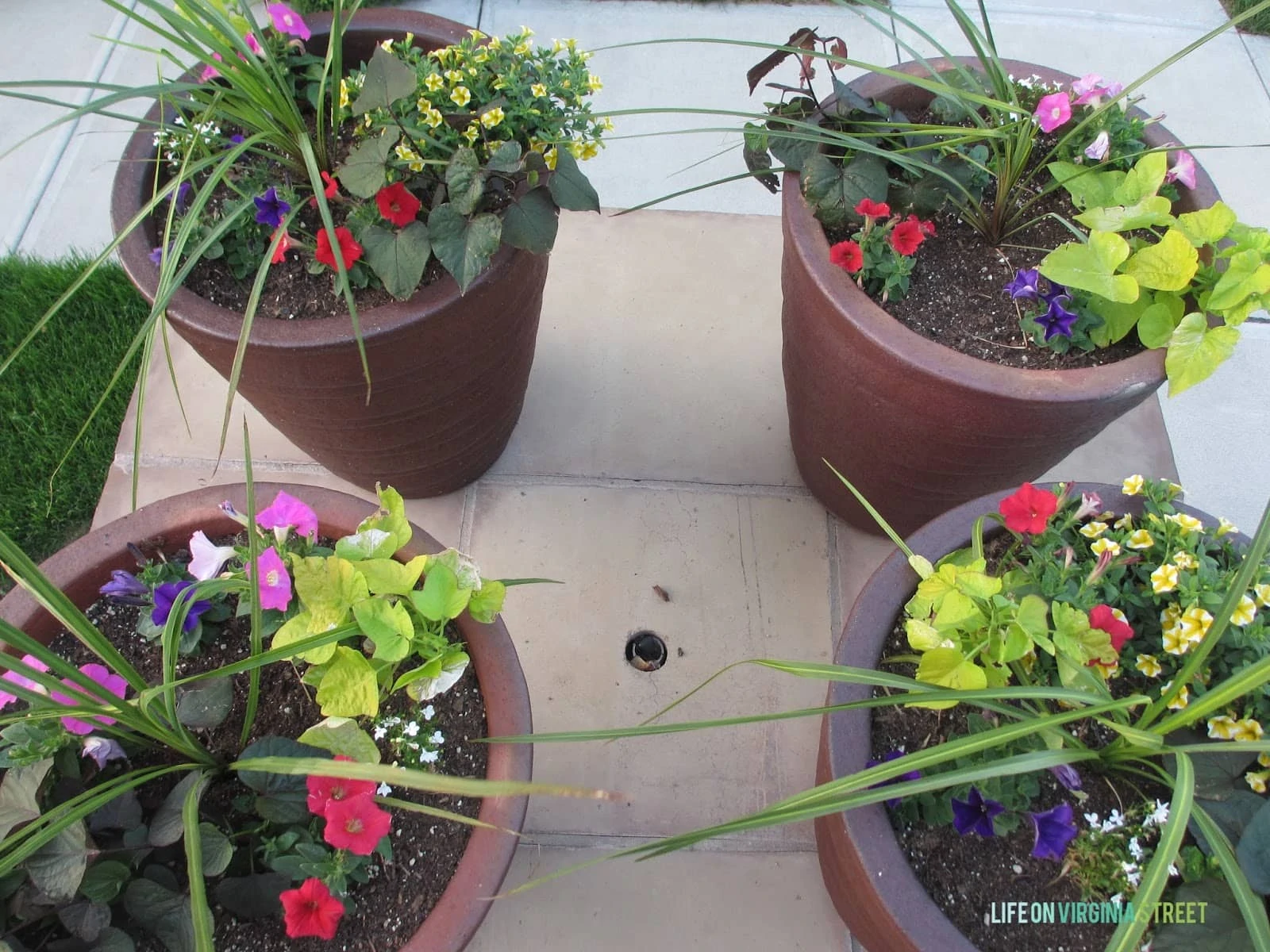 Last year by the pool, I felt like I needed more height than the yuccas provide, so I opted to plant a pair of oleander trees with petunias and potato vines. Are you seeing a pattern here? A side note on the oleander: it can be toxic to animals if they eat enough of the leaves. They are covering Italy and they have a million cats and dogs wandering around, so I'm guessing they aren't attracted to it, but I did want to make mention of it. By the end of summer, the potato vines and petunias were flowing along the ground. They definitely thrive here!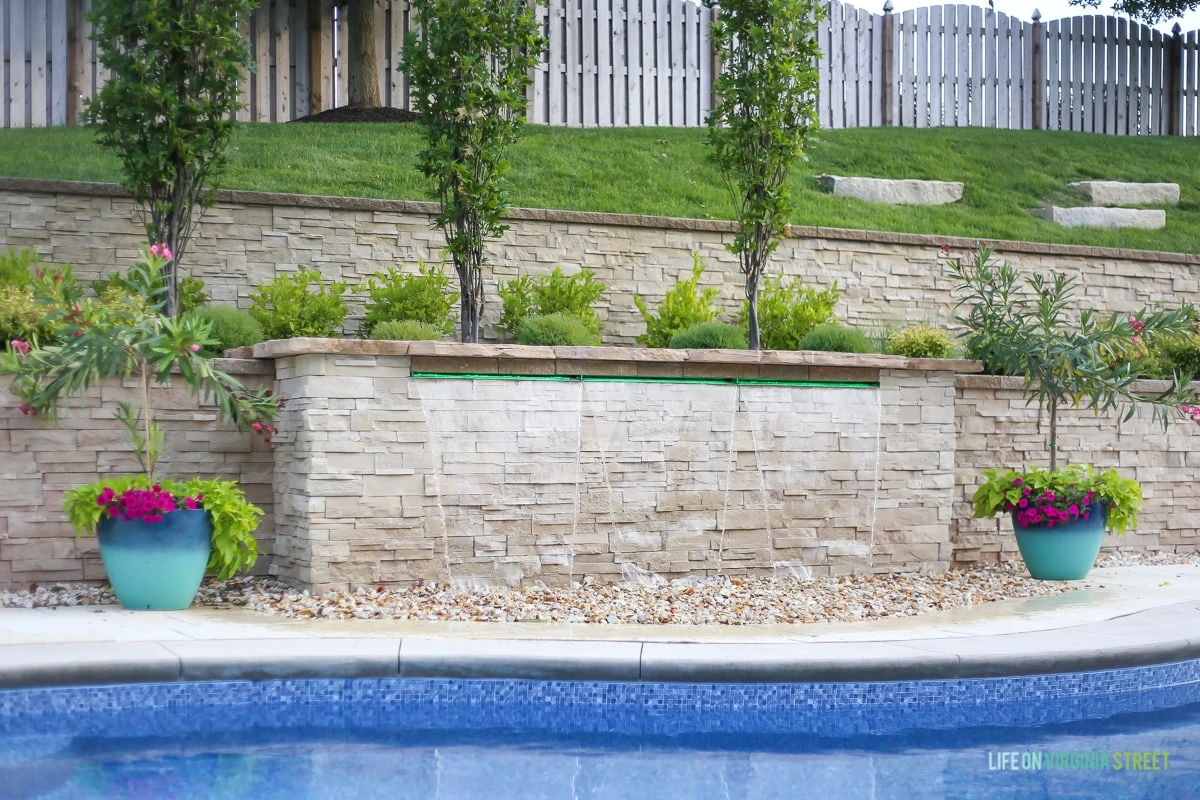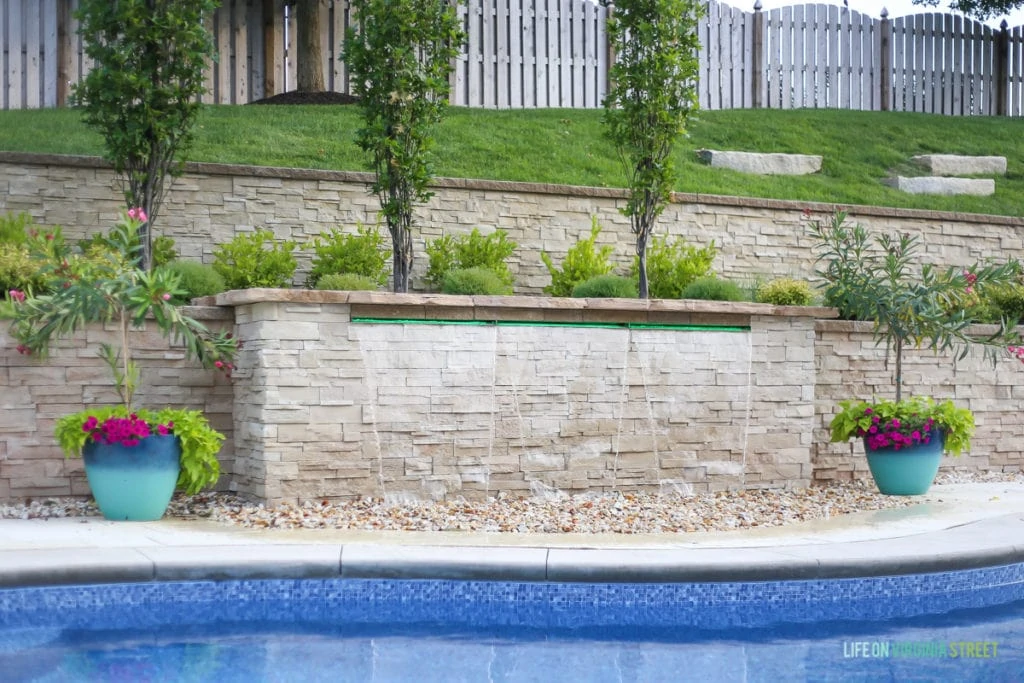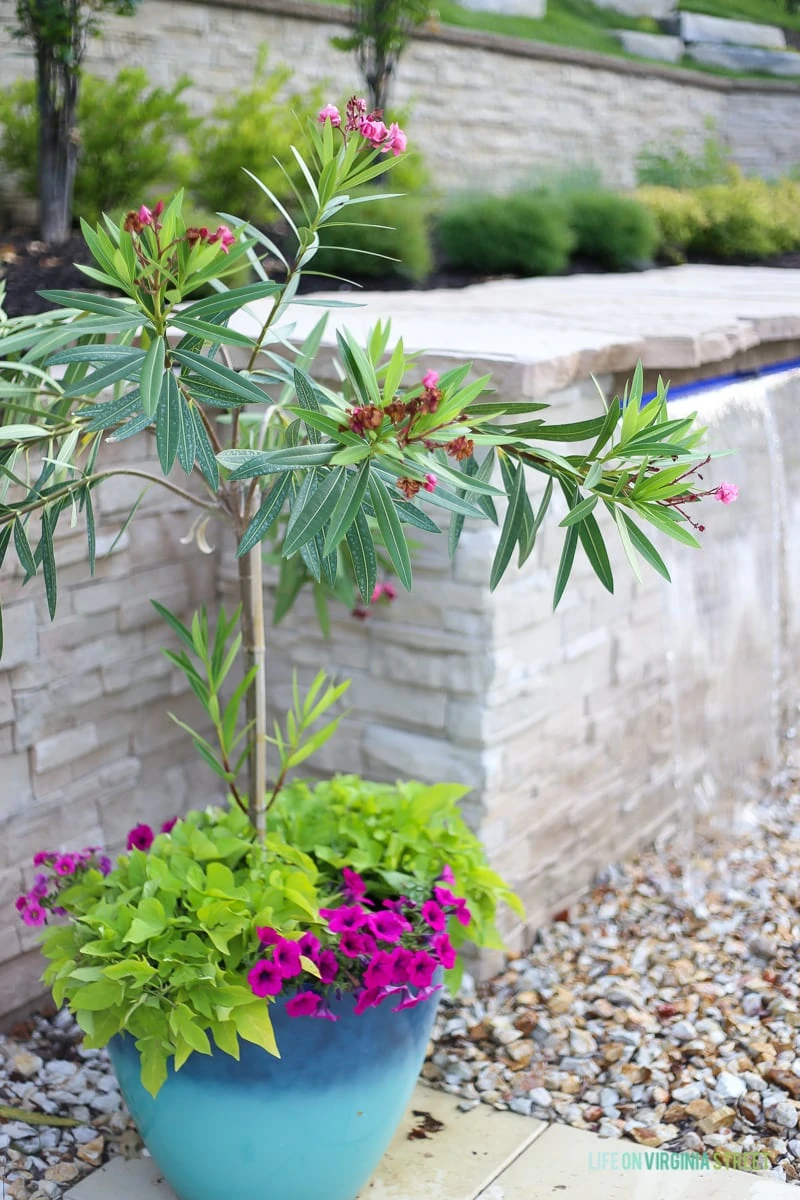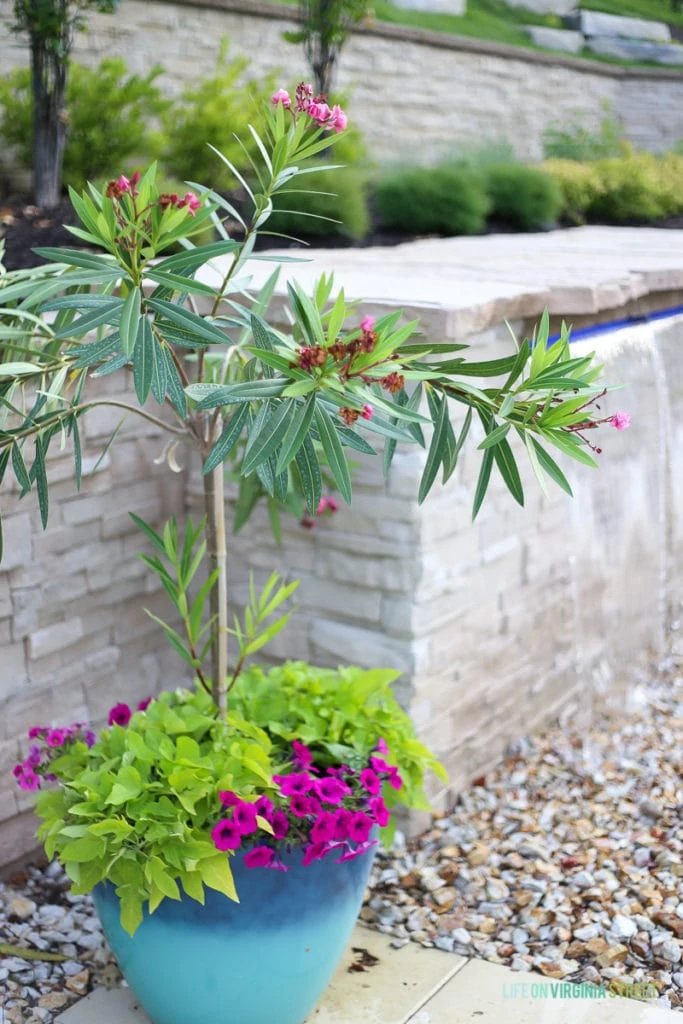 It's not uncommon for all of my sweet potato vines to look like this next photo by summer's end.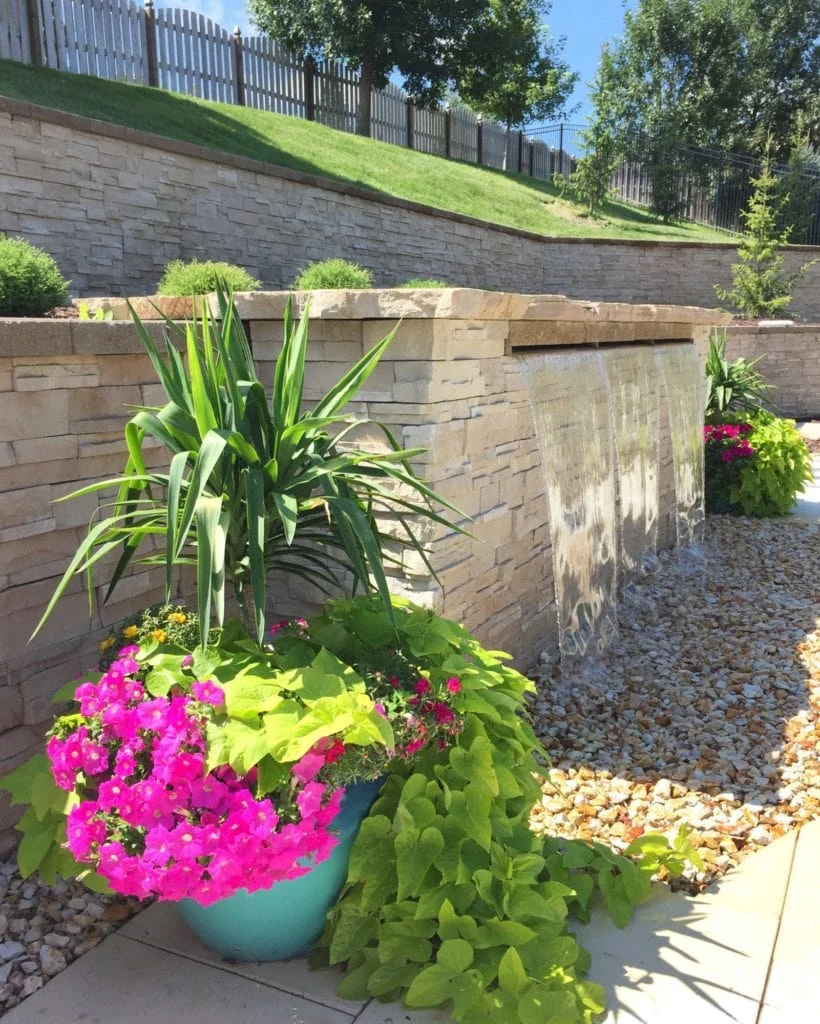 I also like to add a large planter pot with tall, colorful flowers by our garage, as well. In the image below, I used a large black planter filled with a bright pink oleander topairy, sweet potato vines, and bright pink petunias.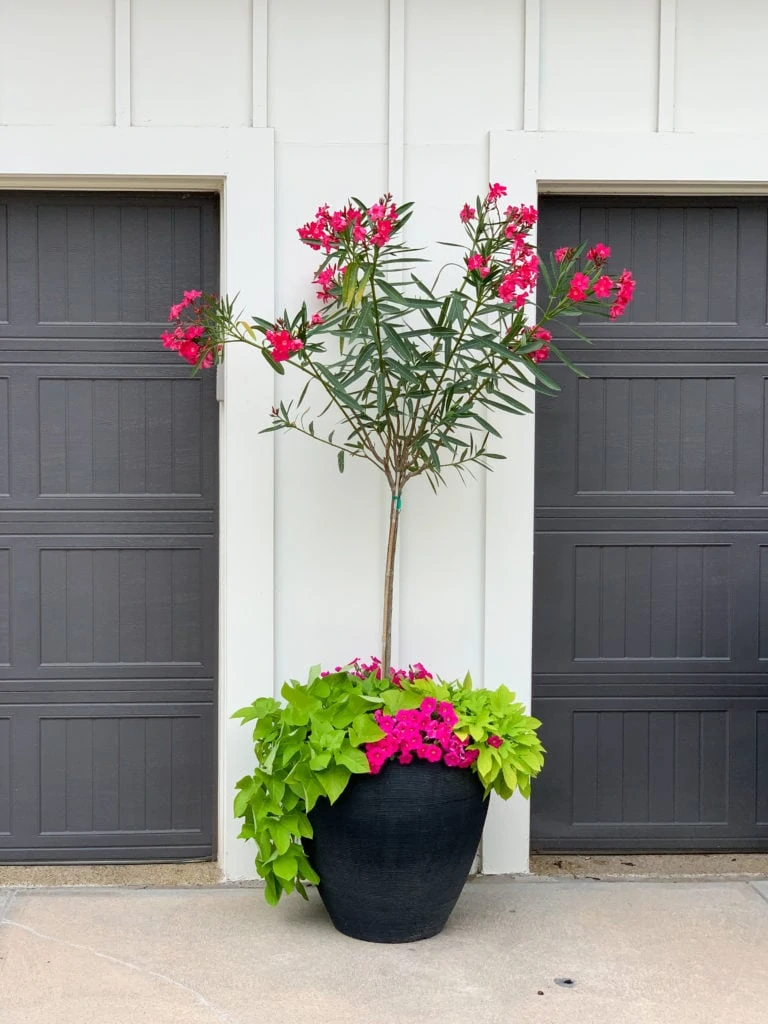 Additional Summer Planter Ideas
I really believe in varying textures in planters, so I wanted to share some additional summer planter ideas that can help you think about pretty plant pairings. In most situations, if you click the link under the images, you can learn about which specific plants are in each of the planters for an infusion of color.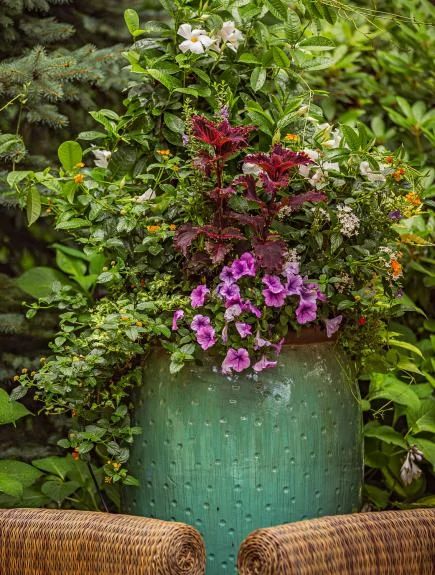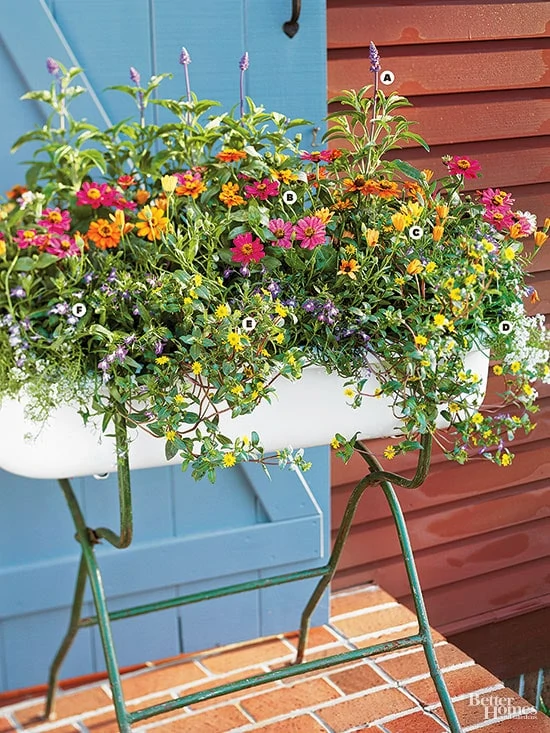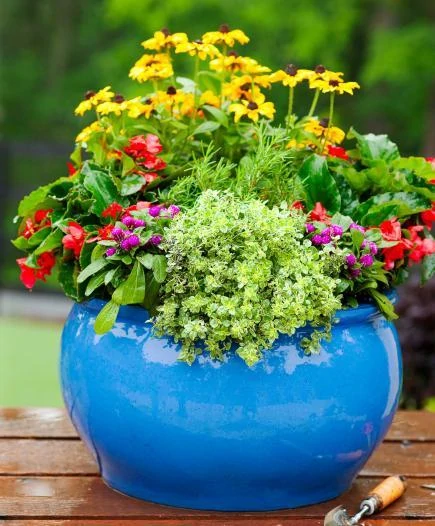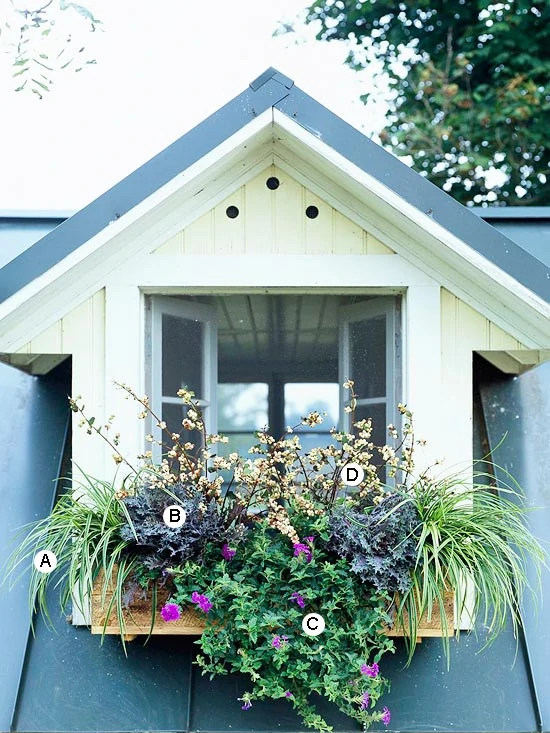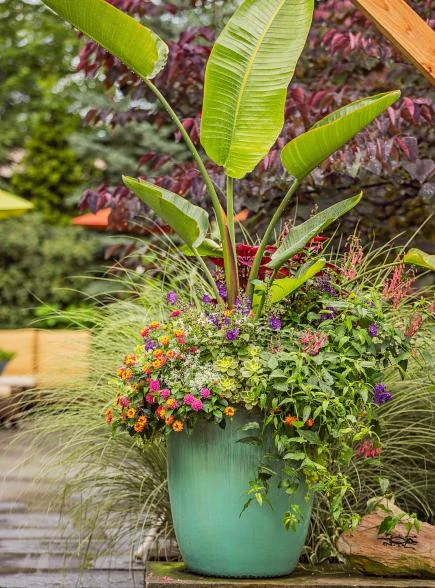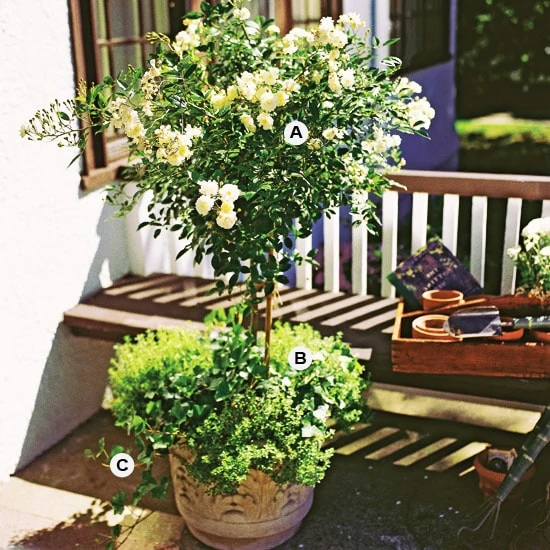 Do you have any stand-by plants or flowers you use when planting? I always love to find new vibrant options!
I'm planning to hit up several nurseries this week to stock up on essentials. Items (like thrillers) tend to sell out quickly around here, so I never wait until Mother's Day to buy. So, I may break the rules and get things going a little sooner! I'll be back in the next week or two to give a step by step look at how I create my planters. They don't typically look great on day one, but with a little love, they start to look amazing within a few weeks!
Additional Outdoor Inspiration
Looking for even more outdoor inspiration? Be sure to check out the following posts. Click any of the titles below to read the full article!
I hope you all have a great weekend!
If you would like to follow along on more of my home decor, DIY, lifestyle, travel and other posts, I'd love to have you follow me on any of the following:
Pinterest | Instagram | Facebook | Twitter
disclosure: some affiliate links used