Sharing six simple way to improve the curb appeal of your home. Whether you're looking for a quick spring refresh or wanting to list your home for sale, these tips will instantly improve the appeal of your home!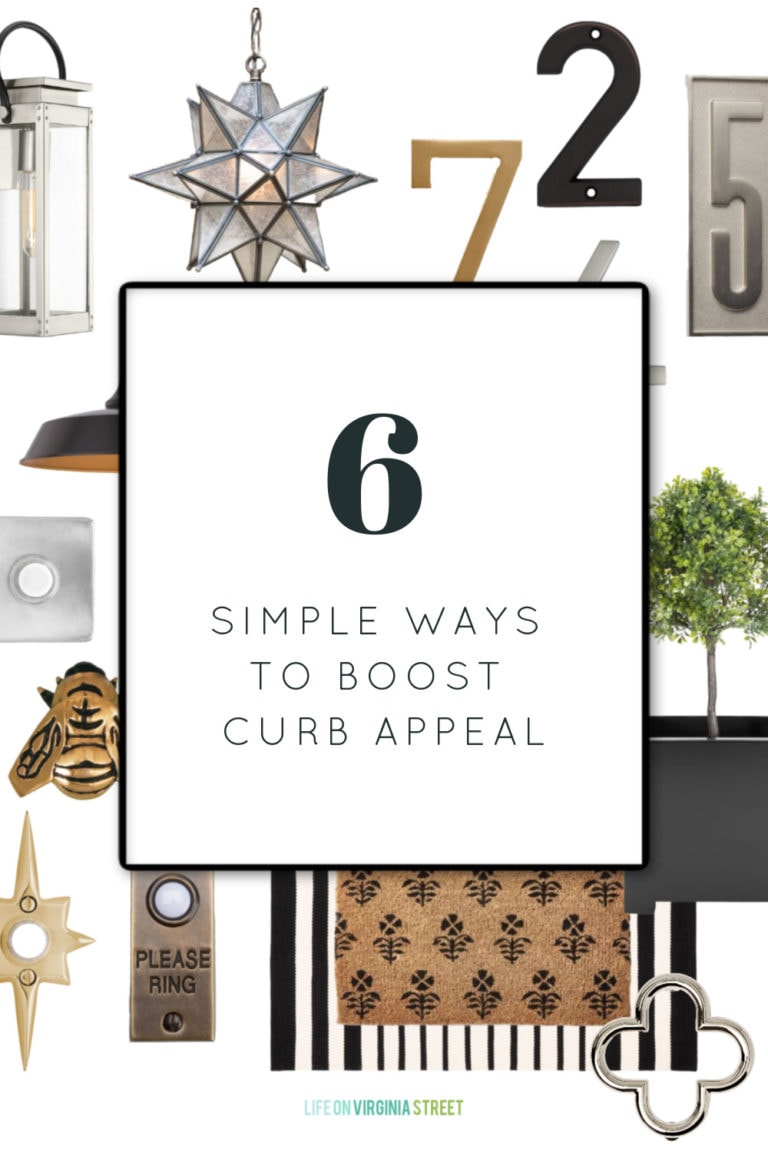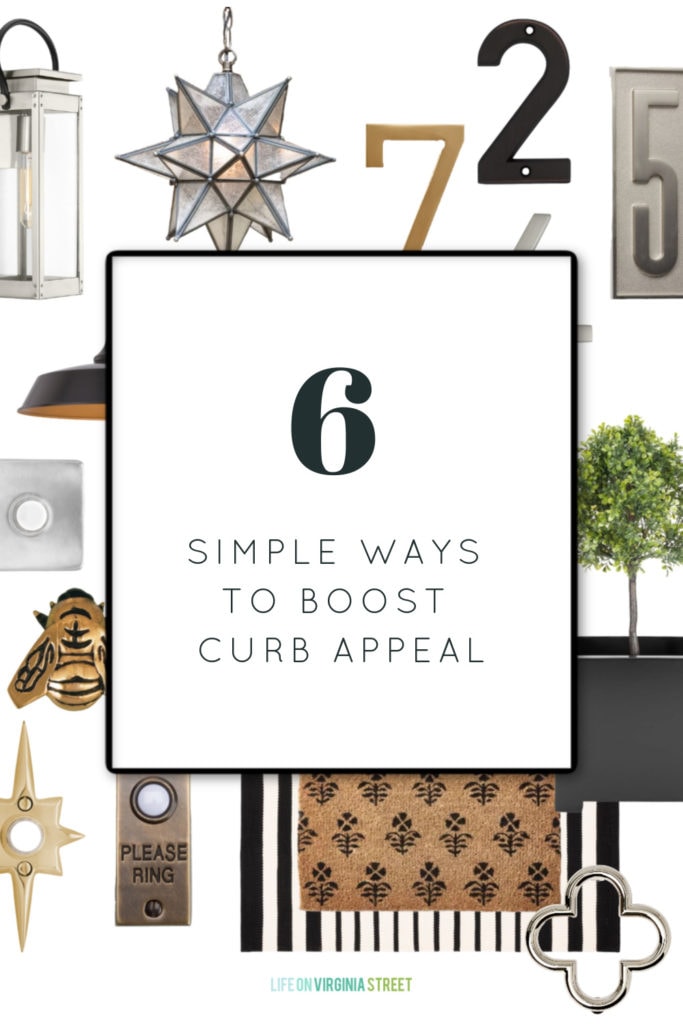 6 Simple Ways To Boost Curb Appeal
Despite the 6+ inches of snow we got here in Omaha yesterday, I know we're almost in the safe zone to start planting and getting ready for summer! With that, we always try to freshen the front of our home to make it more welcoming to guests. Whether you are just looking for a simple refresh or are getting ready to list your home for sale, today I'm sharing 6 simple ways to boost curb appeal! Before we jump into my tips, here's some fun inspiration for what we'll dig into!
This post contains affiliate links for your shopping convenience. Click here to read my full disclosure policy.
Keep Things Neat & Tidy
Before moving on to what I consider to be the more "fun" aspects of curb appeal, you need to start with a good cleaning. And by cleaning I mean making sure you do all of the following you'll want to try to cover all of the following steps.
Pull all of your weeds.
Trim all of your bushes and hedges. This cordless hedge trimmer is a favorite of ours and is so easy to use!
Remove any dead or unsightly plants and shrubs.
Refresh your mulch or other flowerbed cover.
Power-wash your porch, front deck, driveway, etc. This is particularly important if your concrete is stained or dirty.
Handle any maintenance needs like broken railings, shutters, etc.
Replace Old Hardware or Tarnished/Outdated Light Fixtures
Since outdoor elements can take their toll on hardware and lighting, quickly inspect yours to examine condition. This includes doorknobs, light fixtures, doorbells, knockers, door hinges, mailboxes, etc. If your finishes are peeling or flaking, determine if a coat of spray paint can provide a temporary fix. If so, you can lightly sand them, use a spray primer, and then give them a fresh coat of paint (look for one that works outdoors).
If not, look into replacing your hardware or fixtures. This is also important if you're rocking light fixtures and hardware that are outdated and from decades past. By updating to a more current look, you instantly improve your curb appeal and the overall personality of your home!
Here are a few outdoor light fixtures at various price points. Most of these come in a variety of finishes and sizes. And, if you find yourself wavering between two sizes, my personal belief is to go larger if you can afford it! Simply click on any of the images below to learn more about each of the items. If you're looking for even more outdoor lighting ideas, be sure to check out my dedicated post on stylish and affordable light fixtures.

Here are a few unique doorbells and door knockers I'm loving! Click any of the images below to learn more about each of the items shown.

Update Your House Numbers
Such a simple tip, but updating your house numbers can have a big impact on your curb appeal. And it can be done relatively inexpensively! I still see so many houses with rusty old brass numbers or vinyl stickers adhered to their house. There are so many fun options now, that there is no reason to have boring numbers! Pick a set that works well with your home's style, in the finish you prefer. See the selection of unique house numbers at some of my favorite stores below by clicking each of their names:
Following are a few of my favorite house number picks. Most of these come in a variety of finishes to fit your needs. You can click any of the images to learn more about each of the options.

Add a Fresh Welcome Mat
Nothing says "welcome to our home" like a welcome mat that actual says that 😉 But, if you haven't replace your mat in several years, it's likely time for a replacement. Over time, they tend to shed, fade and get dirty. It's a relatively inexpensive update that immediately makes your front porch more polished. Here are a few favorite recent finds.

And if you have a larger front stoop, try layering one of the mats above, with a larger patterned flat weave rug for a unique look!
Paint Your Front Door
One of the easiest ways to update the look of the exterior of your home is to give your front door a fresh coat of paint! The outside of your house should reflect the personality and design of what's on the inside of your home, so choose accordingly. I probably need to dedicate an entire post just to the best front door paint colors, but the options are pretty limitless! And if your HOA limits your color options, give your front door and hardware a good cleaning and add fresh coat of paint (in the same color) if needed!
Add Some Color
Most home could benefit from some outdoor color! Even if you don't want to mess with planting annuals or colorful perennials in your yard, add a small pot filled with flowers to your front porch or flower beds or install window boxes with flowers! These summer planter ideas may give you just the inspiration you need to get started. This simple task makes the front of your home come alive and instantly seem more welcome and lived-in. If you don't love flowers, a simple pottery topiary or a wreath on your front door would work too! Regardless of what you pick, be sure to water them so your added curb appeal doesn't turn into an eyesore!
I typically do one large planter on our porch each summer. But last year, I found to small pre-potted impatiens planters at our local nursery on clearance. After bringing them back to life, I loved the extra pop of color they added to our porch!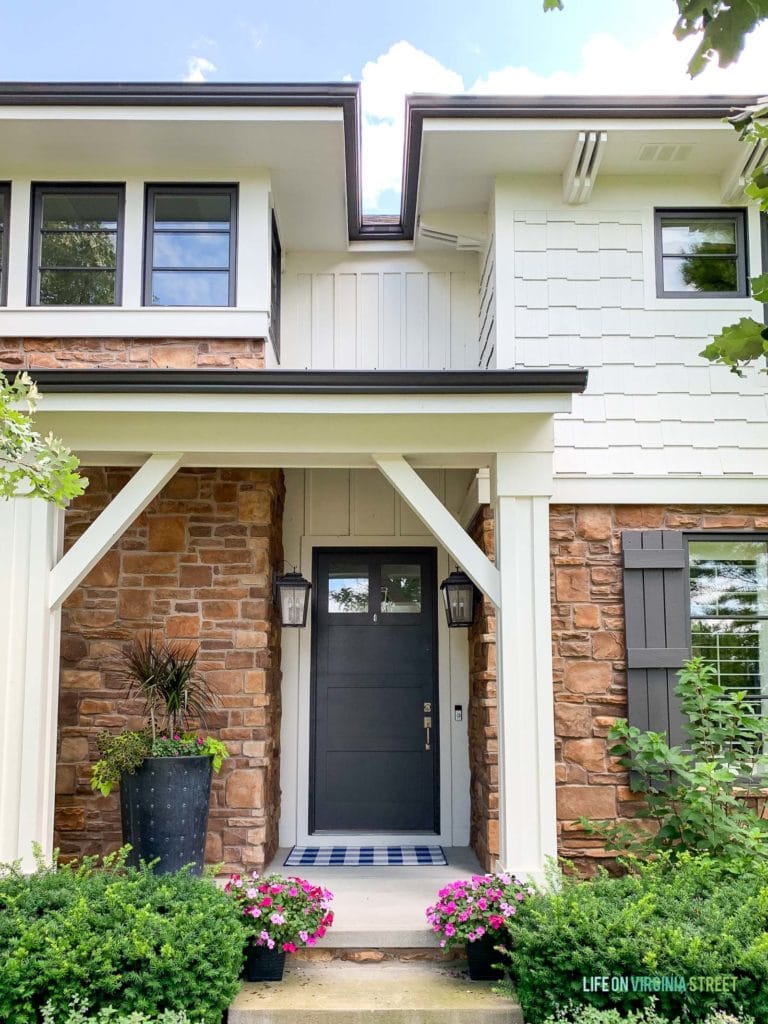 PORCH SOURCES: Lantern Wall Sconces | Buffalo Check Mat | Planter: Lanoha Nurseries (left by prior home owner) | Door & Shutter Color: Benjamin Moore Iron Mountain | House Color: Benjamin Moore White Dove
Favorite Curb Appeal Accessories
Following are a few of my favorite curb appeal accessories in one graphic. Sometimes this helps to visualize some of the pieces together!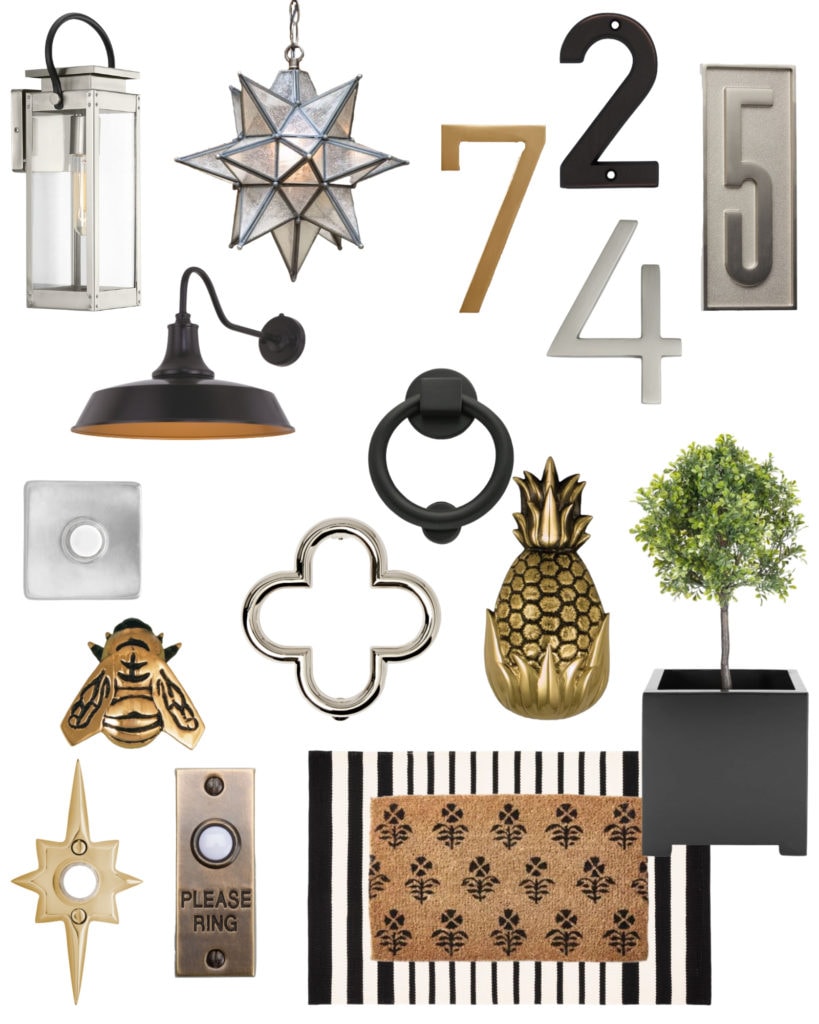 SOURCES: Lantern Light | Star Pendant Light | Barn Light | House Number Styles: 7– 2 – 4 – 5 | Star Doorbell Button | Square Doorbell | Bumblebee Doorbell | 'Please Ring' Doorbell | Quatrefoil Door Knocker | Ring Door Knocker | Pineapple Door Knocker | Metal Planter | Block Print Door Mat | Striped Rug Mat
I hope you found these tips helpful! I have even more ideas in the next section below.
More Landscaping and Curb Appeal Ideas You May Enjoy
Following are even more posts I've written that relate to helping you boost curb appeal. Simply click on the title of the article below to read the full post.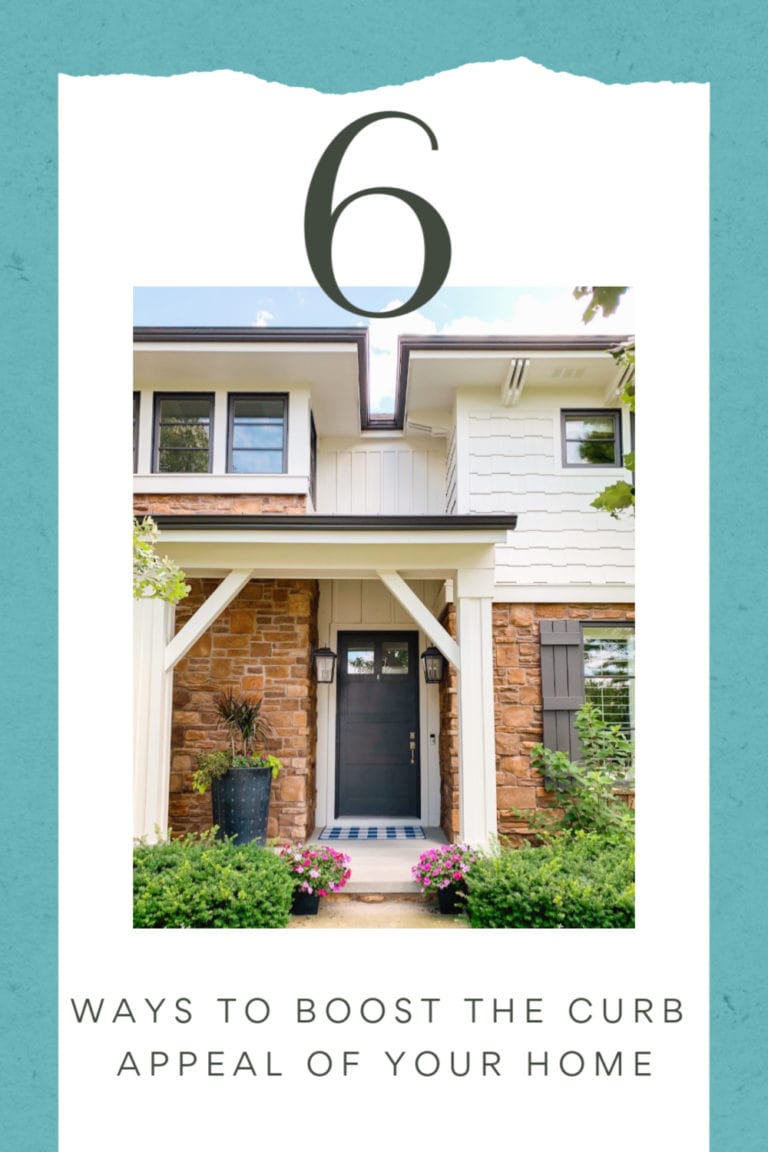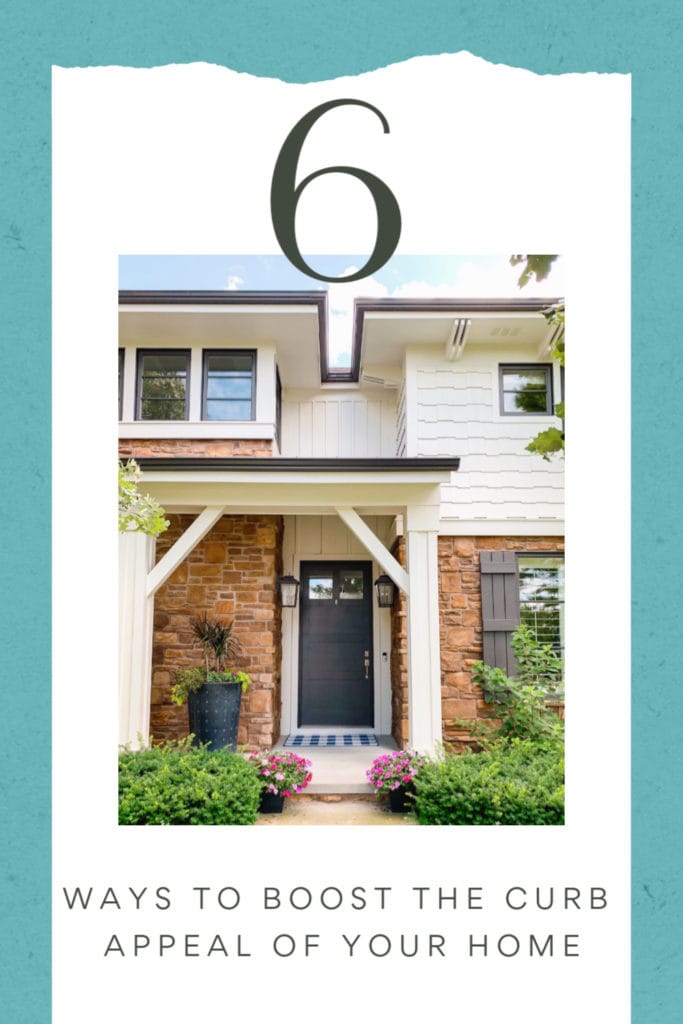 If you would like to follow along on more of my home decor, DIY, lifestyle, travel and other posts, I'd love to have you follow me on any of the following:
Pinterest | Instagram | Facebook | Twitter
disclosure: some affiliate links used