It's one of my favorite blogging days of the year! Our 2020 summer home tour has arrived! It's no secret that summer is by far my favorite season and I love everything about it. And that includes decorating both indoors and outdoors! Today I'm teaming up with Marty from A Stroll Thru Life, along with 30 other bloggers to bring you my tour. Once you've taken my tour in this post, you can visit all the other homes via the links at the end of this post afterwards. If you're stopping in from It All Started With Paint, welcome!
Two weeks ago, I shared my summer decorating ideas and plans and now I'm sharing the real-life version of the spaces with a few changes I made along the way! Let's jump into it.
This post contains affiliate links for your shopping convenience. Click here to read my full disclosure policy.
Welcome to our home! I literally took this picture of our front porch last night as the sun was setting, because I've been super proactive about taking our home tour photos. Ha! Not only that, it wasn't until after I took all my photos, I realized I had my wide-angle lens on the whole time. So, objects in photos may appear larger than they are in real life or however the saying goes on rear-view mirrors 😉
After painting most of the exterior White Dove a few years ago, we've recently been contemplating painting the stone. I'd love to hear your thoughts! We don't really have a ton of interest in tearing it off since it wraps around the side of our house too. If you're interested in any of the other paint colors in our home, be sure to check out my post on our whole house paint colors.
Outside of the fall and Christmas season, our entryway basically hasn't changed since February of 2019. Our striped rug pairs so well with our door color it's hard to change! Not only that, it's basically indestructible since it's indoor/outdoor
As we move down the hallway, we have our courtyard to the left of this photo (more on that later) and our powder bath and mud room to the right.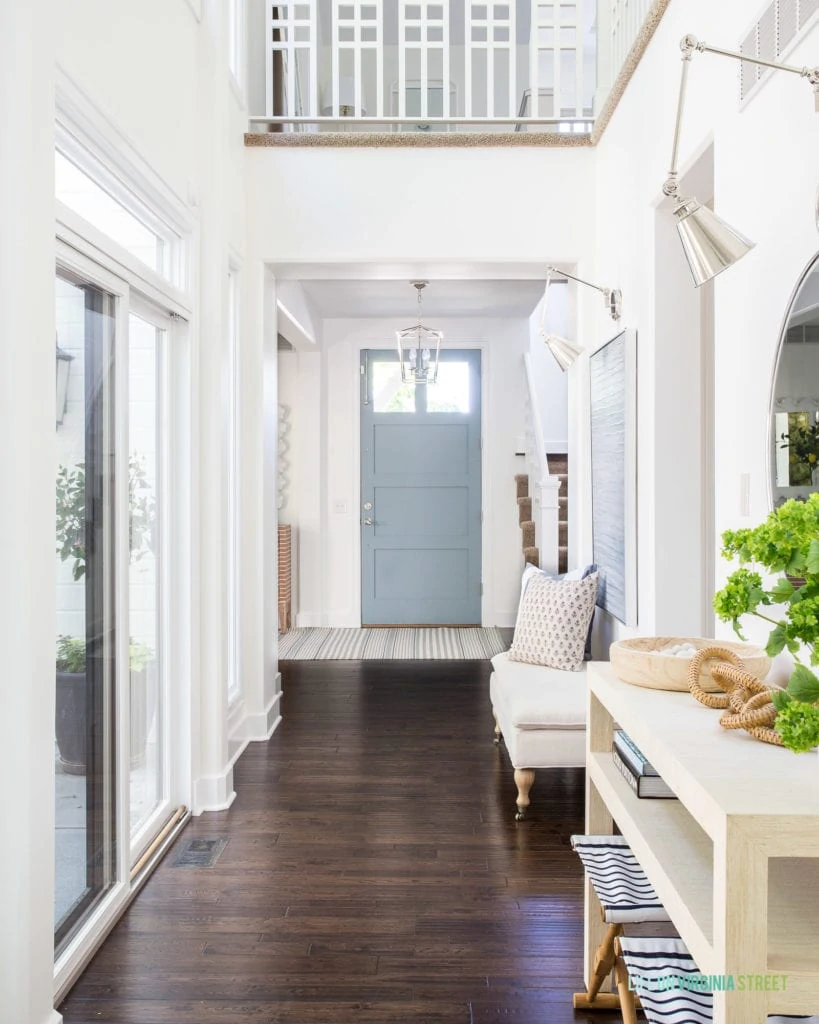 Although it's nearly impossible to photograph (and to erase the camera reflection in the mirror), this little vignette is one of my favorites in our house. Even if it really isn't complete. I'm still learning how to style a double decker table!
Further down the hallway we move into our kitchen. I didn't change much from our spring home tour, but did add in some orange greenery stems and I'm loving how they look paired with all the blue!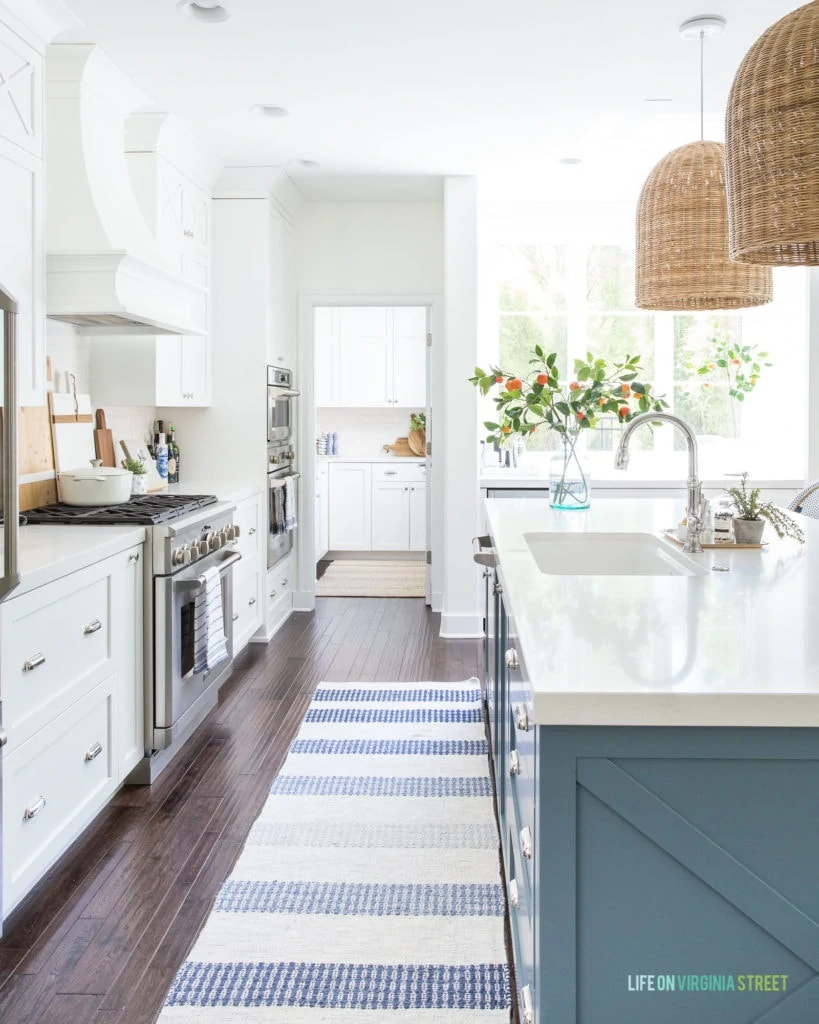 I only have three orange stems in this vase but they make such an impact in our kitchen!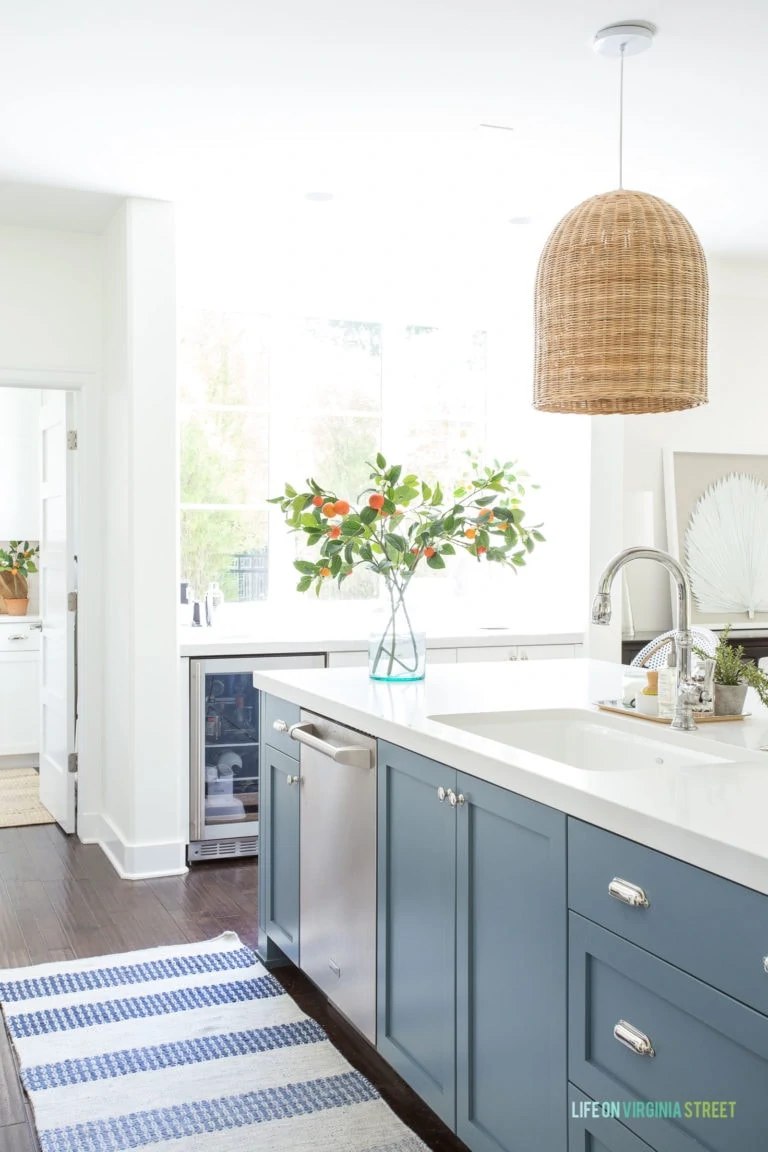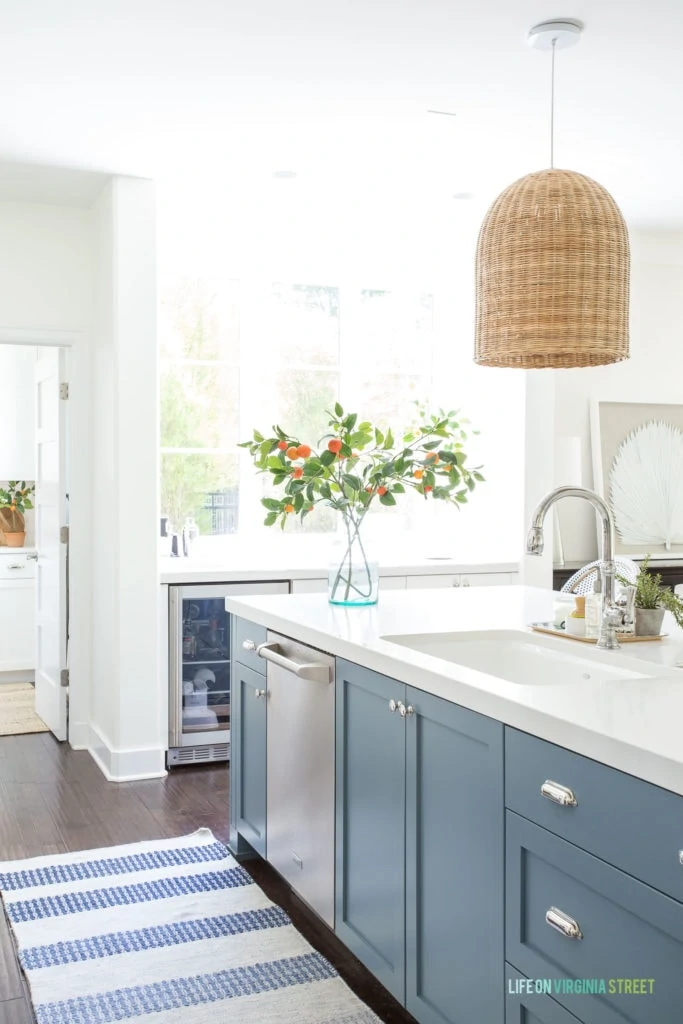 There are few things that make me happier than seeing all the greenery outside of our windows come to life! It's such a different vibe than when every thing is barren or covered in snow in the winter months. So I try not to compete too much with the views outside this time of year.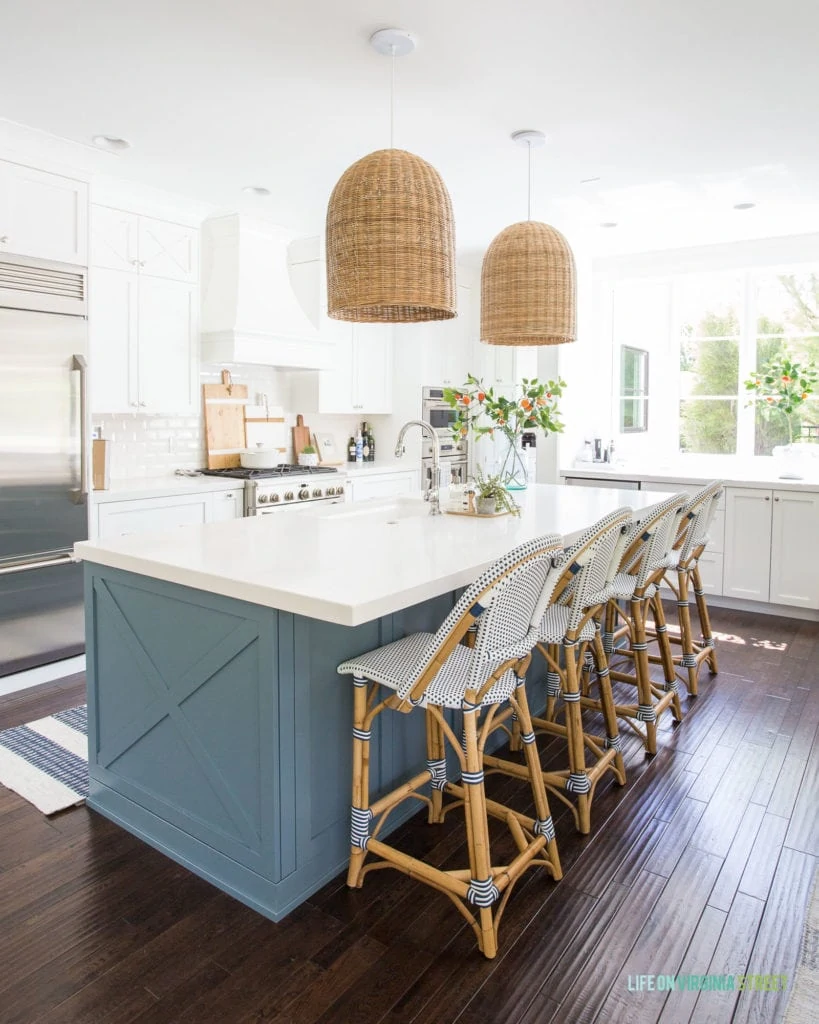 So happy I went with these orange stems this year! They have such a happy vibe!
As we leave the kitchen we head into the living room.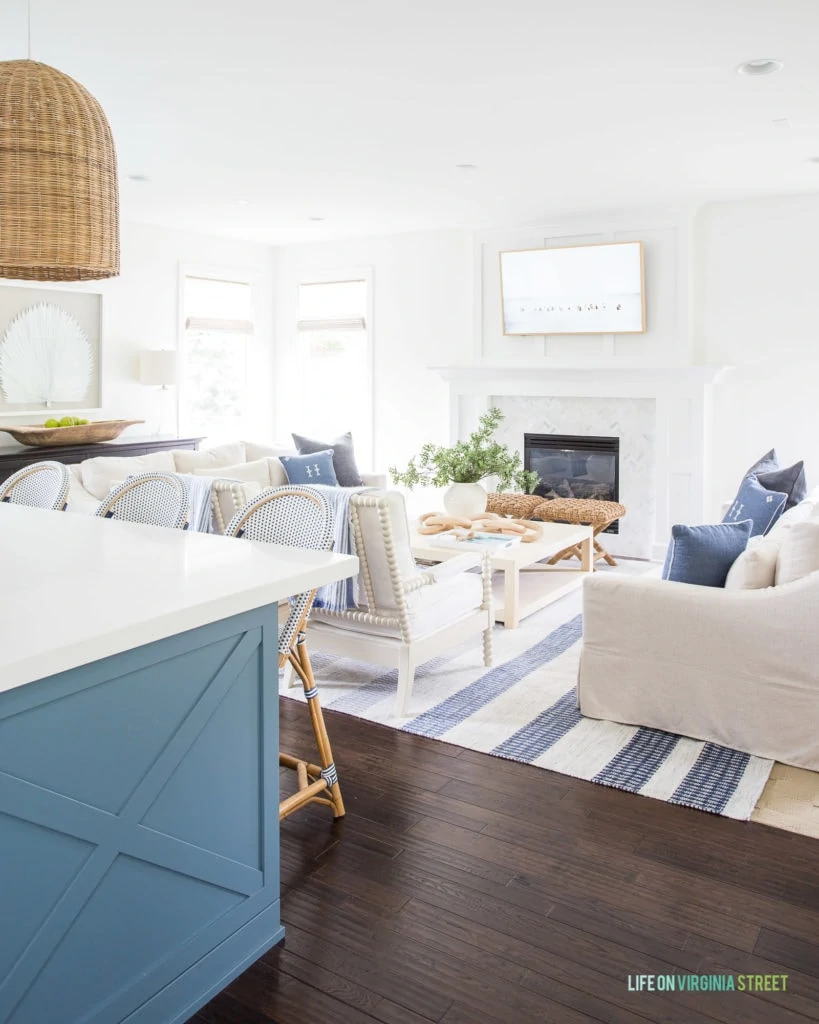 In the summer months, I love using blues and neutrals to compliment the scenery outside. This embroidered pillow and striped lumbar were the perfect additions!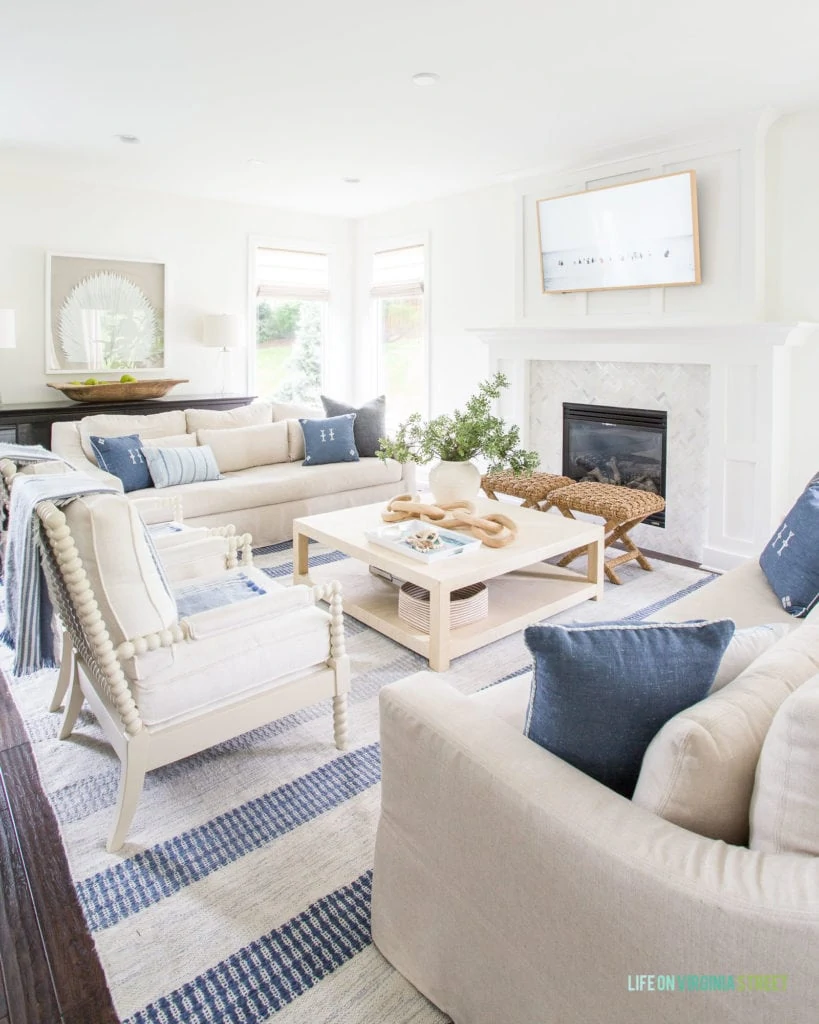 One of the few changes we made in our living room was swapping out our gallery wall for this oversized palm art. I'm absolutely loving it here for the summer months. I'll likely bring back the gallery wall in the fall and winter months but this was a fun change for now!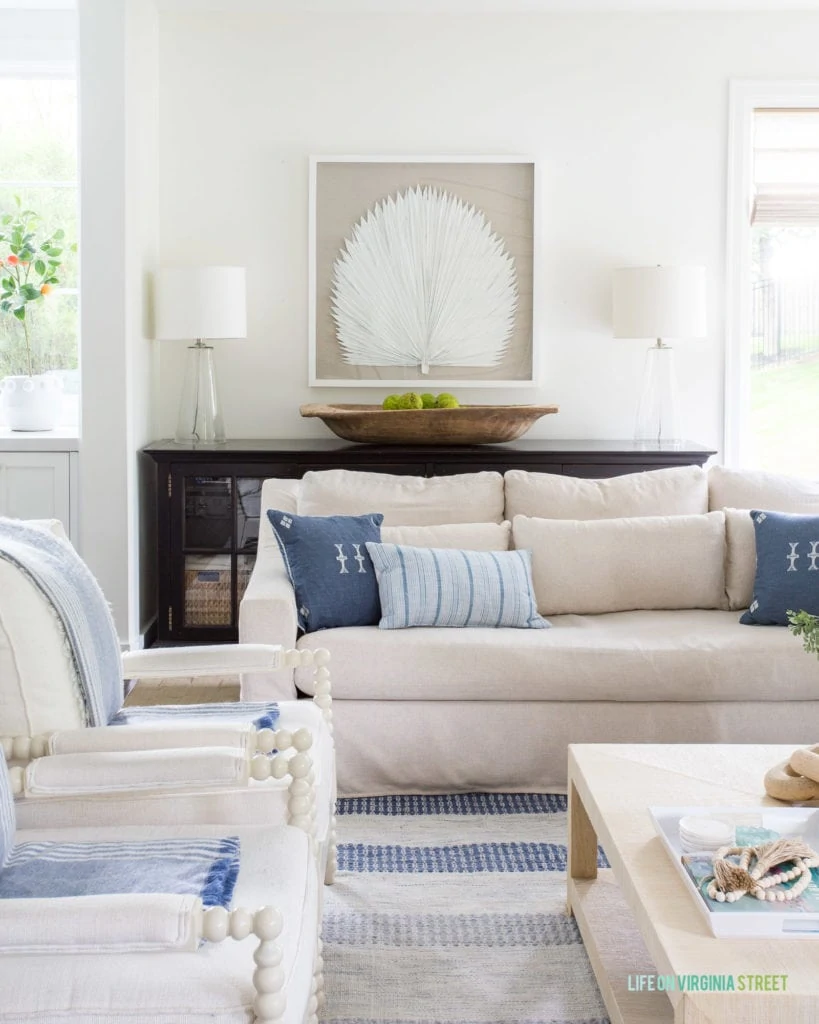 From this angle you can get a peek out onto our covered patio. We have big plans for that space and I hope to share more about that soon! Maybe even tomorrow if I can get my act together. Otherwise, hopefully sometime later this week or early next week!
I had every intention of also getting our dining room ready for this home tour, but life intervenes. So, I promise to share it soon! I'm hopeful the old chairs will be sold shortly so I can get it all photographed! But you can see a little peek in the photo below!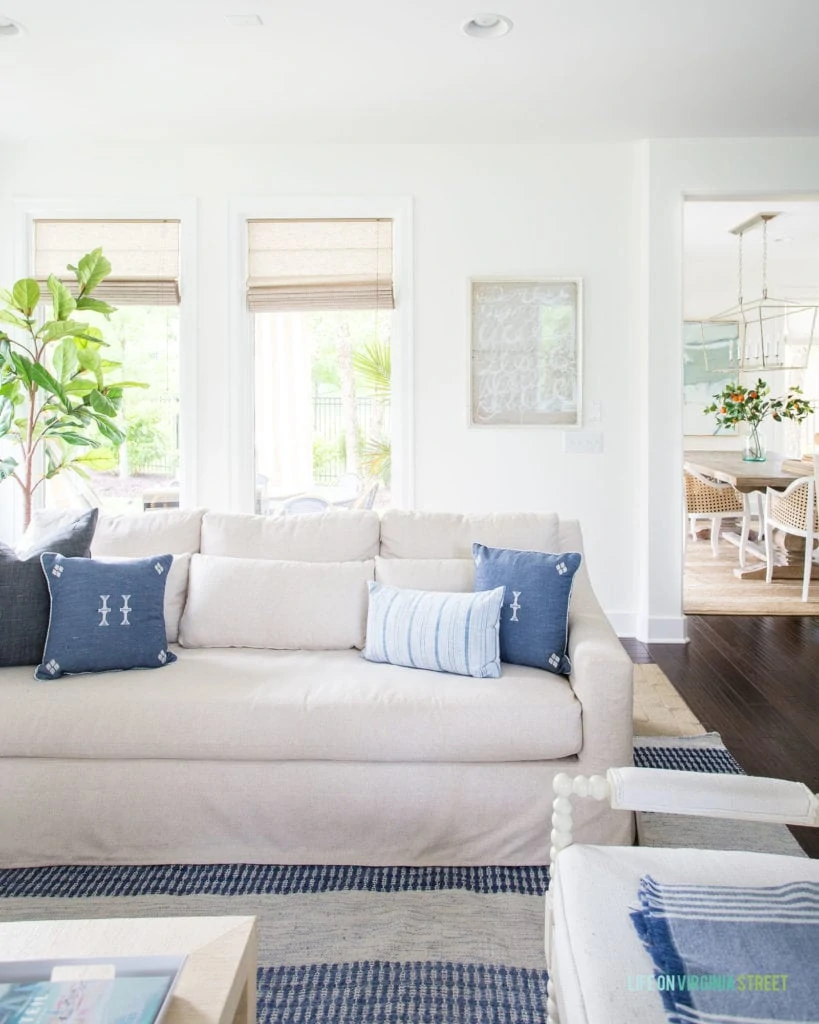 And, although the office isn't necessarily photo-worthy because I don't really consider it "done", I thought I'd share how it looks today! For those that are new here, our home office sits just to the right of our entryway and before you go upstairs, and has been a recent work in progress.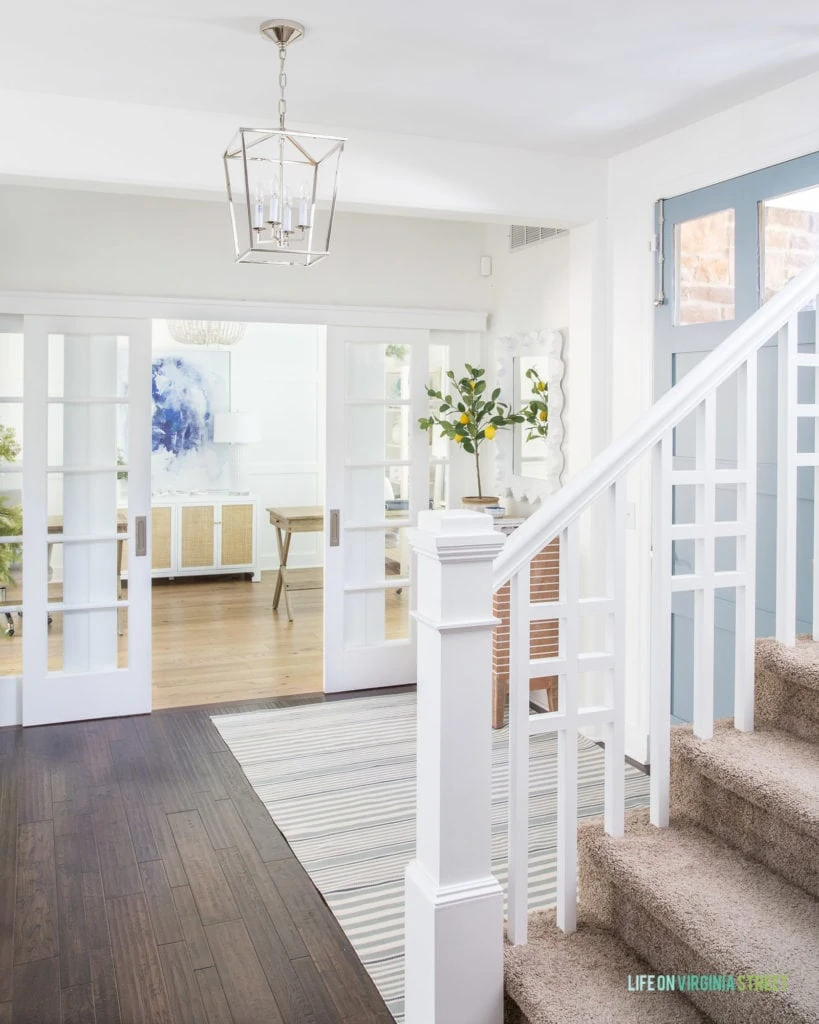 We recently painted our board and batten wall Simply White from Benjamin Moore. It was BM Hale Navy for several years, and while we loved it, we were ready for a change and to lighten things up a bit! I was hoping to find a pretty blue/gray color I loved, but couldn't finalize a color. So, I went with Simply White since it was one of the few colors I had on-hand the past few months. You can read more about our makeover plans in this post. Regardless of how we move forward, we definitely need to get a rug back in here ASAP though to protect the floors from our rolling chairs.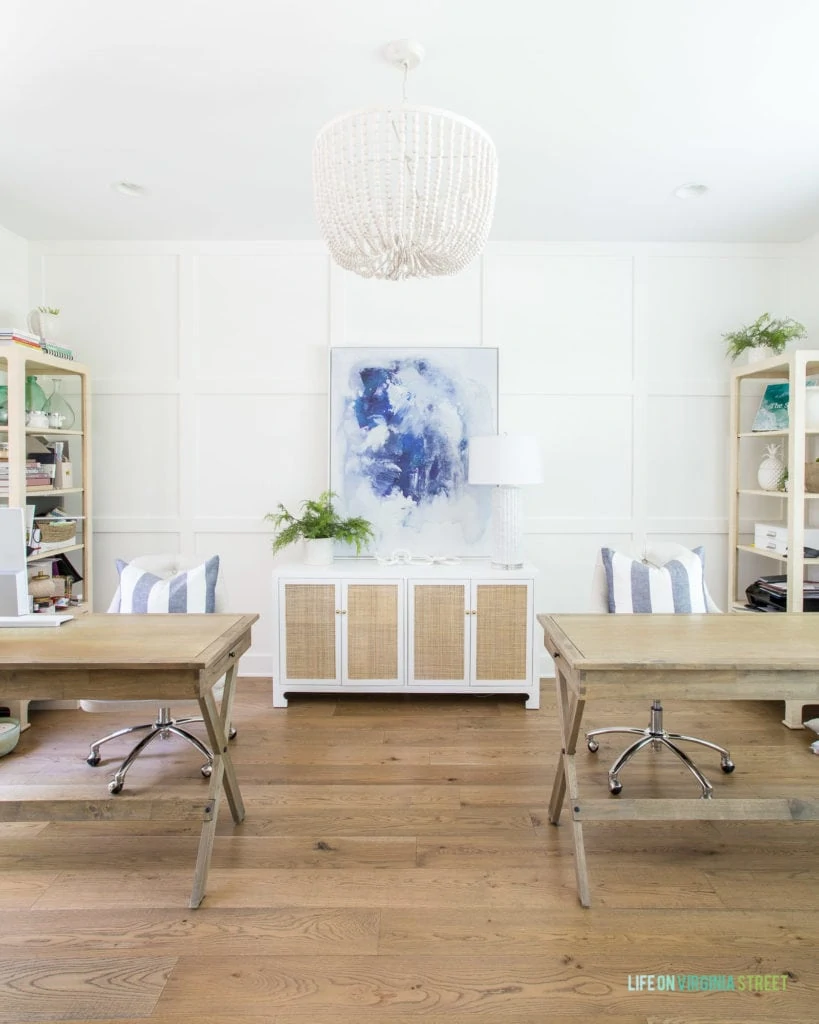 One of the best decisions we made in this whole mini-makeover was moving this cane cabinet from our entryway into our office. We were needing something to hide our new printer/scanner combo since it had been sitting on the floor for nearly a year. This is very much an active, working office, so it's great to bring some more function back into the space!
As we head upstairs, I recently added this family photo gallery wall and it's one of my favorite spots in our home.
I now can't believe I left this wall empty for seven years! These oversized frames are massive and do such a nice job of filling up all the empty space.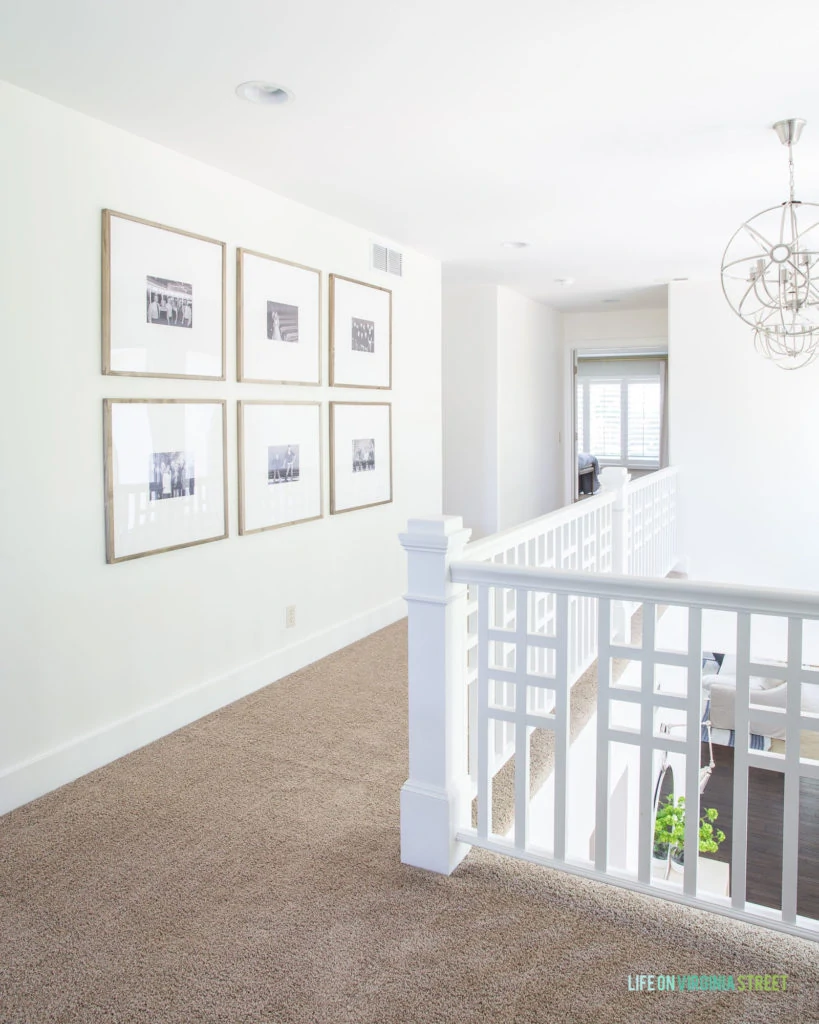 HALLWAY & STAIRWELL SOURCES: Gallery Wall Frames (similar here) | Similar Orb Chandeliers | 'It Is Well' Canvas | Sconce Lights
As we head into our den, I only made a few minor changes for summer.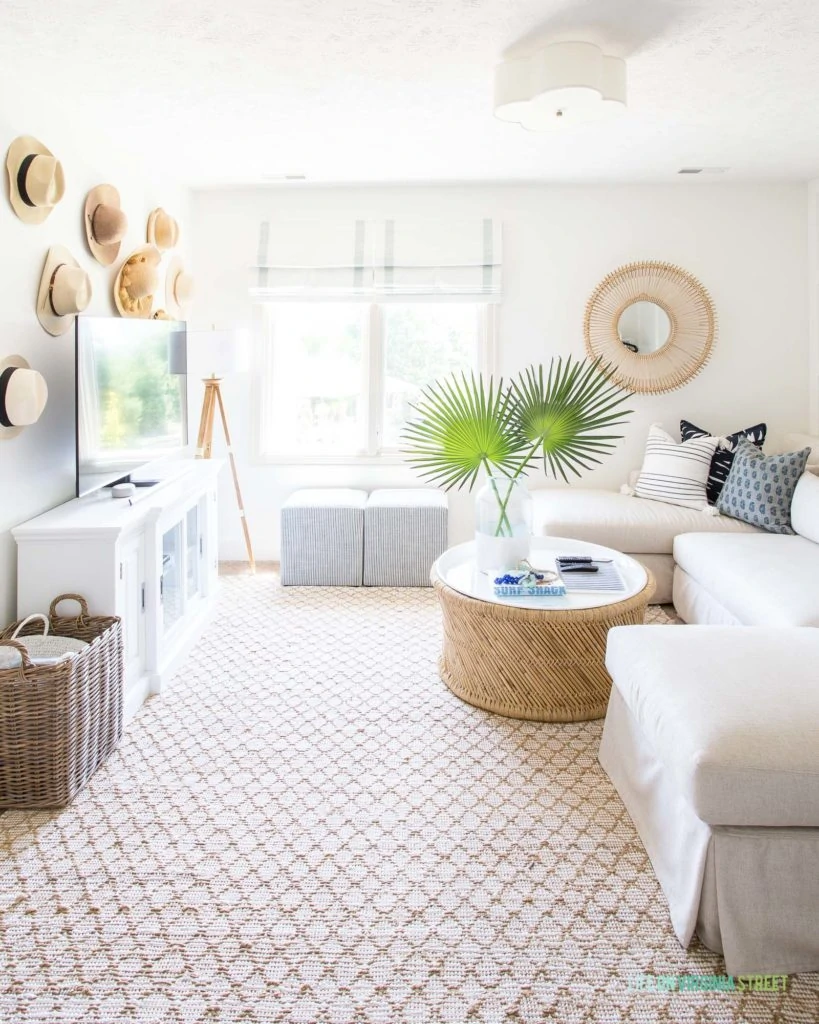 I used pillows I already had on hand for the sofa, and also found the fan palm stems in storage. I'm loving this combo in here!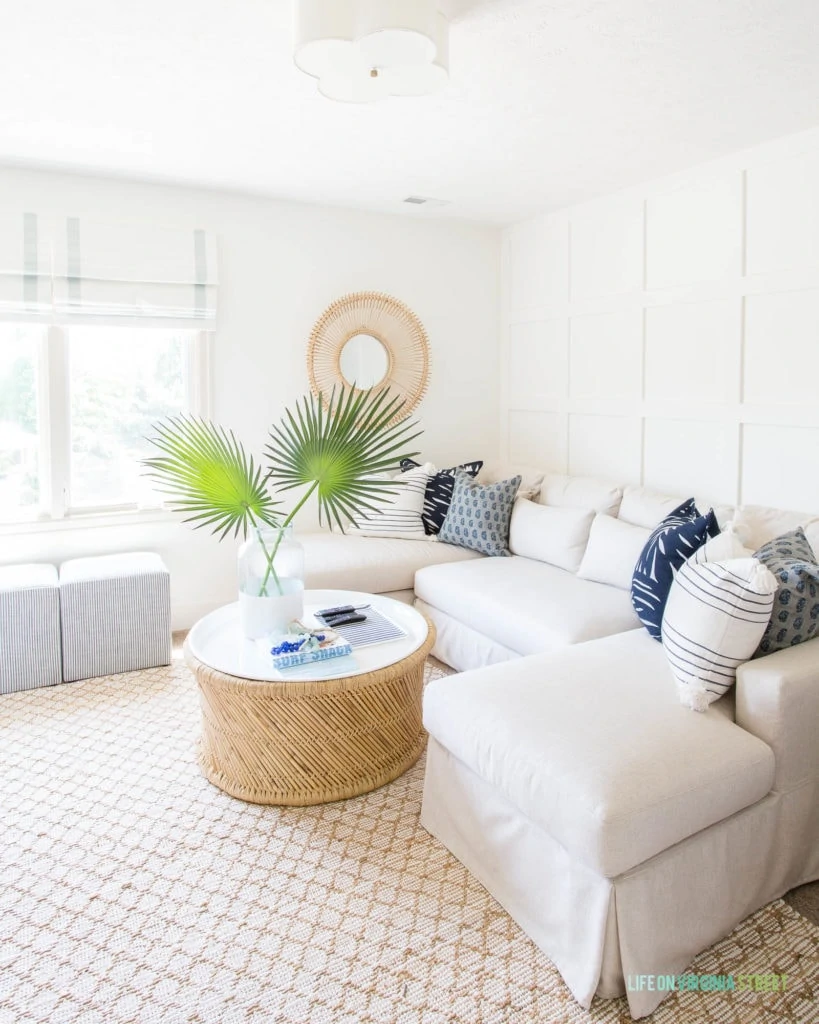 Our cats loving having a bench or ottomans under the window so they can look out. These striped ottomans are the perfect height for them!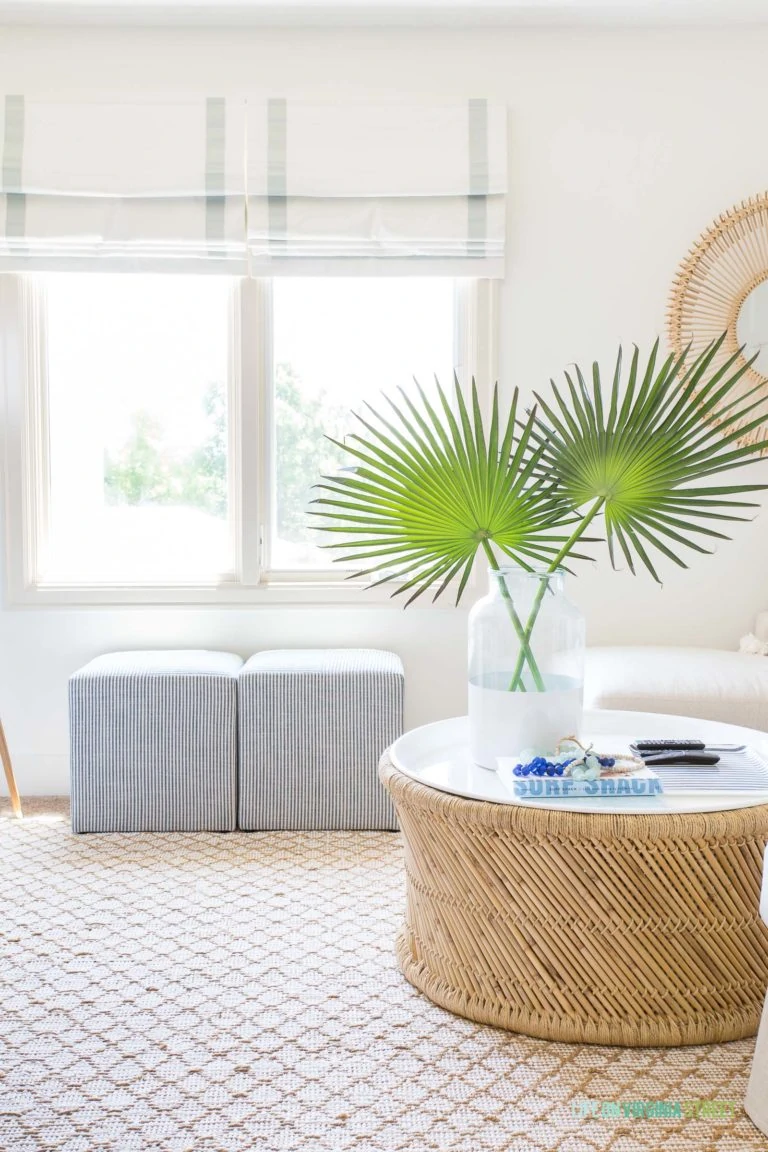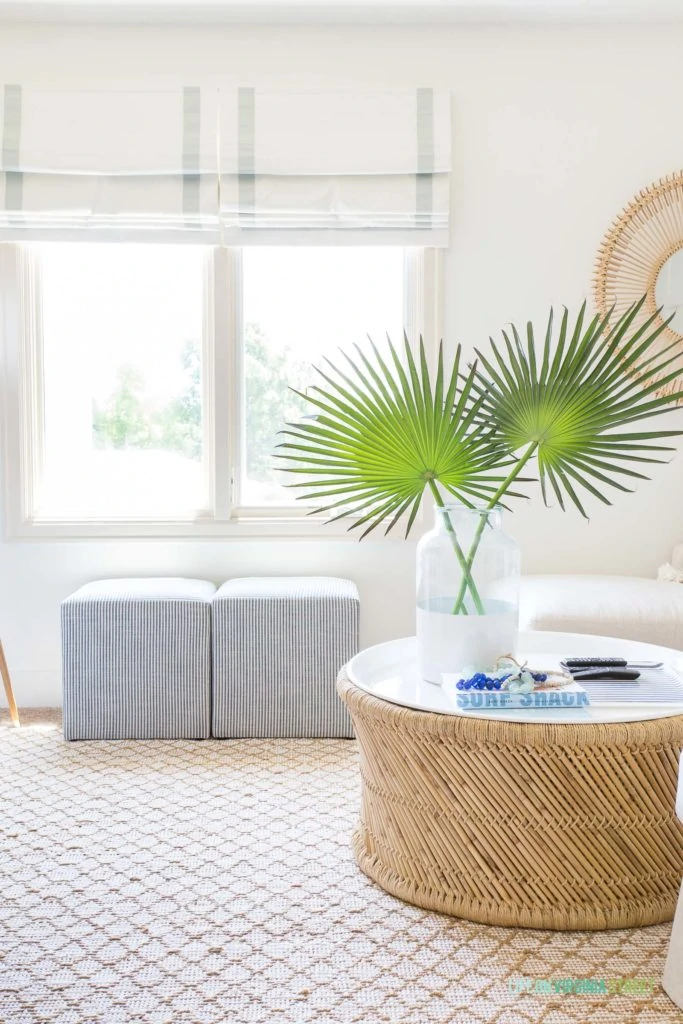 I don't think I've ever shown this view before, but I wanted to share the shutter cabinet in the space! It looks so much cleaner than the open shelving I had before and I'm so happy with it!
As we move into our master bedroom, I didn't change much other than our bedding and adding in some lemon stems.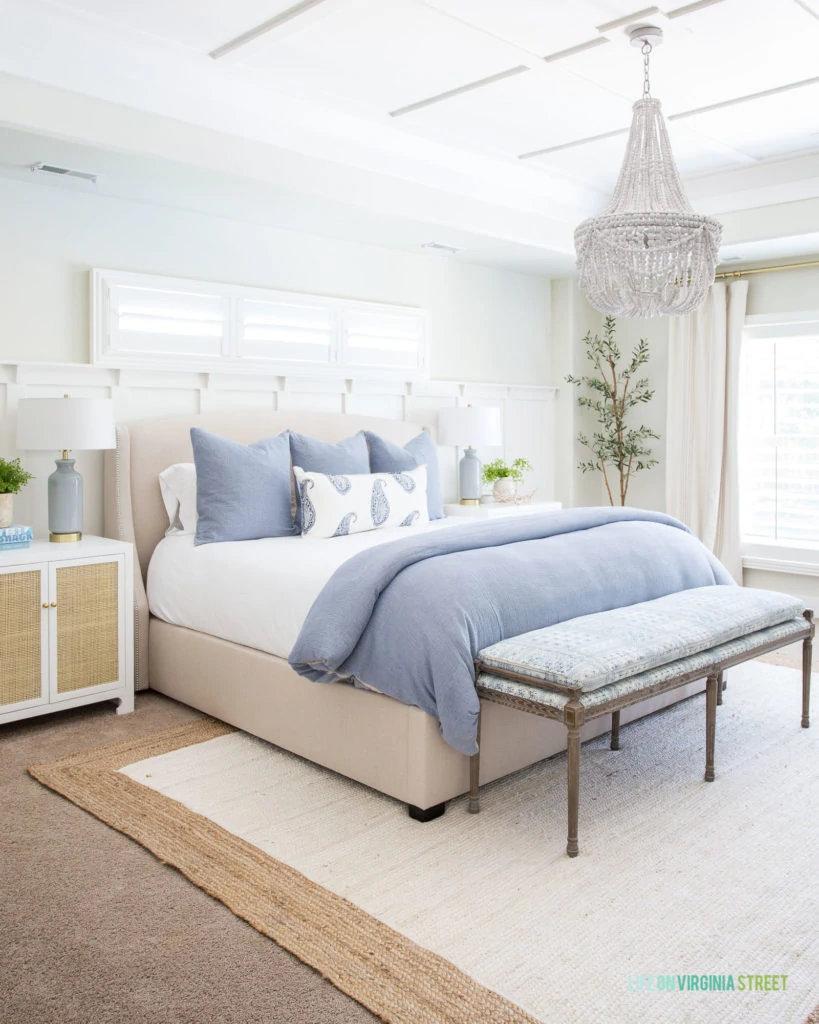 I kept our vacation print photos in our gallery wall. I still love waking up to them each morning!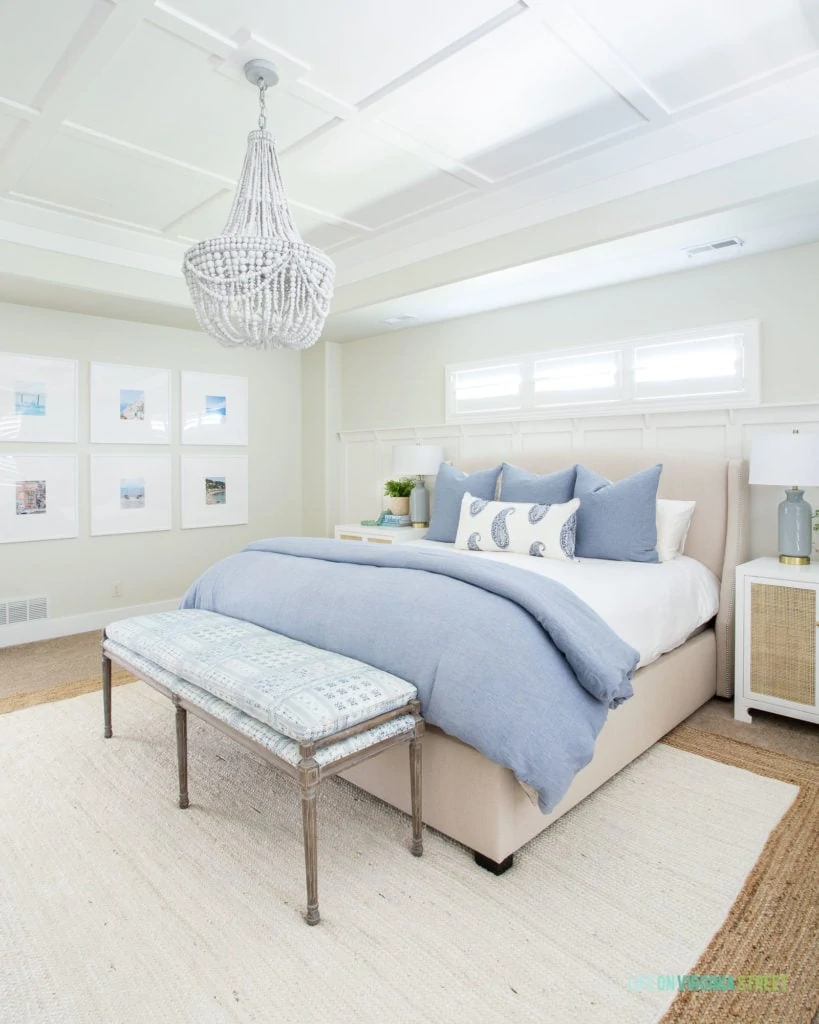 I'm so happy we finally decided on a dresser this past year! I can finally show photos of the other side of our bedroom!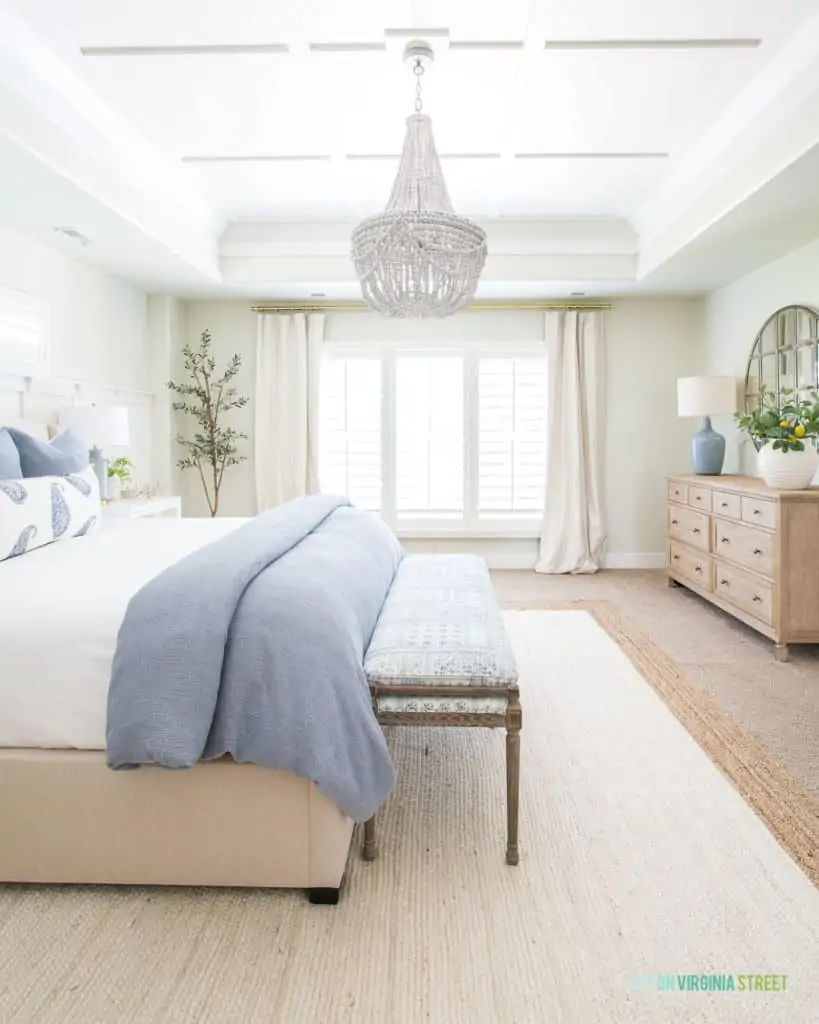 These lemon stems are so good for summer, and I love every little detail on our round mirror! Most of our vacation photos on the gallery wall are from Italy so the faux lemons tie in perfectly.
And while I didn't make any changes in our main guest bedroom for summer, I feel like the spring look that remains works just as well for the summer months!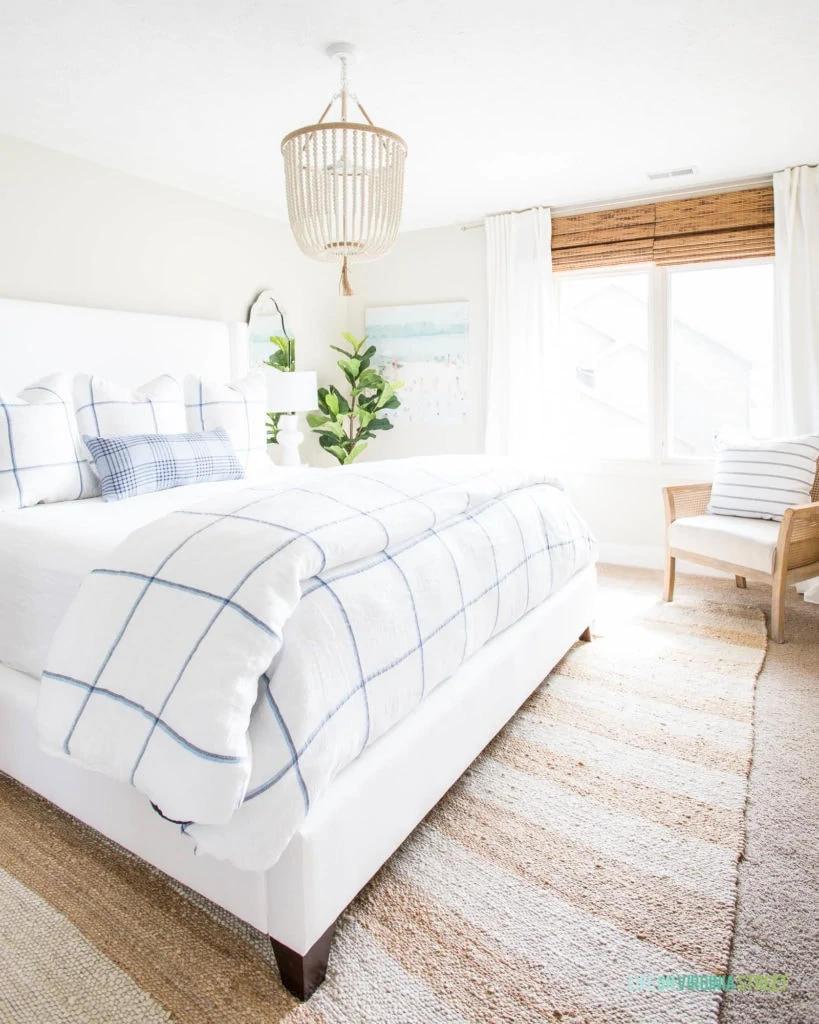 The abstract beach art is still one of my favorites ever!
And as I mentioned I would, I'm circling back now to the courtyard just off our entryway. Our office and dining room also look onto this area and it's one of the most unique features of our home.
Because I like to live on the edge, I totally changed this area within the last few days, just in time for the tour. I sold our old fire pit set, and assembled a pair of our new swivel chairs. I still have another pair to assemble, but after Kurtis power-washed the space, I couldn't wait to get it all set up! We also strung our new shatterproof string lights this past week and they add such a great ambiance to the space. We had some wine after dinner out here last night and I'm so glad we got this spot back into shape!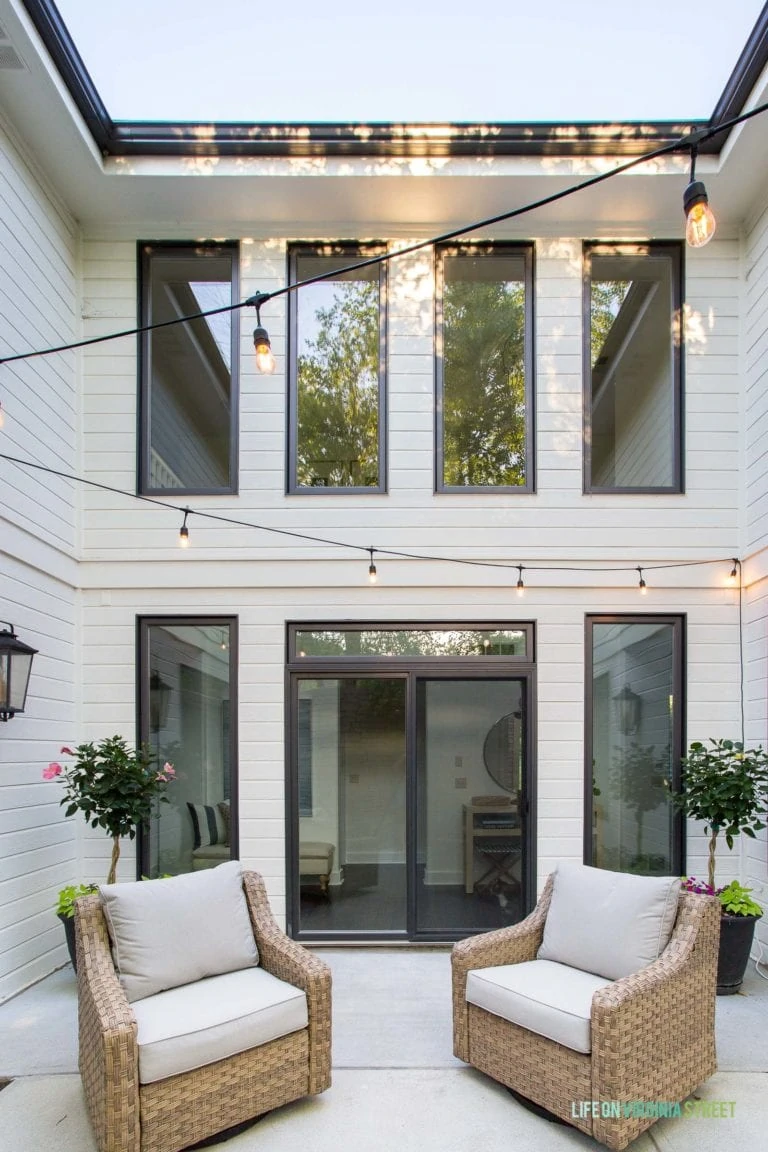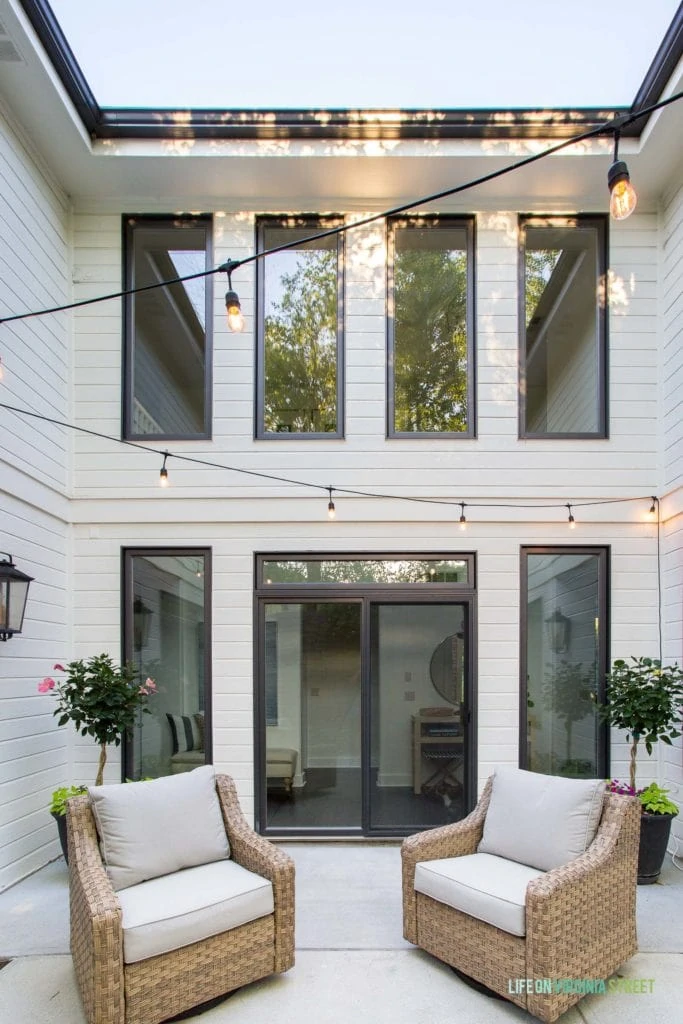 I can't wait to get the other two chairs in here since it's a little barren otherwise. In the meantime, here's the view from the two chairs we do have assembled: our wall and the sweetest smelling honeysuckle! It was so fragrant yesterday while I was assembling these two chairs!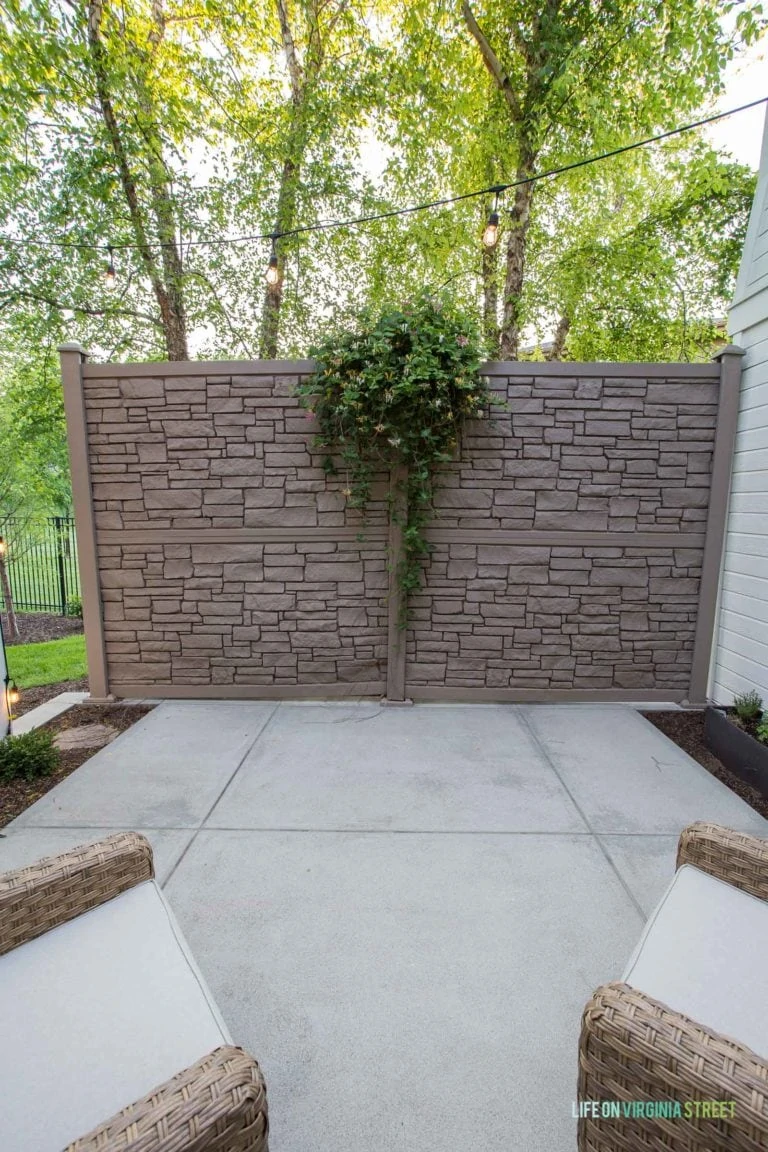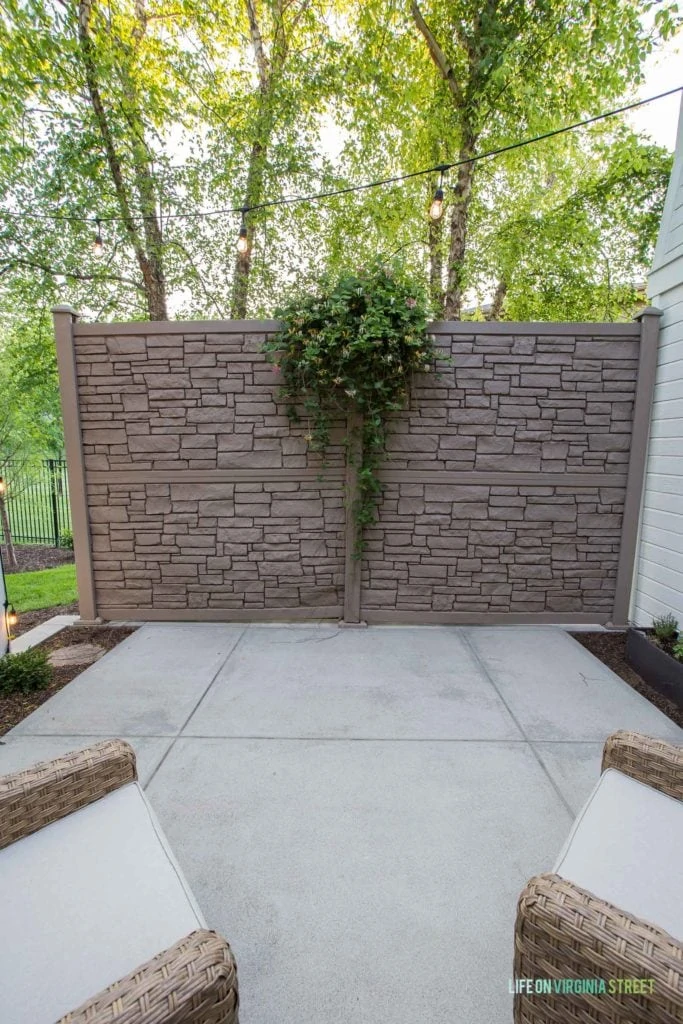 COURTYARD SOURCES: Swivel Chairs | Shatterproof String Lights | Hibiscus Topiary | Sweet Potato Vines | Similar Resin Planters | Wall Lanterns (old – Lowe's) | Faux Stone Fence Panels | Honeysuckle
And since we're in the outdoors, I'll leave you with our backyard. This is the heart and soul of our home in the summertime!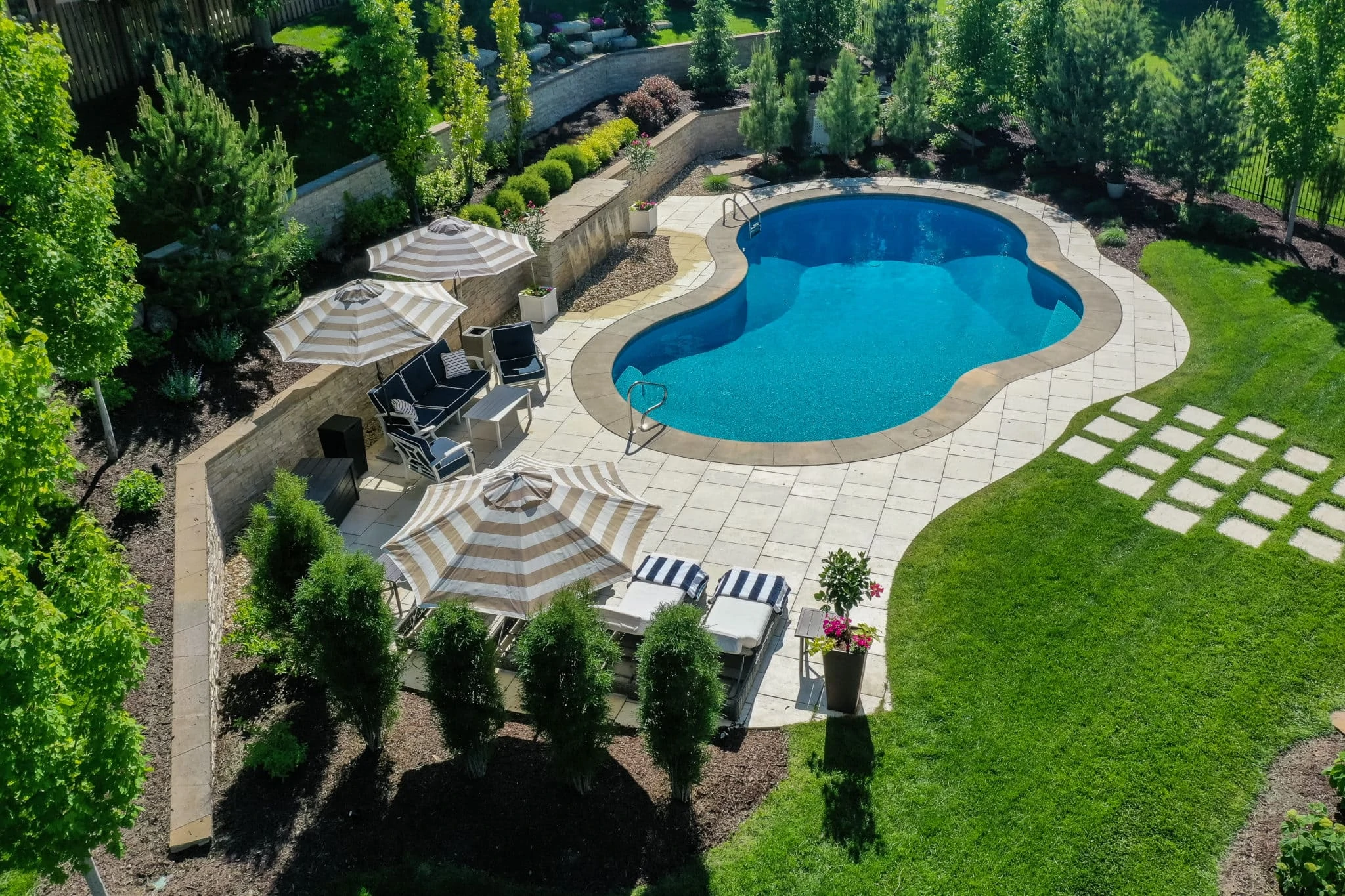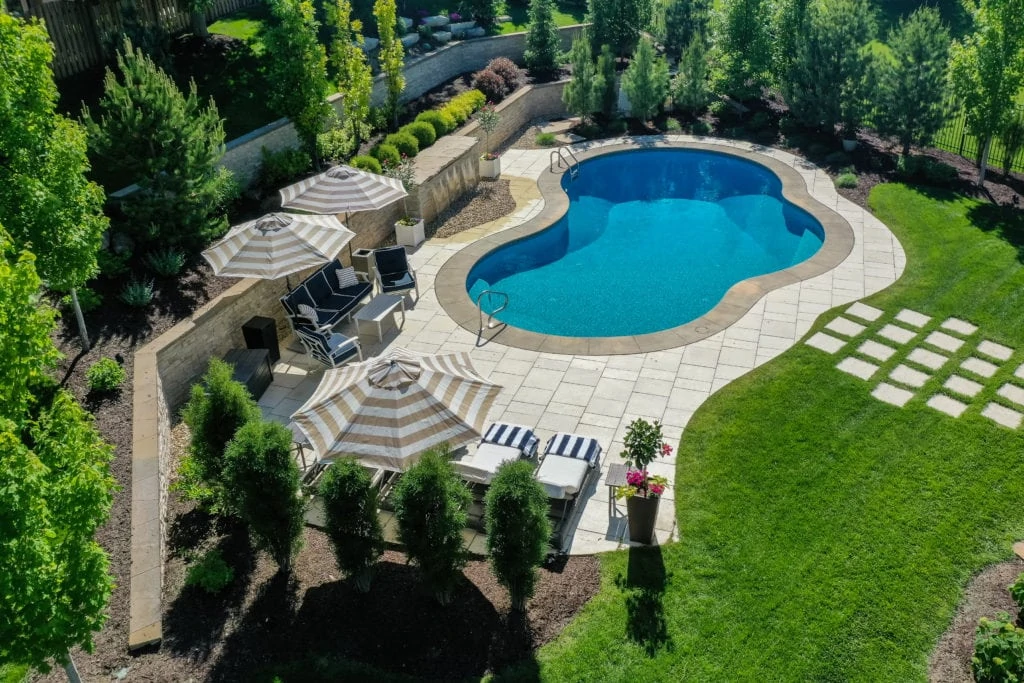 It's hard to believe this is our fifth year with the pool! I'm hoping to write a five year review with tips and thoughts later this summer!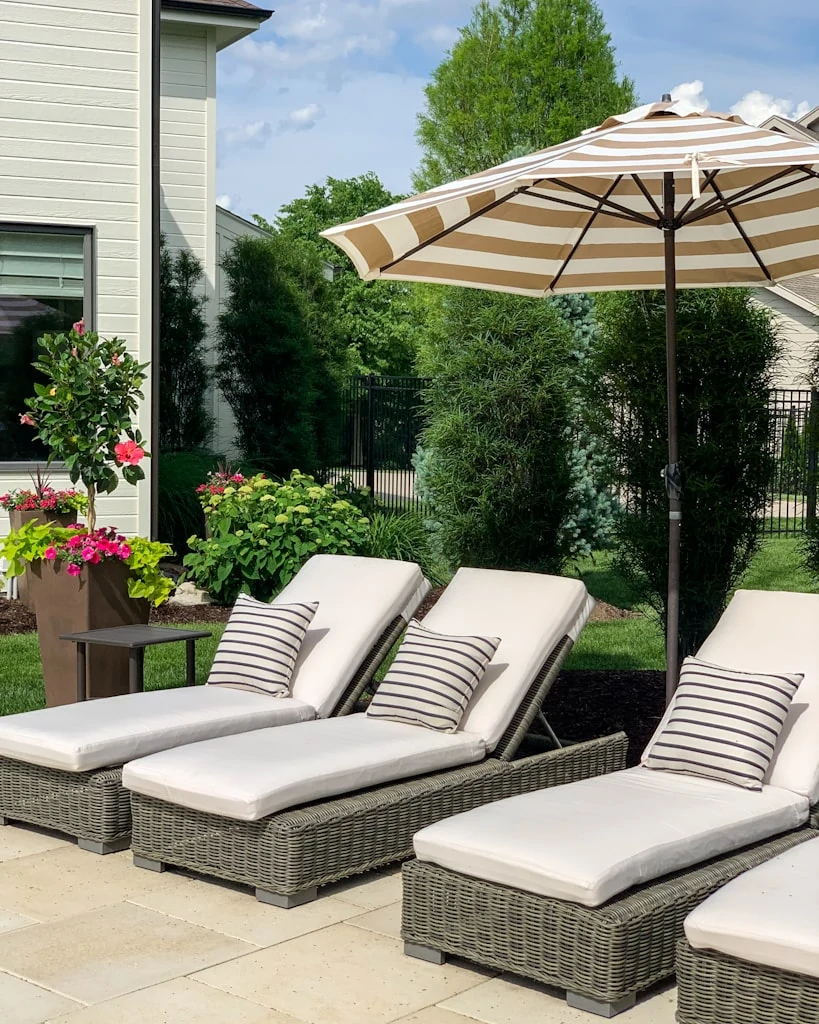 We love having breakfast out on our covered patio a few mornings each week! I'm hoping to share some more details soon about our plans out here! But in the meantime, I'm hoping to add some of the shatterproof string lights out here as well!
I hope you enjoyed our 2020 summer home tour!
The next stop on the tour is my friend Heather at Setting For Four. She'll be sharing her summer home tour first thing tomorrow morning. In the meantime, following are all the other stops on the tour!
Monday
   A Stroll Thru Life, Clean & Scentsible, Far Above Rubies,  Remodelando La Casa,  It All Started With Paint , Life On Virginia Street 
Tuesday
Setting For Four, Duke Manor Farm, Decor To Adore, House By Hoff, Inspiration For Moms, Pink Peppermint Design
Wednesday
Modern Glam, Fox Hollow Cottage, Thrifty & Chic, 11 Magnolia Lane, Grace In My Space, Hymns & Verses 
Thursday
Seeking Lavender Lane, StoneGable, Designing Vibes, Citrineliving, Our Southern Home, Southern State Of Mind
Friday

The Woodgrain Cottage,  Life On Cedar Lane,  Thistlewood Farms, White Arrows Home, Follow The Yellow Brick Home  
If you would like to follow along on more of my home decor, DIY, lifestyle, travel and other posts, I'd love to have you follow me on any of the following:
Pinterest | Instagram | Facebook | Twitter
disclosure: some affiliate links used