Sharing a collection of outdoor planters that work well for a variety of styles! Includes wood, resin, concrete, self-watering planter options and more!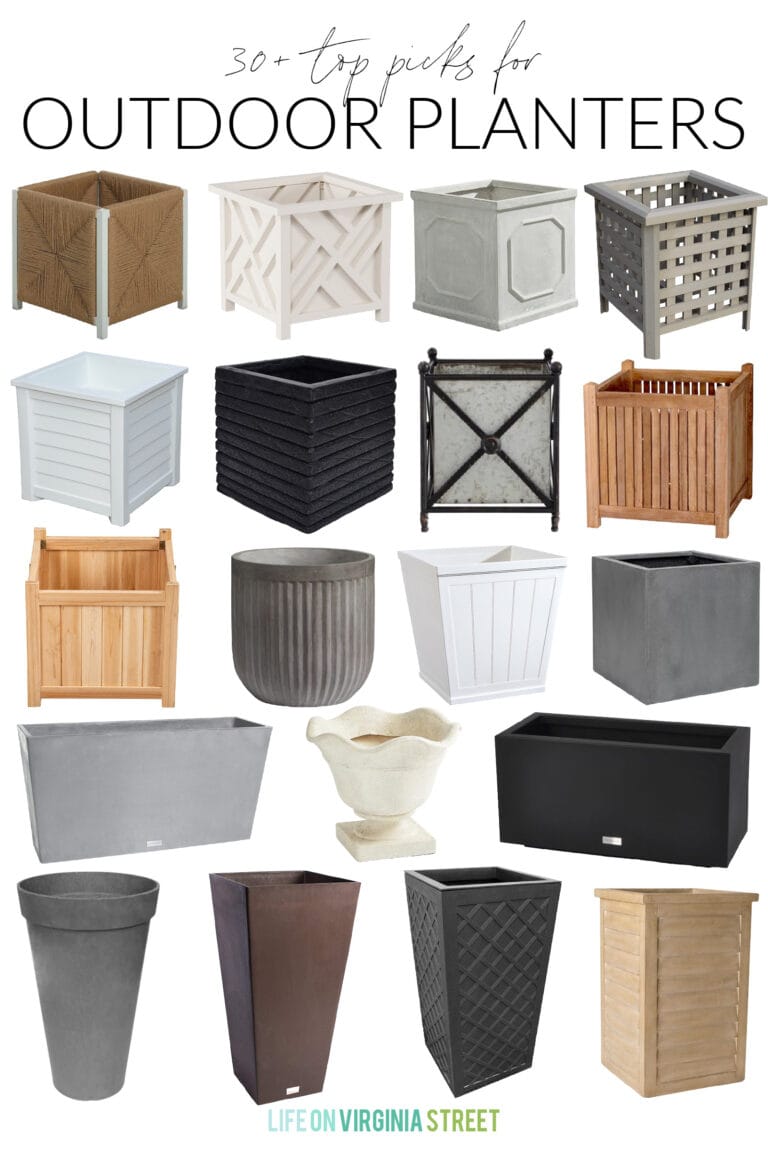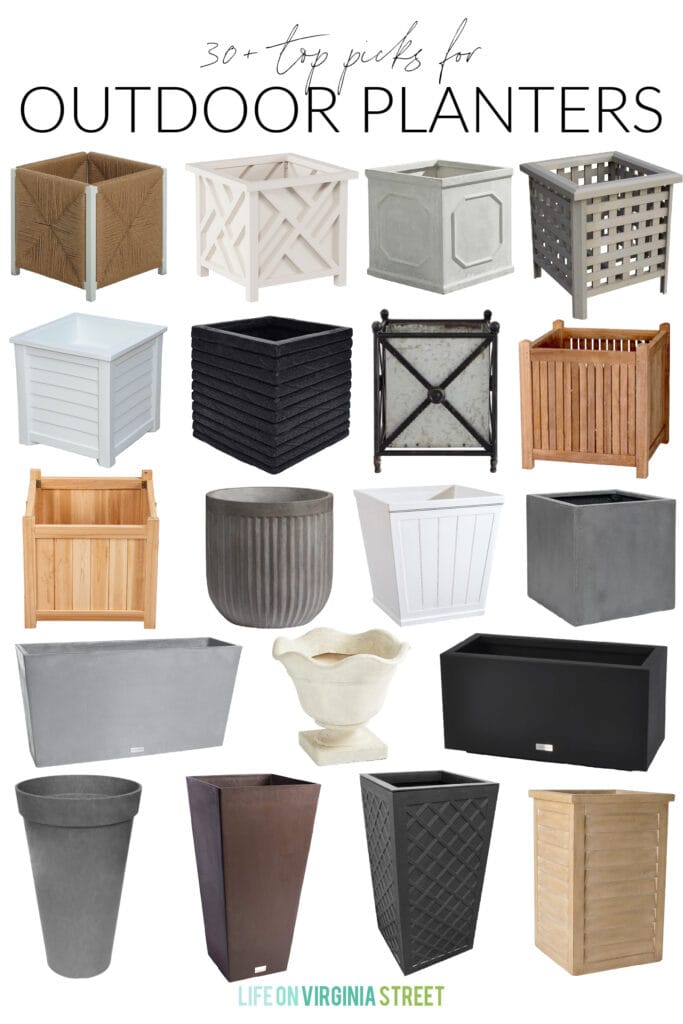 Now that it's officially spring, my mind immediately shifts from interiors to all things outdoors! One of the things I look most forward to each spring is getting our planters ready for summer. They take a lot of work to maintain with our high heat and humidity, but they make me so happy throughout the season and are worth every ounce of effort! Today I'm going to share some of my favorite outdoor planters to use for your summer container gardens!
This post was originally published April 28, 2020 but has been updated today with current information and planters that are still available! This post also contains affiliate links for your shopping convenience. Click here to read my full disclosure policy.
Outdoor Flower Pots Around Our Yard
I get so much joy out of colorful planters around our yard in the summer months! If you're a newbie to container gardening or are looking for some new ideas, I have some links to other articles at the end of this post for additional inspiration! We've had some of our planters for as long as we've lived here but have recently add some new ones to the mix, as well.
A few years ago, I had to hunt down some new options for various reasons. Three falls ago, I had asked Kurtis to help me remove the oleander from one of these ombré pots I owned for ages (from Lowe's). Somehow he accidentally busted the pot while trying to get the tree out. I was ready for something new, but he kind of sped up the process 😉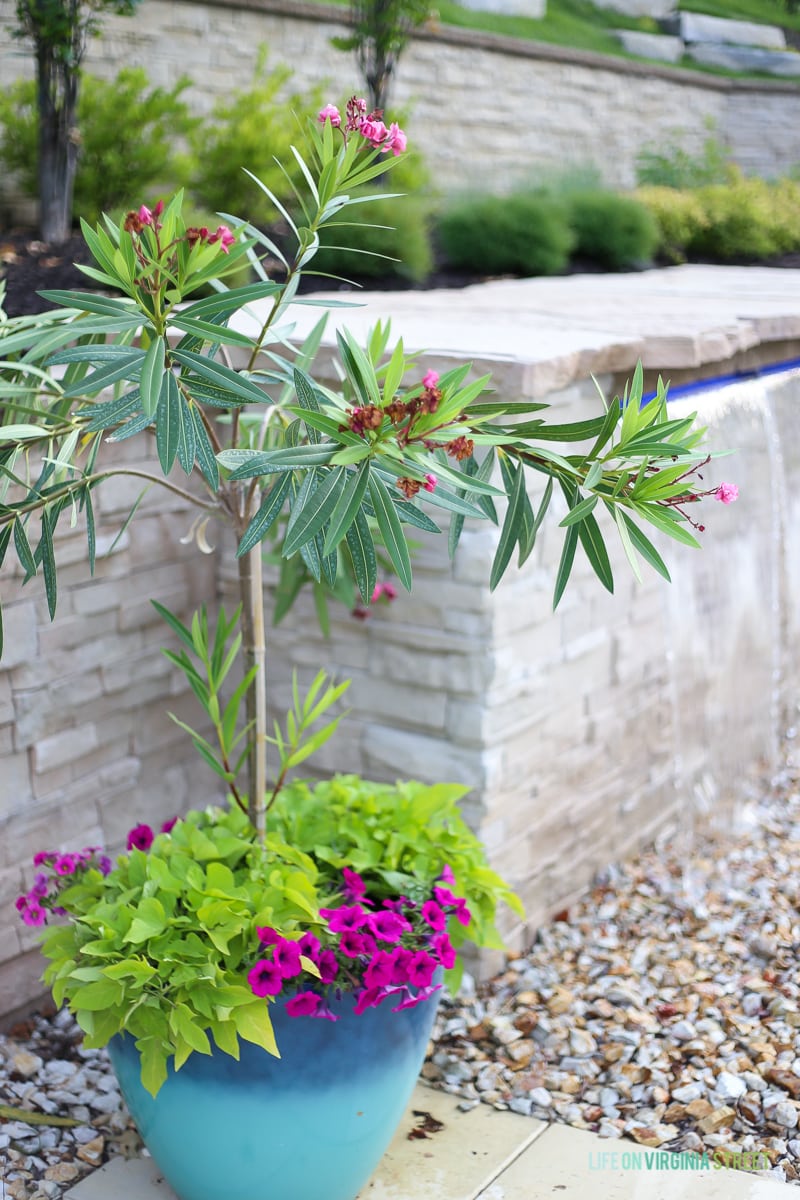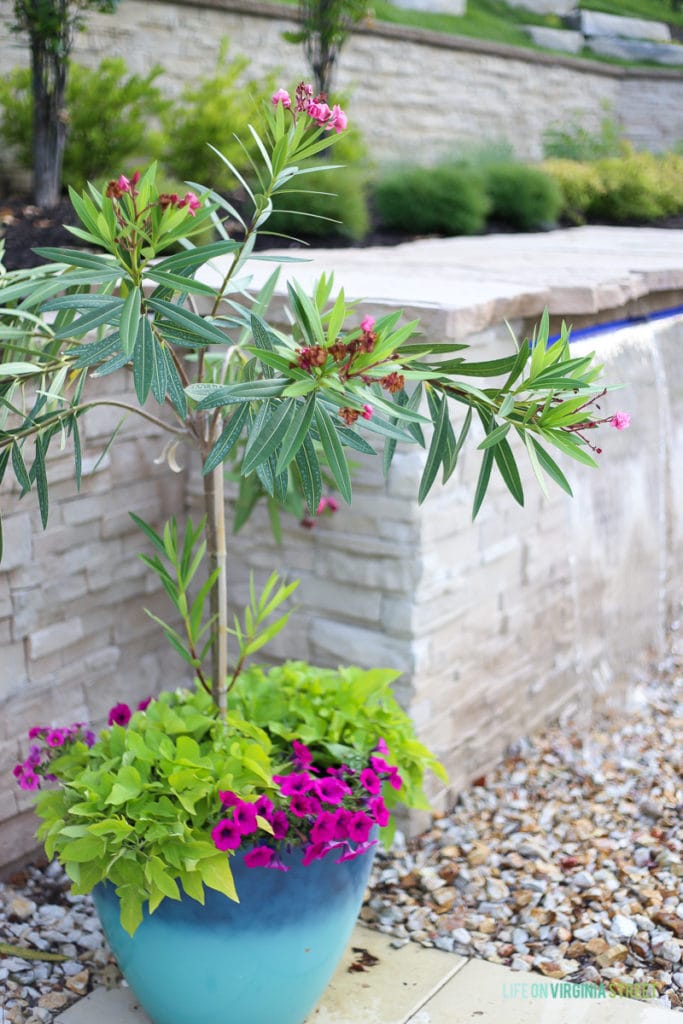 I ultimately went with these faux louvered planters last summer and loved them so much, I bought two more to use last year! I love that they're considered self-watering, as they have a basin that catches extra water. It definitely helps reduce the amount of time I have to spend watering these.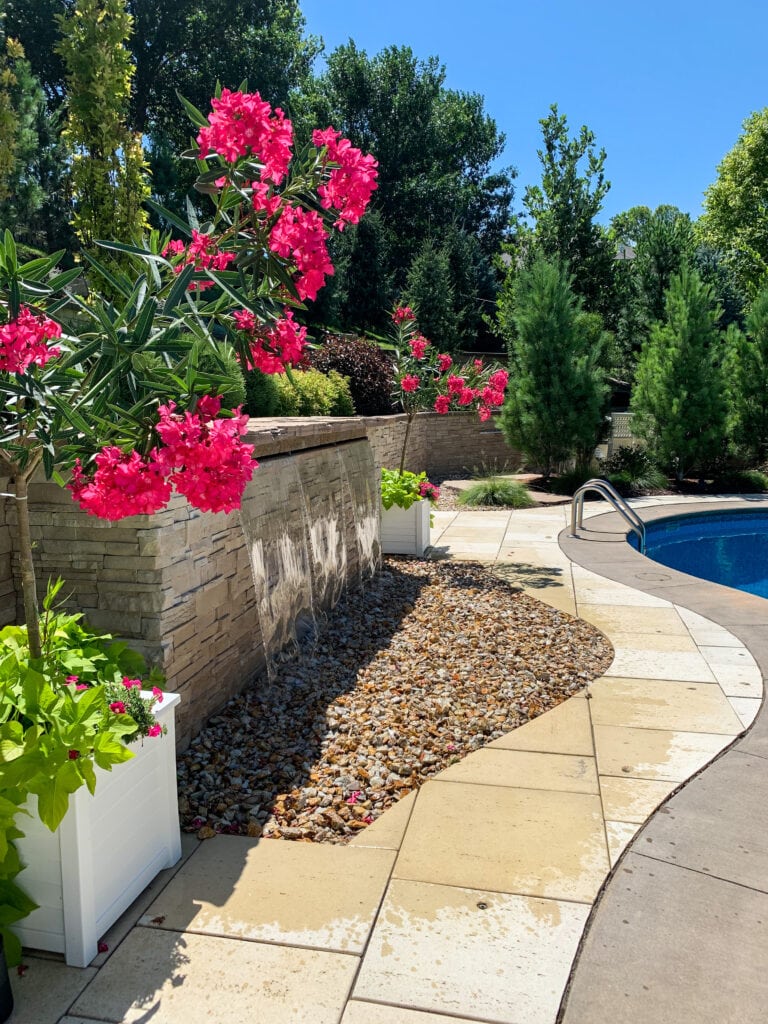 These cute little chippendale planters were a new addition two years ago, as well. They're on the smaller side but I just can't get over that pattern! We have three of them sprinkled throughout our landscaping beds out back. These are ones that tend to sell out quickly each year because they're so affordable.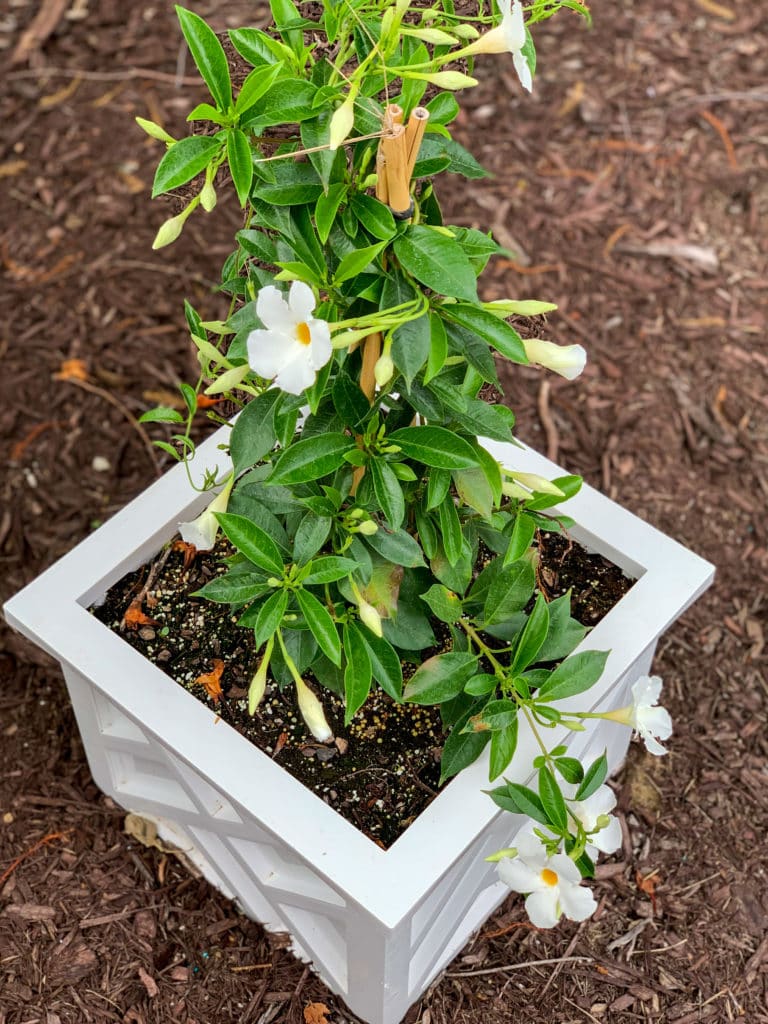 These tall resin planters have also served me well for several years! We have a grand total of four of them now that we've accumulated over the years. I love that these patina a bit over time and look like heavy planters made of metal! The one below is our oldest, so it has faded a bit more than the others and has truly taken on a bronze-like patina. You can see more of my favorite plants to use in my summer planter ideas post!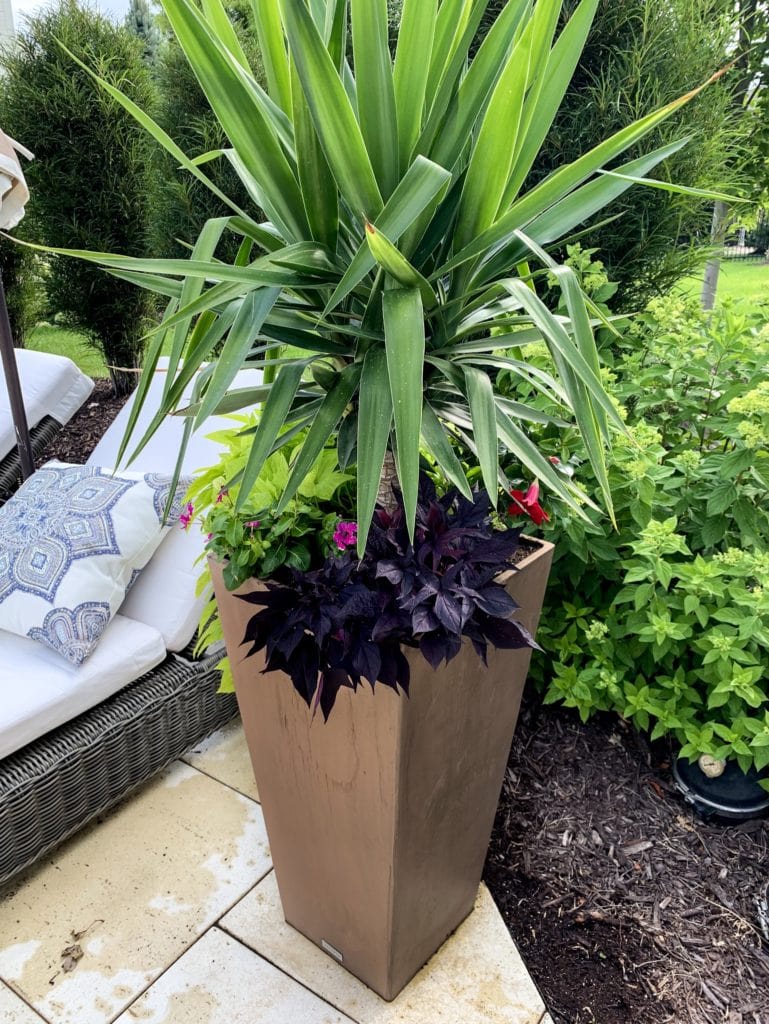 POOL DECK SOURCES: Tall Resin Planter | Outdoor Chaise Lounge | Medallion Pillow | Yucca Plant
Last year, I finally replaced these heavy ceramic planters out front of our house that were left by the prior owners. For those that have been around awhile, you may recall we had four planters at one point. And then some punk kids thought it would be funny to push one off the ledge and break it. Thankfully it still looked good with three. But I was ready to change up the planters to a style and color that fits a little better with our aesthetic!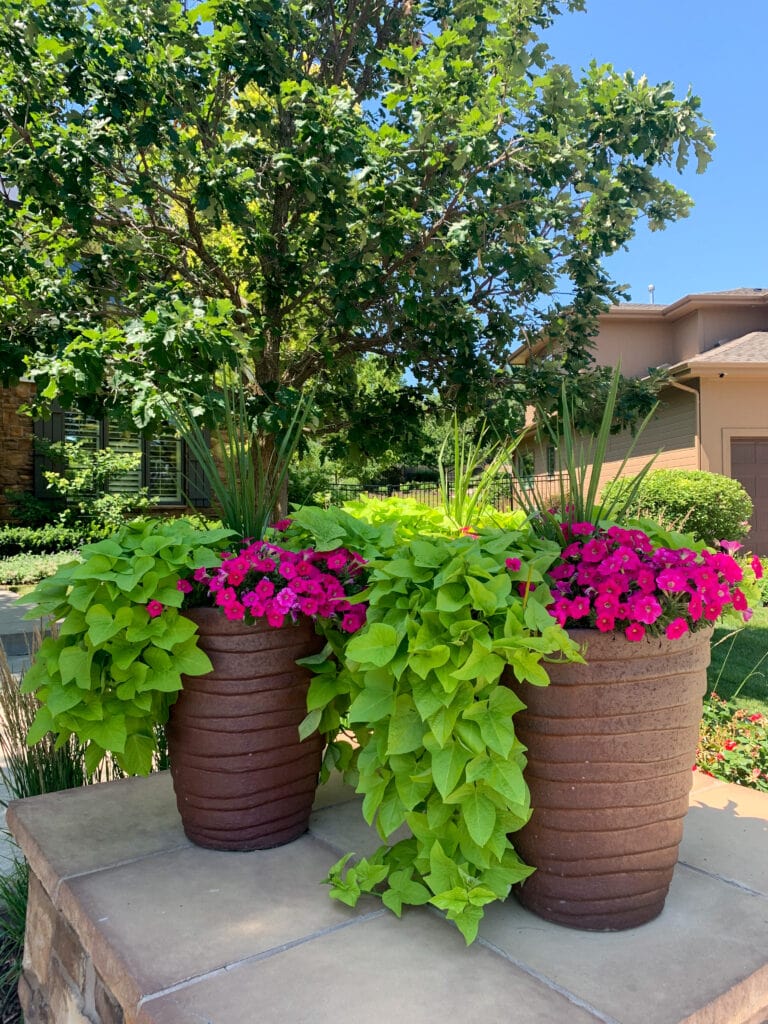 With all the construction going on last year, I didn't get a great photo of the new fluted concrete planters. But we really love them! You can see them here on the day I added plants, but I apparently never took a picture later once they had matured. They are actual concrete so they are super heavy, but I really love the fluted detail!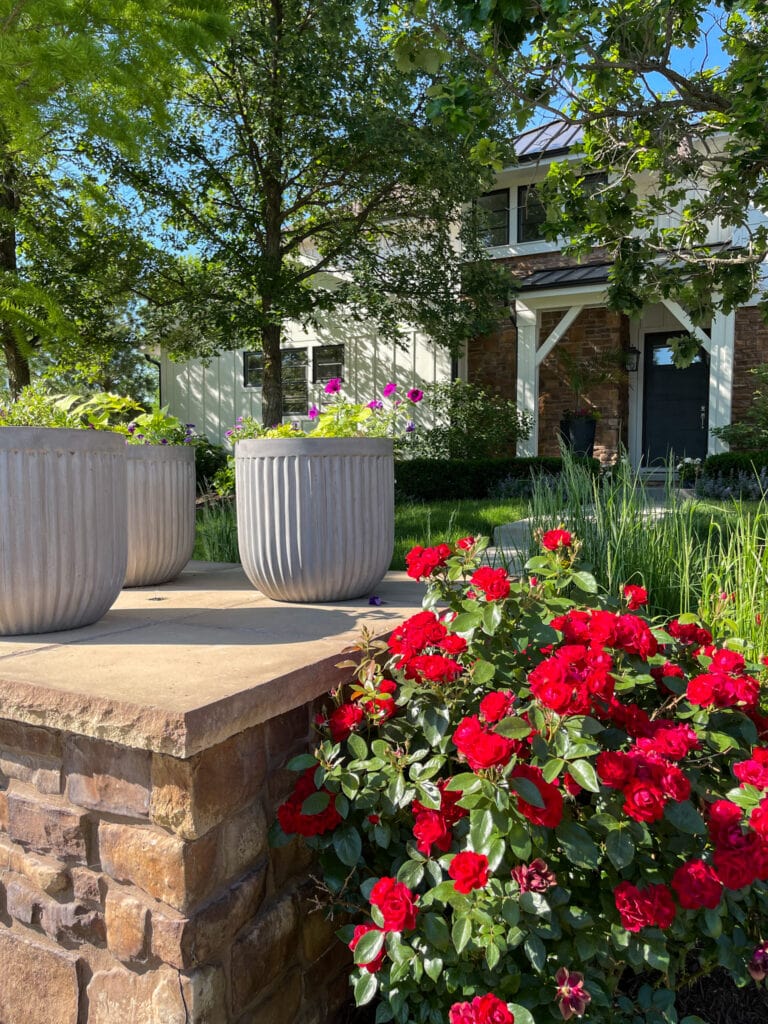 I keep my actual planters outside all year long, and then just dig up my annuals each fall. With our extreme heat (and then extreme cold in the winter), I personally try to steer away from concrete planters. They are a beautiful option but don't work well with our freeze/thaw climate. So, I typically search for options that look like natural materials but are a composite of sorts.
Additional Outdoor Planter Ideas
Following are some of the cute planters I came across in my search recently. Simply click on any of the images below to learn more about each of the items. Many of the pots I selected come in multiple colors and sizes and several of the options are self-watering!

Additional Landscaping and Outdoor Posts You May Enjoy
Following are even more posts I've written about landscaping and outdoor ideas. Simply click on the title of the article below to read the full post.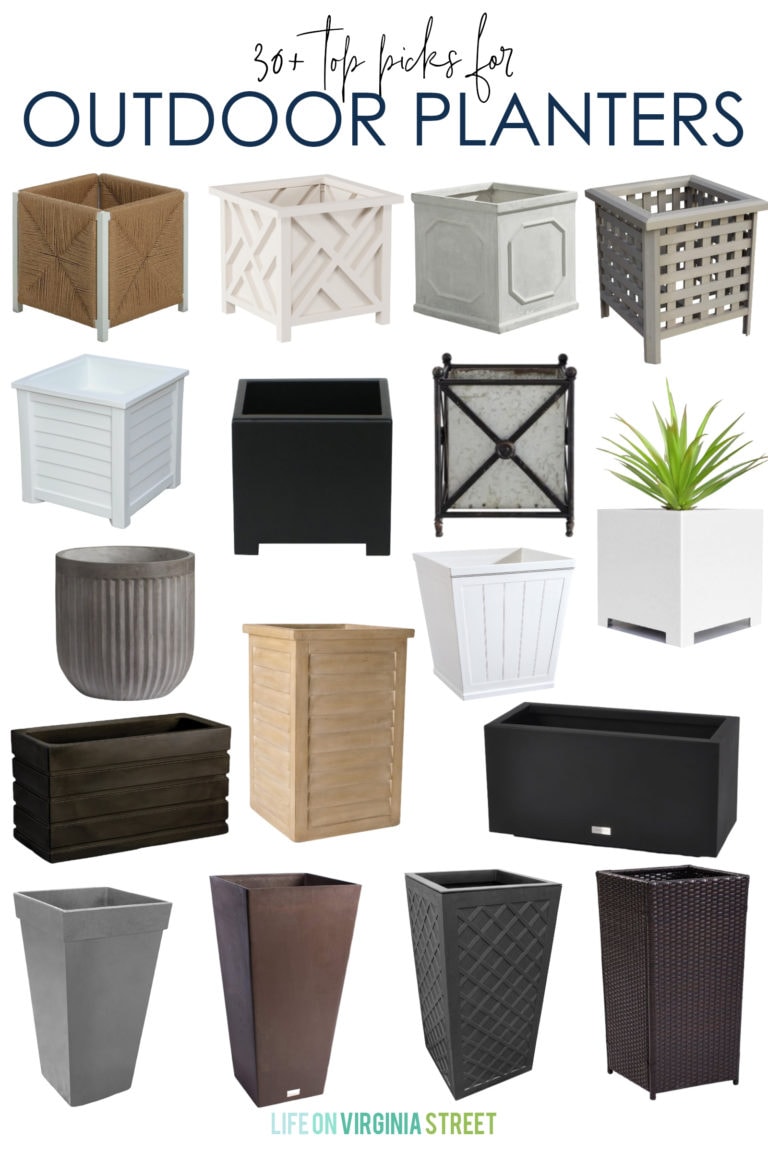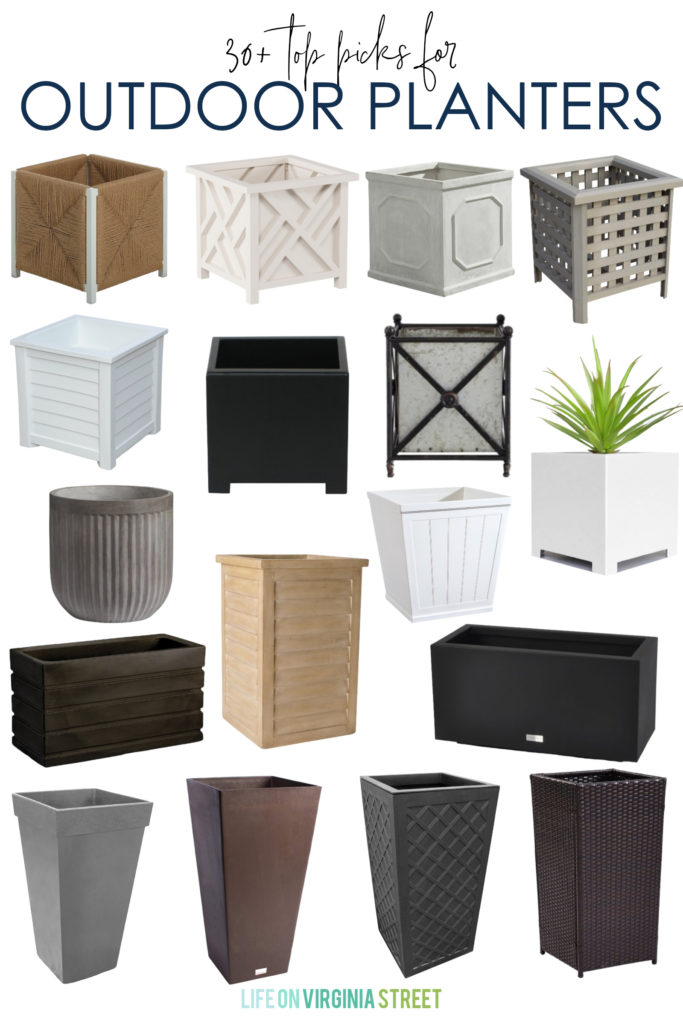 If you would like to follow along on more of my home decor, DIY, lifestyle, travel and other posts, I'd love to have you follow me on any of the following:
Pinterest | Instagram | Facebook | LTK
disclosure: some affiliate links used