I had intended to get this gift idea list out much sooner this year, but, here we are! Today I'm sharing some gift ideas for her! I've included gifts at a variety of price points to fit a variety of needs and gift types!
This post contains affiliate links for your shopping convenience. You can read my full disclosure policy here.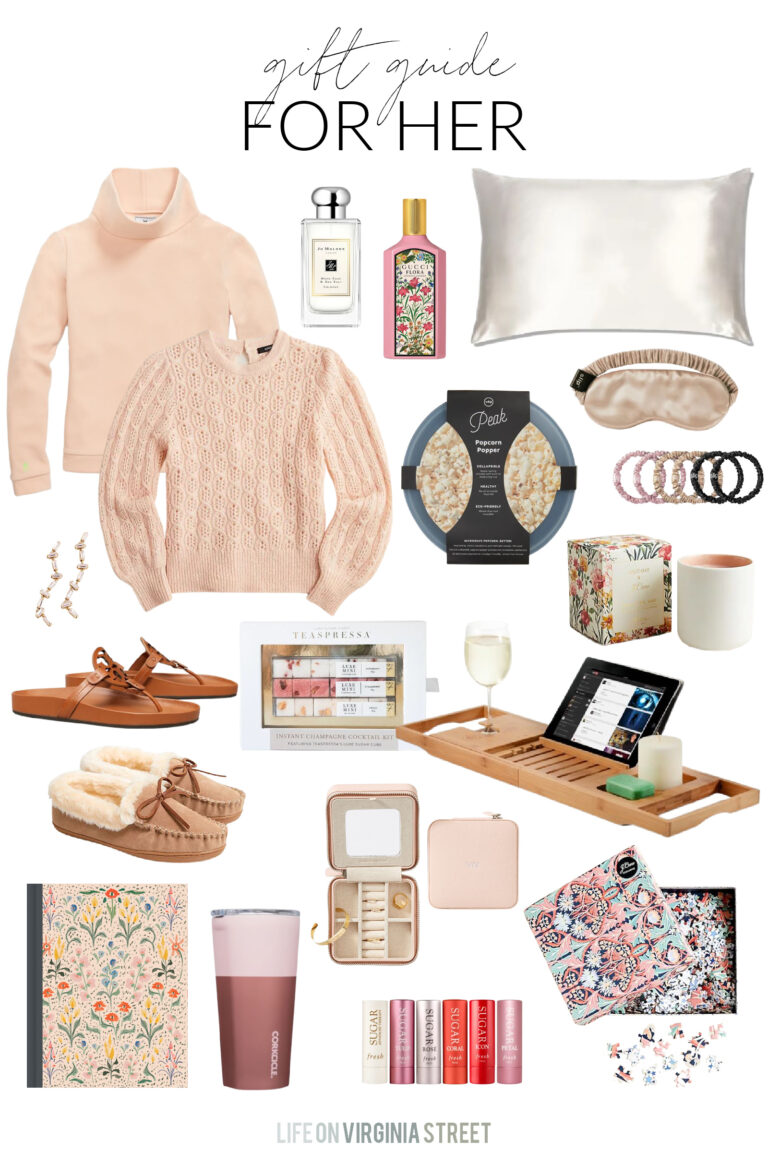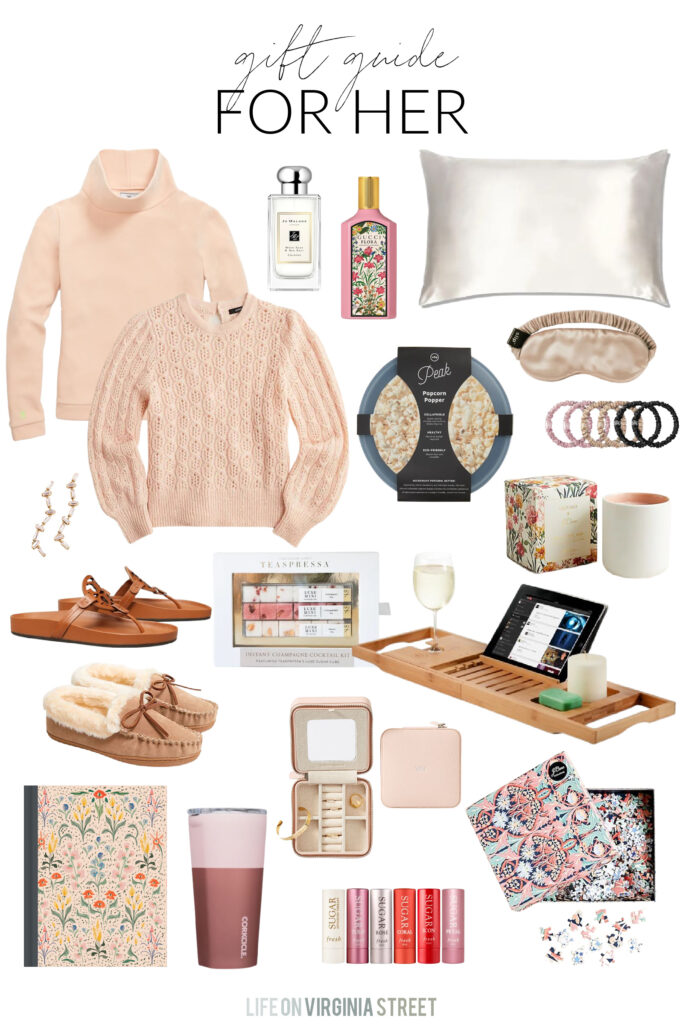 SOURCES: Fleece Turtleneck | Cableknit Sweater | Jo Malone Cologne | Gucci Eau de Parfum | Silk Pillowcase | Stacked Baguette Drop Earrings | Popper Microwave Bowl | Silk Eye Mask | Silk Hair Ties | Candle | Tory Burch Miller Cloud Sandals | Faux Shearling Slippers | Luxe Bubbles Mimosa Sugar Cube Set | Extendable Bathtub Tray | Journaling Bible | Corkcicle Tumbler | Jewelry Case | Hydrating Lip Balms | Double-Sided Puzzle
Here's a bit of commentary on a few of the picks:
Silk Pillowcase, Mask & Hair Ties – I've owned this silk pillowcase for about two years now and it's one of my favorite daily luxuries! It claims to be an anti-aging, anti sleep crease, anti bed head pillowcase that's like an eight-hour beauty treatment every night. All those benefits are great, but I just absolutely love the feel of it and the fact that it stays fairly cool! Along with my sleep mask, they guarantee such comfy and restful sleep (especially if you're sensitive to light like I am)! I either have one of the hair ties on my wrist or in my hair 24 hours a day outside of shower time. I love that I can wear them comfortably on my wrist and they don't leave marks in my hair or break it!
Jo Malone Wood Sage & Sea Salt Cologne – By far my favorite scent of all time! I can get headaches from many scents, but this one has never been an issue, and I feel like its a scent most people love! This Gucci Eau de Parfum also gets rave reviews and comes in a gorgeous gift box at a special price of the holidays. And I'm guessing most women wouldn't complain if they had some Gucci under the tree 😉
MasterClass – Have someone on your list that you have no idea what to buy them? After a year of considering it, on Black Friday I bought a year's subscription to MasterClass and also gifted a membership to my mom. If you haven't heard of it before, it's a library of 100+ courses from experts in nearly industry you can think of! I'm most interested in the cooking classes (I'm currently doing the Gordon Ramsay one) and design classes (looking forward to Kelly Wearstler's). They're all on demand and my mom said she's equally as excited to try them! Kurtis is very interested in many of the business and finance courses, as well!
Luxe Bubbles Mimosa Sugar Cube Set – This would be fun gifted alone or with a bottle of bubbly! You simply drop one of the sugar cubes into a glass and get various flavors of mimosas! They also work in tea or coffee!
Two-Sided Puzzle – I love puzzles and I love Liberty of London, so this two-sided puzzle looks like a fun one!
Tory Burch Miller Cloud Sandals – As most of you know, I've been a long-time fan of the Tory Burch Miller sandals. Despite me having a really high arch, I find them to be pretty comfy for daily use. When the Cloud version came out, I'll admit I wasn't a huge fan. But I decided to give them a try, and to say I'm obsessed is an understatement. They're perfect for long days of travel or when I know I'll be walking on a lot of hard surfaces or pavement. I still prefer the look of the original, but these are beyond comfy and still stylish! The more you wear them, the better they get! I bought my regular shoe size in these (unlike the originals where I size up 1/2 to 1 full size).
Hydrating Lip Minis – It has probably been at least five years running that I add whatever version of this hydrating lip treatments to my wish list. I love that it's a mix of color and neutrals. I typically put them on my lips before I go to bed, but if my lips feel dry in the day, I love using the more tinted ones! Love these kits that you can gift together or break up for multiple gifts! The mini versions also give me a chance to try new colors without committing to the full-size version.
Following are even more gift ideas for her. Click any of the images below to learn more about each of the items shown.

Additional Christmas Decorating Inspiration
Looking for even more Christmas gifting or decorating inspiration? Be sure to check out the following posts! Simply click any of the post names below to read the full article!
If you would like to follow along on more of my home decor, DIY, lifestyle, travel and other posts, I'd love to have you follow me on any of the following: