Sharing my hostess gift guide – perfect for anyone that loves to entertain, cook, make cocktails, new homeowners and more! Also great ideas for your own wish list!
This post contains affiliate links for your shopping convenience. You can read my full disclosure policy here.
Welcome to my first gift guide of the season! Today I'll be sharing my top hostess gift ideas. And although it's labeled for a hostess, these ideas could apply to anyone that love to host, entertain, cook, make cocktails, or even just a homebody or as a housewarming gift! I'll be sharing even more gift guides in the coming weeks, but in the meantime, you can check out all of my prior years gift guides, many of which are still relevant!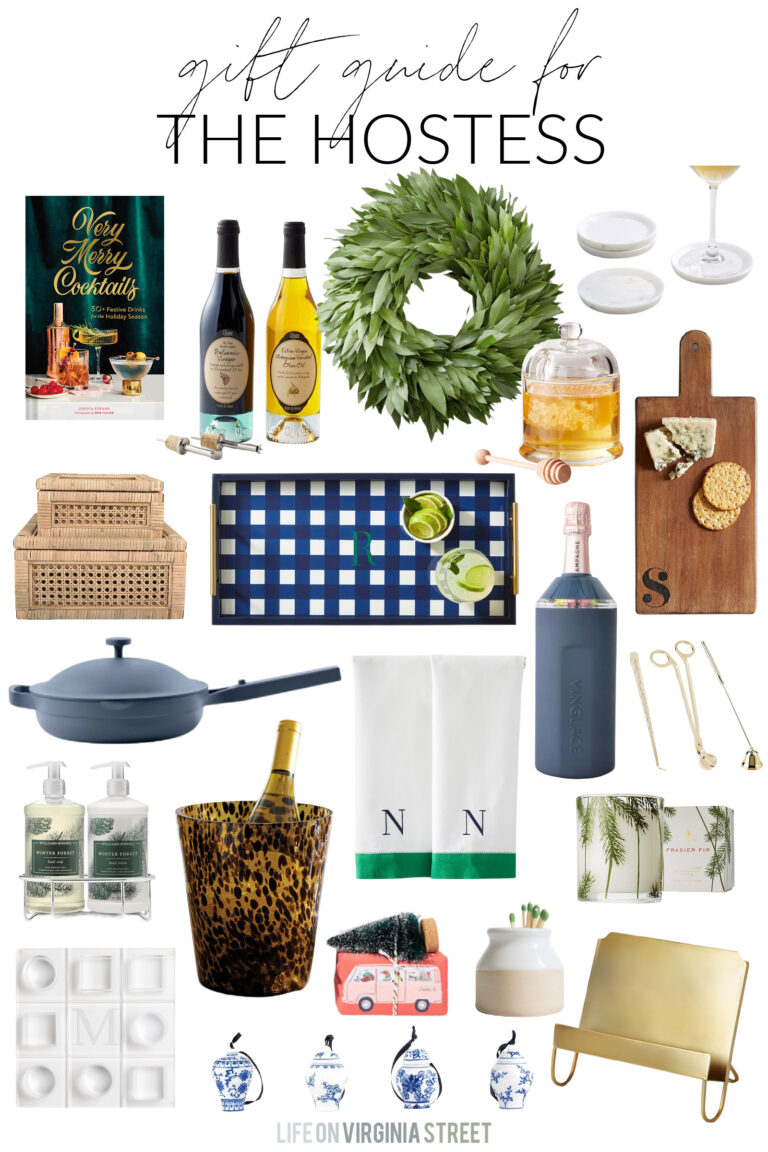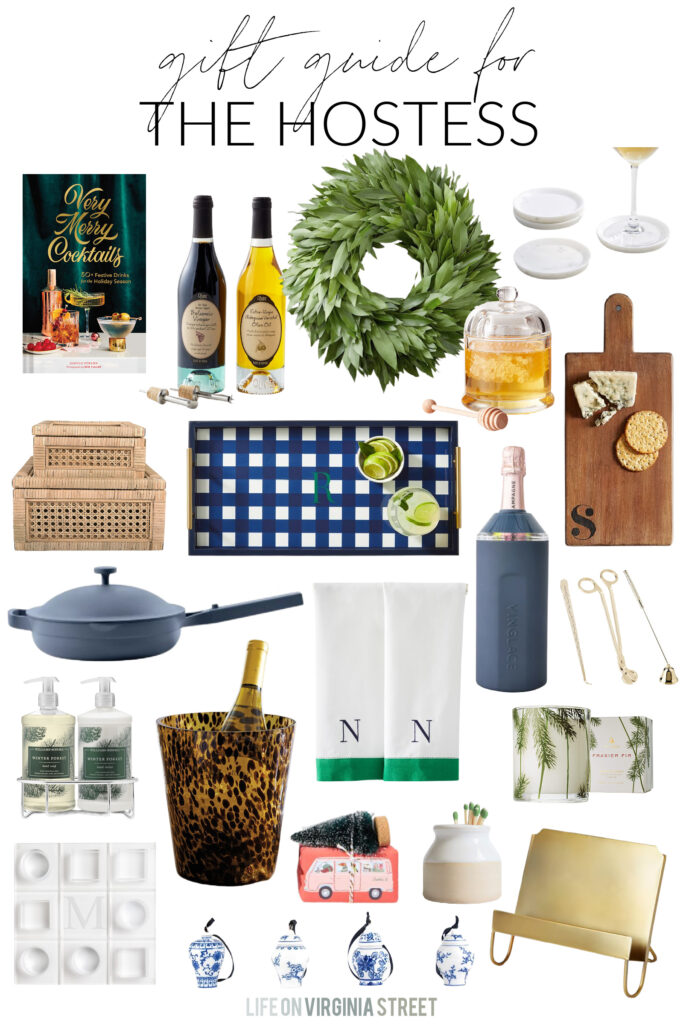 SOURCES: "Very Merry Cocktails" | Barrel Aged Balsamic Vinegar & Olive Oil Set | Fresh Bay Leaf Wreath | Honey Pot | White Marble Coasters | Cane & Rattan Box Set | Gingham Lacquer Tray | Initial Wood Serving Board | Always Pan | Customizable Hand Towels | Wine Chiller | Candle Accessory Set | Hand Soap & Lotion Set | Tortoise Shell Ice or Wine Chiller Bucket | Acrylic Tic Tac Toe Set | Mini Ginger Jar Ornaments | Creative Hand Soap Bar | Handmade Match Holder & Striker | Frasier Fir Candle | Cookbook & Recipe Stand
A few notes on some of the items shown above! Side note: most of these don't need wrapping or anything more than a pretty velvet ribbon or bow. They've also been picked to mix and match if you want to combine them into a larger gift!
Barrel Aged Balsamic Vinegar & Olive Oil Set – This set is a splurge, but Kurtis and I are huge fans of it! So much so, it's what we exclusively use. It's so delicious paired with a baguette, in caprese salads, or really any way you prefer to use balsamic and oil! The aged balsamic vinegar is so good you can eat it off your finger!
Fresh Bay Leaf Wreath – This wreath is not only beautiful, but it dries naturally on it's own and you can then use the bay leaves in cooking throughout the year! I've owned both the wreath and the garland in years past, and was really happy with them. I also love that you can select the week for delivery, as they do dry out (intentionally) after a few weeks.
White Marble Coasters – We have a number of sets of coasters around our home, and these seem to be the ones we reach for time and time again! They look sleek and stylish when left out on a coffee table or buffet table, but they're also so practical! The beveled edge makes them feel much safer in that drinks are much less likely to slide off. They also now come in a black marble version, as well!
Initial Wood Serving Board – These are always such a fun gift idea and are fairly affordable as far as wood serving boards go!
Wine Chiller – We've had this wine chiller for a few years now and love it! They come in a variety of colors and keep everything from wine to champagne cold. We got pretty regular use out of ours in the summer months when we'd sit out on the patio or out at the pool.
Candle Accessory Set – I love sets like this gifted alone or paired with items like a favorite holiday candle or a match striker!
Creative Hand Soap Bar – These bars of soap literally could not be cuter. They were a top seller last year, and the new versions this year are every bit as cute! Each one has an item tied to it to make it extra creative and cute. I love these paired with a favorite hand towel!
Mini Ginger Jar Ornaments – These mini ornaments are perfect as a standalone gift or to tie onto other individual gifts for a little pizzazz. They're such a great alternative to the much more expensive version found here.
Acrylic Tic Tac Toe Set – I finally ordered this yesterday for the pool house after eyeing it for ages! I could never justify the original price though. But, now that it's more than 50% off plus an extra 20% off with code EXTRA20 today, I went for it! I also grabbed this acrylic game set – I love that they'll both be pretty water resistant and still look pretty in the space!
Following are even more hostess gift ideas. Click any of the images below for more details on each of the items shown.

Additional Christmas Decorating Inspiration
Looking for even more Christmas decorating inspiration? Be sure to check out the following posts! Simply click any of the post names below to read the full article!
I hope you enjoyed this year's hostess gift guide! More gift ideas to come soon!
If you would like to follow along on more of my home decor, DIY, lifestyle, travel and other posts, I'd love to have you follow me on any of the following:
Pinterest | Instagram | Facebook | LTK
disclosure: some affiliate links used