Today I'm sharing my 2020 Christmas design boards! I know some of you definitely aren't ready to think about Christmas yet, and I totally get it! But I thought I'd put this out there for the early decorators or those planners out there that want to take some time planning (and to take advantage of sales over the coming weeks)!
This post contains affiliate links for your shopping convenience. Click here to read my full disclosure policy.
With last year's Christmas decor I was craving calm, peaceful colors. This year, I felt like we needed a little punch of color and excitement so I'm taking things back to traditional colors (yes, including red) like I've done a few times in the past! I'm actually really excited about it. But ask me mid-December if I'm over the red yet 😉 Regardless, I think we're all ready for cozy and comfy!
And if you're wanting to make your own Christmas design boards, be sure to check out my post on How To Make a Mood Board for Interior Design or Fashion Collages. I find that I tend to buy less stuff that I don't need when I have a plan mapped out ahead of time. Plus they're fun to make!
So let's take a look at each of the spaces I tentatively have planned. I'm guessing I'll changes things a bit from the plans, and some of the items shown are placeholders for stuff we already have on hand that I plan to use again. I also doubled up on a few pieces (we don't actually own this many trees) so they're acting as placeholders until I make a few final decisions. I'm also planning to shop locally for some of the finishing touches. But overall, this will be the vibe I'm going for! Lots of plaid and greenery and Christmas art!
2020 Christmas Design Boards
Admittedly, our entryway mood board looks a bit chaotic. Since the space has four distinct areas (really five if you count the view out the courtyard) it can look a bit crazy on "paper". But I also don't think each of the four little corners deserve their own board, so here we are 😉 I also added to my nativity collection this year and couldn't be more excited. It's going to take me years to collect it all, but I love it so much!
One of our favorite things about Christmas time is turning the lights on on the mantel garland, start a fire and watch TV. The cats are pretty big fans too 😉
I always like to keep our kitchen fairly simple! I'm adding in this darling runner that I'll be able to use all winter, and will then hang a wreath in the window and set up the lanterns I got a few years ago. I'm a huge fan of the flameless candles that turn on automatically every night based on when you set them. I have a few collections from over the years (Costco is a great place to check if you time it right) but you can also get them here. The lanterns look so pretty filled with a candle and some of this fake snow.
Lindsay Letters was sweet enough to partner with me on this 'Fall On Your Knees' canvas I saw and fell in love with. If you've followed me for awhile, you likely know 'O Holy Night' has long been one of my all-time favorite songs and her pieces are so special to me. My parents gave me the 'O Holy Night' canvas when we first moved into this house nearly eight years ago and it's still one of my all-time favorites pieces ever. It will make an appearance later in this post 😉 Lindsay's new holiday collection launches Thursday night so stay tuned for even more beautiful pieces. And strangely, this is the one room I already ordered items for! I know the Target Christmas stuff sells out quickly so I got these windowpane plaid napkins, faux cedar napkin rings and this wreath (not shown on the board). They're so perfect! I've had these wood chargers for years now and I love using them this time of year. They're timeless and beautiful! Bottom line. I'm showing our dining room in this next tour, no matter what! It's been too long!
I always like to keep our den feeling cozy, regardless of season! The addition of a Christmas tree was major last year, so I'm definitely planning to do that again this year!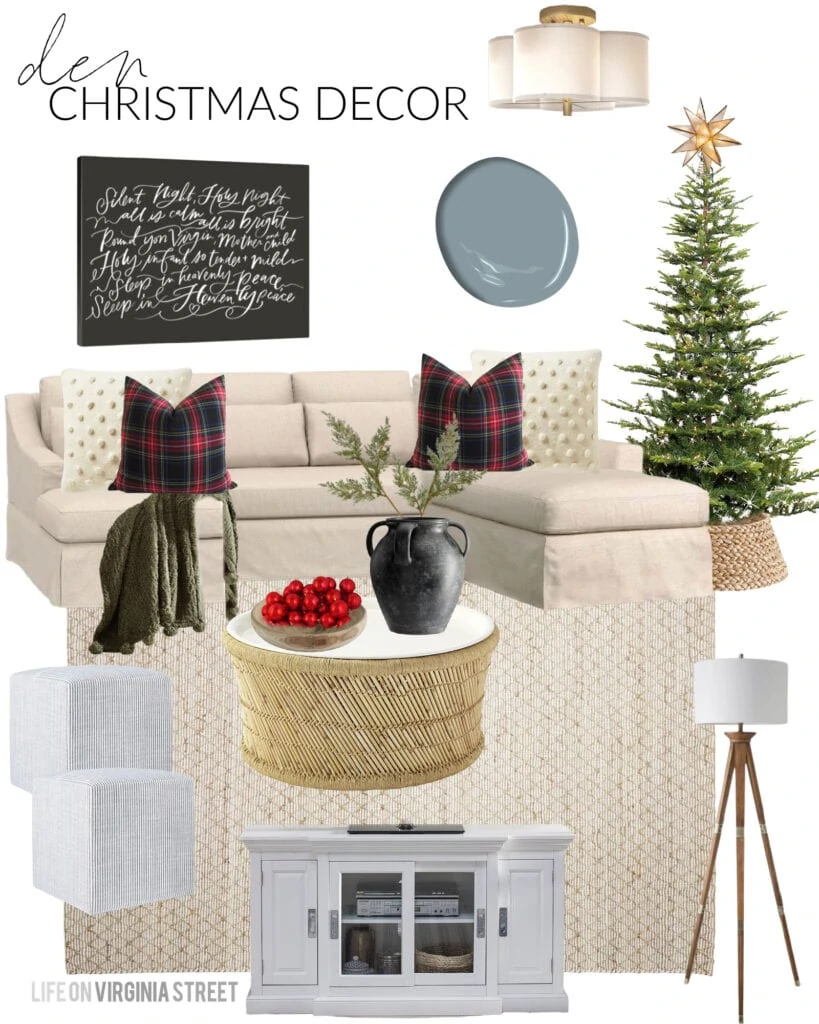 DEN MOOD BOARD SOURCES: Linen Sectional | Rug | Coffee Table | Scallop Light Fixture | Striped Ottoman Poufs | Ceramic Vase | Faux Cedar Branch | Wood Bowl | Ornaments | Tripod Floor Lamp | TV Stand | Christmas Tree | Woven Tree Collar | Black Stewart Plaid Pillow Cover | Pom Pom Pillow Cover (look for less here) | Cozy Pom Pom Throw | Fringe Pillow | Moravian Star Tree Topper | 'Silent Night' Canvas | Board and Batten Paint Color: Benjamin Moore Van Courtland Blue
I'm keeping our bedroom pretty simple this year, as well, but I'm pretty sure I'm going to have to get this Stewart plaid duvet and shams. A) It's one of my favorite Christmas looks ever. B) Stewart. Kurtis can't even argue with this logic 🙂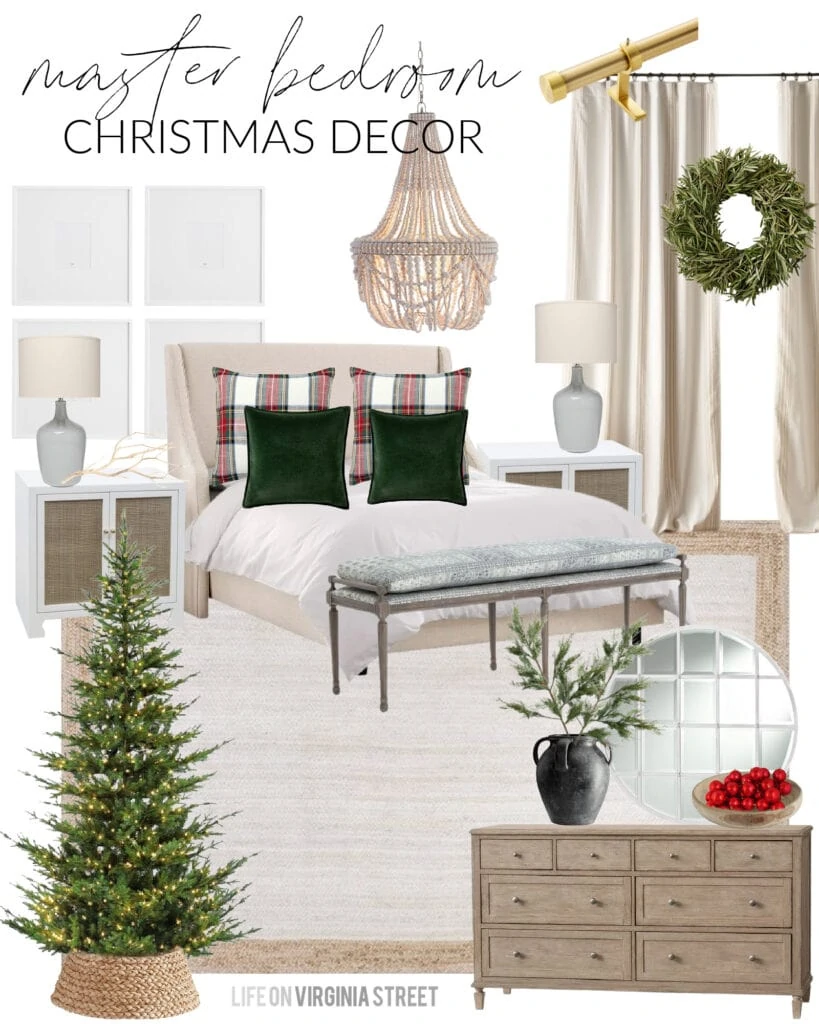 MASTER BEDROOM CHRISTMAS MOOD BOARD SOURCES: Wingback Bed | Cane Nightstands | Wood Bead Chandelier | White Jute Rug | Lamps | Frames | Striped Curtains | Brass Curtain Rod | Stewart Plaid Duvet Cover | Stewart Plaid Euro Shams (similar here and here) | Bench | Dresser | Mirror | Vase | Faux Cypress Stems | Wood Bowl | Ornaments | Christmas Tree | Woven Tree Collar | Olive Wreath
The 'O Holy Night' canvas is back this year (eight years running?) and I basically chose the other pieces in the room to coordinate. I'm pretty sure this piece will be in our home for as long as I live because it truly is a favorite and I love the excitement it brings when I get to uncover it each year! This is the first room you see when you walk upstairs so I always love giving it a little extra something for the holidays!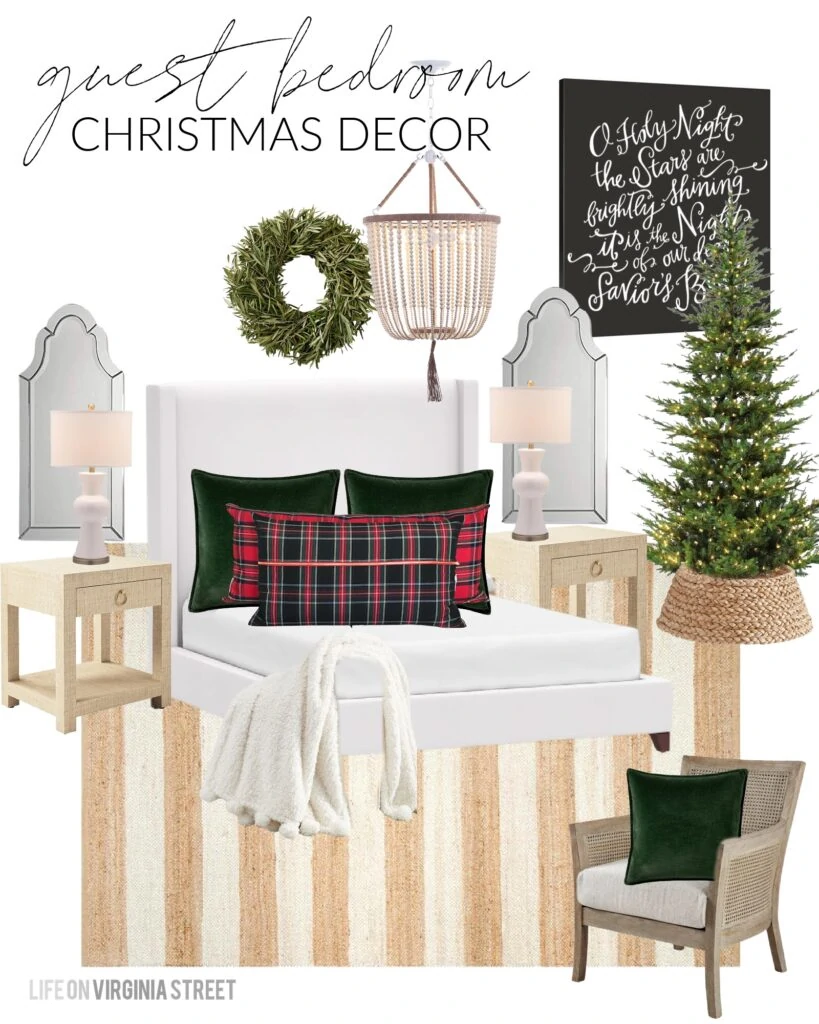 CHRISTMAS GUEST BEDROOM DESIGN BOARD SOURCES: Upholstered Bed (look for less here) | Bead Chandelier | Striped Rug | Raffia Nightstands| White Ceramic Lamps (come as a set of two) | Christmas Tree | Woven Tree Collar | Mirrors | Cane Chair | Velvet Pillow Covers | Plaid Lumbar Pillows | Cozy Pom Throw | 'O Holy Night' Art
And this isn't really a Christmas update, but rather a general mud room one. I've been searching for years for a bench cushion that will work in the space but I don't really want to order anything custom (the dimensions are super weird). But, I realized the other night that outdoor deep chair cushions would basically fit perfectly if I order three. So I think I may try it! They're a bit taller than I'd like, but Kurtis and I feel like we're sitting on the floor when we're on the bench so it may actually work out well! These striped cushions match a lot of our outdoor accessories and they're made of Sunbrella so they'll be super easy to keep clean!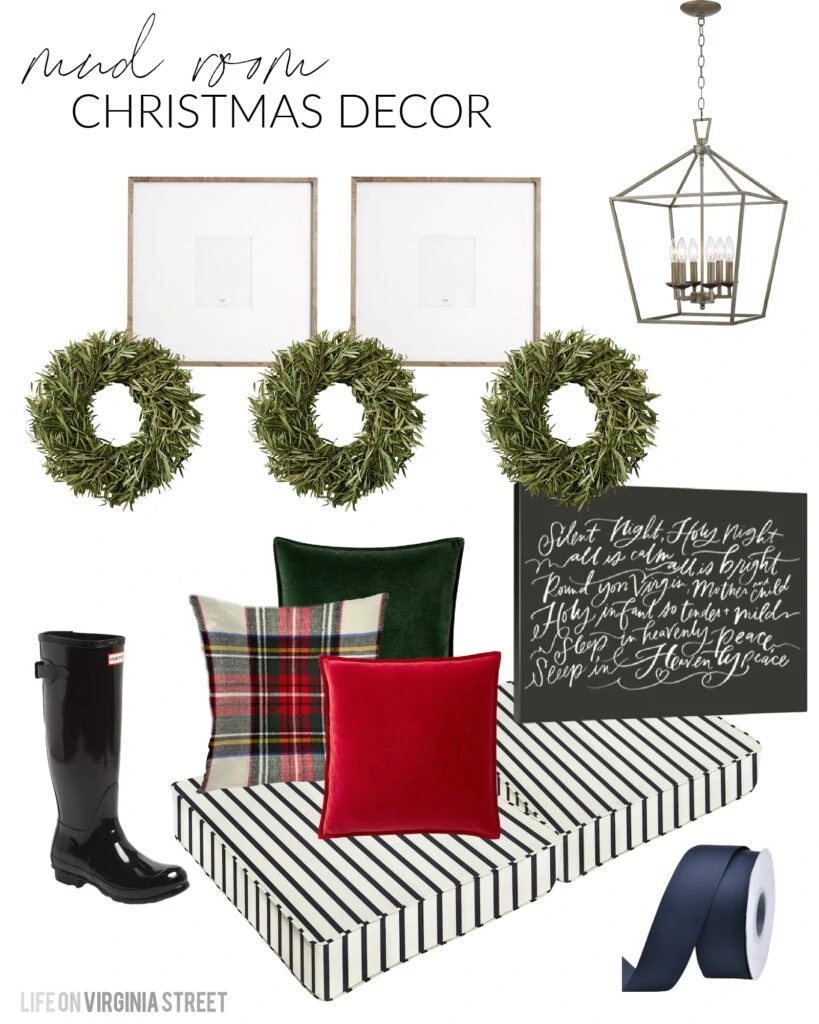 MUD ROOM CHRISTMAS DESIGN BOARD SOURCES: Gallery Frames | Striped Cushions | Lantern Pendant Light | Plaid Pillow Set | Velvet Pillows | Hunter Boots | Wreaths | 'Silent Night' Canvas | Grosgrain Ribbon
My goal is to share our Christmas Home Tour by mid-November, but we see how that type of strategy turned out for my summer home tour 😉 So, I'm making no promises, but I'm hoping it will be within the next 2-3 weeks! I want it all wrapped up by Thanksgiving at the latest so we can fully enjoy the month of December! I hope you enjoyed these design boards!
Additional Christmas Inspiration
Looking for even more Christmas inspiration? Be sure to check out the following posts. Simply click the title of any post below to be taken directly to the article.
If you would like to follow along on more of my home decor, DIY, lifestyle, travel and other posts, I'd love to have you follow me on any of the following:
Pinterest | Instagram | Facebook | Twitter
disclosure: some affiliate links used