Can you believe Christmas is only 18 days away?! Today I'm sharing some last minute gift ideas that, as of time of publishing, will arrive before Christmas! I've broken them down into a few themed categories in case you're also hunting for a collection of gifts!
This post is sponsored by Walmart and contains affiliate links for your shopping convenience. As always, all thoughts, opinions, and product selections are my own. Read my full disclosure policy here.
First, if you haven't tried it, Walmart has a gift finder that is super helpful! You can select from a drop down to answer who the gift is for and their age category, and it will give you a wide variety of gift ideas to choose from! From the hottest tech, to the latest styles & toys. From camping gear to top-of-the-line kitchen appliances & festive decor, you're sure to find the best gift your recipient will love! I've narrowed down a few of my favorites across several categories that I thought I'd share with you today! I've tried to not be redundant with my other gift guides, so these are full of all new items to consider!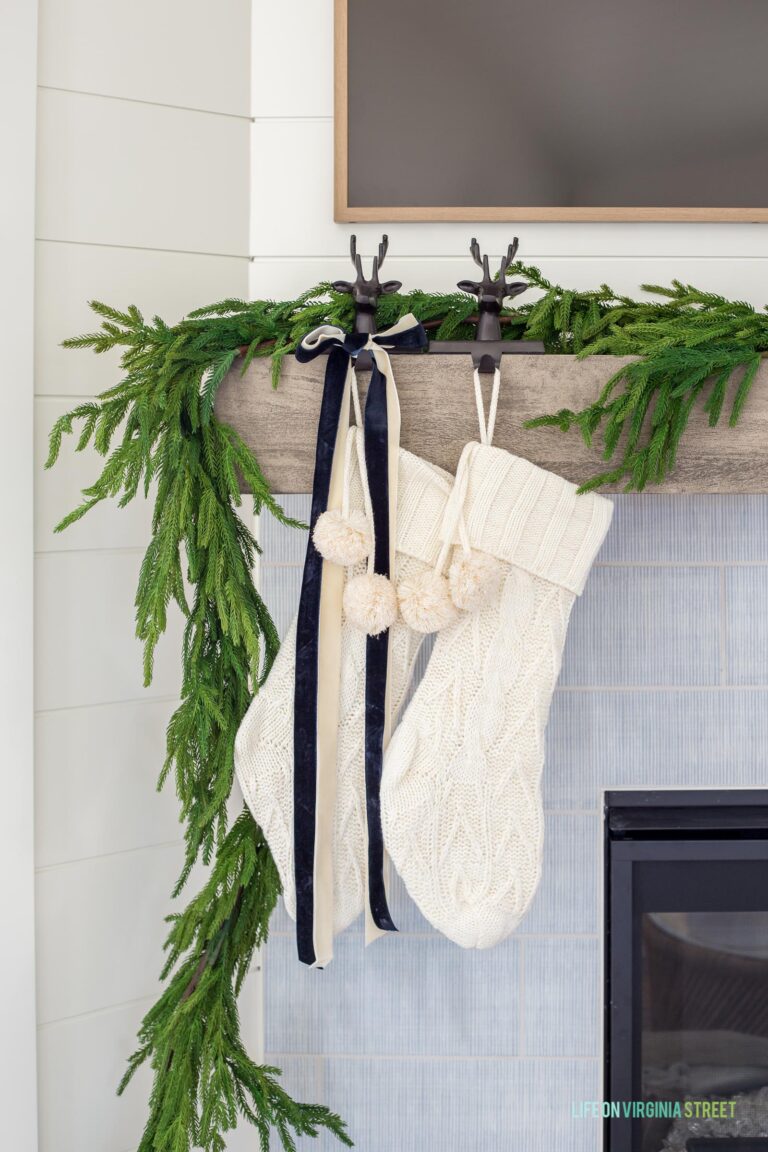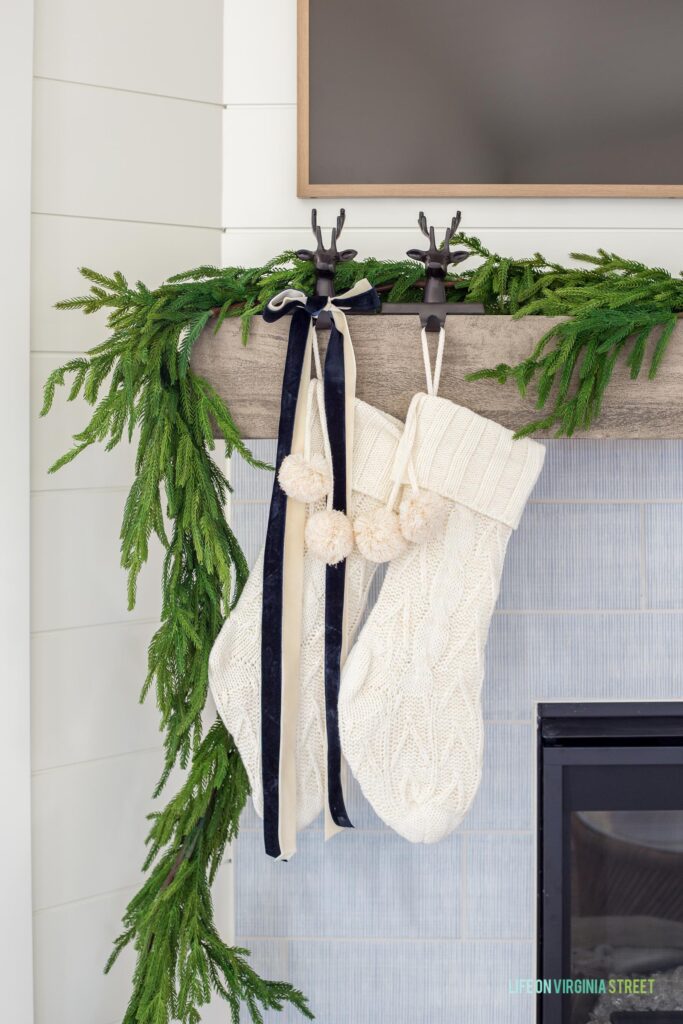 SOURCES: Frame TV | Cable Knit Stockings | Similar Stocking Holder | Garland – no longer available
The first grouping of gifts ideas I'm sharing today are all for your home! One of my favorite categories, obviously 😉 Many of these are items I've had on my list in the past or currently own! This Dual Zone Air Fryer immediately caught my eye because there have been so many times we have to use another appliance when using our air fryer to finish the other half of the meal! And if you're looking for a more cost-effective alternative to the other crazy popular nugget ice machine, this Nugget Ice Maker is highly rated!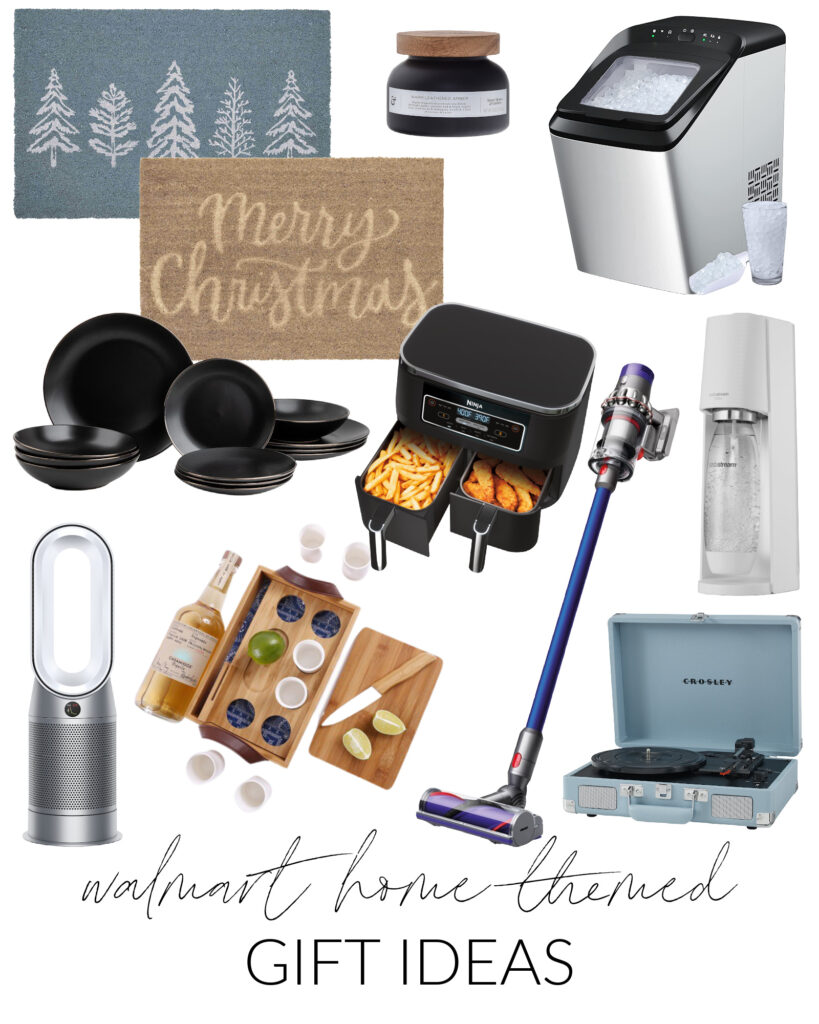 SOURCES: Christmas Tree Door Mat | Merry Christmas Door Mat | Candle | Nugget Ice Maker | Dish Set | Dual Zone Air Fryer | Dyson Air Purifier and Heat + Cool Fan | Tequila Tasting Set | Dyson V10 Stick Vac | Sparkling Water Machine | Crosley Record Player
Following are a few other home style gift ideas! Click any of the images below to learn more about each of the items shown.

For this next batch of last minute gift ideas, I found items that would creating a relaxing spa-like environment at home! I've raved about my facial steamer in the past, and it always makes a great gift! Everyone I know that has tried it loves it! And these Theragun Handheld Percussive Massage Devices have been all the rage the past year or so. They're great for men or women on your list! This one is another highly rated option, at a more affordable price point thanks to a recent price reduction.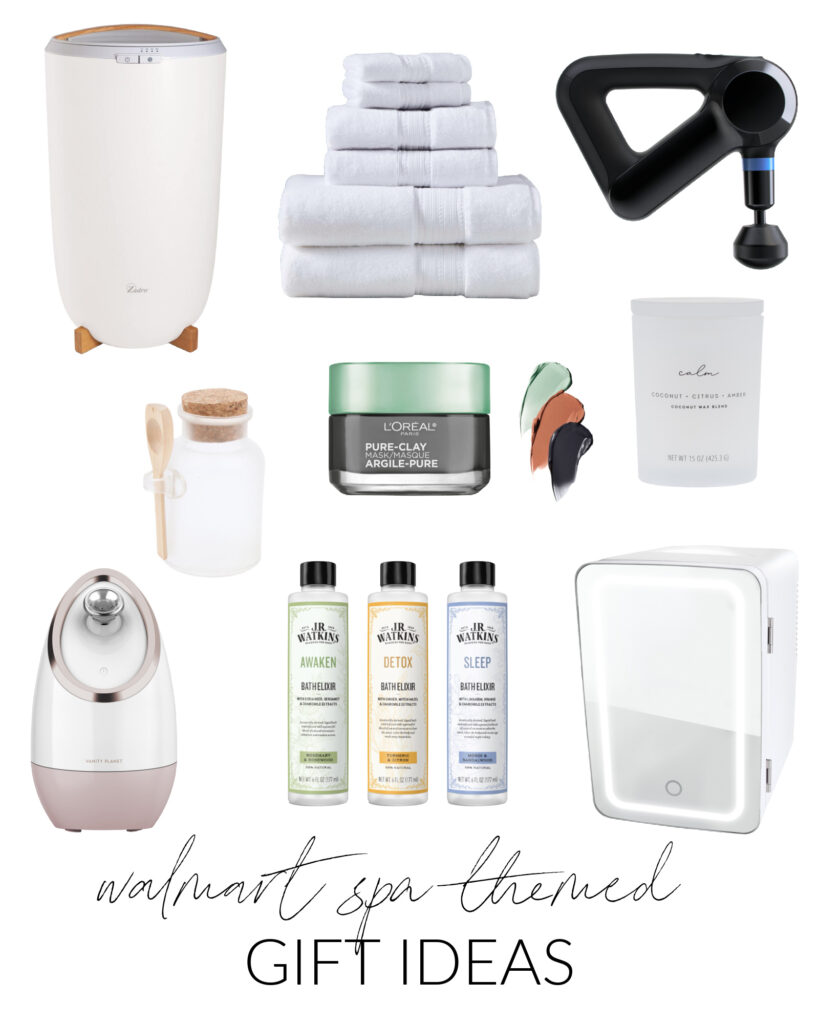 SOURCES: Towel Warmer | Signature Soft Towels | Theragun Handheld Percussive Massage Device | Plastic Bath Salt Containers | Pure Clay Face Mask | Calm Spa Candle | Facial Steamer | Bath Elixirs | Personal Chiller LED Lighted Mini Fridge with Mirror Door
Following are even more spa-themed and self-care gift ideas! Click on any of the images below to learn more about each of the items.

Growing up, one of our family traditions was to always receive a new pair of pajamas. It always happened to be the one gift we got to open on Christmas Eve. To this day, my parents still gifts all of us "kids" and spouses new pajamas. It's been a long time since we went down the matching pajama route (especially now that most of us request a pair of sweats or shorts since that's what we sleep in). But Walmart has so many adorable family pajama options right now for all ages, and some sets even have options for pets! Regardless of what the stock photos show, you can customize most of the sets to exactly what pieces and sizes you need! These would also make cute family photos (and help alleviate the stress of what everyone should wear)!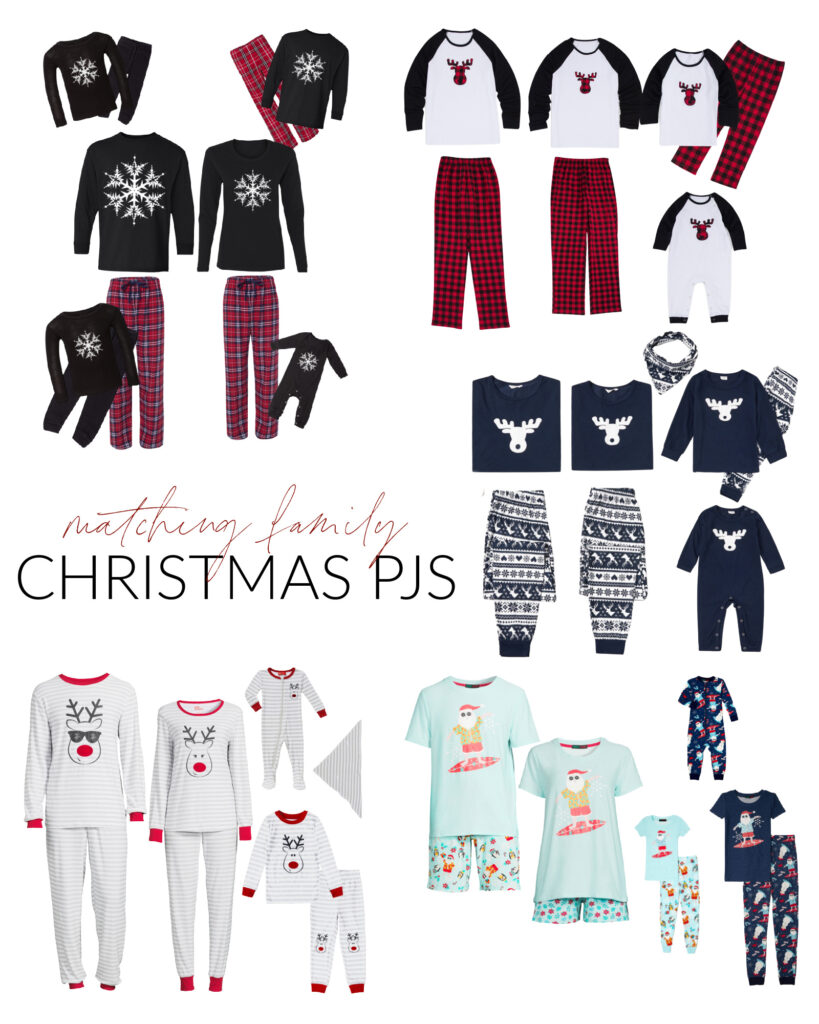 SOURCES: Snowflake Pajamas | Buffalo Check Moose Pajamas | Navy Blue Moose Pajamas | Striped Reindeer Pajamas | Surfing Santa Pajamas
Following are even more family matching pajama sets. They're all so cute! Click any of the images below to learn about each of the items.

Here are a few other random last minute gift ideas that don't necessarily fit into any of the categories above, but I think would be fun and easy gift ideas!
I've shared these next items before, but many of these would make great last-minute gifts, as well. Particularly for the home decor and/or baking and cooking enthusiasts in your life!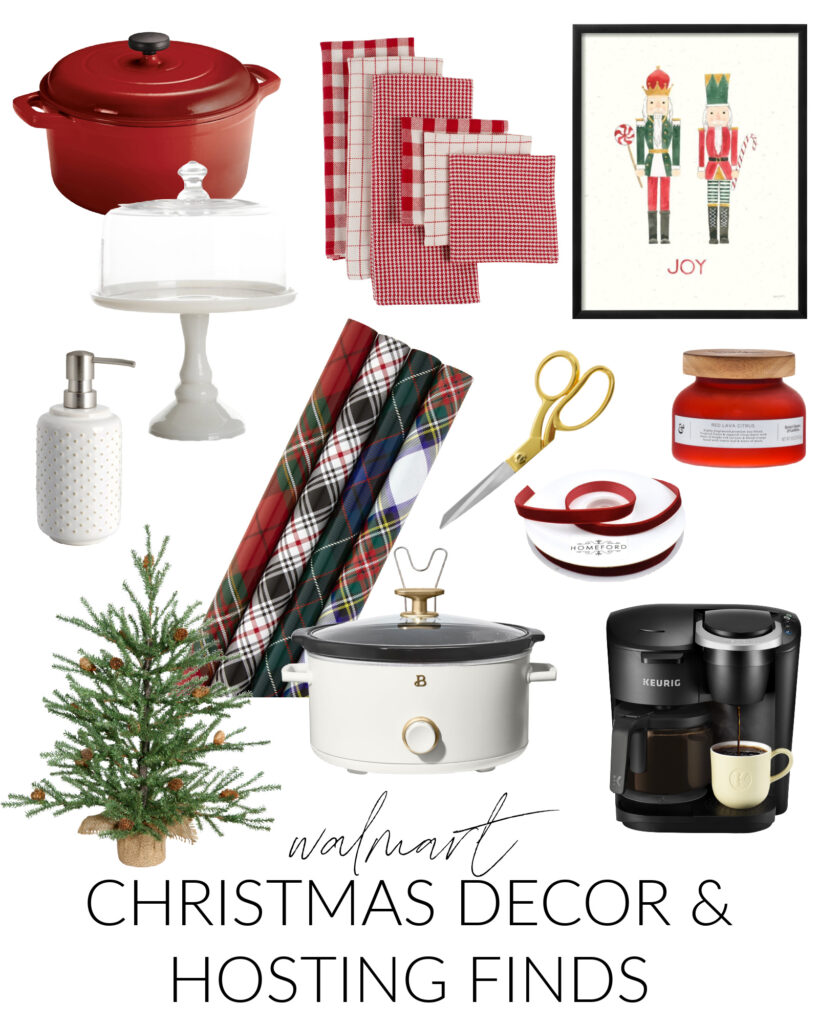 SOURCES: Dutch Oven | Cake Stand | Plaid Dish Towel & Dish Cloth Set | Nutcracker Art | Soap Dispenser | Plaid Wrapping Paper Set | Gold Scissors | Velvet Ribbon | Red Lava Citrus Candle | Tabletop Christmas Tree | Slow Cooker | Carafe & Single Cup Coffee Make
I hope you found these last-minute gift ideas helpful!
If you would like to follow along on more of my home decor, DIY, lifestyle, travel and other posts, I'd love to have you follow me on any of the following: