Sharing a collection of the best natural-looking flocked and green fake Christmas trees for a variety of budgets!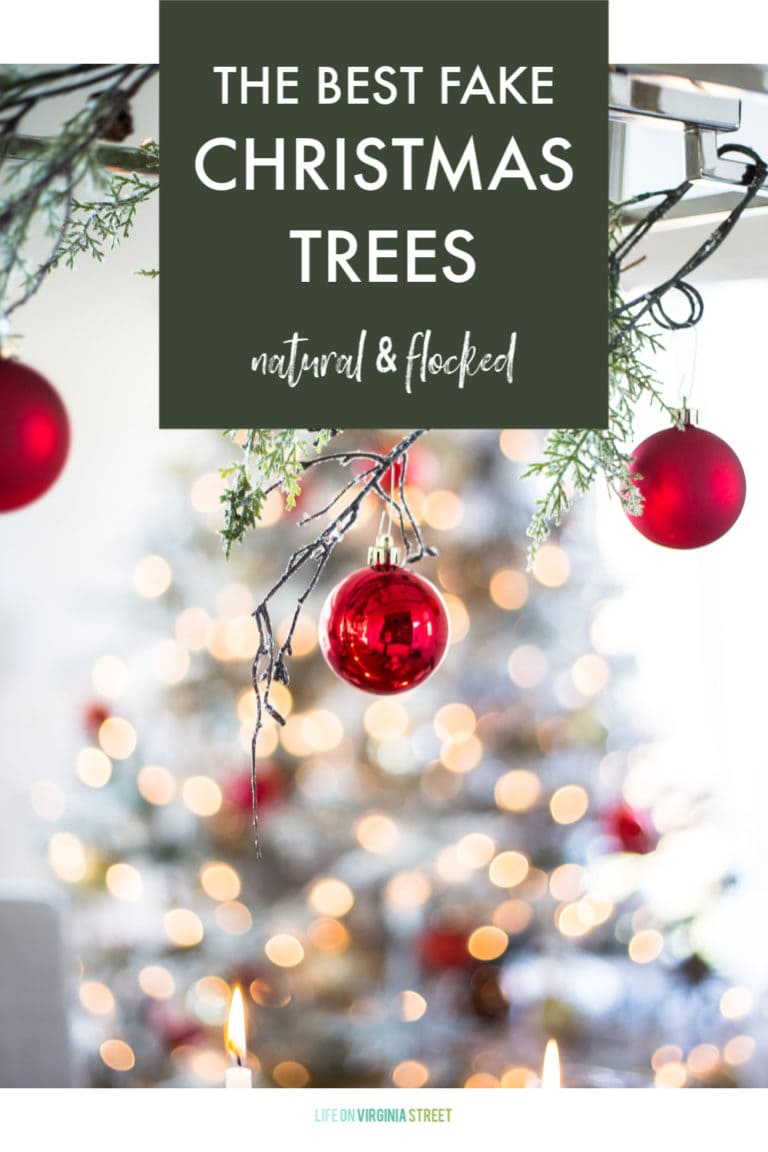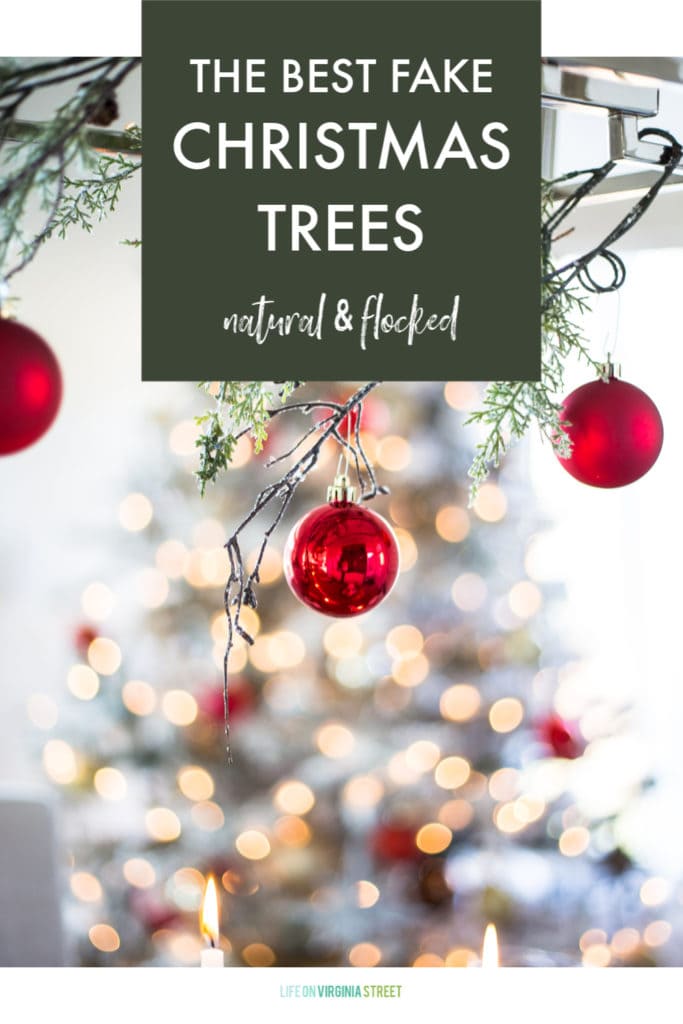 We're about a week away from the day most of us tend to pull out our Christmas trees and decorate for the holidays. In blog world, that isn't always a reality, since I tend to decorate early to give you guys some ideas. But, if you're in the market for a new tree this year, I'm sharing a huge collection of the best fake Christmas trees available right now that have good or excellent reviews.
This year, I decided to go back to faux green Christmas trees in several of our rooms. Earlier this year, donations were being asked for Christmas trees for flood victims in the area and I donated all of our green ones we'd accumulated over the years thinking I was a flocked tree convert for life.
Then fall rolled around, and I started thinking I wanted a more natural looking option! I spent a few weeks searching, and the following choices were my top contenders! While I couldn't "test drive" each and every one, I spent a lot of time looking at reviews and trying to find the most realistic options that also wouldn't break the bank! Today I'm sharing the best fake Christmas trees (both flocked and natural-looking).
This post contains affiliate links for your shopping convenience. Click here to read my full disclosure policy.
The Best Natural-Looking Fake Christmas Trees
We ultimately ended up buying this faux Christmas tree and couldn't love it more! In fact, we both loved it so much, we bought a second one for our dining room! Sadly, it has already sold out but some of the other options I found in my search would give you a very similar vibe! This tree is the other option I was strongly considering since I was looking for a natural vibe.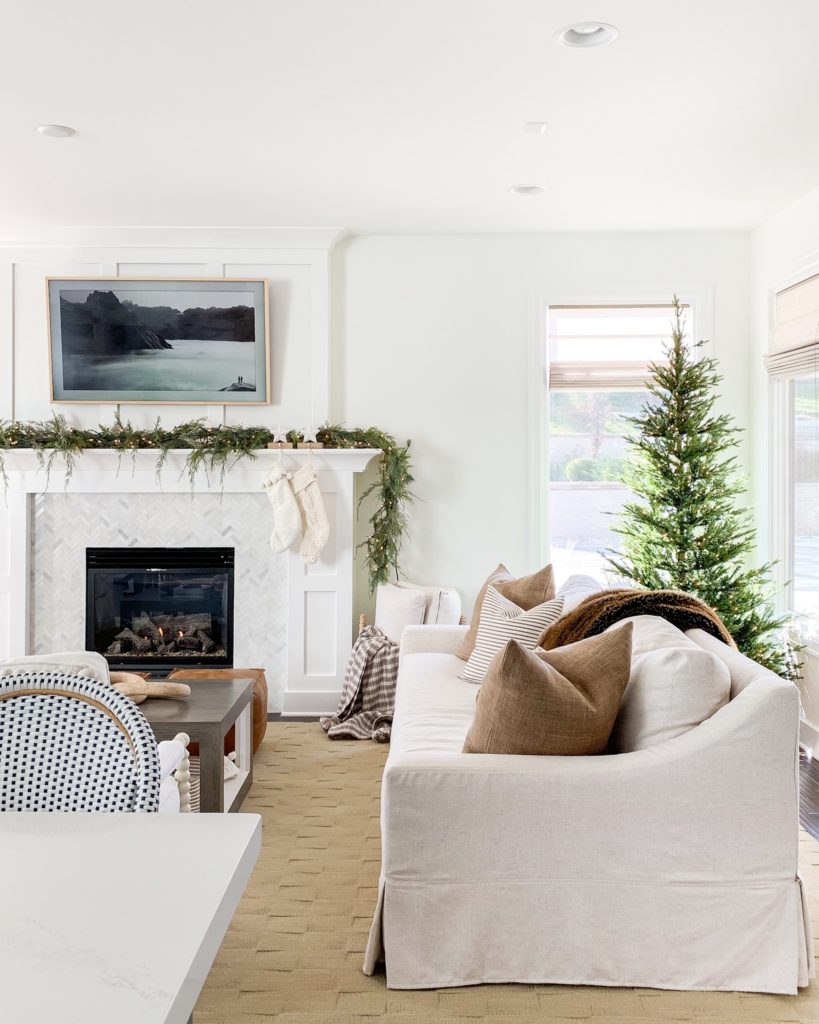 LIVING ROOM SOURCES: Faux Christmas Tree | Linen Sofa | Bronze Linen Pillow | Striped Pillow | Pom Pom Stocking | Chunky Knit Stocking | Plaid Throw | Coffee Table | Frame TV | Leather Poufs | Kitchen Stools | Garland: Old from Pier1
Following are the best natural-looking fake Christmas trees I found in my search. I've tried to include a variety of heights and price points, but note that many of these are offered in multiple heights (sometimes in a separate listing). Most of the ones I've included have a mix of the old-school branches mixed with the new hard plastic tips that look so much more realistic! Simply click any of the images below to learn more about each of the options.
The Best Flocked Christmas Trees
We're still using our two flocked trees as well, so I'm loving all the variety in our home. Over the past few years, I spent a lot of time researching the best flocked Christmas trees and the ones we own are currently still in stock! Wayfair loves to continually change up the listing name and change the link for whatever reason, but here is our 7.5′ flocked Christmas tree. The upside of buying from their site is all the helpful reviews and personal photos! And here is our 9′ flocked Christmas tree! I feel like Amazon keeps messing with the price on this one (it should be around $350) which tells me inventory is currently low. So keep an eye on it if you really want this one!
We still love both of them so much, but they are very different. The 7.5′ flocked Christmas tree has the prettiest light tone, in my opinion, with that soft warm glow. But the flock is also a lot heavier. It's prettier but is also significantly messier!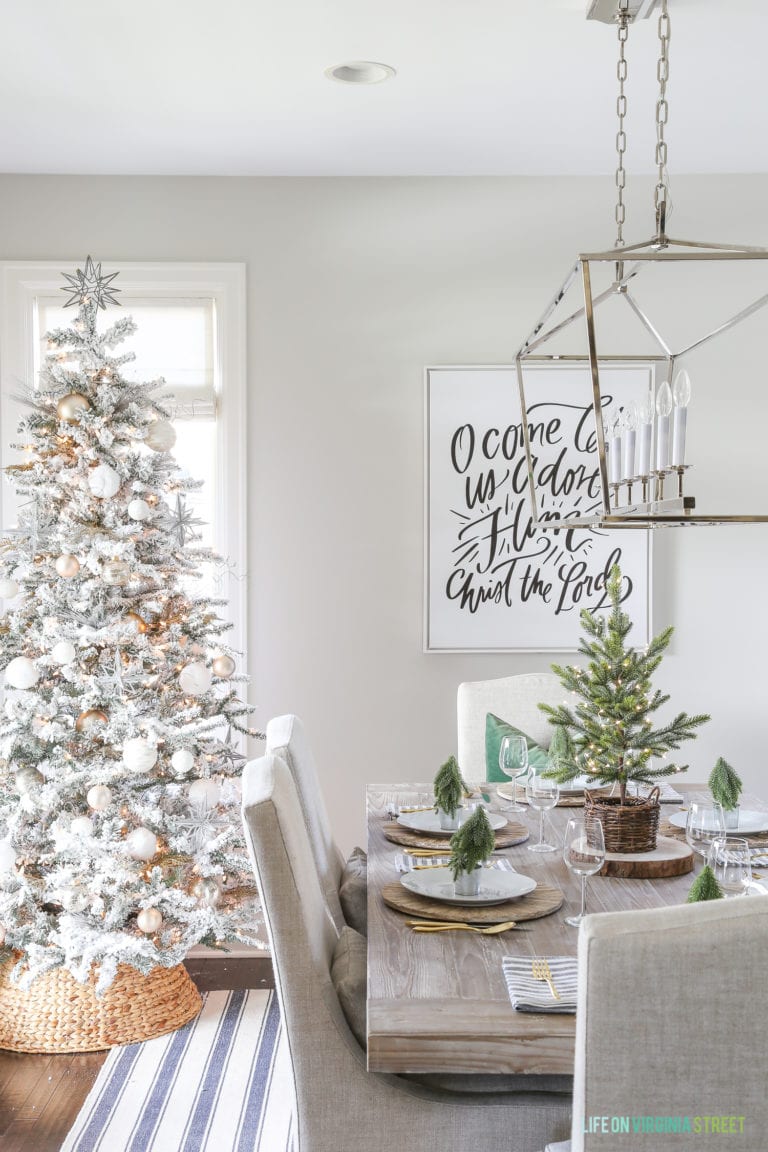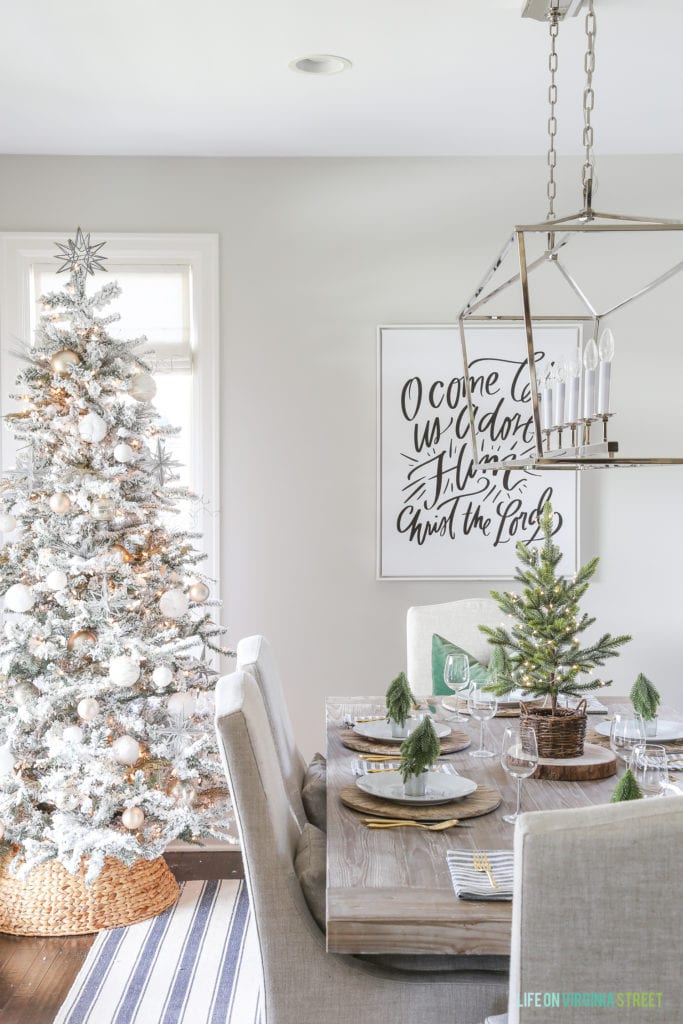 CHRISTMAS DINING ROOM SOURCES: Flocked Christmas Tree | Woven Christmas Tree Collar (similar here) | Canvas Art | Chandelier (knock-off here) | Dining Table | Dining Chairs | Wood Chargers | Potted Mini Christmas Tree (similar) | Rug | Velvet Pillow Cover
Our 9′ flocked Christmas tree is much cleaner, but the lights are much more of a cold white light. I love that it has a light pole though, so you literally snap the three pieces together and all the lights work. There's no trying to figure out where the cords hook together, etc.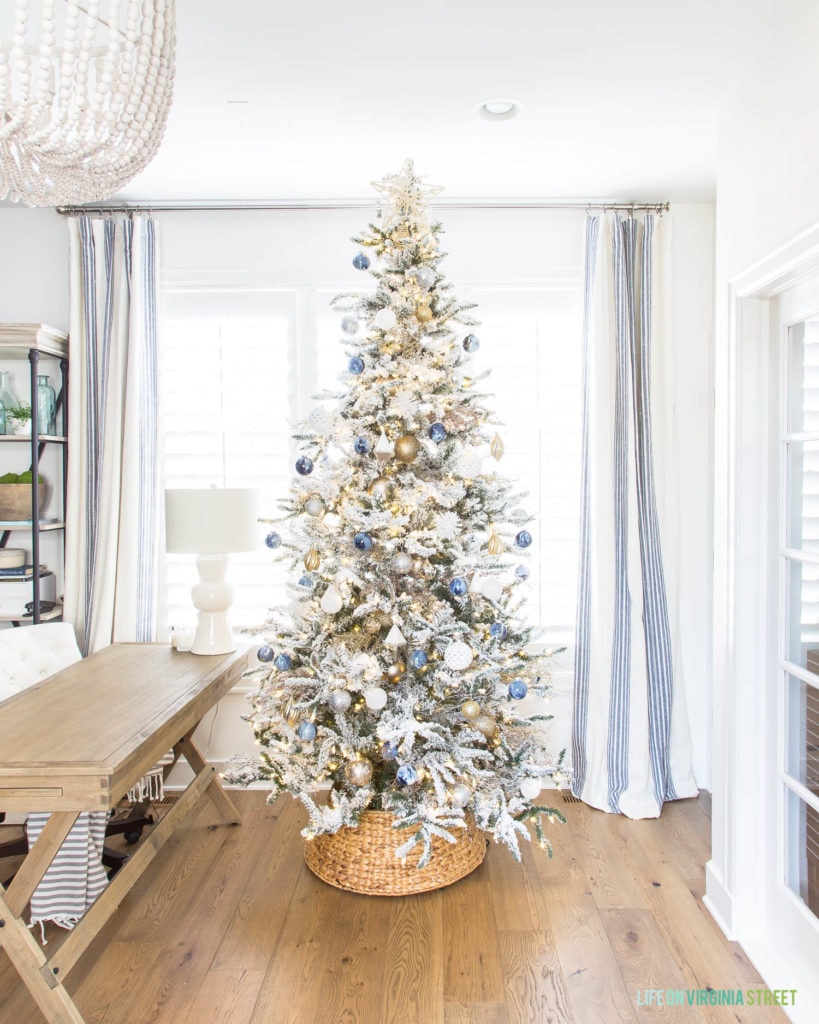 CHRISTMAS OFFICE SOURCES: 9′ Flocked Christmas Tree | DIY Marble Ornaments | Desk | Striped Drapes | White Bead Chandelier | Bookcase | Lamps (similar) | Rolling Desk Chair | Woven Christmas Tree Collar (similar here)
On both flocked trees, I love using floral picks in white or metallic tones to rest on the branches. I feel like it helps fill in any of the bald spots that are harder to correct because of the flock on the stems! I usually pick them up at Hobby Lobby when they are half off.
Following are even more flocked trees that get excellent reviews! Simply click any of the images below to learn more about each item.
Christmas Tree Accessories
To put the finishing touches on your Christmas tree, consider adding a Christmas tree collar or Christmas tree star topper! I've never been a ribbon person, but I also add in a variety of ornaments and floral pics to decorate. I tend to get most of my generic ornaments at places like Hobby Lobby or At Home when they're running half of specials! It can save you a ton of money!
Happy tree trimming!
If you would like to follow along on more of my home decor, DIY, lifestyle, travel and other posts, I'd love to have you follow me on any of the following:
Pinterest | Instagram | Facebook | Twitter 
disclosure: some affiliate links used