Later this week, I'll be sharing my 2020 Christmas home tour. You can see my 2020 Christmas Design Boards to get a glimpse at what I have planned. But today, I wanted to share some of my favorite Christmas decor and home tours from years past.
This post contains affiliate links for your shopping convenience. Click here to read my full disclosure policy.
After blogging for nearly 13 years now, I have shared a lot of looks over the years. Some of them definitely not worth re-mentioning 😉 And, while some of the items shown in a few of these pictures may no longer be available, hopefully they can serve as a source of inspiration for your holiday decor this year! I'll also include links along the way to the full home tour from the corresponding year if you want to see more images. If you're not wanting to go all-out decorating this year, you'll see sometimes something as simple as a wreath can help make your spaces feel more festive!
We moved into our home nearly eight years ago, and just a few days before Christmas. My parent gave me the O Holy Night canvas that year and it was basically my only decor.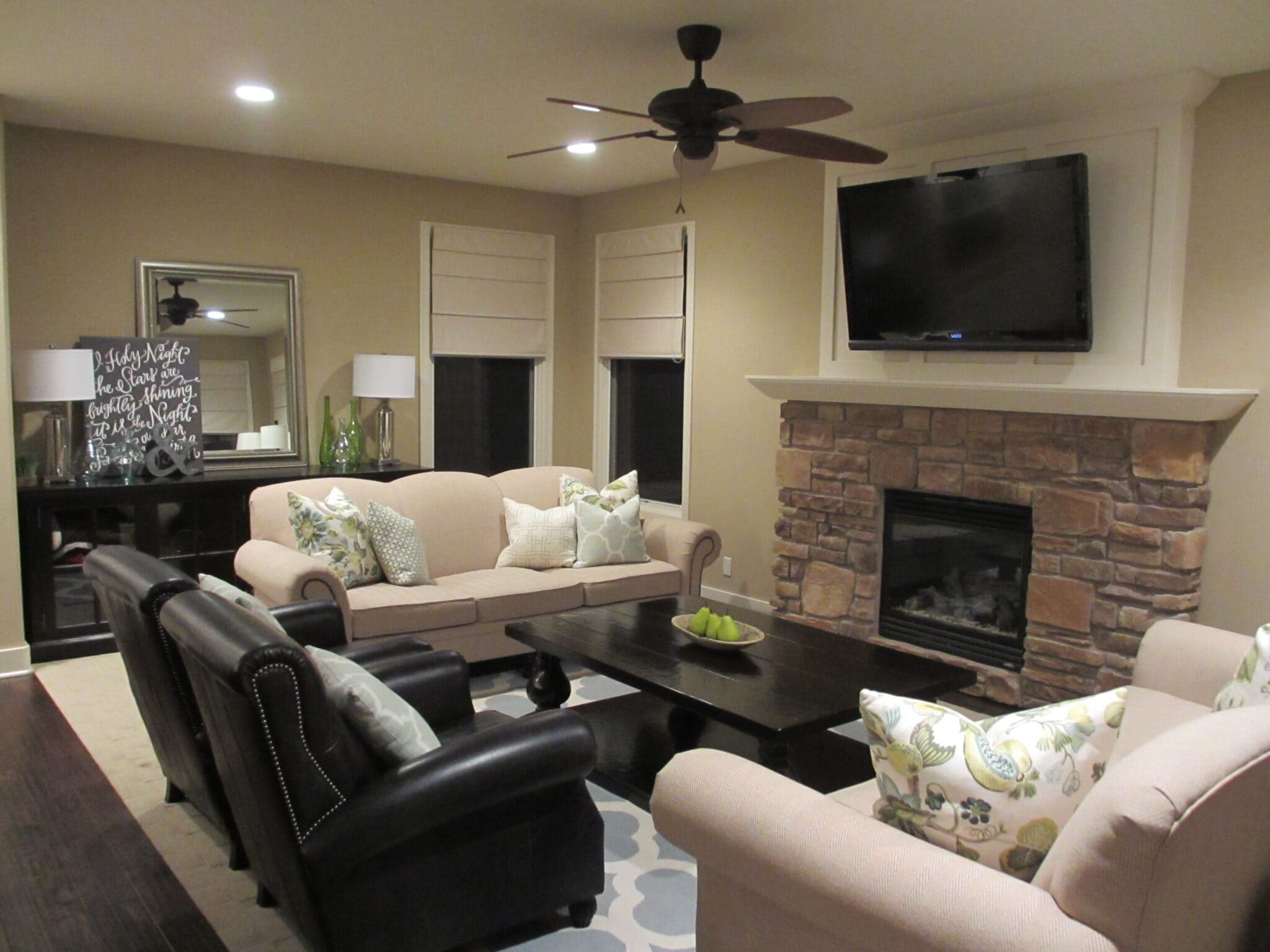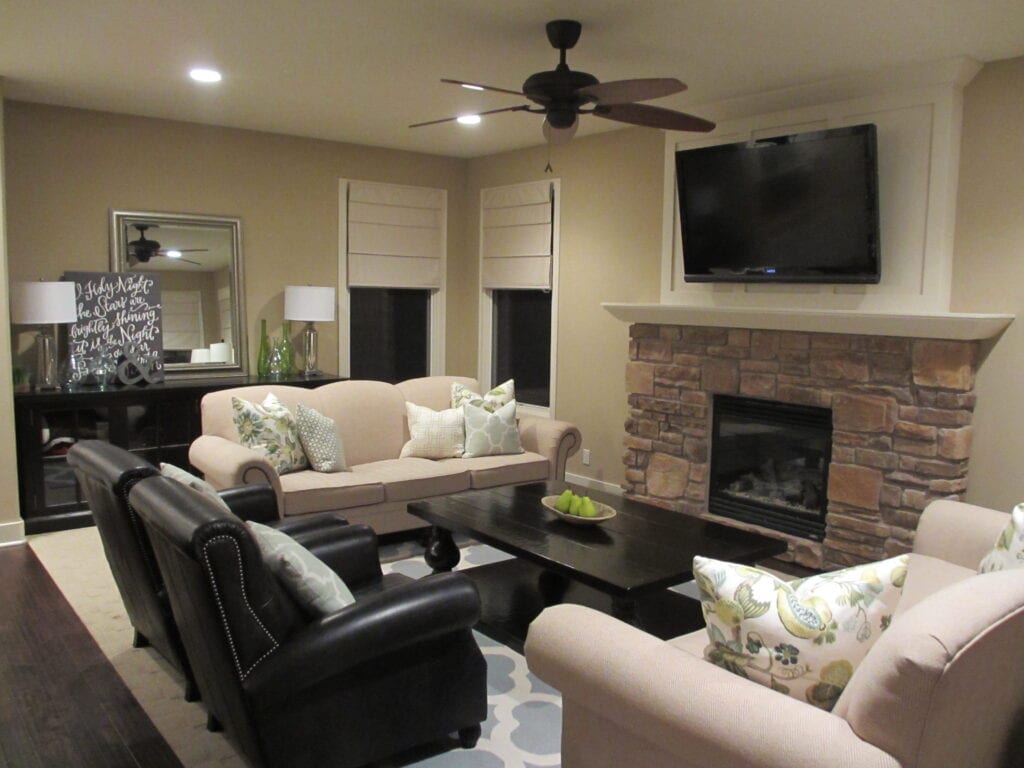 And here is almost that same angle last year at Christmas time! I find that I like to rotate color schemes each year. So while last year was a fairly neutral Christmas color scheme, this year will be full of a lot of color! You can see last year's full tour here.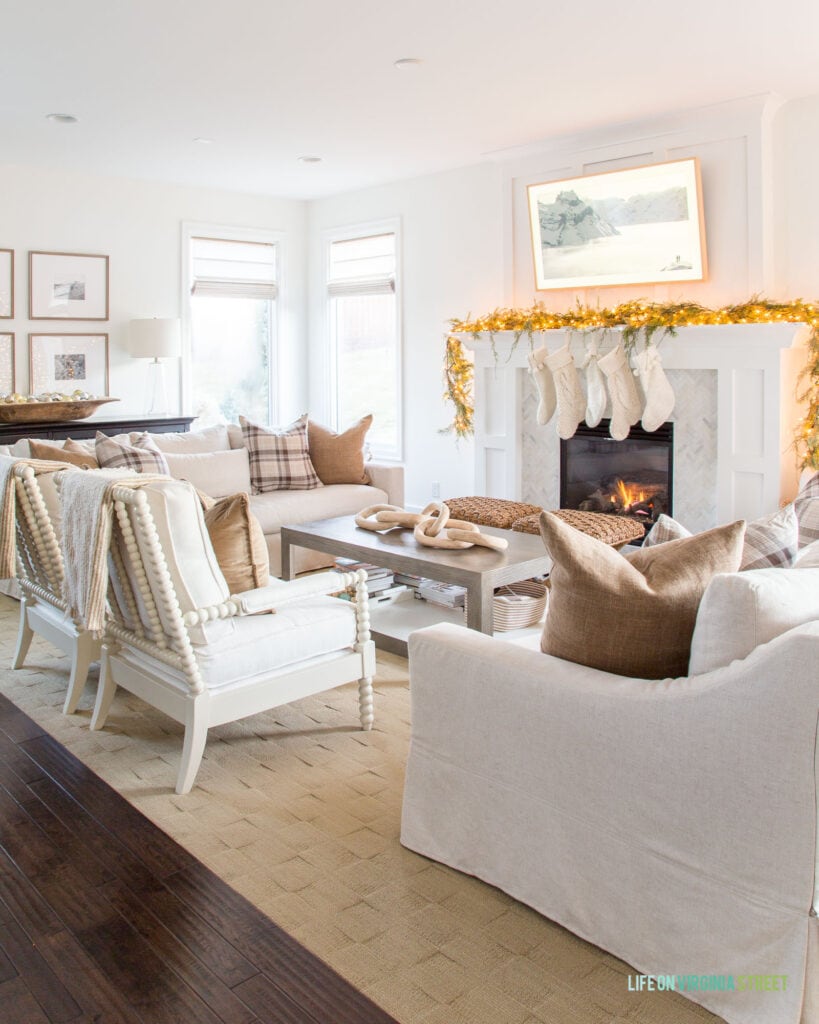 And here is the other side of the room with our Christmas tree! It was my first time ever going this neutral but I love the serene vibe!
Last year, I didn't actually decorate my dining room for Christmas until after Christmas! Due to some family illnesses, we had to bump our celebration a few weeks so it was still worth the effort! But I added the images to my 2019 Christmas home tour even though it wasn't in the initial tour. It's one of my favorite dining room looks ever! And since we didn't get to enjoy it much last year, this year's look is super similar.
My decor in my 2018 Christmas home tour (Part II) is similar to the vibe I'll have this year. Lots of red and plaid and traditional colors. This view of our living room back then is still one of my favorites!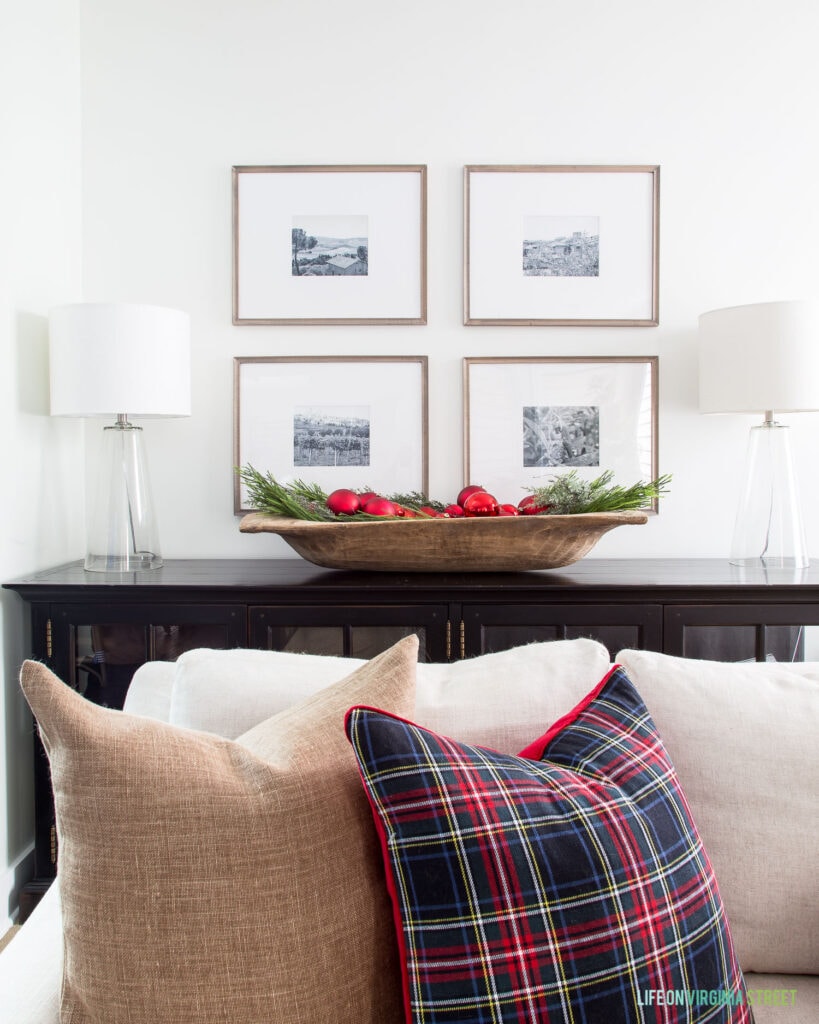 I didn't actually decorate a tree in our living room that year! I had just got this floor sample faux cypress tree from a local boutique and I felt like it still gave enough of a Christmas tree vibe so I went with it!
Our kitchen and pantry were two of my favorite spaces thanks to the wreaths and the black and white plaid rugs! This was also my first time decorating our renovated kitchen for the holidays!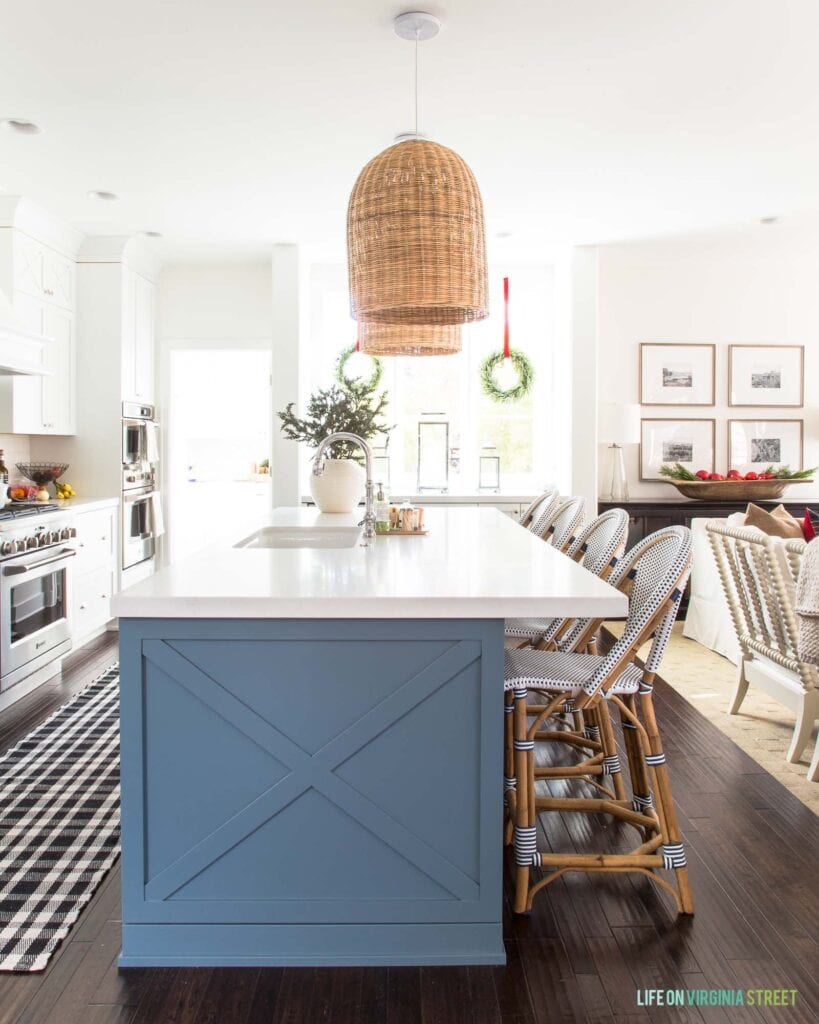 And until I saw this image, I forgot just how much I love twinkling fairy lights in random places throughout our house! I ordered some of these lights over the weekend to have more on hand. They're super affordable, and these come with remotes which mine never had in the past. I always prefer the warm white, but they also have two other options if you like cool or colored – and they're waterproof! I think I'm going to try some in our staircase garland since we don't have any easily accessible outlets nearby.
And in this particular year, I got really into Christmas bedding! You can see more (including our other guest bedroom) in Part II of or 2018 Plaid Christmas Home Tour.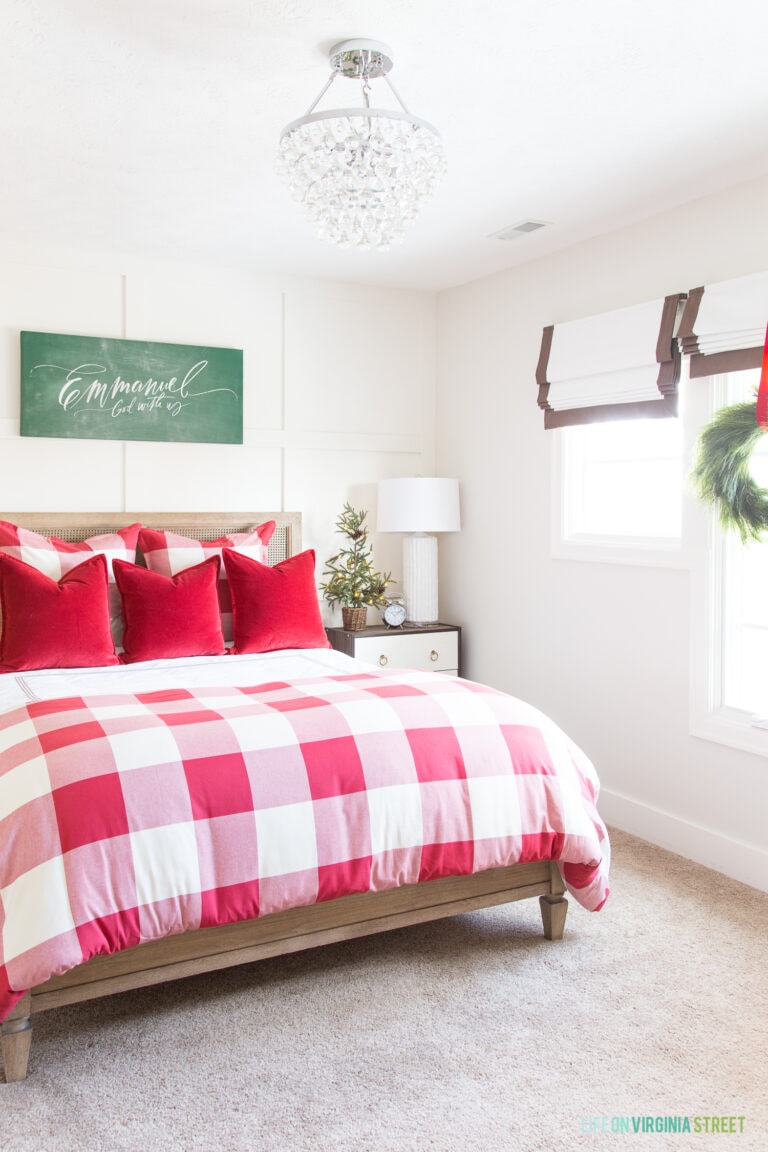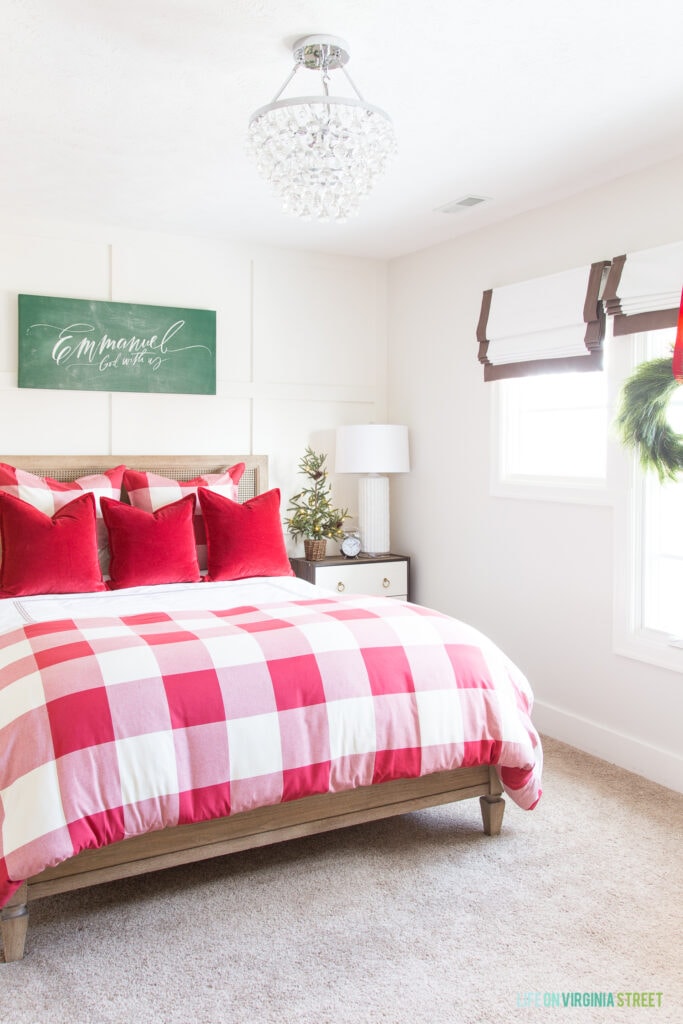 CHRISTMAS BEDROOM SOURCES: Cane Bed | Buffalo Check Bedding | Velvet Pillows | 'Emmanuel' Canvas Art | Faux Lit Pine Tree | Nightstand | Cozy Pom Throw | Similar Roman Shades | Tiered Chandelier
This might be the first year we haven't set up a Christmas tree in our office. With our new configuration, Kurtis' desk is in front of the window. This 9′ flocked tree is still a favorite! We have 9′ ceilings on our main floor, and although they also offer a shorter size, I wanted mine tall so I just bent the top branch a little to accommodate the star topper! I love that, although this tree is flocked, you can still see a bit of green coming through!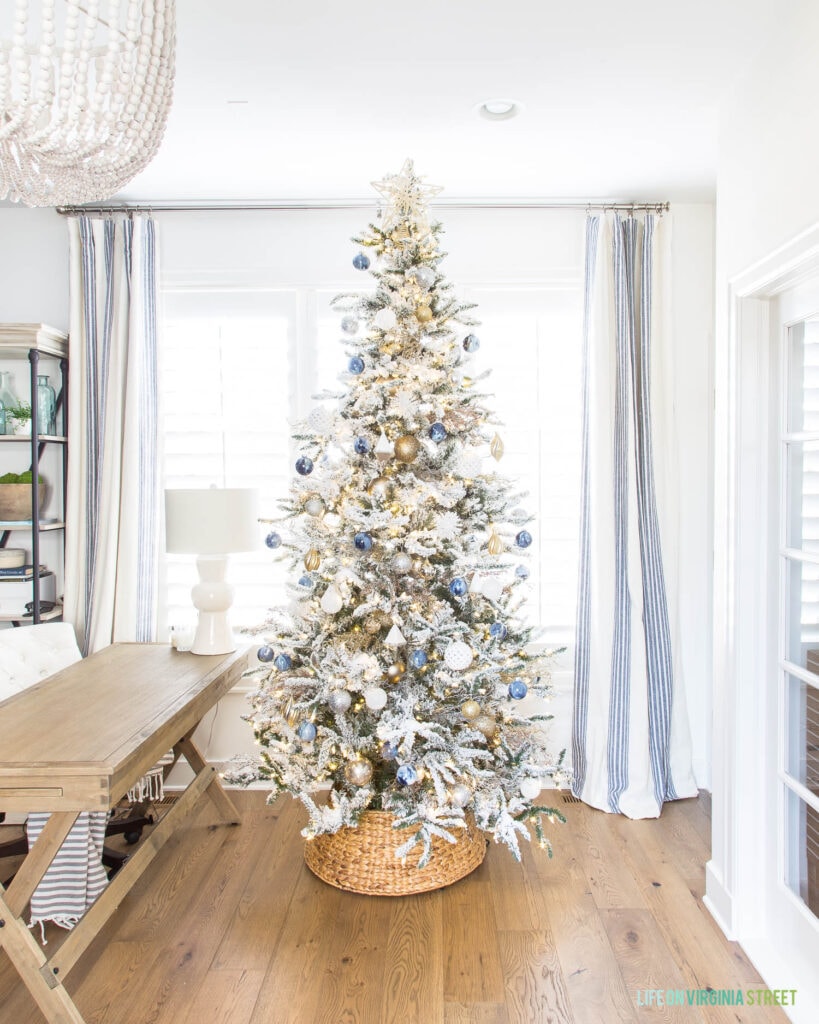 CHRISTMAS OFFICE SOURCES: Flocked Christmas Tree | Similar Tree Collar | Striped Drapes | Desk | Wood Bead Chandelier | Bookcase | Similar Lamp | Desk Chair
These DIY Marble Paint Ornaments were so much fun to make! Highly recommended if you're looking for a fun craft for older kids. They're fun for your own tree or to give out as gifts. I love that each one is unique since the colors can be customized however you choose!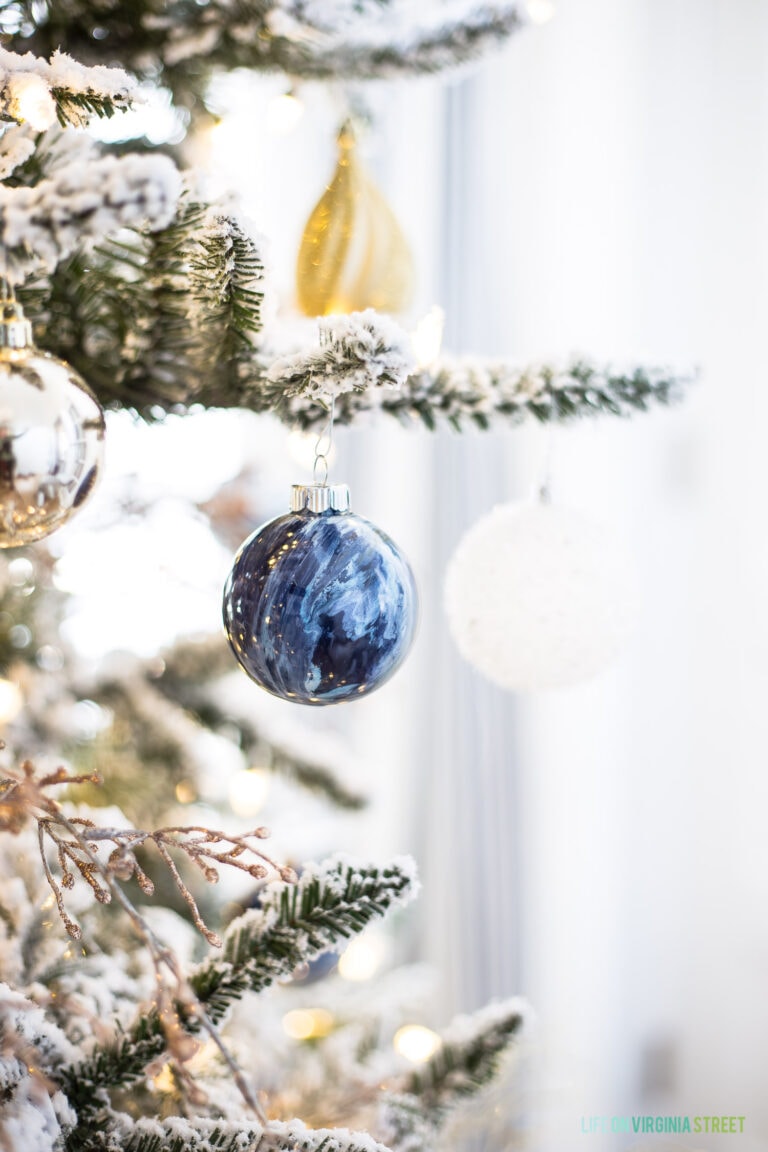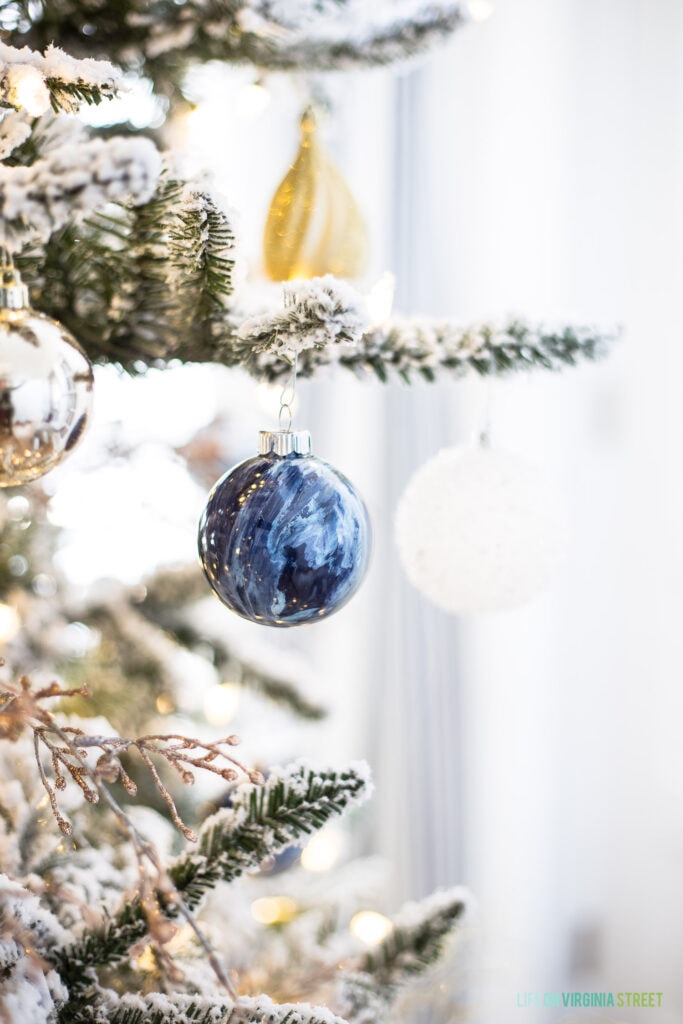 And speaking of flocked trees, this look in our dining room from my 2017 Christmas home tour is still one of my all-time favorites. It was also super pretty to carry into New Year's Eve with a few simple swaps!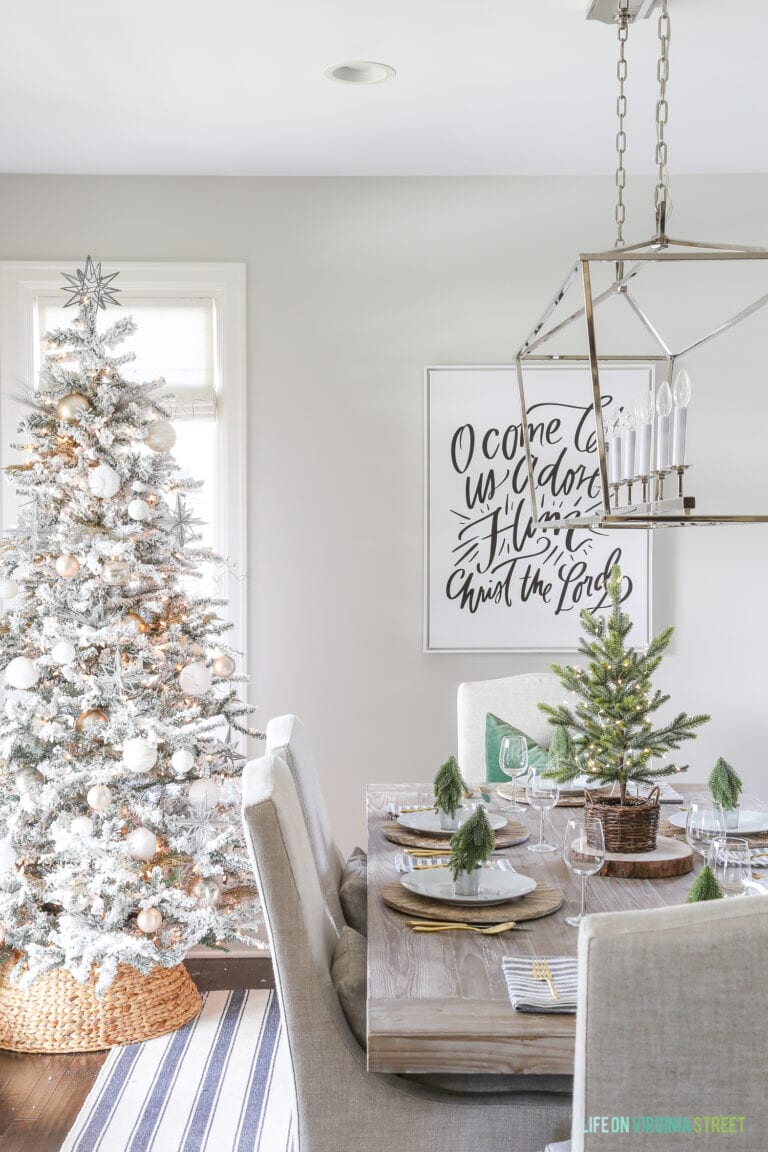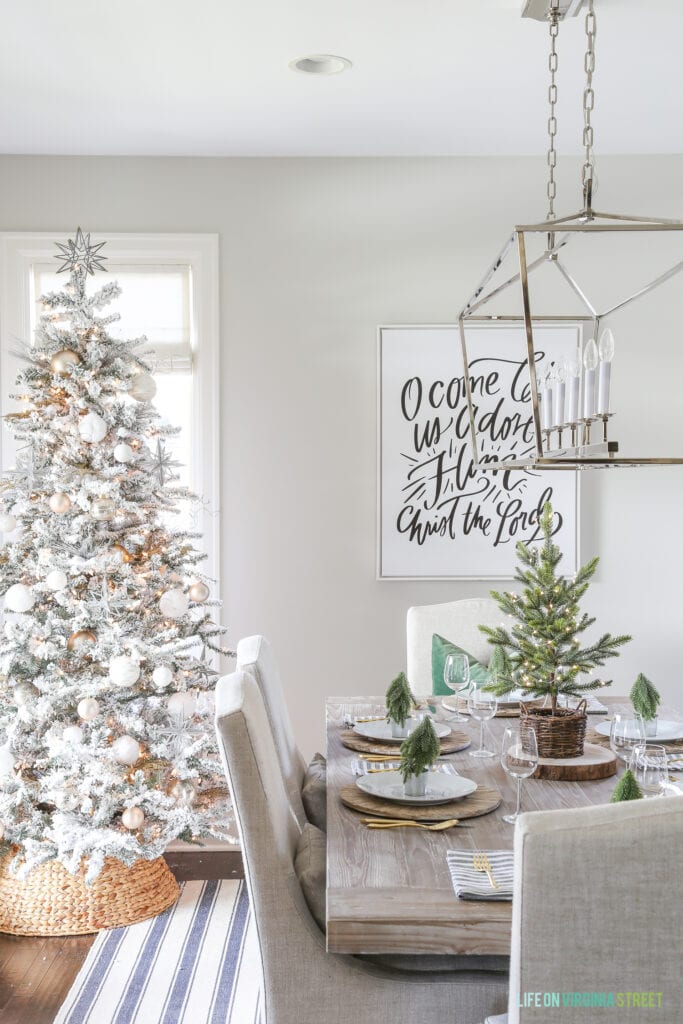 CHRISTMAS DINING ROOM SOURCES: Flocked Christmas Tree | Similar Seagrass Woven Christmas Tree Collar | Canvas Art | Chandelier (look for less here) | Dining Table | Dining Chairs | Gold Flatware | Similar Striped Napkins | Similar Wood Chargers | Similar Potted Mini Christmas Tree | Striped Rug | Velvet Pillow Cover
That same year I quickly learned how difficult it was to photograph our living room after I had just painted it all white. But I love the dough bowl I created that year, filled with mossy balls and gold ornaments. It was a fun and unexpected combination! And really pretty with a woodland type decorating theme! I'm pretty sure both the ornaments and moss balls were from Hobby Lobby (or similar).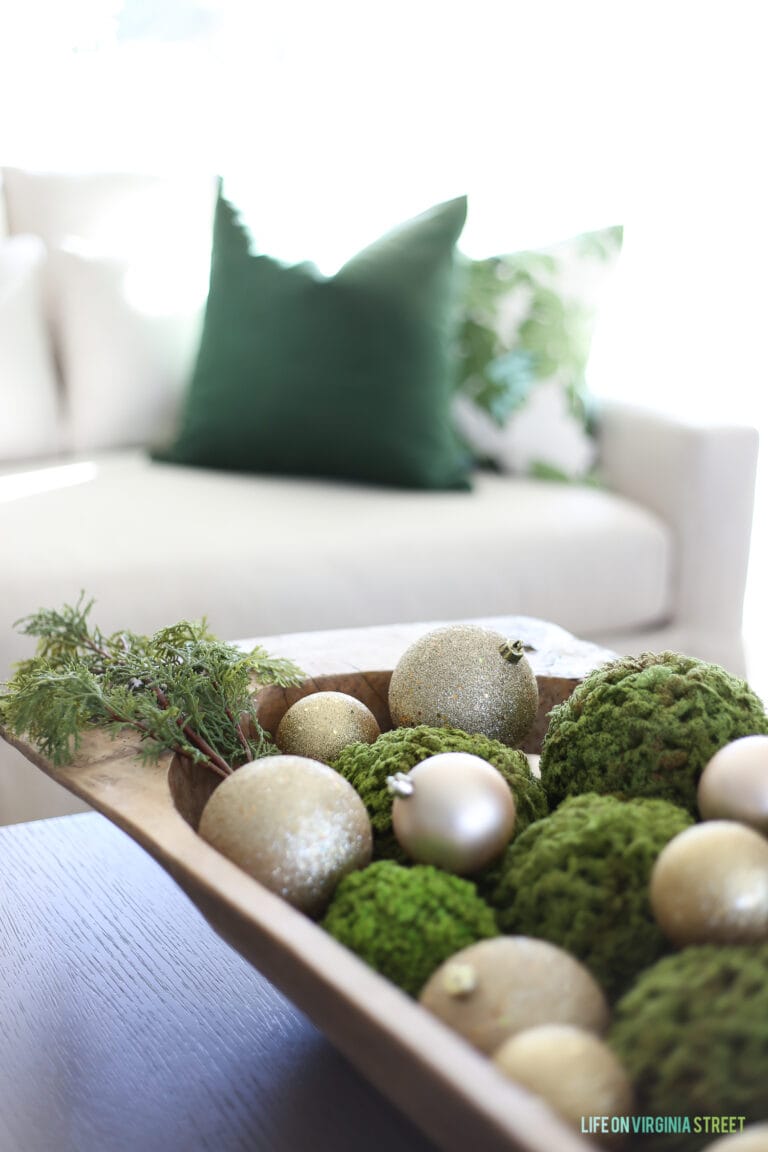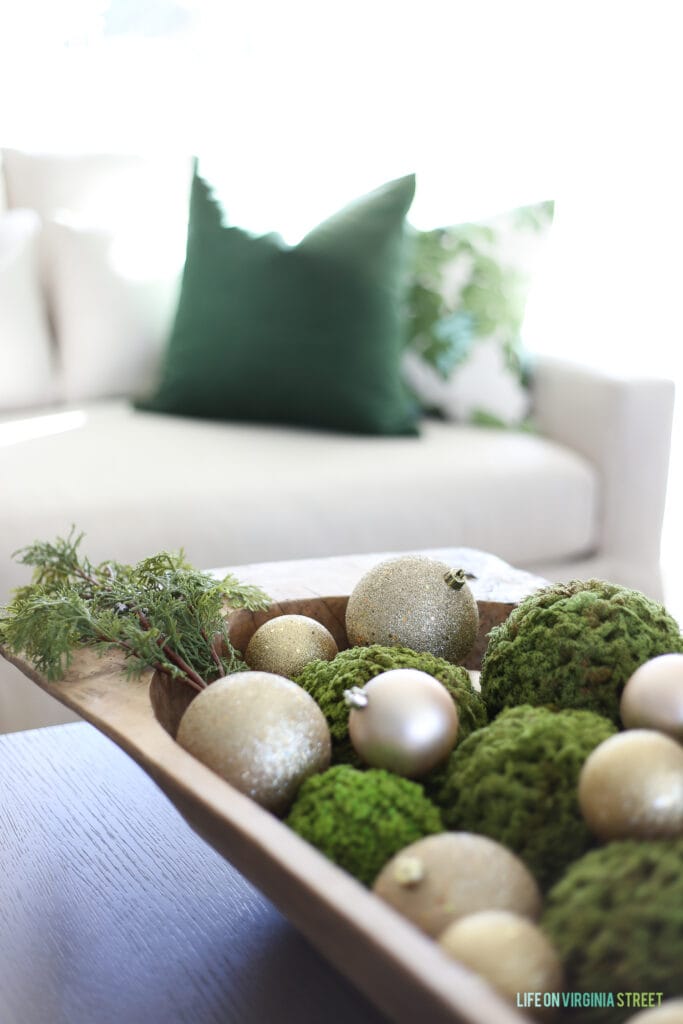 CHRISTMAS LIVING ROOM SOURCES: Linen Sofas | Coffee Table | Dough Bowl | Green Velvet Pillows | Fig Leaf Pillows
In our former TV Room/Craft room that year, I kept my usual decor, but added this bayleaf garland for a festive spin. I love how it turned out!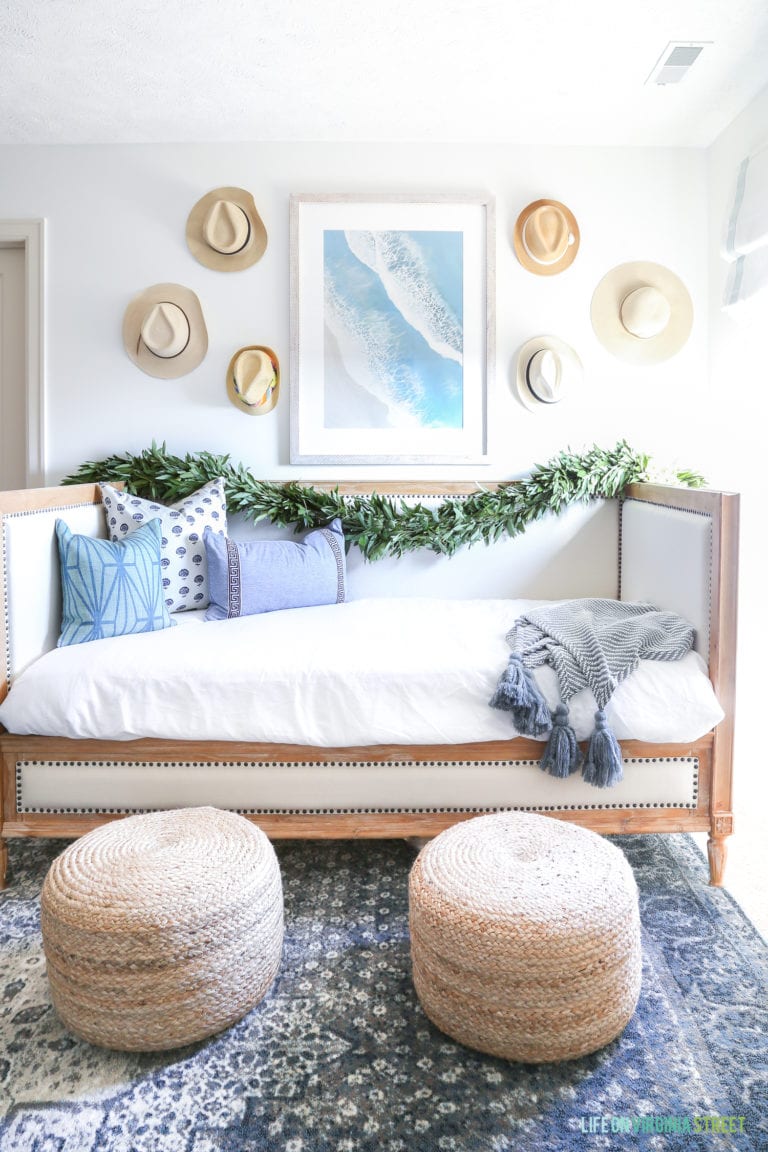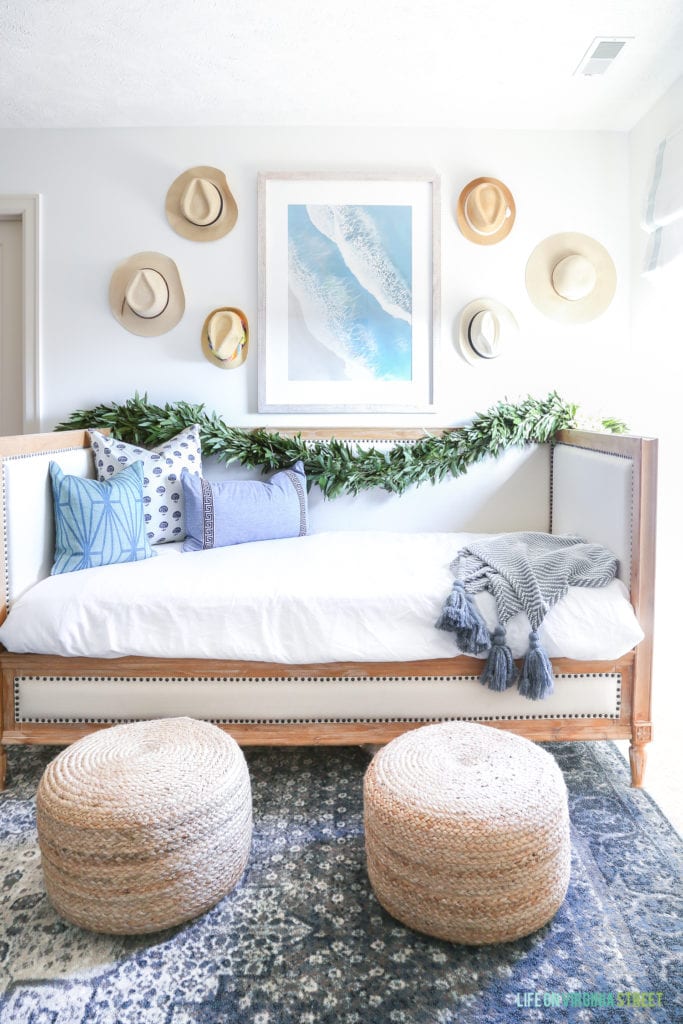 CRAFT ROOM/TV ROOM SOURCES: Oak & Linen Daybed | Bayleaf Garland | Ocean Art | Jute Poufs | Vintage Style Rug | Block Print Pillow | Graphic Lines Pillow | Lumbar Pillow | Roman Shades | Scallop Light Fixture
I used to be a traditional Christmas color purist! Those buffalo check pillows from our 2016 Christmas Home Tour are always so fun and so classic!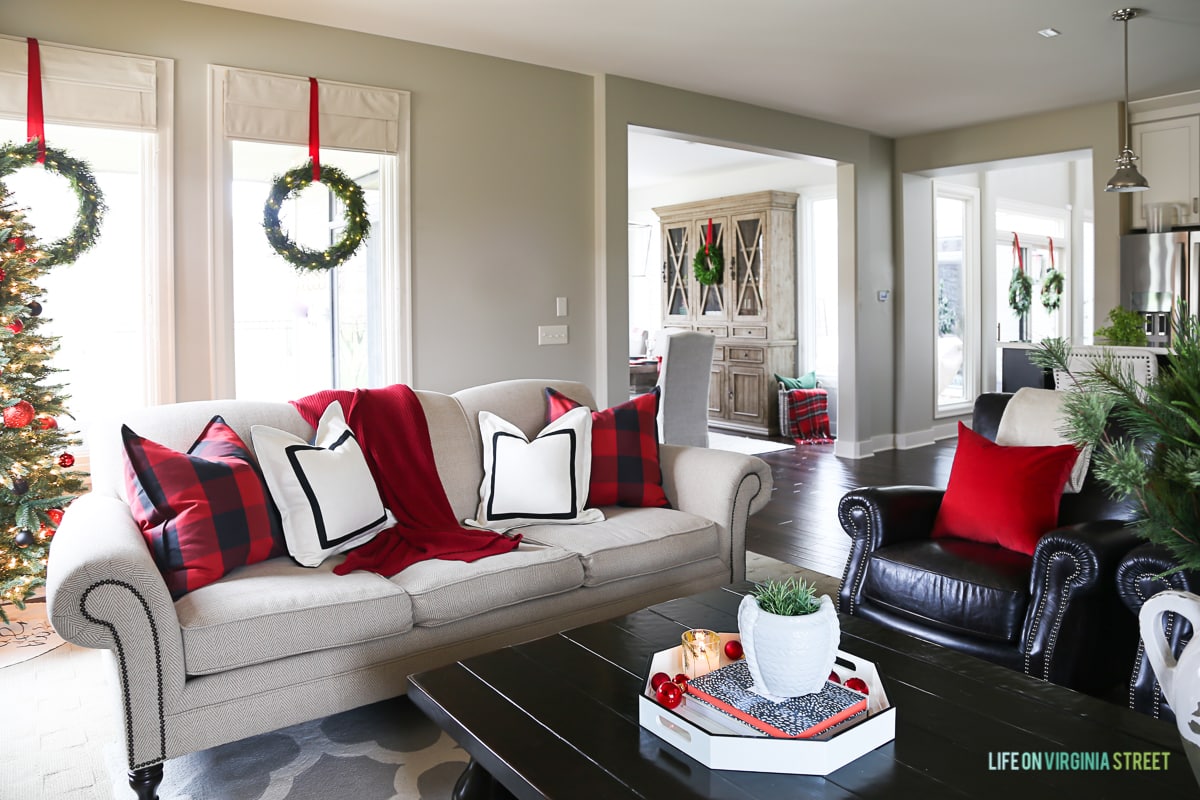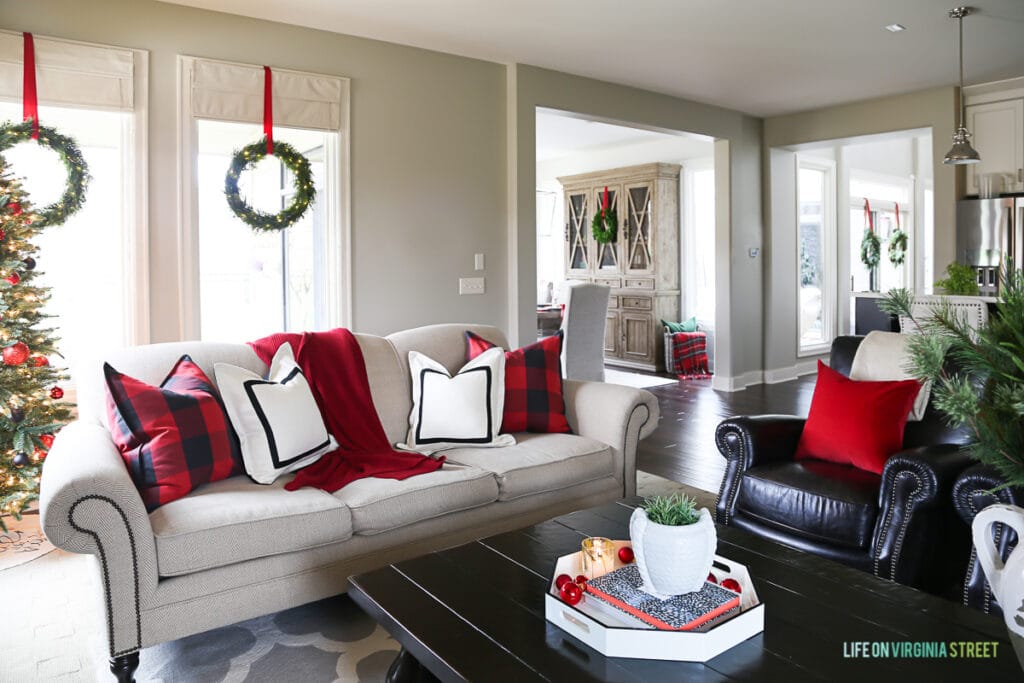 I love this simple way to dress up your everyday living room decor. Just add mini ornaments!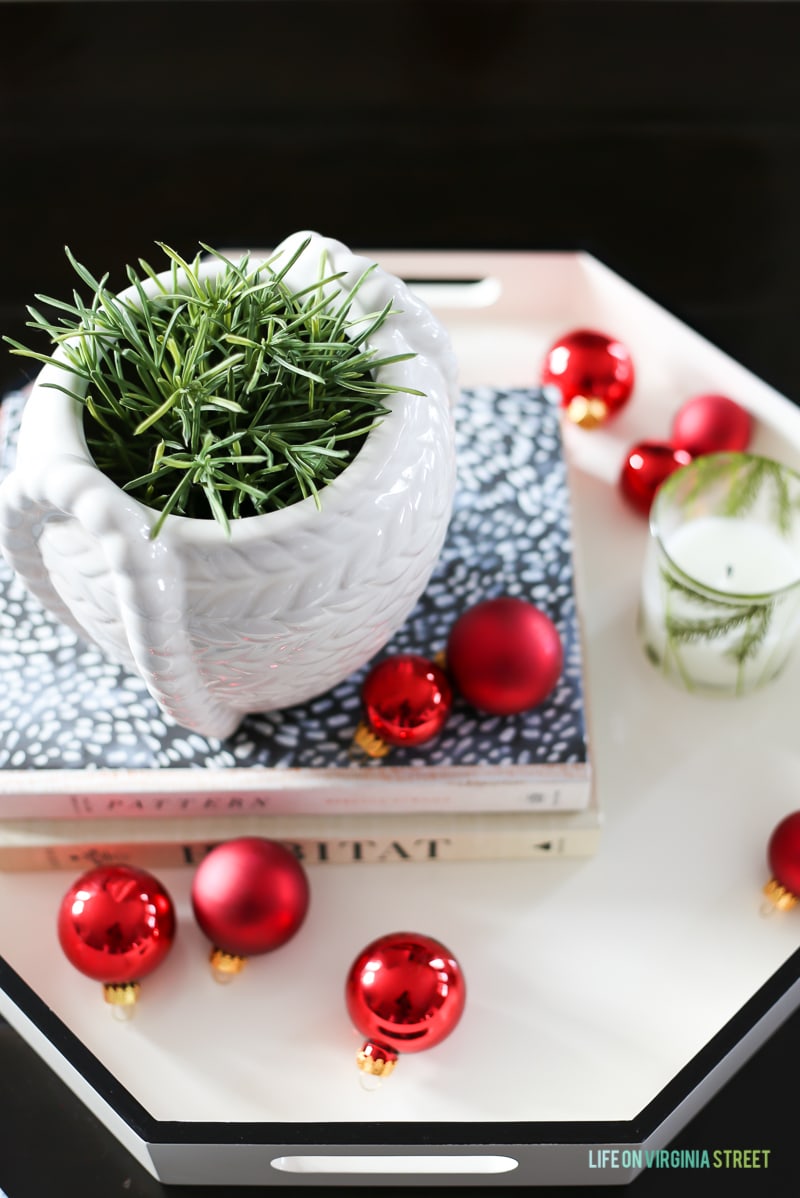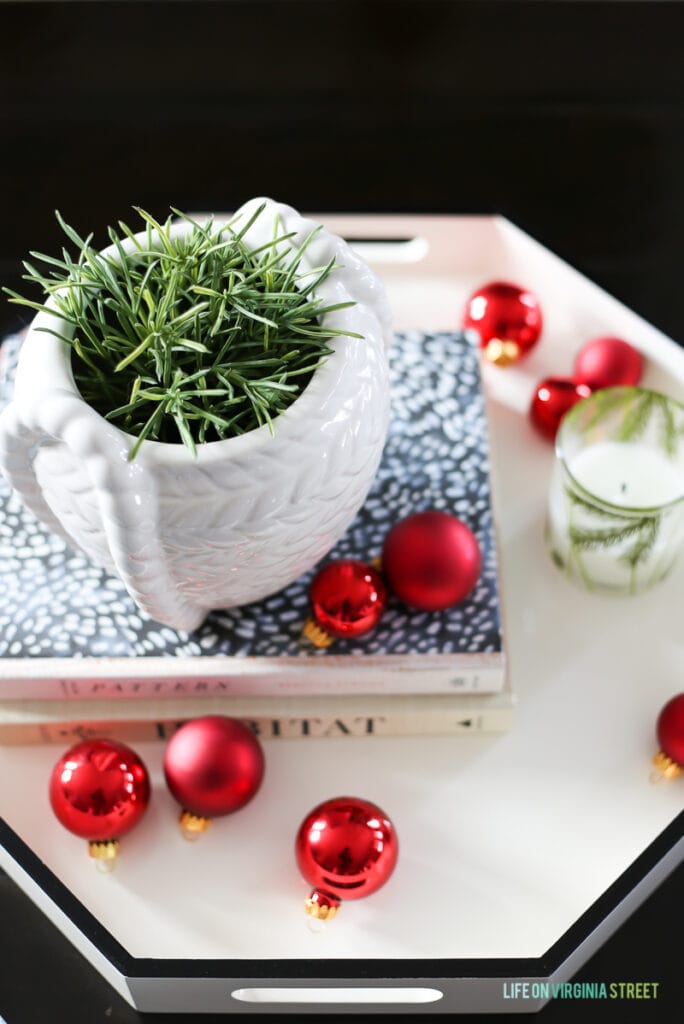 How many have you been around since prior to our kitchen renovation? Our old kitchen always looked so pretty during the holidays (see the kitchen tour from 2016 here). But we couldn't be happier with the changes we've made since (the window!!). Especially now that we don't have to deal with peeling, bubbling cabinet doors! But I always love the look of a wreath over the stove if you have room for it. I would just recommended removing it while cooking to be safe.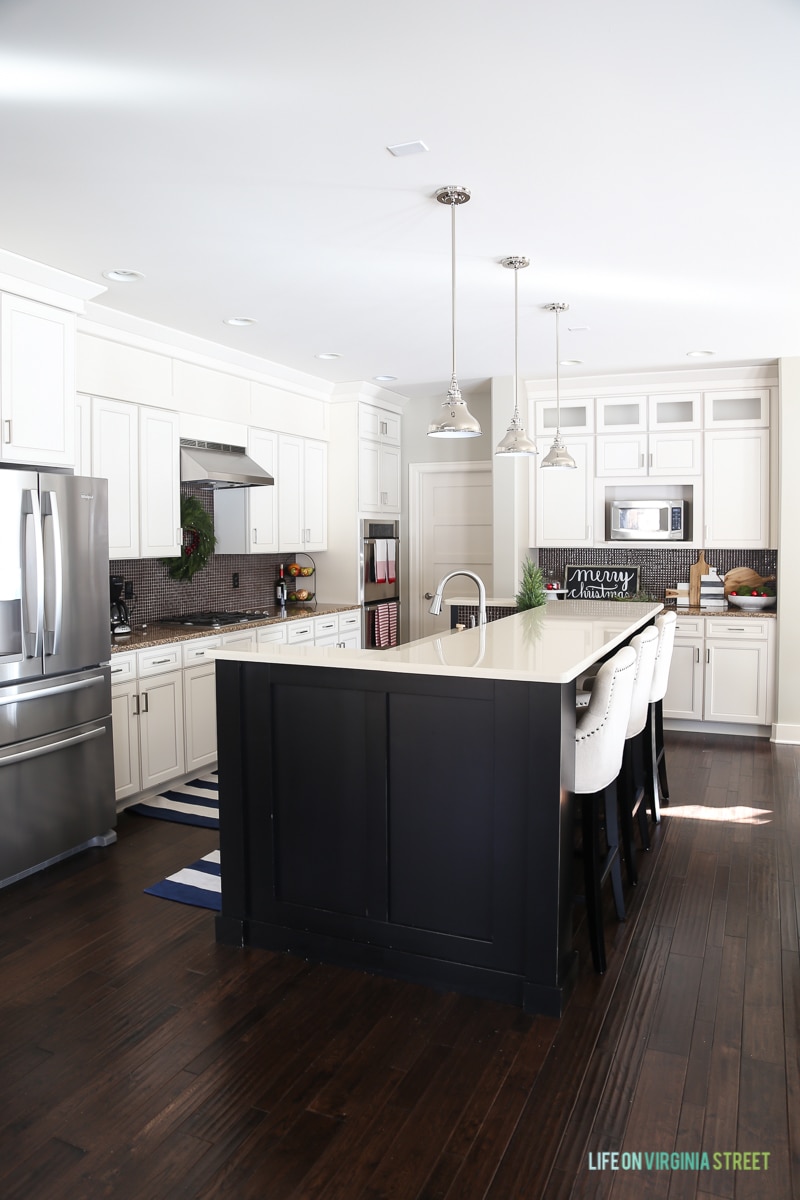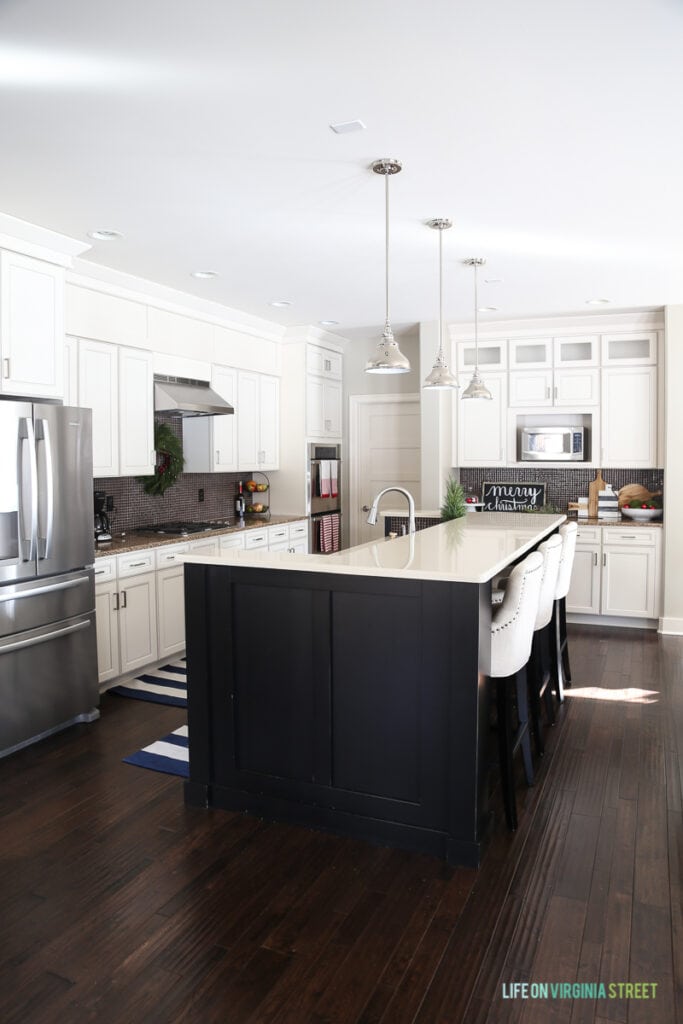 That year in our bedroom I just left our daily bedding but added some tartan plaid pillows from HomeGoods and a boxwood wreath for a simple update. It still felt so festive and required very little effort!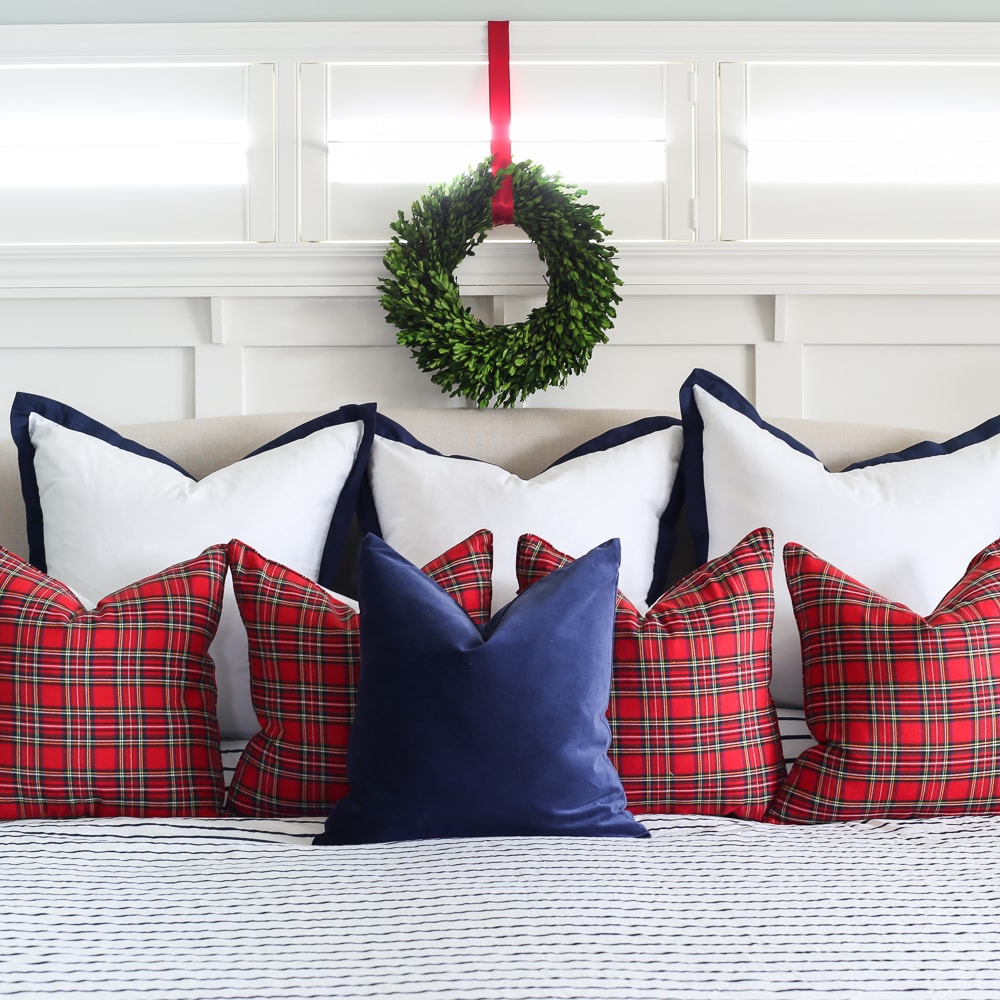 And my Preppy Plaid Christmas Home Tour from 2015 had some of my highest pinned images ever! That was the year I made the mistake of using fresh garland on our staircase. It was great for the week or two it was still alive 😉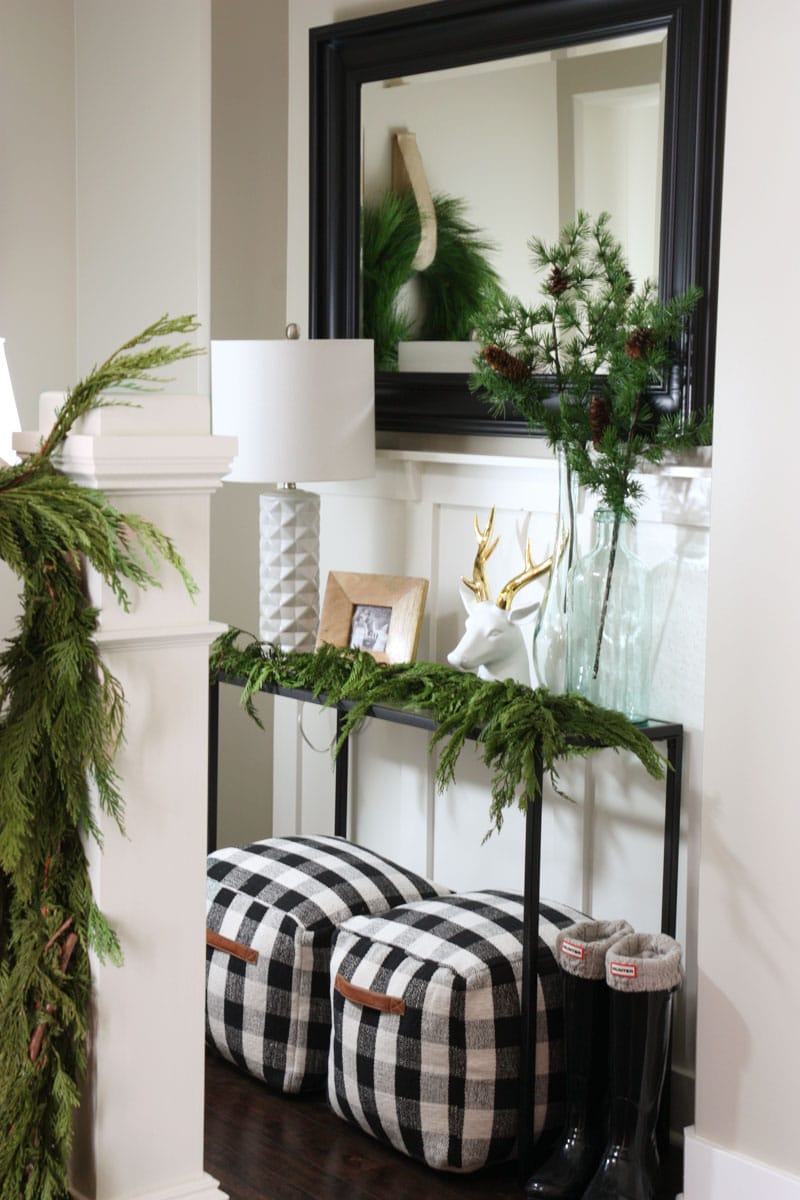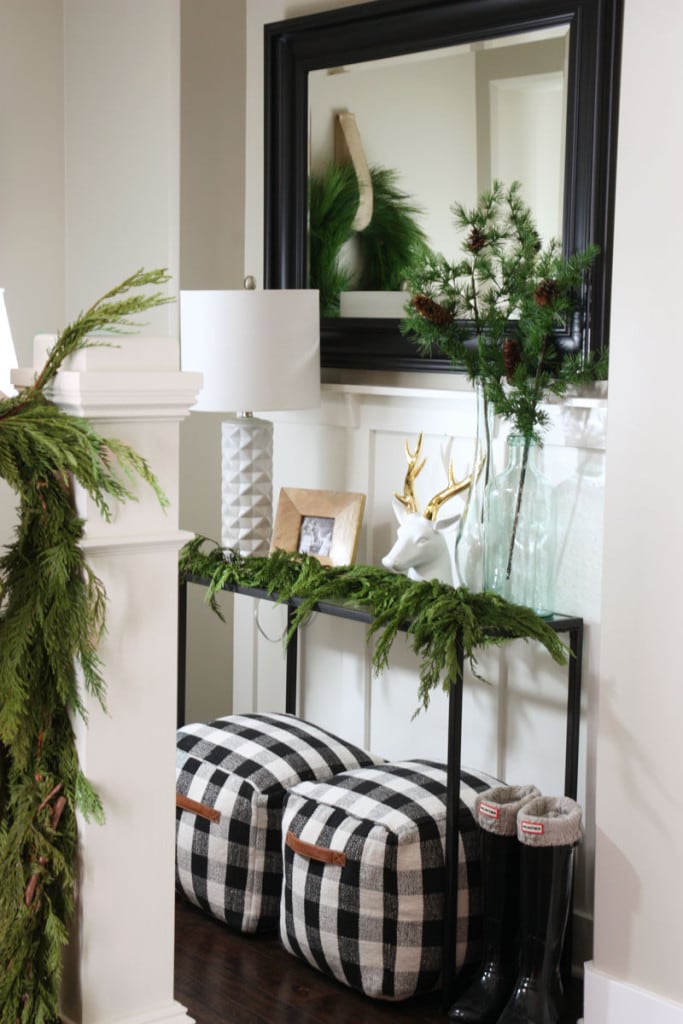 I loved our guest bedroom back then too! Those HomeGoods plaid pillows served me well for several years and multiple home tours! Actually, I still have them.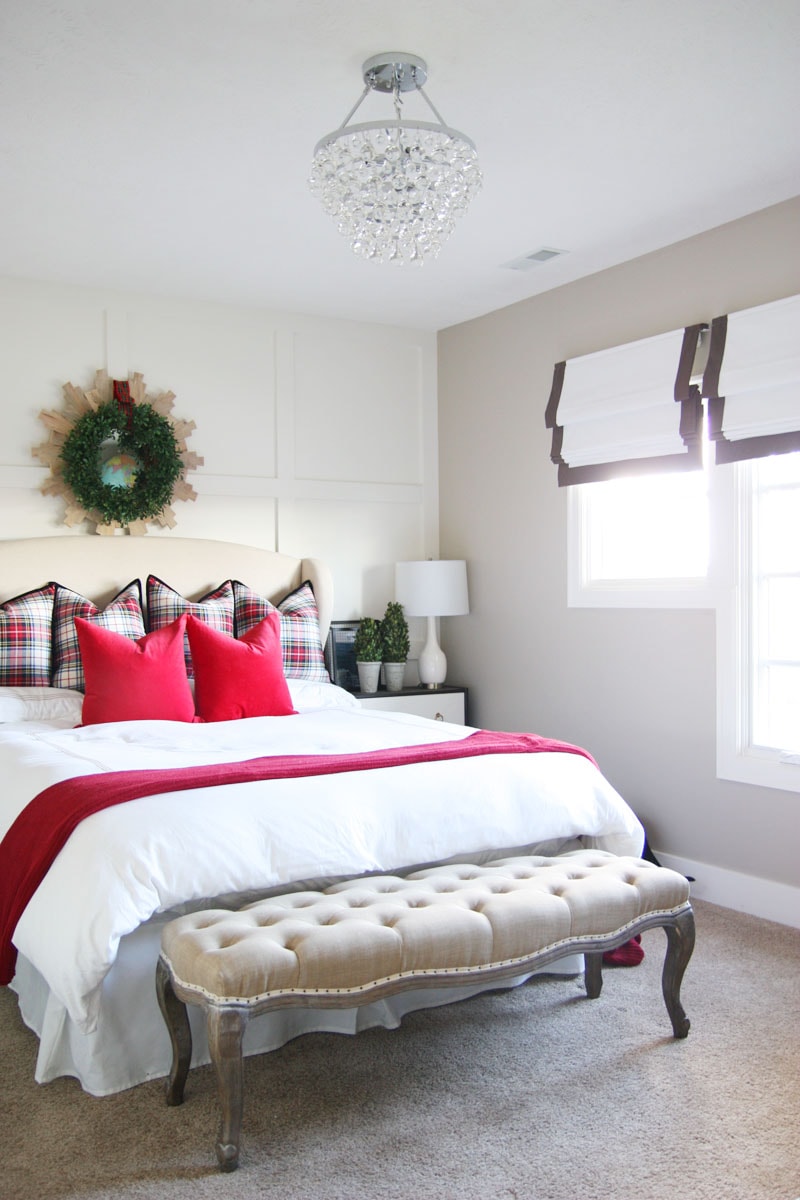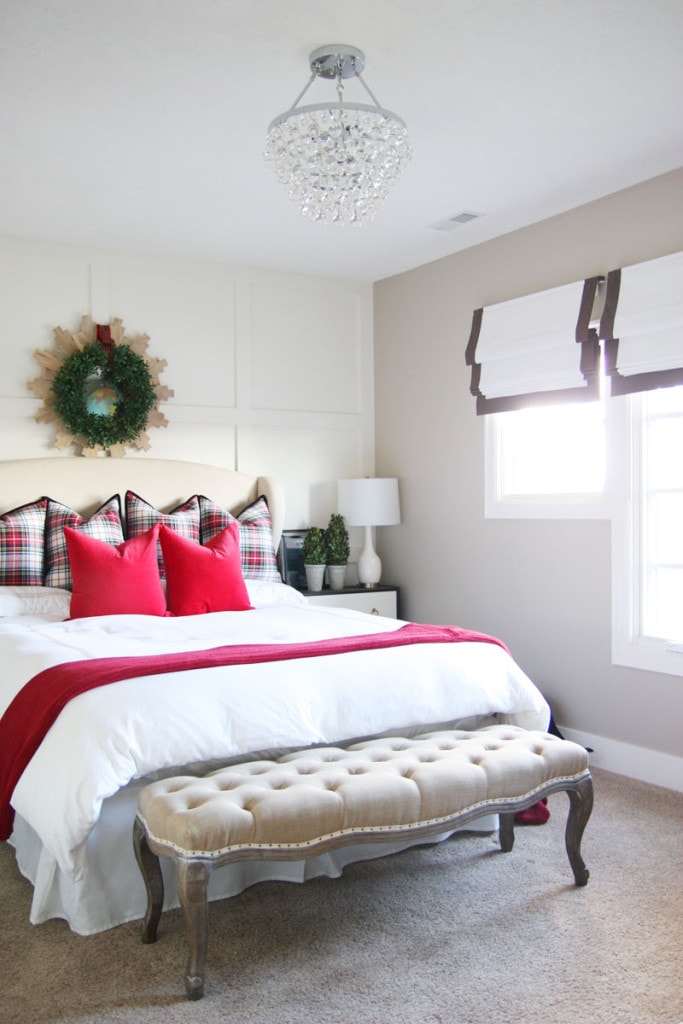 GUEST BEDROOM SOURCES: Wingback Headboard | Chandelier | Bench | Similar Roman Shades | Duvet | Plaid Pillows from HomeGoods (old)
That about wraps up some of my favorite looks! I have links below to even more inspiration! And I'll leave you with this sneak peek of this year's Christmas home tour that I shared yesterday. There's going to be a lot of plaid involved!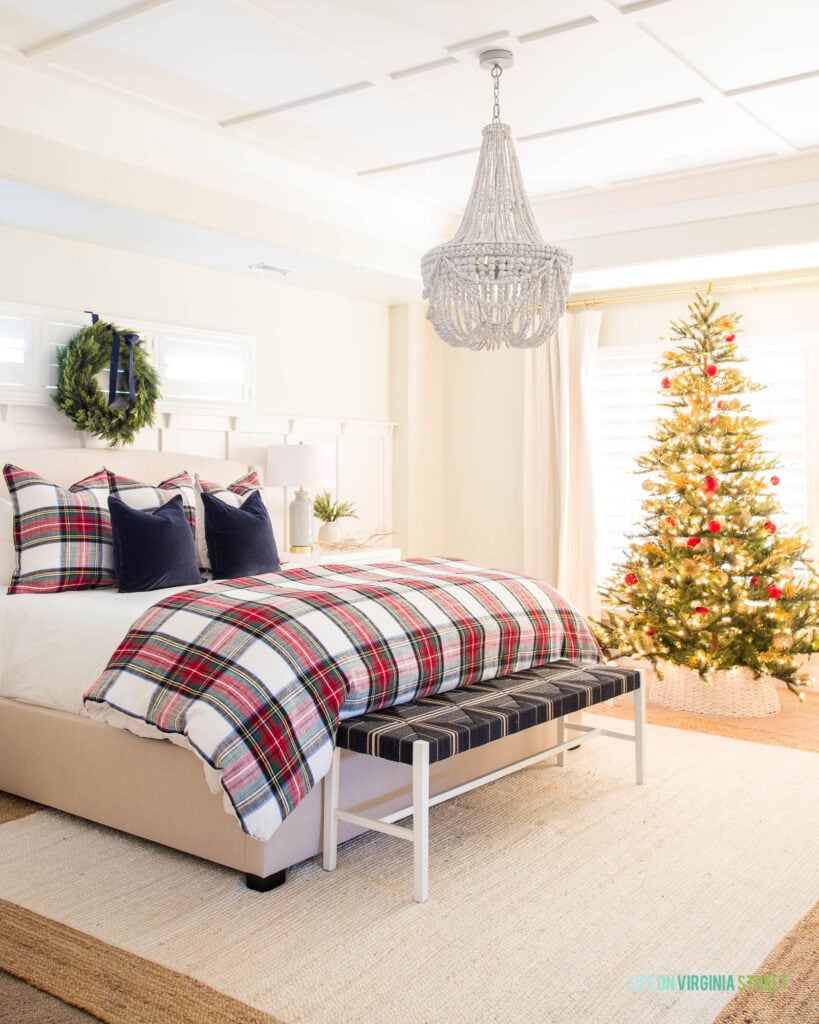 CHRISTMAS BEDROOM SOURCES: Similar Upholstered Bed | Bead Chandelier | Striped Curtains | Woven Bench | Jute Rug | Plaid Bedding | Velvet Pillows | Christmas Tree | White Rope Tree Collar | Wreaths – old from Studio McGee
Additional Christmas Inspiration
Looking for even more Christmas inspiration? Be sure to check out the following posts. Simply click the title of any post below to be taken directly to the article.
If you would like to follow along on more of my home decor, DIY, lifestyle, travel and other posts, I'd love to have you follow me on any of the following:
Pinterest | Instagram | Facebook | Twitter 
disclosure: some affiliate links used